You don't have to go to a salon to get acrylic nails. You can do them yourself or you can buy press-on nails that have colors and designs on them.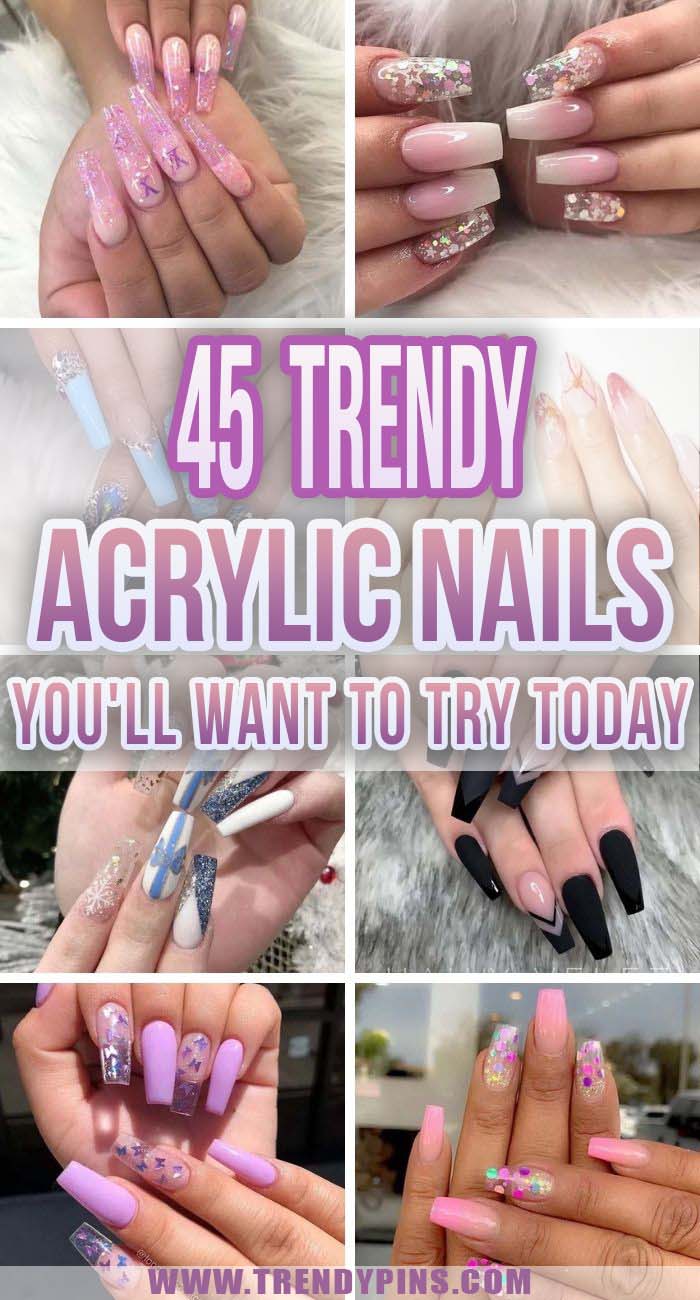 Every day is a good day to play with trendy acrylic nail ideas. You can paint patterns, shapes, and add embellishments.
Take a look at these ideas for inspiration.
1. Black Chevron Nails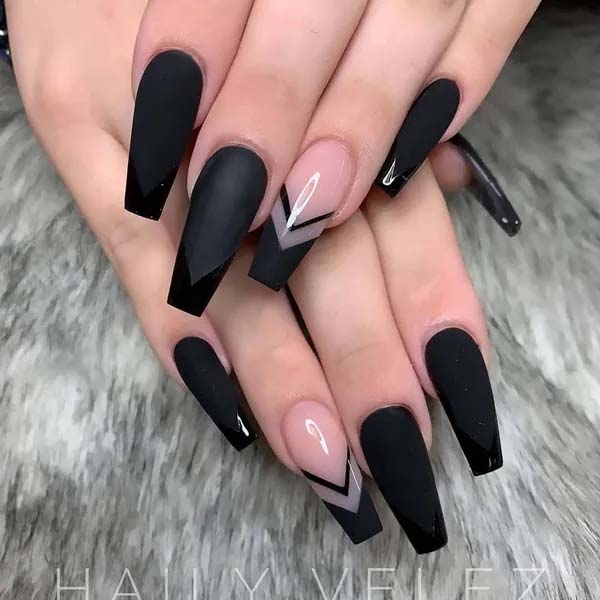 The chevron pattern on the tips of these square nails adds a sophisticated touch.
Matte black acts as a third color with soft pink and glossy black.
2. Black Coffin Nails With Butterflies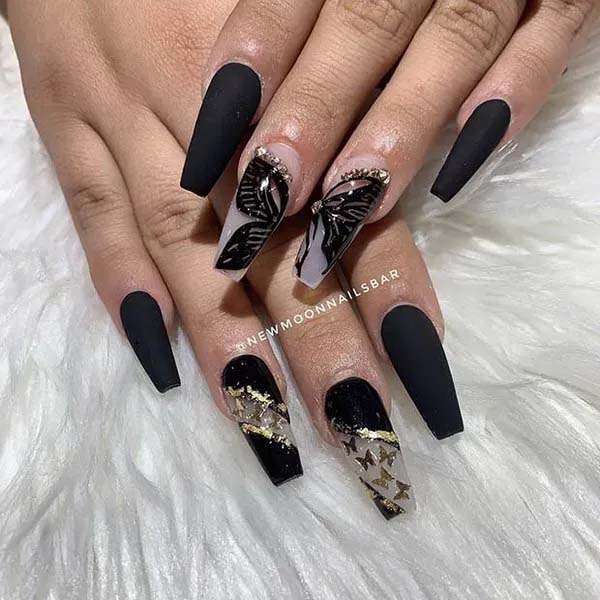 Two fingers create a single butterfly. Butterflies in flight with gold leaf are painted on the other nails.
The matte black makes the gold color pop.
via newmoonnailsbar
3. Chic Nails With Sparkle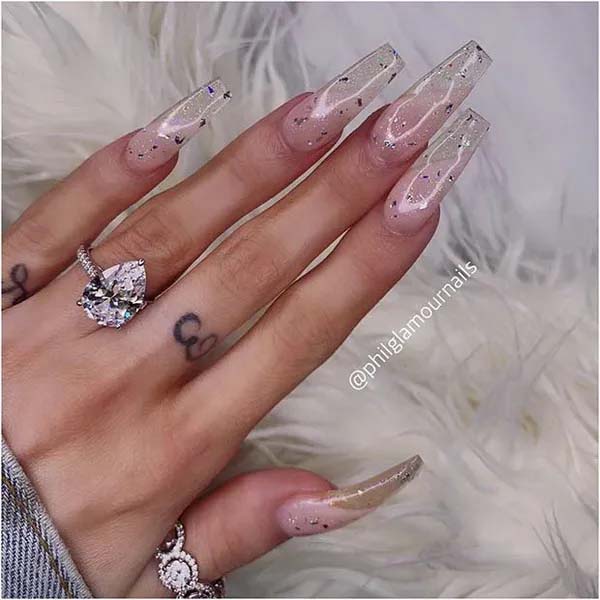 The pink base tapers to a clear finish. Clear gel is dotted with silver leaf.
via philglamournails
4. Clear Accent Nail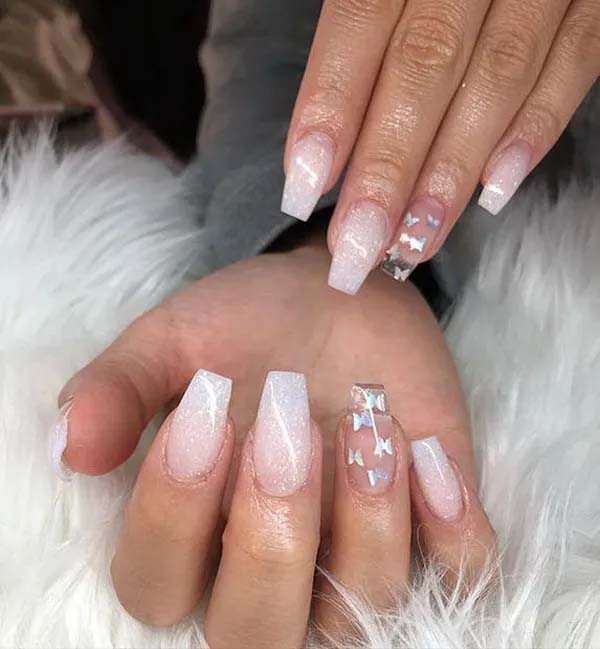 A twist on a French manicure. Silver butterflies can be set into a clear gel on the ring finger, or you can paint them freehand.
5. Clear Acrylic Nails With Iridescent Shards And Ombre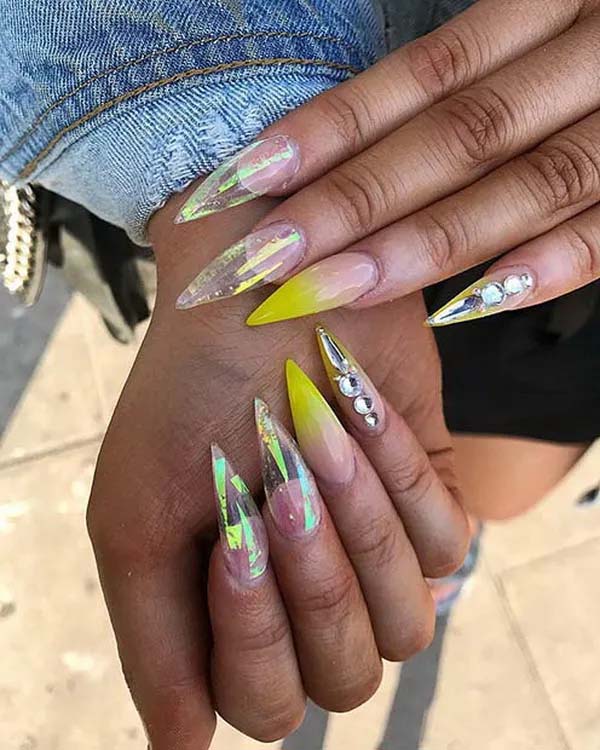 Add vibrancy to clear stiletto nails by adding pink or clear color, a gradient, and rhinestones.
via sheadbeauty
6. Clear And Ornage Nails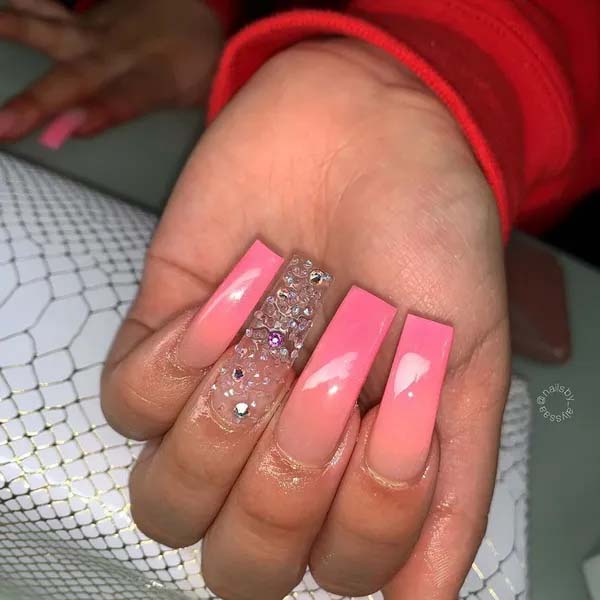 A glossy pink and orange Ombre manicure gets a lift with a clear coat dotted with tiny rhinestones.
via nailsby_alyssaa
7. Clear Butterfly Nail Design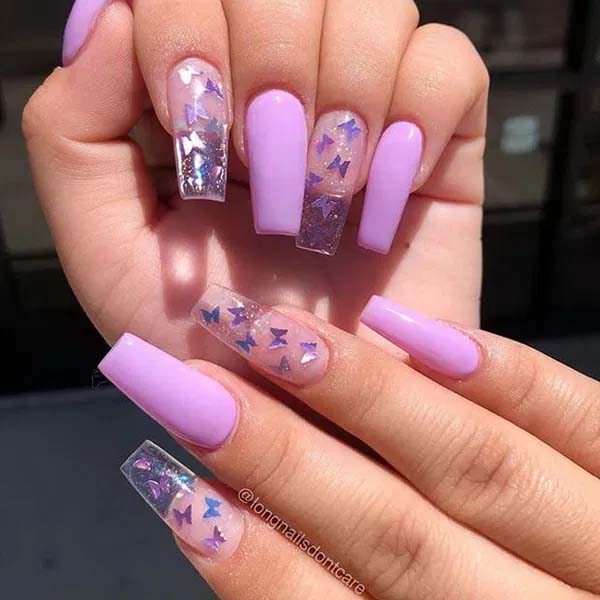 These purple butterflies look great with the lavender nails.
8. Clear Butterfly Nail Art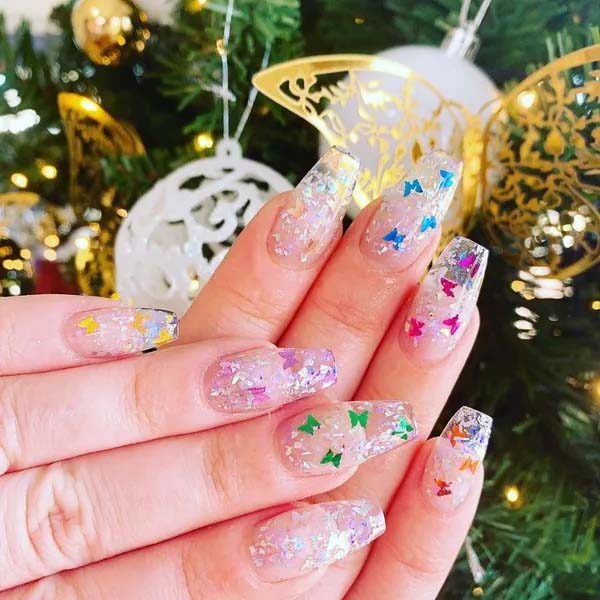 Magical butterflies shine in a clear polish with a medium-sized glitter.
via fairy.nail.art
9. Clear Butterfly Nail Art Design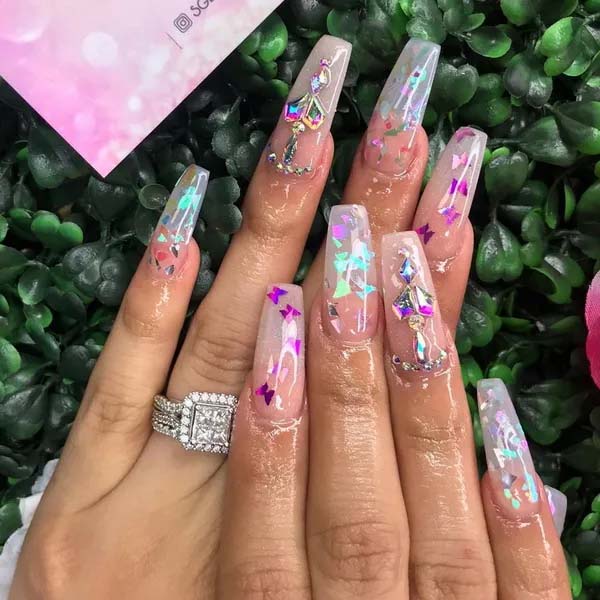 Coffin-shaped nails offer a large canvas for experimenting with butterflies, rhinestones, and other shapes.
We like the Swarovski crystals embedded near the cuticles.
via heydynails2019
10. Clear Nail Design With Sparkle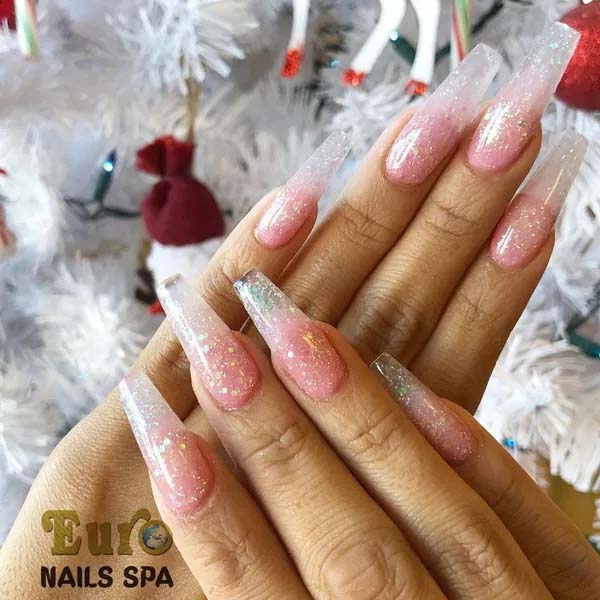 If you're lucky, your nail salon will know variations on a French manicure.
Euro Nails Spa created these gems with a subtle sparkle.
via euronailnspa
11. Clear Nails With Gold Foil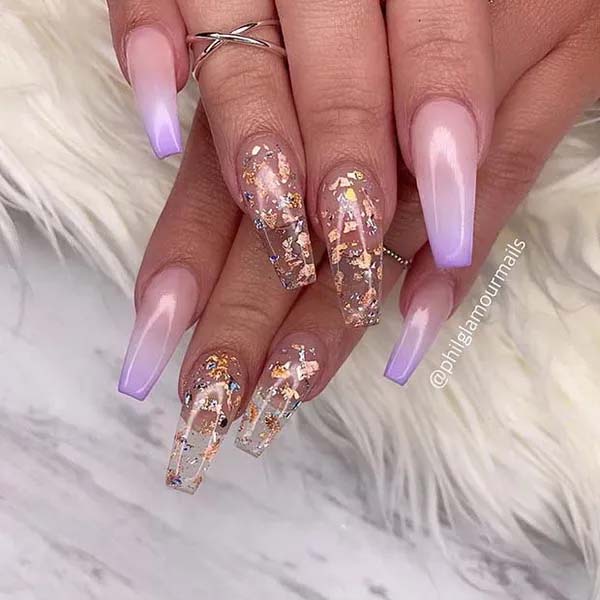 Adding gold leaf to acrylics has never gone out of style.
Phil Glamour Nails on Rodeo Drive in Beverly Hills charges a fortune for this, but you can recreate the look with some gold leaf from a hobby shop or Amazon.
via philglamournails
12. Clear Nails With Silver Glitter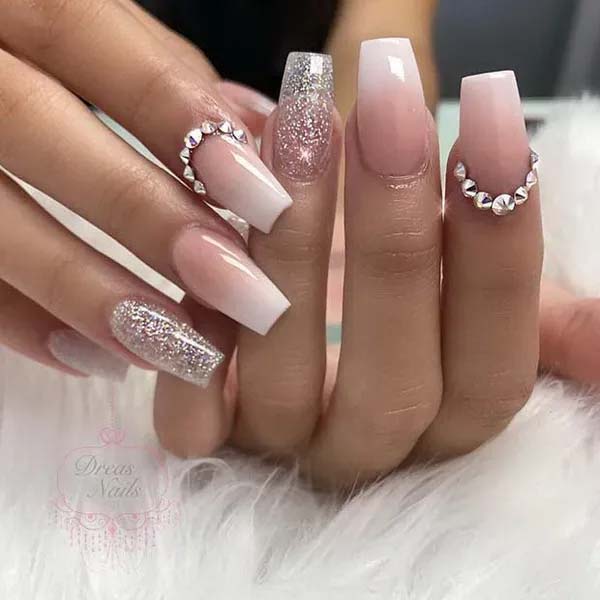 This variation of the French manicure is simply elegant. Acrylic gel is dotted with small glitter particles on square nails.
Swarovski crystals in a horseshoe shape on a single cuticle on each hand is a showstopper.
via dreasnails
13. Clear Snowflake Nail Art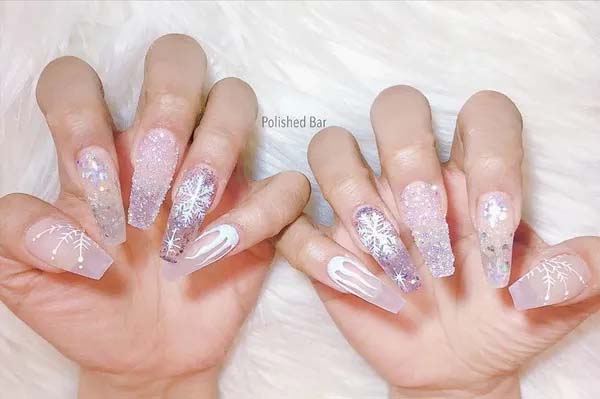 The snowflakes here are semi-transparent on four nails.
This makes the clear gel and most prominent snowflake stand out on the ring fingers.
via polishedbar
14. Clear Stiletto Nail Design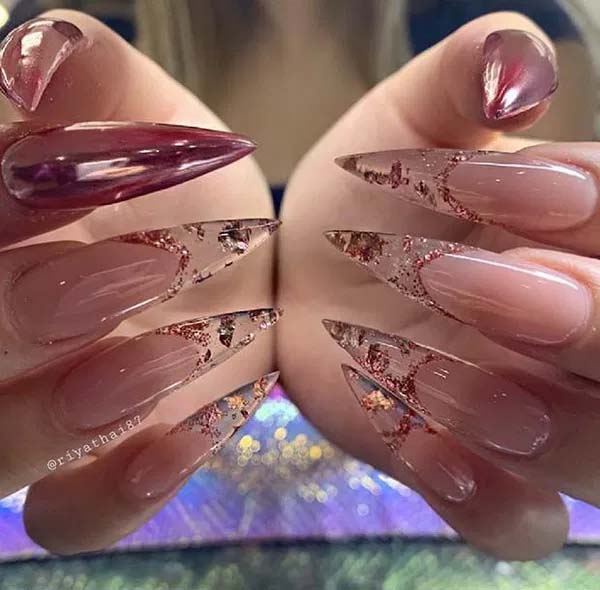 A soft pink gel gives way to a clear acrylic with gold leaf and glitter at the tips.
The solid red color looks striking against the clear stilettos.
via riyathai87
15. Coffin Nails With Gold Foil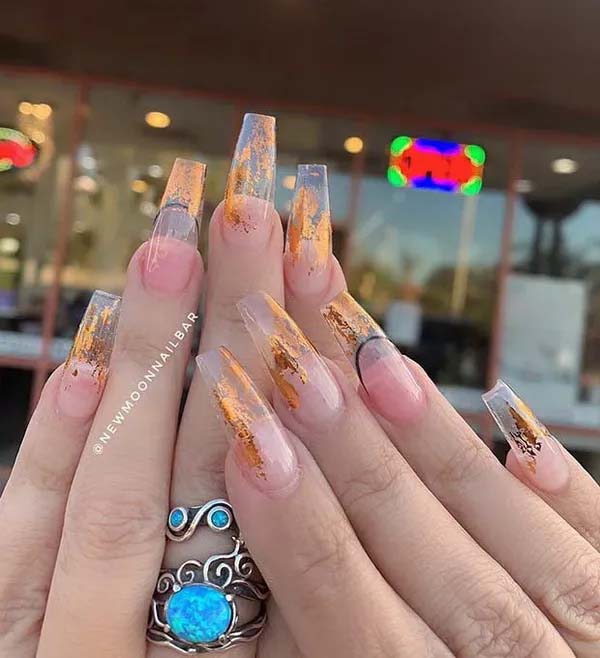 Change the look of clear polish by painting the base.
You can see a slight change was made on the ring fingers by adding the black line to a short, round nail.
via newmoonnailsbar
16. Cute Clear Acrylic Nails With Hearts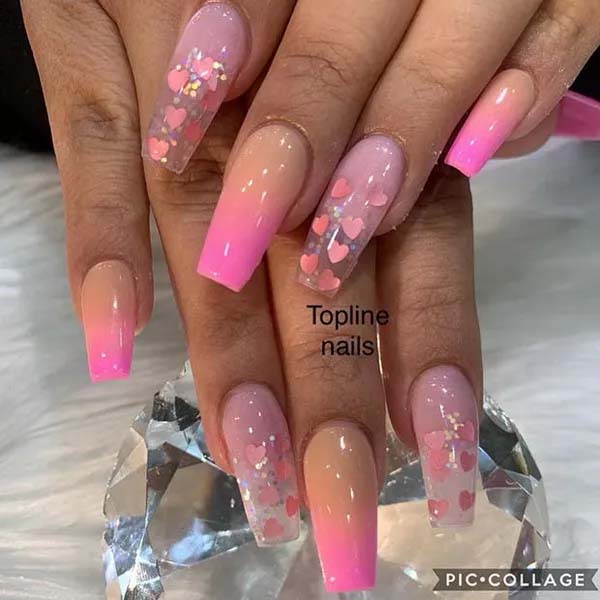 Pink and orange Ombre nails are alternated with clear gel dotted with hearts.
This is a great look for Valentine's day.
via toplinenails
17. Elegant Nail Design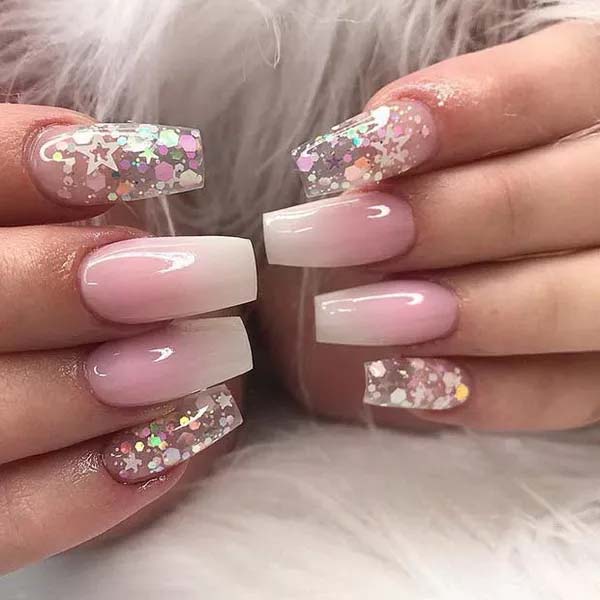 The soft colors in the clear acrylics look festive.
They would work well when attending a baby or bridal shower.
18. Elegant Stilleto Nail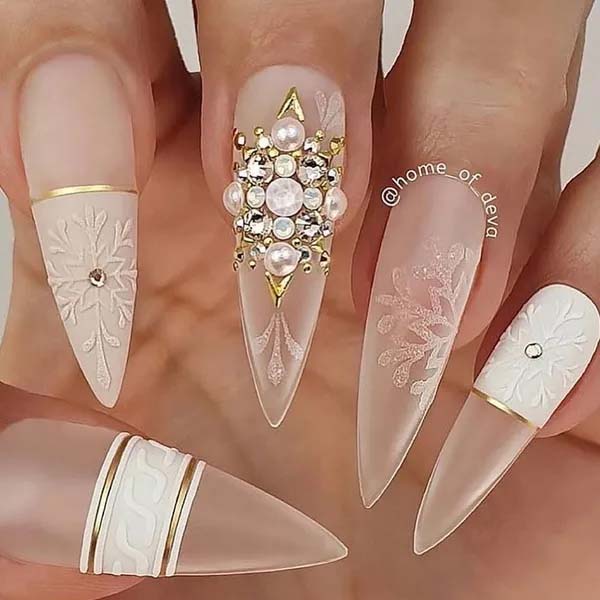 White embossed covers are striped with gold. The frosted matte acrylic is a great look for any formal occasion from a banquet to a wedding.
Crystals accents add to the refined look.
via clawgasmic
19. Floral Bule Nails With Rhinestones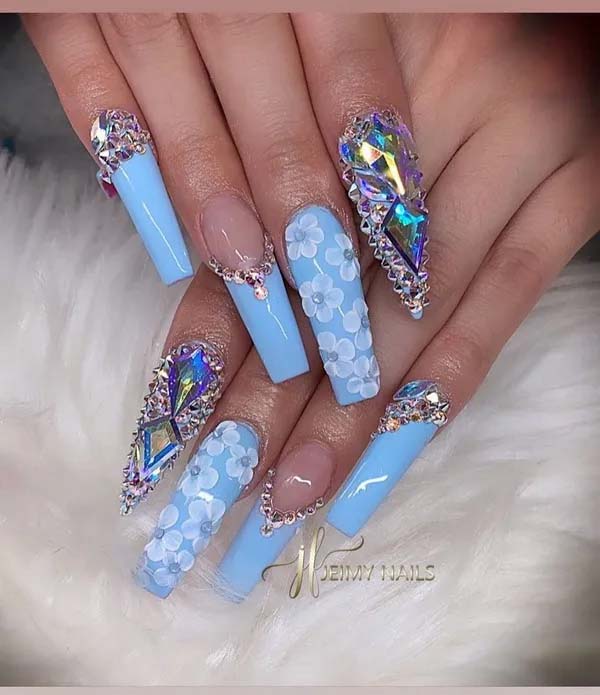 Mixing your nail shapes gives you more possibilities to create something unique. The larger rhinestones follow the shape of the stiletto nails.
The fabric flowers, with a rhinestone in the center, are laid on top of the acrylic, giving them dimension.
via jeimynails
20. Floral Clear Acrylic Nail Art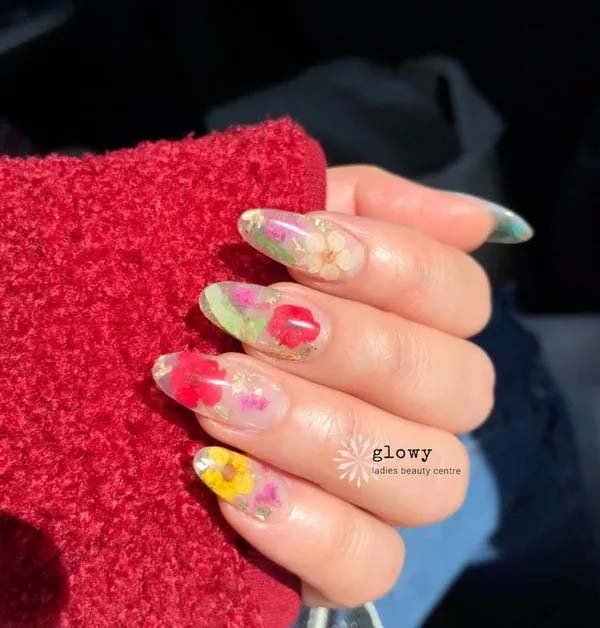 Florals are a great way to welcome spring and summer. The round nail shape adds to the casual look.
via glowy.bc
21. Glamorous Clear Nails With Gold And Pink Art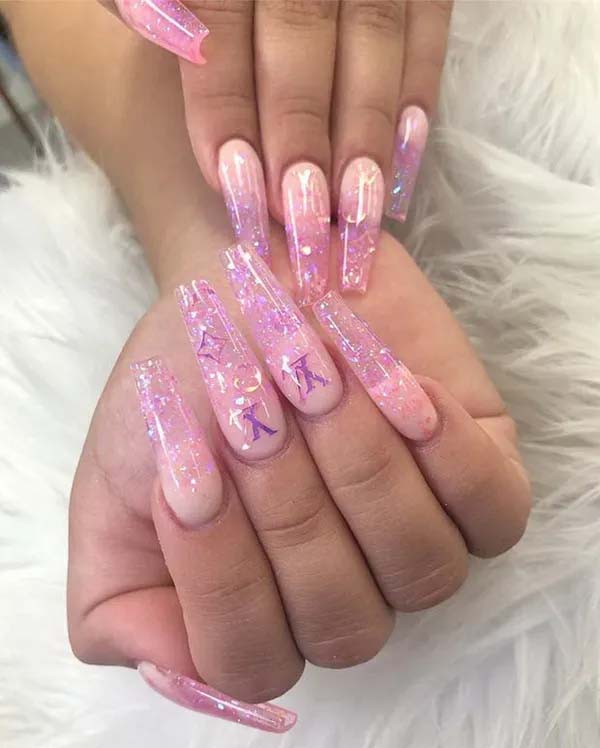 Purple glitter on clear nails is a great look for a night on the town. The pink base sets a calming tone.
via dreasnails
22. Glitzy Nail Idea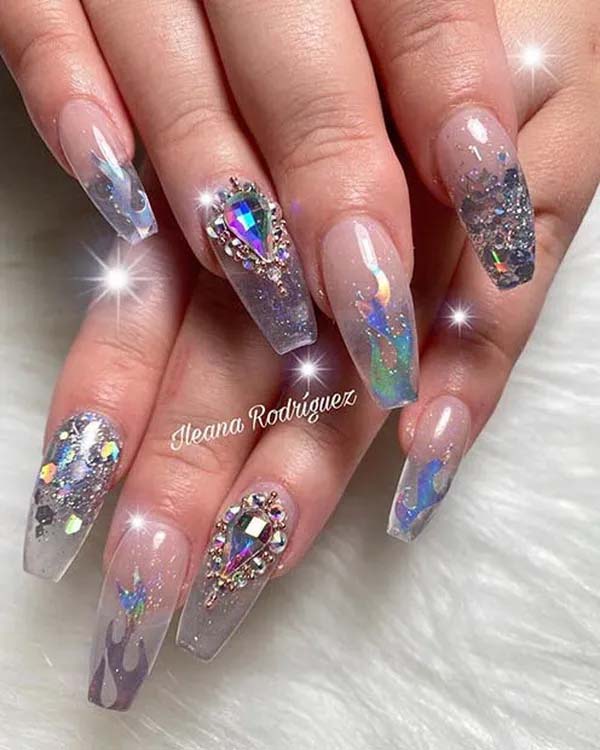 Rhinestones will always take center stage, but the other nails shown have glitter and interesting curved patterns. They could be coral or celestial.
via ileananailsii
23. Grey Coffin Nail Art For Short Nails
Gray is a neutral color that works with all types of outfits.
Snowflakes were added here, but you can just as easily add a crescent moon or stars for a four-season look.
via pinksalon_iris
24. Nude Pink Nail Design With Gold Sparkles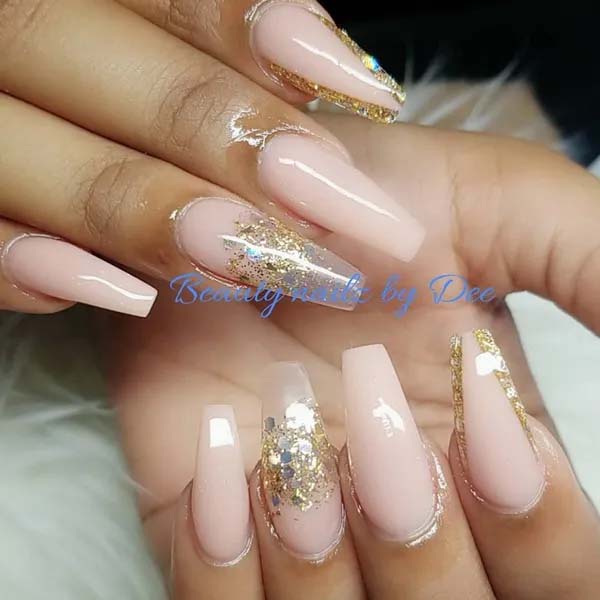 The golden glitter filling in around a stiletto is a nice look. It gives an edge to what otherwise feels like a conservative nail selection.
via bernadettebrice
25. Nude Pink Nail Design With Snowflake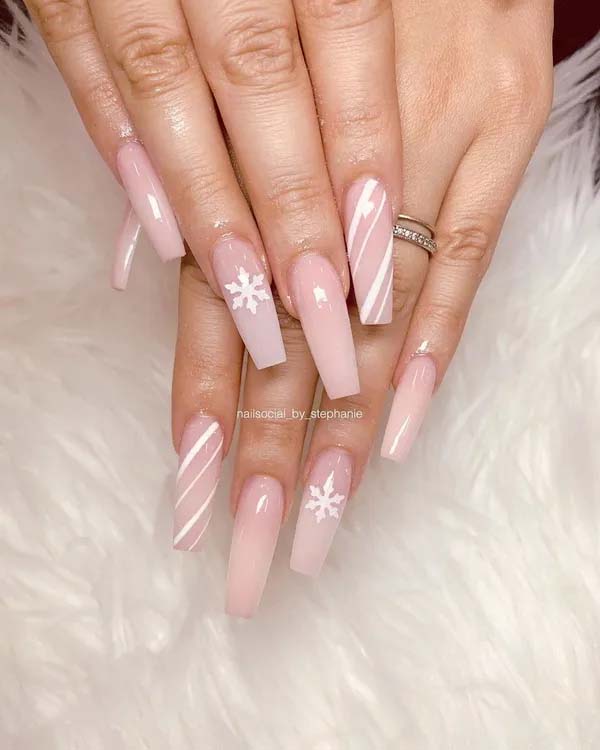 Sticking with a basic pink color doesn't have to mean wearing boring nails.
Change the design by adding embellishments and painting patterns on a contemporary polish color.
26. Pink Acrylic Nails With Gems Ornaments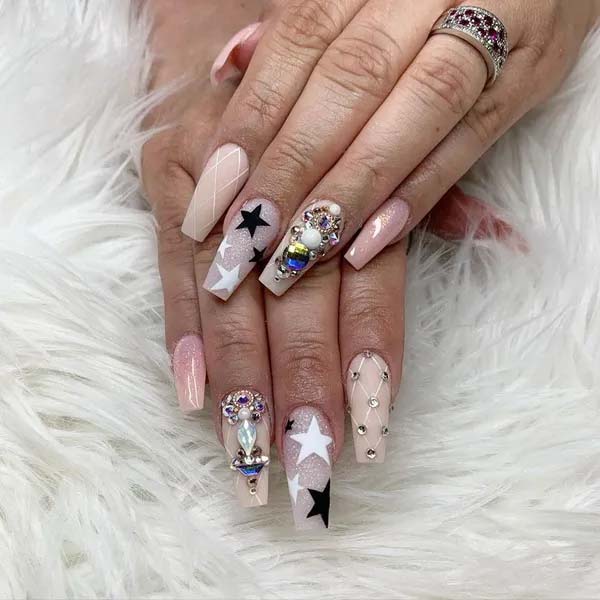 There are several ideas here. Mixing matte and glossy pinks changes the look. Stars of different sizes are added to the middle fingers.
Rhinestones look great on the middle fingers. The index finger has the same cross pattern, but rhinestones were placed at the intersections on one finger.
via kevinho_nails
27. Pink And White Nails With Gold Butterfly Stickers
While it can be fun to try to paint your own butterflies, you can find stickers that offer greater detail.
via nailsby_lyn
28. Pink Nails With Clear Tips And Different Shapes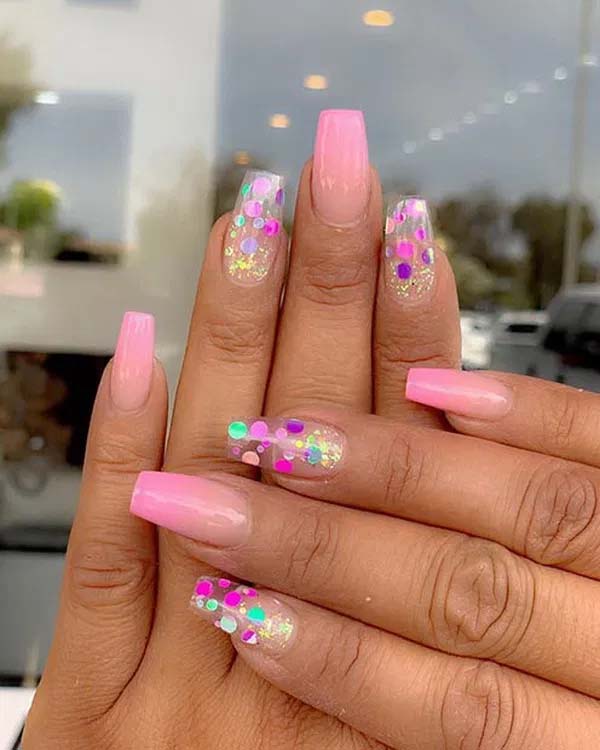 You can choose different shapes as an accent nail. Here, shapes and orange polish with bright pink Ombre tips are alternated for a fun look.
via newmoonnailsbar
29. Pink Nails With Star Designs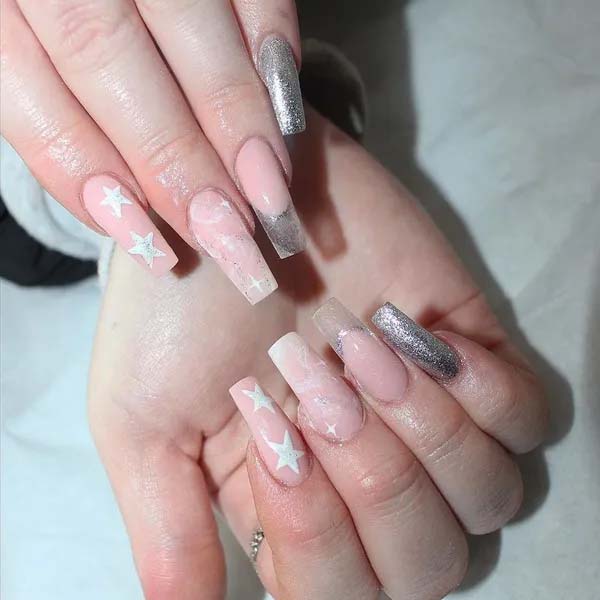 Here's a nice mix of two different types of star patterns. The silver, textured gel on the pinky is a stark contrast to the clear ring finger with the pink base.
via erinsharp_nails
30. Red And Clear Nail Designs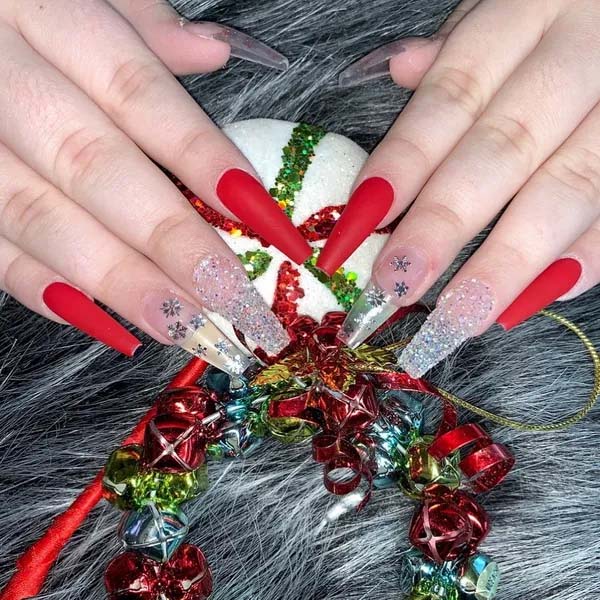 Get a holiday look without having to wear red and green nails. The silver glitter and snowflakes look great next to the matte red nails.
via nails.by.tinyv
31. Silver And Pink Nails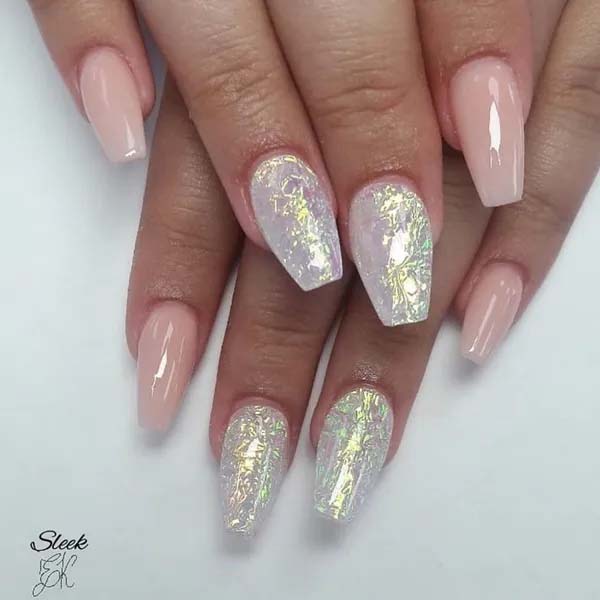 This is a nice look for work. When you want your white nails to sparkle glitter, try using a pearlescent gel. Its iridescence has a subtle color-changing effect.
32. Snowflake Acrylic Nail Art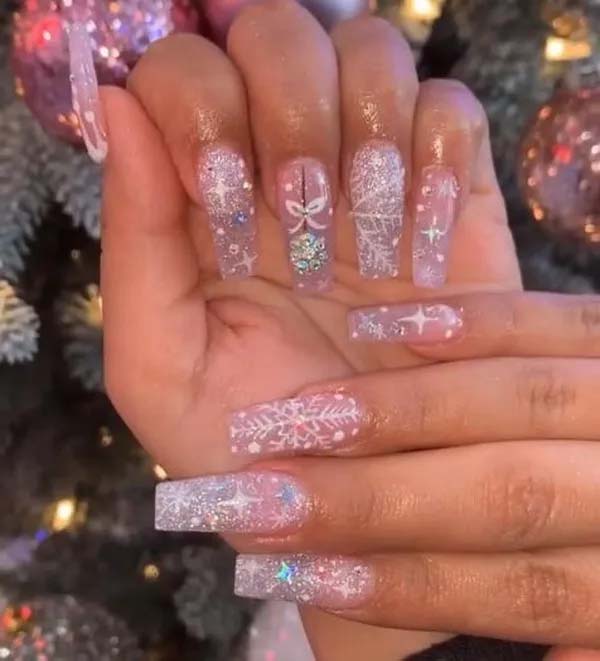 Nail art like these winter embellishments are easy to paint. Use a subtle silver glitter as the first coat for a shimmering effect.
via nailstory_ca
33. Snowflake Nail Design With Glitter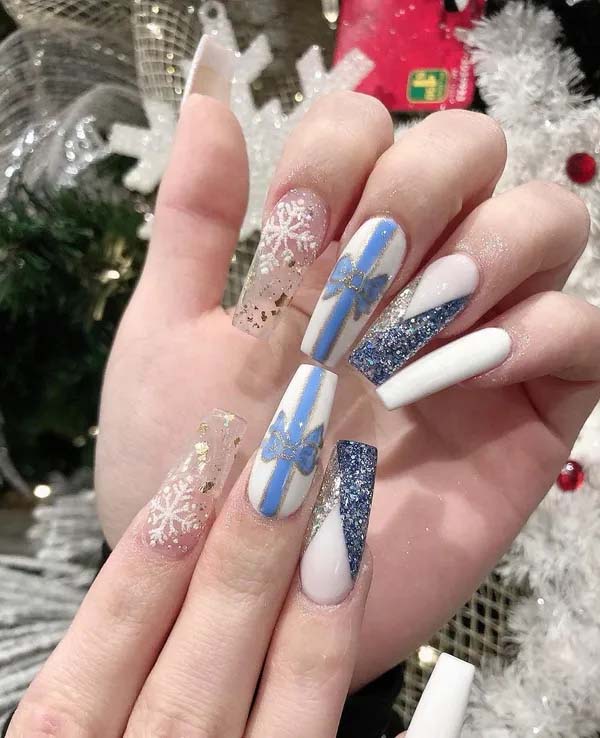 Try these yourself. You can buy bows and snowflake stickers. Outline the bow with silver polish. The rest are just base coats and simple patterns.
via j.tran2121
34. Snowflake Nail Design With Glitter Design
Create a winter wonderland on your hand. The shimmering ice blue color is added for continuity. Different types of snowflakes are glued into place.
35. Snowflake Nail Designs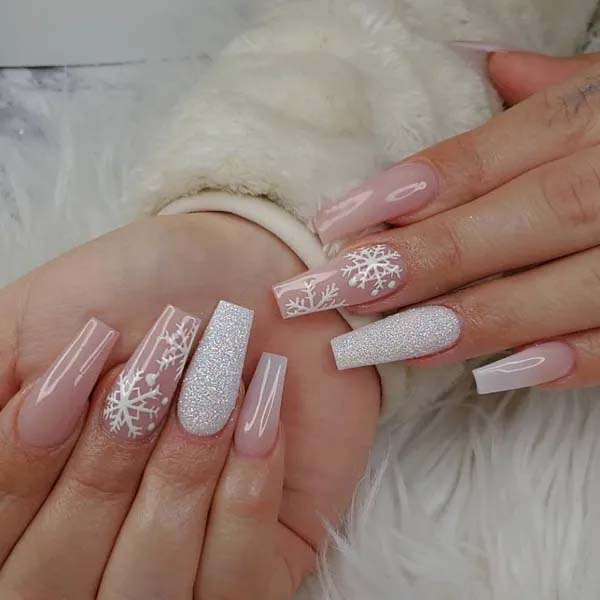 Snowflakes are added to a glossy rose color. A coat of glittering white brings an added shine to the other nails.
via astound_beauty
36. Snowflake Nails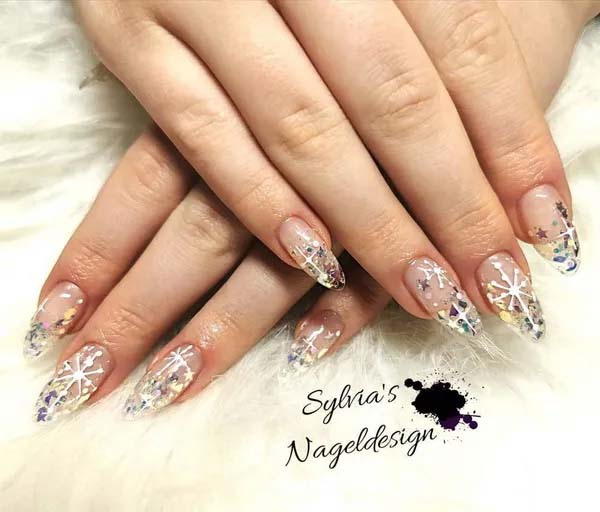 Instead of holding to one design per nail, different types of snowflakes were added to every clear base coat.
37. Stylish Clear Acrylic Nails Art With Gems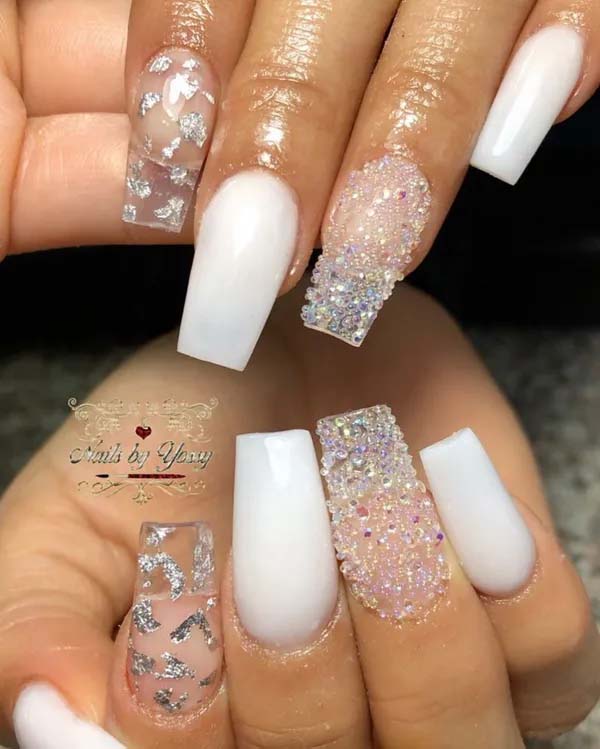 Clear gems and silver leaf were added to the clear base coats. This added texture really pops against the white polished nails on either side.
38. Stylish Orange Nail Design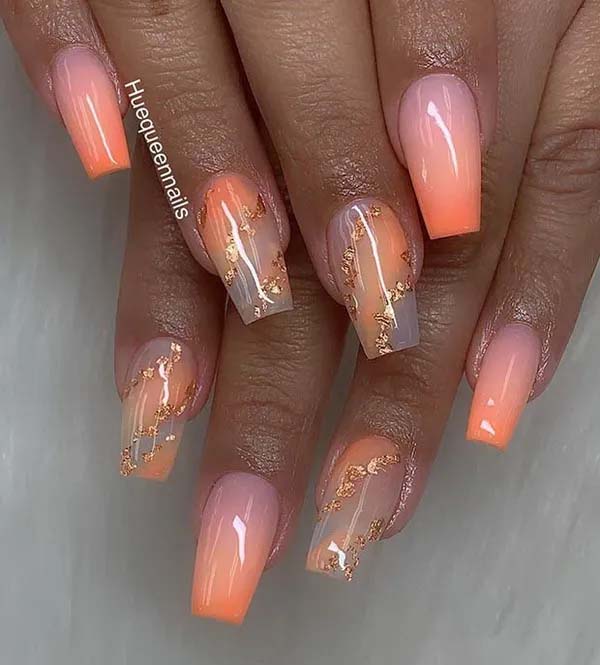 Orange tipped Ombre fades into a soft pink base. Use this same blend on the clear coat nails. Finally, brushing on a line of gold leaf adds a touch of elegance.
via huequeennails
39. Waterred Tip Nail Design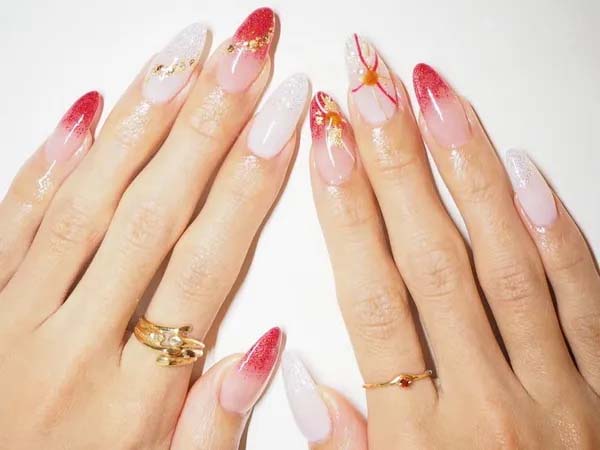 Use a little red shimmering polish blended into a clear acrylic to get this twist on a classic red polish design. Use a fine brush to add gold polish or even gold leaf.
via nail_kimi
40. White And Pink Nails With Designs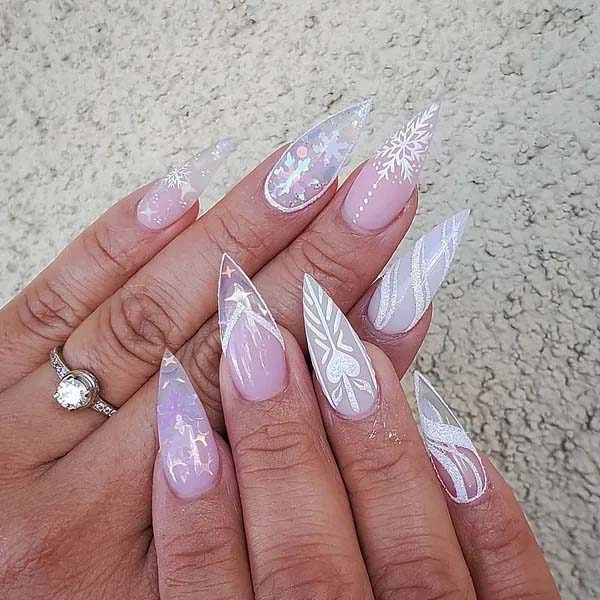 Soft pink and off white polish are used as the backdrop for some easy paint designs. You can use stickers if you don't have time to practice painting these yourself.
via nailsbyknock
41. White Clear Nails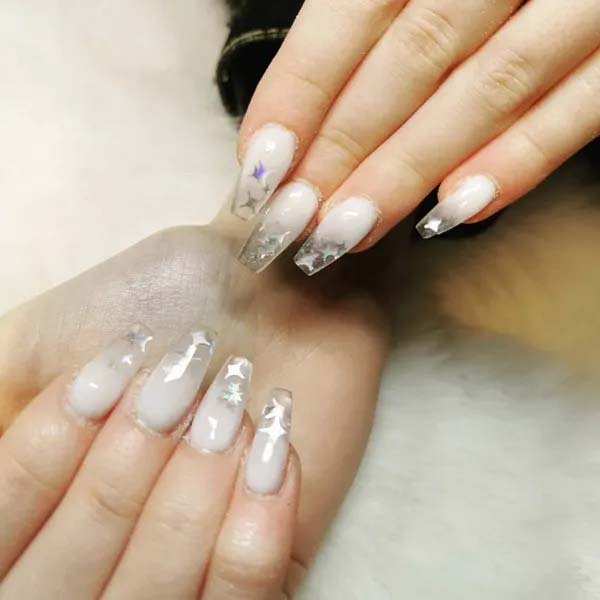 Clear acrylics over a white base get a little sparkle from the silver stars painted on the tips.
42. White Nails With Gem Design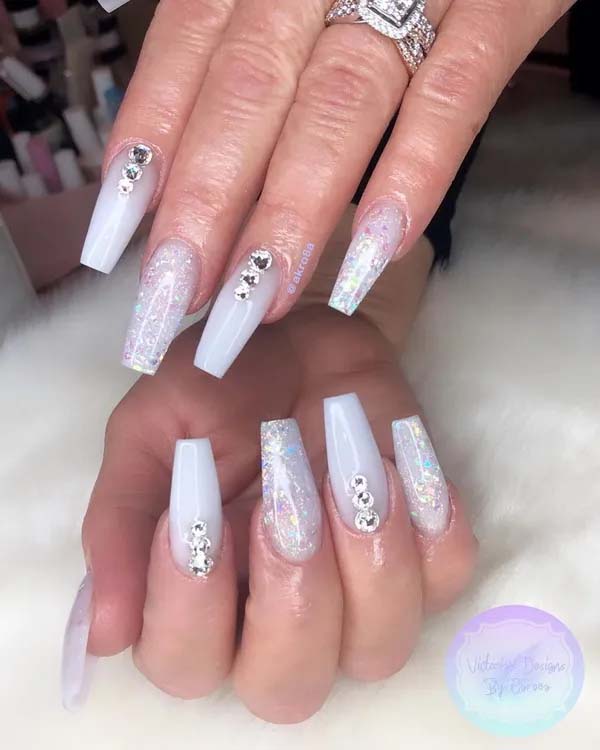 You don't have to load up on gemstones to get a high-end look. A trio of gems get an extra boost from the pearl polish.
43. White Nails With Gems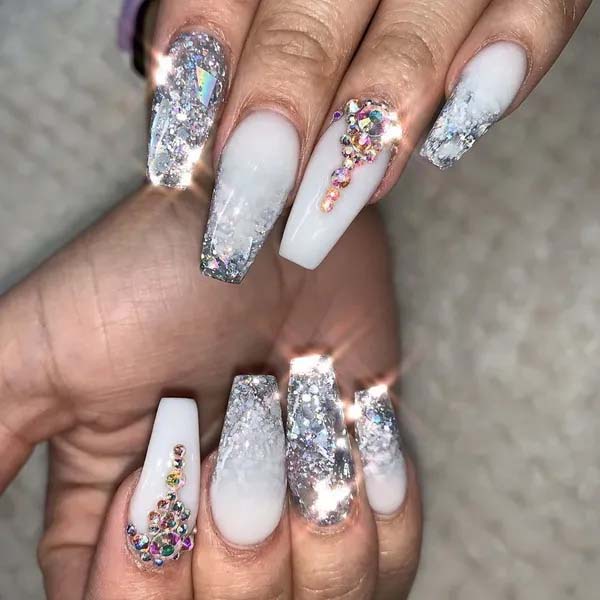 We usually think of adding sparkling embellishments on top of a dark color. These nails show that a white backdrop can be just as glamorous.
44. White Pink Nails With Accents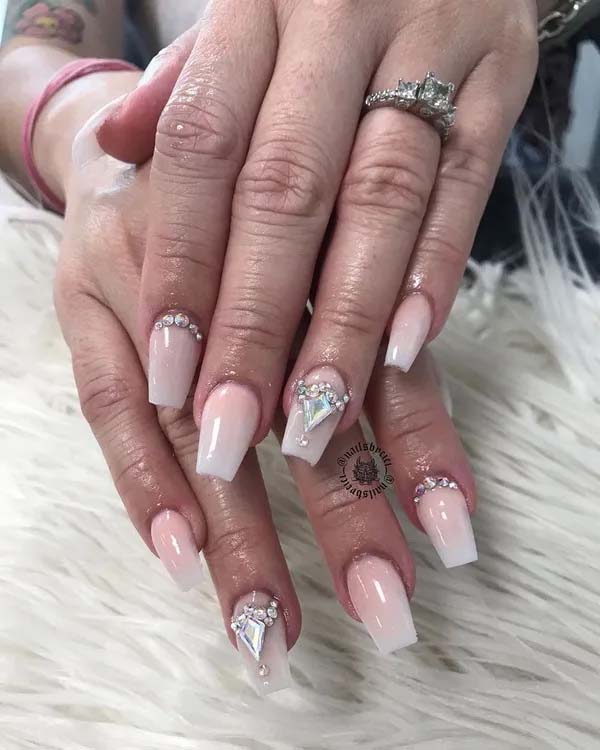 Embellishments are the main attraction on these white tipped Ombre square nails.
via nailsbycici__
45. White Snowflake Nail Design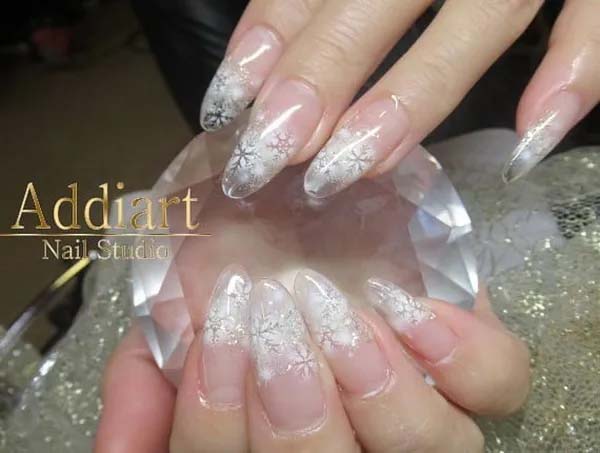 Snowflakes added to the tips of these round nails seem to float in the clear acrylic. The designs have a lot of clear space, giving them a delicate look.