The summer is the season filled with emotion, colors and fun experiences.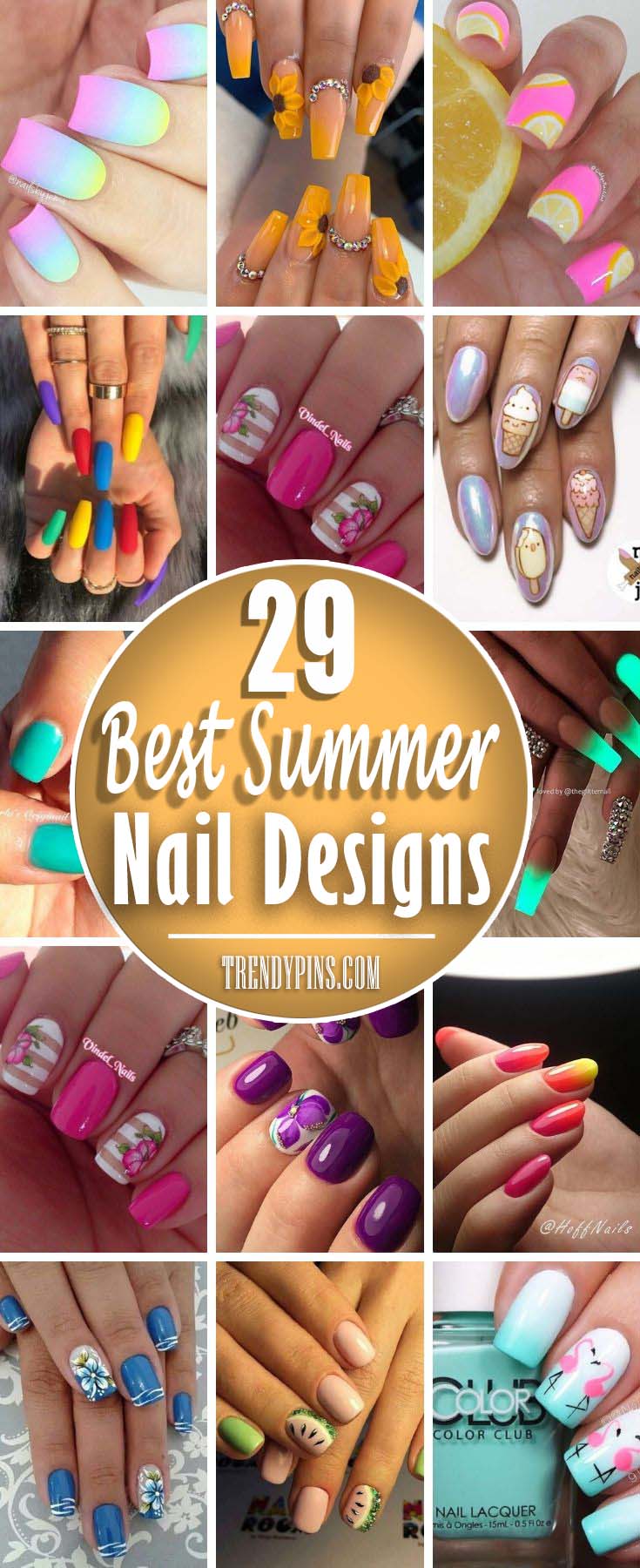 Choose summer nail designs to be unique, special and phenomenal.
Create a summer mood around yourself by transferring it to your nails.
According to your attitude, to the moment you are experiencing or just to your clothing – do not hesitate to experiment.
1. Sunflower Nail Design With Rhinestones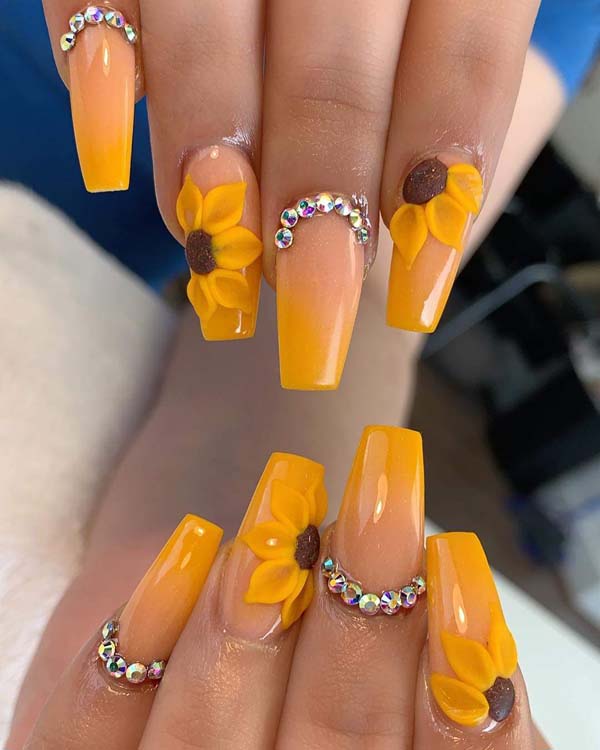 Photo: Credit
There is no better way to create a summer mood than sunflower flowers.
With sparkling notes in bright yellow like the sun in July and with added brilliance beads, the summer is entirely with you.
Do not hesitate to try this manicure design.
It will appeal to both yellow, beige, orange and light brown clothing.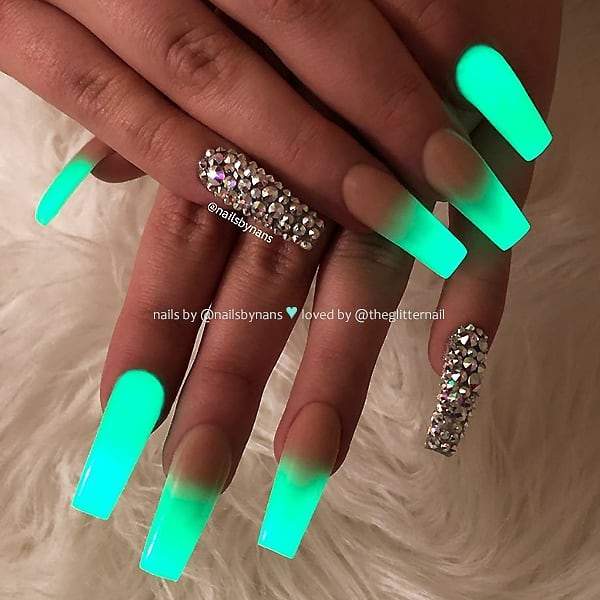 Photo: Credit
The perfect manicure for evening parties.
Brilliant color and shiny crystals that will attract the admiration of others and give you the mood for midnight celebration.
Matches with a dress in the same color, especially with a naked back and silver shoes with high heels.
3. Coconut Tree Coffin Nail Designs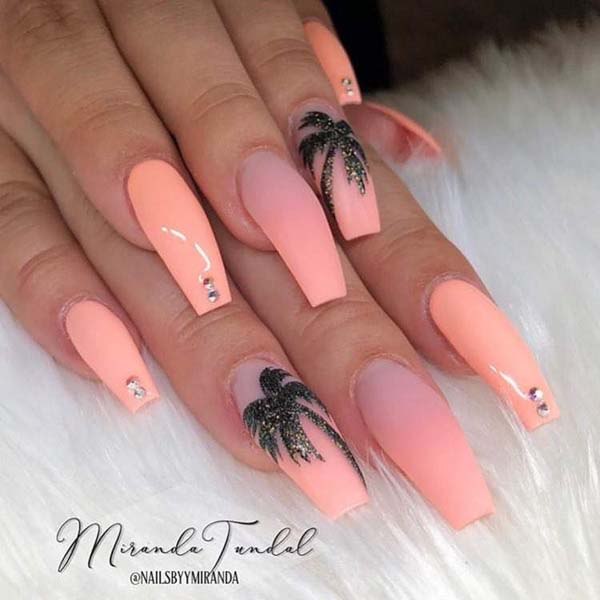 Photo: Credit
When we talk about summer mood, we can not forget about palm trees, pink sunsets, cocktails with watermelon, pink grapefruit and campari.
Here's all this on your nails.
Summer mood automatically captures your sight.
Suitable for dresses with banana pink color, black mid-sandals and a necklace with small crystals.
4. Pink Flower Nail Design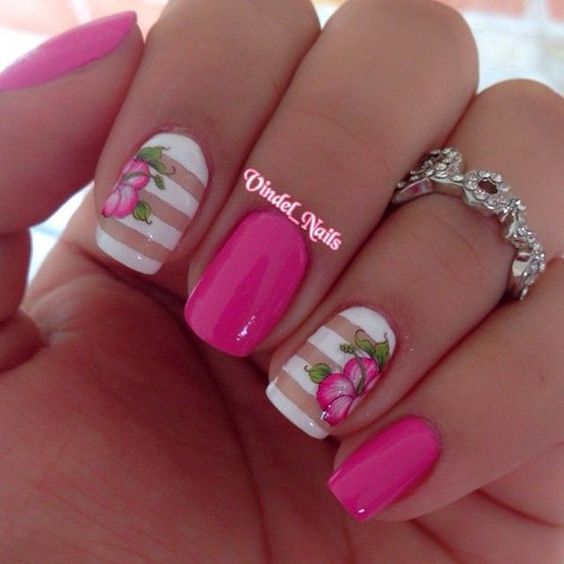 Photo: Credit
Roses.
Summer is roses.
That is why we paint roses on our nails.
With strips in white and gloss, it is beautiful, gentle, joyful and even smells like roses.
It will look charming with a white dress, maybe with pink stripes.
5. Starfish Nail Design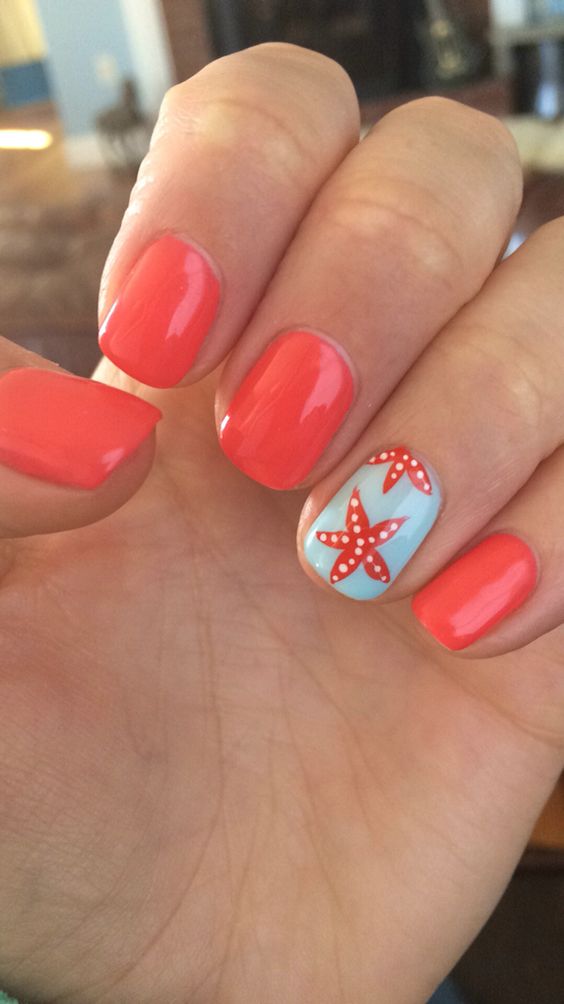 Photo: Credit
There is no better manicure for the beach than the painted starfish on the nails.
In orange, like the bright sun and blue, as the clear sky in the summer.
Swimsuit in light blue and orange and a towel in the same color, you will be the star on the beach as the star on your qualities.
6. Aloha Nails With Pineapple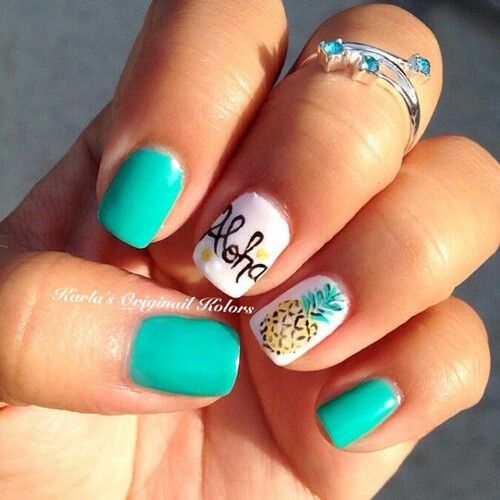 Photo: Credit
Aloha manicure?
Of course, in Hawaii there is an endless summer.
Coconut and redwood is a wonderful and fun combination that will make you stand out not only on the beach, but also at the bars while you are having your afternoon cocktail.
It would be appropriate in combination with short blue pants, a white T-shirt and open flat sandals.
7. Bright Yellow Nails for Summer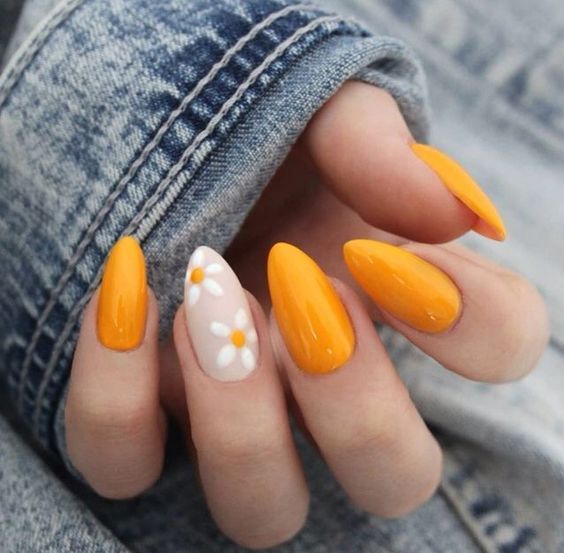 Photo: Credit
Bright yellow and white margaritas.
For every day of the summer and every mood.
For sportswear and blue jeans and a bike if possible…
Great!
I'm already dreaming …
8. Vibrant Colorful Nails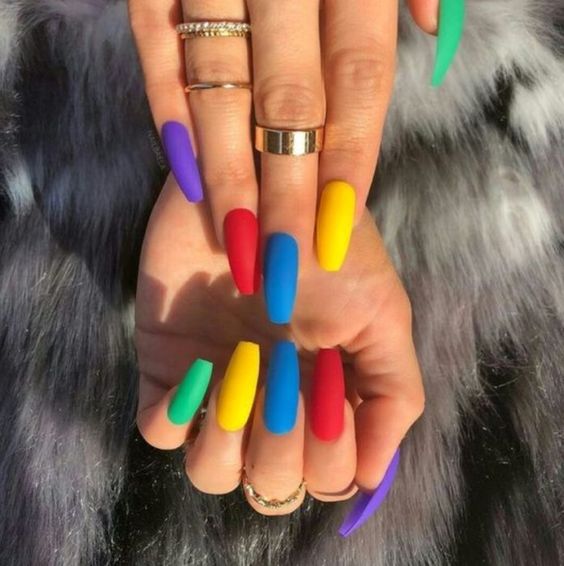 Photo: Credit
In the summer, all colors are visible in nature.
That's why a very good manicure includes bright, matte, saturated, dense colors.
The best thing is that they can be combined with any clothing – from swimsuits to dresses for a party.
With flat sandals or open with heels.
9. Blue and White Wave Nails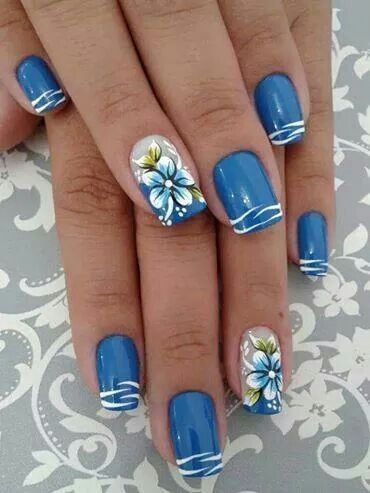 Photo: Credit
Here's something about the sea – a wave on your nails.
With the flower on the finger, we create a mood for a picnic outside the city – gently and fresh in the summer.
It will be fascinating in combination with a white short dress and blue sandals with medium height of the heel.
You can also add a knit bag over your shoulder.
10. Beach Toe Nails With Anchor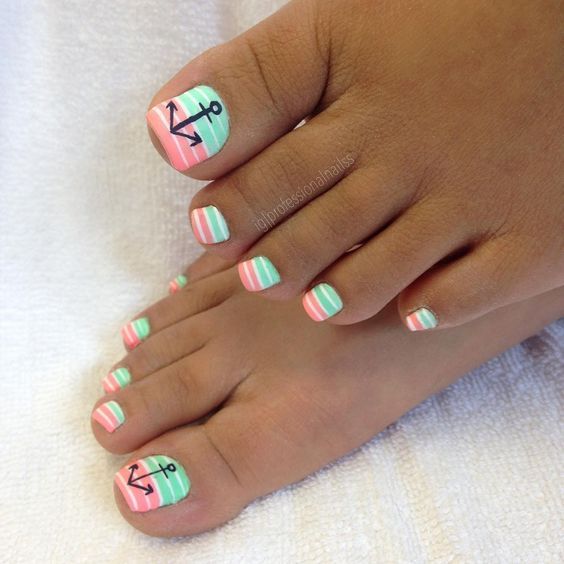 Photo: Credit
Let's not forget the toe nails.
They also need varnish and mood.
An anchor, painted on delicate and fresh color strips, a great design in the summer.
At the beach barefoot or with sandals we should never forget the toe nails.
11. Rainbow Nail Design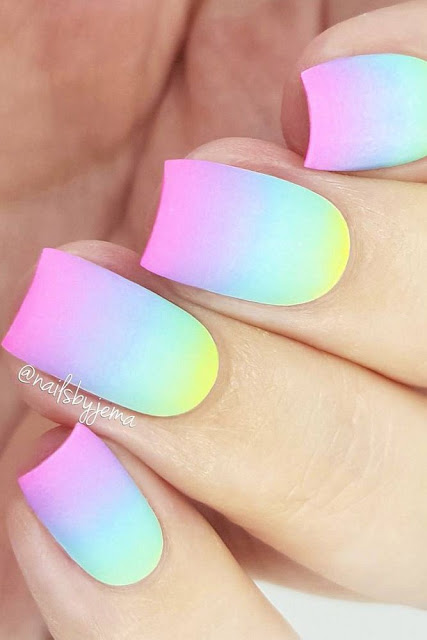 Photo: Credit
Colorful as a rainbow after a warm summer rain.
Did you feel the freshness of this design?
Combine with a short skirt and a top in these shades.
You will feel the lightness and serenity of the summer.
12. Ice Cream And Neon Pink Nail Design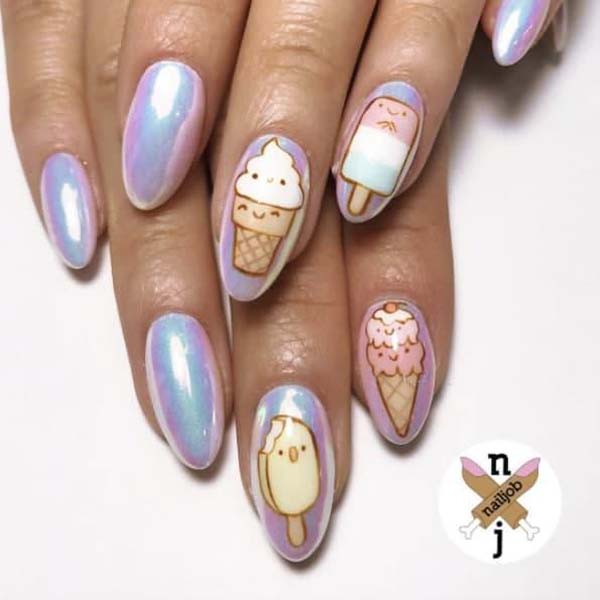 Photo: Credit
Ice Cream ….
And Neon …….
Summer …..
Pink shades, blue shades and fresh design.
Fun, youthful, playful.
13. Blue Diamond Shaped Nail Design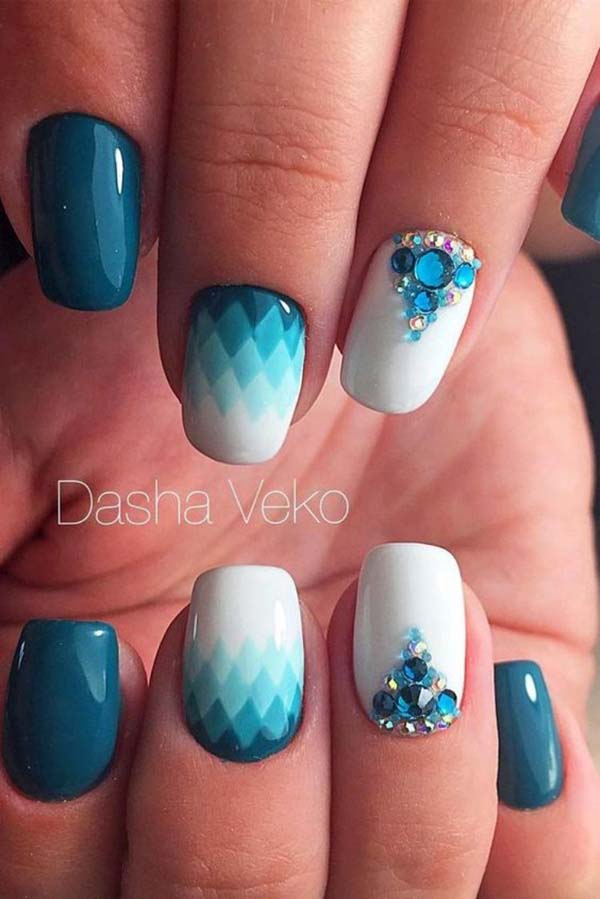 Photo: Credit
Sea blue and diamond shapes, crystals and gloss.
All this combined with an elegant style.
The coolness of the sea breeze is felt.
It suits with a white silk dress with blue jewelry stones.
14. Flowers With Marble Effect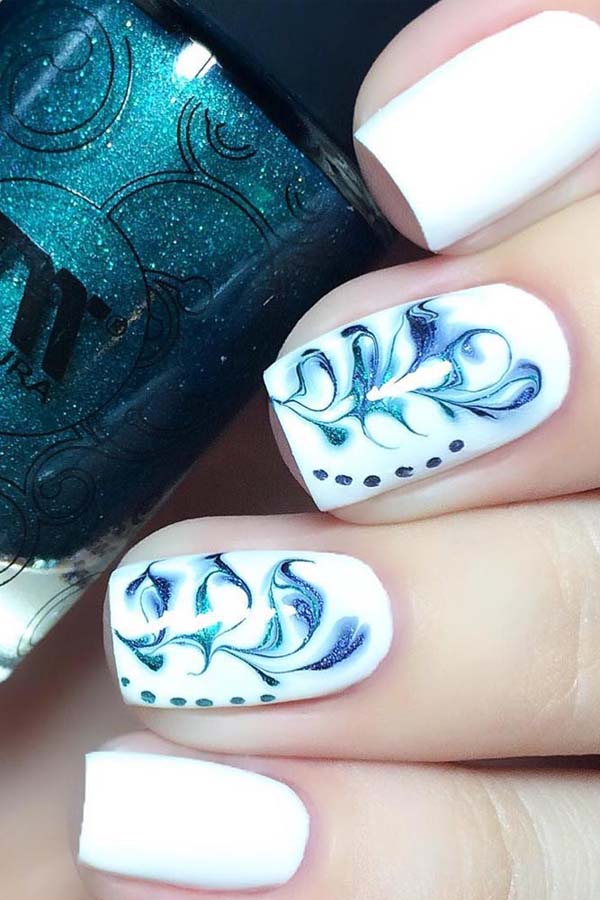 Photo: Credit
Blue flowers with a marble effect on a white base.
Brilliance and tenderness.
It would be fascinating with an evening cocktail dress and high heels.
15. Grey Glitter Pink And White Nail Design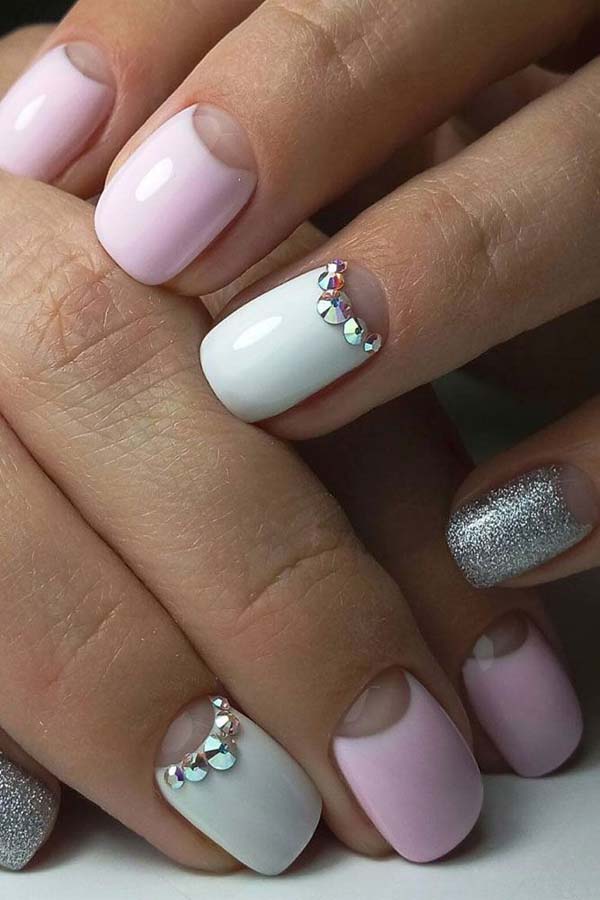 Photo: Credit
Baby pink and white combined with gray glitter and white crystals.
Suitable for both breakfast and summer dinner.
Combined with a dress in soft pink and white sandals would be fascinating.
16. Ombre Nail Design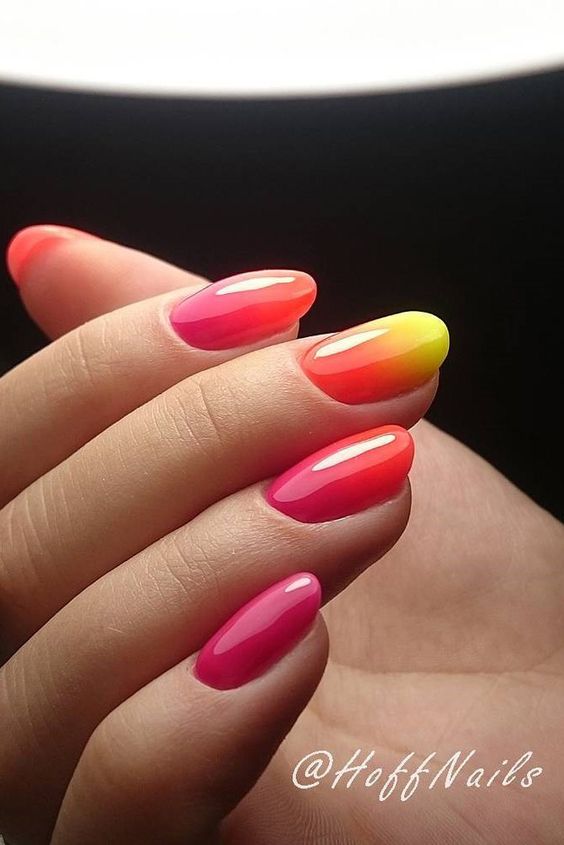 Photo: Credit
Ombre nail design in red and overflowing to yellow is just like the bright August sun at sunset.
For hot summer adventures it would be exquisitely matched with red dresses and yellow high-heeled shoes.
17. Yellow French Manicure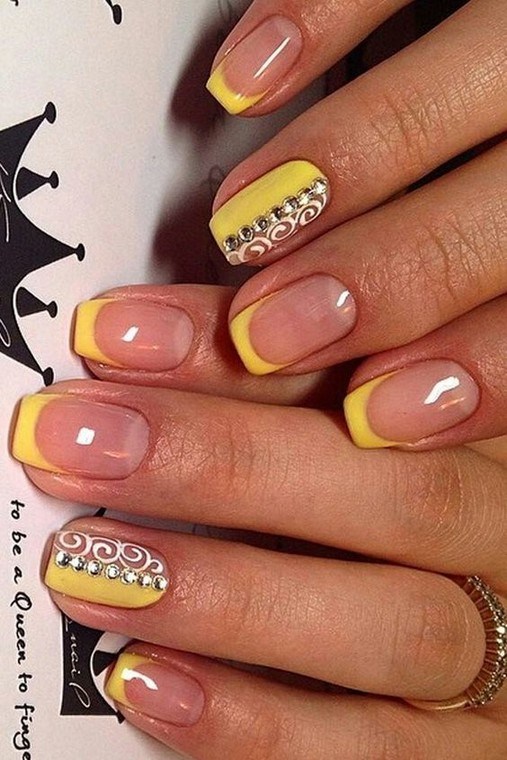 Photo: Credit
We can not miss the French manicure when we talk about nails.
But when it is summer let it be in yellow and if we add crystals we can get a lovely combination.
Let's combine it with yellow clothing and we're ready for a party.
18. Pink And Watermelon Nail Design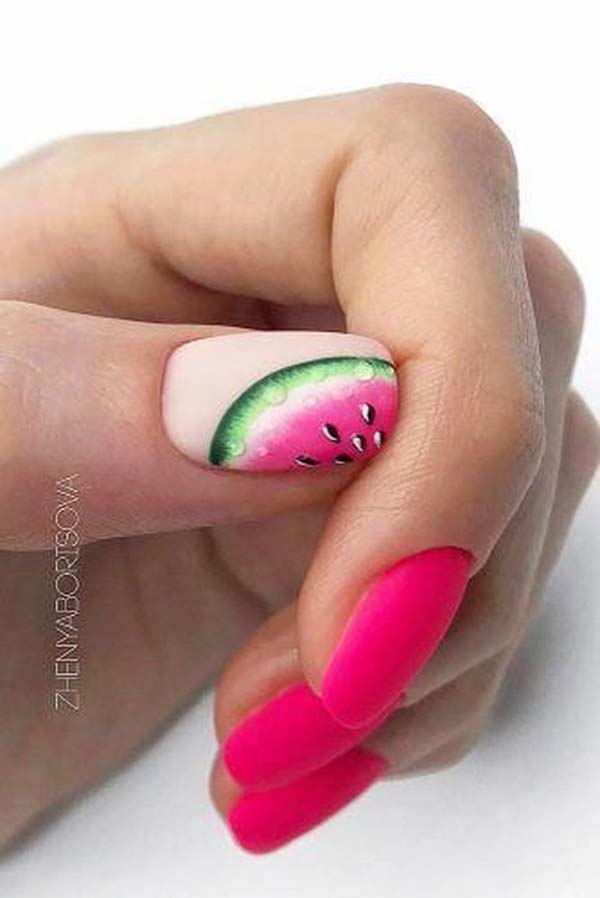 Watermelon …
Yes, why not arrange it like a manicure.
It is also good for the beach and for everyday life even in the city.
It's summer so let's have fun.
Suitable for sportswear – shorts and a T-shirt or a top in bright colors.
19. Fun Watermelon Nail Design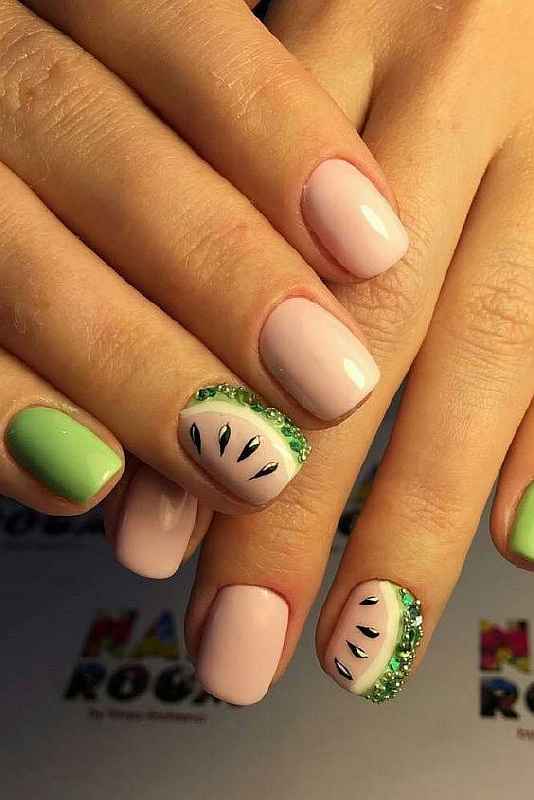 Photo: Credit
If the red watermelon is very bright for you, here is a simpler design in pale pink and green.
Let's add crystals and get manicure, not only nice but also fun.
Combine with a T-shirt and a storm or short skirt and a top.
20. Peach Manicure With White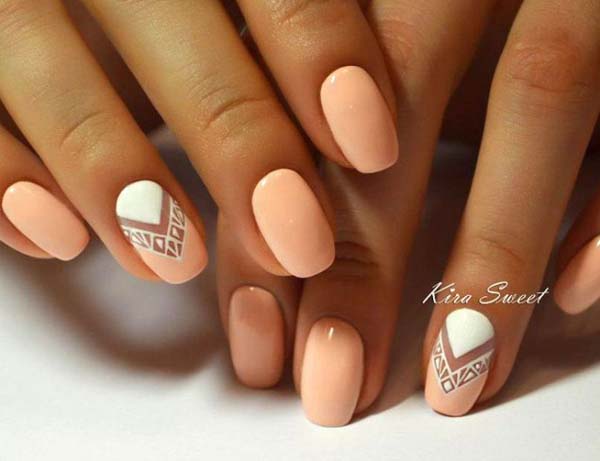 Photo: Credit
Peach is definitely a summer color, and white is always a classic.
Gentle manicure, suitable from morning to night.
It can be complemented with any clothing and jewelry.
21. Purple Orchid Nail Design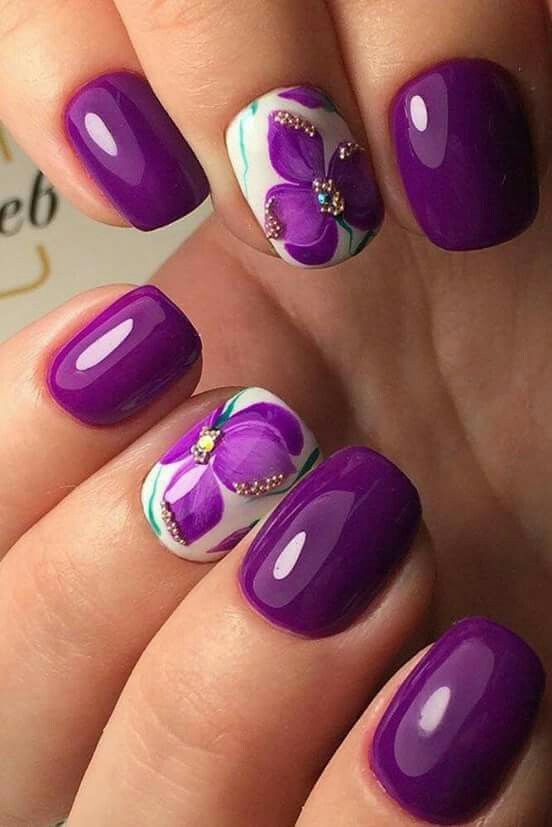 Photo: Credit
There is no woman who does not like orchids, but when it comes to manicure, it must necessarily be in purple.
The gloss gives a shine to the nails.
It will look gracefully in a white dress with high purple shoes and a purple hairclip in your hair.
22. Green And Golden Nails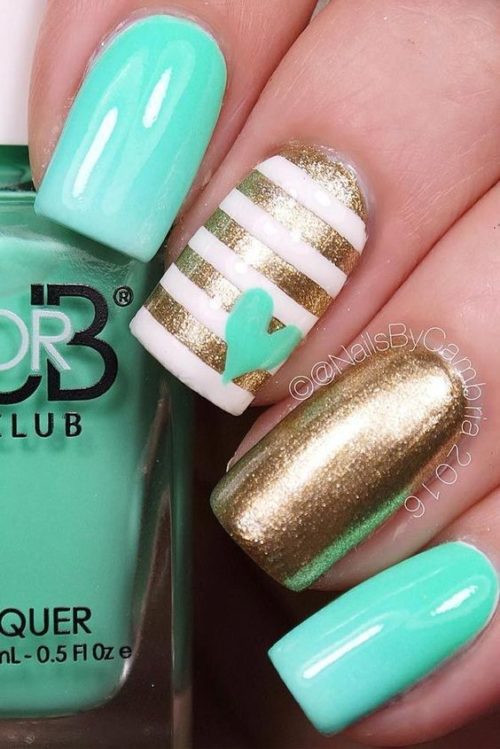 Photo: Credit
Gold is always trendy, but light green now acquires a summer accent.
It matches well with a dress in the same tone of green, gold shoes and a bag.
23. Easy Nail Designs With Triangle Tips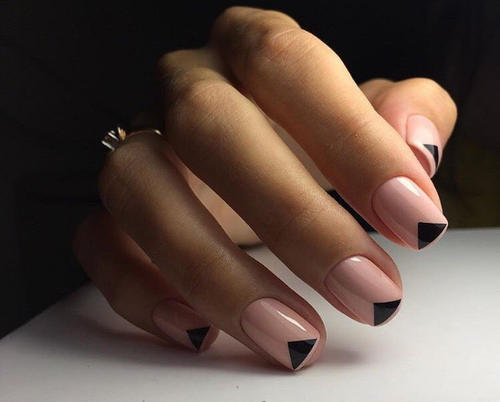 Photo: Credit
Pale pink – quite easy, but when we add black figures, it becomes a stylish manicure for summer evening parties.
With a small black dress and pale pink lipstick, you will be the main figure of the evening.
24. Romantic Negative Space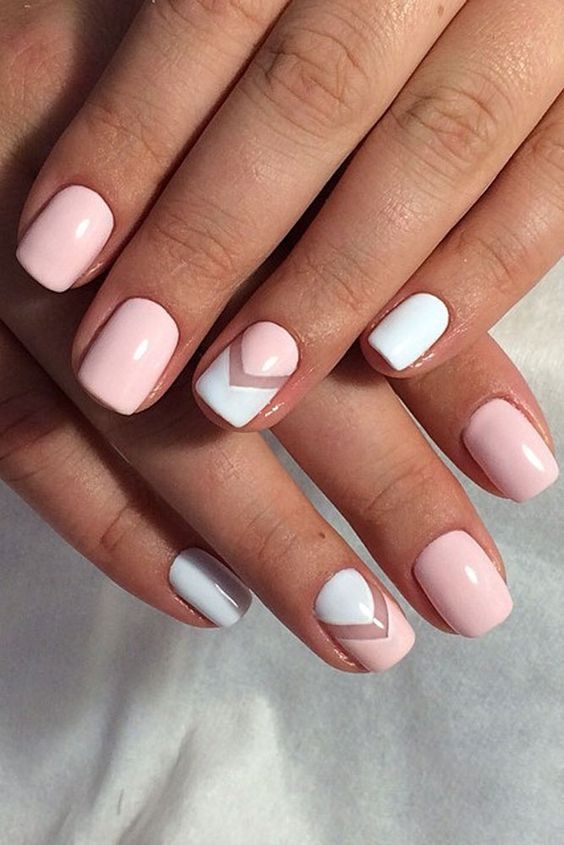 Photo: Credit
Romantic in pink and white.
Easy to perform and pleasing to the eye.
It stands light and gently.
It would be a great combination with white sandals, pink skirt and white lace top.
25. Flamingo Nails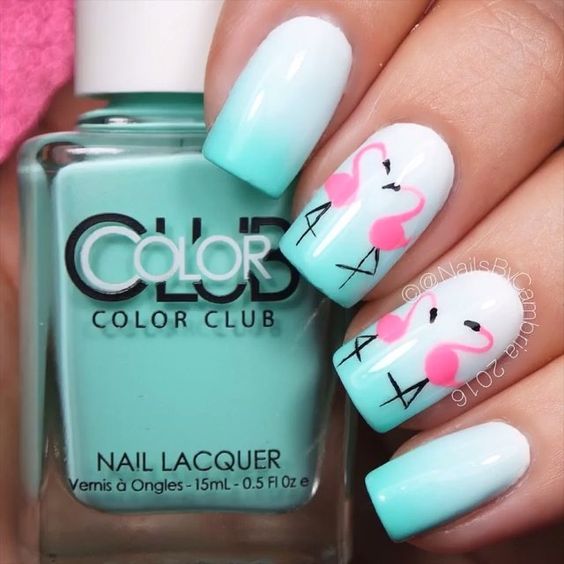 Photo: Credit
Let's add something to the blue-white manicure to make it even fresher.
Flamingos – gentleness and beauty.
Add a white swimsuit and get a summer glamor.
26. Marble Effect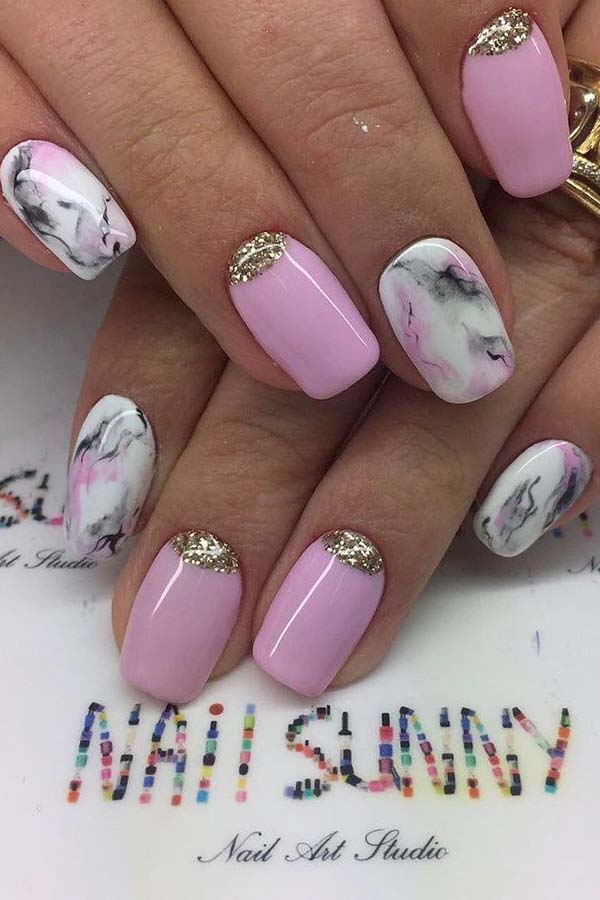 Photo: Credit
Marble effect and soft pink.
Fine and standing out.
Can be combined with white, gray, black and pink clothing.
27. Orange Gold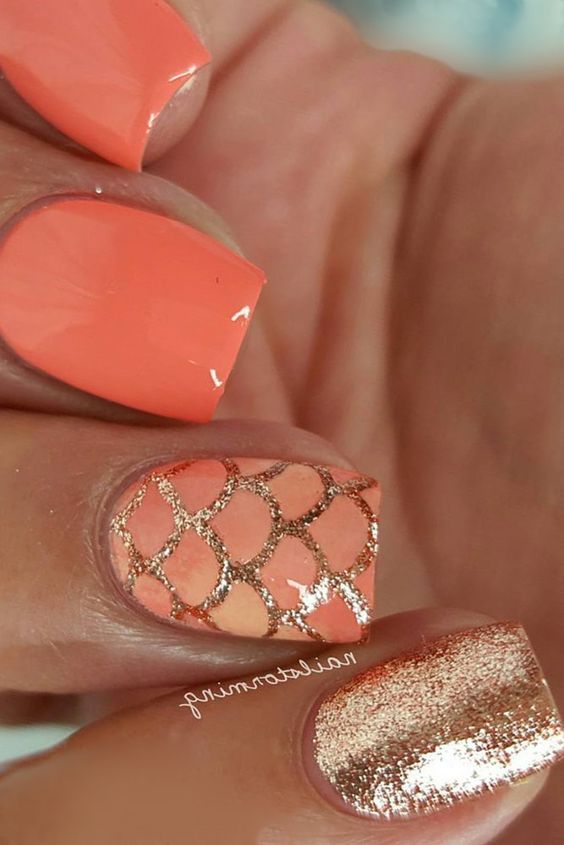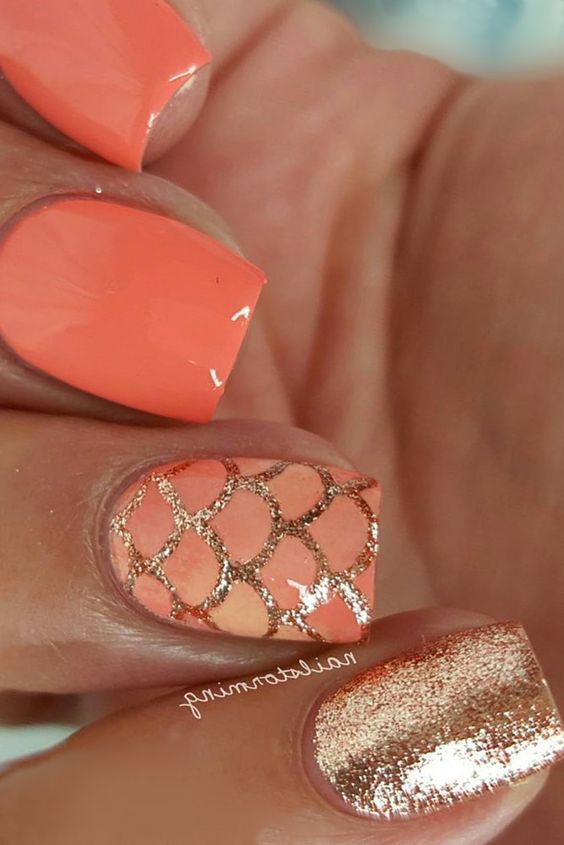 Photo: Credit
Orange and gold – classic summer combination.
Suitable for the hottest summer evenings.
With a short or long evening dress and high heels.
Required with light jewelry.
28. Lemon Nail Designs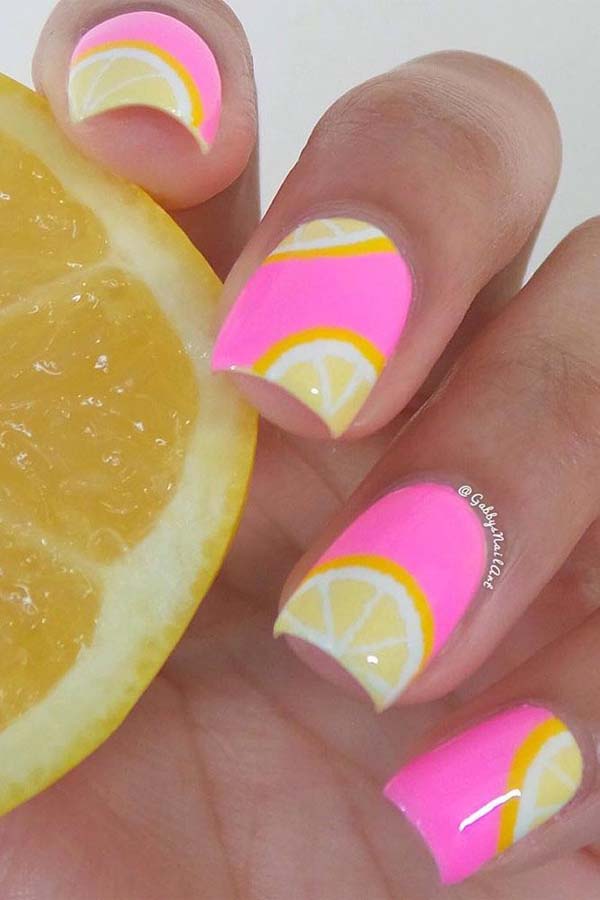 Photo: Credit
Who does not like lemon juice during the harsh summer days?
It does not only look refreshing but also fun.
Lets combine it with a swimsuit in pink or yellow to make you stand out.
29. Matte Feathers Nail Design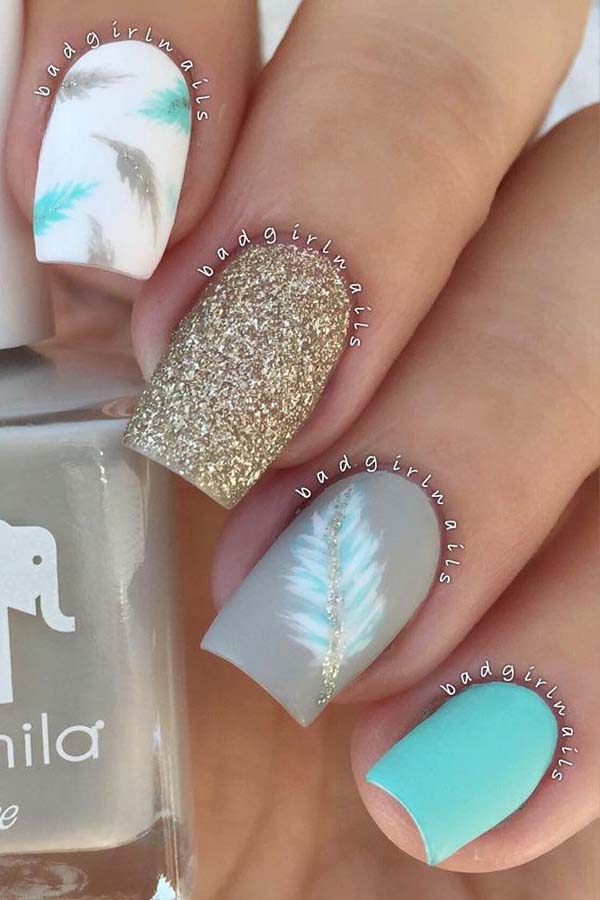 Photo: Credit
Bird feathers on matt base in a combination with green and gray.
Gold is for gloss and contrast of the matte base.
It would be appropriate in an alliance with white clothes and gold jewelry.