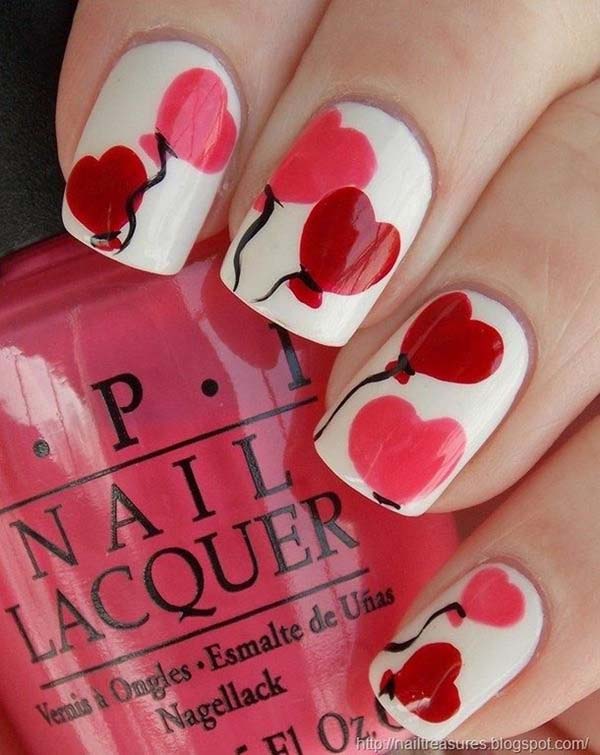 Photo: Credit
The artistic design balances the red and pink.
Balloon is a symbol of airy, something that can fly but also fragile.
Just like love is.
Balloons are here on your nails to show you are ready for the party, to celebrate love you feel.
But also to alert – be aware of my feeling.
So, here is the great example how you can express your personality only by the type of simple valentines day nails.
2. Red- white heart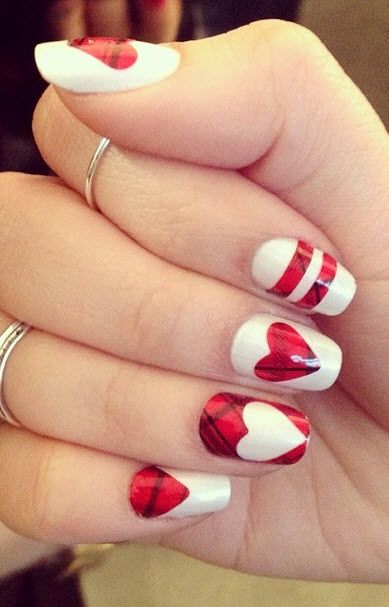 Photo: Credit
The background of this valentine day`s design reminds of a school uniform.
It gives you the taste of first school love.
The first unforgettable love.
So, choosing such type of valentines day nails art you are just saying to the world that this boy is special for you.
He reminds you of your first love.
It is a brave combination – red and white in the form of heart.
Red as we all know symbolize passion, how love is expected to be, and white – calmness.
This may be your brave way to express your expectations from your lover – to make you feel calm and easy.
3. Candle hearts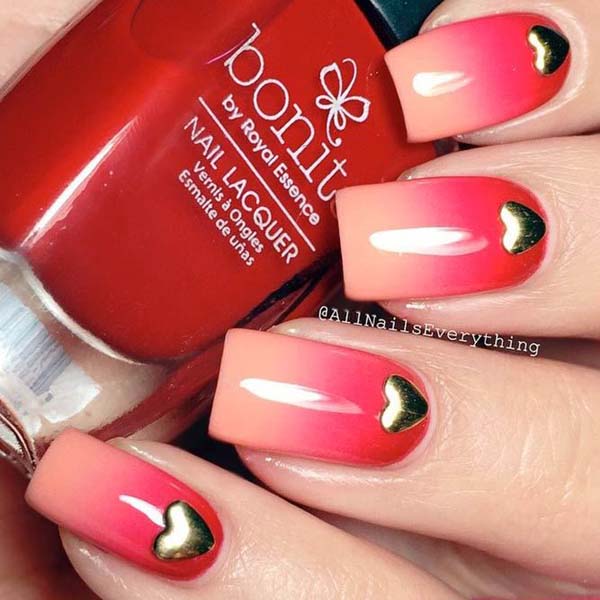 Photo: Credit
Another great idea of pink valentine day nails.
The candles look so real. It is not only because of the quality of the polish but because of the idea itself.
Love is like flame.
You will not lose from its sparkling light if you light up other candles.
4. Black and white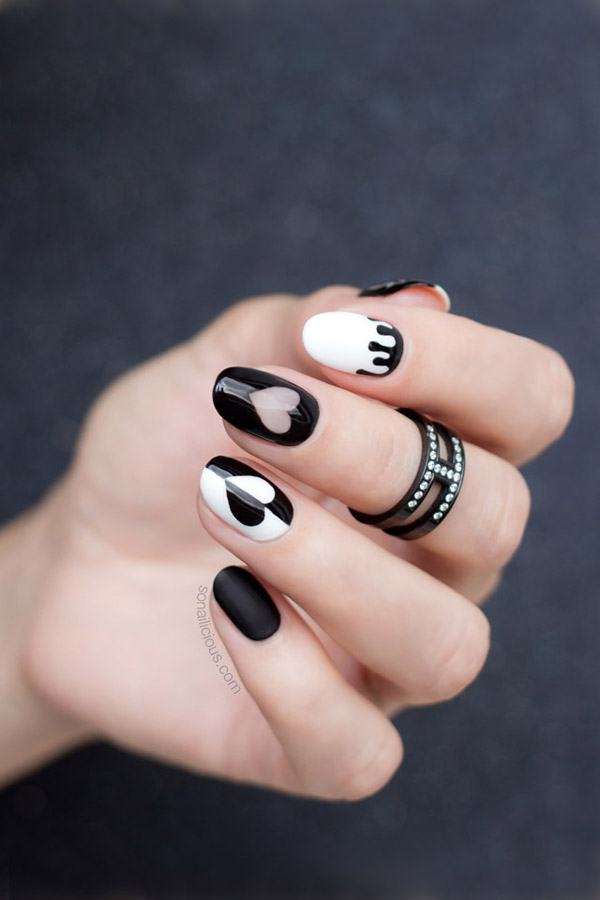 Photo: Credit
It is a beautiful and simple valentine day`s nail.
This type of valentine nail design is a simple reflection of the duality in the world we live.
There is something mysterious in this nail stylish.
The hidden meaning may be "Be careful, I know that love can hurt. But I have grown thanks to love."
Just because love is the best teacher in love.
5. Just a small black heart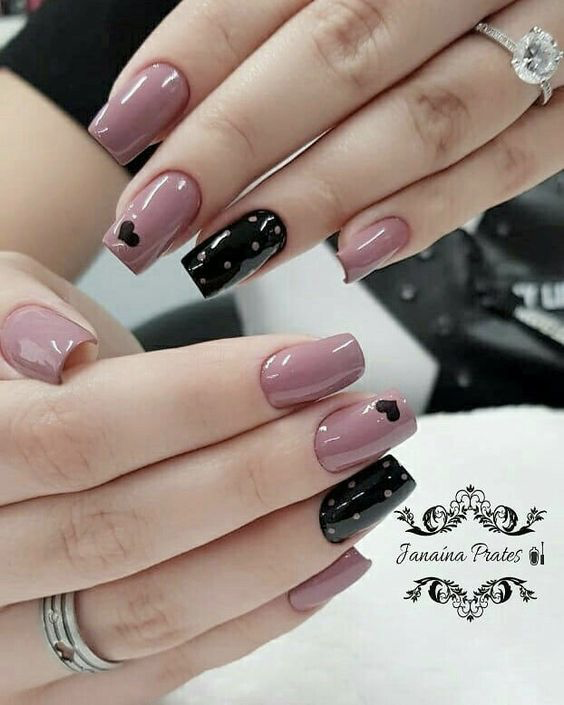 Photo: Credit
If you're really swept up in the magic of the moment—love is in the air!—then you'll love this nail design covered in small dark hearts.
Apply a top coat to seal the little hearts in place and to add a bit of shine.
6. Full of hearts life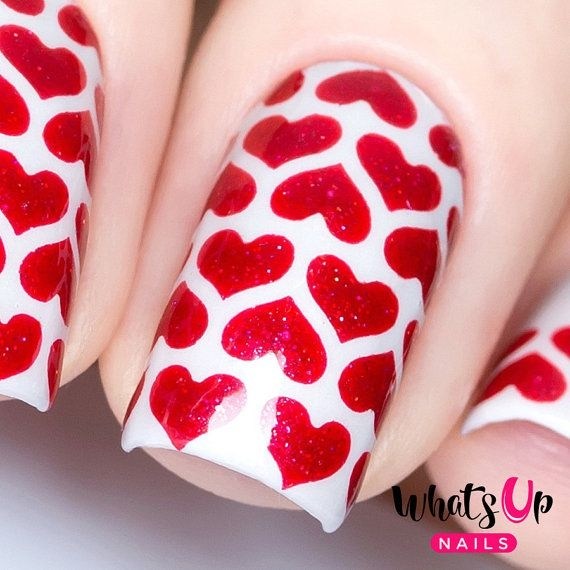 Photo: Credit
Get literal by wearing your heart on your valentine nails this weekend.
There are of course a million ways to paint the symbol, but try these alternating designs.
7. Lolli pop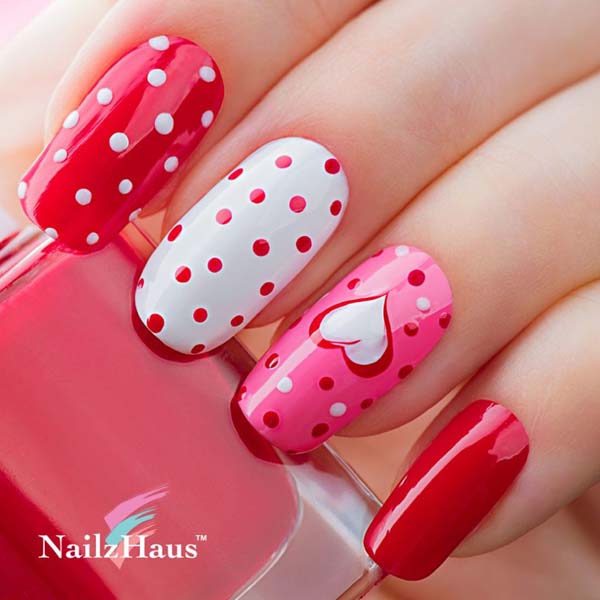 Photo: Credit
This is one of the cutes designs for the valentine day.
Just like the love itself is, this artistic design reflects the sweetest part of love.
You become addicted to love.
8. Shiny blue
Photo: Credit
Wow effect.
Elegant but full of charm.
And this microprint of the heart.
Just you are saying I am not totally firm.
There is a little bit of romance deep in me.
But why black heart. Is it because your hear has been broken?
Let your valentine day design express your inner you.
Just be brave in finding the best design for you.
9. Xo xo print nails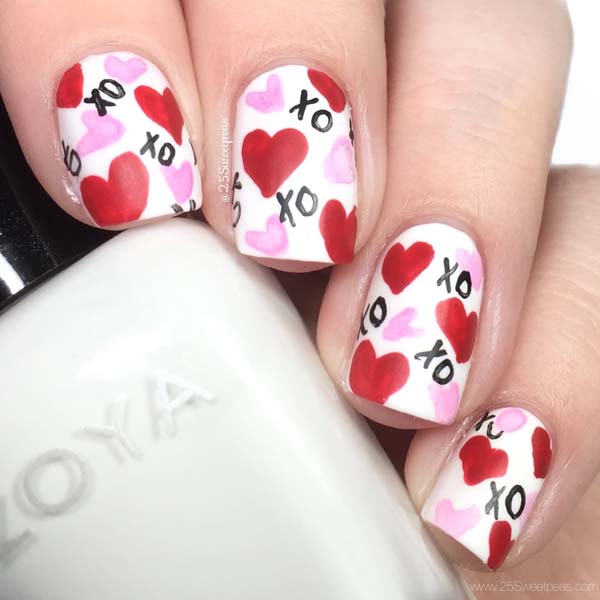 Photo: Credit
Is it like a joke? May be yes, may be no.
It is Valentine day. And you decide how to celebrate it.
If your feeling is just xo-xo, so why not.
Just dare to love in xo-xo style.
10. Yes or No diamonds
Photo: Credit
An extravagant design of valentine nails.
Similar to the greatest question To be or not to be?
To love or not to love. To dare or to be afraid of love.
If you are a kind of a person that does not trust people easily.
If you need some more time to become familiar to someone.
So, this is the way to express your personal point of view.
11. Simply not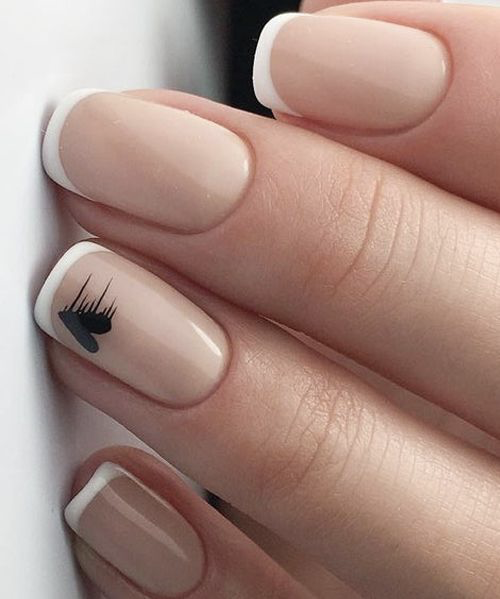 Photo: Credit
French manicure. At a first glance it is the perfect pure style.
But just at the first glance.
So, then you notice that small black hurt heart.
It is just a heart symbol on your nails but tells so much.
The form, the size, the color, even the  frame and the background give us so picturesque story of your personal attitude to love.
Amazing, isn`t it?
12. Sparkling gold heart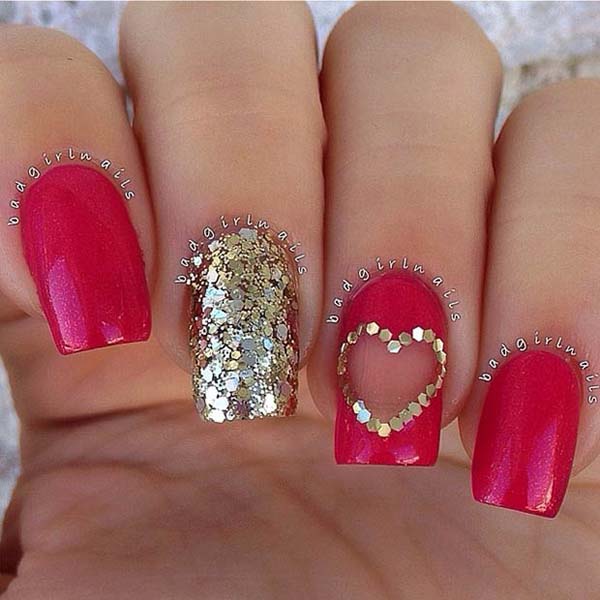 Photo: Credit
Hey, girls, here comes the whole romance.
If glamour and expressiveness is your lifestyle this is the best options for you.
But be aware of the whole outfit.
In case you do not, you take the risk your extravagancy to be turned in to lack of taste. 
13. My True Love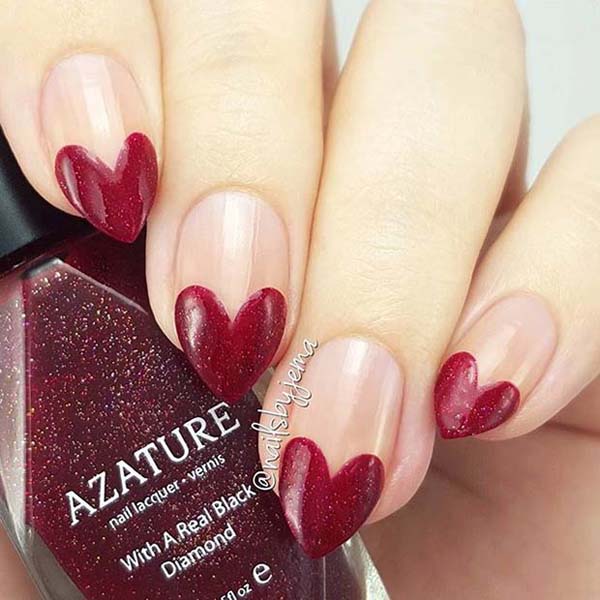 Photo: Credit
Wear your heart on your nail beds with this oversized red heart design.
Look at the form of the tops of your nails.
Amazing, the perfect heart.
This type of valentine day design requires not only high quality in nail polish but also skills for the specific form of a heart.
14. The beat of my heart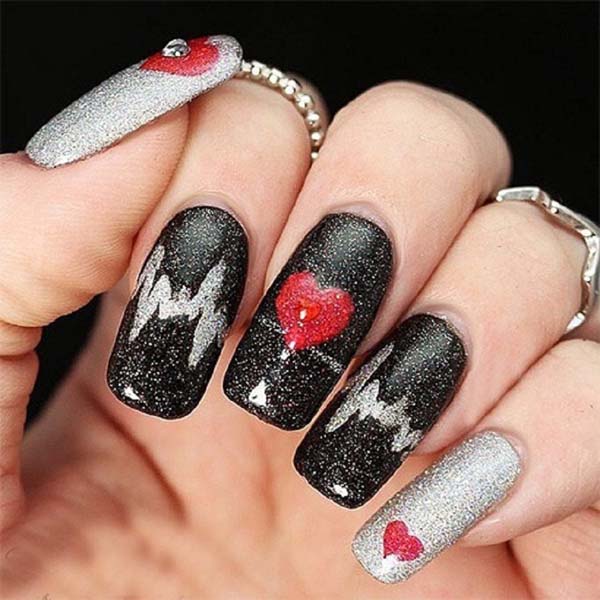 Photo: Credit
Make a statement with a standout glitter nail.
This magenta glitter shade is the perfect balance of black, red and sparkle.
15. A special heart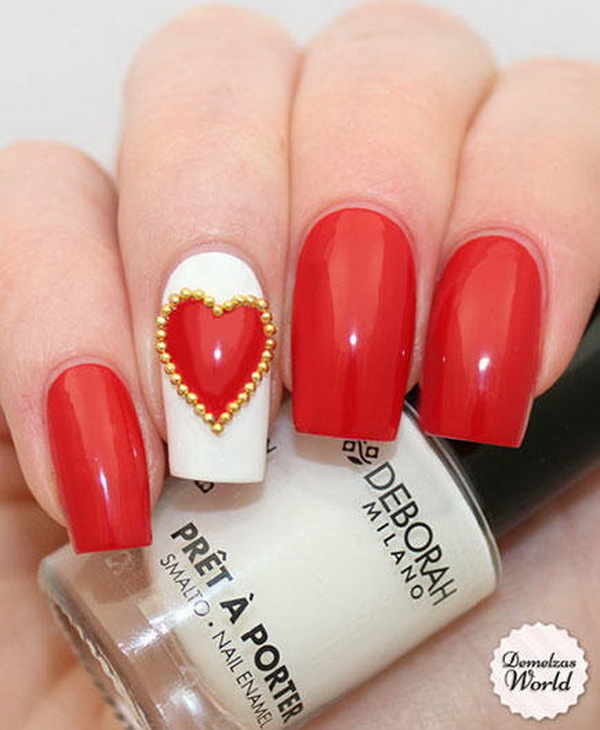 Photo: Credit
My heart is so special. For all the ladies that are dreaming of a lover prince.
When the romance and softness are priority in love try this design.
16. Sparkling stars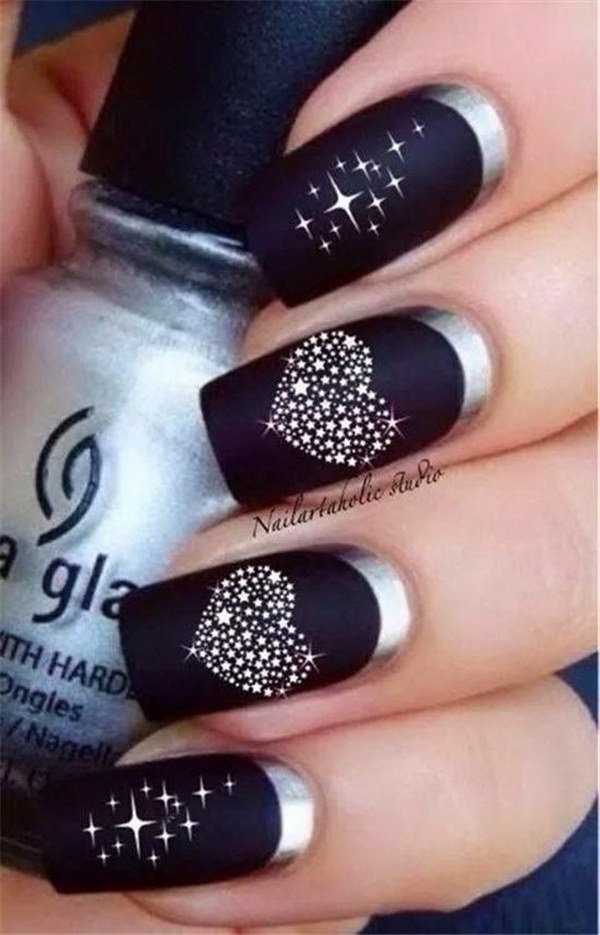 Photo: Credit
It is an extravagant design.
Only two colored and mainly in black, this valentine day art version is suitable for night events.
17. Sealed with a heart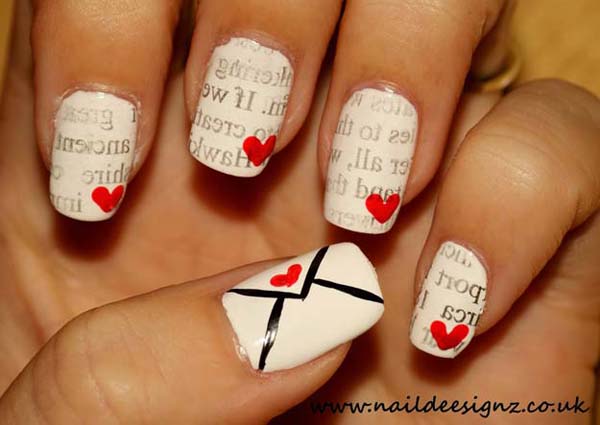 Photo: Credit
The printed background gives such a freshness.
The envelope in the modern world of all social medias emphasizes on – how important for you is to be romantic.
18. So pink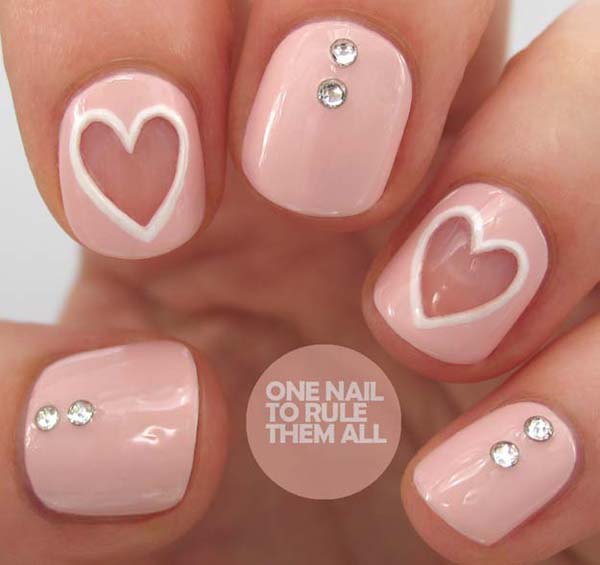 Photo: Credit
So pink, so gentle.
Perk up a nude mani with chic stones and white hearts along the bottom of each nail.
Just the right about of subtle and sweet!
19. Snowy hearts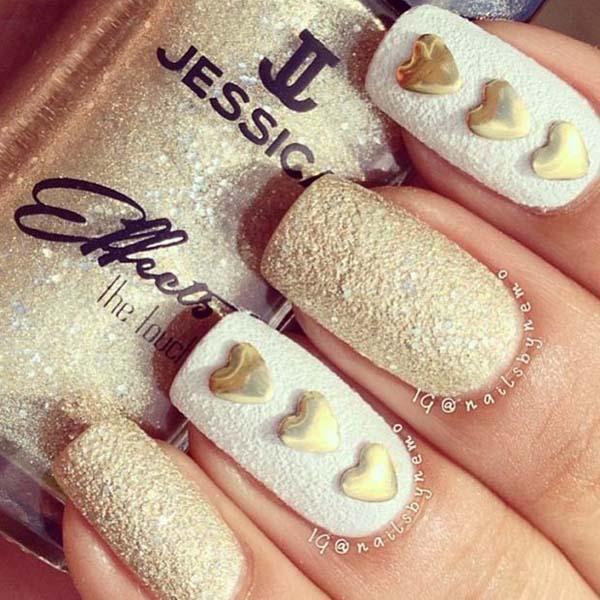 Photo: Credit
Valentine's Day fan or not, we can all agree that this manicure is too cute not to try.
It depends on your imagination – are these hearts in the ice snow or in the hot sand. Just the love itself.
It can melt you or make you feel freezy in case you are out of love.
20. Firm grey hearts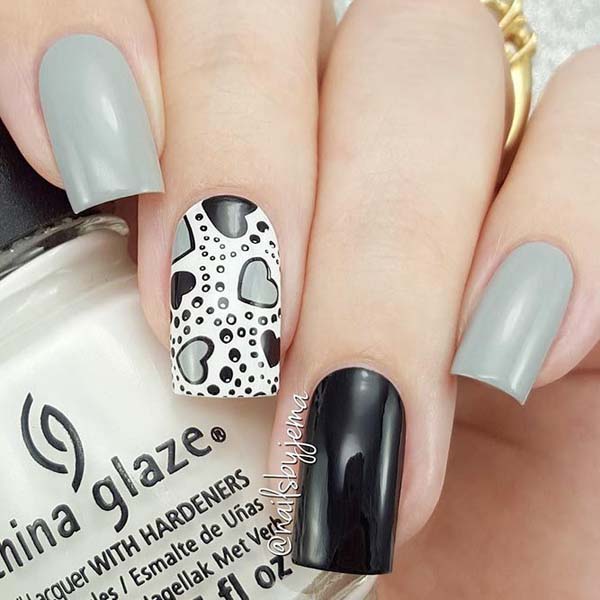 Photo: Credit
Typical French stylish.
No extra colors.
The only message that comes from this nail is "I am confident".
It is suitable for a business woman.
21. Candies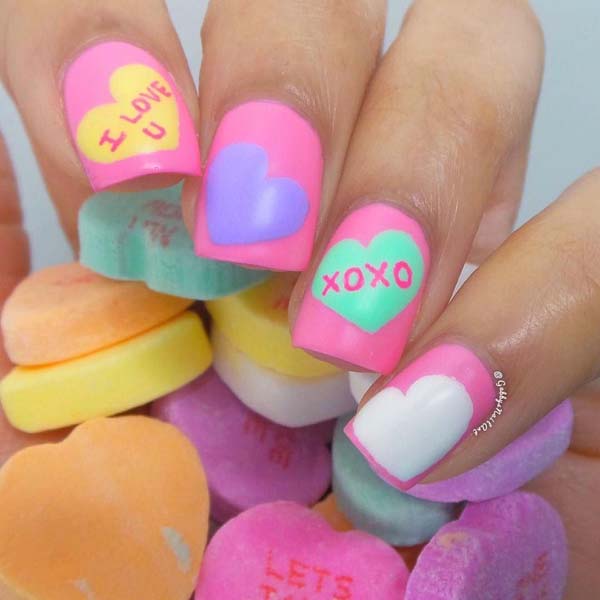 Photo: Credit
Celebrate the only time of year when these delightful little candies.
They are absolutely everywhere.
Don't just eat them — put them on your mani, too
22. Wedding style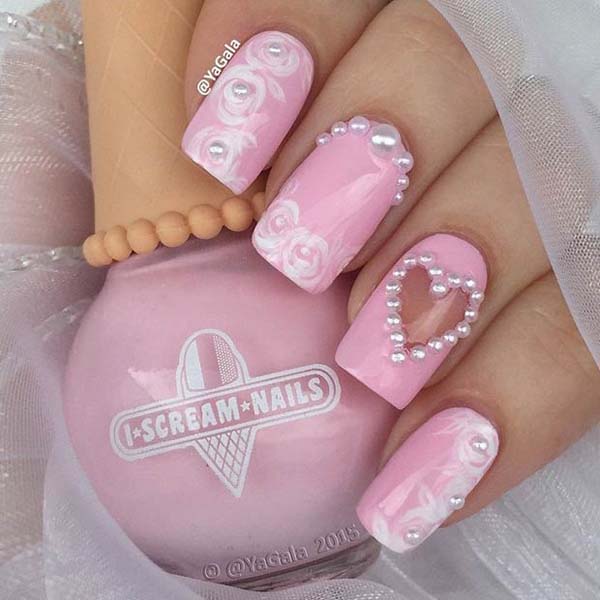 Photo: Credit
So gentle, so soft.
Baby pink with cloudy white.
This is the perfect combination for not only a valentine day art nails but also for your wedding day.