W
ho We Are 
Trendy Pins is a personal private blog where a lot of specialists and experts on fashion, beauty and lifestyle can speak their voice. We are also in love with hairstyles, makeup, DIY beauty tutorials and delicious recipes and constantly adding more original and creative projects to our library of content.
Our passion for beauty and style, lead us to create the Trendy Pins brand so that we can help and inspire other people to make their life full of joy and happy moments.
We have created numerous how-to's, tutorials and step-by-step instructions on hairstyles and beauty routines.
We have started Trendy Pins website in 2016 and since then we have grown a significant number of followers on major social media networks – Facebook, Pinterest, Instagram.
What We Stand For
Trendy Pins is a place to find the right beauty and fashion info; a place to connect with others who have been there too, a community of hundreds of DIY makeup and hairstyle enthusiasts.
Our Mission
Our objective is to be one of the most engaging online communities on the web that provide daily inspiration, DIY tutorials and advice to those seeking to develop, organize, improve, and style their life.
We want to be a reference point for those who are passionate about the ever-changing world of fashion and beauty, trends, healthy living and lifestyle.
At Trendy Pins, our vision is simple:

To Help YOU Create the Life You've Always Wanted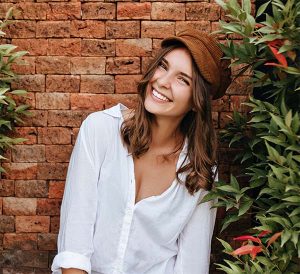 Cynthia Rogers
Founder/Editor
Cynthia is the owner of Trendy Pins – she started the site back in 2016, when she was still working in a hairstylist studio downtown, but the passion for fashion and beauty lead to creating the site and following her own dream of creating a great Fashion, Beauty and Lifestyle online-magazine.
She has a master degree in Modern Fashion which she successfully incorporated in a lot of her own beauty projects
Contact Us
Thanks for visiting us! Whether you have a comment or suggestion to share, we look forward to hearing from you. For any feedback or inquiries, feel free to reach out by emailing [email protected]
If you would rather call us or send us a letter, you can reach us at 1618, Sofia, BG
Advertise With Us
The Trendy Pins website offers different kinds of advertising on our properties – increasing the reach and popularity with each month. If you are interested in advertising with us – Email us at blog@trendypins.com and we will get back to you with the best offer!
Trendy Pins is property of I DECOR Ltd.