A sure-fire way to get the look of uptown elegance is with a manicure using black nail polish and acrylics.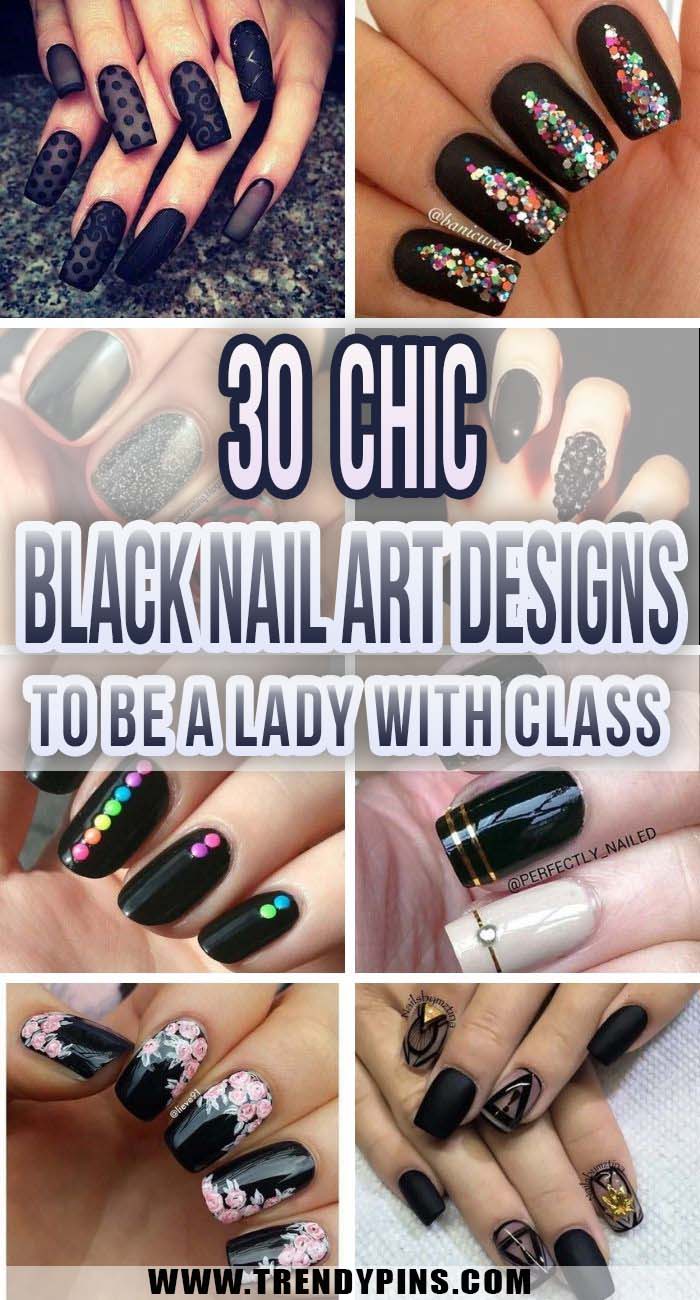 Whether you're wearing a little black dress or a black leather jacket with a denim skirt, black nail art designs put a personalized stamp on your outfit.
We've collected thirty black nail art designs to inspire your next manicure. You'll even learn how to make sheer black nail polish using polishes you may already have in your collection.
Keep small brushes on hand for touch-ups. A set of manicure tweezers will help you set gemstones and stickers. They're also a great tool for adding detailed paint accents.
1. All Black Stiletto Nails With Studs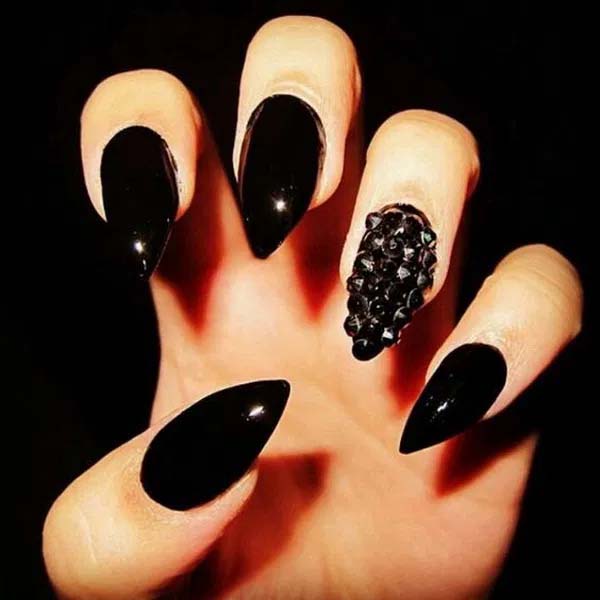 Studs are a dynamic addition to this manicure.
Choosing black studs adds even more drama. You can change the look by mixing gold and black studs, too.
2. Black And Gold Glitter Nail Art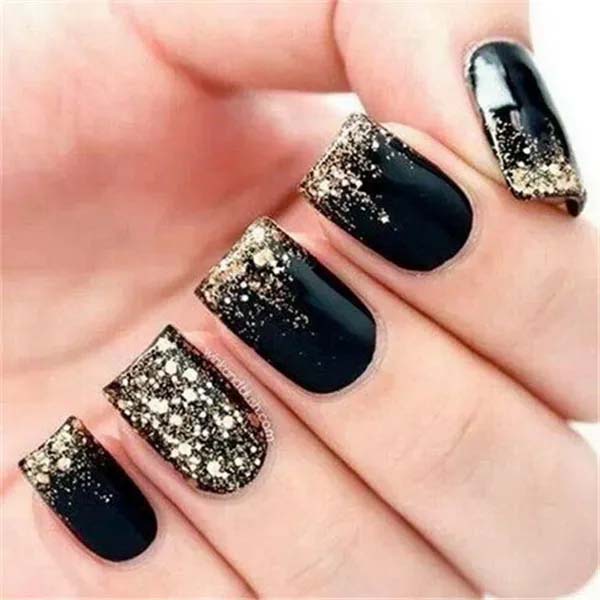 Square shaped nails get a touch of glamor when you apply gold glitter to the tips.
Just like every other type of glitter craft, it doesn't have to be perfect to look fabulous.
3. Black And Nude Floral Nail Art Design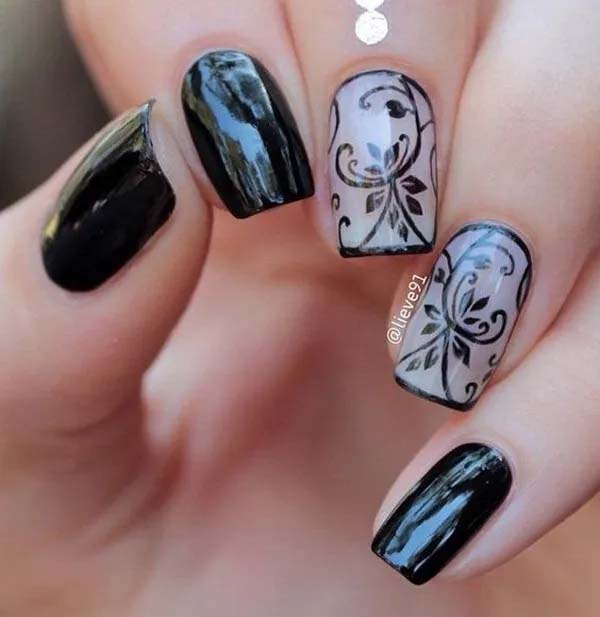 An ornate floral design is a sophisticated surprise on glossy square nails. Here, stickers are added to the tops of nude polish.
Add a black outline to frame the sticker. This allows you to add a narrow tip for a clean finish.
4. Black And Red Rose Floral Nails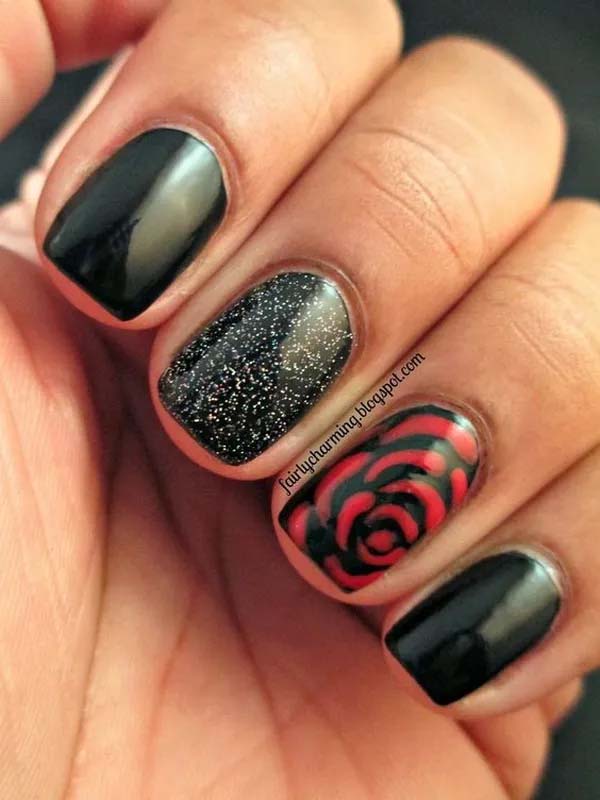 Paint this rose by creating teardrop strokes around one dot. Position the center of the flower so it's offset to one side.
5. Black And Silver Glitter Tipped French Nails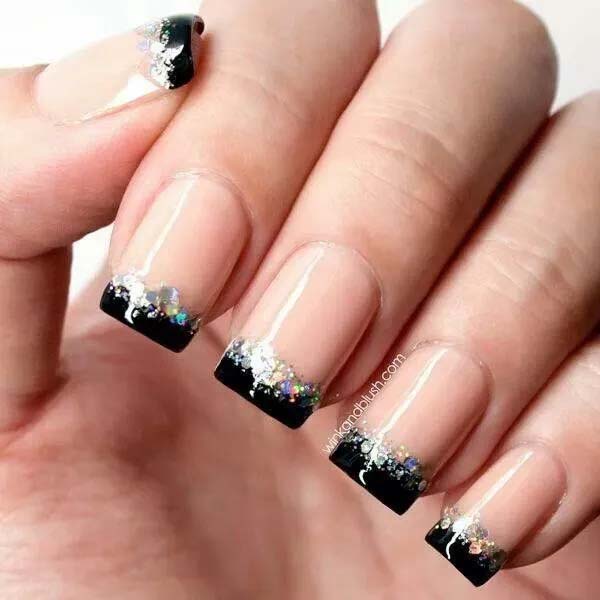 For a change of pace, change French white tips to black.
Add a little sparkle for a fresh evening look. Sparkles will also hide any imperfections at the tip line.
6. Black Background Nails With Colorful Sequins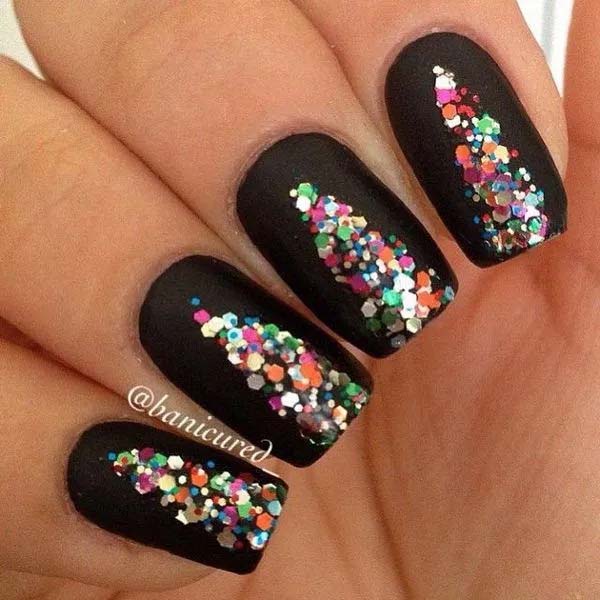 Sequins dropped in the center of these black nails look great at any celebration that includes confetti.
Use a stiletto nail form to create an outline for the embellishments.
7. Black Colored Floral Nails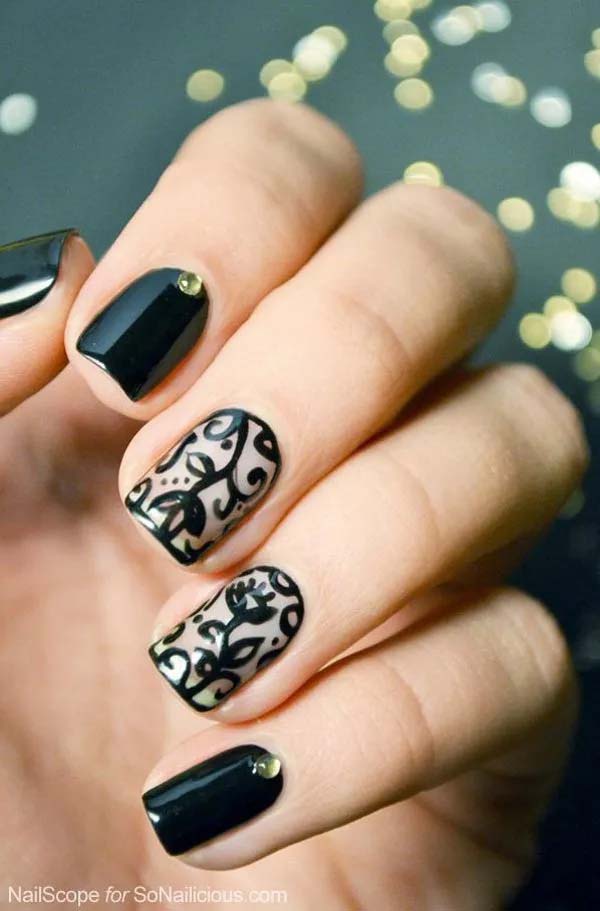 Floral patterns can be painted freehand or purchased as stickers.
A single small gemstone on each of the solid black nails adds subtle sparkle.
8. Black French Tips Nail Desig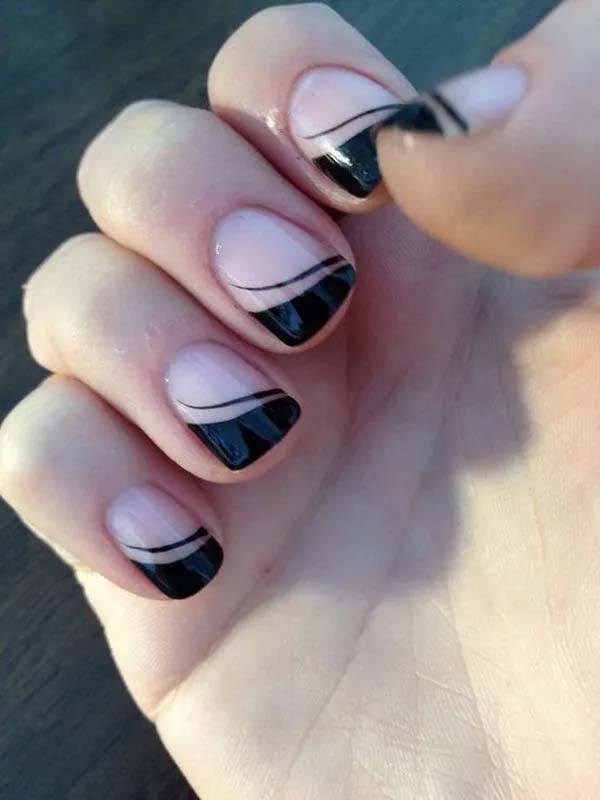 Another variation on the French tips is to paint an asymmetrical tip.
These tips are accentuated with a single separate stroke.
9. Black Hearts Negative Space Stiletto Nails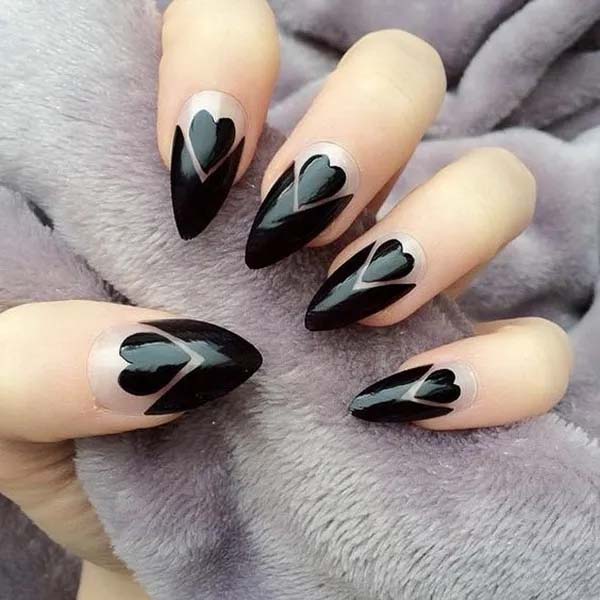 Almond-shaped nails make it easy to paint angled tips and center the heart.
You can also try this with a diamond design.
10. Black Lace And Dots Nail Design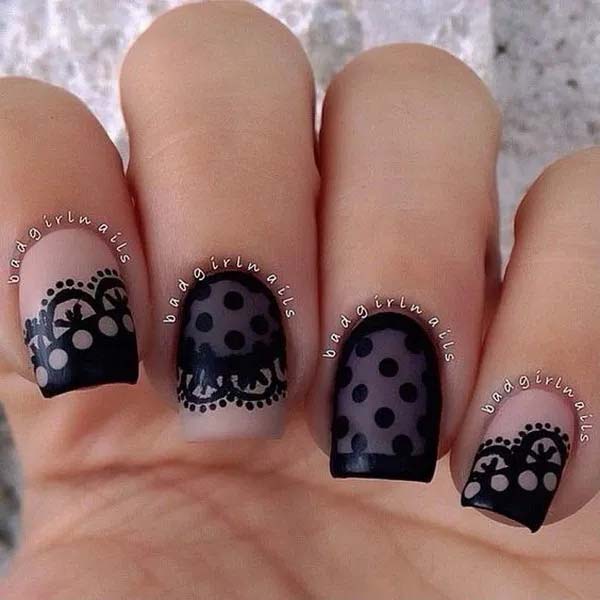 Make your own sheer black polish by blending equal parts of black polish with a clear top coat.
These designs were painted over a nude base coat, but you can also use a clear base coat.
11. Black Lace Nail Art Design With French Tips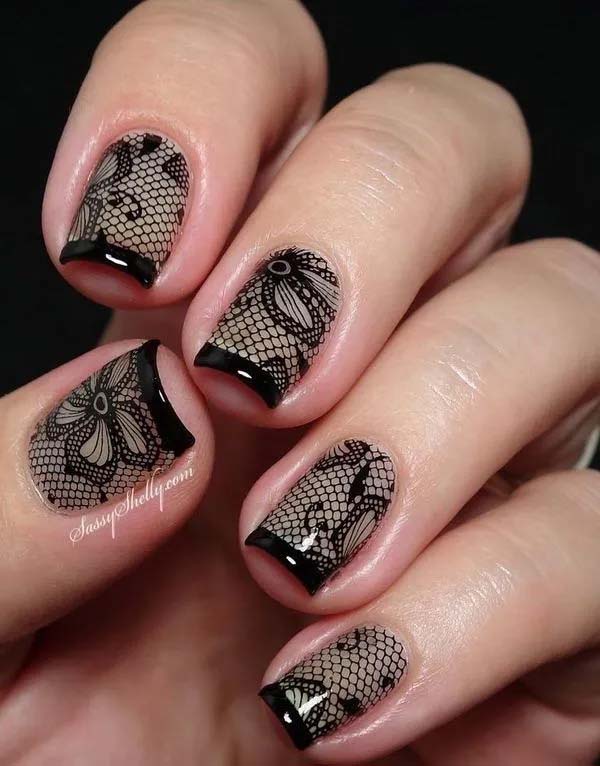 Adding stickers to your black tips gives you detail that's hard to achieve with a brush.
Delicate lace stickers and patterns are great for creating the look of black stockings.
12. Black Lace Nail Design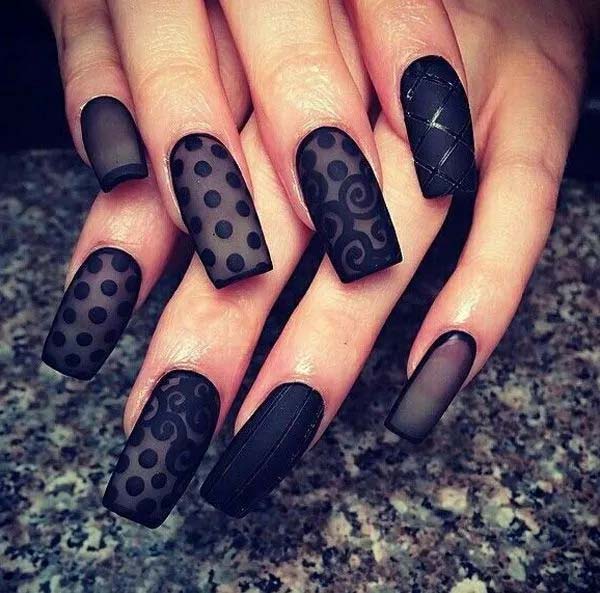 Once you get the hang of creating sheer black nail polish, add polka dots and other patterns.
Matte decorations on a sheer polish create an illusion of satin embellishments.
13. Black Leopard Manicure For Short Nails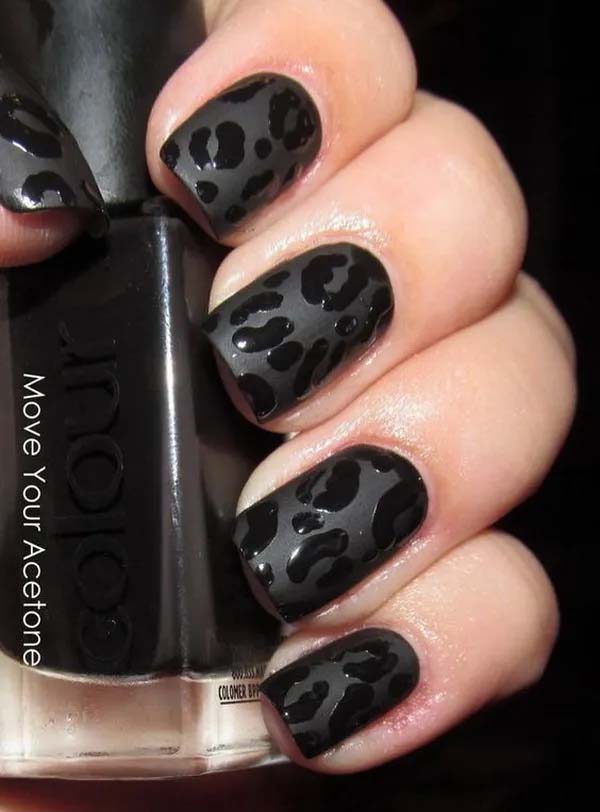 Short nails can get an upgrade, too.
Brighten the look of your matte black polish by dropping a few glossy black leopard spots on top.
14. Black Matte Nail Background With Red Tapes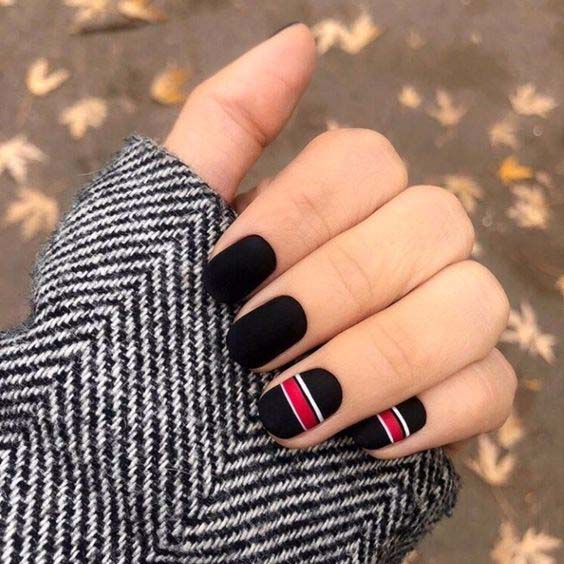 Matte black enamel works well with heavy materials like wools and tweeds. Personalize the look with colorful stripes.
Choose your favorite sports team's colors on game day.
15. Black Nail Art Design With Gold Stripes For Detail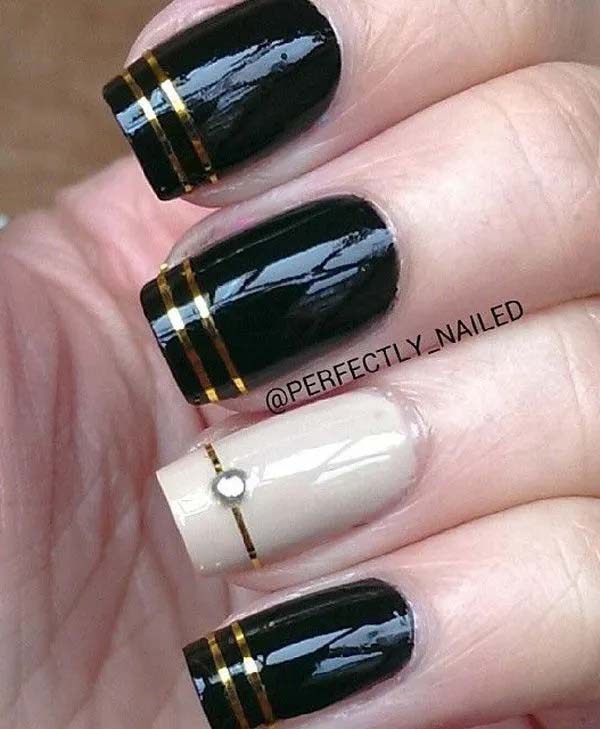 Square glossy nails create the symmetry needed for a refined look.
Achieve an art deco style by adding stripes near the tips.
16. Black Nail Background With Gold Stars And Moon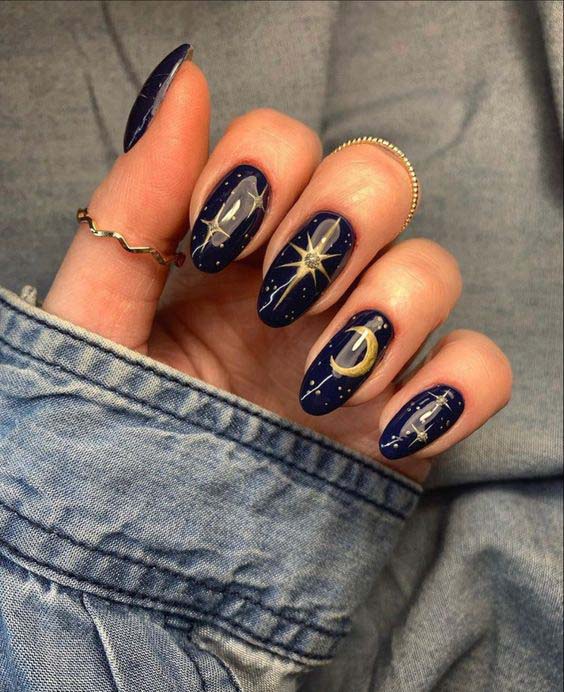 Black enamel is the perfect canvas for celestial art. Paint the moon and the stars for a trip to the planetarium.
Use gold or silver polish for these little works of art. Pick the color that matches your jewelry.
17. Black Nails With Neon Dots On Top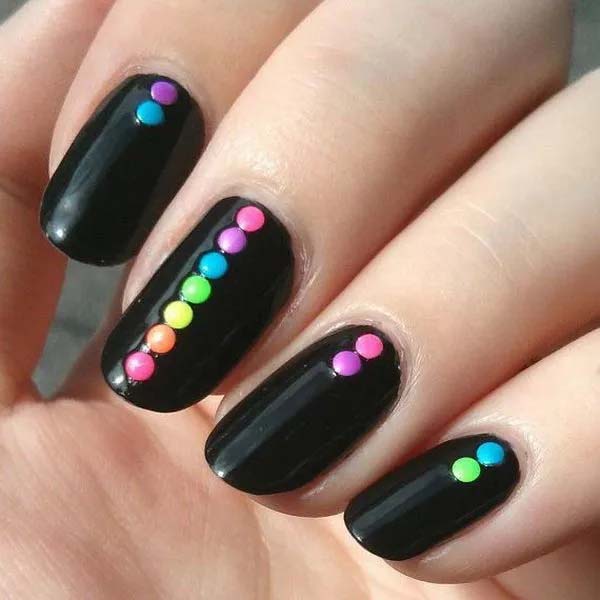 If you're new to working with nail embellishments, start with something like these friendly rows of dots.
Use just one or two, or line them up the length of the nail.
18. Black Nails With Pink Flowers Nail Art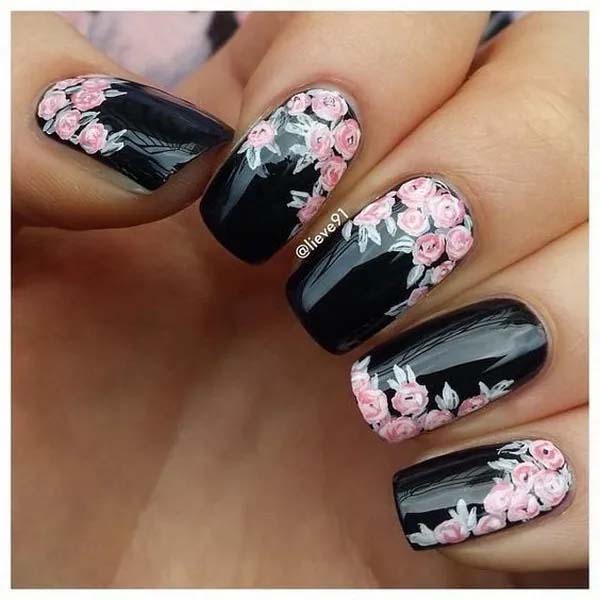 Pink flowers like cherry blossoms give these black nails a feminine touch. Paint them yourself using just three colors.
One pink color can be turned into different shades using white nail polish. The white polish is also used with the black enamel for the gray leaves.
19. Black Negative Space Nail Design With Striping Tapes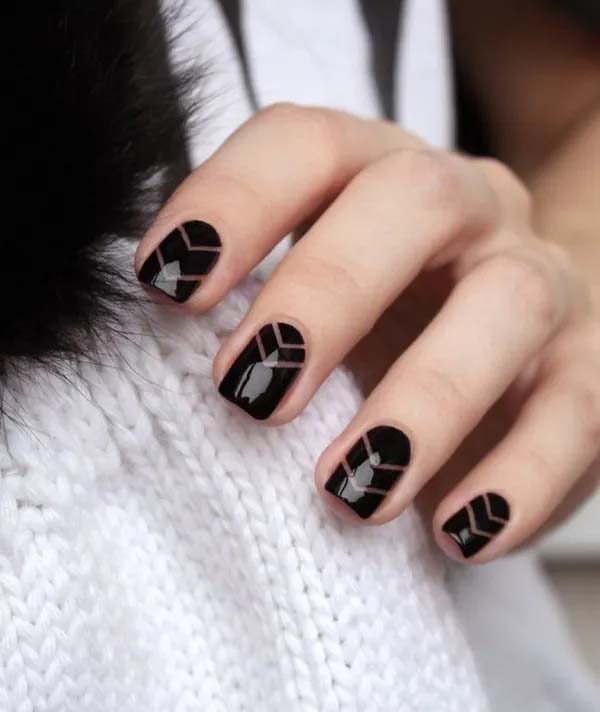 Create a subtle chevron pattern using thin stickers as a mask over a base coat of black sheer polish.
The sheer base coat makes small mistakes disappear.
20. Black Tipped Nail Design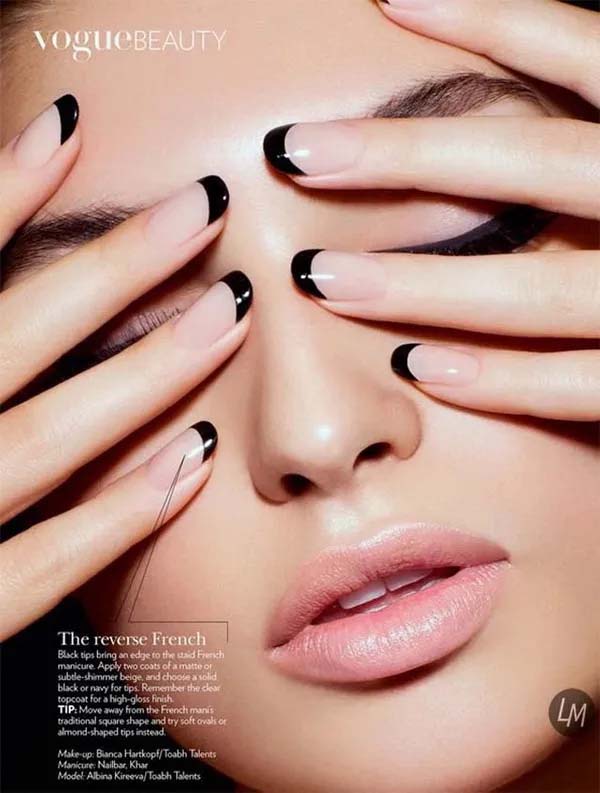 Revitalize your French manicure by changing out your white tips for black.
The contrast between the glossy black and soft rosy beige polishes creates a surprising amount of drama. Using an oval base is another way to update and soften this traditional look.
21. Black With Whispy White Feather Accent Nail Design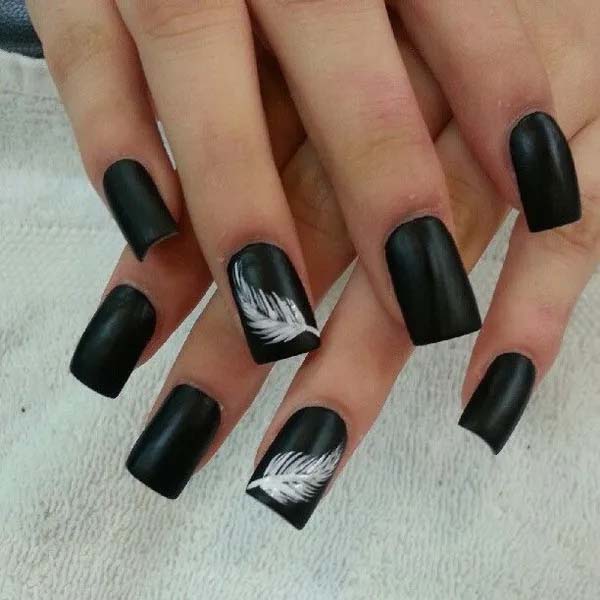 Delicate feathers soften the look of square black nails. Use a very dry brush to apply the white polish.
Start with the centerline of the feather and work outward from the bottom to the top.
22. Elegant Black Matte Nails With V-Shaped Gold Embellishments On Top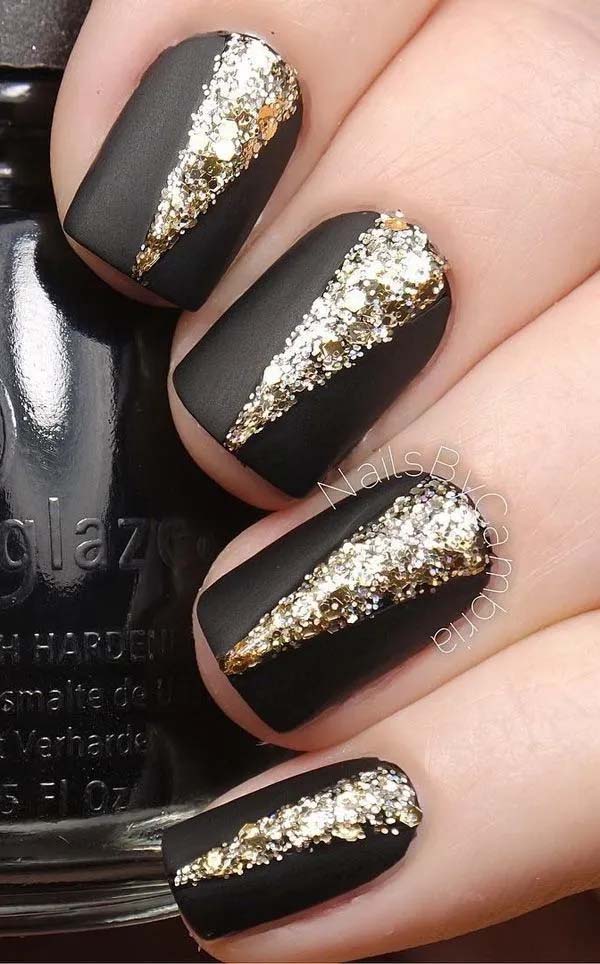 Use matte black polish to make gold sparkles stand out. You can choose whether you want small sparkles or larger gold leaf.
When your evening includes white linen tablecloths, choose the gold leaf.
23. Glossy French Tips Design For Black Nails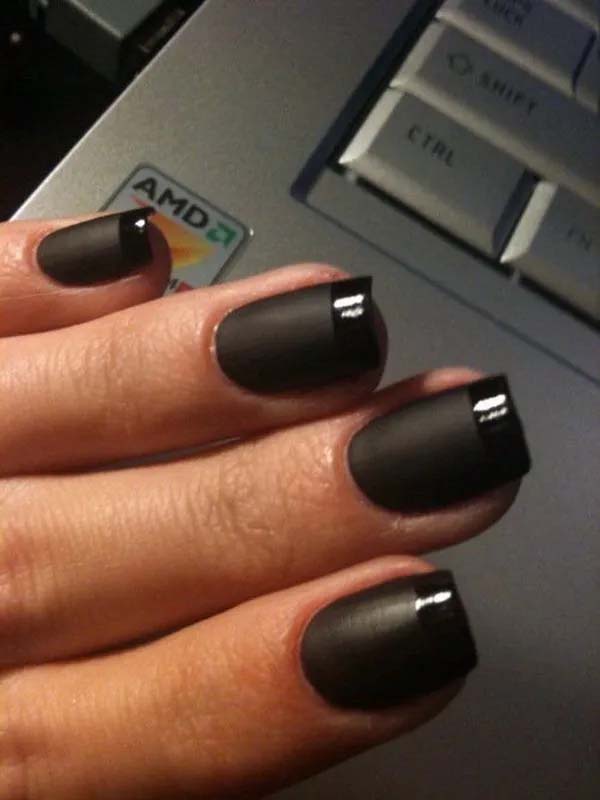 Add charm to your matte black polish with glossy French tips.
This style can go from work to an evening out.
24. Matte Black And Tribal Inspired Nail Art
Get a tribal look by painting simple shapes and patterns on your nails. Try this over a sheer black polish.
Add gold embellishments to give them the look of nobility.
25. Matte Black Nails With Gold Studs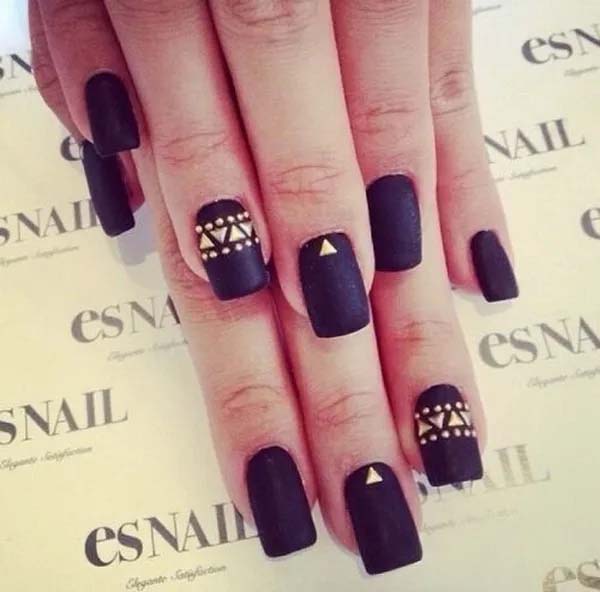 For a fast upgrade to matte black nails, use gold embellishments instead of paint or glitter.
If the gold is too bright, try a brass look instead. Cleanup will be faster, too.
26. Neon Stripes On Black Base Nails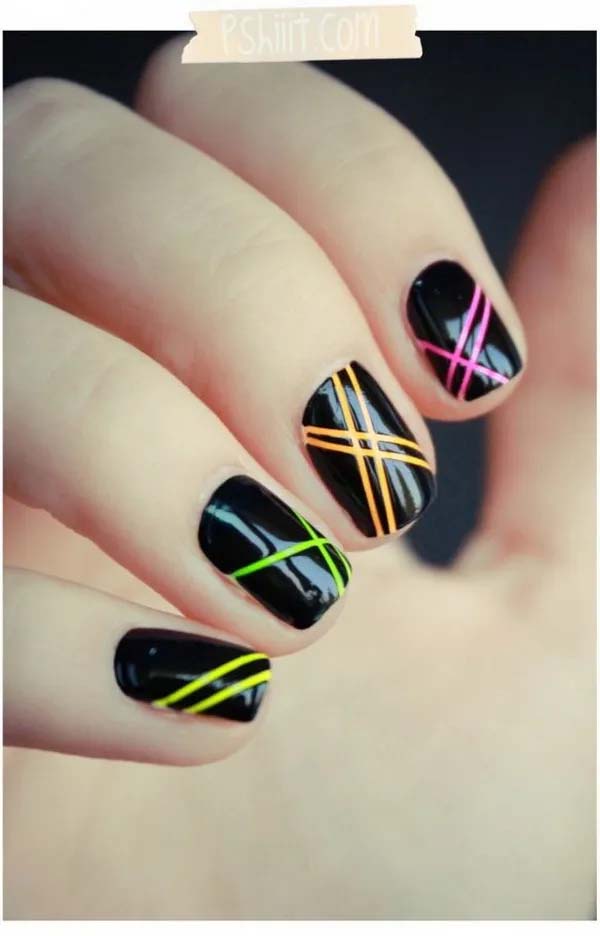 Paint delicate stripes using neon colors on glossy black polish for a fun look that isn't too flashy.
You can use a fine-tipped brush or manicure tweezers to add the lines.
27. Patterned Black Nail Design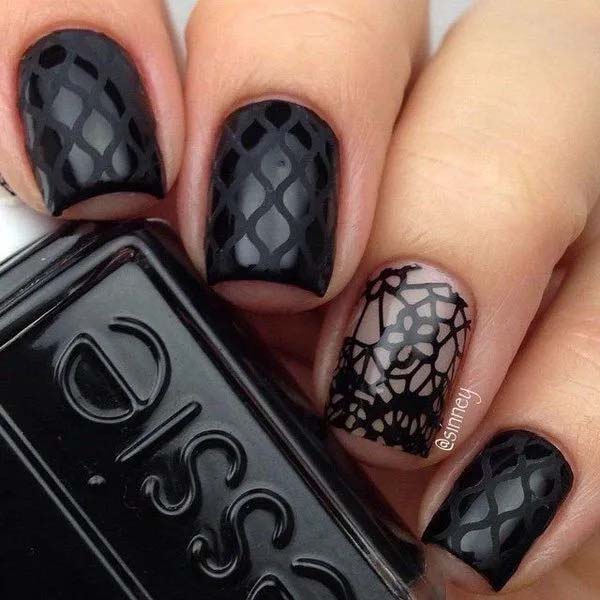 Create an embossed look using matte and glossy black polish.
Nails using a classic curved pattern get the look of a textured finish using this tone-on-tone trick.
28. Silver Glitter On Black Nails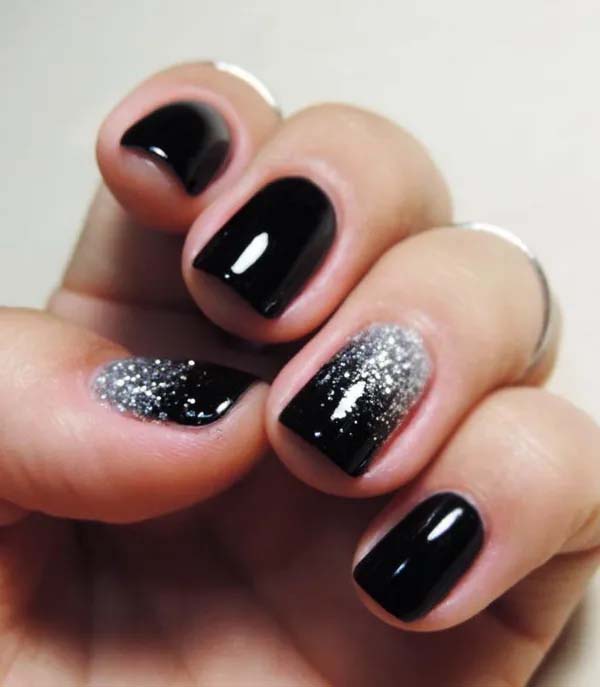 Silver glitter looks like glistening snowflakes.
Add glitter on top of an Ombre base using sheer and glossy black polish.
29. Silver Slivers On Black Background Nails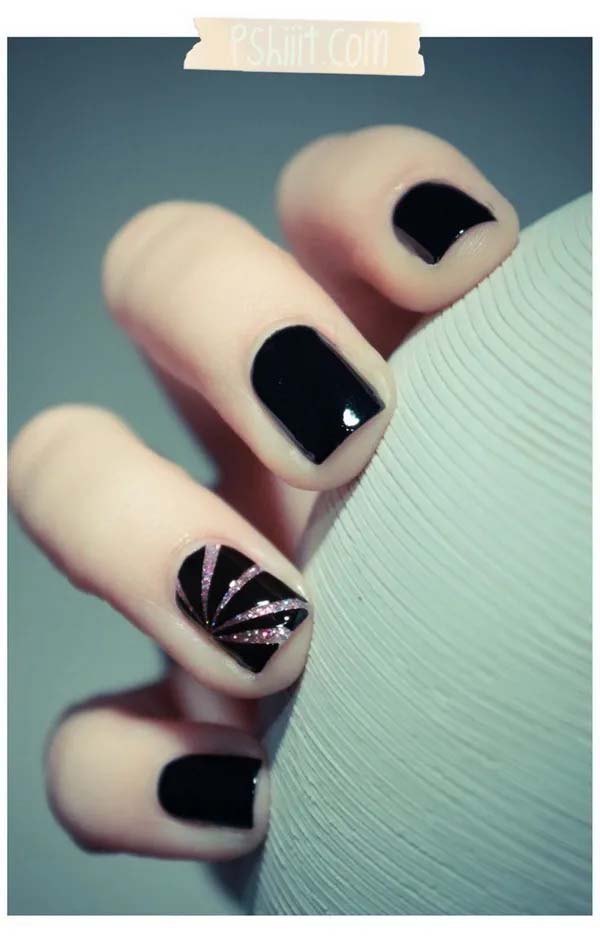 Painting a simple pinwheel pattern on a single nail is a timesaving way to add interest to your manicure.
30. Silver Striping Tapes On Black Nails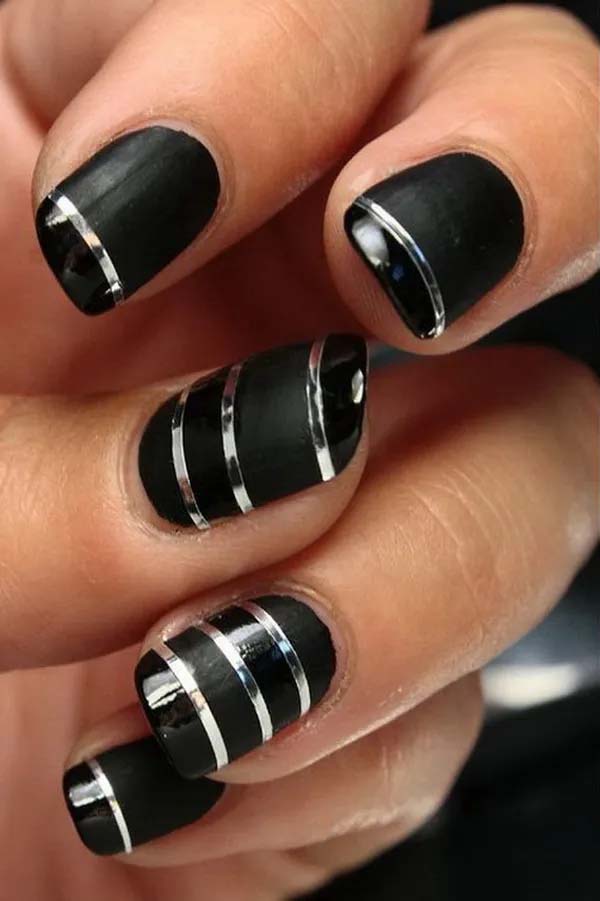 Silver tape stripes are a fast way to add extra shine to your polish.
They're also a great way to mask any imperfections you may have between the base and your tips.