When you're searching for a nail design that's both feminine and trendy, polka dots are the perfect choice.
This timeless pattern is surprisingly versatile — depending on the color, size, and placement, polka dots can look vintage or ultra-modern.
Go for a classic look with uniform black and white dots, or keep it fun and fresh with colorful, confetti-style tips.
The next time you're planning a manicure, choose one of these trendy polka dot nails for an adorable and unexpected look.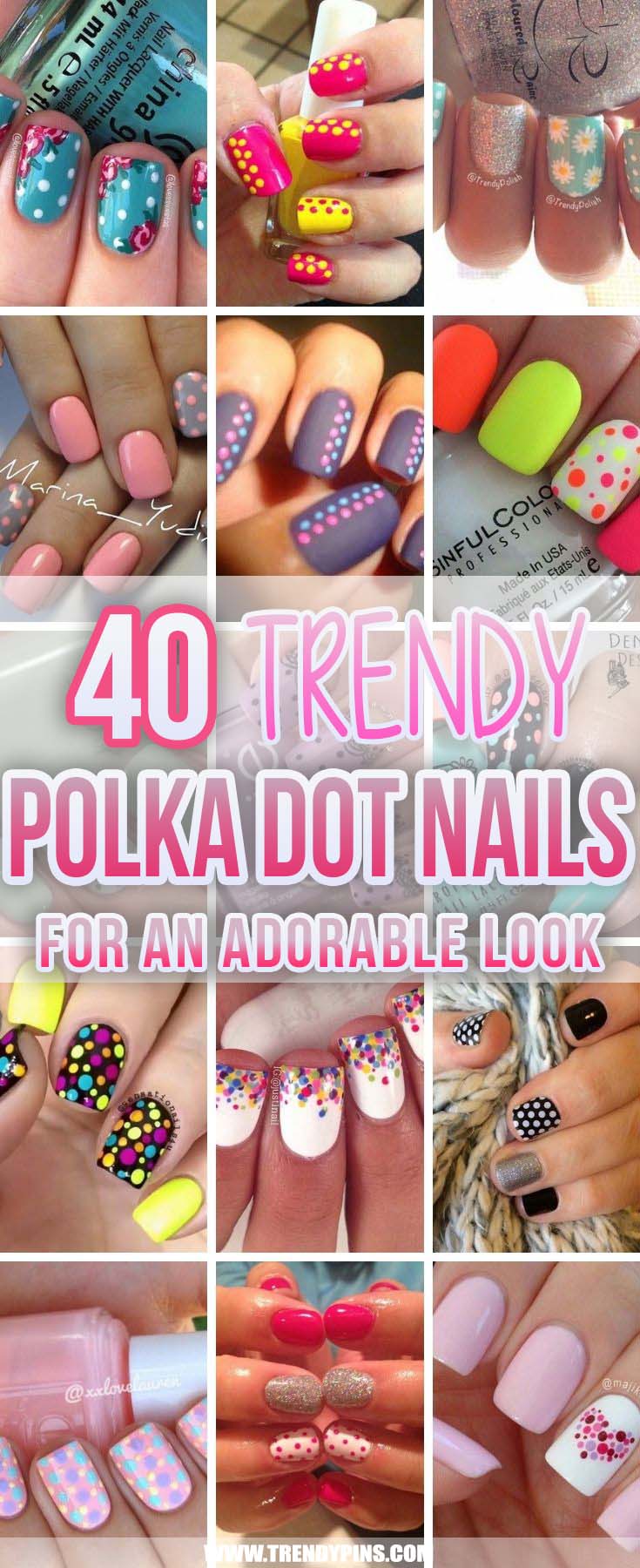 Necessary Tools For Polka Dot Nails
Polka dot nails look simple, but they require a great deal of precision.
The secret to a great polka dot is a crisp, well-defined circle. With the right tools, you can prevent smudges or color bleeding.
A dotting tool is the easiest way to create polka dot nails. This tool looks like a pen; it has a plastic handle and a metal tip.
At the end of the tip, there's a small round metal ball. Most nail kits come with multiple tools with tips of varying sizes.
How to Make DIY Polka Dot Nail Art
To make polka dot nail art, simply dip your tool into nail polish. Pick up a tiny amount of polish; it will spread slightly once it touches your nail.
Press the tip of the tool against your nail, using a very gentle pressure. Lift the tool. If the polish forms a peak, use the other end of the tool to flatten it out slightly.
Are you planning to use multiple colors for your polka dots? To prevent the colors from mixing, apply one color at a time.
If you want overlapping polka dots, do one layer at a time. Allow the first color or layer to dry completely before moving on. That way, your dots will maintain their sharp, crisp edges.
Why is Polka Dot Nail Art So In?
Polka dot nail art is a hot trend because it's eye-catching and easy to customize. If you want a chic manicure, stick to a slick two-color design.
For a playful vibe, use polka dots in varying sizes. This design is perfect for holidays — just switch up the colors.
Orange and black polka dots are fun for Halloween, while pastel tones match your Easter outfit.
1. Black and Blue Polka Dots Nail Art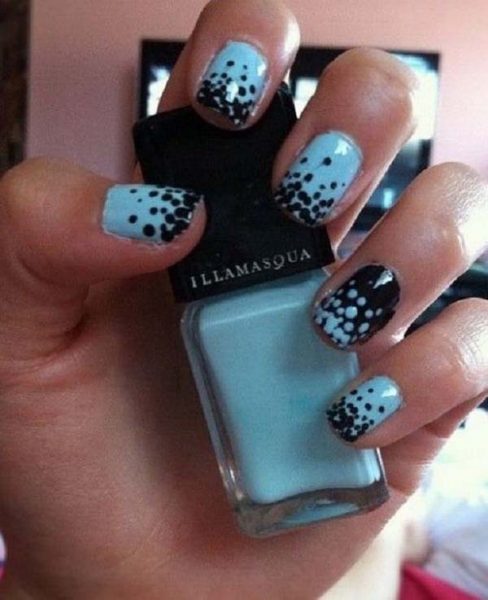 This pretty color combination is completely unexpected. It's a high-contrast look that offers the same impact as black and white — but with a fun, modern twist.
For an edgier look, reverse the colors on one of your nails.
2. Black and White Nail Art with Polka Dots and Strips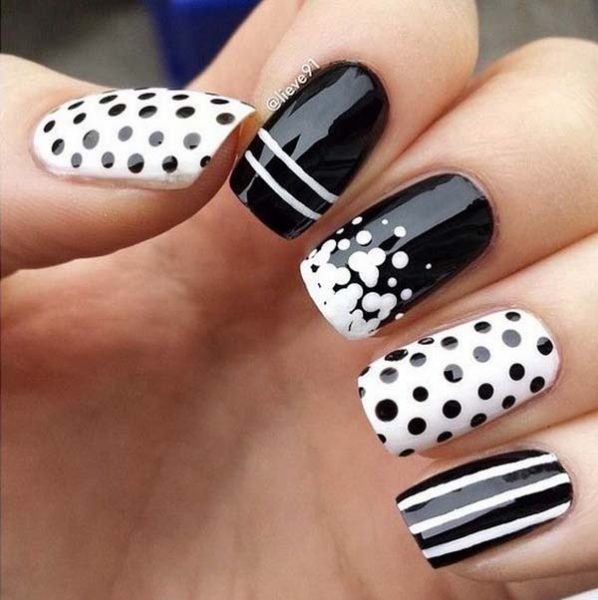 This trendy nail design combines polka dots with another strong pattern: stripes.
Use both vertical and horizontal stripes, and don't be afraid to switch up your polka dot arrangements.
The black and white tones tie the different variations together, creating a cohesive look.
3. Black and White Polka Dot Accent Nail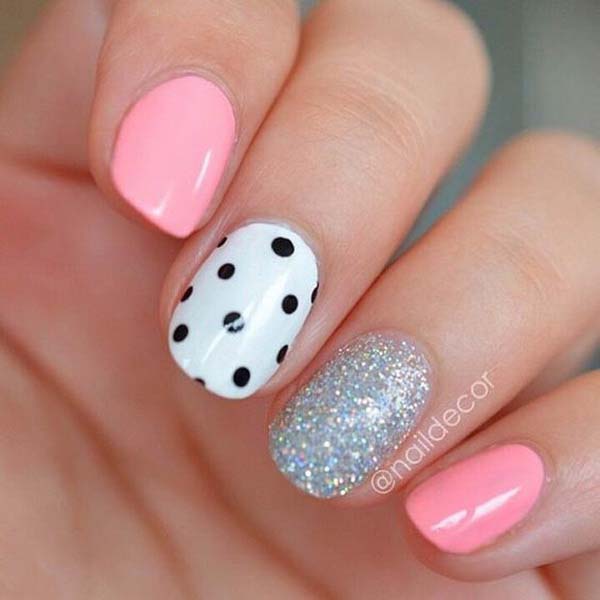 Polka dots are a high-impact look; if you prefer a subtler style, consider adding a single dotted accent nail.
Paint your other nails in solid colors.
They'll contrast beautifully with the polka dots for a design that's pretty but not overwhelming.
4. Black & White Polka Dot Nail Art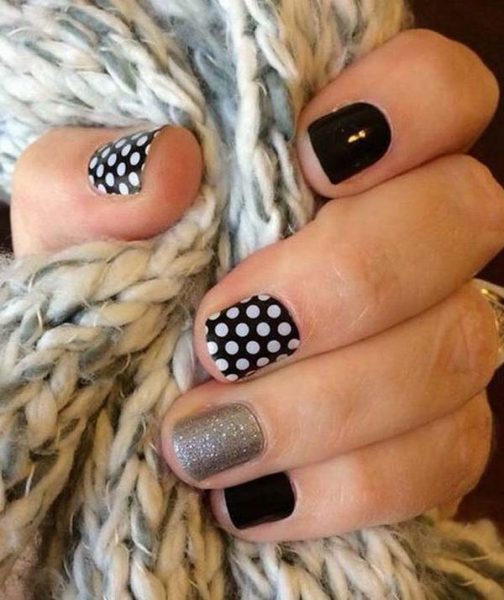 The art of creating a manicure can be a truly elegant challenge.
Paint the nails with black glossy nail polish and make one nail with glossy gray.
Apply small white dots on the black color to make a sophisticated look of the manicure.
5. Black and White Polka Dots on Nude Nail Background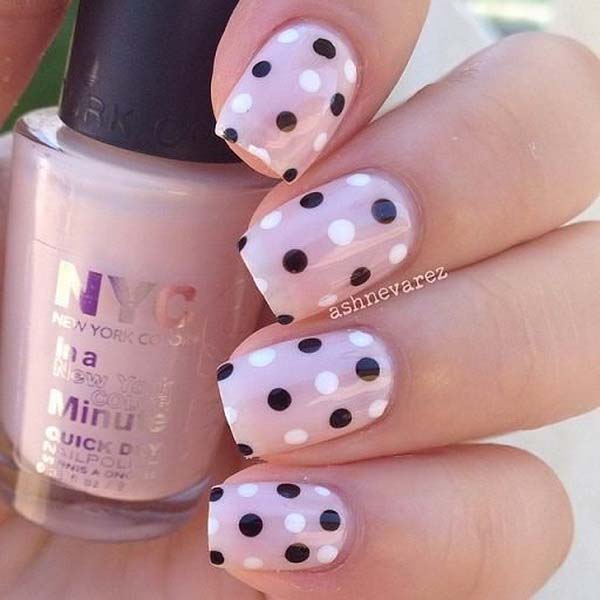 Nude nails make a beautiful background for black and white polka dots.
The trick is to choose a nude color that's slightly lighter than your skin — it will make the dots pop.
The uniformly sized polka dots give this design a pulled-together vibe.
6. Blue and Black Polka Dots Summer Nail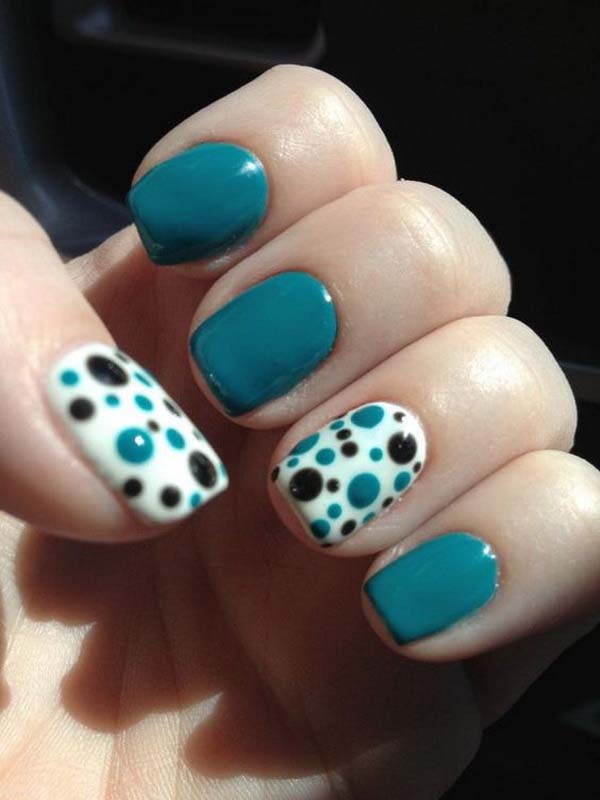 An accent nail is a lovely way to try out the polka dot trend.
To start, paint three of your nails in a solid turquoise color.
Paint the remaining two nails white, and add turquoise and black dots in varying sizes.
7. Colorful Polka Dot Nail Art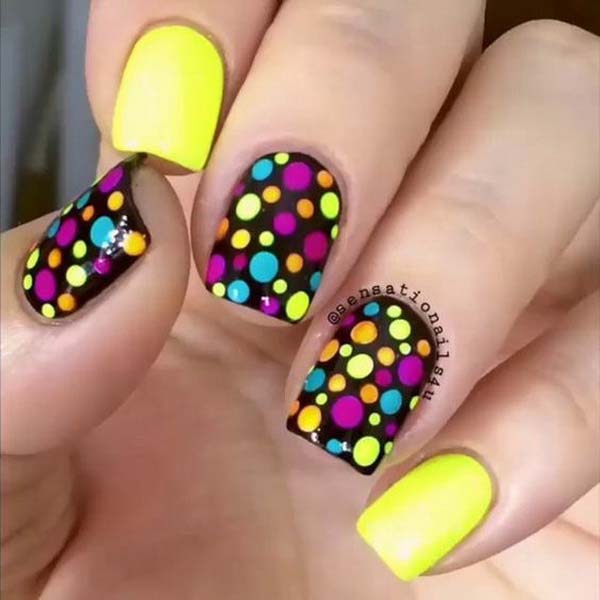 This multicolored polka dot nail art is playful but still sophisticated.
The black background anchors the design, while the neon yellow adds a contemporary twist.
Use polka dots in different sizes for a dynamic look.
8. Colorful Polka Dot Tips Nail Design for Short Nails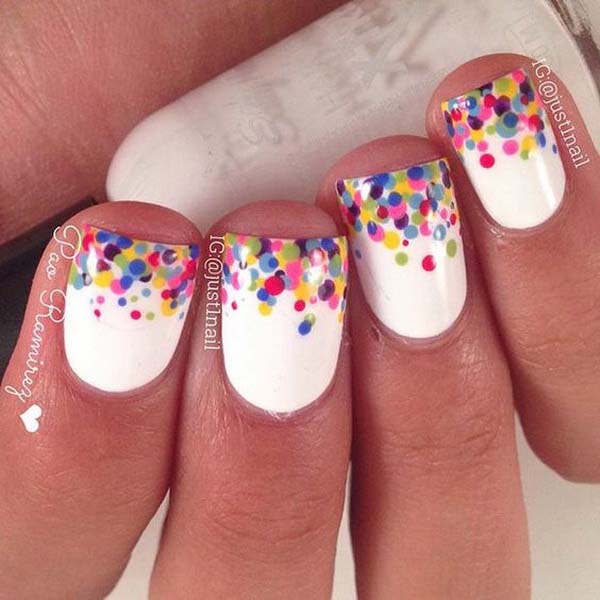 Make your short fingernails look longer with this clever polka dot design.
The white background creates the illusion of space; by limiting the polka dots to the tips of the nails, you create the illusion of length.
9. Colorful Polka Dots Nail Art Design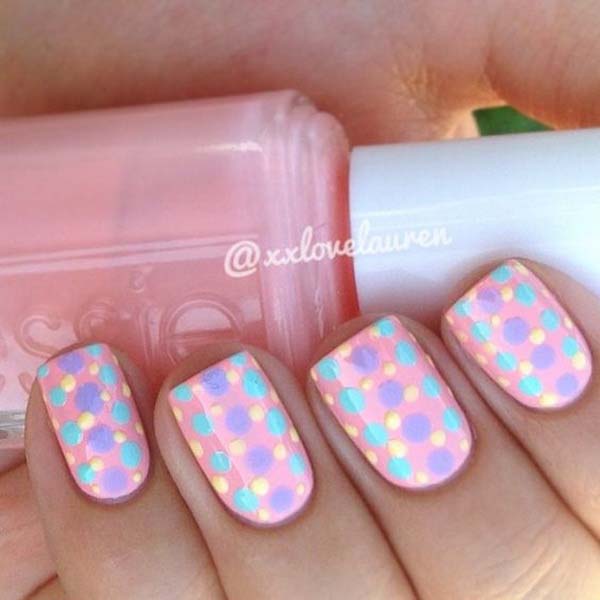 These cute and colorful polka dots are a wonderful way to complete your Easter outfit or jazz up an everyday pair of jeans.
The pastel tones create a sweet, feminine look.
Since the colors are low-contrast, they're attention-grabbing but not distracting.
10. Colorful Polka Dots on Nude Nail Polish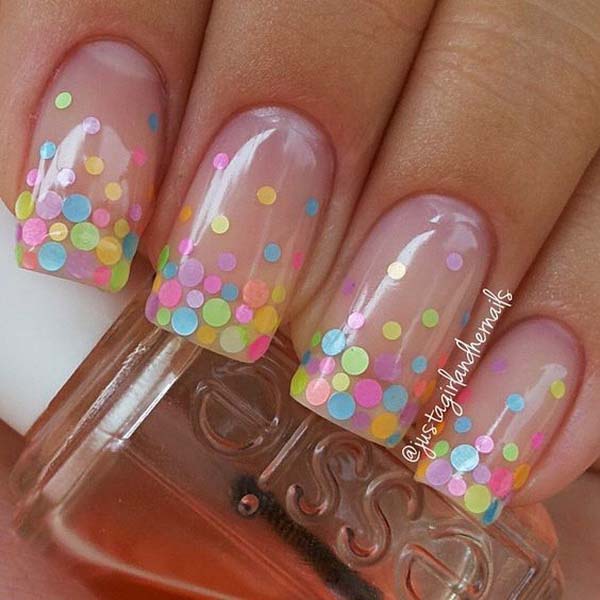 Celebrate a birthday or another special occasion with this festive look.
It features colorful polka dots on a nude nail.
A clear topcoat adds the perfect hint of shine.
These polka dots are made with miniature confetti pieces — place them on your nail with tweezers while the nude polish is still damp.
11. Dotted Heart Nail Deisgn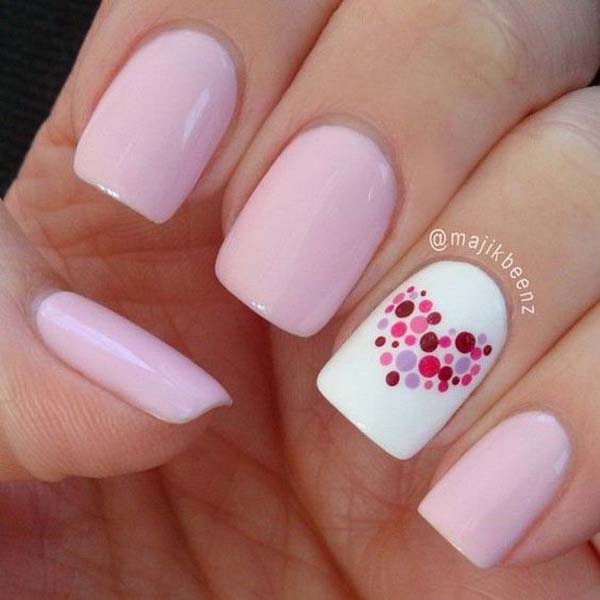 This adorable design uses polka dots in varying sizes to form the shape of a heart.
This is a wonderful way to incorporate multiple colors in a sophisticated way.
It's also a good option for beginners, since the dots are limited to one nail.
12. Gradient and Dotted Nail Art Designs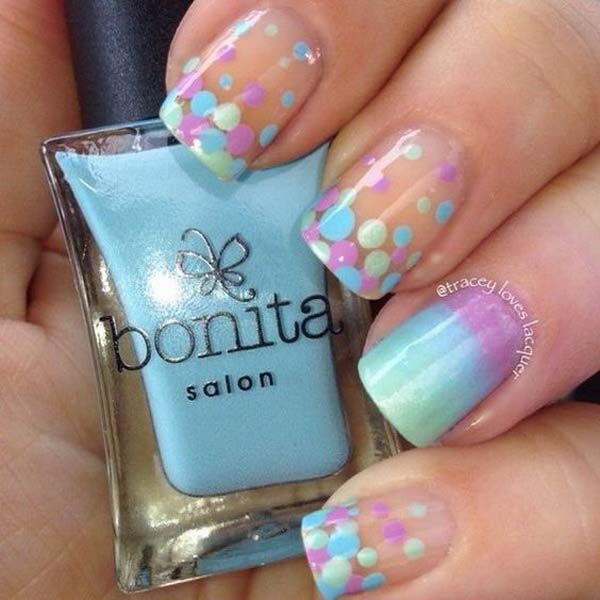 Do you love a unicorn or mermaid-inspired color palette?
Use your favorite metallic green, blue, and purple polishes to create this stunning design.
One nail features an impeccable gradient, while the others feature polka dots on a nude nail.
13. Green & Purple Polka Dot Nails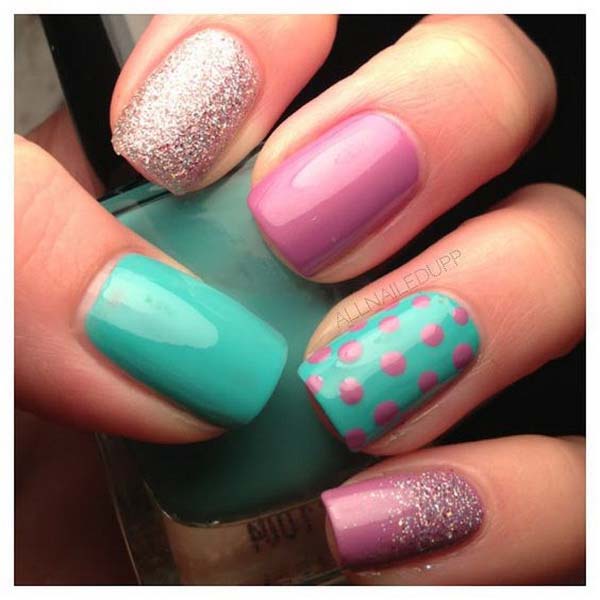 Expect plenty of attention when you step out with this DIY nail art — purple and green make a head-turning combination.
The secret is to paint just one nail with polka dots; it amplifies the visual effect.
14. Hot Pink and White Polka Dot Nails with Silver Glitter Accents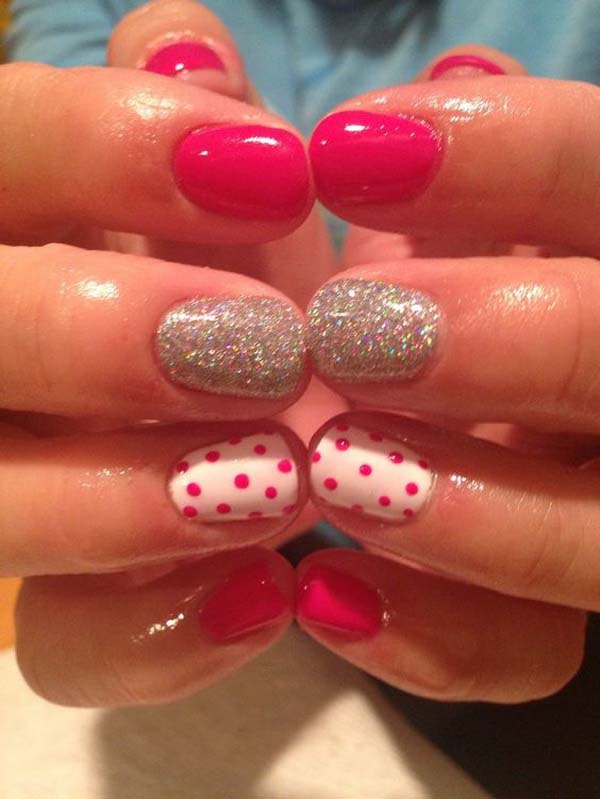 This nail design captures all of the aspects of your personality.
The sparkling silver nails are glamorous, while the solid pink nails look fun and feminine.
The polka dots take the style to the next level, adding a vintage twist.
15. Lace and Polka Dots Nail Art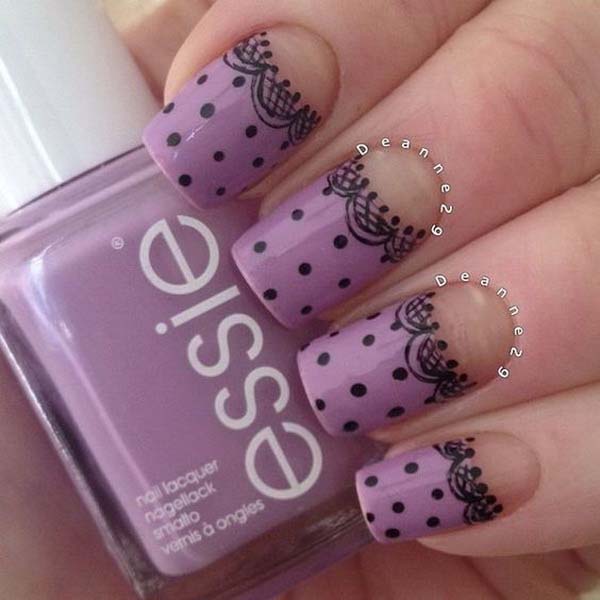 Practice your manicure skills with this look. It combines a reverse French manicure, lace edging, and polka dots.
Sleek lavender and lack shades balance the ultra-feminine art.
16. Lime Green and Blue Nails with Polka Dots and Sequins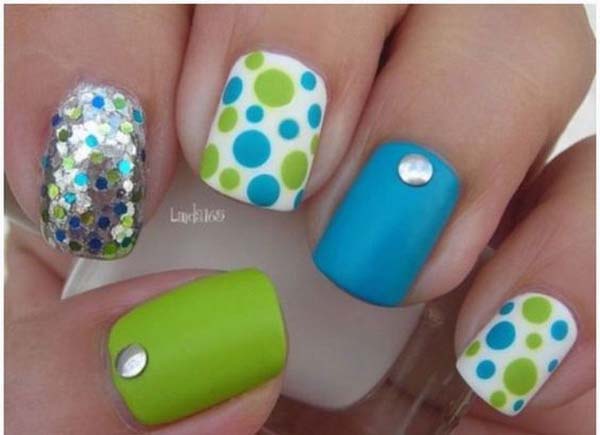 If you like to stand out from the crowd, brightly colored polka dots are the perfect solution.
Here, lime green and bright blue nail polka dots make a bold statement.
For a pop of shine, add rhinestone and glitter accents.
17. Mint & Purple Polka Dot Nails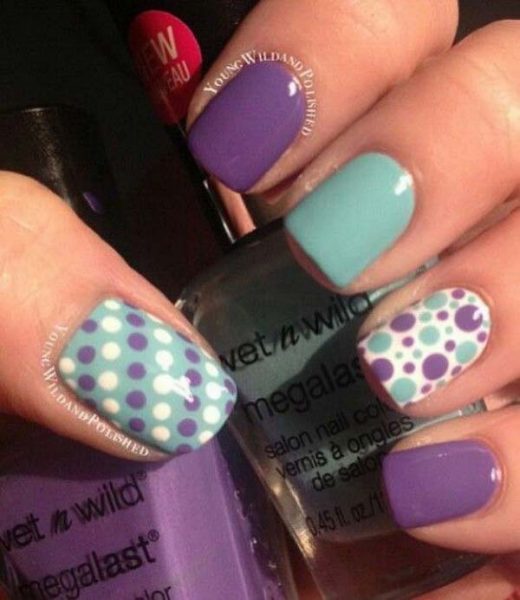 This design uses polka dots on just two nails, but it's anything but boring.
Both nails use white, mint, and purple; different background colors and dot sizes create a look that's cohesive and dramatic.
18. Mint and Coral Polka Dots on Black Nail Base Nail Art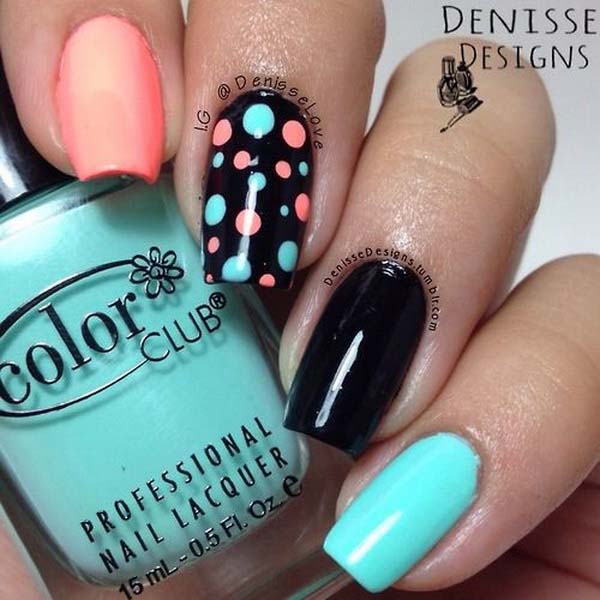 Switch up your solid-colored polish by adding polka dots to one nail.
Here, the mint and coral polka dots contrast with the black polish.
They pull in colors from other nails, tying together the design.
19. Mint Green and Pink Dots Nail Design for Short Nails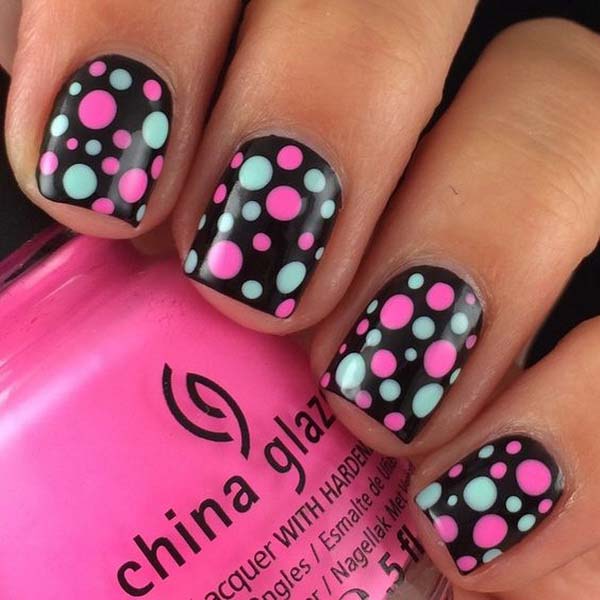 You don't need long fingernails to embrace the polka dot trend.
Just use high-contrast colors — they create a bold look, even on a small space. Here, mint and pink polka dots pop on a black background.
20. Mint Polka Dot Nail Design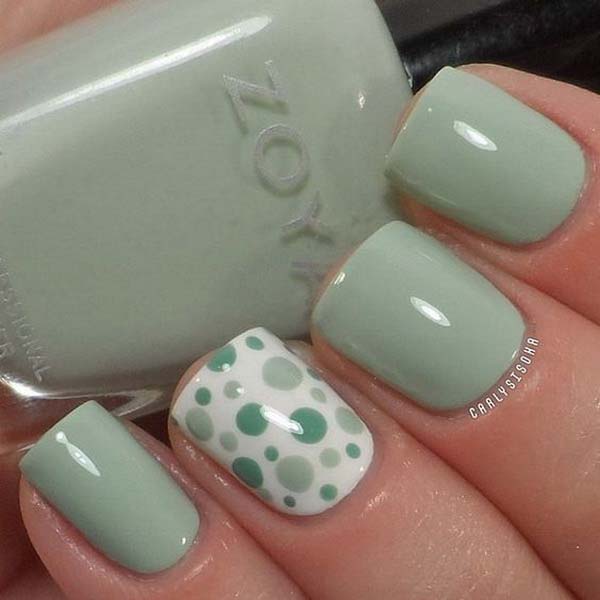 Take a low-key approach to polka dots with this elegant design.
A single white nail is a lovely accent on a mint-green manicure; add two-toned mint polka dots for depth.
21. Neon French and Polka Dots Over Clear Glitter
Fun and festive, this neon polka dot art brings a sense of excitement to any day of the week.
Simply add French tips and dots to your bare nail.
Then, seal the style with a coat of clear, glittering polish.
22. Neon Nail Art Design with Polka Dots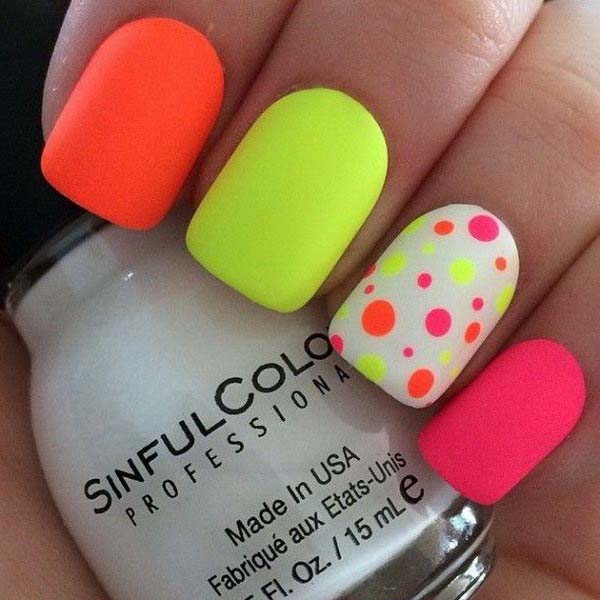 Are you ready to embrace the matte nail polish trend?
This gorgeous look combines solid neon nails with a single polka-dotted accent. It's cheerful, lively, and perfect for weekend wear.
23. Neon Polka Dots On Black Nail Background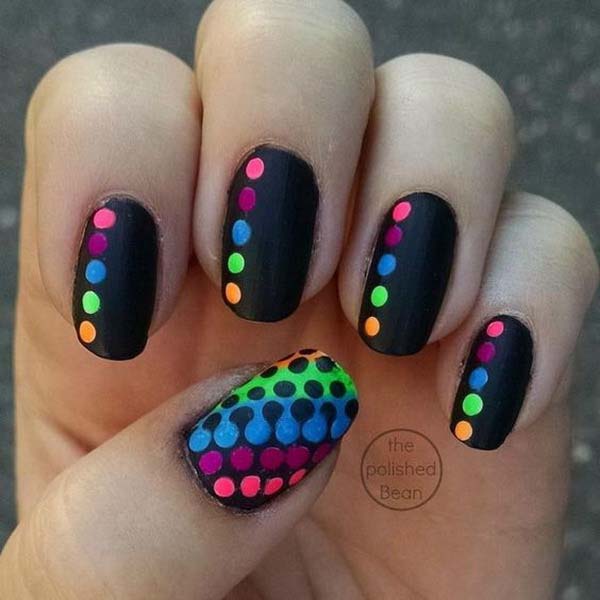 We can't get enough of neon nail polish — it's an easy way to update classic polka dots.
This look features vertical rows of dots for a high-tech vibe.
The thumb is a wild accent, thanks to polka dots and a rainbow gradient.
24. Pink and Gray Dot Nail Art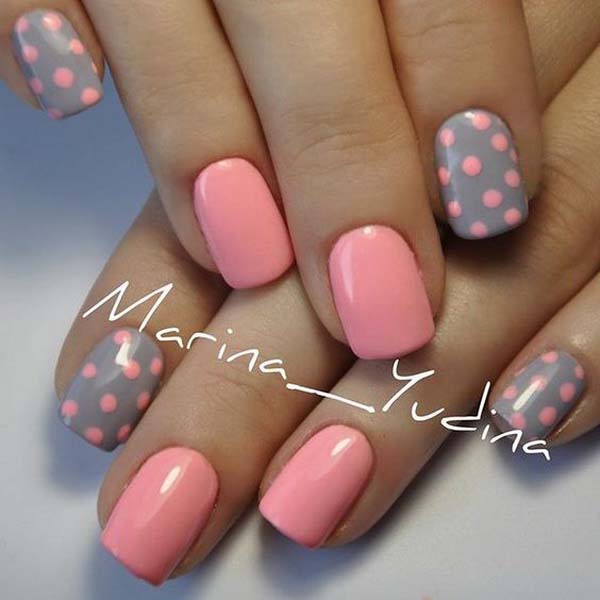 Pink and gray create a timeless color combination that's both feminine and refined.
Start with solid pink and gray nails.
Then, add tiny pink polka dots to one or more of the gray nails for a surprisingly striking effect.
25. Pink and Mint Polka Dots on Gray Nails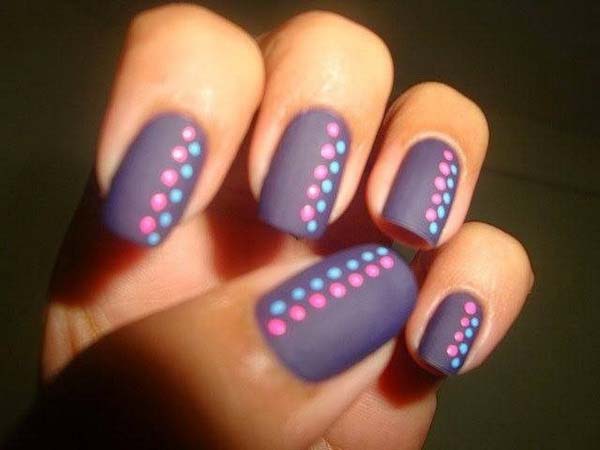 Polka dots don't have to be girly — use a neutral background and linear dots for an avante-garde effect.
Here, a charcoal grey base polish sets the stage for two lines of pink and mint polka dots.
26. Pink and Yellow Polka Dot Nail Art Designs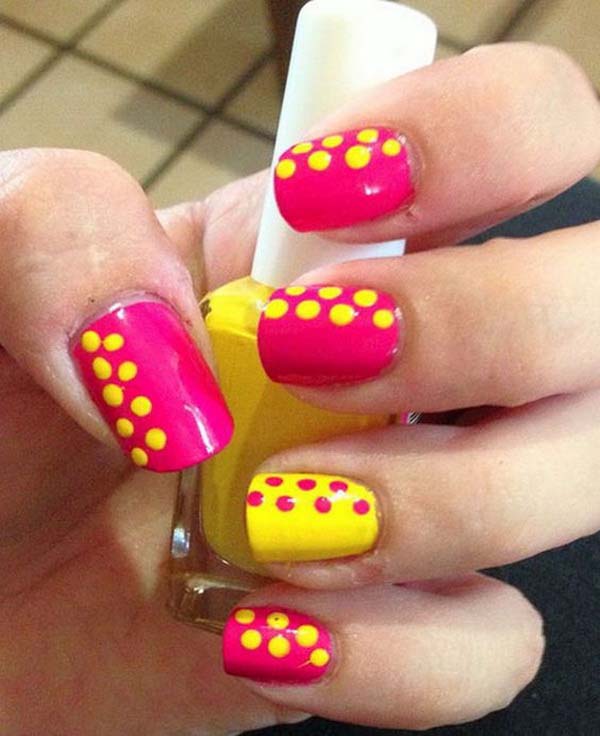 Jazz up your manicure with bright pink and yellow nail polish.
This is a strong color combination, so it's important to keep the polka dots simple.
27. Polka Dots and Daisy Flower Nail Design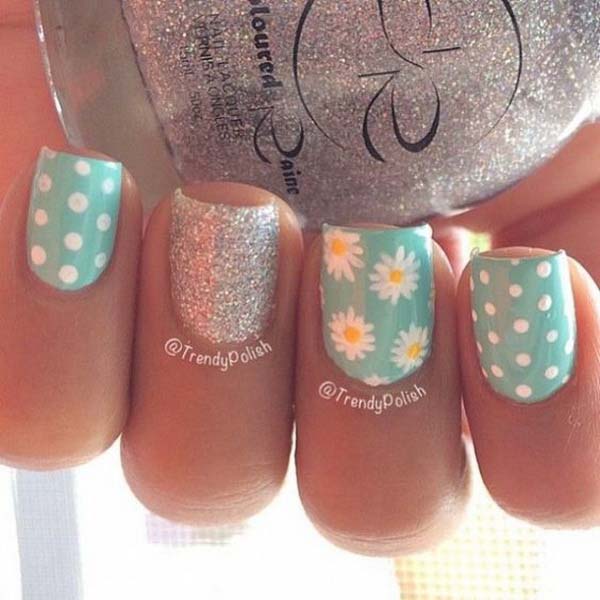 If you have the afternoon free, spend a few hours doing this adorable DIY manicure.
White polka dots and cheerful daisies dress up simple mint nails.
Add a splash of silver sparkle for a flirty finishing touch.
28. Polka Dots and Flower Nail Design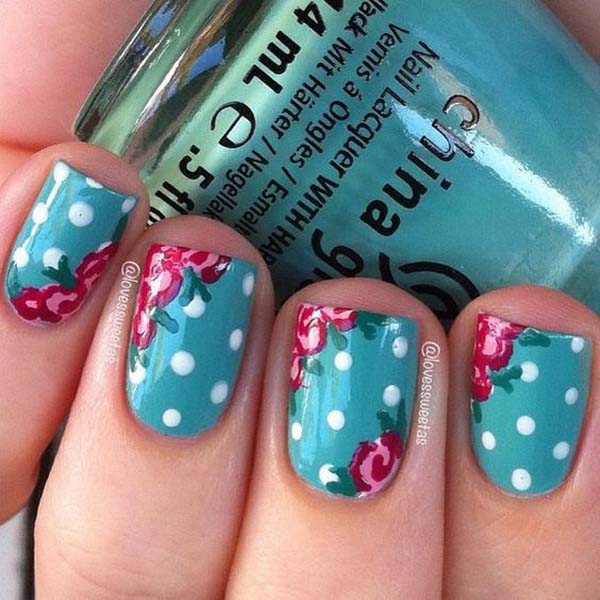 Polka dots and flowers are a timeless pairing.
This design goes all in on the vintage vibe with shades of dark pink and turquoise.
White polka dots create a pop of brightness that elevates the look.
29. Purple and Blue Polka Dots On White Nail Polish Base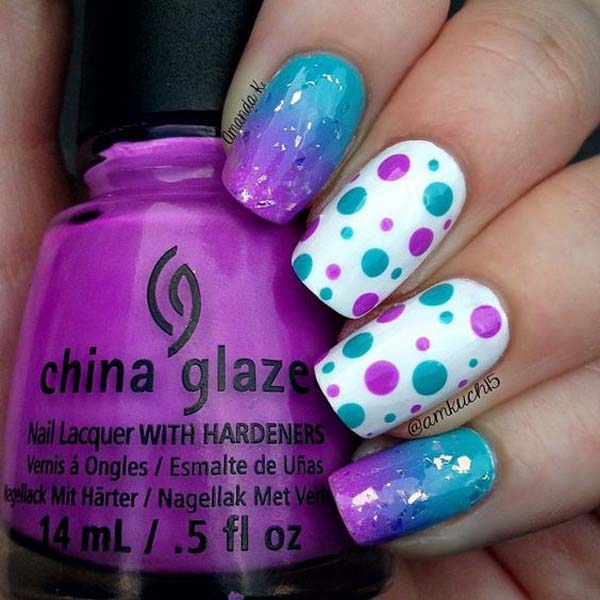 Get ready for a celebration with this purple, blue, and white nail art.
The polka dots stand out next to the multicolored gradient, and the silver foil accents add just a hint of shimmer.
30. Purple Tipped French Nails with Polka Dots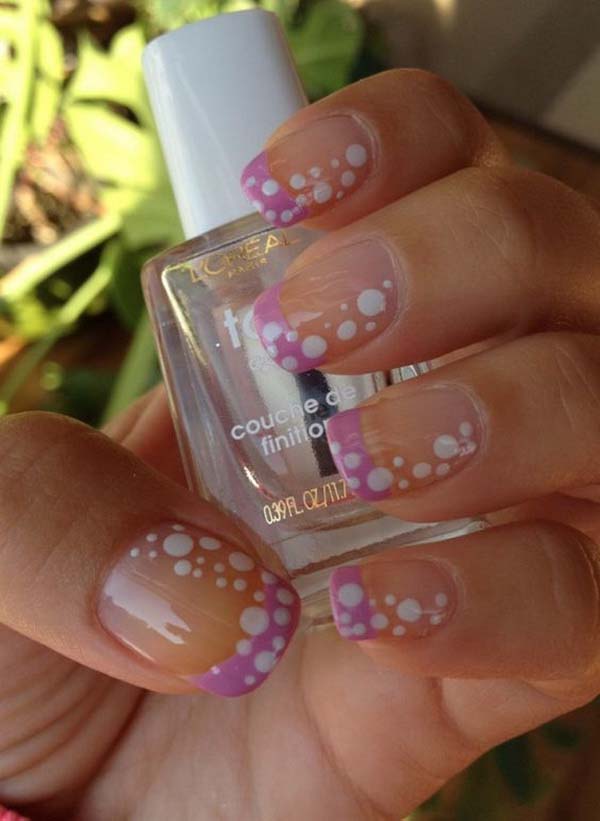 French tips don't have to be white — here, pale-purple tips look pretty and polished.
Add a smattering of white polka dots down one side of the nail for a look that's reminiscent of bubbles in champagne.
31. Rainbow Polka Dot Nail Design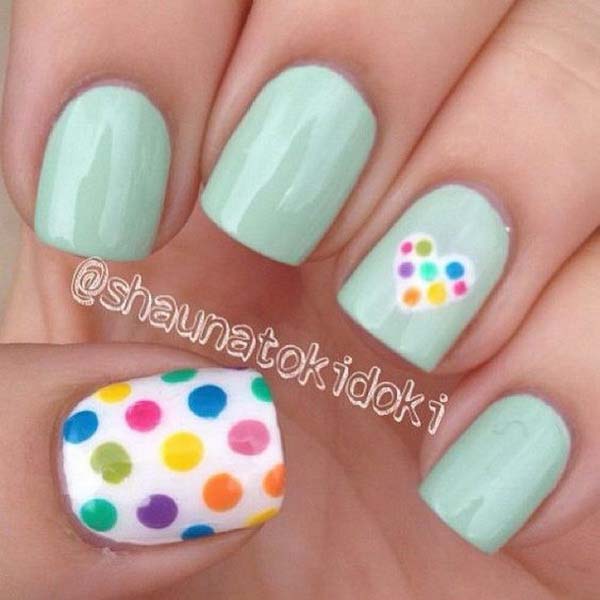 Rainbow colors accentuate the playful look of polka dots.
Here, rainbow polka dots on the thumb add an energetic look to mint-green nails.
Call out the colors with a white heart filled with matching rainbow dots.
32. Red and White Polka Dots Tipped Nail Design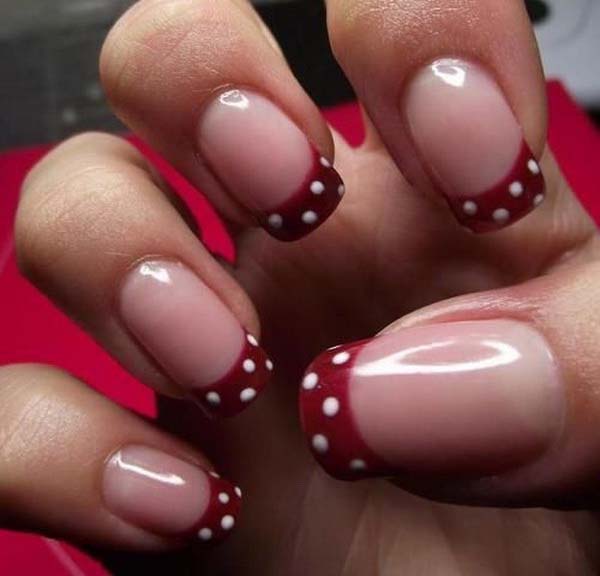 You'll feel like a vixen in this vintage look.
First, add red French tips to nude nails.
Then, fill them in with tiny white polka dots for a retro result.