30 Easy Christmas Nails Tutorials
Did you know that human fingernails grow at a rate of one centimeter every one hundred days?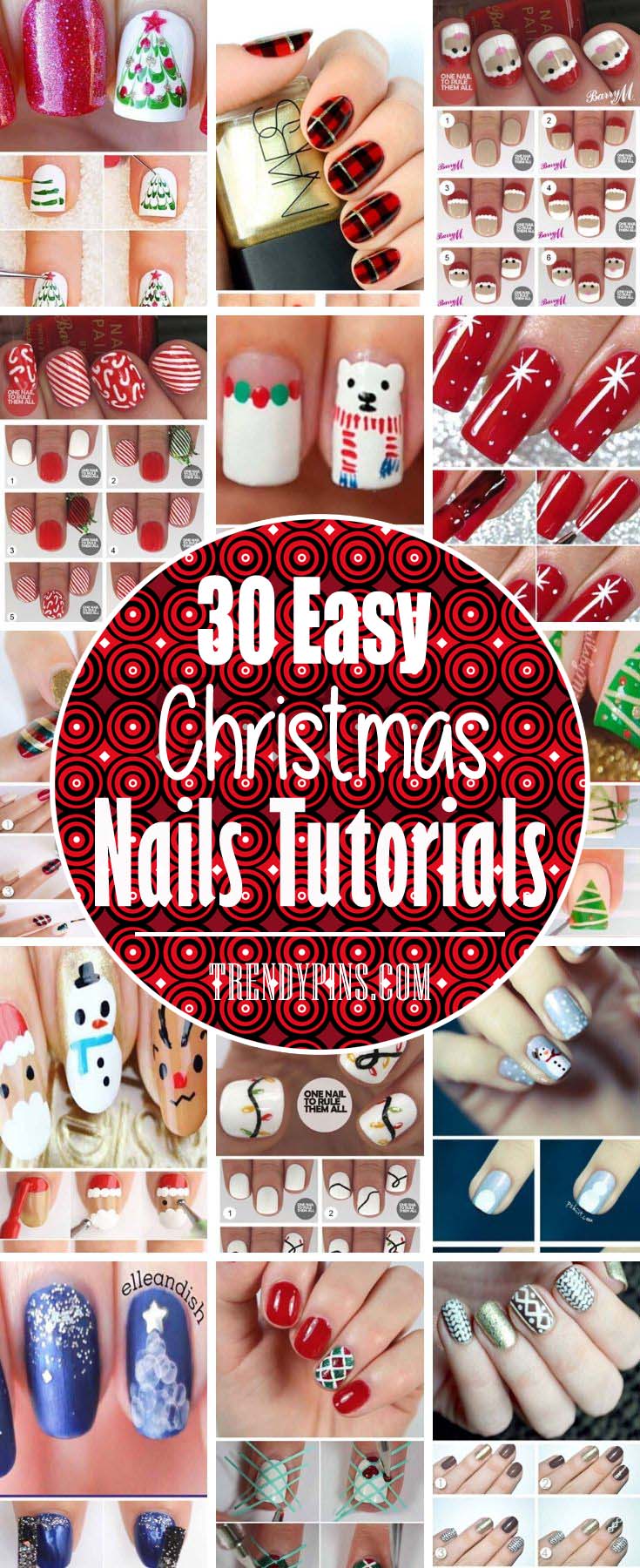 You can tell a lot about a person based on the way they groom their nails. Artificial and eccentrically decorated nails are becoming more and more popular. With Christmas season here, why not style your nails to match? Consider these beautiful options.
Black and Red Plaid Print Nail

via Lulus
Red plaid is a Christmas classic. These gorgeous nails mix Christmas red, black and gold to make gorgeous long-lasting Christmas themed nails. This is a rather simple design to create as well. Starting with a glossy red base just add straight black lines and a golden stripe.
Candy Cane Nails Idea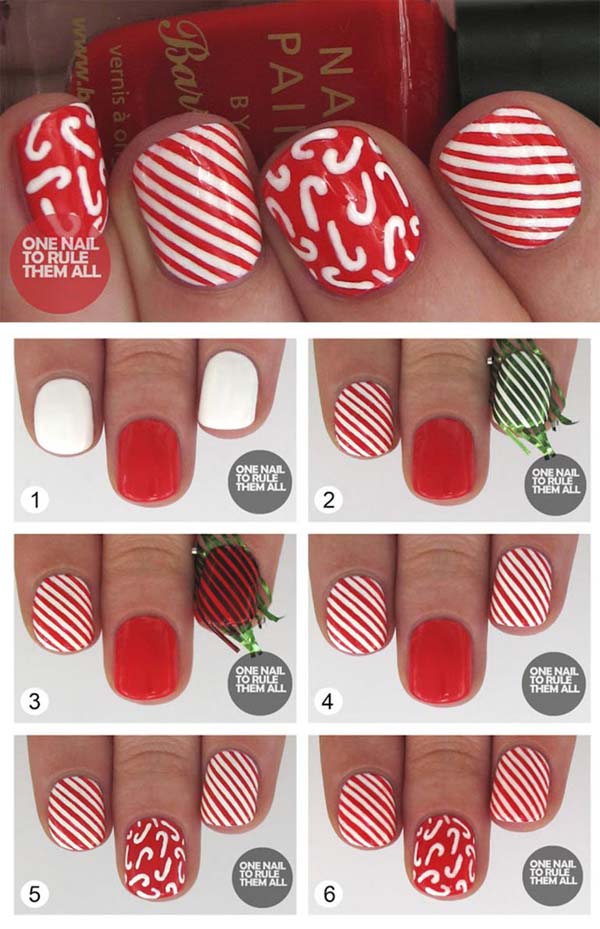 Candy Canes are a staple of the Christmas season. These adorable candy cane nails can be made by starting with a white or red base with a matte finish. Then stripe with the opposite color of the base. So if you put a white base, then stripe with red. Vise versa alternating fingers. If you want to add an extra touch, on one finger you can use a nail tool to paint cute white or red candy canes.
Charming Christmas Nails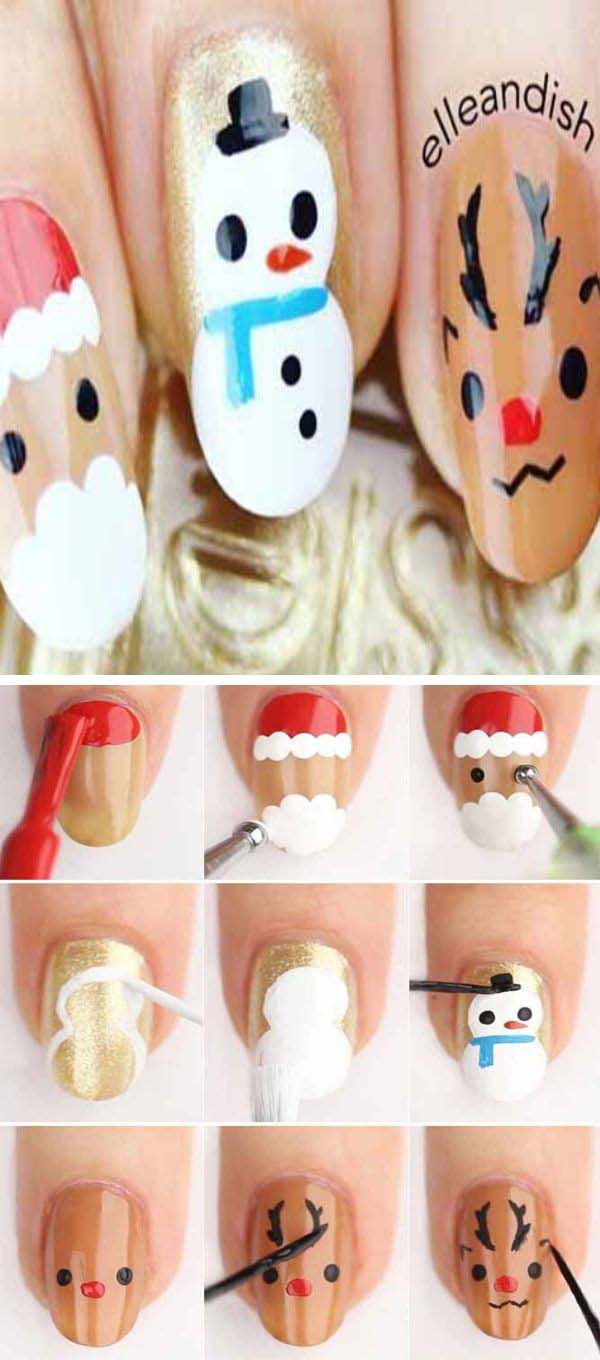 via Janelle Estep
Each finger could be painted with a different Christmas themed character. Start with a gold base and paint a white snowman on top. Don't forget a red scarf and black top hat! Or start with a light brown base and top with dark brown horns and a red nose to put Rudolph on your nail. Don't forget about Santa! Start with a skin-colored base, then add a red hat and white beard.
Chic Champagne Nails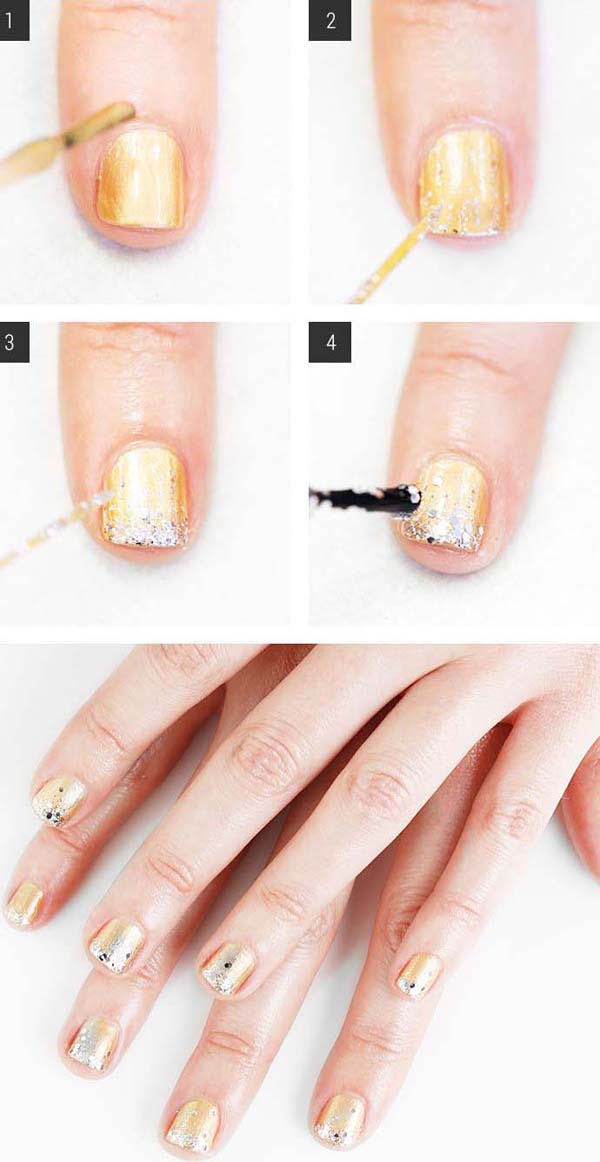 via Cosmopolitan
Have nails that remind you of the Christmas bubbly. Champagne is a staple in most homes during Christmas parties Look at these gorgeous champagne inspired nails. Start with a basic golden color then add sparkles starting from the tip and getting lighter as it goes up your nail. Then it looks like a freshly popped bottle of champagne!
Christmas Colored Nails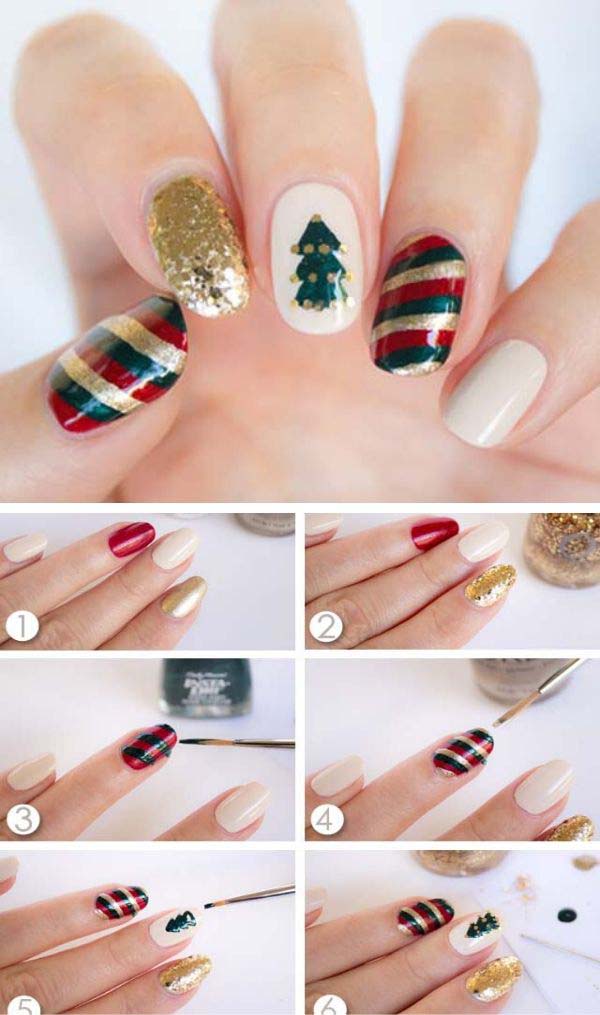 via So Nailicious
For more chic and classy Christmas themed nails consider these. Alternate styles, on one nail, put red, black and gold thick striping. Then add in a basic white nail as well as a basic golden sparkle nail. Then if you want to add one more design, paint a tiny green tree on a white base to top off these Christmas themed nails.
Christmas Holly Nails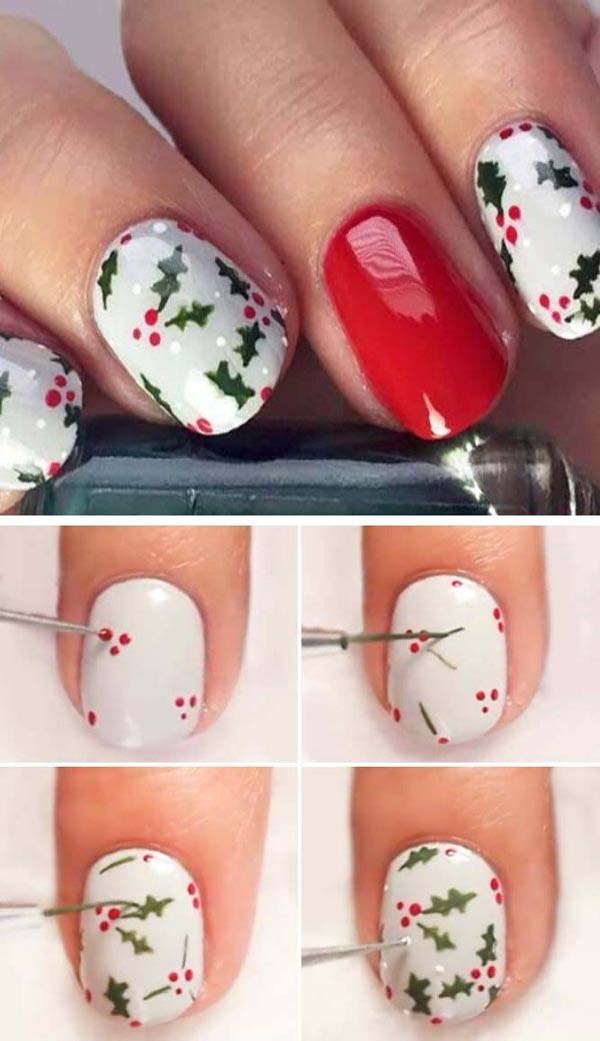 There is no denying that Christmas holly would be an addition to Christmas themed nails. They can be constructed by starting with a white base, then painting red dots with green leaves.
Christmas Lights On Nails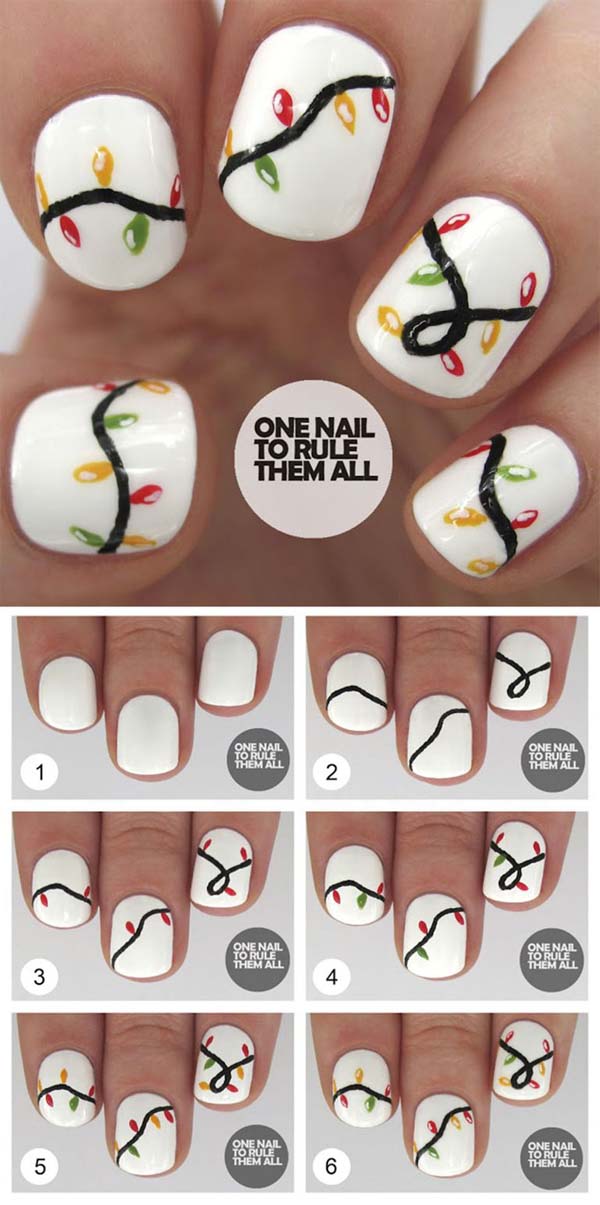 Start with a white matte or glossy base. Then paint black lines with colored dots along the line. Then you will have classic Christmas light nails!
Christmas Sweater Nails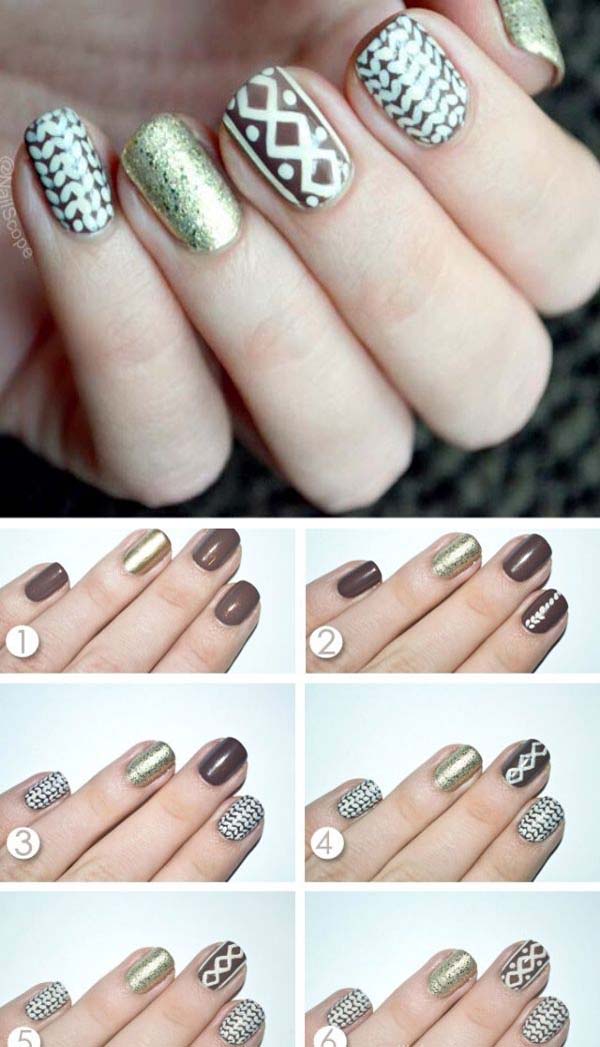 via So Nailicious
Try these nails for a Christmas theme but are not too flashy. Starting with a brown or gold base, paint or stencil on tan designs. When finished these designs can resemble Christmas sweater stitching.
Christmas Tree Nail Art Design

via All Day Chic
For nails that scream Christmas try Christmas tree designed nails. Start with a white or off white base, then stencil or paint on a green tree. Don't forget about little colored dots for lights and the star on top.
Christmas Tree Statement Nail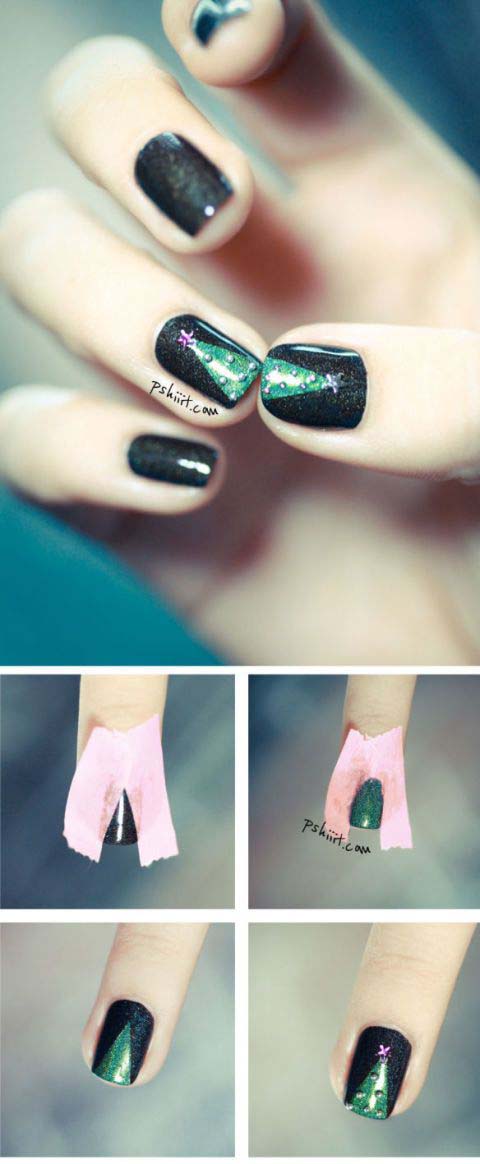 via Pshiiit
Cute Christmas Nails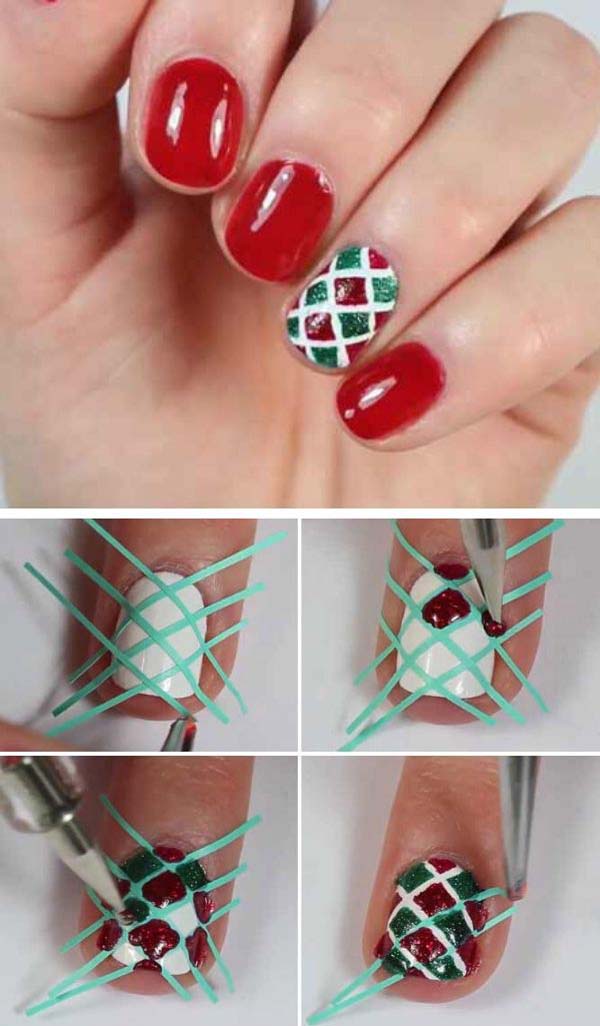 via Elizabeth Anne
These nails start with a red or white base. For the statement nail, add some pinstripes of the opposite color and in the middle of the boxes, add red or green color.
Easy Christmas Tree Nail Art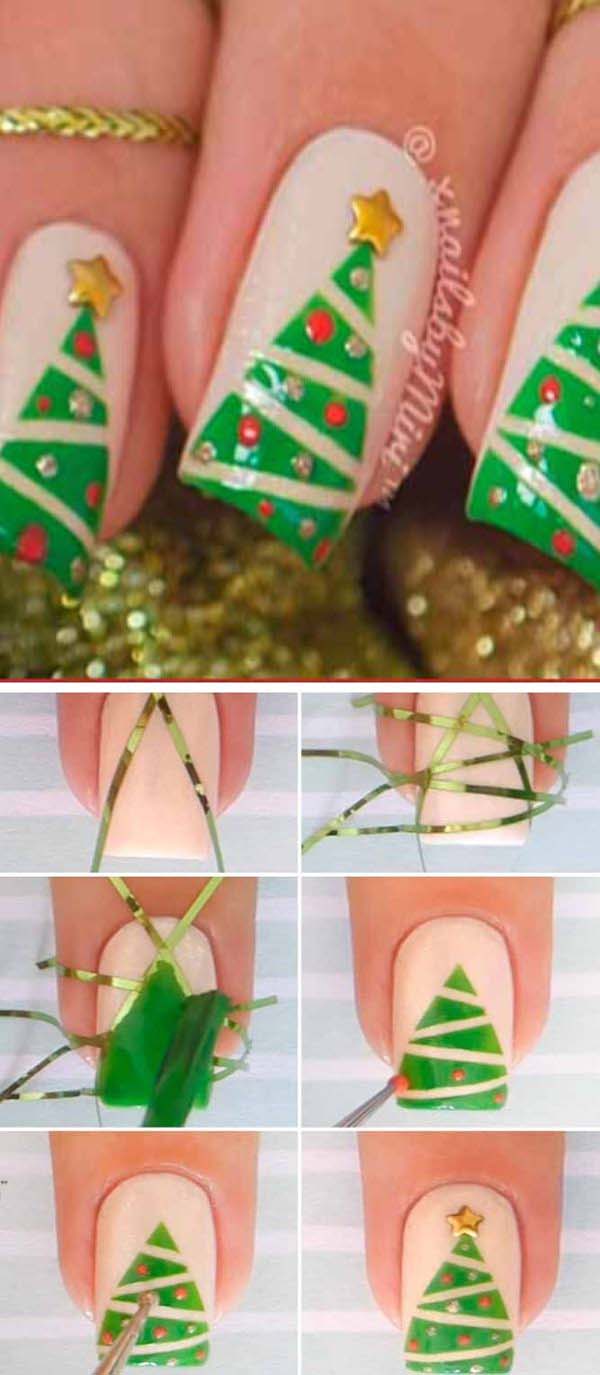 via Nails By Miri
Christmas tree nails are actually really easy to construct. Simply start with a base color, then make a triangle using the bottom of your nail as the base of the triangle. Then paint in green. To top it off, add lights and a star on top of the green triangle!
Glitter Candy Cane Nails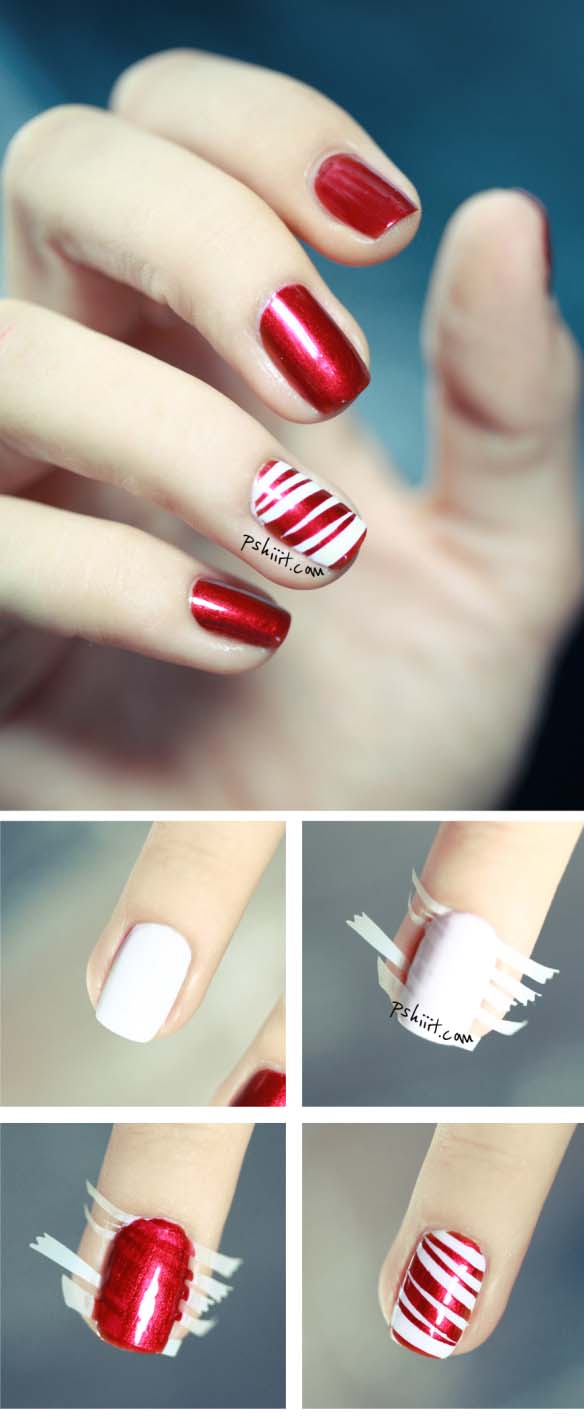 via Pshiiit
For a simple design and great statement finger, try these gorgeous red based nails. On the statement finger, start with a white base, then use the same red color to pinstripe onto the nails.
Icy Crystal Christmas Nails

via Jaunty Jull
These Christmas themed nails are more classy. They start with a white base and stick with the light-colored theme. On one nail, use a blue base with white dots to look like pearls. On the other nails, create a Christmas tree and wreath with nail art gems.
Last Minute Christmas Nail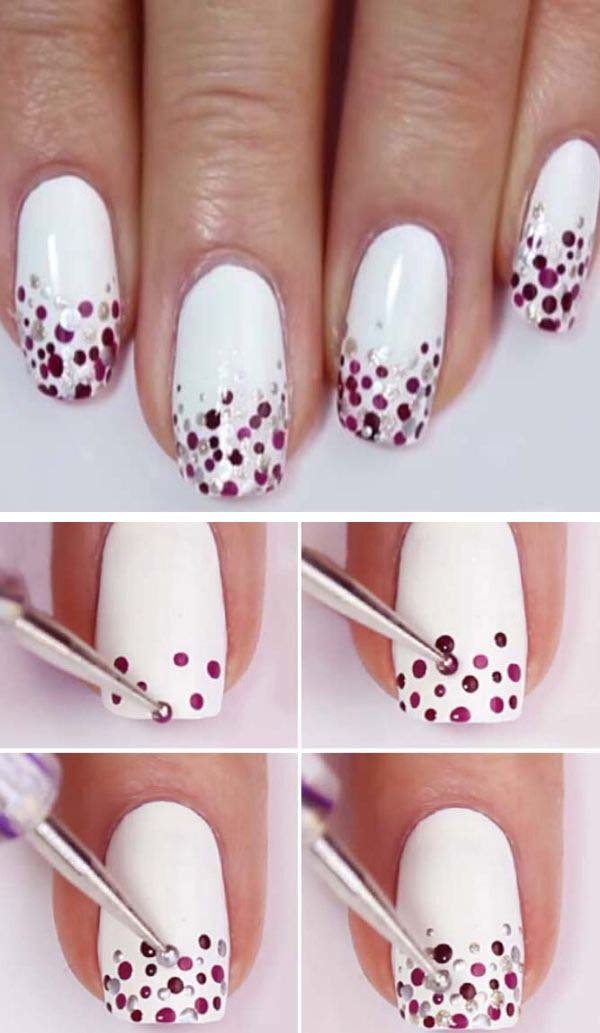 via Hnnah Weir
These basic nails can be considered Christmas themed if you want them to. But they are also versatile enough for everyday wear. Starting with a white base, then add red and gold sparkle paint that gets lighter as it goes up. Then use a nail tool to add red dots.
Marble Christmas Tree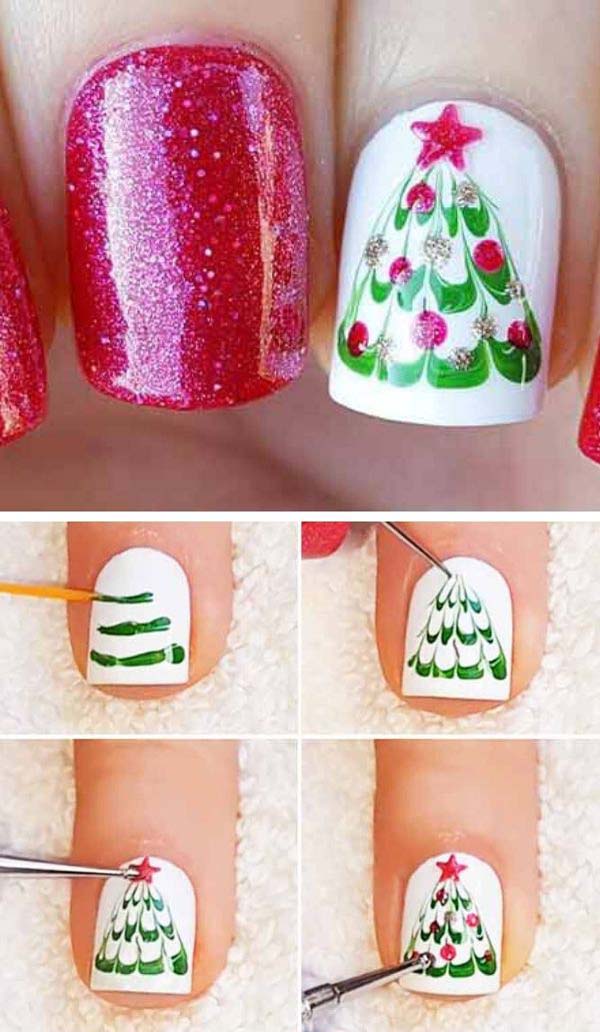 via Life World Women
Paint your nails red to get the Christmas theme started. Then to make a statement nail, marble a green and white tree on. Add a star on top to perfect the tree.
Negative Space Christmas Tree Nails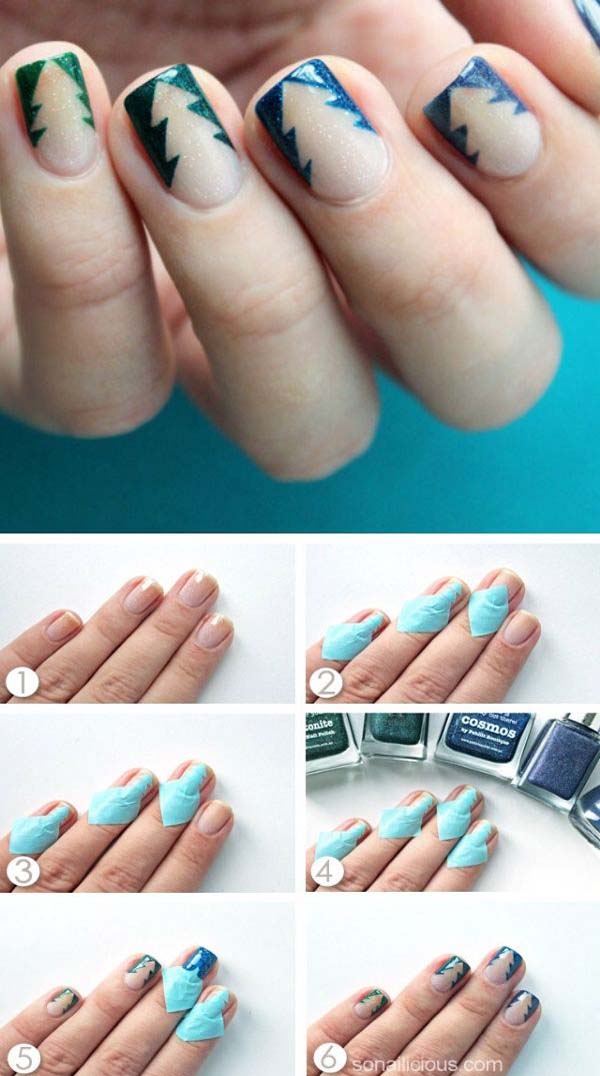 via So Nailicious
Use a stencil to make a negative space Christmas tree. Instead of painting the Christmas tree on, paint everything around the Christmas tree. That way, the Christmas tree appears in the background.
Polar Bear Christmas Nails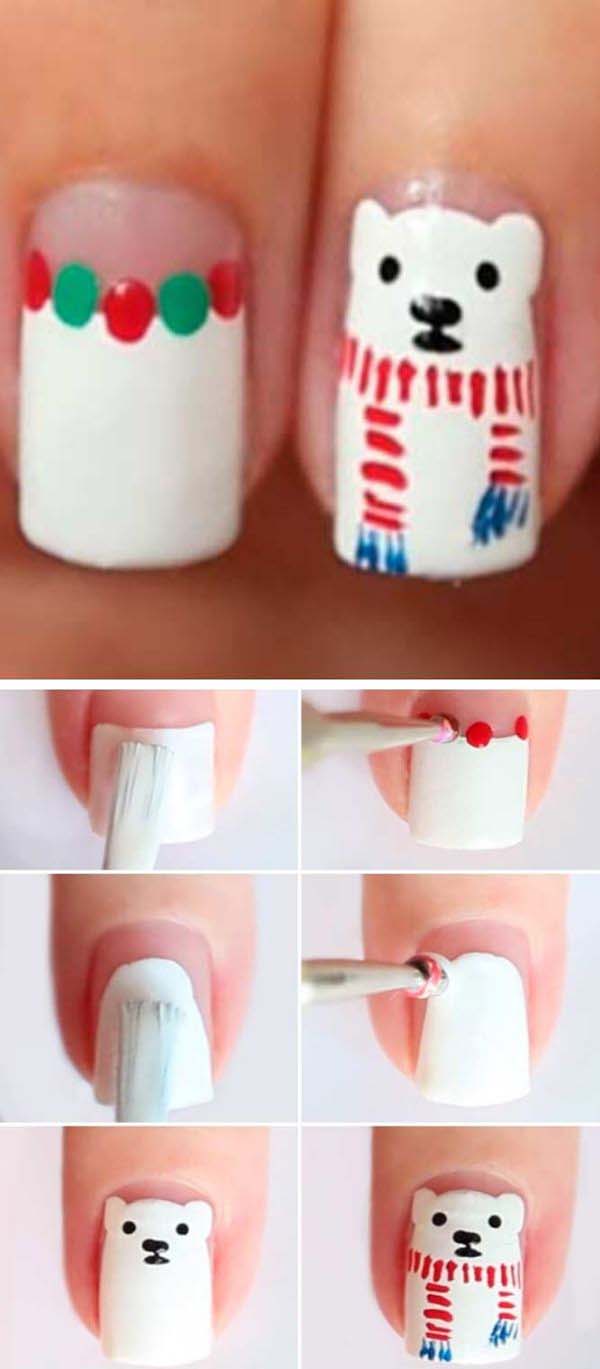 via Jenny Claire Fox
Have a winter theme with white nails. For the statement nails, paint a round head to make a polar bear and a red scarf and black eyes.
Red Glitter Snowflake Nail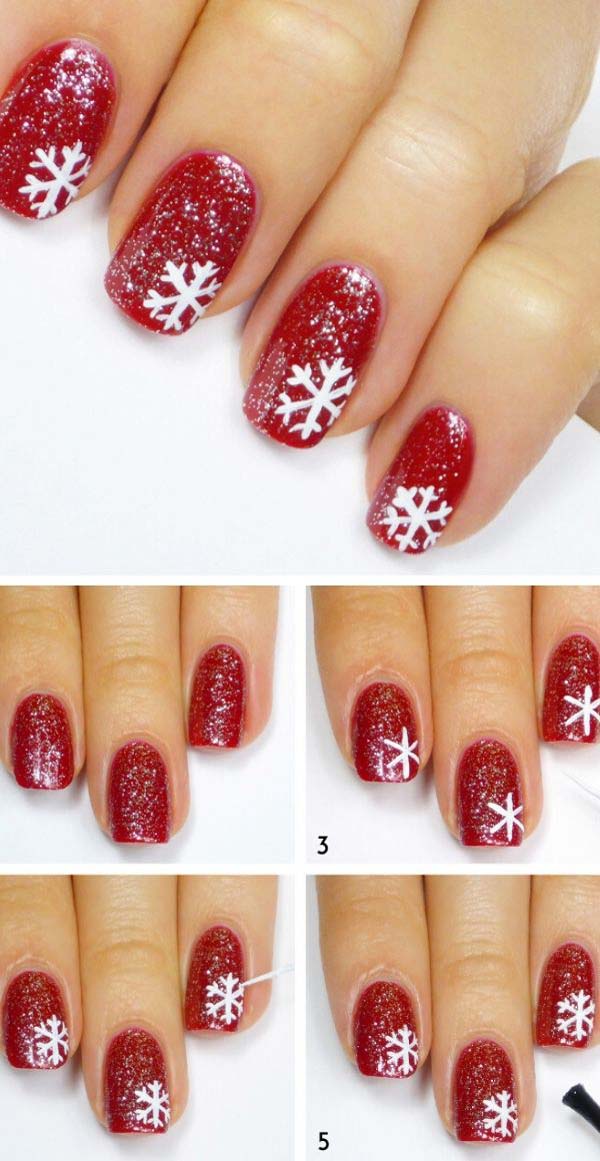 via Lulus
Another great winter theme is snowflakes. Paint a base of red on all of your nails, then use a stencil or sticker to put a snowflake on each of the nails.
Reindeer Nail Art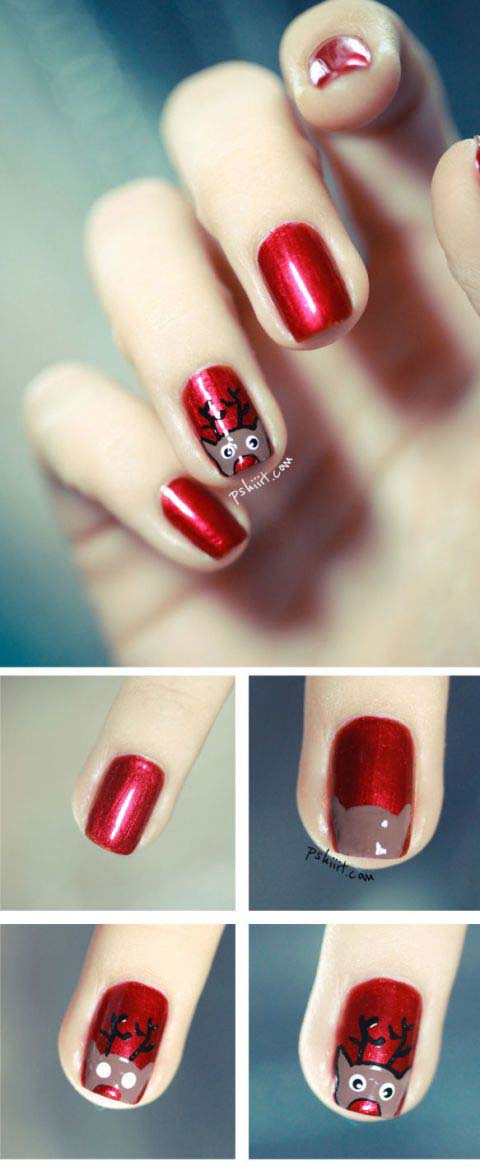 via Pshiiit
With red as a base, make an adorable statement nail by painting on a reindeer. Start with brown for the head and ears, then add a darker brown set of horns. Then complete the face with black.
Reindeer Nail Art Design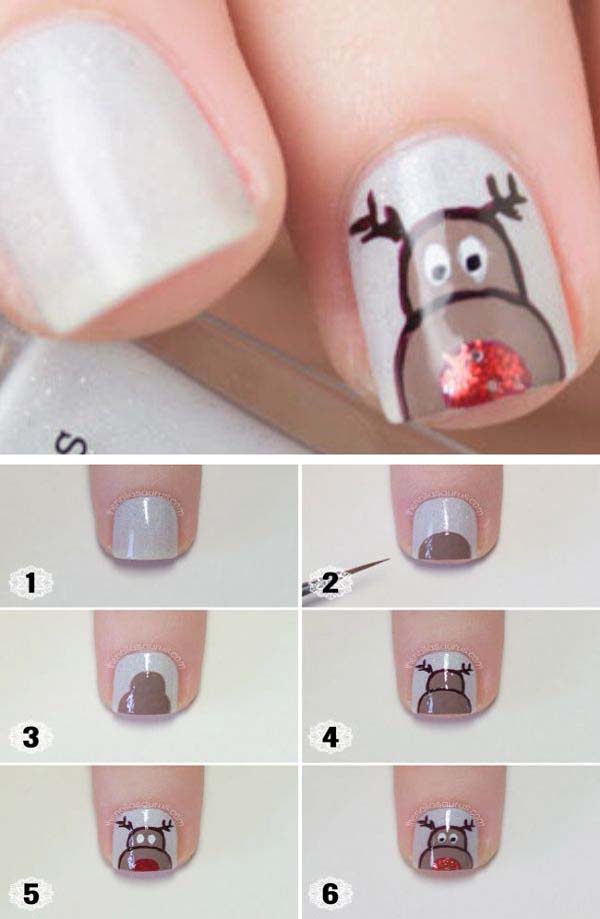 via The Nailasaurus
For another adorable reindeer set of nails, start with white as the base coat. The for the statement nail, add a brown reindeer with a dark brown outline and horns. Complete the face with brown and add a red nose.
Rudolph the Red-Nosed Reindeer

via Nails By Miri
Use white as the base color and for the statement nail add a brown reindeer. Add darker brown horns or use nail gems to make the horns and nose.
Santa Claus Nails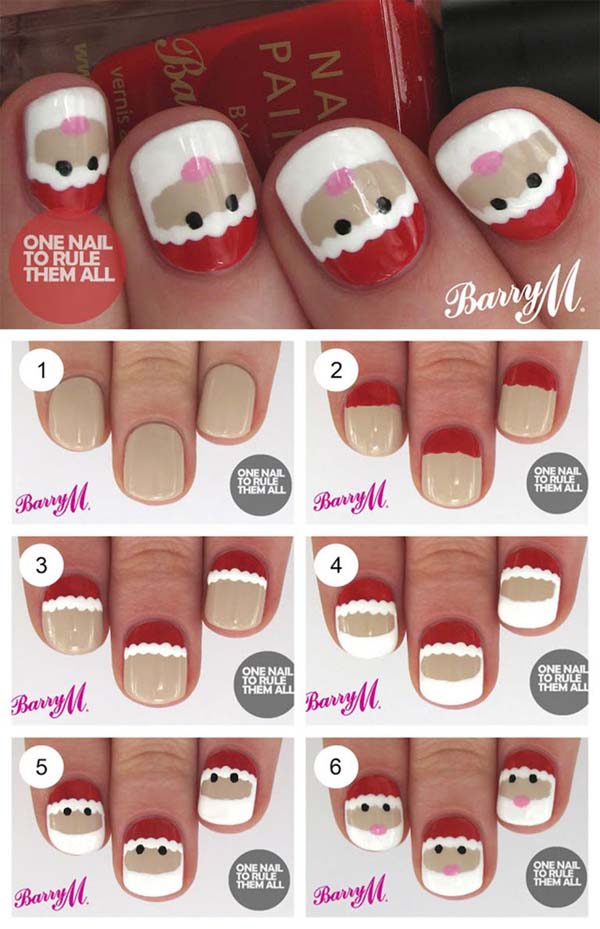 To make Santa's face on your nails start with a light brown skin color. Then add the red hat and white beard. When that is dry, add eyes.
Santa Hats Nails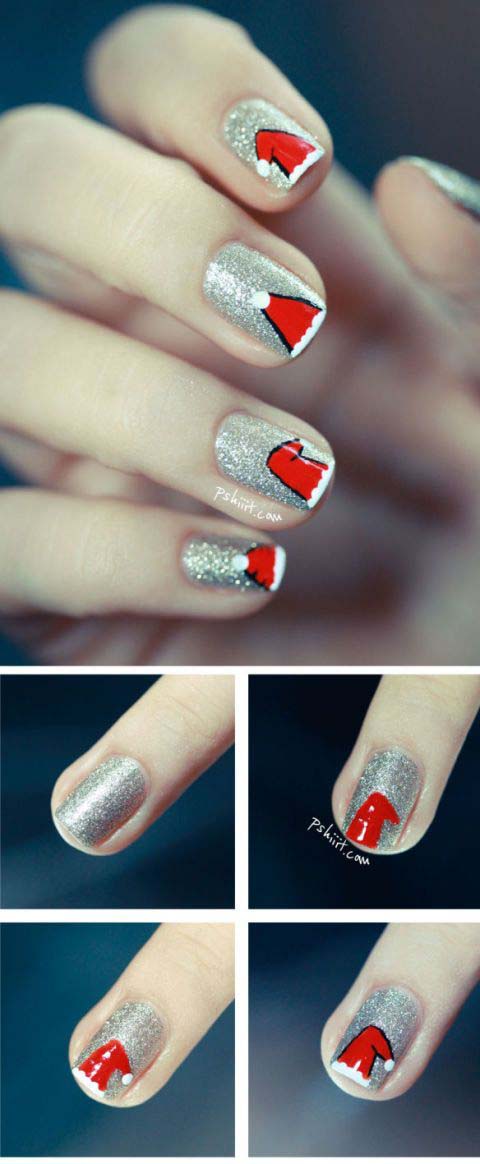 via Pshiiit
For Santa hat nails, start with a silver base color, then add a red triangle, add a white ball on the top and make it black lined. The perfect Santa hat.
Simple Christmas Nails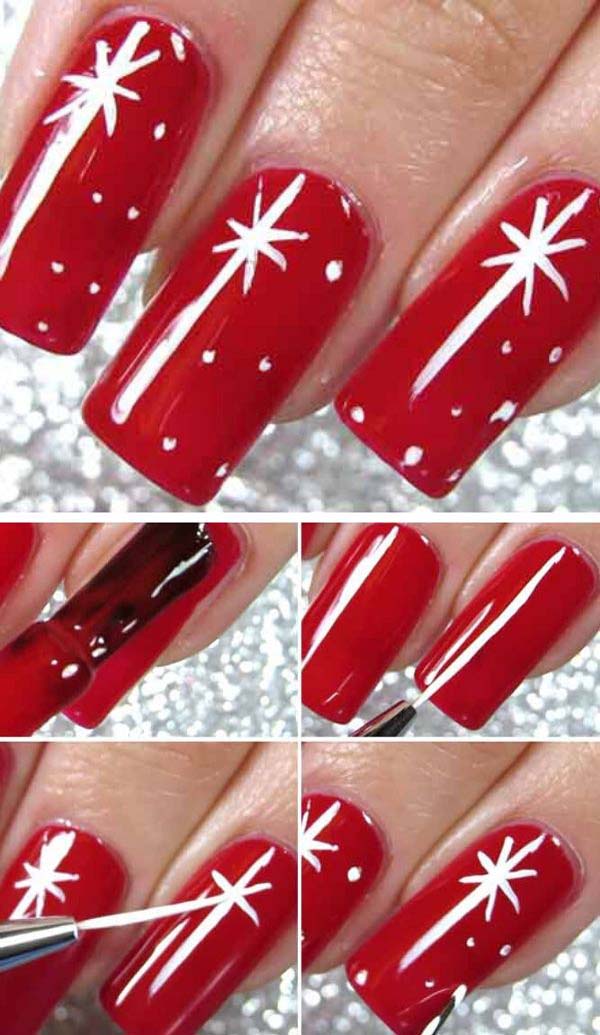 The reason for the season is Jesus and his birth. For a simple Christmas design, start with a red base and add a white Star of David on each nail.
Snowy Nails with a Snowman Statement Nail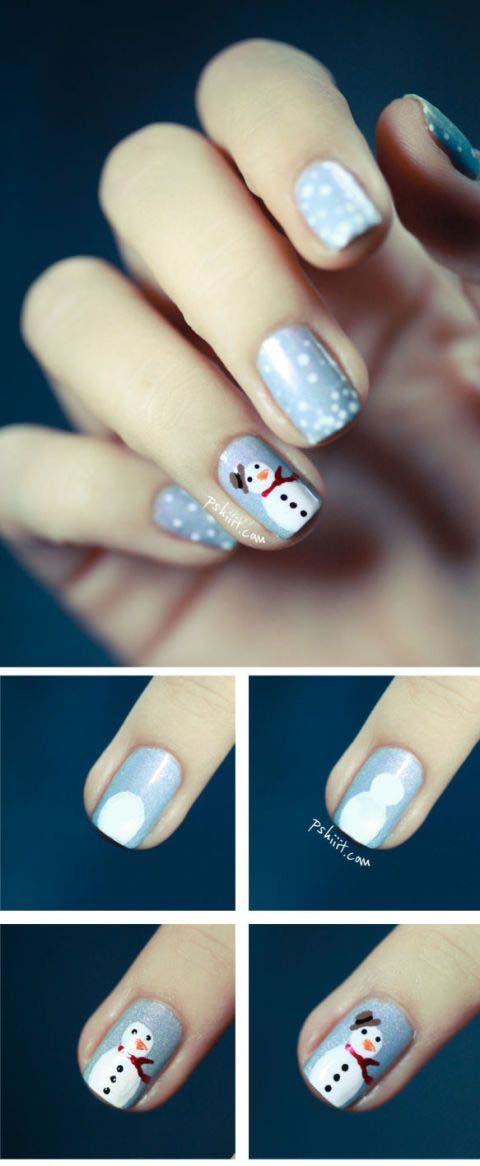 via Pshiiit
Everyone loves snow on Christmas. Start with a silver base nail and add white dots to resemble snowflakes. For the statement nails, paint or stencil on a snowman.
Water Bubble Christmas Tree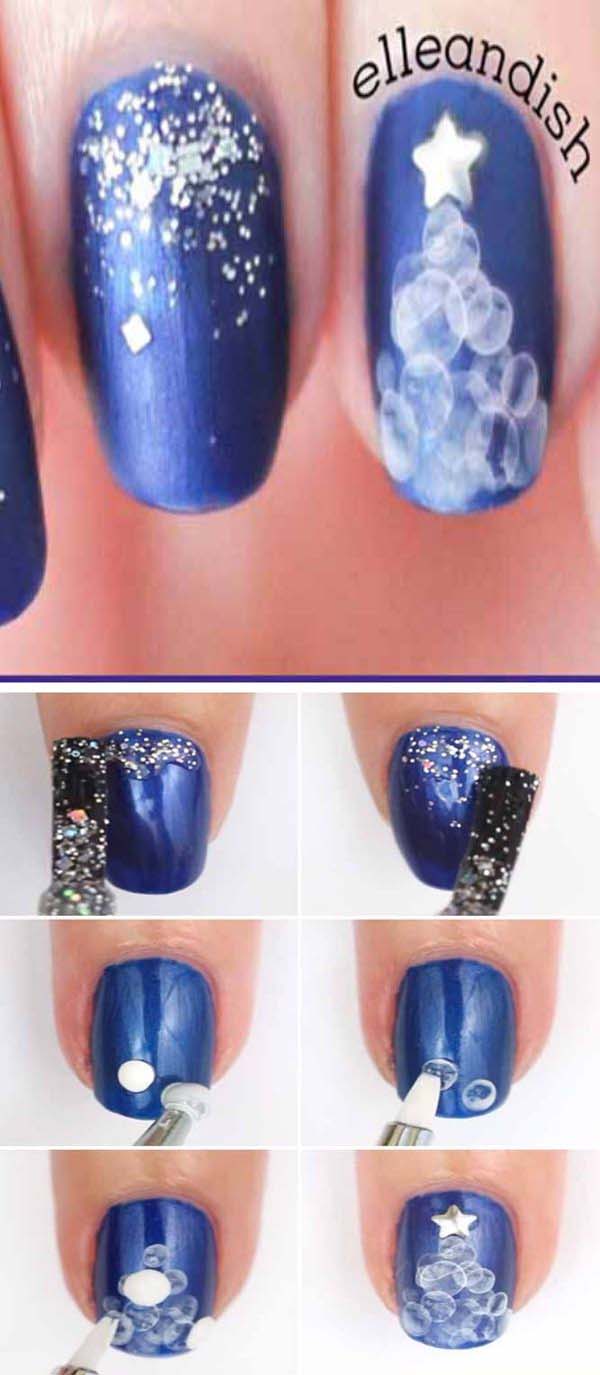 via Janelle Estep
For classic looking Christmas nails, try these blue nails with white bubbles shaped like a Christmas tree. Add a star to complete the tree. On the other nails, use glitter paint to give a touch of classic to these easy Christmas nails.
Water Marble Christmas Tree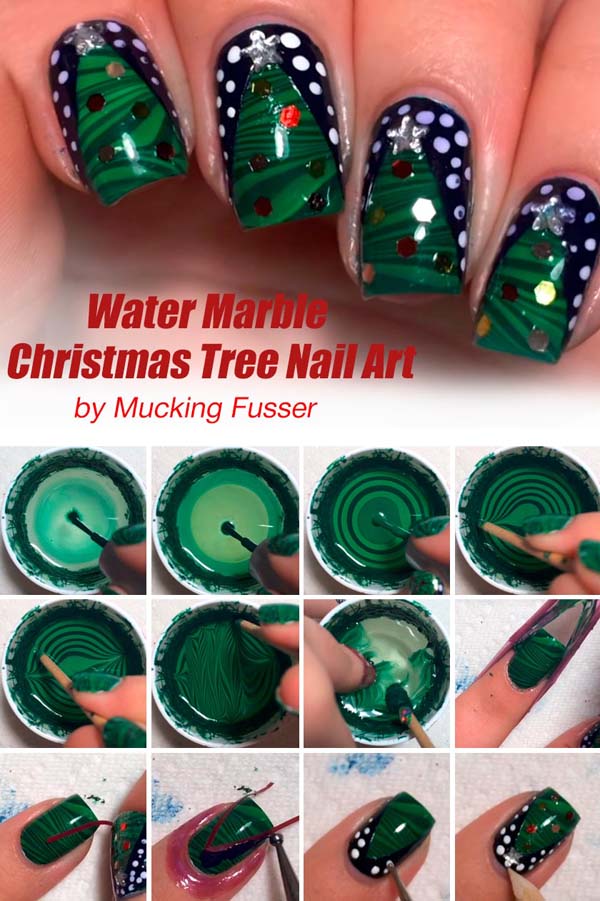 via Mucking Fusser
Add a different flair to the Christmas tree nails. Use a dark blue background and a green and white marbled tree. White dots in the background make perfect background stars.
Adell is the owner of Trendypins.com – she started the site back in 2018, when she was still working in a Fashion and Beauty magazine, but the passion for new trends, healthy living and creative lifestyle inspired her to create the site and following her own dream of building a great online-magazine.