Springtime is a time of renewal of the earth. Things that have been dead all winter are coming back to life.
The world is getting green and the days are getting longer. Easter is a welcome part of spring.
The celebration of the renewal and revival of Jesus, the Easter bunny and candy are all pieces of the Easter celebration. Chocolate and cookies are all treats that are often made and enjoyed at Easter time. Check out these delicious Easter treats.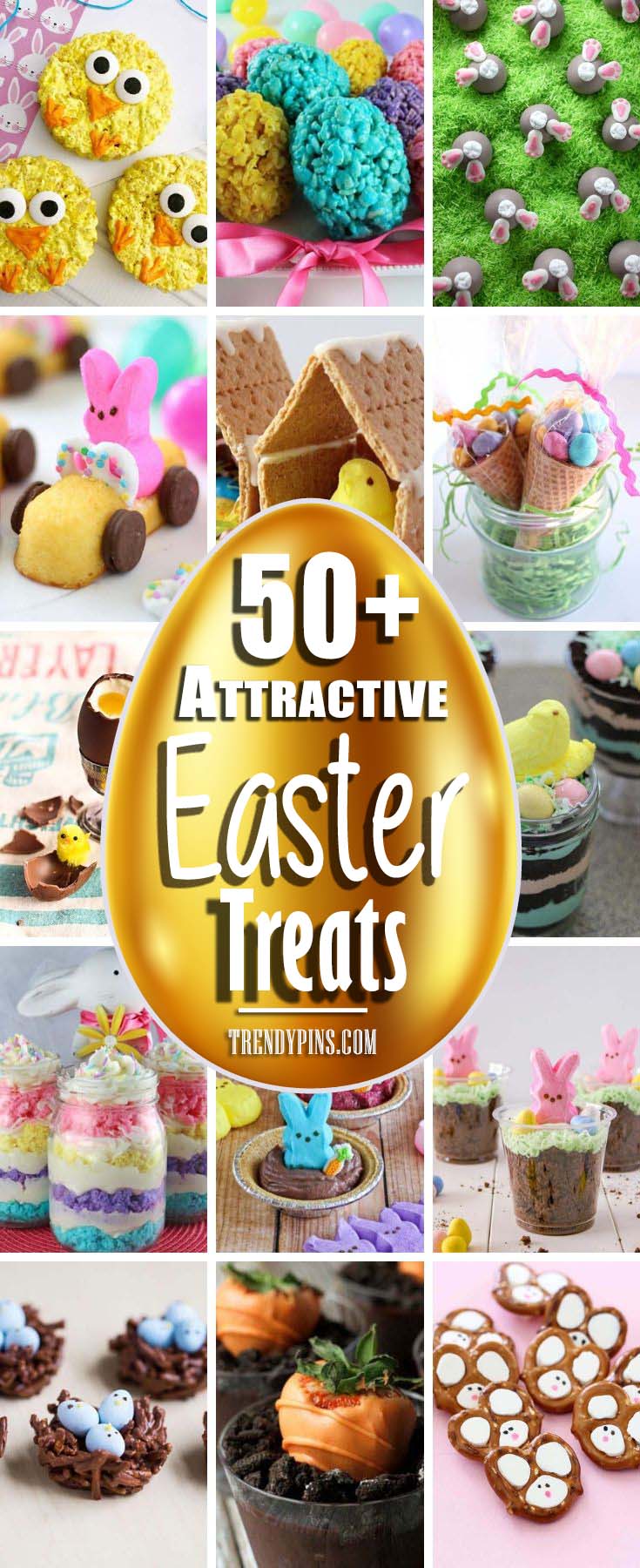 Don't forget to PIN this image for quick access to all these ideas
3 Ingredient Easter Carrot Rice Krispie Treats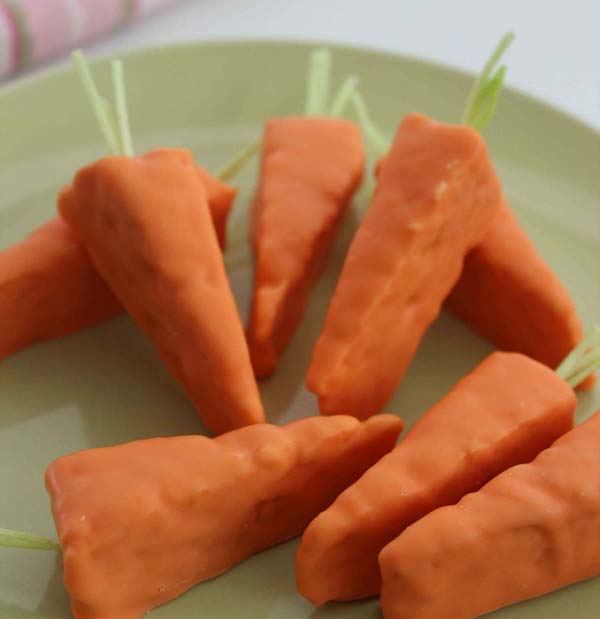 Feed the Easter bunny these delicious rice crispy treats. The rice crispy treats are cut into carrot shapes and glossed with orange frosting.
4 Ingredient Easter Fudge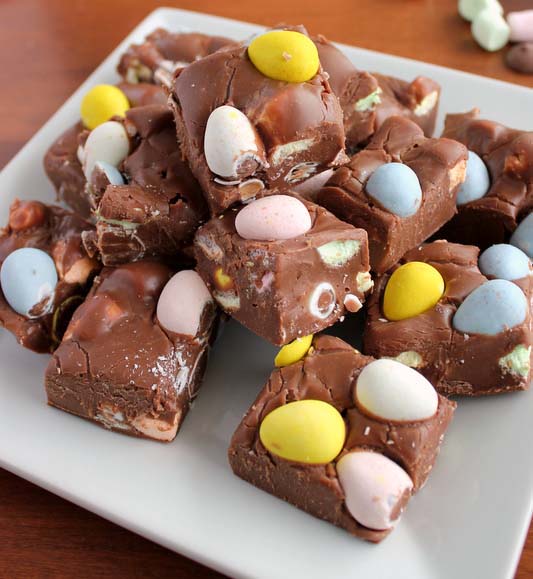 via Kitchen Cents
Fudge is for more than Christmas. Add pink and yellow m&ms to your fudge to make it scream Easter.
Birds Nest Meringues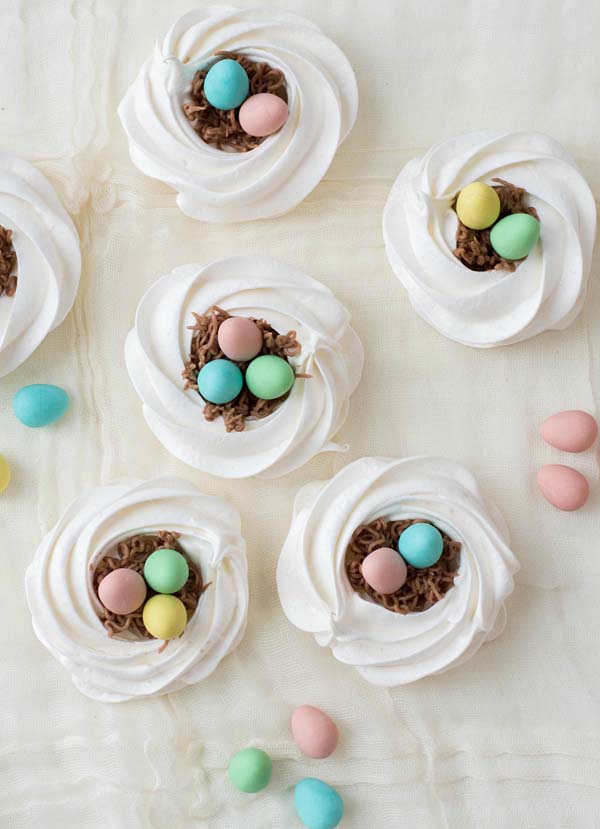 via Crafty Morning
Meringues are absolutely delicious and make perfect birds nest textures. Then add pretzel cookies in the middle to make sticks and a few candy eggs.
Bunny Bum Bins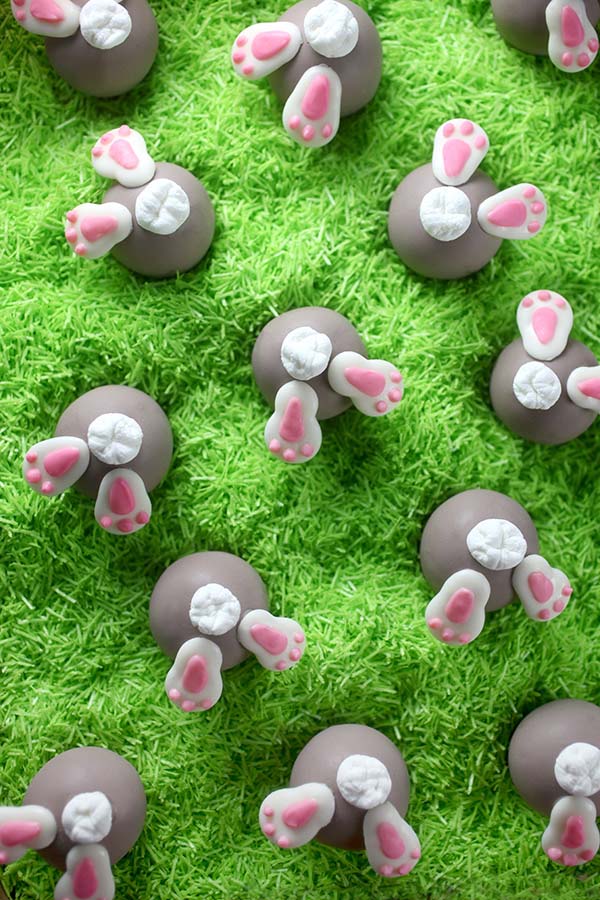 via Bakerella
Bunnies are iconic Easter symbols. Try these adorable cookies with little bunny feet and tails.
Bunny Dirt Cups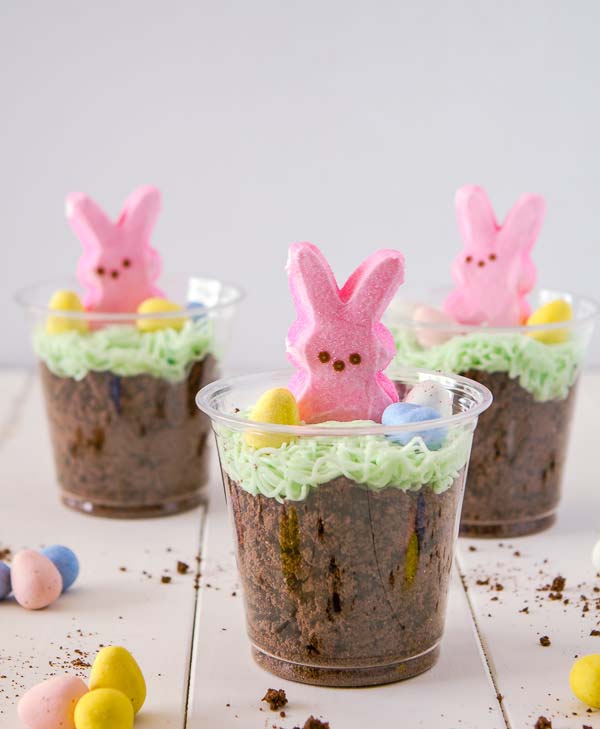 via A Zesty Bite
Dirt dessert is delicious. It can be turned into the perfect Easter treat by adding marshmallow bunnies on top.
Bunny Tail Treats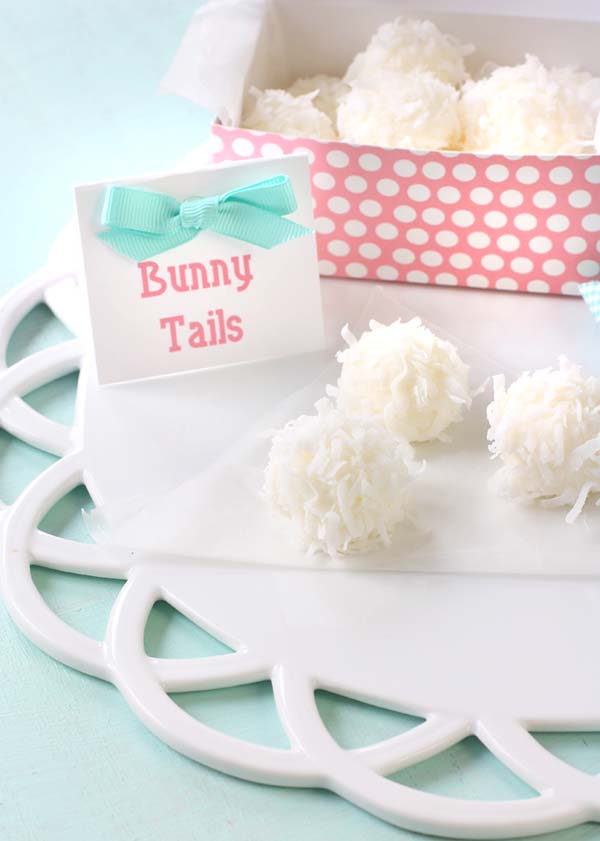 via Pizzazzerie
Coconut makes the perfect texture for a bunny tail. Coconut also makes delicious cookies.
Carrot Chocolate Covered Strawberries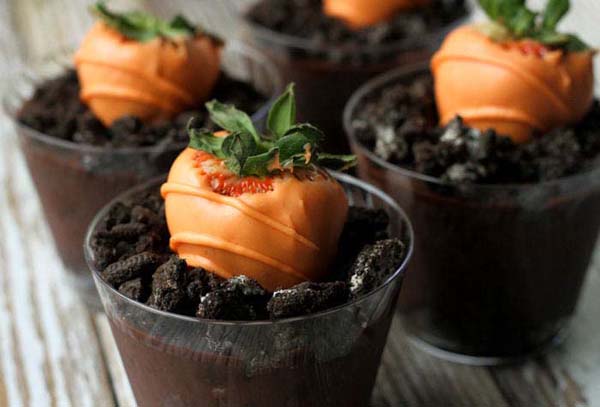 via Lil' Luna
If you coat strawberries in orange-tinted chocolate, the green tops pop
out the top and make marvelous carrots. Stick them in some dirt dessert
to look like buried carrots.
Cheesecake Filled Chocolate Easter Eggs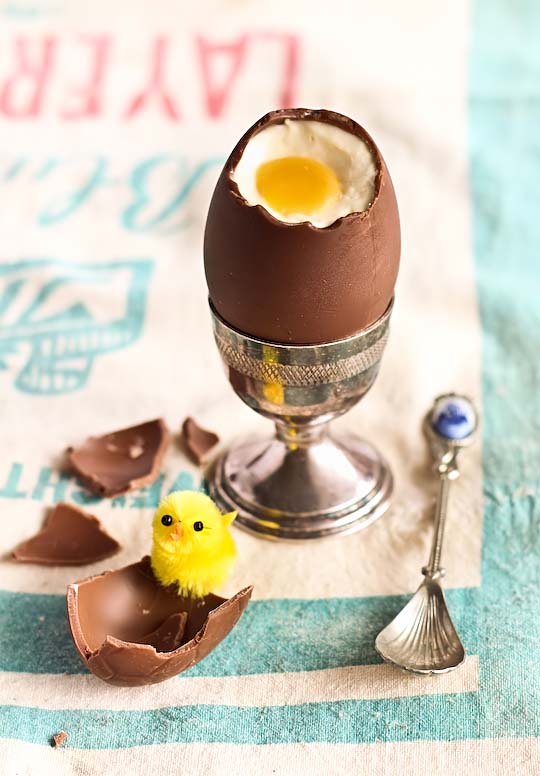 For a surprise dessert, make chocolate eggs. Fill them with cheesecake for a delicious and surprising dessert.
Chocolate Confetti Eggs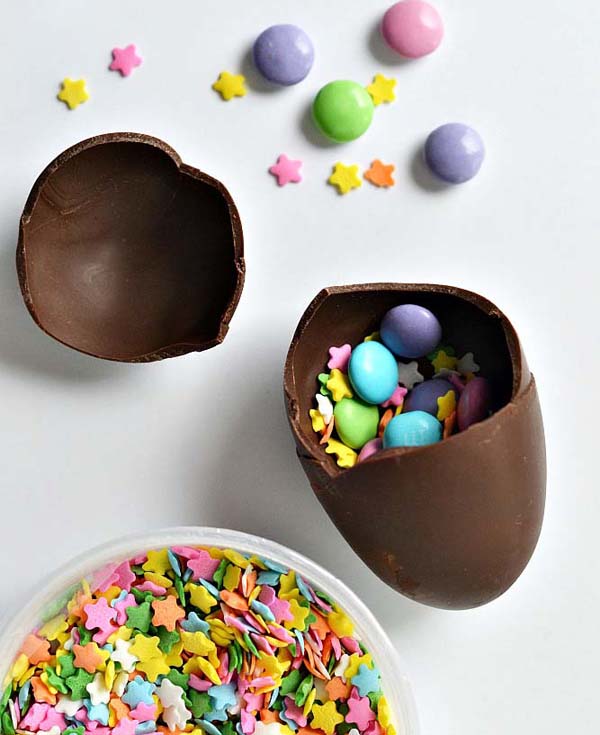 Fill a chocolate egg with Easter sprinkles. When bit into they explode with delicious sprinkles.
Chocolate Egg Nest Treats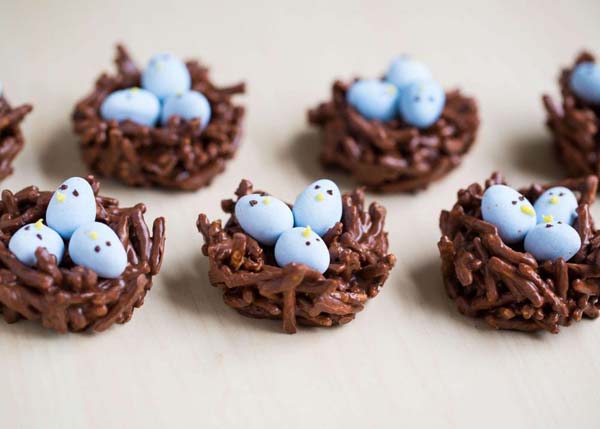 via I Heart Naptime
Rice crispy treats make the perfect eggs' nest. Then you can fill them
with eggs to make a magnificent Easter treat.
Coconut Macaroons Nest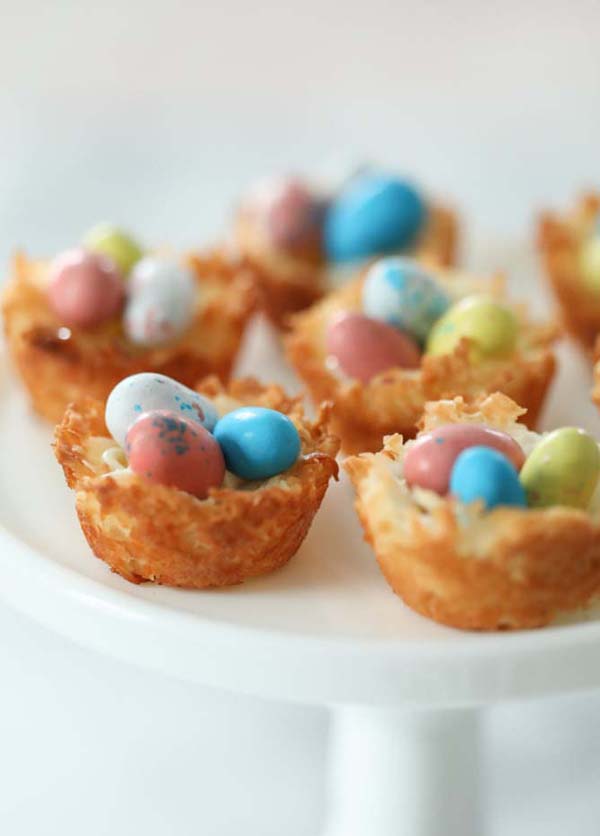 If you are looking for the perfect nest look, coconut is a perfect match. Shape coconut cookies in nest shape and then put candy eggs for a delicious treat.
Creme Egg Rocky Road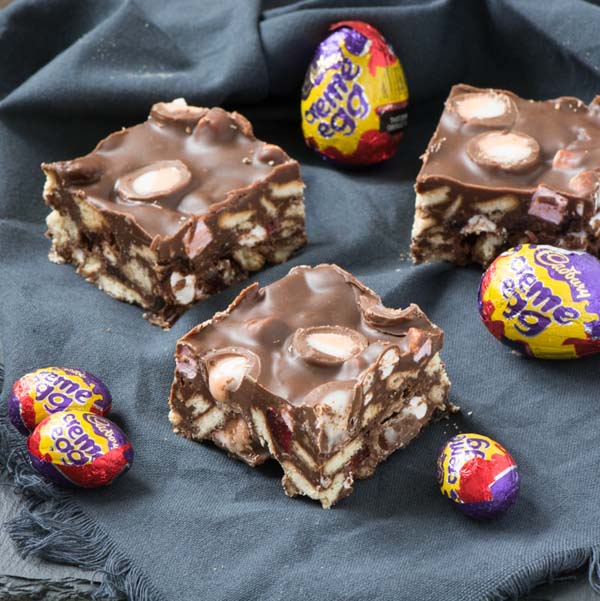 via Charlotte's Lively Kitchen
Rocky road fudge doesn't seem like the Easter theme. But fill with peanuts and make with Easter creme eggs for a superb Easter-themed fudge
snack.
Easter Bird Nests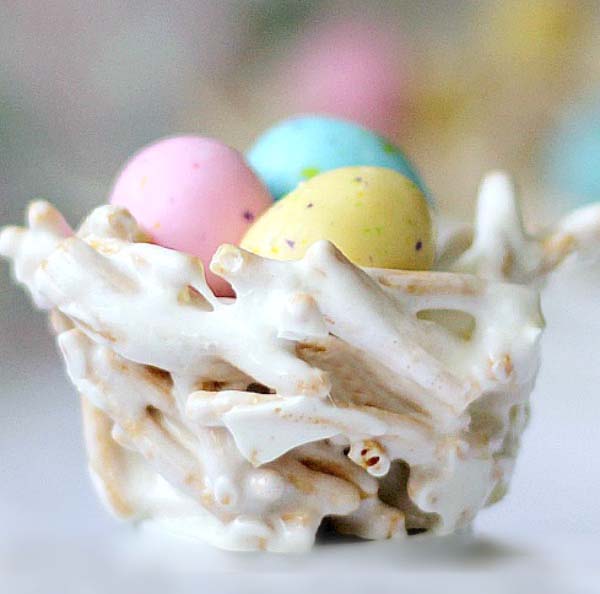 via Grateful Prayer Thankful Heart
If you want to make an easy bird's nest then break pretzel sticks into
small pieces. Coat with melted white chocolate and shape into nests.
Fill with multi-colored egg candies.
Easter Bunny Popcorn Bars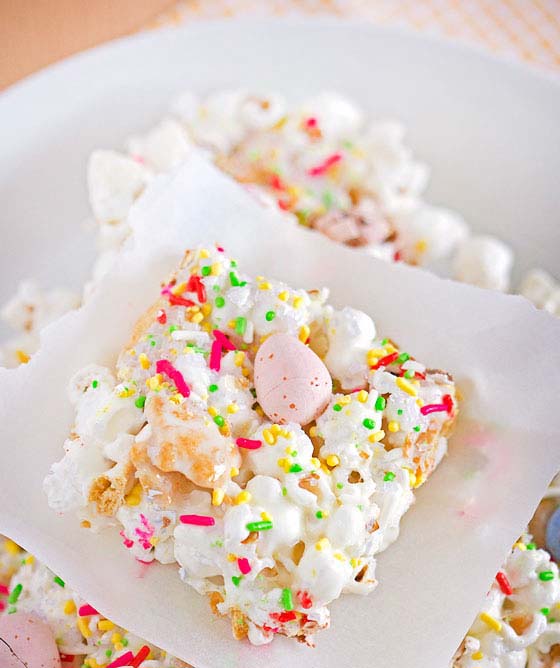 Popcorn balls can be made into a perfect yellow and pink Easter snack.
Add candy eggs to finish the look.
Easter Bunny Pretzels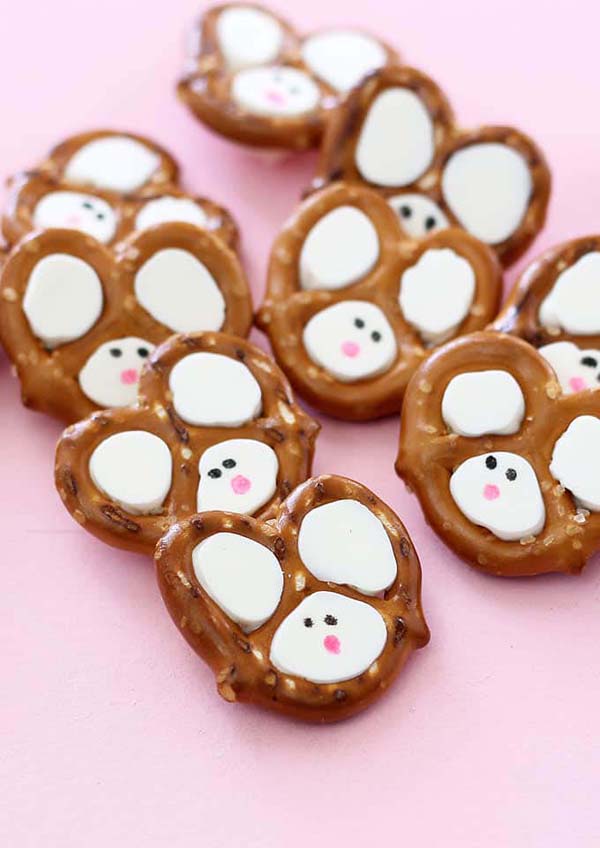 Fill regular shaped pretzels with marshmallows and color on a bunny face
with an edible pen. It creates an awesome and simple Easter snack.
Easter Cream Cheese Mints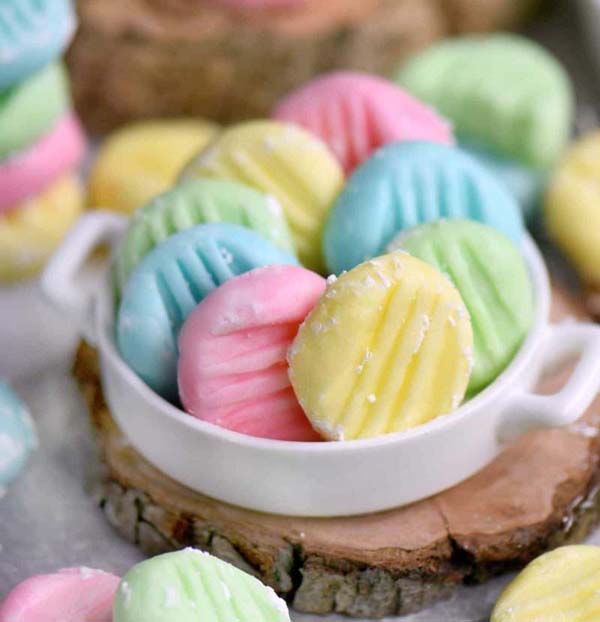 via Mom On Timeout
Have you ever made cream cheese mints? They make perfect egg shapes.
Easter Crockpot Candy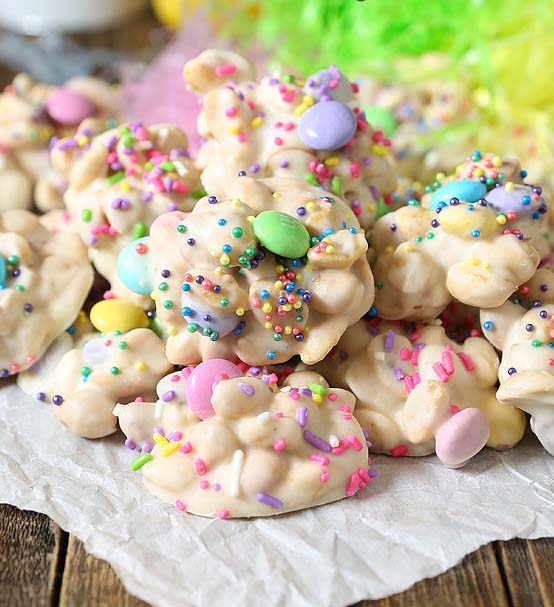 Crock pot candy makes an exquisite and simple Easter snack. Add Easter colored m&ms and non pareils.
Easter Cupcakes in a Jar
via Two Sisters
Purple, yellow and pink cupcakes in a jar make a rustic Easter treat.
Top them off with some whiped cream.
Easter Egg Blondies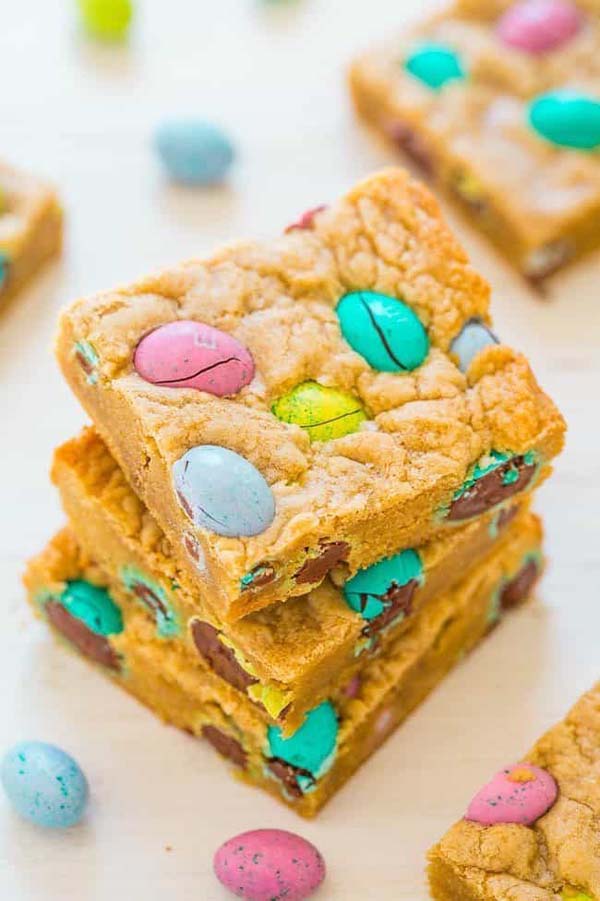 via Averie Cooks
Blonde brownies can be used for basically any celebration. Add Easter
colored m&ms to give them an Easter look.
Easter Egg Buttercream Candies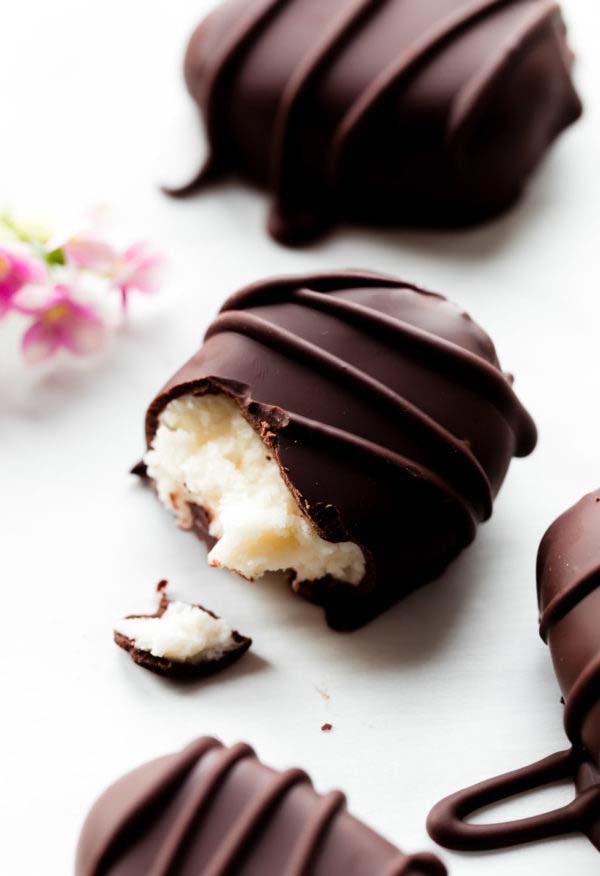 Buttercream candies are a wonderful mix between coconut and sweet cream. To give them an Easter frill, shape them in egg shape and coat them with chocolate.
Easter Egg Cone Treats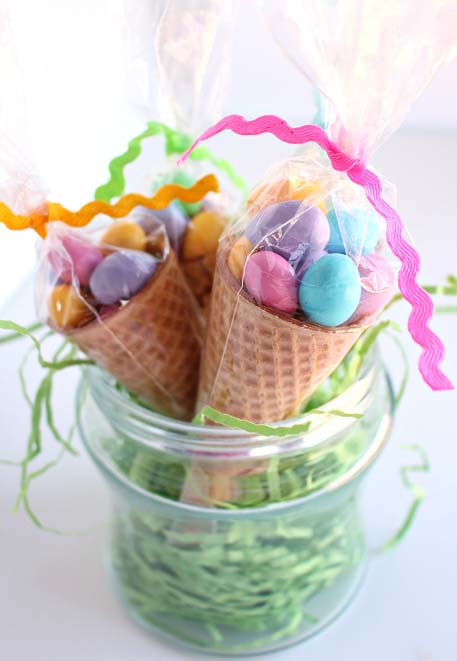 via Crafty Morning
Buttercream candies are a wonderful mix between coconut and sweet cream. To give them an Easter frill, shape them in egg shape and coat them with chocolate.
Easter Egg Cookie Dough Truffles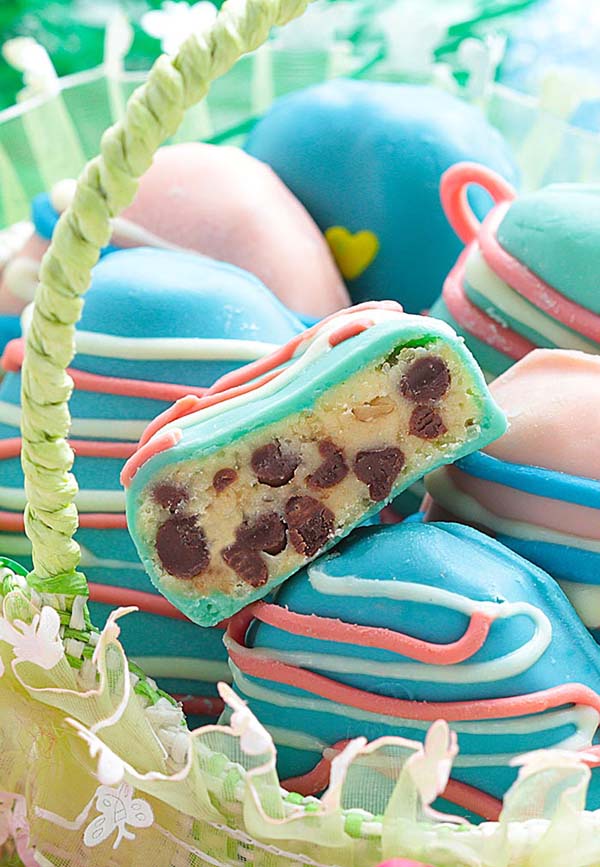 via Cakescottage
Everyone loves raw cookie dough. That's why these cookie dough truffles
are delicious and shape them like eggs and cover them in chocolate to complete the Easter holiday theme.
Easter Egg Sugar Cookies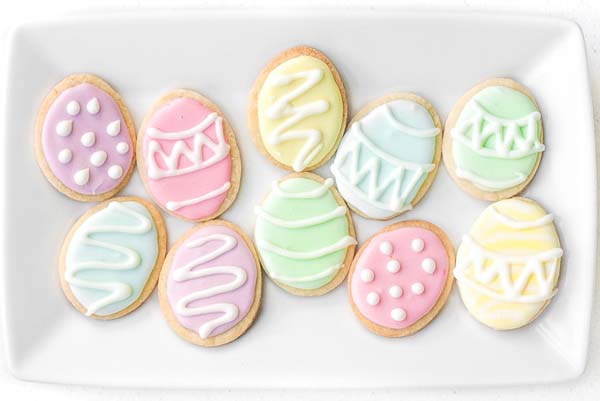 via Ahead of Thyme
For a classic bunny treat, make these sugar cookies. Cut them out and
decorate them in egg form.
Easter Muddy Buddies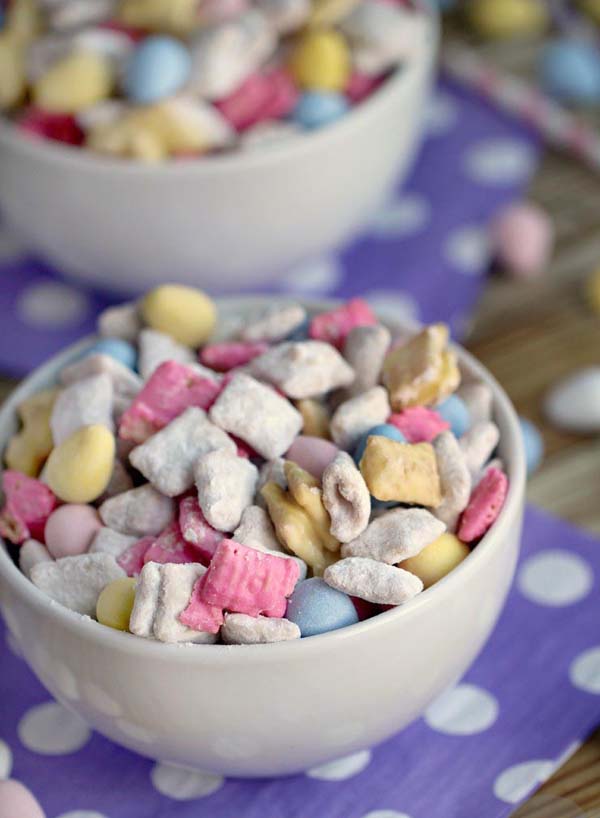 via Frugal Mom Eh!
Add pink and light blue food coloring to some of your muddy buddies treats. It is simple but very Easter!
Easter Peeps Dirt Pudding Cups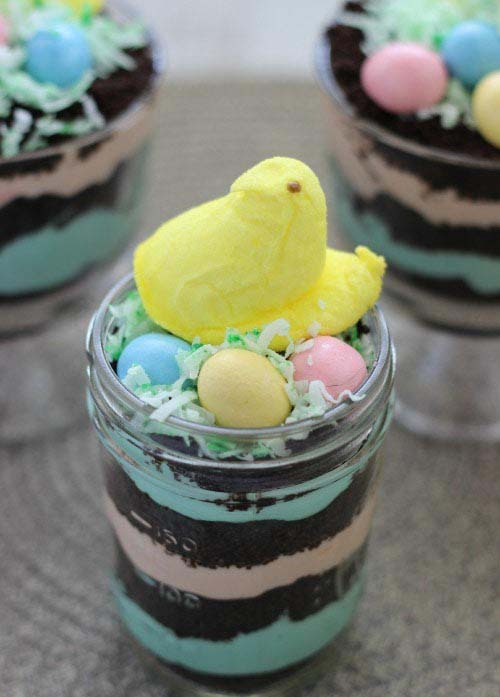 via The Diary of a Recipe Collector
Layered dirt pudding with pink and blue-tinted pudding. Put a marshmallow chicken up top for an Easter treat.
Easter Peeps Pops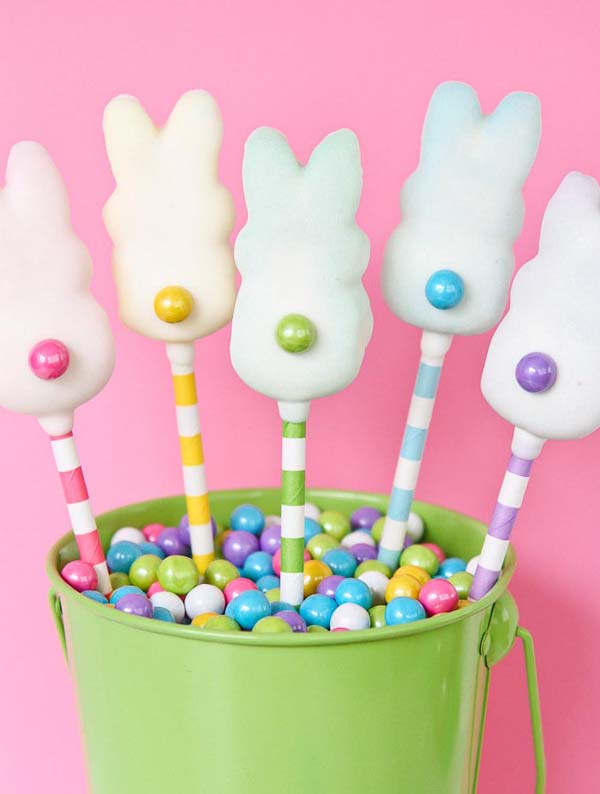 Bunny marshmallow treats are even more delicious when they are coated in chocolate. Then put a pearl sprinkle on the bum for a perfect bunny tail.
Easter Rice Krispie Treats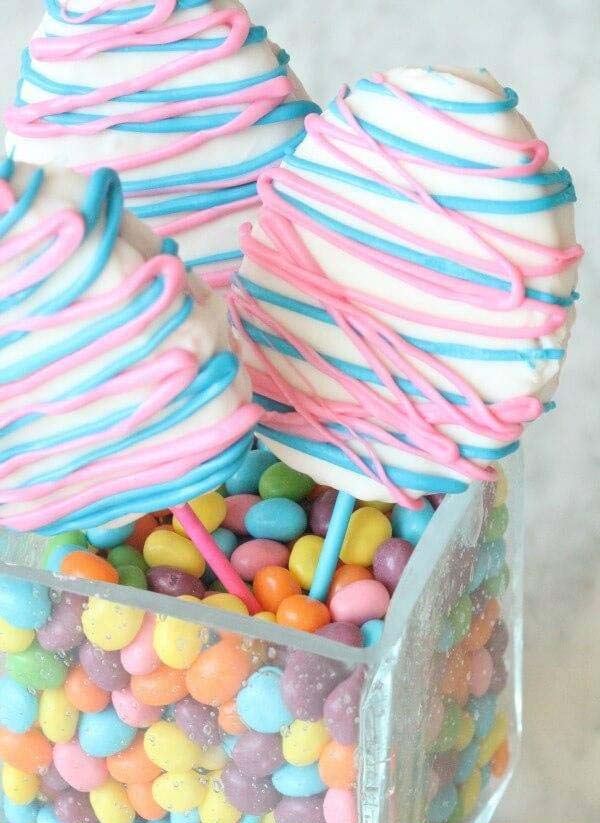 Rice crispy treats can be shaped in any shape. Try these egg-shaped rice
crispies. Made even better when coated in chocolate.
Easter Saltine Toffee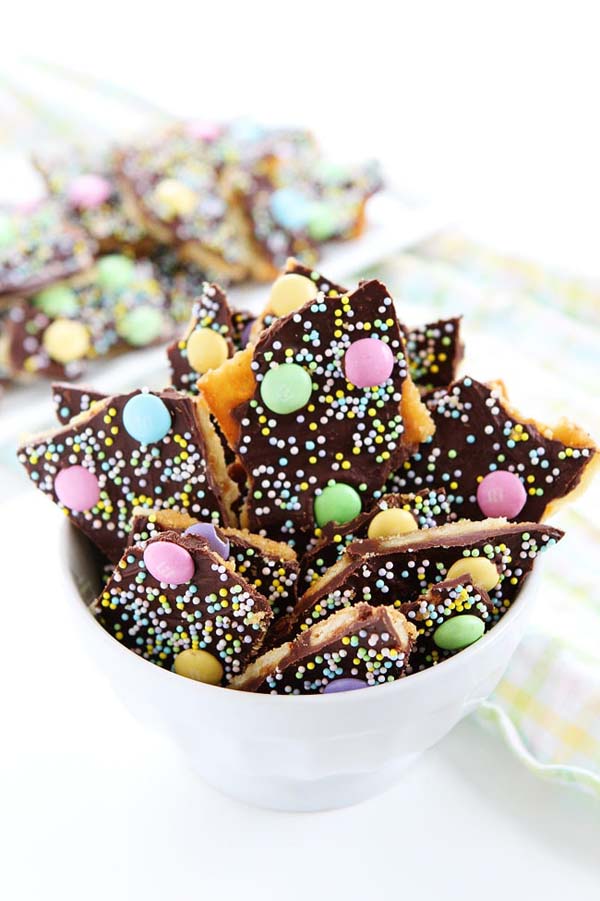 Salt toffee isn't really considered an Easter treat. Put coat them with
chocolate ganache and Easter colored nonpareils for a classic Easter treat.
Easy Bunny Butt Pretzels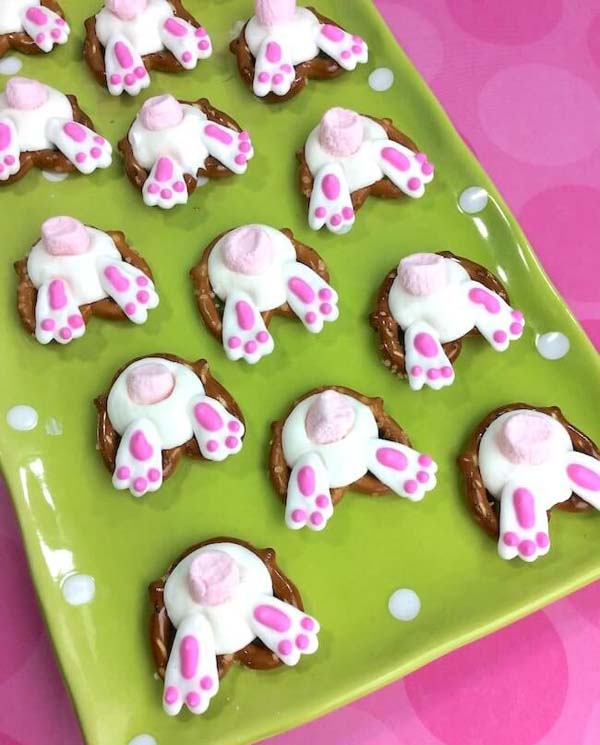 via The Soccer Mom
These cookies use pretzels as a base. Then frosting as glue. Then they
glue on the mini marshmallows for the tail and the chocolate bunny feet.
Easy Easter Bunny & Chick Oreo Pops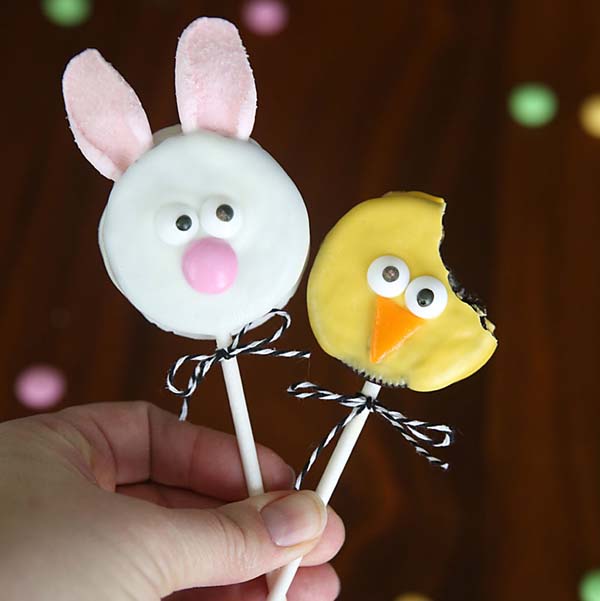 Chocolate coated Oreos make perfect round faces. Make them yellow for
chicks and white for bunnies.
Flower Mini Lemon Tarts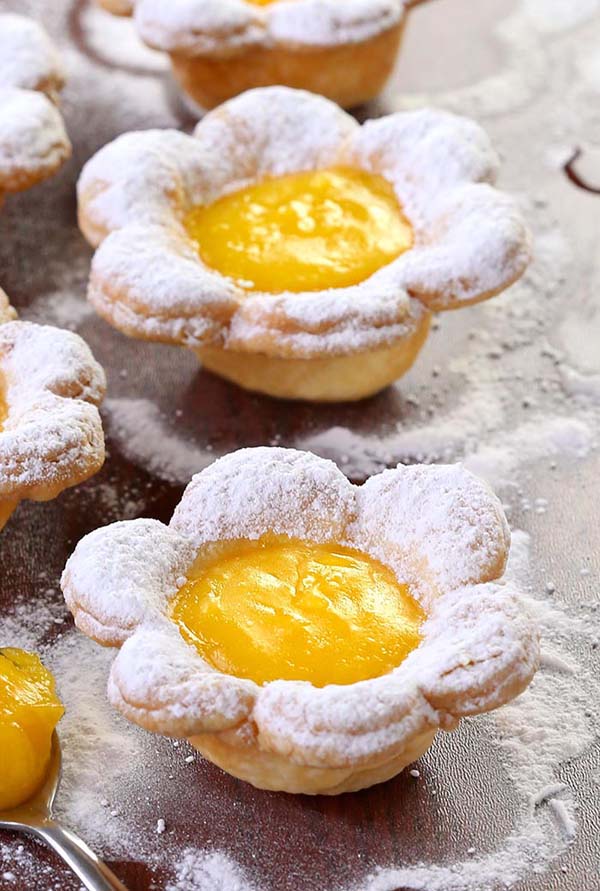 via Sugar Apron
These perfect tarts make a shiny flower. Flowers are the essence of spring time and renewal.
Flower Pretzel Bites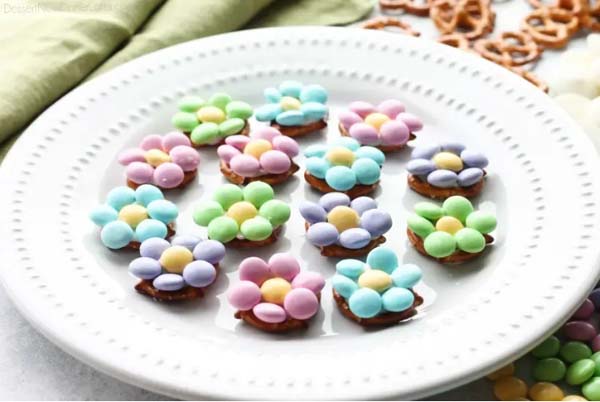 via Dessert Now, Dinner Later!
Pretzels make the perfect base for all sorts of things. These cookies use chocolate as a base and glue on m&ms on top. Then they look like superb little flowers
Layered Peeps Rice Krispie Treats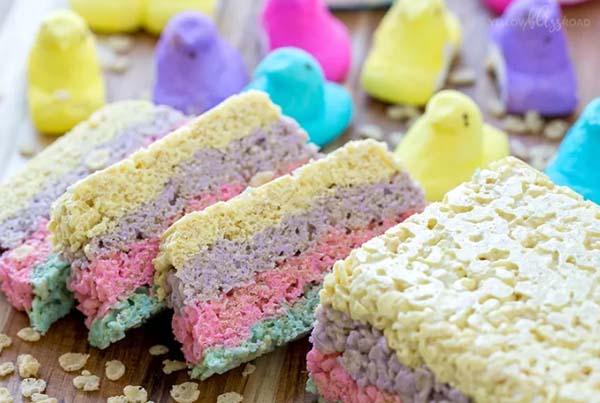 Rice crispy treats are so malleable and can be used for so many things.
They can be layered in many Easter colors to make springtime rice crispy
cookies.
Mini Eggs Easter Brownie Parfaits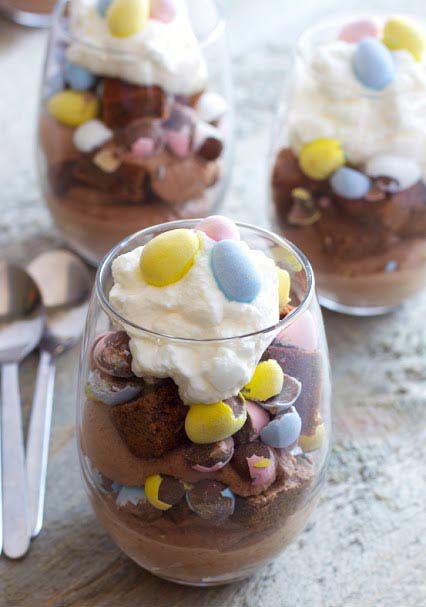 via The Busy Baker
These layered cakes utilize many different types of cookies. They are
layered between pudding. Topping with whip cream and colored eggs tops
off the Easter look.
Pastel Rainbow Gelatin Cups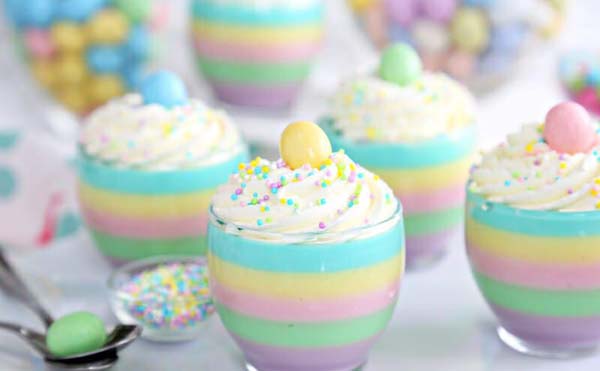 via Sugar Hero
Jello cups can be fitted for all sorts of holidays. These ones utilize pastel colored jello layers in cups for a delicious Easter holiday treat.
Peanut Butter Easter Eggs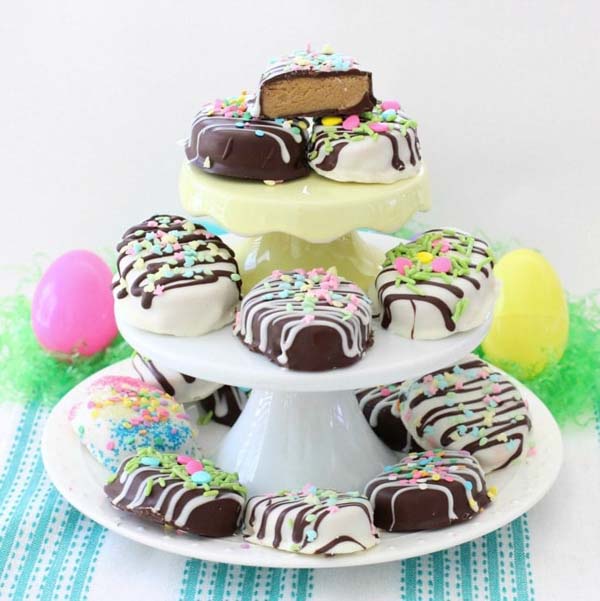 via Butter with a Side of Bread
You know those delicious peanut butter cup Easter eggs? Coat them with a
couple stripes of white and milk chocolate. This is a quick and simple
Easter treat.
Peep Houses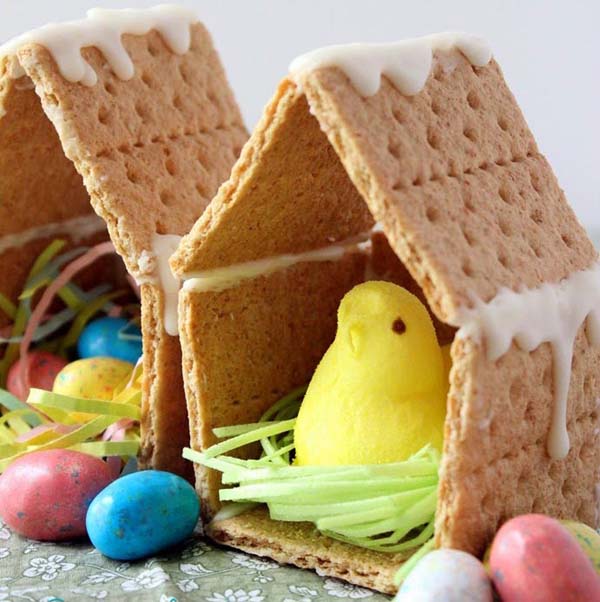 via Yesterfood
Graham crackers can be glued together with frosting to make marvelous
little houses. Then put a peep inside to finish the look.
Peeps Popcorn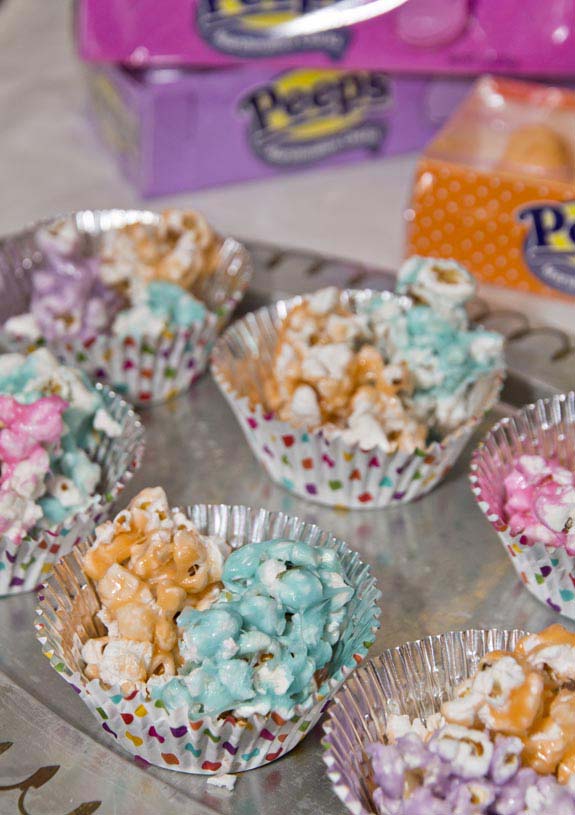 Different flavored peeps can be melted and mixed with popcorn. This
makes a classic and simple Easter treat.
Peeps Pretzel Rods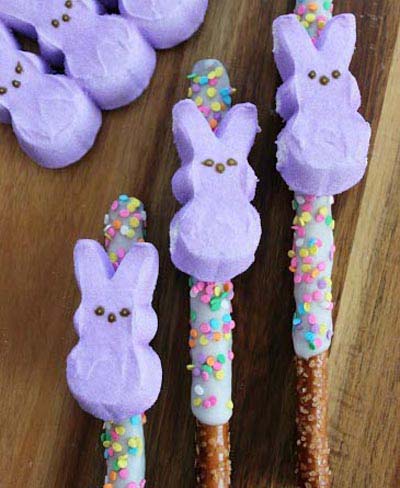 via My Litter
These snacks are made by skewering peeps with pretzel rods. To really
add a delicious spin, dip the pretzel rods in chocolate first.
Peeps Pudding S'mores Pies
Who doesn't love s'mores pies? Use mini pie tins and fill them with
chocolate pudding. Then to add the Easter spirit and the marshmallow to
the s'mores, add a bunny peep.
Pineapple Carrot Cakes with Cream Cheese Frosting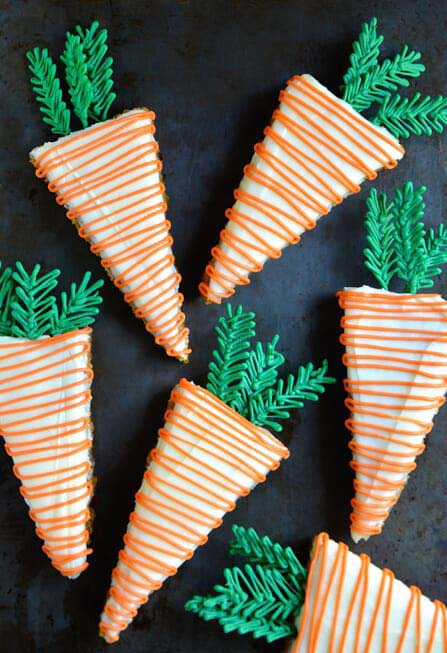 via Just a Taste
What is more ionic than carrot cake made into mini carrots. To make them
look even more Easter, frost them and add green leaves on top.
Race Car Peeps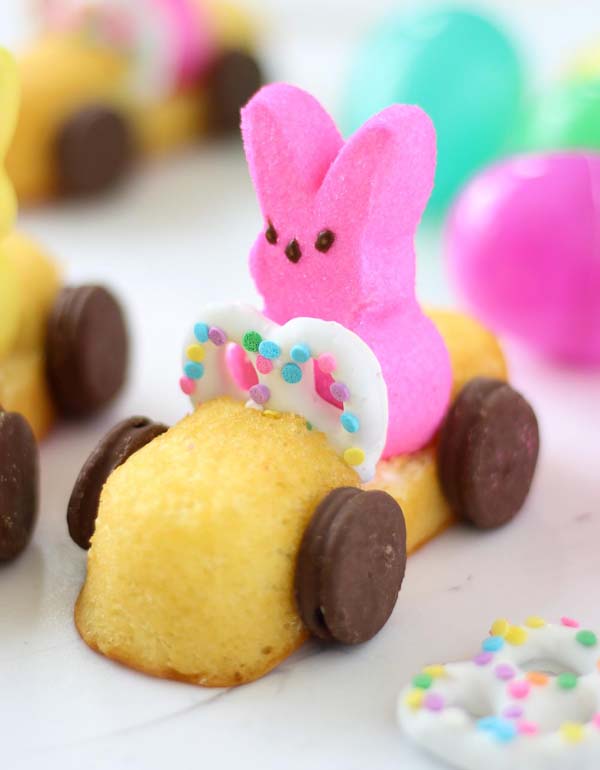 For the car lover in your life try these bunny peeps driving a car. To make the car add mini Oreos to a twinky.
Rice Krispie Easter-Chicks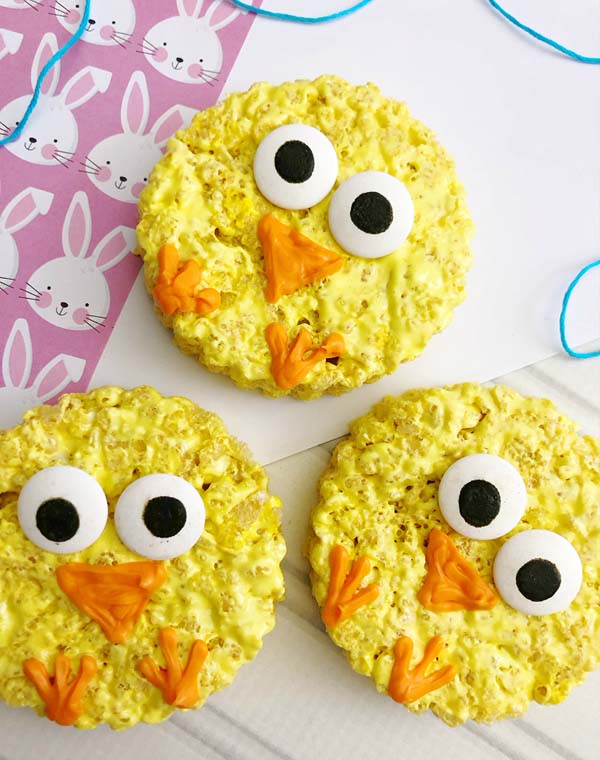 via Crafty Morning
These cookies are made from circular rice crispies. Then they are tinted
yellow and frosted with little eyes and chick noses.
Rice Krispie Easter Eggs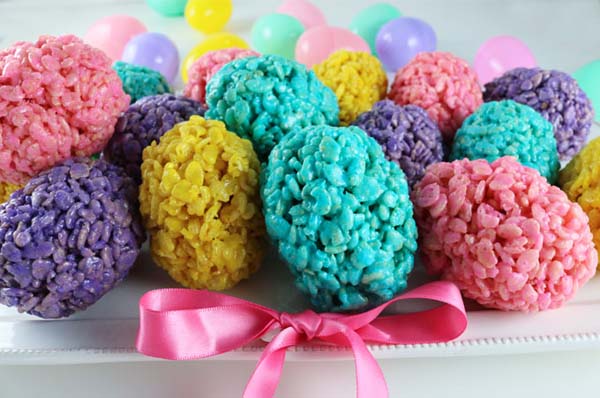 Turn rice crispies into eggs. Tint the rice crispies with all sorts of pastel colors. All together it will scream Easter!
Rice Krispie Nests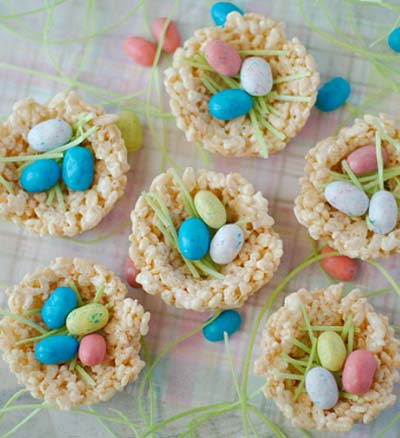 via Crafty Morning
These nests are made from rice crispies. They are filled with Easter eggs. A little Easter grass is placed all around for an extra Easter touch.
Spring Caramel Pretzel Bites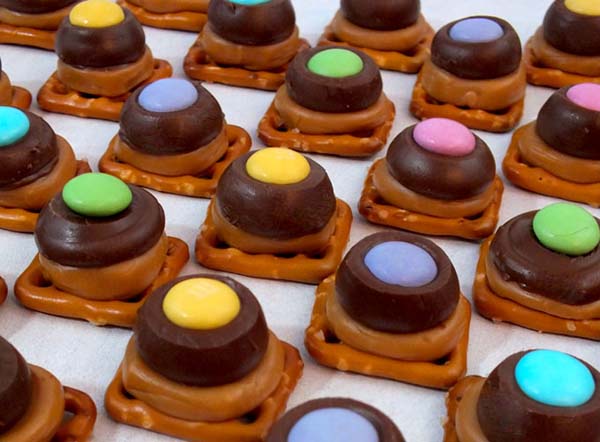 These rolo bites are made with a pretzel on the bottom. A chocolate-covered caramel melted in the middle and a colorful candy on top.
Springtime Chocolate Covered Popcorn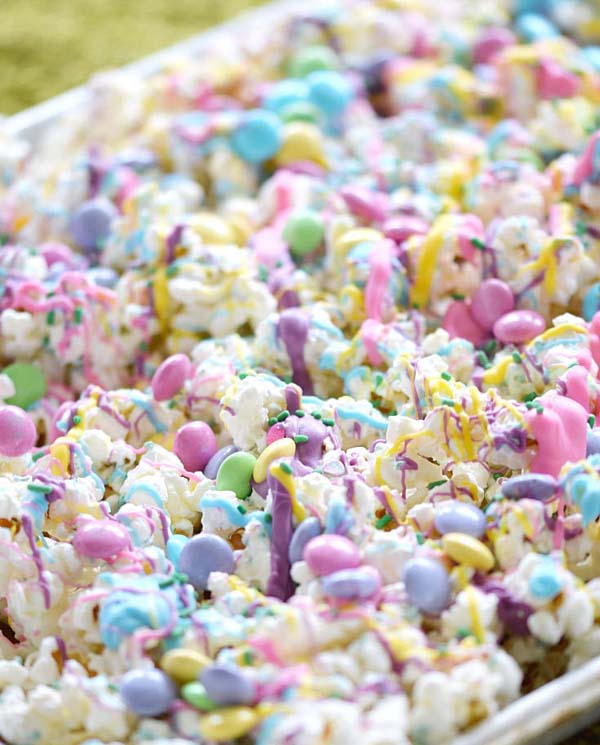 To make a spring-themed chocolate popcorn, just melt chocolate and mix
in the popcorn. Then top with multi pastel-colored chocolate.
Springtime Marshmallow Wands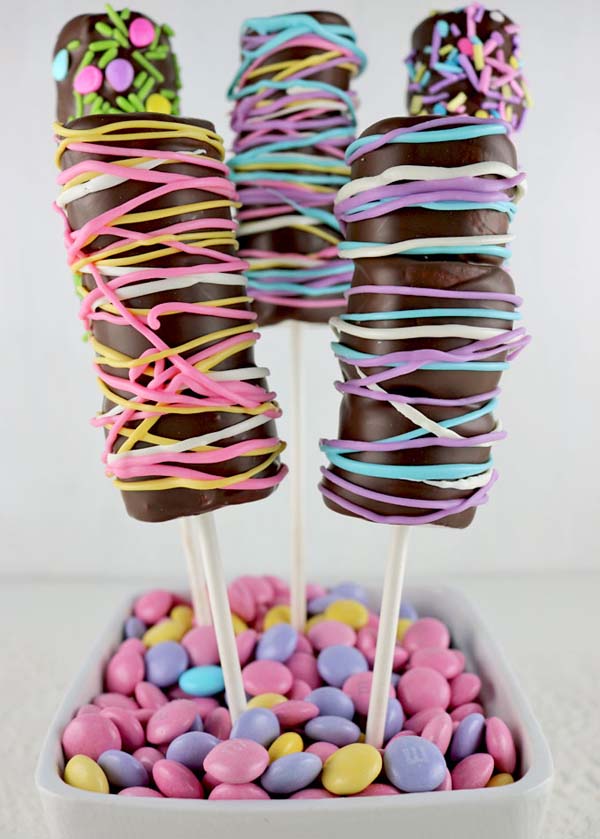 Skewer three marshmallows and coat them in chocolate. Then add multi-colored chocolate layers for an extra bright touch.
Super Easy Easter Bunny Chocolate Bark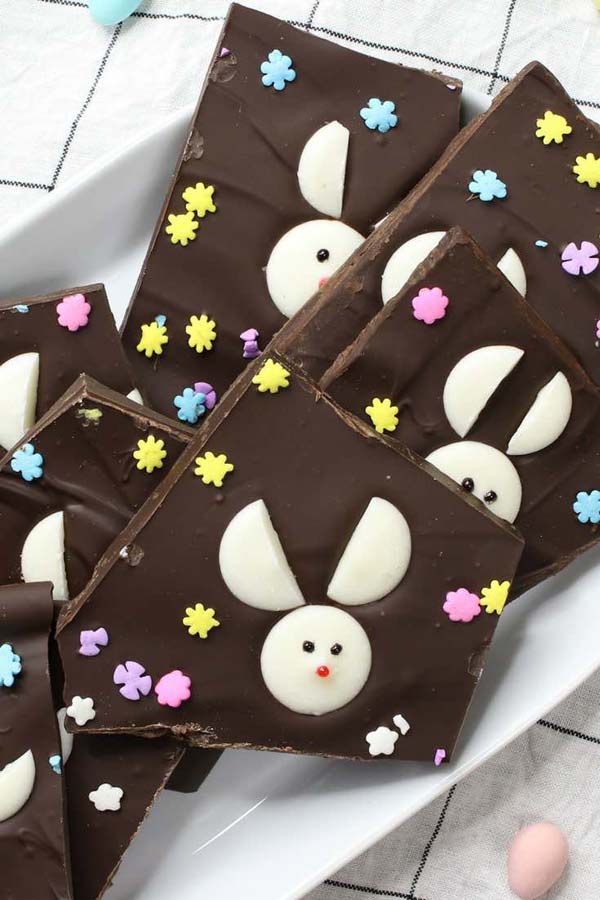 via TipBuzz
Add white m&ms to chocolate bark to give the basic bark an Easter touch.
The white candies can be split in half to make small bunny ears.
White Chocolate Easter Bark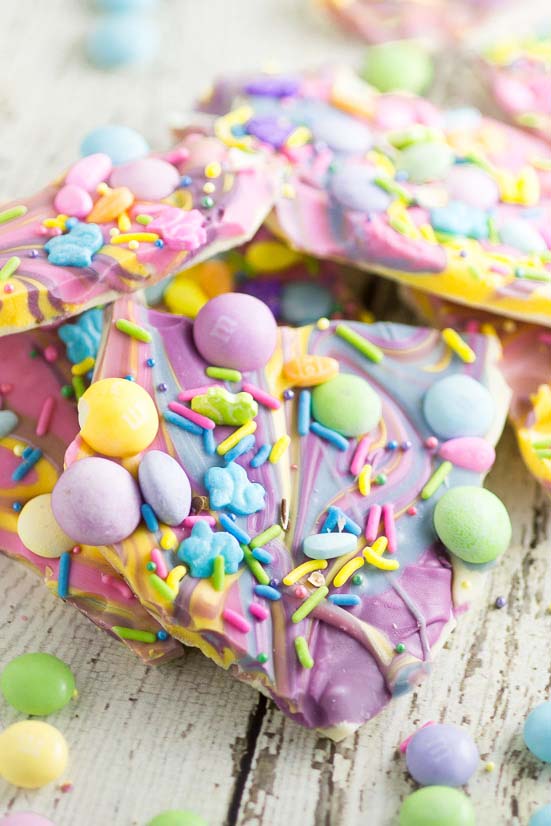 Easter bark is really easy to make. Just color your white chocolate all types of pastel colors. Add pastel m&ms to add an extra kick of spring.
White Chocolate Easter Egg Cupcakes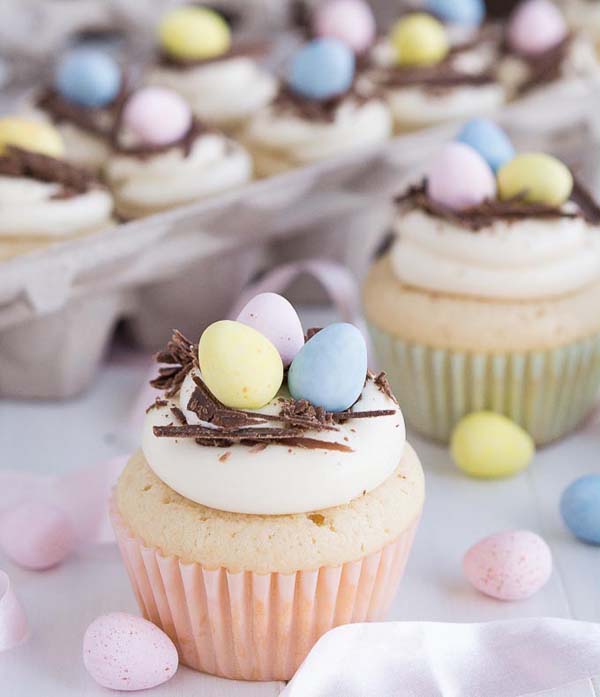 White cupcakes are the ideal base for pastel-colored frosting. Top with
Easter eggs to complete the look.