Kids are the most important. They are those who believe in Santa Clause. They are full of expectation and joy at that very morning. Their expectations could be met with a perfect Christmas breakfast.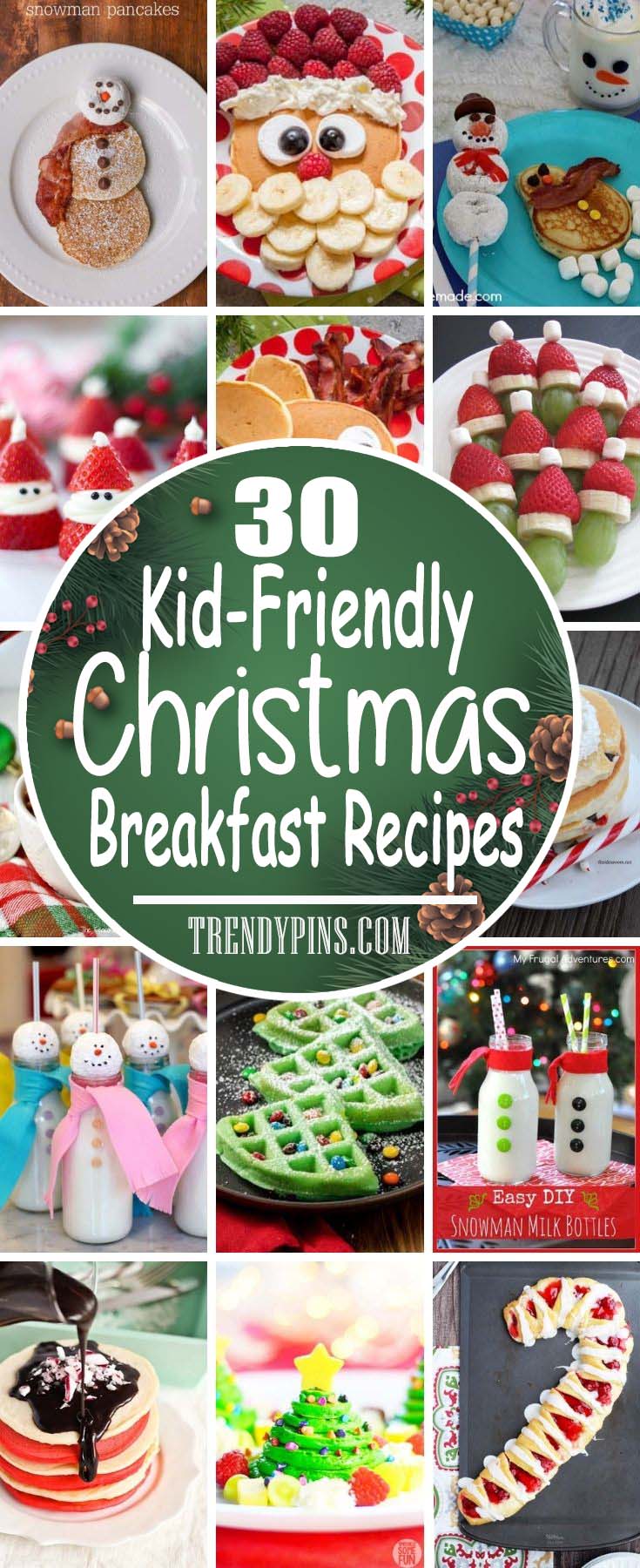 Don't forget to PIN this image for quick access to all these ideas!
Read carefully and choose the right one for your kids. They deserve every effort. They would be so thankful to experience the Christmas spirit through the breakfast.
Go through all-out ideas that we have gathered with such a great dose of love and care.
Candy Cane Crescent Roll Breakfast Pastry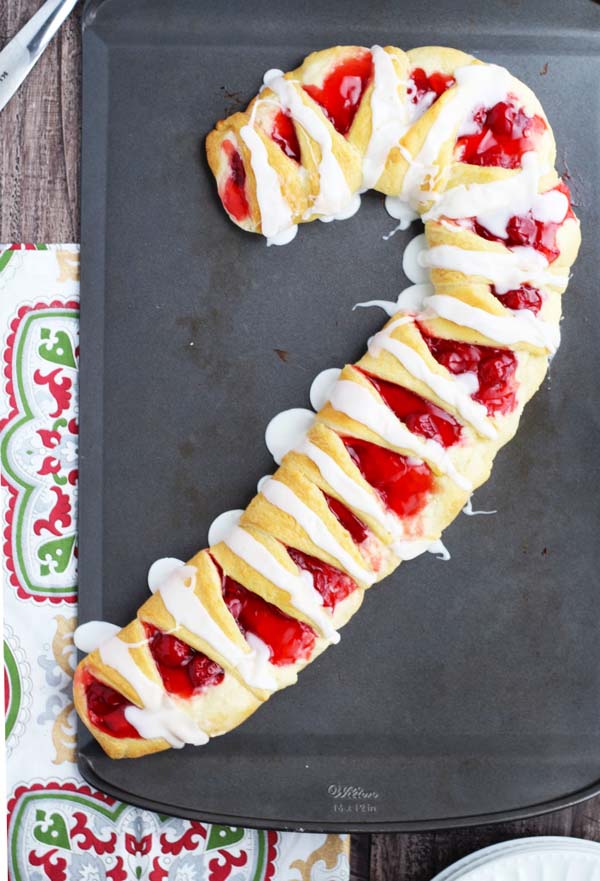 via 3 Yummy Tummies
In case you need to distract the kids from opening presents on Christmas morning or feed your overnight guests around the holidays, this candy cane-shaped Danish filled with fresh raspberries and cream cheese is the perfect way to do it. Go for that idea.
Christmas Chocolate Chip Pancake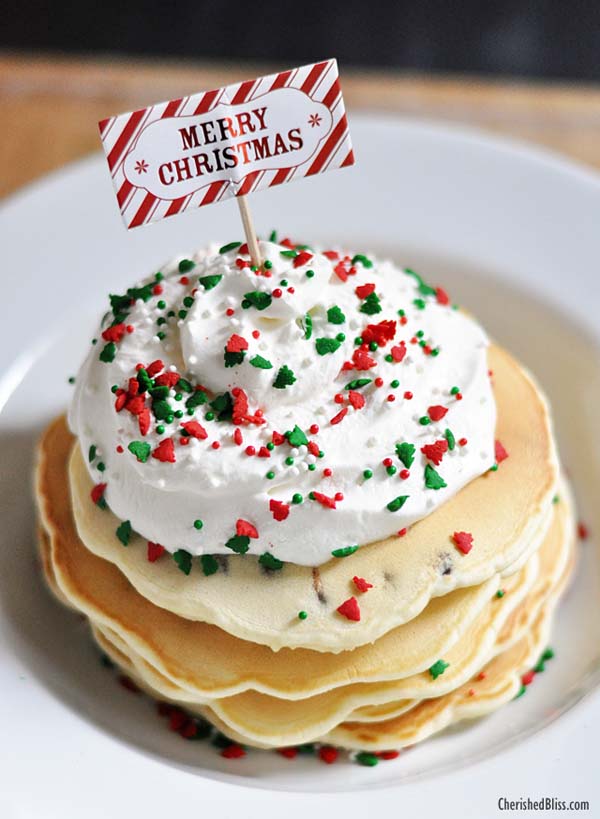 via Cherished Bliss
Pancakes are ones of the favorite to all the kids. I do not know any kid who does not like pancakes. If you combine them with Chocolate chip the result will be irresistible. Go for that idea and just see the result. Your home will be full of joy and happiness.
Christmas Cornflake Wreaths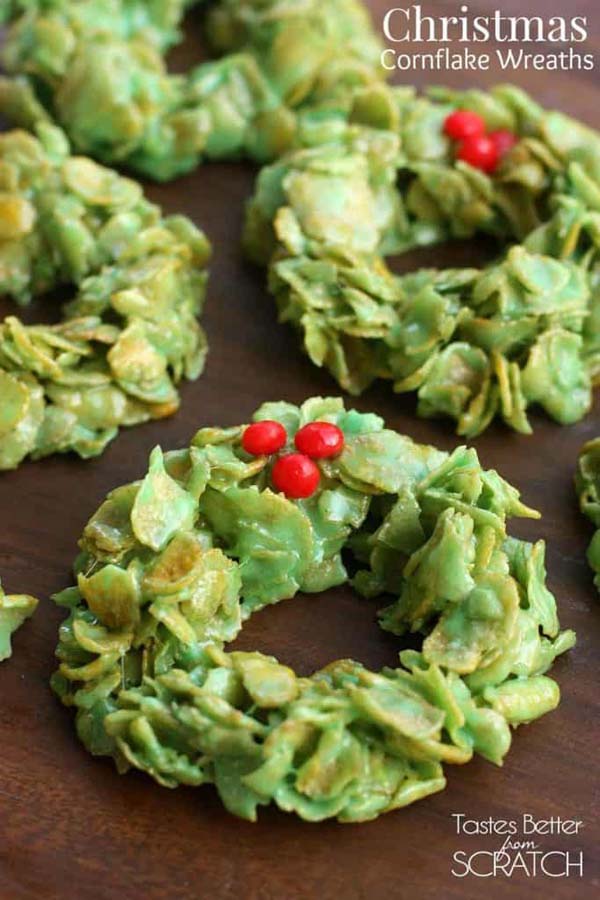 via Tastes Better from Scratch
Another good idea for a Christmas morning breakfast. I have tried it for my family and the only thing I could share with you is that it really deserves the effort and the time you will spend in preparation.
Christmas Eggs in a Hole

via Listotic
It is all about your imagination. Here we share such a brilliant idea. It is healthy and tasty at the same time. Children like eggs but served in this form they will bring them such a joy and happiness.
Christmas Pancakes with Candy Cane Chocolate Syrup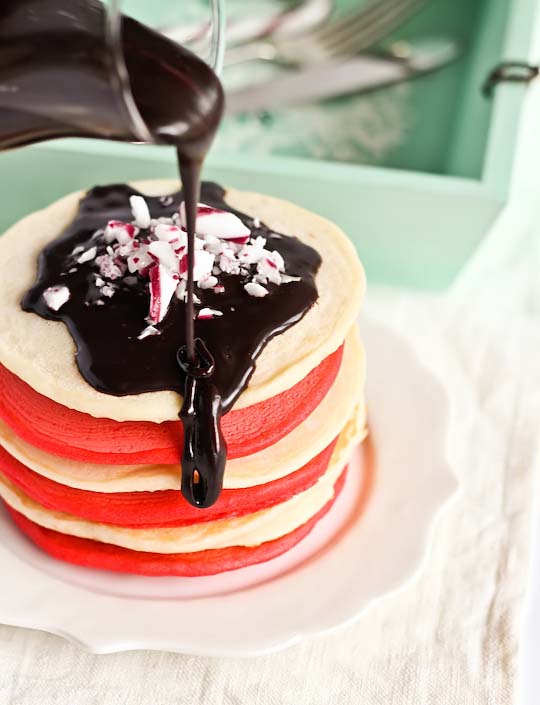 Pancakes, chocolate and candies. This the perfect Christmas breakfast. Every child will be really satisfied. The sense is just like in heaven. They could spend all day watching TV or playing games if the table is set with these pancakes. I am sure that the other members of your family will also appreciate that idea. Do not hesitate. Try it at home at the very Christmas.
Christmas Tree Pancakes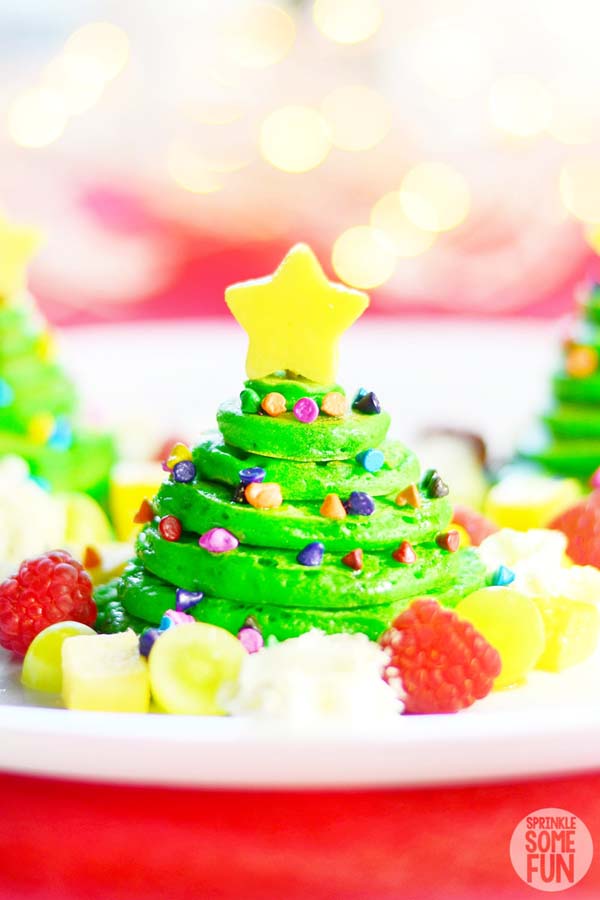 The most difficult part in this cake is to color it in the right colors – red and green. These typical colors for Christmas Holidays. It is tasty and original at the same time. Sometimes Holidays could be very exhausted. Your house is full of people – your beloved ones, some guests may be. And there is such a lack of silence. In case you need a bit of silence make that cake and relax for a while till it is over. The bad news is it will happen as sooner then you have expected. But go for that idea. Just check the recipe.
Christmas Tree Waffles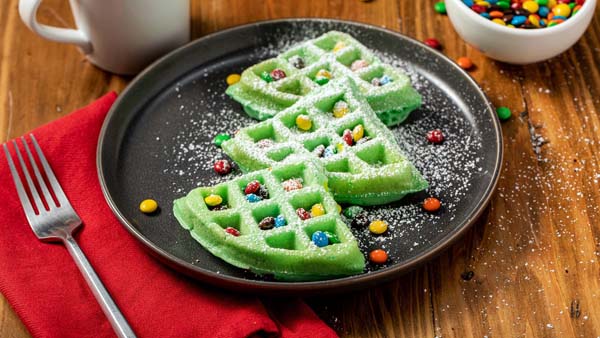 via McCormick
These Christmas Tree Waffles are so easy to be made at home. They will take you only 10 minutes for preparation. But do not forget to buy the necessary set for coloring these waffles in advanced. This is the only requirement.
Easy Cinnamon Roll Christmas Trees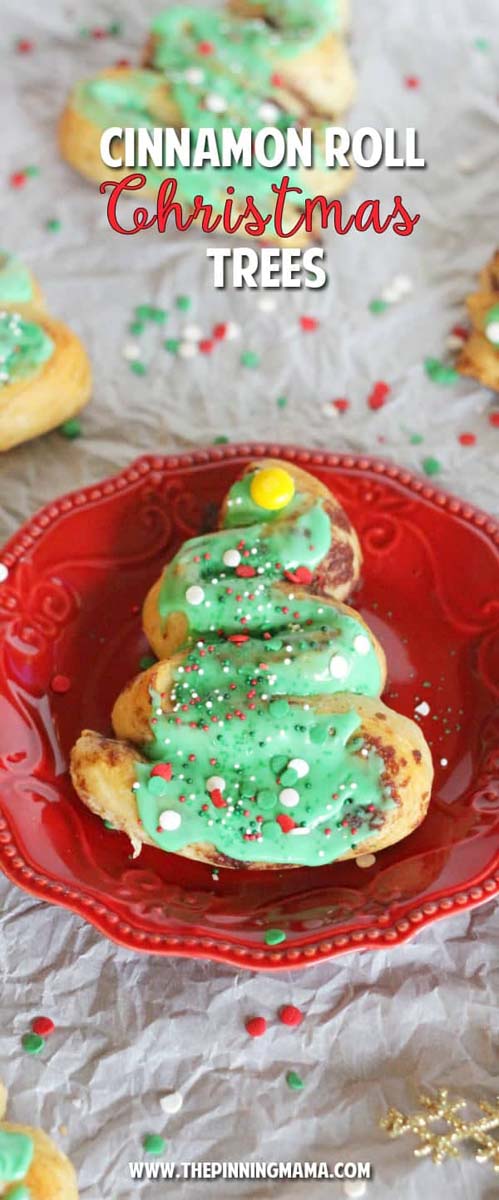 via Pinning Mama
It is really easy to be prepared as it is said in the title. That flavor of cinnamon will brings that irresistible taste of these trees. They will bring you so much joy and happiness to your most precious kids. They do really deserve such a surprise for that special very Christmas morning.
Easy Snowman Milk Bottles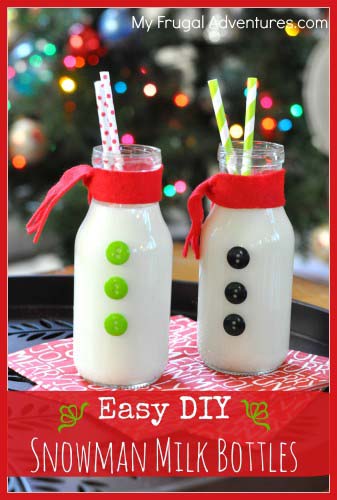 Milk and bottles that is what you need. Nothing more. You can experience that idea. This is the ideal way to make your kids drink milk. I am sure you have the necessary decoration. It is Christmas so you have to have.
Gingerbread Men Pancakes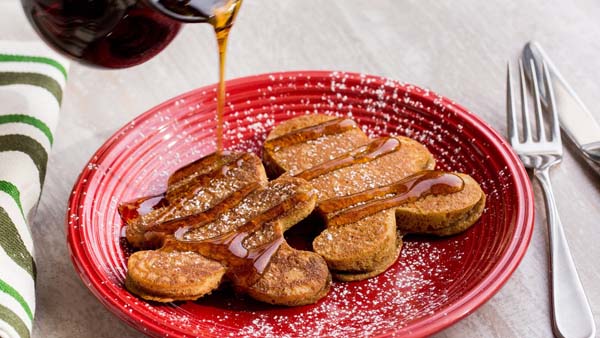 via McCormick
Is it possible to spend Christmas without that ginger flavor and smell. Of course no. So, try that recipe and see the result. Use your imagination and all the baking staff to work out these special figures of men.
Gingerbread Pancakes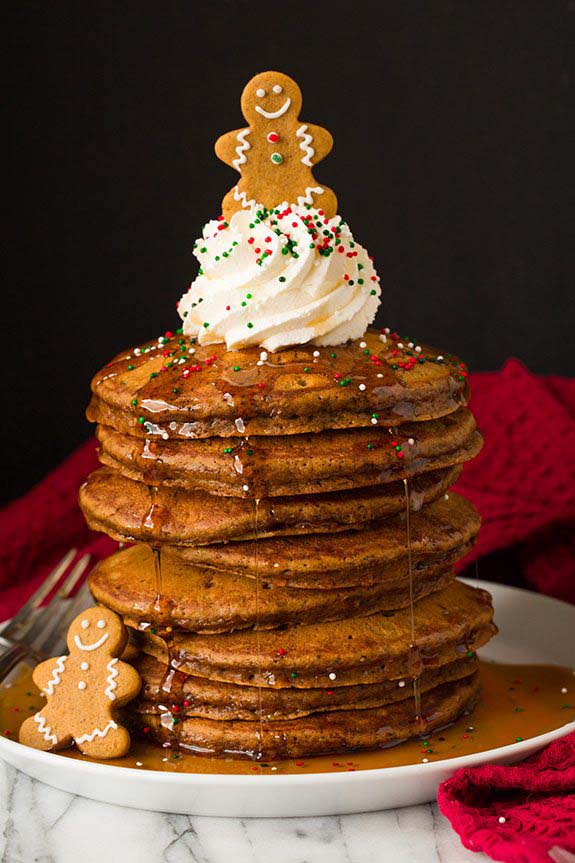 via Cooking Classy
Again that ginger flavor but put in pancakes. They are just like the usual ones but rich in ginger flavor. All your home will remind of Christmas while preparing them. This is what we mean by cozy atmosphere. The smell of ginger, cinnamon, apples. This is what we mean by Home.
Grinch Fruit Skewers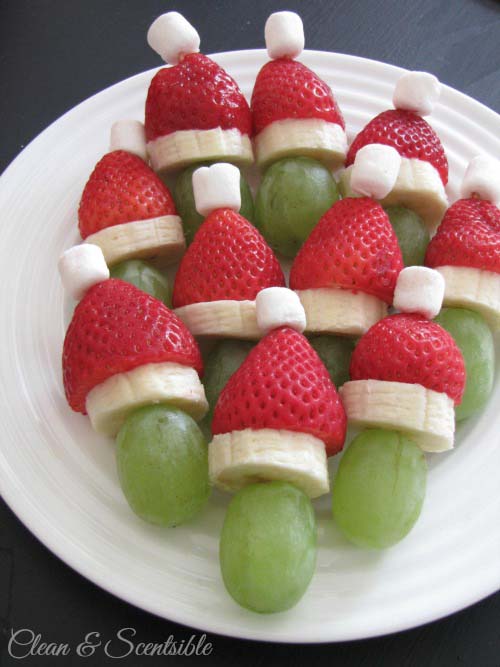 Fast and original. You can surprise your own children but also their guests. You need only 5 minutes for preparation but of course you had to buy the necessary fruits for these sweet skewers.
Hot Cocoa Pancakes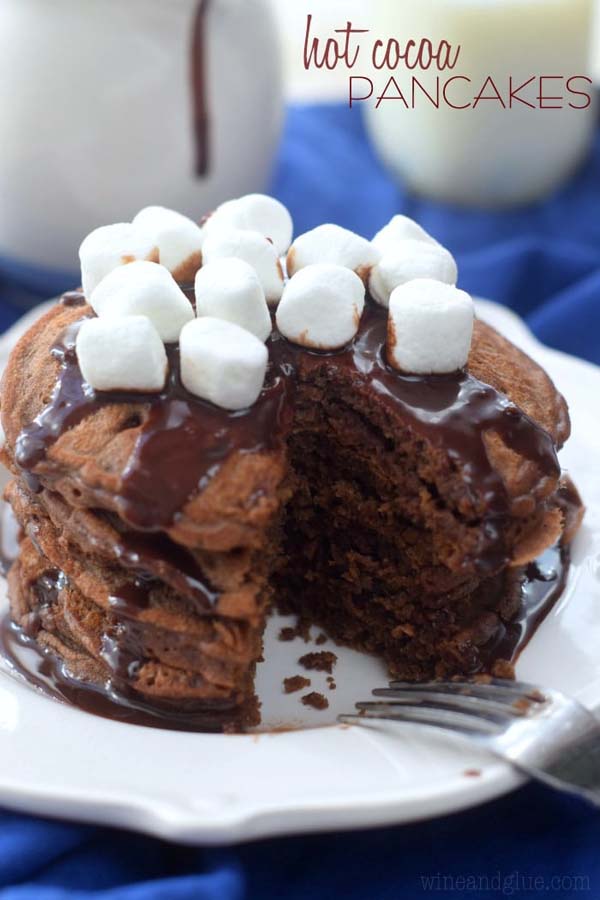 via Wine & Glue
Pancakes with hot cacao. Incredible taste and flavor. We recommend you to consume that pancake warm. That is how you will fell that creamy hot cacao on the top. You can serve that cake with a cup of hot drink – hot cacao drink of course.
Milk Men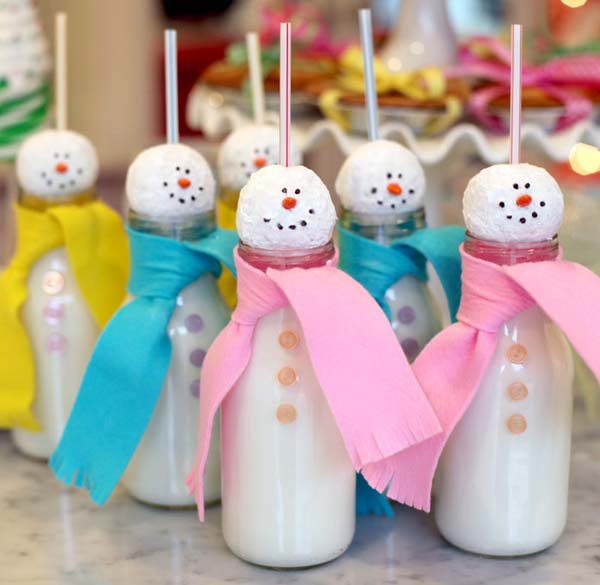 via Bakerella
Another brilliant idea for a milk man. Fresh, healthy and delicious at the same time. Be sure you save made enough portions for all the kids at home. Otherwise there will be definitely a problem. Make the whole atmosphere colorful and full of care.
Peppermint Chocolate Chip Pancakes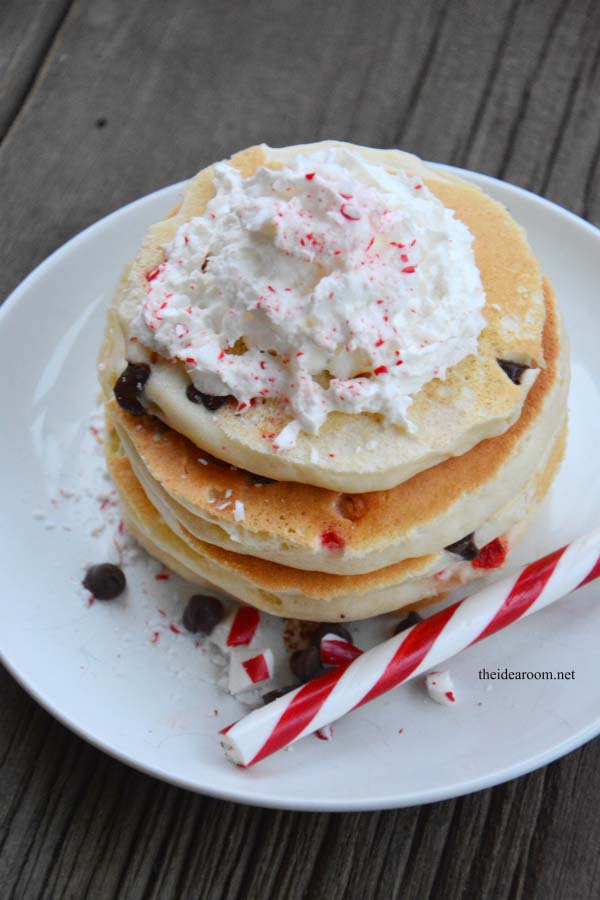 via The Idea Room
Peppermint is a special flavor. Absolutely appropriate for that Christmas morning breakfast. It brings so much freshness to these pancakes. It is not necessary even to put some jelly or honey on the top. That peppermint chocolate pancakes are perfect the way they are. No additional adds, just be sure you have made enough pieces of them.
Red Velvet Pancakes with Cream Cheese Glaze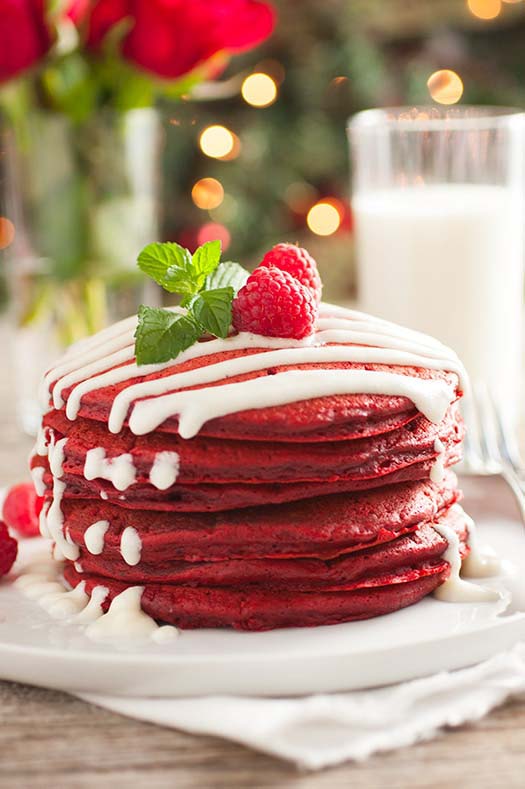 via Cooking Classy
These red velvet pancakes suit perfect with that special event of the year Christmas. The creamy cheese glaze makes it soft and creamy.
That Christmas cake is an ideal event to gather the whole family. You can make it the previous night and gather it in the very morning.
Rudolph the Red Nose Reindeer Pancakes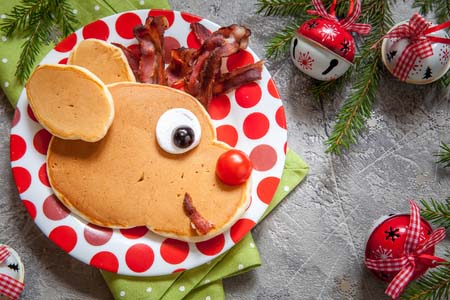 Another interesting idea that you can realize thanks to pancakes. It is easy and original. Go for that idea and see the result. You need just a little time for decoration but you can involve the kids to help you.
Santa Pancakes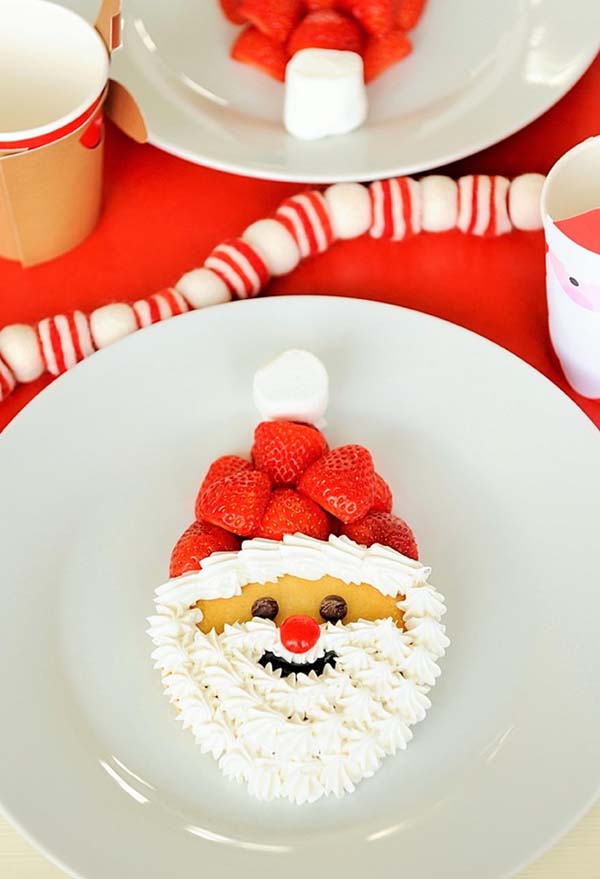 via Project Nursery
For these strange pancakes you need some strawberries and cream for that original decoration. Look at the detail, try to remember them and just do it.
Santa Pancakes with Fruits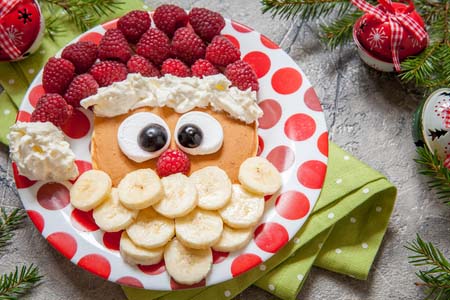 This Santa Clause is really tasty and healthy at the same time because of all these fruits that you can use for decoration.
Slow Cooker Gingerbread Oatmeal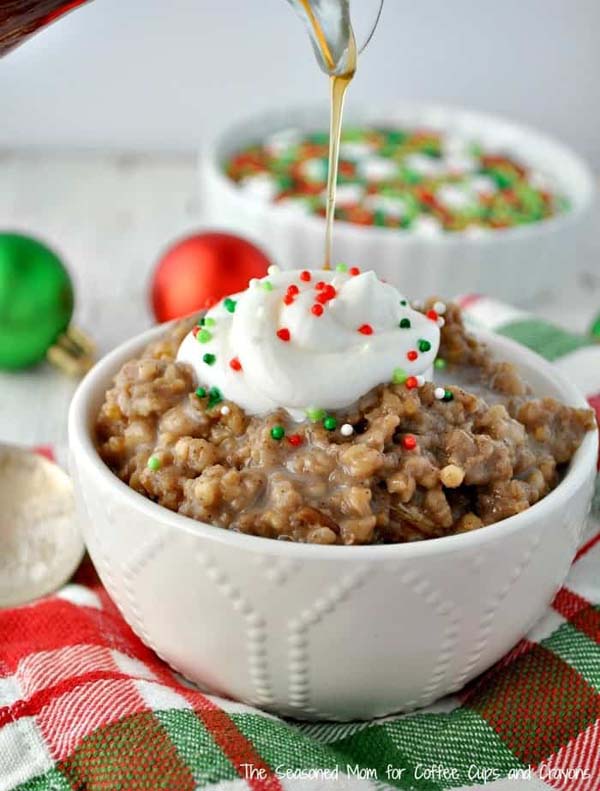 via The Seasoned Mom
Healthy fast and brilliant idea for a perfect Christmas breakfast. It is easy to be made. Check out the recipe and go for that idea. You will not be disappointed. Just devote some time.
Snowman Breakfast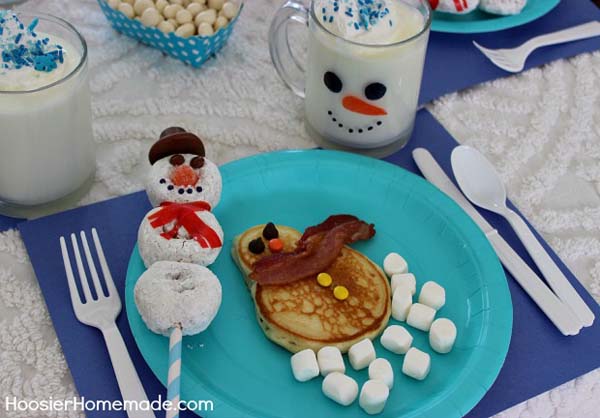 via Hoosier Homemade
Snowman is another symbol of Christmas holidays. Implement it in you Christmas breakfast and just enjoy the result.
Snowman Pancakes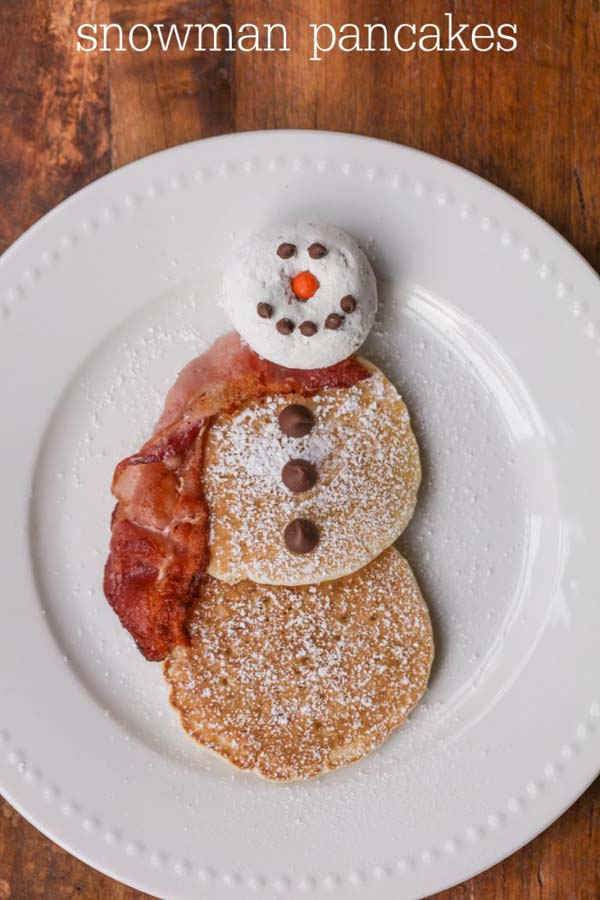 via Lil Luna
Easy, tasty and original. Go for that idea. The result will be satisfying. Your home will be full of joy.
Stacked Cinnamon Roll Christmas Tree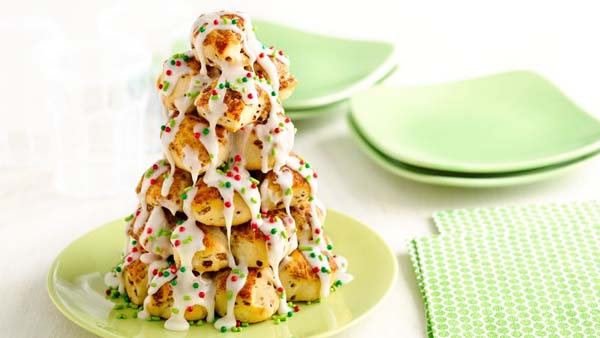 via Pillsbury
Another idea for a Christmas tree. Tasty and original. Kids will be really happy to have it for breakfast.
Strawberry Santas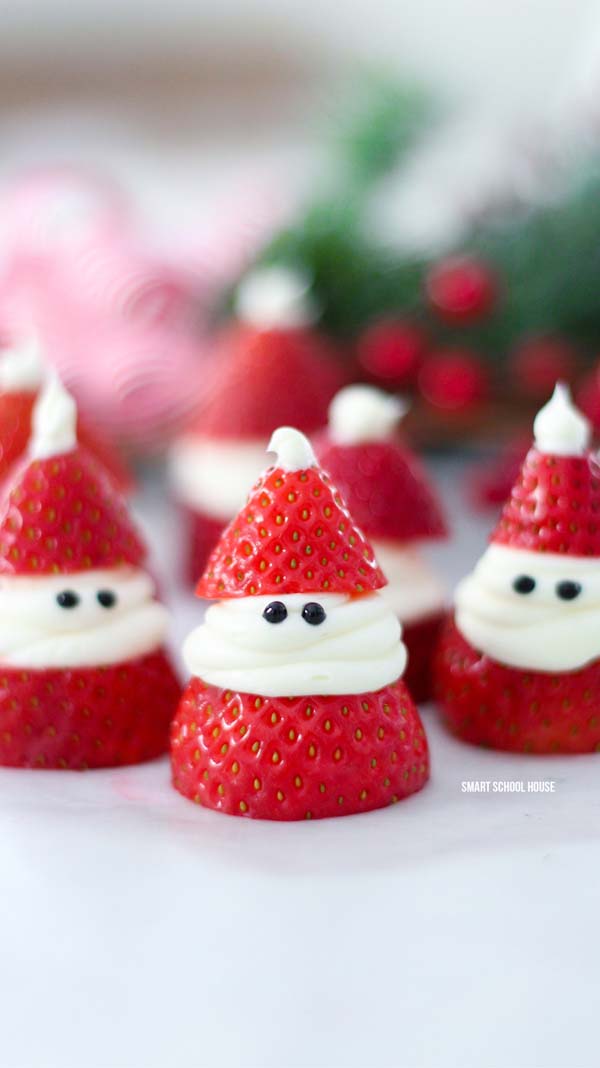 You need just two ingredients. Strawberries and cream. Nothing more. It is easy to be prepared and even children can help you. At the end they will find them even more delicious.
White Chocolate Gingerbread Crescent Roll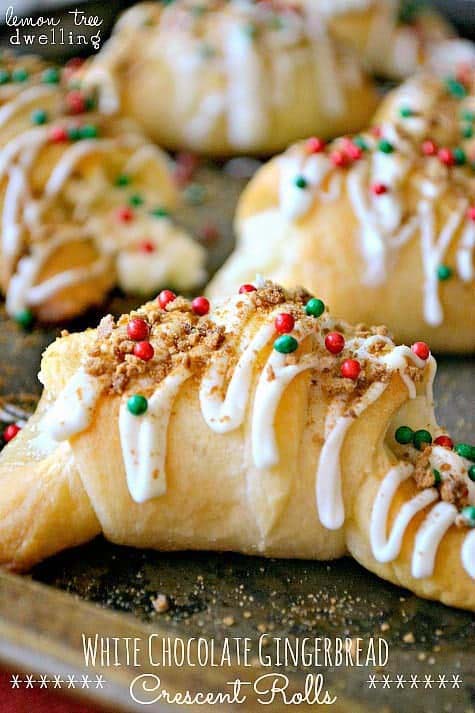 These White Chocolate Gingerbread Crescent Roll look so tasty and they really are. Check the recipe, make them at home and try them. You will be assured that I am right. Give that pleasure to your kids. They deserve all the effort and the time you have spent.