There's a gift basket for every occasion—for "I'm sorry!" and "Thank you!," for "I'm thinking of you!" and "Happy holidays!". So if you're in the market for a little something special to send to someone, look no further.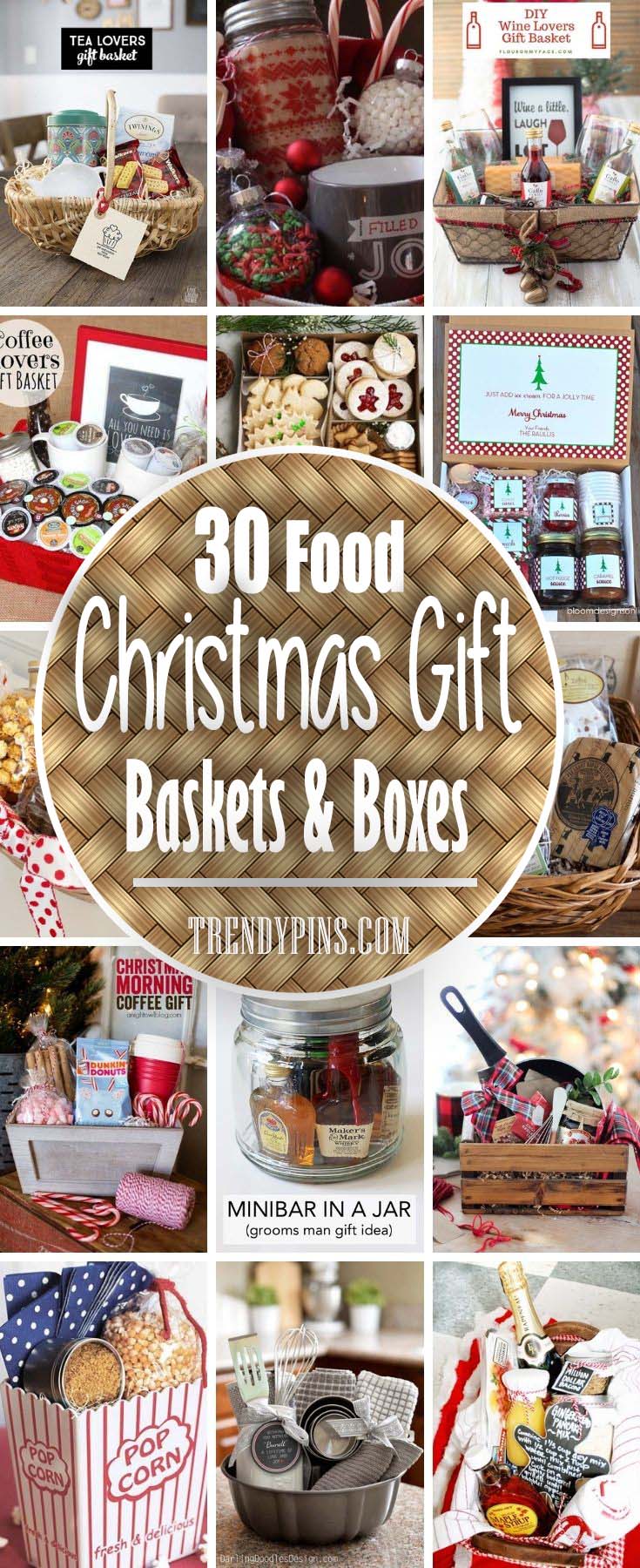 Don't forget to PIN this image for quick access to all these ideas!
The internet is a strange and very useful place—especially when it comes to ideas for presents. It's made gift giving a lot more fun, accessible, and, well, totally wacky at times. But here we offer you brilliant proposals for Christmas presents. A classic bottle of wine is still just as wanted as a Friends-themed cooler. Pretty kitchenware still excites food lovers. And gift baskets—you know, the kind piled high with edible goodies—are still absolutely beloved.
Banana Bread and Honey Butter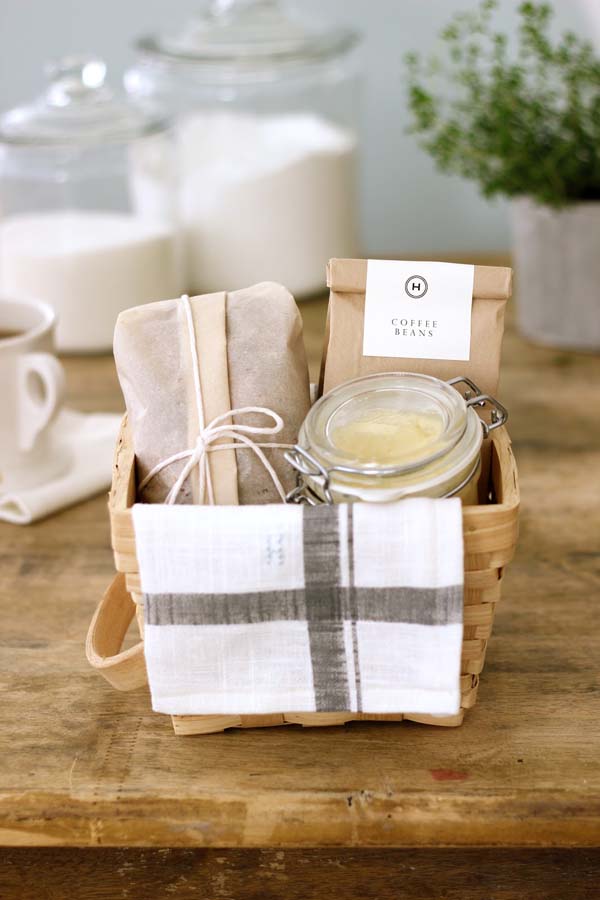 Honey Nut Banana Bread is a deliciously healthy breakfast or snack that will help keep you satiated for hours. It's a lightly honey-sweetened treat that's gluten-free and grain-free and packed with crunchy walnuts. If you decorate in the right way up to your preferences this will be the perfect present for Christmas. Absolutely there is no doubt.
via Jenny Steffens
Bundt Cake Gift Basket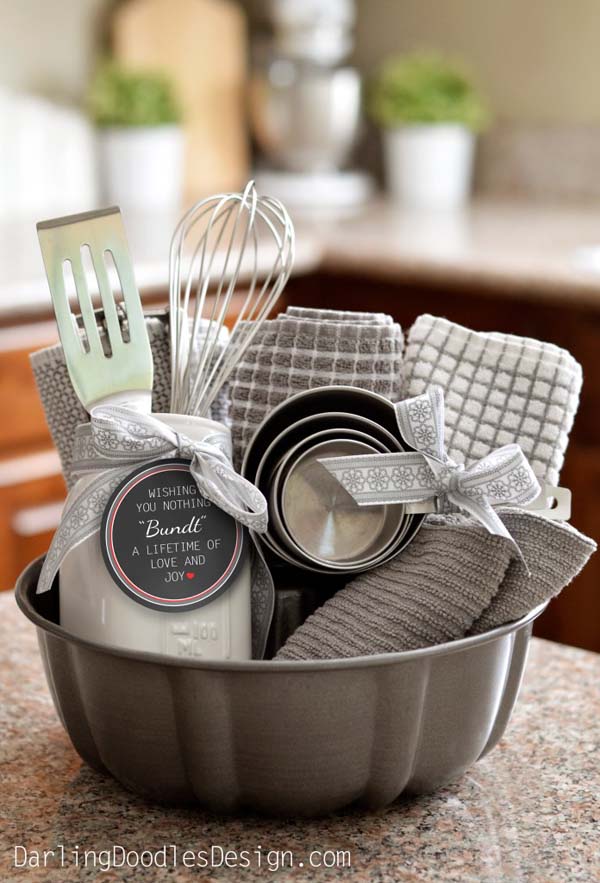 Every housewife should have such a set. It is not only kind but a symbol of a cozy atmosphere that is typical for Christmas days. Christmas holidays are perfect to invite calm and cozy feelings at home. But how? Make a homemade cake or bread. All the staff you need is in the bascket.
Christmas Baking Kit (& 5 Other Themed Gift Basket ideas)
via DIY Mommy
Another good idea. Do not hesitate to go for it. It is appropriate for a gift for a close family friends. The kit contains themed items that symbolize homemade bread or sweets. It symbolize the process of gathering the family around the table, sharing not only the delicious meals but also that kindness, understanding and family comfort.
Christmas Breakfast Hostess Gift Basket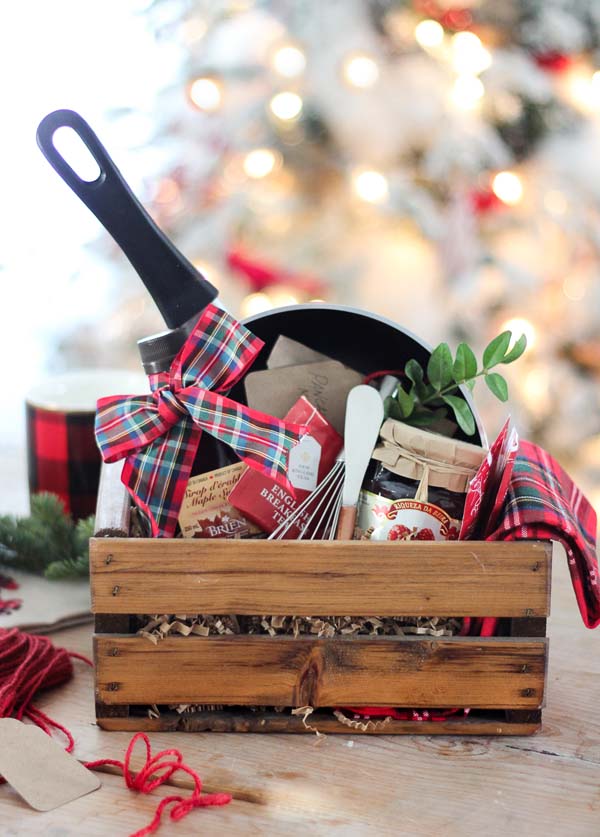 via Craftberry Bush
Breakfast is the most important meal of the day. Especially if it is homemade. It gives you that special sense of comfort and makes you feel safe for the rest of the day. This is a symbolic gift that implements the idea of taking care of the ones who love.
Christmas Chocolate Gift Basket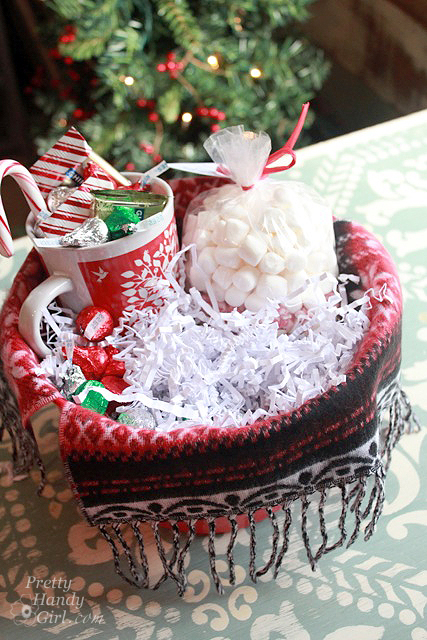 Anyone can send a box of chocolates. But chocolate-dipped caramel apples? Now that is a treat that you can't pick up at the drugstore. Golden State Fruit also sells a Chocolate Caramel and Crunch Grand Gift Basket or a Chocolate Covered Strawberry Basket.
Christmas Cookie Gift Box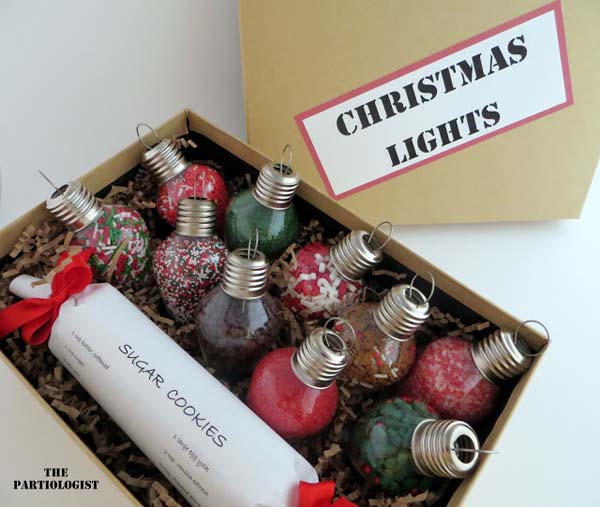 via The Partiologist
Cookies implement the idea of sharing. Homemade ones are the perfect ones as a Christmas present. Being unique they are also a surprise for the ones who taste them. Go for that idea.
Christmas Morning Coffee Gift Basket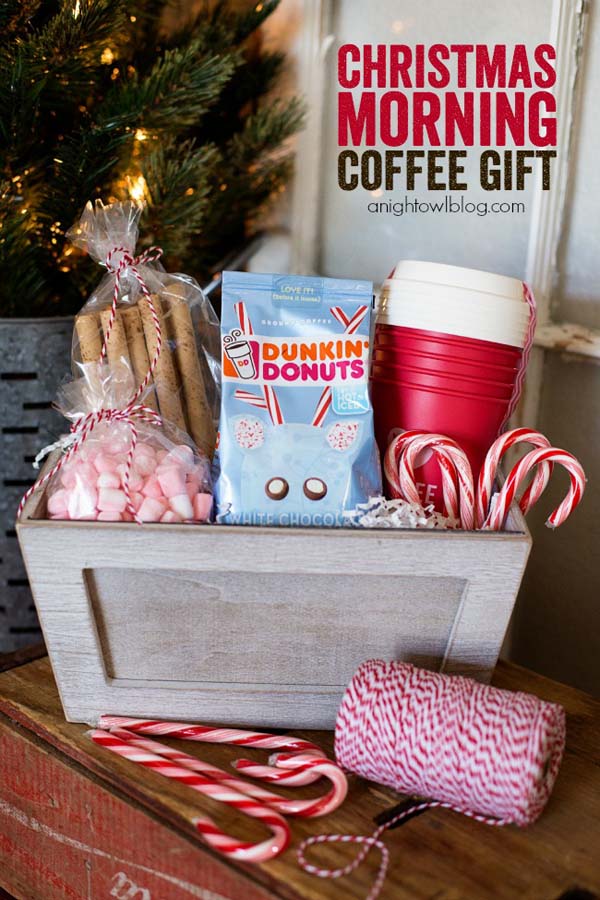 via A Night Owl
No matter where your favorite foodie is residing, you can send them authentic Chicago deep dish pizza or a real New York bagel spread with the press of a button—all from your favorite restaurants and small businesses! In fact, the wide array of options makes this one of the most personalized options on this list.
Christmas Morning Pancake Breakfast Gift Basket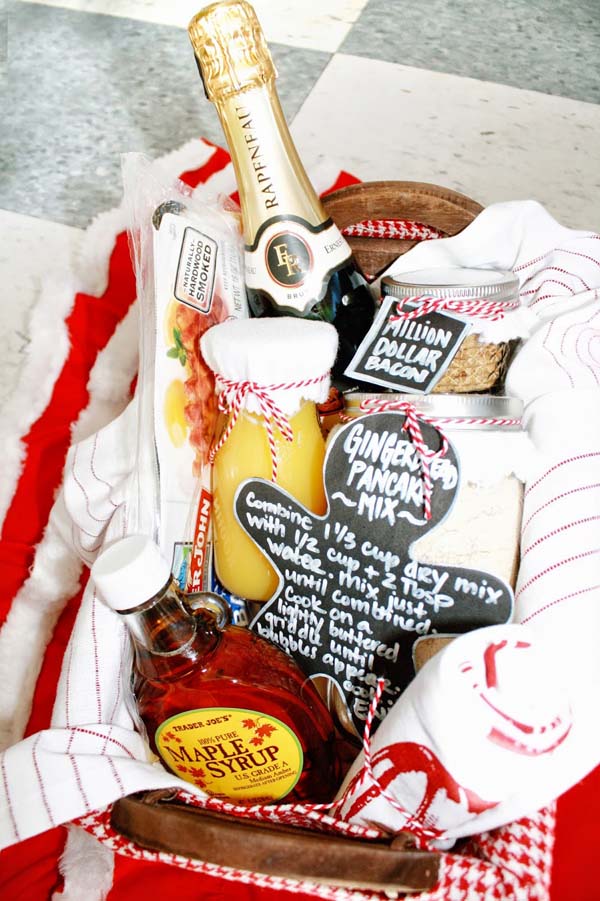 via Curl Q Paper
Everyone loves pancakes for breakfast. Not only children. They remind us of a childhood. All these memories full of joy and happiness. It is Christmas time and the best time to feel the whole joy and hope. Pancake will help as to make that idea real. And don't forget to add some jam and maple syrup.
Christmas Sundaes
An ice cream – isn't it too much for that special time of the year. Of course not for those who are really keen on ice cream. So, do not hesitate to go for that idea. This basket contains all the deluxe staff fot the perfect compilation of an ice cream.
Coffee Gift Basket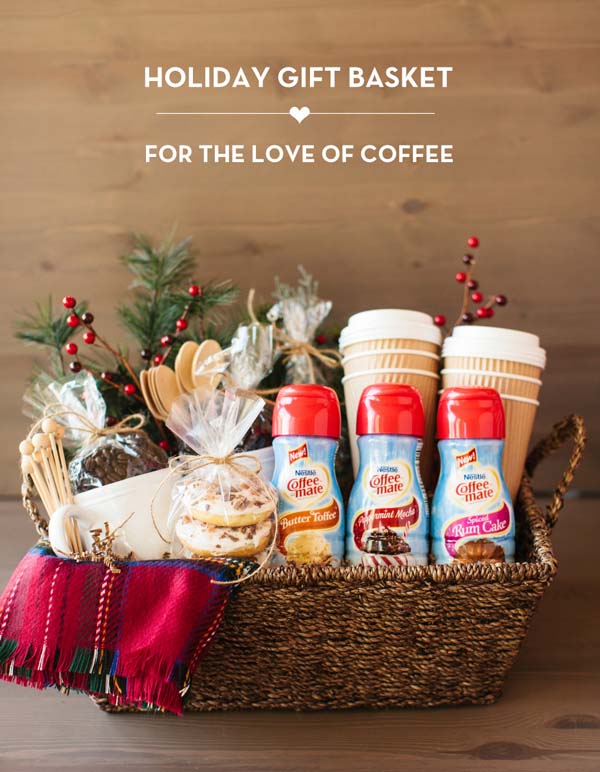 via TomKat Studio
Coffee is a usual routine for many of us. We can`t imagine any morning without it. But can you imagine Christmas morning without a hot and full of taste cup of coffee of course not. This basket is full of all the necessary staff for the perfect coffee. Enjoy.
Coffee Lover's Gift Basket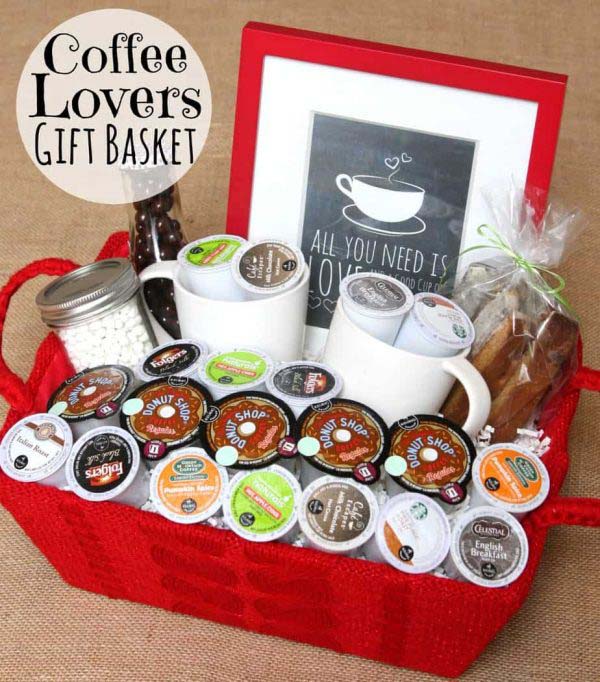 via Happy Go Lucky
Another good idea for the best taste of your morning coffee. Inspire your day with a pint of imagination. It is not just because of the taste but fot that care of a perfect morning wake up of the ones you love – family friends.
DIY Food Gift Basket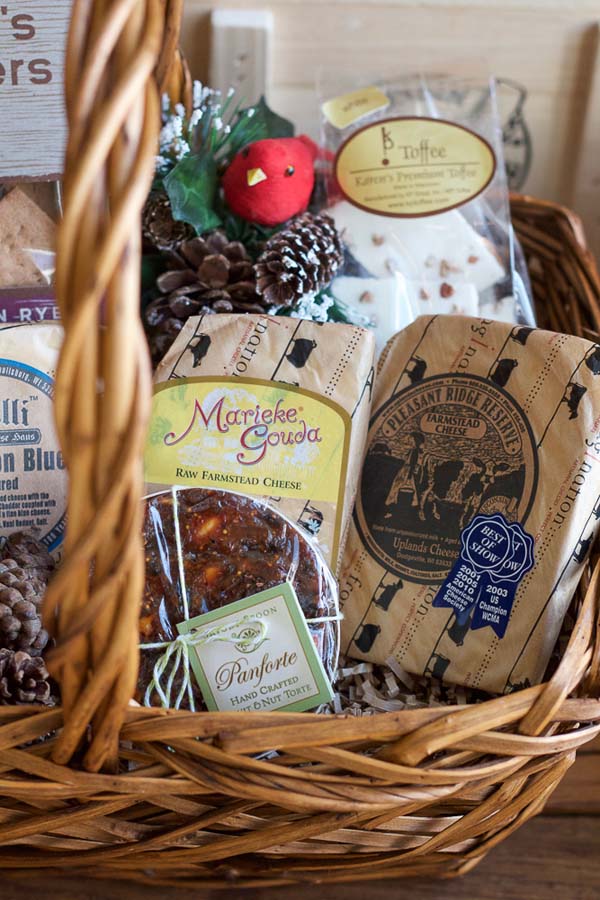 via Hip Foodie Mom
Every item in the basket is homemade. It is not only tasty but symbolize that care and kindness that makes life full of meaning. It is so good to know that someone thinks of you.
DIY Sangria Gift Idea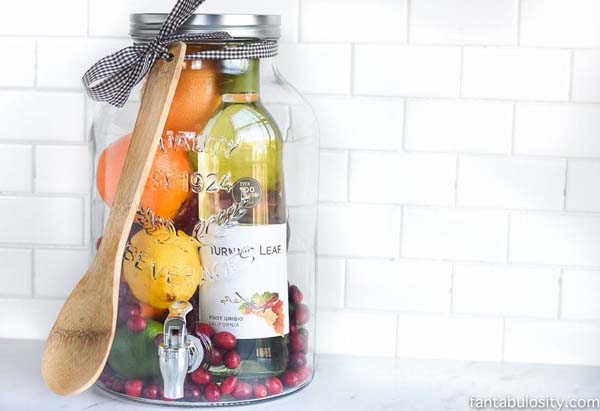 via Fantabulosity
Why won`t you prepare your own Sangria. You need some fruits and of course a friend who wants to make you happy. It is really one of the ideas that for me is perfect. You can share the basket with the whole family or the best friend.
Easy DIY Cookie Basket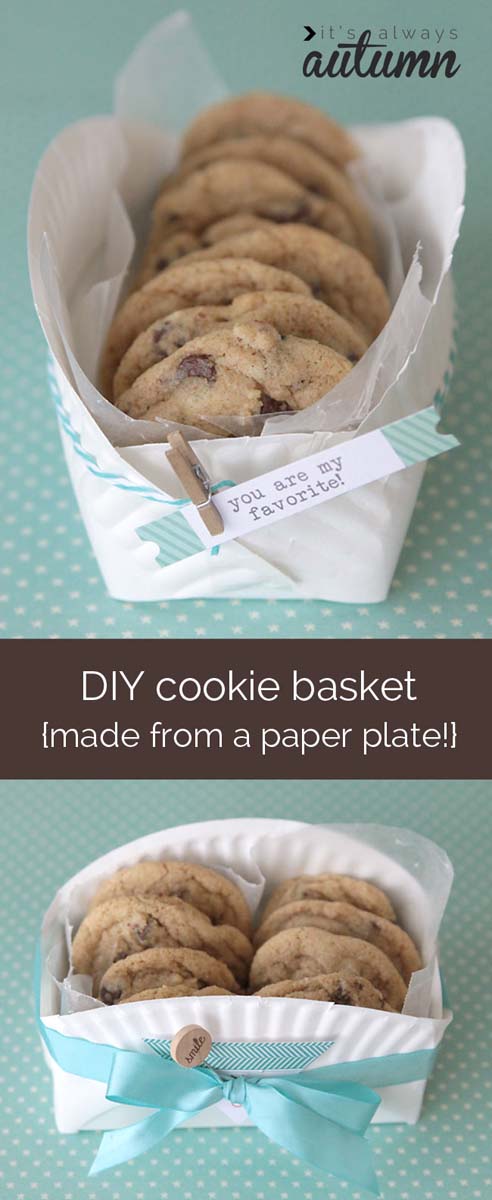 Yes, they are easy but they really take time to be prepared. And this is the key – the time you have spent for the ones you love. This time is special and the fact you want to spend for them. Try it and you will see how your friends or may be family will appreciate he gesture you have made. Share that perfect moments together.
Easy DIY GIft Basket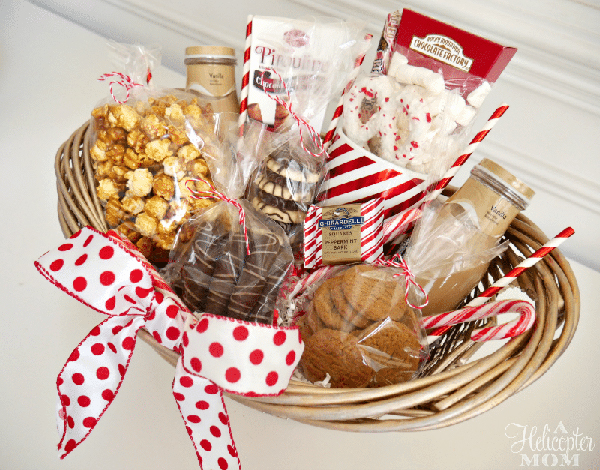 via Helicopter Mom
A great variety of cookies. This basket is full of surprise. It will meet all the requirements. And above all everyone will feel that sense of kindness and warm feelings. It is Christmas time. Use your imagination. Take care of the ones you love.
Gourmet Popcorn Gift Basket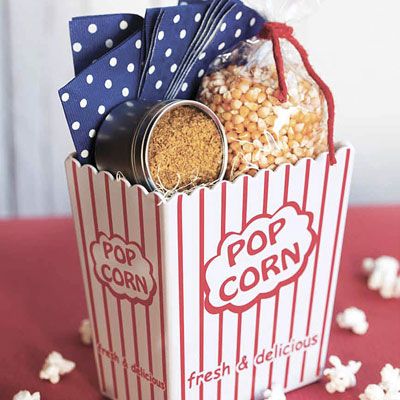 via Country Living
It is time for spending time together. It is time for watching TV. And it is time for popcorns. But it is Christmas. So, popcorns should be special. They should be gourmet. The whole family will enjoy and share the basket. Just arrange it and choose a film.
Holiday Cookie Gift Box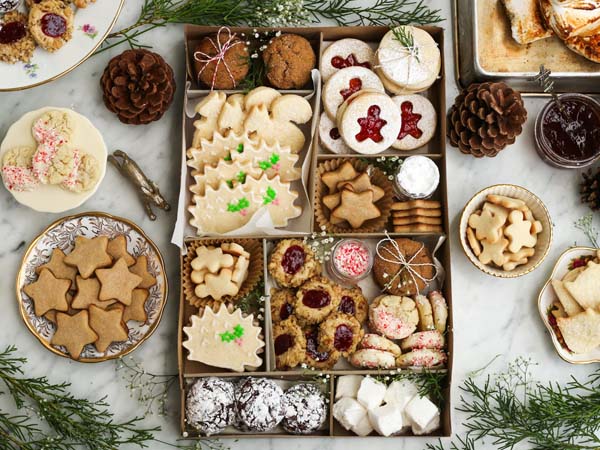 Holidays and cookies – they are absolutely the same. Can you imagine any holiday without cookies? Especially Christmas time. It is no doubt – it is time for cookies. These special cookies are full of colors and taste. They will meet every requirement. Just enjoy the taste and the holiday spirit.
Hot Cocoa Gift Basket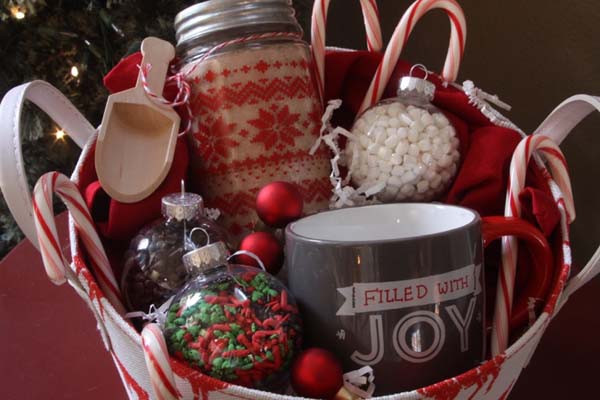 Coffee is not the only option to say Good morning. A cup of hot cocoa is also the perfect way to reveal your love and care to someone. These may be children. They adore hot chocolate or hot cocoa. Isn`t it a perfect morning with a cup of cocoa in front of the fire place. Just arrange that special basket with all the love you have for the most beloved.
Mini Bar in a Jar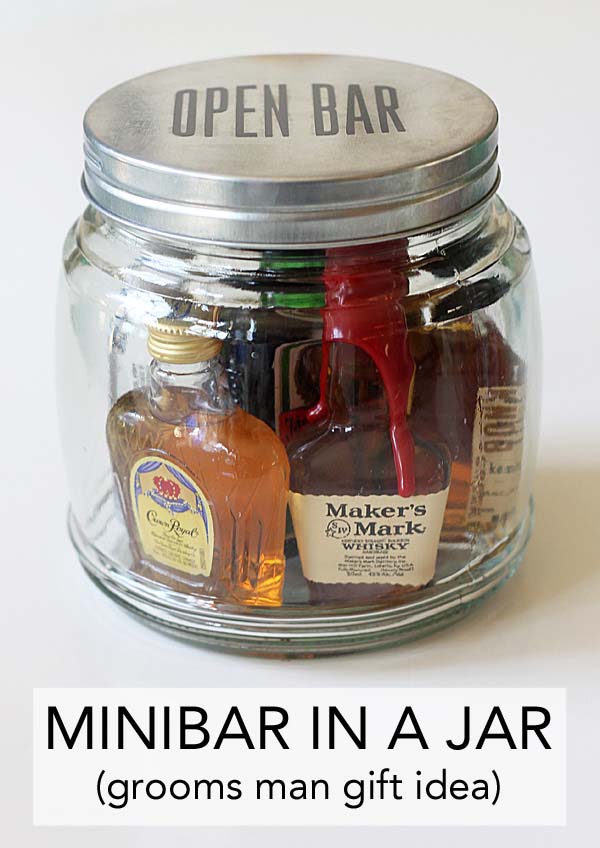 Wow! There is no doubt – that will be the reaction. That jar is full of mini bottles of the most preferable alcoholic drinks for the one you consider as a friend and your only wish is to make him happy. Just be sure you know his preferences well. Decorate the jam and the perfect gift is ready. Just wait for Christmas.
Pancake "Christmas to Flip Over" Gift Basket
via Skip to my Lou
Pancakes and wine. May be this is one of the perfect ideas. So much tender and taste. And the combination is unique. A perfect present that is supposed to be shared. Go for that idea. Do not hesitate. Just be aware of the wine. Choose that one that fits the taste most. Make a research or just follow your intuition.
Tea Lover's Gift Basket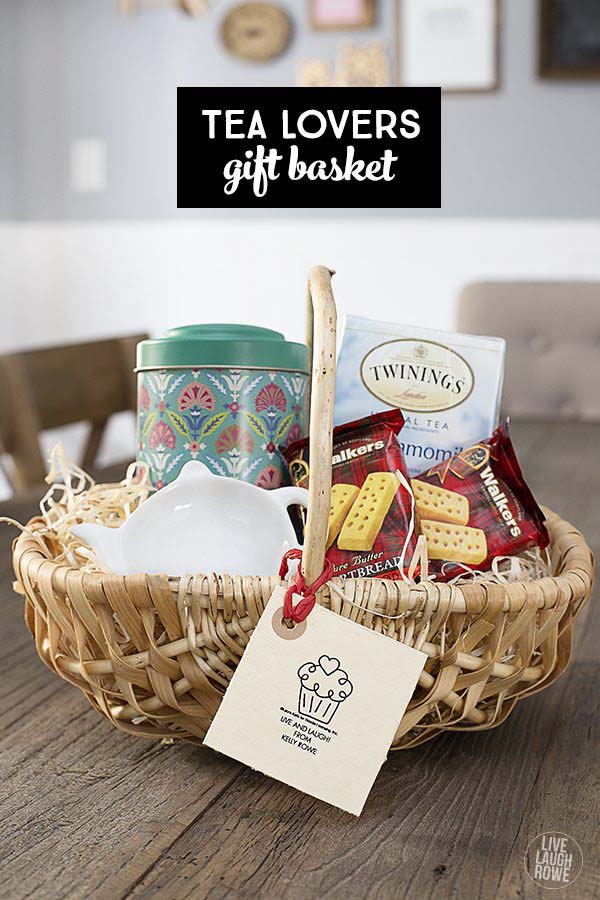 via Live Laugh Rowe
Be brave and use your imagination. The only thing you need is to know better the person you would like to surprise. Knowing his or her preferences. It is really a great advantage. Follow your heart and the result will be satisfying. 
Wine Christmas Gift Basket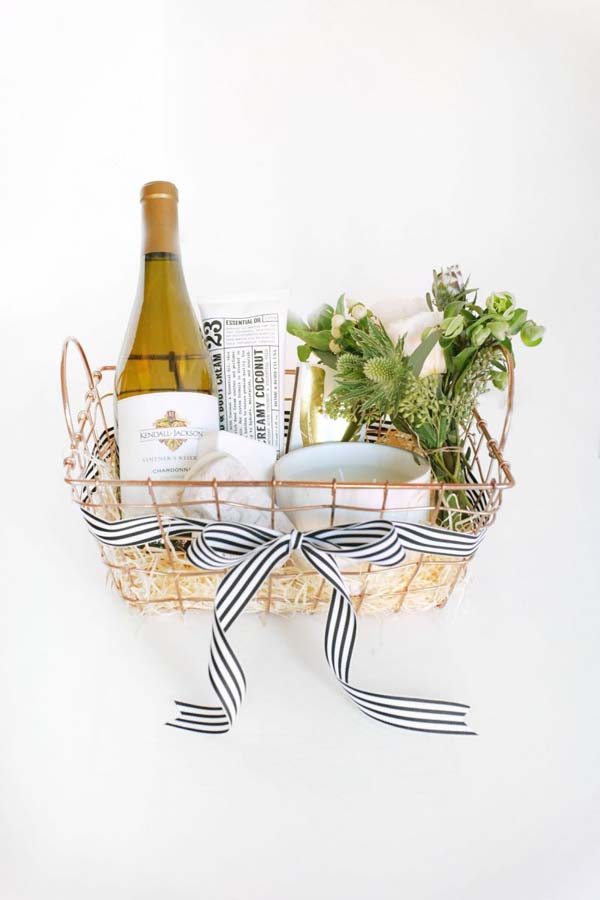 via The Everygirl
It contains of wine. You can combine different types of wine. It is up to you and your imagination. A glass of red wine is the perfect ending of a day. And if it is shared with the one you love – this is paradise. Give this as a present to anyone you feel as a close friend or lover.
Wine Gift Basket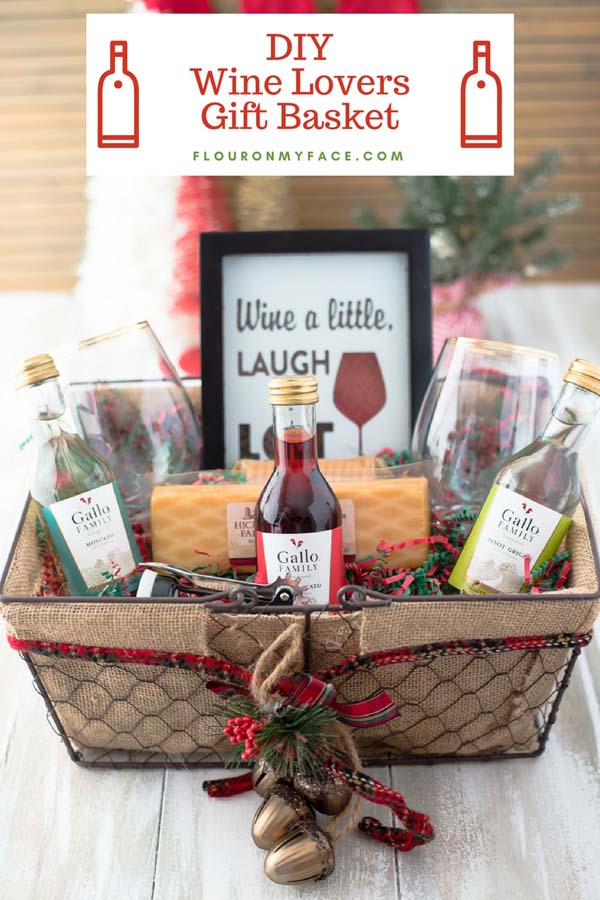 via Flour On My Face