Desserts are the best part of any holiday. With springtime right around the corner everything is renewing. Easter celebrations often are filled with delicious desserts. There are delicious brightly colored frostings and Easter colored M&ms for decorating. There are many types of decorating from basic bunny Easter cakes to beautiful Christain themed masterpieces. Try one of these great ideas for an Easter dessert.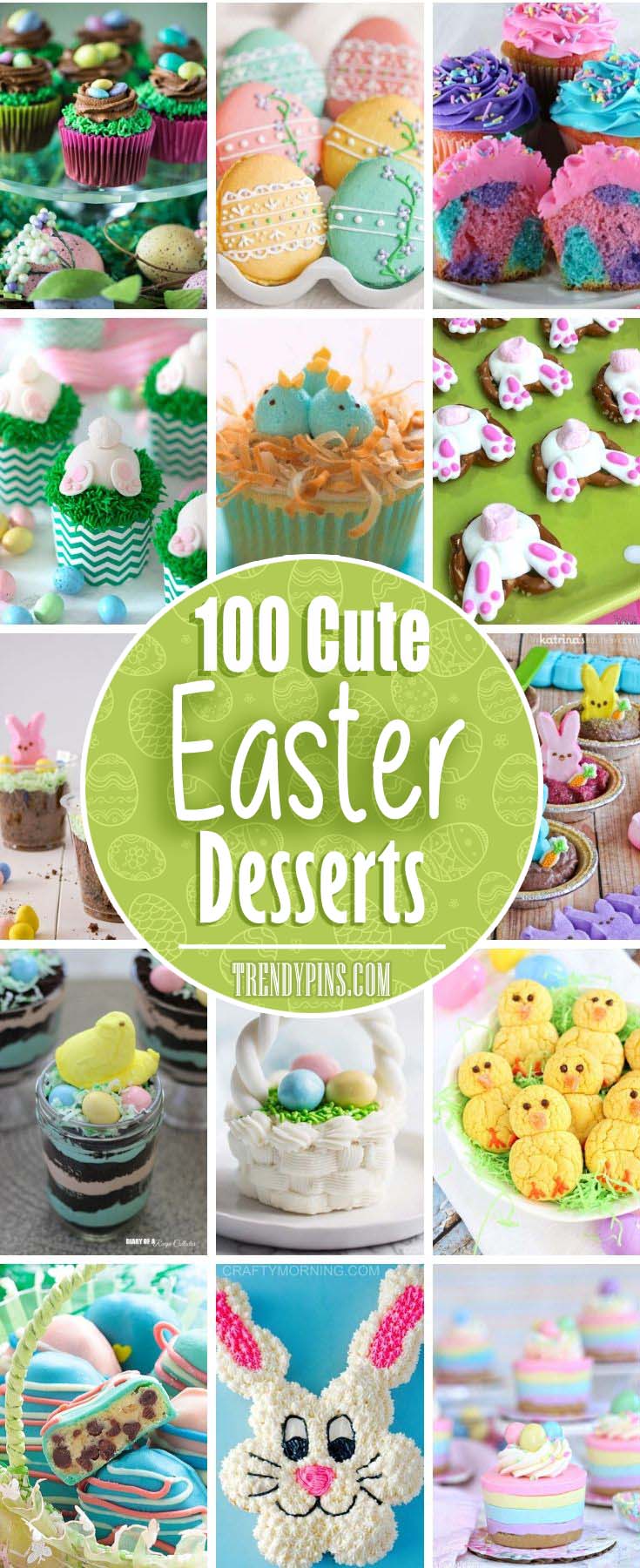 Don't forget to PIN this image for quick access to all these ideas
Cupcake Easter Desserts
Bunny Butt Cupcakes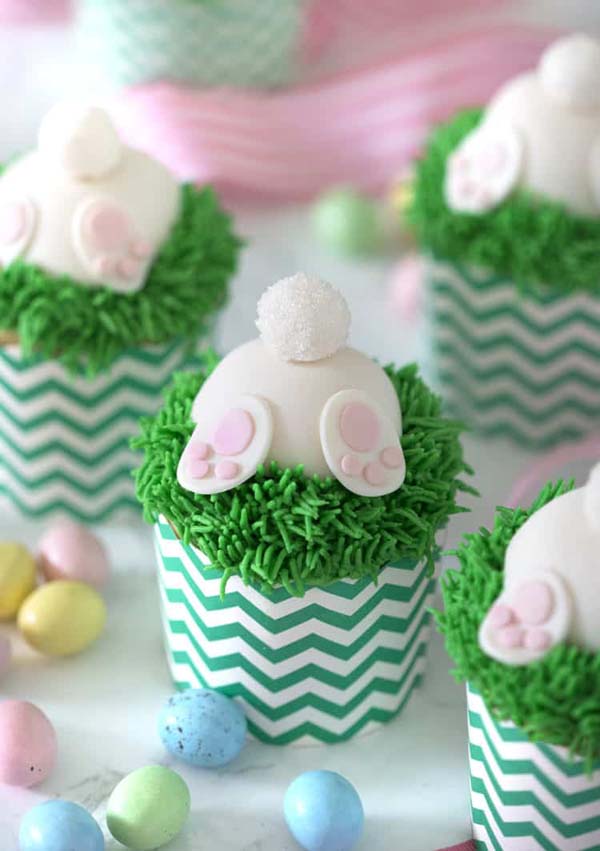 via Preppy Kitchen
These cupcakes have green grass piped on top. Then a little bunny butt sticking out of the grass.
Cadbury Creme Egg Cupcakes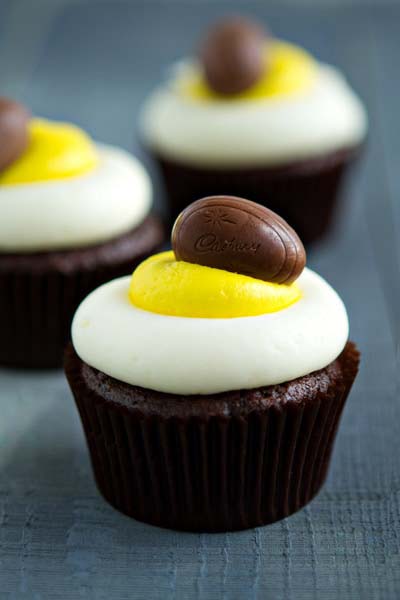 Cadbury creme eggs are an undeniable piece of Easter. These basic chocolate cupcakes are spiced up with cream cheese frosting and a cadbury creme egg.
Easter Basket Cupcakes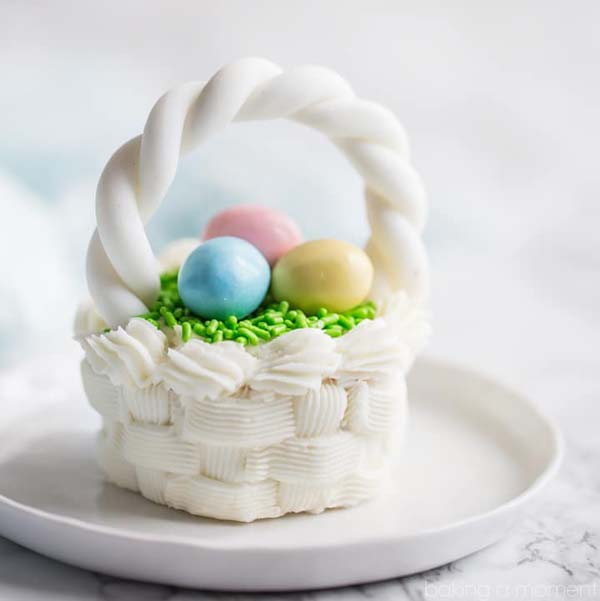 via Baking a Moment
Cupcakes are the perfect base for miniature cupcake Easter baskets. Pipe some grass in them and basket weave around the edges and you have an adorable Easter basket cupcake.
Easter Birds Nest Cupcakes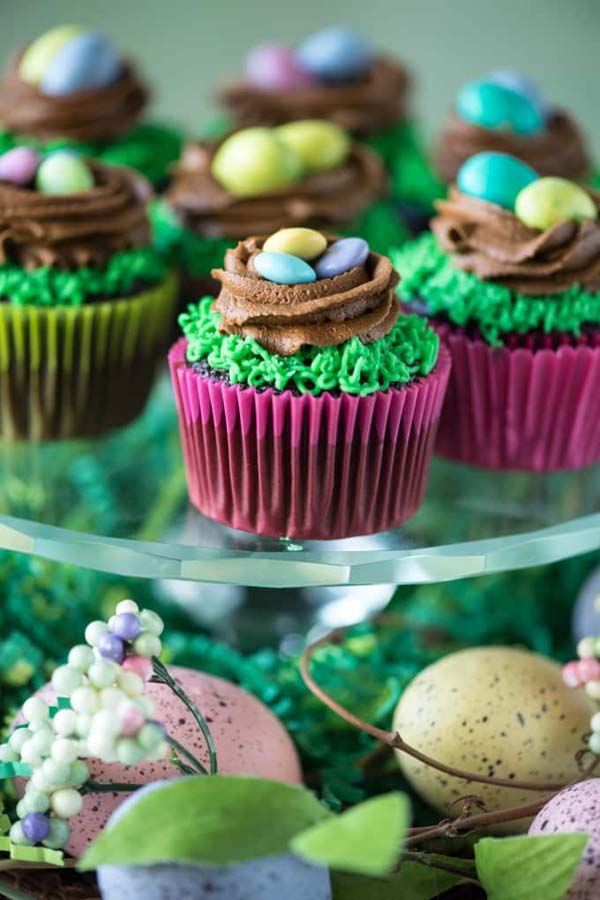 via Go Go Go Gourmet
Mini cupcakes are the perfect centerpiece for your dessert table. Pipe brown birds nest and put small eggs in the nest to complete the Easter look.
Easter Chick Cupcakes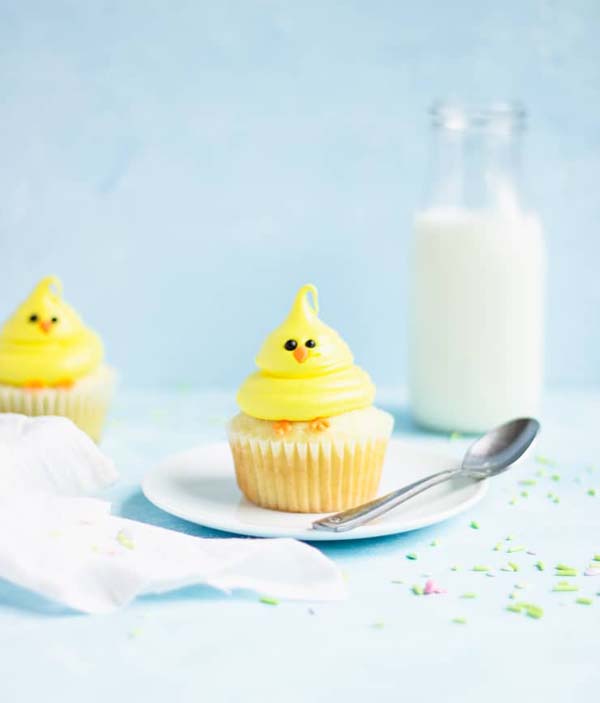 Dollup some yellow frosting on top of white cupcakes and then add little brown eyes. It creates a small chick cupcake.
Jelly Bean Cupcakes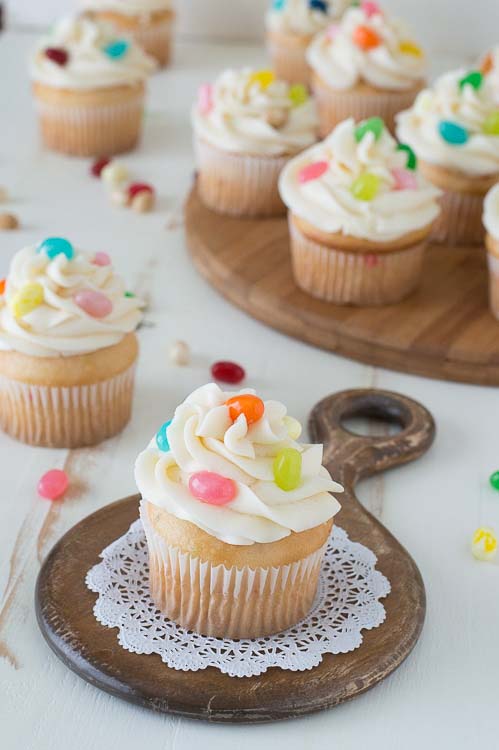 via The First Year
These cupcakes are made with white cupcake batter and white frosting. They don't seem very Easter themed until you notice the jelly bean 'eggs' in the frosting.
Marble Cupcakes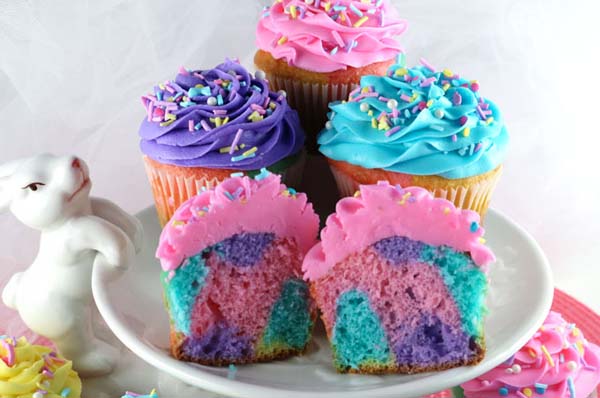 Easter is all about bright colors. These marbled cupcakes are perfect. They are marbled pink and blue and are decorated with Easter themed sprinkles.
Nesting Baby Bluebird Cupcakes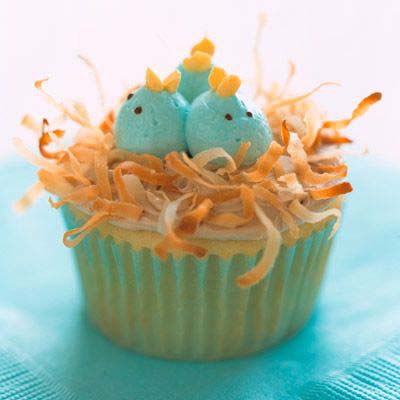 via Delish
Toasted coconut is the perfect topping when looking for a nest texture. Baby bird peeps make it a perfect baby bird cupcake decoration.
Peeps Cupcakes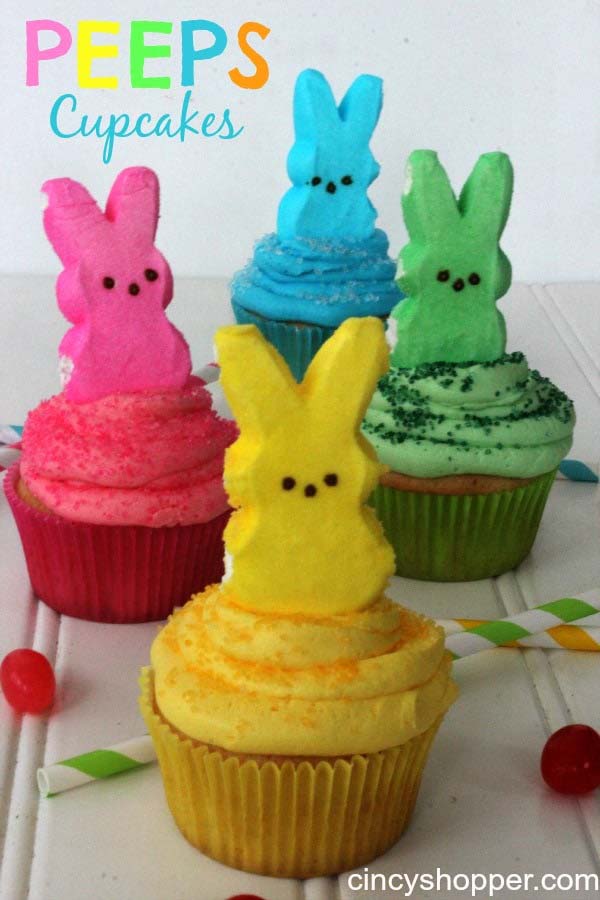 via CincyShopper
For a simple cupcake try these basic cupcakes frosted and topped with a marshmallow peep.
Pull Apart Easter Bunny Cupcakes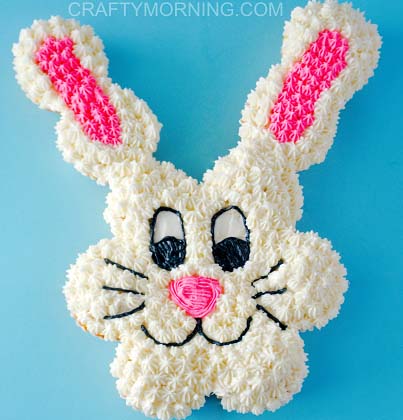 via Crafty Morning
For a simple but elaborate looking cake, make a cupcake cake. This one is shaped like a bunny and frosted white. Then there are also pink noses and eyes.
White Chocolate Easter Egg Cupcakes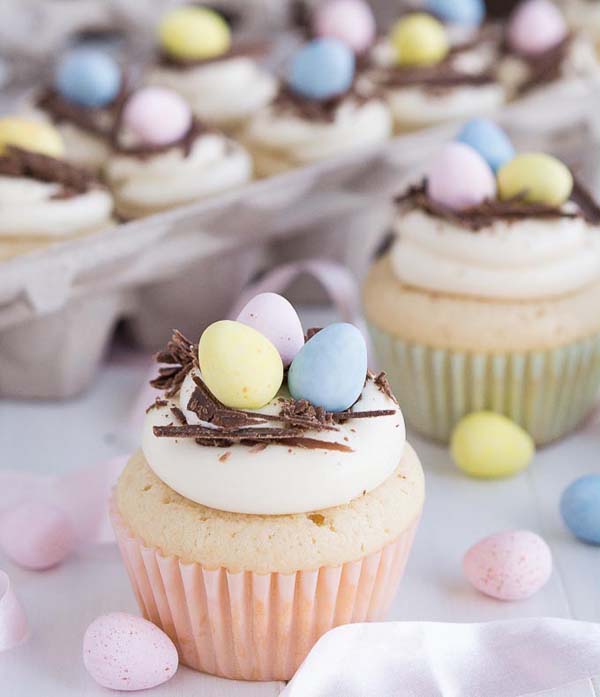 Take a basic white cupcake and frost with white frosting. Then add strips of chocolate to look like a nest. Then add miniature eggs.
Cookie Easter Desserts
Bunny Butt Cookies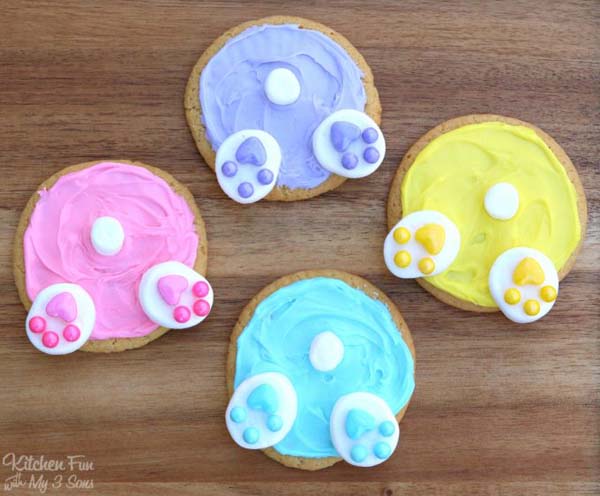 via Kitchen Fun with My Three Sons
These sugar cookies are decorated with white frosting and mini bunny butts. It looks like the bunny is digging into the cookie.
Bunny Cookies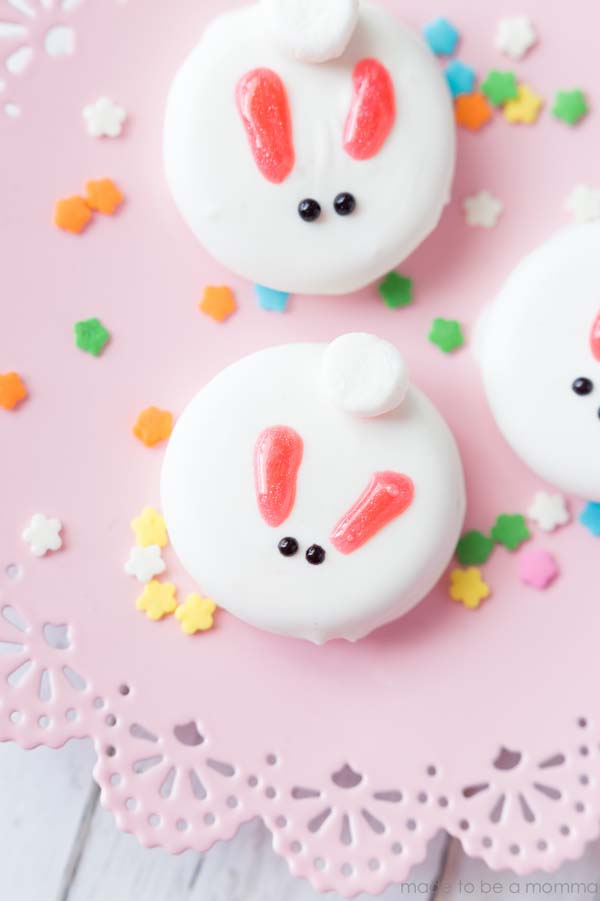 Take a white cookie and add a little pink nose and black eyes. Mini marshmallows make the perfect bunny tail.
Bunny Paw Thumbprint Cookies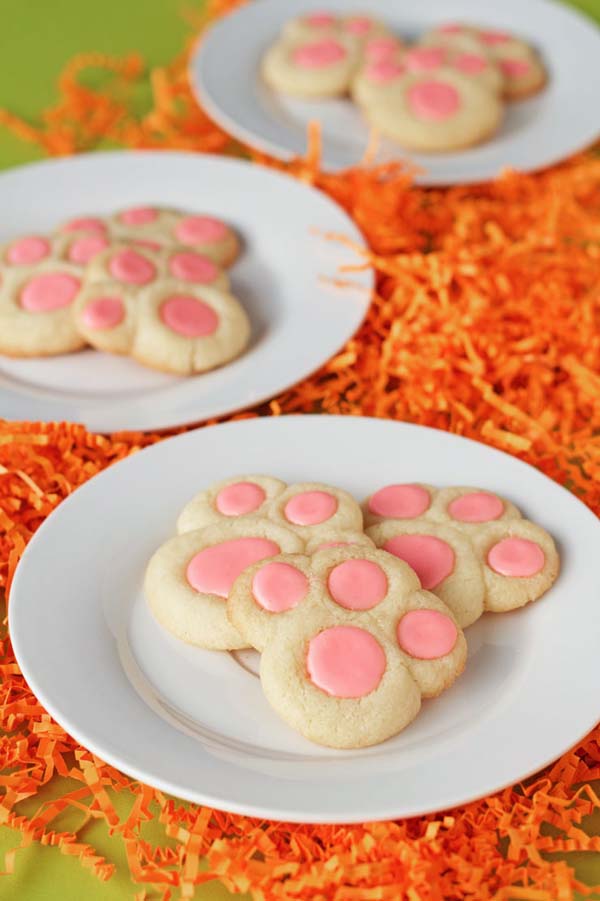 For a bunny footprint cookie, shape a sugar cookie like a footprint. Then add round pink candies to look like the pad on the bottom of the foot.
Cadbury Mini Egg Cookies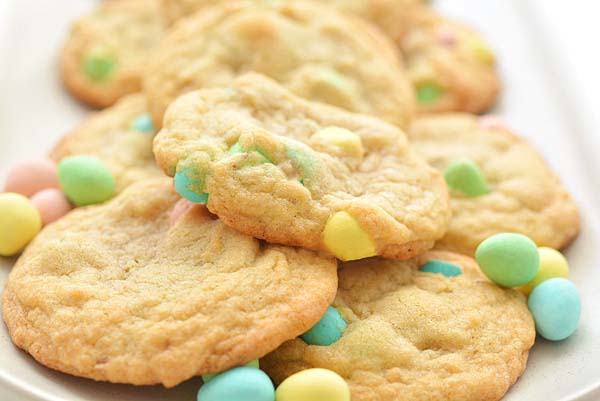 Although a chocolate chip cookie is delicious, try adding Cadbury creme eggs instead of chocolate chips to create an Easter treat.
Chocolate Thumbprint Cookies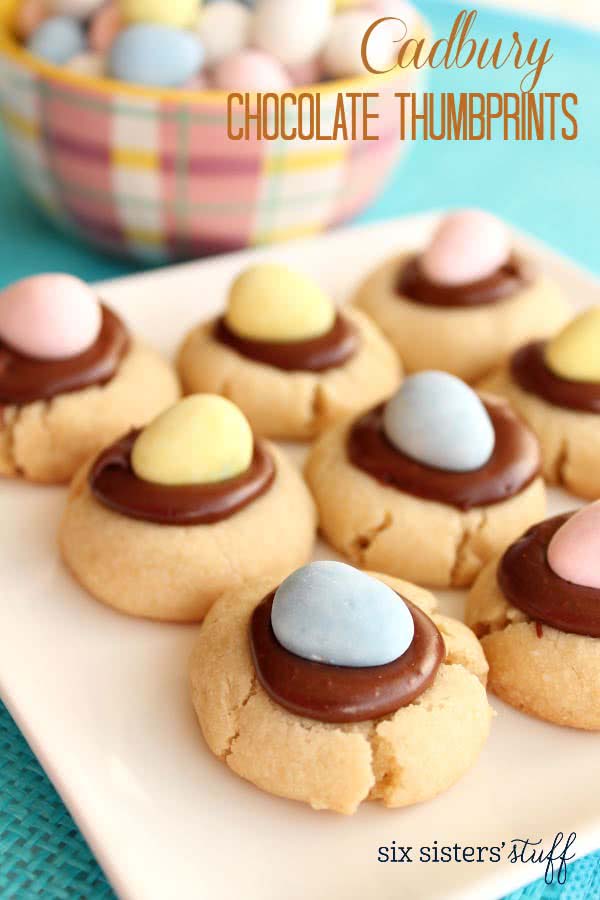 Make chocolate thumbprint cookies but use a Cadbury egg instead of a
chocolate kiss.
Confetti Sprinkles Sugar Cookie Bars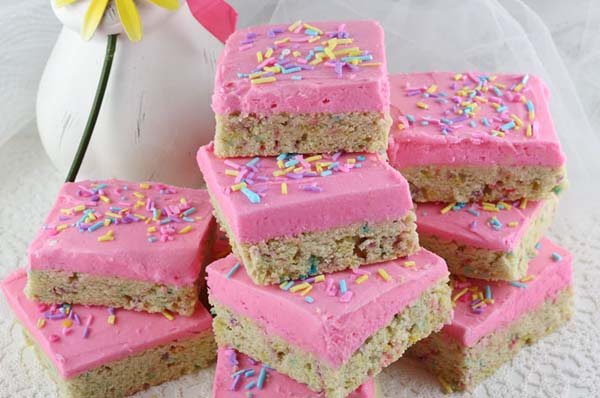 Sugar cookie bars are simple and delicious but can be made even better with pastel colored frosting and sprinkles.
Easter Blossom Sugar Cookies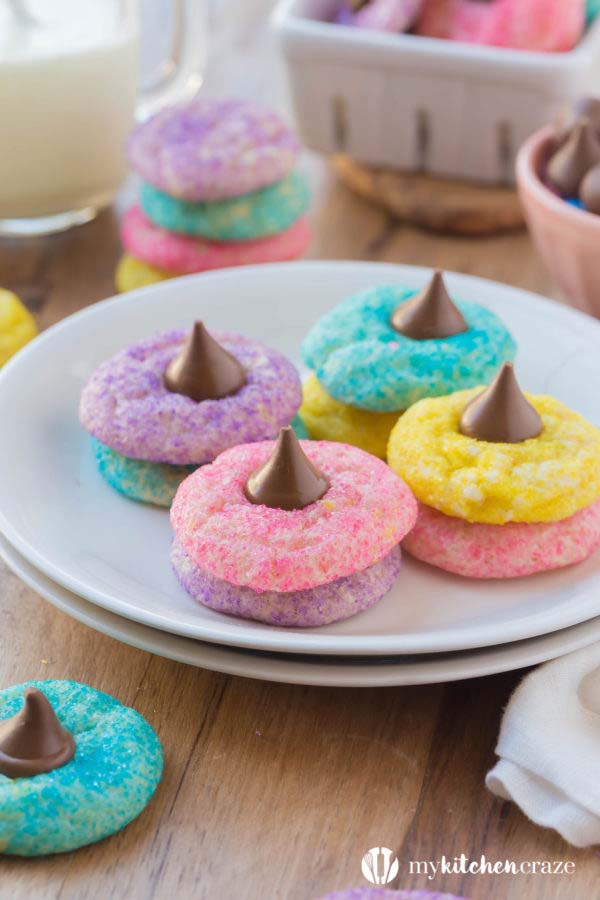 via My Kitchen Craze
Make thumbprint cookies and roll them in pastel sprinkles. Then add the chocolate kiss on top.
Easter Chick Lemon Cookies
via Gold Lining Girl
Sugar cookies can be dolloped like a snowman. But instead of being white color them yellow. Then add a candy beak and eyes.
Easter Chics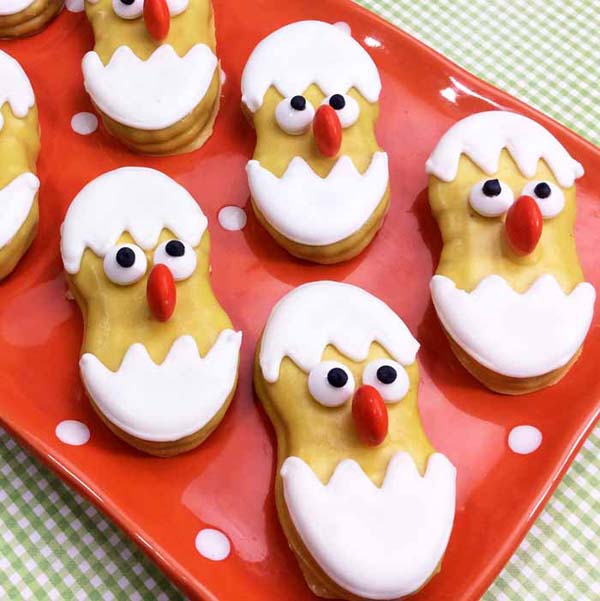 Peanut butter cookies are a great base for a chick cookie. All you have to do is add the white egg shell and the red candy nose and eyes.
Easter Egg Blondies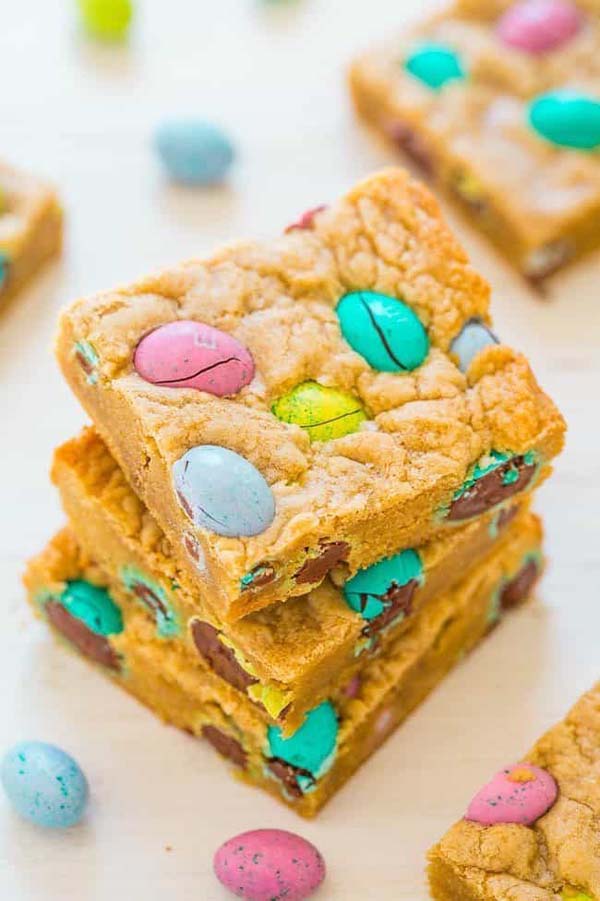 via Averie Cooks
Blondies are simple and can easily be made Easter themed with the addition of Easter colored m&ms.
Easter Egg Cookie Dough Truffles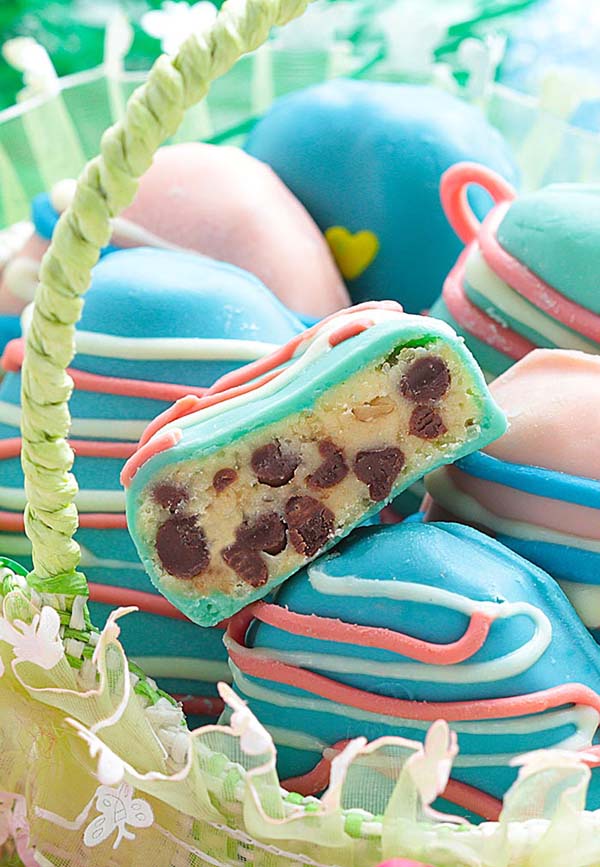 via Cakescottage
These cookie truffles are shaped like an egg and dipped in pastel-colored chocolate. Then decorated to look like dyed eggs.
Easter Egg Macarons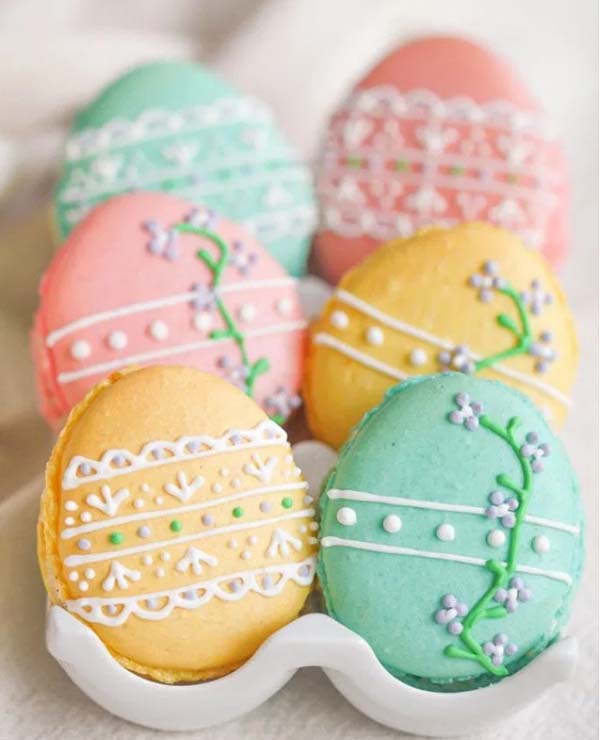 Shape macaroons like eggs. Then decorate like dyed eggs for easy but beautiful Easter treats.
Easter Egg Sugar Cookie Bites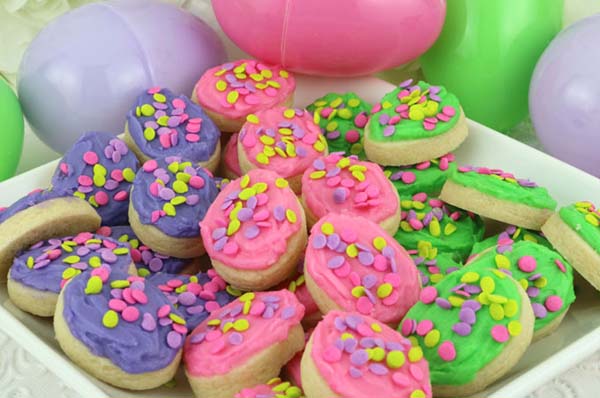 Make a mini Easter treat with these mini Easter egg sugar cookies. Decorate them like dyed eggs.
Easter Egg Sugar Cookies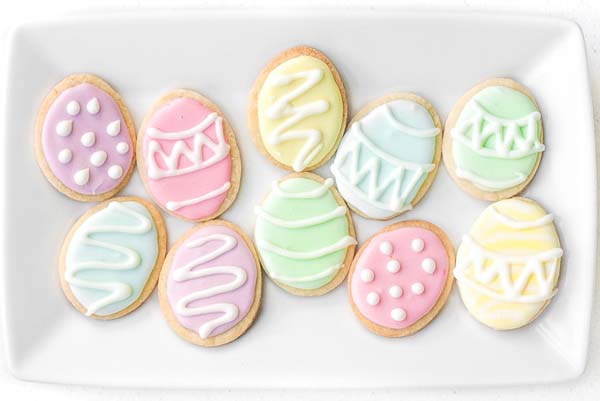 via Ahead of Thyme
Easter egg cookies are simple and delicious. Just use basic sugar cookie dough and pastel-colored frosting.
Funfetti Cake Mix Cookies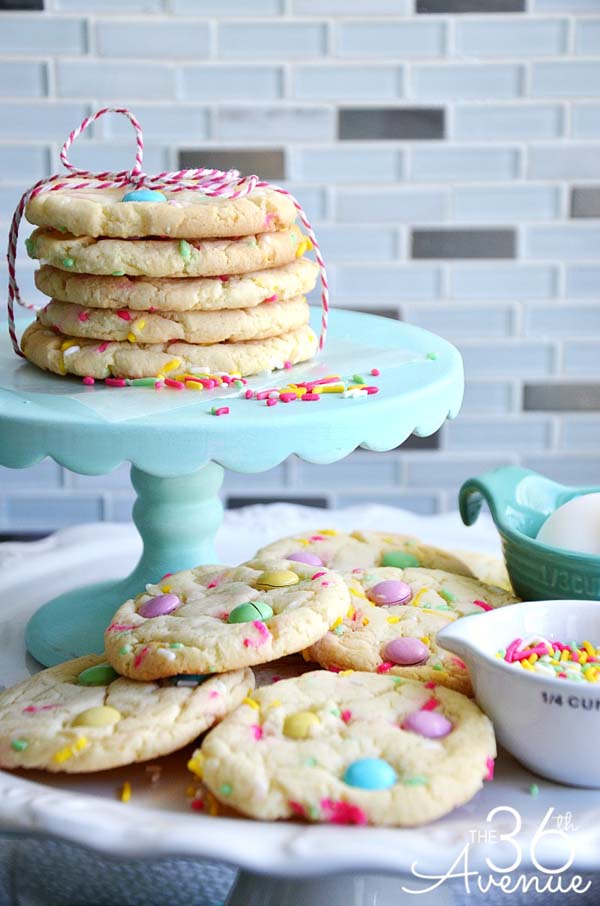 via The 36th AVENUE
Cake mix cookies make a flatter but fluffier tasting cookie. Funfetti pre made cake mix is perfect for making Easter treat themed snacks.
No-Bake Easter Cookies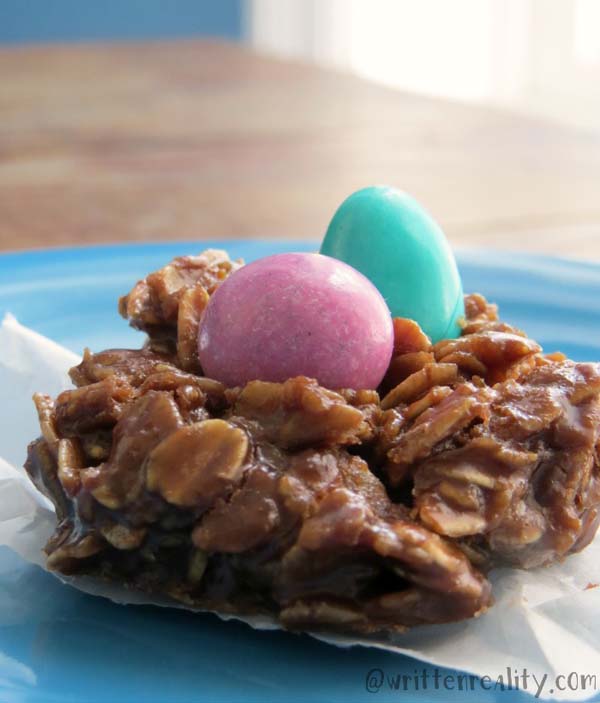 via Written Reality
Basic no-bake cookies are perfect for a nest shaped cookie. Then add chocolate eggs to the top for a nest look.
Peanut Butter Easter Eggs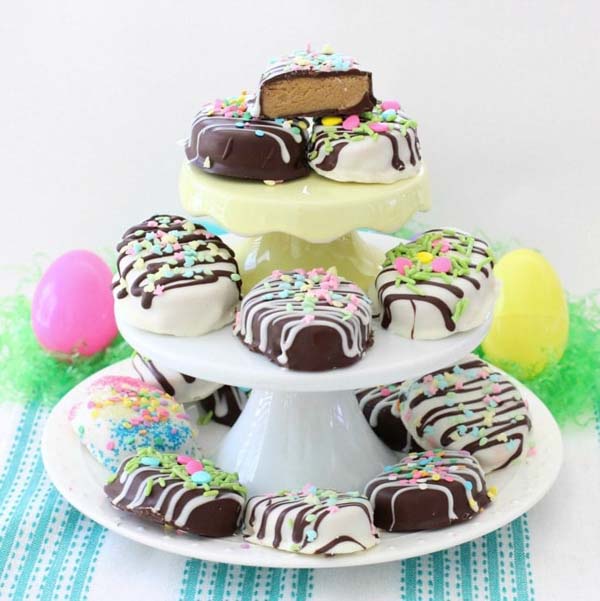 via Butter with a Side of Bread
Dip reese's peanut butter cup eggs in pastel chocolate and pipe to look like dyed eggs. It is a simple way to make an elaborate Easter treat.
Soft and Chewy Easter M&Ms Cookies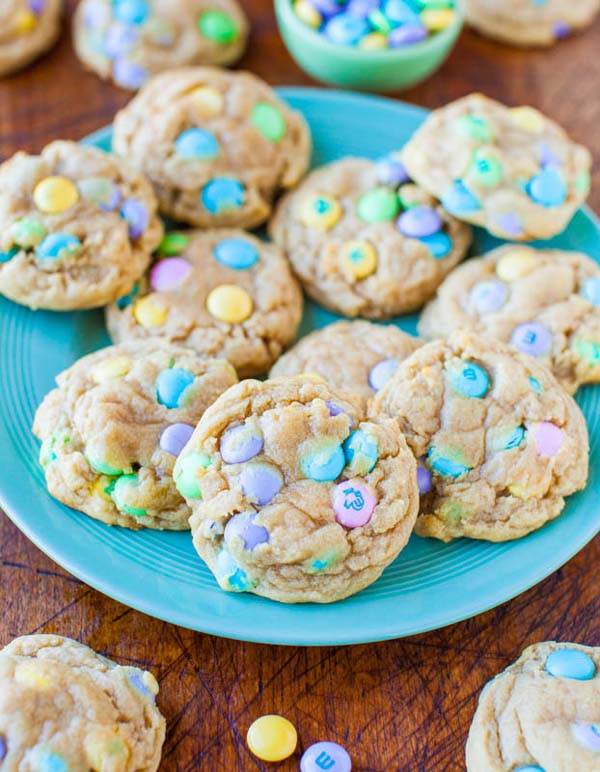 via Averie Cooks
Make chocolate chip cookies, but instead of chocolate chips use pastel-colored m&ms. It adds a quick and simple Easter look.
Spring Confetti Bars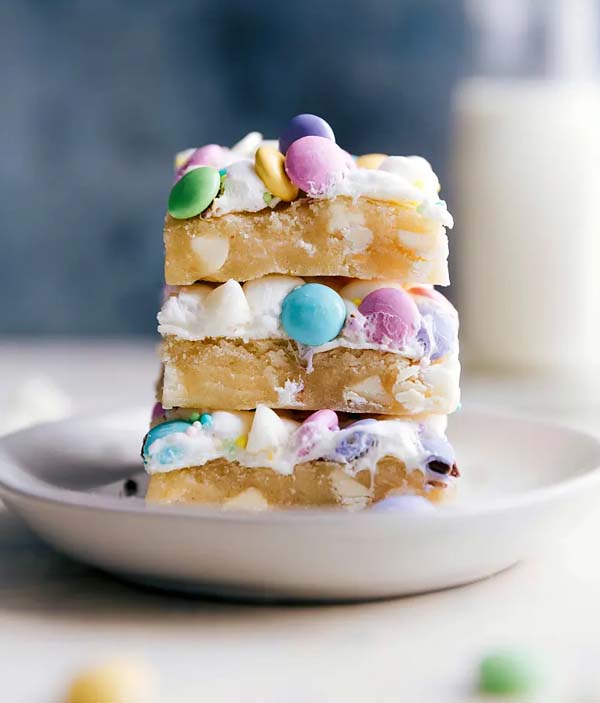 Confetti chocolate bars are simple. The white chocolate on top can be mixed with mini pastel colored m&ms.
Strawberry Ooey Gooey Egg Bars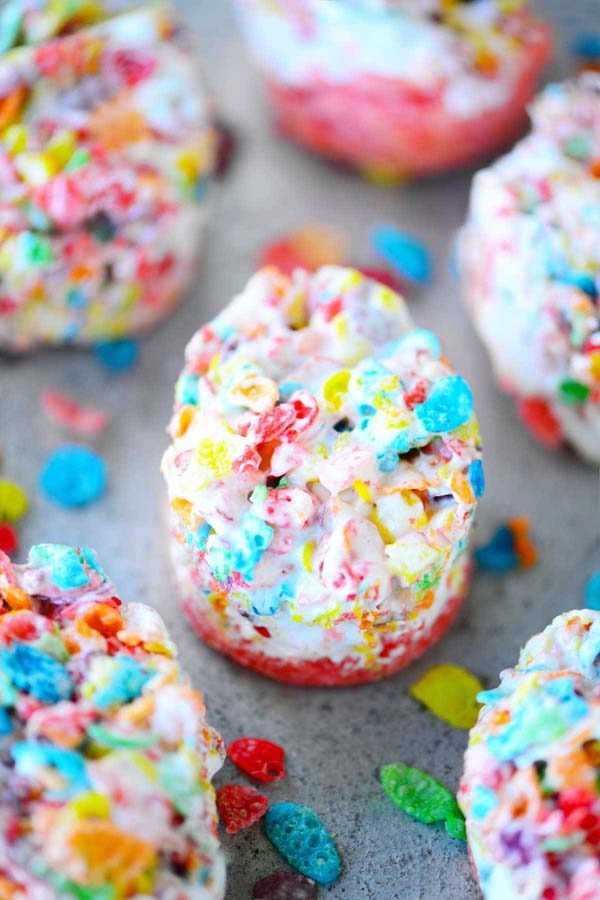 via The Gunny Sack
These rice Krispie type bars are filled with krispies, colored m&ms and bright Easter cereal krispies. It makes them the perfect pastel-colored treat.
Bunny Cut-Up Cake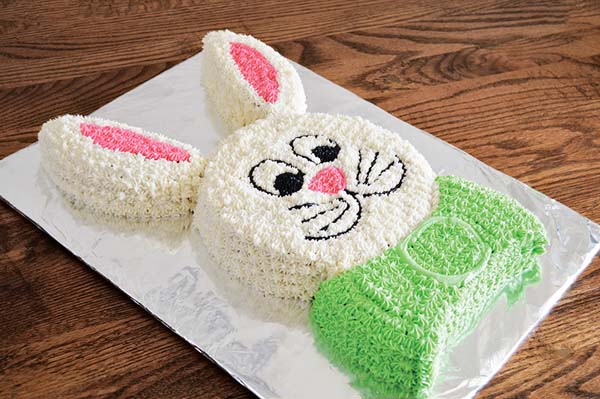 via Homan at Home
A simple cake can be made super elaborate by cutting it in a bunny head shape and decorating it that way. Add a bright-colored tie on the bottom.
Cake Easter Desserts
Bunny Mini Cakes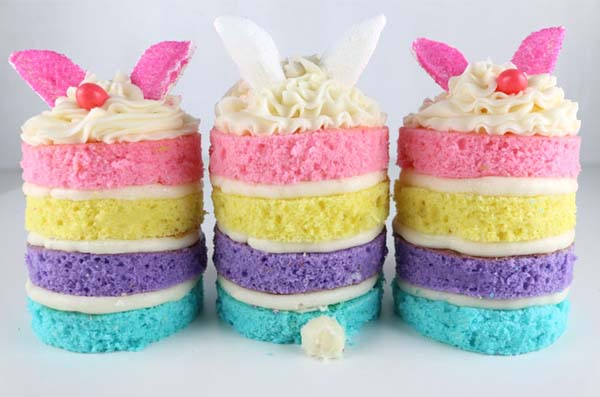 These simple stack up cakes are brightly dyed and have bunny ears on top to give it the Easter theme.
Cadbury Creme Egg Cake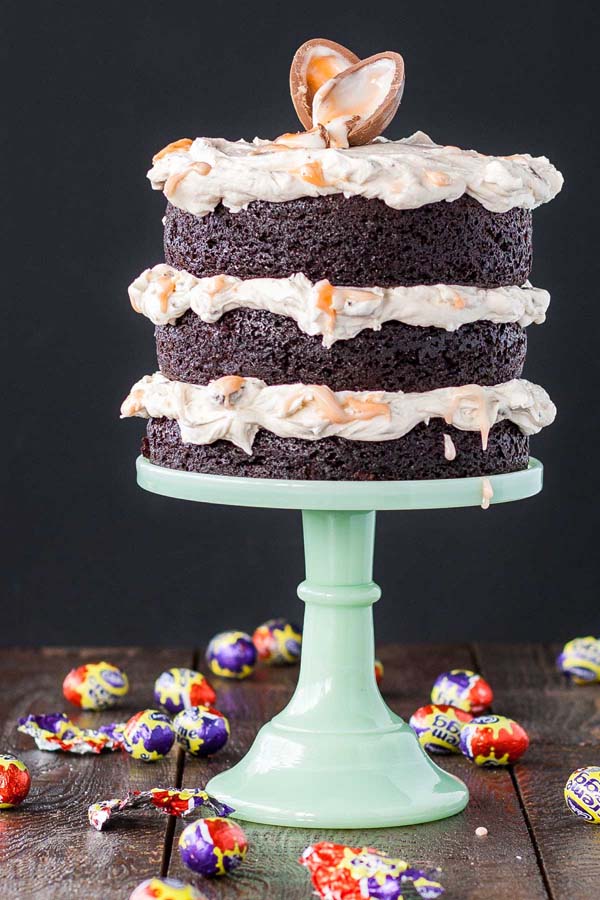 via Liv for Cake
For a classic cake try this chocolate stack cake and add a split Cadbury egg on top.
Chocolate Easter Bunny Cake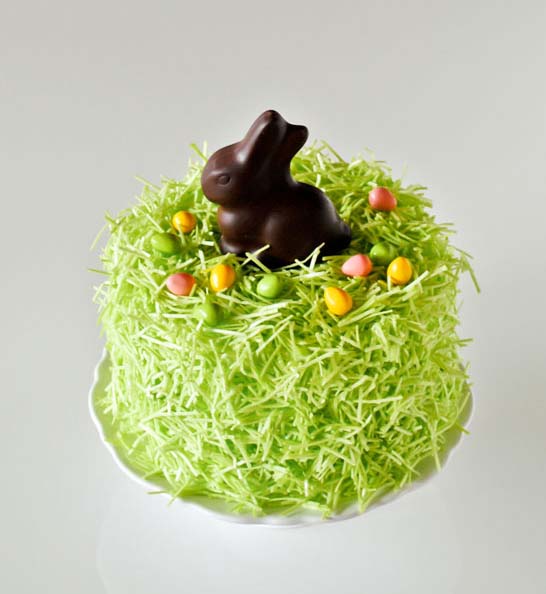 via The Cake Blog
This simple and small cake is mini round cakes stacked and decorated with piped grass. Add a chocolate bunny on top to complete the look.
DIY Easter Basket Cake
via The Cake Blog
For a clean looking Easter cake coat a small stack cake in brown frosting to look like dirt. Then add piped grass on top and add chocolate eggs.
DIY Speckled Egg Cake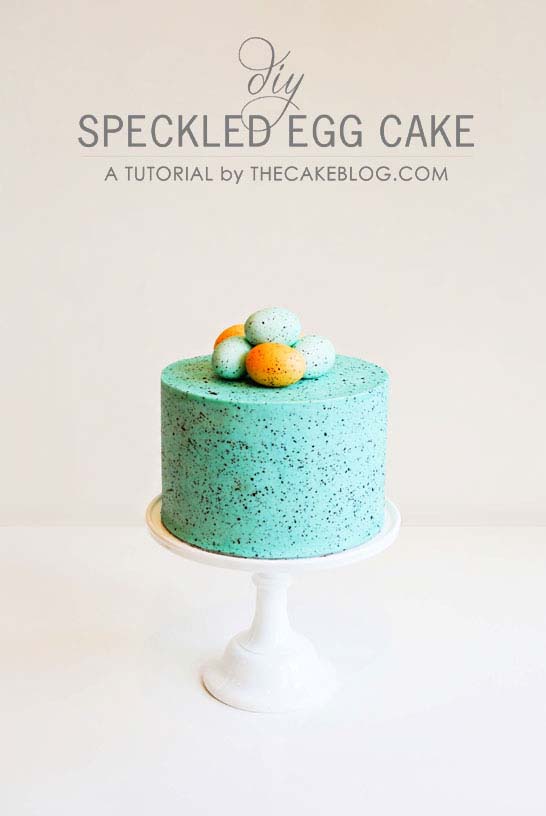 via The Cake Blog
To make this speckled egg cake start by wrapping around stack cake in pastel blue fondant. Then speckle brown on the cake. This makes it look like a speckled egg.
Easter Bunny Bundt Cake
This basic bundt cake gets an Easter kick when it is frosted and topped with a marshmallow bunny.
Easter Bunny Cake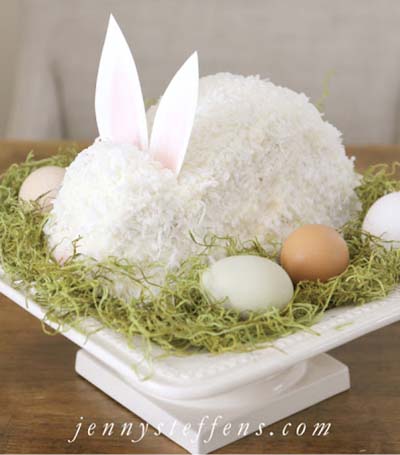 via Jenny Steffens
A round cake covered in coconut actually looks like a very realistic bunny. Then add cookie ears to complete the look.
Perfect Easter Bunny Cake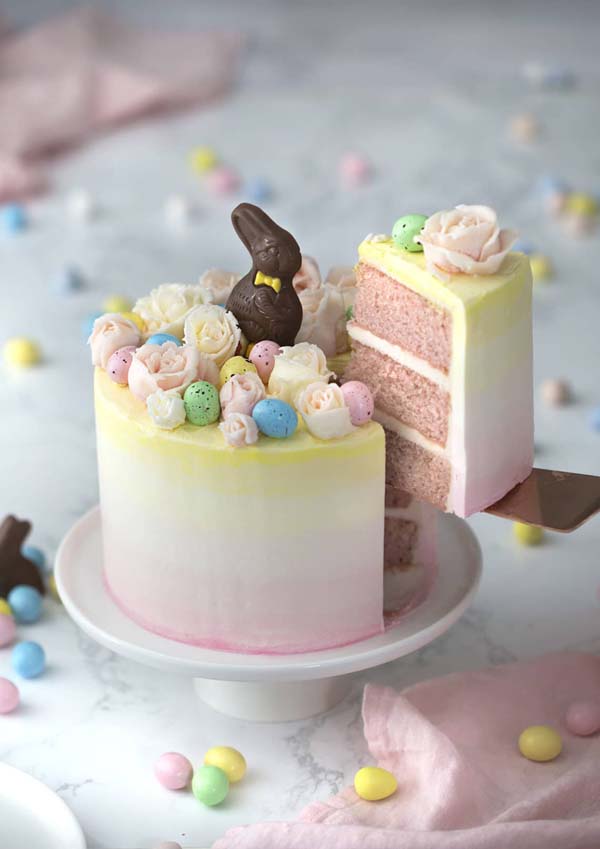 via Preppy Kitchen
Stack pink cakes and layer with white frosting. Then cover with white fondant. Then add classic white flowers and bunnies on top.
Easter Dirt Cake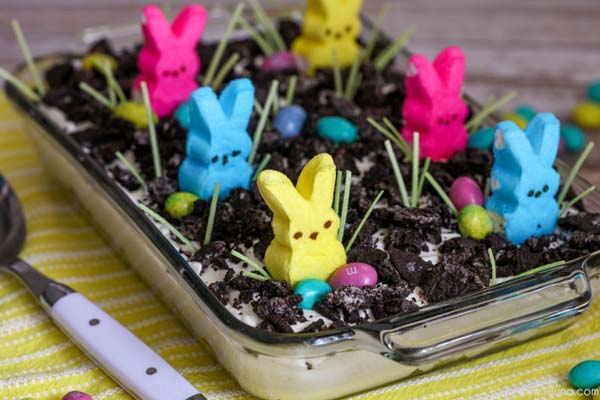 via Lil' Luna
Make basic dirt cake very Easter themed by adding marshmallow bunnies.
Easter Egg Cake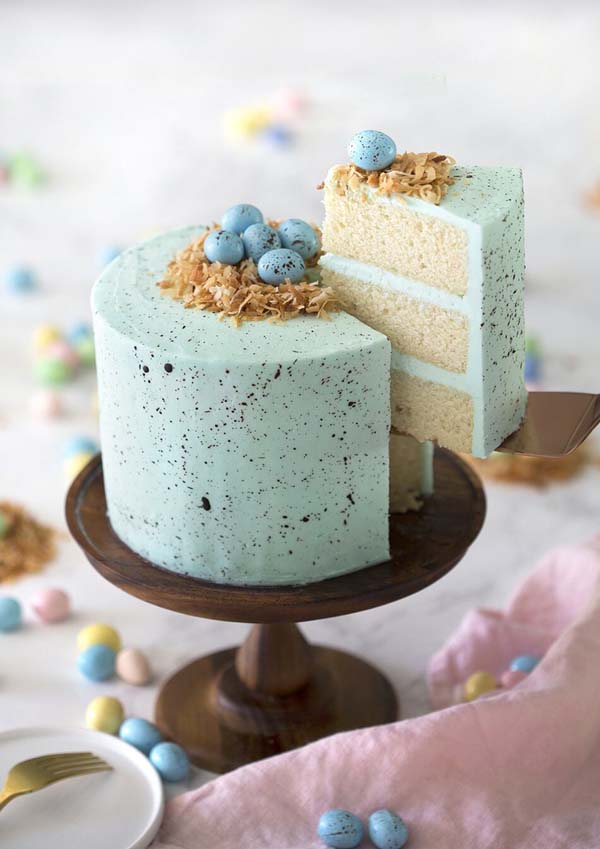 via Preppy Kitchen
This simple Easter cake is made by layer fondant on a cake and sprinkled with brown color. Then add similar looking eggs in a coconut nest on top.
Easter No-Bake Mini Cheesecakes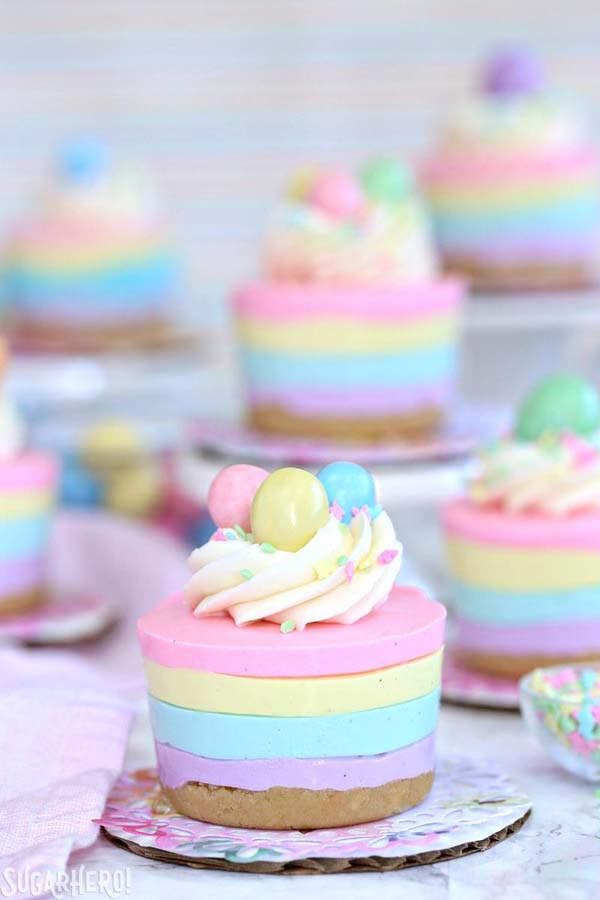 via Sugar Hero
Mini pastel-colored cheesecakes are easy to layer and are bright and fun. Add white frosting and pastel eggs on top.
Kit-Kat Easter Cake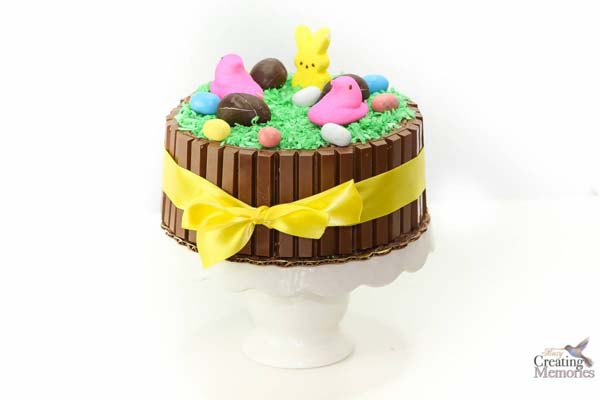 This easy cake is surrounded in chocolate kit kats and decorated with green grass and eggs.
Malted Chocolate Easter Cake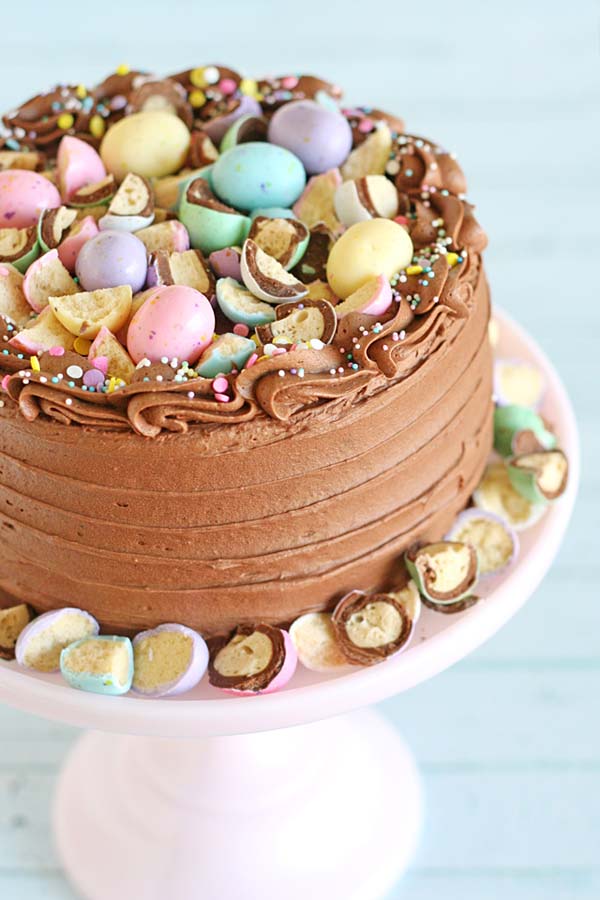 via Glorious Treats
A chocolate cake is best for adding chopped chocolate eggs on the top.
Malted Easter Egg Chocolate Cheesecake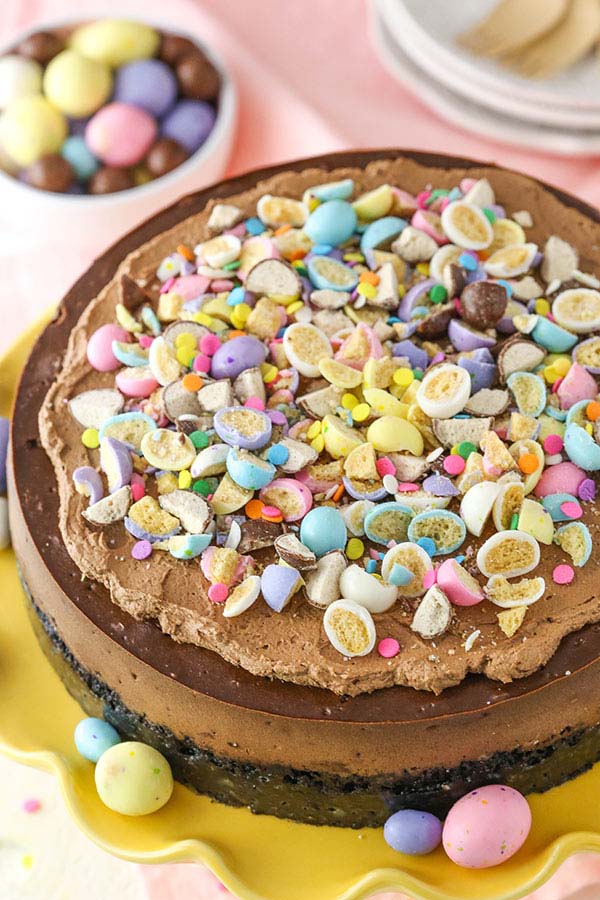 Make a basic chocolate cake scream Easter by adding chopped up chocolate eggs on the top and piping the sides to look like dirt.
Mini Speckled Egg Cakes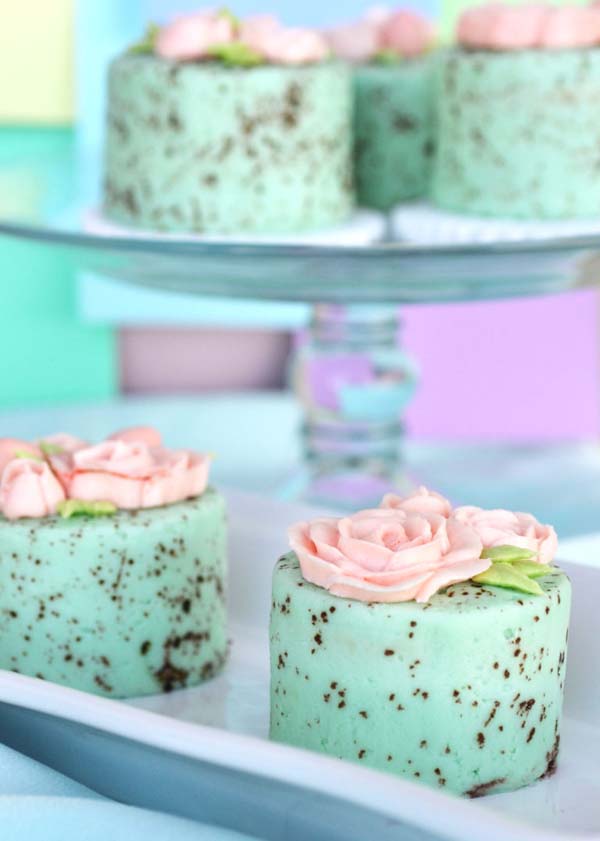 via Angean
Cover mini cakes with blue fondant and speckle them with brown. Then add pink flowers on top.
Pineapple Carrot Cakes with Cream Cheese Frosting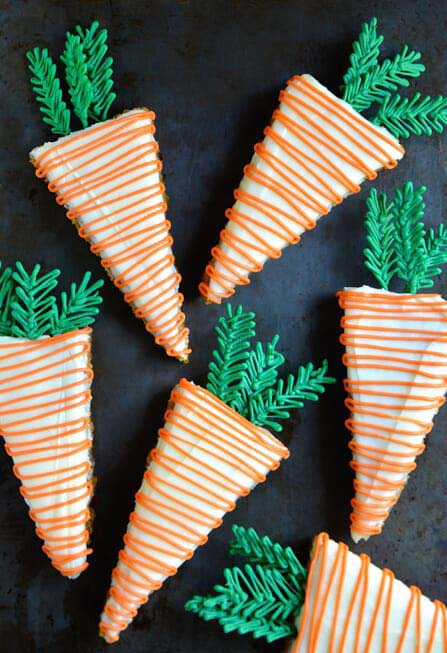 via Just a Taste
Cut carrot cake into carrot shapes. Then add green chocolate piped carrot tops to make a carrot-shaped carrot cake.
Fudge, Brownies & Bark
4 Ingredient Easter Fudge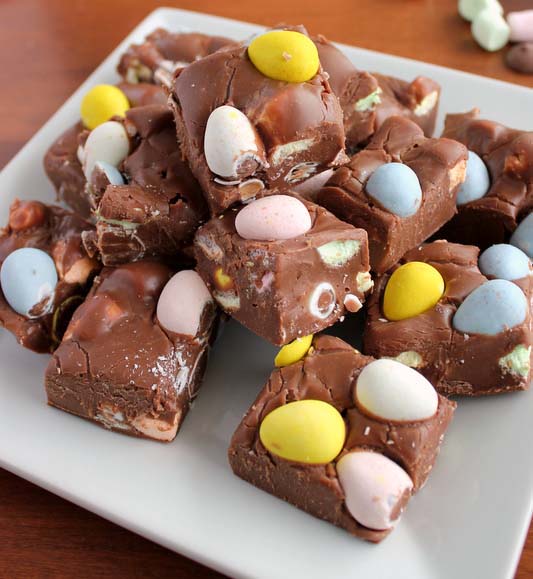 via Kitchen Cents
Make basic fudge but fill with Easter colored m&ms.
Easter Oreo Bark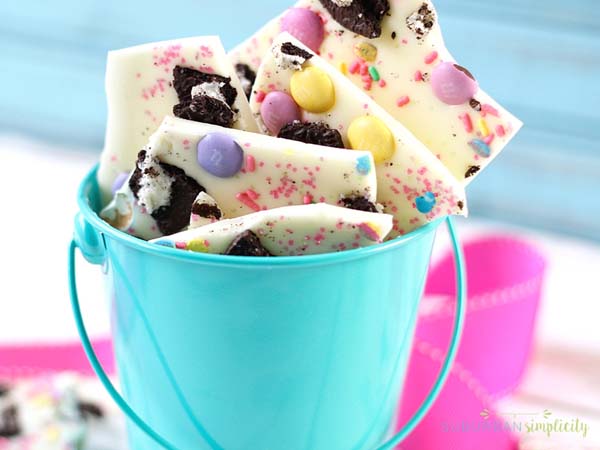 Chocolate bark is typically a christmas treat. But it can be made Easter by adding oreos and pink sprinkles and pink m&ms.
Malted Milk Fudge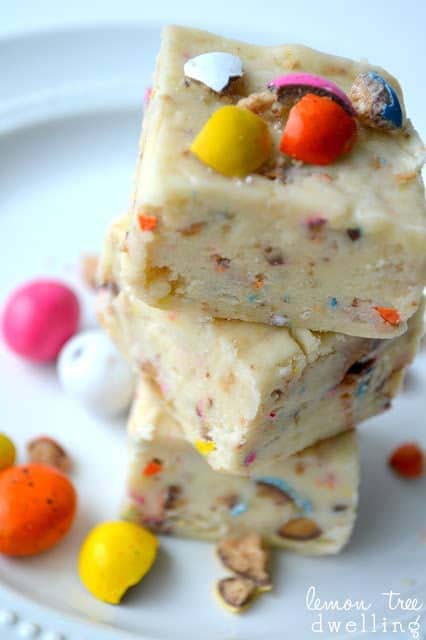 Start with white chocolate fudge and add Easter colored sprinkles. Add Cadbury creme eggs for a great Easter treat.
Mini Eggs Easter Brownie Parfaits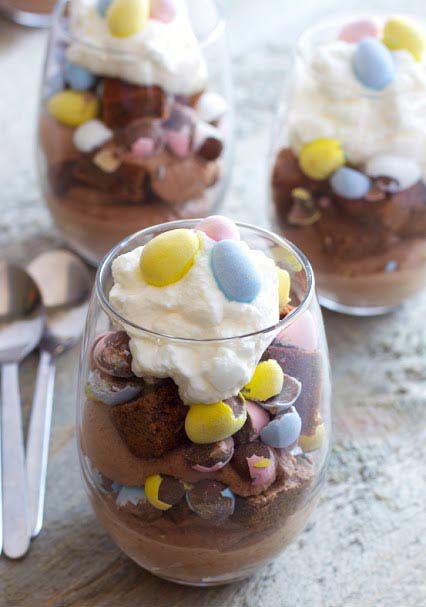 via The Busy Baker
Bake brownie parfaits and add white frosting. Add cadbury creme eggs to the frosting.
Peeps S'mores Brownies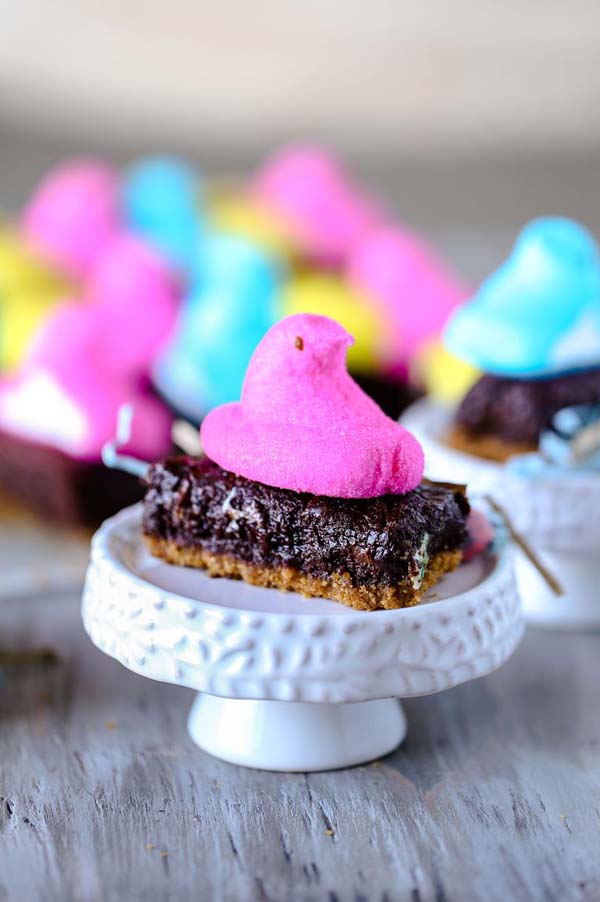 via Delish
Top a brownie with peeps for a simple Easter treat.
Super Easy Easter Bunny Chocolate Bark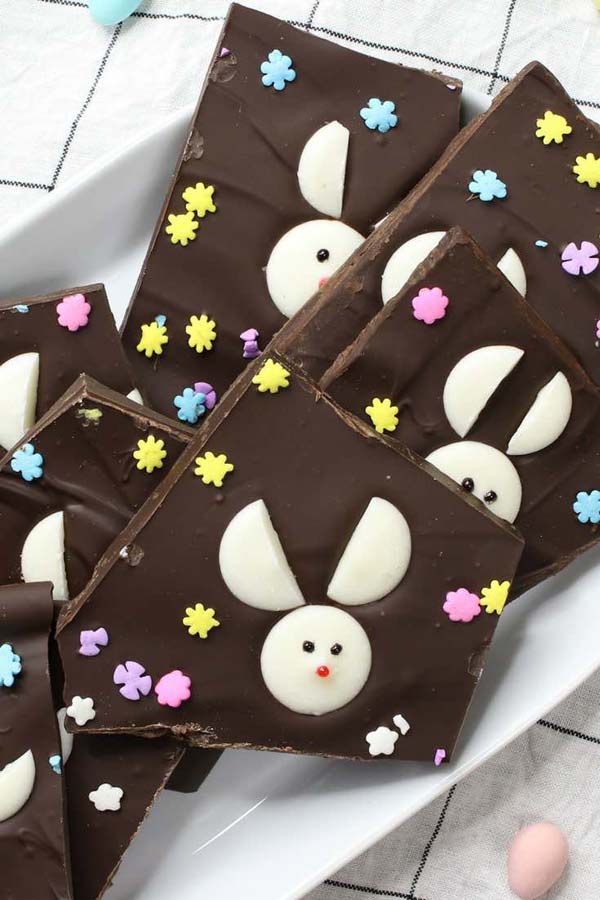 via TipBuzz
Press white m&ms into the top of chocolate bark. Then split a m&m in half to look like bunny ears.
White Chocolate Easter Bark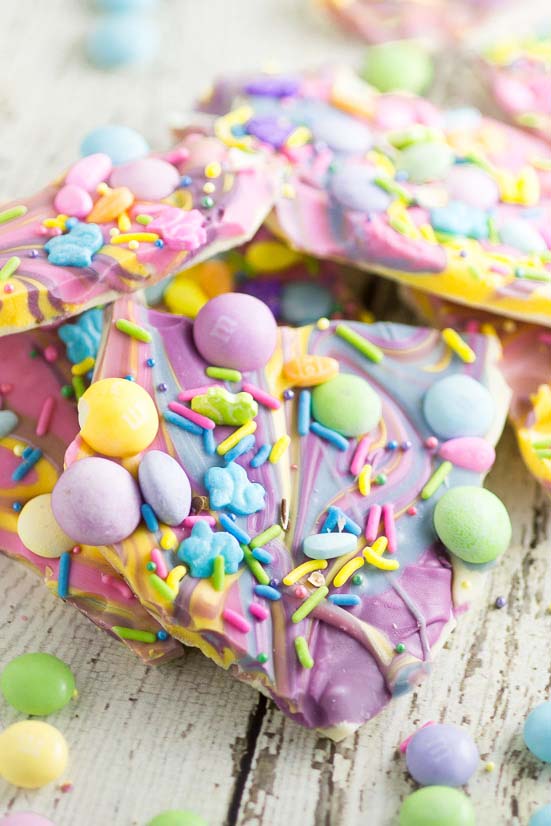 Marble pink, yellow and blue chocolate together and add similar colored m&ms and sprinkles. It makes beautiful and delicious chocolate bark.
Treats & Other Easter Desserts
Rice Krispie Easter Eggs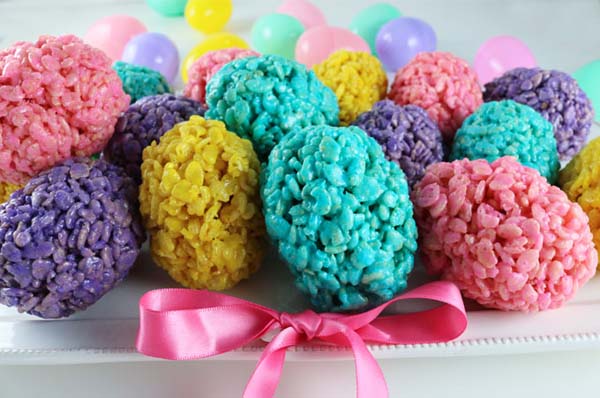 Color rice krispie treats with pink, yellow and blue and shape them into egg shapes.
Easter Peeps Dirt Pudding Cups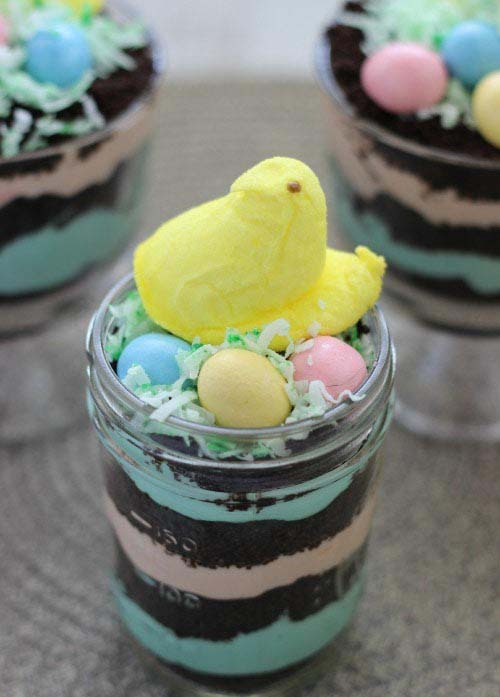 via The Diary of a Recipe Collector
Layer brownies with different Easter colored frosting in a ball jar. Then add a peep on top for a complete Easter treat.
Cheesecake Filled Chocolate Easter Eggs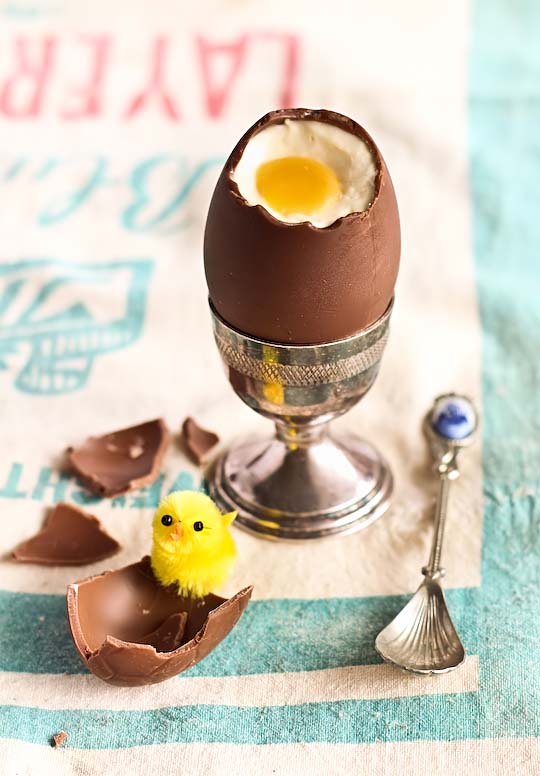 Fill a large chocolate egg with white frosting. When the egg is broken open to eat it, it looks like a real egg.
Coconut Macaroons Nest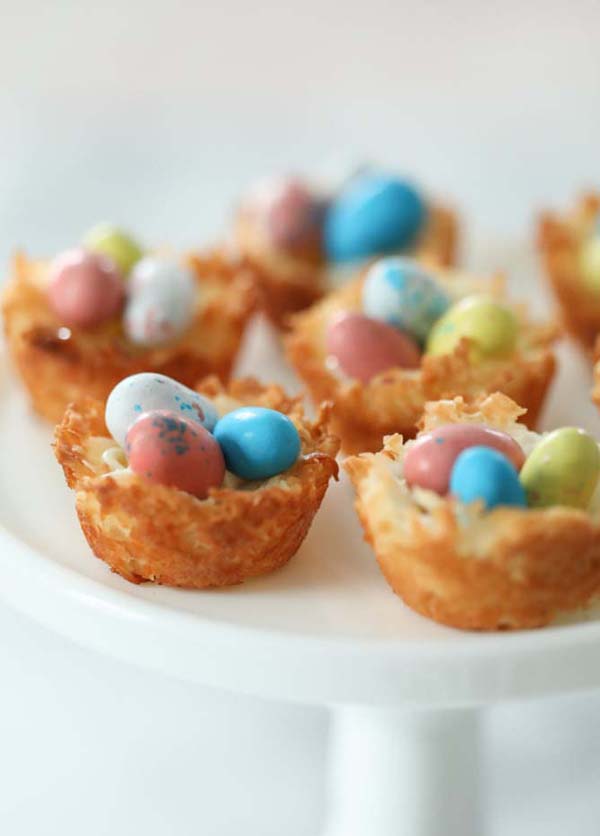 Coconut macaroons are the model nest looking treat. To complete the Easter look add eggs to the nest.
Flower Pretzel Bites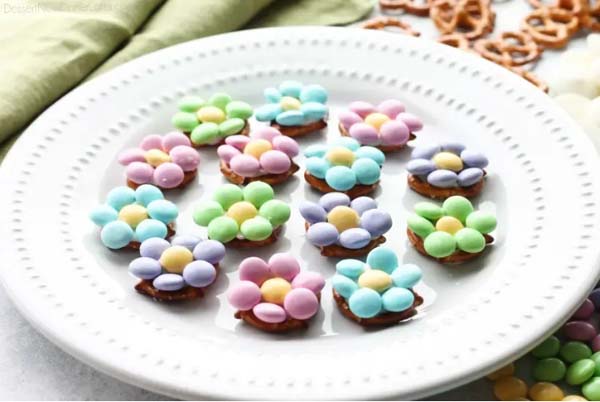 via Dessert Now, Dinner Later!
Take pretzels and frost them with frosting to glue pastel colored m&ms on the pretzel. When finished, they will look like cute Easter flowers.
3 Ingredient Easter Carrot Rice Krispie Treats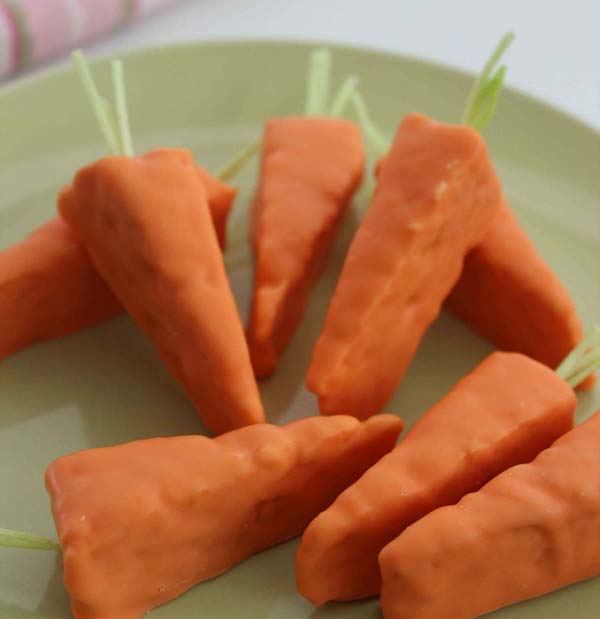 Shape rice crispies in a carrot shape. Then dip them in orange chocolate. Add green chocolate on top that has been piped to look like a carrot top.
Easter Peeps Pops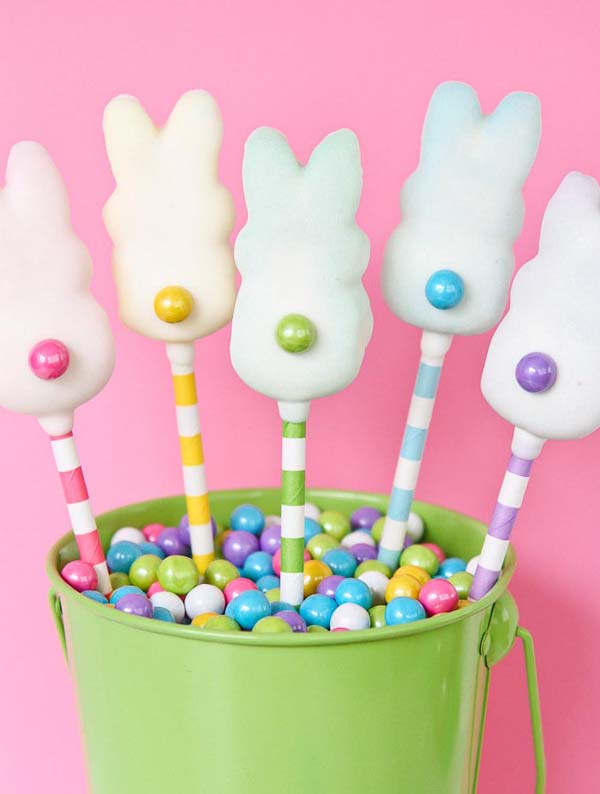 Skewer bunny peeps with Easter colored skewers. Then dip in chocolate and use a pearl sprinkle as the bunny tail.
Easy Bunny Butt Pretzels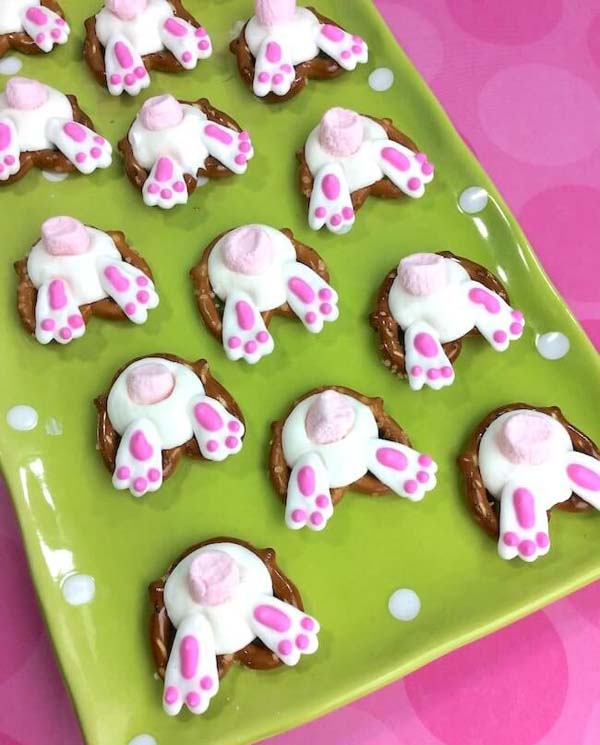 via The Soccer Mom
Using a pretzel as a base and frosting as glue, add marshmallows and pink frosting to create an adorable bunny butt on the pretzel.
Layered Peeps Rice Krispie Treats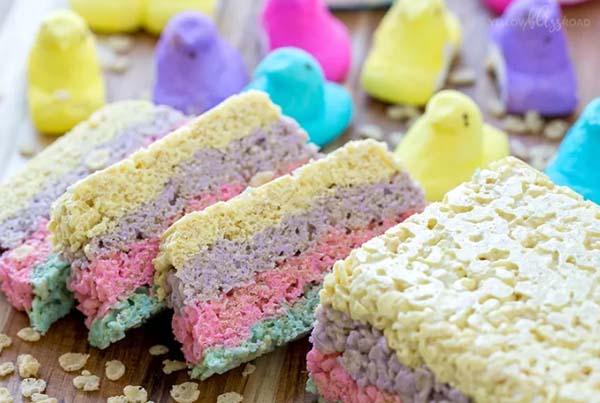 Split your rice Krispie treats into different bowls and color with different colors. Then layer them together. So then when you cut it, the rice Krispie will be different colored layers of deliciousness.
Peeps Pretzel Rods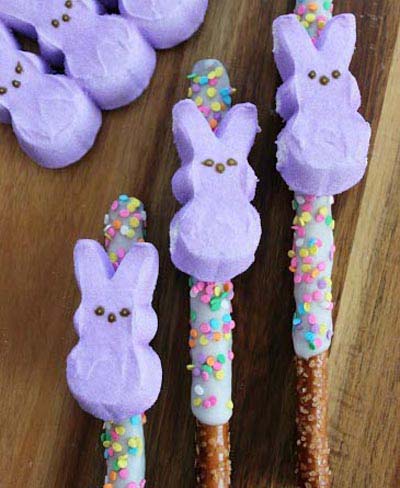 via My Litter
Skewer peeps with pretzels to make a simple and no cutlery needed Easter
treat.
Carrot Chocolate Covered Strawberries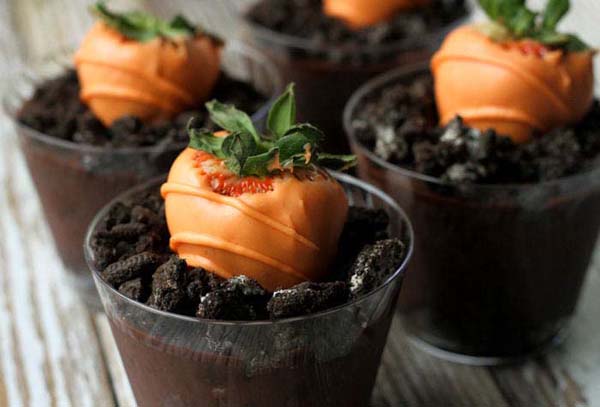 via Lil' Luna
These oreo dirt cups are made completely Easter by putting chocolate-covered strawberries in them. But when you dip the strawberries in chocolate, colored the chocolate orange to make the strawberries look like carrots.
Bunny Dirt Cups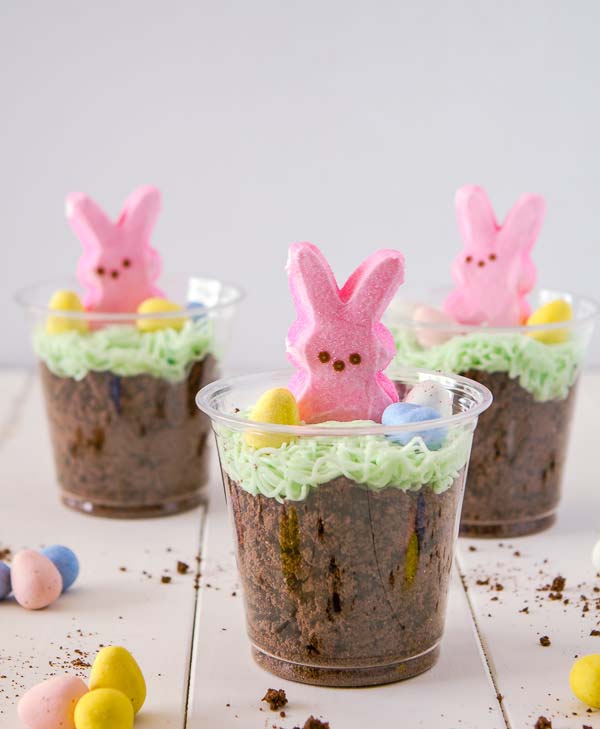 via A Zesty Bite
Make dirt dessert cups and pipe green grass on the top. Then add a bunny peep.
Rice Krispie Nests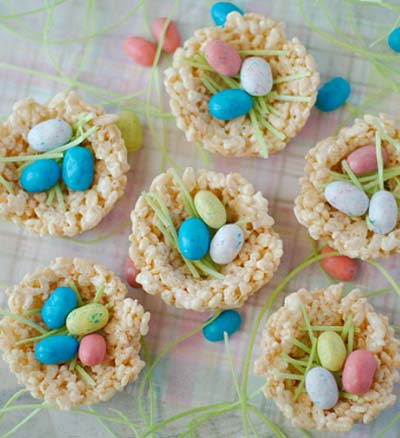 via Crafty Morning
Use rice Krispie treats to make a nest shape. Then add chocolate eggs to the nest for a small and simple treat.
Easter Rice Krispie Treats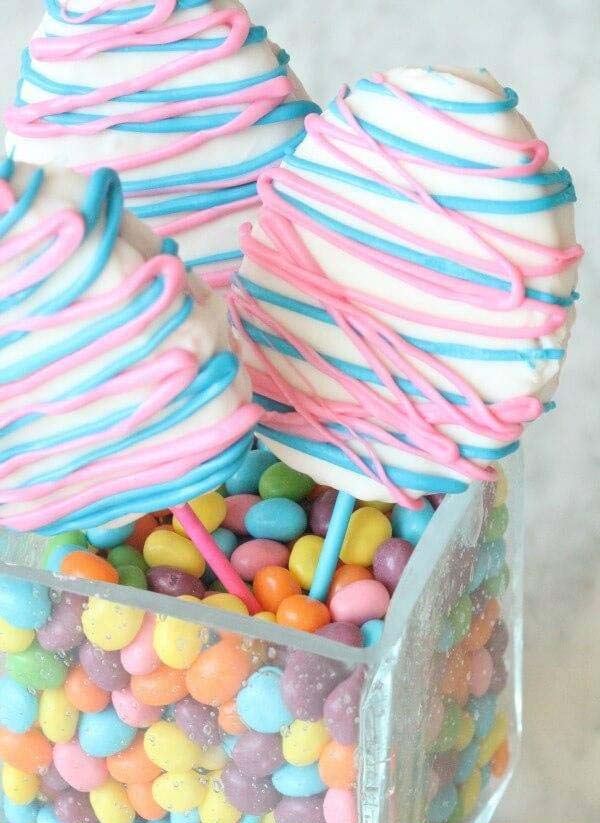 Skewer reese's chocolate eggs and coat them in white chocolate. Then pipe them to look like dyed eggs.
Easter Bird Nests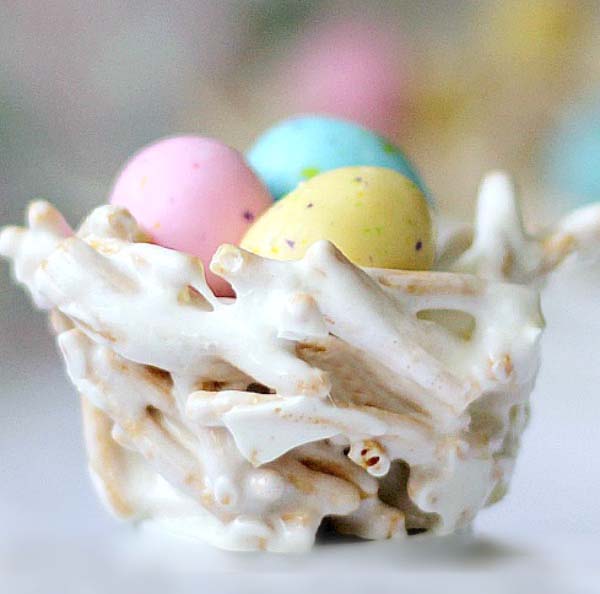 via Grateful Prayer Thankful Heart
Chop up pretzel sticks and coat them in white chocolate. Then shape them like nests and add chocolate eggs.
Bunny Tail Treats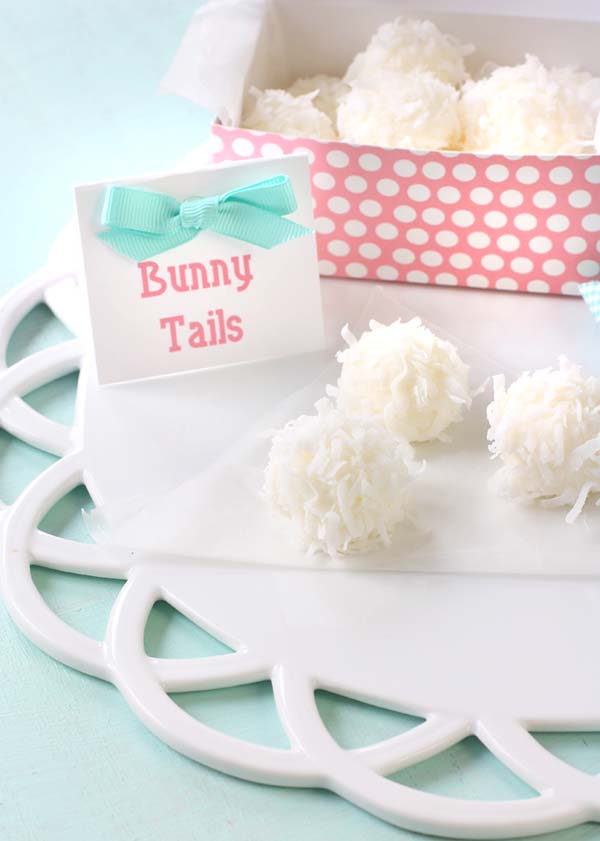 via Pizzazzerie
To make perfect little bunny tails, take round cookies and roll them in chocolate and coconut.
Spring Caramel Pretzel Bites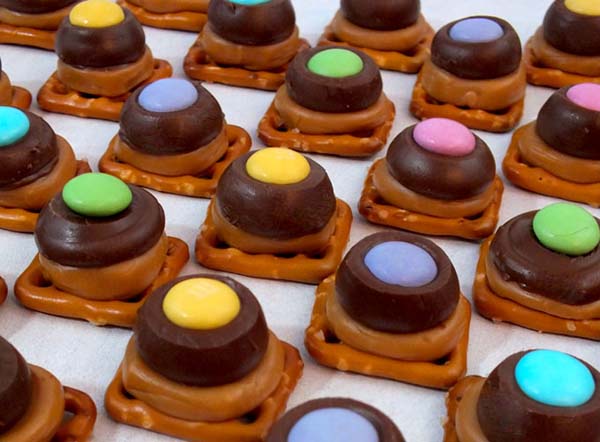 Layer a pretzel square, caramel square and rolo and bake to melt together. Be sure to add a pastel-colored m&m on top. This creates a delicious and simple Easter treat.
Easter Crockpot Candy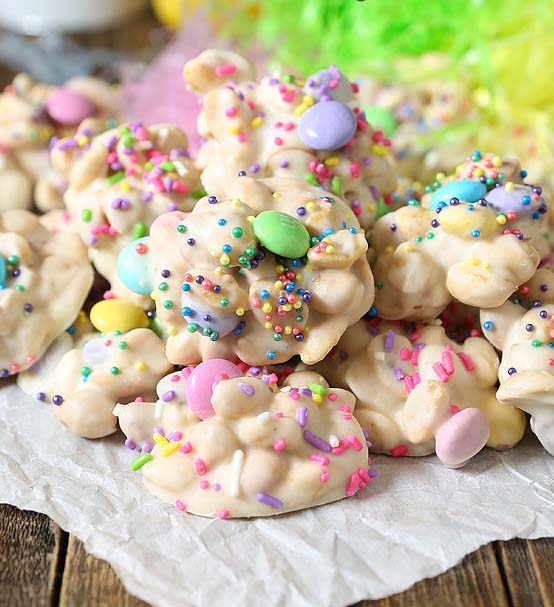 Crockpot candy is simple to make. Add Easter colored m&ms and pretzels.
Easter Cream Cheese Mints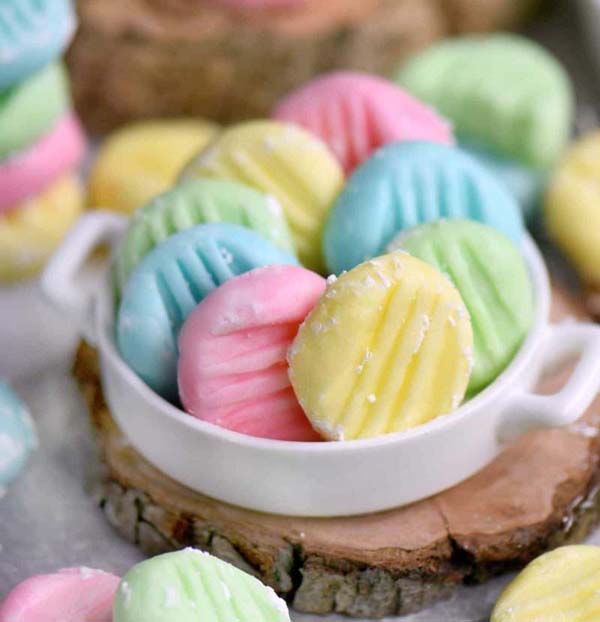 via Mom On Timeout
Make your creme mints idyllic for the Easter season by coloring them pink, yellow and blue.
Easy Easter Bunny & Chick Oreo Pops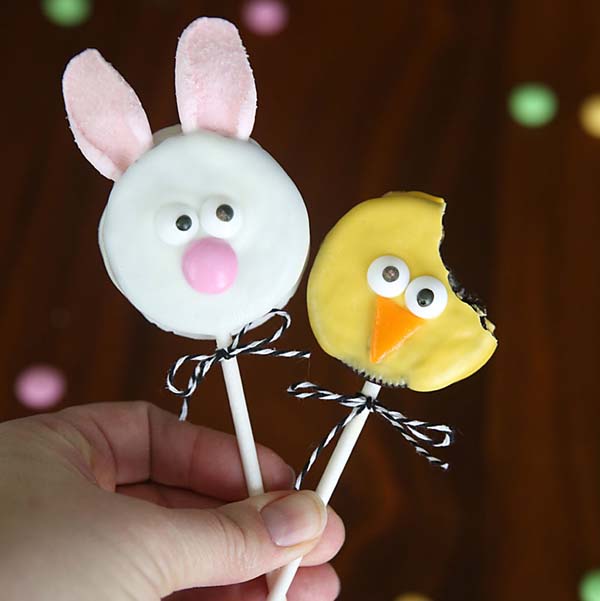 Take Oreos and coat them in white chocolate. Then skewer them and add faces. Some of them make yellow and some white to make chicks and bunnies.
Springtime Marshmallow Wands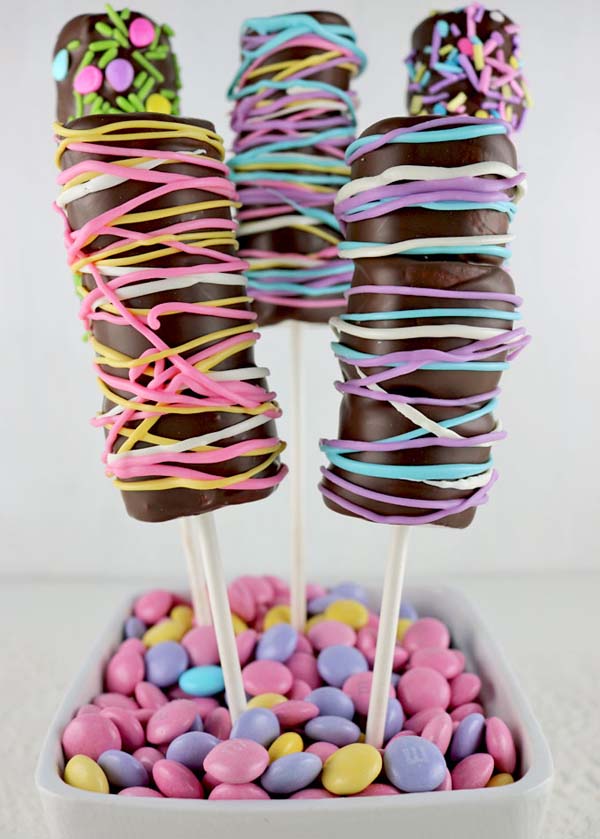 Layer three marshmallows on a skewer and coat with chocolate. Then pipe on the different colored frosting.
Peeps Pudding S'mores Pies
Take mini pie pans and fill with chocolate pudding. Then add a peep on top and a small carrot.
Malted Milk Easter Dip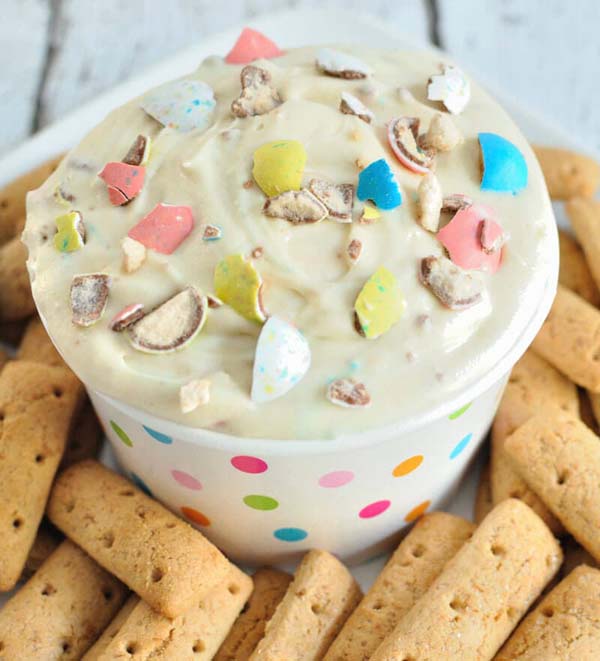 Make a chocolate dip and add crushed pastel-colored m&ms. Then add cookies around to dip in the dip.
Cadbury Mini Eggs Cheesecake Dip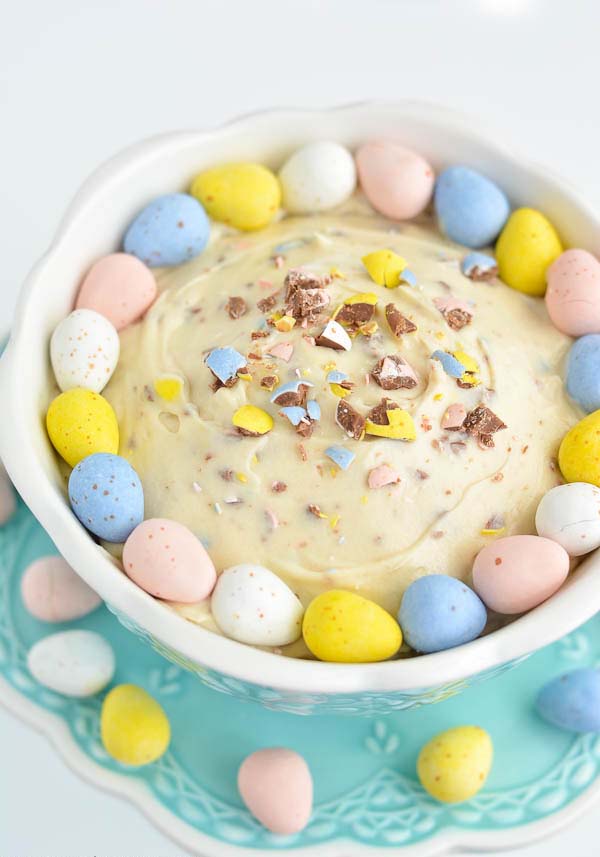 via Delish
Delicious white chocolate dip is perfect for Easter cookies. Then add chopped Cadbury eggs to add a pop of color to the dip.
Easter Bunny Popcorn Bars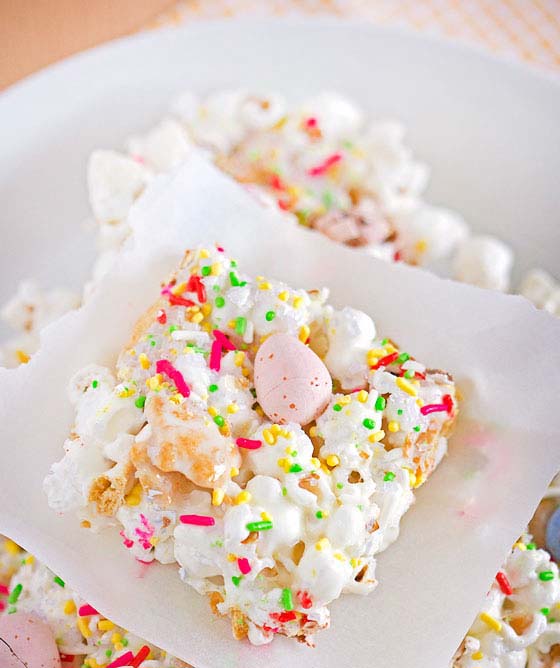 Make basic popcorn bars but add sprinkles and Cadbury eggs to give it an Easter look.
Springtime Chocolate Covered Popcorn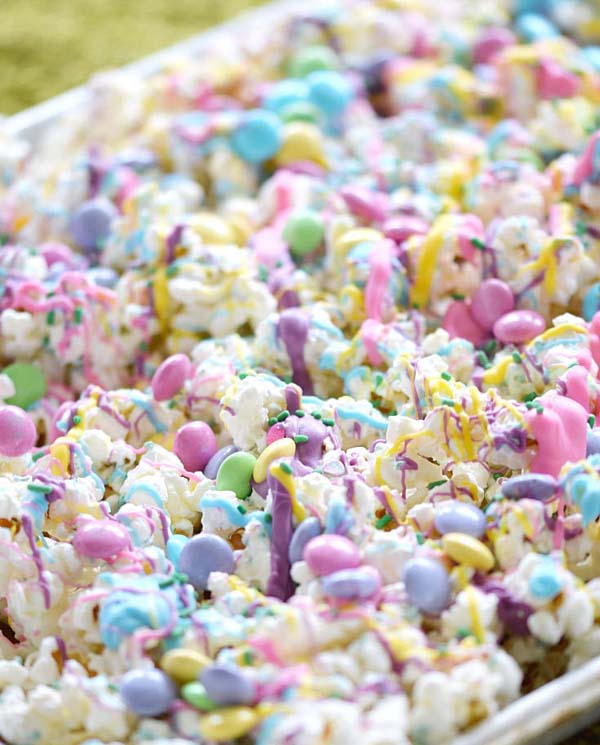 These popcorn bars are filled with Easter sprinkles and coated with piped pastel colored chocolate.
Easter Muddy Buddies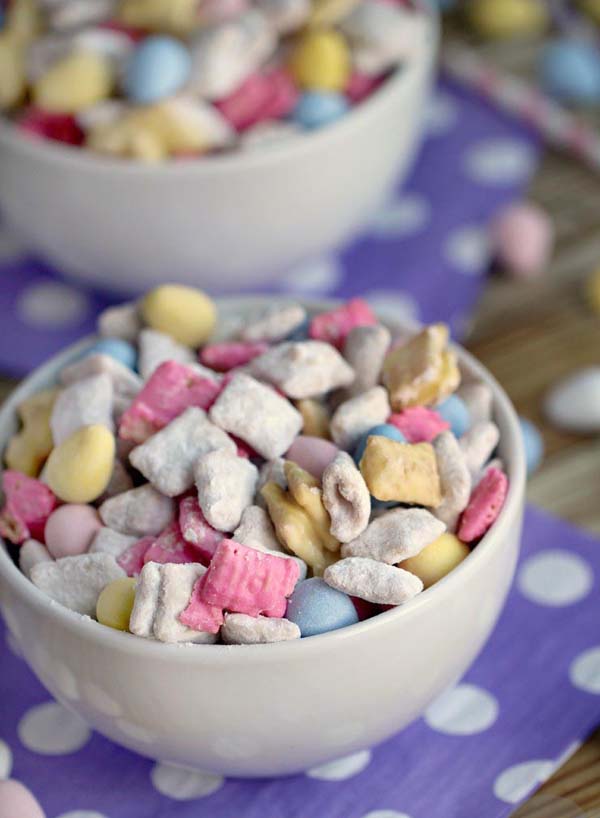 via Frugal Mom Eh!
To make a basic muddy buddies an Easter theme, use pastel-colored yellow, pink and blue chocolate.
Cadbury Creme Eggs Dip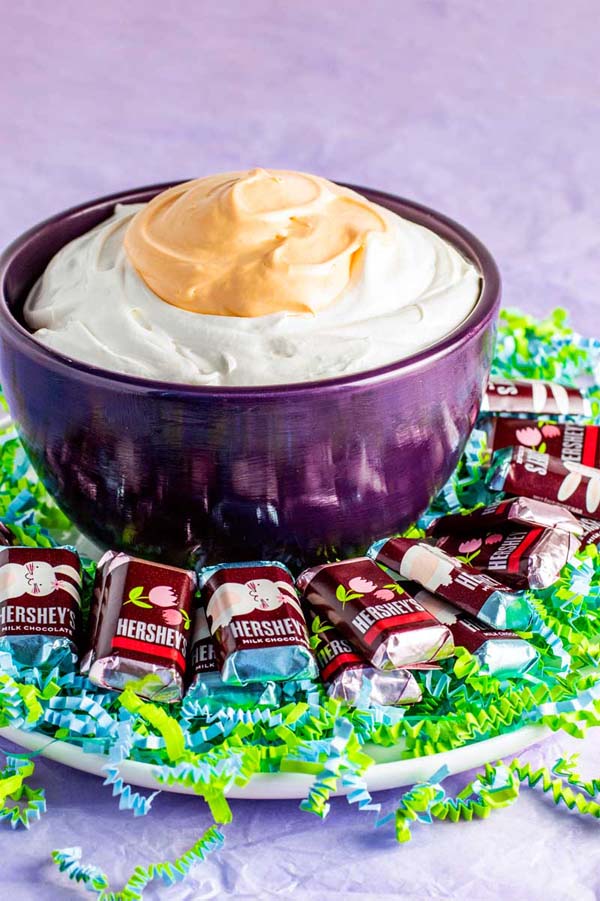 via Homemade Hooplah
Make a chocolate dip out of Cadbury creme eggs. It is the quintessential and delicious dip for Easter cookies.