When Easter arrives spring is finally in the air. Spring brings warmer
weather, brighter colors and flowers starting to bloom. Easter is
celebrated primarily as a Christian holiday. When Jesus rose from the
dead and beat death. But it is also viewed as a celebration of spring.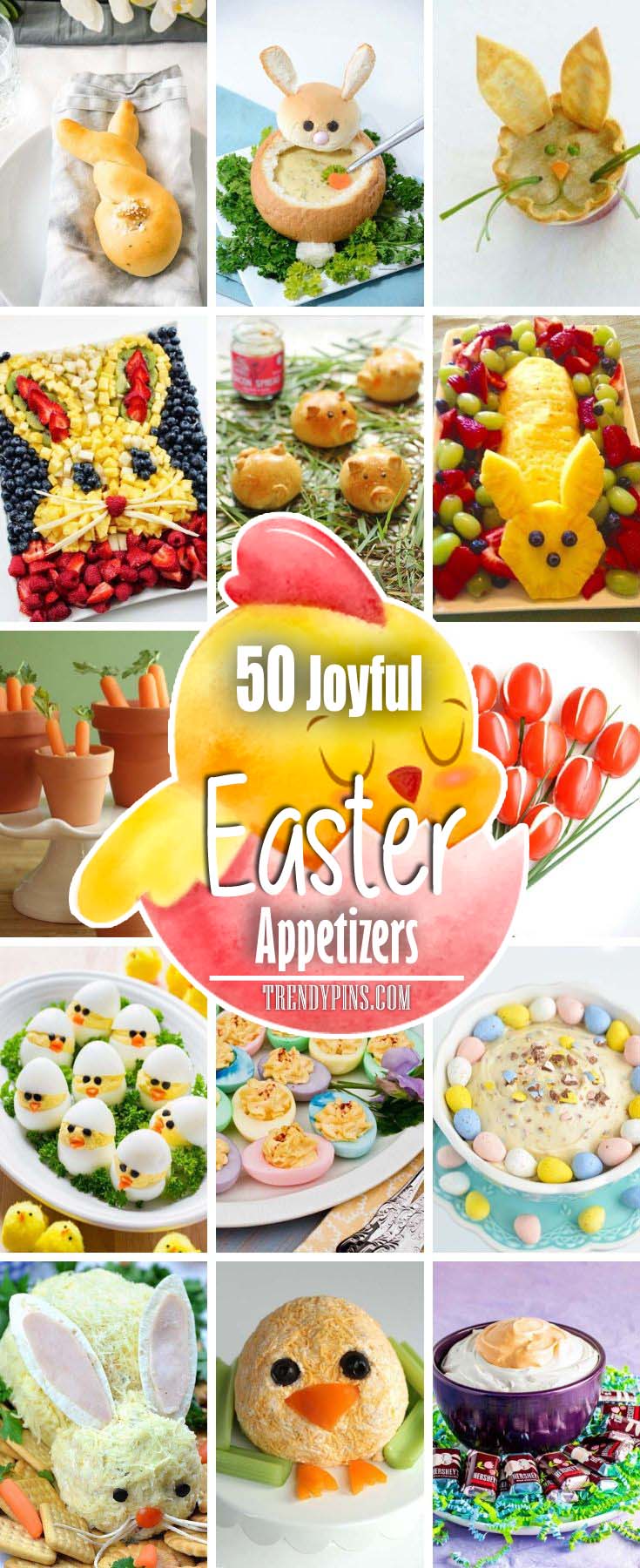 Don't forget to PIN this image for quick access to all these ideas

With candy, bunnies and baby chicks everywhere. Easter brings delicious
snacks and cookies. With celebrations happening it is time to find the
perfect Easter themed snack. There are many recipes out there from super
simple to more complex. Try these delicious DIY snack ideas.
Egg Easter Appetizers
Pastel Deviled Eggs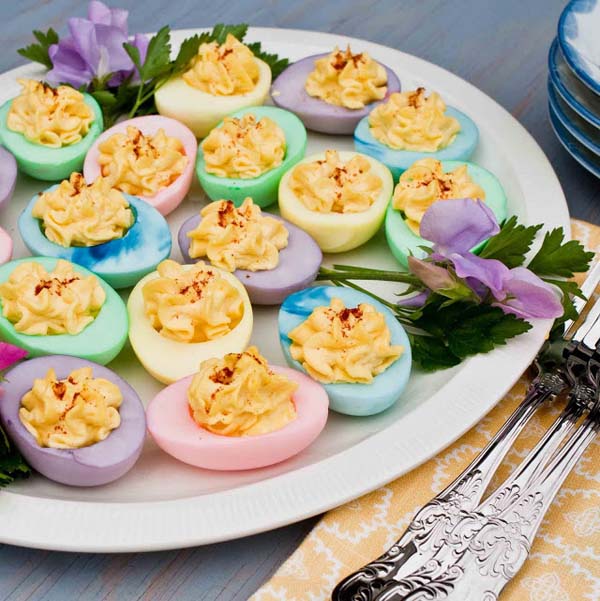 via Foodjimoto
By hard boiling eggs you can harden eggs to make them easier to color.
But it also makes great pastel hard boiled eggs.
Deviled Egg Chicks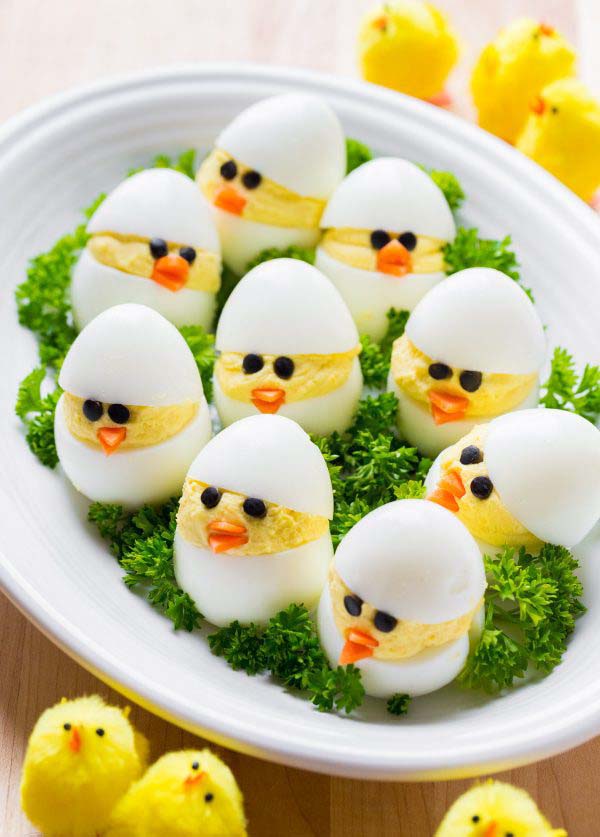 After creating the hard boiled egg, put them back together with the
filling. Add eyes and a beak for adorable chick deviled eggs.
Hop-To-It Deviled Eggs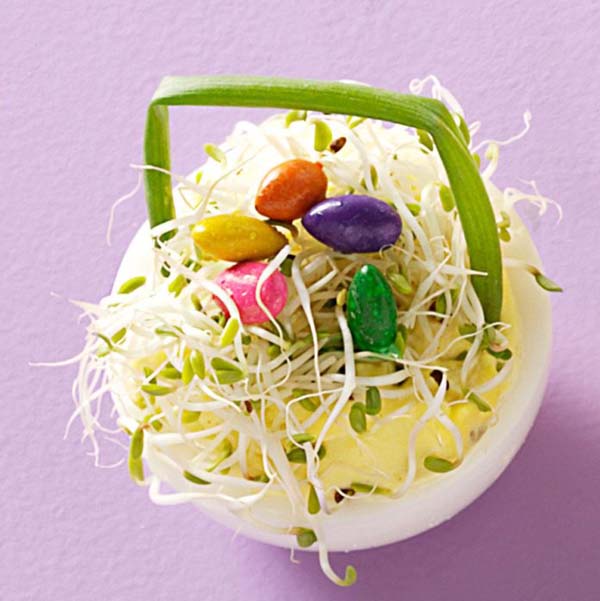 via Taste of Home
Take a deviled egg and add greener on top. Then a thin leaf to look like
a handle. Add mini eggs. It will end up looking like a mini Easter egg
basket.
Crescent Roll Carrots Filled with Egg Salad

Dye crescent roll orange and roll them to look like carrots. Then add
greenery on top to look like the carrot top.
Dill-icious Deviled Eggs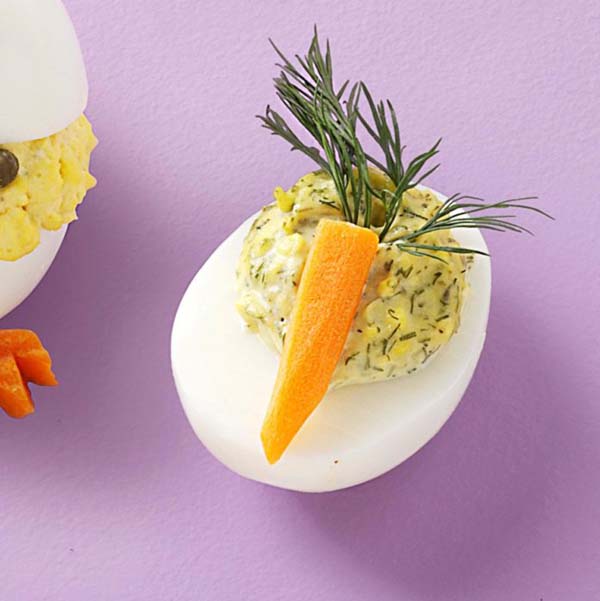 via Taste of Home
To make a basic deviled egg Easter themed, try putting a small carrot
with greenery for a carrot top.
Deviled Egg Daisies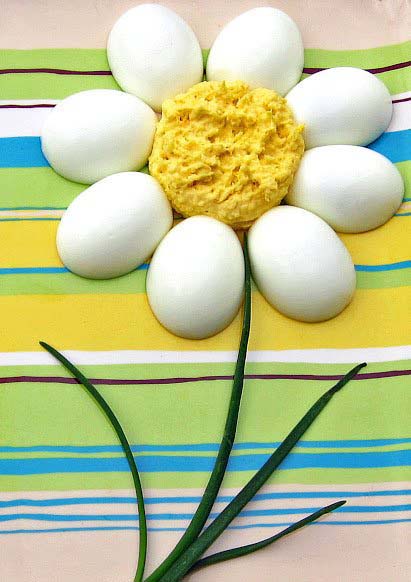 Flowers are a beautiful part of spring. This deviled egg flower uses the
deviled egg sauce in the middle with hard boiled eggs around the edges
like flower petals.
Beet Pickled Deviled Eggs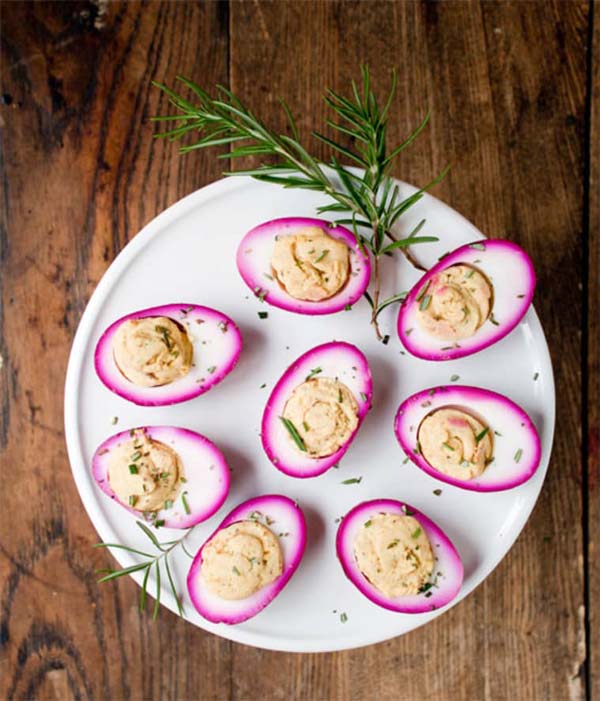 via Kitchn
There are many ways to prepare deviled eggs. These are deviled with beet
juice. The fresh dill adds a great taste and smell.
Easter Egg Tart Potato Nests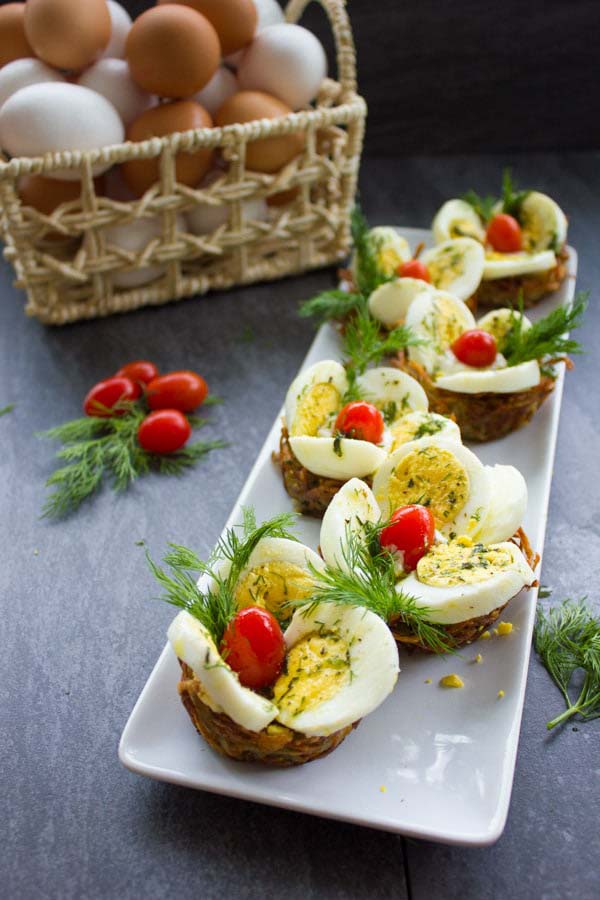 via Two Purple Figs
These egg bakes are made with potato and deviled egg. They are a perfect
snack or easy breakfast for Easter weekend.
Cheeseballs and Dips
Easter Carrot Cheese Ball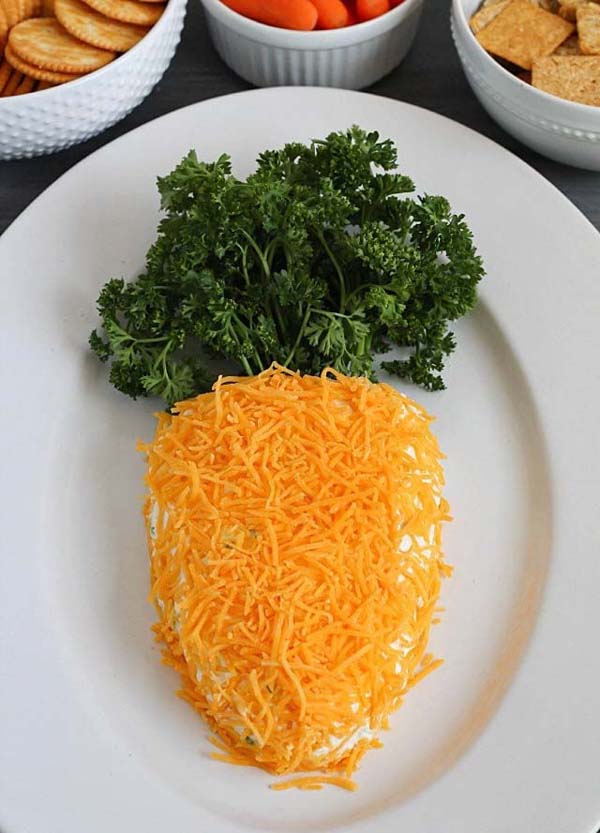 If a cheese ball looks like a carrot, does it make it healthier? Try
this cheese ball covered in cheese and with greenery on top to look like
a carrot.
Easter Chick Cheeseball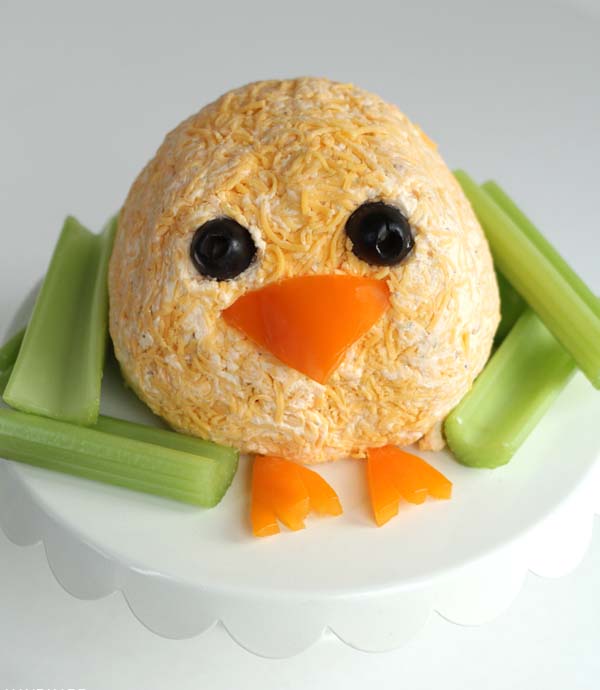 This cheeseball has cute eyes and a beak to look like a chick. It is
perfect for dipping celery or crackers.
Easy Cheese Carrots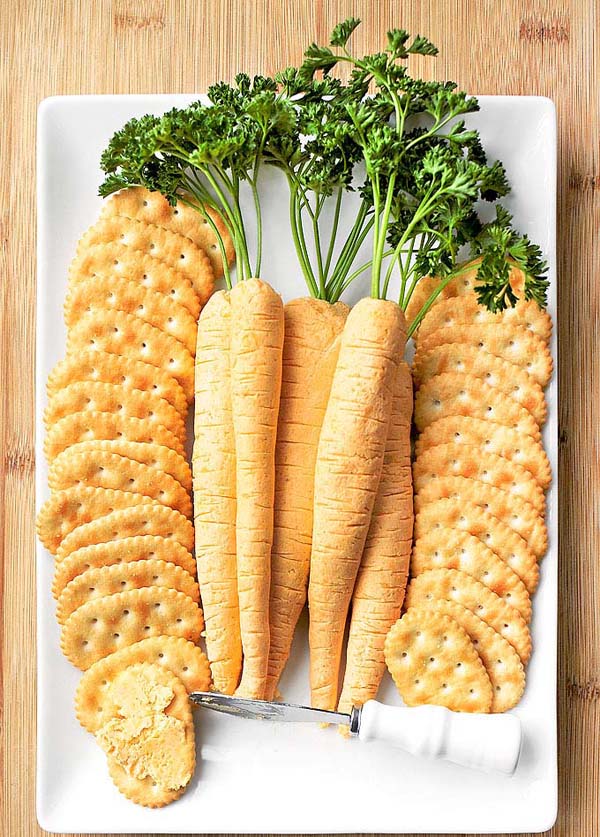 To match the Easter theme, carve the cheese to look like carrots. Add a
cheese knife and greenery to complete the plate.
Easter Bunny Cheeseball
Adorable bunnies can be recreated with cheese balls. Use white cheese
and add eyes, ears and adorable whiskers.
Easter Bunny Spinach Dip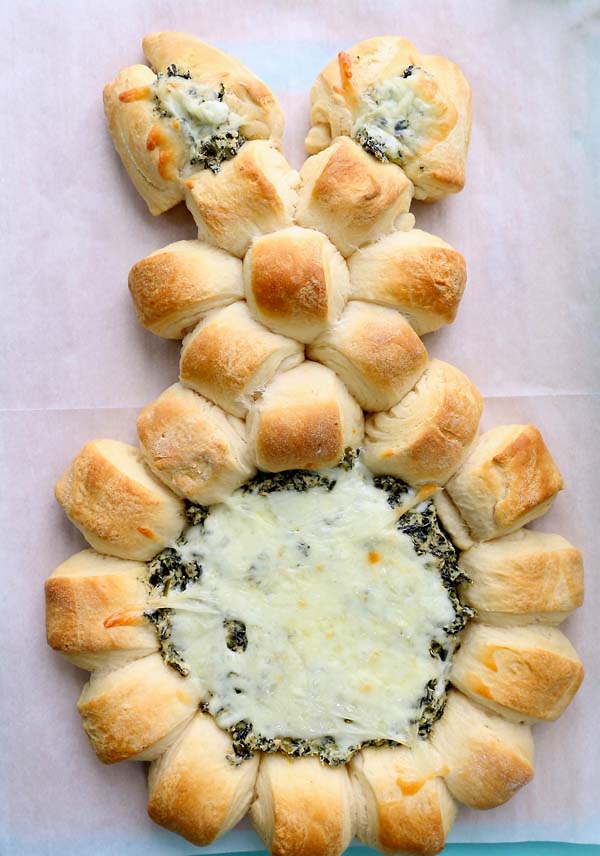 This spinach dip pull apart bread is re created to look like an Easter
bunny.
Easter Bunny Cheese Spread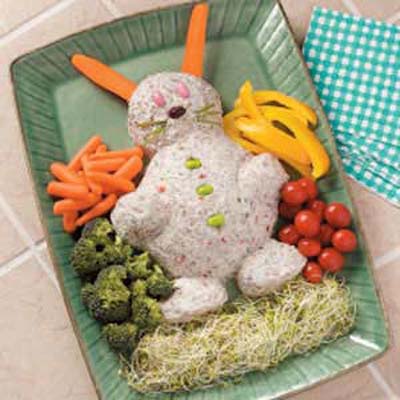 via Taste of Home
Add veggies to your cheese tray to add a healthy kick. Shape your cheese
ball like a bunny to make it Easter themed.
Baby Chick Cheese Balls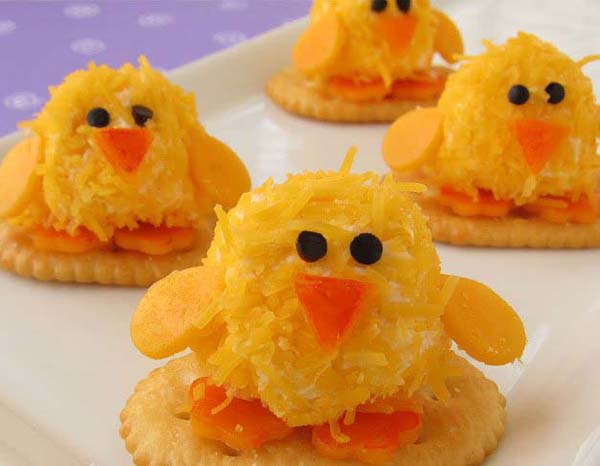 Make mini cheese balls on crackers and add eyes and a beak. It creates a
small chick cheese ball.
Easter Egg Greek Yogurt Cheese Dip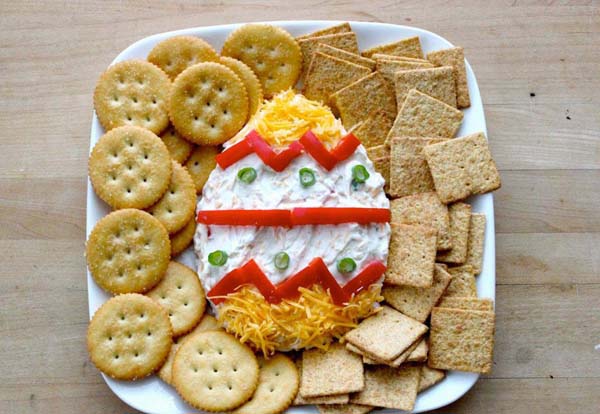 Shape greek yogurt dip in an egg shape. Then surround it with crackers.
Top the egg with licorice and cheese to make it appear painted.
Carrot Shaped Veggie Pizzas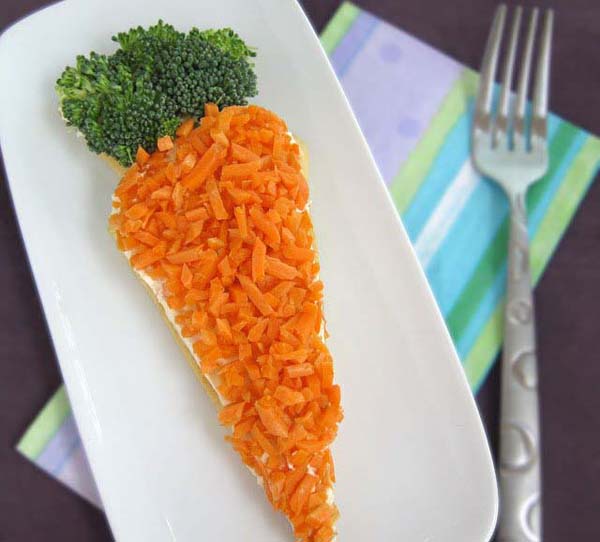 via Kitchn
Make your carrot cake literally a carrot. Use broccoli for a perfect
carrot top.
Bunny Bread Bowl Dip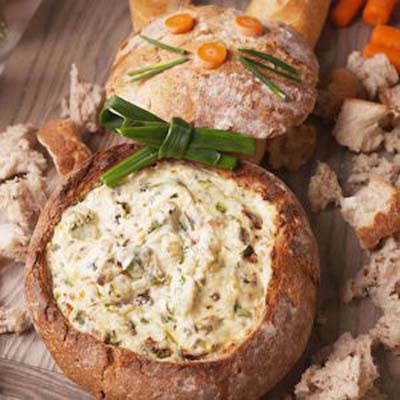 via Delish
When making bread bowls, save the top of the bowl that is usually cut
off. Add it to the top of the bowl, add a face and ears. This completes
the bunny bread bowl look.
Fruit Easter Appetizers
Easter Fruit Pizza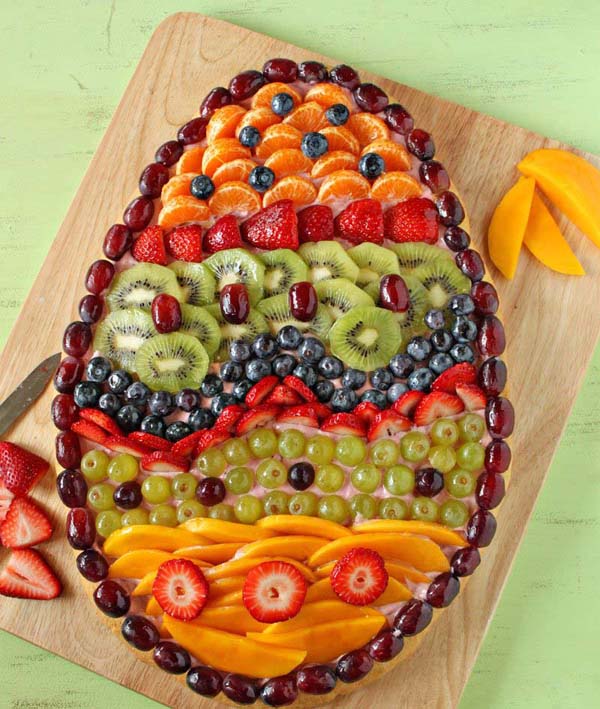 via Sugar Hero
Make a pizza be healthy by creating a fruit pizza. Shape it like an egg
and use the different colored fruit to make the egg look decorated.
Easter Fruit Pizza Version 2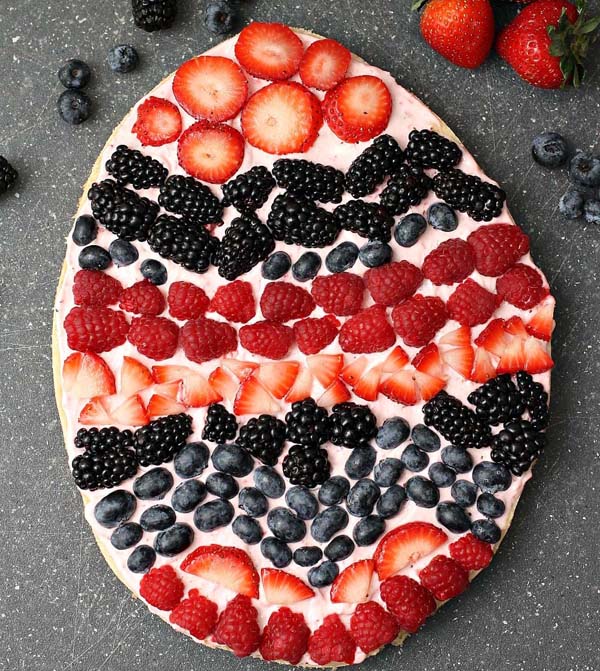 Try this fruit pizza that also uses cream cheese to stick the fruit on
top. It makes a beautiful colored fruit egg.
Pineapple Easter Fruit Tray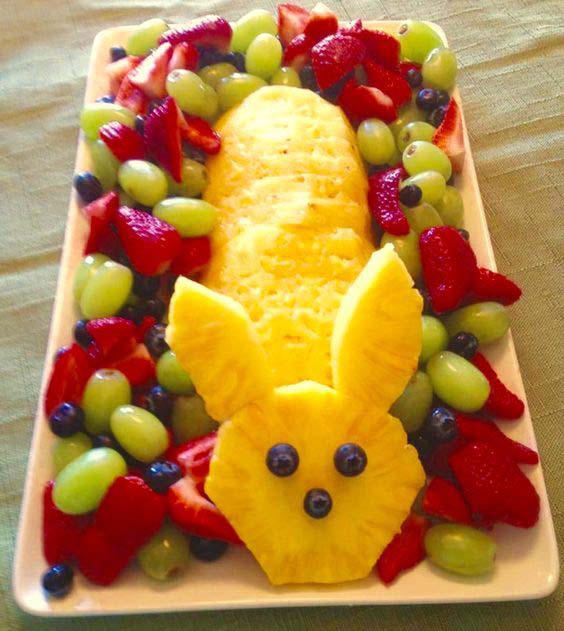 via Pinterest
Cut a pineapple and layer it on a plate. Then use a few pieces to form
bunny ears. Then add an adorable face to make this bunny fruit tray.
Chocolate Bunny with Strawberries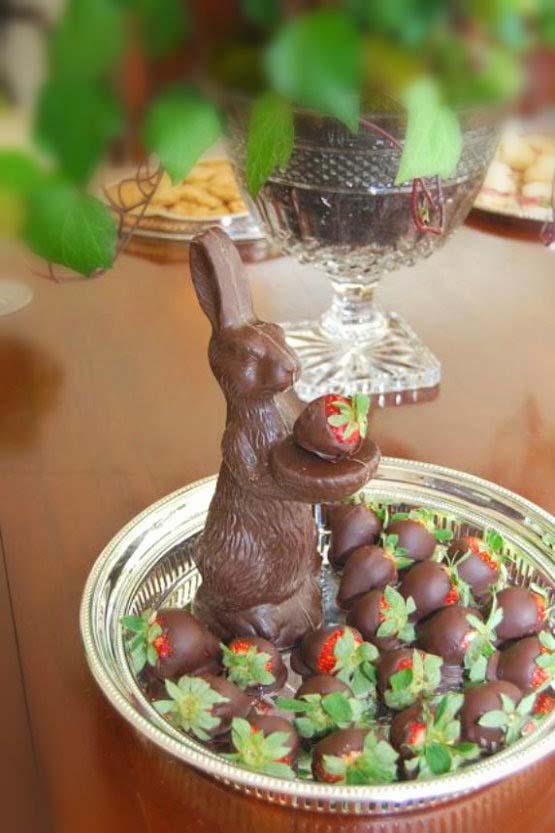 Use a chocolate bunny as a centerpiece. Surround it with chocolate
covered strawberries.
Easter Egg Strawberries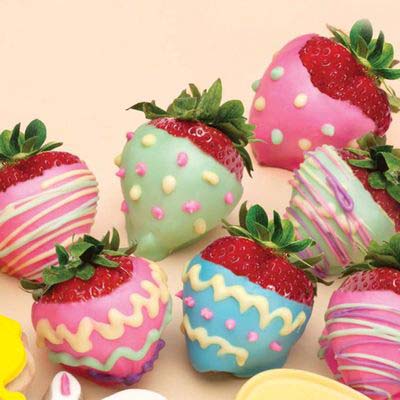 via Pinterest
Chocolate covered strawberries don't just need to be made with milk
chocolate. Use white chocolate and decorate with different colored
chocolate. It will make them look like small Easter eggs.
Bunny Head Fresh Fruit Platter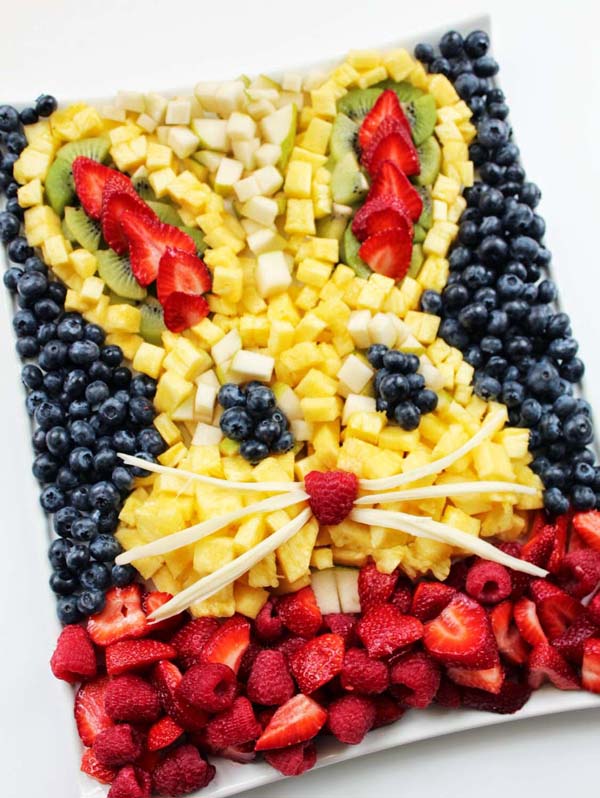 via Worth Pinning
Using chopped fruit, shape a bunny head. Then use different colored
fruit all around the tray for a complete fruit tray bunny look.
Fruit Bouquet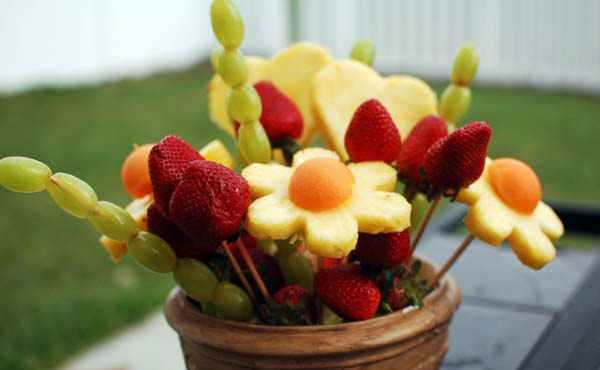 Make your own fruit bouquet. Strawberries, pineapples and grapes are
great for Easter fruit bouquets.
Peep Fruit Kabobs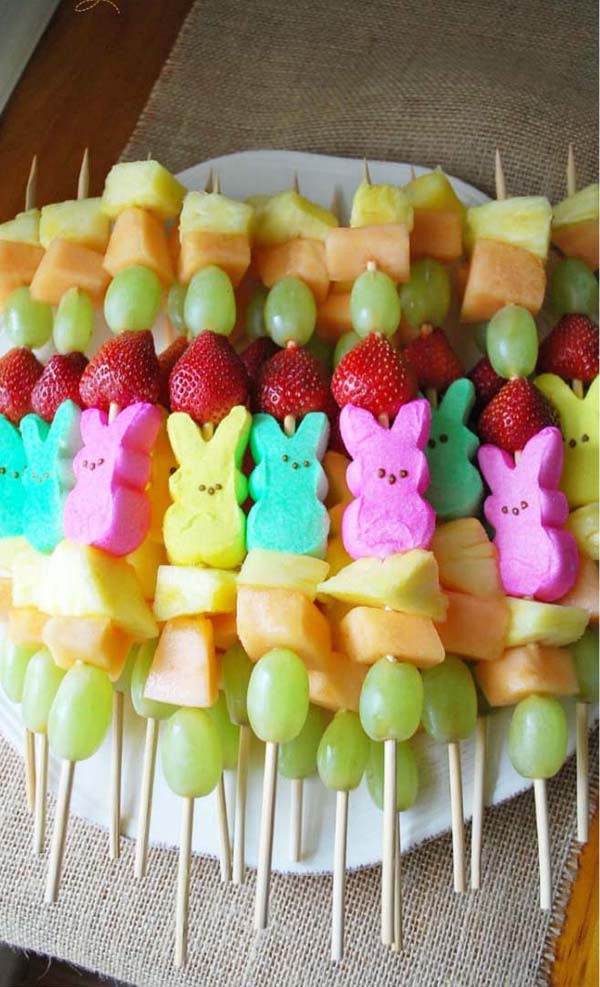 Fruit kabobs are delicious for any occasion, but they are made Easter
delicious by adding a peep.
Fruit-Easter-Basket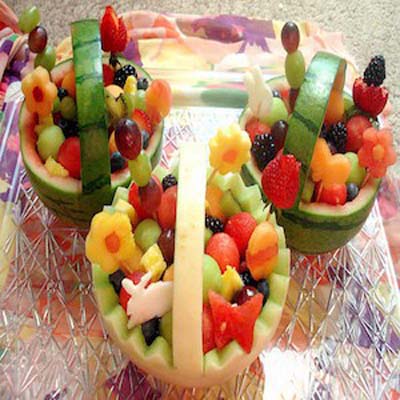 via (Source Unknown)
Make a perfect basket with a small watermelon. Then complete the look by
filling the watermelon basket with fruit.
Veggie Easter Appetizers
Cherry Tomato Tulips with Whipped Feta Filling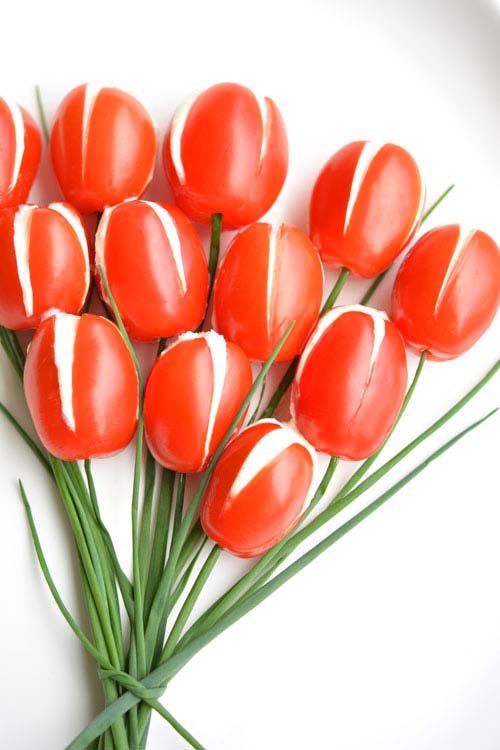 Cut cherry tomatoes with an X on top, then fill with feta filling. Add a
green stem to make them look like tulips.
Easy Easter Bunny Dip and Veggies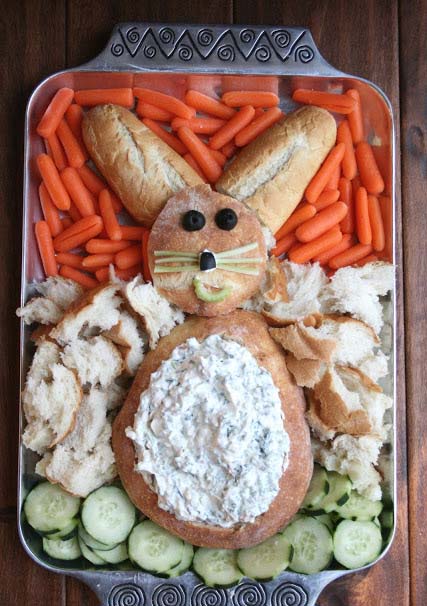 Use a bread bowl as the bunnies stomach. Then put the top of the bread
bowl as the bunnies face and two pieces of bread for ears. Fill the bowl
with dip and surround it with veggies and crackers for dipping.
Edible Tulips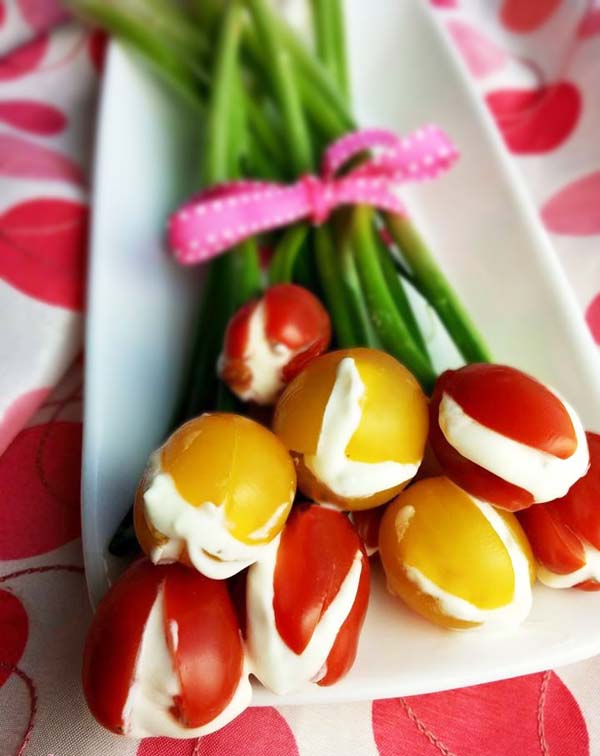 These veggie tulips are constructed with cherry tomatoes and filled with
white cheese filling.
Veggie Bars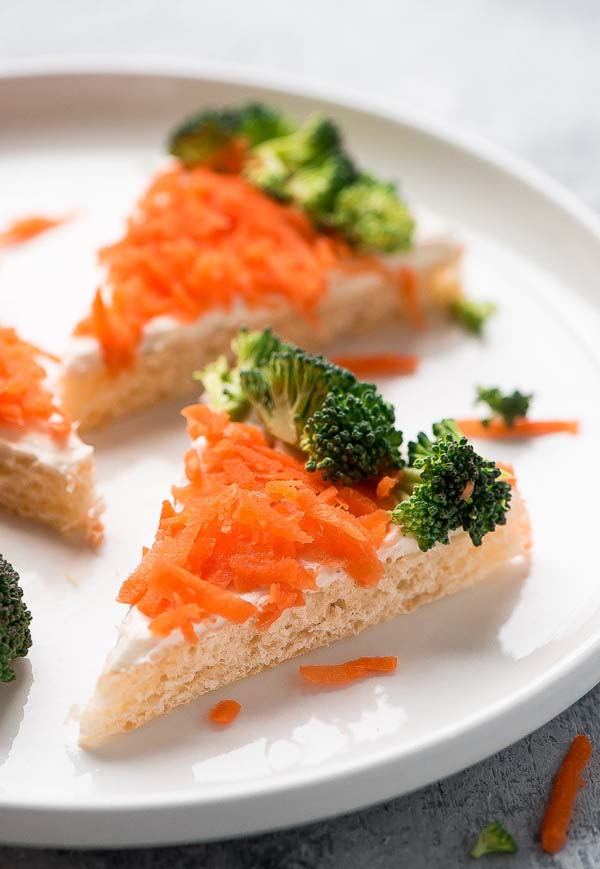 For a healthy Easter treat, these rice cakes are covered with frosting
and topped with carrots and broccoli. When completed they look like carrots
Easter Egg Veggie Pizza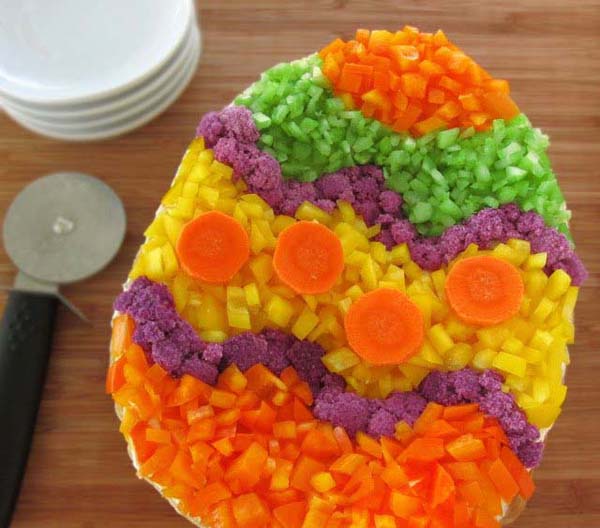 This veggie pizza is constructed to look like a large egg. The different
colors of veggies are used to look like a decorated egg.
Easter Carrots and Hummus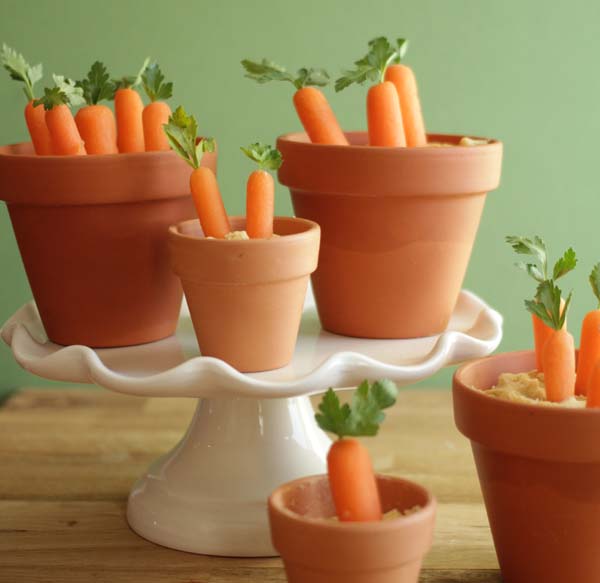 Clean pots are perfect for the Easter look. Fill with fruit and veggies
to make a delicious and healthy Easter treat.
Prosciutto Wrapped Asparagus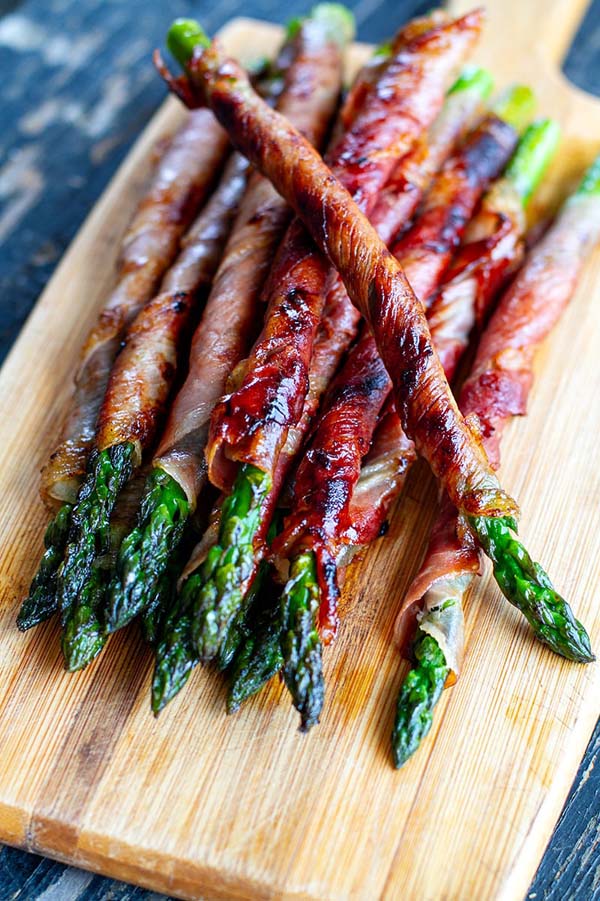 via Eat Drink Paleo
Wrap asparagus with prosciutto. Then grill or fry them for a delicious
treat.
Flower Veggie Platter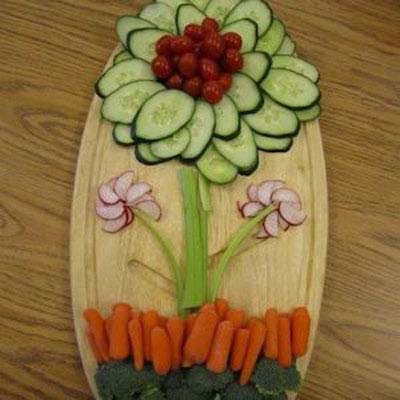 via (Source Unknown)
Make this elaborate veggie platter that looks like a flower. Sliced
cucumber makes a perfect flower with grapes as a pop of color in the
middle. Broccoli makes perfect grass.
Asparagus Gruyere Tart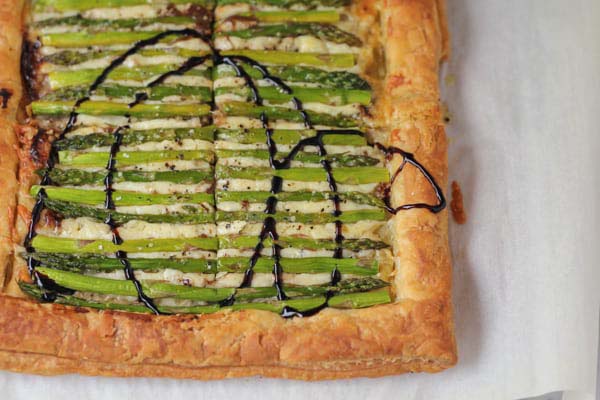 via Hip Foodie Mom
Asparagus isn't typically known to be delicious, but add it to a
delicious bake with other veggies and cream cheese.
Asparagus and Brie Puff Pastry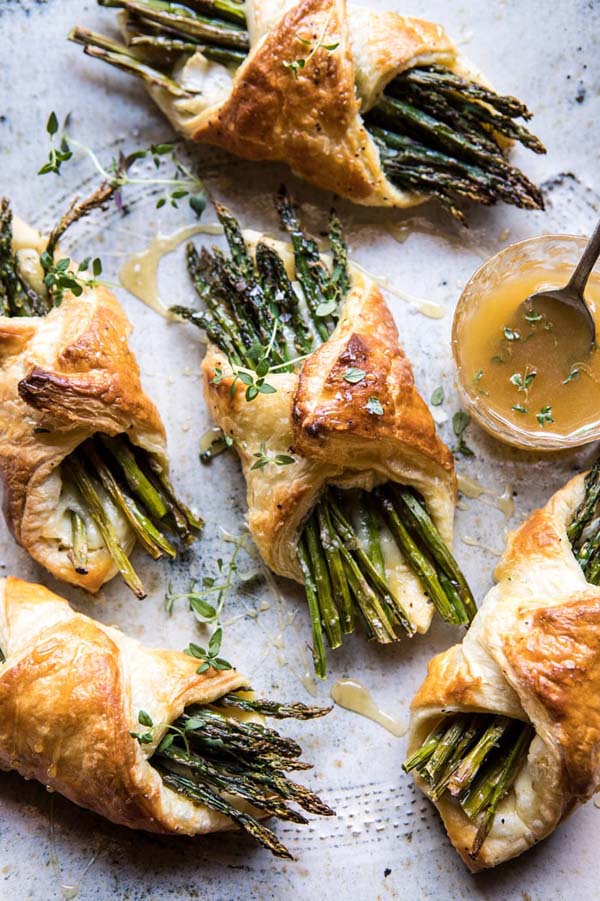 These crescent roll snacks are filled with filling, asparagus and cheese.
Spiral Vegetable Tart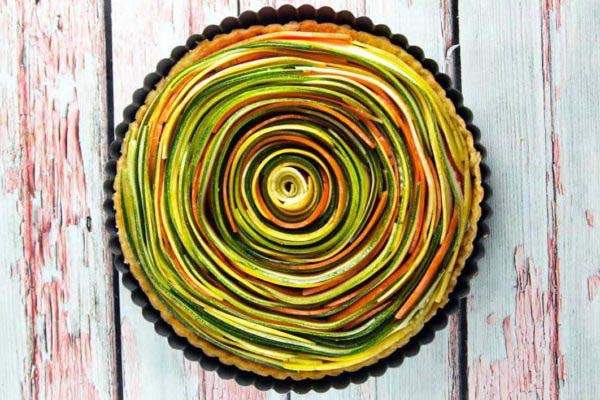 Vegetables can be spiraled together. Then they can be baked into a
veggie tart. The bright colors scream Easter
Sweet Easter Appetizers
Cadbury Mini Eggs Cheesecake Dip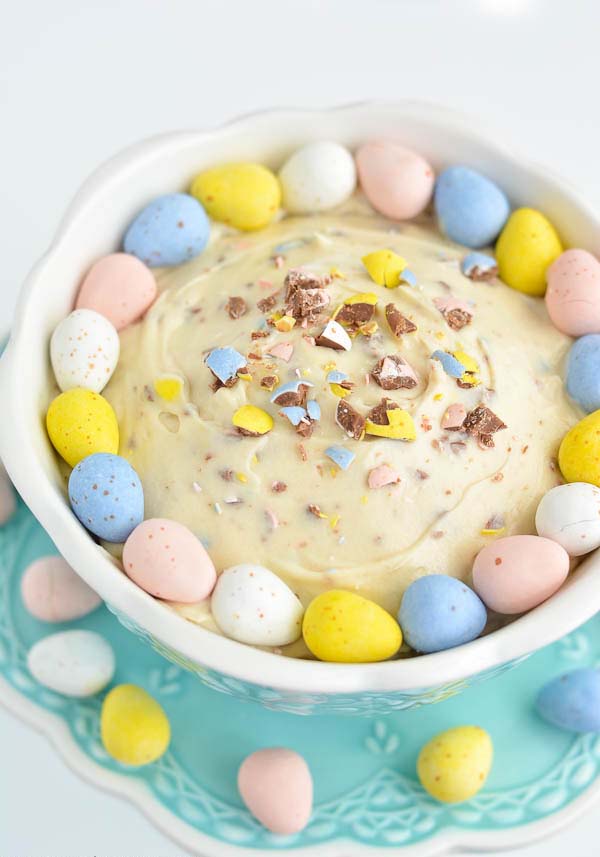 via Delish
Make a delicious cheesecake dip. Then surround with cadbury eggs to add
color and an Easter pop.

Cadbury Creme Eggs Dip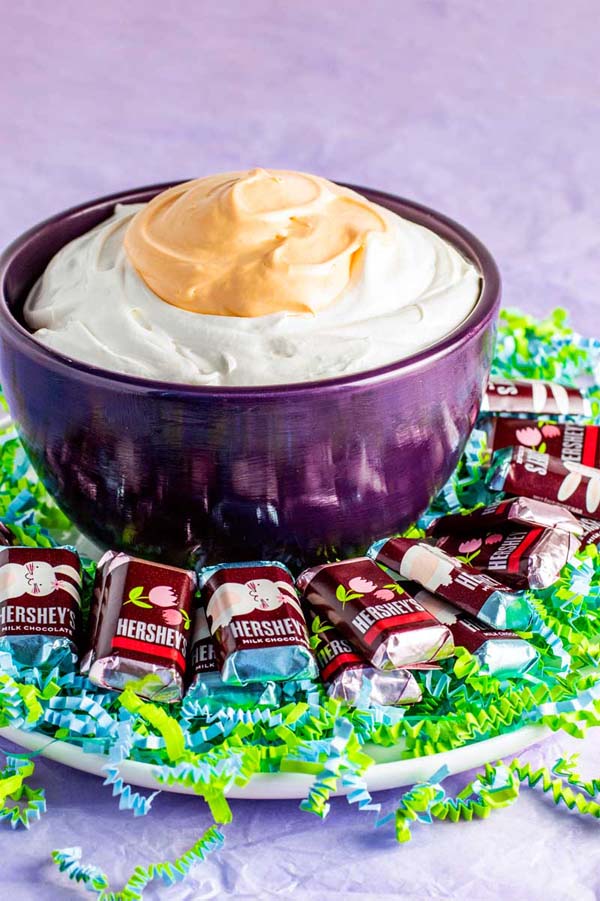 via Homemade Hooplah
This delicious dip is filled with chocolate and cream cheese. It is
perfect for crackers or veggies. Surround with Easter candy to give it a
spring look.
Cheesecake Carrot Crescents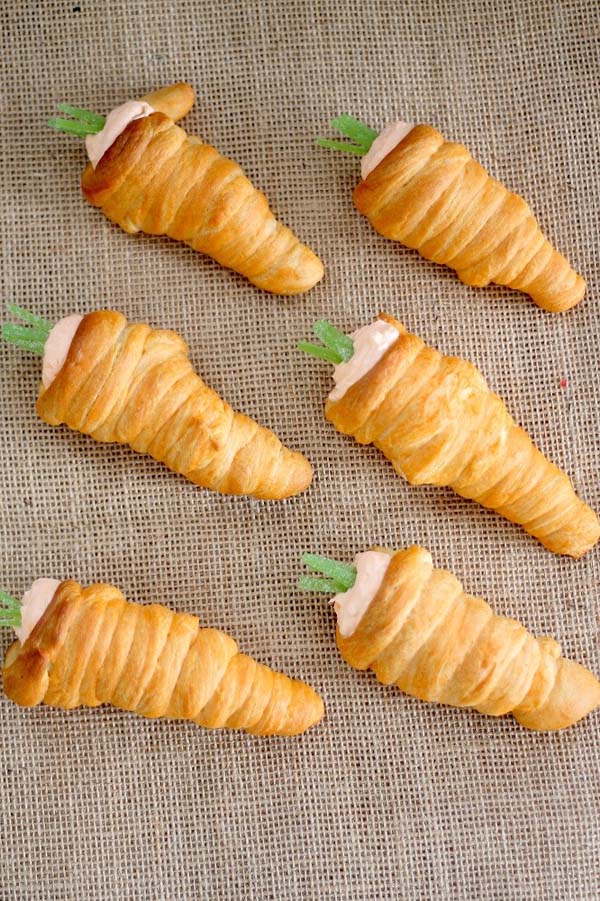 via This Mama Loves
These crescent rolls are shaped like vegetables and filled with a cream
cheese filling. There is greenery on top to complete the carrot look.
Easter Peeps S'mores Dip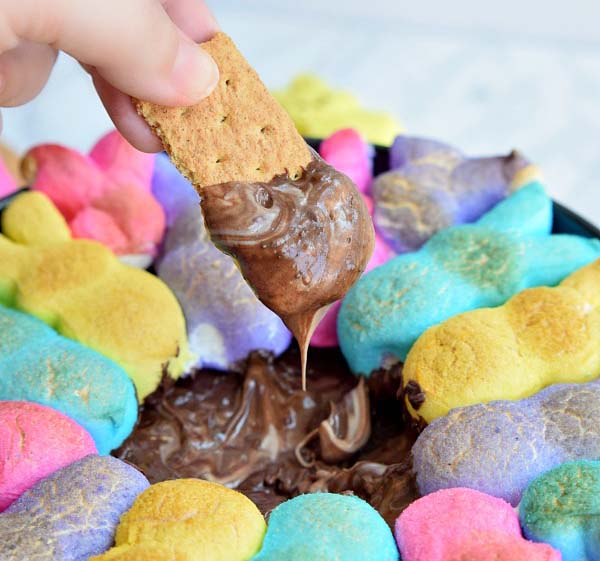 Peeps can be toasted just like marshmallows. Then add a chocolate dip in
the middle. To get a pre-summer taste of s'mores.
Other Easter Appetizers
Homemade Easter Bunny Rolls
via Plated Cravings
By twisting roll dough into a bunny shape and adding a decorated face,
you can turn basic rolls into a bunny shape.
Easter Grazing Board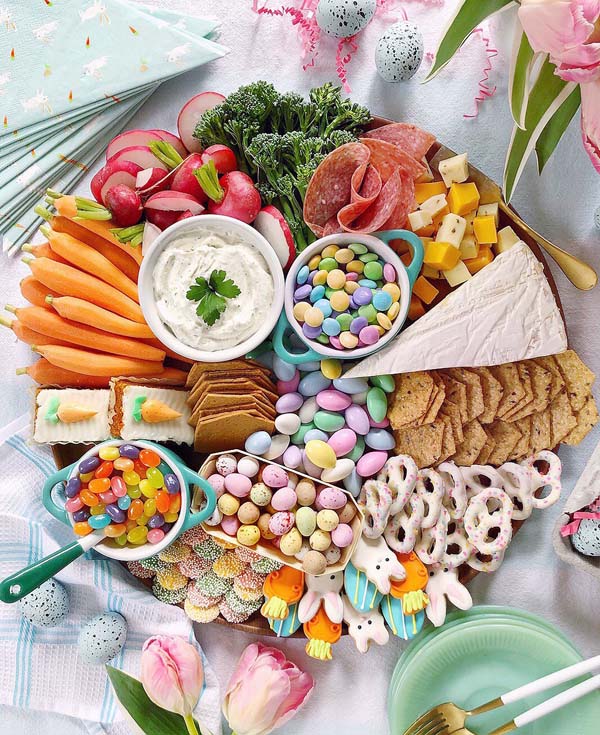 Fill a smorgasbord with all different meats, veggies, fruits and even
Easter candy.
Blooming Spinach Artichoke Cups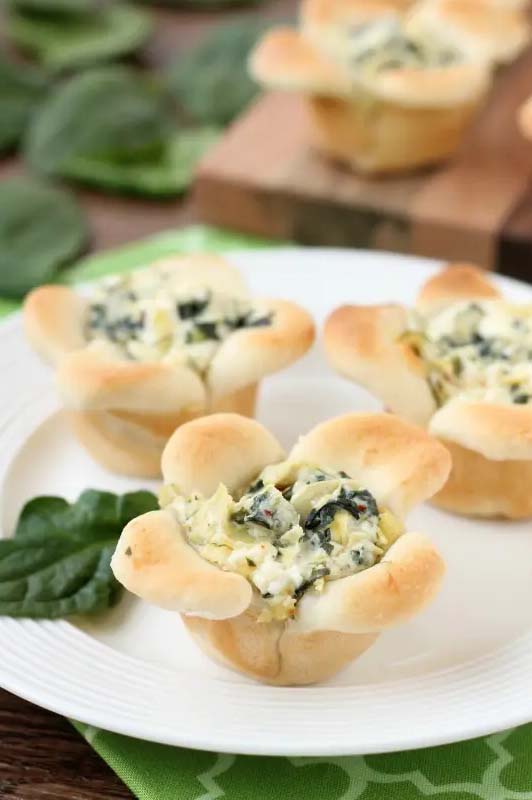 These roll cups are filled with delicious spinach dip. They are great
snacks and dipping cups.
Easter Bunny Bread Bowl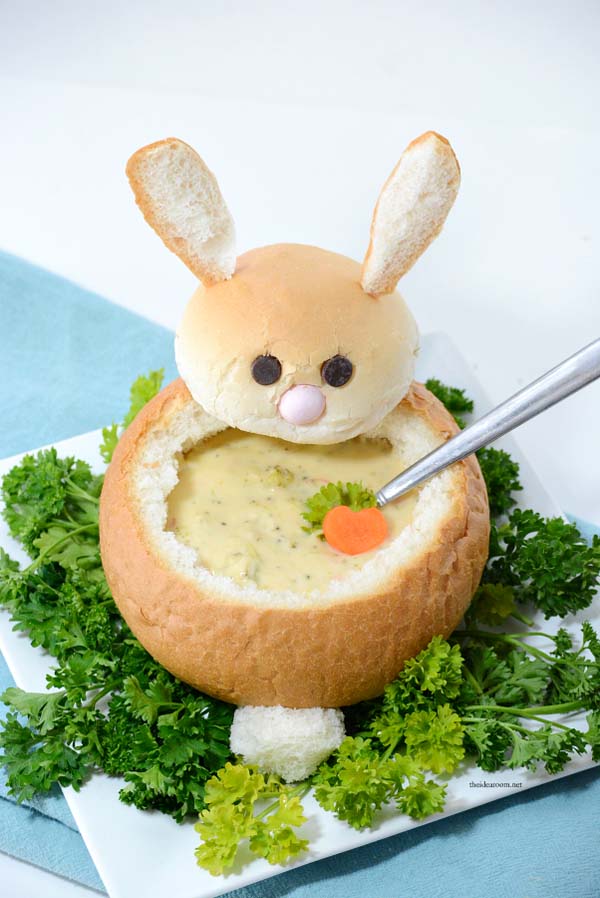 via The Idea Room
Bread bowls are toasted and delicious. Fill them with delicious soup and
use the top of the bowl as the bunny face.
Easter Charcuterie Board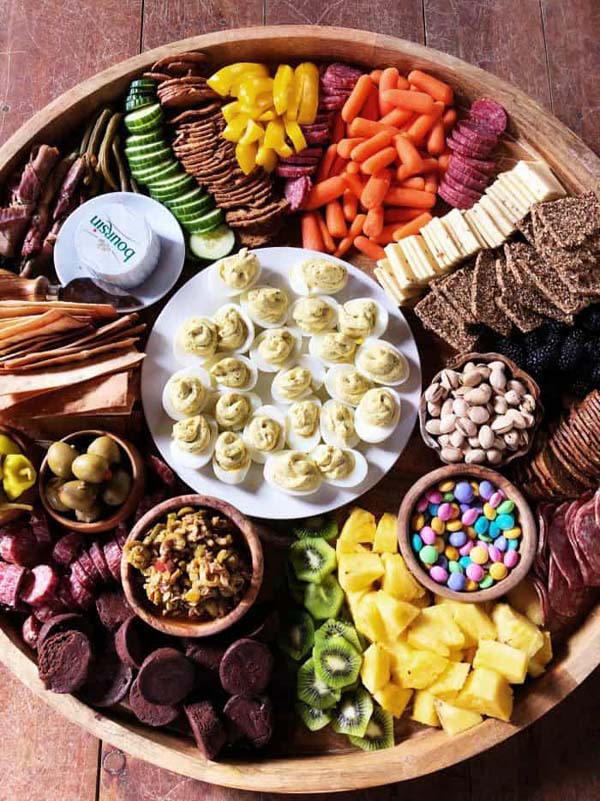 This board is covered with different cheeses, meats and deviled eggs. It
is the perfect assortment of Easter snacks.
Pigs with Bacon Jam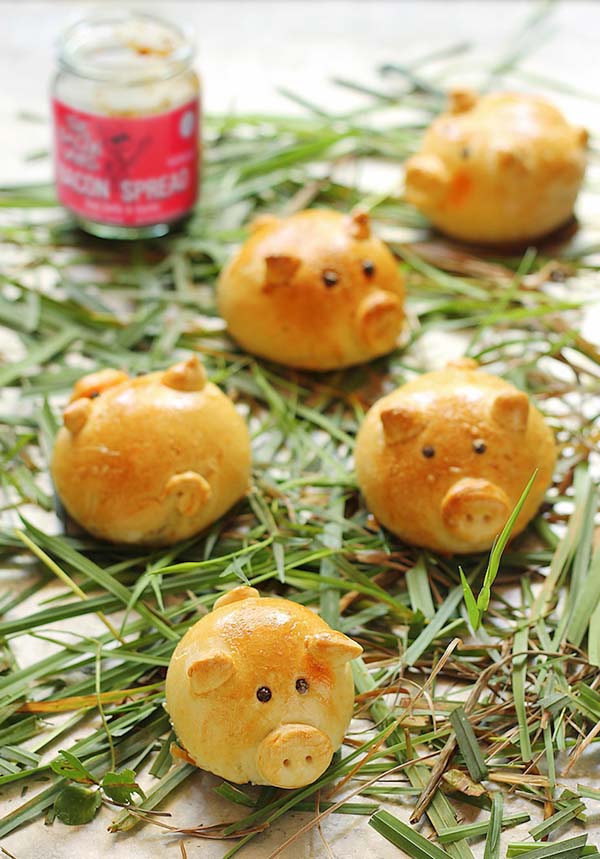 via So Good
These delicious rolls are shaped like little pigs with curly tails. And
they are filled with delicious jam.
Easter Bunny Chicken Pot Pies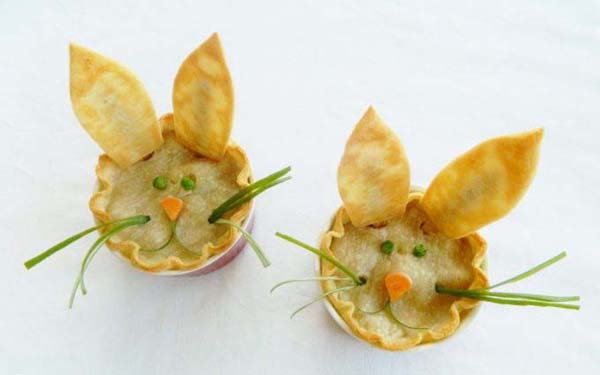 via Kitchen Fun with My 3 Sons
Mini chicken pot pies are delicious. Use green leafy plants as whiskers
and make little black eyes to turn them into little bunnies.
Easter Cucumber Sandwiches with Cream Cheese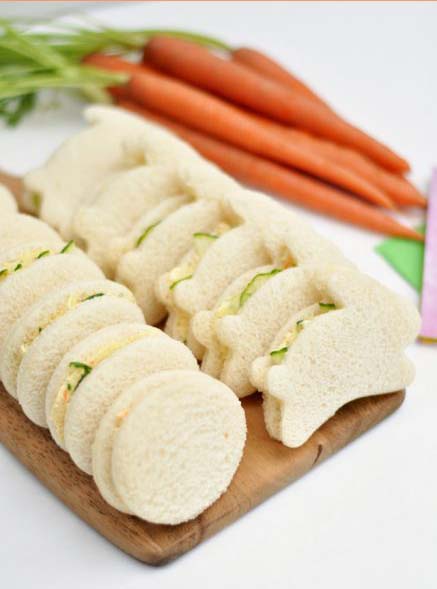 via Cherished Bliss
These mini cream cheese sandwiches will wow any Easter celebration. They
are cut into many different bunny and Easter shapes.