Easter cakes are more than just a delicious snack. They can be a delicious snack that is also a decoration for your holiday party. There are so many ways that an Easter cake can go. Do you want it to celebrate Jesus and his rising from the dead? Or celebrate bunnies and springtime. With warmer weather in the air and bright colors everywhere, try these delicious easter cakes. They are made from delicious ingredients and bright beautiful colors. Check out these Easter cake ideas.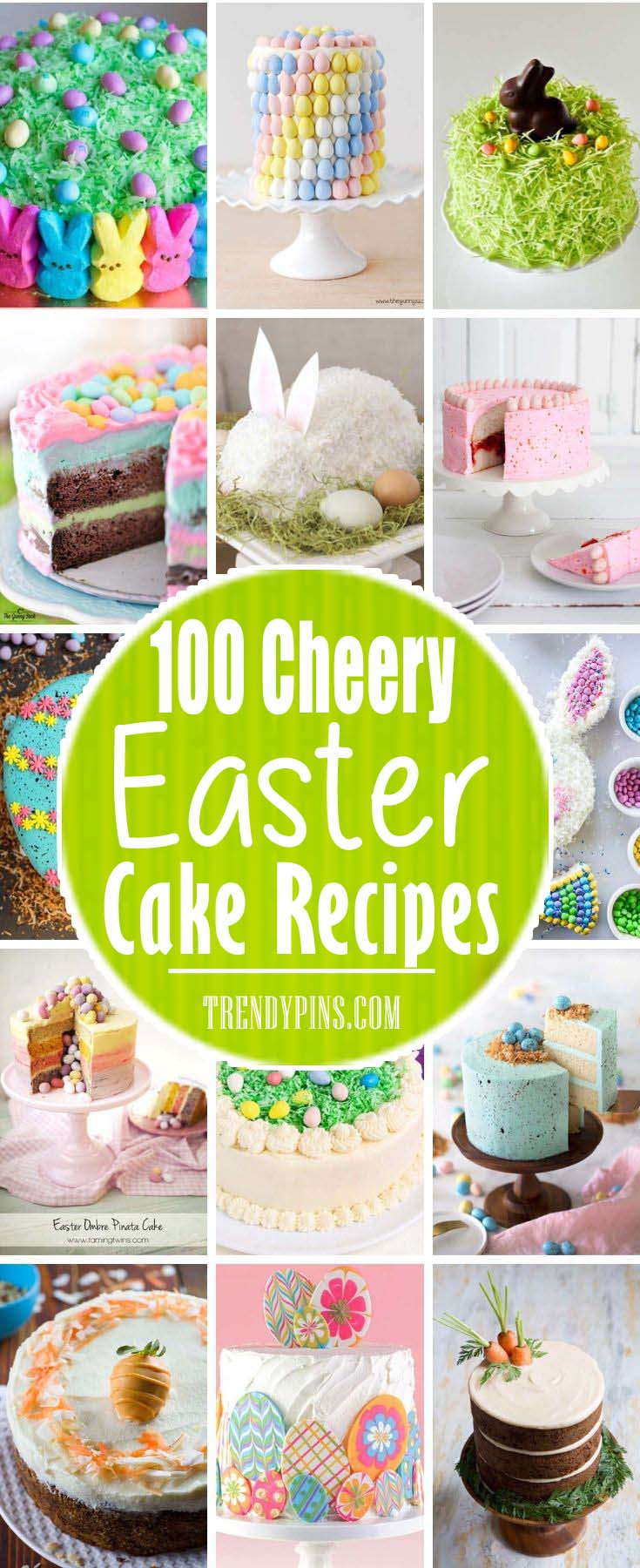 Don't forget to PIN this image for quick access to all these ideas
Adorable Bunny Butt Cake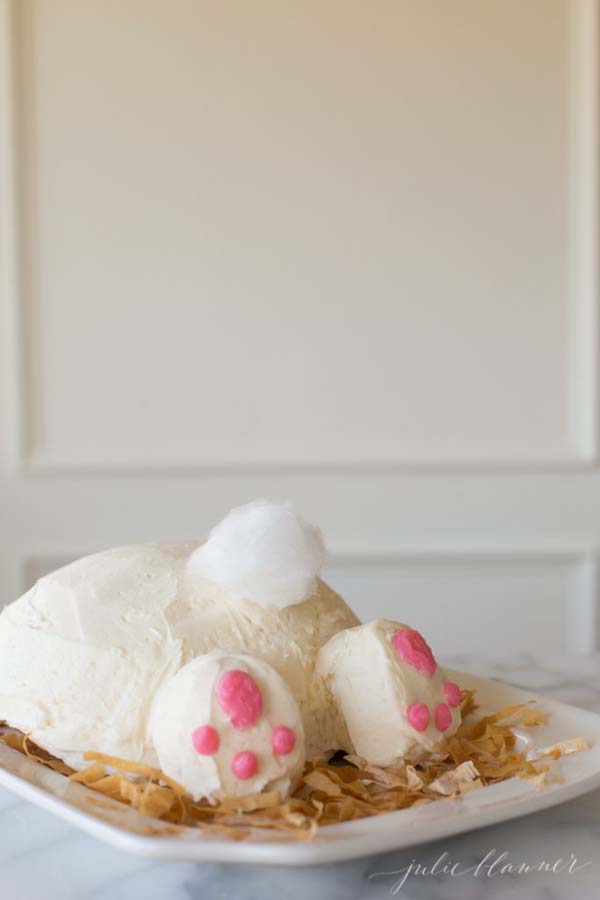 via Julie Blanner
This cake is super cute. It is a bunny butt coming out of the dirt. The
little feet and tail top it off
Best Carrot Cake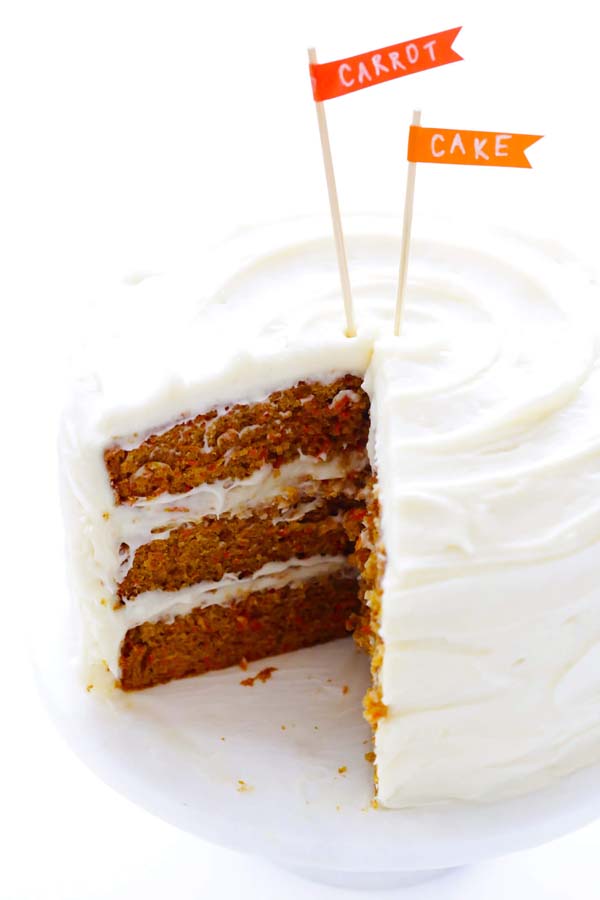 via Gimme Some Oven
On the outside this cake just looks like a basic cake. But it's delicious carrot cake center is the perfect addition to any Easter gathering.
Bunny Cut Up Cake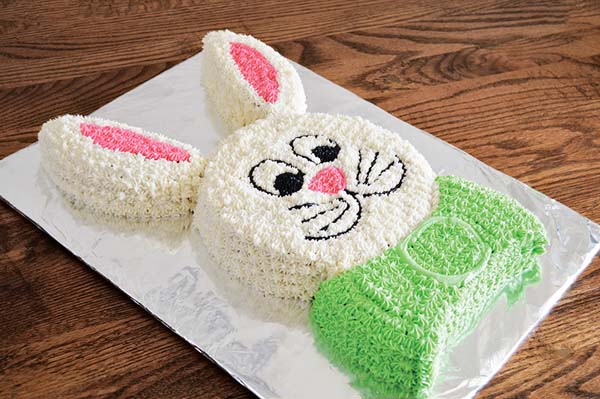 via Homan at Home
Spice up a basic sheet cake by forming it into a bunny shape. Add a large green bow and pink facial features to add a pop of color.
Bunny Mini Cakes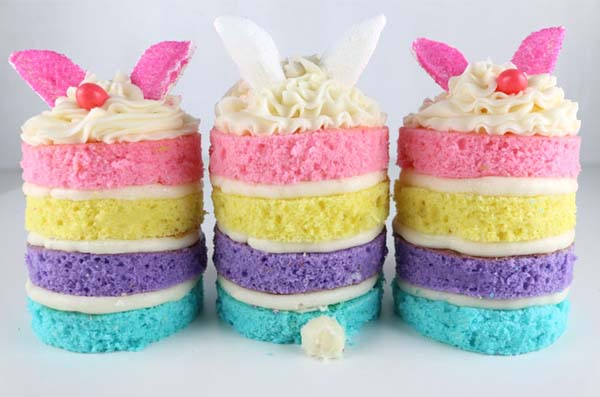 These colorful mini cakes are made with tinted cake batter stacked into small cakes. The bunny ears and tail give it the easter theme.
Cadbury Creme Egg Cake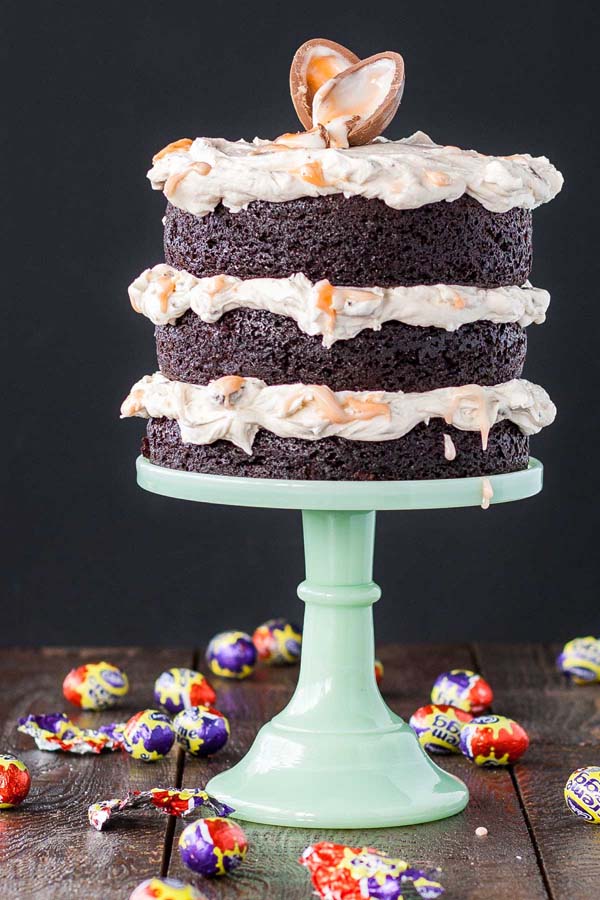 via Liv for Cake
Cadbury creme eggs are a delicious addition to an easter cake. It adds a delicious chocolate taste to the frosting.
Cadbury Mini Eggs Layer Cake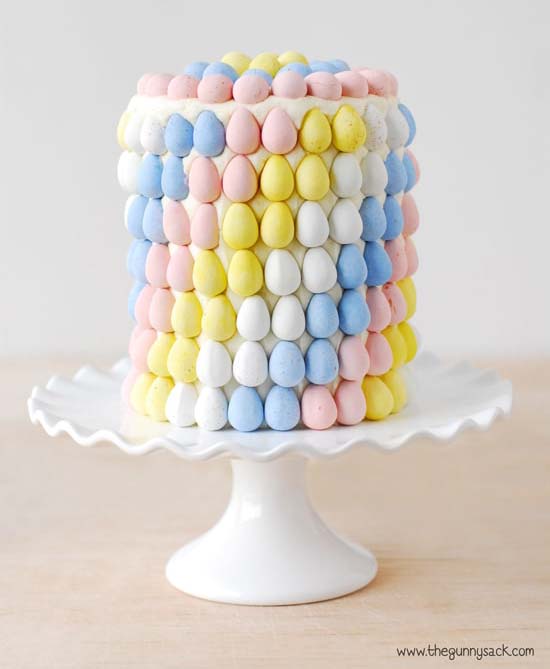 via The Gunny Sack
Cadbury eggs can add color to a layered cake. Frost the cake with basic
white and push Cadbury eggs into the frosting.
Carrot Cake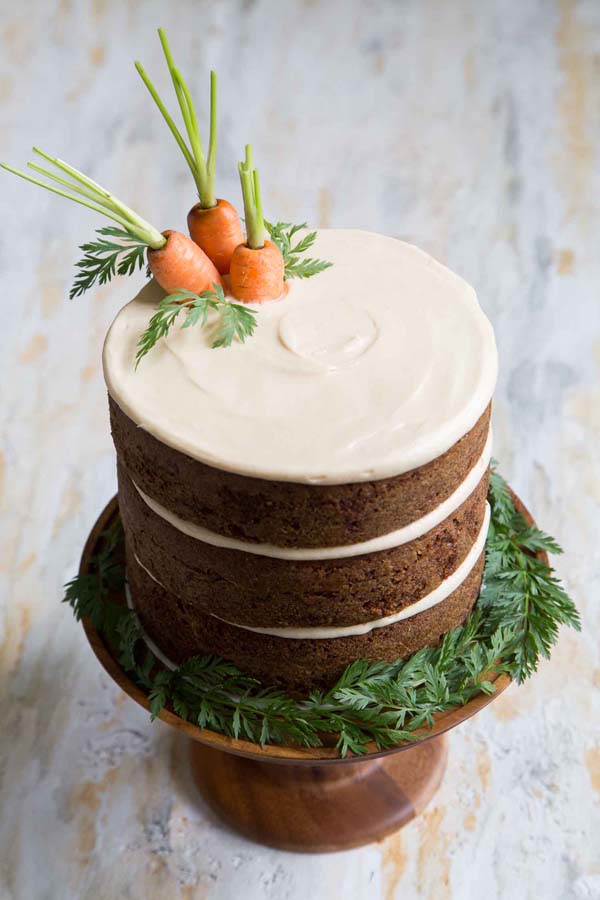 Bunnies love carrots so it makes them a great addition to a cake. This carrot cake is coated in white cream cheese frosting and has real carrots as a beautiful addition to the top.
Carrot Cake Cheesecake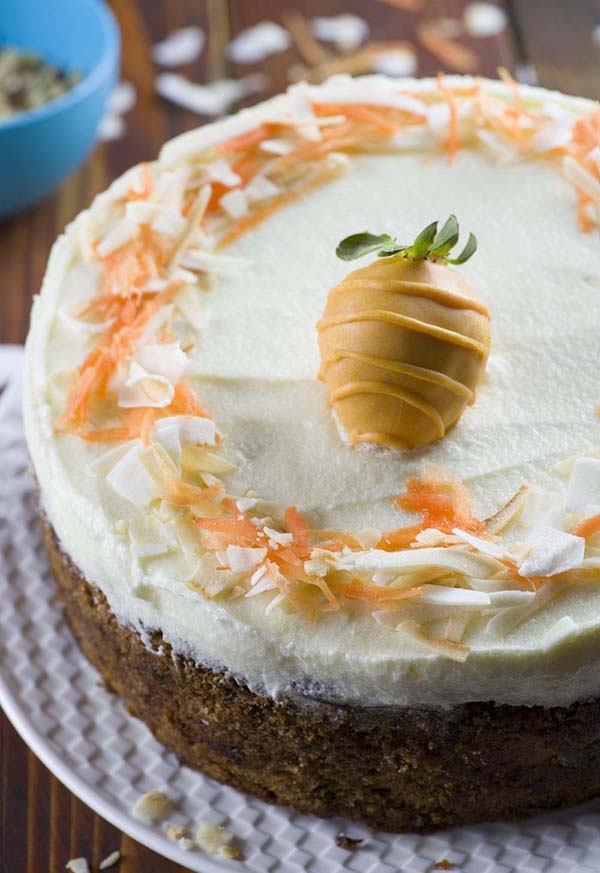 This carrot cake has cheesecake frosting on top. The addition of the chocolate covered strawberry and coconut on top is adorable.
Carrot Cake with Cream Cheese Icing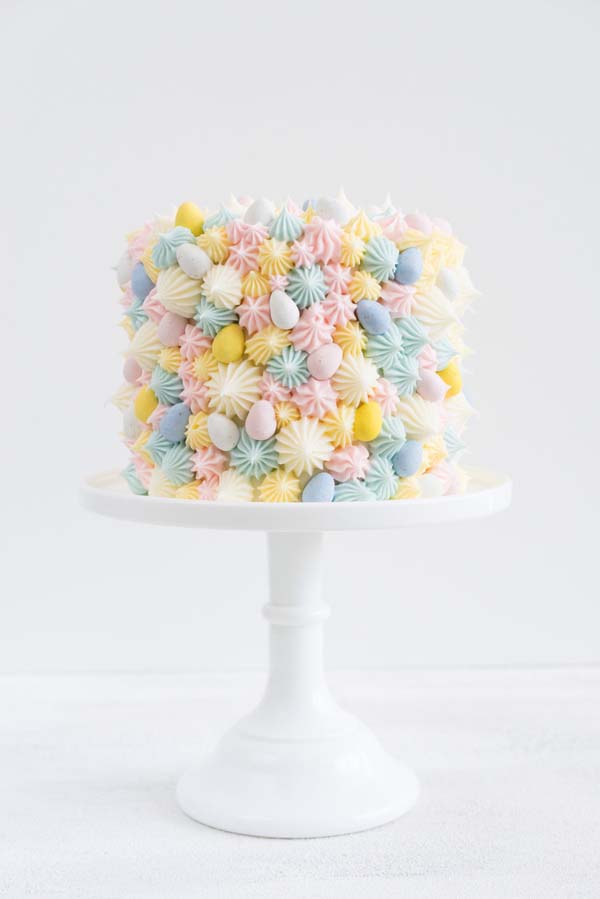 via Cloudy Kitchen
This cake is covered in beautiful pastel-colored frosting and Cadbury eggs.
Carrot-Cake-Roll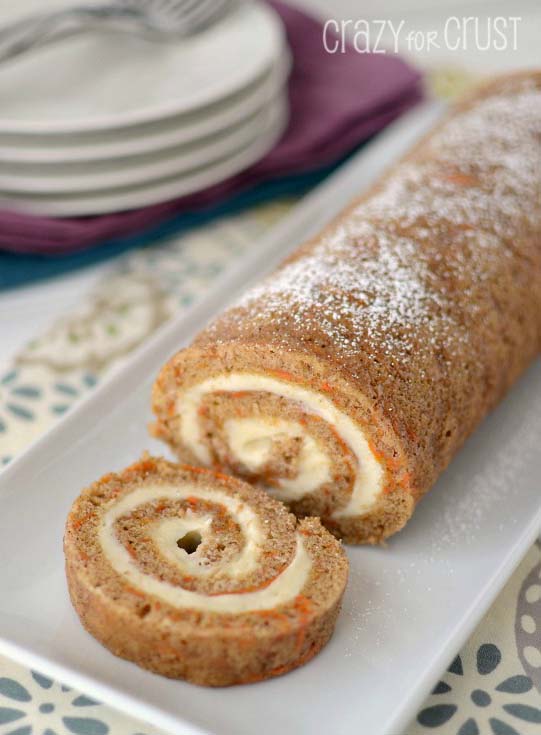 via Crazy for Crust
For an easy Easter breakfast make this carrot cake roll the night before.
Chocolate Easter Bunny Cake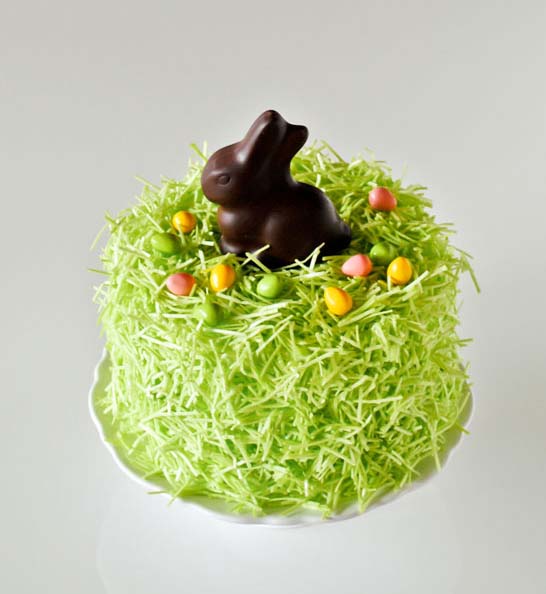 via The Cake Blog
This cake is very easter themed with the chocolate bunny on top. The green grass frosting adds a bright color.
Chocolate Easter Egg Nest Cake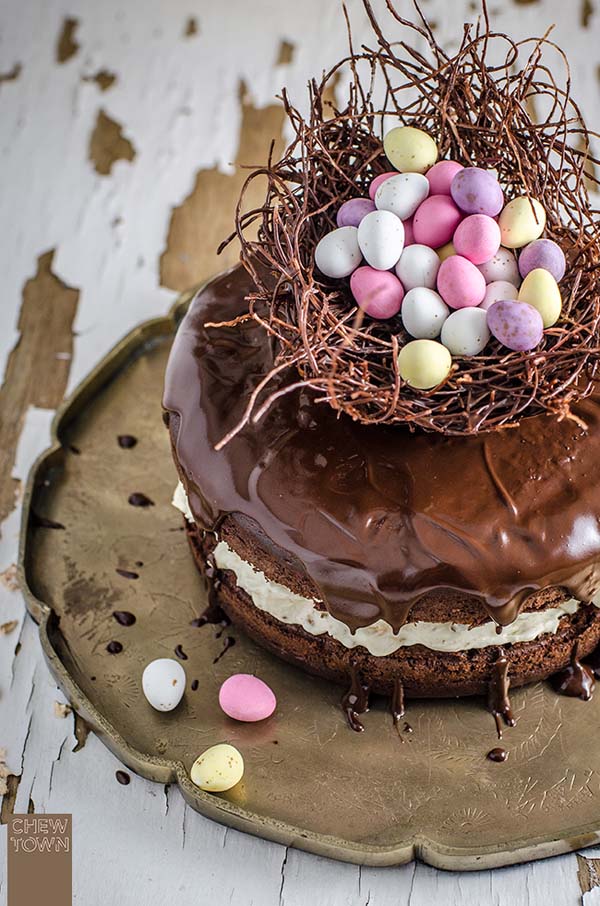 via Chew Town
This chocolate cake is covered in chocolate ganache and a chocolate bird's nest. The Cadbury creme eggs make a delicious Easter touch.
Coconut Easter Cake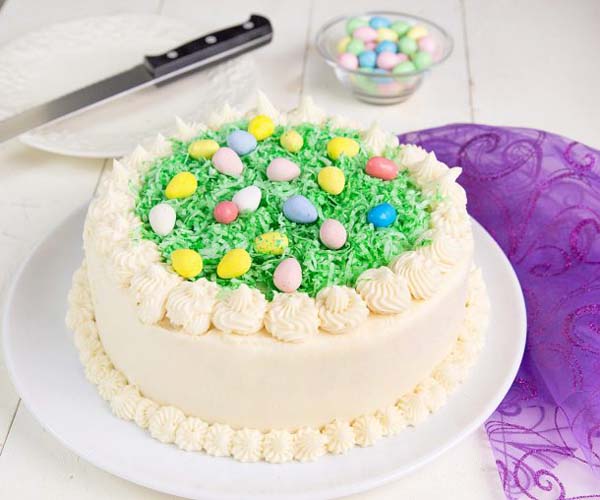 via Ask Chef Dennis
Easter egg hunts are hilariously fun. Recreate these great memories with
this cake. The green grass has Cadbury creme eggs hiding in the grass.
Coconut Layer Lemon Cake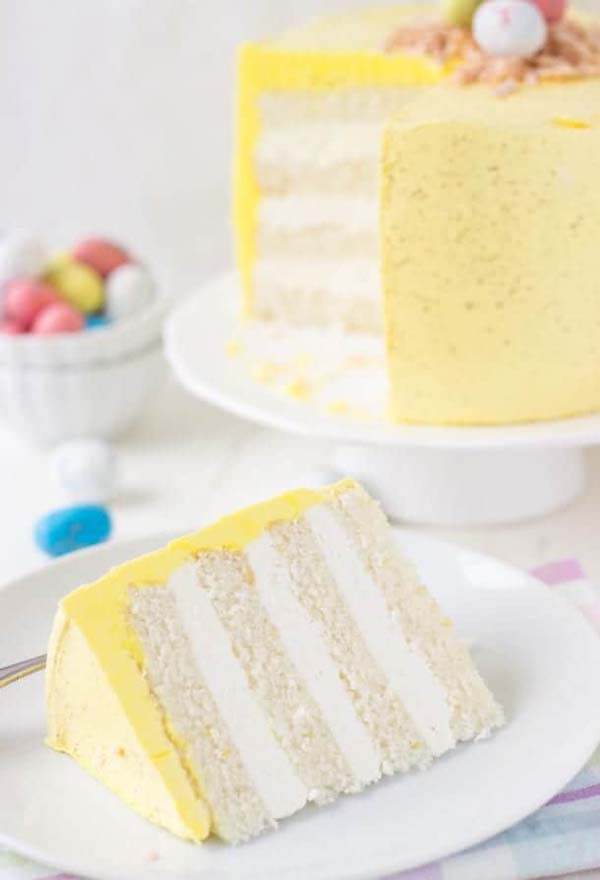 via A Classic Twist
A lemon cake is a simple and natural way to add a pop of color.
Coconut Lemon Layer Cake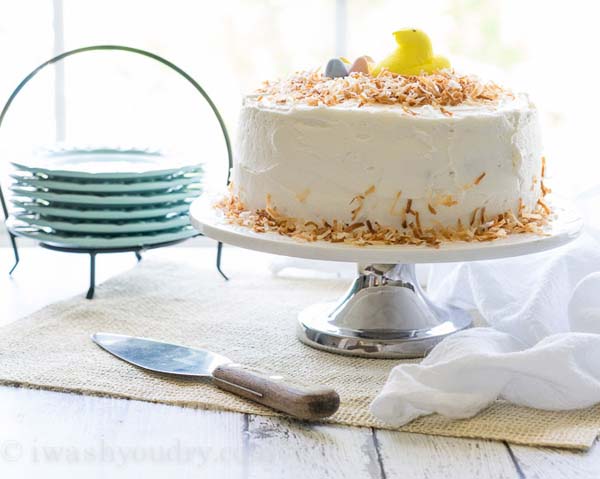 via I Wash You Dry
Layer coconut and lemon-flavored cake together. Then top with cream cheese frosting and coconut.
Coconut Nest Cake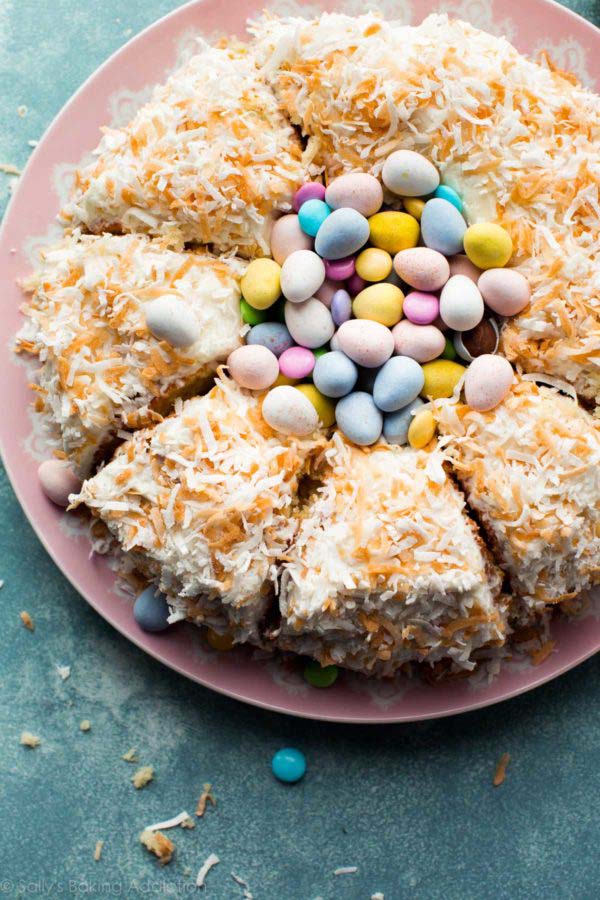 To make a cake that looks like a nest, try this cake. The coconut gives the nest texture and the Cadbury eggs make it clear what it is.
Confetti Coconut Bunny Cake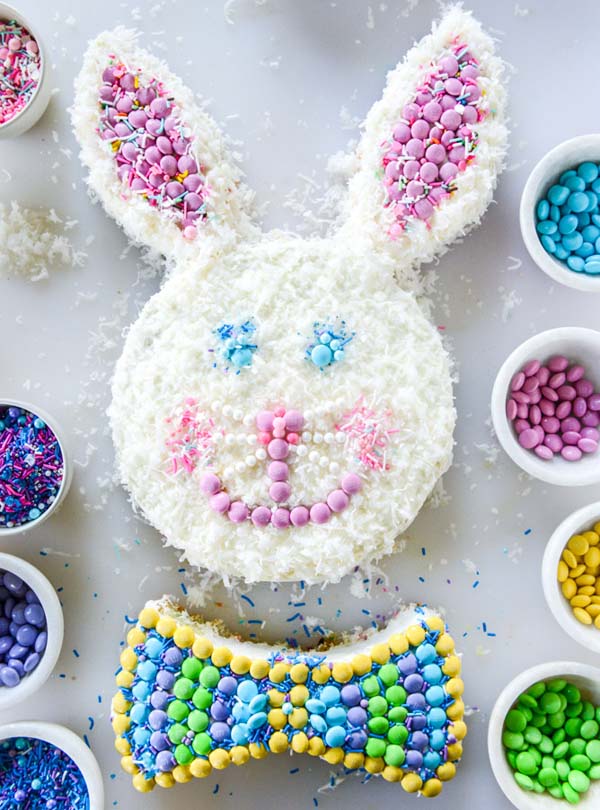 via How Sweet Eats
This bunny cake utilizes bright-colored m&ms to make an adorable bunny face. Then the ears on the top are layered with coconut to give it a fur look. The adorable bunny tie is brightly colored and really tops it off.
Cute Chocolate Easter Bunny Cake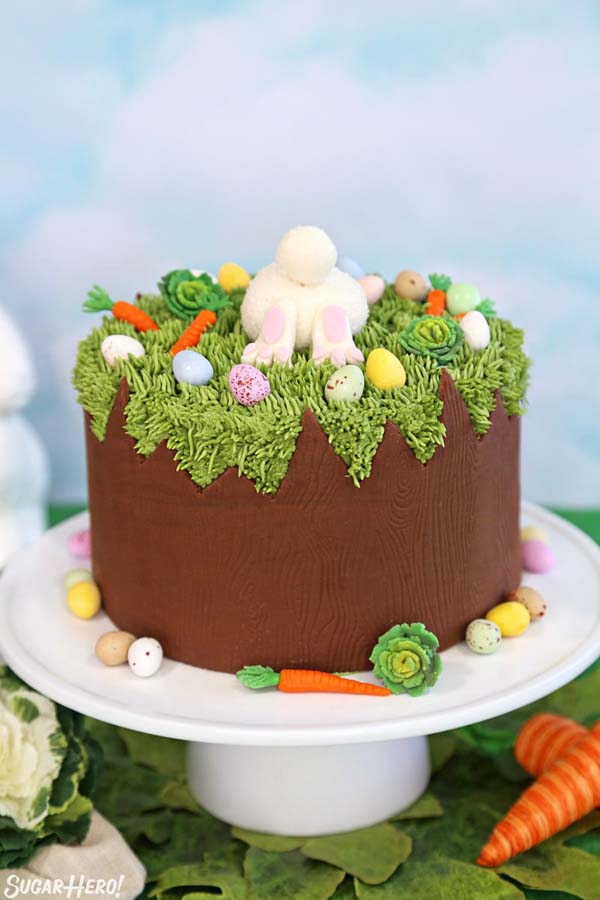 via Sugar Hero
Use chocolate in to look like dirt on the outside of the cake. Then green icing to look like grass. Then add a super cute bunny butt sticking out of the grass.
DIY-Bunny-Cake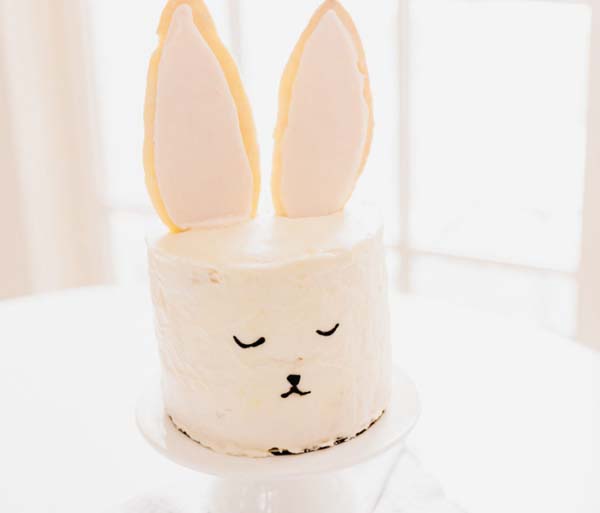 via Style Me Pretty
Bunny cakes don't have to be overly elaborate. Try this simple white bunny cake. The cake is made from layered mini cakes and cookie ears.
DIY-Easter-Basket-Cake
via The Cake Blog
Easter baskets are used to carry around all the eggs that are found in the easter egg hunt. Make this mini cake that is shaped like an easter basket. Use Cadbury eggs for color.
Easer Layer Cake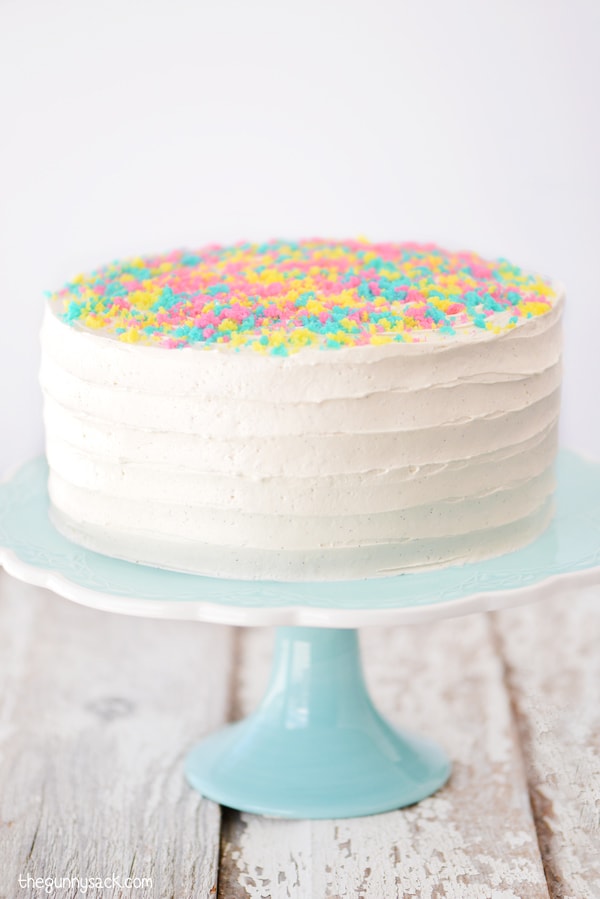 via The Gunny Sack
Simply make a round cake. Layer it to make it tall and frost with white frosting. Then layer colored mini sprinkles to add color.
Easter Bunny Bundt Cake
Make mini bundt cakes. No need to frost, simply top with a bunny marshmallow.
Easter Bunny Cake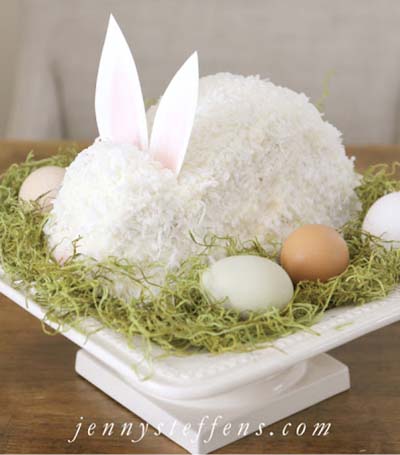 via Jenny Steffens
For a classic easter bunny, make the round bunny shape and top with cookie ears. The coconut is perfect for fur texture.
Easter Bunny Cake Idea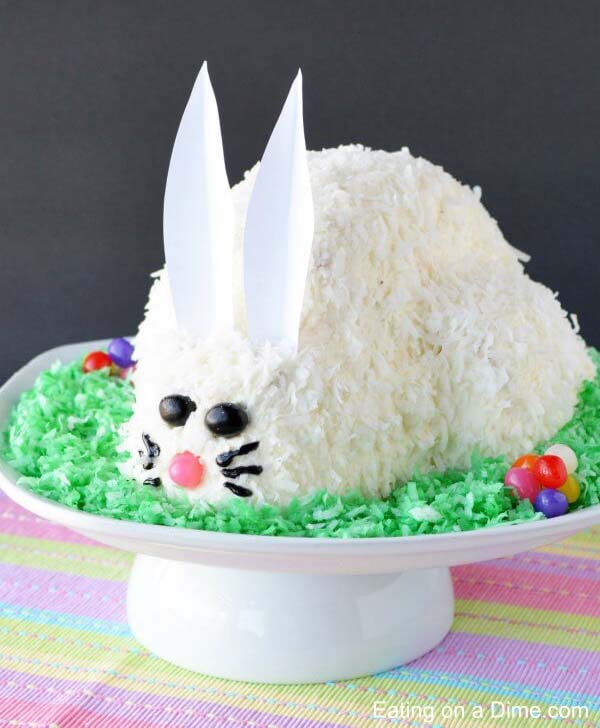 via Eating on a Dime
Make a round cake and add white frosting. Coat in coconut to make it fur-like. Then add ears and a cute black face.
Easter Bunny Oreo Ice Cream Cake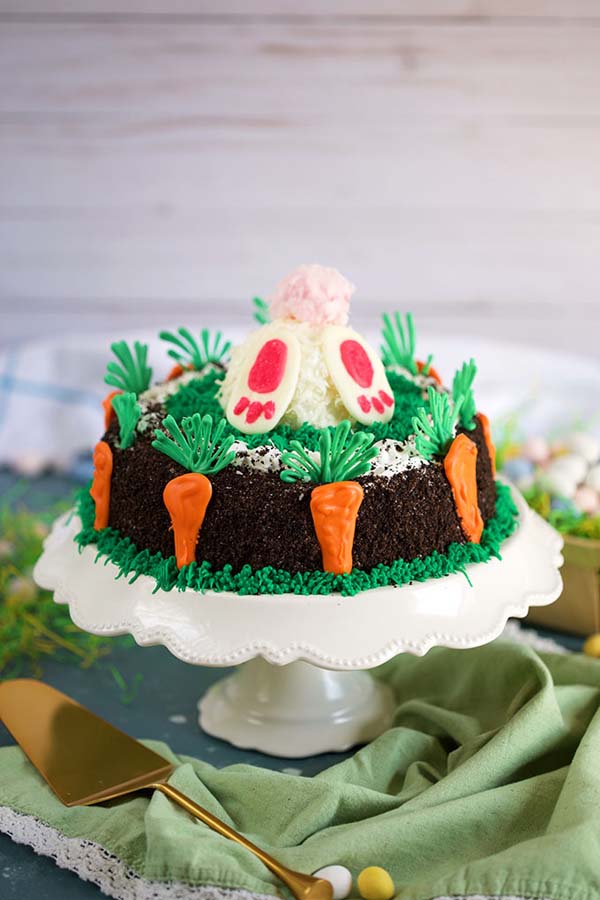 Oreo ice cream cake is a delicious base. Then add frosting and a bunny butt to complete the Easter look.
Easter Cookie Cake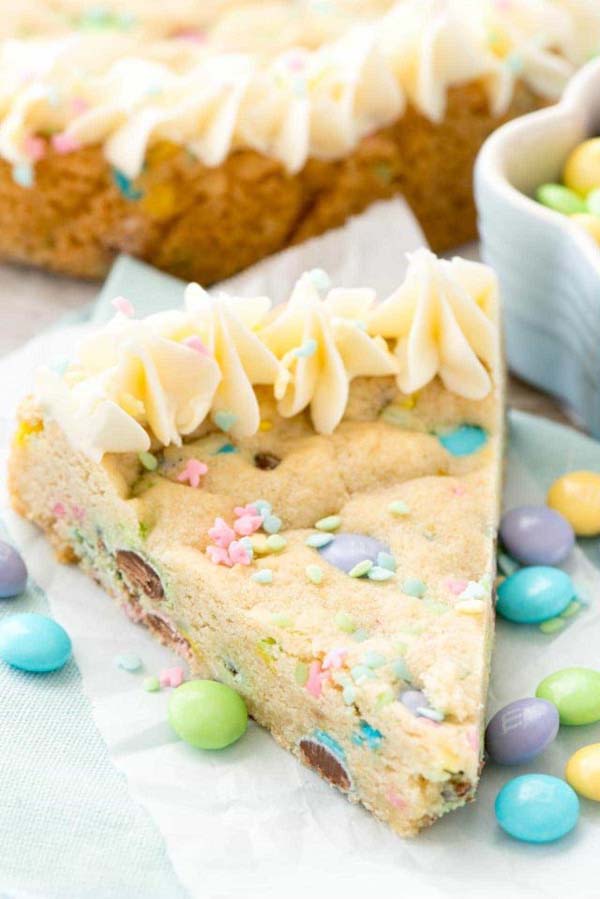 via Crazy for Crust
Fill a cookie cake with bright colored sprinkles and Easter m&ms. Then frost the edges to make it a complete Easter cake.
Easter Dirt Cake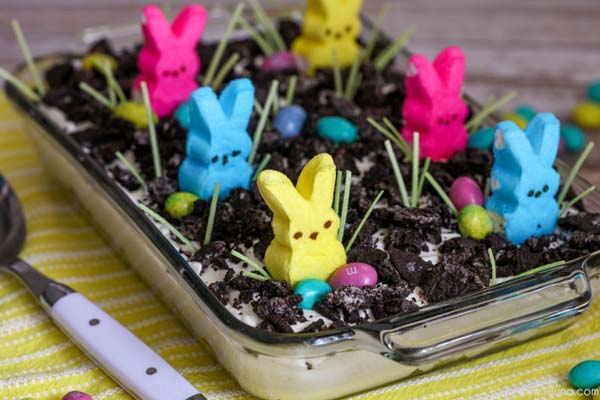 via Lil' Luna
Dirt dessert isn't really known for being an easter dessert. But add some marshmallow bunnies and some candy grass and it is instantly Easter.
Easter Egg Cake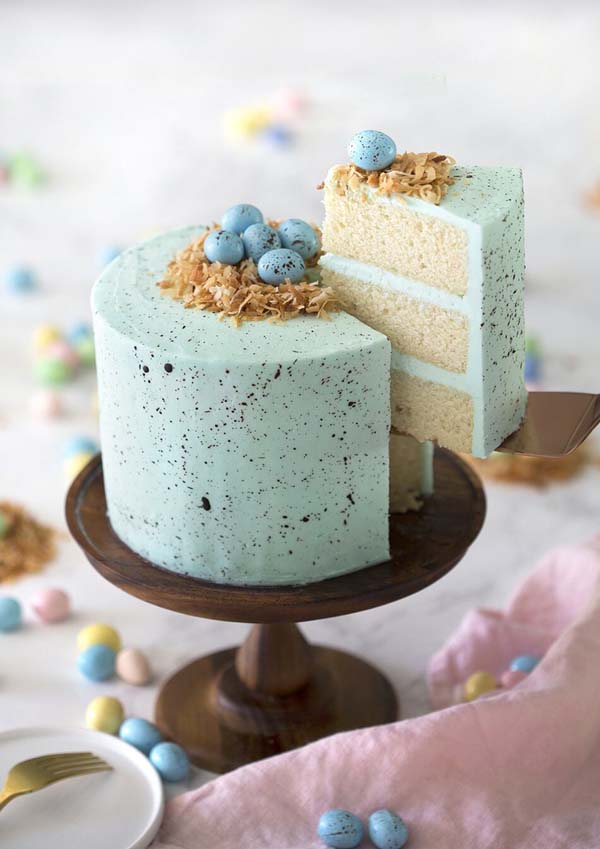 via Preppy Kitchen
This cake is covered in baby blue fondant and sprinkled with black color. This makes it look like a dyed easter egg. Then it is topped with colored eggs.
Easter Egg Layered Cake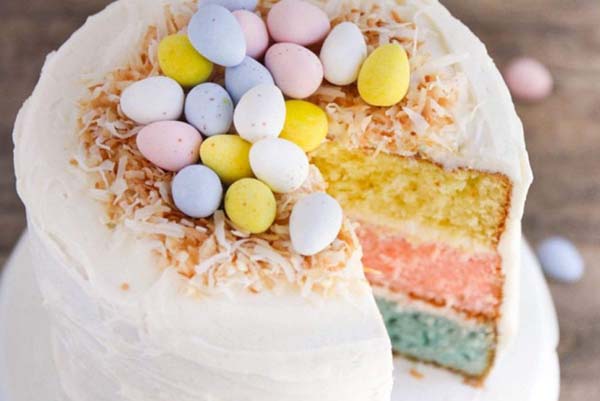 via I Heart Nap Time
Layer pastel-colored eggs and cover with white frosting. Then add eggs on top.
Easter Egg Pound Cakes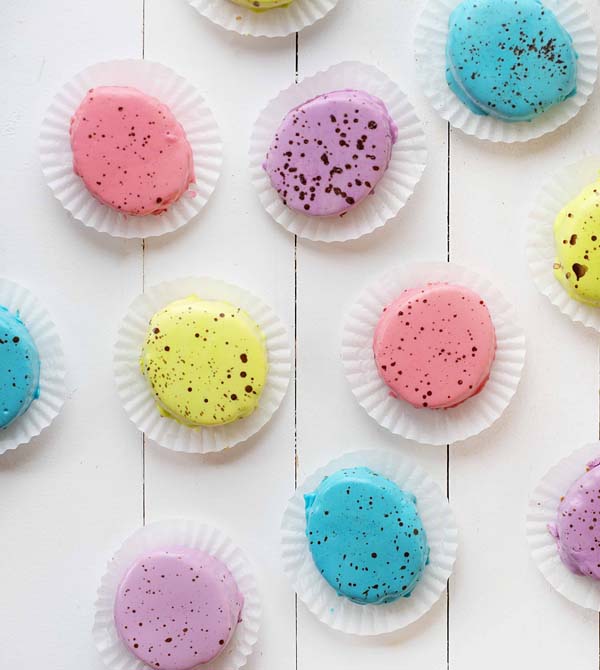 via I Am Baker
Shape mini pound cakes in the shape of eggs. Then color to make them look like dyed eggs.
Easter Egg Surprise Inside Cake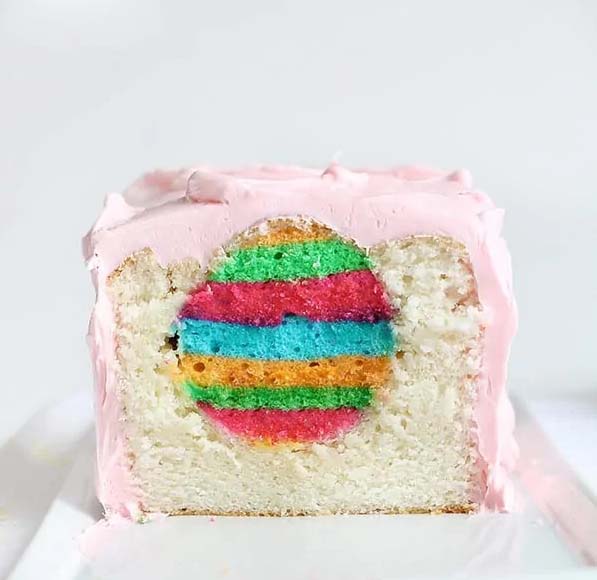 via I Am Baker
Layer colored cakes in an egg shape. Then bake inside another white cake. Then frost. When you cut it open it will have a small colored egg inside.
Easter Lamb Cake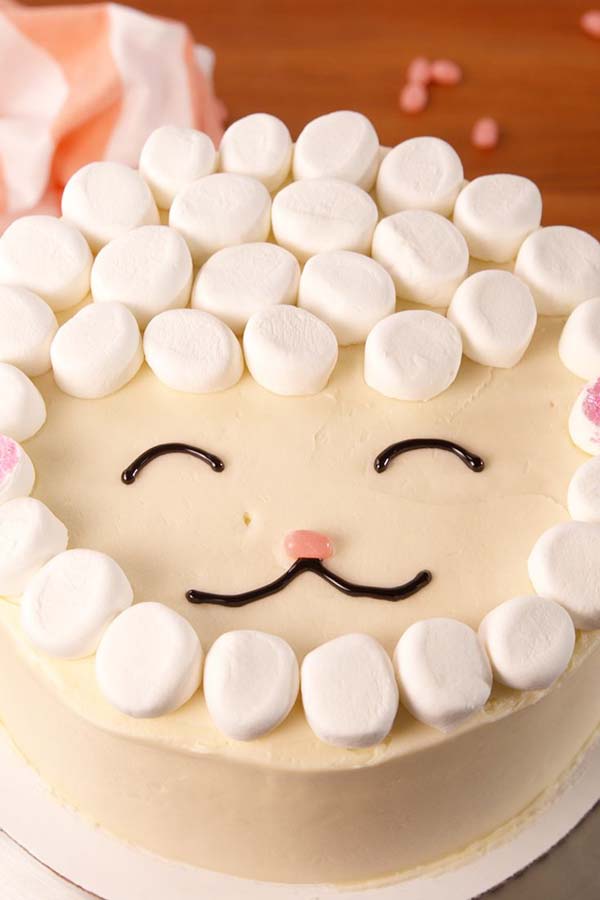 via Delish
Baby lambs are an adorable part of the easter season. Make a little lamb face then use marshmallows to look like wool. It's the perfect decoration for the top of a cake.
Easter Nest Cake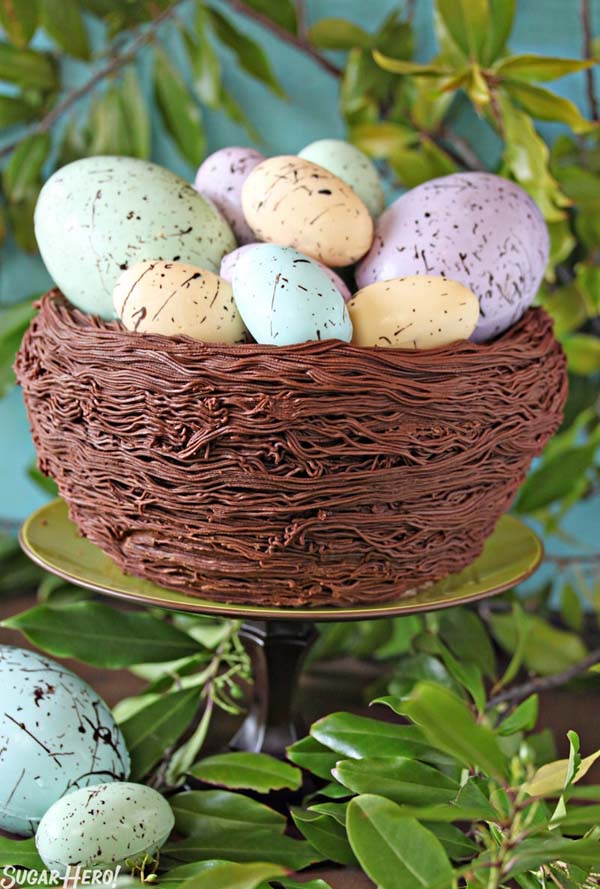 via Sugar Hero
This cake has a dip in the middle of the top. Then frosting is piped onto look like a nest. Then eggs are added to the middle to complete the nest look.
Easter No-Bake Mini Cheesecakes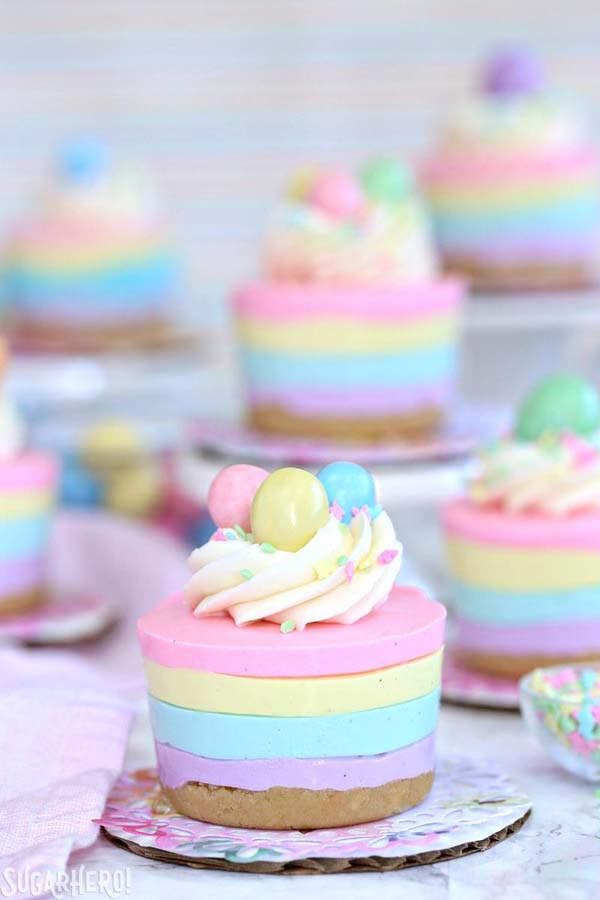 via Sugar Hero
Try these layered mini no-bake cakes. Then top with white frosting and Cadbury creme eggs.
Easter Ombre Piñata Cake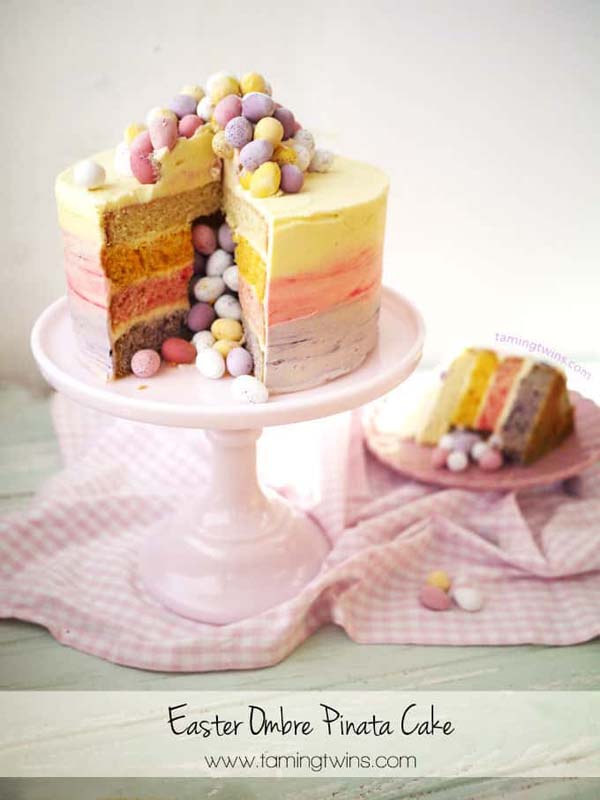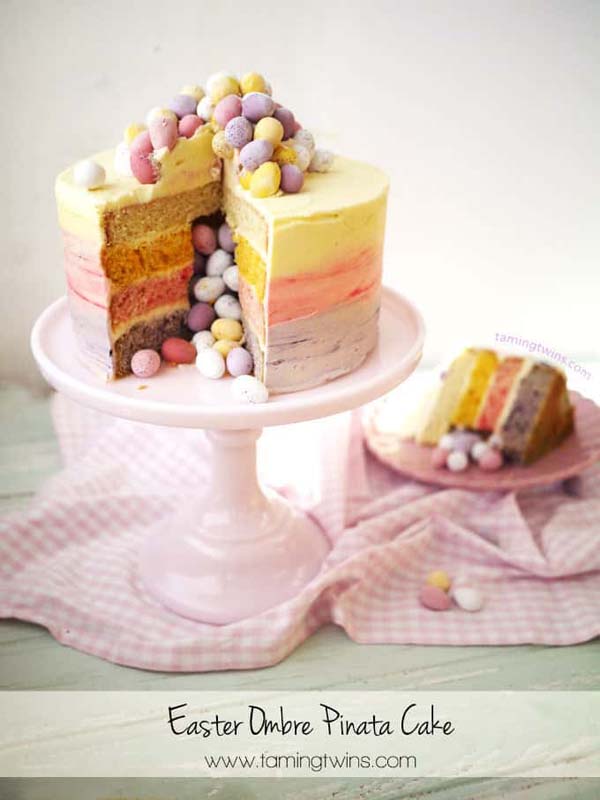 via Taming Twins
Pinata cakes make for an exciting first cut into them. Add Cadbury creme eggs to the center of this pinata cake.
Easter Piñata Cake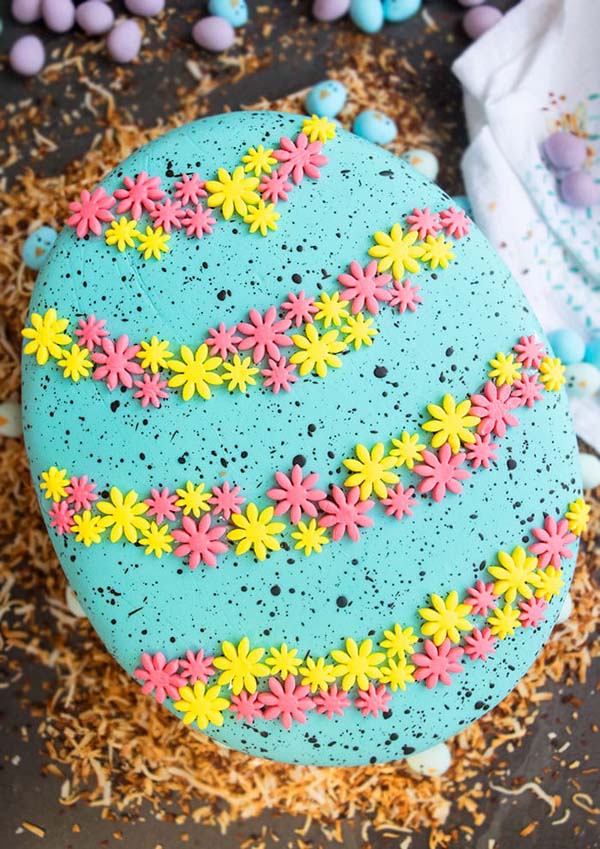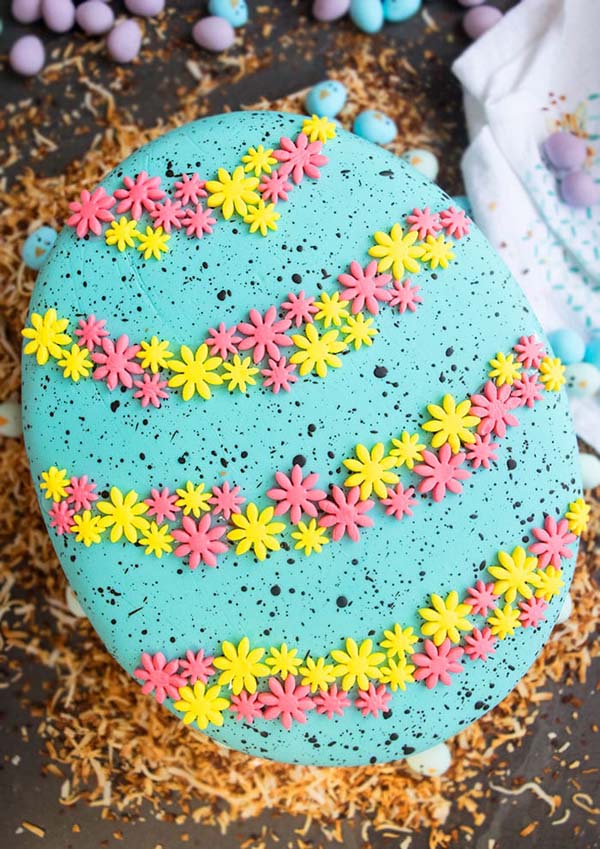 via Cake Whiz
Make an oversized egg shaped cake. Then cover with blue fondant. It will
look like a large dyed egg. It is even exciting to cut because it is filled with m&ms.
Easter Poke Cake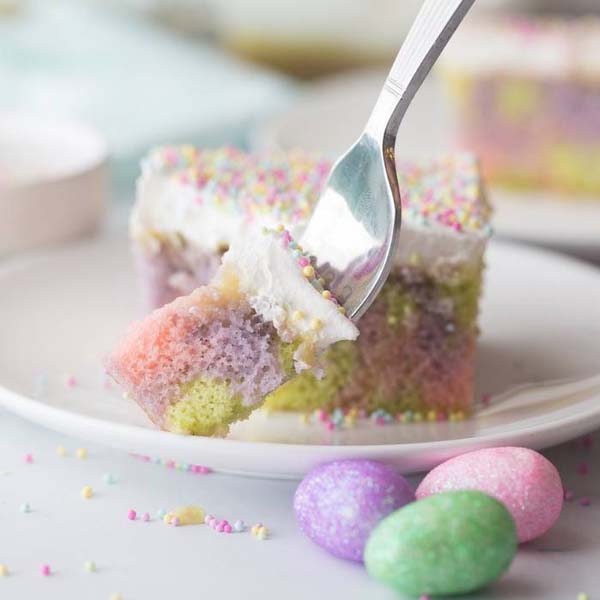 Poke cake is simple to make and layer in pastel colors. Then poke delicious chocolate filling into it.
Easter Polka Dot Cake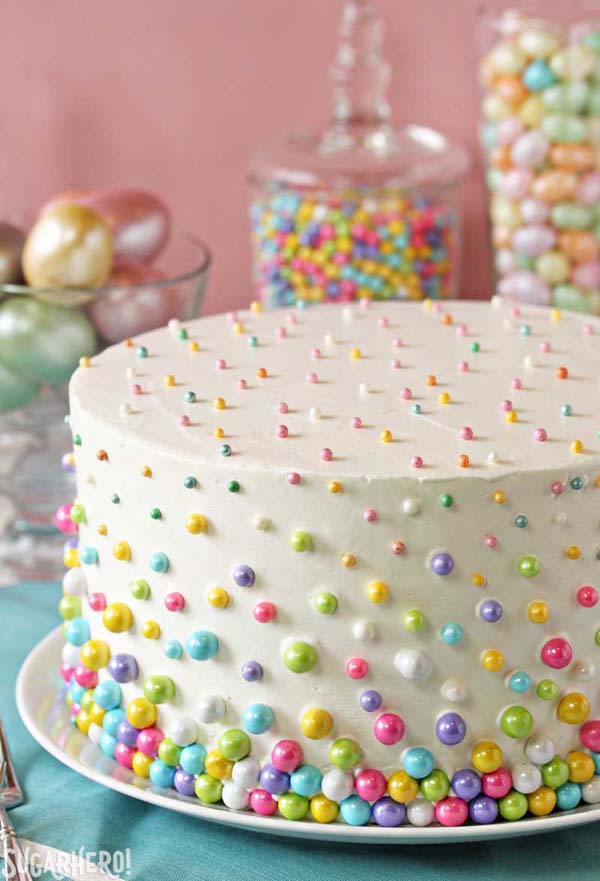 via Sugar Hero
To make a simple Easter cake make a white cake. Then layer pastel colored pearl sprinkles on it.
Easter Wreath Cake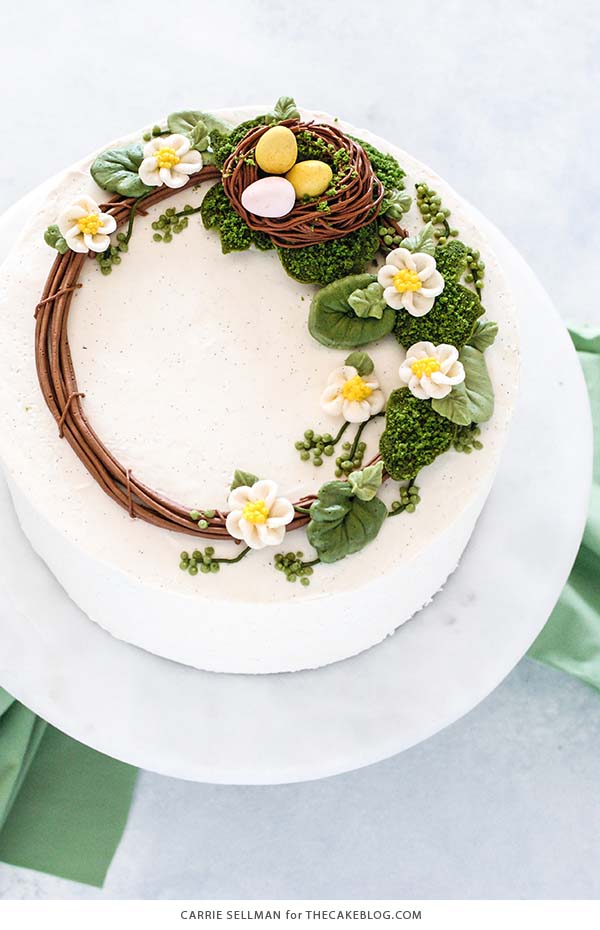 via The Cake Blog
When Jesus died on the cross he had a thorn crown on. Frost this crown on your easter cake to celebrate Jesus. Add white flowers to add color.
Kit-Kat Easter Cake Recipe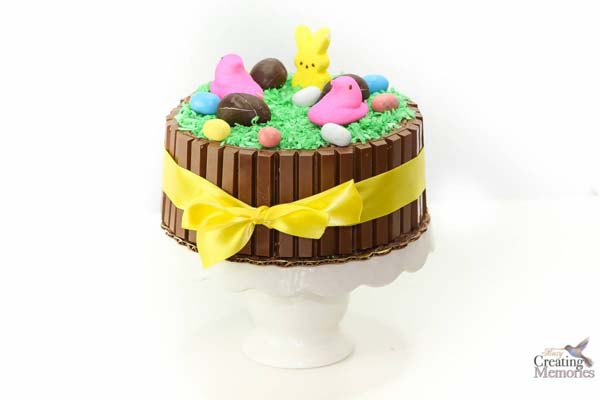 For a perfect edge to your stacked cake, use kit-kats. Then top with creme eggs, marshmallow bunnies and bright frosting.
Malted Chocolate Easter Cake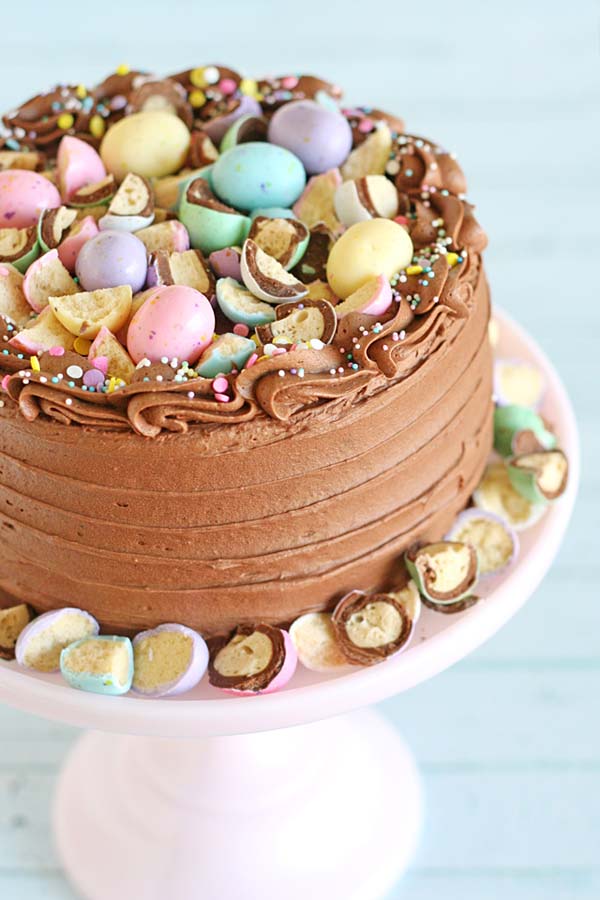 via Glorious Treats
Make a delicious chocolate cake and cover it with chocolate frosting. Then add bright Cadbury eggs to give it an easter look
Malted Easter Egg Chocolate Cheesecake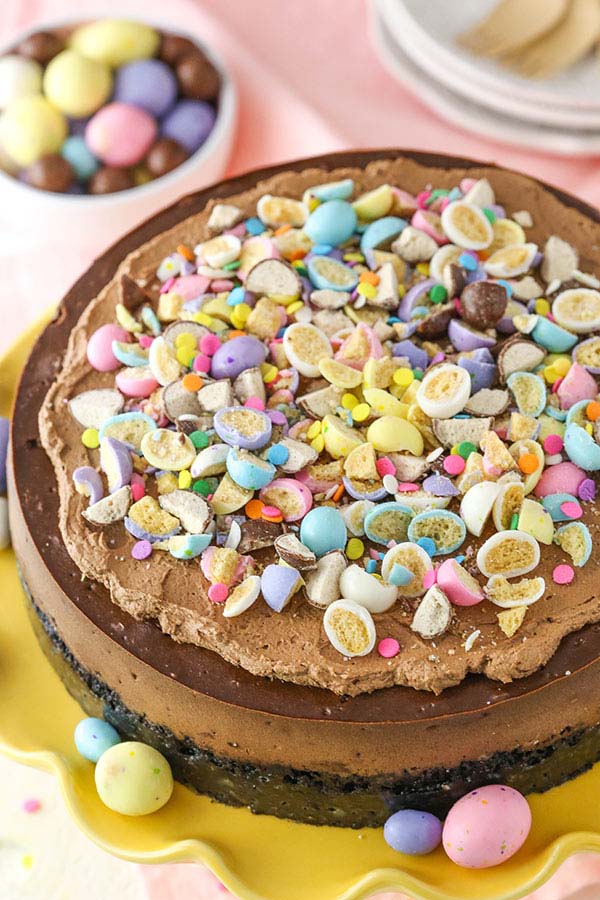 This malted chocolate cake is absolutely delicious. The broken Cadbury eggs on top give it an Easter look.
Marbled Chocolate Easter Egg Cake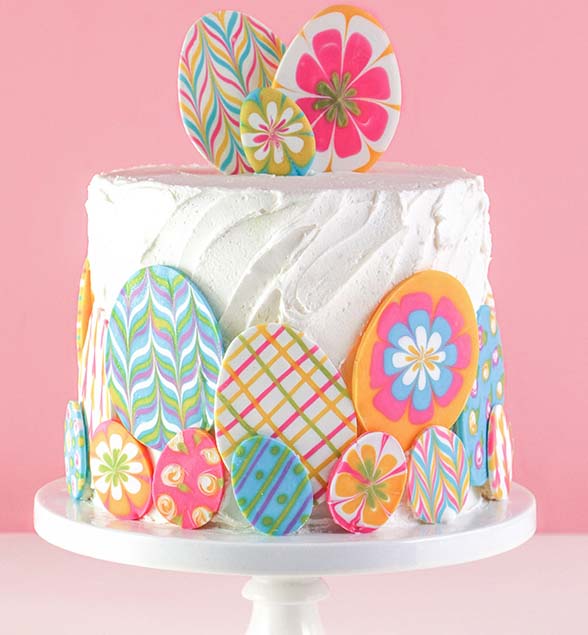 via The Cake Blog
Eggs made from bright frosting can give a very elaborate cake a bright look.
Mini Egg Cake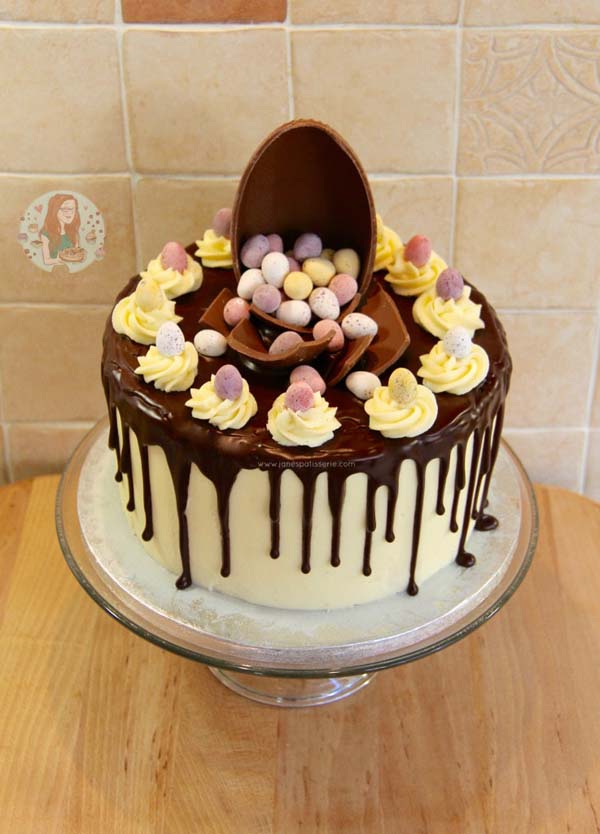 via Janes Patisserie
This white cake is coated with white frosting and chocolate ganache dripped down the side. Then a large chocolate egg is on top, but broken so it looks like the mini eggs inside are spilling out.
Mini Speckled Egg Cakes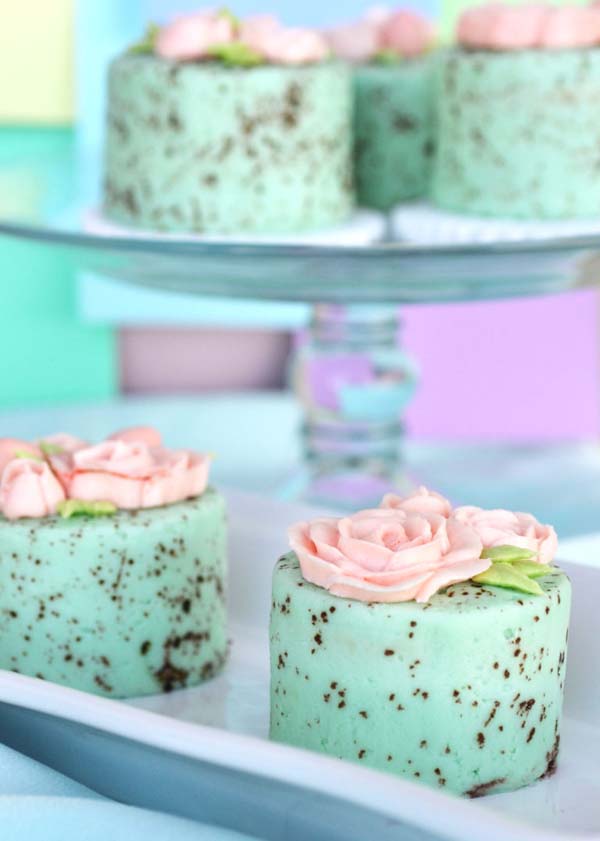 via Angean
Blue cakes can be layered to make mini round cakes. Then top with beautiful pastel pink flowers
MM Easter Ice Cream Cake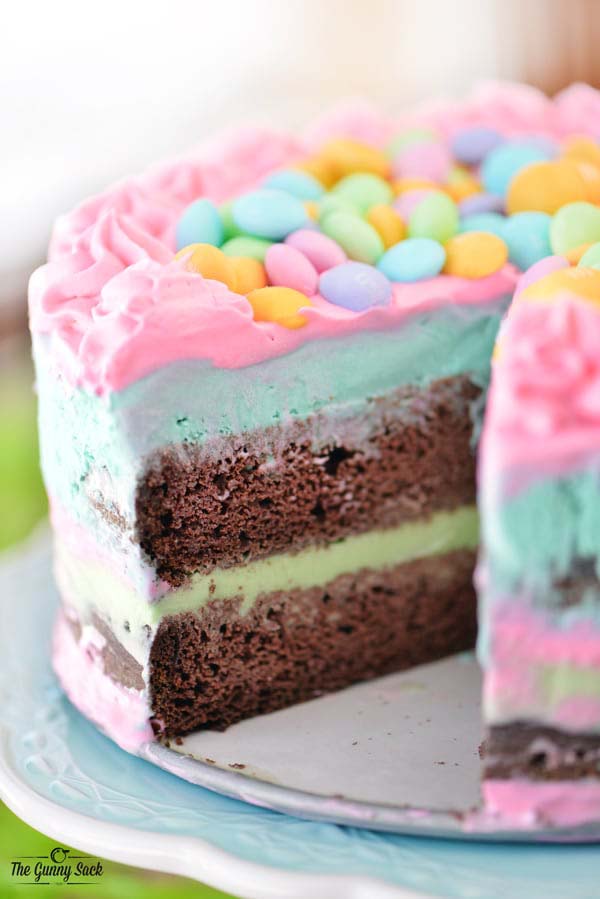 via The Gunny Sack
To make this cake layer chocolate cake with pastel-colored frosting. Top
with pastel m&ms and frosting.
No-Bake Cadbury Egg Cheesecake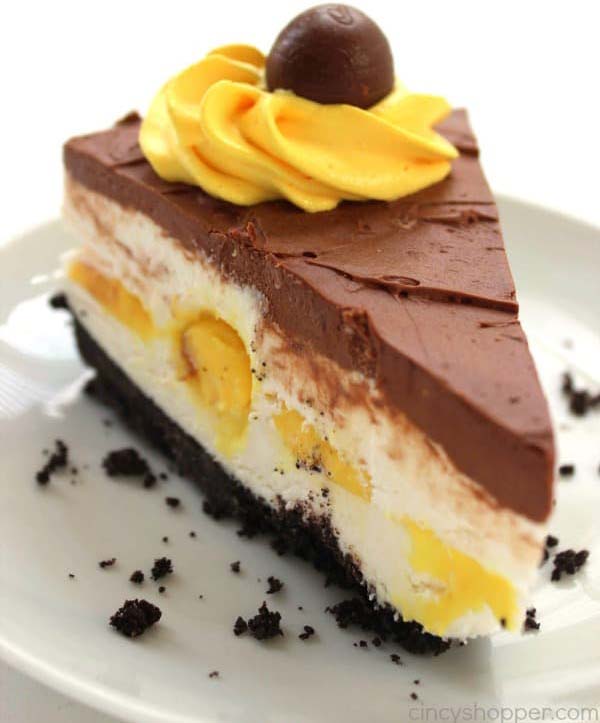 via CincyShopper
No-bake cheesecake with Cadbury creme eggs in the middle are a delicious
addition to any Easter themed party.
No-Bake Easter Cheesecake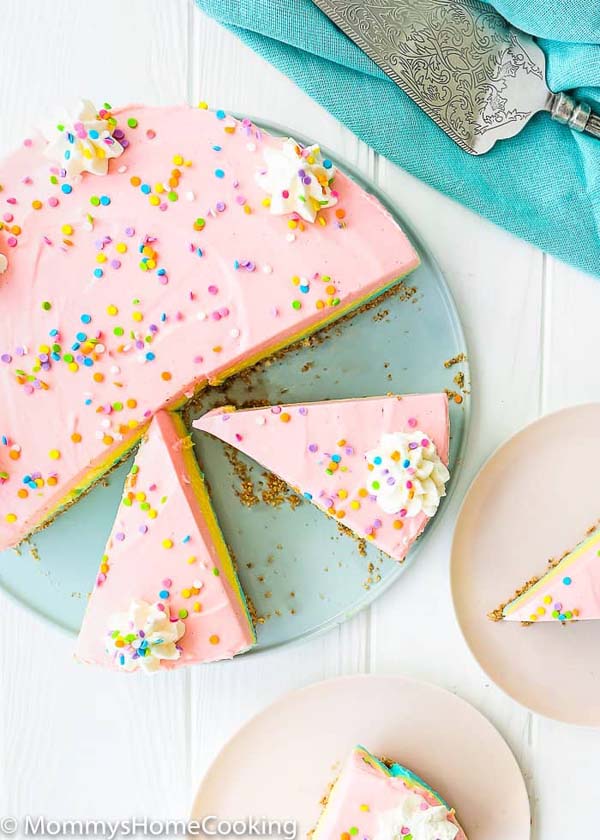 This large cheesecake is no-bake and super simple to make. It has pink coloring and pastel sprinkles to give it the Spring look.
Peep Easter Cake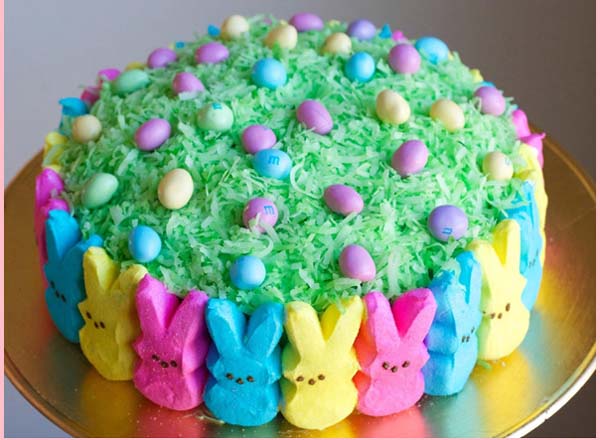 via Wonderful DIY
Layer peeps around a cake then top with grass piping. To finish the look add easter eggs.
Perfect Easter Bunny Cake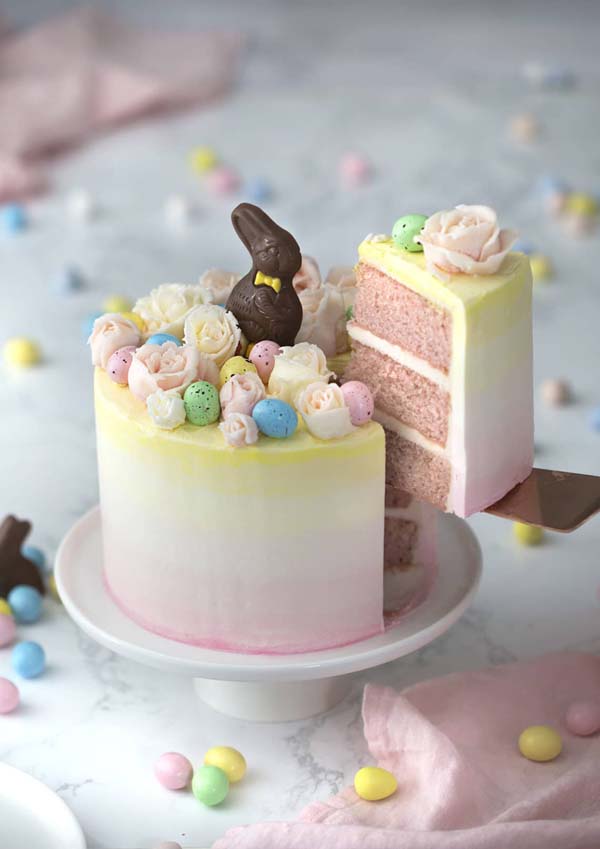 via The Cake Blog
For a classic easter cake layer white cake and frosting. Then coat with white fondant, flowers and a chocolate bunny.
Pineapple Carrot Cakes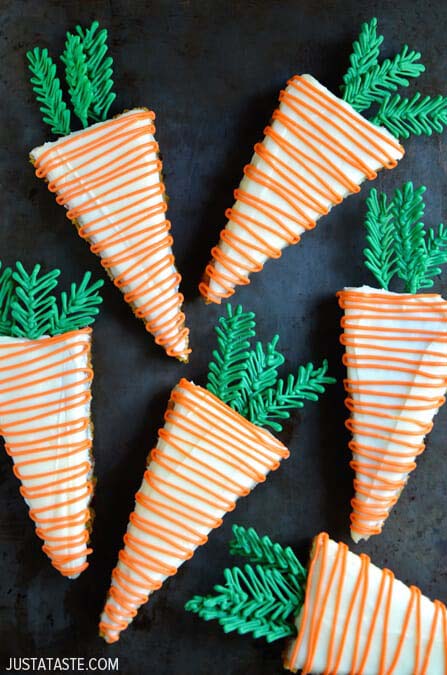 via Just a Taste
These are mini cakes that are shaped like carrots. A carrot cake shaped like a carrot is hilariously ironic.
Speckled Strawberry Easter Egg Cake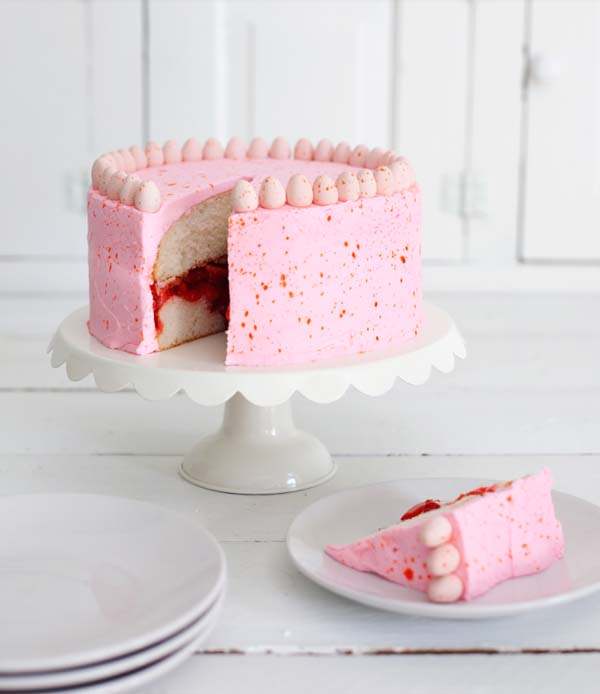 via A Beautiful Mess
This speckled cake is made with pastel pink fondant and layered chocolate cake.