Waking up to a delicious warm breakfast on Christmas morning is a special experience for kids and adults alike. Whether you're feeding a family or you've got a houseful of holiday guests coming over for brunch, these crowd-pleasing Christmas breakfast casseroles will satisfy everyone's taste buds.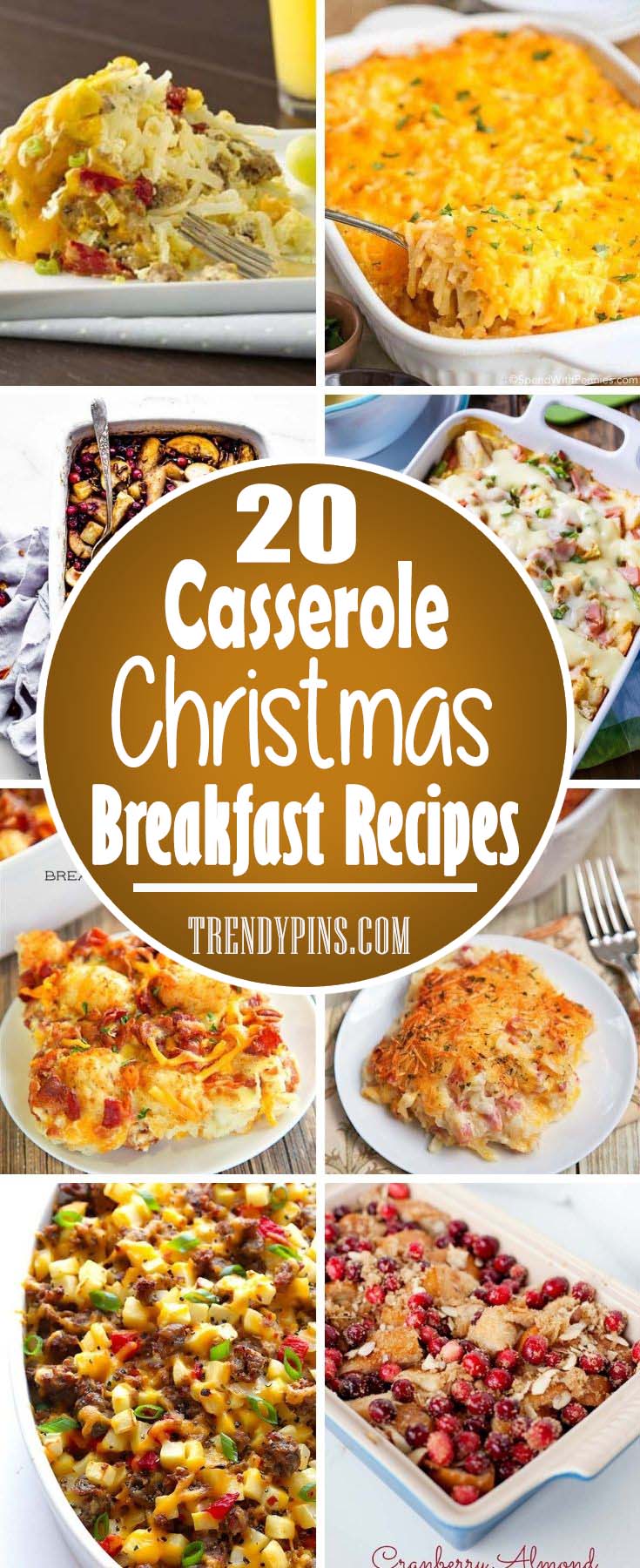 Don't forget to PIN this image for quick access to all these ideas!
To make things easy on you as a holiday host, these sweet and savory recipes can be assembled a day or more in advance or cooked overnight in your crockpot. Consider it our gift to you this holiday season!
Cinnamon Roll French Toast Casserole
Cinnamon Roll French Toast Casserole is a buttery, sweet Italian bread filled with dried fruit that's eaten at the holidays. This recipe turns it into French toast, forming a festive custardy casserole to serve on Christmas morning. You can prepare it the night before and refrigerate for stress-free morning. Or wake, make, bake, and serve it immediately for firmer toast.
Copy Cat Cracker Barrel Casserole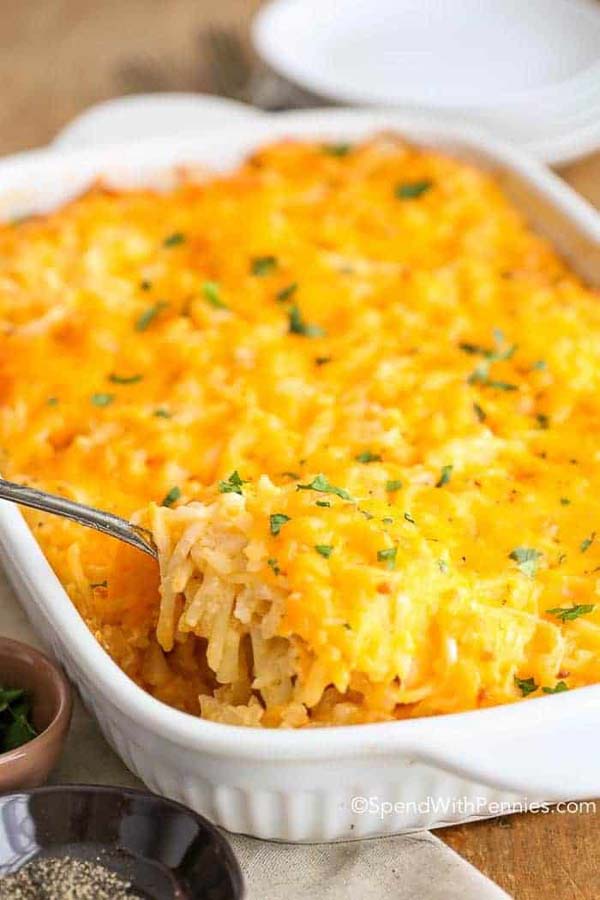 Copy Cat Cracker Barrel Hashbrown casserole needs just 5 minutes of prep making it the a great side or potluck dish! The perfect breakfast casserole!
I love Cracker Barrel but the truth is… I only show up for the hashbrown casserole.  That's it. Just the hashbrowns people.
A friend of mine have shared her version of that delicious, creamy and cheesy easy Hashbrown Casserole with me and WOW!  Tender shredded hash browns in a rich and creamy cheese sauce, topped with more cheese and baked until hot and bubbly!
This is a perfect breakfast casserole for any holiday morning or just when you're getting the family together for a delicious breakfast or brunch.  It also makes a perfect side dish for Crispy Oven Parmesan Chicken or even served alongside a Ranch 7 Layer Salad for lunch!
Cracked Out Tater Tot Breakfast Casserole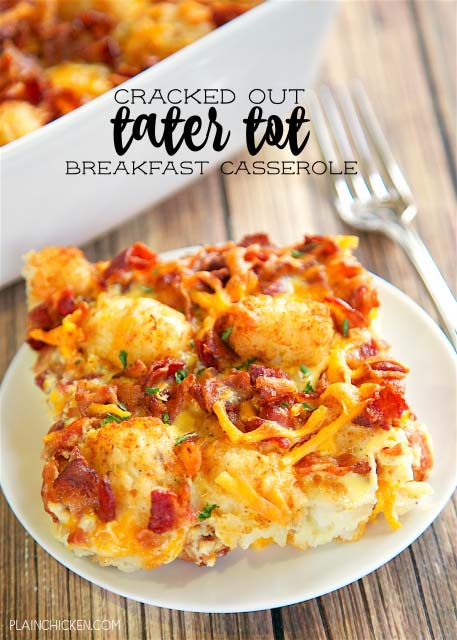 via Plain Chicken
It is soft, warm and tasty. If you have enough time in the evening you could prepare it in advanced. Put it in the fridge and warm it in the next morning. Share these amazing moments together with the whole family. Everyone will appreciate your efforts.
Easy Cheesy Breakfast Casserole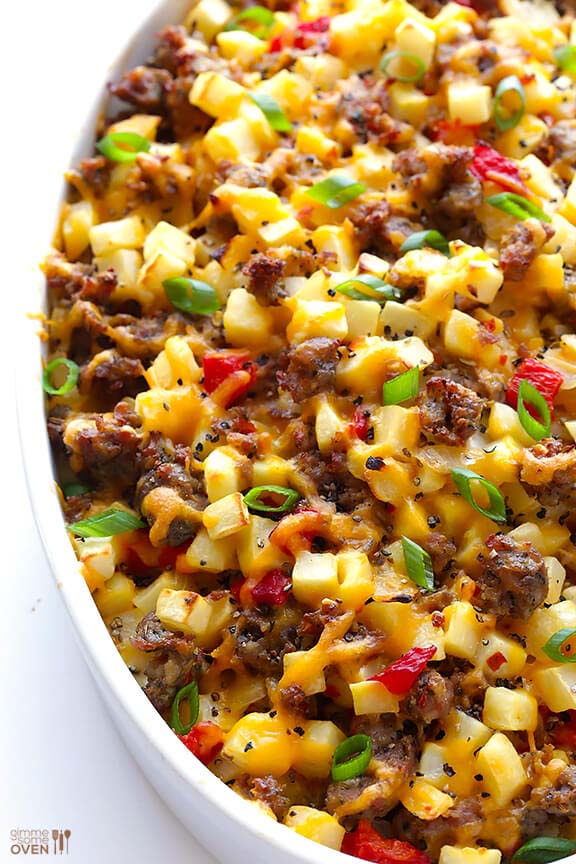 via Damn Delicious
Vegetables and meat. A perfect combination. If you stir some chees on the top the result will be irresistible. Don`t hesitate. Just check the recipe. Take some time and let the flow of your imagination.
Cranberry Almond French Toast Casserole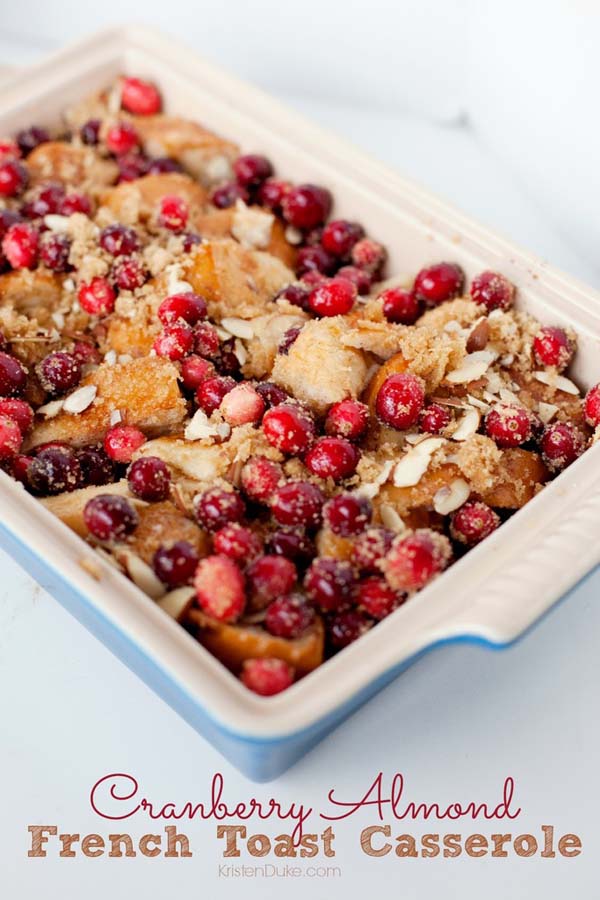 via Capturing Joy
That perfect combination really goes with the cozy atmosphere at that special time of the year – Christmas time. Almonds give that sense of a Christmas spirit. That warm, soft, and tasty French Toast Casserole is the perfect option to make someone happy. Check out the recipe.
Spiced Hot Fruit Bake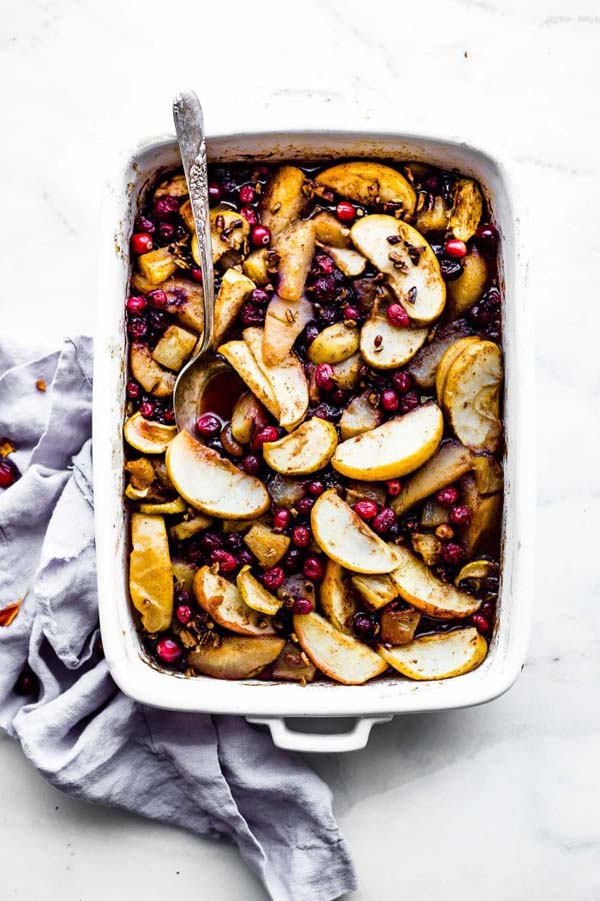 via Cotter Crunch
Spiced Hot Fruit Bake is a delicious and healthy holiday breakfast! This gluten free spiced hot fruit bake also makes for a great topping for waffles, pancakes, or simply by itself! A nutritious dish to add to your Holiday Brunch menu. Easter, Christmas, Mother's Day, or New Year's brunch.  Vegan option too.
My grandma used to make spiced hot fruit bake for Christmas and New Year's brunch. Although, in the south, we call it Hot Alabama fruit. Don't ask me why, I guessed Alabama or claimed it first. Haha! Actually, I'm thinking it's because this traditional southern spiced fruit bake is more butter and sugar than fruit. We Southern's love our buttah! I'm a southerner, I know this!
That being said, I'm determined to lighten this dish. Less sugar, more spice, etc. Besides, fruit is already sweet! Yep, and now I am even more determined to make this hot fruit bake dish " healthy-ish."
Sausage Hash Brown Breakfast Casserole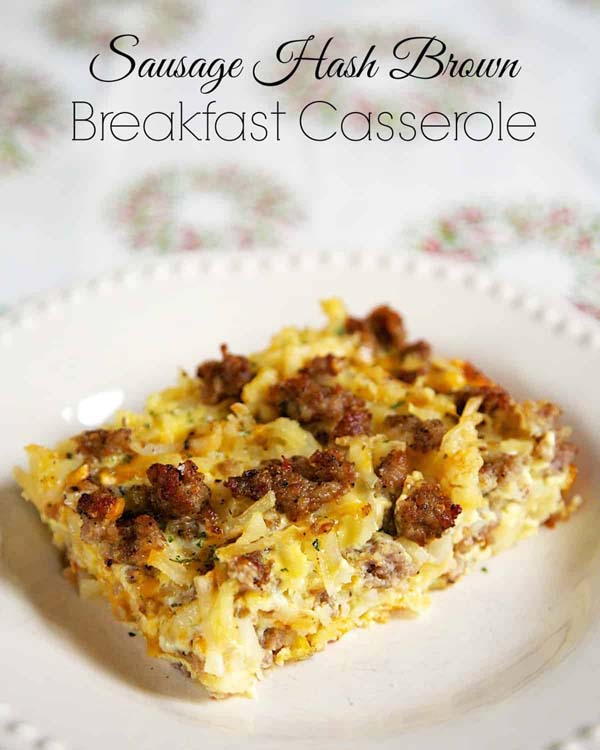 via Plain Chicken
This is one of our most-rated recipes for a reason: It's easy, it's quick, and it's absolutely delicious. So many advantages at the same place. This is how to prepare it. Combine frozen hash brown potatoes with sausage, eggs, and cheese for a hearty, 5-star breakfast or brunch casserole that can be prepped ahead and baked the next morning. Sauté one large onion and one bell pepper in the pork drippings for extra flavor and color. Tip from the recipe developer: To make mini frittatas, cook in 6-inch cast-iron skillets for 30 minutes at 375. Top with sliced avocados, pico de gallo, and a dollop of sour cream and sprinkle with green onions.
Apple Fritter Breakfast Casserole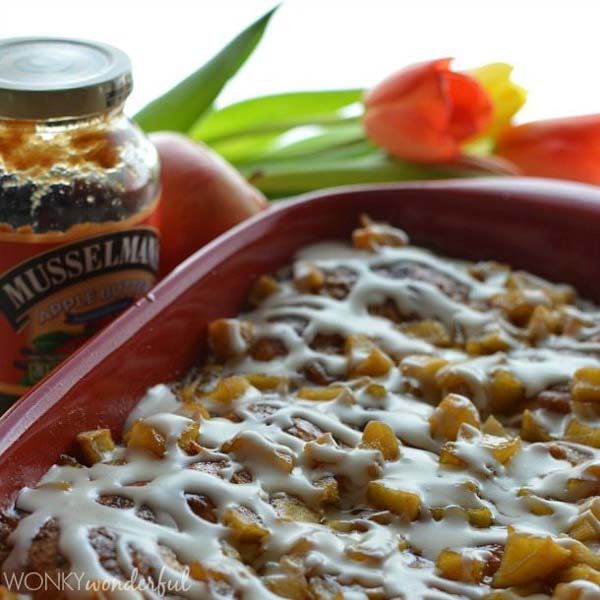 via Wonky Wonderful
This Apple Fritter Breakfast Casserole is absolutely loaded with apples, cinnamon roll bites, and of course glaze!  It is every bit as good as you might imagine! This is perfect for a breakfast, brunch, potluck or holiday celebration.  With just a few simple ingredients, this casserole comes together in minutes and feeds a crowd.
Cheesy Potato Breakfast Casserole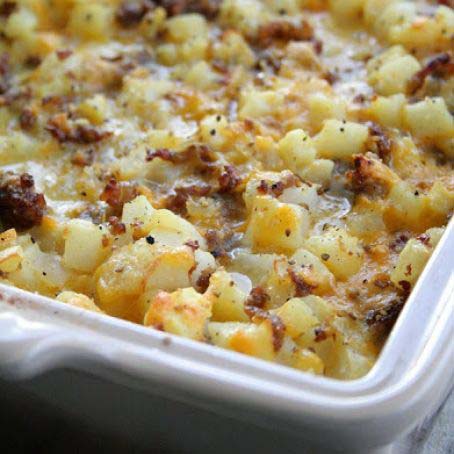 via Key Ingredient
As you can guess from the title, the basic ingredients are chees and potatoes. It is really a good combination and is used very often. So, why don`t we implement that idea in A Christmas breakfast. It can be a late breakfast. These days are for relax and full joy. You are not supposed to get up early. So, this is the perfect breakfast for the whole family. Go for that idea.
Eggs Benedict Casserole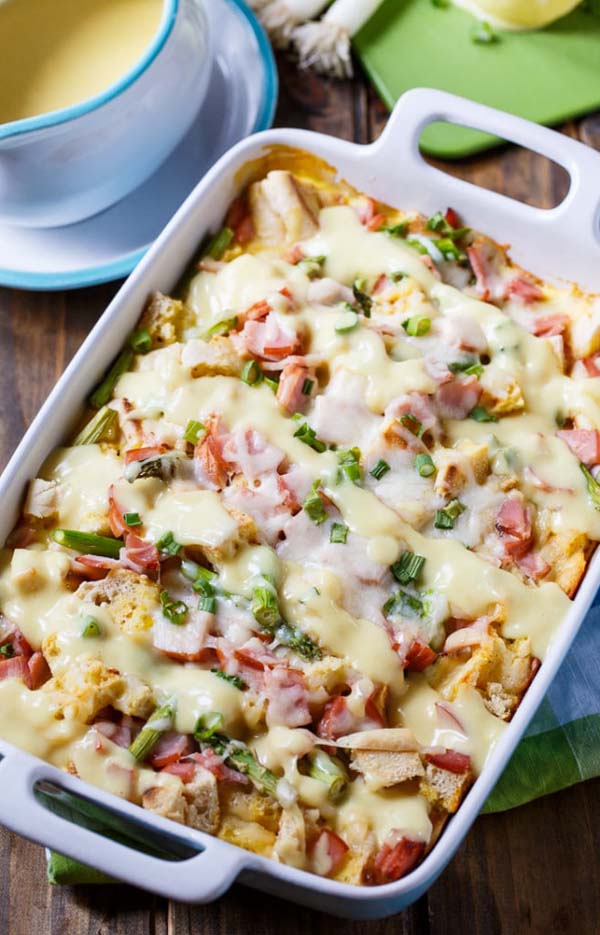 Here's a casserole as tasty as eggs Benedict, but without the hassle. Simply assemble the ingredients ahead, and bake it the next morning for an elegant breakfast or brunch.
It isn't look good. It tastes good. Another perfect idea for the whole family.
Ham and Cheese Hash Brown Casserole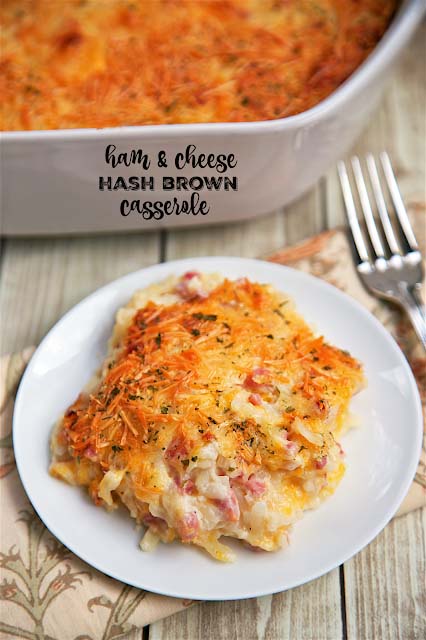 via Plain Chicken
This Ham and Hash Brown Casserole is a potluck lovers dream filled with hearty potatoes and smoked ham. Most recently I made it and took it to my son's "Thankful Breakfast" at school. I think it's perfect for breakfast, brunch or serve it as a side dish for any meal. It's super convenient as it can be prepared in advance, then baked just before serving.
Slow-Cooker Sausage and Egg Breakfast Casserole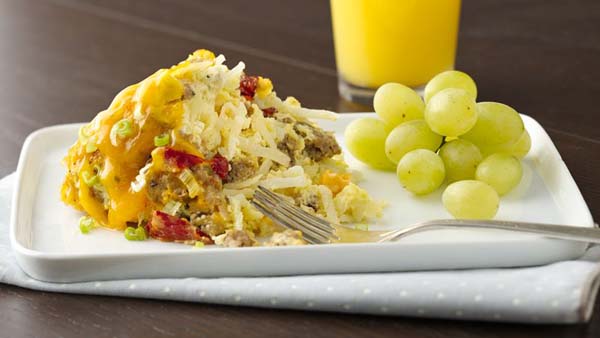 via Betty Crocker
Slow cooking technology is famous for being very healthy. You need only a slow cooker for that recipe. Check out the ingredients and spend some time for preparation. You will not regret. Everyone will appreciate your efforts. Enjoy that special Christmas morning together with the whole family.