Easter is a holiday to be celebrated. And celebrations involve food. There are many snacks and foods that are traditional with the Easter holiday. Ham, mashed potatoes and vegetables to name a few. There are many sides filled with asparagus and main meals filled with chicken and ham. There are a few great ideas that can help you have a big wonderful Easter dinner. Try one of these ideas.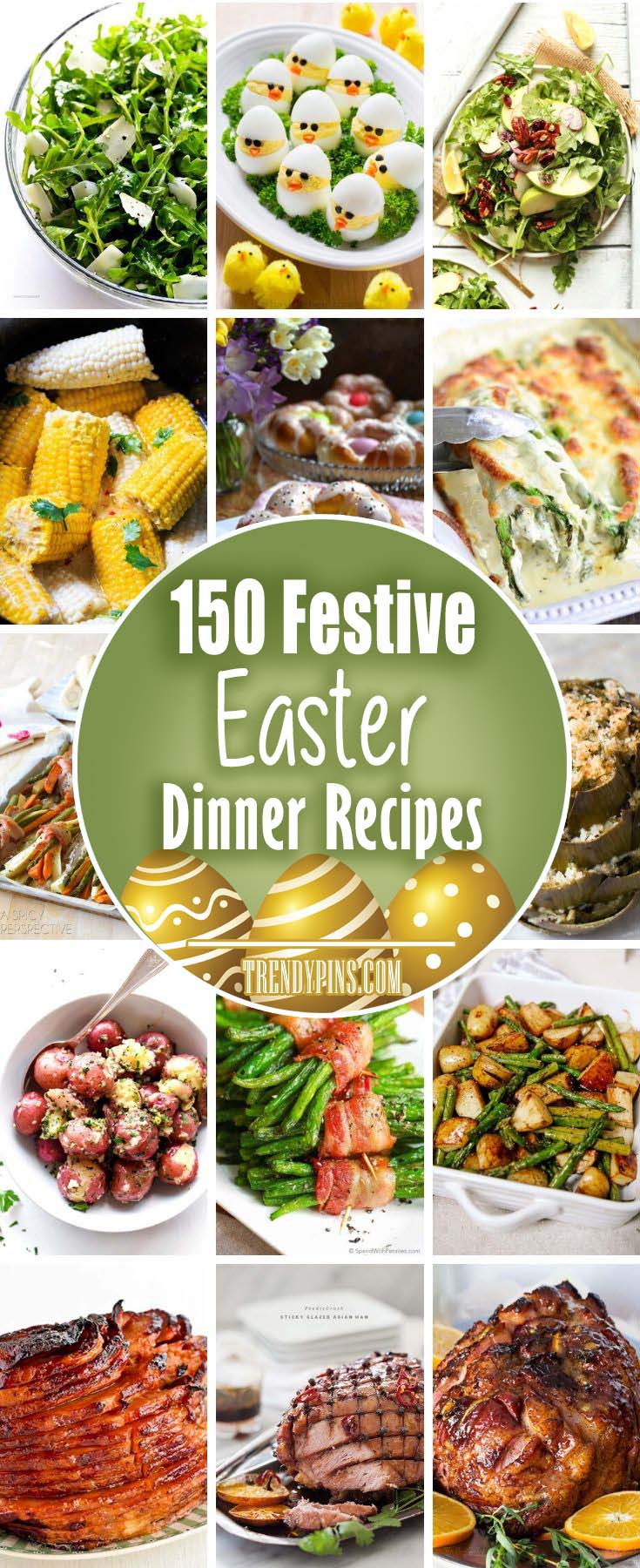 Don't forget to PIN this image for quick access to all these ideas
Appetizer Easter Dinner Ideas
Asparagus and Brie Puff Pastry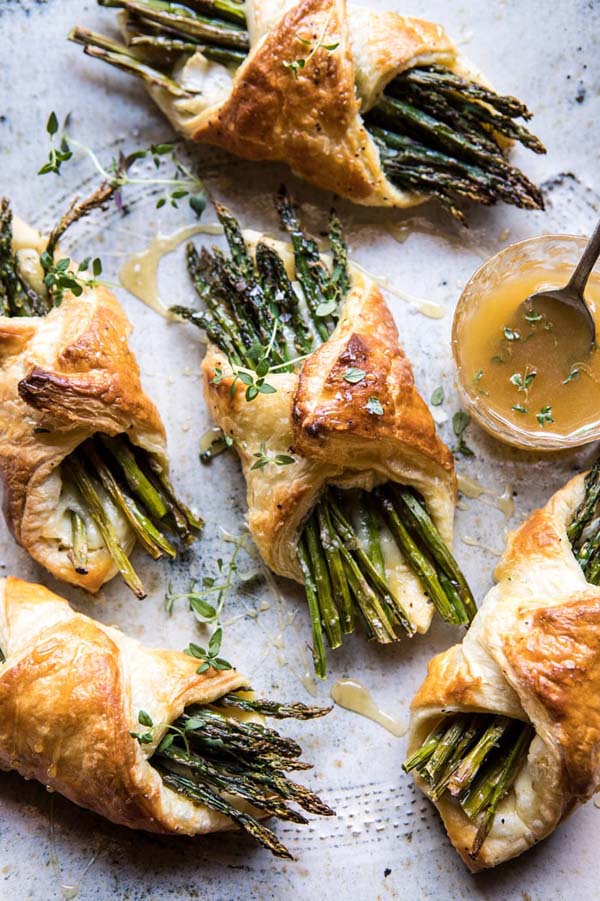 These croissants are filled with delicious cream cheese and asparagus.
Asparagus Gruyere Tart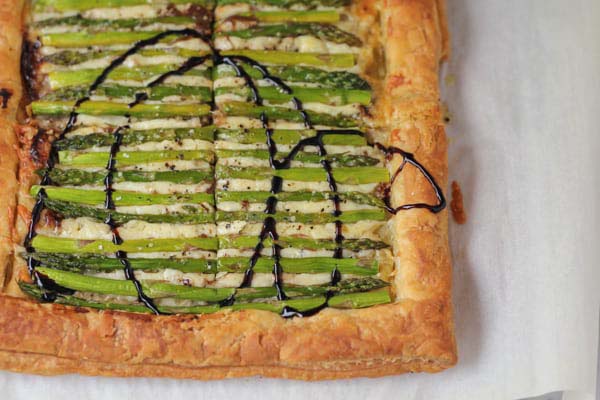 via Hip Foodie Mom
For a sweet spin on Asparagus, try putting the asparagus in a tart.
Best Ever Deviled Eggs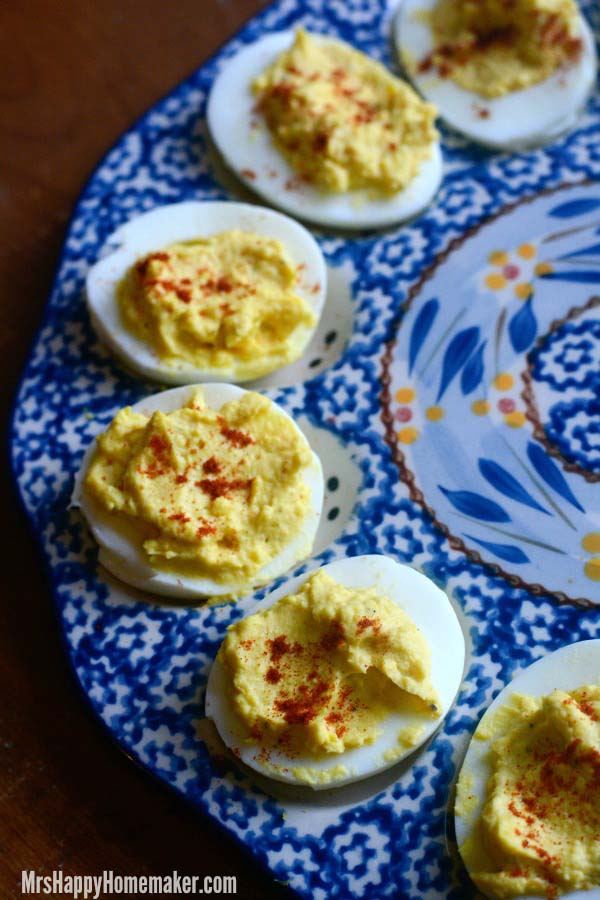 Deviled eggs are a must for any Easter dinner. Add paprika for a splash of color.
Blooming Spinach Artichoke Cups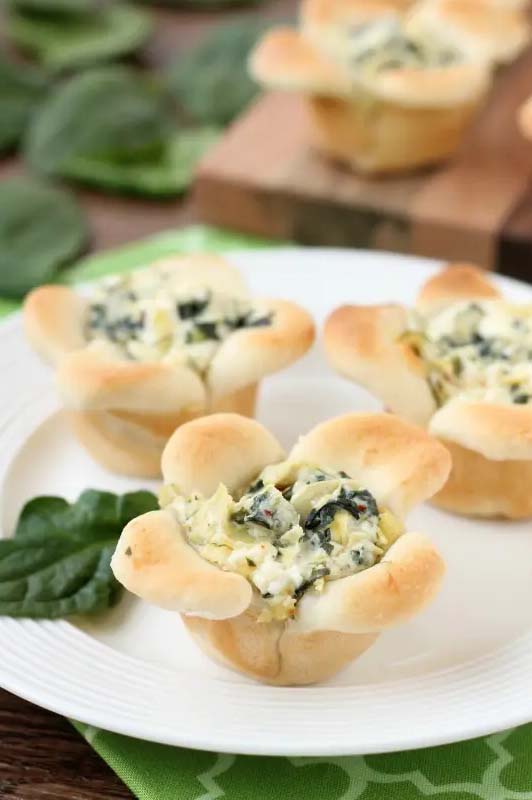 Fill mini muffin pans with croissant dough and bake with spinach and artichoke dip.
Cherry Tomato Tulips with Whipped Feta Filling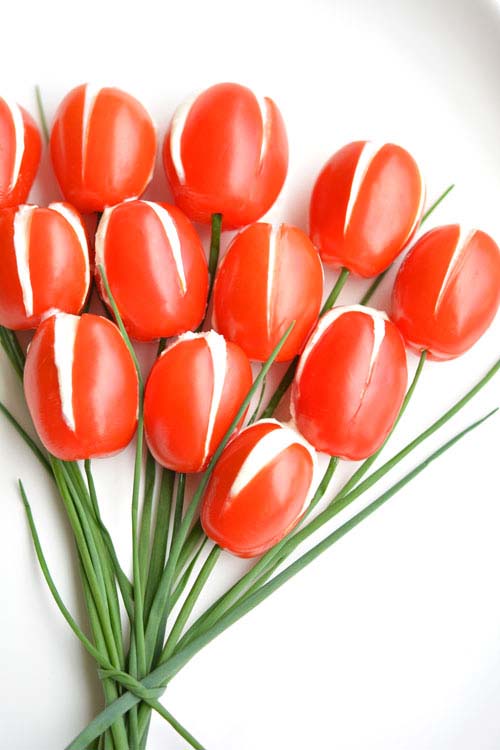 These beautiful tomato tulips are filled with cream cheese filling. The green stems complete the tulip look.
Deviled Egg Chicks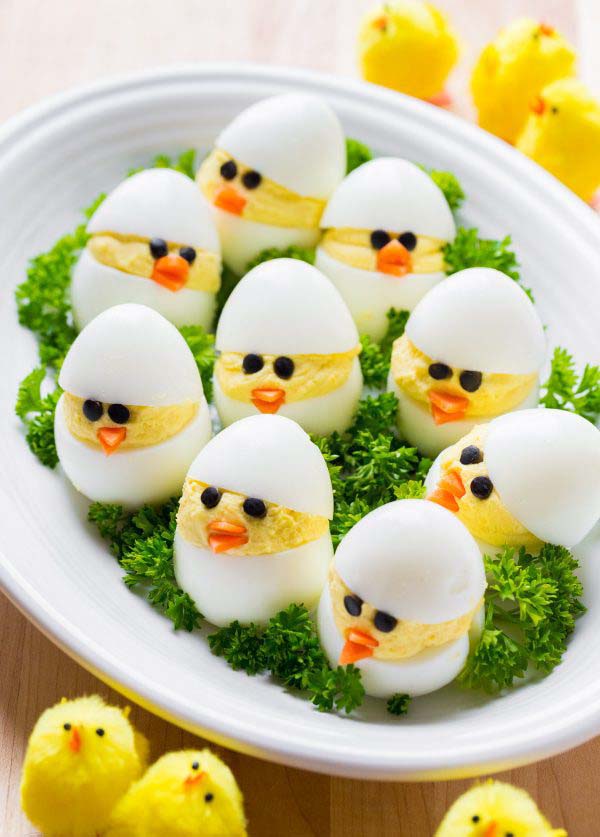 Chicks are a common piece of Easter decor. These deviled eggs have the egg tops back on with deviled egg filling spilling out. The black eyes and orange nose complete the chick look.
Dilly Cucumber Bites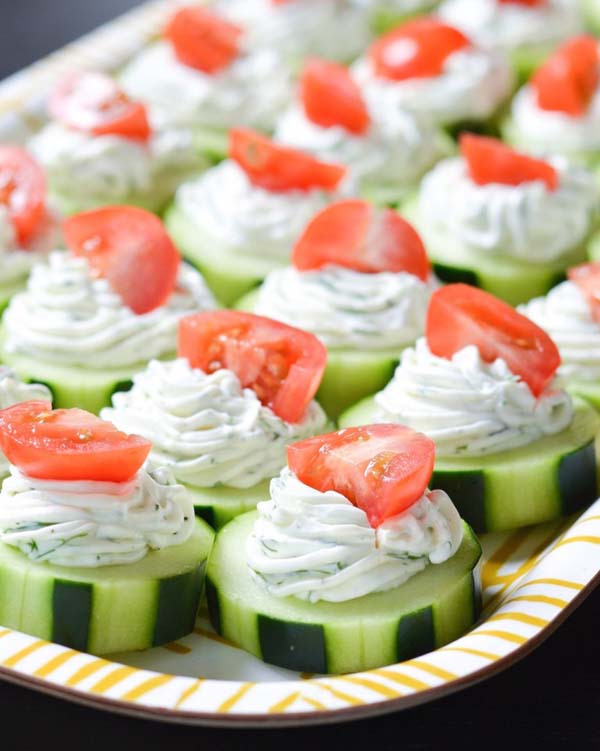 Cucumbers with cream cheese filling and a tomato on top. It makes a quick pre-Easter dinner snack.
Easter Bunny Bread Bowl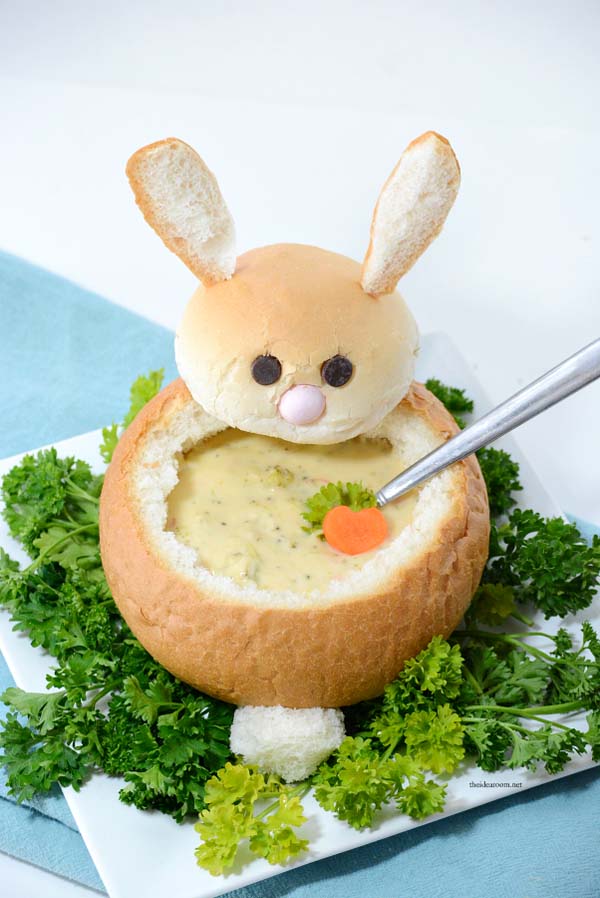 via The Idea Room
Make a bread bowl by cutting the top off. Then use the top as a bunny head and bread ears. This makes a bunny bread bowl. Both a decoration and a snack.
Easter Bunny Spinach Dip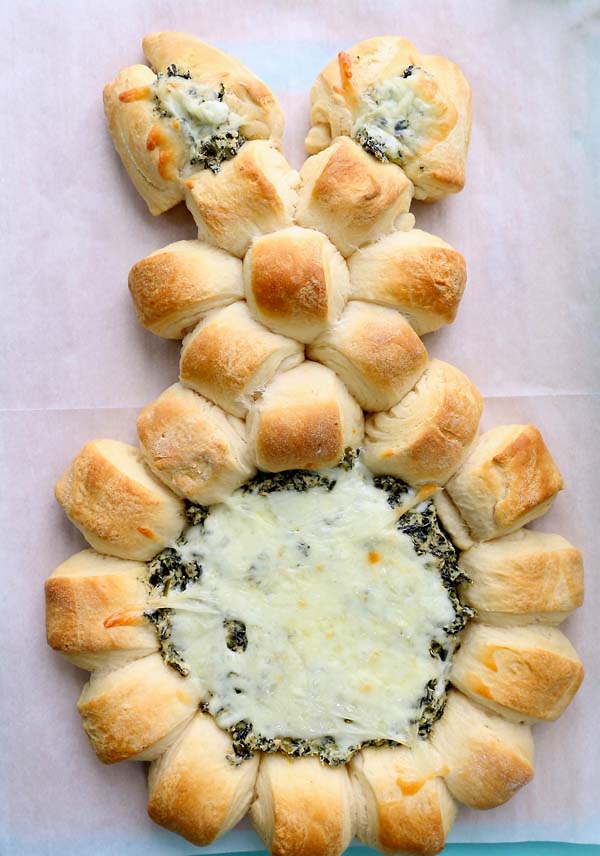 Another adorable bunny decoration and snack is a bread bowl. The ears and face are made from pull-apart bread. And filled with filling.
Easter Carrot Cheese Ball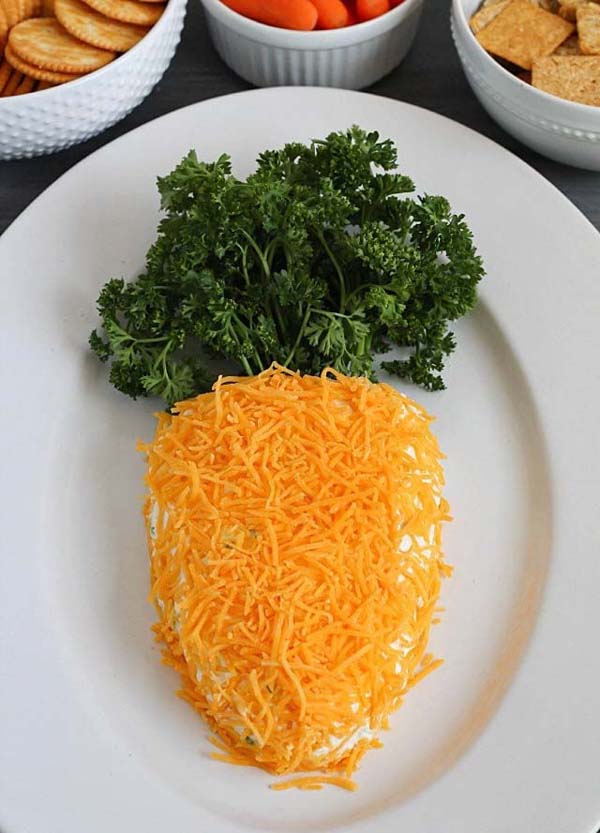 Carrot cheese balls are simple to make into a carrot shape. Then use lettuce or another green vegetable to make the carrot top.
Easter Fruit Pizza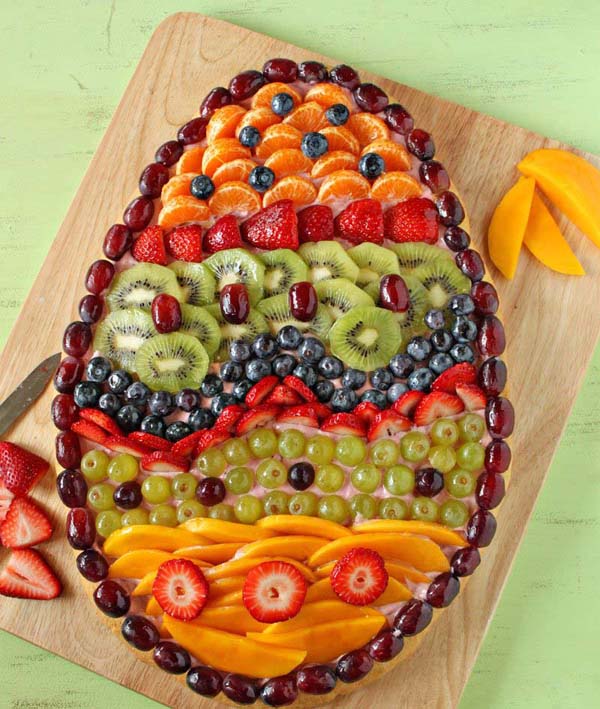 via Sugar Hero
Fruit pizza is delicious. It can be made Easter themed by shaping it to look like a dyed egg.
Easter Peeps S'mores Dip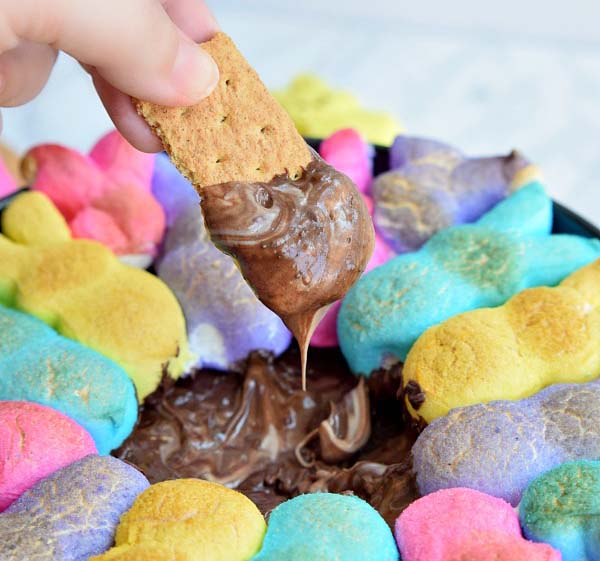 Everyone loves s'mores so make it a delicious Easter treat. Melt the marshmallows and chocolate and surround it with full marshmallow peeps.
Easy Cheese Carrots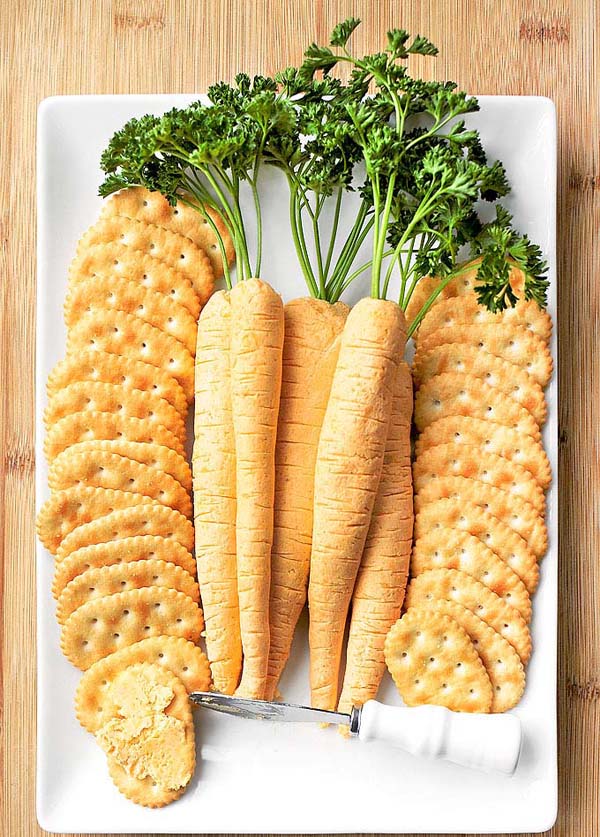 Make yellow carrots out of cheese. Then surround it with crackers to dip in the cheese.
Easy Easter Appetizer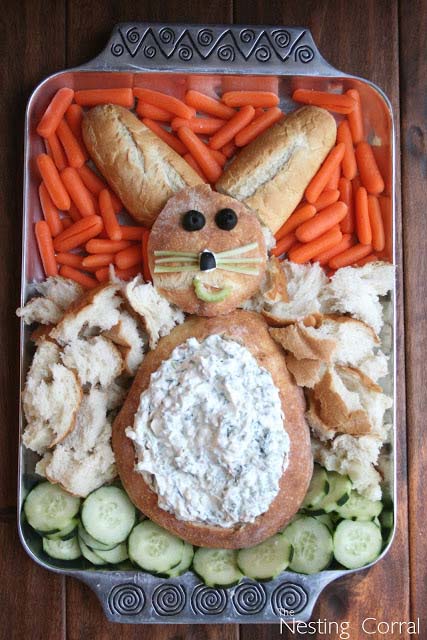 Bread bowls are a perfect bunny tummy. Then use the head as a face and bread sticks for ears. Fill the tummy with dip and surround it with vegetables. This is an easy Easter appetizer.
Ham and Cheese Pinwheels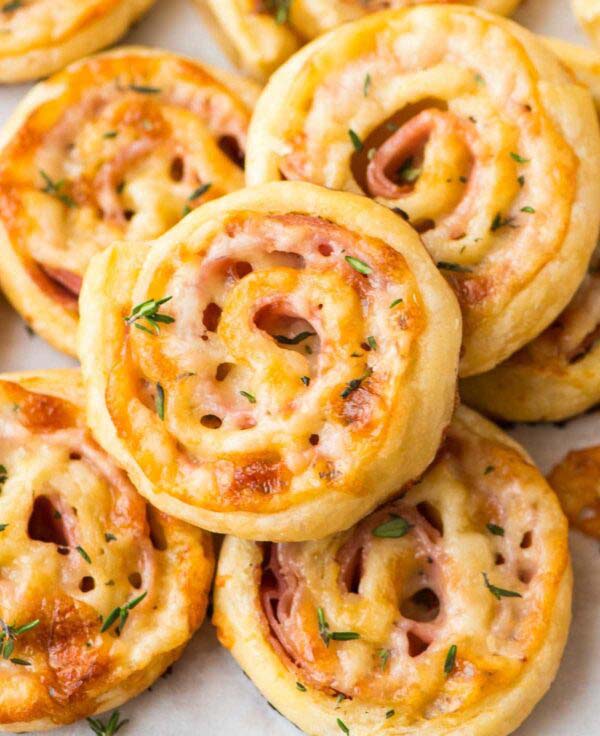 via Well Plated
Bake these delicious ham rolls by rolling bread, cheese and ham.
Prosciutto Wrapped Asparagus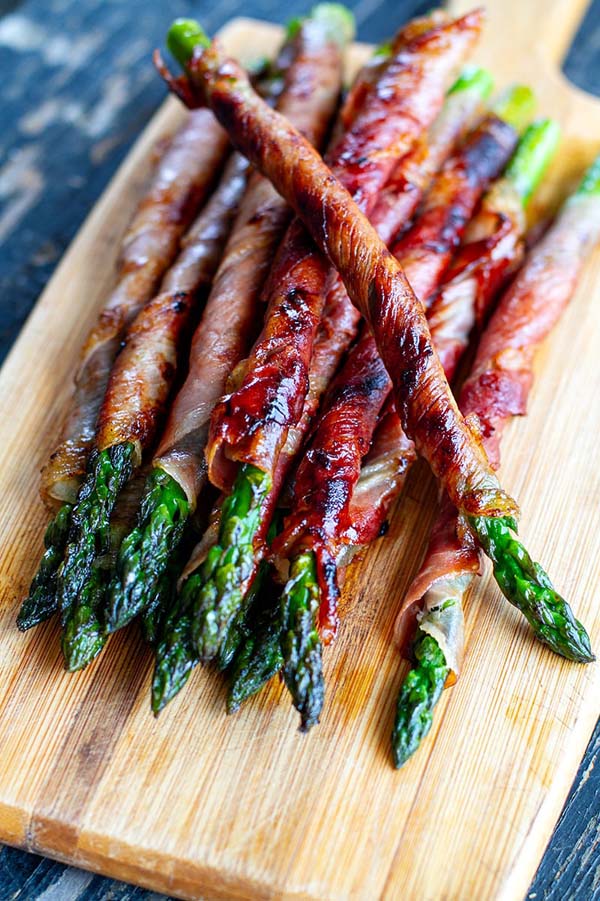 via Irena Macri
Asparagus is not very good, but wrap it in bacon and all of your party go-ers will love it.
Smoked Salmon and Cream Cheese Cucumber Bites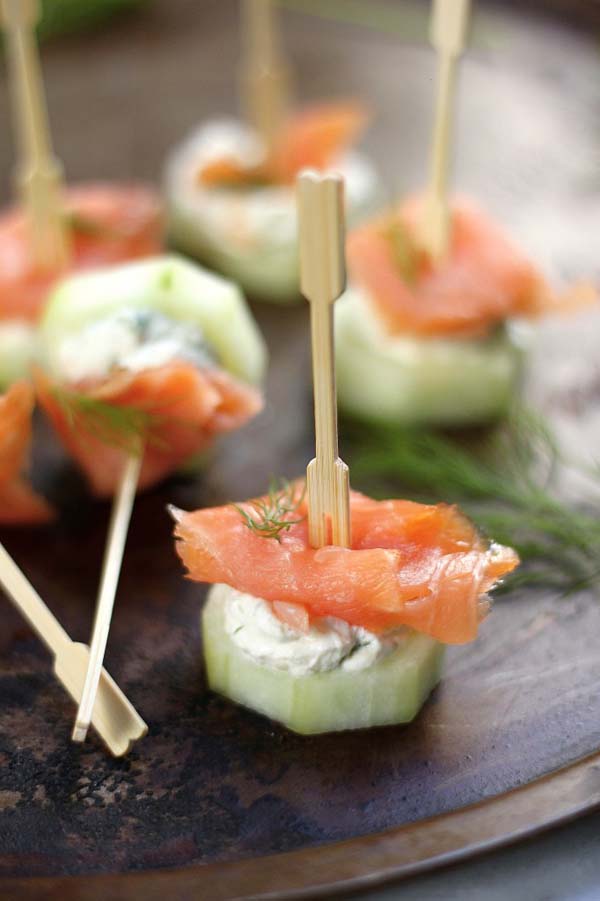 via Baker By Nature
These mini bites are made with cucumber, salmon and cream cheese filling.
Spinach Artichoke Dip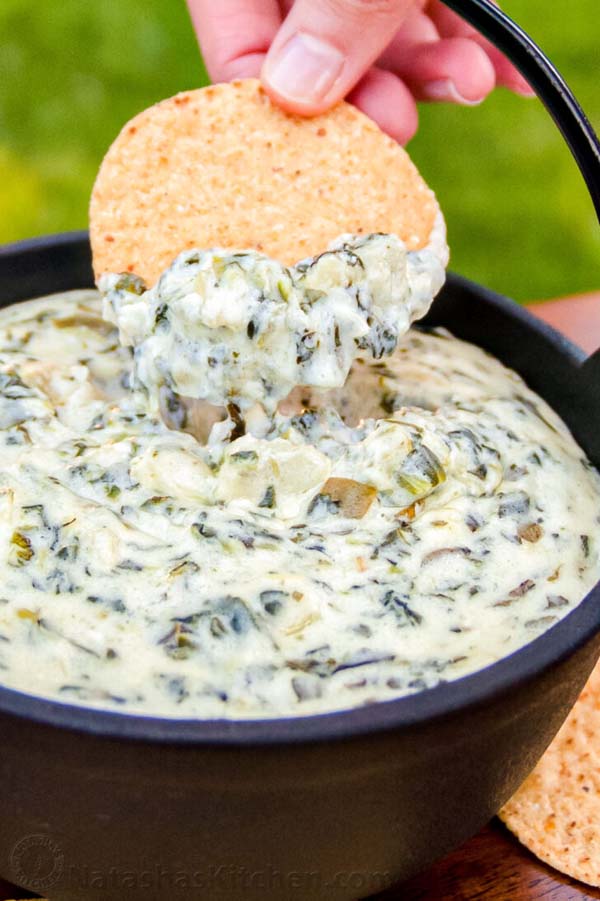 Classic asparagus and spinach dip are delicious. Surround it with chips and add it to your Easter snack table.
Spinach Dip Bites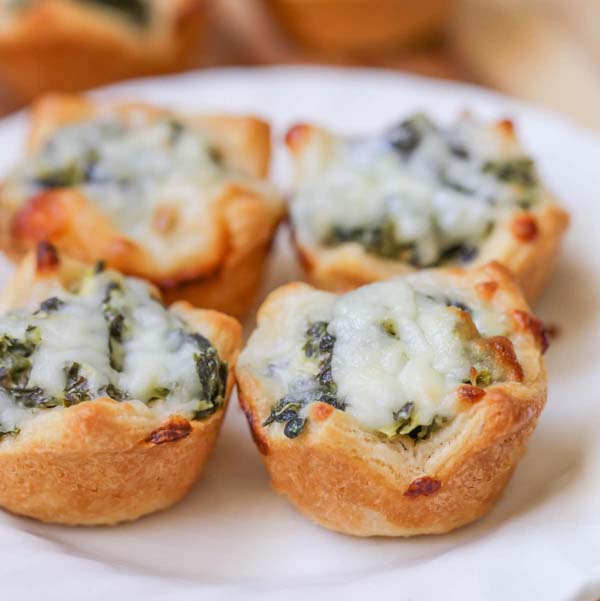 via Lil Luna
Fill croissants with spinach dip for tasty mini snacks.
Spinach and Cheese Balls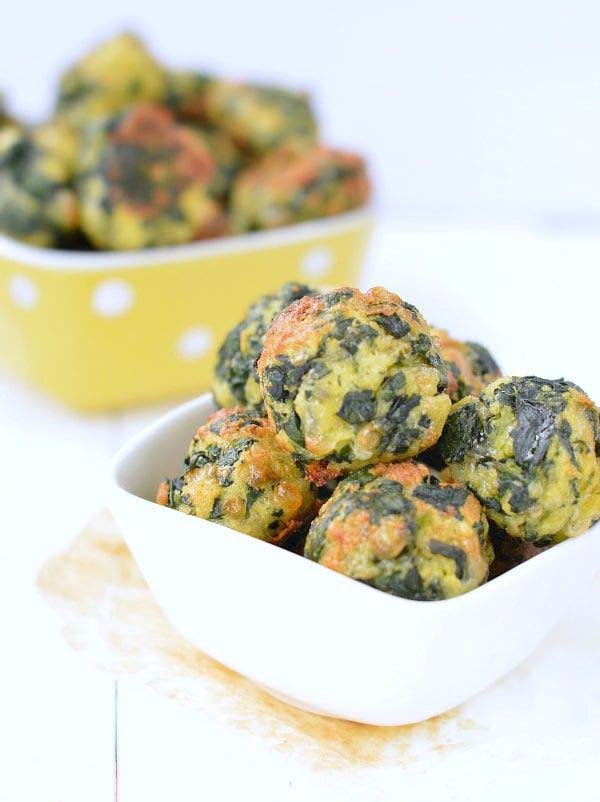 via Sweet as Honey
Roll cheese, spinach and dough together and bake it. This will create these delicious cheese balls.
Spinach Dip Pinwheels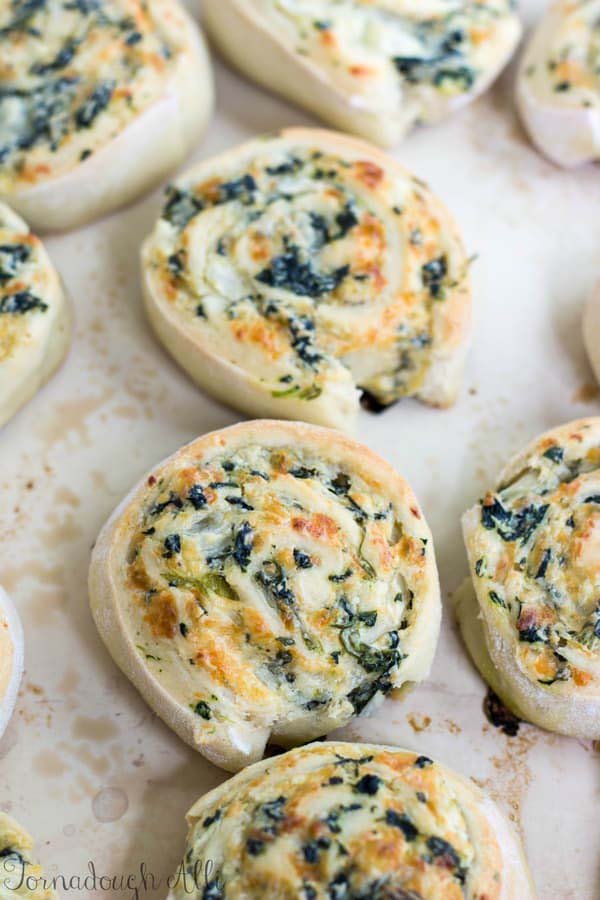 via Tornadough Alli
Roll dough and spinach dip and cut. Then you will end with delicious pinwheels.
Main Entree Easter Dinner Ideas
Ham
Bourbon Orange Glazed Ham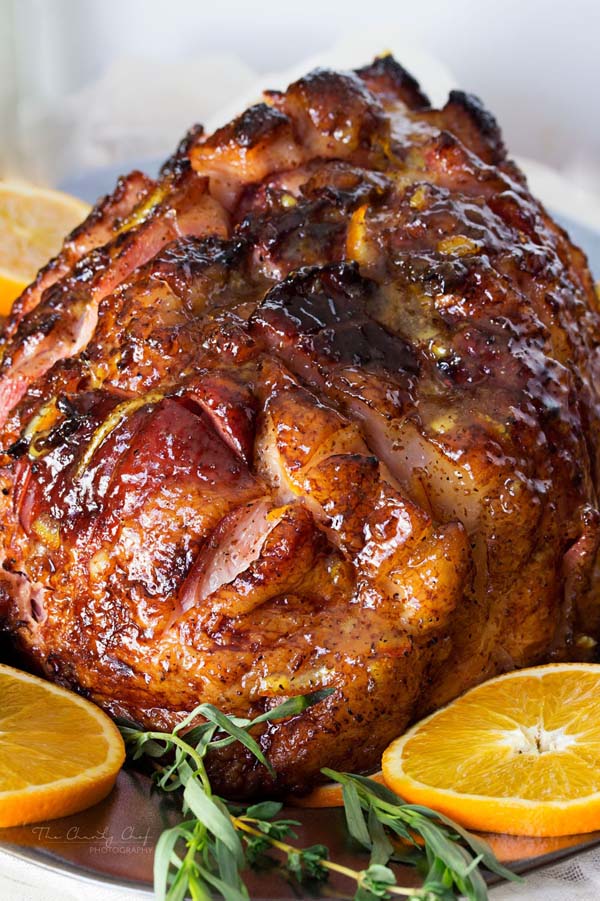 via The Chunky Chef
For a main course, make this honey glazed ham.
Chipotle Pineapple Jerk Glazed Ham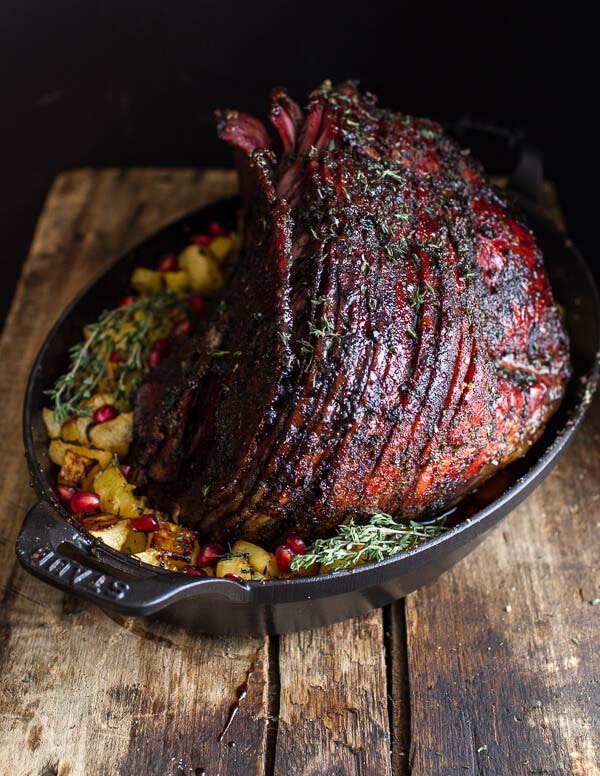 This delicious ham is glazed with jerk seasoning and overbaked. It makes a crispy delicious main course.
Coca-Cola Glazed Ham with Brown Sugar and Dijon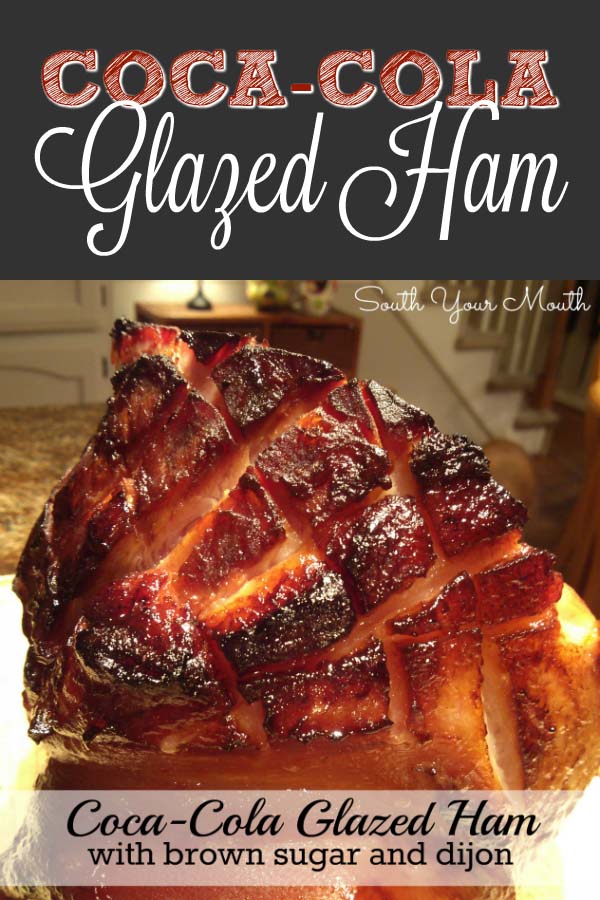 via South Your Mouth
Coca-cola is a delicious glaze to spice up a basic ham. Perfect for your Easter celebration.
Copy Cat Honey Baked Ham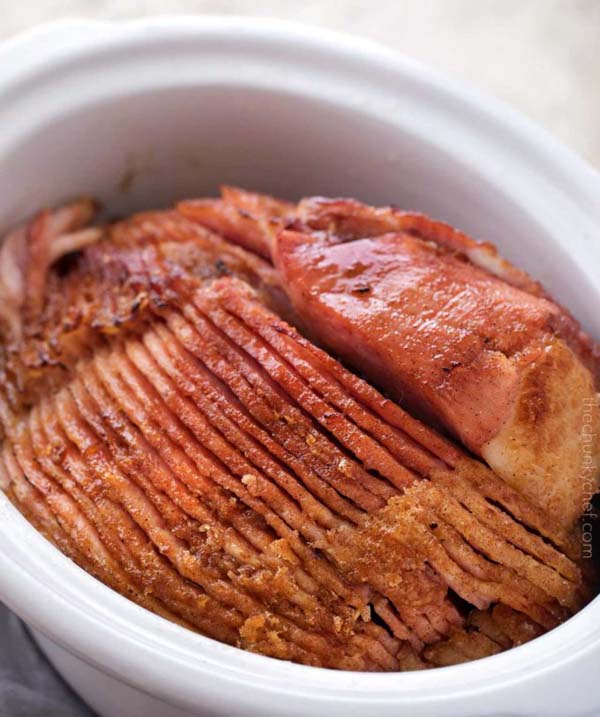 via The Chunky Chef
This ham is glazed with honey glaze and is baked. It is a slightly dryer way to cook a delicious Easter ham.
Dr. PepperGlazed Ham
via Jam Hands
Soda is a perfect glaze because it has sugar and a little moisture to the ham. Use Dr. Pepper to glaze your Easter ham.
Slow Cooker Brown Sugar Ham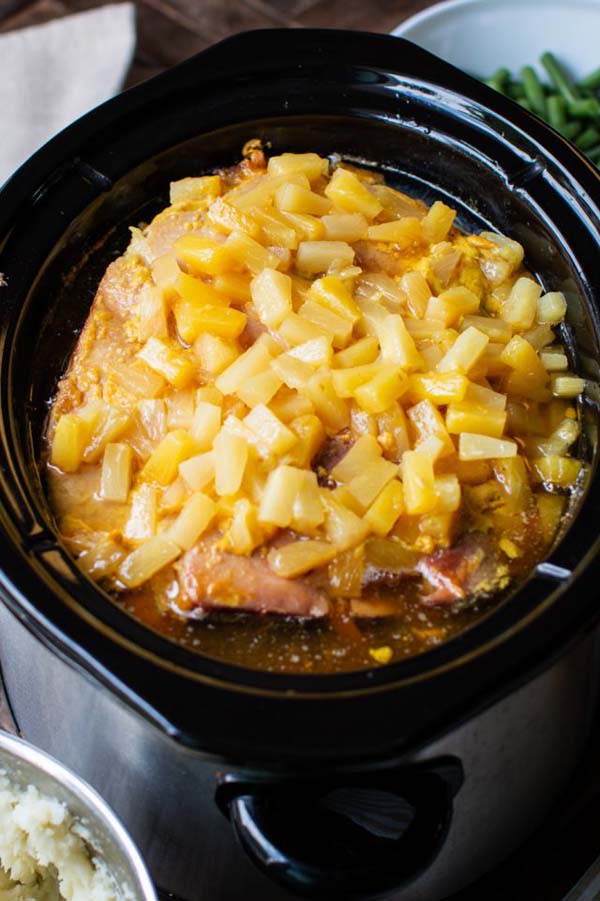 Use a slow cooker to make a delicious moist ham. Cover it with pineapple for a sweet touch.
Southern Honey Glazed Ham
via Flavorite
Southern-style glaze adds a little sweet and a little spice for your Easter ham.
Sticky Asian Ham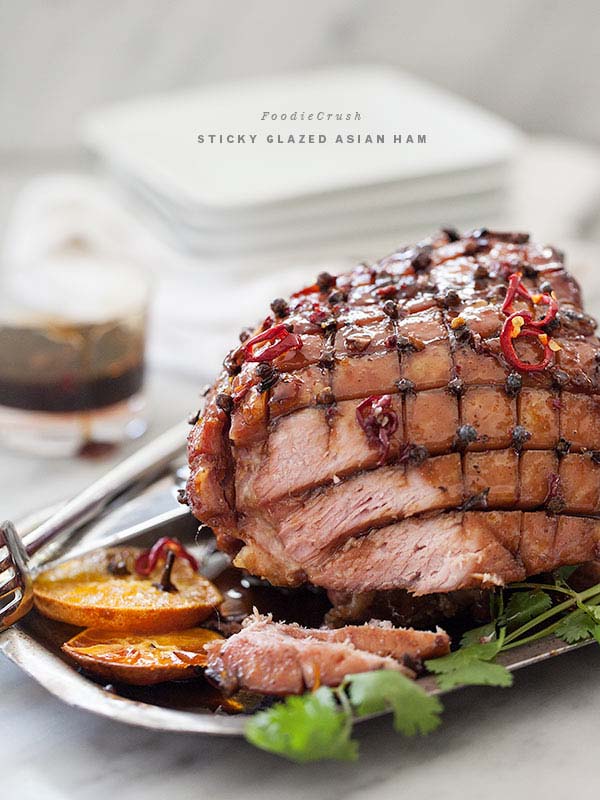 via Foodie Crush
Cut your ham crossways so that the moisture of the glaze can sink in. Use an asian style ham for a deliciously sweet and sour ham.
World's Best Brown Sugar Ham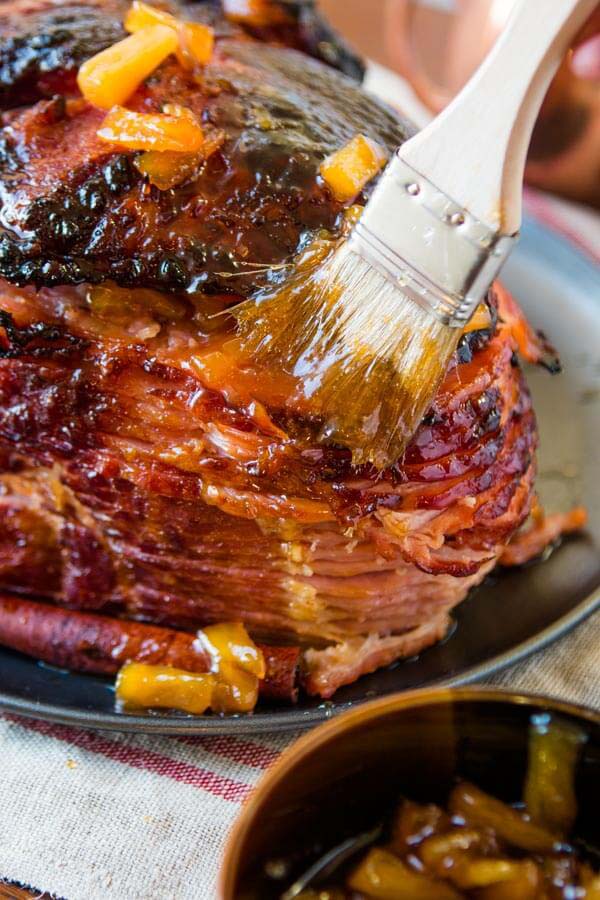 via Oh Sweet Basil
Everyone loves the sweet-tasting brown sugar ham.
Baked Ham with Pineapple Brown Sugar Glaze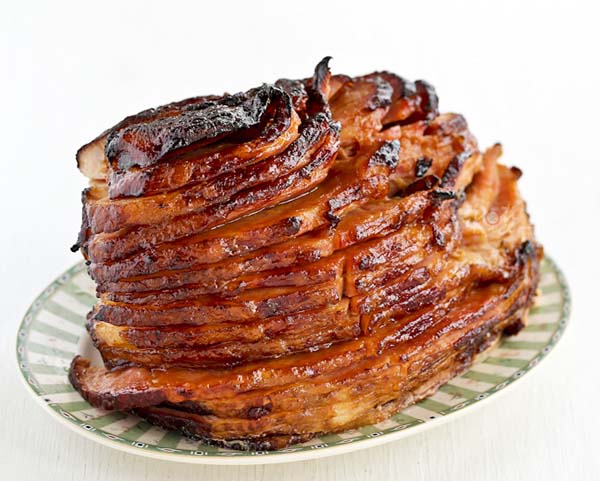 via Roti n Rice
Pineapple has a little bit of a bite to it. Use pineapple and brown sugar to glaze your Easter ham.
Fall Off The Bone Crockpot Ham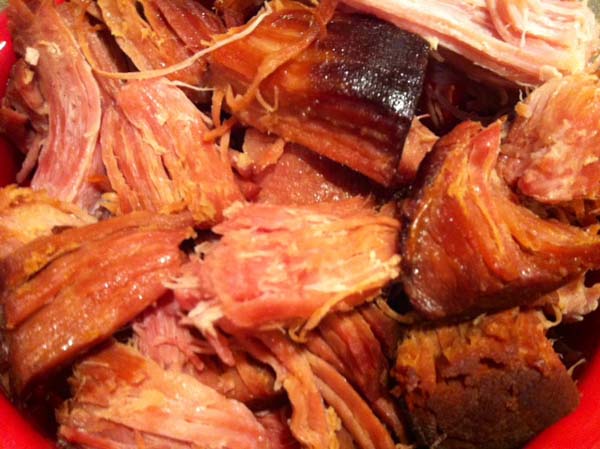 via Something Sweet, Something Salty
Cooking your Easter ham in the crockpot makes it the perfect even moisture to let it just fall off the bone.
Riesling Peach Glazed Ham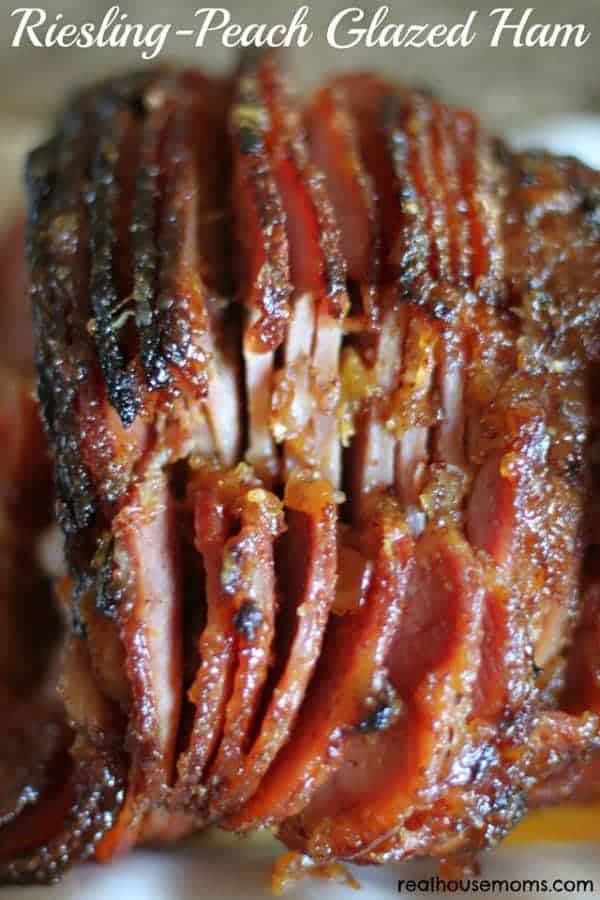 via Real Housemoms
Place strips of peaches in between slices of ham on the bone. Then cover with brown sugar glaze.
Slow Cooker Glazed Ham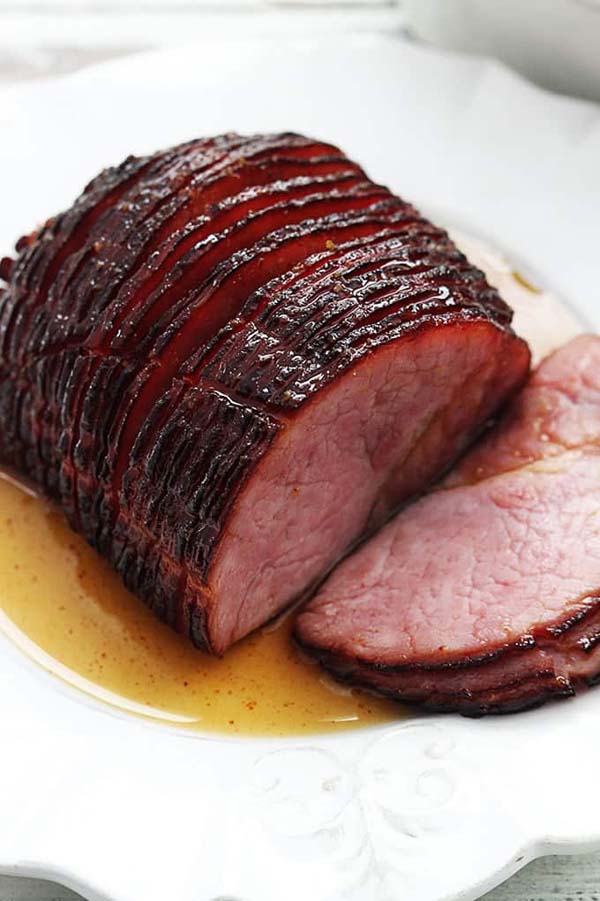 Glaze your ham overnight and then cook in the slow cooker for a delicious touch to your Easter dinner.
Other Easter Dinner Main Entrees
Best Baked Garlic Pork Tenderloin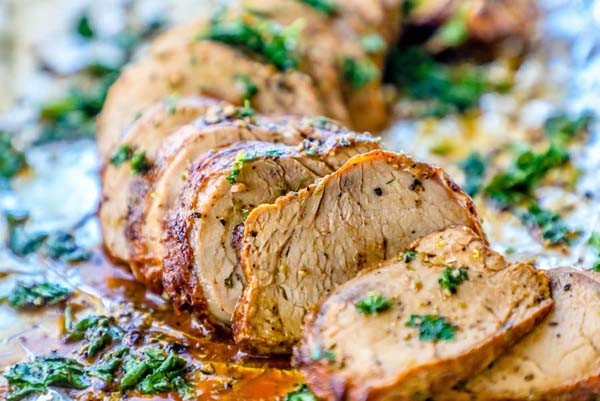 Pork tenderloin is another delicious addition as the main course for your Easter dinner.
Herb Crusted Leg of Lamb with Mint Gremolata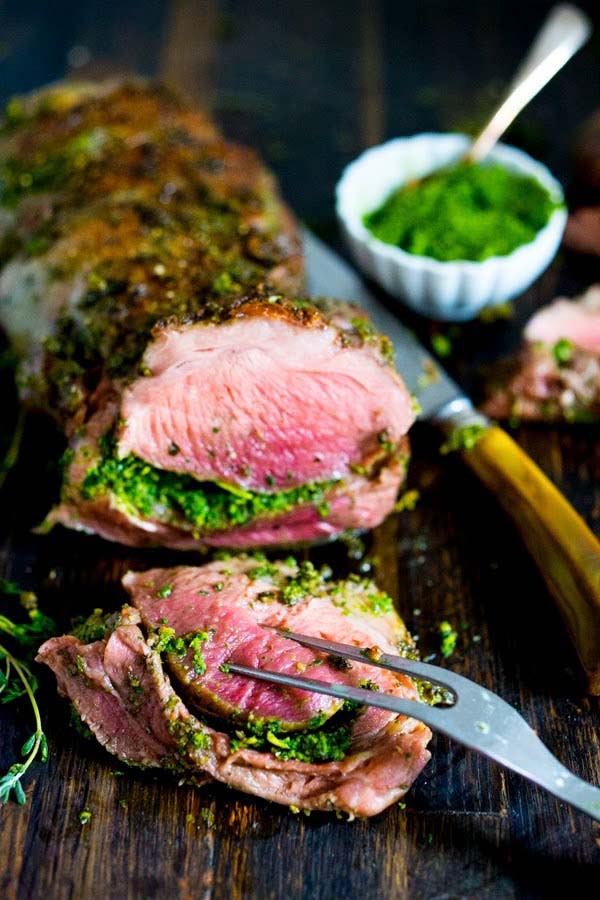 via Feasting at Home
Mint glaze is perfect for the top of an Easter leg of lamb.
Roast Chicken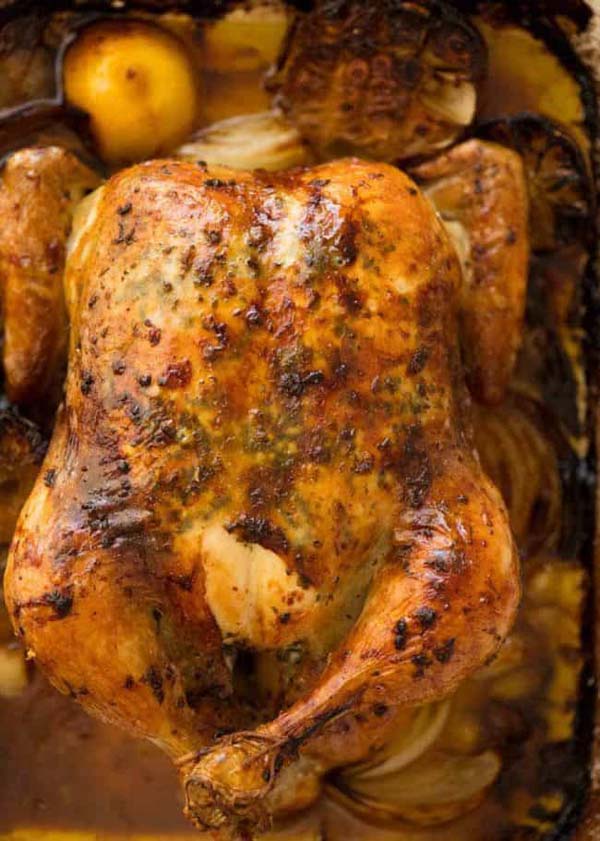 via RecipeTin Eats
Roasted chicken with the perfect glaze adds a great crispy chicken touch to your Easter dinner.
Roasted Pork Tenderloin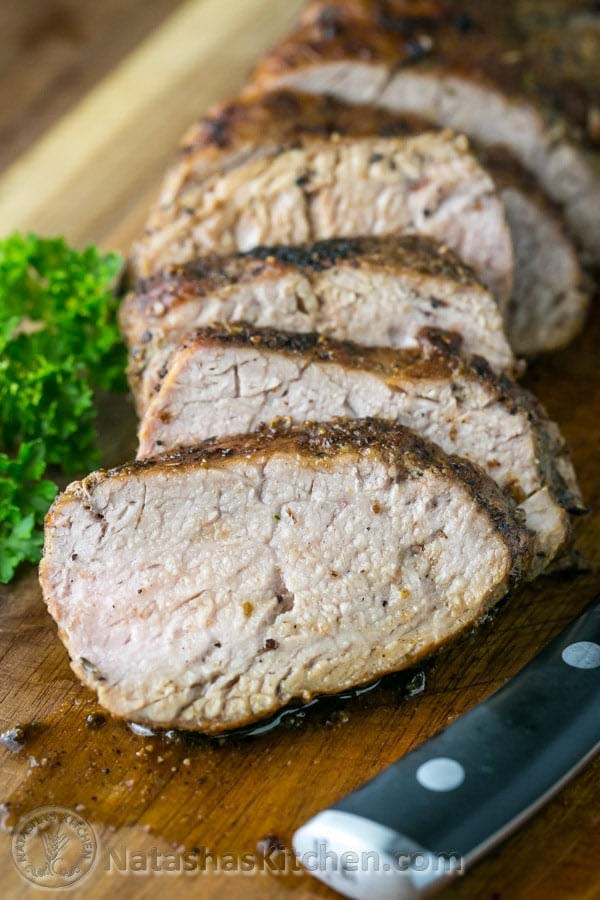 Roast tenderloin and add delicious sides. Your Easter guests will be sure to be impressed.
Rosemary Crusted Lamb Chops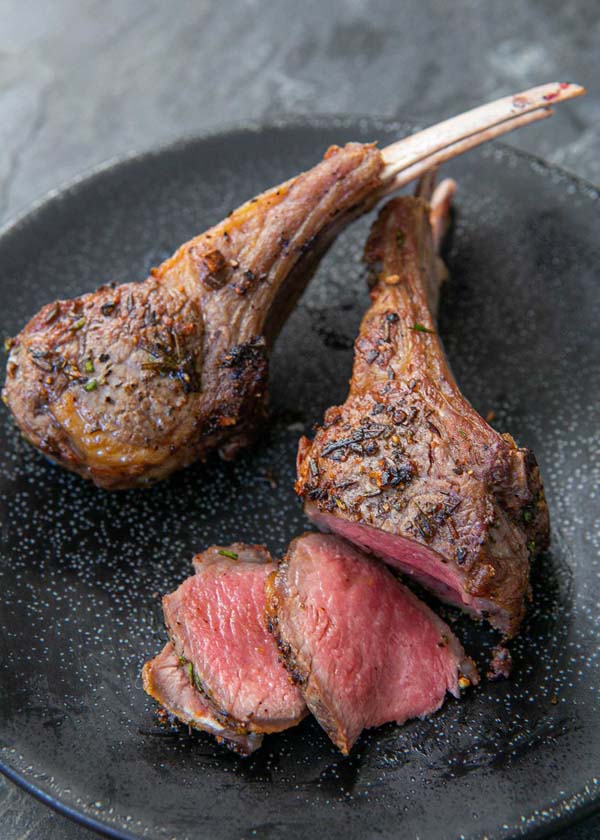 via Simply Recipes
Lamb chops can be perfectly glazed and roasted for an impressive main course for your Easter meal.
Ultimate Garlic Pork Loin Roast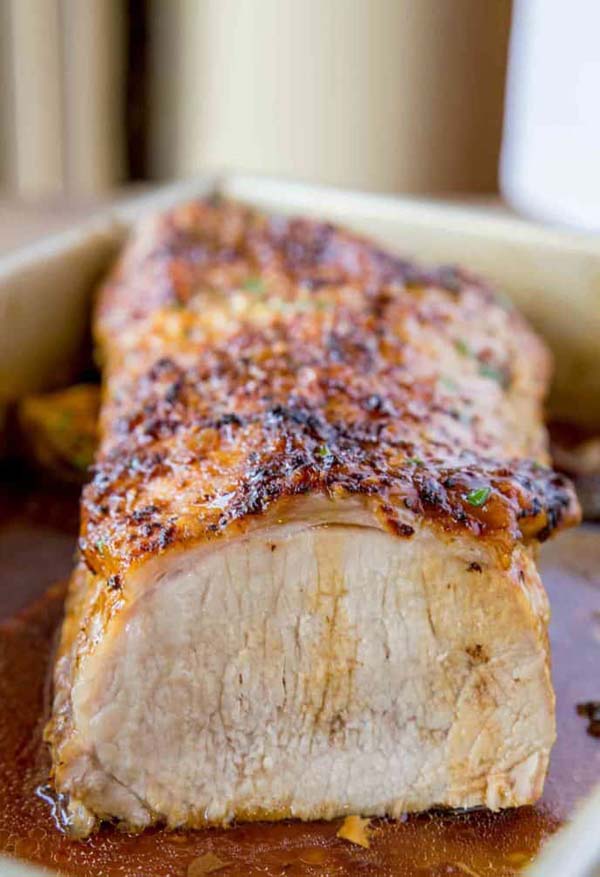 Make a garlic glaze for pork loin.
Side Dish Easter Dinner Ideas
Carrots
Easy-Garlic-and-Herb-Roasted-Carrots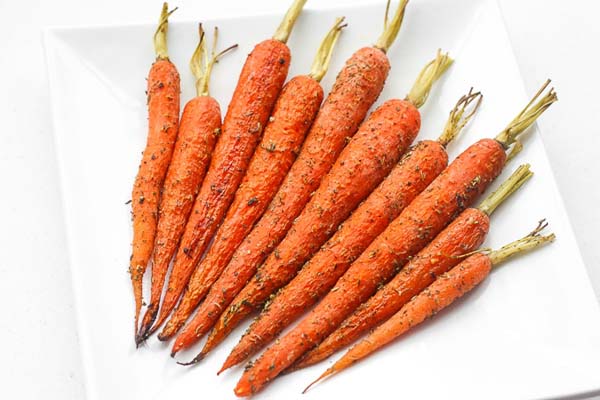 via Ahead of Thyme
Coat carrots in delicious glaze and roast for a simple Easter side.
Parmesan Roasted Carrots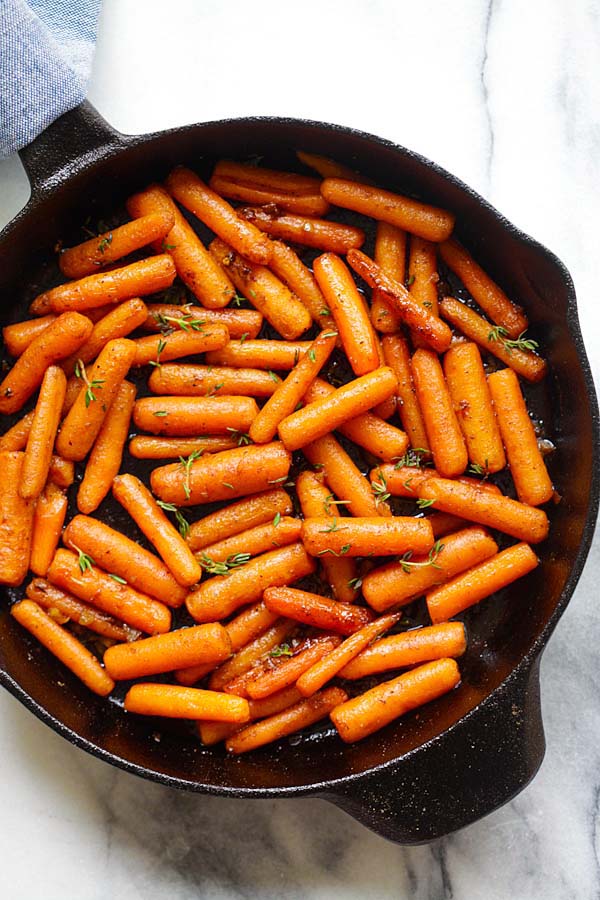 Roast carrots with parsley and parmesan for a delicious Easter side.
Secret Ingredient Honey Garlic Roasted Carrots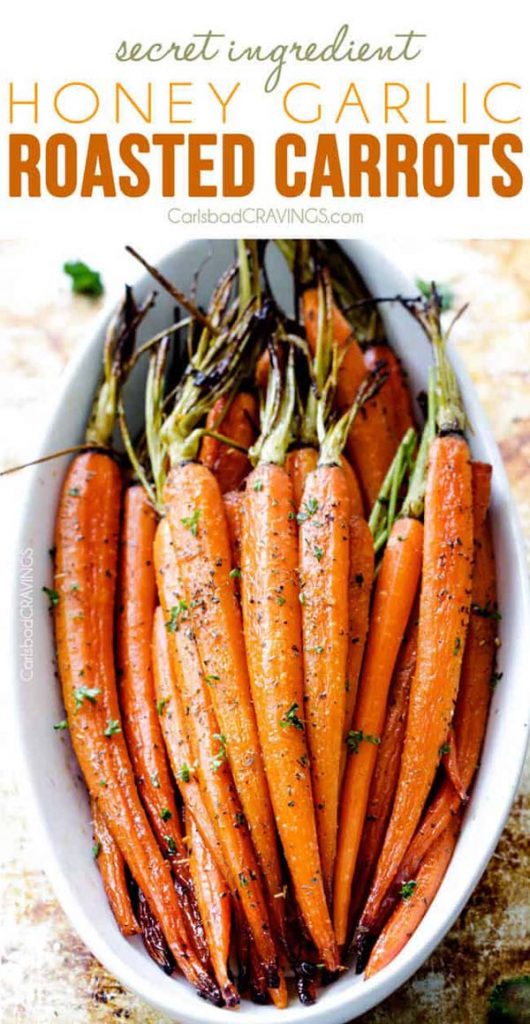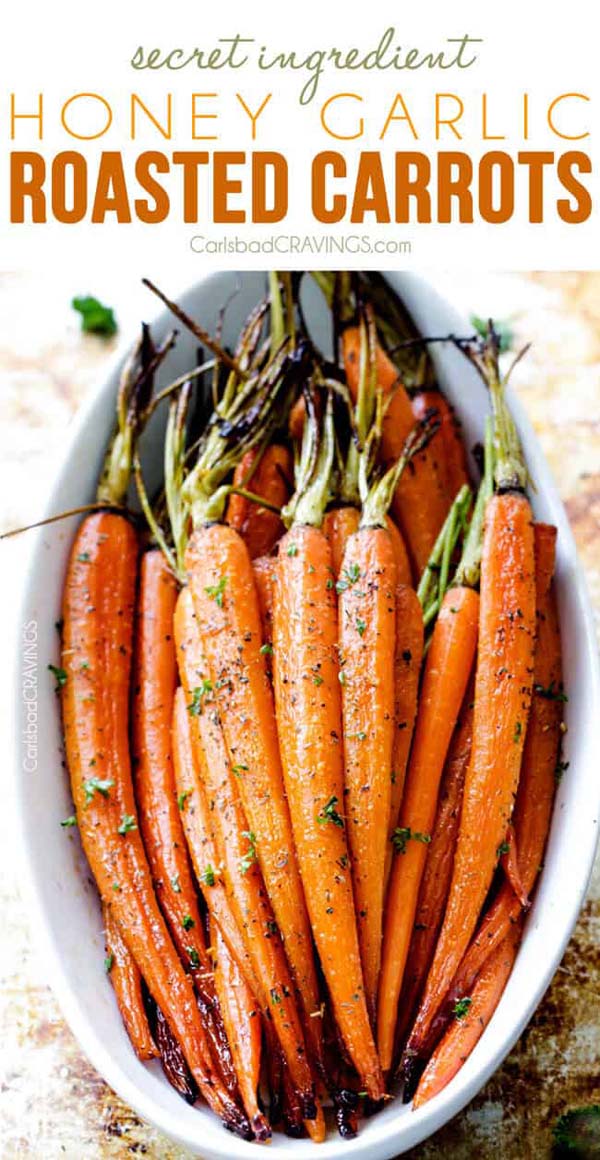 Honey is a sweet touch to garlic roasted carrots.
Asparagus, Spinach & Kale
Awesome Sauteed Kale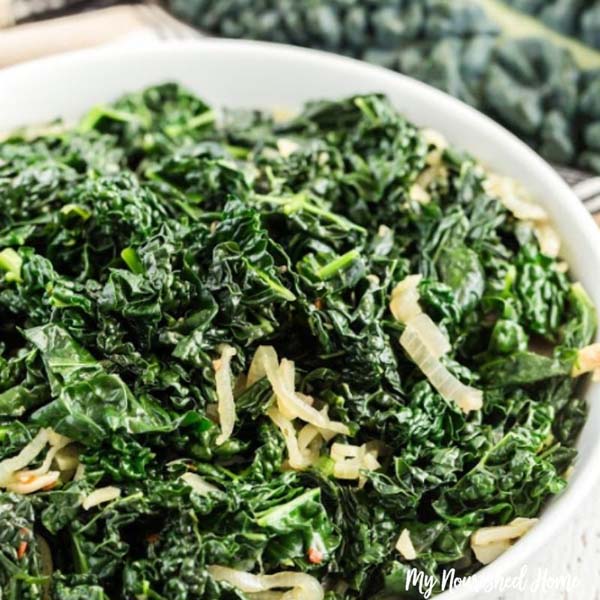 You would never consider cooking kale. However, it is delicious roasted with seasonings.
Creamy Italian Asparagus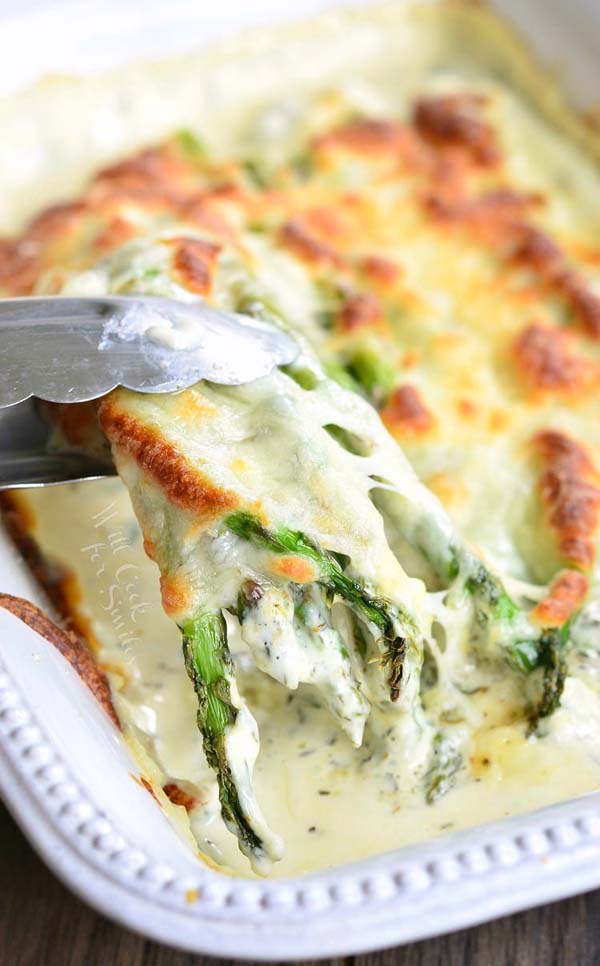 Italian asparagus has the delicious typical Italian touches including parmesan and garlic.
Lemon Orzo with Asparagus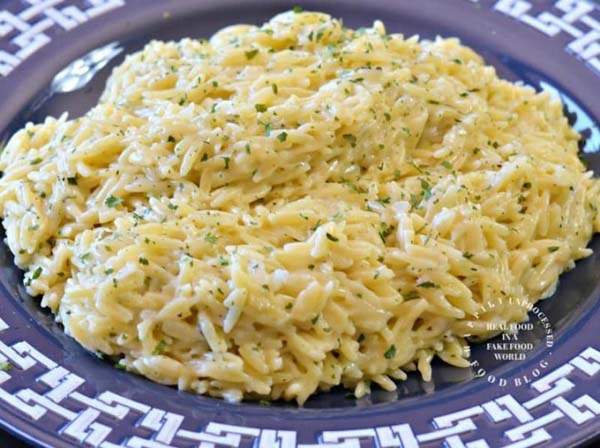 Add lemon to rice orzo and then mix in cheese. This makes a sticky delicious addition to an Easter plate.
Oven Roasted Asparagus with Garlic, Parmesan & Lemon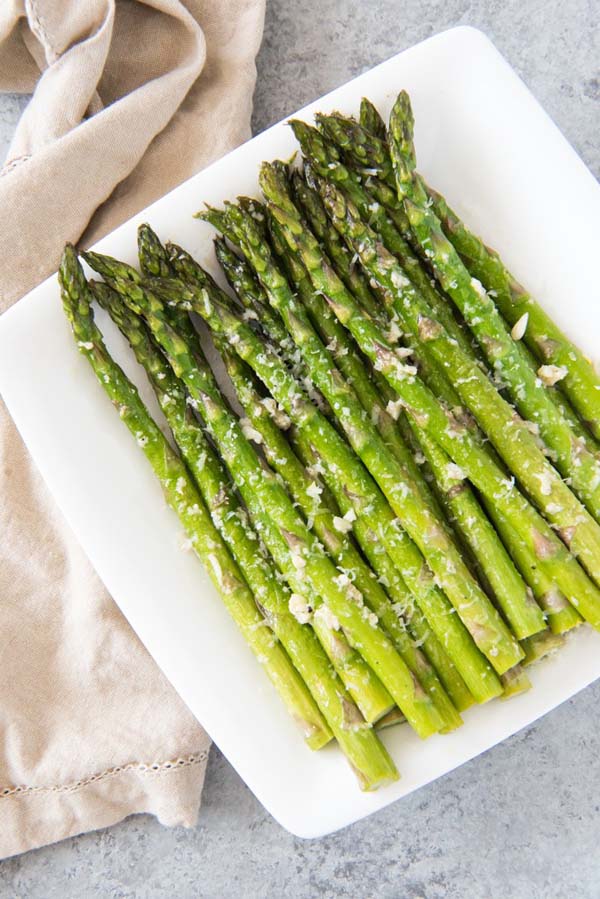 For a simple side, roast asparagus with lemon and cheese.
Spinach-Gratin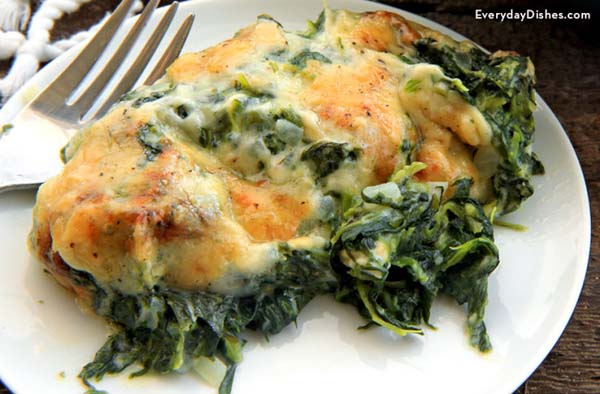 via Everyday Dishes
Roast potatoes and asparagus with cheese and other seasonings for a simple and delicious side.
Corn
Creamed Corn Au Gratin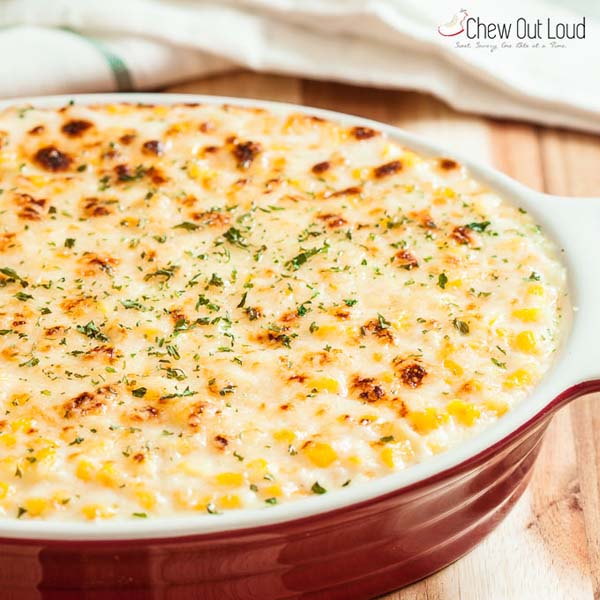 via Chew Out Loud
Corn Au Gratin is a classic side for a delicious Easter meal.
Crock Pot Corn on the Cob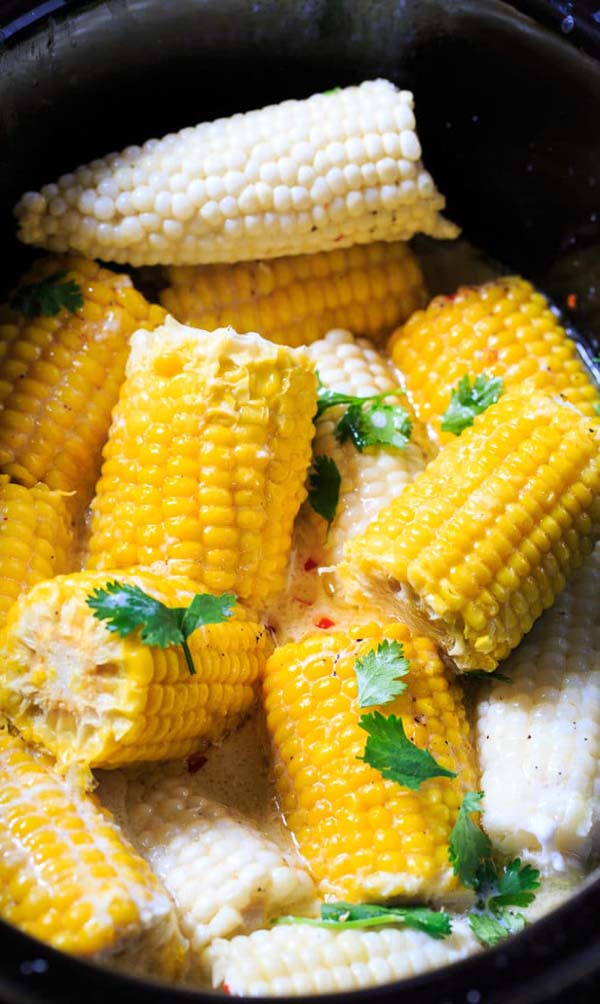 Did you know that you can make corn on the cob in the crockpot? Add butter and water and let simmer all morning for a simple side.
Nantucket Corn Pudding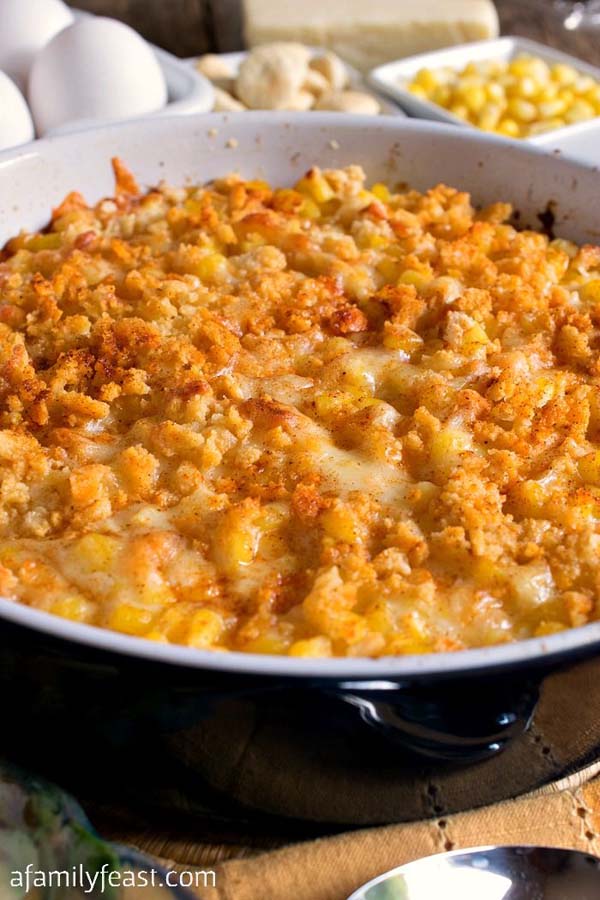 via A Family Feast
Add corn pudding to the side of your Easter meal for a yellow pop to the plate.
The Most Amazing Oven Roasted Corn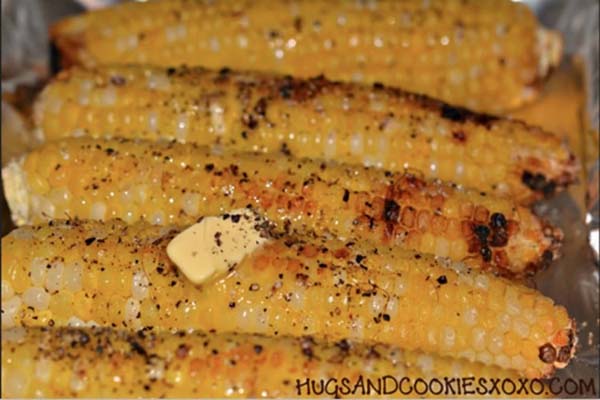 via Hugs & Cookies
For a simple but delicious side, roast whole corn in the oven with butter and spices.
Potatoes
Balsamic Roasted New Potatoes with Asparagus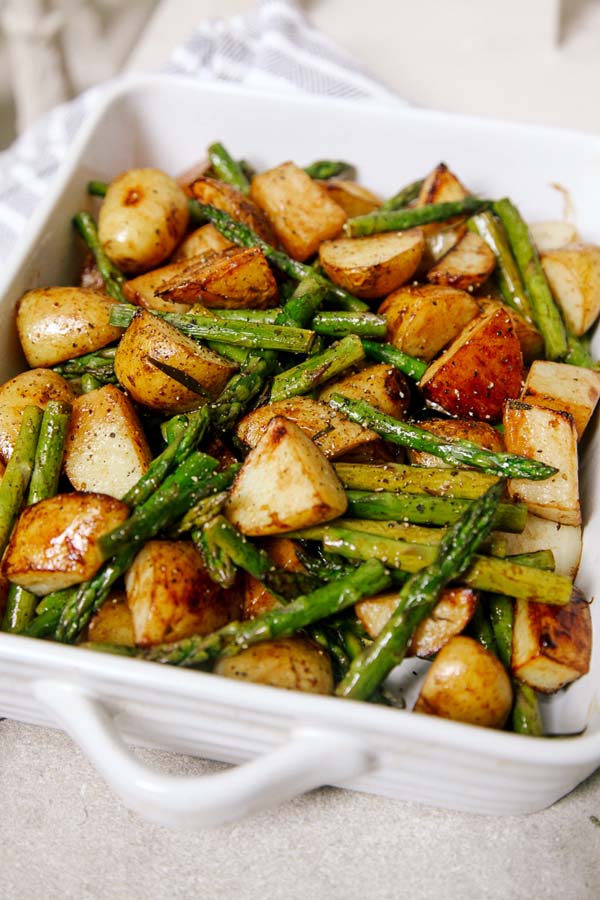 Add balsamic coating to your mini potatoes and asparagus for a simple side for an Easter dish.
Best Potato Salad Recipe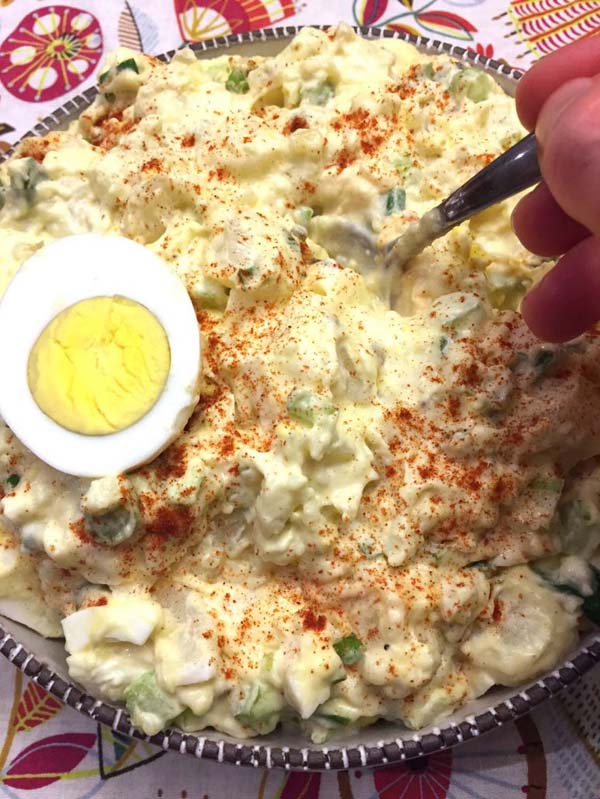 via Melanie Cooks
Potato salad adds another side that is simple. You can make it yourself or just buy it from the store.
Buttery Parsley Potatoes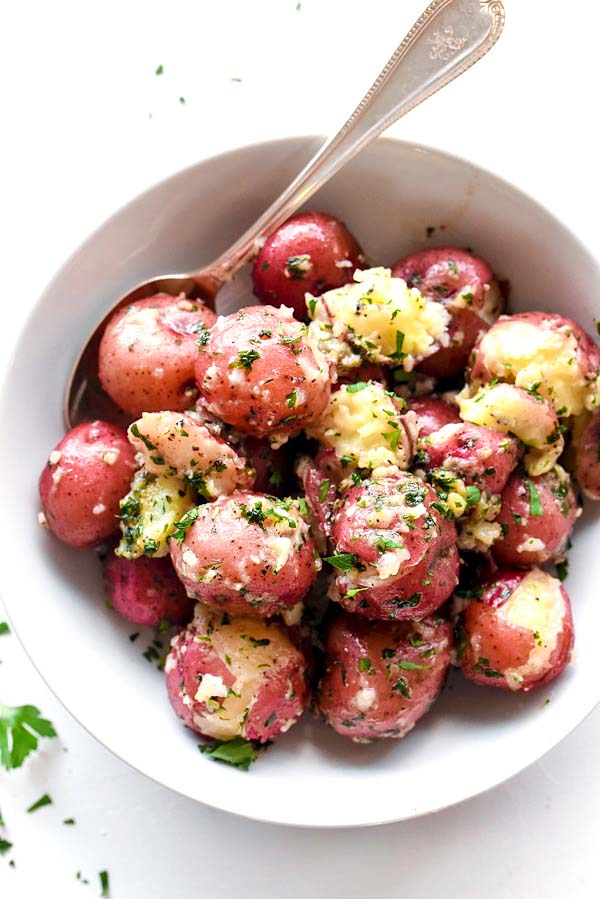 via Foodie Crush
Bake your small potatoes whole and cover with seasonings and cheese
Cheddar Bacon Ranch Potato Salad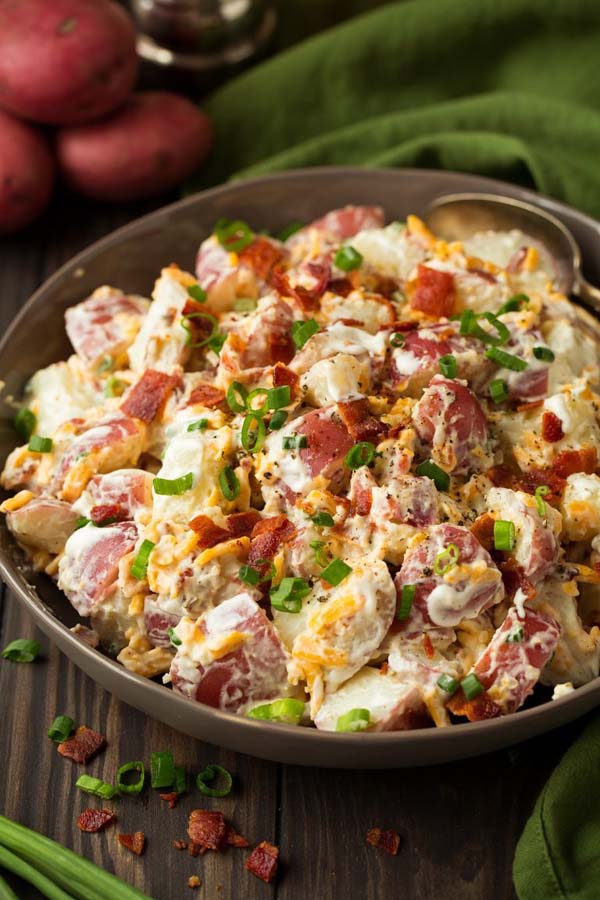 via Cooking Classy
Add bacon to your potato salad to make bacon ranch potato salad. Everyone at your Easter party will love it.
Crispy Roasted Rosemary Sweet Potatoes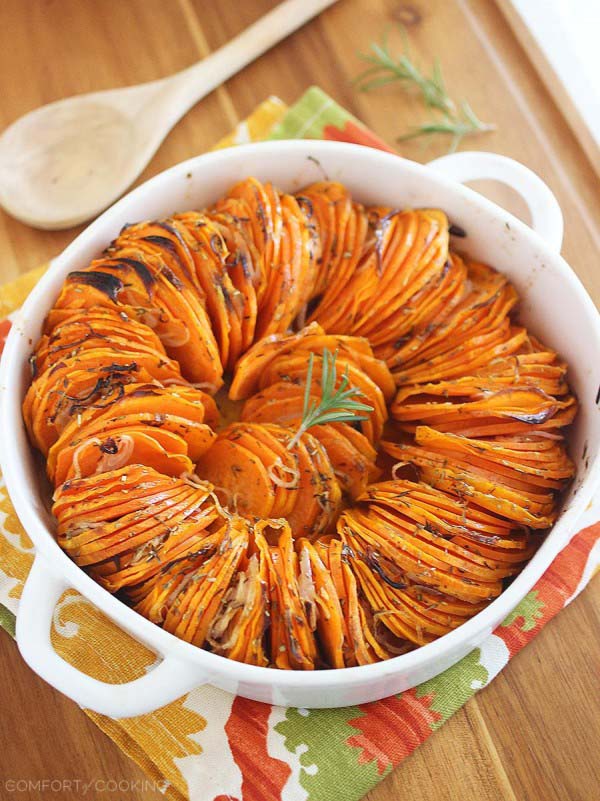 This side dish cuts sweet potatoes into thin slices and glazes them with rosemary.
Garlic Herb Parmesan Roasted Red Potatoes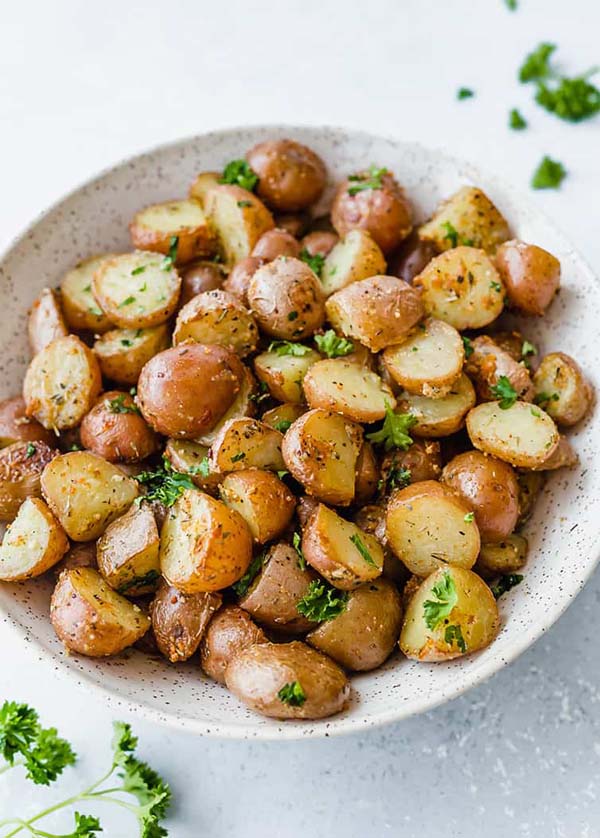 via Brown Eyed Baker
Mini red potatoes are delicious when roasted in a dish with garlic and herbs.
Garlic Parmesan Cheesy Scalloped Potatoes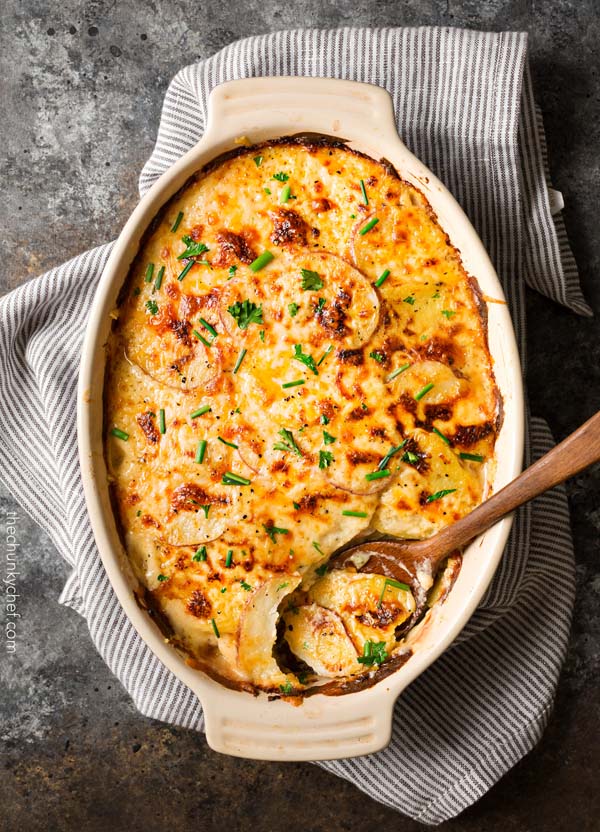 via The Chunky Chef
Scalloped potatoes are a delicious touch to any Easter dinner. Cover them in seasonings and cheese.
Mashed Potato Casserole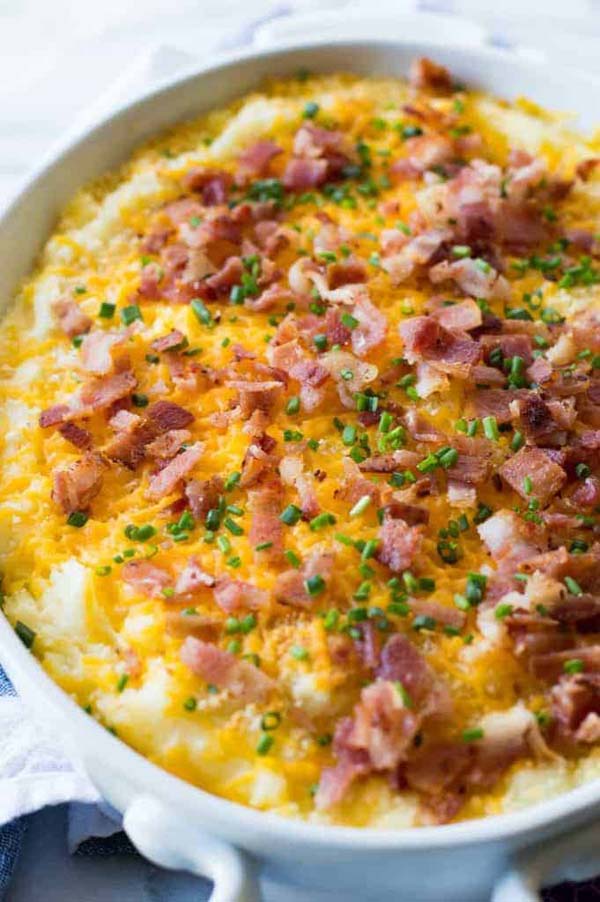 via House of Yum
Whether it's a side for Easter dinner or leftover pie, try making this mashed potato casserole.
Melting Potatoes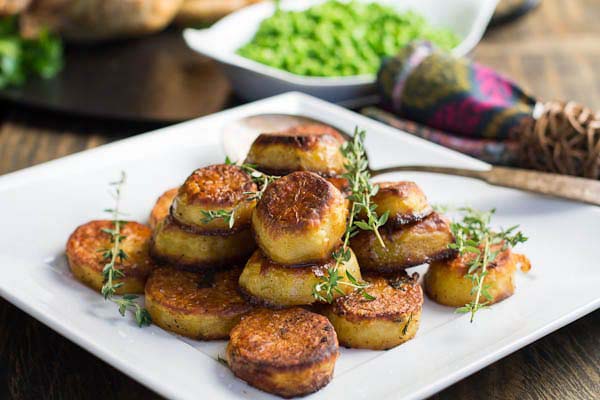 These mini potatoes are basically mini hash browns. Then add rosemary and cheese to make a perfect side.
Parmesan Crusted Potatoes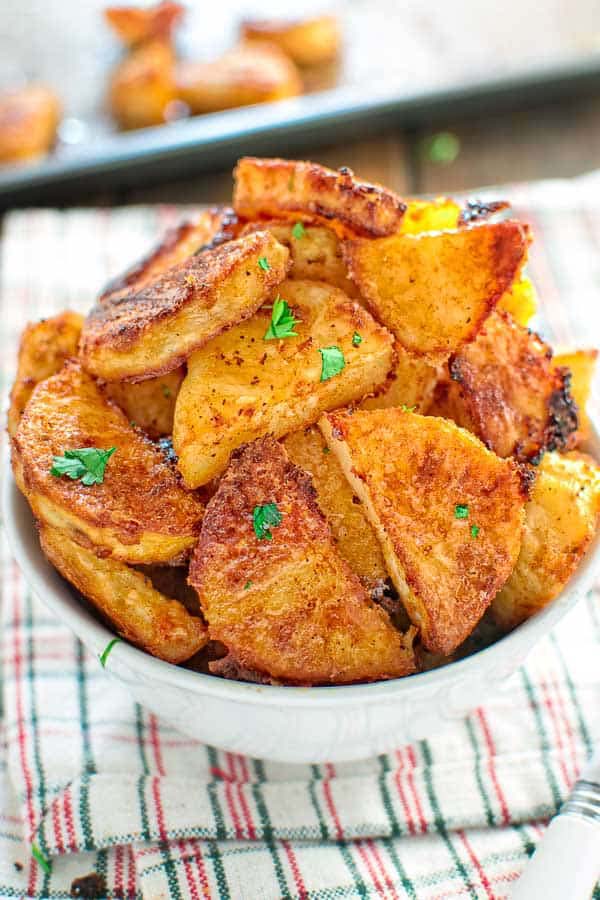 via COOKTORIA
Chop potatoes into triangles and crust them with parmesan for a side dish that goes well with any Easter dinner
Roasted Garlic Mashed Potatoes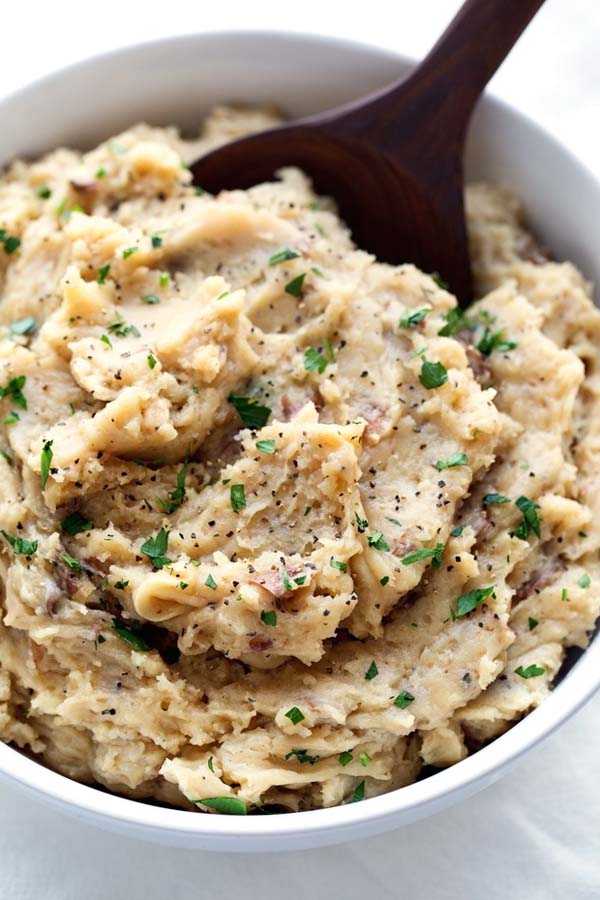 Roast your mashed potatoes instead of boiling them. This helps maintain the nutrients as well as give them a different taste
Seriously Amazing Cheddar Mashed Potatoes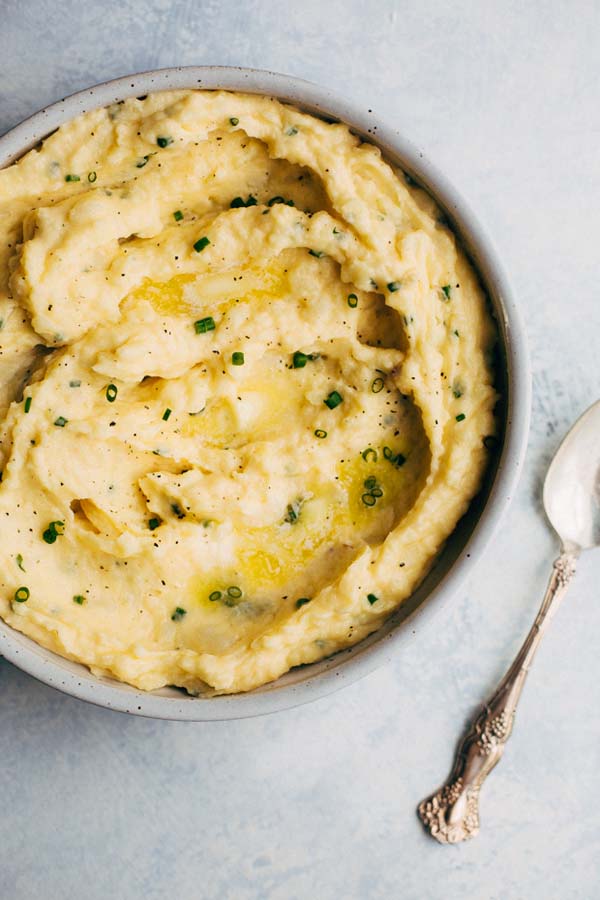 via Little Spice Jar
Add cheddar cheese to your mashed potatoes to make them a delicious texture.
Pasta & Salads
Arugula Salad with Parmesan Lemon and Olive Oil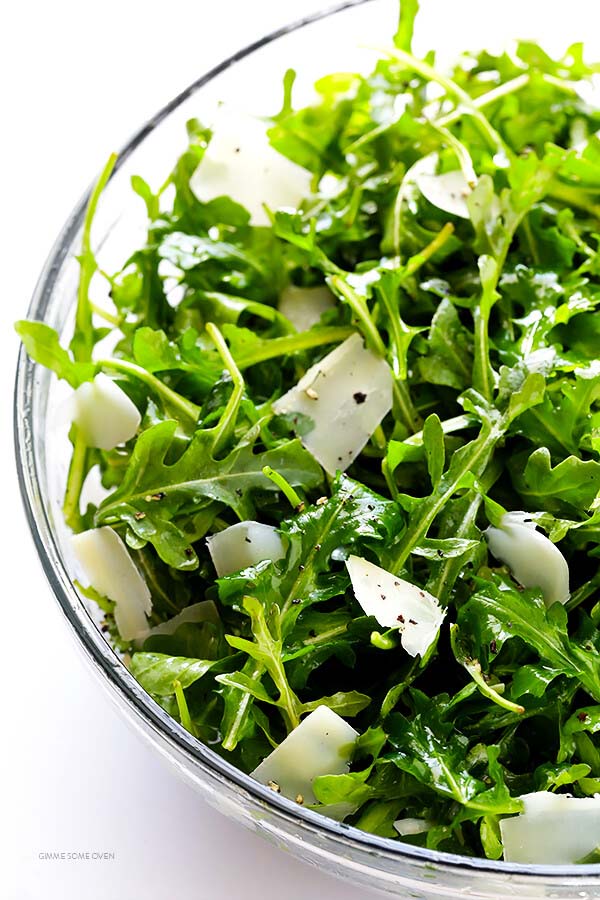 via Gimme Some Oven
This arugula salad has a bitter taste that is tamed with olive oil and lemon.
Blueberry Feta Salad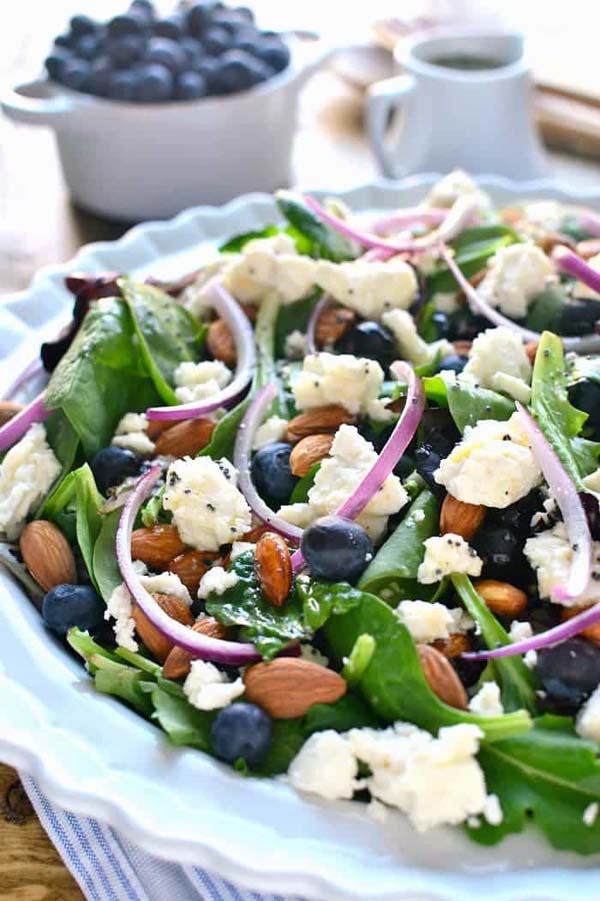 Add blueberry and feta to spice up a basic green salad. Other chopped veggies are delicious as well.
Classic Carrot Raisin Salad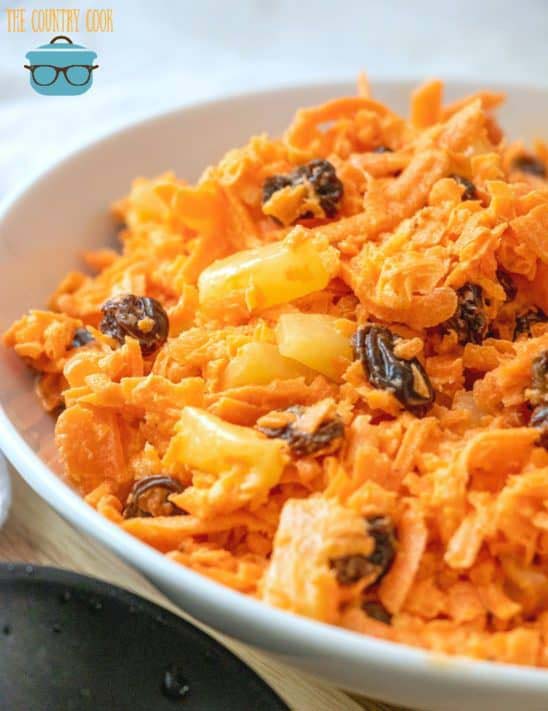 via The Country Cook
Chop up carrots and other fruit and then add other veggies to make a fruit and veggie salad.
Creamy Cheddar Macaroni Salad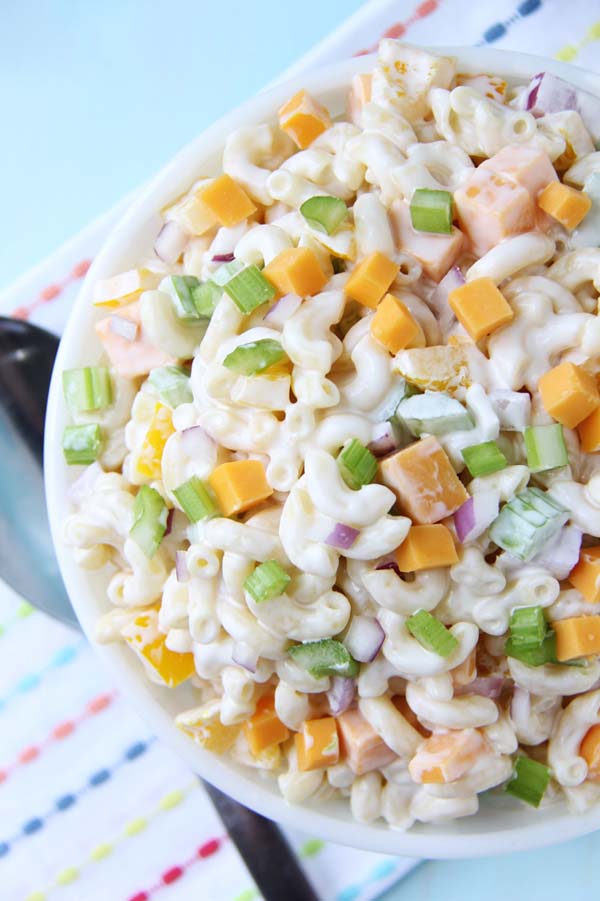 via A Pretty Life
Make a macaroni salad and then add chopped veggies and cheese. It adds an extra pop of color.
Creamy Pasta Salad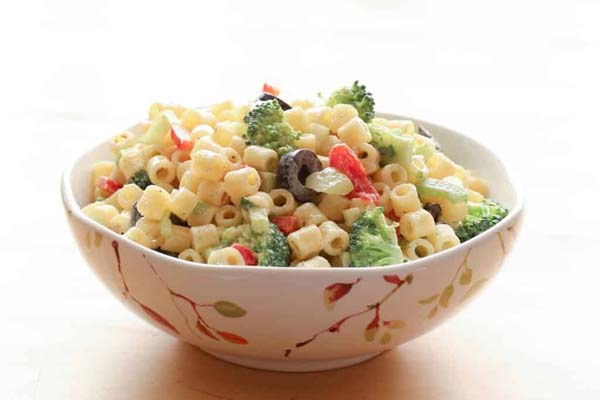 Pasta salad is delicious. Especially if you add olives and tomatoes.
Creamy Pea Salad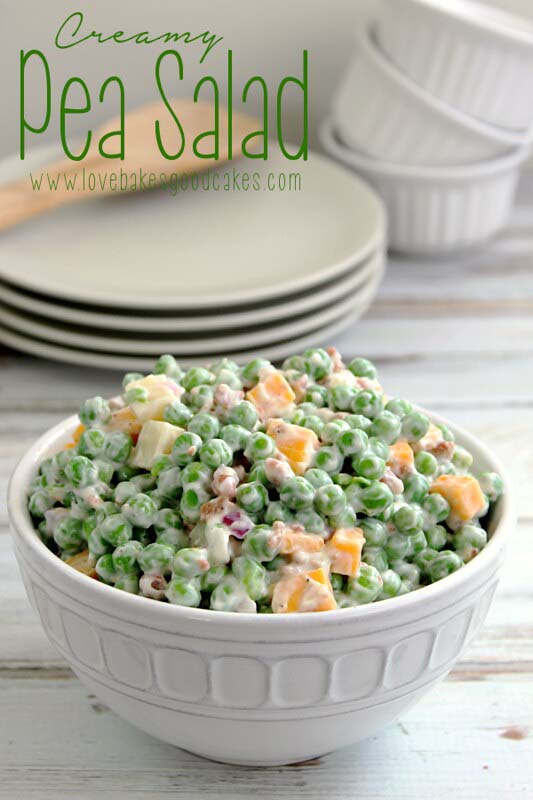 Using macaroni salad mix, exchange the macaroni with peas. This adds a healthier touch to an Easter side.
Crunchy Pea Salad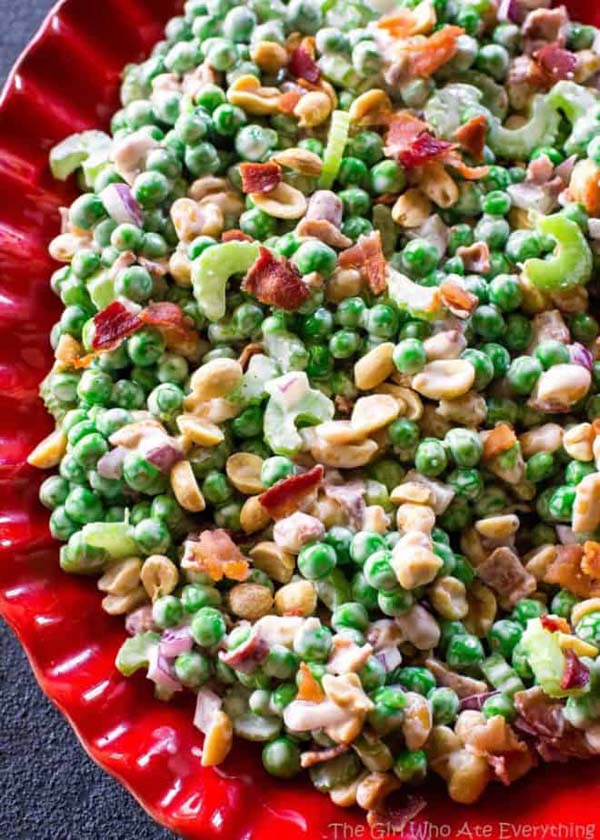 via The Girl Who Ate Everything
Mix together cooked peas, celery and chopped carrots then coat in mayonnaise and other salad ingredients. It makes a delicious pea salad.
Deviled Egg Macaroni Salad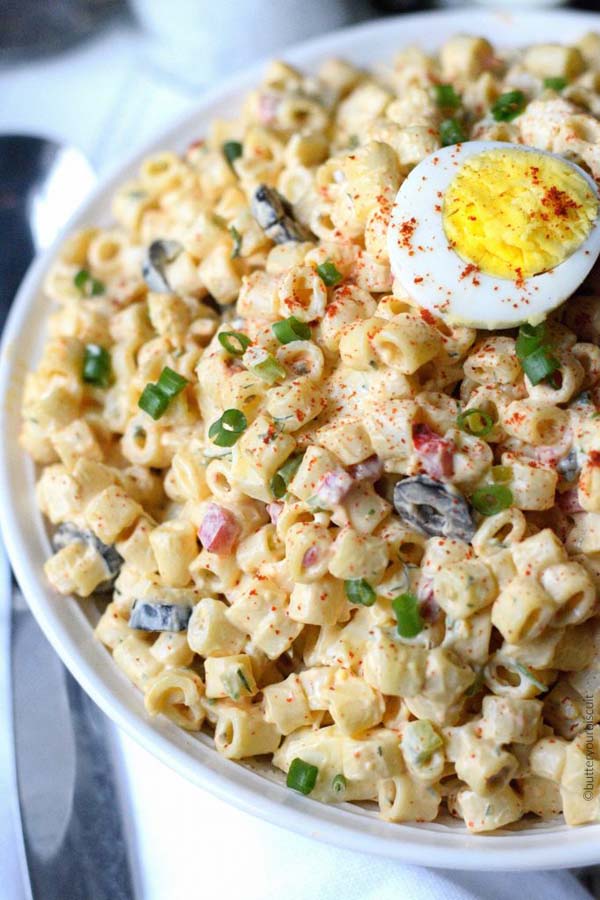 Add deviled egg mix to macaroni salad and then add other veggies. And of
course add the boiled eggs.
Epic Baked Mac and Cheese
via RecipeTin Eats
Crust mac and cheese with parmesan in a pan. Then bake for a simple, kid friendly mac and cheese.
Million Dollar Macaroni and Cheese Casserole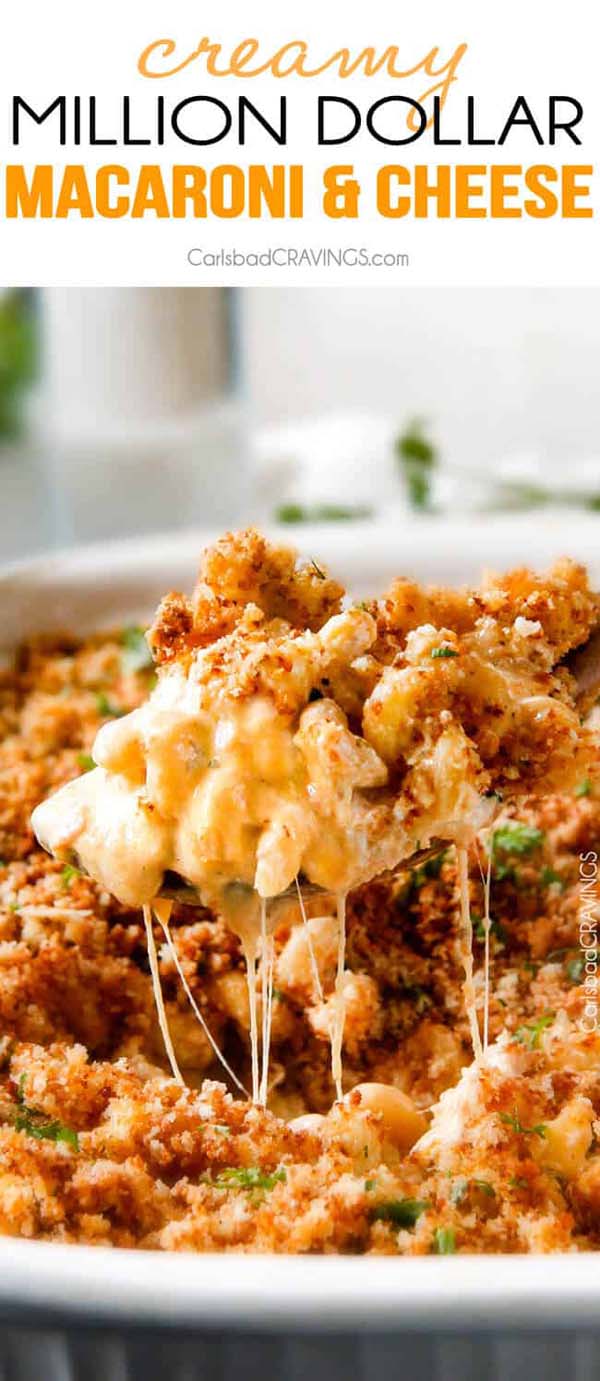 Add rosemary and parsley to mac and cheese and crust it with parmesan. Then bake it for a great Easter.
Panera's Mac & Cheese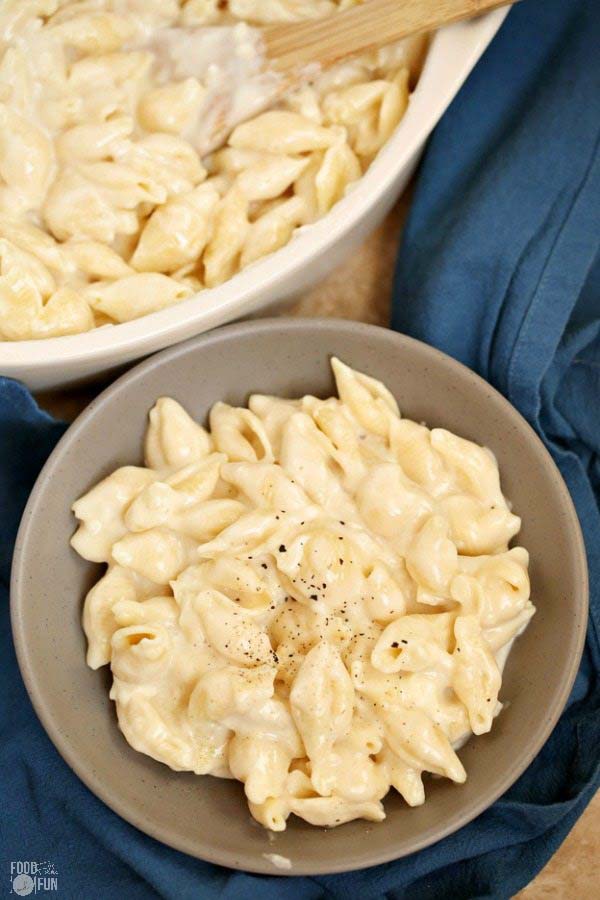 Make a Panera like mac and cheese to add a cheese delicious side to your Easter plate.
Spinach Artichoke Pasta Salad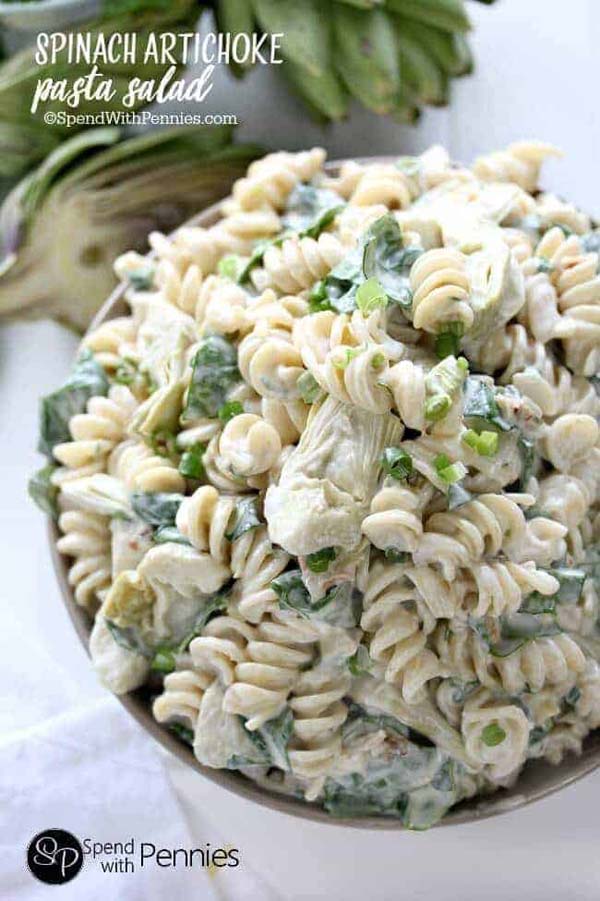 This pasta salad has a new touch. There are parmesan, spinach and artichoke added to it.
Strawberry Pecan Pretzel Salad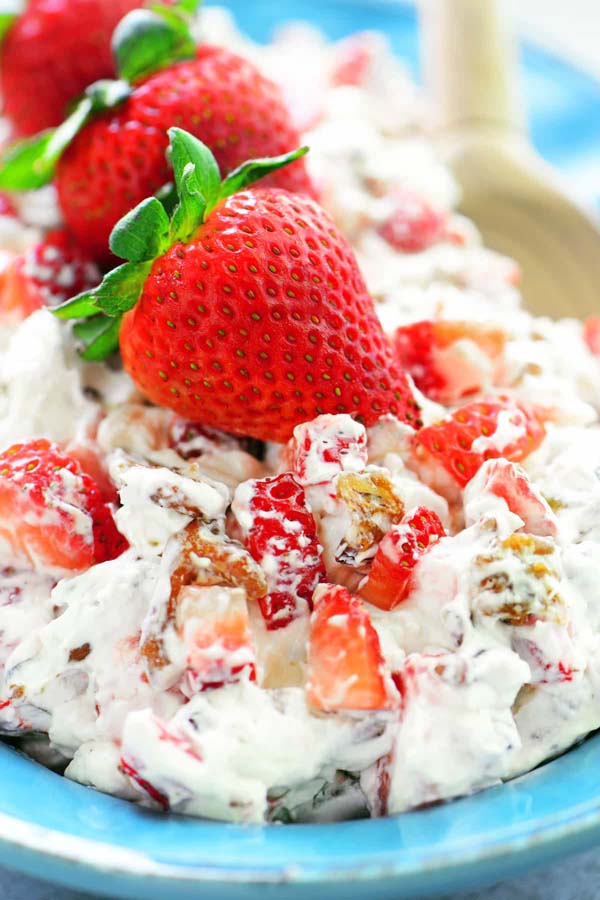 via The Gunny Sack
For a sweet salad side, try this pretzel, whip cream and strawberry salad.
Super Creamy Mac and Cheese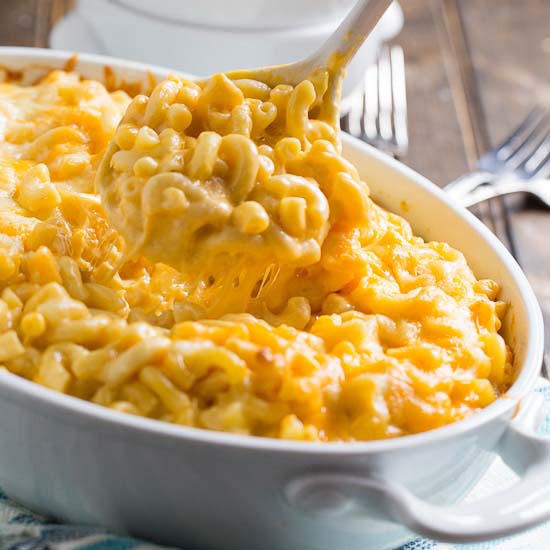 Add plenty of cheese to your mac and cheese and complete it by baking it. A delicious touch to your Easter dinner.
The BEST Side Salad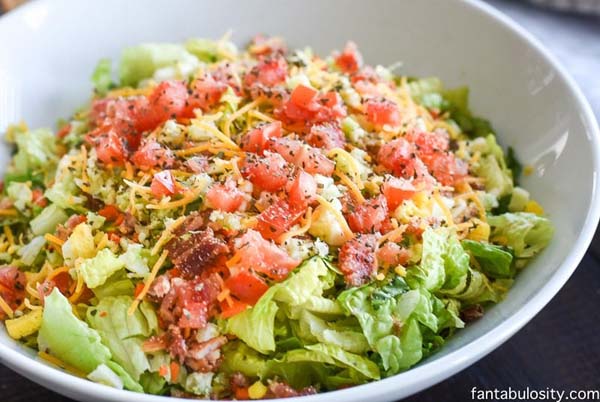 via Fantabulosity
Don't let your Easter side salad be lame and green. Add all sorts of chopped veggies and shredded cheese.
Creamy Cucumber and Radish Salad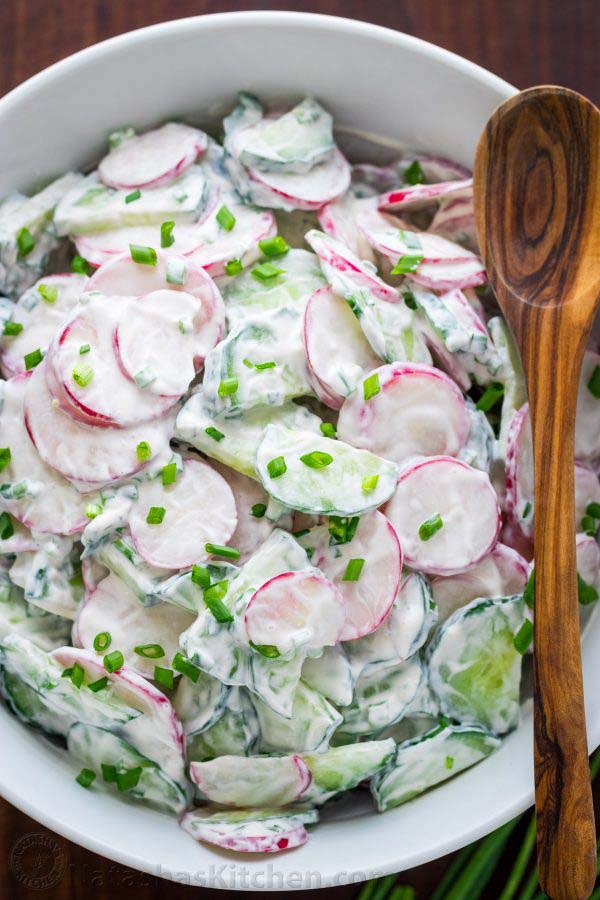 Chops cucumbers and radishes into very slim slivers. Then coat with ranch and salad dressing. A few chopped onions also add a delicious touch.
Springtime Veggie Pasta Primavera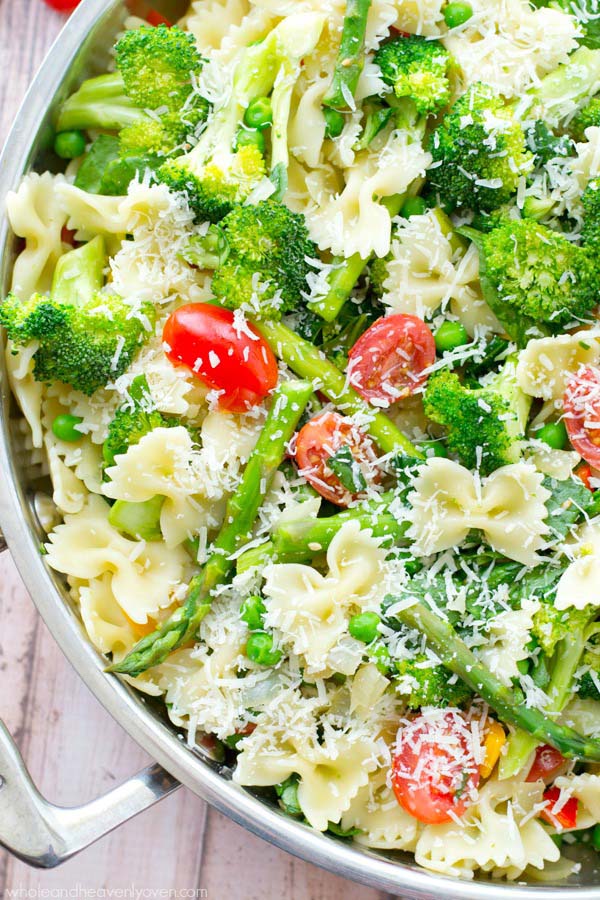 Add parmesan to chopped veggies and cooked chicken. It makes a salad version of pasta primavera.
Apple Pecan Arugula Salad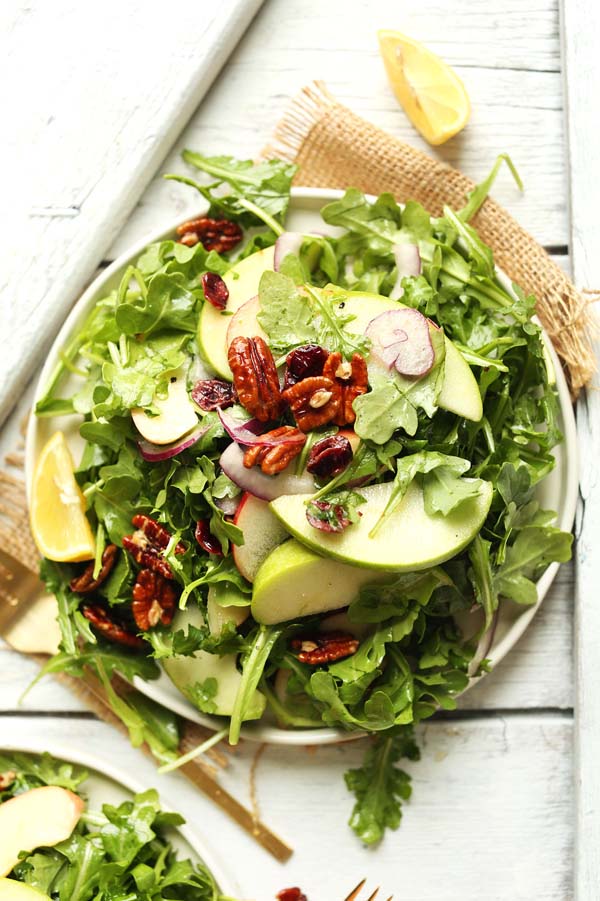 via Minimalist Baker
Apples and pecans can help take the edge off of a bitter arugula salad.
Other Side Dish Easter Dinner Ideas
Bacon Green Bean Bundles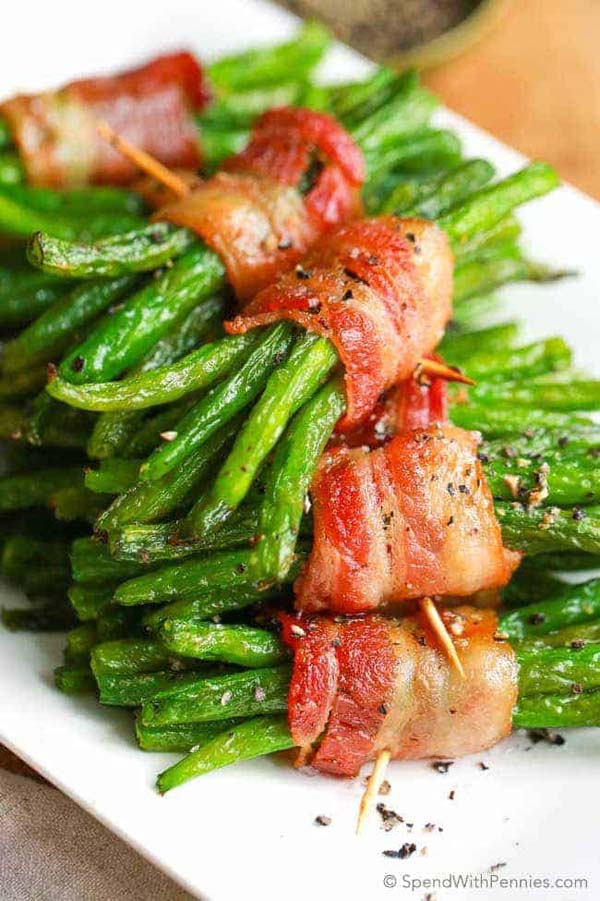 Wrap bundles of green beans with bacon. And bake for a delicious side.
Broccoli Casserole From Scratch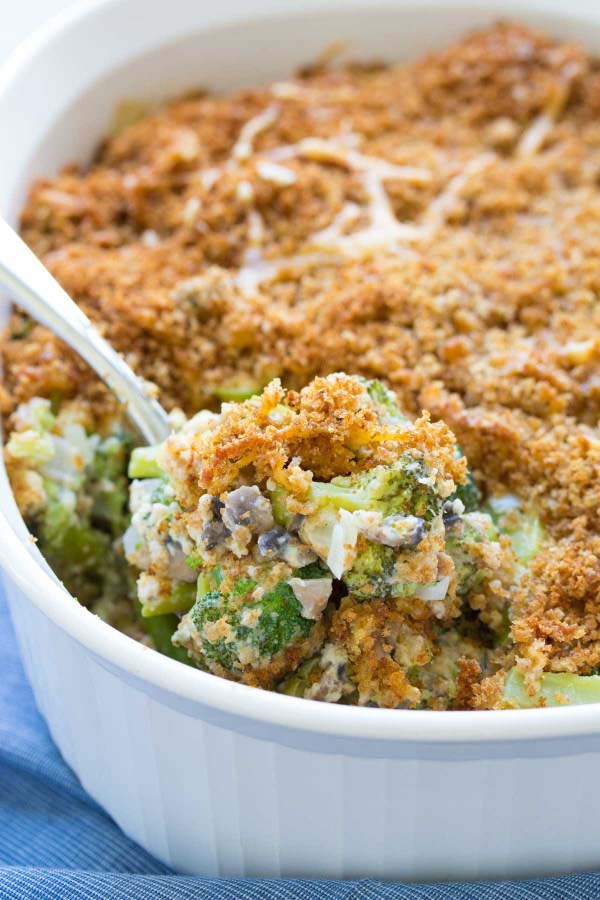 Make a broccoli casserole by chopping it and putting it in a pan with sauce and cheese. Then crust with Parmesan.
Creamy Garlic Parmesan Mushrooms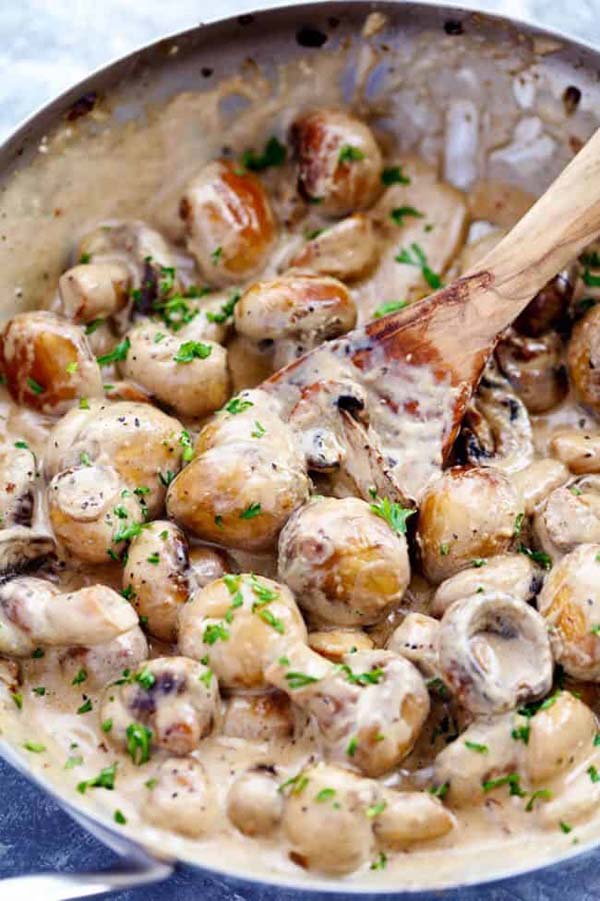 Whole mushrooms are delicious with spices and Parmesan cheese. Add green beans in as well for a healthy touch.
Hot Cross Buns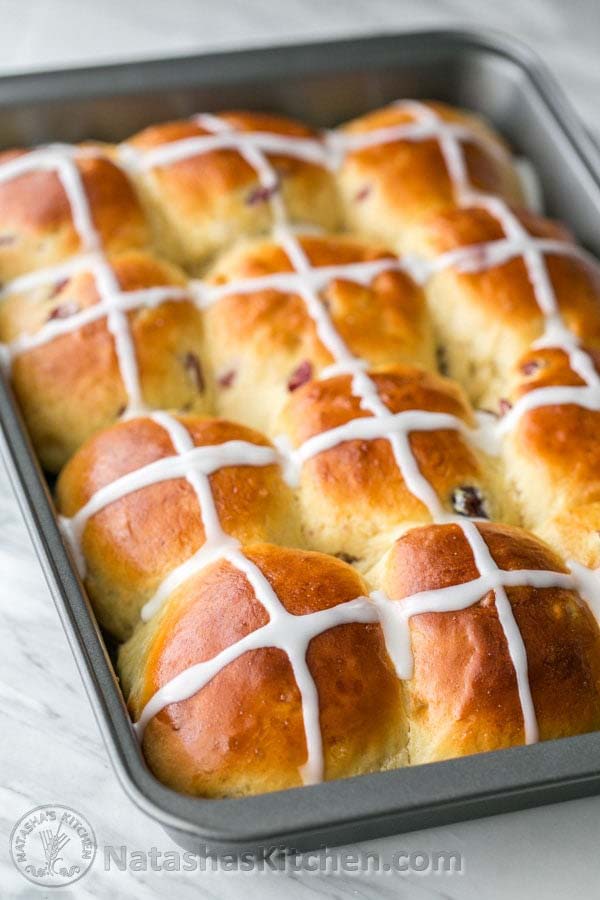 These delicious dinner buns are also stuffed with cheese and have a delicious topping.
Individual Italian Easter Bread Rings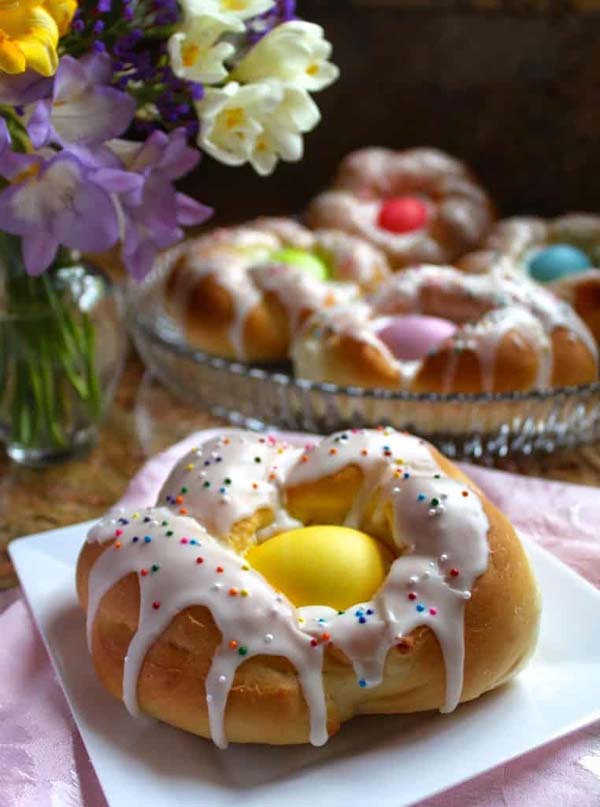 For a delicious dessert, try these flower looking rings with yellow filling and frosting.
Oven Roasted Vegetable Bundles with Maple Glaze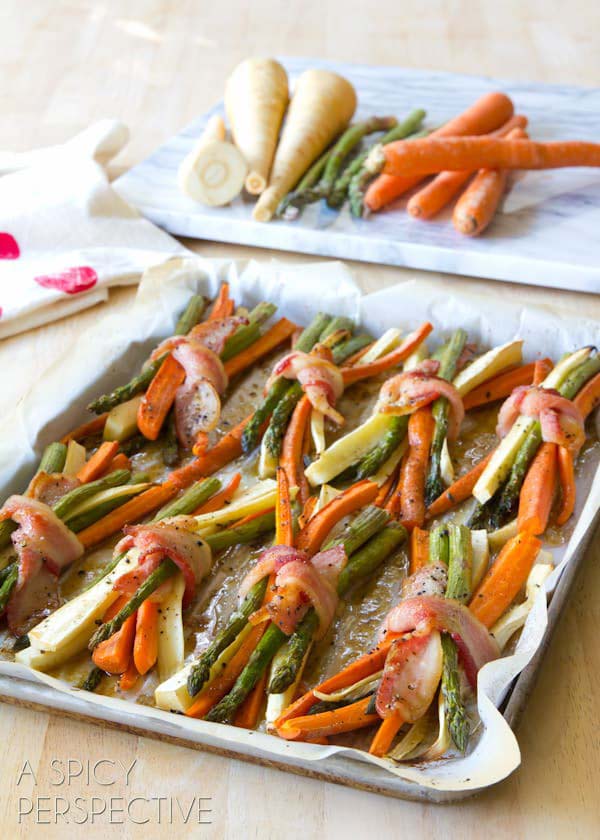 Chop veggies like carrots and green beans into slender matchsticks. Wrap them in bacon for a simple and tasty side.
Spring Pea and Asparagus Risotto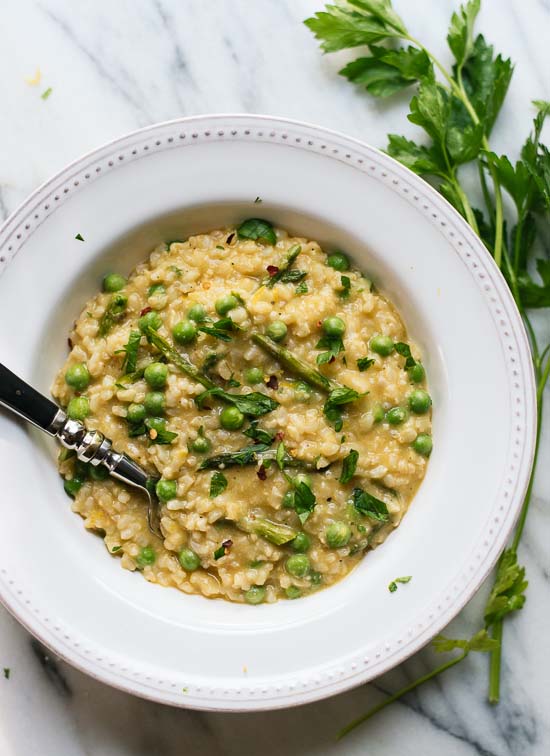 via Cookie and Kate
Make a soup with asparagus and spring peas. It can be a great side or a main course.
Creamy Green Bean Casserole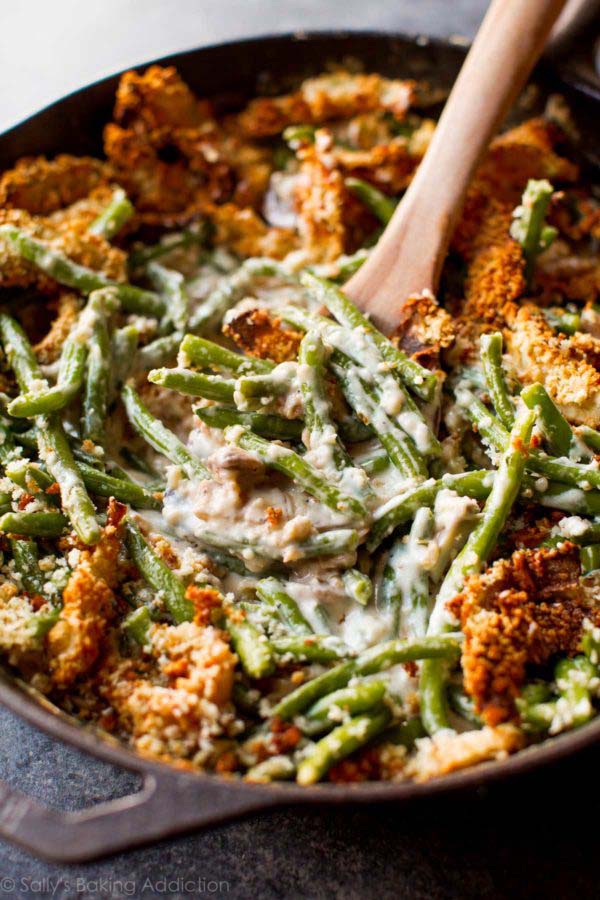 Green bean casserole is delicious and especially yummy if it is coated in Parmesan and crusted in the oven.
Homemade Easter Bunny Rolls
via Plated Cravings
To make a sure Easter look make these twisted bunny face bread rolls.
Baked Stuffed Artichoke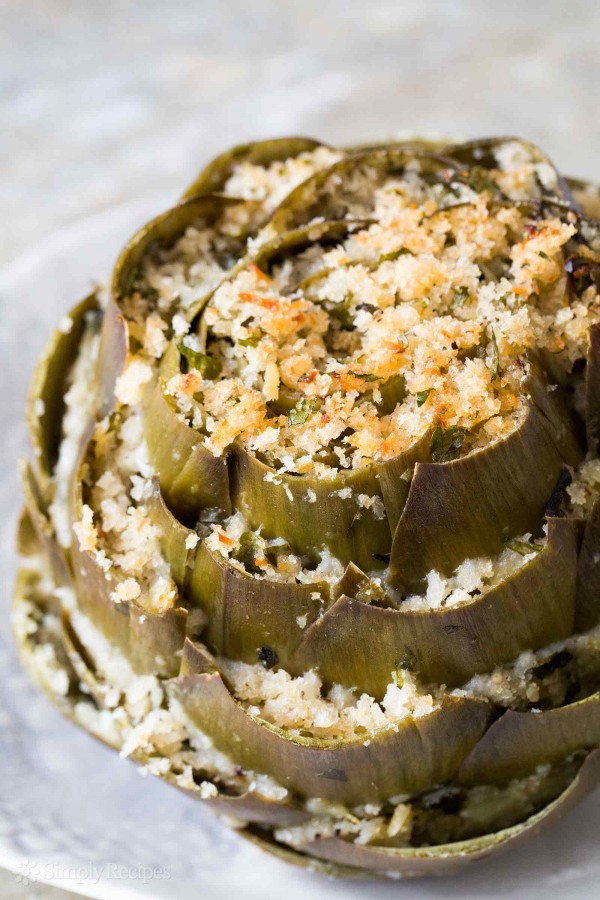 via Simply Recipes
For an elaborate and delicious Easter food addition try this baked artichoke.
Dessert Easter Dinner Ideas
Cadbury Creme Egg Cupcakes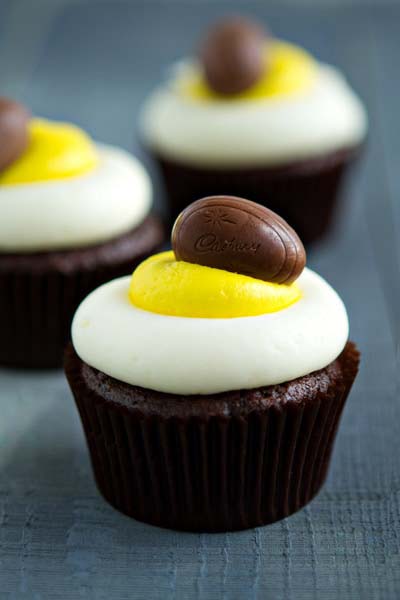 This simple dessert is made from basic cupcakes. Then there is creamy frosting and topped with a Cadbury egg.
Cadbury Creme Eggs Dip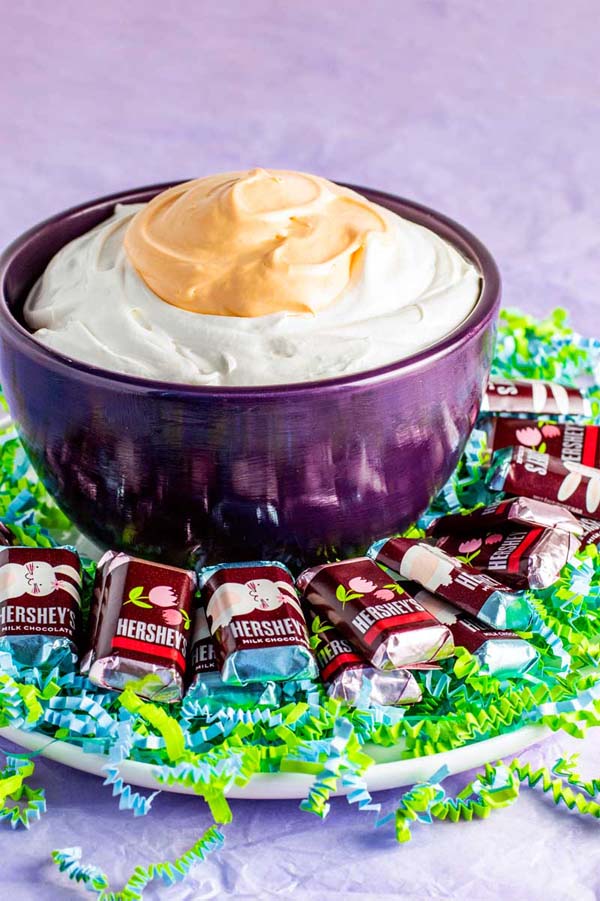 via Homemade Hooplah
Make a delicious dessert dip by making a cadbury creme egg chocolate dip.
Cheesecake Filled Chocolate Easter Eggs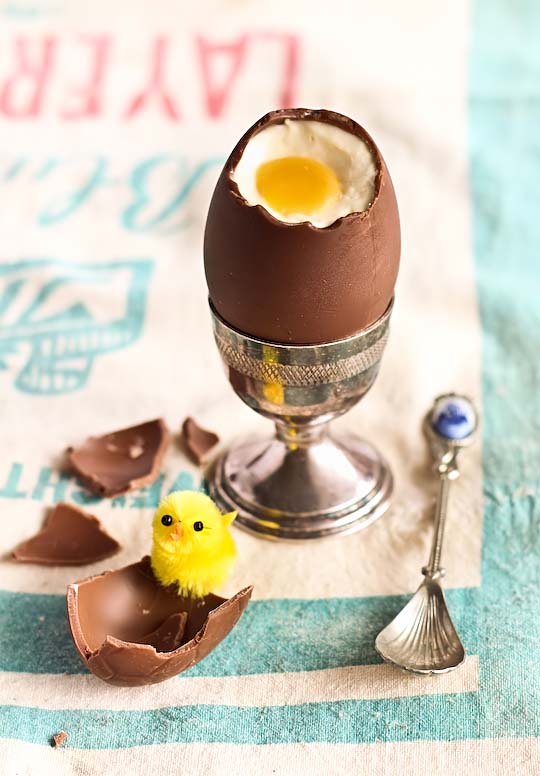 Fill a large chocolate egg with delicious fluffy filling. It makes an Easter dessert that also can double as a decoration.
Chocolate Easter Bunny Cake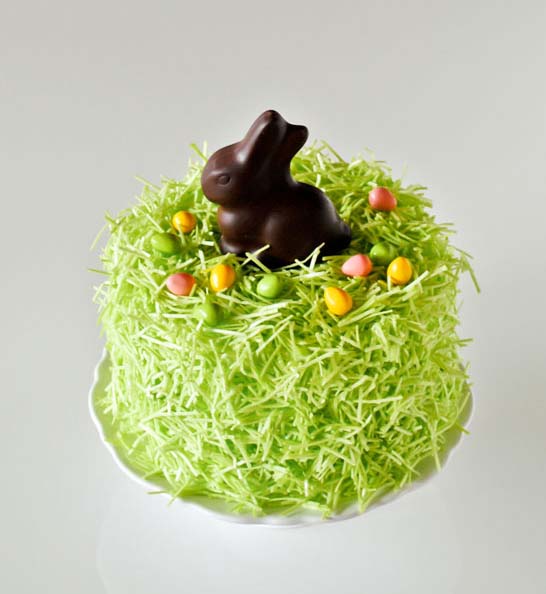 via The Cake Blog
Make a simple small cake and pipe with green grass frosting. Then add a chocolate bunny to the top.
Coconut Cream Pie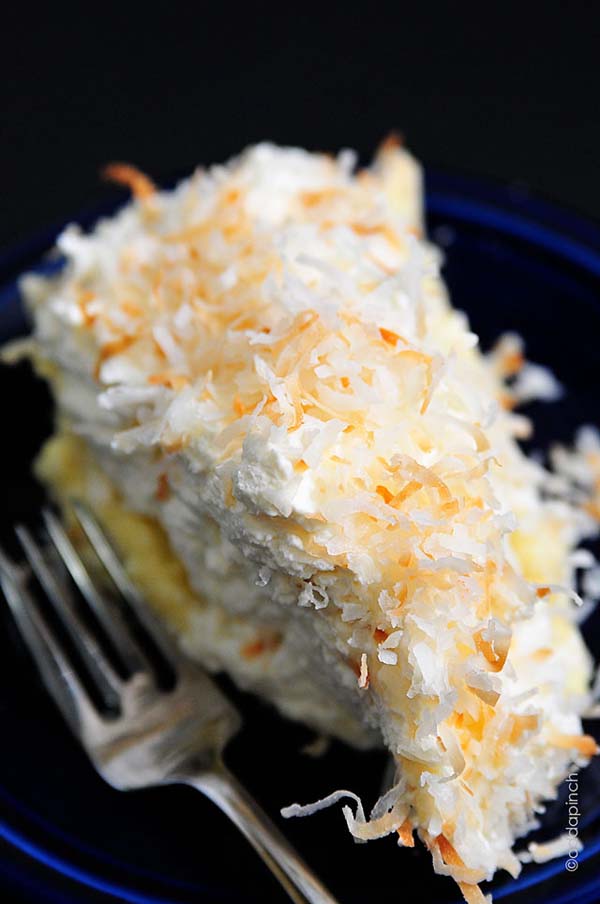 via Add A Pinch
Coconut cream pie is delicious but the texture of the coconut also makes you think of a fluffy Easter bunny.
Coconut Macaroons Nest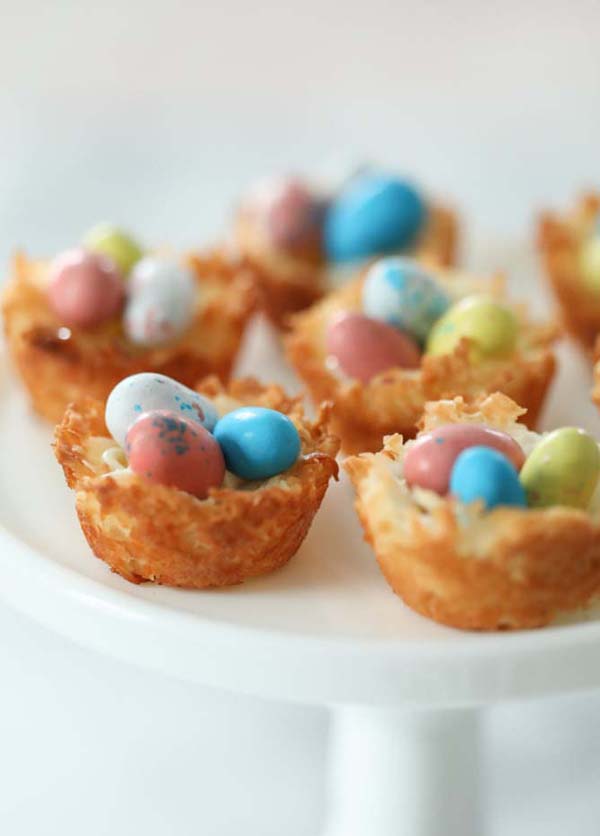 Use coconut to make mini coconut birds nests. Then fill with mini eggs.
DIY Easter Basket Cake
via The Cake Blog
This simple cake is frosted on the edges to look like a basket and topped with eggs. It makes it look like an Easter egg basket.
Easter Bunny Cake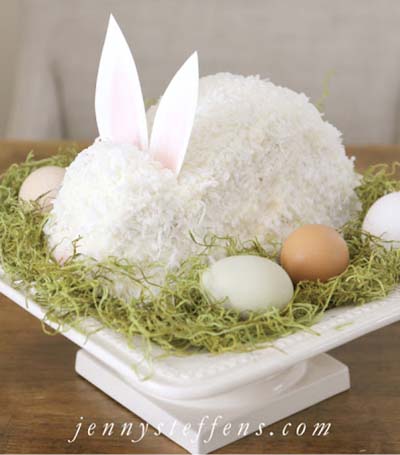 via Jenny Steffens
This bunny cake is very realistic looking. The coconut gives it a very bunny texture and the ears are made from cookies.
Easter Chick Cupcakes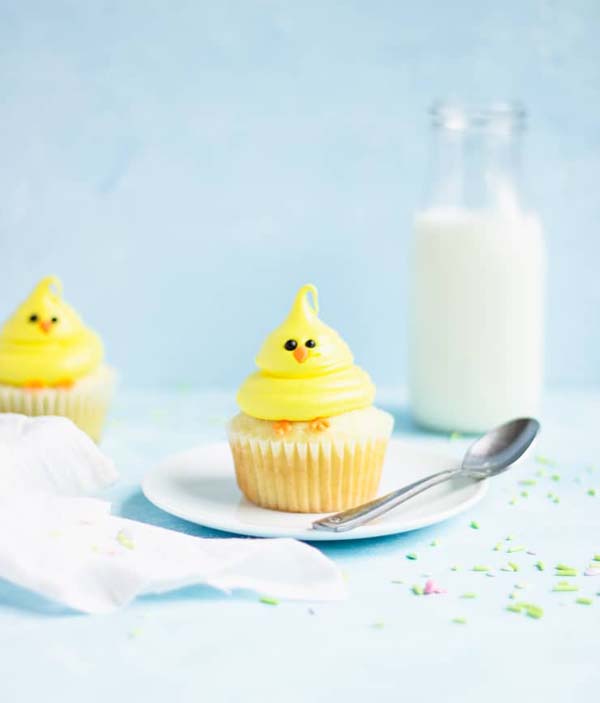 Mini white cupcakes are perfect for topping with yellow frosting and painting on a little black face. This makes a perfect little chick.
Easter Cream Cheese Mint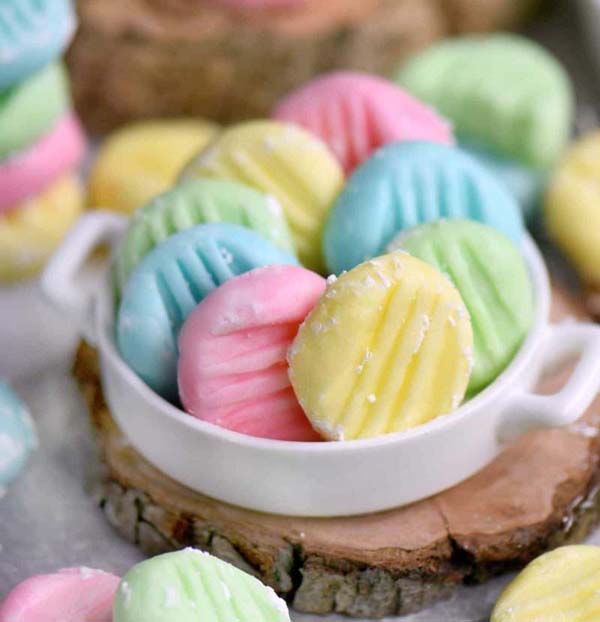 via Mom On Timeout
Cream cheese mints are a delicious dessert and palate-cleansing finish for any Easter meal.
Easter Crockpot Candy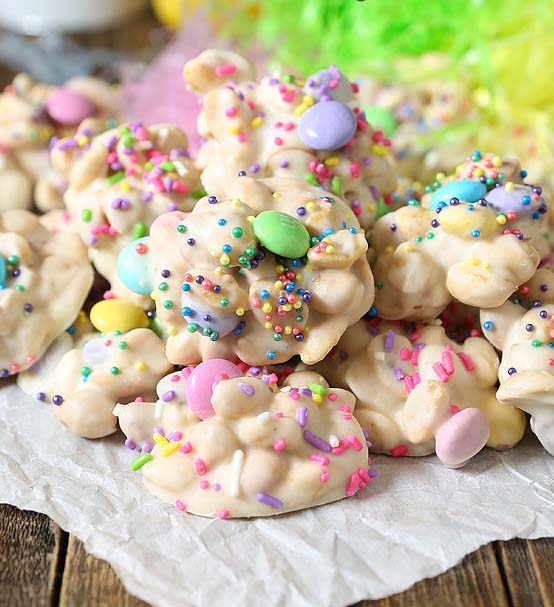 Crock pot candy is a simple dessert for your Easter celebration. Be sure to add pastel colored candies.
Easter Egg Macarons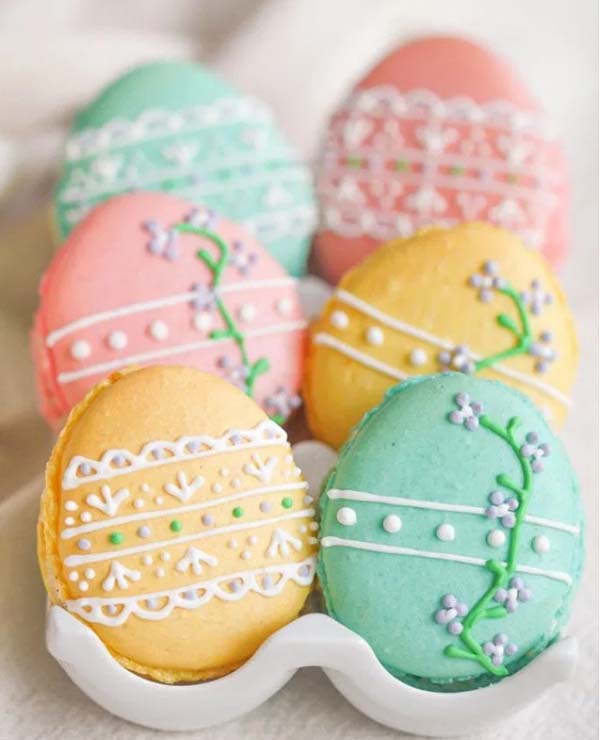 Instead of making your macarons perfectly round, shape them like an Easter egg.
Easter Egg Sugar Cookies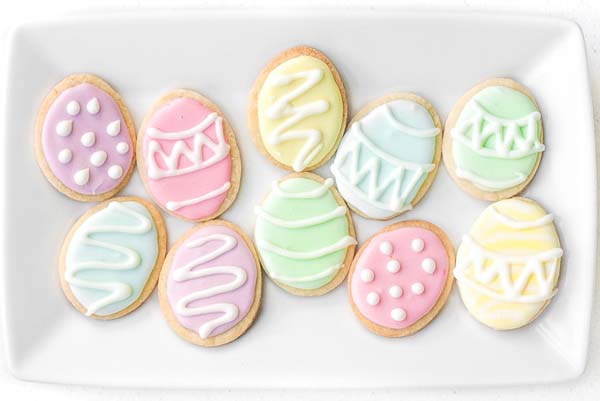 Sugar cookies are a great holiday treat. These are Easter themed and shaped like dyed Easter eggs.
Malted Chocolate Easter Cake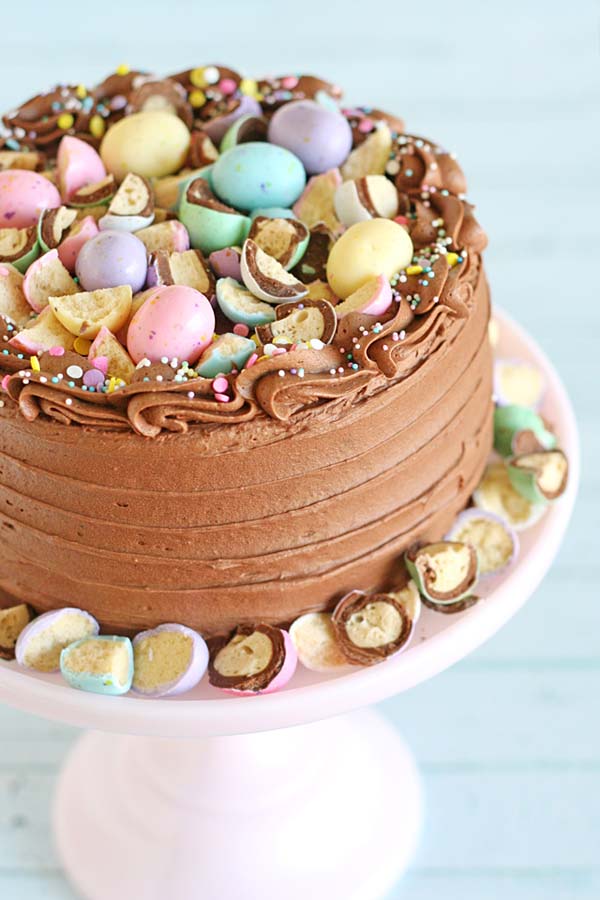 via Glorious Treats
This chocolate cake is covered in chocolate frosting and cracked Cadbury eggs.
The BEST Carrot Cake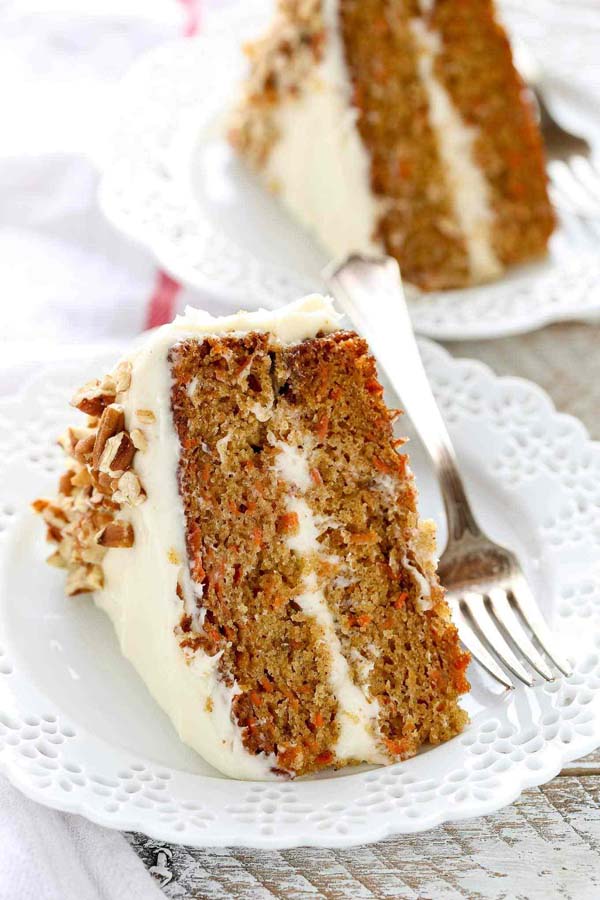 Make a delicious carrot cake to play on an Easter bunnies love for carrots.
White Chocolate Easter Egg Cupcakes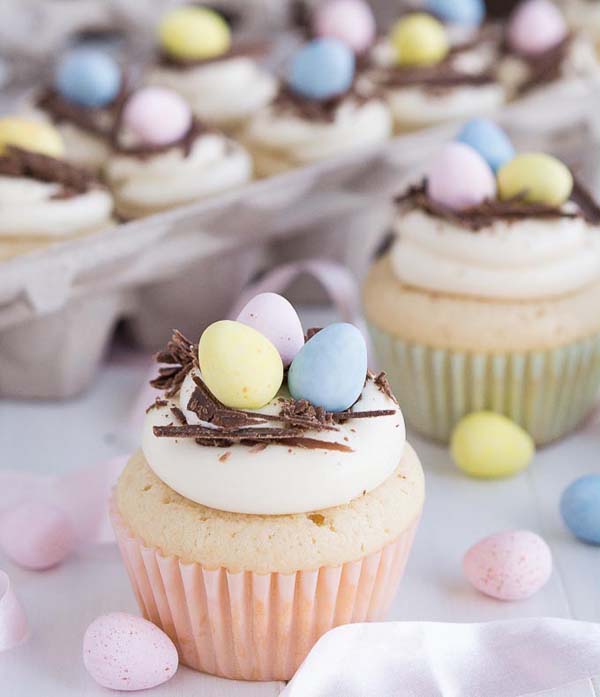 This simple Easter treat has crusted chocolate as a nest and mini eggs to top them.