Valentine's snacks are the best all year.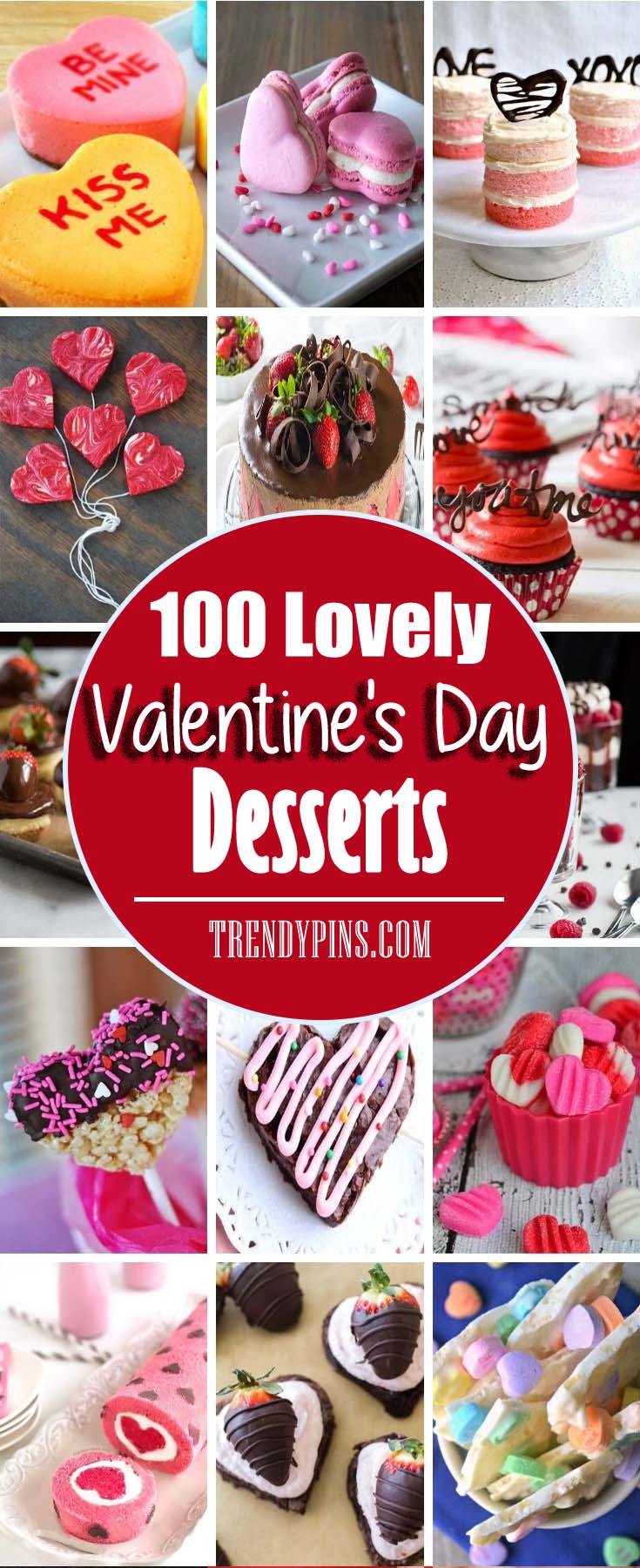 Chocolate, candy and peanut butter are classic delicious parts of the lovers' holiday. Enjoy these treats which vary from simple to complicated, for a perfect addition to a sweet holiday.
Brownies, Fudge & Bark Valentine's Day Desserts
Carmel Heart Brownies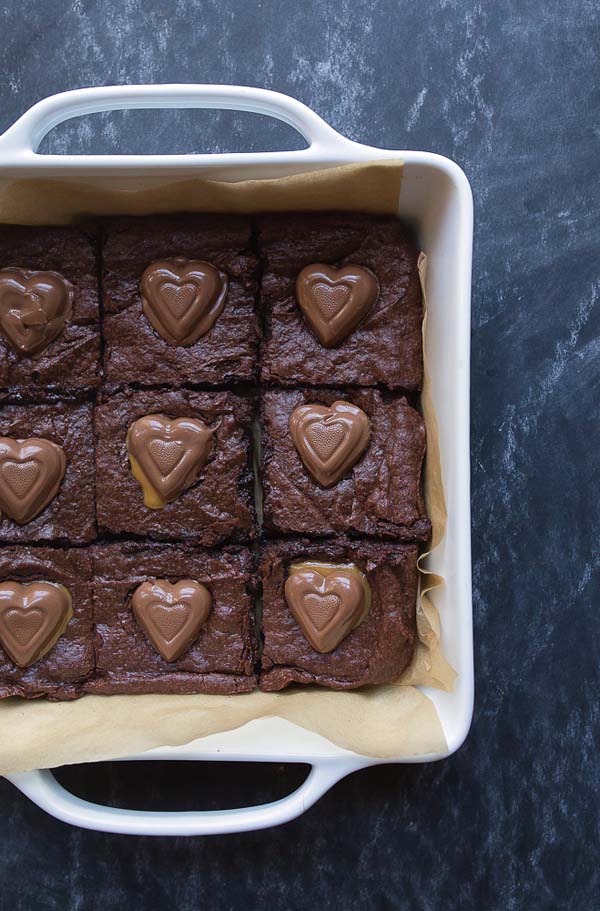 via Desserts for Two
Add heart-shaped chocolate to the top of brownies.
Cherry Chocolate Chip Brownies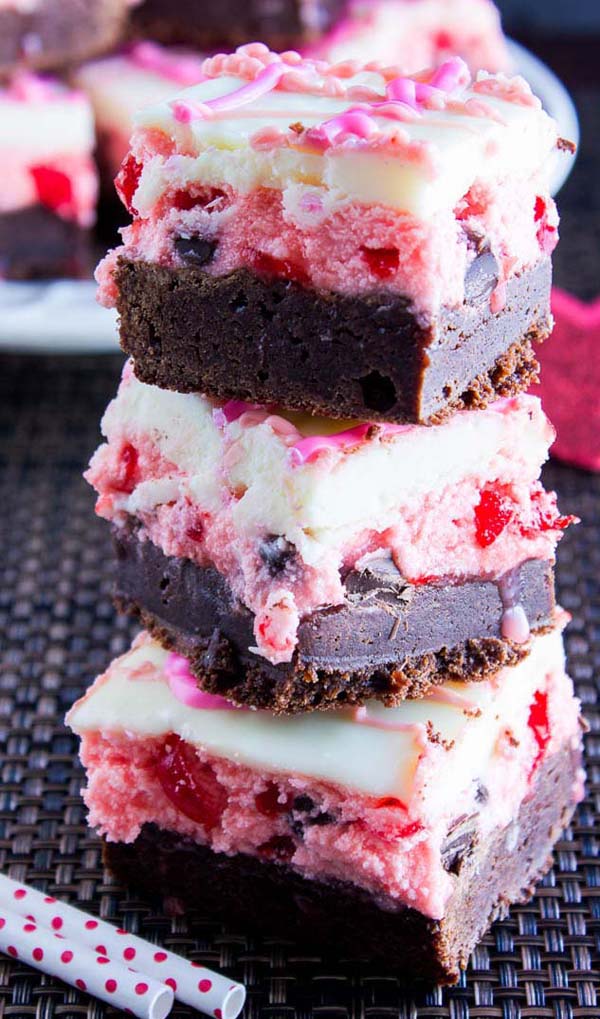 For a pink frosting, add a cherry on the top of brownies. Then fill the
frosting with chocolate chips.
Chocolate Covered Strawberry Brownies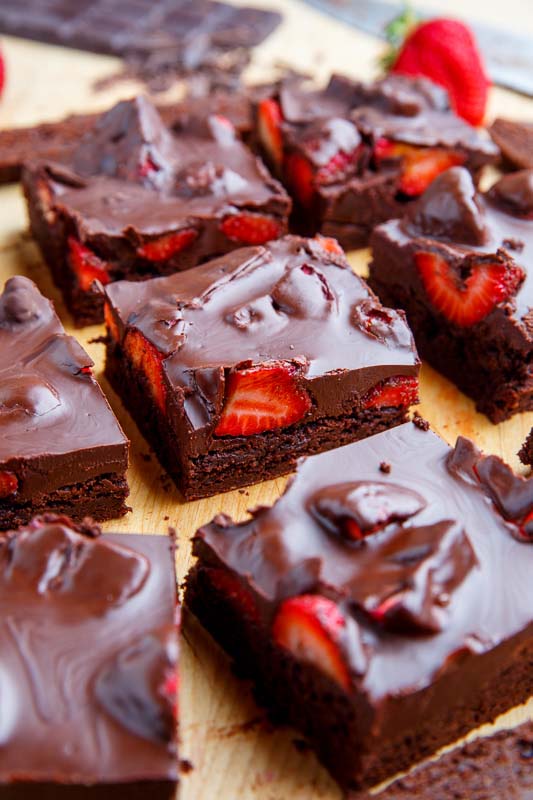 via Closet Cooking
Chop the strawberries into little tiny pieces for a sweet addition to
brownie frosting.
Conversation Heart Krispie Bark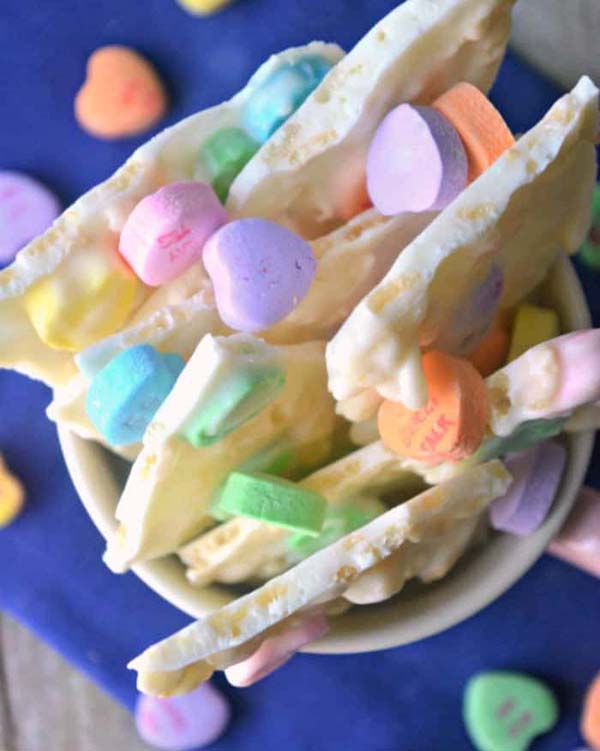 Chocolate bark is delicious but it is made Valentine-themed with the
addition of candy hearts.
Easy Valentine's Day Fudge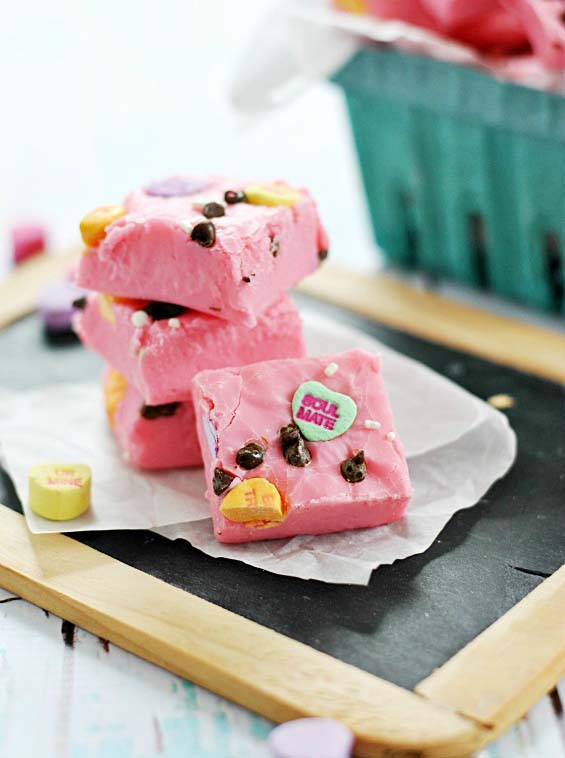 via Something Swanky
White chocolate fudge is a perfect Valentine's day snack with some red cherry added. On top you can put some lovely hearts.
Individual Chocolate Covered Strawberry Brownies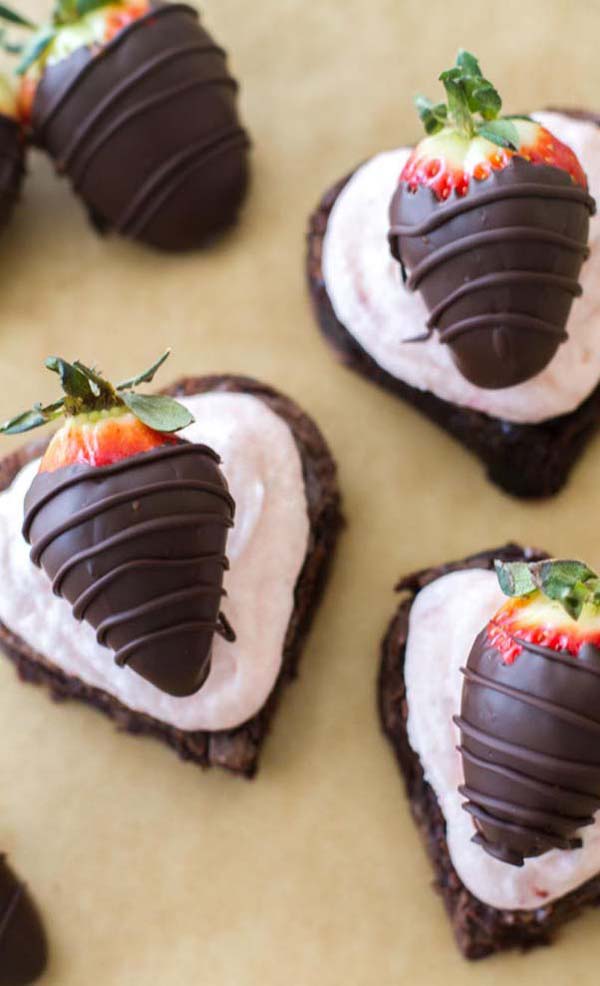 via A Latte Food
Add a chocolate covered strawberry to the top of brownies for a romantic
touch.
Individual Fruit and Brownie Trifles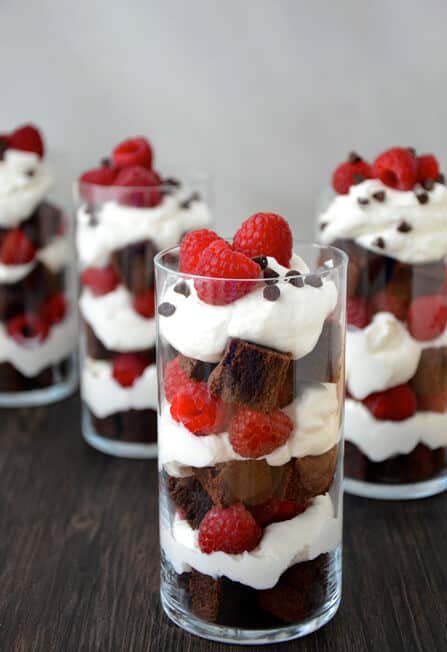 via Just A Taste
Layered chocolate, whipped topping and raspberries for a delicious
Valentine trifle.
Marbled Red Velvet Cheesecake Brownies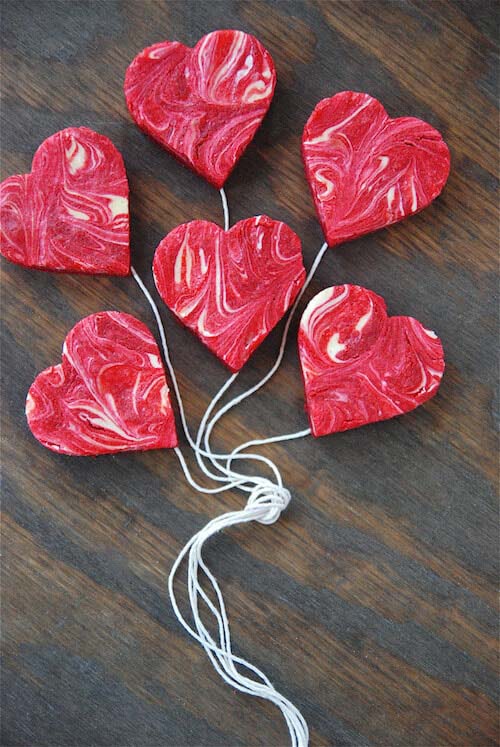 via Novice Chef
Cheesecake marbled with strawberry flavoring makes delicious
heart-shaped Valentine snacks.
Raspberry Cheesecake Brownies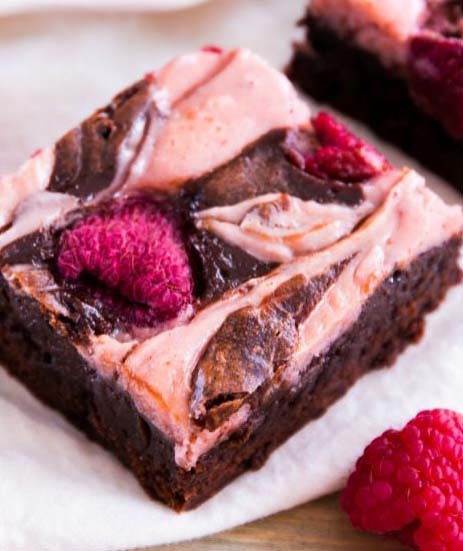 Try these brownies filled with a raspberry and cheesecake filling.
Red Velvet Cheesecake Brownies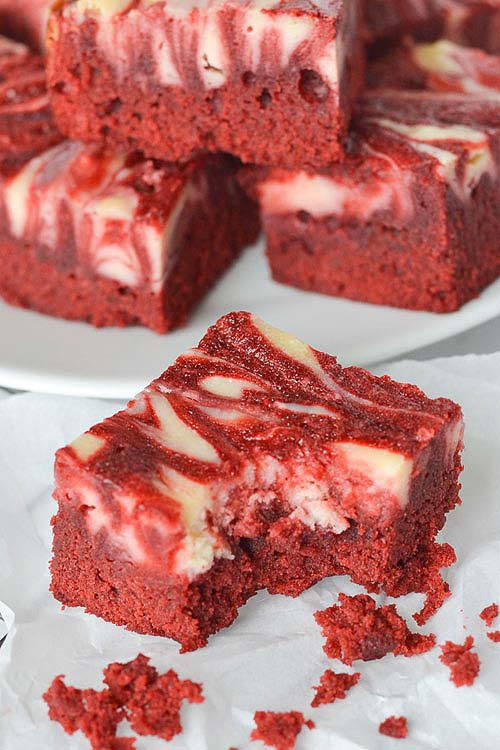 Red velvet cake is a classic piece of a romantic Valentine's day. Add red
velvet cheesecake to brownies for a delicious Valentine spin.
Red Velvet Oreo Truffle Brownies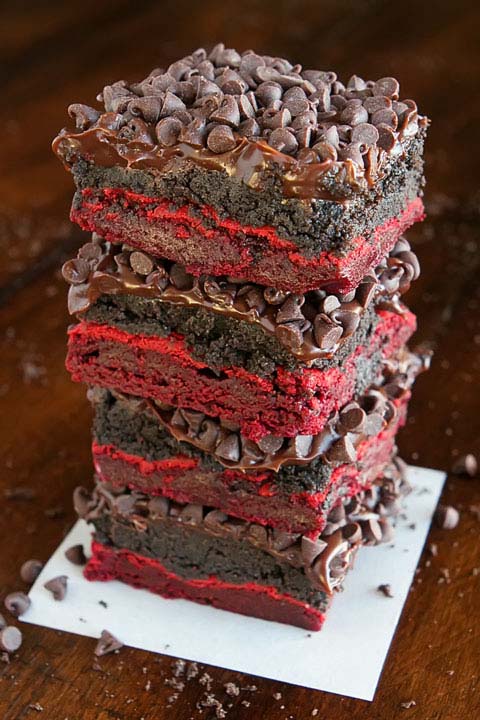 via Kevin & Amanda
Red velvet cheesecake layered with brownies and whipped topping is a
delicious snack.
Shot Through the Heart Valentine's Brownies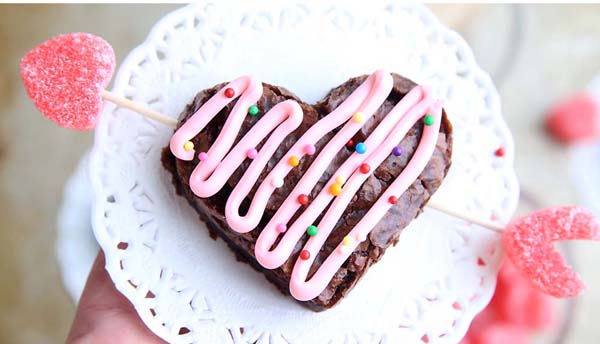 Brownies are perfect for cutting into heart shapes. You can also add red gummy candy to a toothpick to create a cupid's arrow brownie.
Strawberry Brownie Kabobs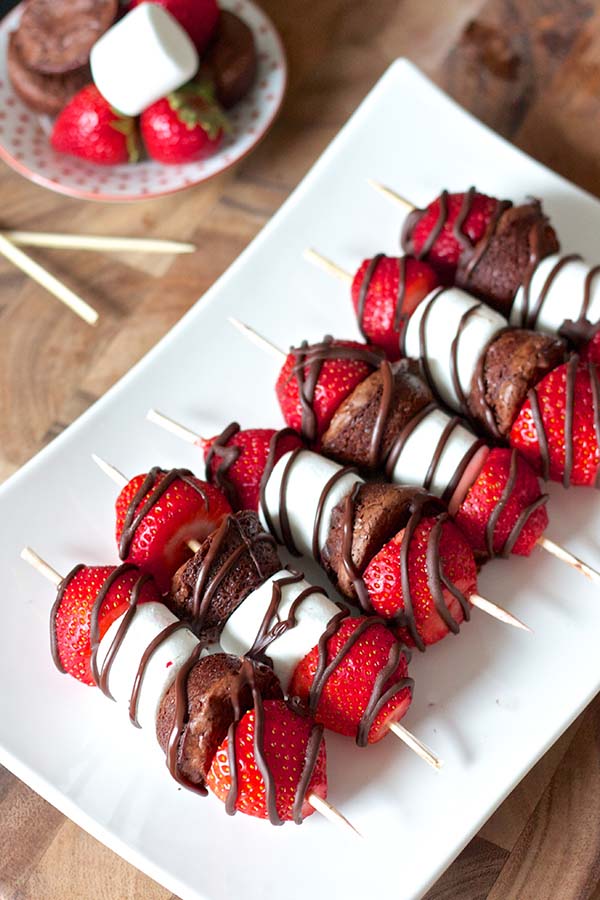 via Sweet Tooth
Make delicious kabobs by layering strawberries, brownies and marshmallows.
Valentine's Crack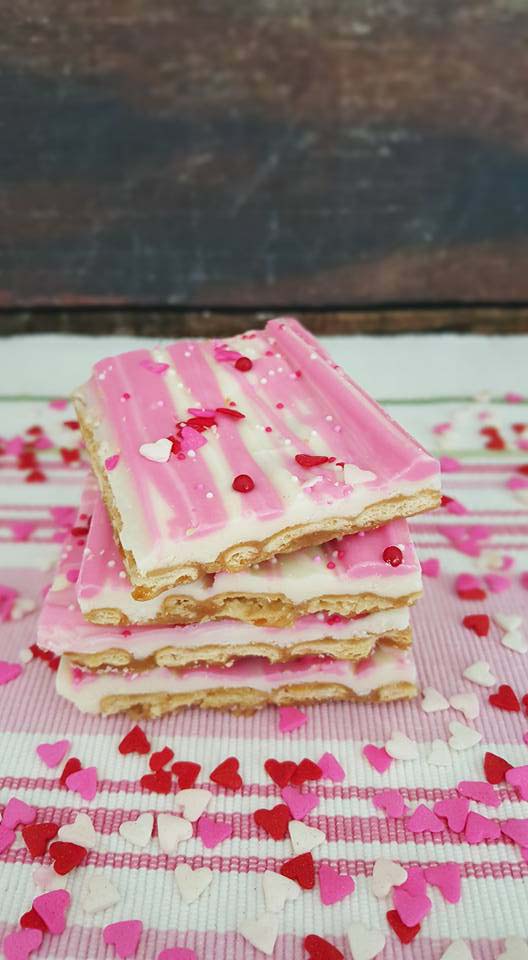 Valentine's crack is made with delicious caramel, frosting and red Valentine sprinkles.
Valentine's Day Chocolate Bark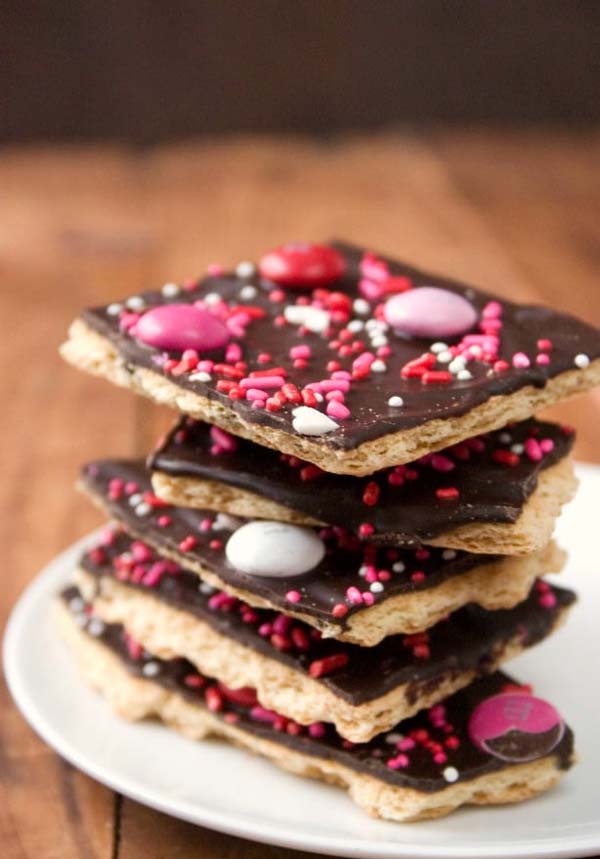 Graham crackers are delectable with chocolate melted on top and M&M
garnish.
Cake Valentine's Day Desserts
3 Ingredient Flourless Chocolate Cake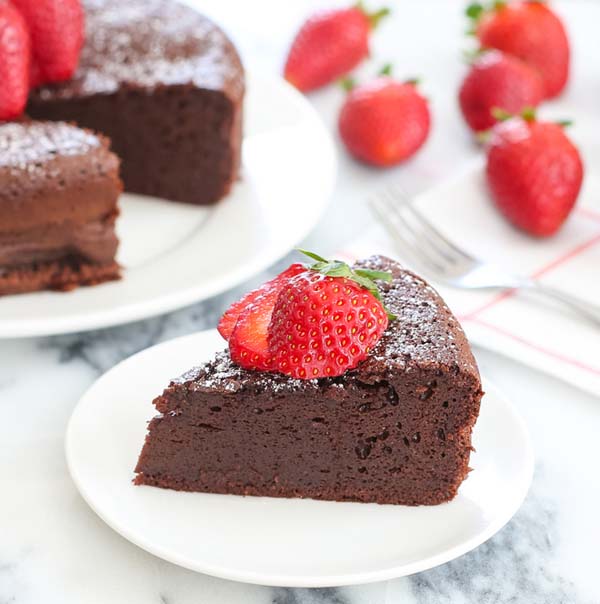 Flourless chocolate cake is thick and sticky but absolutely delicious.
Chocolate Raspberry Mousse Cake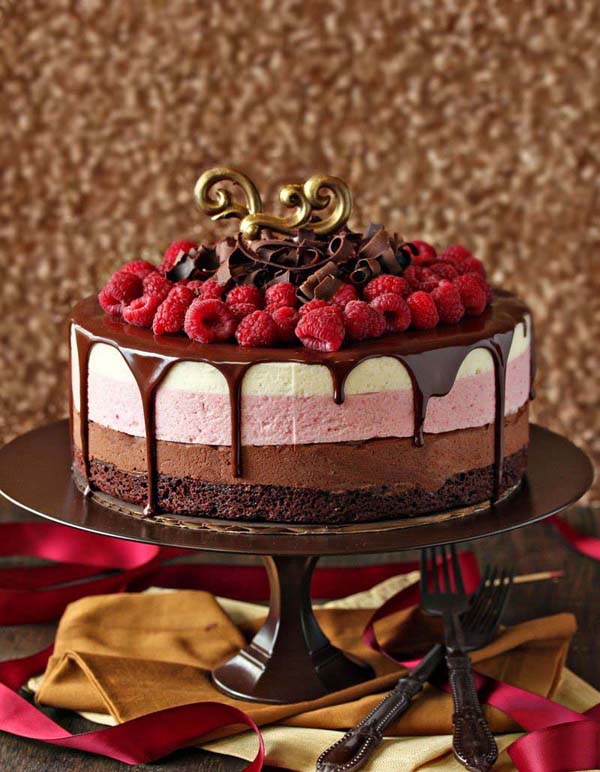 via Sugar Hero
Mouse cake is light and fluffy. It can be colored with different flavors
to make a delicious Valentine cake. Add strawberries on top for a
romantic touch.
Cream Filled Chocolate Heart-Shaped Cakes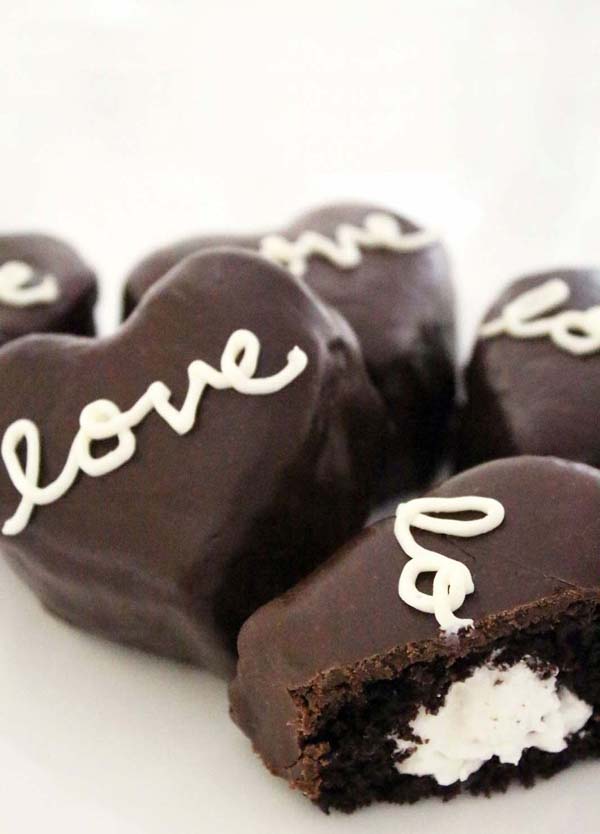 via Worth Pinning
Heart-shaped cake pans make the perfect fluffy chocolate heart cakes. Fill them with white frosting for a yummy touch.
DIY Heart Cake (no heart-shaped pan needed)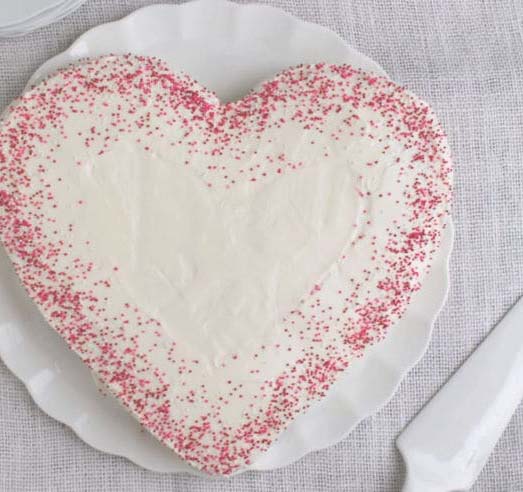 For a classic Valentine's treat, try this heart-shaped cake with white
frosting. Add a layer of pink sprinkles as well.
French Strawberry Cake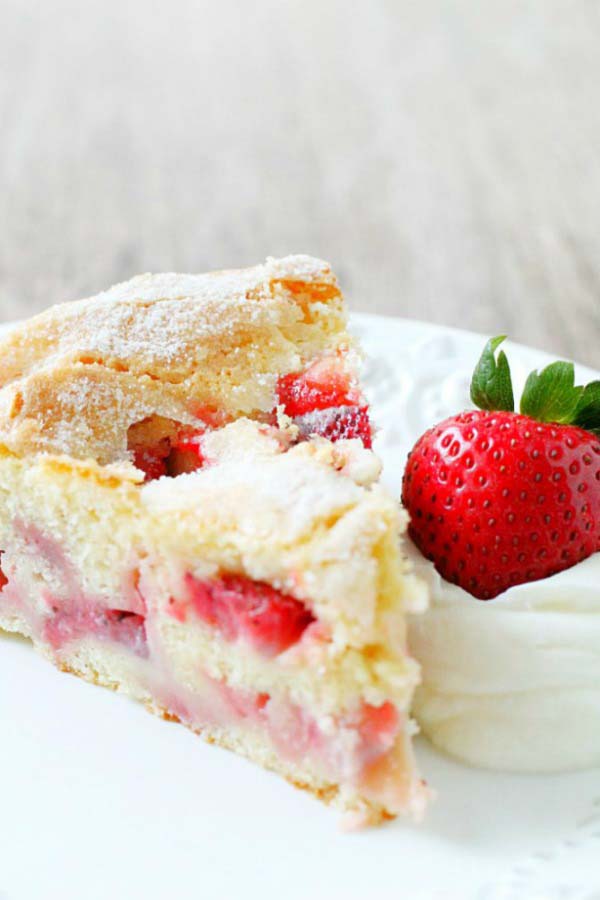 via Foodtastic Mom
For a heavier Valentine's day treat, try this french cake. It is filled with
romantic red strawberries.
Gooey Red Velvet Brownie Cake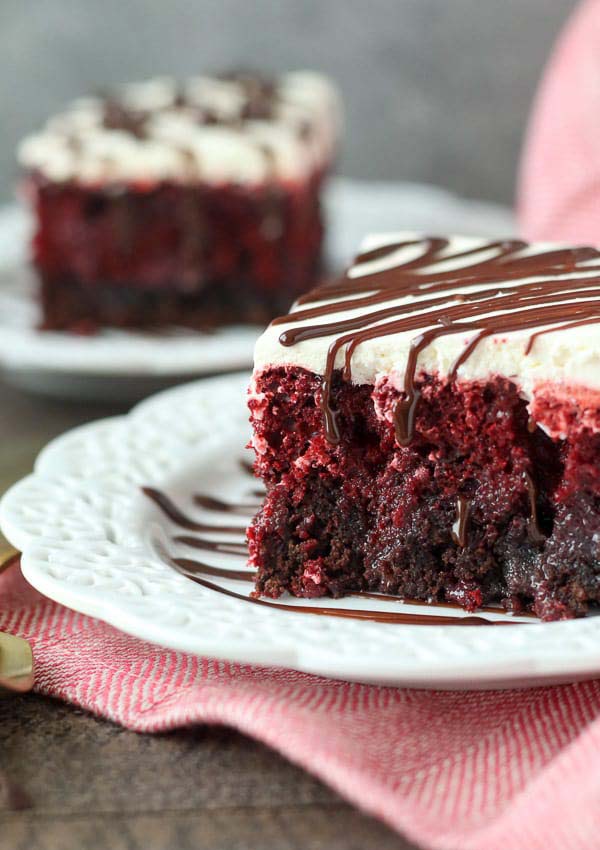 via Beyond Frosting
Brownies and red velvet cake mixed together are the classic romantic
concoction.
Heart Sugar Cookie Cake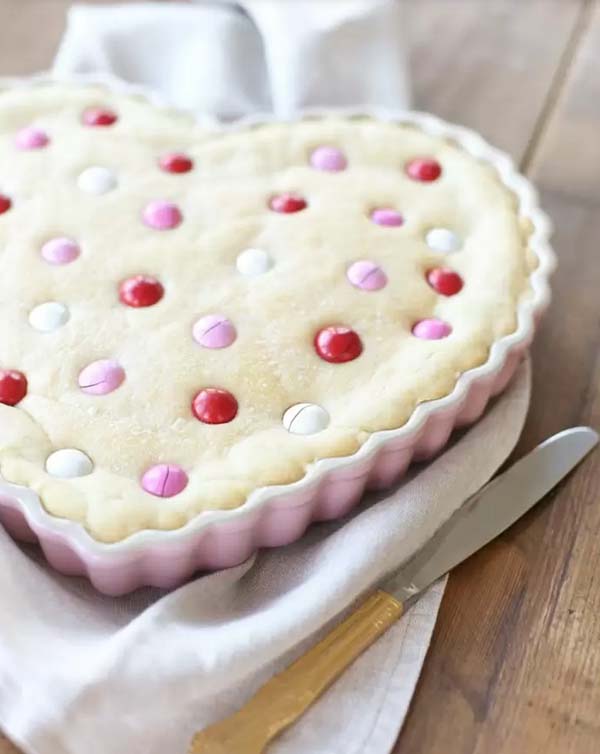 via Julie Blanner
An oversized sugar cookie cake makes for a simple Valentine treat.
Kit Kat Cake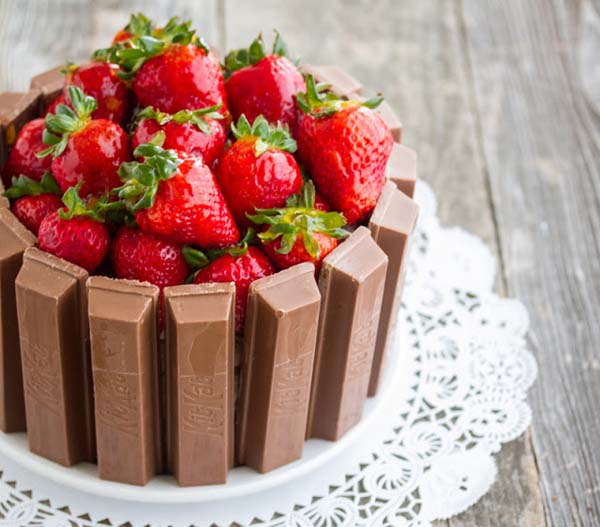 Decorate a cake by adding Kit Kats around the outside. Then fill the top
with strawberries.
Love is All Around Cake Roll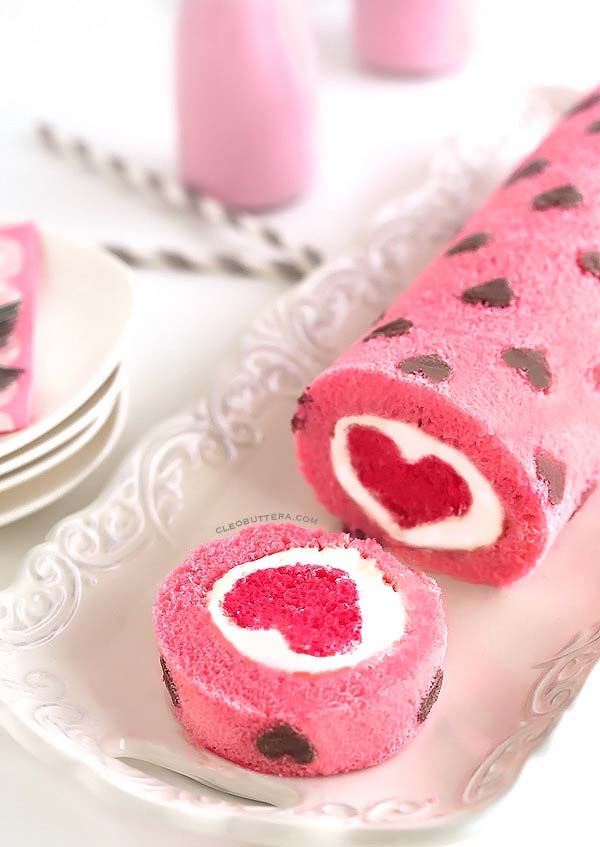 via Cleobuttera
For a more complicated Valentine treat, make these cake rolls filled
with fluffy filling and red hearts.
Mini Ombre Cakes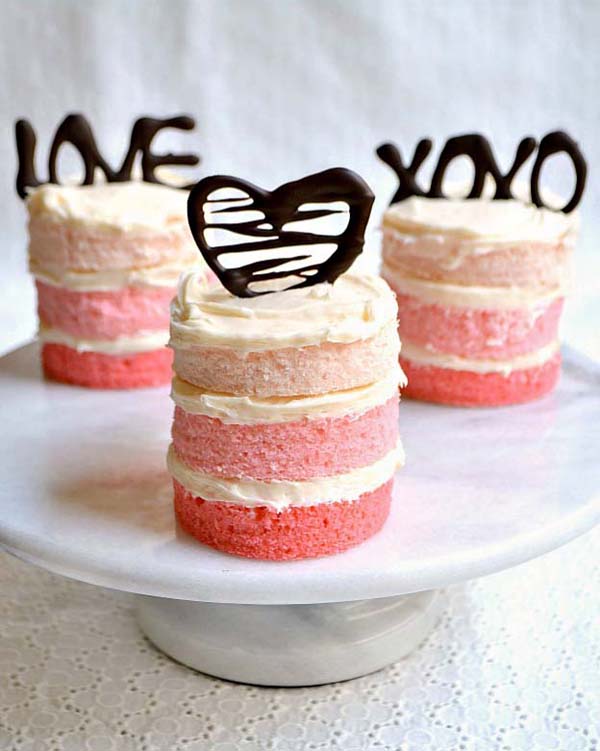 By layering three different tones of pink with white frosting, you can
make a Valentine ombre cake.
Molten Chocolate Lava Cakes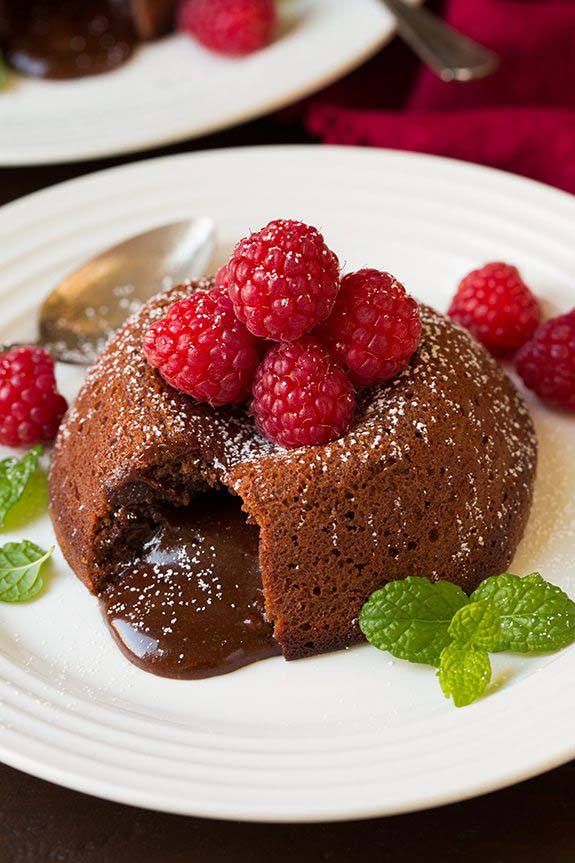 via Cooking Classy
Lava cakes are basically brownies filled with thick chocolate sauce. Dusted with powdered sugar they are delicious treats.
Raspberry Chocolate Swiss Roll
Take a Valentine's day swiss roll and top with whipped topping and
raspberries. It is an easy treat that looks complicated to impress your
lover.
Red Velvet Cake Bites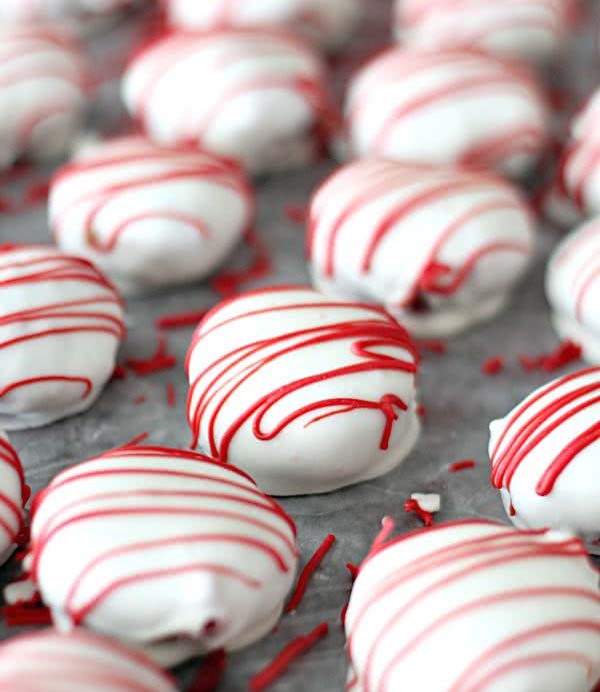 Cake bites are quick and easy to make and eat. Make red velvet cake
bites and coat in white chocolate.
Red Velvet Cake Roll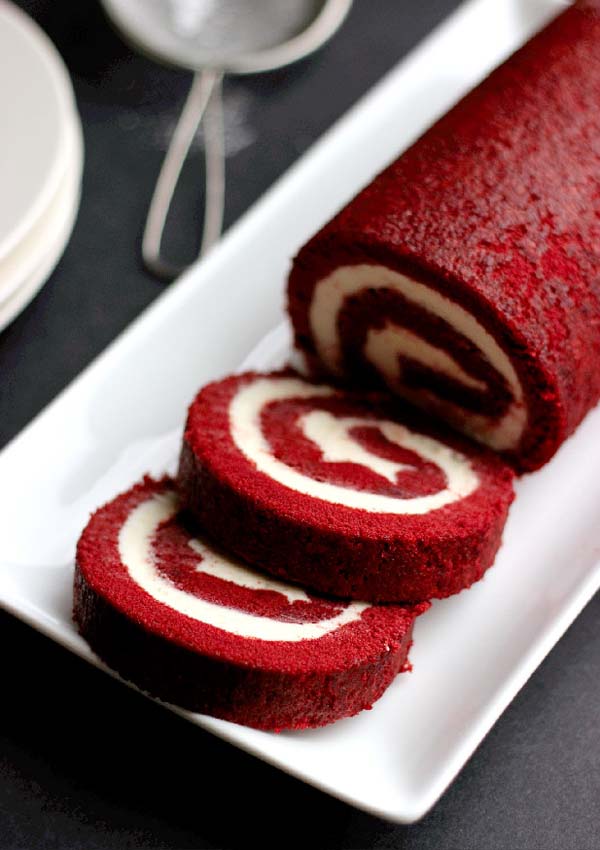 via Confessions of a Confectionista
Make cake rolls out of red velvet cake and fill the inside with white
filling.
Red Velvet Cake with Cream Cheese Frosting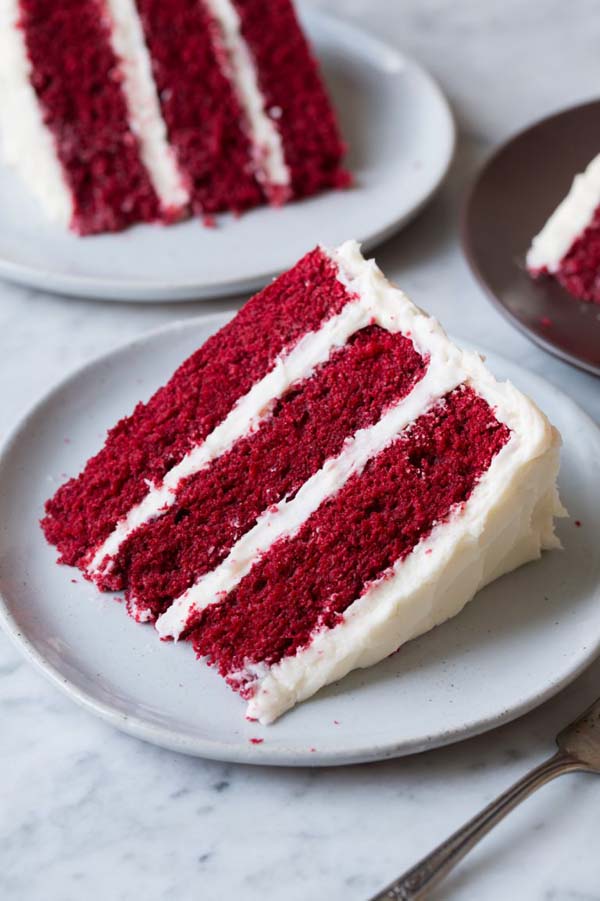 via Cooking Classy
For a delicious and classic Valentine's cake, make a red velvet cake with
cream cheese frosting.
Red Velvet Cookie Cake
via Just So Tasty
Cookie cake makes a denser but easier to eat cake. Red velvet cake is
delicious in the form of a cookie. Top with sprinkles for a Valentine
touch.
Red Velvet Molten Lava Cakes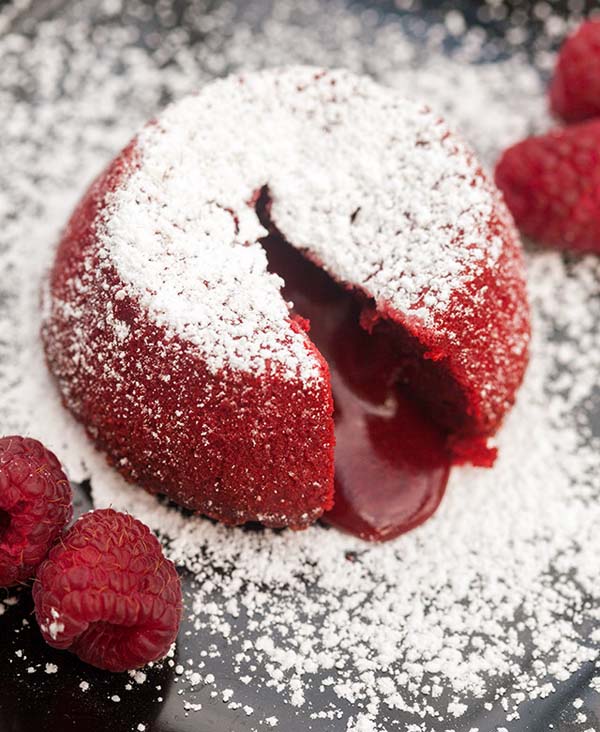 Instead of using chocolate, use a red velvet recipe for lava cake.
Strawberries and Cream Cake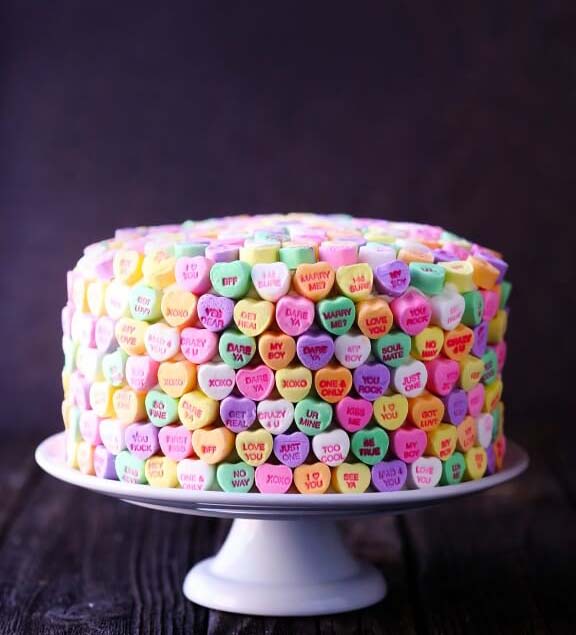 via Gimme Some Oven
Make a strawberries cream cake, then frost with conversation hearts.
Strawberry Chocolate Cake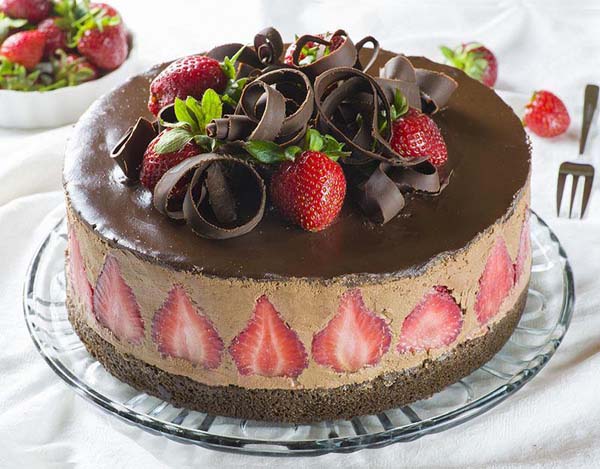 Chocolate mousse cake is made romantic with the addition of strawberries
and chocolate frosting.
Strawberry Chocolate Chip Cake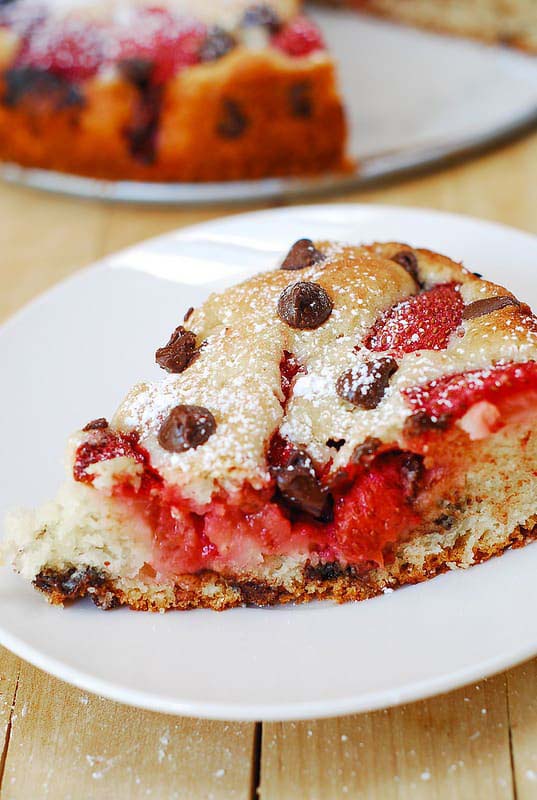 via Julia's Album
Everyone loves chocolate chip cookies. What about this chocolate chip
cake with strawberry filling.
Valentine's Day Heart-Shaped Cake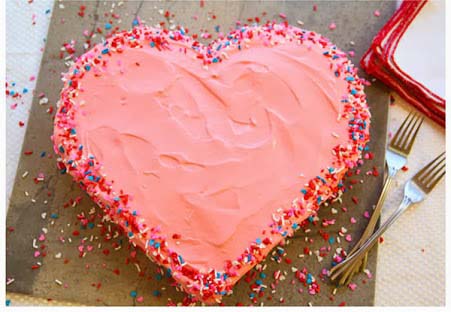 via Allrecipecenter
Do you have a heart-shaped pan? Valentine's Day is the perfect time to
pull it out.
Valentine's Heart Petit Fours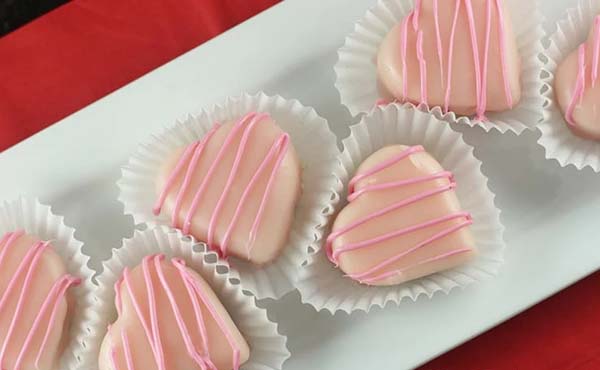 via Rose Bakes
Try these mini heart-shaped candies. They are topped with white
chocolate and pink frosting.
Cheesecake Valentine's Day Desserts
Chocolate Covered Strawberry Cheesecake for Two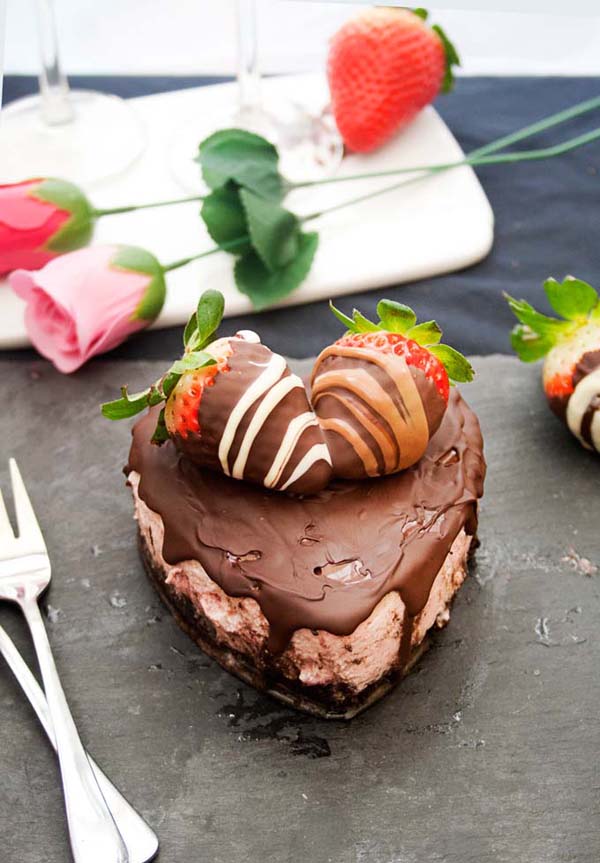 These strawberry mousse cakes are fluffy and topped with chocolate
ganache. They have a strawberry filling and topping.
Chocolate Dipped Strawberry Cheesecake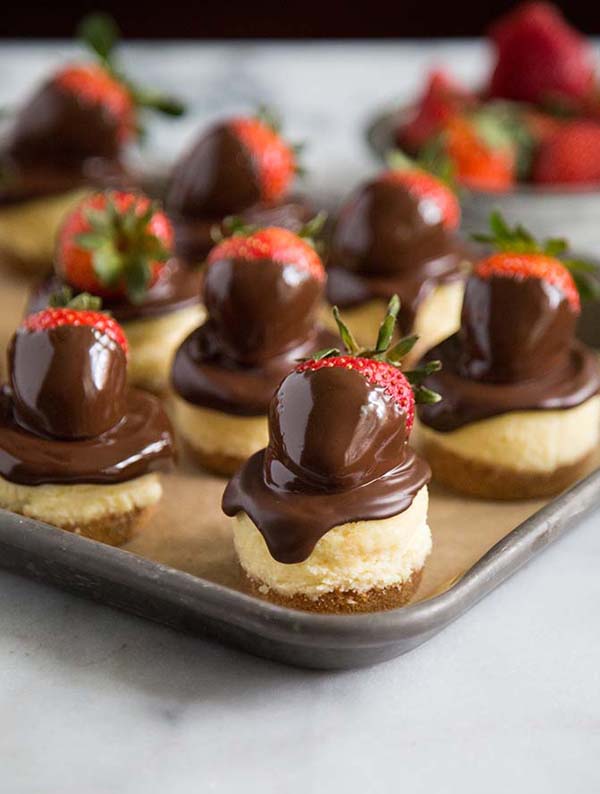 For a delicious Valentine treat, try these mini cheesecakes that are
topped with chocolate-covered strawberries.
Conversation Heart Cheesecakes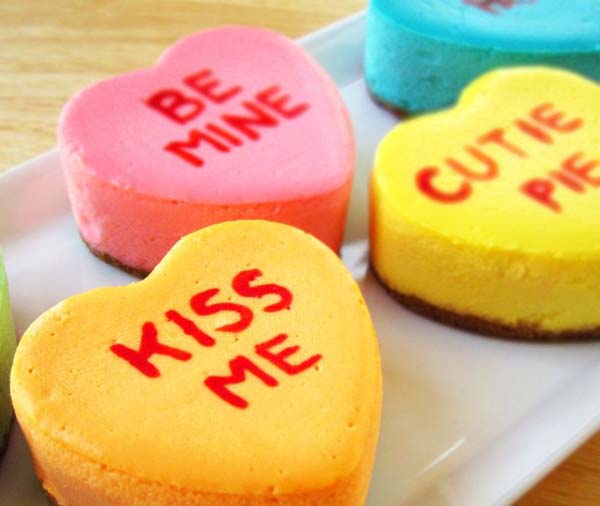 Using cheesecake, you can make large cheesecake conversation hearts.
Mini Red Velvet Cheesecakes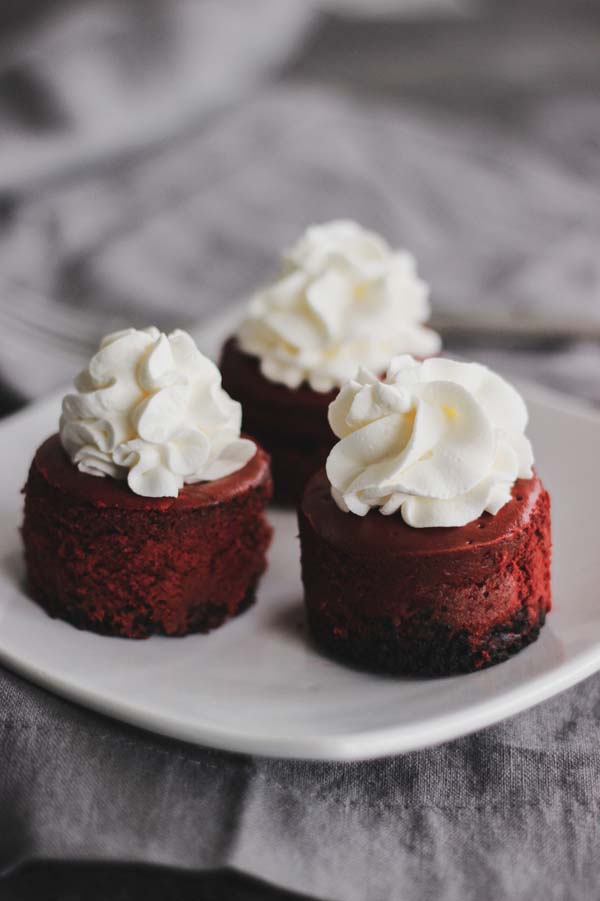 via Confessions of a Confectionista
Try making the red velvet cheesecake in mini cake pans. Then top with
whipped topping.
No-Bake Strawberry Cheesecake Bites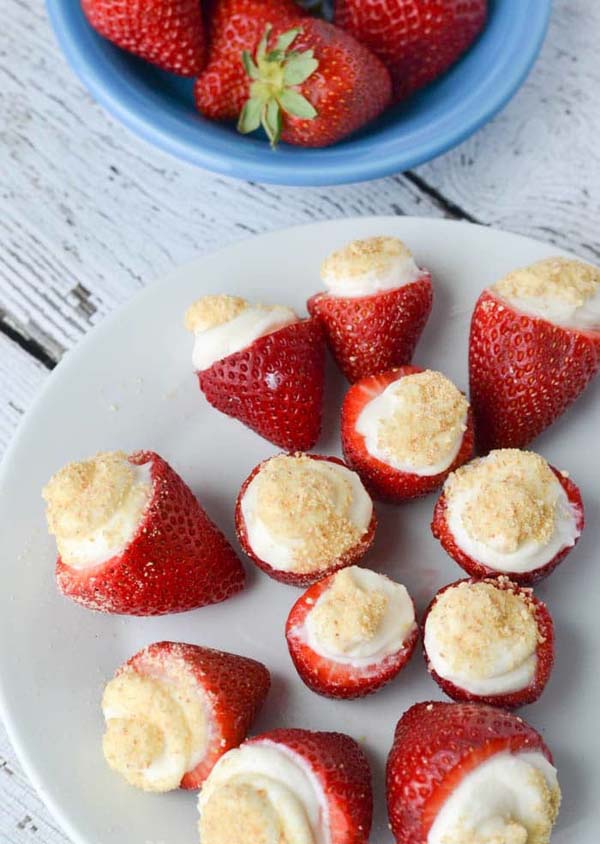 via Typically Simple
Fill strawberries with delicious cheesecake and whipped topping.
Raspberry Cheesecake Cake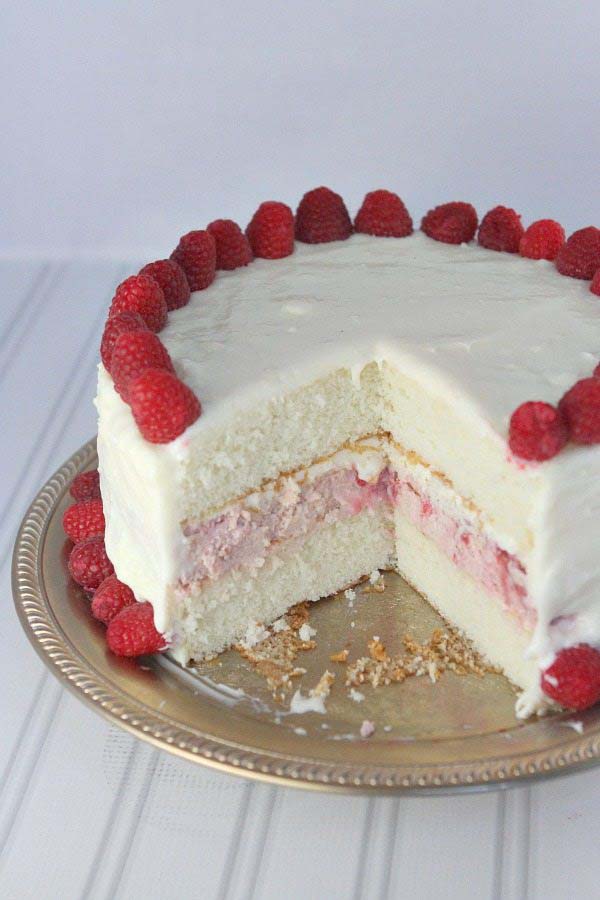 via Recipe Girl
For a large Valentine's cake, layer pink and white cakes. Then add
frosting and raspberries to the top.
Raspberry Cheesecake Trifles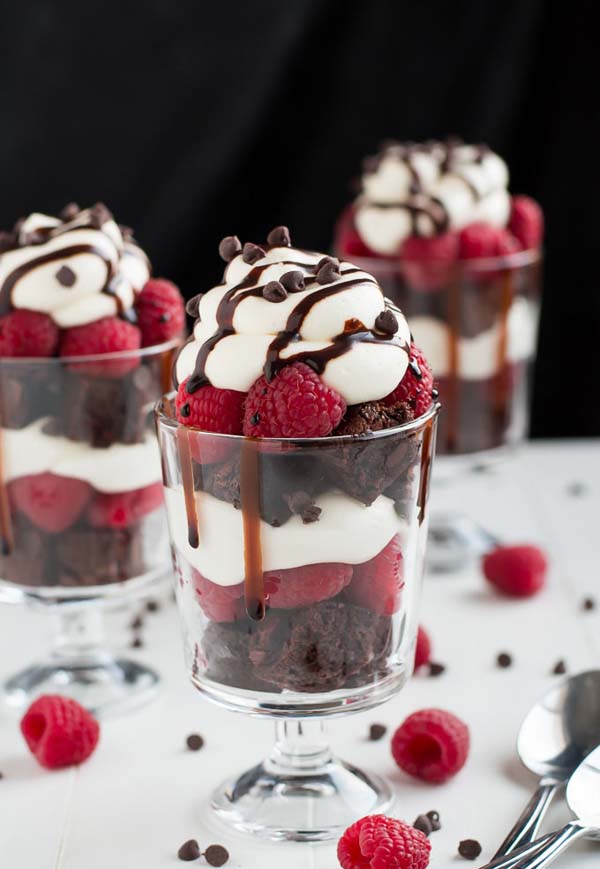 via Garnish & Glaze
Layer raspberries and whipped topping in chocolate in a beautiful cup for a delicious Valentine trifle.
White Chocolate Raspberry Cheesecake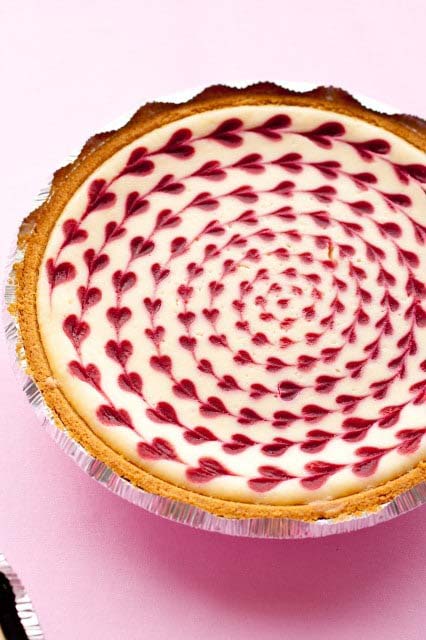 via Cooking Classy
By drawing heart designs in a strawberry cheesecake, you can make a simple but delicious Valentine cheesecake.
White Chocolate Raspberry Cheesecakes Bites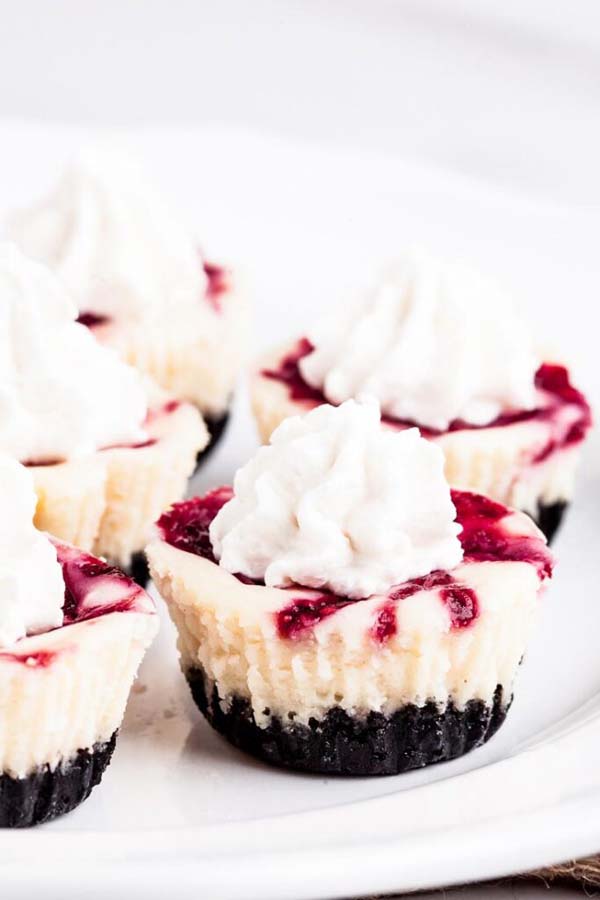 via Chew Out Loud
Layer oreo in the bottom of a mini cupcake tin, then put cheesecake on
top for an oreo cheesecake.
Cookie Valentine's Day Desserts
4 Ingredient Strawberry White Chocolate Chip Cookies
Cookies are simple to make and simple to eat. Try these Valentine
strawberry and white chocolate cookies.
Chocolate Cherry Blossom Cookies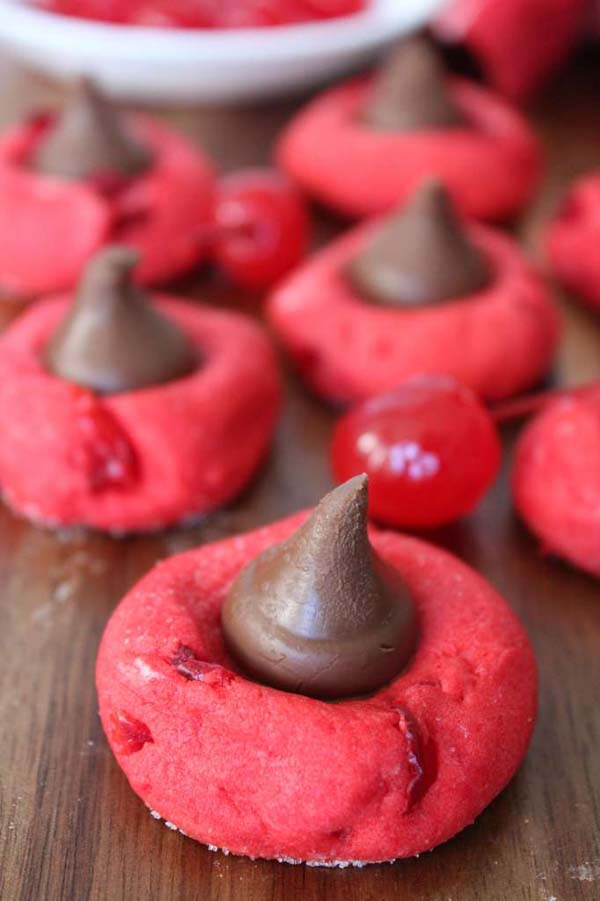 via Baking Beauty
These delicious cookies are tinted red and have a chocolate kiss on top.
Chocolate Chip Cookie Dough Valentine's Hearts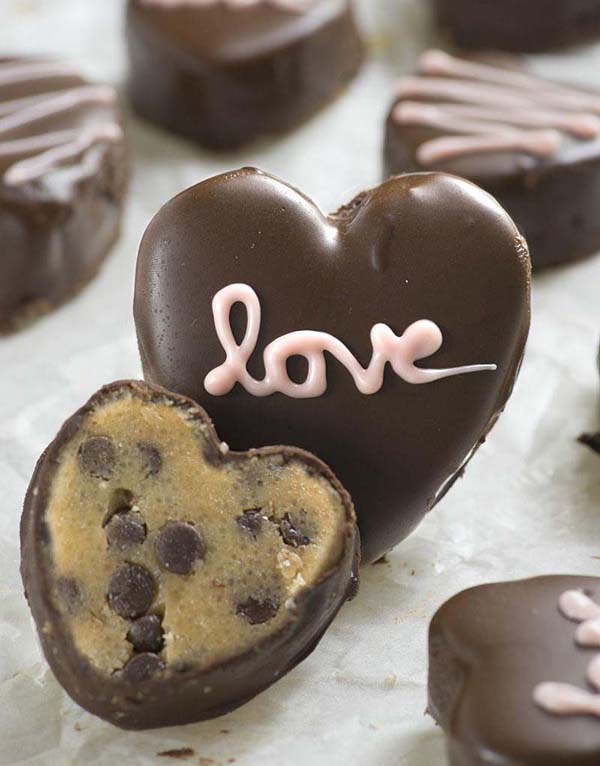 Everyone loves cookie dough. Shape in a heart and coat with chocolate
for a Valentine snack.
Chocolate Dipped Meringue Heart Cookies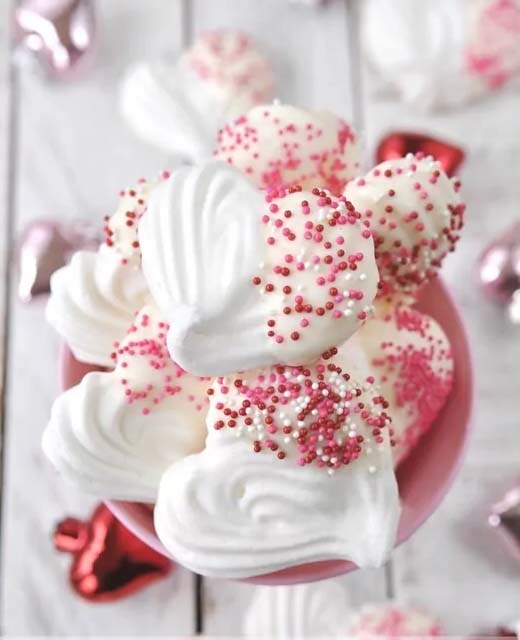 Meringue cookies are the essence of Valentine's day, especially when coated with red nonpareils.
Chocolate Shortbread Heart Cookies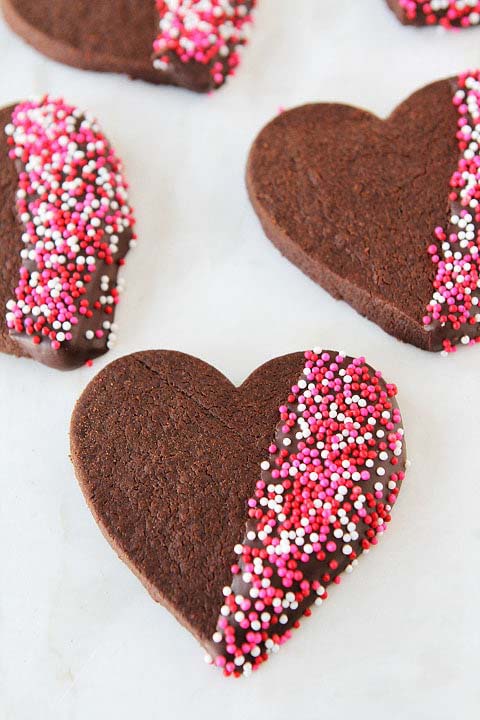 Chocolate heart-shaped cookies are easy and when dipped in sprinkles are
an easy Valentine snack.
Conversation Cookie Hearts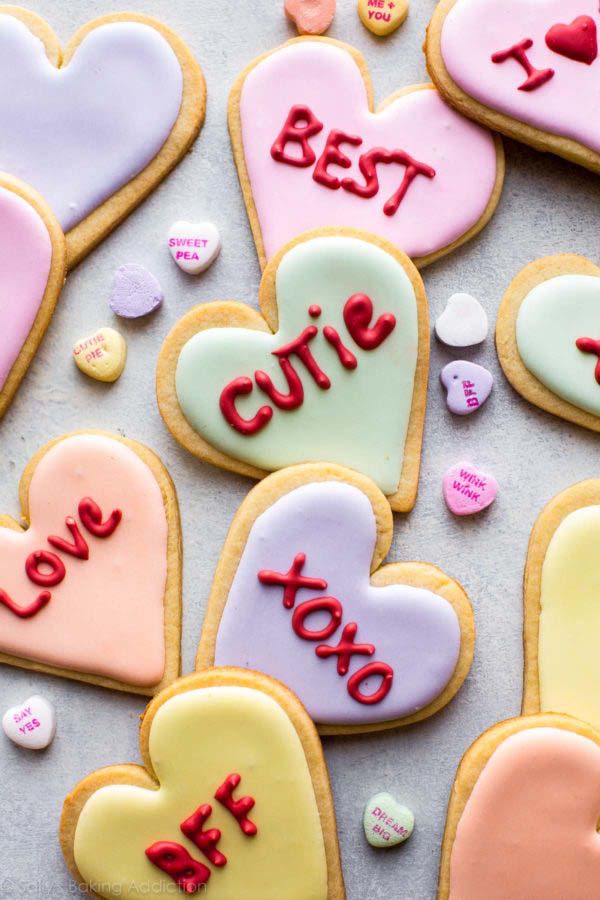 Using sugar cookies and white frosting, you can homemade oversized
conversation hearts.
Easy Strawberry Crinkle Cookies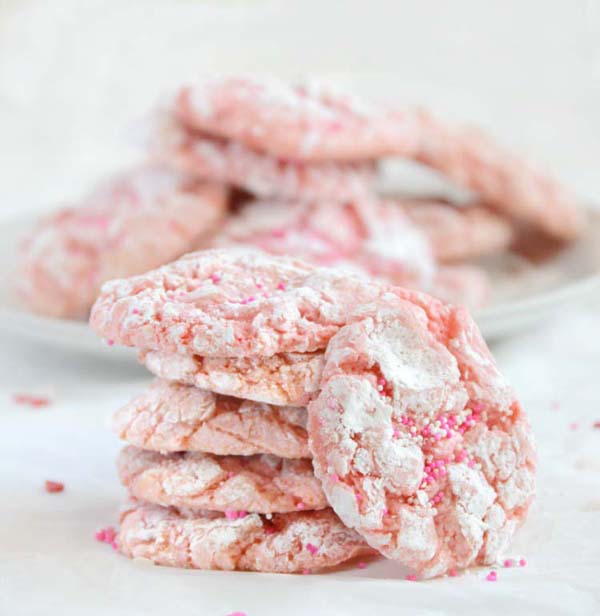 By adding strawberry flavoring to crinkle cookies, you can easily make a
delicious Valentine snack.
Gummy Bear Heart Cookies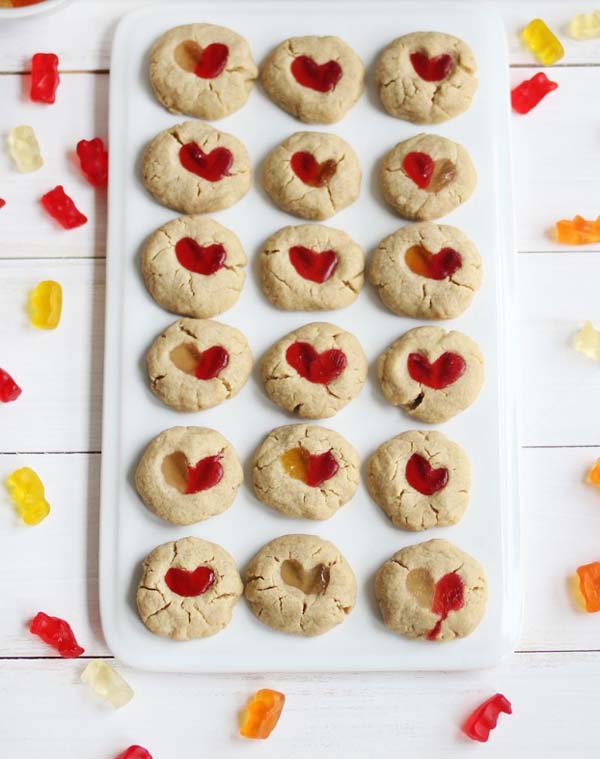 via Something Swanky
Instead of using kisses to put in the cookies, fill them with heart-shaped gummies.
Heart Linzer Cookies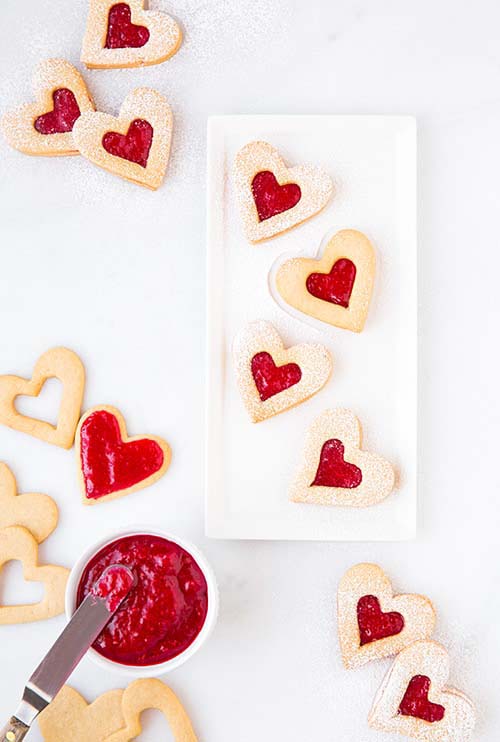 via Cooking Classy
Try making heart-shaped shortbread cookies. Then fill them with red
strawberry compote.
M&M's Valentine's Day Cookie Bars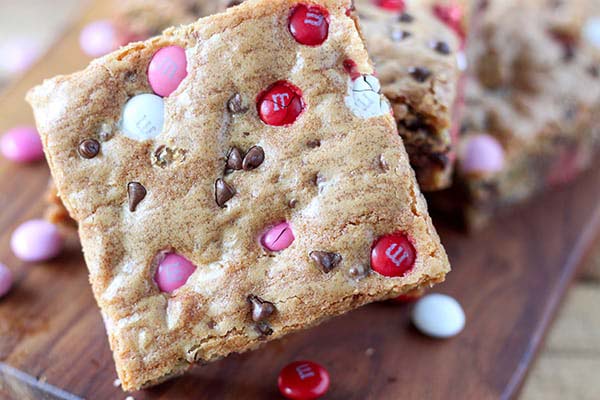 via No. 2 Pencil
Red and pink M&M's are perfect for making cookie bars.
Marbled Valentine Sugar Cookies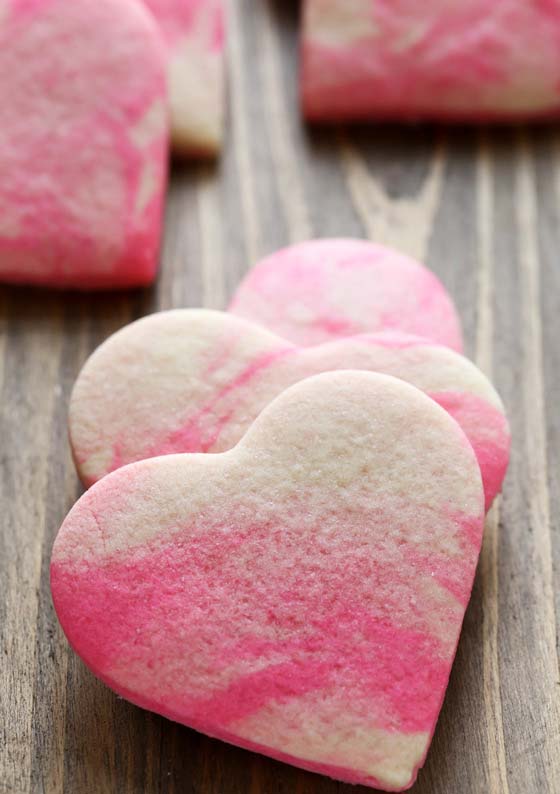 via Baked by Rachel
Tint some of your sugar cookie dough pink and tint your batch of heart-shaped cookies for marbled Valentine sugar cookies.
Oreo Cheesecake Cookies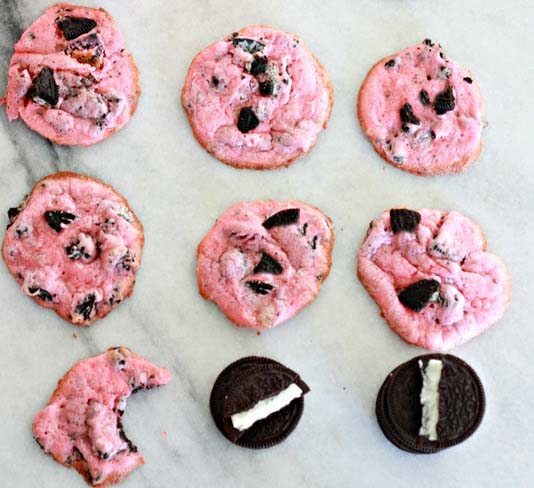 via Nests of Posies
What do you get when you mix oreos, cheesecake and strawberry flavoring – the most delicious cookie you could ever imagine this Valentine's day!
Red Heart Valentine's Day Cookies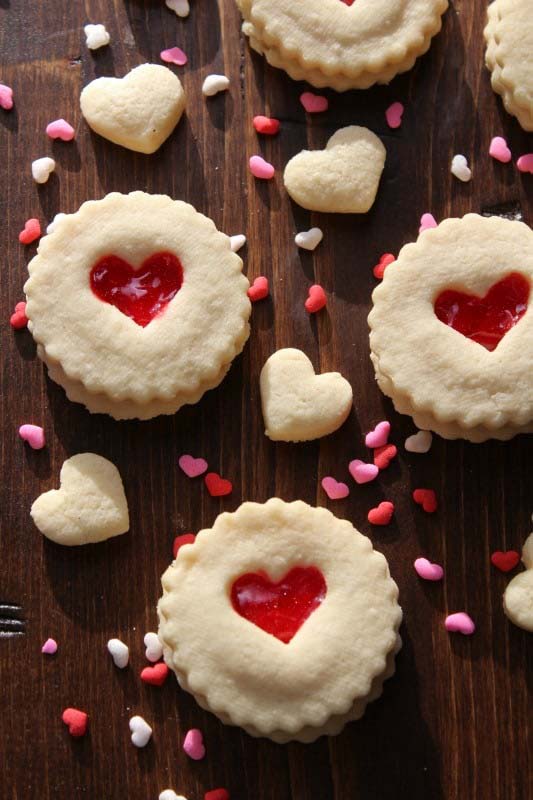 via Tammilee Tips
Shortbread cookies are the perfect base for filling with red cherry or
strawberry compote.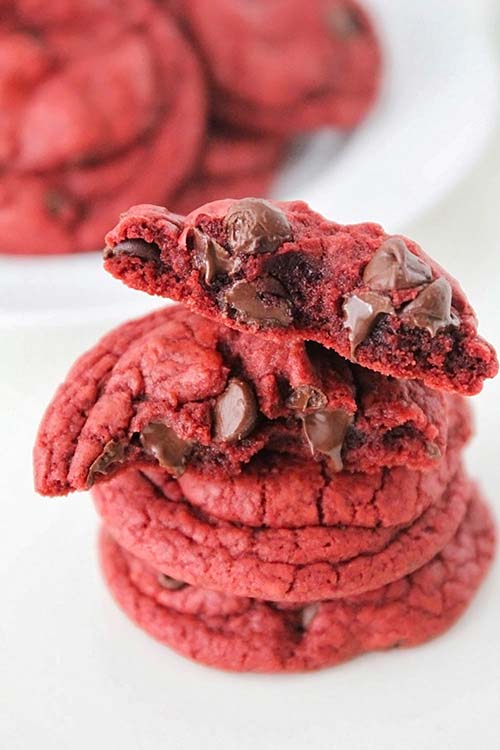 These cookies are made by using red velvet cookie dough and chocolate
chips. They are classic but romantic.
Red Velvet Sandwich Cookies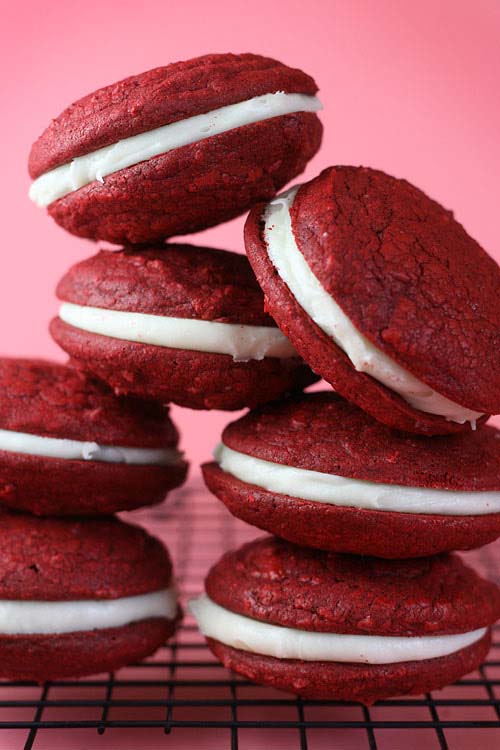 via Bakerella
Whoopie pies are delicious in chocolate. But they are even better as red
velvet and white frosting filled.
Red Velvet Sugar Cookies with White Chocolate Hearts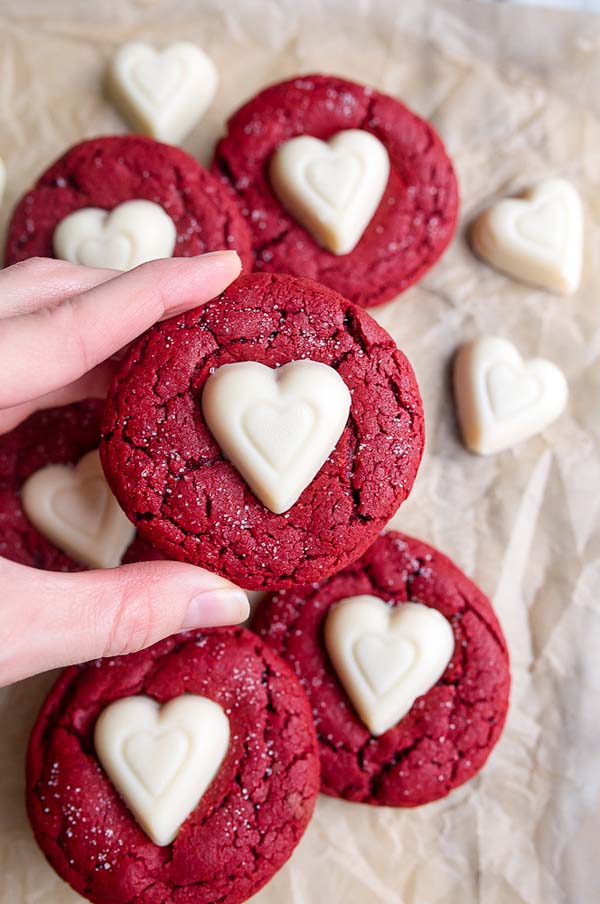 via Dessert for Two
To add a Valentine touch to a red velvet cookie, smash a white chocolate
heart into the middle.
Soft M&M Chocolate Chip Cookies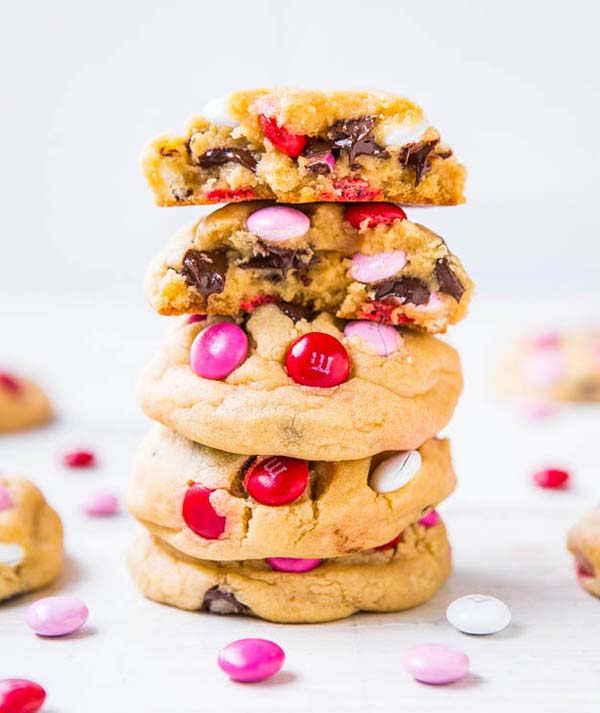 via Averie Cooks
Try these classic chocolate chip cookies but add Valentine M&M's.
Strawberry Chocolate Chip Cookies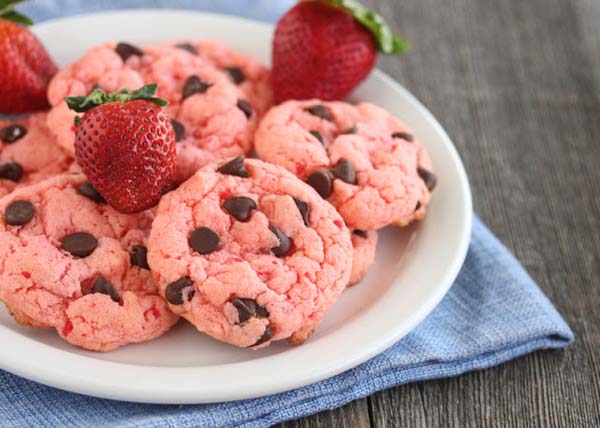 Strawberry filling added to chocolate chip cookies are a perfect
Valentine spin to a classic cookie.
Strawberry Truffle Kiss Cookies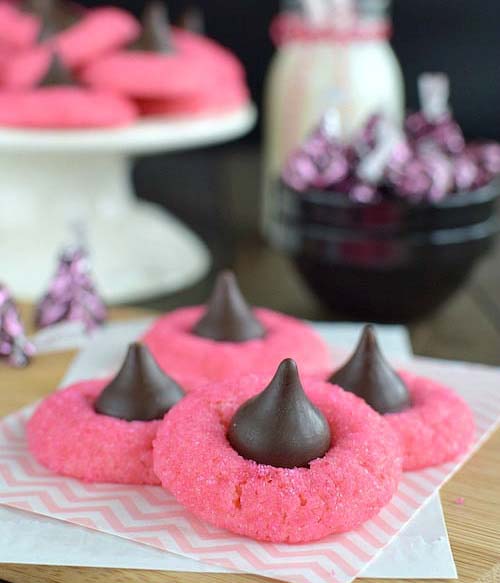 Add strawberry filling to trifle cookies. Then add the chocolate kiss at
the top.
Valentine's Chocolate Chip Cookie Hearts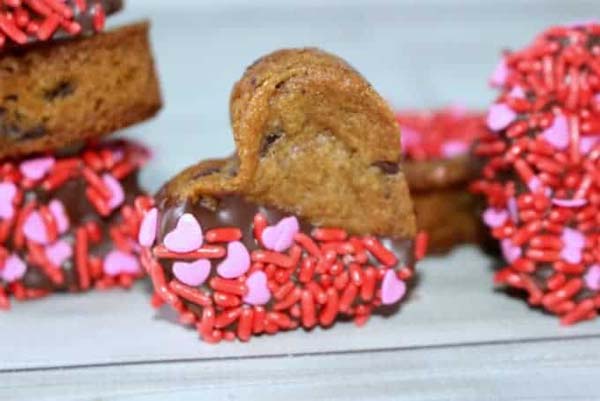 Try baking cookies in mini heart-shaped pans. Then coat in chocolate and
sprinkles.
Valentine's Day Frosted Sugar Cookie Bars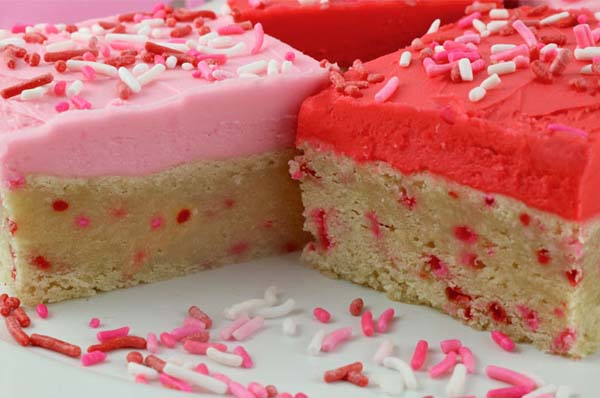 Sugar cookie bars are perfect for Valentine's day when topped with white,
pink and red frosting and sprinkles.
Valentine's Day Slice N' Bake Cookies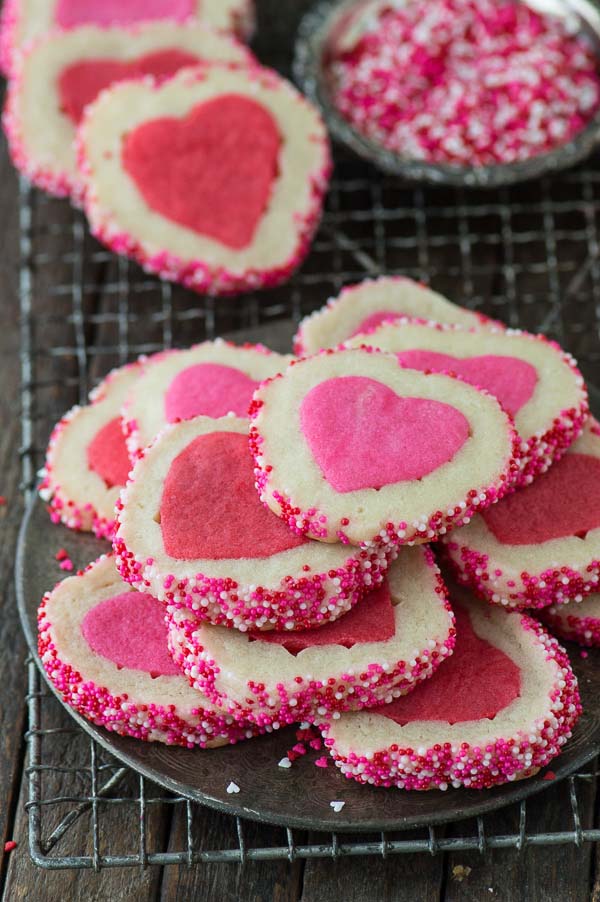 via The First Year
Slice and bake cookies are super simple to put whatever design you want
in the middle.
Valentine's Heart Macarons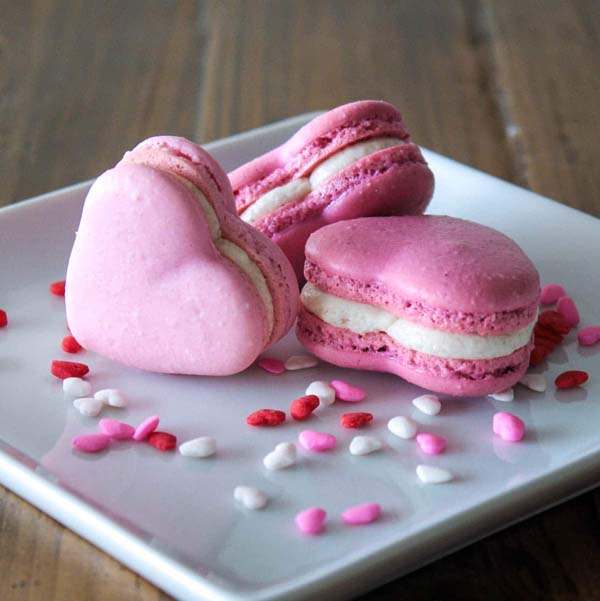 via Liv for Cake
Bake macarons in a heart shape and fill with white filling.
Wafer Valentine's Day Cookies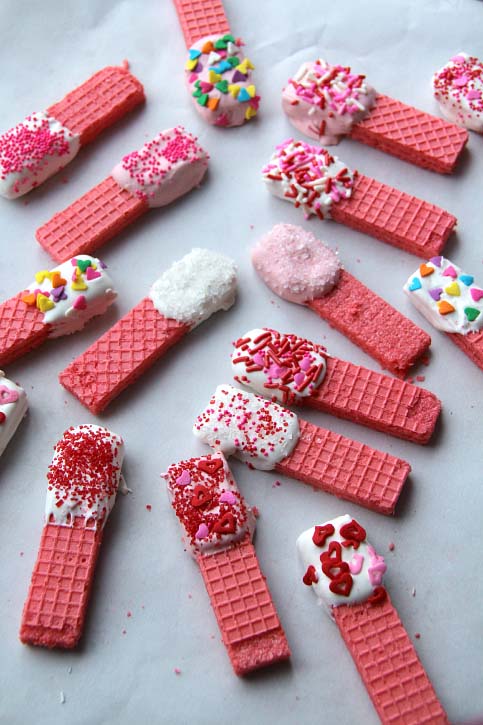 Dip strawberry wafers in white chocolate and sprinkles for a great
Valentine snack.
Cupcake Valentine's Day Desserts
Chocolate Cupcake Recipe with Red Velvet Frosting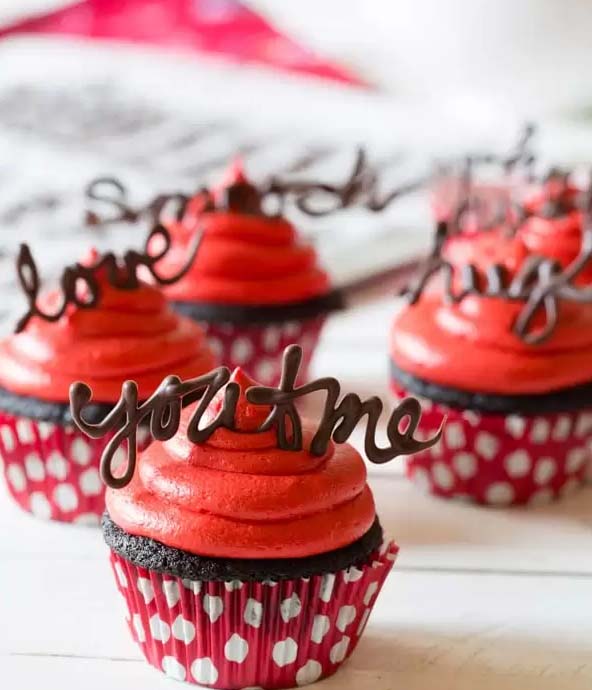 You can draw any design you want with melted chocolate on wax paper,
then when it dries it will hold its shape.
Chocolate Dipped Strawberry Cupcakes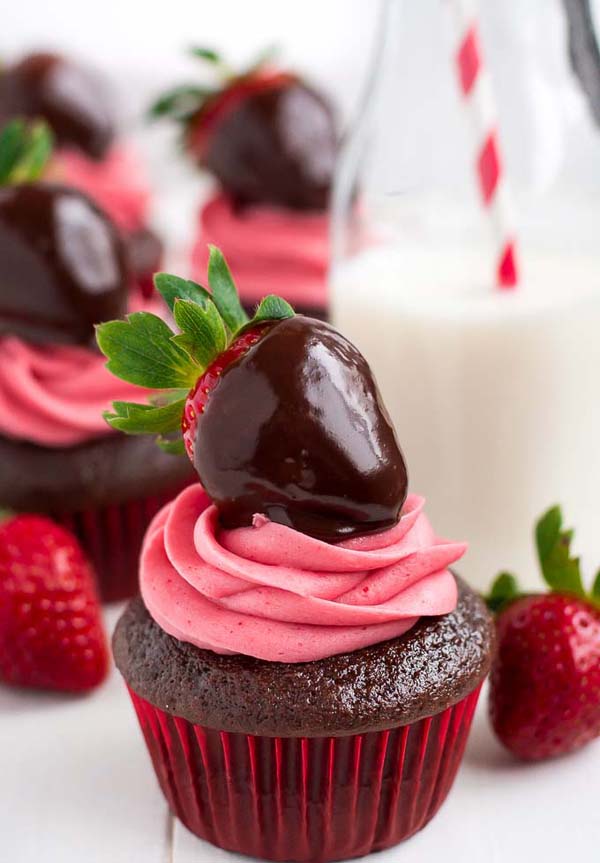 via Garnish & Glaze
These small cakes are not simple but are simply delicious. Chocolate
cake with strawberry frosting and a chocolate-covered strawberries on top.
Nutella Stuffed Chocolate Raspberry Cupcakes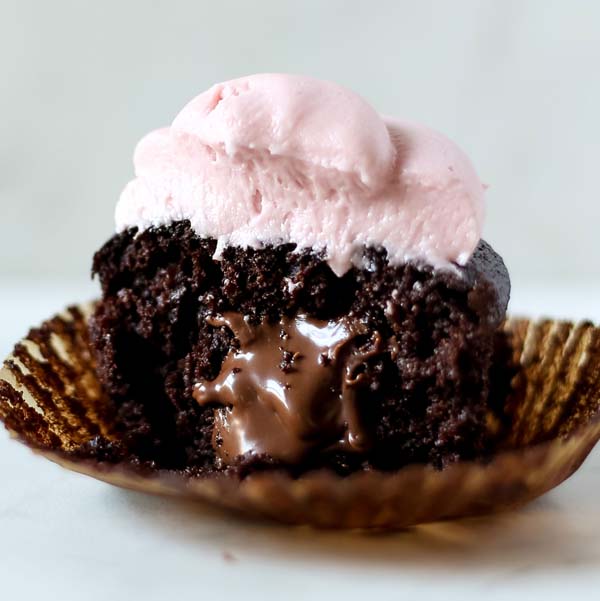 via Handle the Heat
These scrumptious cakes are chocolate and filled with Nutella. The red
raspberry frosting adds the Valentine look.
Pink Champagne Cupcakes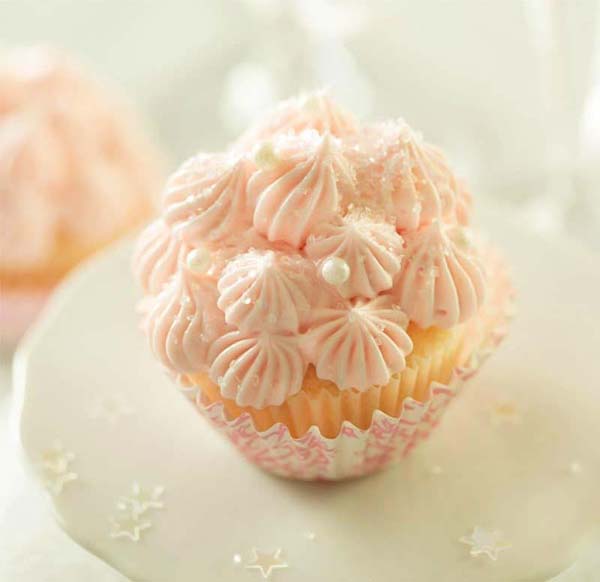 via The Chunky Chef
Champagne is part of the Valentine season. These champagne cookies are
modern, delicious and romantic
Strawberry Cupcakes with Cream Cheese Frosting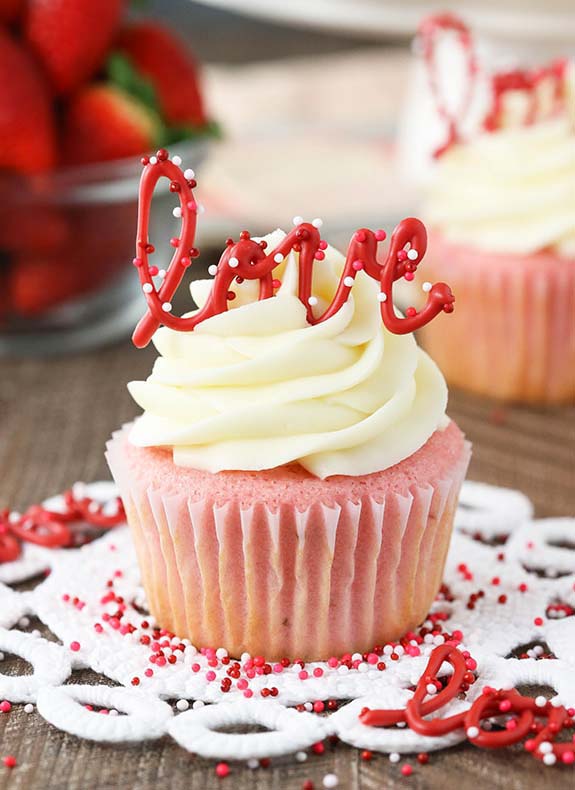 Strawberry cupcakes are delicious with white frosting and chocolate
wording on top.
Other Valentine's Day Desserts
Chocolate Dipped Heart Shaped Rice Krispies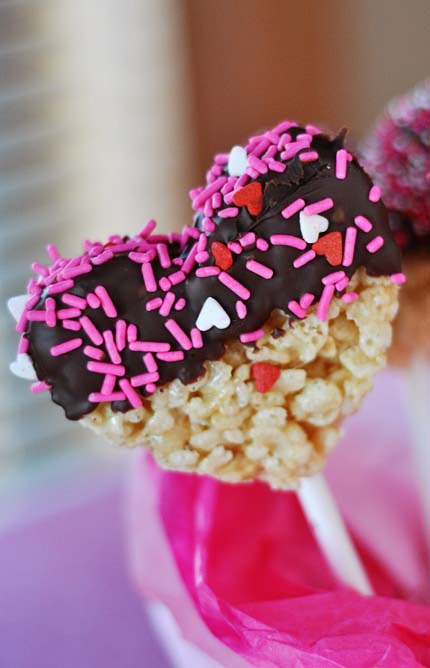 Rice Krispies are simple to shape in a heart shape. Then dip in
chocolate and pink sprinkles.
Chocolate Dipped Strawberry Pops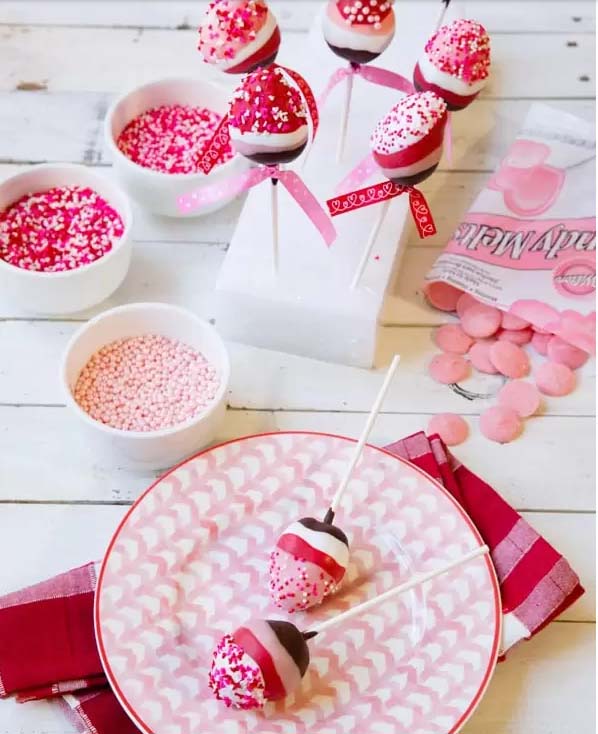 Cut the tops of strawberries, skewer and dip in layered colored chocolate.
Chocolate Fruit Dip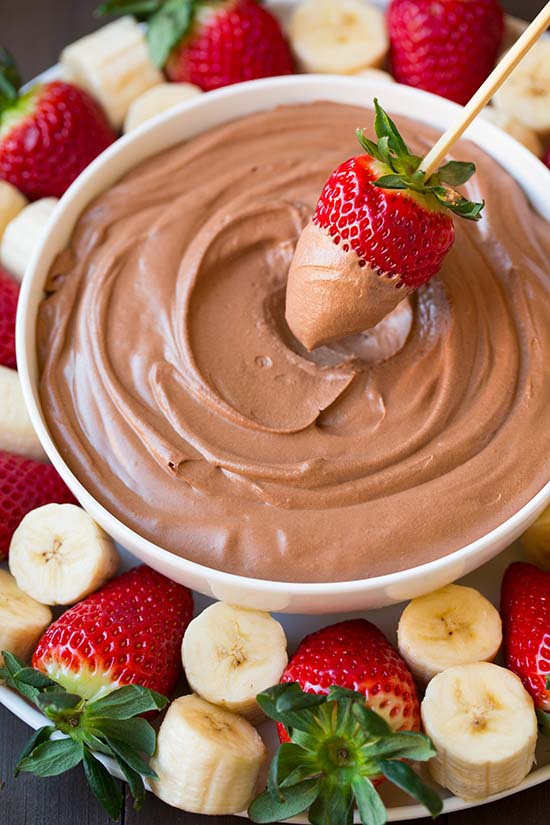 via Cooking Classy
Make fruit dip from chocolate. It is the perfect thing to dip skewered
strawberries in.
Conversation Heart Ice Cream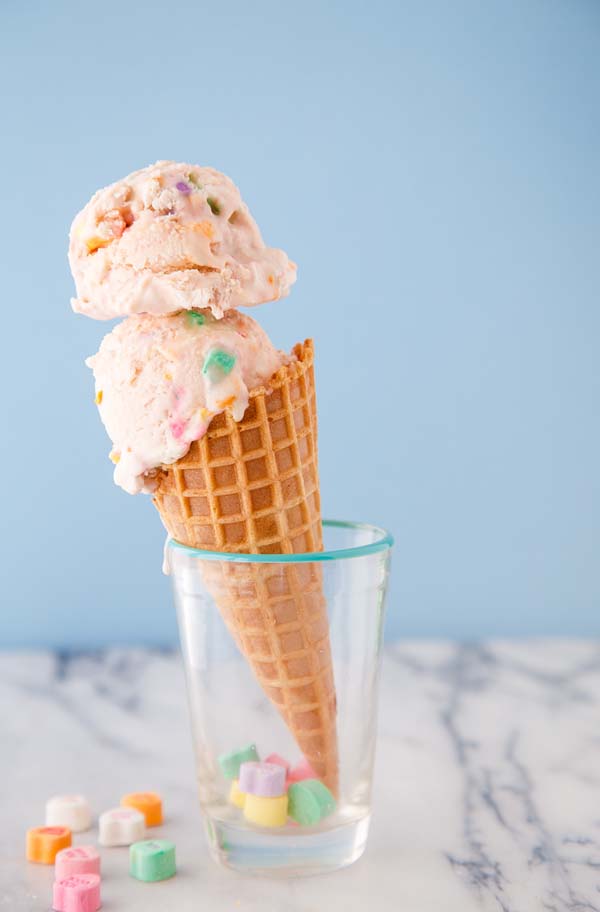 via Dessert for Two
If you enjoy making homemade ice cream, try making it with strawberry
flavoring and conversation hearts for your lover.
Cupid's Cloud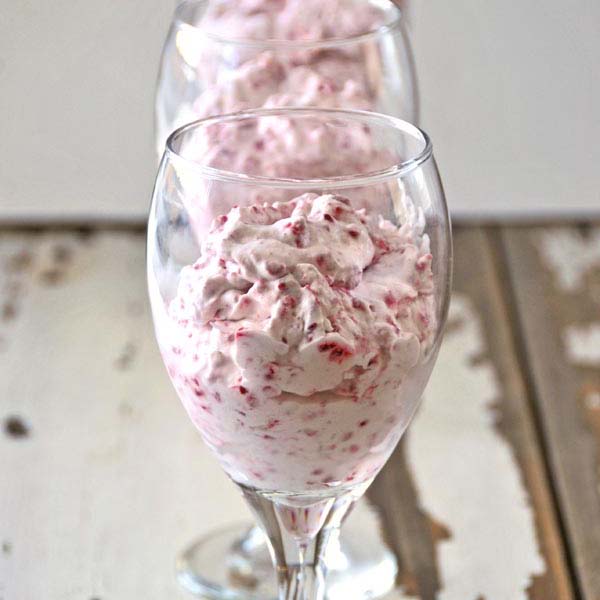 via A Pretty Life
Cupids cloud is a delicious fluffy mousse with strawberry filling.
Heart-Shaped Chocolate Covered Strawberries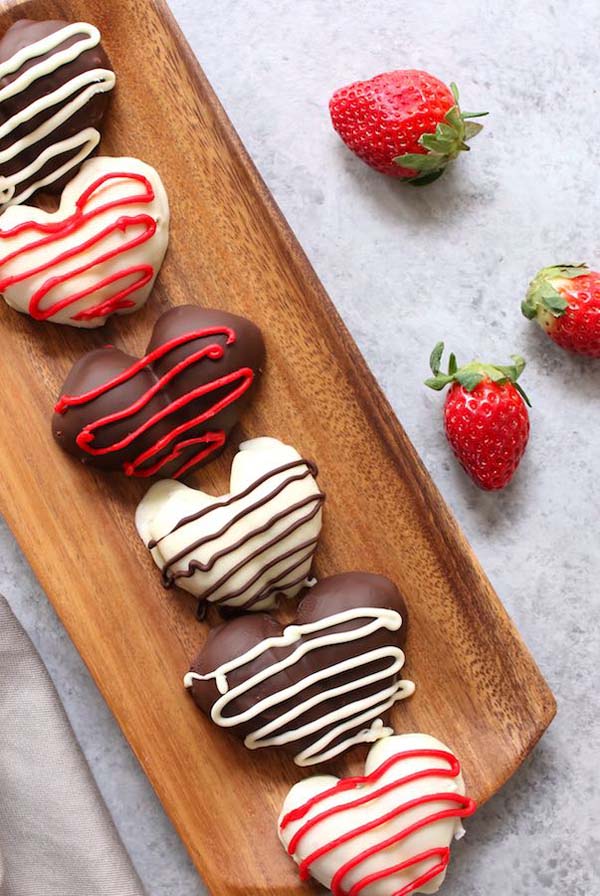 via TipBuzz
If you trim the stems off of strawberries then skewer together, it is
the perfect heart-shaped for dipping in chocolate.
Homemade Heart Gumdrops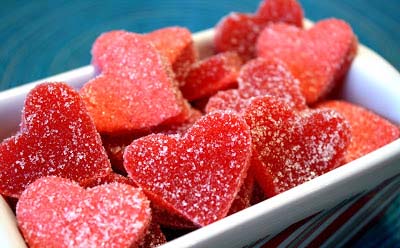 Gum drops can be melted down and put in heart-shaped pans. When cooled they are perfectly red and pink snacks.
Homemade Heart Marshmallows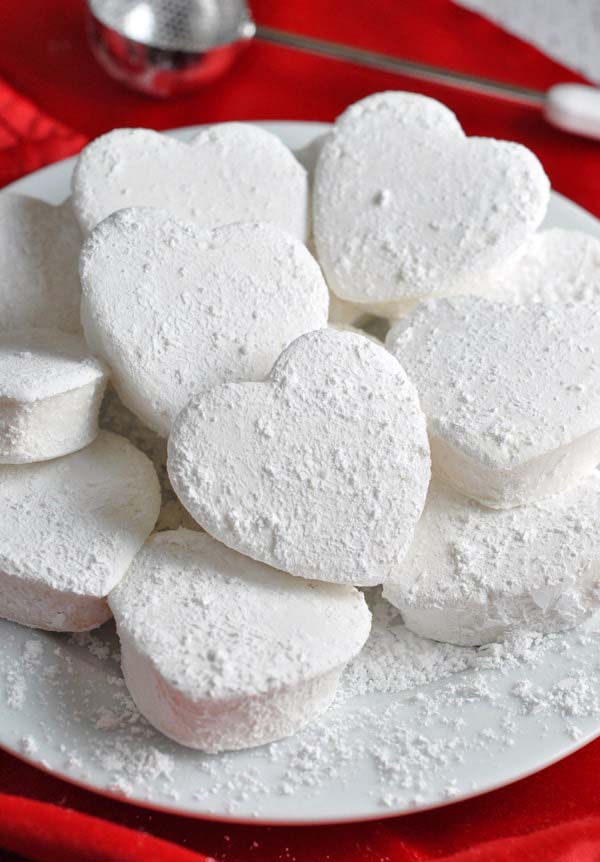 via Belly Full
Marshmallows are delicious especially when formed into heart shapes and
dusted with powdered sugar.
Jell-O Strawberry Parfaits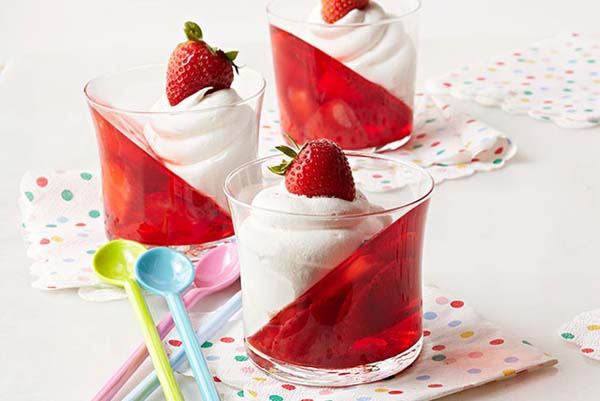 via Kraft
Using strawberry jello and beautiful cups you can make these romantic
jello cups with whipped topping.
Oreo Truffles Valentine's Hearts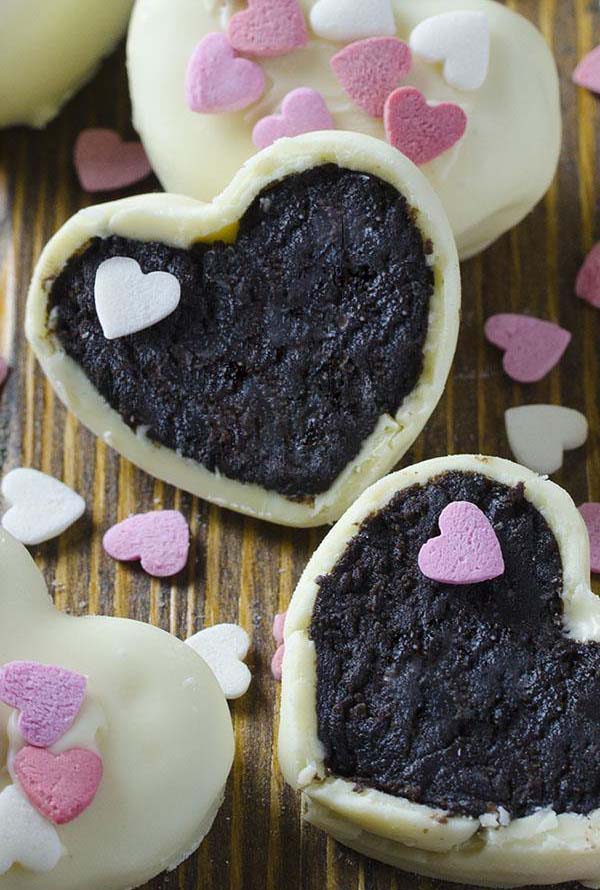 These chocolate oreo truffles are simple to make and are absolutely
delicious. Add a mini red heart to finish the Valentine look.
Pink Pinwheel Sugar Cookies
via Just a Taste
Use red and white cake to roll these delicious strawberry cake rolls.
Raspberry Cheesecake Truffles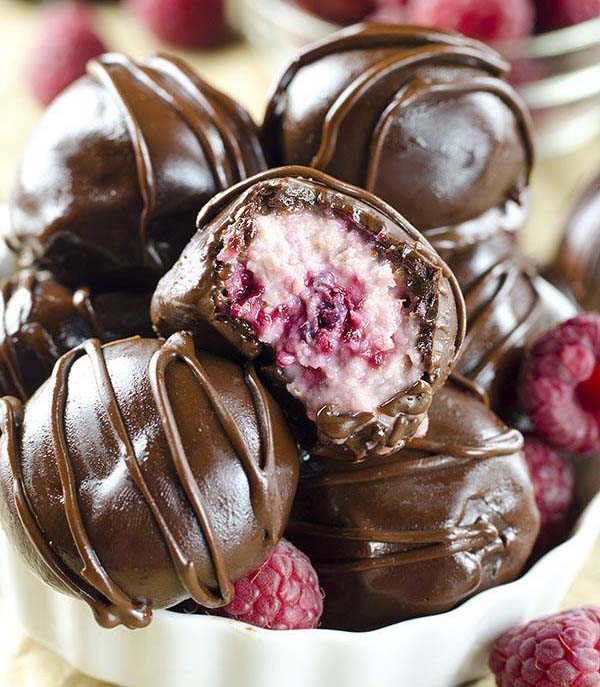 These raspberry-filled and chocolate topped truffles are a romantic
touch to a Valentine snack.
Reese's Peanut Butter Valentine's Heart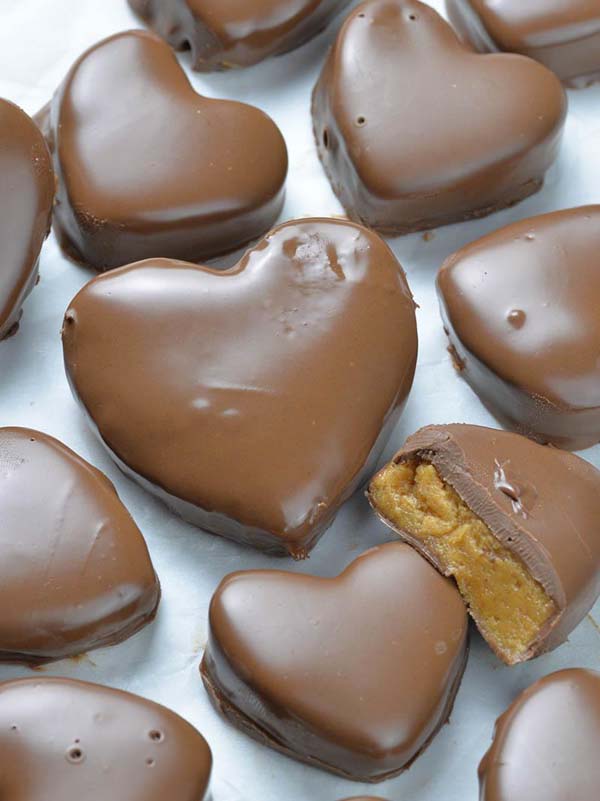 These peanut butter filled and chocolate topped hearts are basically
homemade reeses.
Strawberry Pie Hearts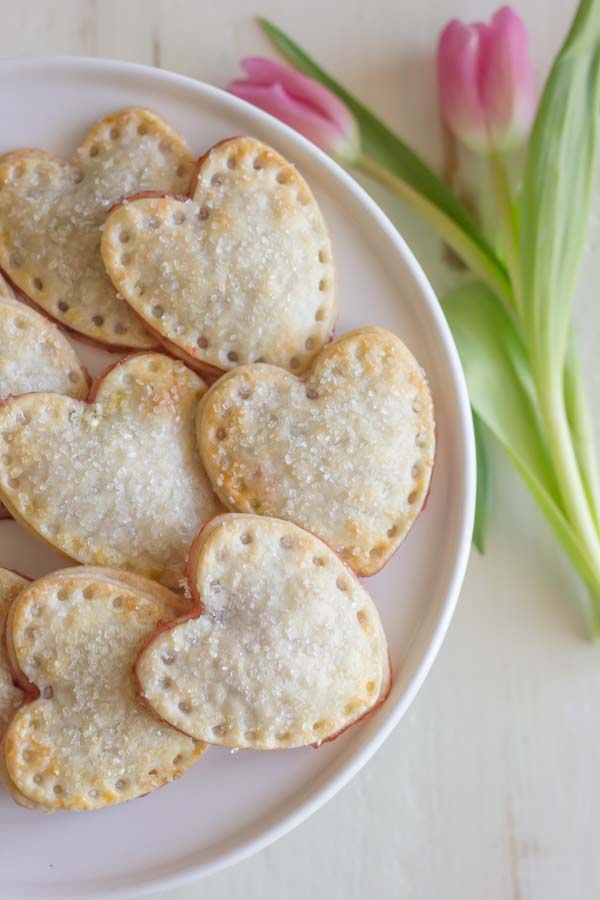 These mini hearts are cherry and raspberry stuffed heart pies. They are
dusted with sugar.
Valentine S'mores Party Mix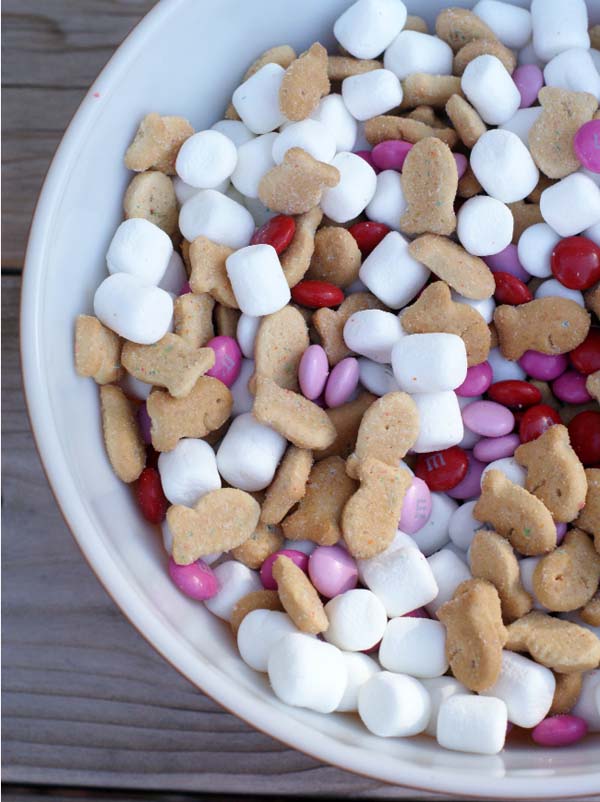 via A Night Owl Blog
For your campfire loving lover make some of this smores mix. Use mini
marshmallows, pink m&ms and graham crackers.
Valentine's Day Mini Cherry Heart Pies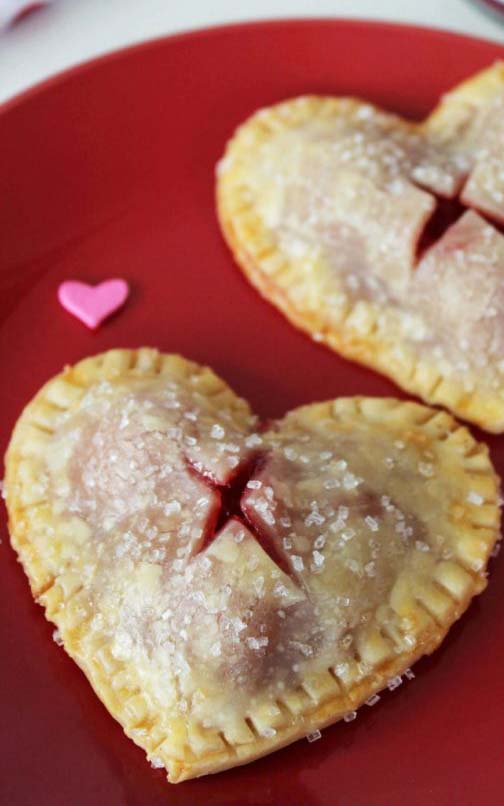 Try these larger pie hearts. Cut a little x in the middle so that they
hold their shape and dust with sugar.
Valentine's Day Patties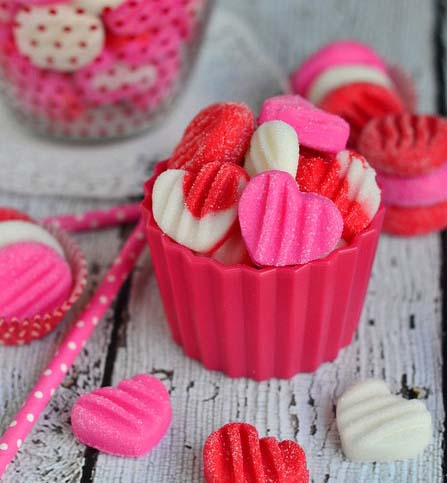 via Mom on Time Out
Mini heart-shaped patties are easy to make and super fun to snack on.
Valentine's Jello Hearts
White chocolate is the perfect square base for a compote filled heart in
the middle.
White Chocolate Raspberry Truffles
These moist truffles are raspberry flavored and dusted in powdered sugar.