The holiday season is upon us, and it's time to celebrate with style.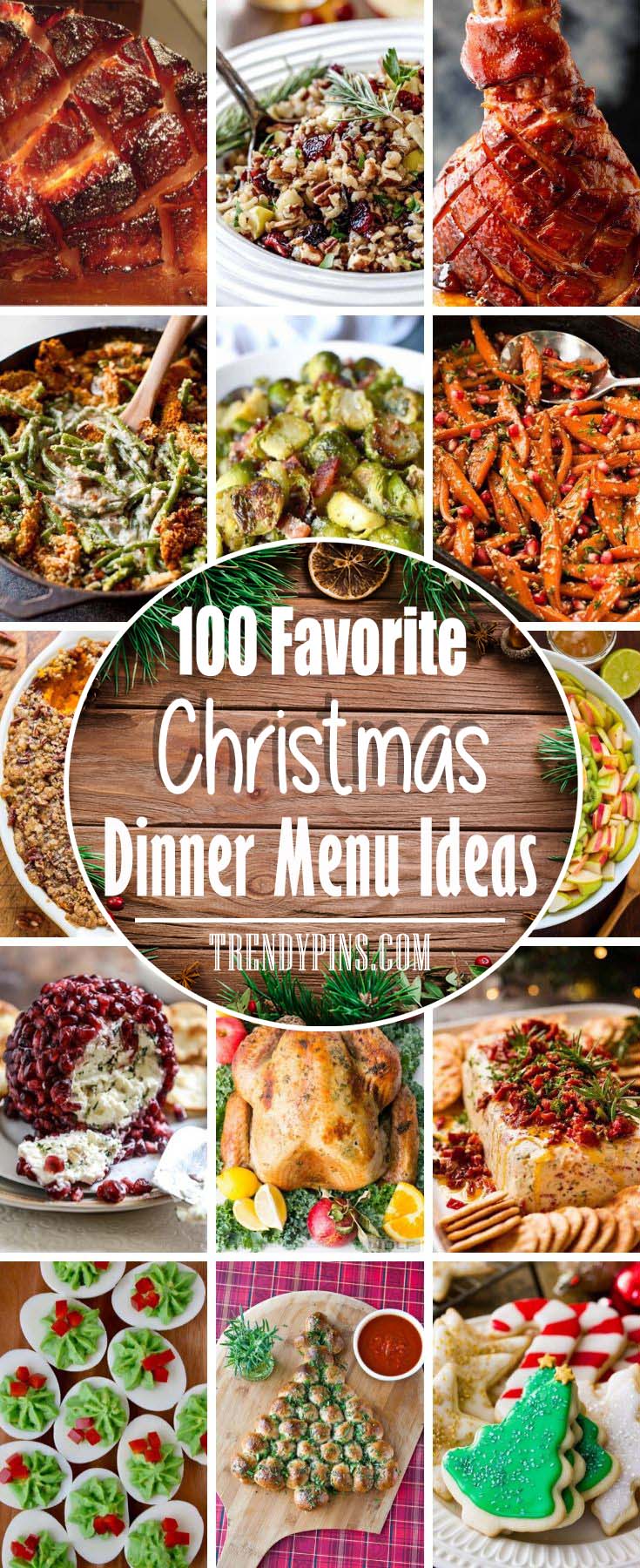 Pulling out old and new recipes to make your parties the best in town can be worth it!
Appetizer
Baked Brie Bites with Cranberry Sauce
Made with crescent roll dough and brie this Christmas snack should be topped with cranberry sauce and baked at 300 degrees for about 15 minutes.
Christmas Deviled Eggs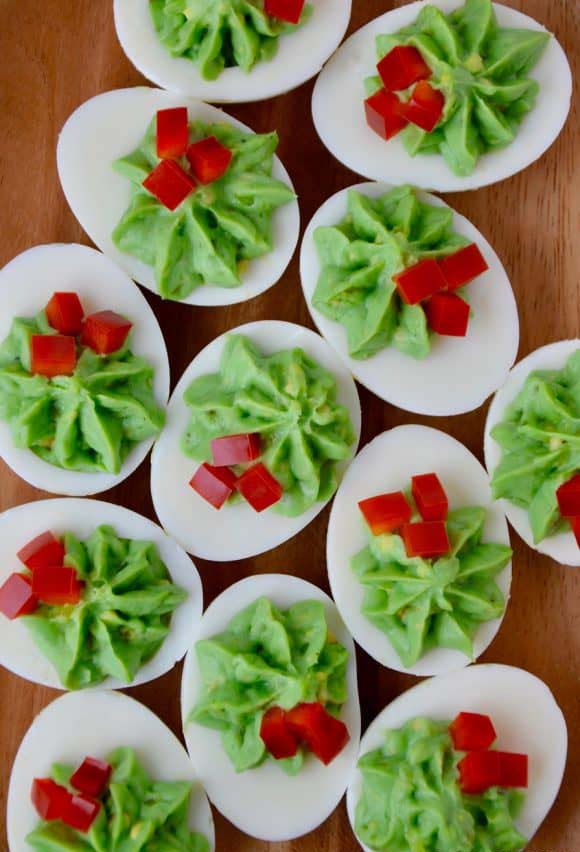 via Just A Taste
Simply remove the filling within the eggs and mix them relish, mustard, mayo and a little food coloring and stir, fill the eggs with it once more and top it with the diced red peppers.
Christmas Tree Spinach Dip BreadSticks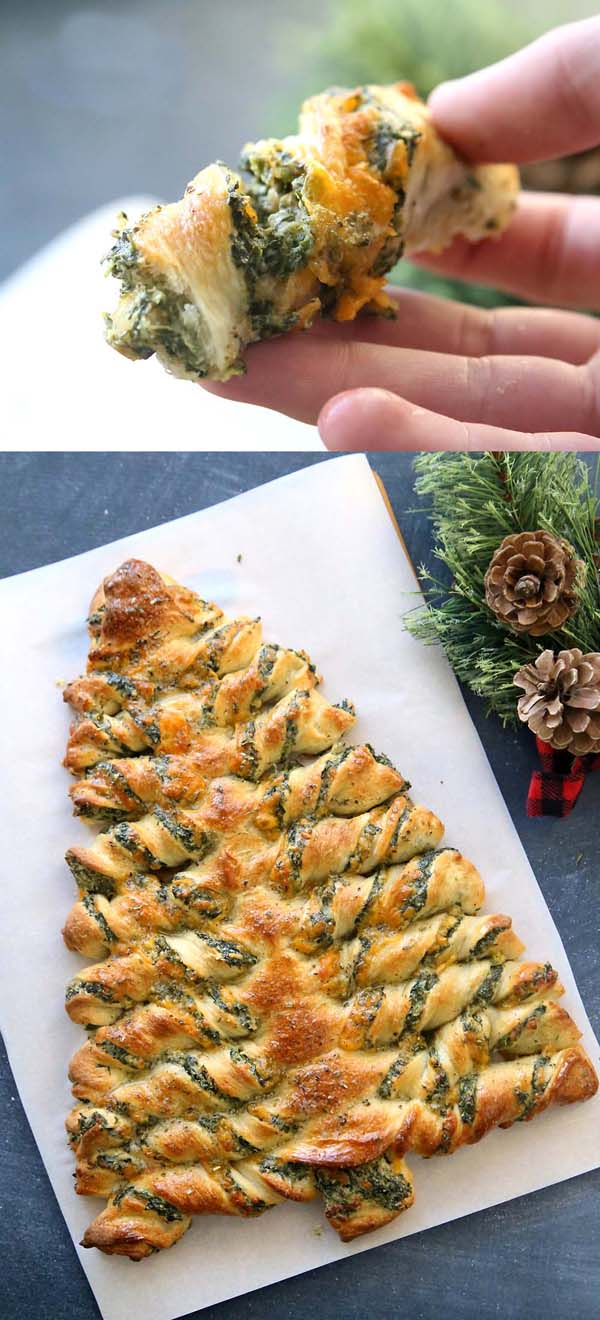 Shape the bread dough
into a Christmas tree, but first stuff it with spinach dip recipe, then bake until lightly brown.
Crockpot Grape Jelly and BBQ Meatballs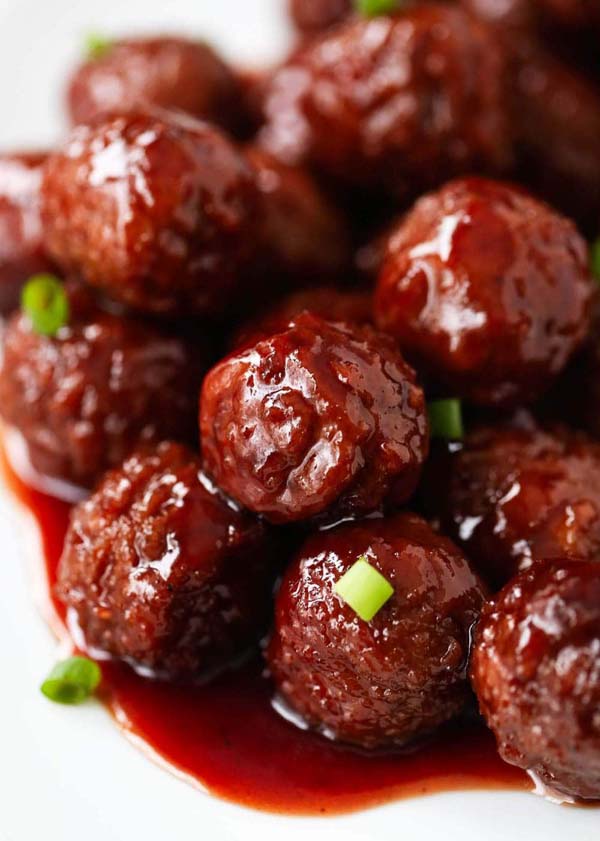 via I Heart Naptime
Cook up your favorite meatballs and let them simmer in a tasty grape jelly and BBQ sauce!
Holiday Cheese Board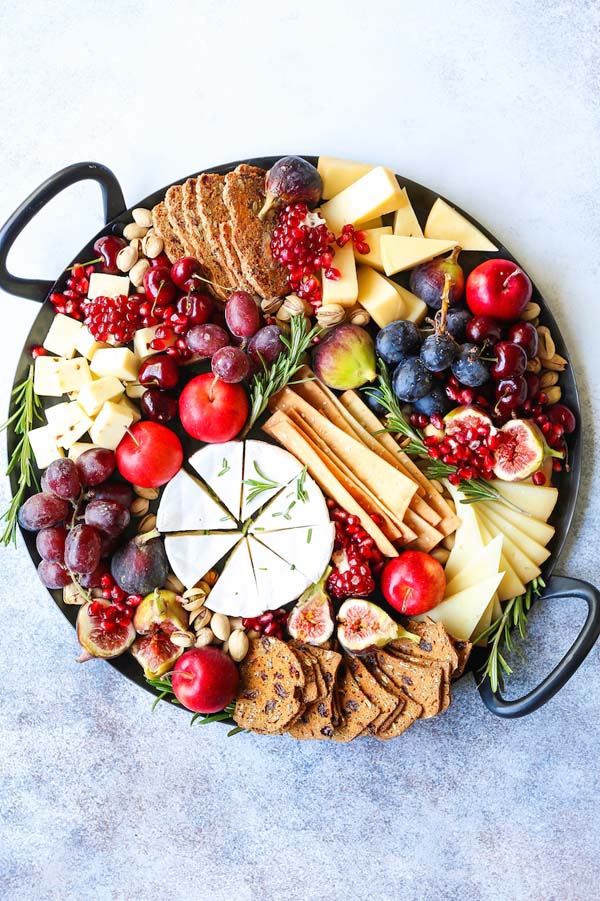 via Damn Delicious
Create a party cheese board with all of your cheeses, crackers and sausages, set in a nice spot during a holiday get together and watch it go!
Italian Cheese Log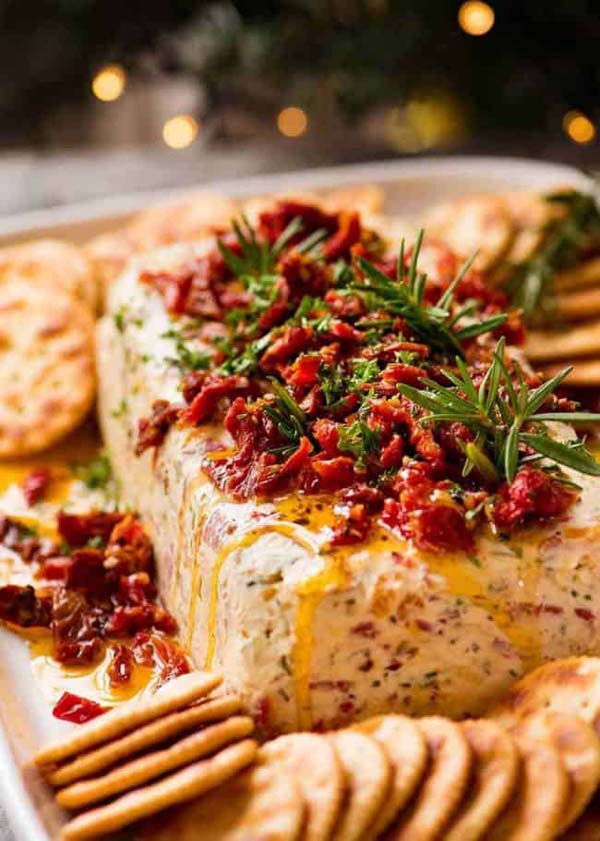 via RecipeTin Eats
While your log of various cheeses is sitting in the refrigerator, dice up some salami, onions, peppers, and more. And don't forget a healthy dose of sun dried tomatoes. Spread this onto the top of the log and Wow what a dish!
Pomegranate Jeweled White Cheddar, Toasted Almond and Crispy Sage Cheeseball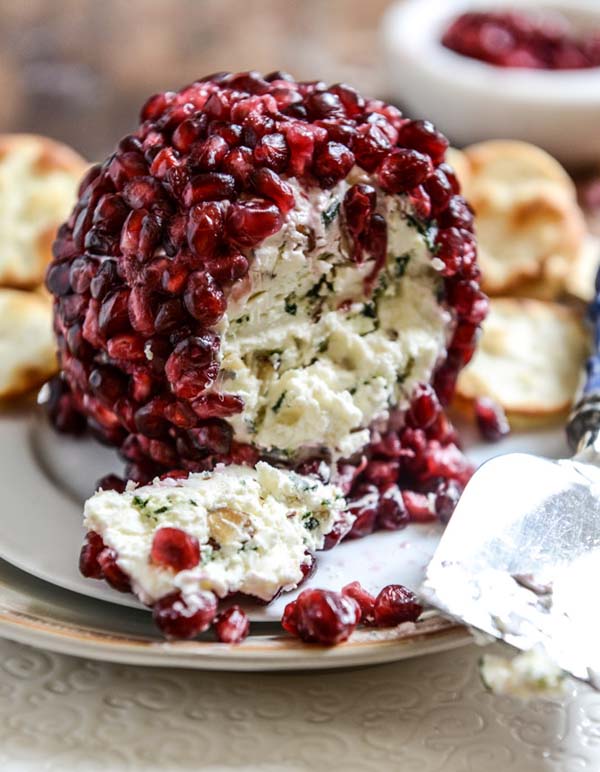 via How Sweet Eats
Cool tasty mouthwatering Pomegranates covering a large cream cheese ball up, makes a head turning appetizer. It can be eaten as a dip or alone.
Prosciutto Wrapped Asparagus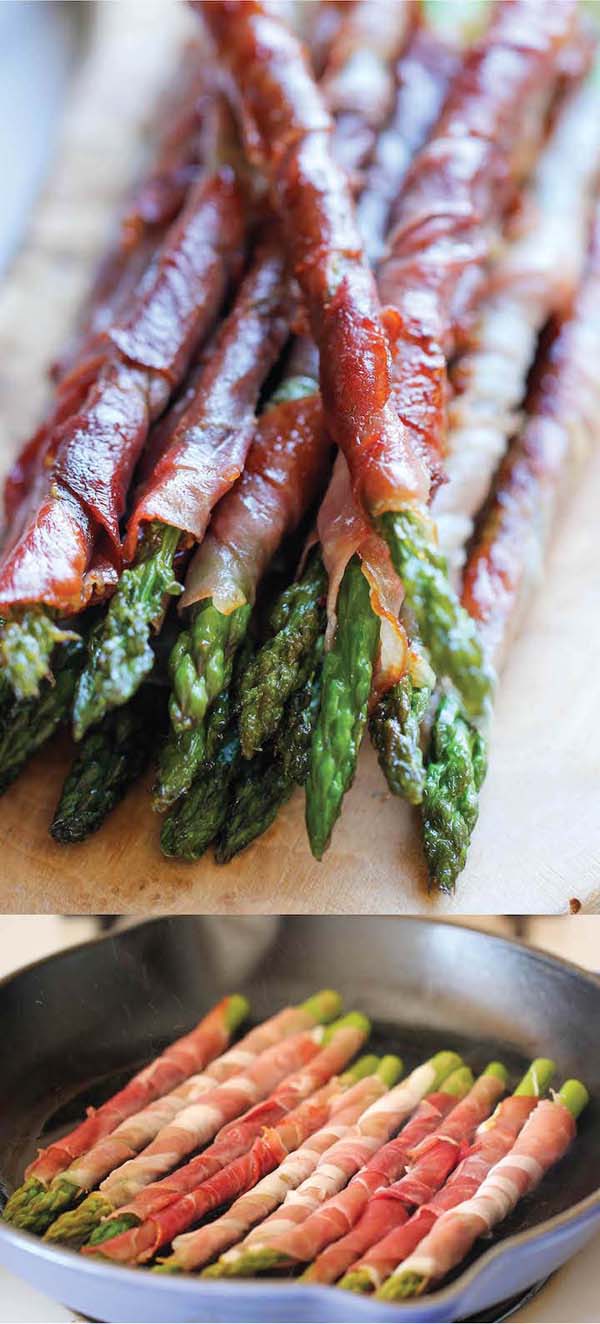 via Damn Delicious
If you're an Asparagus lover, just imagine eating it rolled in Prosciutto! Your guests will adore this party pleaser, but make lots it will be gone quickly!
Main Entree Christmas Dinner Menu
Brown Sugar Mustard Glazed Ham
via Cafe Delites
Pop your choice of ham into the oven and bake. Afterwards glaze the ham with a mixture of brown sugar and garlic then watch your guests chow down!
Brown Sugar Pineapple Ham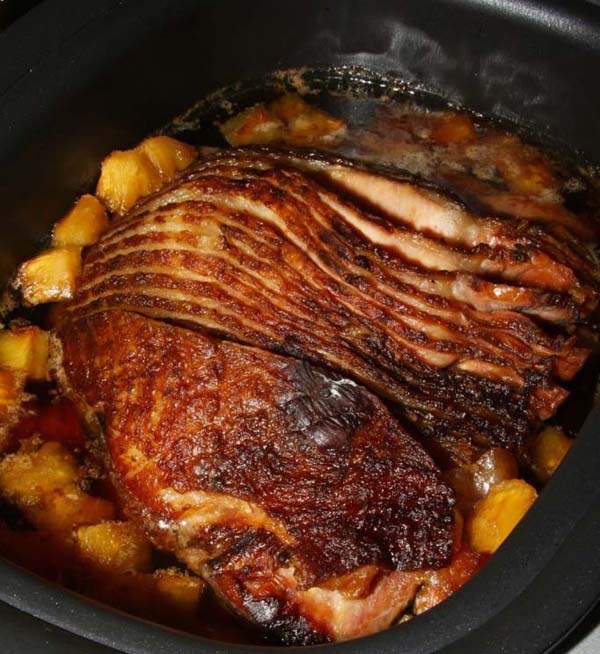 After cooking your holiday ham, top it off your a mouthwatering glaze. A tasty topping mix of brown sugar and pineapple juice and bits.
Classic Roast Beef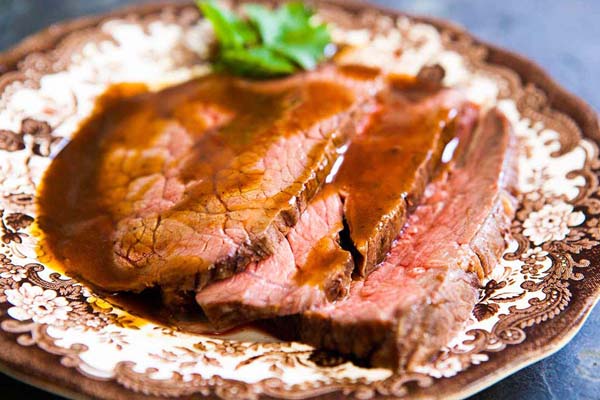 via Simply Recipes
Do not end the holiday dinner without a perfectly cooked roast beef. Preheat the oven at 375 degrees. Allow the roast beef to cook for about an hour. Dash it with the desired amount of pepper, salt and garlic.
Coca-Cola Glazed Ham with Brown Sugar and Dijon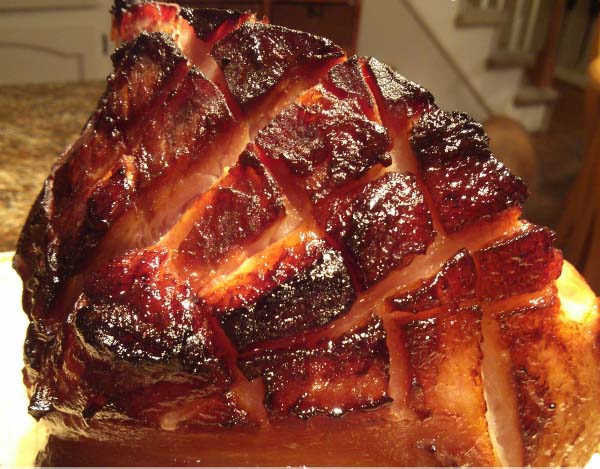 via South Your Mouth
Showoff your cooking holiday skills with a nice juicy baked ham. Lie the ham down on a roasting pan and fill it halfway with water. Cooking time will be around 2 hours. In a bowl mix together a nice topping using coca cola, glazed sugar and mustard Dijon.
Garlic Butter Pork Tenderloin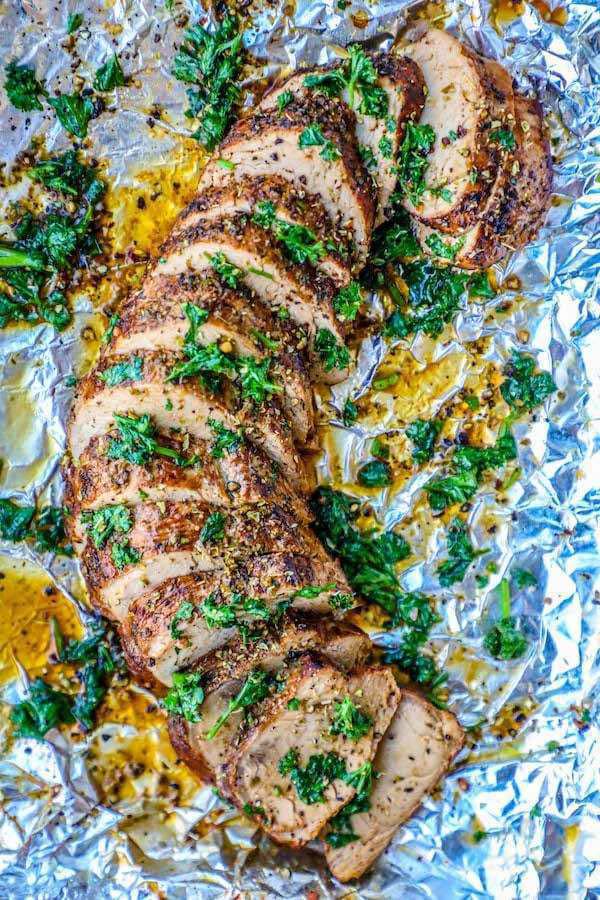 Place the pork tenderloin in a baking dish. Allow to bake at 375 degrees for 30-45 minutes. Sprinkle the meat with garlic and butter to taste.
Juicy Roast Turkey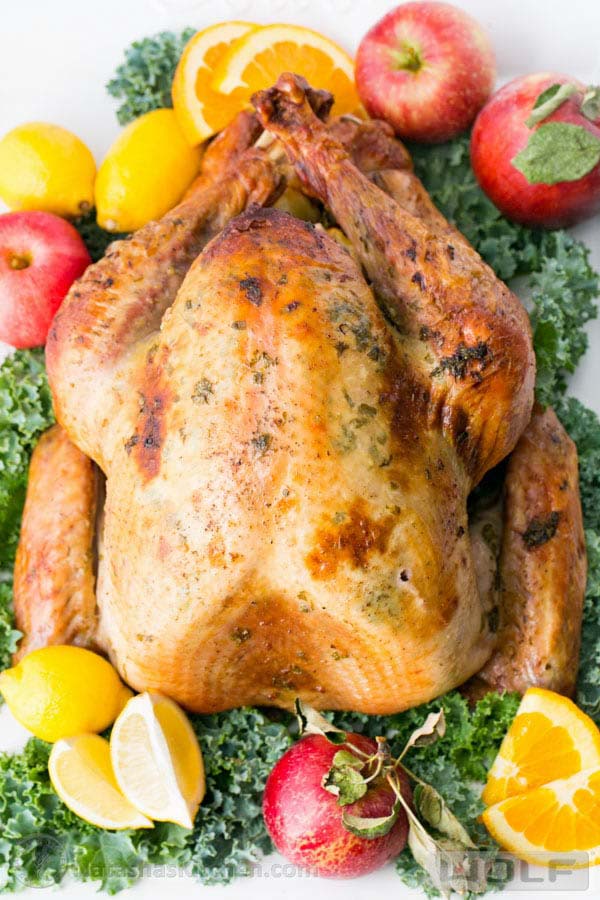 Start the holiday feasting with a nice classic turkey. Preheat the oven to 375 degrees. Make sure the turkey is defrosted. Sprinkle the turkey with butter, salt and pepper. Expect it to cook for about 3 hours.
Prime Rib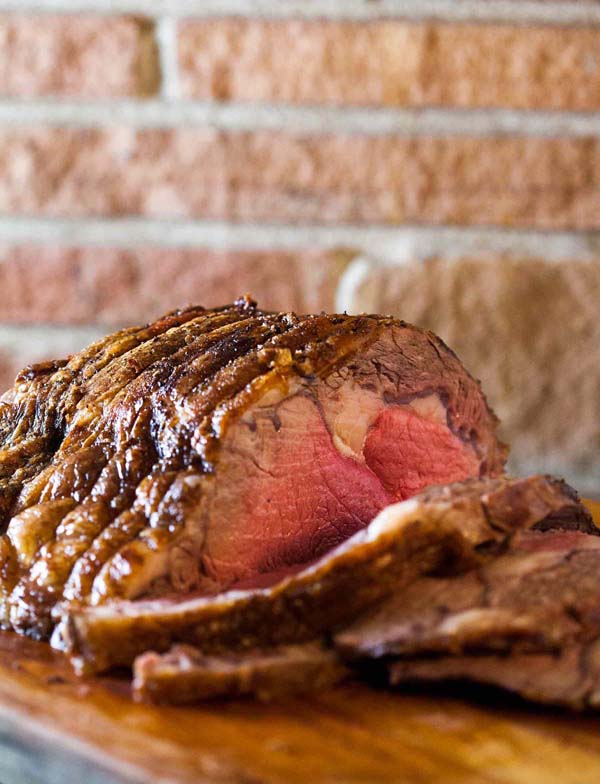 via Simply Recipes
Sometimes a nice Prime rib dinner during the season makes for a perfect idea. Preheat the oven to 325 degrees. Typically, the Prime rib will need 30 minutes per pound to cook. It will depend on whether your guests wants their dinner cooked rare, medium or well-done.
Roasted Chicken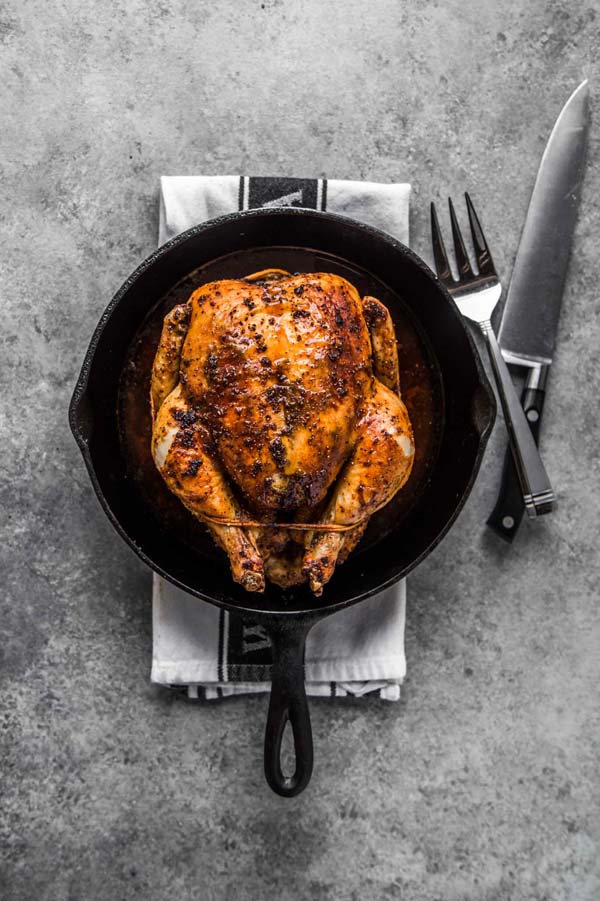 Side Dish Christmas Dinner Menu
Best Ever Cranberry Sauce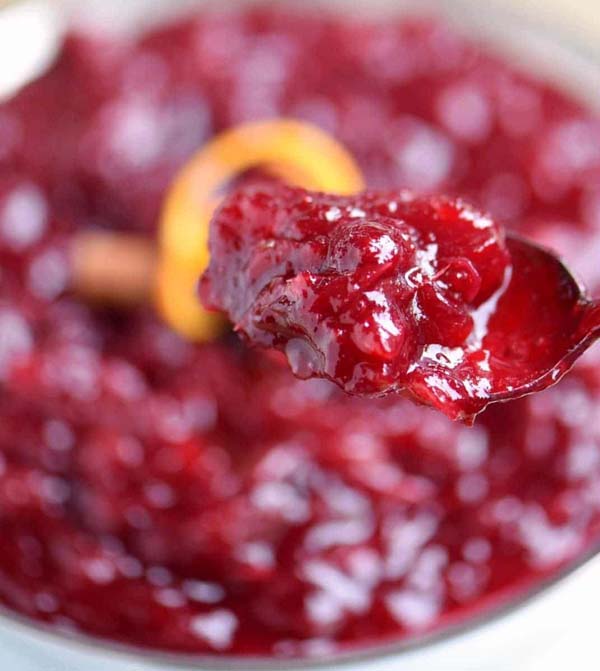 via Mom On Timeout
Nothing says Merry Christmas like a large side dish of chilled cranberry sauce! Pull out a decorative bowl and put it on display.
Broccoli Casserole From Scratch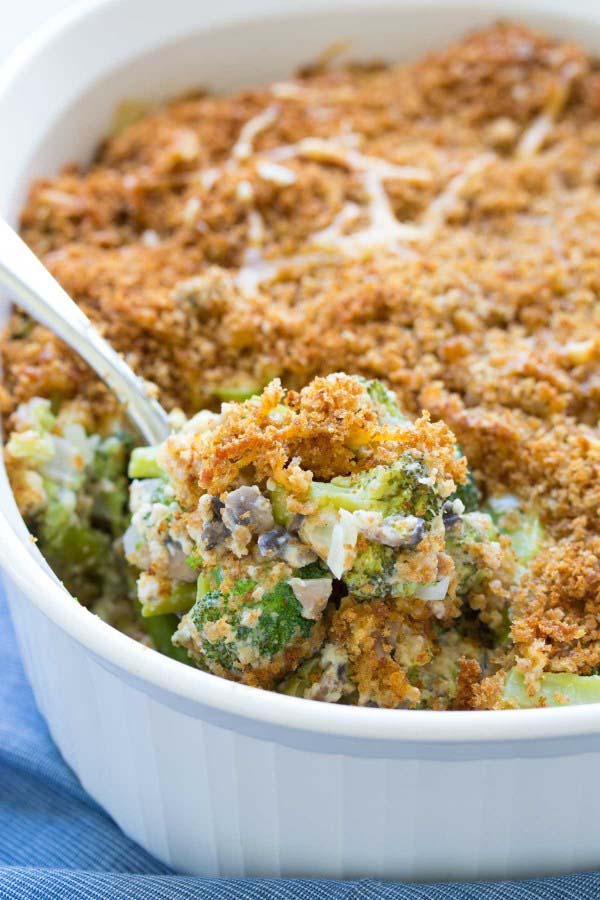 Gather up a bowl full of broccoli, a can of mushroom soup, crushed crackers, mayo and shredded cheese and add into a casserole pan. Bake for about 30-40 minutes and their you have it.
Christmas Tree Pull-Apart Bread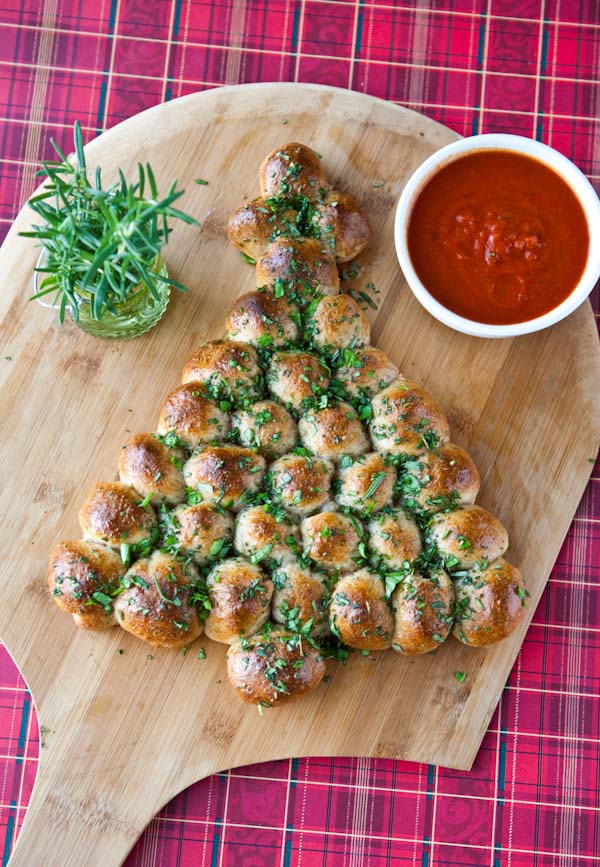 via Eclectic Recipes
Place dough wrapped around mozzarella cheese on a baking pan, in the form of a Christmas tree. Bake until bread is lightly browned.
Cranberry Almond Spinach Salad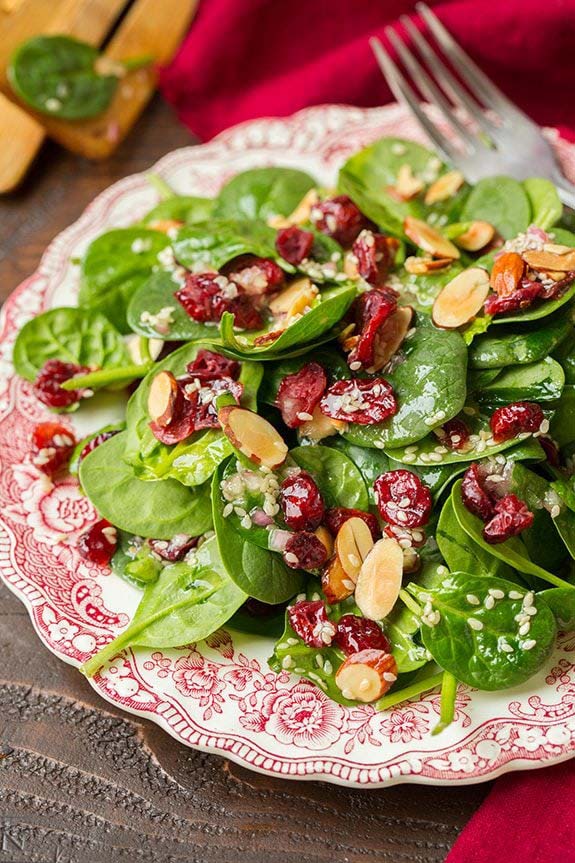 via Cooking Classy
For a light holiday salad, place fresh Spinach in a large decorative bowl with almonds, cranberries, pecans, apple chips and cooked wild rice. Makes a nice meal or appetizer.
Cranberry Apple Pecan Wild Rice Pilaf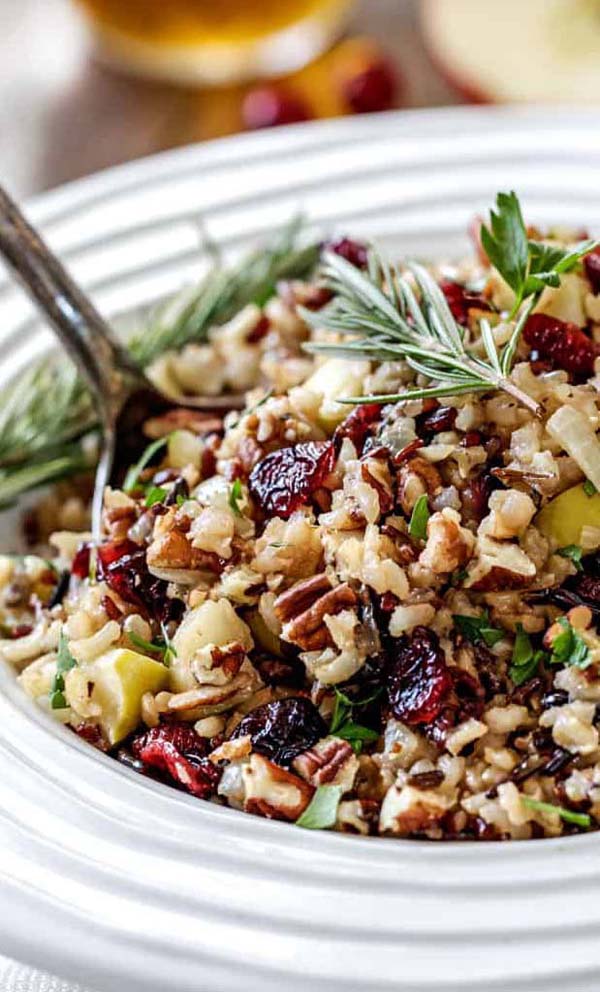 via Carlsbad Craving
Add wild rice pilaf, cranberries and apples and bake.
Creamy Green Bean Casserole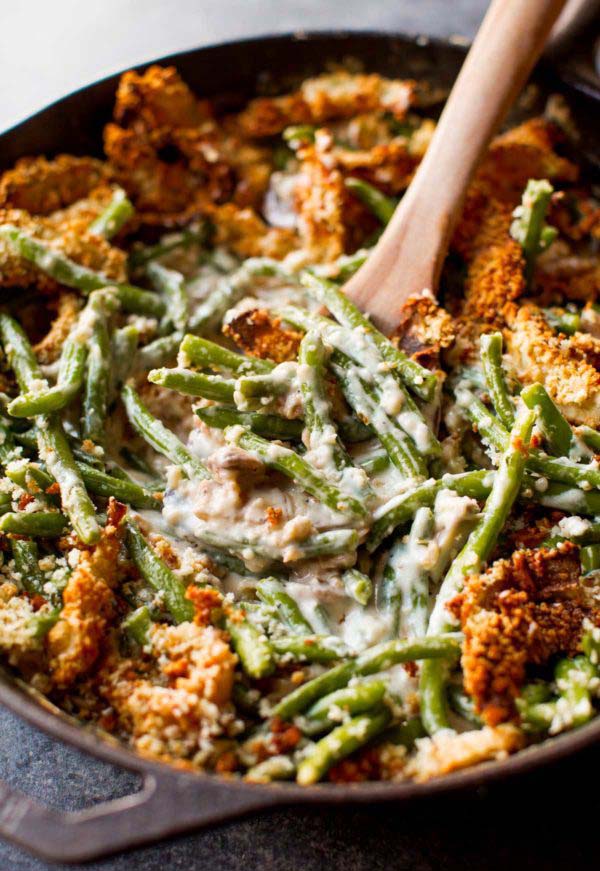 In a casserole bowl pour soup, beans, sit sauce, milk, black peppers, onions and bake until browned.
Easy Sausage and Herb Stuffing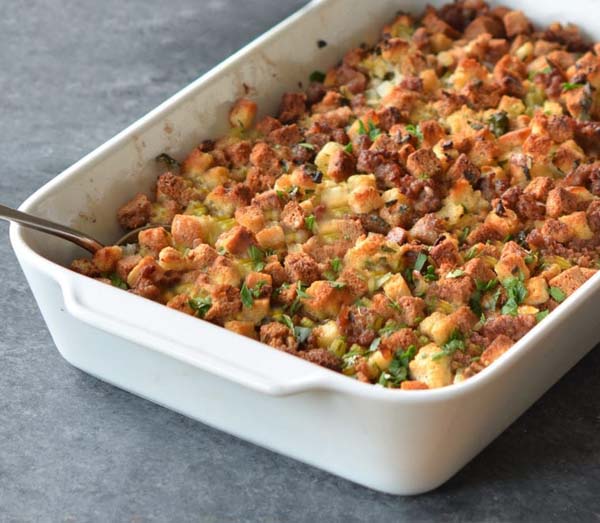 via Once Upon a Chef
Fix up your favorite holiday stuffing. Choose choice of sausage, diced onions, celery, unseasoned stuffing cubes, seasonings, herbs and bake.
Garlic Butter Sautéed Mushrooms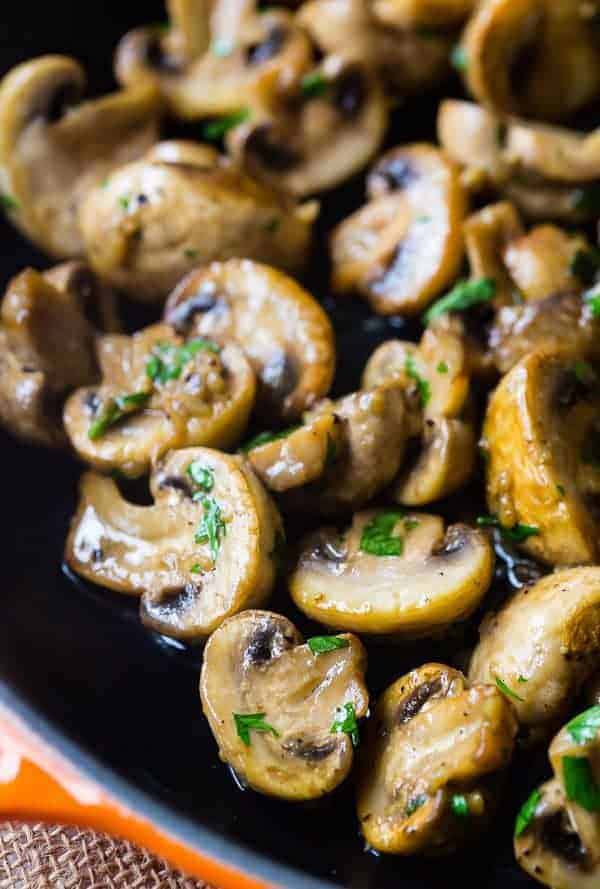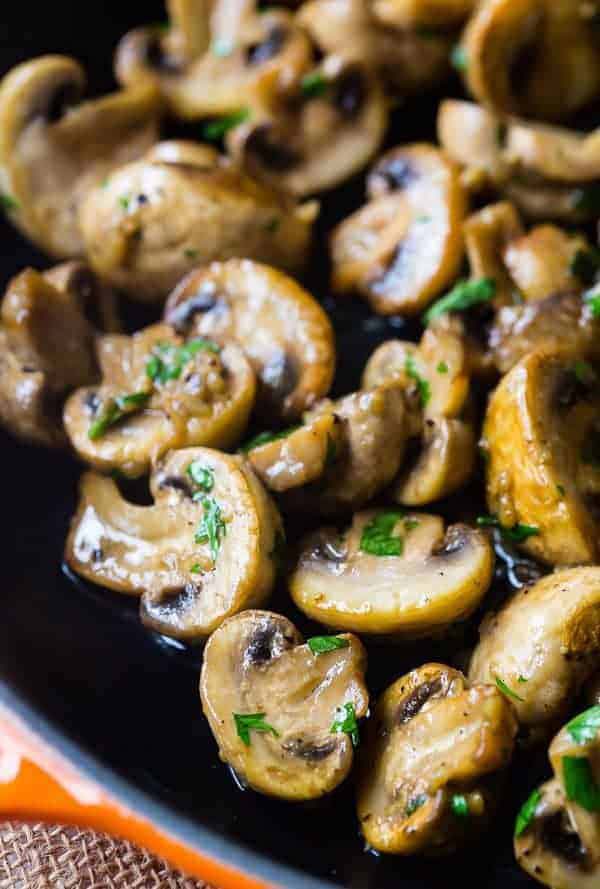 via Rachel Cooks
For a quick appetizer add unchopped mushrooms with butter and garlic and saute.
Honey Maple Roasted Carrots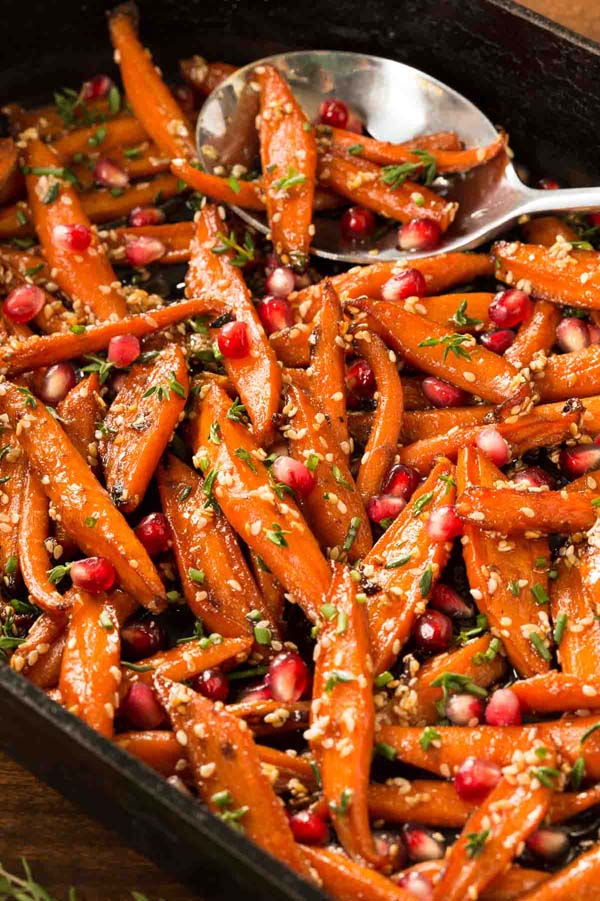 Roasted carrots are the best, but even better with honey and maple syrup added. Party guests will score this side dish.
Honey Roasted Butternut Squash and Cranberries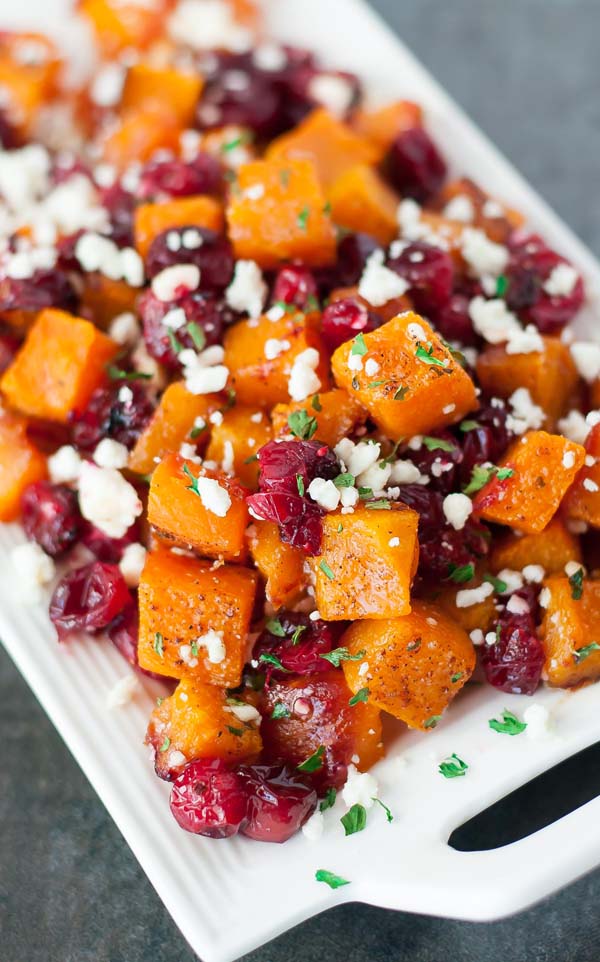 via Peas and Crayons
Cranberries roasted with Butternut squash and feta, will make your party dish stand out!
Million Dollar Macaroni and Cheese Casserole
Adding layers and layers of cheese to your favorite pasta and letting it simmer and cook will create the greatest macaroni side dish of all time.
Million Dollar Mashed Potatoes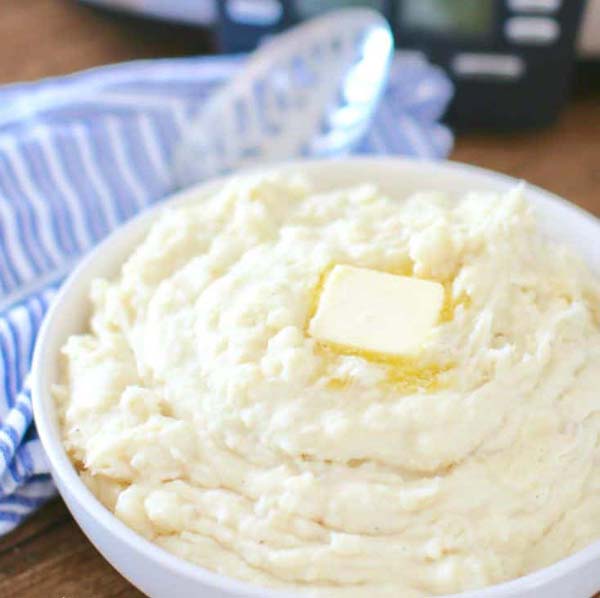 via The Country Cook
After your potatoes have boiled for a while add butter, garlic, pepper and salt. Present the meal in a holiday bowl.
Parmesan Roasted Brussels Sprouts with Bacon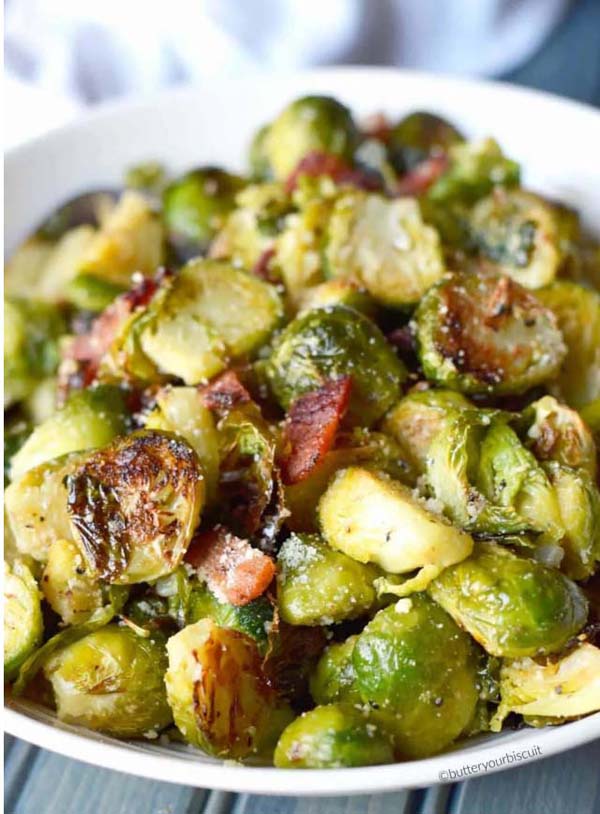 Roasted Brussels are a treat alone, but add parmesan and bscon and it's that much better. Allow the mix to bake for a while in the oven, and then serve.
Potatoes Au Gratin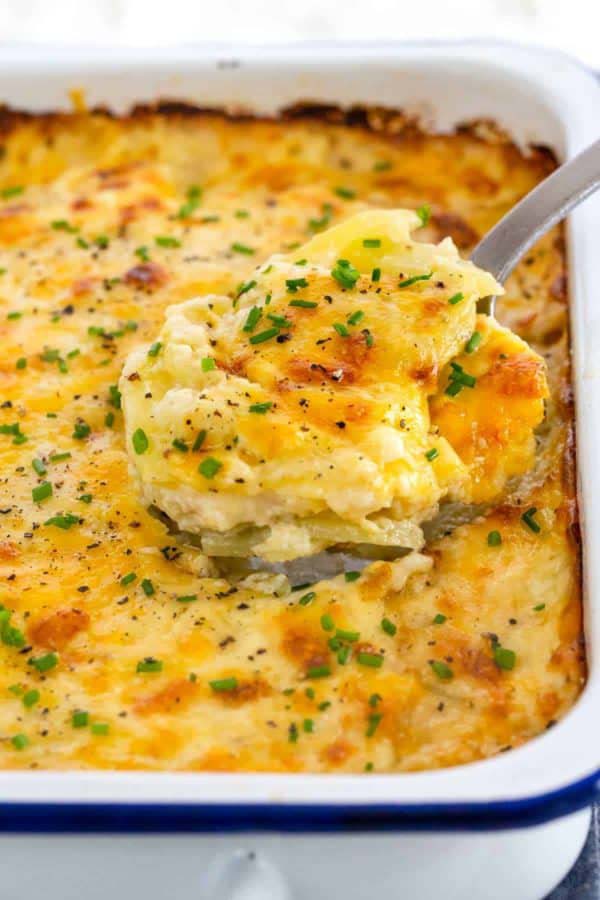 via Jessica Gavin
In a casserole dish, add butter to bottom of pan. Then layer the pan with sliced potatoes, then diced onions. Then repeat the process. Allow the oven to preheat to 400 degrees and bake for about an hour an half.
Roasted Brussels Sprouts, Cinnamon Butternut Squash, Pecans, and Cranberries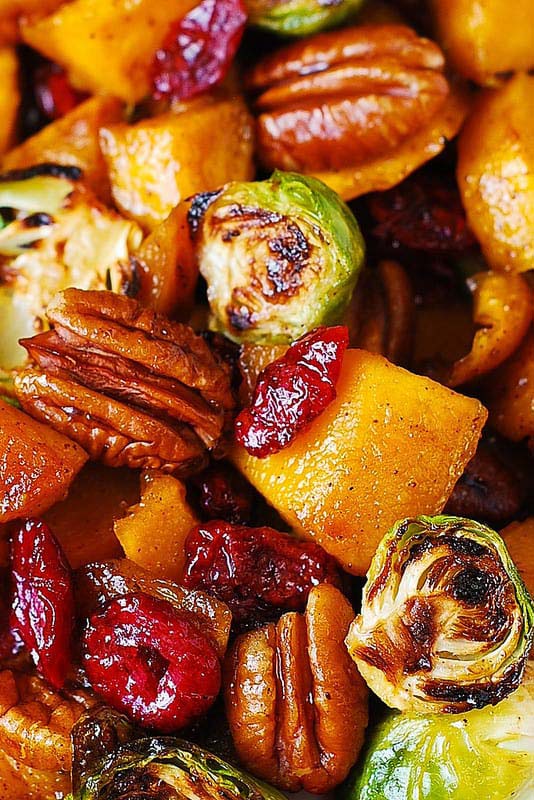 via Julia's Album
Roasted sprouts with pecans, Cinnamon Butternut Squash and cranberries makes a tasty side dish.
Sweet Potato Casserole with Butter Pecan Crumble Topping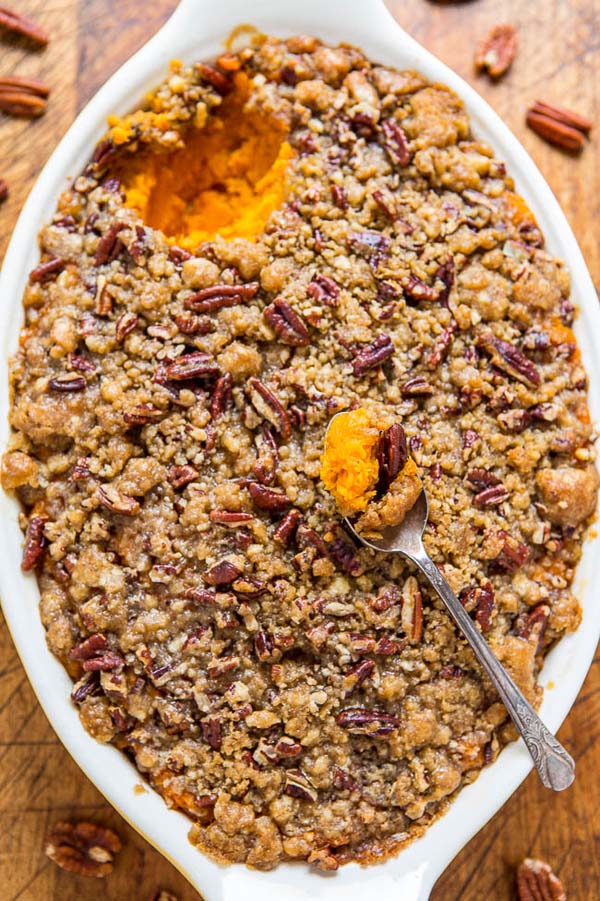 via Averie Cooks
Place the sweet potatoes in the oven and let it bake. Season it with Cinnamon and/or butter, then top the dish off with pecans.
Dessert Christmas Dinner Menu
Best Ever Snowball Cookies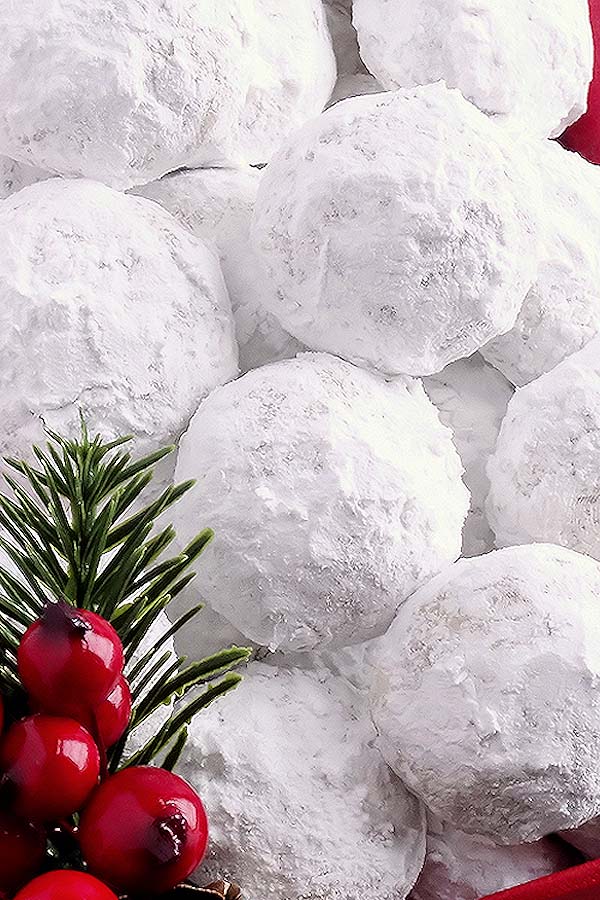 via Wicked Kitchen
In a mixing bowl combine flour, vanilla, salt, butter, and powdered sugar. No eggs are included, so if one of your guests have allergies, no worries. Also, baking powder is not added.
Chocolate Christmas Tree Cupcakes with Cream Cheese Frosting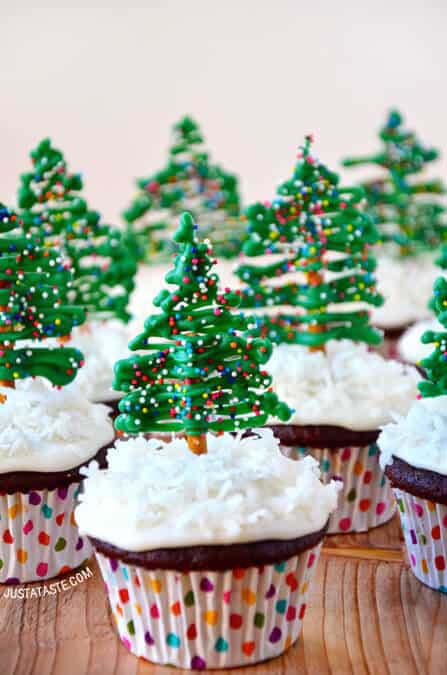 via Just A Taste
Mix up your most glorious batch of cupcakes with flour, vanilla, sugar, baking powder, baking soda, and eggs. Then shape them into a Christmas tree with a cutter then bake.
Christmas Sugar Cookie Truffles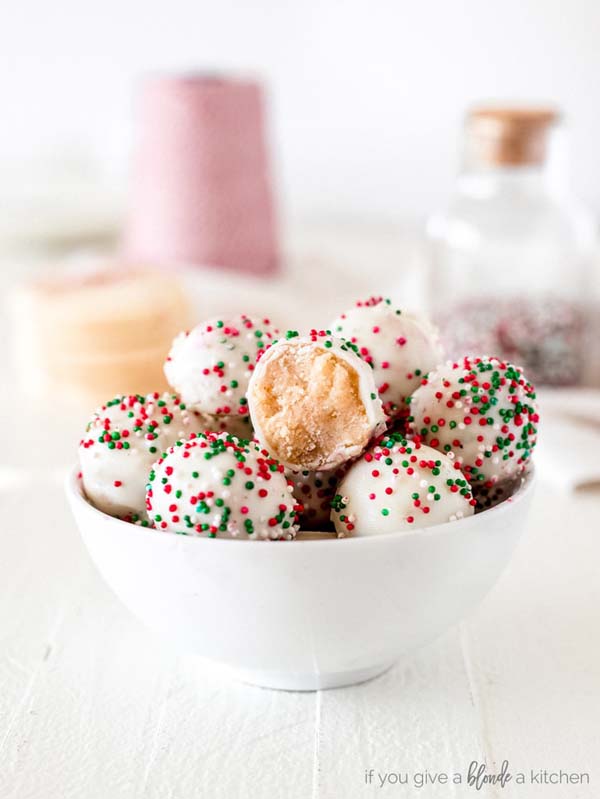 via If You Give a Blonde a Kitchen
Heads will turn with these deserts. In a mixer take sugar cookies, vanilla and cream cheese and combine. Lump into balls and put in freezer for about 20 minutes. Then dip them one by one in hot melted chocolate, then cool again.
Cranberry Christmas Cake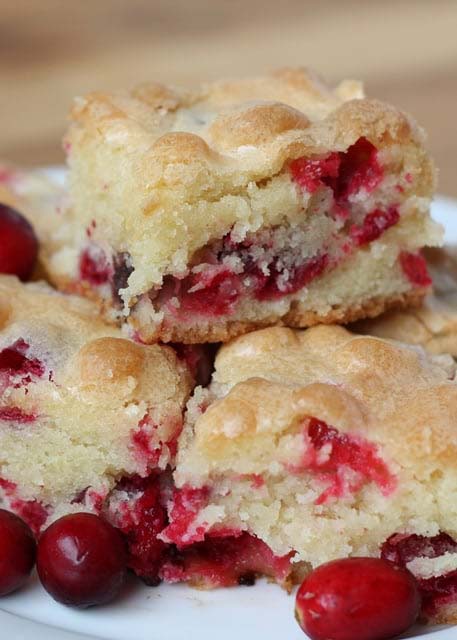 Just add cranberries to the cake mixture to make this dessert more festive. Then stand back and let your guests enjoy.
Easy Sugar Cookie Recipe with Icing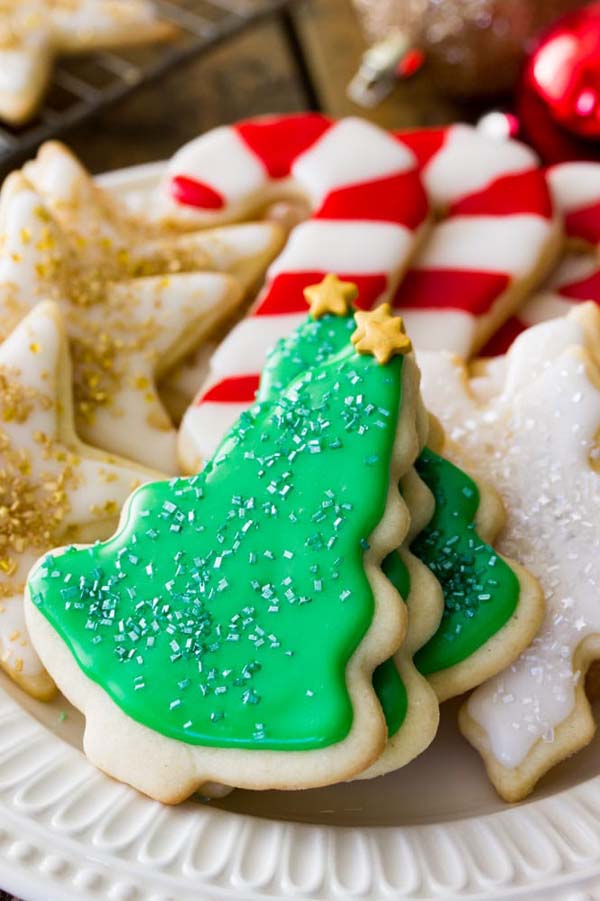 via Sugar Spun Run
Put together a tasty batch of cookies with flour, vanilla, salt, a dash of baking powder, sugar, and eggs. Apply them to a cookie sheet and bake. Perfect Christmas cookies.
GingerBread Cake with Caramel Cream Cheese Buttercream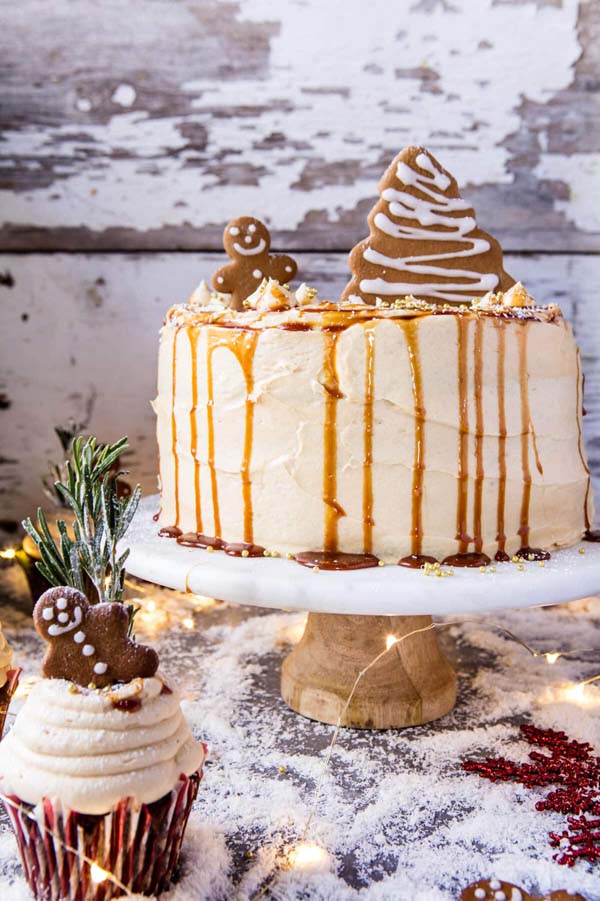 16 ounces of cream cheese, powdered sugar, vanilla extract and gingerbread cookies and caramel for frosting. For cake mix combine flour, ginger, nutmeg, cloves, cinnamon, baking powder, baking soda, sugar, hot water. Preheat to 350 degrees and Bake.
Old English FruitCake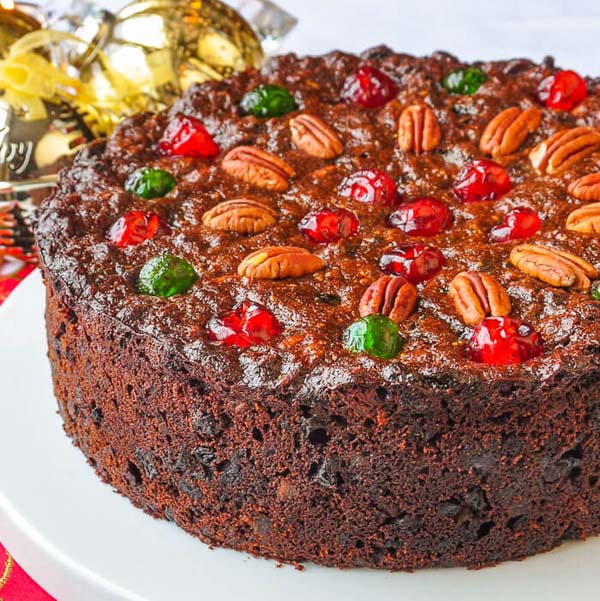 via Rock Recipes
Start making this treat by mixing dark raisins, chopped dates, golden raisins, chopped dried prunes, currents, butter, dark brown sugar and molasses. Add to the mixture flour, oil, hot water, nutmeg, cloves, cinnamon and vanilla. Preheat on 350 degrees and bake.
Oreo Peppermint Crunch Cookies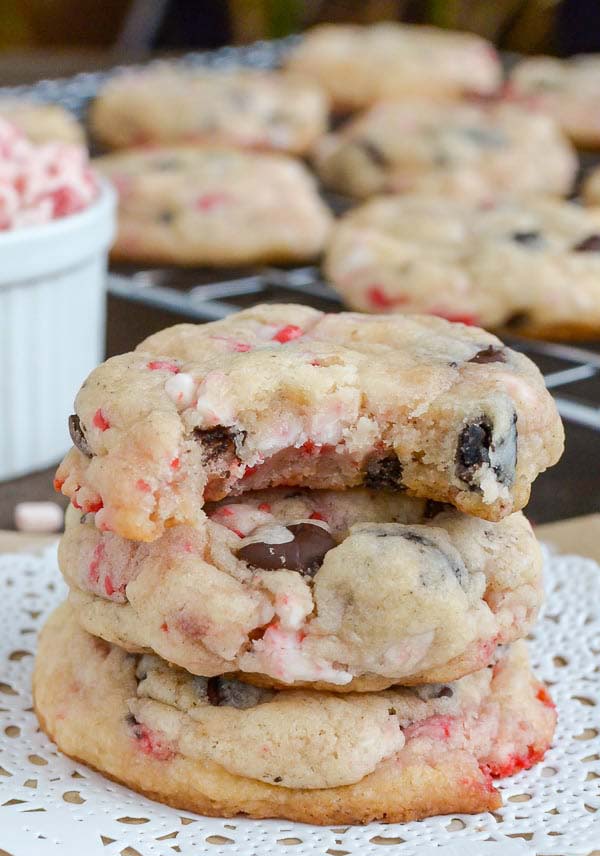 Pick out your most popular cookie mix, add bunches of Oreos and chunks of peppermint pieces. Preheat the oven to around 300-350 degrees, then bake and snack!
Peppermint Candy Cane Brownies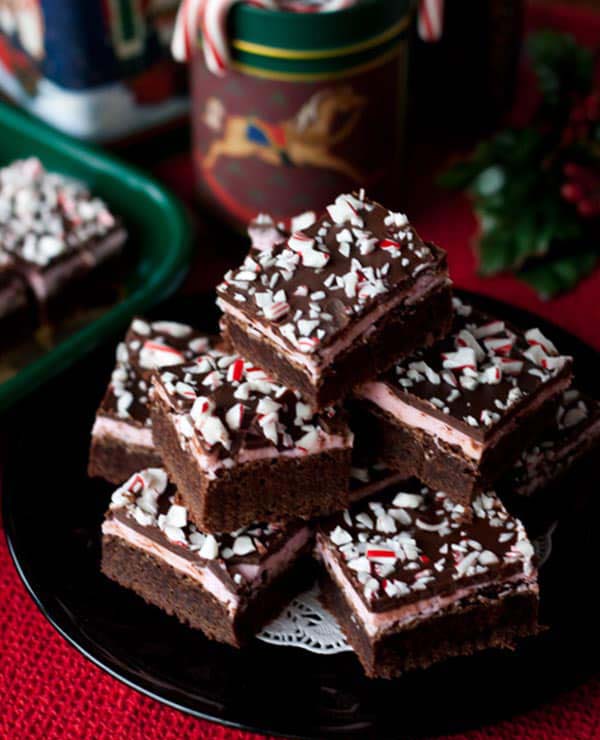 via Barbara Bakes
Take your favorite brownie recipe and add pieces of peppermint candy canes. Then top the brownies off with more chopped candy canes.
Sparkling Cranberry White Chocolate Cake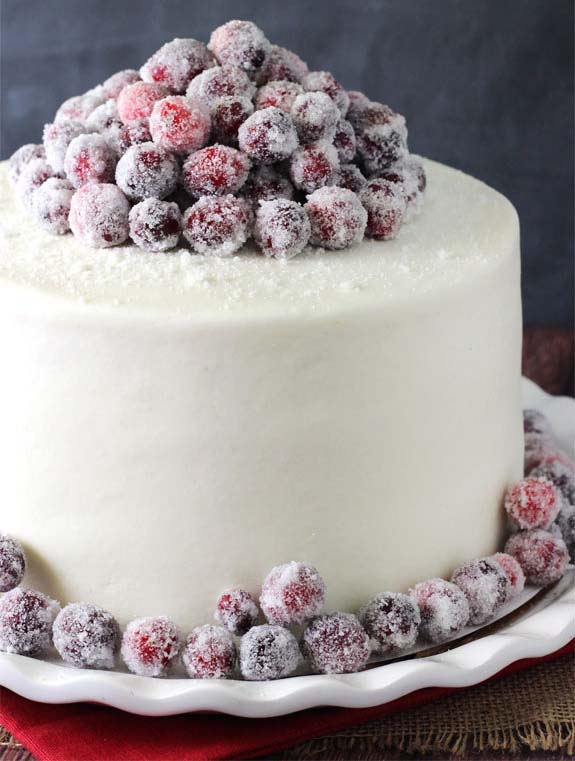 Present your best White Chocolate cake mix and add lots of cranberries. Creating a festive desert.
Tiramisu Yule Log Cake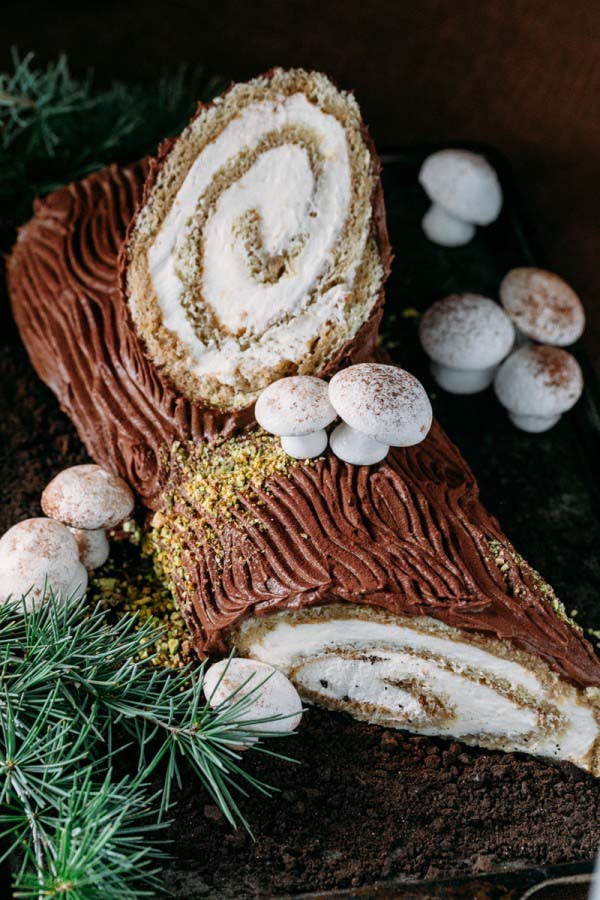 To make this delicacy, stir together egg yolks, vanilla and sugar. Then fold itinto flour. Next combine egg whites, salt, cream of tartar. Take the egg whites and fold it into the egg yolk mixture stir into melted butter. Pour batter into jellyroll pan and bake. Afterwards, add espresso syrup to cake.
White Chocolate Cranberry Fudge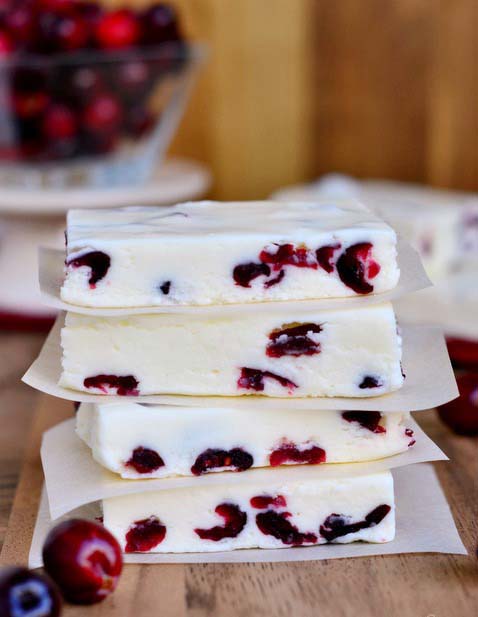 via Mom on Timeout
This exceptional dessert is concocted by adding together white chocolate chips, sweetened condensed milk, pecans, cranberries, butter, vanilla, and allspice seasoning and ground ginger. Baking time will be about 15 minutes.
Drinks
Holiday Punch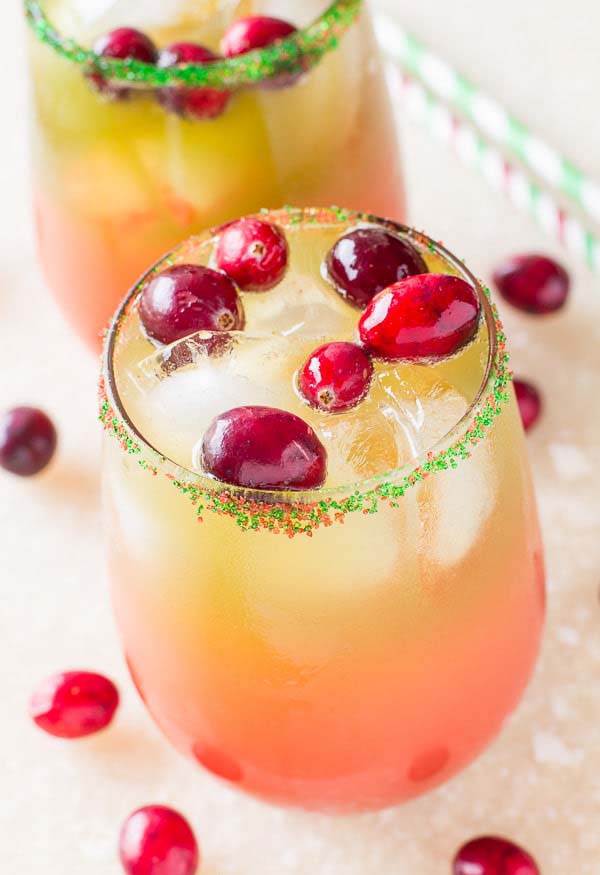 Get together old friends and family and serve up a mixture of Orange juice and Lime concentrate. Add it to Cranberry juice and vodka, then pour in Gingerale or 7-up soda. Garnish with cranberries or as desired.
Homemade EggNog
Let's get the season started with a mixture of eggyolks, whole milk, heavy cream, granulated sugar, choice of rum or cognac. The liguors can be combined, then add nutmeg.
Hot Chocolate from Scratch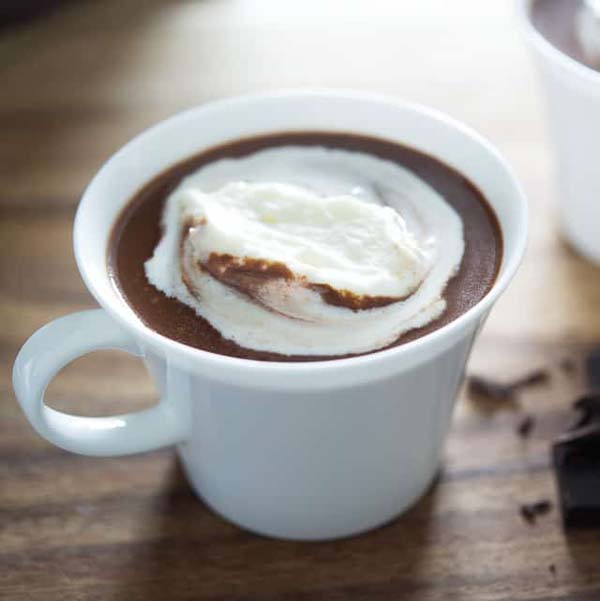 via Fifteen Spatulas
Seasonal drinks are the classic way to began a nice holiday evening. Mix up semi-chocolate, vanilla extract, milk, whipped cream, sugar and indulge!
Peppermint Mocha Latte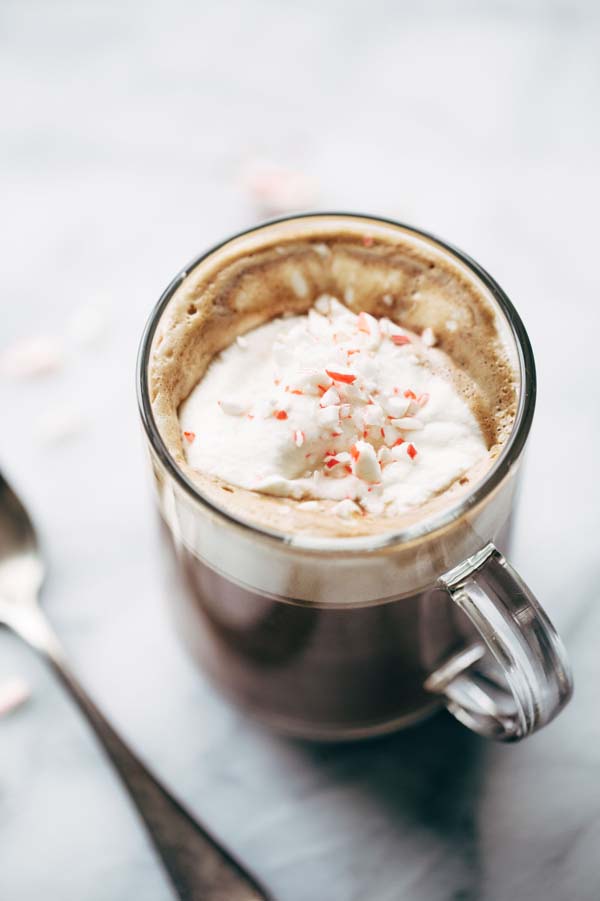 via Pinch of Yum
It's cold outside, so warm up this season with a mixture of brewed coffee, unsweetened cocoa, bittersweet chocolate finely chopped, milk, sugar, peppermint oil and crushed peppermint!
Christmas Cocktails
Christmas Jello Shots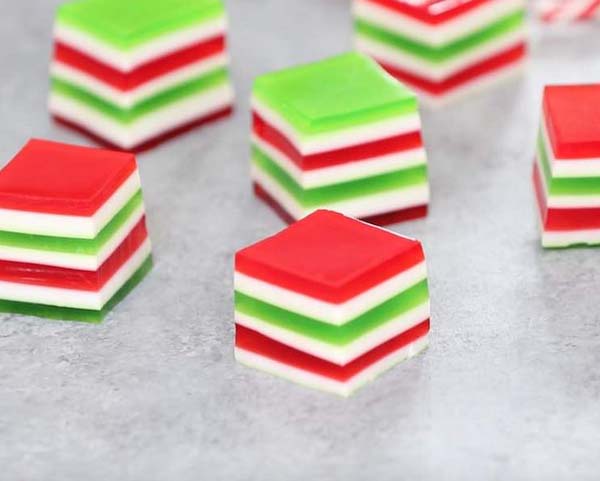 via TipBuzz
It's so much fun, spiking jello with vodka! But you do not have to use vodka, just choose your favorite liquor! You'll need strawberry, lime and unflavored jello. Boil the jellos separately, then freeze and serve!
Christmas Sangria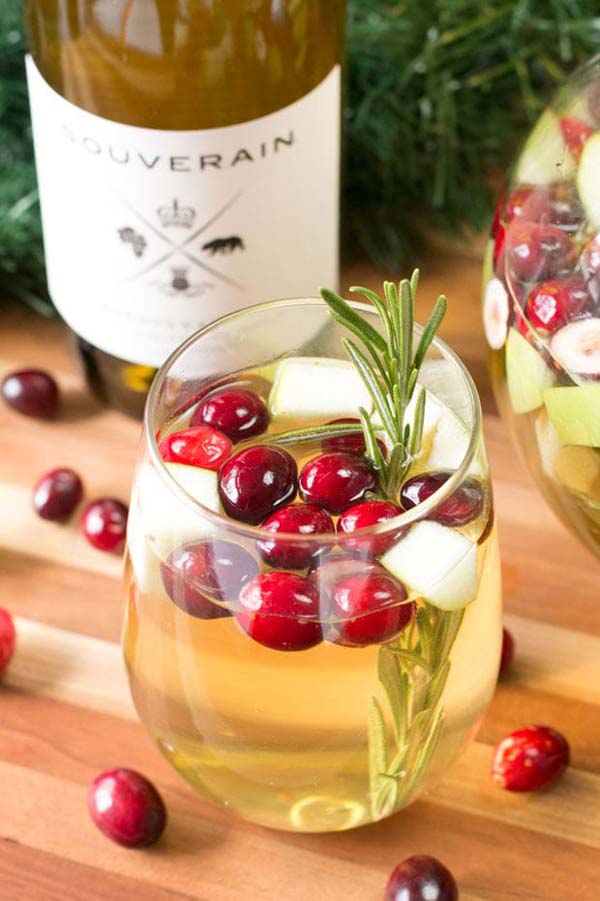 via Cake 'n Knife
A glass of Sangria can really do the trick on a nice holiday evening! Don't forget to garnish it with a sugar-coated rosemary leaf!
Classic Moscow Mule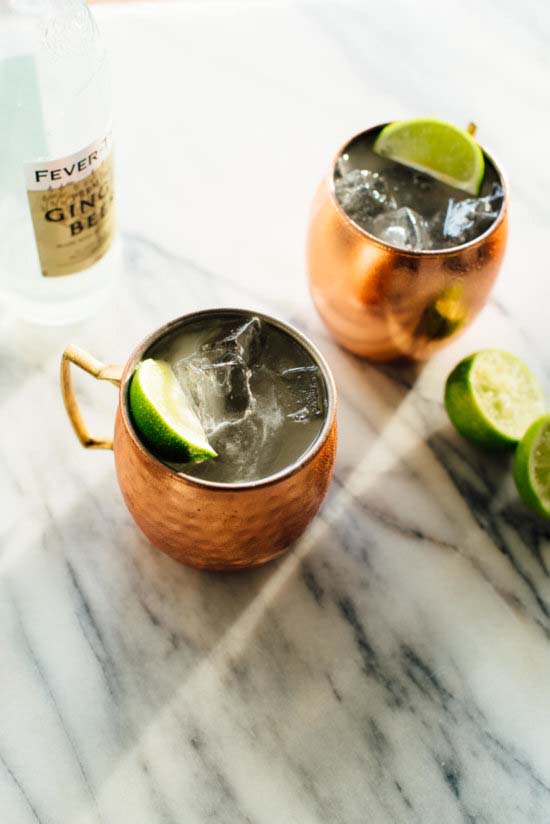 via Cookie and Kate
Add Vodka, fresh lime, and ginger beer together and watch how this popular holiday drink fizzle!
Mistletoe Kiss Cocktail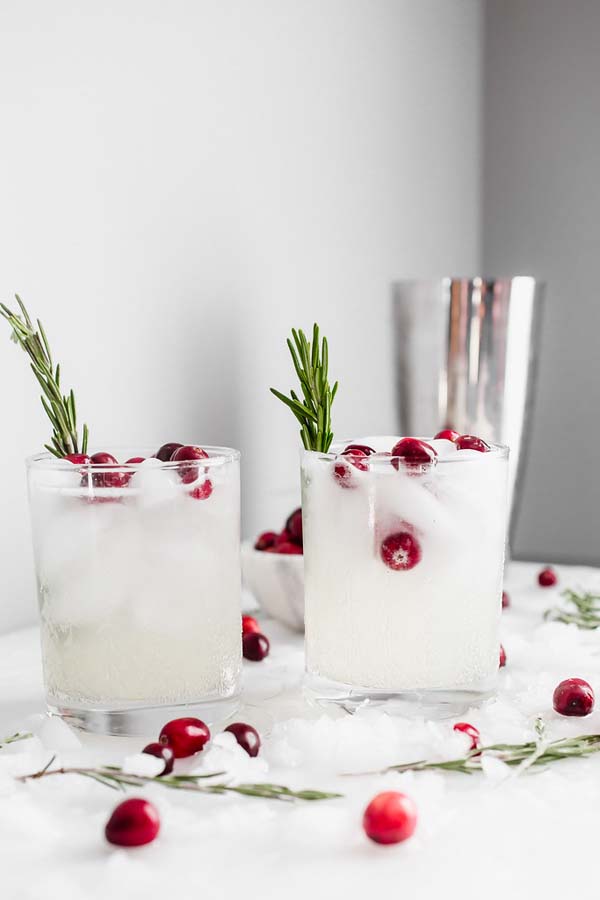 via Smells like Home
This simple, but scrumptious drink is just a combination of Vodka, cranberries and bellinis!
Mulled Wine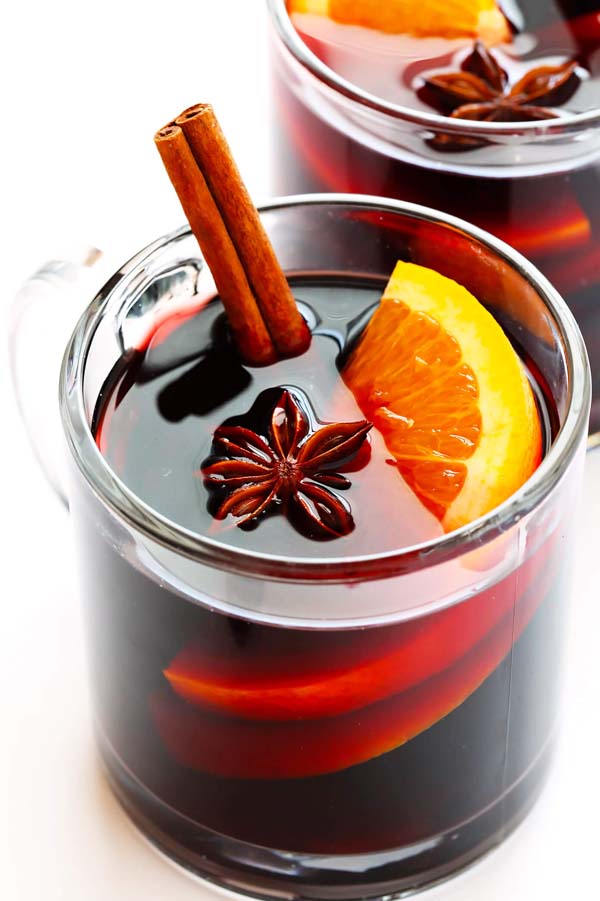 via Gimme Some Oven
Pour dry red wine in a pot with oranges, brandy, cloves, honey and cinnamon sticks, stir, strain simmer and then serve! Makes a delicious holiday drink!
Rudolph's Tipsy Spritzer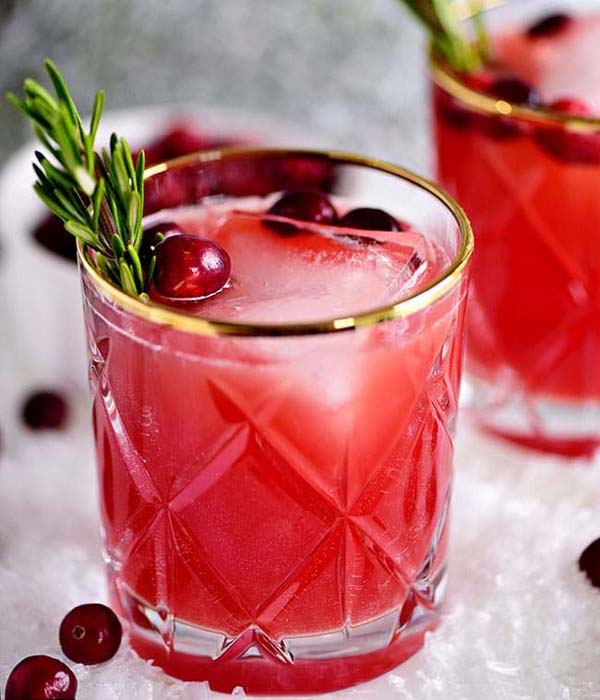 via TidyMom
For some great holiday sipping, grab some spritzer, vodka, juice and a just a splash of lemon. Top it off with a cherry and there you have it!
White Christmas Mojito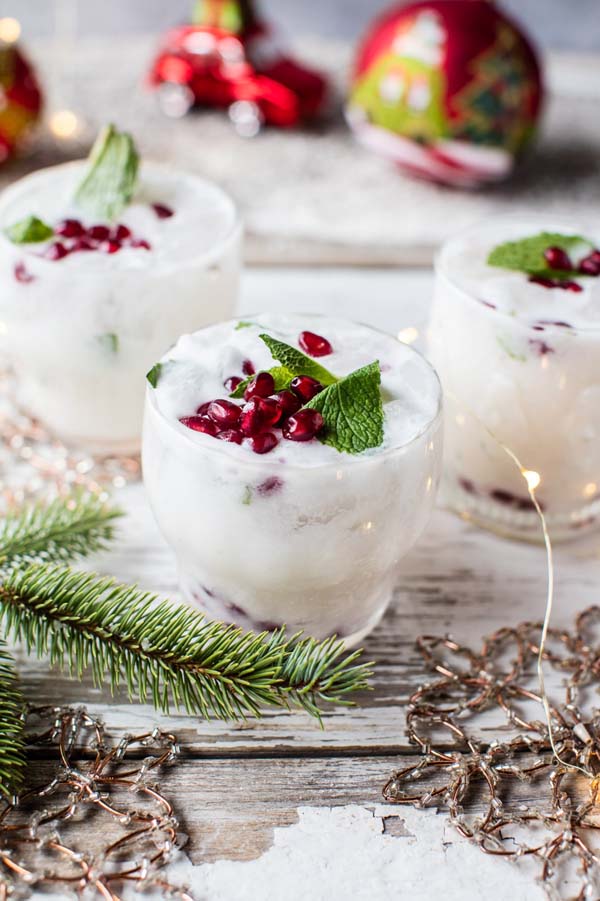 Start the holidays off with a little White rum, lime, Coconut Rum, pomegranate arils and sparkling water mixture and enjoy!
Christmas Breakfast
Candy Cane Crescent Roll Breakfast Pastry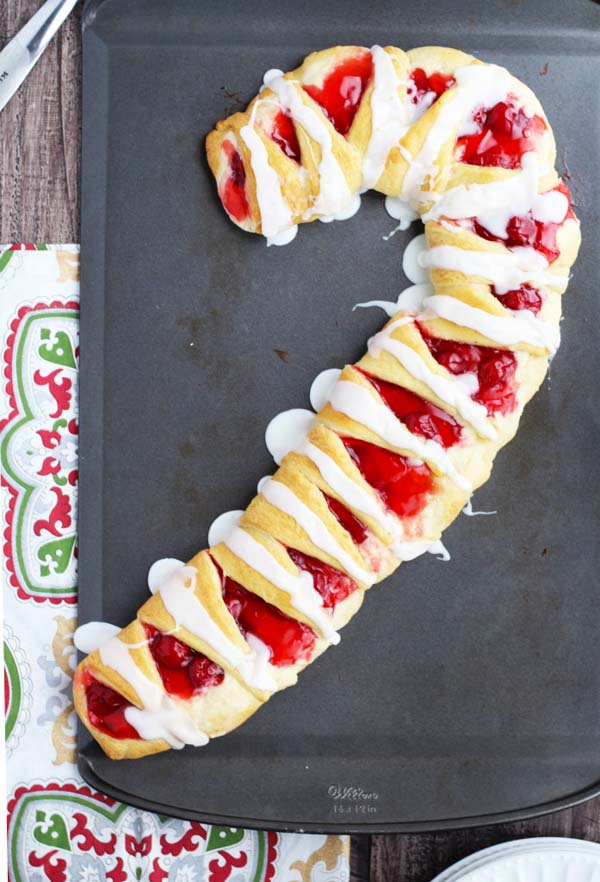 via 3 Yummy Tummies
Sit this display of holiday fun by the fireplace. To create just twist the dough into a Christmas Candy Cane.
Christmas Morning Mimosas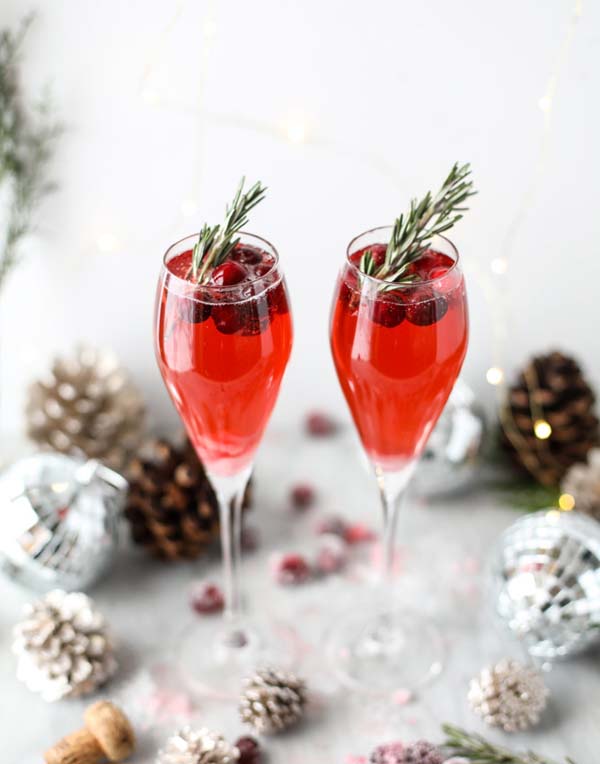 via How Sweet Eats
The holiday party is just beginning, so serve your a guests a Christmas drink. Just mix White Rum, Coconut Rum, Sparkling water, lime juice, mint leaves, sugar and coconut milk. Yum, dont forget to garnish with pomegranate seeds.
Christmas Morning Wife Saver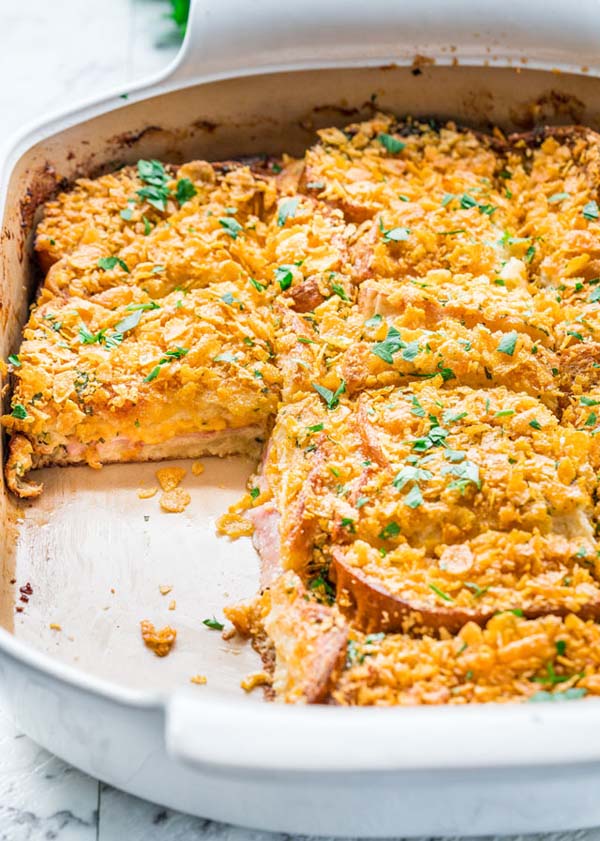 via Jo Cooks
On Christmas morning to keep your stomach from growling, layer into a casserole pan bread, ham, and cheese then pour over it eggs, milk, vegetables and cereal. Bake, serve and enjoy!
Christmas Tree Cream Cheese Danish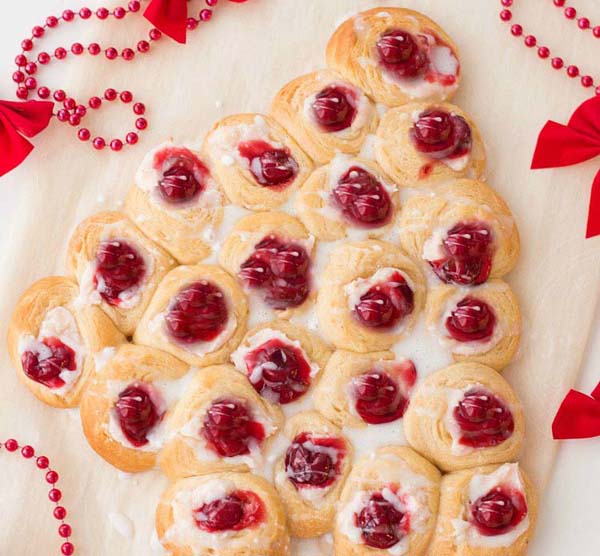 Crescent Bacon Breakfast Ring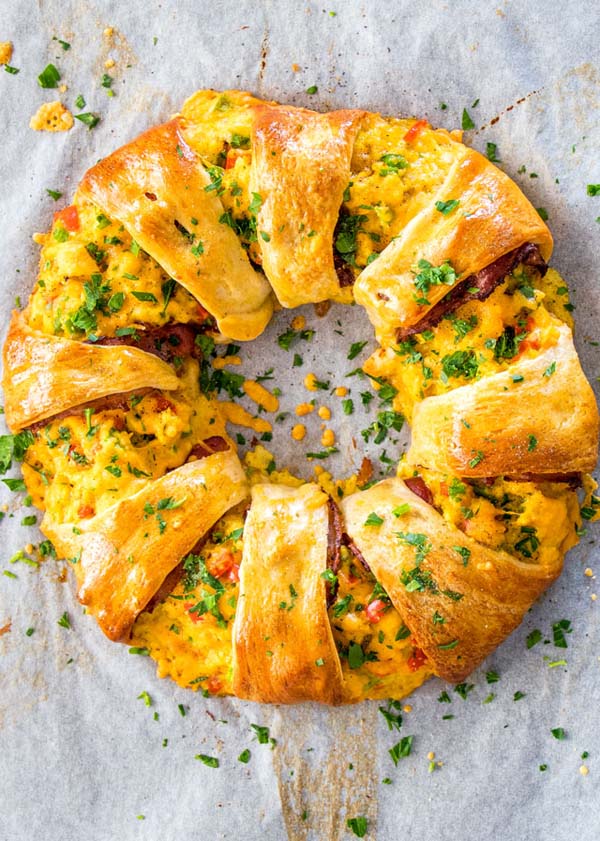 via Jo Cooks
Slightly cook bacon, then wrap it around crescent dough and bake until the crescent rolls are lightly browned.
Eggnog French Toast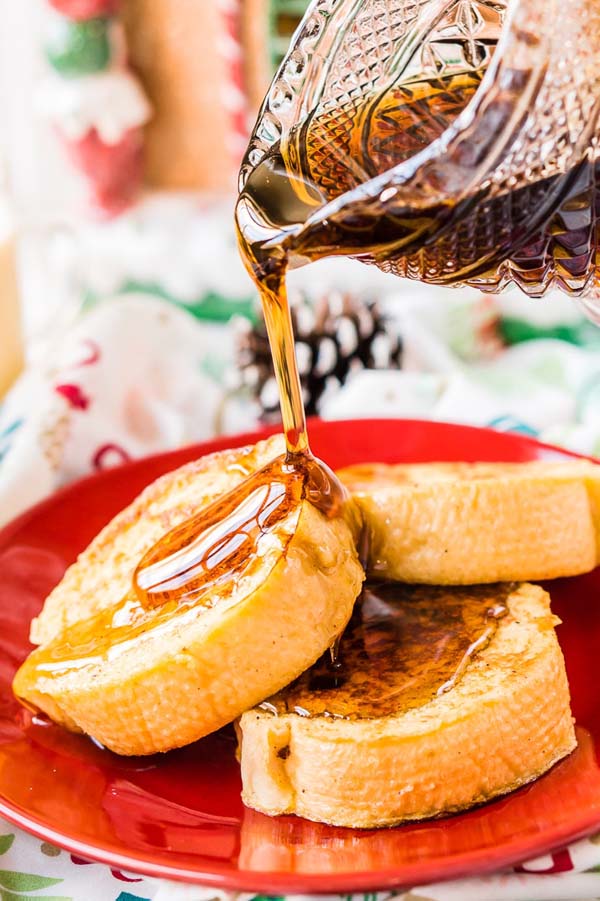 via Sugar and Soul
Mix cinnamon, nutmeg, and sugar. Then whisk in eggs, milk, vanilla and more cinnamon, dip bread into the mixture and fry.
Gingerbread Pancakes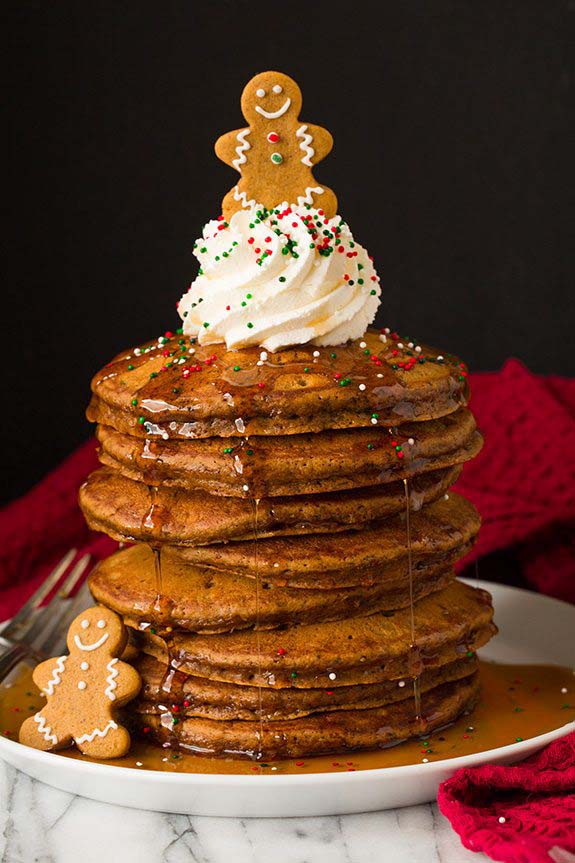 via Cooking Classy
Pancakes galore! Grab a bowl and flour, baking powder, baking soda, ginger, cinnamon and in a separate bowl mix eggs, molasses and vanilla. Put in a pan and cook on low heat.
Make Ahead Breakfast Casserole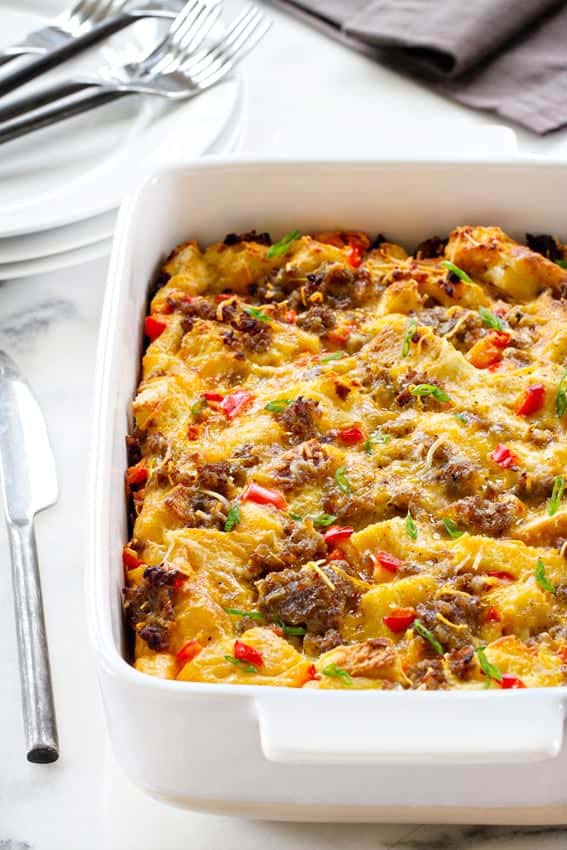 Pour an egg mixture over bread, heavily sprinkle sausage and vegetables over the bread. Cover with foil bake and serve.
Overnight French Toast Bake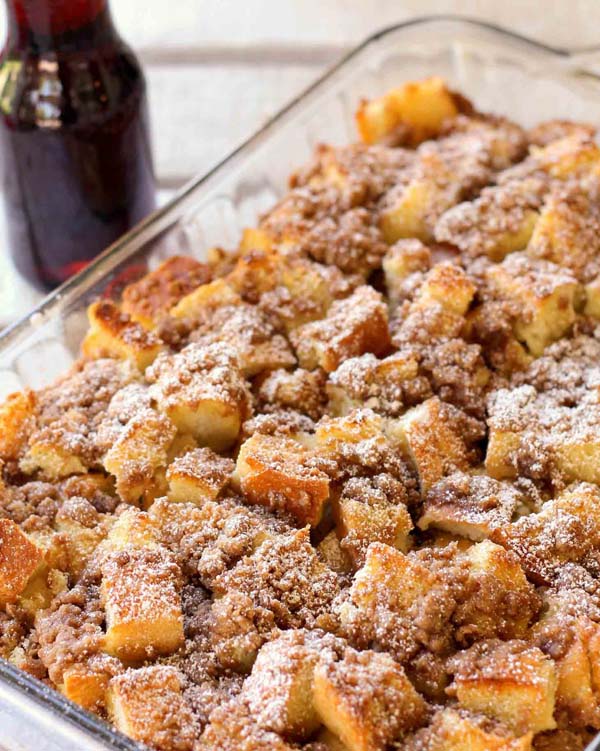 via Lil Luna
Separate into bites, bread dipped into eggs and cinnamon and fried. Serve and snack
Winter Fruit Salad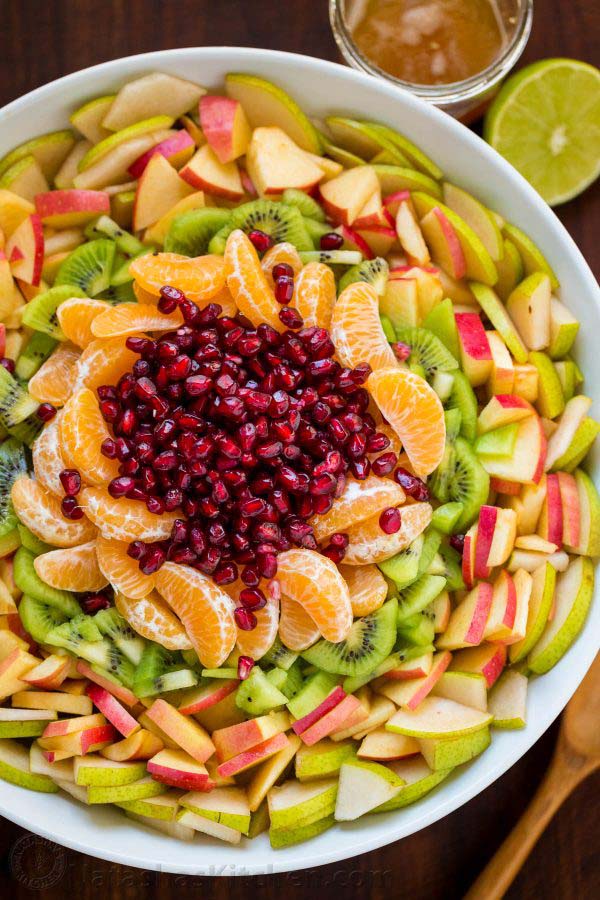 Find a large seasonal bowl and pour in Clementine oranges, peeled and separated, kiwis, apples, pears, cored and sliced.