Sweaters began their journey as functional pieces of clothing for farmers and fishermen. Their warmth led them to find their way into fashionable wardrobes everywhere.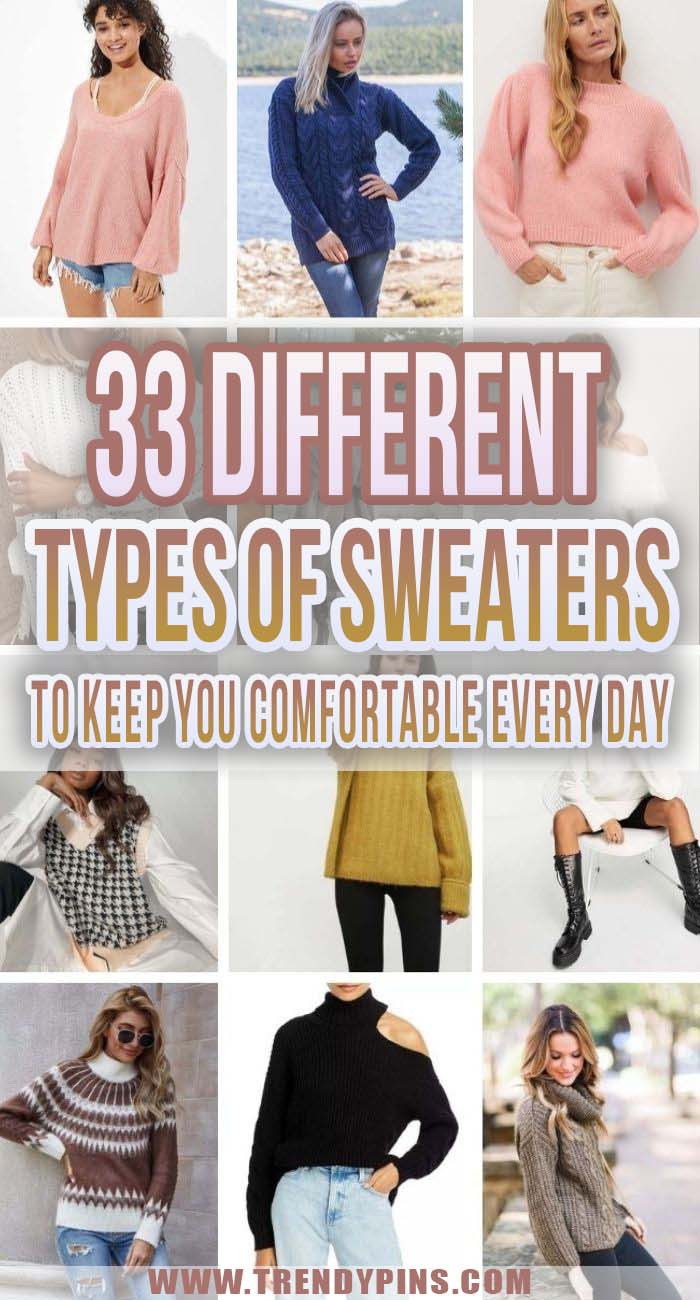 Take a look at the different types of sweaters on this list. You'll find versatile pieces for formal occasions, luncheons, and running errands.
We've also sorted out the types of materials found in most sweaters. You'll definitely be able to revitalize your wardrobe with the sweaters in this list.
1. Aran Sweater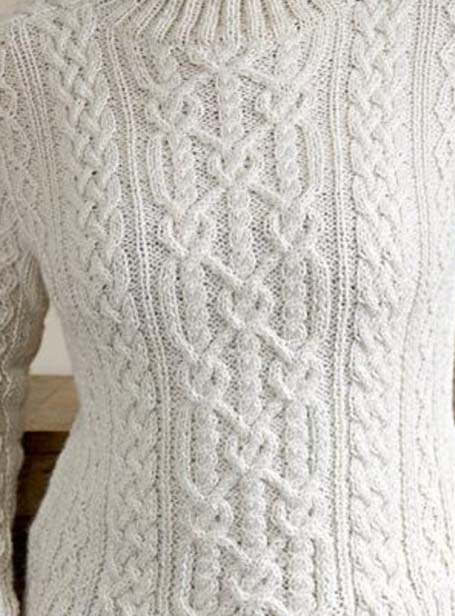 Aran sweaters are named for the Aran Islands, off the coast of County Galway, Ireland.
They're recognized by their cable patterns and known for their warmth and resistance to water.
via Love Crafts
2. Argyle Knit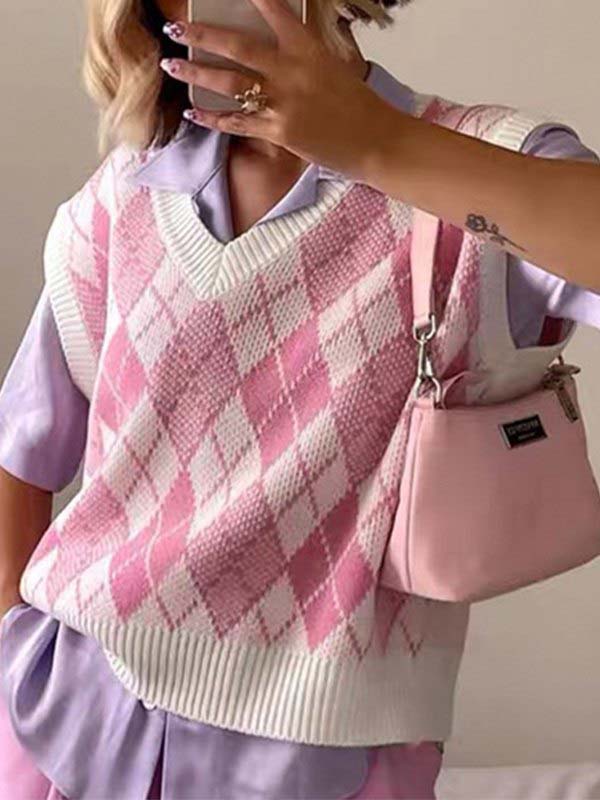 Argyle knit sweaters created the definitive preppy look that originated in Scotland. The pattern is a series of interlocking diamonds.
The Duke of Windsor popularized the pattern at golf clubs everywhere.
via Emmiol
3. Bell Sleeve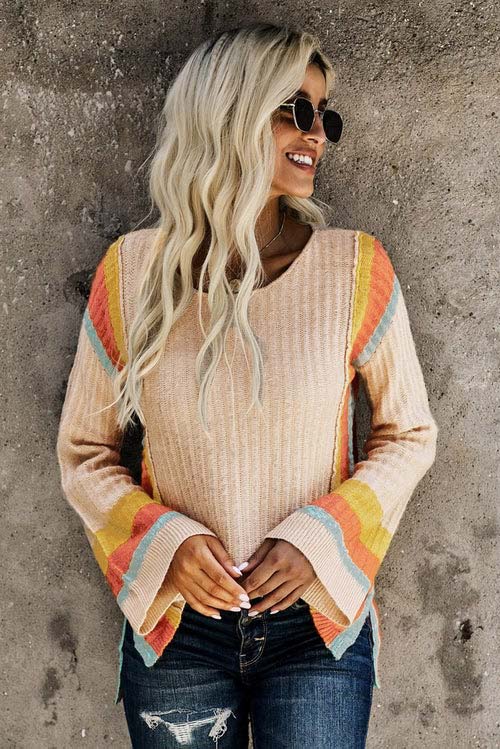 Bell sleeves have been around forever. The sleeves are narrower around the elbow. This allows for a dramatic flare at the wrist.
4. Boyfriend Sweater
The boyfriend sweater is also known as an oversized sweater.
It's very loose and can have a V-neck, ribbed, or scoop neck collar. The length should fall below the waist.
via Jenni Kaine
5. Cable Knit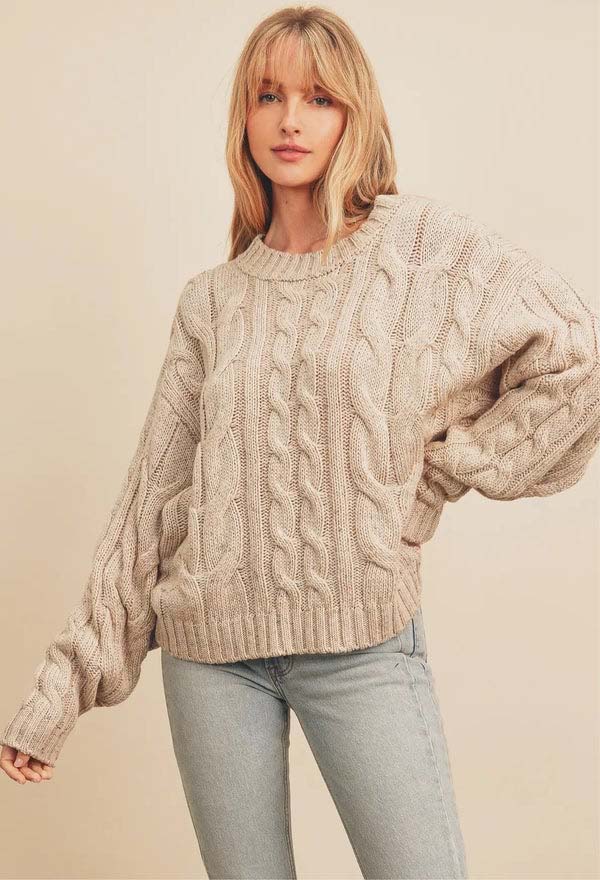 Cable knit sweaters are dense and very warm. They're a stylistic variation of the Aran sweater.
via May B Chic
6. Cape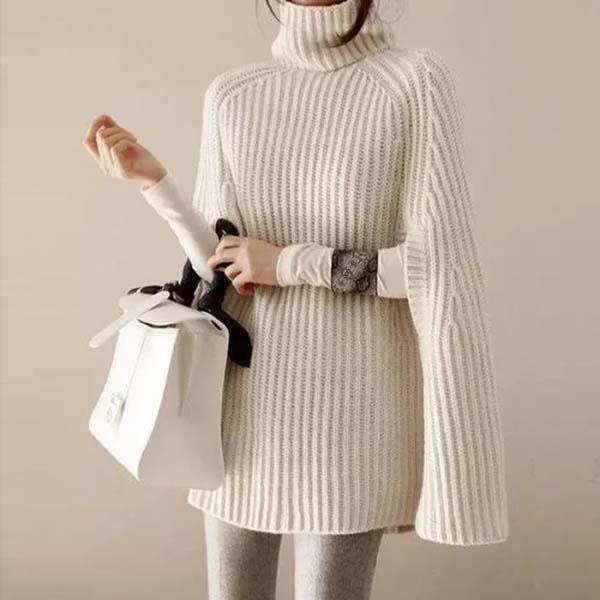 Cape sweaters are similar to ponchos. They're considered a layering piece to be worn with some other top underneath.
via Ebuytide
7. Cardigan Sweater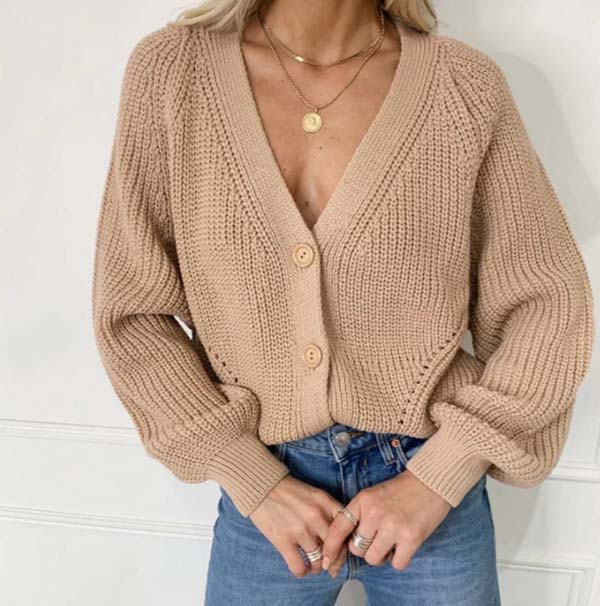 Cardigan sweaters are one of the most easily recognized of all types of sweaters. Coco Chanel designed the first button-up cardigans.
Any zip-up or button-up front can be referred to as a cardigan sweater. They can be worn by anyone.
via Etsy
8. Cheerleader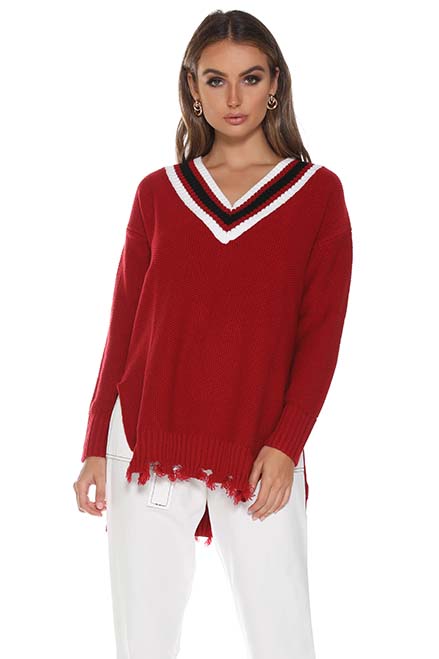 This is retro fashion at its finest. These sweaters end at the waist. They're close-fitting and have wide shoulders and upper sleeves to allow for arm movements.
via Shop Meko
9. Cowl Neck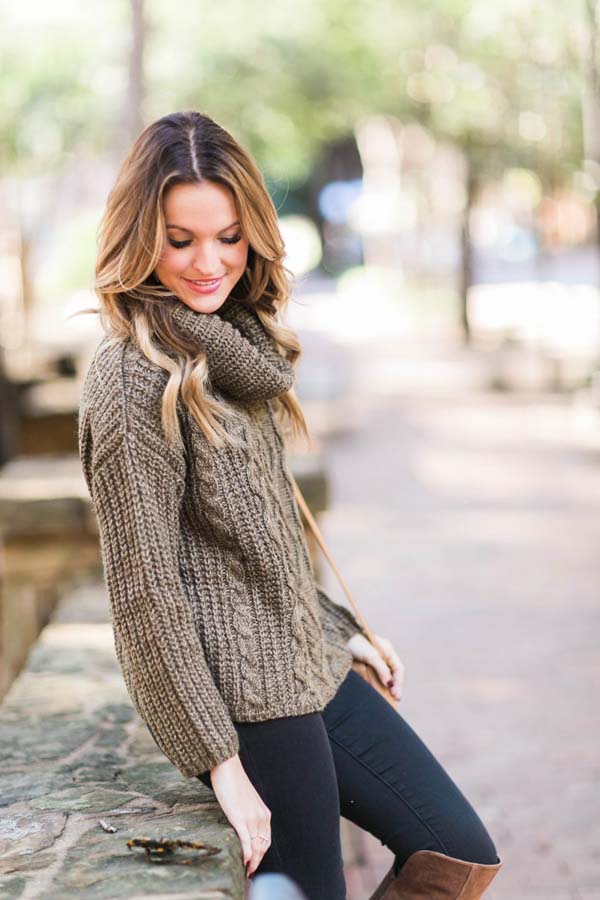 The neckline of the cowl neck sweater originated in Greece.
The elongated neck is folded down. It's also wider than most collars. It's usually found on sweaters with rib knit and cable patterns.
via Lauren Kaysims
10. Crew Neck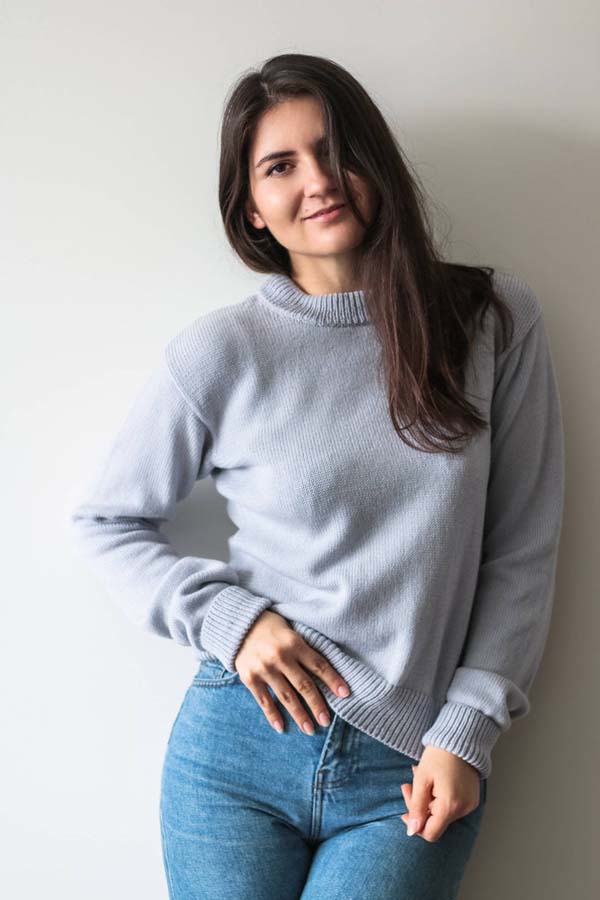 Crewnecks were named after crews of fishermen who wore these sweaters.
You'll see a short, ribbed collar that sits at the base of the neck.
via Etsy
11. Cutout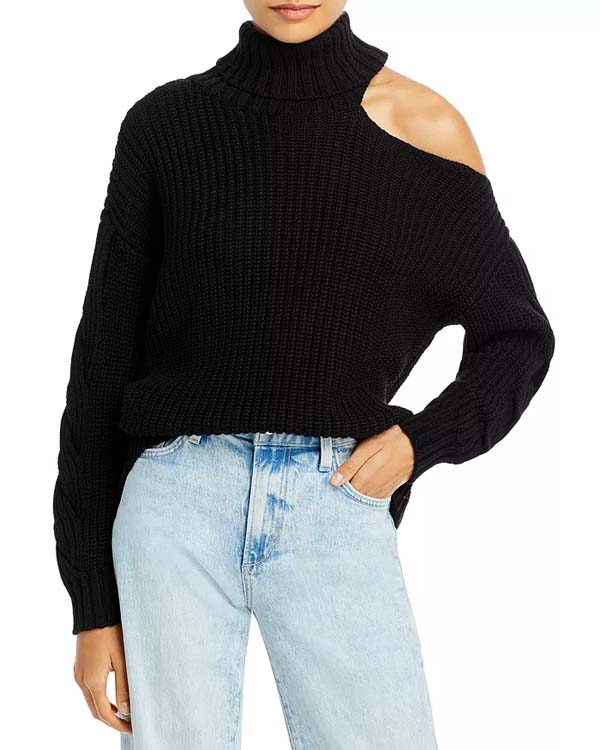 Cutout sweaters made their debut in the 1960s when designs started to show more skin.
Cutout sweaters are noticeable for sections of the shoulder, back, or chest area that are absent. It's still seen as a trendy and sexy style today.
via Bloomingdales
12. Fair Isle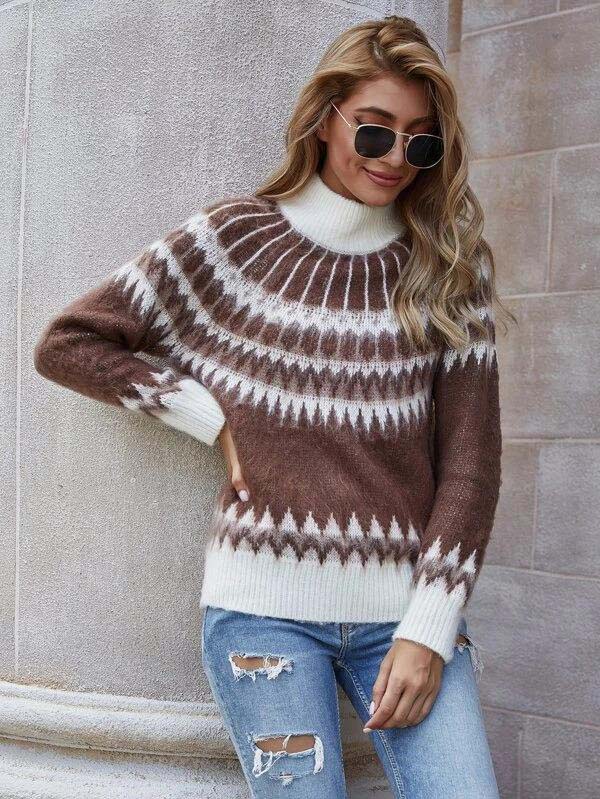 It's the unique patterns in Fair Isle sweaters that sets them apart.
Authentic Fair Isle sweaters are handmade to this day. The waiting list is several years. Many designers recreate a sweater inspired by the originals. You can get the look while waiting for the real thing.
via Kidenhouse
13. Fanny Sweater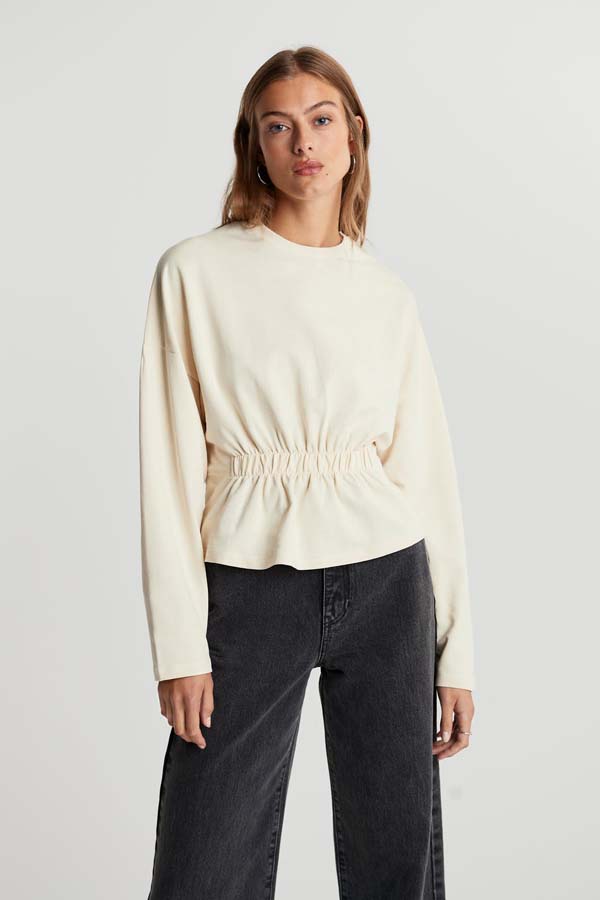 The fanny sweater is long enough to cover your hips and backside.
This means that any type of sweater that meets this description can be a fanny sweater.
via Gina Tricot
14. Grandpa Sweater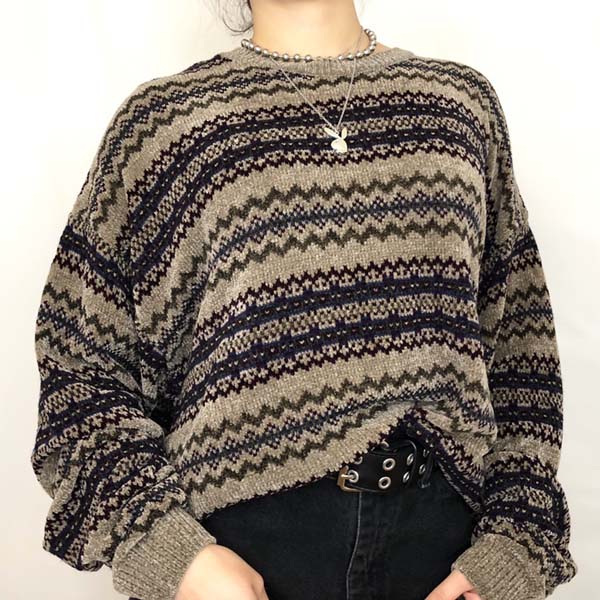 Grandpa sweaters are named for the dark, horizontal patterns in the garment. They're identified with pullovers and cardigans and knit in neutral colors.
Most old sweaters were made of itchy mohair. Today, these loose pullovers can be knit from a variety of materials.
via Depop
15. Mock Turtleneck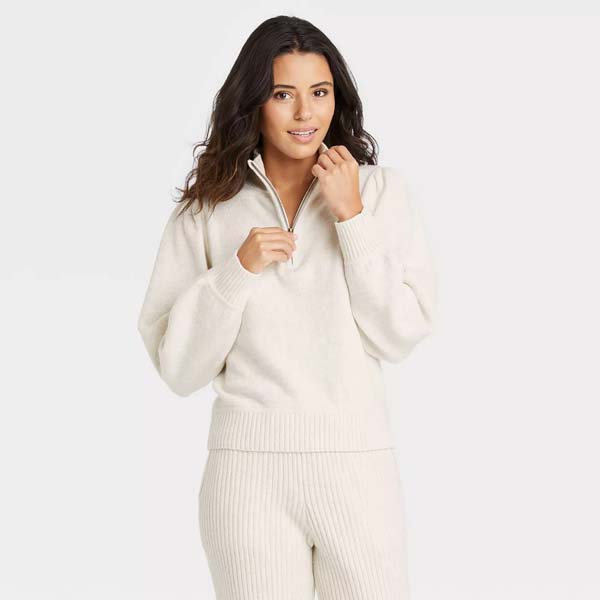 Mock turtlenecks evolved from classic turtlenecks. It loosened up the rigidity of a classic turtleneck.
They can also have embellishments that adjust the opening.
via Target
16. Off-the-Shoulder Sweater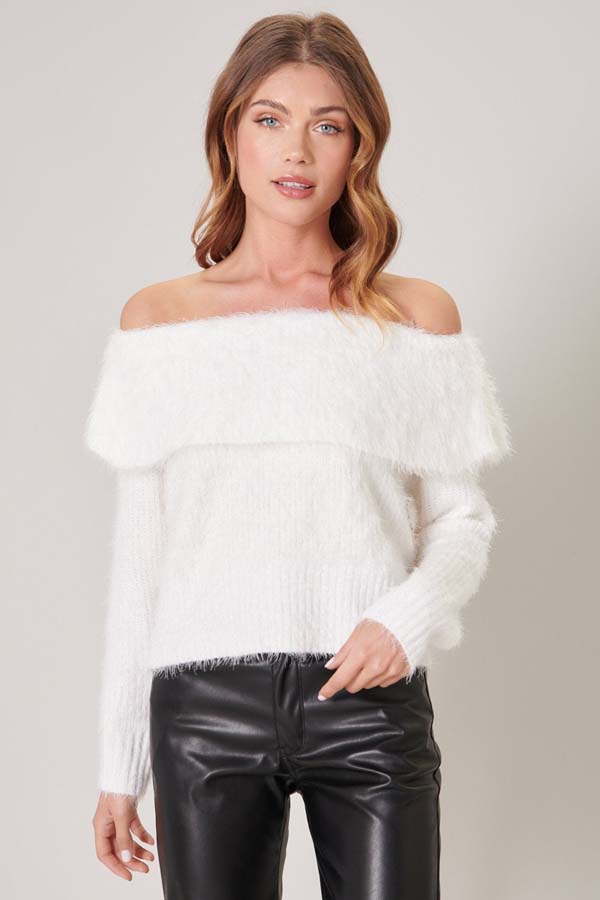 Off-the shoulder sweaters came into fashion in the 1980s.
While they're not as popular as they were, their retro appeal means you can wear them today. It's a great way to show off the work you've put in at the gym.
via Sugar Lips
17. Open Knit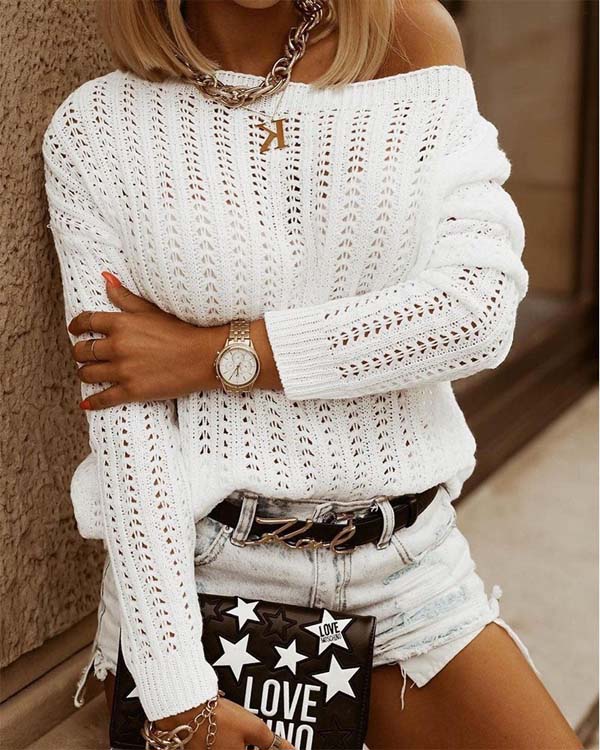 The open knit sweater is a type of knit pattern. A loose weave creates holes.
This gives it a see-through look to the garment. They're worn for their fashionable look, not for warmth.
via Yum Kiss
18. Poncho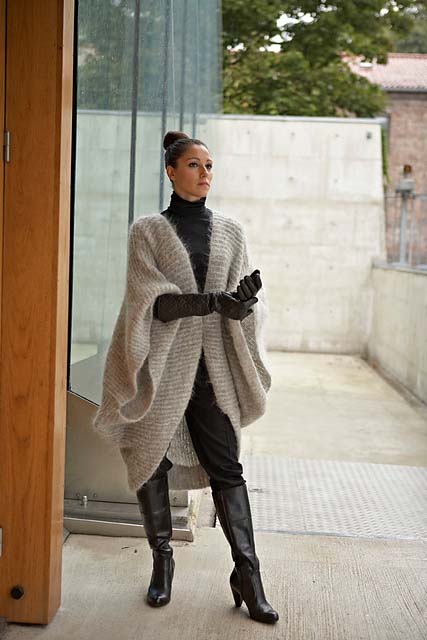 Versions of the poncho are found in the history of nearly every civilization. The basic design is a square of material with a hole in the center for your head.
The length of a poncho is usually hip length or longer. They include a variety of patterns, colors, and textures.
via Raverly
19. Puffed Sleeve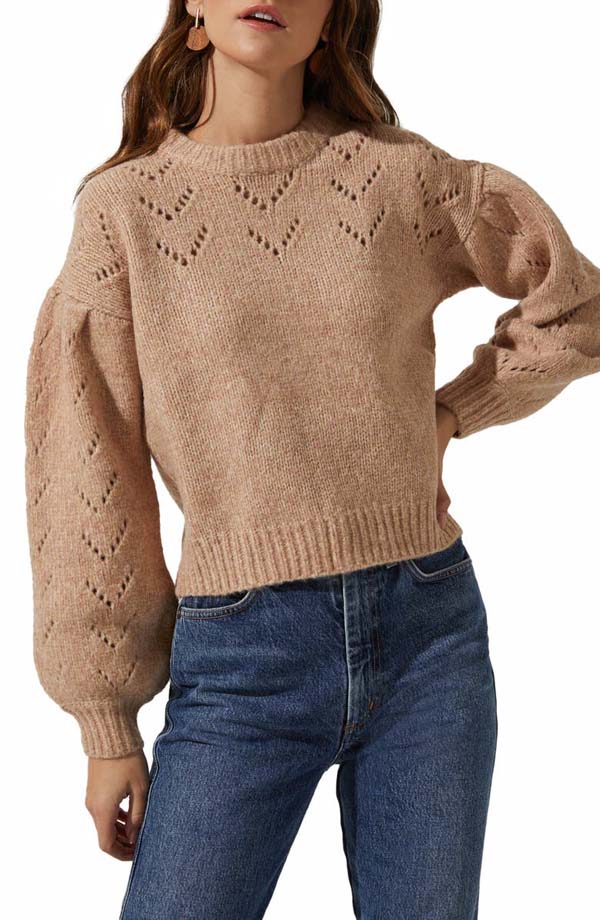 Puffed sleeves have enjoyed popularity since the Renaissance.
In today's fashion world, you'll find puffed sleeves on cropped sweaters and cardigans.
via Nordstrom
20. Pullover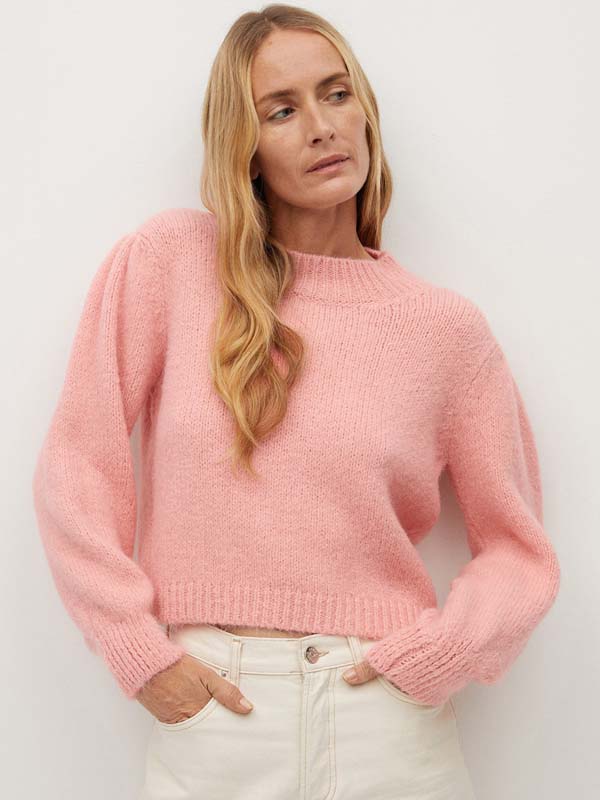 The pullover is the original sweater. It's a simple, closed design that pulls over your head.
It's usually a loose fitting sweater.
via Myntra
21. Raglan Sleeve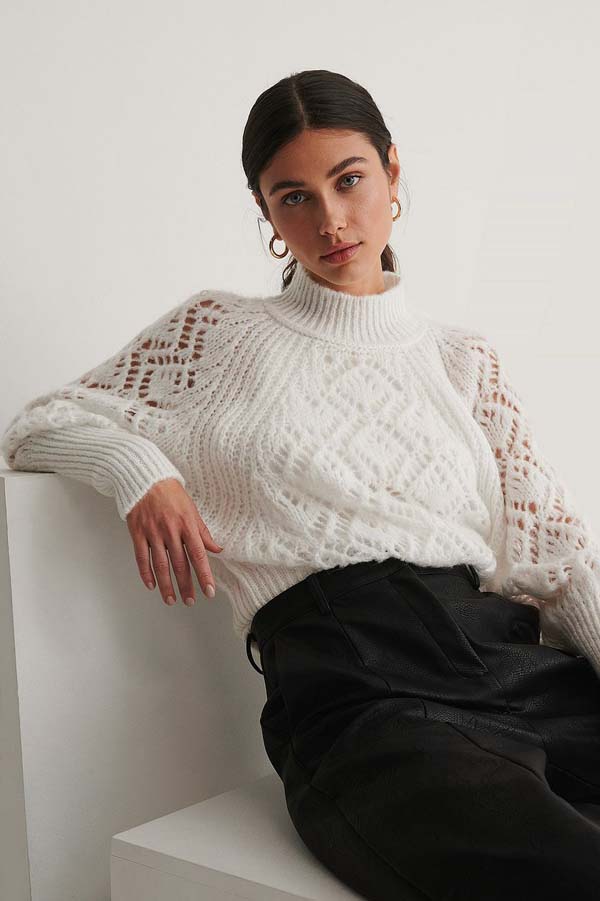 Raglan sweaters are elegantly designed without separation between the shoulder and the sleeve.
The seam runs from the top of the chest to the base of the neckline.
via Na-kd
22. Ribbed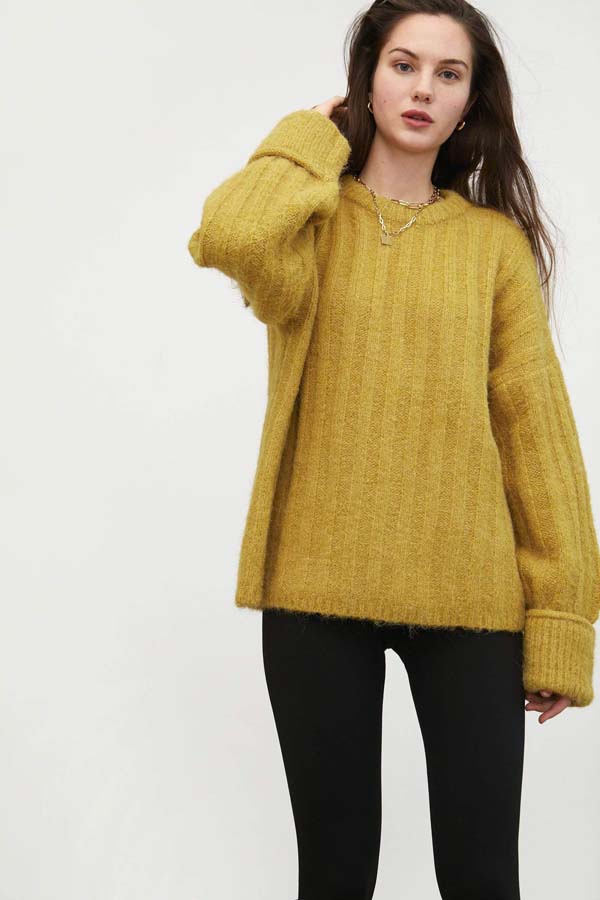 Ribbed sweaters have vertical ribs or channels with lots of texture running the length of the garment.
It can be knit into a variety of weights and styles without bulk.
via Jingus
23. Roll Neck Sweater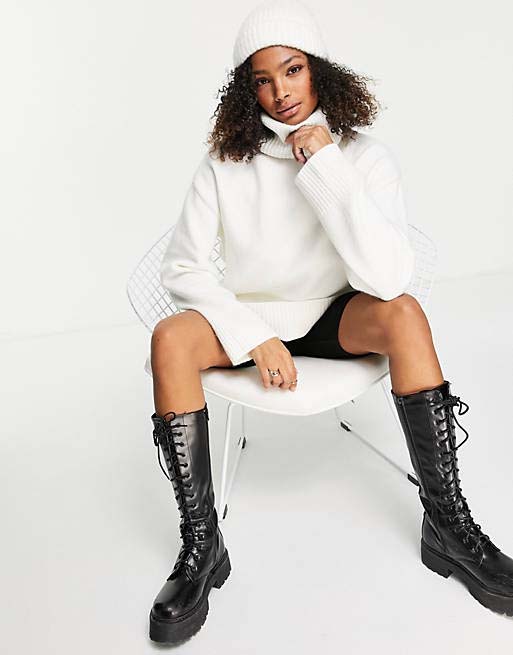 Roll-neck sweaters are like turtlenecks, but the neck isn't as high.
The top of the fold in the neck is looser, giving it its rolled appearance. The casual drape lines make roll-neck sweaters good for casual wear.
via Asos
24. Scoop Neck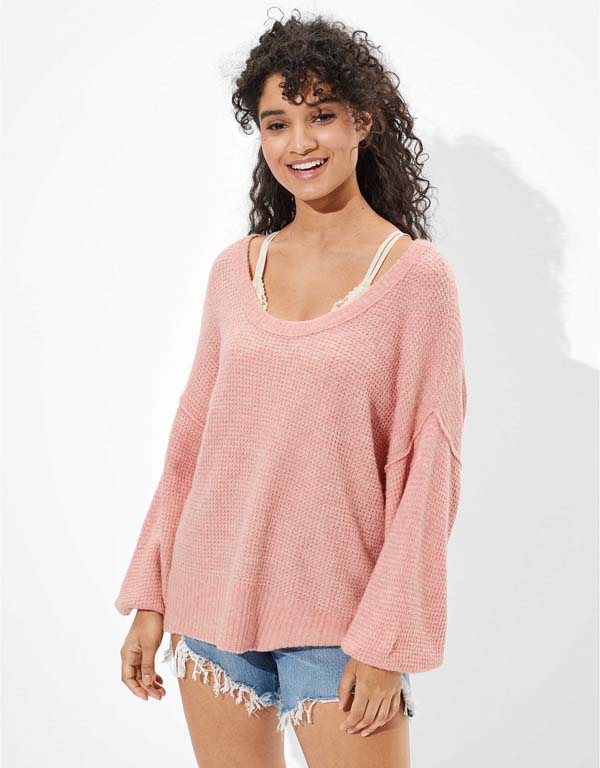 The scoop neck looks like a big chunk of the sweater was scooped out around the neckline.
They can be found on just about any type of sweater.
via Ae
25. Shawl Neck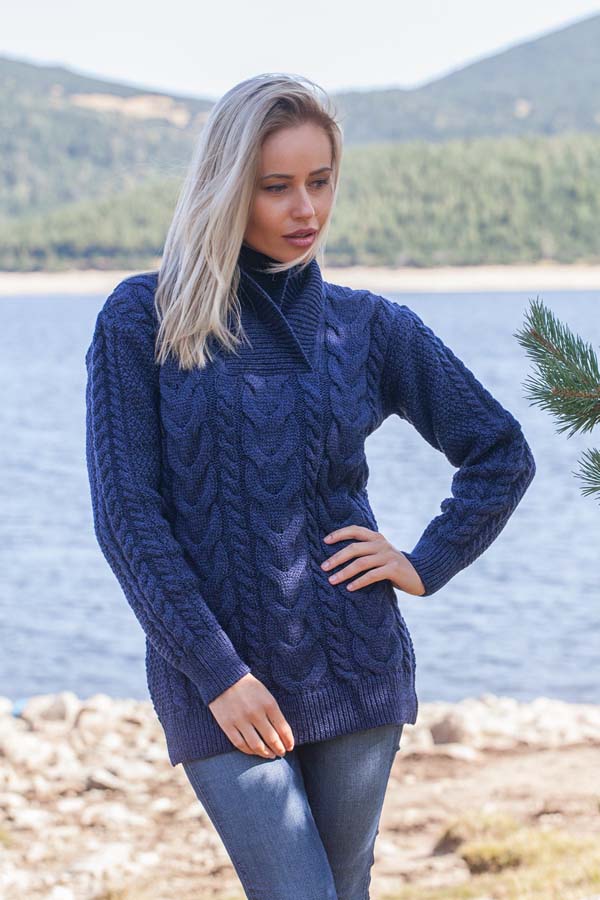 Shawl collars get their name from their resemblance to shawls.
The extended amount of fabric in the neckline frames the face and neck. The fabric usually stops at the top of the chest.
26. Sweater Dress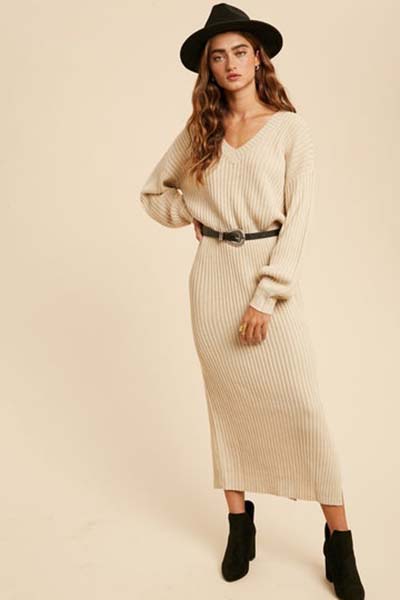 Coco Chanel debuted a line of sweater dresses in the 1920s.
35 Astonishing Types Of Dresses That Will Definitely Grab Your Eye
The form-fitting jersey knits set the trend for the sweater dresses we know today.
via En Route Ky
27. Sweater Vest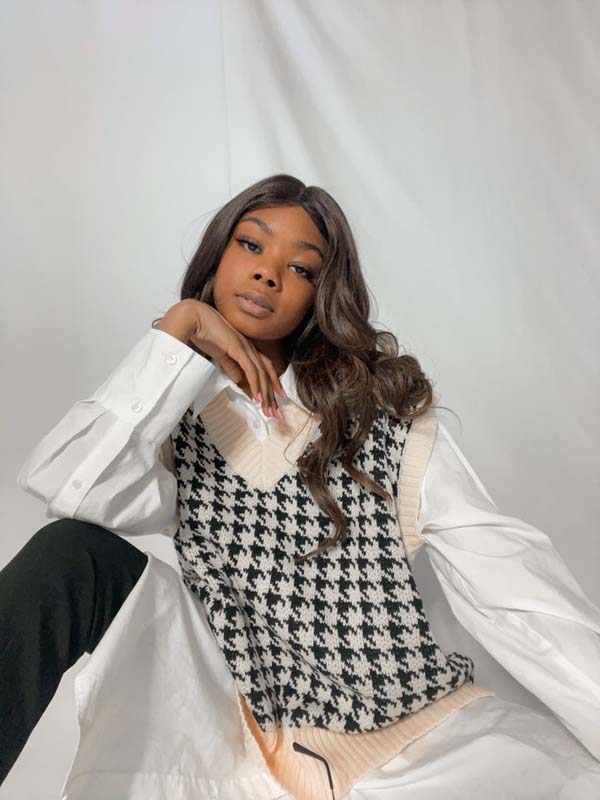 Sweater vests can have round necklines or V-necks.
They're typically worn over button-down blouses and dress shirts. They can be made in every style, thickness, and drape.
via Academe Boutique
28. Tennis Sweater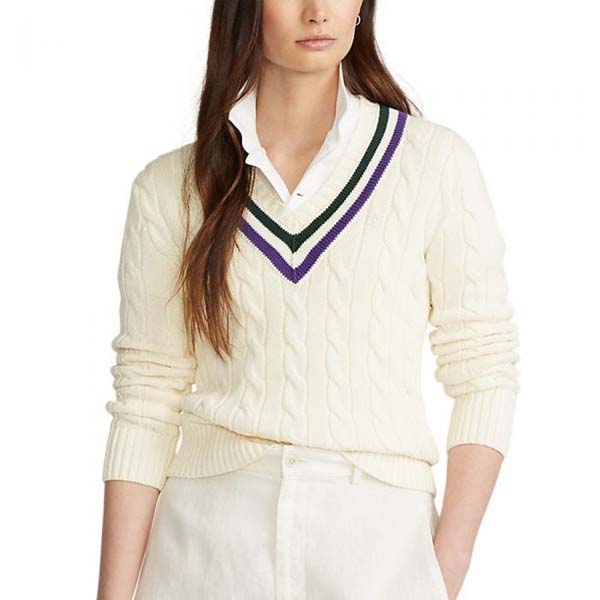 The tennis sweater is defined by its V-neck, cable knit pattern. It's also only available in white or off-white with a colored band or bands along the neckline.
You'll see them worn in tennis clubs around the world.
via Shop Wimbledon
29. Turtleneck Sweater
Turtlenecks are easily recognized. They have a neck piece that's twice as long as needed, allowing it to fold over.
via Adolfo Dominques
30. Twinset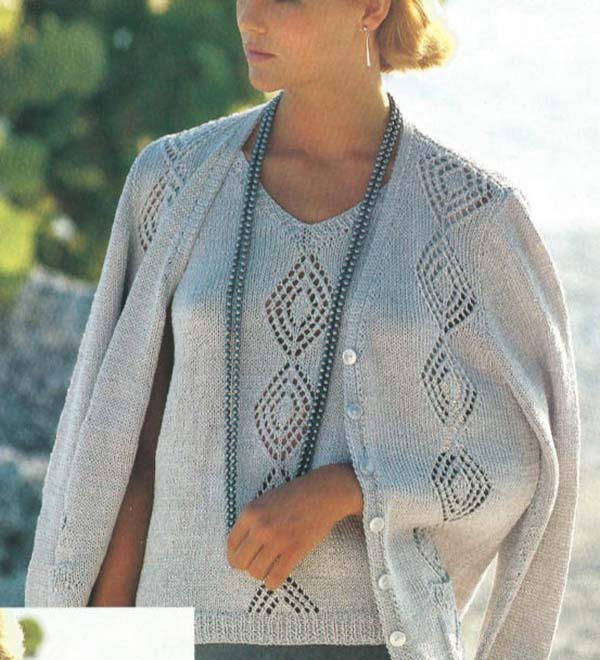 The twinset is composed of two separate, matched pieces. A pullover vest is paired with a cardigan.
They're usually made from lighter materials.
via Etsy
31. Ugly Christmas Sweater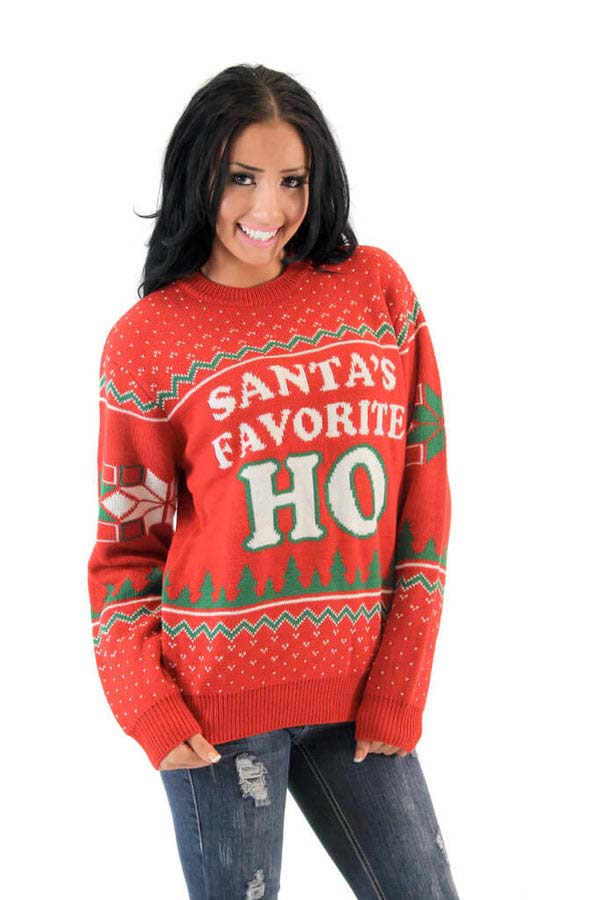 Christmas sweaters are the most popular sweater in the world. It started as a simple sweater with a Christmas theme. The trend was to add more embellishments to make them very gaudy.
Your ugly Christmas sweater will probably catch your eye as a ridiculous looking pullover. The best part about these sweaters is how much they make people smile.
32. V-Neck Sweater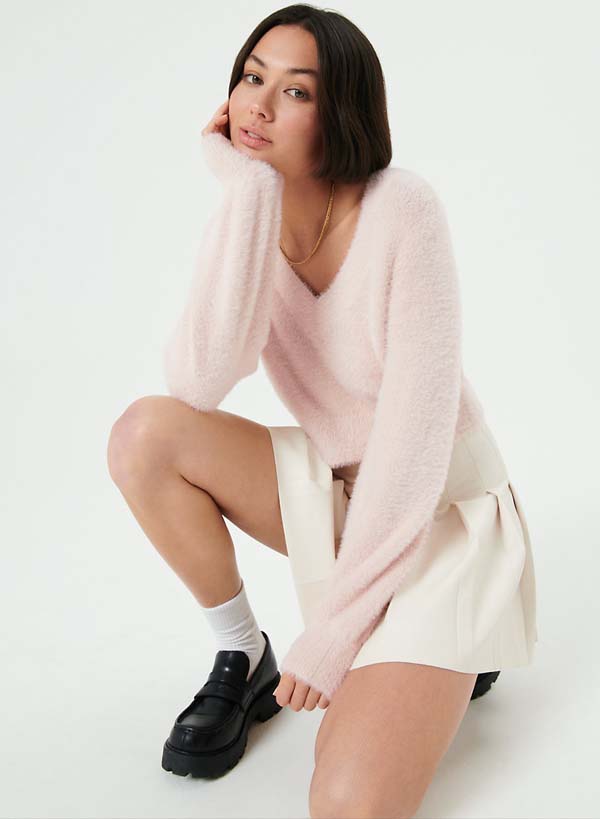 The V-neck sweater is a staple piece in everyone's closet. They have never gone out of style. You can wear one with anything from a skirt to jeans.
via Aritzia
33. Woolly Pully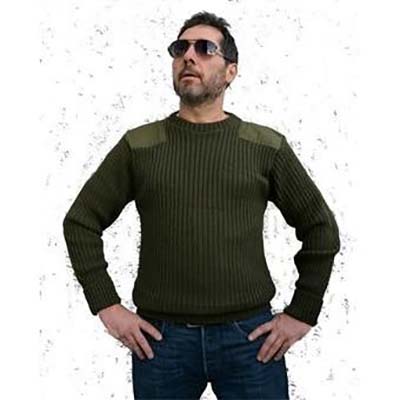 The woolly pully was originally designed for British commandos. They're made from wool and have a rib knit pattern. They have shoulder patches and may have elbow patches.
via Schreckon Line
Materials Used for Sweaters
Sweaters can be knitted from a variety of materials. The material of choice determines a sweater's warmth, softness, thickness, and style.
Animal Hair
Many types of animal hairs can make sweaters. Mohair and cashmere are both goat fibers. These are considered animal hair.
Another type of sweater is made from alpaca. Alpaca hair is very soft and has great insulating capabilities.
Sheep are the only animals that produce wool. Any fiber that isn't from a sheep should be labeled as animal hair. Even so, you will see alpaca, llama, mohair, and cashmere often mislabeled as a wool product.
Cashmere
Cashmere is made from goat wool. It's very soft and warm. It's considered a luxury garment because of how much wool is needed to make a usable piece of fabric.
Cotton
Cotton sweaters are popular in the spring and summer. It's used in casual wear. The fabric is lightweight and found in every color under the sun.
Linen
Linen is lightweight and breathable. It absorbs moisture and can wrinkle easily. Even so, it's the one fabric that works well for helping you to stay cool in warm weather.
Sheep Wool
Sheep wool is the most common type of material used in sweaters. Merino wool is the softest type of wool, while lambs wool comes in second. If your sweater feels itchy, it's probably made from Shetland wool.
Silk
Silk is durable and is often used for insulating fabrics. It's known for its softness and versatility. You can find them in any color imaginable.
Synthetics
Synthetics are fibers that are man made. They can be dyed in almost any color. Some are used to create realistic versions of natural fibers. Many synthetics are made from recyclable materials such as bottles.