Many people cringe when they hear a discussion about peg pants styles. They might be surprised to discover that they never really go out of style. Traditional pegs have seen a revival as a backlash to uncomfortable skinny jeans. They have a strong look about them and are not seen as feminine or frilly.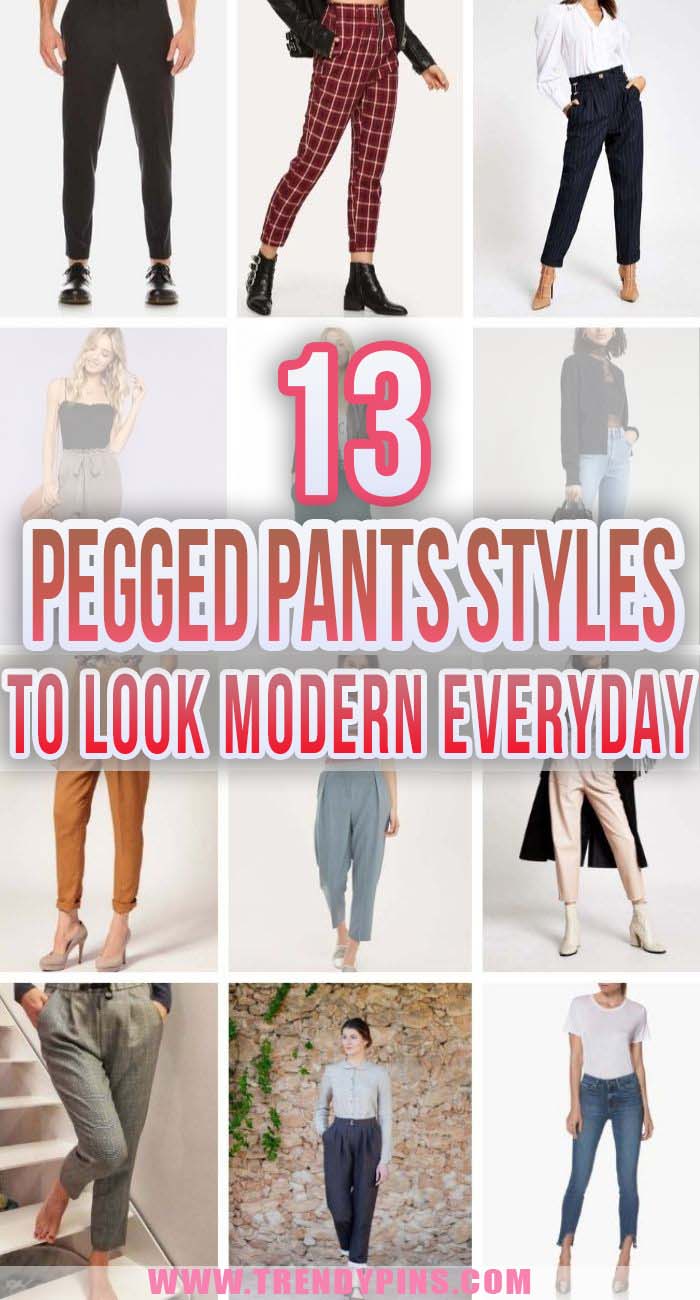 Peg-top trousers were named for the spinning toy that has a cone shape on its top. Typical peg leg pants have a high waist, pleats in the front, and taper at the ankle. In the 80s and 90s, people referred to them as "Bowie Trousers," named for the iconic rock star who wore them frequently.
If you don't like pleats because of the way they balloon up in front, try side pleats or none at all.
The beauty of these updated peg pants is there are many types of waist lengths, fabrics, and drape cuts to choose from. You can keep your skinny pants and mid-waist and still get a nice taper above the ankle.
We have some tips on rocking your new pegs and avoiding a hokey 80s look. Your top should be thin enough to tuck in. Most women prefer to wear them with heels, but pointed toe flats and mid-heel pumps can work, too. If you want to hide your ankles, try ankle boots with a slim fit.
Here's a look at some of the more popular peg pants styles available today.
1. Belted Peg Pants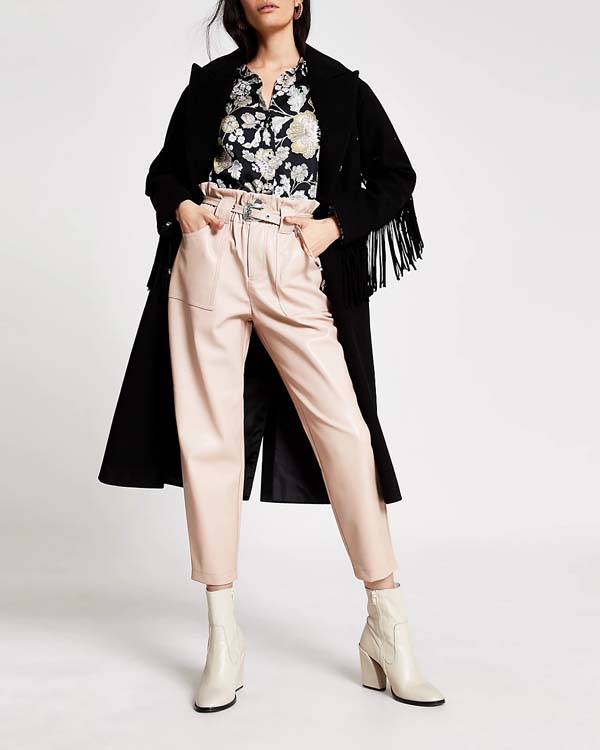 These pants show how the traditional, high-waisted peg style can be updated. The pleating is all in the waistband. The crop length and sewn-on pockets also move away from tradition. A western style belt buckle brings casual flair. The soft pink color emphasizes their femininity.
The side slip pockets are a nice embellishment. The length tapers to a stop right below the calf.
via River Island
2. Alexandria Peg Trousers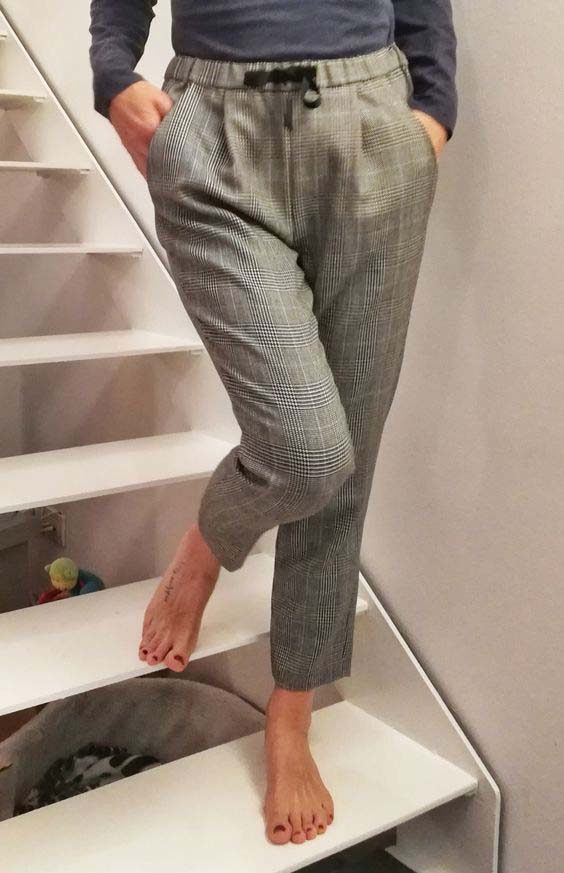 The Houndstooth pattern in the fabric and a taper that stops just above the ankle make these peg pants a good choice for the office. The elastic waistband is smoothed out. The black drawstring belt creates a polished finish.
3. Classic Peg Leg Trousers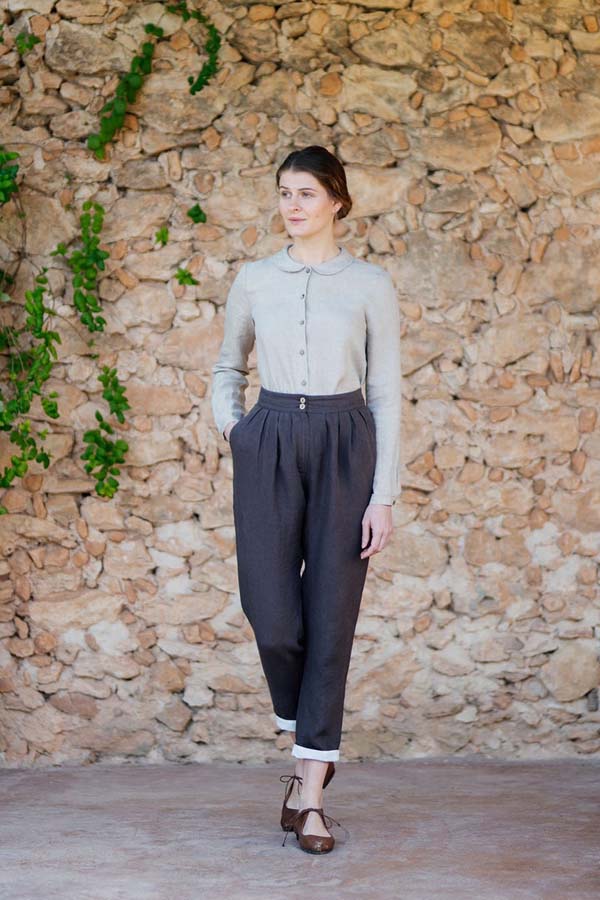 These trousers are the epitome of the classic peg pant style. The hips are wider than you'll find on skinny pants. Linen is a favorite to use in making peg pants, as the drape of the fabric works well with pleats and the taper. The elastic high waist band is wide enough to prevent roll and the two buttons in front add classic detailing.
These pants are lined. They can be worn without a cuff, giving a uniform look to the pants. Optionally, the bottoms can be cuffed, revealing the white lining.
via Son De Flor
4. Cropped Peg Trousers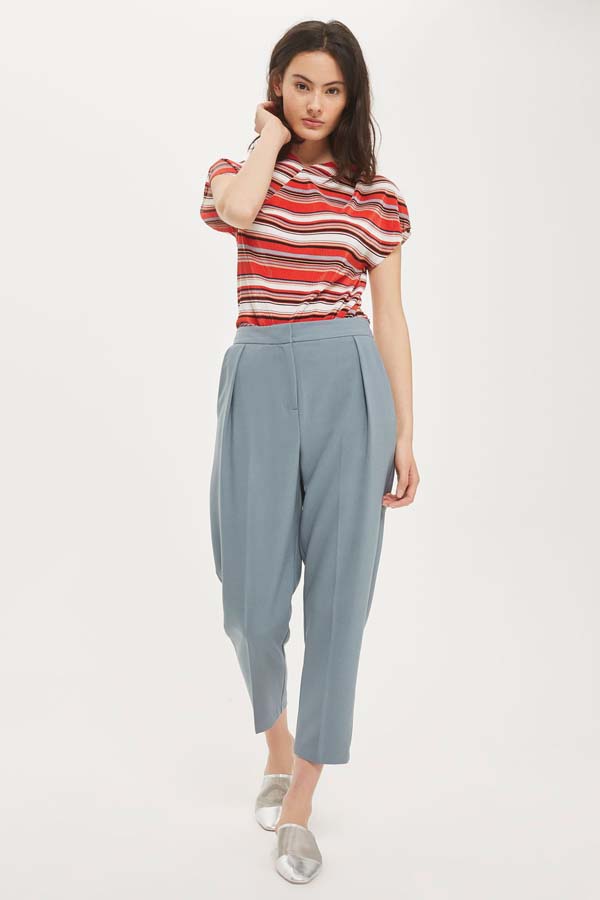 These cropped peg trousers will work as part of a casual look or in a work day ensemble. The slate gray is a nice move away from the traditional selection of colors.
Pleats at the hip disguise the pockets and create a smooth finish in the front.
via Shopper Board
5. Exposed Zip Fly Plaid Peg Pants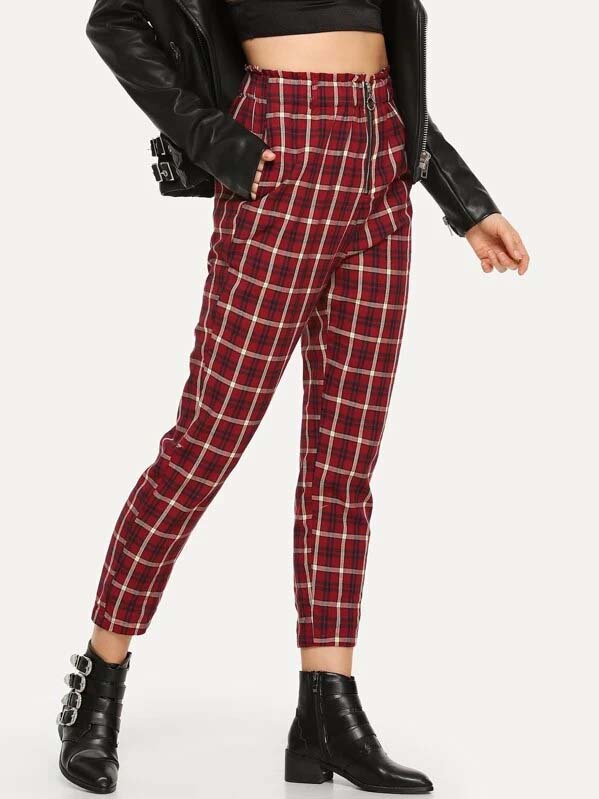 The plaid color is reminiscent of a school girl uniform. The exposed zipper, high waist and tapered leg create a look that's more like a school girl turned punk rocker.
These are made from 100% cotton. The overall cut is looser than many skinny leg styles. The leather jacket and chunky heels, with their buckles, are right on point for a young rebel.
via Shein
6. High Waist Pegged 90s Pants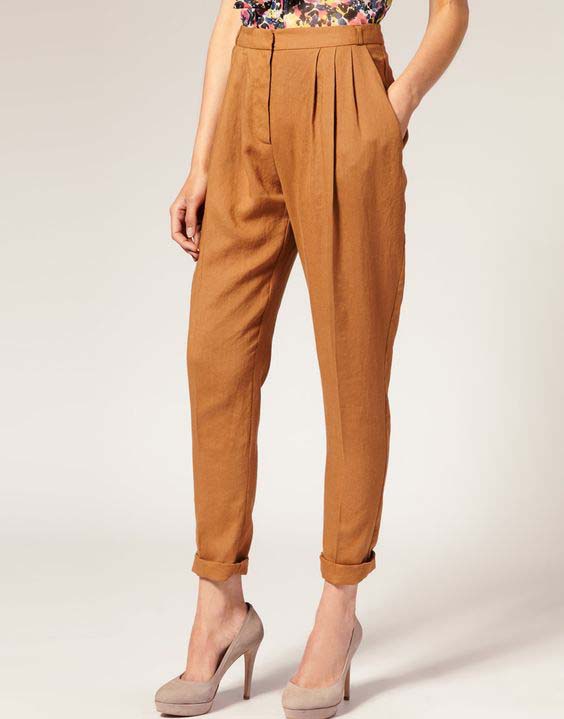 These sleek trousers follow much of the original peg leg pants style of the 90s. The hidden zipper and belt loops blend in well with the pleats. The side pockets go unnoticed.
The cuffed hems at the ankles give the pants a more upscale feel. The choice of fabric made of a cotton and linen blend is a good choice for spring, summer, or fall. It's still a great look for resorts, casual dining, and luncheons.
via Burda Style
7. Hoxton Ankle Pegged Pants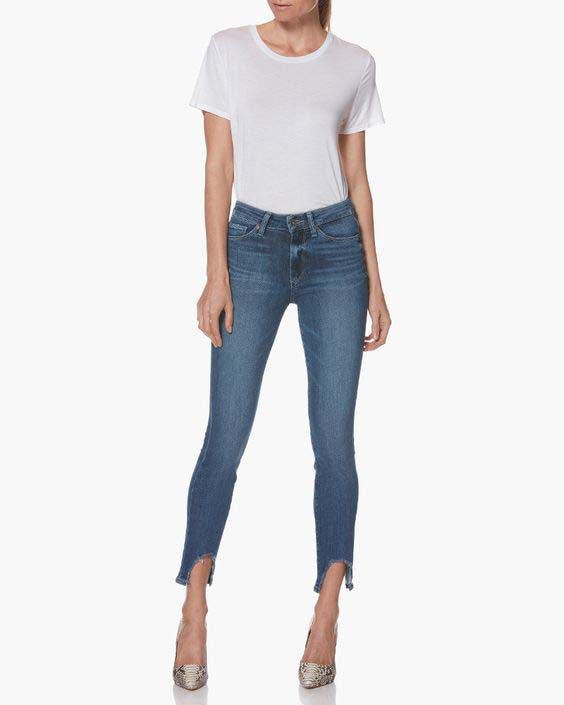 Hemlines play an important role in pegged pants. The slim traditional cut of these stretch denim jeans takes an unexpected turn below the knee.
The round, sewn hems create playfulness. The length ending just above the calf gives you an opportunity to showcase your great collection of heels. That isn't something that's possible with your everyday jeans.
via Paige
8. Mens Peg Leg Pants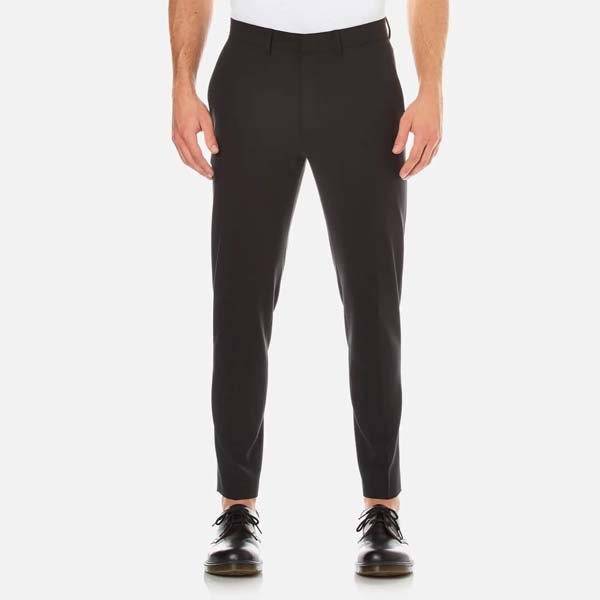 The peg style pants originated from men's work pants. It's only proper that today's fashions include an updated version. These are a wool blend with a zip fly.
They have welt pockets in the back and two side front pockets. Wear them without socks to show off your sneaker or shoe collection in style.
via Coggles
9. Oriental Peg Pants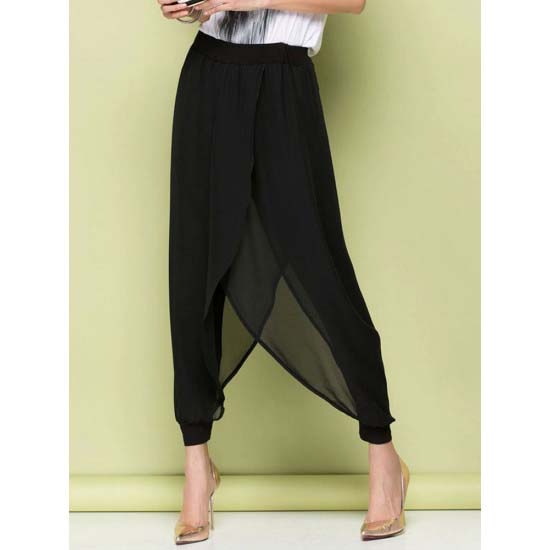 This look is more of a harem style. The Harem style was very popular in the 80s and 90s. They have a mid-rise waist and an exaggerated flair in the legs. The taper finishes above the ankle and the hem is finished with elastic banding.
The chiffon brings a touch of elegance to what otherwise looks like a pair of sweatpants. Its flowing lines and asymmetrical lines make it a good look for plus-size women.
via Bazaar Gadgets
10. Peg Pants With Elastic At The Ankle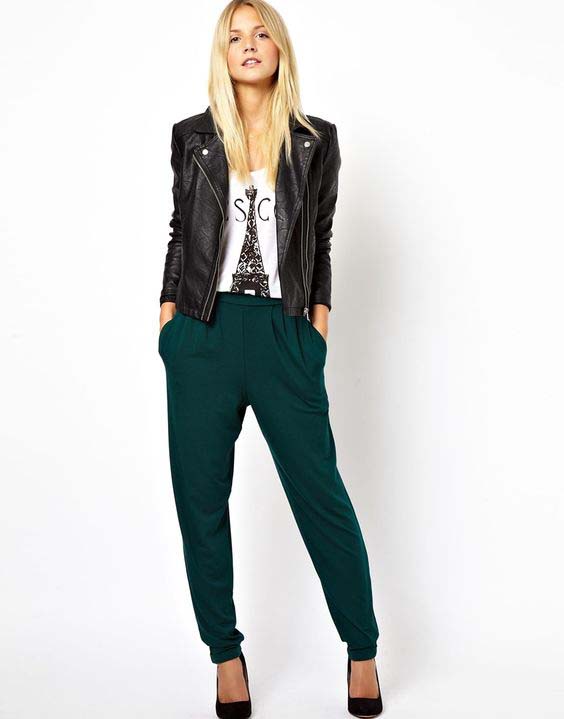 These pants feature small pleats with a stretch waistband and stretch cuffs. This strictly for-the-gym look gets its fashion flair by changing up the color to forest green.
When you add heels, a fun graphic tee, and the classic leather jacket, you're ready for the coffee shop.
via Unknown
11. Peg Skinny High Waist Jeans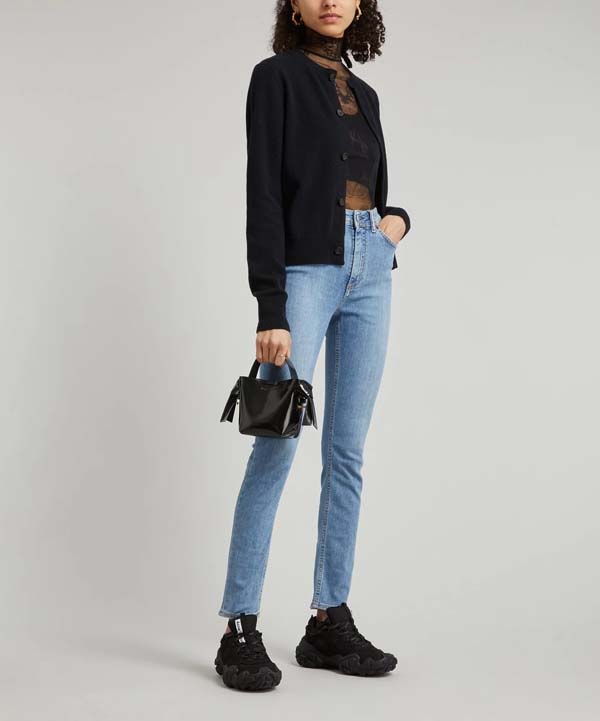 These five-pocket classic skinny jeans are given a modern twist. It combines a high waist with a pegged leg taper that ends right above the ankle. Jeans are usually made with stretchy denim fabric.
via Liberty London
12. Pinstripe Peg Leg Trousers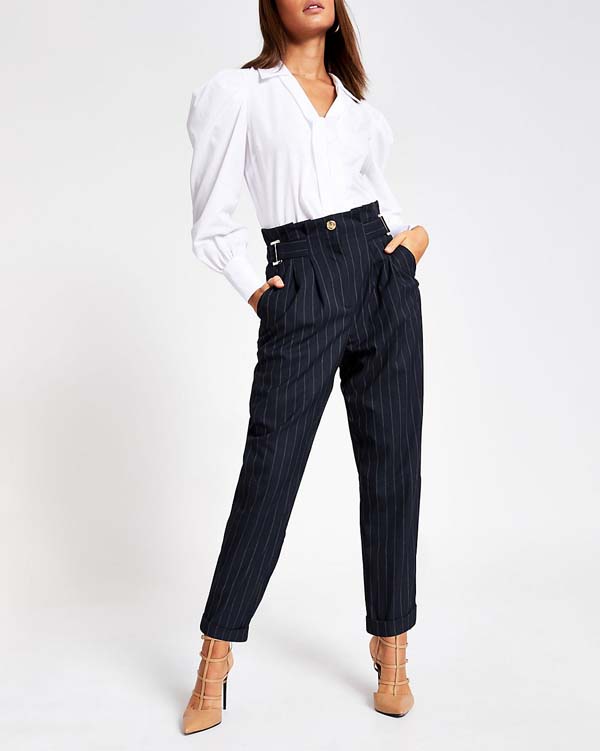 Pinstripes have always been a cornerstone in the workplace wardrobe. These pants create an updated alternative to its stodginess. The relaxed waist prevents your top from looking bunched up.
The higher cut at the ankle updates the look for a modern woman. These pants have nice gold-tone details on the front belt buckle and front belt loops. Pinstripes and cuffs complete the classic look.
via River Island
13. Tie Waist Elasticized Pegged Pant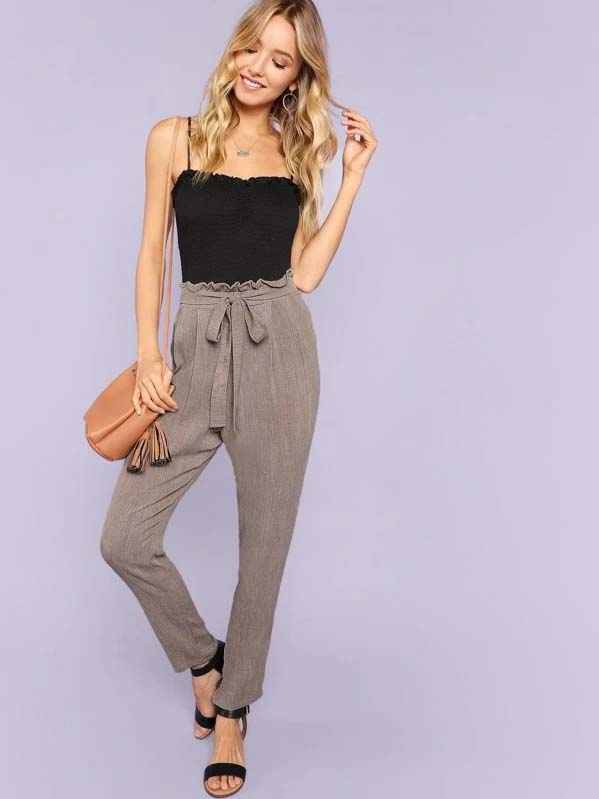 The elasticized waist gives these pants a comfortable fit. A tie belt creates a casual feel.
The taper is wider and softer than many pegged leg pants patterns. This makes these a good choice for women with larger calves.
via Shein