Primer is the secret weapon of makeup artists everywhere.
As you might guess from the name, it primes the skin for makeup application — the smooth, creamy product goes on first, creating a flawless base.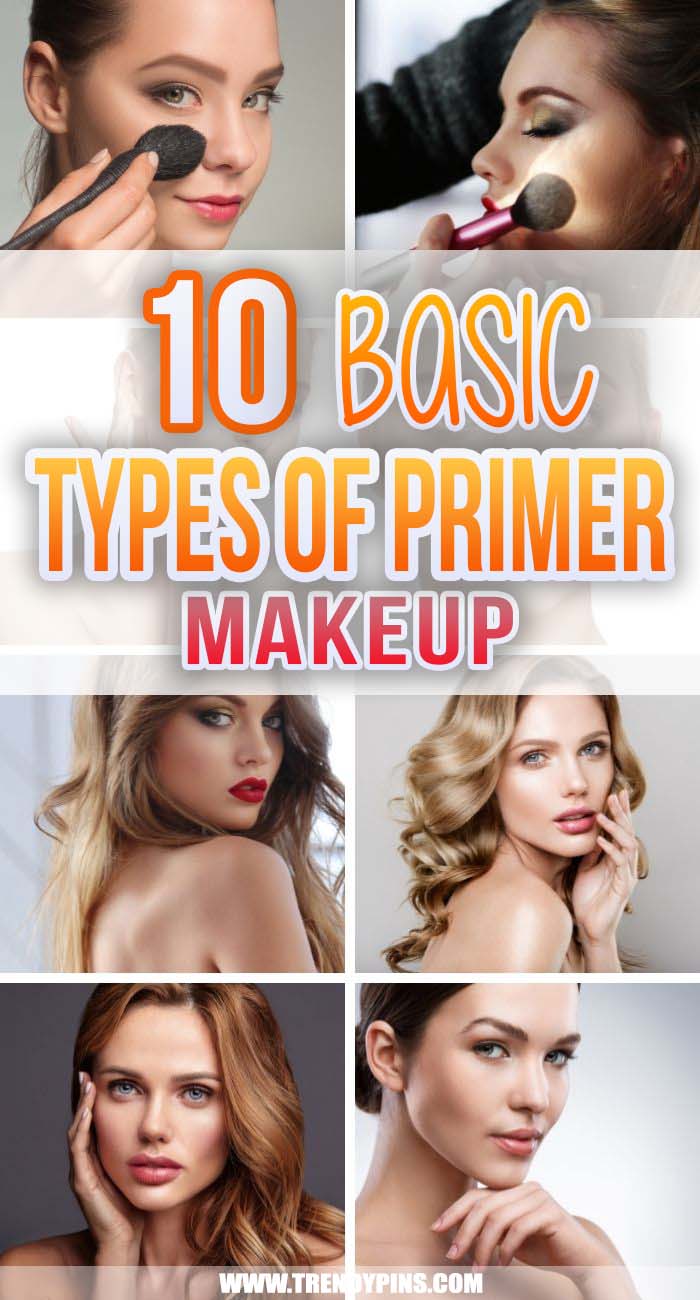 By choosing the type of primer makeup that's right for your skin, you can create cosmetic looks that last all day.
Related: 17 Types of Makeup for Your Ideal Look
What is Primer?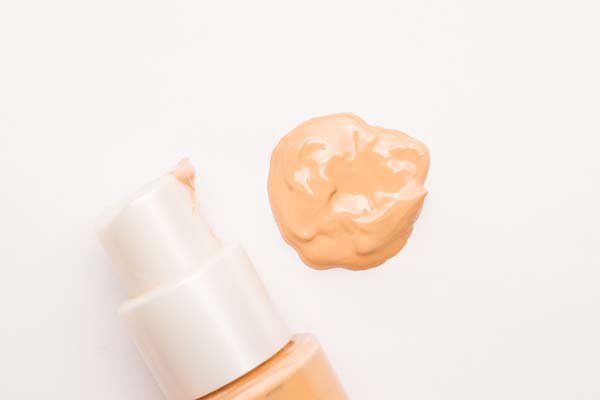 Primer is a cream or gel that goes on your face after your moisturizer and before your foundation. It smooths and prepares your skin, so it's better able to accept other types of makeup.
Related: 16 Different Types Of Makeup Foundation
The goal of a primer is to correct the factors that cause problems: oiliness, dryness, rough texture, and acne.
What is Your Type of Skin?

When you start to shop for primers, you'll find that there are many different formulas.
Each one claims to do something different — some moisturize, while others are billed as "blurring" primers. Before you can choose one, it's important to know your skin type; the right primer for you is the one that corrects your specific skin issues.
If you have oily skin, for example, you should choose a mattifying primer that soaks up excess oil. For dry skin, look for a moisturizing primer.
If you have large pores, you can even find products that claim to blur the boundaries and create a smoother complexion.
Do You Really Need Primer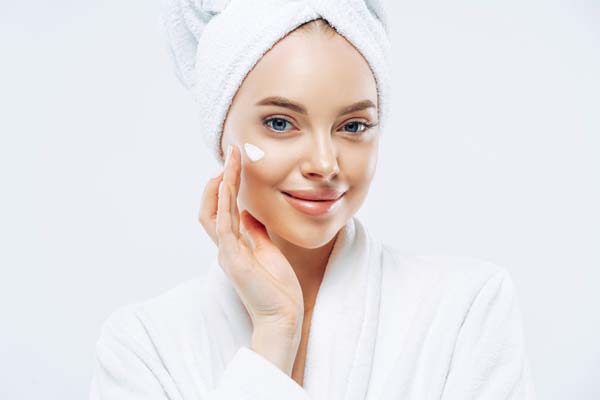 Primer isn't necessary for every type of skin. If you're happy with the moisture levels, texture, and pore size of your skin, there's no reason to use another product.
However, if you find that your makeup tends to look dry or greasy, a primer can help.
The same goes for rough skin — primers can help prevent foundation from settling into acne scars or fine line.
Primer isn't just for your skin; you can use it on your lips, eyelids, eyelashes, and fingernails.
Matte Primer for Oily Skin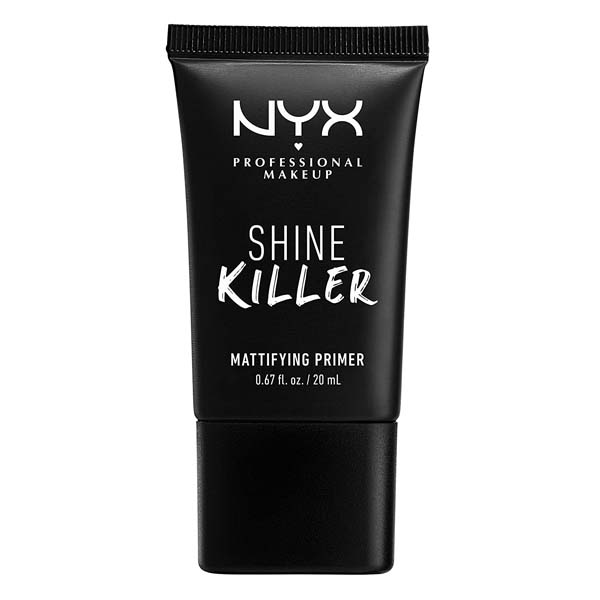 If your skin tends to look greasy after a few hours, a matte primer is a perfect solution.
This one from NYX contains charcoal, which absorbs oil and leaves you with a smooth, shine-free face. You can apply this creamy product to your entire face; for a lighter look, simply smooth it onto your problem areas.
When in doubt, apply it to your T-zone for efficient shine reduction. This primer is vegan and cruelty free; it's even certified by PETA for extra peace of mind.

Hydrating Primer for Dry Skin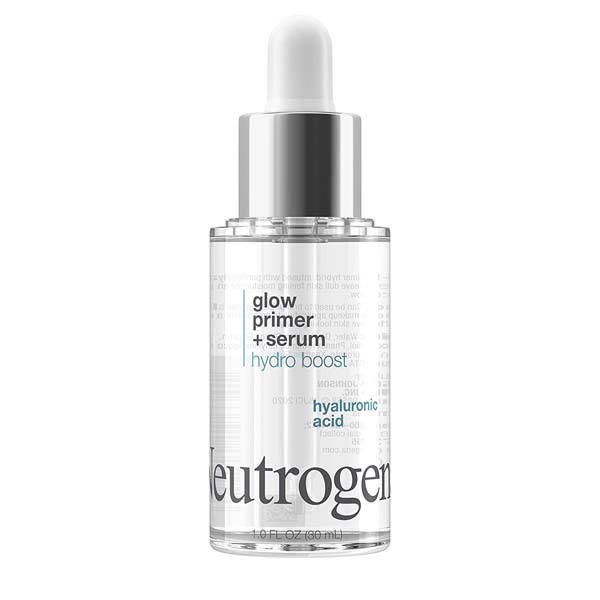 Does your face feel flaky or scaly?
Does your makeup settle into the dry cracks in your skin?
This hydrating primer from Neutrogena can help. It's made with hyaluronic acid, so it delivers intense moisture to a dry, flaky face.
You don't need much to make a big difference — just use the handy dropper to dispense a small amount. If you're happy with the tone and color of your skin, you can even use this primer in place of foundation.

Illuminating Primer for Face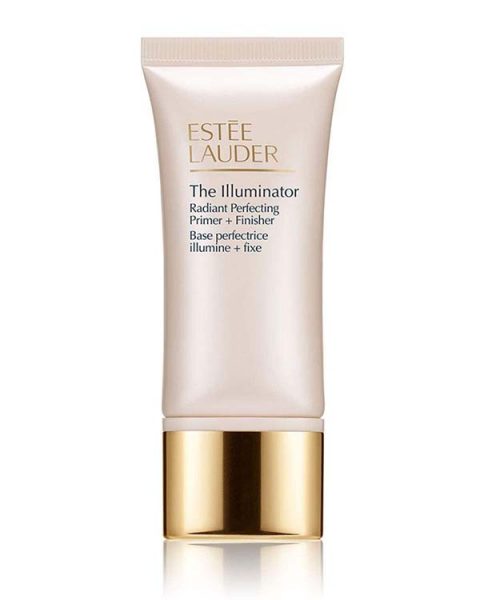 When you want to look healthy and youthful, an illuminating primer is a convenient shortcut.
The Illuminator from Estee Lauder is an affordable option. It contains tiny reflective particles that give your face a bright, fresh glow.
At the same time, the formula helps your makeup stay firmly in place — a lifesaver on hot, sweaty summer days. It works best under your usual foundation, but you can also wear it alone for a natural, no-makeup look.

Color Correcting Primer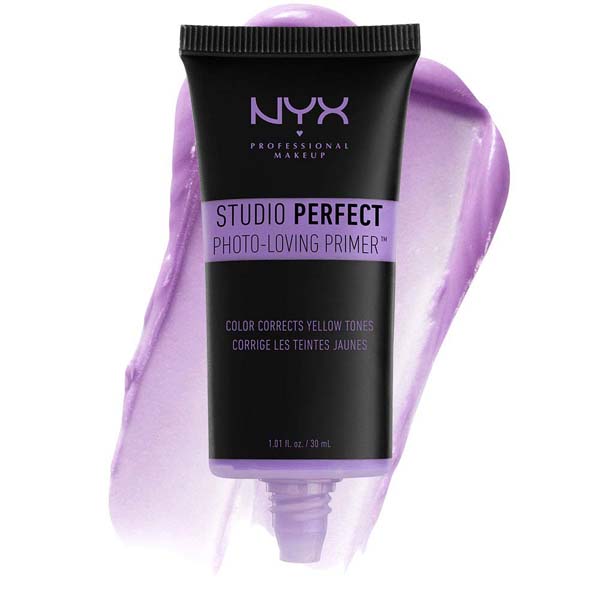 Bid farewell to unsightly yellow patches on your skin with the NYX Studio Perfect primer.
It's designed with a subtle tint that offsets the yellow and creates an even, natural look. Whether you're dealing with circles under your eyes or simple discoloration, this color-correcting formula helps you look rested and healthy.
The primer applies easily with your fingers and dries quickly, creating the perfect base for your usual foundation, blush, and bronzer. Apply it all over, or use it only on yellow areas for a lightweight feeling.

Makeup Primer for Mature Skin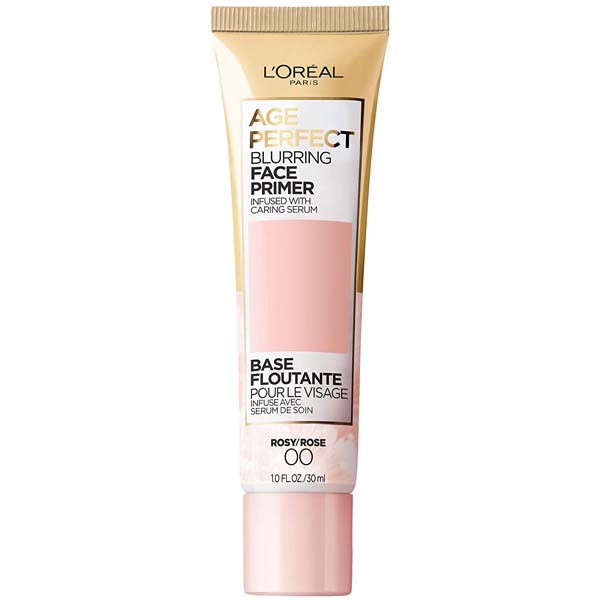 As you age, your skin naturally changes texture and color.
The L'Oreal Paris Age Perfect primer is designed to counteract the visible effects of age, helping you look as young as you feel.
This formula is engineered to create a blurring effect that reduces the effect of larger pores or fine lines. It also includes a warm, rose-tinted formula that gives your face a natural-looking flush. If you're dealing with sallow skin, this tint brings back your youthful radiance.
Over time, the nourishing formula helps improve the condition of your face.

Primers with SPF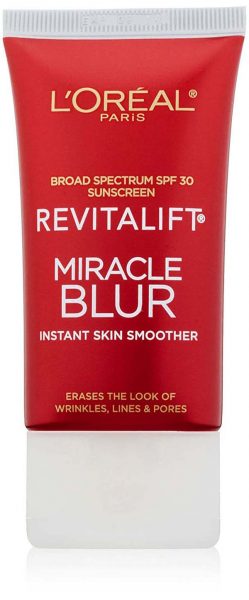 Whether you're sitting near a window or driving down the highway, the sun's rays can damage your skin. Increase protection with the Revitalift Miracle Blur primer.
Infused with SPF 30, this unique product helps deflect harmful rays. That's not all — it also includes moisturizers and special ingredients that blur the look of your pores and small wrinkles.
Wear it under your regular foundation for a flawless, perfect effect. The cream is free of oils and fragrances, so it's safe for sensitive skin.

Eyeshadow Primer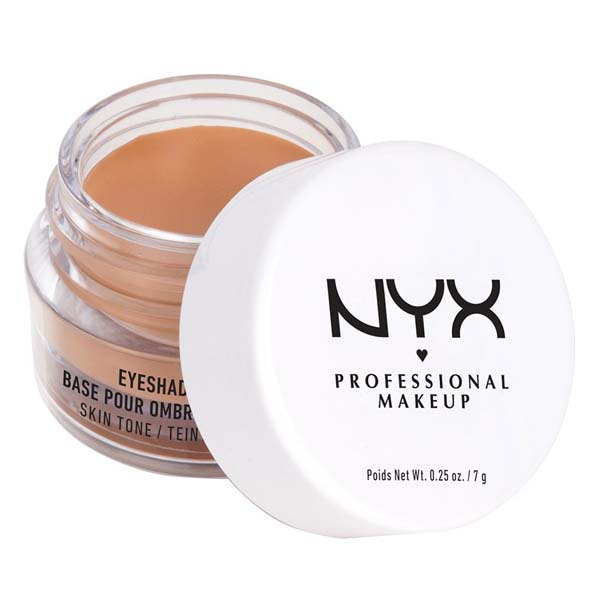 Do you find that your eyeshadow gets greasy or creased over the course of the day?
An eyeshadow primer like this NYX Professional Makeup Eyeshadow Base can help your eye makeup last longer.
The creamy product glides over your eyelids, absorbing oils and creating an ultra-smooth base.
The unique formula also helps make eyeshadow pigments look more intense, so you get a bolder look with a lighter application. This product is safe for a wide range of skin types.

Lip Primer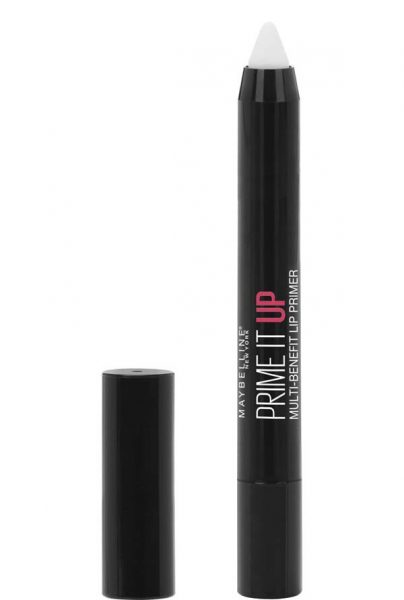 If you wear lipstick to work or evening events, you know that it often requires frequent reapplication. Help each swipe last a little bit longer by priming your lips with Maybelline Prime It Up.
This lip primer features a crayon-style tip, so you can apply it without a separate tool.
The clear formula goes on easily and dries quickly, creating a versatile foundation for lipstick, lip gloss, and lip stain in any shade.

Lash Primer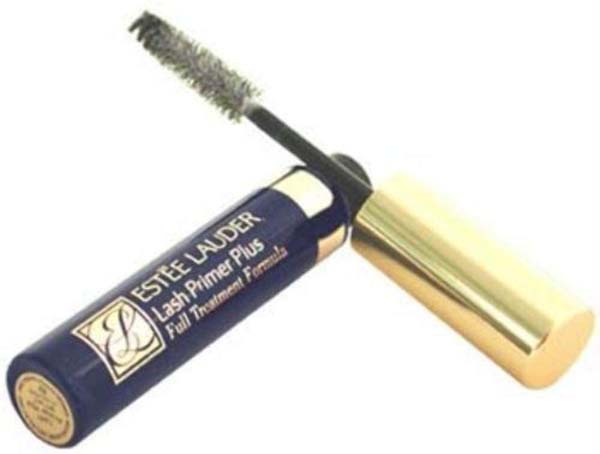 Get more from your mascara with Lash Primer Plus from Estee Lauder.
This product is a bit of an investment, but it can do wonders for your lashes. Simply use the brush applicator to apply the primer to your eyelashes; it thickens and lengthens each lash slightly, creating a fuller effect.
Apply your mascara as usual — it will last longer and avoid smudging.

Nail Primer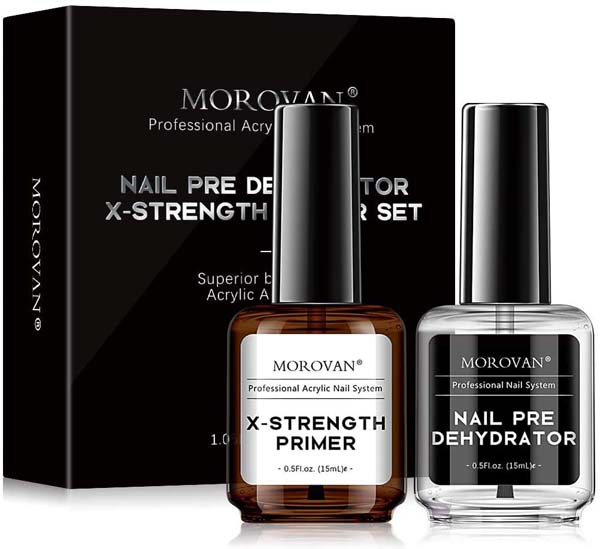 At-home manicures are easier when you use nail primer.
This set from Morovan includes a primer and dehydrator. When used together, they reduce oil and dry the cuticles; that way, acrylic nails can adhere tightly to your nail bed.
By preparing your nails in advance, you can extend the life of each manicure. Nail primer also works for traditional polish.

How To Apply Primer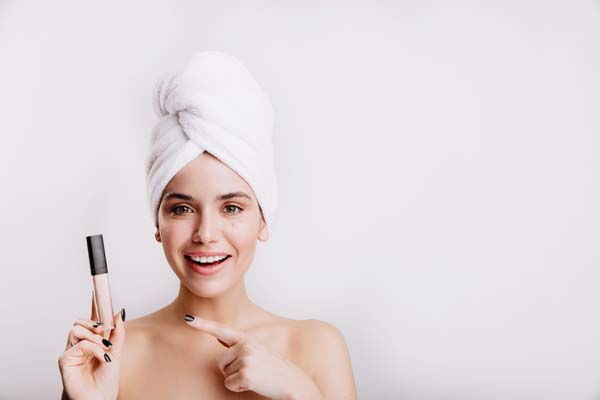 When applying skin primers, it's almost always best to use your fingers.
The heat will help blend and set the product. If you don't want to use your hands, find a beauty blending sponge and wet it gently. Smooth on a dime-sized bob of the primer, aiming to cover your entire face and neck.
Then, wait one or two minutes before continuing; this gives the product time to dry on your face. You may need to adjust the amount and dry time to accommodate particularly oily or dry skin. Once the primer sets, continue with your makeup routine as usual.
If your skin texture, oil level, and tone cause problems, a makeup primer can be a lifesaver.
By taking the time to find the right product for your skin type, you can create a smooth base and help your makeup last longer.