Have you ever struggled to create the perfect winged eyeliner or smokey eyeshadow look?
You're not alone! To help you master everything from date-night eyes to everyday glam, we've collected the best eye makeup tutorials.
📌PIN TO SAVE FOR LATER !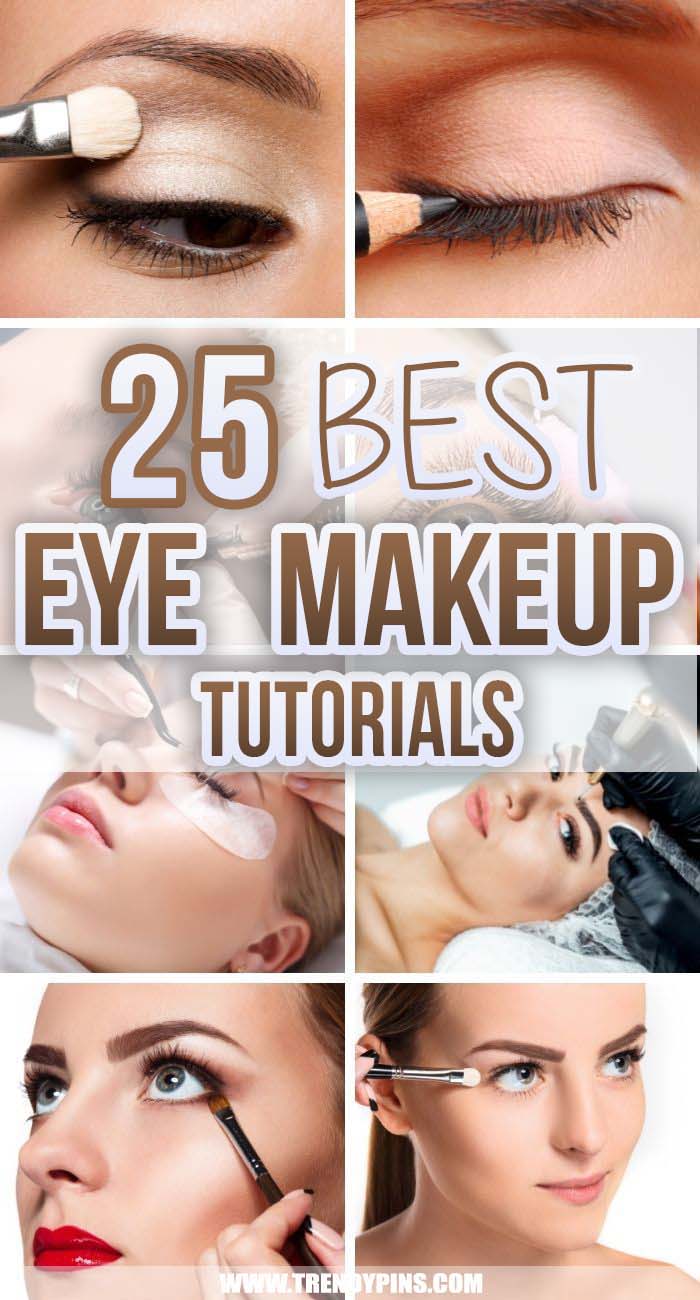 With clear, easy-to-follow instructions (and plenty of pictures), they'll turn you into a makeup artist in no time.
Black And Silver Smokey Eye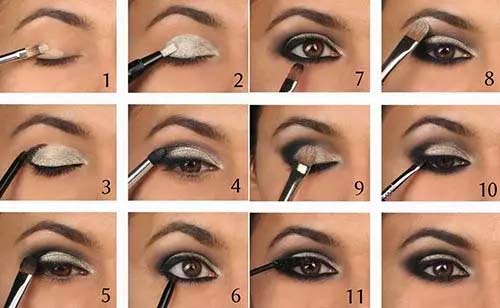 This gorgeous look combines two popular trends: smokey eyes and metallic eyeshadow.
The result is fun, sultry, and a little bit mysterious. Stick with silver shadow for an evening event, or branch out with colored metallic shades for the perfect girls' night out style.
Blue Winged Liner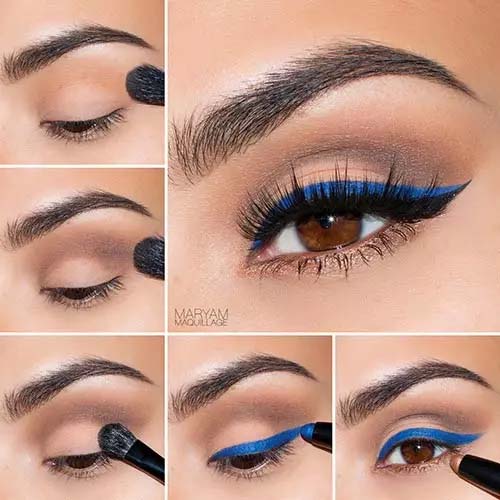 As you can see from this striking style, simple doesn't always mean subtle. The foundation, which consists of a simple crease accent, is understated.
That way, all of the attention stays on the thrilling two-toned wing. The black layer tones down the blue, keeping it chic and modern.
Brown And Gold Soft Eye Makeup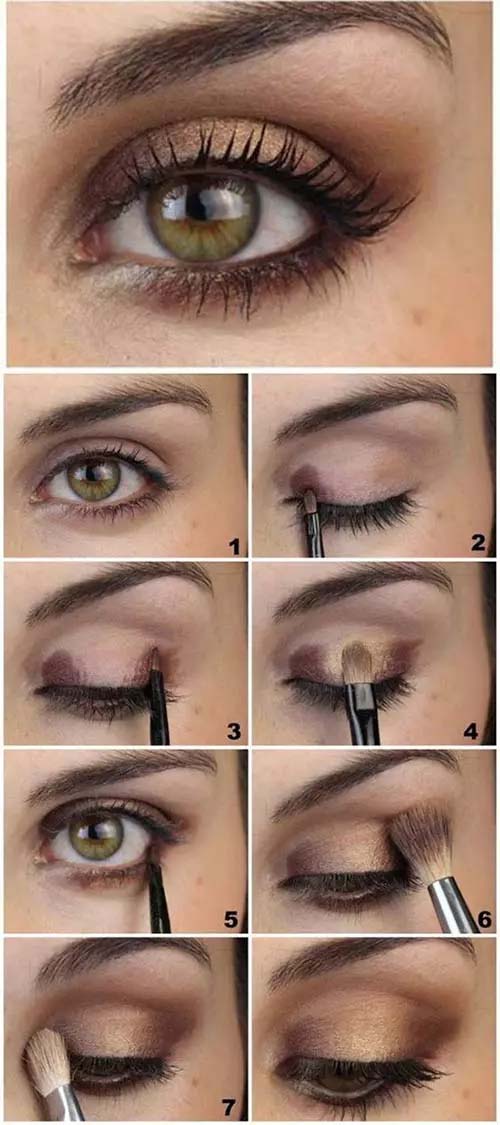 When you're heading to a casual evening event, soft eye makeup is a wonderful way to make an impact without going over the top.
Here, soft shades of brown accent your eyes, and a swipe of gold eyeshadow adds a low-key shimmer. The neutral colors are beautiful on every skin tone.
via i Tutorial
Brown Cut Crease And Black Eyeliner
Bring a bit of retro style to your going-out ensemble with this cut-crease eye makeup tutorial.
Traditional cut-crease styles use black for a bold look; by using dark brown on the crease, you'll define your eyes with less drama. Finish off the look with the perfect winged eyeliner.
via Styles Weekly
Copper Gold Eye Makeup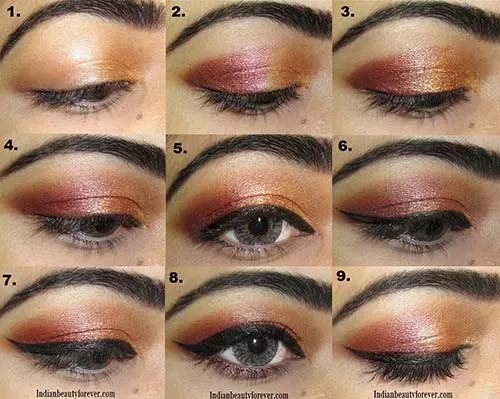 Do you need a fast, beginner-friendly eye makeup tutorial?
This copper and gold style is a great choice. It uses a simple pattern that's easy to apply, so you can get ready in no time.
Wear it with winged eyeliner for a dramatic look, or stick with a simple line for a quicker style.
Deep Blue Eyeshadow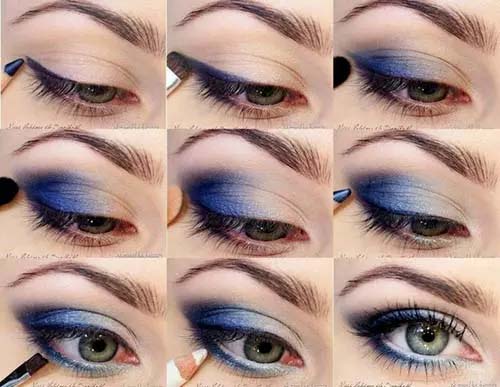 Blue eyeliner is back — this tutorial teaches you how to use a striking shade of cobalt without looking like you're dressed for an 80s party. The trick?
Choose two shades of blue and use them sparingly; keep it natural on the inner corner of your lid for balance.
via Tutorsuhu
Deep Gold Winged Liner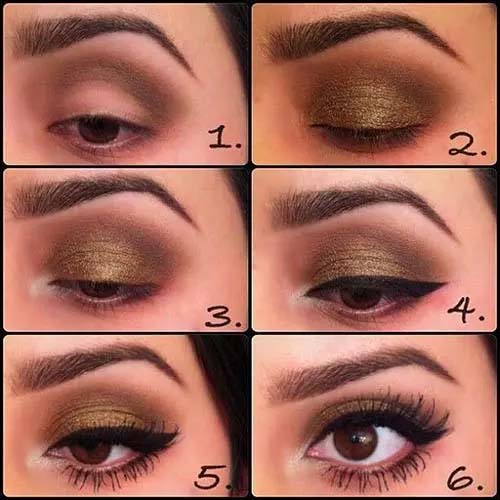 Gold is one of those eyeshadow colors that looks great on most people.
This evening-ready eye makeup features a deep, slightly metallic gold color that's formal but not too flashy.
Pair it with a wing of black eyeliner, and you're ready for a date or a gala.
Defined Crease Smokey Eye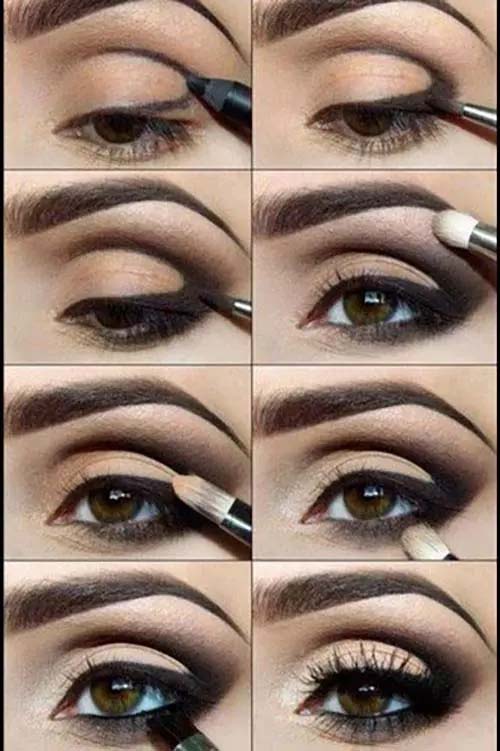 Remember the cut-crease look? This is a more dramatic take on the style.
To master it, use eyeliner to define the crease — it'll help you achieve a darker, more saturated color. We love the light accent shade on this tutorial, but you can use practically any tone in its place.
via Fan Pop
Foiled Sunset Eyes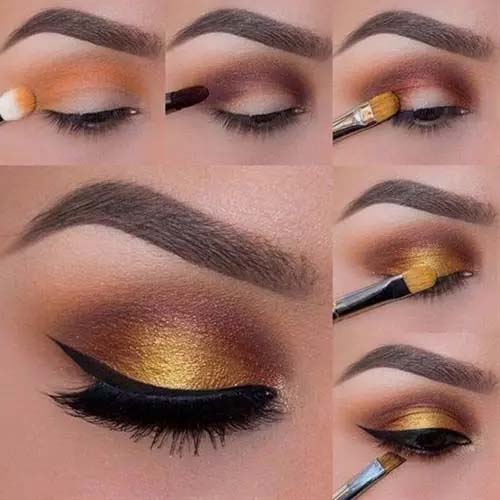 You'll look like you've stepped straight out of a magazine with this impeccable eye makeup design.
It's all about the metallic shade; apply it to the center of your lid for maximum visibility and shine. The other colors are warm and deep, creating the vibe of a sunset.
via Makeup Geek
Gold Festive Eyes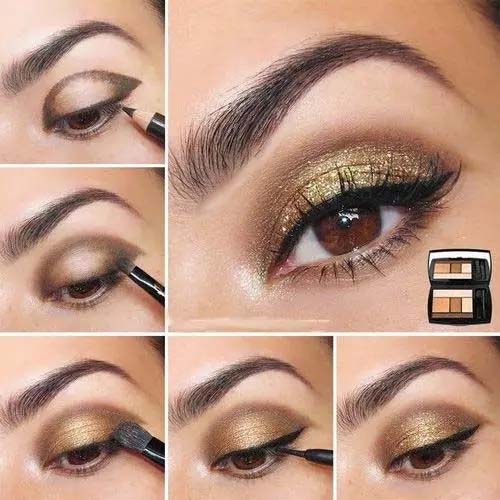 Get ready for New Year's Eve or a fun night of dancing with this festive gold look. When you're choosing a gold eyeshadow, look for one with large-scale reflective particles.
They reflect the light beautifully for high-impact shine.
Leaf Green Eye Makeup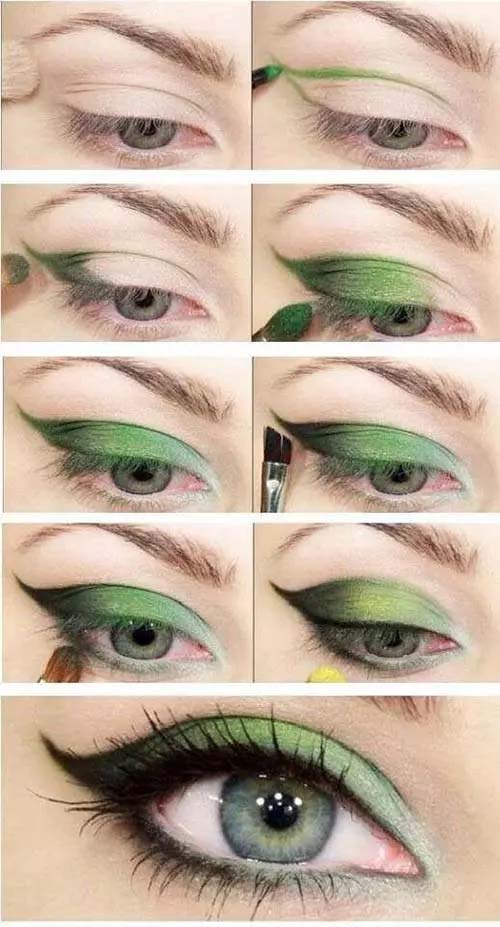 Do you need a bold, unexpected eye-makeup look? Go with green — it's fun, fearless, and striking on any skin tone.
We love this tutorial for its unique, leaf-inspired wing and stunning color grading. Master it, and you'll look like you stopped at a professional salon.
via Pretty Designs
Magnify Your Eyes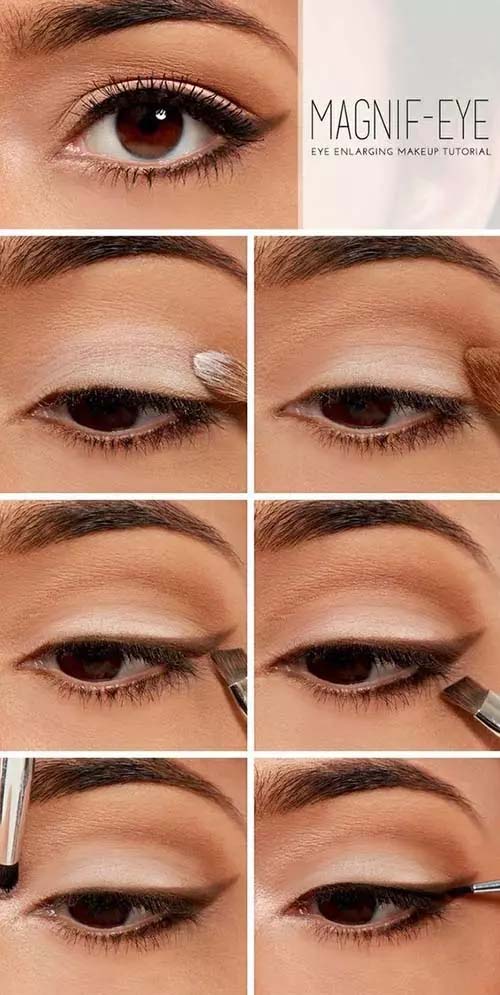 Make your eyes look even bigger and brighter with this clever magnifying makeup look.
Each step of the tutorial is designed to create the illusion of large eyes: minimal eyeliner, light eyeshadows, and careful contouring leave you looking fresh and dewy. It's great for everyday makeup.
via Pink Martini
Mermaid Eyeshadow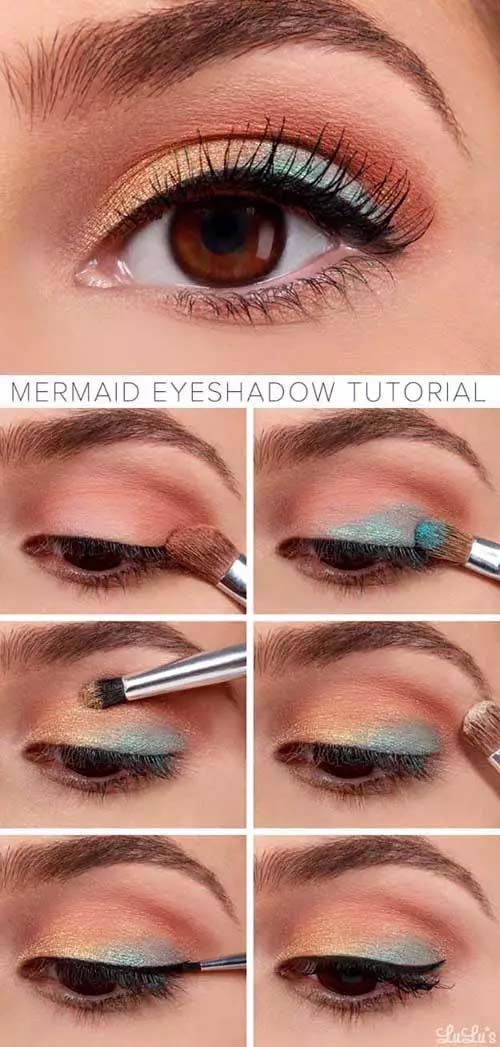 Jump on the mermaid bandwagon with under-the-sea eyeshadow colors. Magical and whimsical, this look combines contrasting metallic shades for a style that's fun and adorable.
The effect is reminiscent of mermaid tails glistening under the water.
via Soy Moda
Metallic Blue Smokey Eyeshadow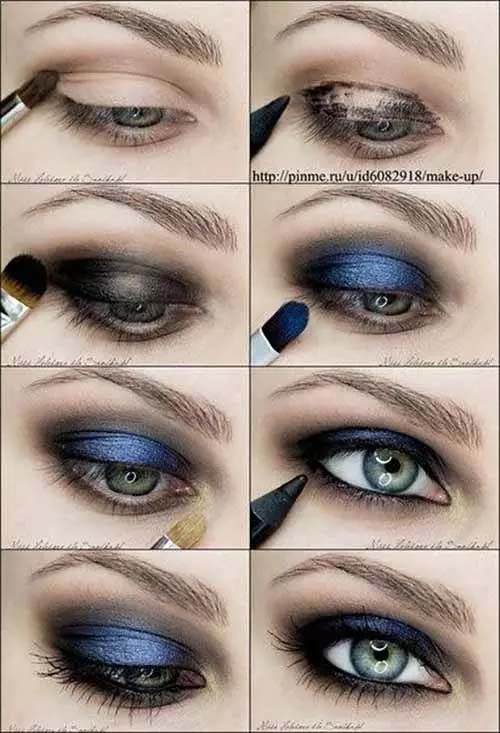 Wow your date for the evening with this knockout metallic blue smokey eye look. It starts out with a dark, deep base — that's the key to the dark undertones.
The biggest challenge is finding the right shade of blue; for contrast, select a color that's dark but not too close to black. A simple top-and-bottom line of eyeliner completes the dramatic effect.
via Weddbook
Navy and Purple Smokey Eye

This navy and purple look is a softer take on a traditional smokey eye. Using muted, matte colors instantly makes your eyes look deeper and more dramatic.
Balance out the striking colors with a thick, defined wing. Notice how the lighter color at the inner corner keeps the eyes looking bright.
via Women Triangle
Plum Smokey Eye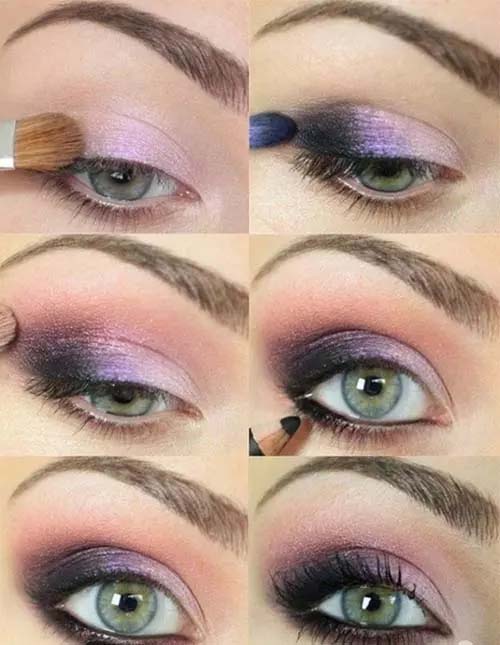 Trendy and youthful, this look is a brighter version of a mysterious smokey eye makeup design.
The deep tones are reserved for the outer corners of the lid — that way, you can cover the inner corners with a bright, eye-catching plum metallic eyeshadow.
Since this look is bright and light, it's a great option for smaller eyes.
via Makeup Tutorials
Rose Gold Eyes
When you're short on time, simple eye makeup is a lifesaver. It doesn't get much easier than this style, which uses a single rose gold shade for a big impact.
Apply your mascara close to the base of the lashes, and you can even skip the eyeliner!
via Gemma Louise
Simple Eye Makeup For Work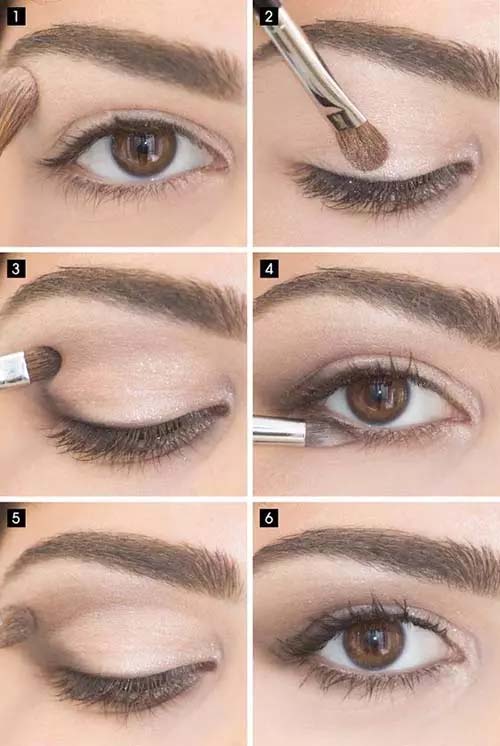 Look attractive and appropriate at the office with a low-key makeup design.
It's all about light, neutral shades — a soft crease color defines your eyes, while the light all-over shade makes you look awake and ready for the day.
via Pretty Designs
Simple Kohl Lined Smokey Eye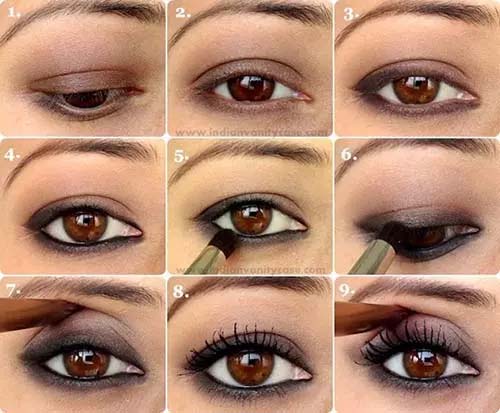 Smokey eyes are notoriously complicated. This version is easier to master, thanks to the simple tutorial.
Pay close attention to the blending; it's an effortless way to achieve the romantic, sultry style when you're not an eyeshadow expert.
via The Goddess
Soft Smokey Eye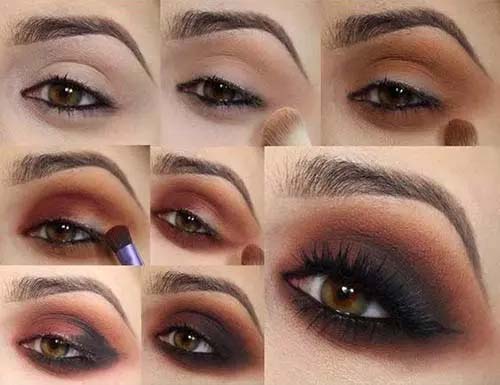 All eyes will be on you with this smokey eye, which is equal parts soft and striking. The brick-colored base adds instant drama, and the dark, smoked sections amp up the effect.
For even more impact, add a pair of lush false eyelashes.
via StayGlam
Sultry Copper Rose Gold Eyes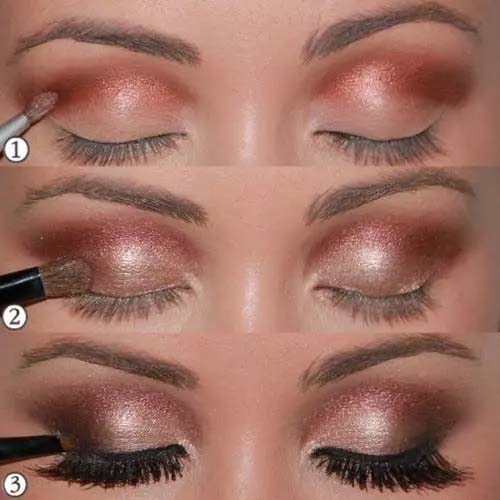 A little mysterious and a little sweet, this metallic eye-makeup look is perfect for a night on the town.
Copper creases deepen your eyes for a sultry twist, and rose-gold lids add a bright, pretty finishing touch. Balance out the warm tones with long eyelashes and simple black liner.
via Indulgy
The Classic Cat Eye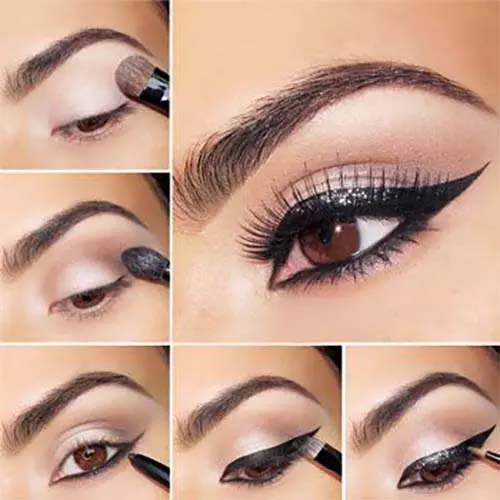 Popular with retro pin-up girls, classic cat-eye makeup is always in style. This design is all about the eyeliner, which features an extended, angled wing.
Pair it with pale, neutral lids and long, neat lashes. The result is decidedly feline.
The Simple Day Look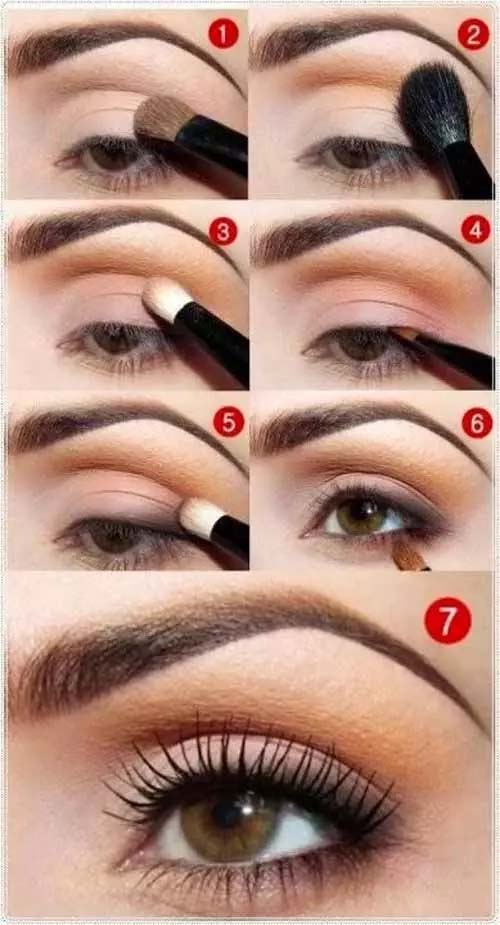 Give your everyday eye makeup a boost by adding in warm tones.
Pink and orange eyeshadow are more fun than run-of-the-mill neutrals; the key is to choose shades that are close to your skin tone. Smudge your eyeliner, add a swipe of mascara, and you're ready for work.
via Weddbook
The Under 5 Minute Eye Makeup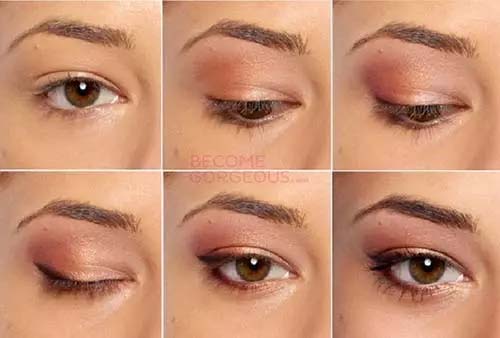 In a hurry? Try this eye-makeup tutorial — it takes less than five minutes, so you'll be out the door in no time.
All you need are four products: dark eyeshadow, light eyeshadow, liner, and mascara. We love that you can switch it up for day or night based on the colors you choose.
via Become Gorgeous
Warm Copper Green Eye Makeup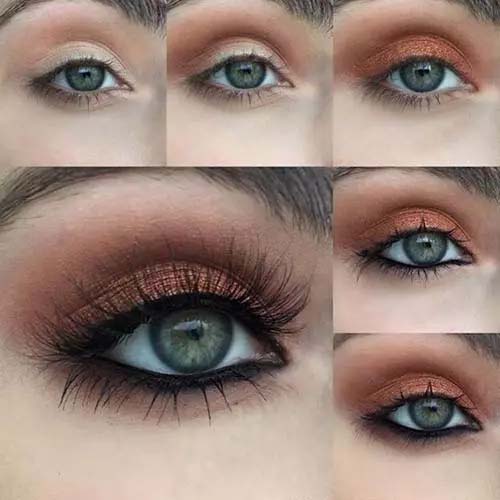 Pretty and unexpected, copper eyeshadow is a fantastic way to make green eyes look even brighter. The warm tones of the copper set off the green color, creating a style that demands a double-take.
via The Goddess