When you're getting ready for the day, eye makeup makes the biggest impact.
Liner, shadow, and mascara define your eyes, enhancing their natural color and shape.

To find the right way to make up your eyes, it is important to answer the following questions:
What are the different types of eye makeup?
• Natural Eyes
• Shimmery Eyes
• Cat Eyes
• Gradient Eyes
• Heavy Eyeline
• Cut Crease Eyes
• Smokey Eyes
What is the best eye makeup?
The best eye makeup is one that emphasizes their shape and makes them more expressive.
What is the eye makeup called?
Eye makeup consists of several basic makeup products:
• Eye pencil
• Mascara
• Eyeliner
• Eye shadows
• Eyebrow Pencil / Powder
• Eyebrow Gel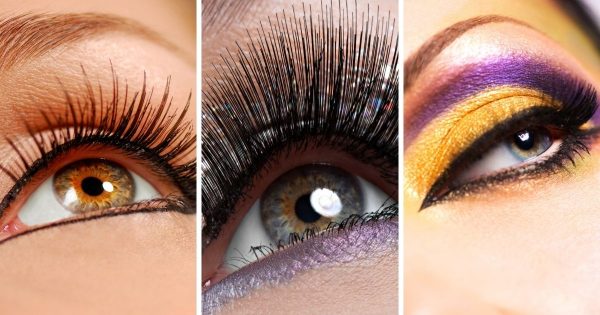 All of the above have their varieties and on the market you can find thousands of brands and products that are used for eye makeup.
Whether you're heading to work or going out for the evening, these basic types of eye makeup can help you find the perfect look for any outfit and event.
Natural Eyes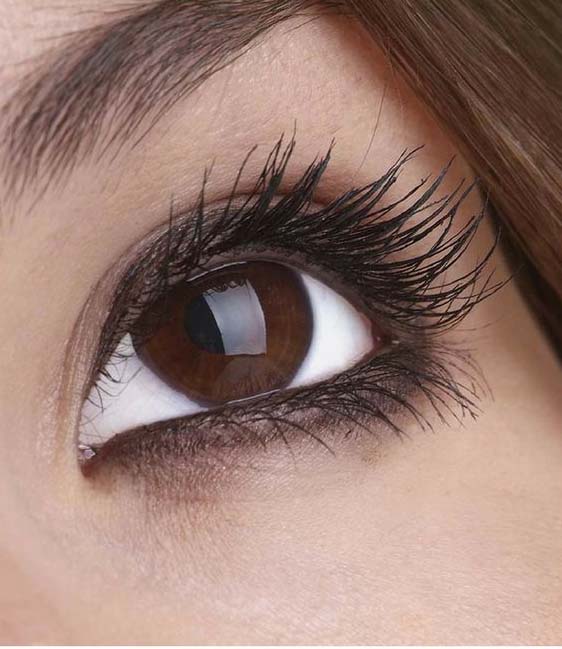 Natural eye makeup is a beautiful option for everyday use; you can wear it to the office or when you're running errands around town.
The goal of this simple, understated eye makeup is to enhance your features without changing them.
That way, you look fresh and breezy. The trick is to choose products that are just a few shades away from your natural skin and eyelash colors — think neutral-colored eyeshadow and brown mascara.
Feel free to skip the eyeliner entirely, or add a bit of definition with a dark powder in place of liquid or pencil liners.
To brighten your eyes, try adding a bit of concealer underneath and at the inner corners to smooth out any imperfections. As a rule of thumb, natural makeup works best with matte products that blend seamlessly into your skin.
Shimmery Eyes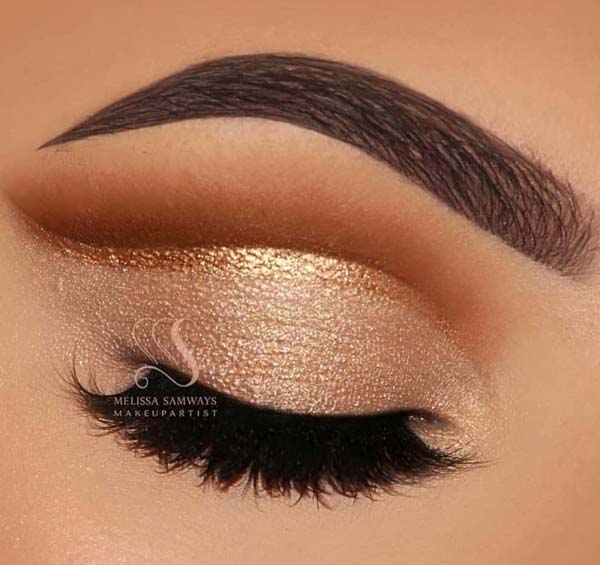 Do you need to get ready quickly for a special event or a night out?
You can't go wrong with shimmery eye makeup. Reflective particles catch the light as you move, drawing attention to your eyes and creating a festive vibe.
It's easy to overdo shimmery makeup; to avoid looking like a disco ball, use a medium-toned matte eyeshadow on your eye creases and cover the lids with a sparkling shadow in a lighter shade.
Tap a small amount on the inner corners of your eyes. If the transition between the two colors looks harsh, choose a metallic shade that's darker than the lid but lighter than the crease.
Add a thin line between the two areas and blend gently. Finish this look with perfectly groomed eyebrows and a generous swipe of mascara. If you're feeling adventurous, add false eyelashes for extra thickness and length.
via Sofia
Cat Eyes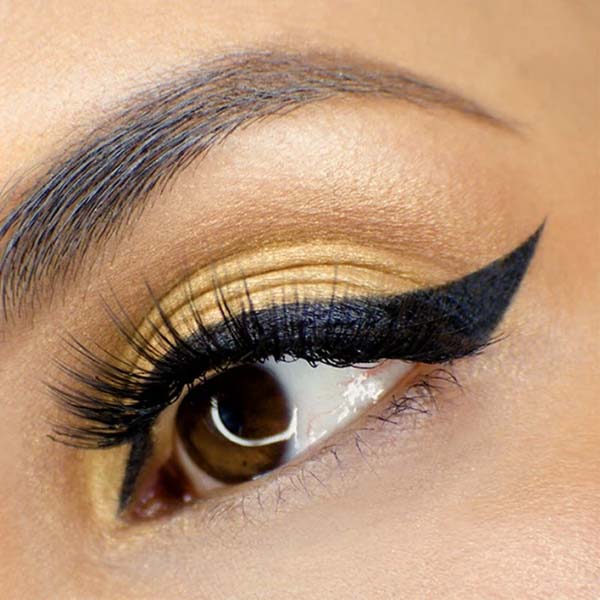 Cat-eye makeup has been around for thousands of years — ancient Egyptian royalty rocked the feline look in the days of the pyramids.
Instantly recognizable by the sharp wing of eyeliner that extends beyond the outer corner of the eye, this bold style is sure to turn heads.
You can put a personal spin on the design by adjusting the length, thickness, and shape of the wing. Here, the cat eye starts in the inner corner and follows the shape of the eye before swooping gracefully into a small wing.
More than any other eye makeup look, the cat eye requires practice. Since it's usually made with liquid eyeliner, any imperfection is highly visible. Struggling with the shape?
Try outlining it first and then filling it in. Alternatively, start small with a tiny, delicate wing. A cotton swab dipped in makeup remover can help erase any mistakes.
via Lyda Beauty
Gradient Eyes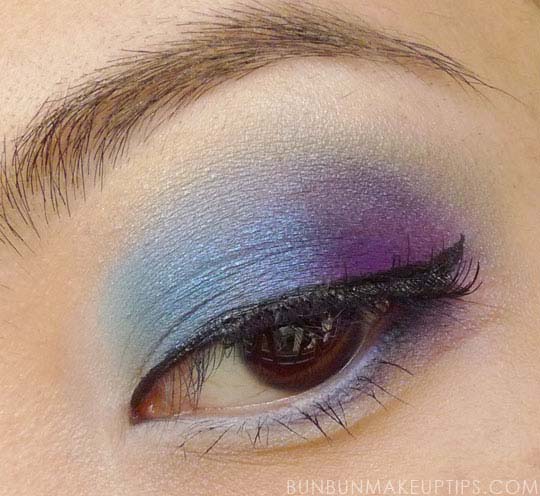 Looking for a fun, trendy eye makeup look?
A colorful gradient is a great choice. This playful style blends two or three colors in a gorgeous horizontal gradient across your lid. Gradients give you lots of freedom in terms of color selection.
Go with brilliant jewel tones for a night out with the girls, or opt for glittering neutrals for a more refined and elegant look. In most cases, it's a good idea to place the lightest tone near the inside of your eye and the darkest near the outside corner.
No matter which colors you choose, make sure you have a great eyeshadow brush handy — great blending is the secret to a smooth gradient. To enhance your pretty eyelids, add liquid eyeliner and a few coats of mascara.
via B for Bun Bun
Heavy Eyeliner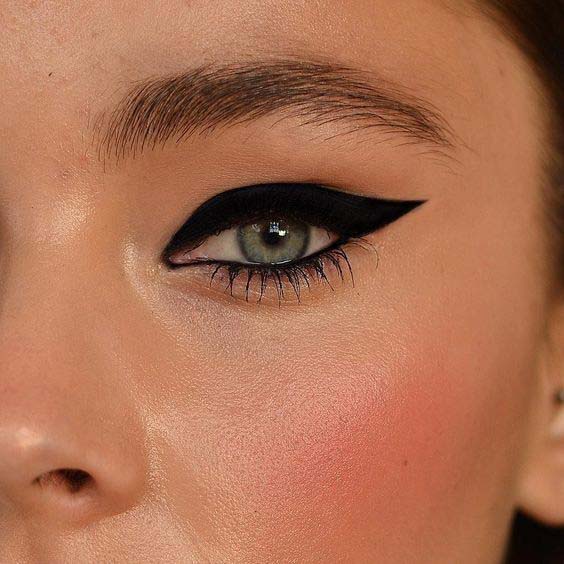 When you want to turn heads, it's hard to go wrong with heavy eyeliner.
This style does away with eyeshadow completely. Instead, you'll cover your lids with eyeliner; think of it as a supersized version of the cat eye.
The dark, intense design is right at home on a fashion-show runway, but it's remarkably easy to create. Just outline the shape of your lid and extend it into a thick wing. From there, all you need to do is color inside the outline.
To help your look last through the night, it's helpful to cover your lids with primer before applying the liner. If you have light eyelashes, make sure to coat them in black mascara for a cohesive aesthetic.
Does your top lid look out of place? Try using eyeliner and mascara on your waterline and lower lashes for more definition.
via Pinterest
Cut Crease Eyes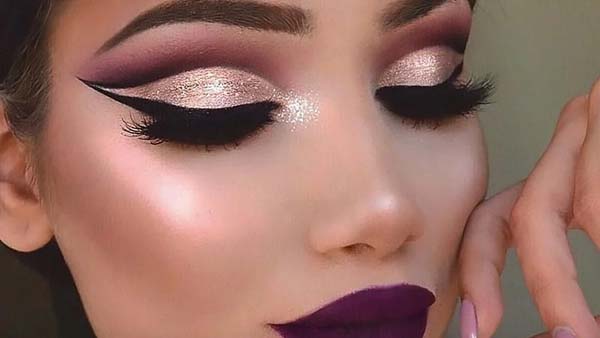 As your skill with eye makeup increases, it's time to branch out into more challenging looks.
Cut crease eye makeup is a great place to start. It rose to prominence in the 1960s, made popular by celebrities such as Twiggy.
As you might guess from the name, this look defines your eyelid crease with a dark, intense eyeshadow color and a lighter shade on the lid.
If you're going for a dramatic look, you can add a third color on top of the crease and blend it up toward your brow bone. Finish it off with dark, winged eyeliner and thick lashes.
Cut creases offer plenty of flexibility — you can add glitter to the crease, use a shimmering eyeshadow on the lid, or experiment with different wild color combinations.
Smokey Eyes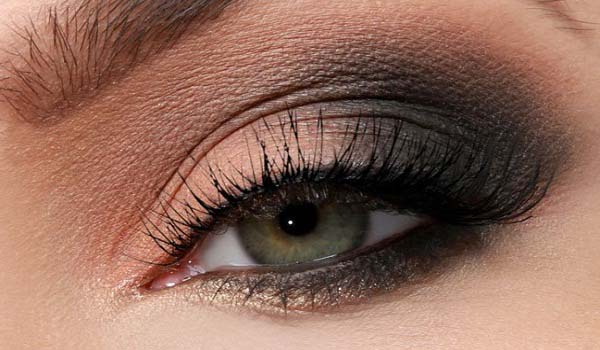 Smokey eye makeup is a look that never goes out of style.
It features a lighter eyeshadow that transitions softly to a darker shade. It's sultry, stunning, and perfect for any type of evening event.
It takes time to master this classic design; you'll need to blend like a pro so the darker shadow softly feathers outward like smoke, without any harsh transitions.
There are two major types of smokey eyes: horizontal blend and vertical blend. Horizontal blends transition from a light shade on the inner corner of the eyelid and a darker shade near the outer corner.
A vertical blend features dark liner and shadow along the eyeline, and a lighter shade near the crease. In some cases, you can forgo the lighter shade and simply blend the dark shadow until it transitions softly into your natural skin tone.
📌PIN TO SAVE FOR LATER