Makeup brushes are essential in obtaining that flawless look in order to bring confidence up throughout the day.
There is a great variety of brushes available at the marketplace. That is why you need great experience or just the right information.
If it happens to you to buy a multi-pack set, there is a chance you don't even know all of the makeup brushes' names or know anything about their specific uses.
What are the different types of makeup brushes?
Researching all the different types of makeup brushes is a big challenge itself.
Related: 30 Best Makeup Brushes To Add To Your Beauty Routine
What are the main makeup brushes you need?
The Blush Brush.
The Blending Brush
The Concealer Brush
The Contouring Brush
The Eyeliner Brush
The Foundation Brush
The Powder Brush
The Highlighter Brush
Related: 17 Types of Makeup for Your Ideal Look
Knowing how to use makeup brushes allows you to achieve different types of looks. Perhaps you need a specific makeup brush?
Here's our makeup brushes guide below to provide you with the information that you need. It is up to you which one you will choose.
General Face Brushes
Blending Sponge
The blending sponge, just like the other relative makeup sponges, is preferable for a reason: they're a perfect option if you want to apply a multitude of products on your skin.
It can be used as an applicator for a solid base. You can even try this type of sponge for applying sunscreen or any type of creams. Most commonly it is used to apply foundation and blend blush, bronzer, and highlighter.
In case you are going to use it with a liquid foundation just run the sponge under the sink with cool or warm water and to remove extra water just squeeze the sponge.
Water prevents the sponge from absorbing any of the makeup. The next step is to test it. Gently dip the sponge into the makeup item and test some to the wrist or back of your hand. Then, apply the product to your face with soft motions.
For smaller areas, use the tip of the sponge for detail work like applying a highlighter to your cupid's bow or shimmer to brow bones.
via Makeup Tutorials
Bronzer Blush Brush
A  Bronzer blush brush is very similar to a powdered brush. They are covering a smaller area than a powder brush. The basic rule when applying blush, try to avoid Raggedy-Ann-reminiscent red circles on your cheeks.
To avoid that doll look you need to diffuse blush outward while applying to the apples of your cheeks.
At the very beginning, you should start with light pressure and test out the pigmentation on your wrist or the back of your hand. It's much easier to build color than it is to remove it after it's already been added.
Concealer Brush
After you have applied foundation, you could use concealer to cover any imperfections and brighten up dull areas on the face. For the most efficient concealer application, you need to use a small concealer brush.
A concealer brush essentially looks like a very small version of a foundation brush. It looks like a paintbrush but is slightly denser.
When using a concealer brush, use a small amount of product to the desired area, and then lightly dab onto your skin until it blends in with your foundation.
Do this using small amounts until you have covered the desired imperfections, whether they be acne, dark spots, etc.
Contour Brush
By contouring, you give your face a naturally sculpted look, but you need really a great brush in order to do it. There are many different types of makeup brushes that can be used for contouring, but ideally, you need to buy a brush that is designated for this purpose instead of using a blush or foundation brush.
A contour brush is about the size of a blush brush, but it has very dense, angled bristles in order to create a precise contour application. These contour brushes can be used with either powder or cream contour products.
To use, put the contour to the hollows of your cheeks, and then by a stippling motion to work it into the skin. As the product starts to blend, switch to a circular motion, being careful to keep the product in the appropriate location.
You can use this technique on any part of your face you'd like to contour. Many people choose to apply contour to their temples, the sides of their nose, or their jawline for a sleek look.
via Stylecraze
Fan Brush
A fan brush is shaped like—as you can guess—a fan. These sorts of makeup brushes are essential to have in your makeup box because of their multi-functional usage.
For example, they successfully play a role of a mistake-corrector. Maybe you're applying a smoky eye and you got carried away the eye shadow, flecks of pigment are everywhere, and you're a raccoon now.
These extra flecks of color could be brushed away with that fan brush.
For bronzer or highlighter, use a fan to gently buff product onto your cheekbones using a gentle sweeping motion.
You can also use them in order to diffuse color.
The other usage of fan brushes is an applicator for lotion, sunscreen, or concealer. It's a gentle method to apply all manners of skincare items.
via L'oreal Paris
Foundation Brush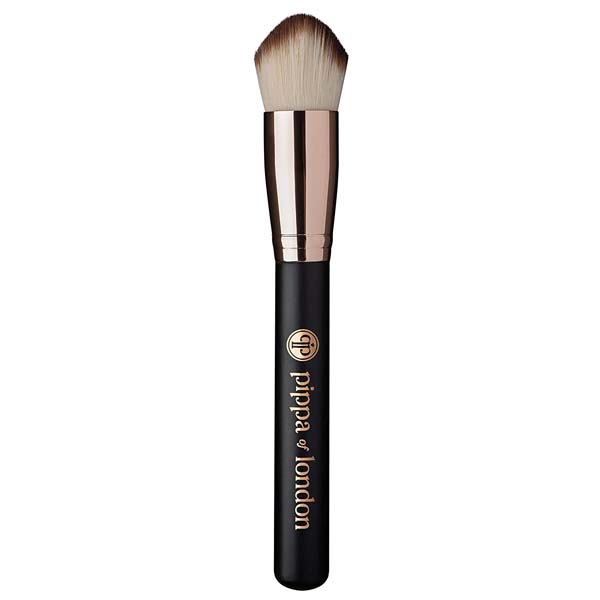 via Amazon
Your makeup routine ever starts with a base of the foundation. It could be very difficult to apply a liquid foundation correctly without the right brush.
There are two different types of foundation brushes, one of which is a paintbrush and the other one has a flat top. Both are very useful in case you want to obtain that flawless finish with your foundation.
The main feature of a good foundation brush is flexibility. It's essential when using this brush that you work the product into the skin to avoid harsh lines or stretch marks.
When applying the foundation, start by dotting the item on your forehead, cheeks, nose, and chin, and then use the brush to blend it over your entire face. Foundation brushes vary in different lengths, but the one you opt for depends on personal preference.
You should always wash your foundation brushes regularly in order to keep your skin clean and healthy. When you wash the brushes, use your fingers and gently reshape them in the drying process.
via Stylecraze
Highlighter Brush
This type of makeup brush is a must-have item.
There is no doubt in that statement.
They are just like a mini spotlight for the best parts of your face.
It is used to reflects light around your cheekbones, accentuates your Cupid's bow, and effortlessly complements your bronzer, concealer, and contouring.
Kabuki Brush
It is used for applying loose powder or body shimmer.
Kabuki brushes are some of the strangest-looking brushes. They're offered in a great variety of shapes with tightly packed fibers.
They're basically used with loose powders on the body and face. In case you want to add some shimmer to your décolletage? Swirl your illuminizing product in large circles for a magical, illustrious end of your make up.
In order to set your makeup with finishing powder dip your kabuki brush into the product and spread evenly across your face. Don`t press too aggressively so as to avoid disrupting the other components of the makeup.
via L'oreal Paris
Powder Brush
After you have applied your base, you could choose to set everything with a layer of loose powder. This powder helps your makeup be in place for a longer period of time and give you an even more flawless vision.
One of the many different sorts of makeup brushes is a powder brush. It is very large and fluffy. It has a domed shape to evenly disperse the cosmetic item over the face.
When you use a powder brush, you can add the product very lightly thanks to the fact that the brush is designed to distribute the product evenly for you.
via Glam Lipstick
Stippling Brush
This sort of brush gives that flawless, airbrushed base with high definition quality. It is used for applying foundation, blush, bronzer, powder, and highlighters. It also is very preferable for applying liquid and cream cosmetic items. These brush ends are light and feathery.
How to use it? Apply the cosmetic item to the top of the bristles, then apply it to the skin in circular motions. While doing this take care to buff out any harsh lines and create an even coverage. A stippling motion is also adequate. Move the brush up and down to dot the product onto your face.
Do not hesitate to apply additional layers till the moment you obtain the required effect.
via L'oreal Paris
Pencil Brush
Pencil Makeup Brush is ideal for shading and blending. Apply your product to crease and lash line to achieve a sexy smokey eye effect.
There is a great variety of pencil brushes that are offered at the market place. Some of them are at a reasonable price but the others are very expensive.
So, you need to make a research before buying such a cosmetic product to obtain the look you like.
via Beauty Junkees
Eyebrow Brush
An eye shadow brush is small, usually stubby. Its basic purpose is for sweeping eye shadow all across the lid and the upper eye area.
This is a great brush to use for eye shadow primer, as well. How to use it – just dip the brush into the shadow, tap off excess, and apply to lids.
In order to achieve that pigmented effect, you should dip the brush in water.
via Ode Magazine
Eyeliner Brush
Brigitte Bardot, Twiggy, Marilyn Monroe they are all icons in the makeup industry. They all use a cat-eye to obtain a glamorous, sultry vision. An eyeliner brush has multiple purposes.
First, it is used for your eyeliner. In order to use, dip the brush into the eyeliner pot. You should always start from your inner eye then draw a line outward. Gradually increase the width of the line and flicking out toward the ends.
For a perfect look, you need only practice. You can try any sort of eyeliner technique. The basic secret to eyeliner is steady hands.
Another perfect idea to start building your cat-eye prowess is to use the hash or dot method. Use the eyeliner brush to make small hashes or dots along your lash line and a final dot where the tip of the wing will go.
Connect the dots to get to cat-eye perfection.
Eyeshadow Blending Brush
Eye shadow blending brushes generally have a gentle taper; this allows tight precision when you're applying in the last touches of your smoky eye.
Use it to layer pigment where eye lid naturally folds.
via John Lewis
Eyeshadow Shader Brush
For those of us that are proficient beauty lovers, an angled eye shadow brush is the perfect addition.
Use can use it to apply intense colors to the corner of your eye.
via Makeup
Smudge Brush
This is a medium, rounded brush used to smudge along the lash line and in the crease.

For that perfect look, you want to obtain a smudge brush that will help you achieve your desired look.
via Birch Box
Mascara Wand or Spoolie
Almost every mascara brands come with a brush, but it will be useful for you to have one just in case.
A good mascara wand is in the shape of a spoolie, with small bristles sticking out from the wand in all directions.
The wands could also be used to apply eyebrow gel, or just to brush the brow hairs in the same direction.
They are less durable than other brushes, so you need to replace them frequently.
via First Classe
Lip Brushes
Lip Brush
Sometimes it can be very difficult to keep the lines when you're faced with the applicator that already comes with lip products.
So, to cope with this problem you should buy a lip brush. Simply dip the brush into your lip item and apply it directly to your lips.
Finish the look with the appropriate colored liner.
via Stylecraze
Lip Liner Brush
Flat and tapered, lip liners help finish your lip look.
Precisely line your lips, smooth over imperfections, and gracefully shape your mouth.
via The Beauty Bridge Connoisseur

Cleaning Makeup Brushes
To wash your brushes and keep bacteria away, stick to using a soft cleanser or brush-specific cleanser and wet the bristles (avoid getting water on the handles).
Then, swirl the brush on a paper towel and repeat until the brush is clean. Make sure there is no soap left in the bristles by rinsing them.
Let the brushes air dry to preserve their shape.
via Allure
📌PIN TO SAVE FOR LATER