White polish has become the most popular manicure color in recent years. It's available in as many shades as you can imagine. You'll find white polishes that are sheer and some that glisten like snow. They also come in different finishes from matte to high gloss.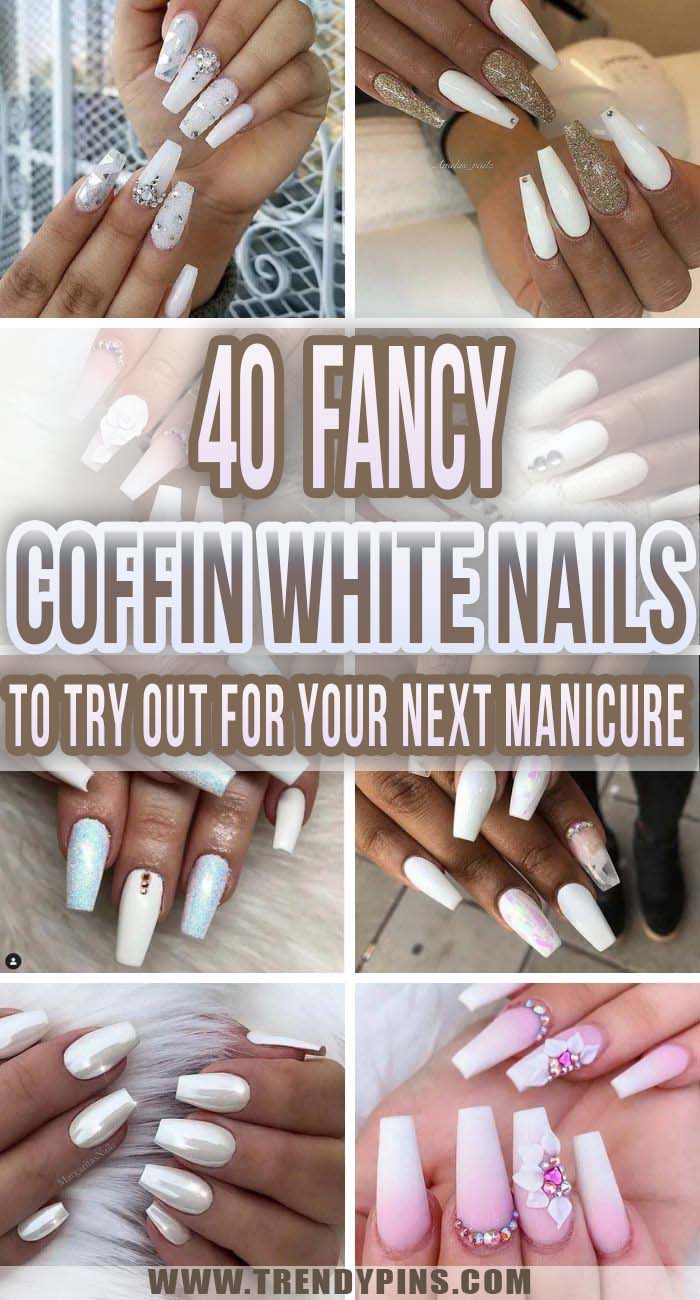 We've collected forty coffin white nail ideas here. You'll see how to get different looks using undertones and rhinestones. We've included instructions on how to get a marbled look without gel. You'll also learn how to create a watercolor look that's a great style to show off in the spring and summer.
White manicures are considered a high-end look because they aren't forgiving. Every chip and crack will show on nails with white polish. That means you have to be on your game and be ready to fix any defects or head straight to the nail salon.
We recommend using latex peel off cuticle guards to get a clean finish. Don't use cotton to clean your cuticles as there's a chance their fibers will land in your work.
1. Amazing Coffin White Nails with Rhinestones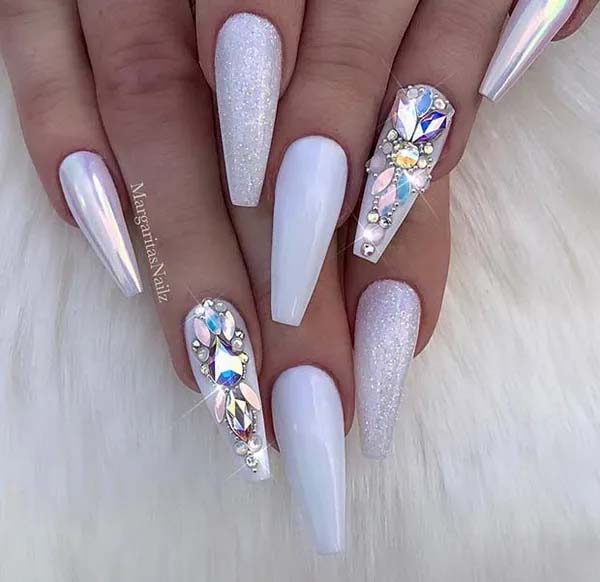 Here are three different ways to wear white. Pure winter white is used on the middle fingers.
It's also used as the backdrop for the feature nails with the rhinestones. Frosted white is used on the ring fingers. The pinkies were painted with shimmering, iridescent white.
via margaritasnailz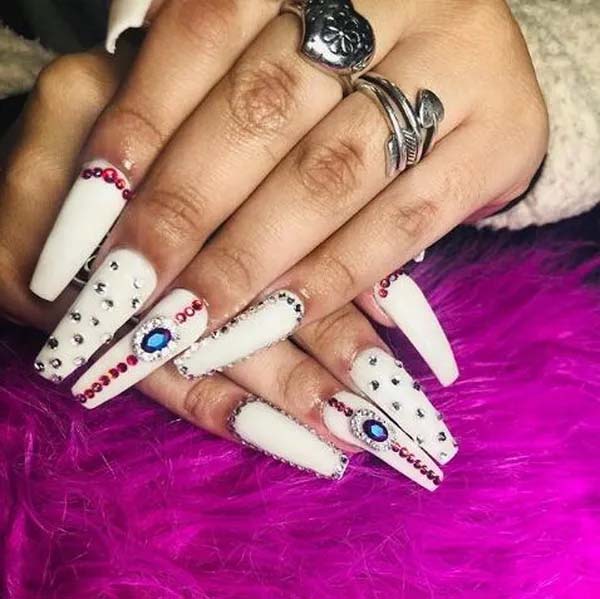 The off white here allows the gemstones to shine.
Red rhinestones for a belt with a trophy buckle set in the middle raise the bar with their creativity.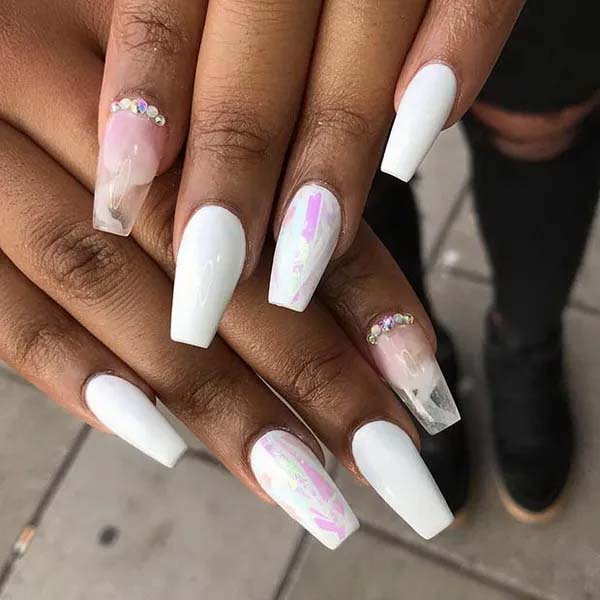 Pink is a subtle accent color. Use a marbling technique.
The rhinestones on the sheer nails are set to look like small diamond channel rings.
via sweetsalonspa
Pale blue is a trendy color for summer.
This looks great, alternated with winter white nails that have three tiny rhinestones lining up from the base.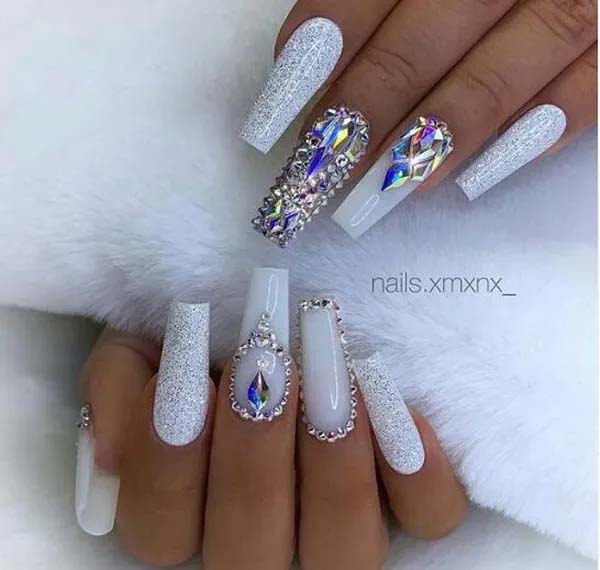 Use a glittering white when you want your featured rhinestones to stand out.
The rhinestones here pop even more set on a glossy white backdrop.
via nails.xmxnx_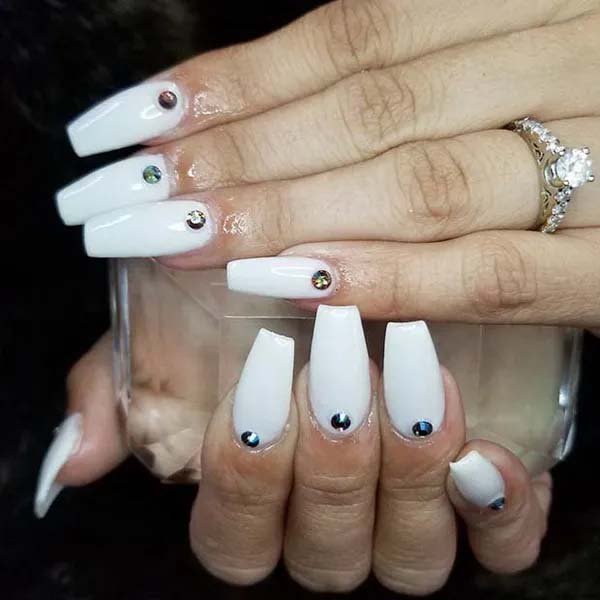 Set a single rhinestone at the base for a sophisticated look.
Personalize it by using colors that represent the birthstones of friends and family members.
via ladykisses760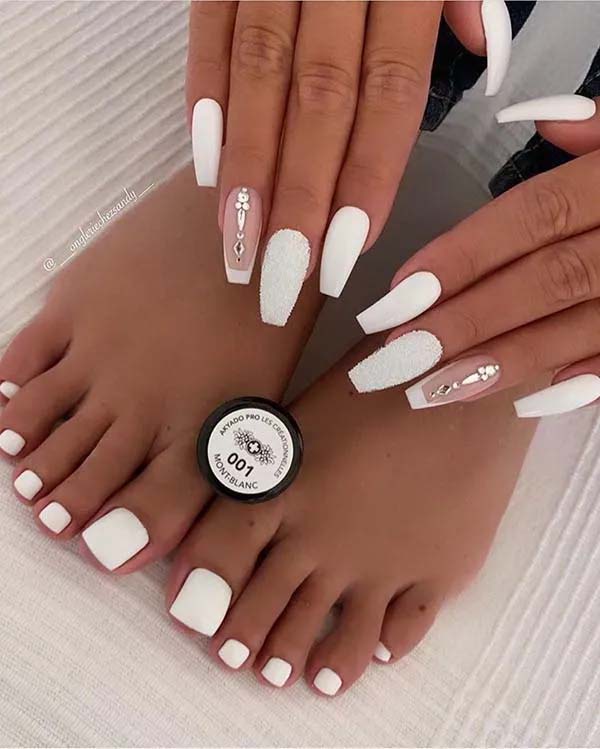 Pure white nails get a boost with a chic twist on French tips.
The rhinestone pattern looks elegant with the tips framing the sides.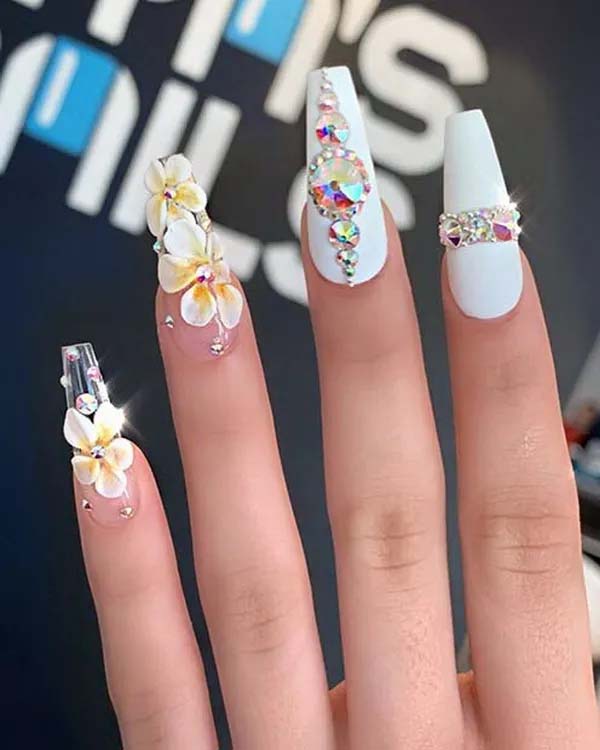 Clear acrylics work with white nails.
Coffin nails are great for using larger embellishments like these fabric flowers.
via riyathai87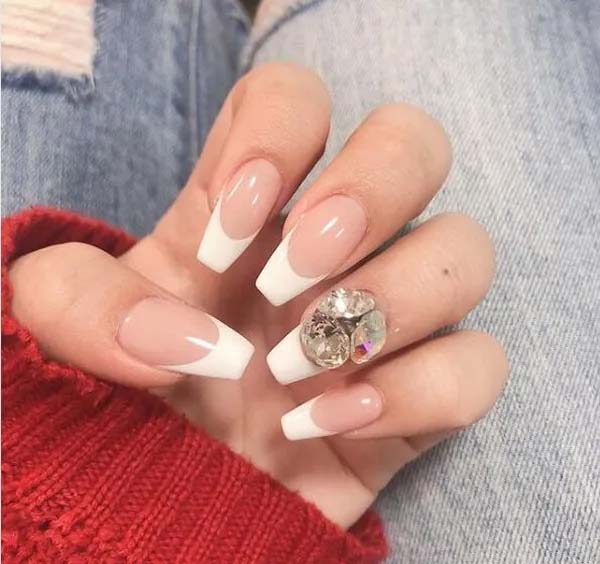 A twist of three large rhinestones on the ring finger gives these French tips an unexpected twist.
via miiiiichan002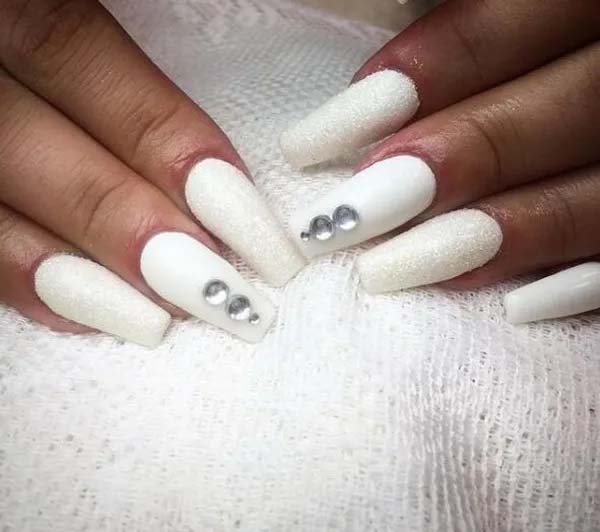 By using a tiny gem at the tip, followed by two larger stones, this pattern looks like earrings that seem to dangle from the tips.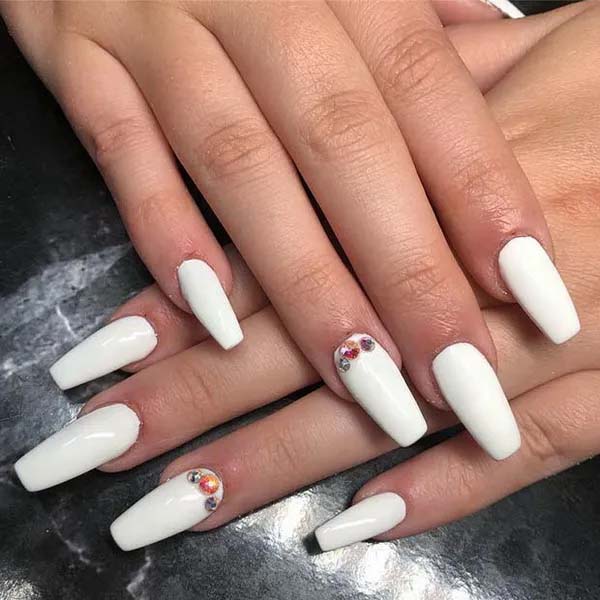 There are several ways to create the look of a ring.
The center stone on these nails stands out with the two smaller, clear gems on each side.
via unknown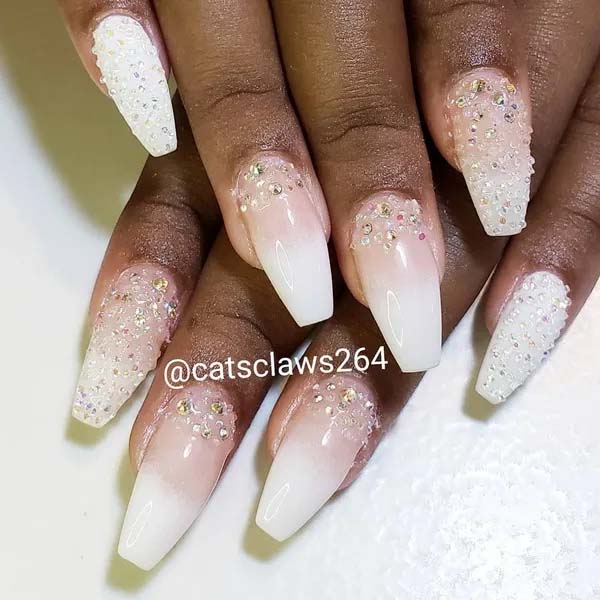 A pink and white ombré backdrop is a pretty variation on French tips.
Tiny rhinestones added at random create a starry look.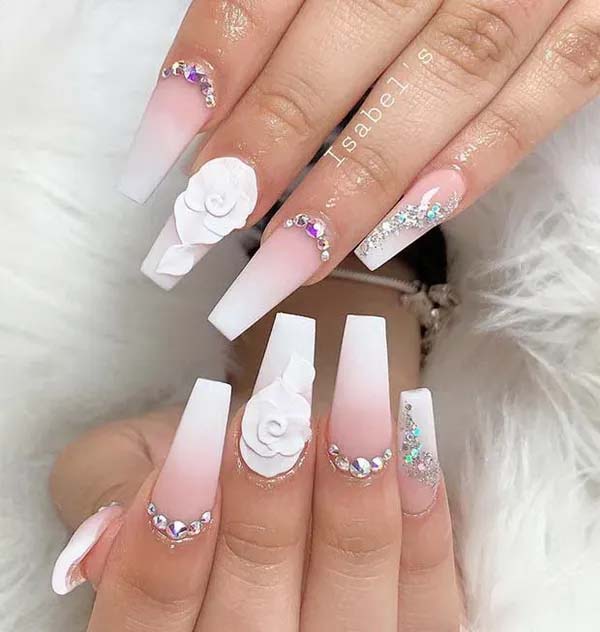 Another way to vary French tips is by using matte polish.
This adds to the sculptural look of the white floral embellishments.
via isabelsnails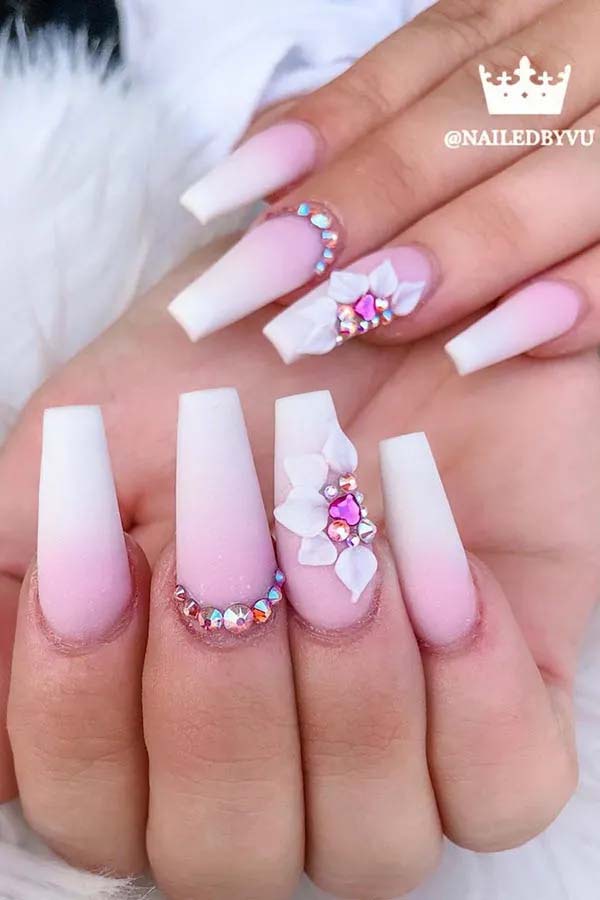 The pale pink used in this French tip ombré gives extra pop to the rosy pink rhinestone set in the center of the flower on the featured nails.
2. Coffin White Nails with Glitter Gold Shades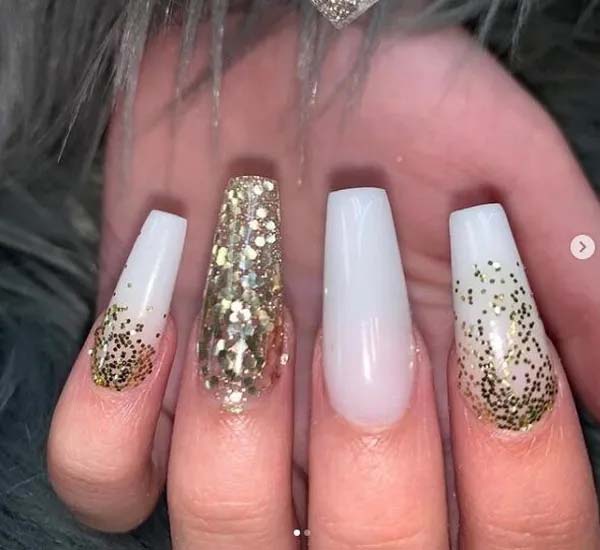 You don't have to use a black base to use gold. Gold is an elegant option that works for any occasion.
via dillonntran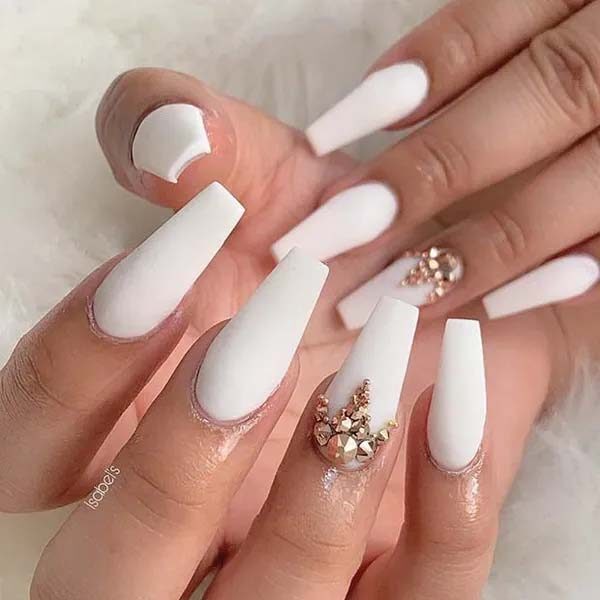 Create a stunning feature nail by creating a single gold embellishment. It creates the idea of gold resting in a white satin box.
via isabelsnails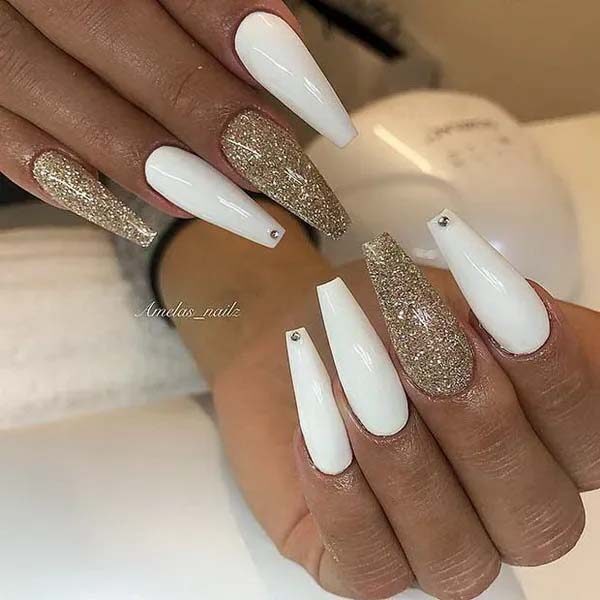 Glittering gold and a single rhinestone elevate the look of this otherwise white manicure.
via amelasnailz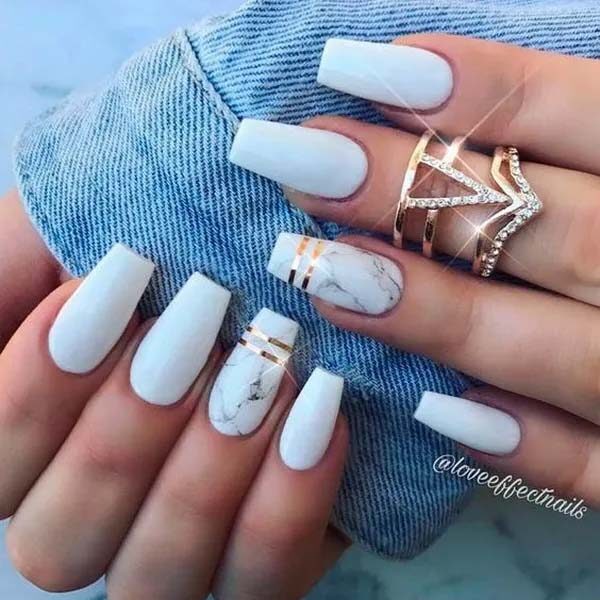 Create a natural marble look by applying a base coat, white polish, and top coat to your nails before building the marble design.
To create the marble effect, add gray nail polish to a small dish. Drop a brush into some acetone and then into the gray polish. Drag this in irregular lines across the white basecoat. Use the acetone to soften the layers.
Follow up with thinner layers of darker gray polish. Complete this look by painting two stripes of gold across the tips and sealing it with more top coat.
via loveeffectnails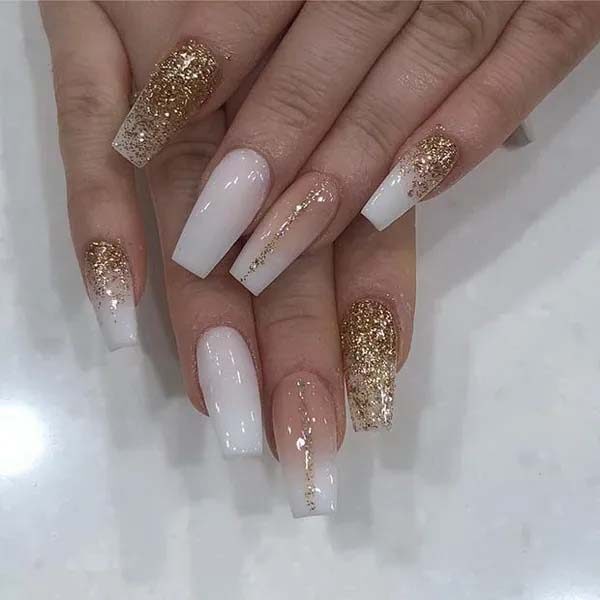 Gold is the feature here. The glossy white brings the look together with the semi-transparent French tips.
via an_nails888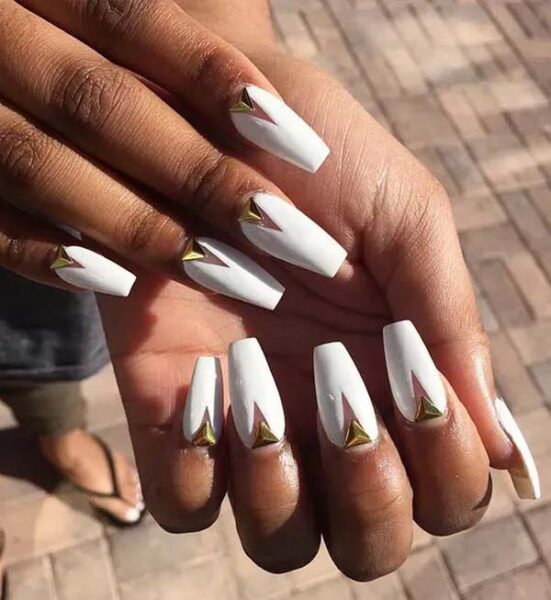 Leaving a small triangle of base coat visible and topping it with a gold triangular rhinestone creates an eye-catching work of modern art.
via dxnailz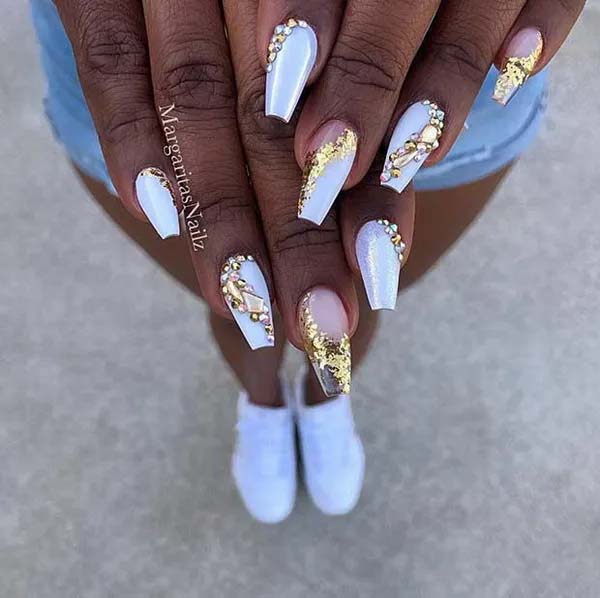 Rivers of gold flow through these white and clear acrylic nails.
via margaritasnailz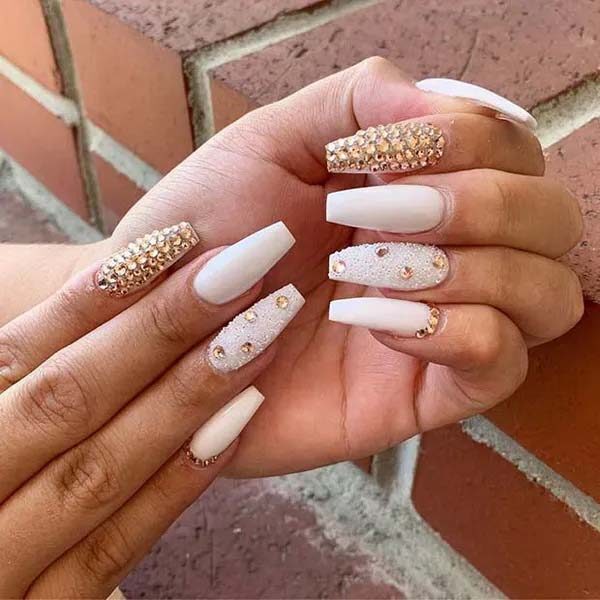 Gold rhinestones are set three different ways, but work together on a backdrop of white polish.
via nailsby_melissa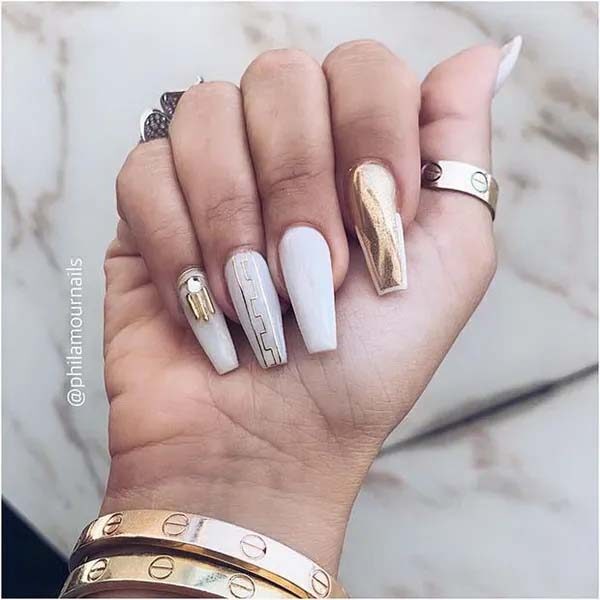 White polish is the perfect background to showcase jewelry. The gold patterns mimic the style of the bracelet and rings. You can use embellishments, paint, or foil.
via philglamournails
3. Coffin White Nails with Shiny Silver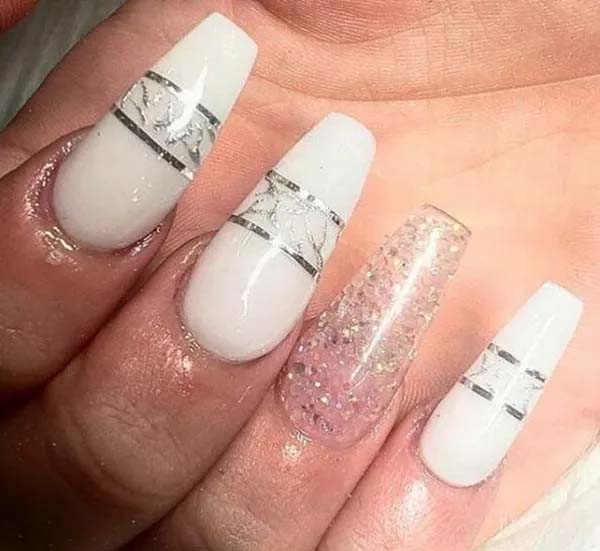 Delicate strands of silver polish are laced between rings of silver tape.
A medium weight of glitter in the acrylic nail provides just the right amount of coverage.
via ny.brooklynn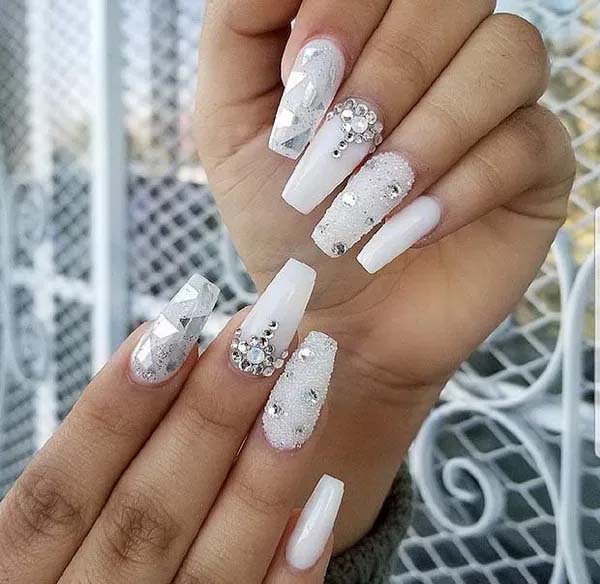 You can use larger pieces of foil over a sheer white polish to balance a heavier collection of rhinestones.
The white polish shown here is a little more translucent than a pure white backdrop.
via winniexnx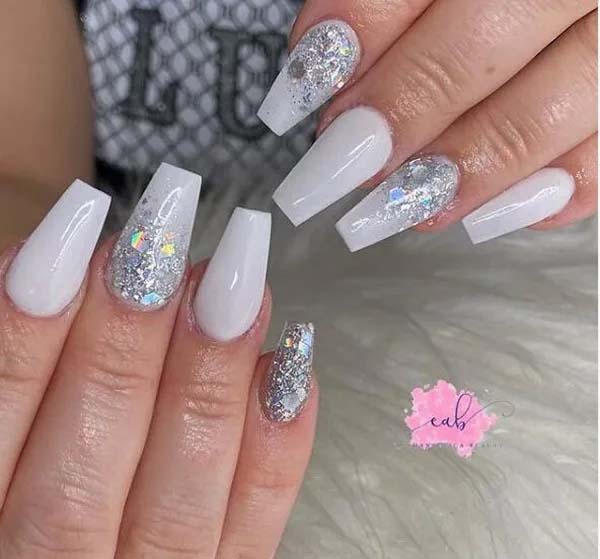 Silver glitter rising from the base is an easy way to fill in the base of your nails.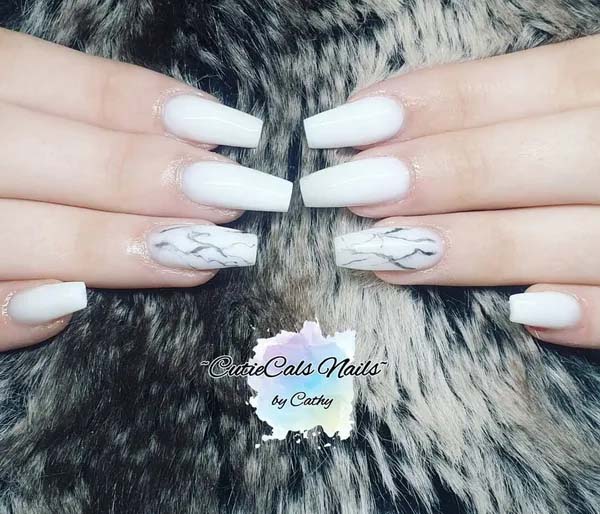 Soft gray polish is almost imperceptible as the base for a white ombré.
Silver strands were painted as the feature nail. This is an easy way to get comfortable trying marbling techniques.
via cutiecalspz
4. Gleaming White Coffin Nails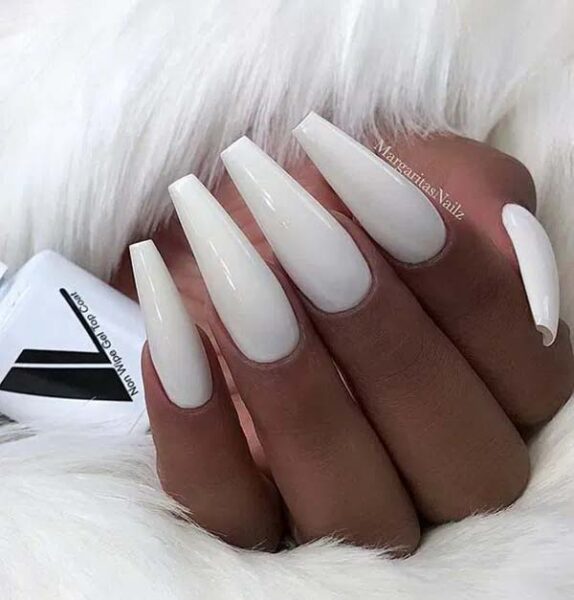 Use a pure white polish with a glossy finish when you want your white coffin nails to look stand out.
via margaritasnailz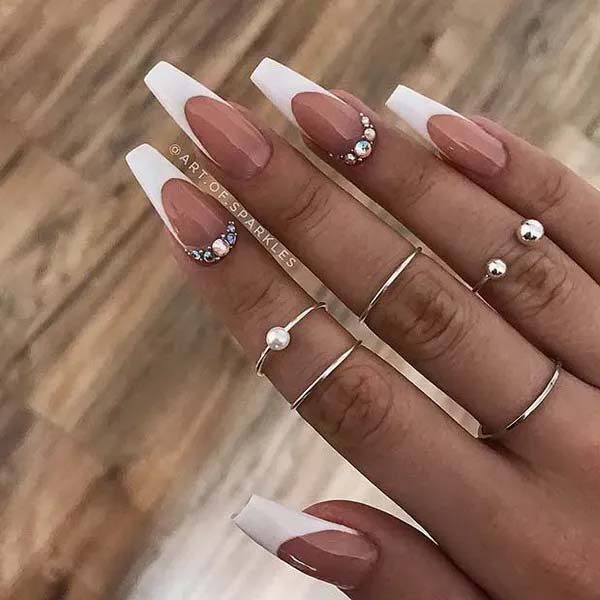 Another modern variation on a French manicure. Substitute a neutral base color that matches your skin tone for pink.
The white tips look great and the channel ring rhinestones make this the perfect manicure for any dinner party or formal occasion.
via art.of.sparkles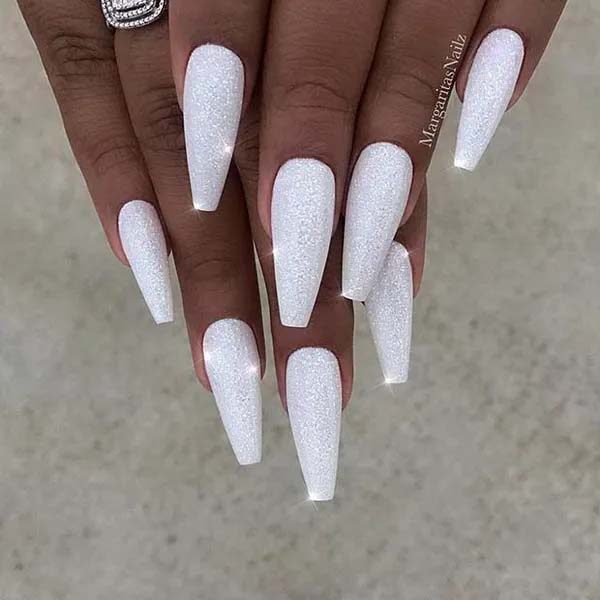 Fine glitter polish can stand on its own as a beautiful manicure.
Silver over white picks up a lot of light without the color-changing properties of iridescent polish.
via margaritasnailz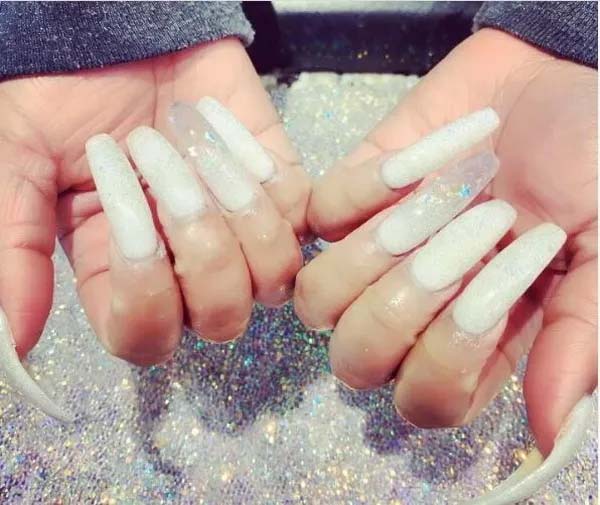 Multi-colored glitter used in a sheer white polish creates a dreamy effect.
via saewangp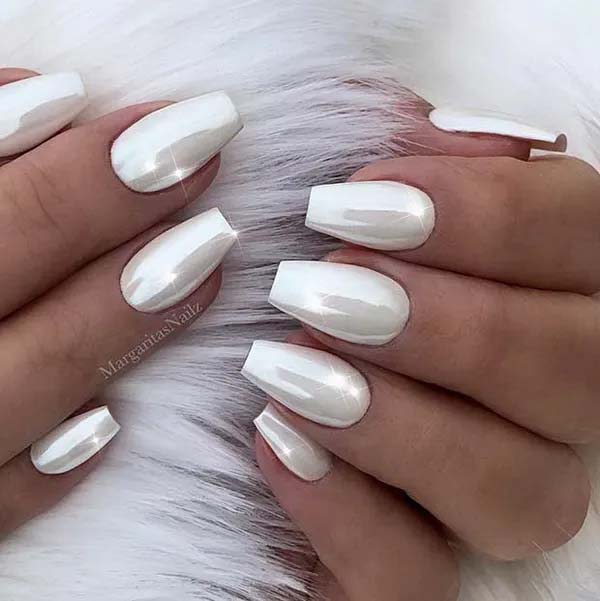 Get an incredible shine without the flaky texture by using a nail pigment powder like this white chrome dust.
via margaritasnailz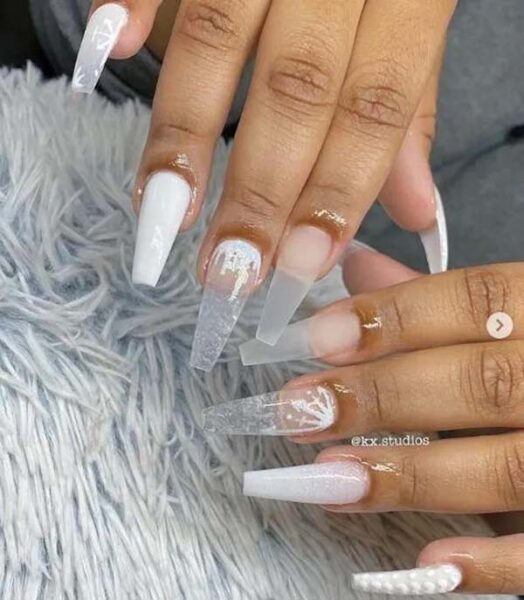 White coffin nails come in a variety of opacities which you can decorate to your heart's content.
via kx.studios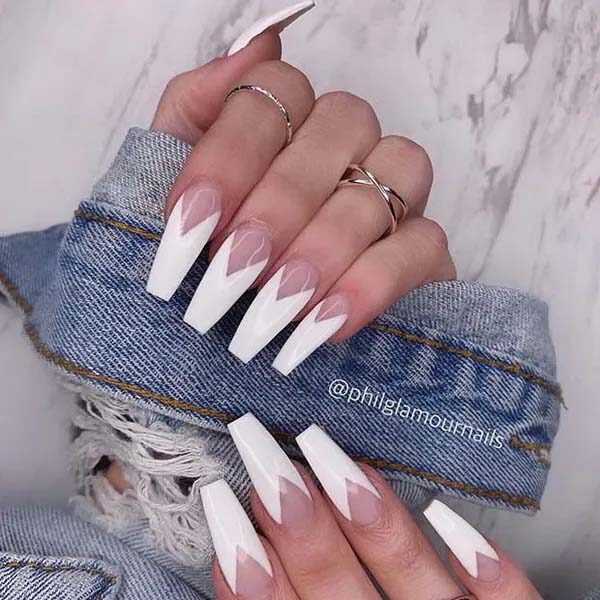 White tips are taken to the extreme with a hint of pink at the base of the nail. This would also look great using a matte finish.
via philglamournails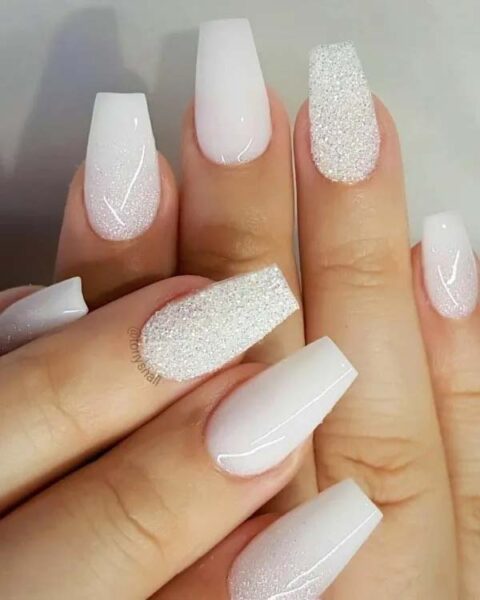 These white nails show the difference between using dust as an undercoat of polish or as a textured top coat.
via tonysnail
5. Other Coffin White Nails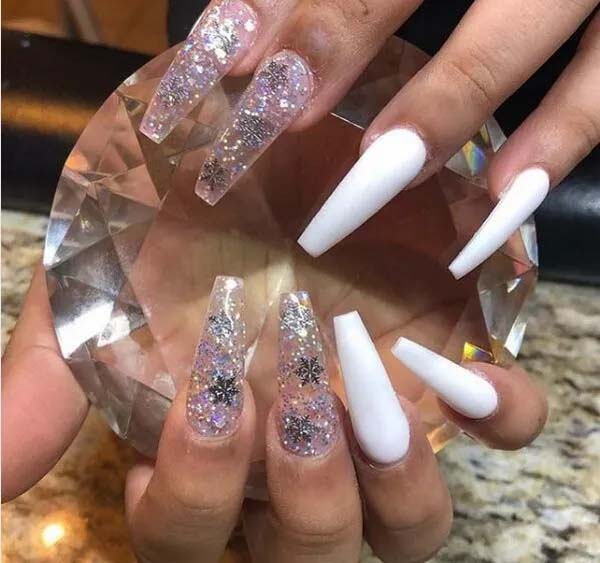 Use your white nails to balance a shimmering showcase of acrylics like the snowflakes shown here.
via rochanails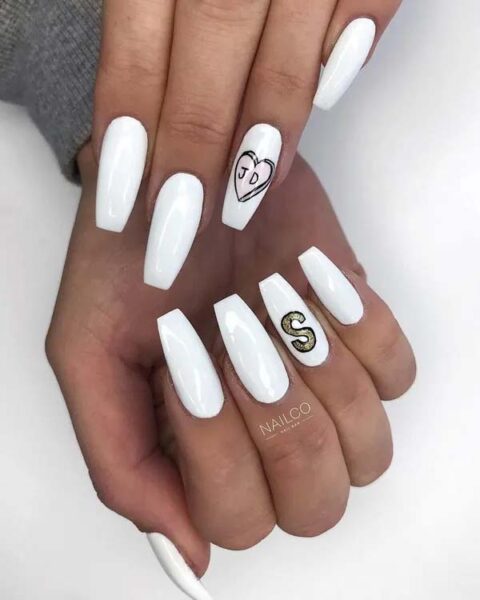 Nail designs don't have to be abstract. Create statements on your white nails using gold and black polish.
via rachdoesnails_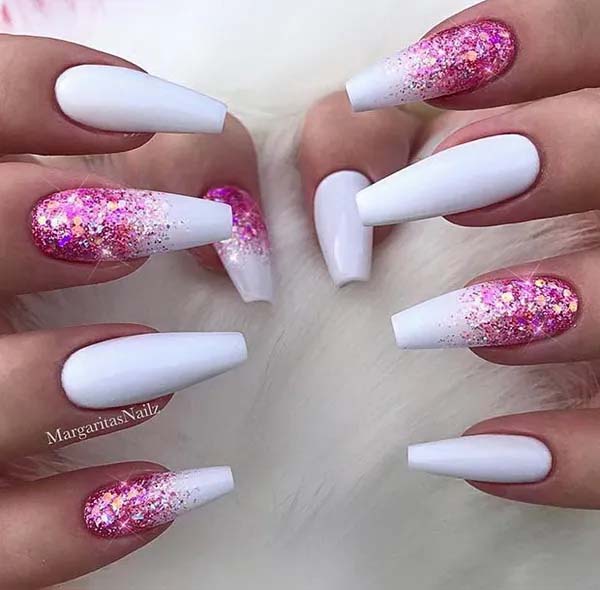 Pastel embellishments are a light and breezy way to welcome spring.
via margaritasnailz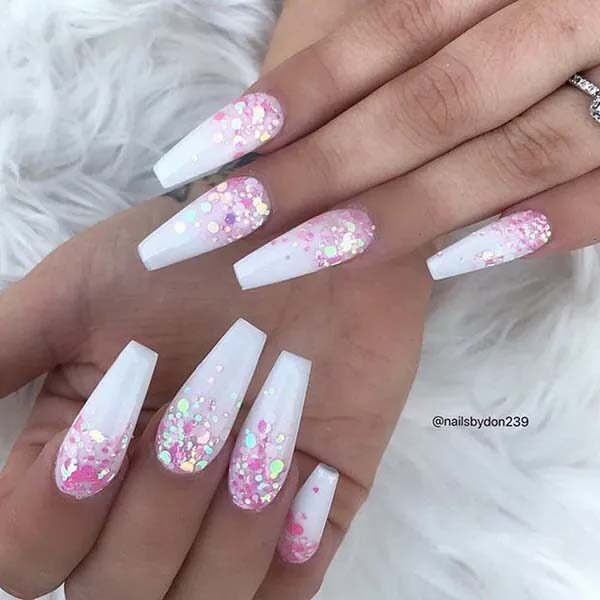 This pink ombré that starts at the base and works towards the tips would be perfect at a luncheon.
via nailsbydon239
Get a watercolor effect by starting with the foundation used in the marbling instructions. Use Sharpie markers instead of polish for the top colors. Finish with a top coat.
via onezyanails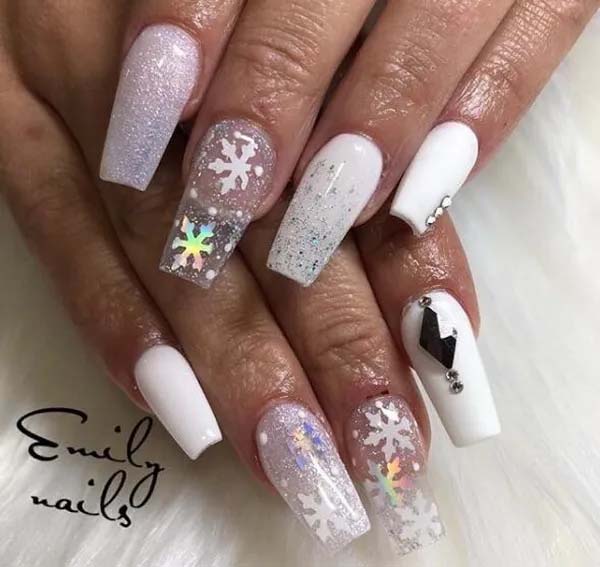 Use an off white polish when you want a white background that doesn't over power your embellishments. Popular undertones are gray, pink, peach, and blue.