Nail Art is a part of all artistic outlook we all aim at.
It seems to now be determining the world of beauty and fashion.
From all the models to international movie stars to even all teenagers and even school going girls, everybody loves to do nail art.
It is not only modern but also a stylish way to express our personality.

Doing the toe nail art has also healthy results.
Thanks to the toe nail we prevent our nails from different bacterial infections.
The result is not only beauty itself. It is a healthy and practical way to feel more save.
Due to the endless styles you can flaunt and the various methods that make this task easy.
Nail art on toes look very beautiful and chic, like the way they do on finger nails.
The procedure of doing designs of nail art on toes is almost the same as you do it on your finger nails.
With little practice you can master the technique of nail art on toes.
There is a great variety of easy and practical designs that you can create yourself.
So to make your upcoming event or a boring Sunday afternoon cheerful and exciting, here we present to you a pretty collection of 12 nail art for toes!
Nail art designs fit perfectly with any trend and fashion and from our collection you can grap the perfect idea for your next pedicure session.
Get the whole inspiration and dare to express your unique personality.
You can choose nail art patterns to match your identity or mood and add flair to your look.
Moreover if you enjoy glitzy-glam nail art, then you will definitely opt these below listed nail art designs for toes.
These combine the power of glistening nail art accessories and glitter with the pretty powerful mood changing properties of high pigmented nail lacquers.
Check out these 12 easy nail art ideas for toes which will make your foot look lovely…
1. Extravagant Dot Toe Nail Art: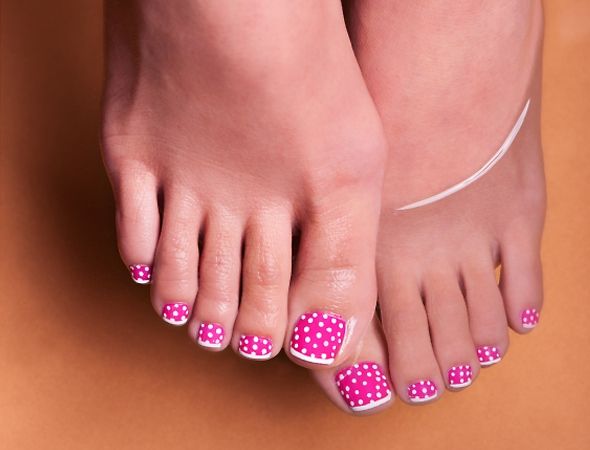 Photo: Credit
Making simple and easy but artistic polka dots on toes look cool and very pretty.
This gives vintage look.
To create this design, you just need to paint your nails in any color and add contrasting dots using a dotting tool or tooth pick.
When the design dries up, add a top coat.
This toe nail art design is easy to be done but also effective.
It is in that vintage style that gives the romantic look every woman enjoy.
So, combine that pedicure session with a special date or just a summer walk on the beach.
2. Half Moon Toe Nail Design: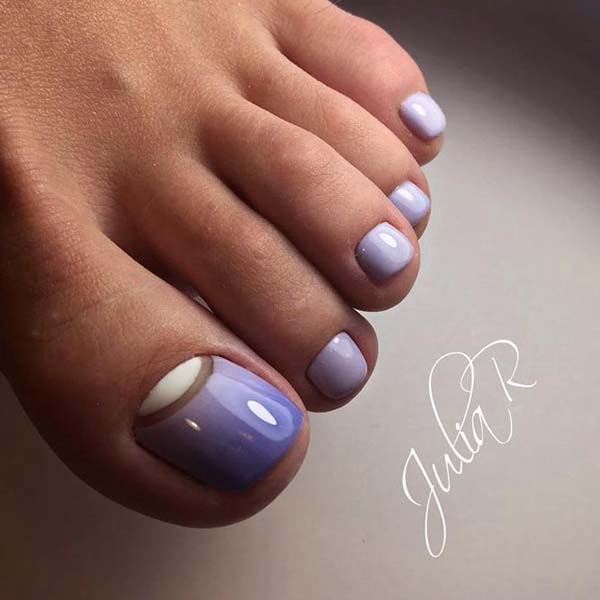 Photo: Credit
Choose for a stylish ombre nail art style!
Spice up the look of a monochrome nail polishwith a contrasting glitter applied asymmetrically over the nails.
You can also try stylish rhinestones that can easily be applied over wet nail polish.
Creating half moon on thumb of your feet and alternating the colors on other toe nails look very pretty and quite easy to do.
Your feet will not go unnoticed!
Just enjoy not only while doing it but also while wearing it for all that special events that every woman has.
3. Effective Stamping On Toe Nails: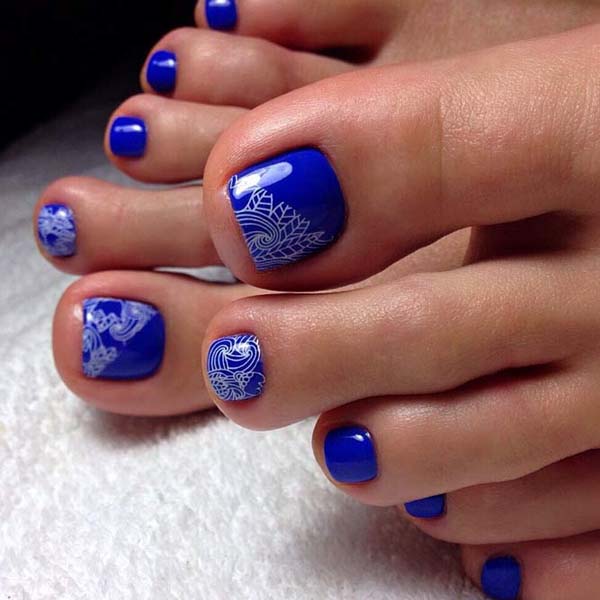 Photo: Credit
One of the fashionable trends that are in high is Nail Stamping Art.
It is easy, quick and effective.
You just need to apply or stamp the pre-designed images on your toes.
Since other nails are very small to stamp, you can stamp on your thumb and use it as an accent nail.
It is not difficult to be accomplished, it doesn`t take a lot of time but the result at the end deserves all the efforts.
4. Floral Motives On Toe Nails: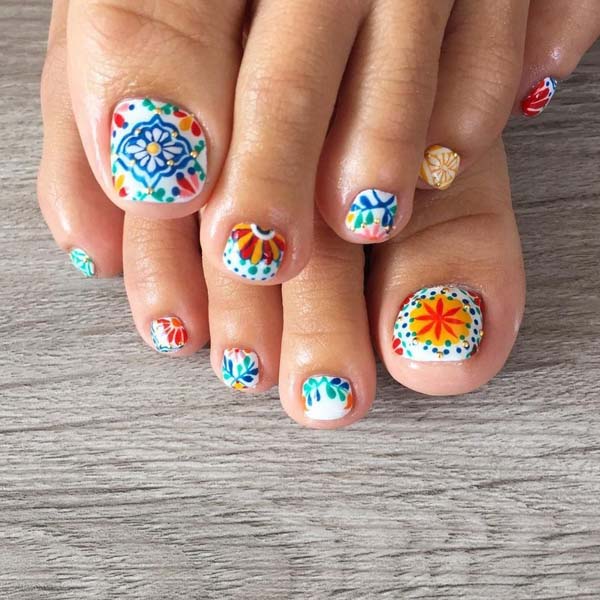 Photo: Credit
Floral toe nail art paint is the prettiest.
All these floral motives are always trendy.
They symbolize the new beginning. The recovering process.
So, let start with them at the very beginning – in spring time till the late autumn.
Do not miss to remind that women are just like the nature – beautiful and giving the new beginning.
The option is to paint the toe with a base color of your choice and then draw a flower on it.
If you are very good at free hand painting then it would be very easy to draw them on the toes, similar to one in the picture.
Isn't this looking beautiful?
5. Colorful Thumb: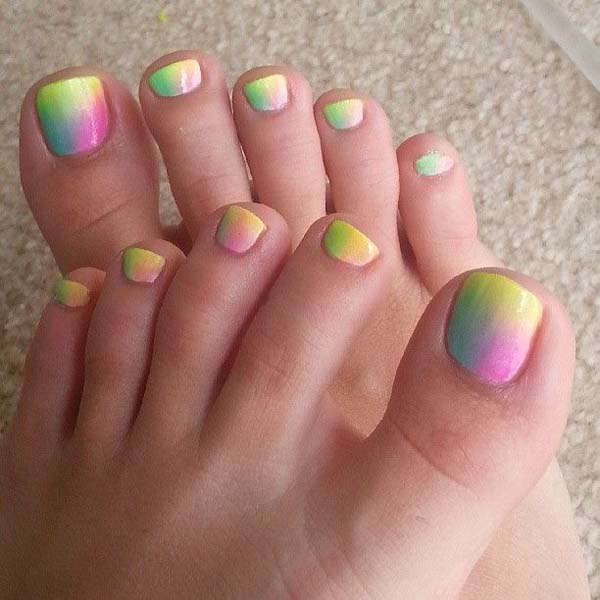 Photo: Credit
You can paint multiple colors on your thumb and keep other toes simple.
You can choose these colors that match your dress.
Summer is the time when we feel free, all of us needs that sunlight, so walking on the beach emphasize your style even by your toe nail art design.
This nail art will look very elegant. This can also made funky by using glitters.
6. Five Dot Flower motives On Toe Nails: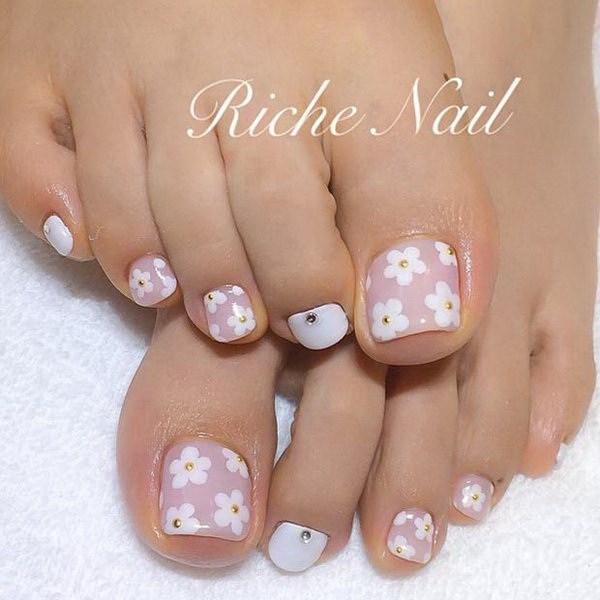 Photo: Credit
Creating five dot pattern flowers on the thumbs of your feet is very easy to be done.
You can also match your toenail art with the footwear and the dress you are wearing.
This is the whole art – to match all the details of your outfit to stress your personality.
Do not hesitate to be brave in your expressions.
Every woman deserves to be unique- so this is your time – the summer time.
This nail art will look very elegant. This can also made funky by using glitters.
Look at the picture, isn't it looking spectacular?
If yes, then why not give a try!
7. Lady Bug Romantic Toes: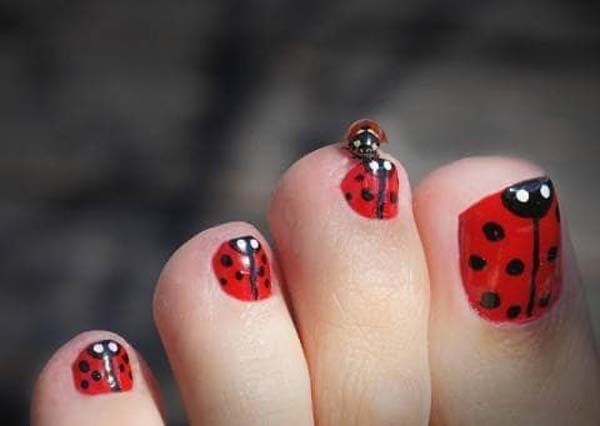 Photo: Credit
Creating lady bug pattern on toes looks very cute and summerish!
Lady Bug is also considered as good luck symbol.
You can then paint lady bug on your thumb using red and black colors.
Red being the base color and on that you can draw black bug (dots) as shown in the image.
Isn't this a versatile way to accentuate your feet!
The lady bug element is so romantic.
It is also the symbol of a childhood, of a woman keeping the child deep in herself.
It is cute and elegant at the same time.
Go for that idea.
8. Just a Sticker On Toes: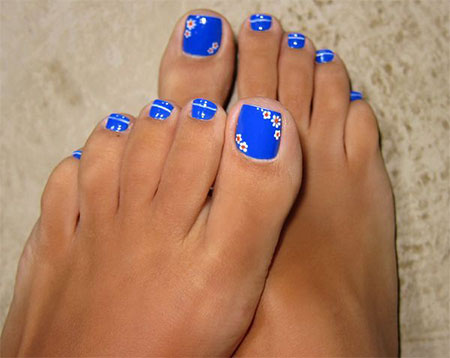 Photo: Credit
Design your toes with sweet little stickers in fashion now a days.
These stickers are easily available in the market.
Choose whichever you like as per your mood or party theme!
Apply stickers or water decals on toes and give yourself a charmful look.
It is easy and does nottake a lot of time.
You need just a little practice and patient.
But at the end you will be satisfied.
9. Leopard Design On Toes:
Photo: Credit
Animal prints on feet look phenomenal!
One such animal design is Leopard print.
All you need is golden and black color nail paints.
Color your toe nails with gold color and on that make black curves, as shown in the picture.
That design of a toe nail art express power, passion and confidence.
It is suitable for that kind of women that know what they want and dare to take it.
If it is the moment you are strong and confident – be unique in that way.
This is quite easy to do using nail art pens.
You can also make it more interesting with pink hearts on it.
You can also choose color of your choice to give it more innovative look.
10. Starry Toe Nails: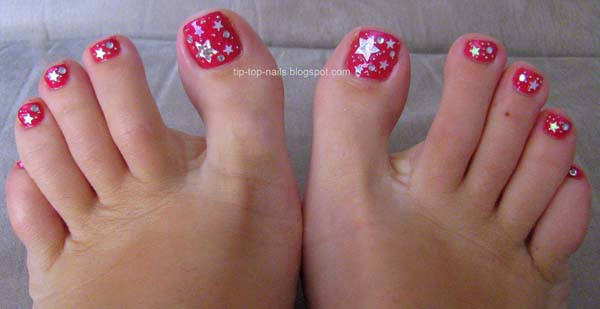 Photo: Credit
Stars are easy to draw and using these star patterns makes your toe look very cute.
You can also add glitter on nails and make it look very elegant.
Apply some star shaped stickers to a glittery silver base to get the look just like this picture.
Now you're all ready for night parties!
11. Bindis Or Rhinestones Toe Nail Art: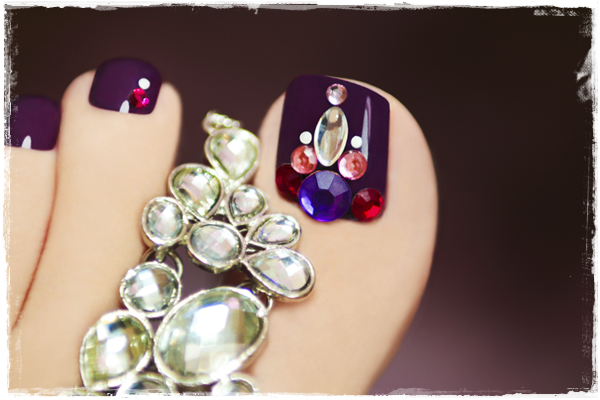 Photo: Credit
If you are in a hurry and want to do nail art in few minutes, then you can create this look by sticking bindis on your toe nails.
Apply a top coat and you are good to go!
A very practical and expressive nail opt for a busy woman.
A simple base color which matches your dress and on that the design which you like using bindis will look wow.
12. Stripes Toe Nail Design: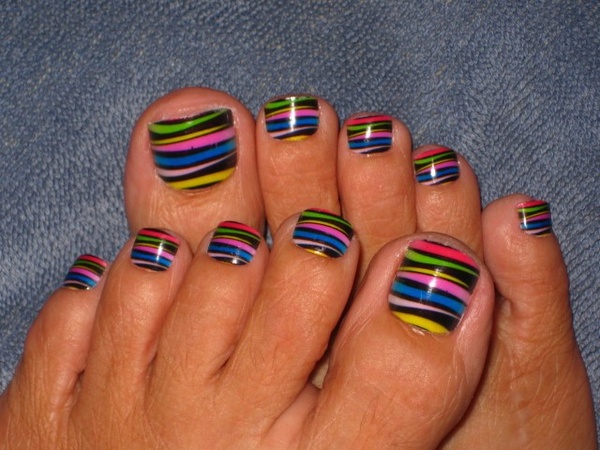 Photo: Credit
You can paint stripes on toe nail to make them look spectacular.
You can opt the color up to the outfit you wear and match it with footwear to make this look pretty.
We have used here shades of blue, black and white.
A nice combination will make your toes look beautiful.
They are very easy to do, Isn't it!