One of the most popular tattoos for women is the dreamcatcher.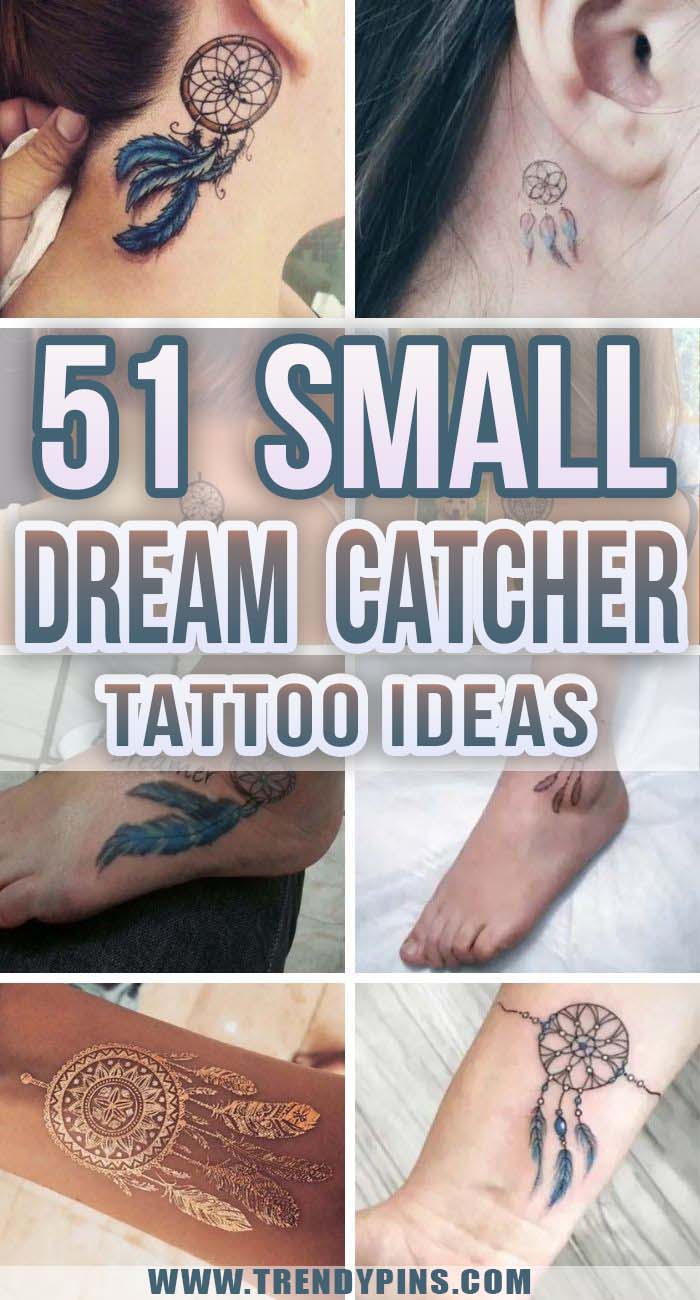 Dreamcatchers were created by the Ojibwa tribe. Their "Spider Woman" would weave an eight-point web inside a hoop made from a willow tree branch.
The web would filter out negative energy and dreams, leaving only positive things to flow through the feathery path to the sleeping child.
As a tattoo, the dreamcatcher has transformed into a talisman that takes on personal meaning for its owner.
We've come up with a list of the best small dreamcatcher tattoo ideas for you. Check these out and be inspired by their color and creativity.
1. Forearm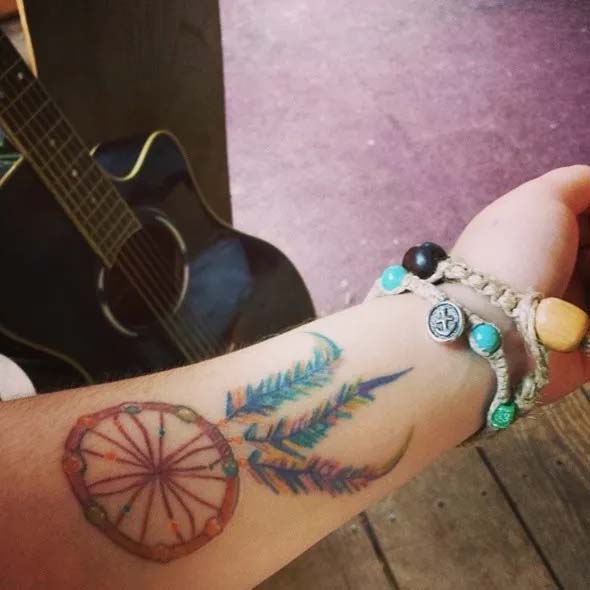 A dreamcatcher with colorful feathers.
The watercolor effect is something you can recreate with a permanent marker if you're undecided on whether it would look right.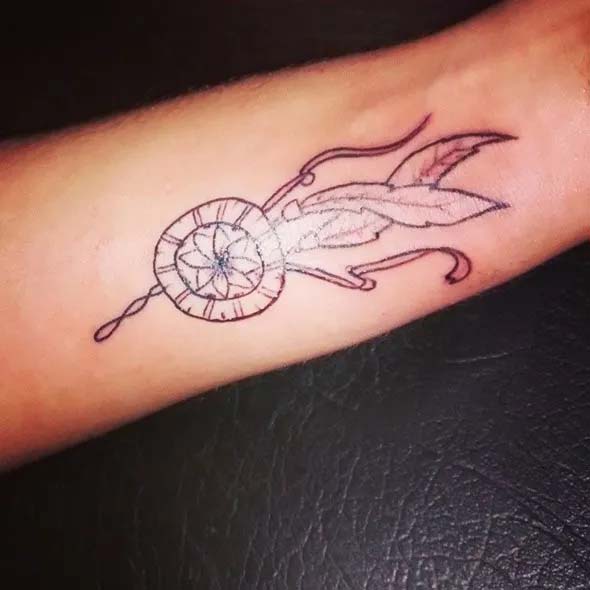 A line drawing works well on a forearm. This is a nice idea for a henna tattoo.
Fine feather details are a standout on this blackwork style tattoo. The hoop has been transformed into a heart shape.
Initials at the top pay tribute to someone close to the owner.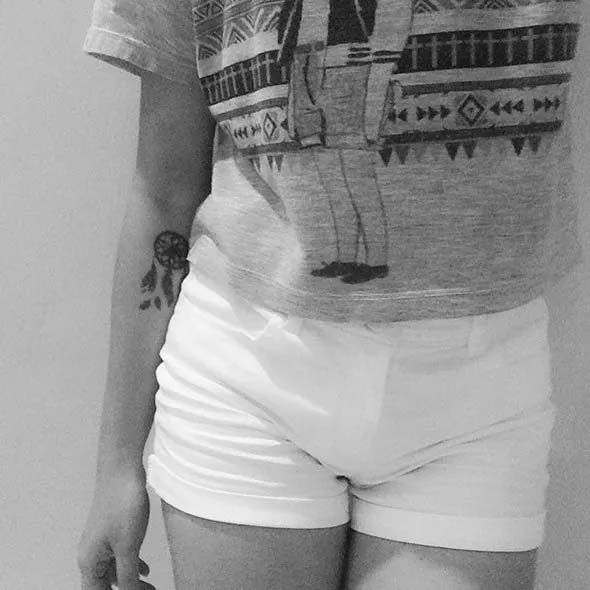 Feathers falling apart a tattoo could represent losing a friend or loved one.
A tattoo on the dominant forearm means this tattoo has significant meaning to its owner.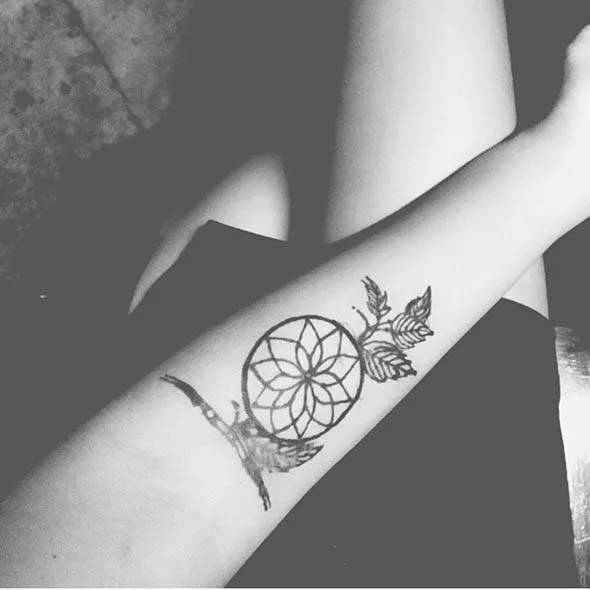 This is more like a variation of a dreamcatcher where it looks more like a floral design with leaves instead of feathers.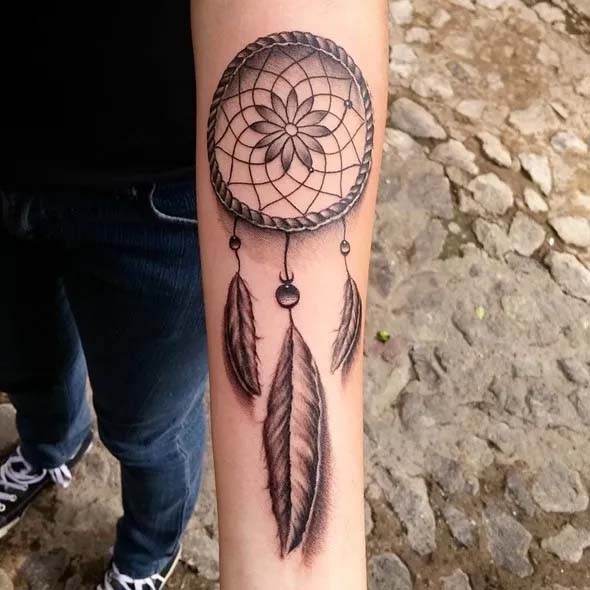 Shadows on this blackwork tattoo give it a realistic touch. Floral patterns simplify the design.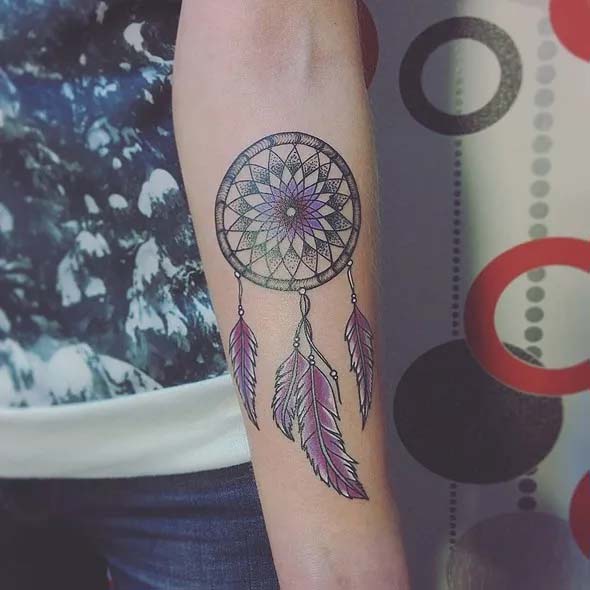 This mandala representing a dreamcatcher gets a boost with the purple ink. Purple can represent wisdom or creativity.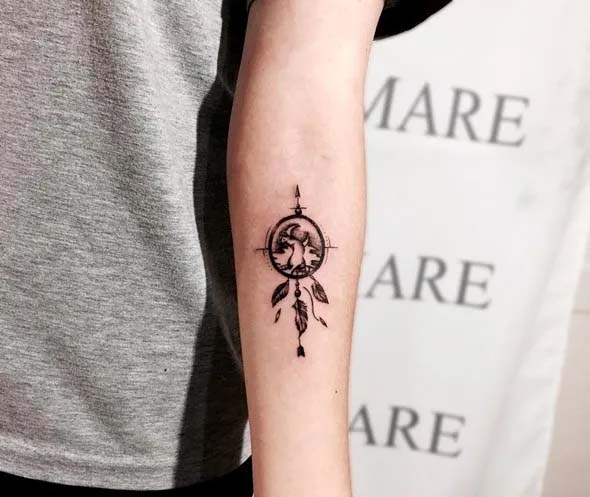 The art of this hoop in this dreamcatcher includes a crescent moon. The internet has big discussions on exactly what else is in this hoop.
We're guessing it's an attempt to cover an old tattoo.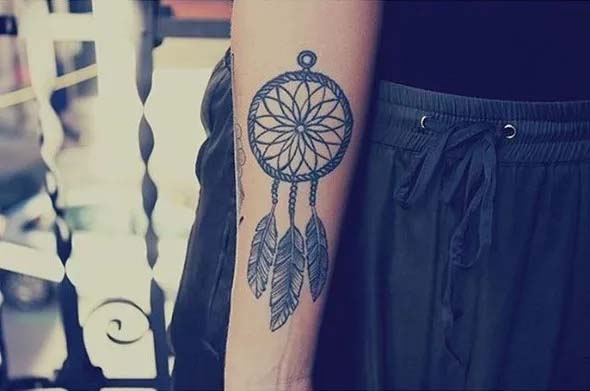 A mandala flower in the center of a dreamcatcher is becoming more common among non-traditional tattoo designs.
2. Shoulder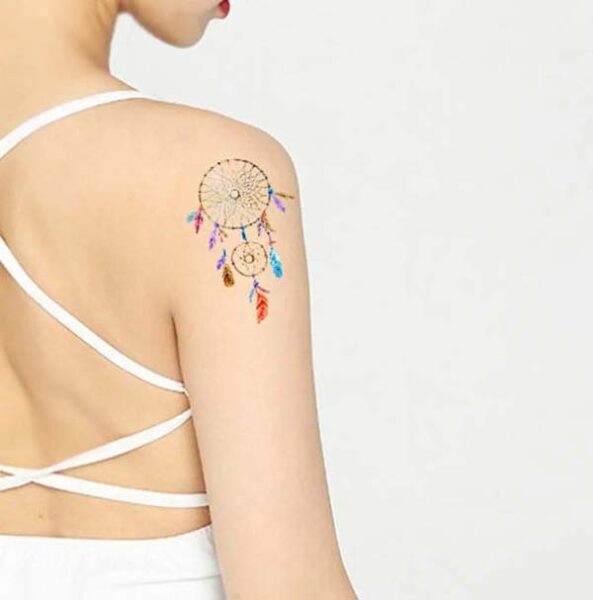 Secondary hoops are not coming in traditional dream catchers. The second hoop here could mean offspring.
via Etsy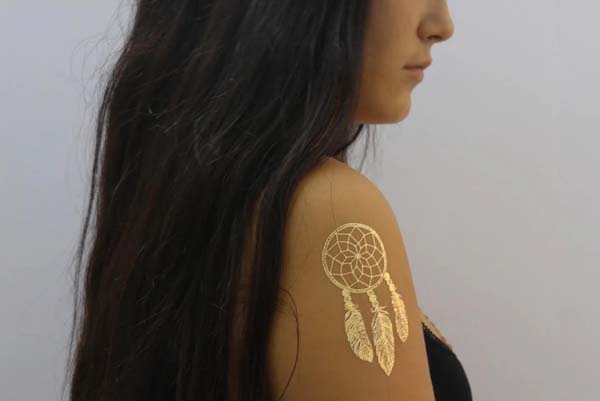 Gold ink tattoos are not permanent, but they last longer than temporary tattoos. Pick an artist with a good reputation who uses quality inks.
They'll be able to create a tattoo rich in detail.
via Etsy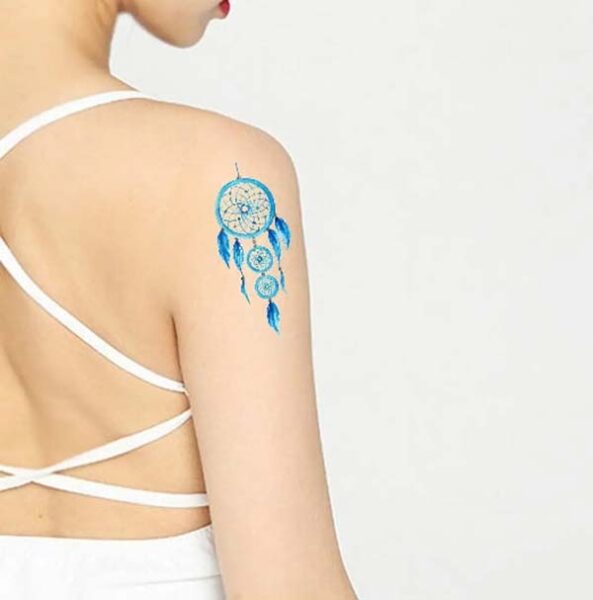 Blue is often used to represent imagination and freedom. We can take this tattoo to mean the owner is free to follow her dreams.
via Etsy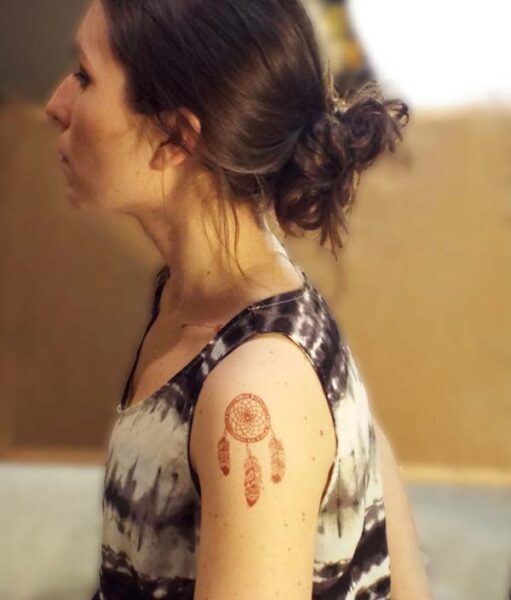 Dream catchers are so artistic they don't really need extra color for you to have a quality art piece. This could even be created as a henna tattoo.
via Etsy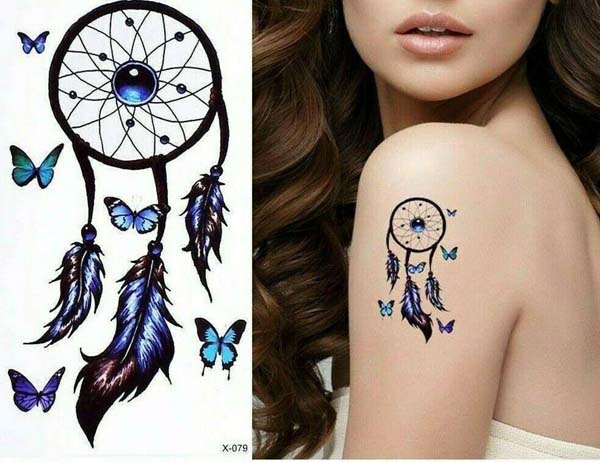 Butterflies are not commonly related to dreamcatchers. Blue butterflies often represent a coming of age.
via Etsy
3. Wrist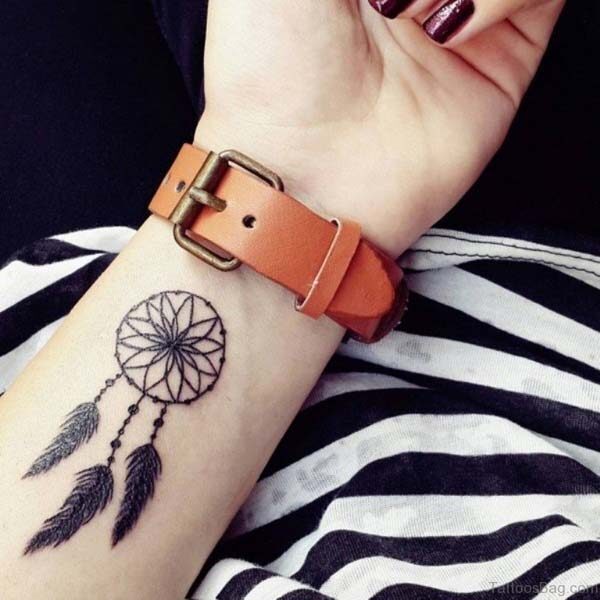 Line art and a thin hoop allowed this dream catcher to work well on a small wrist.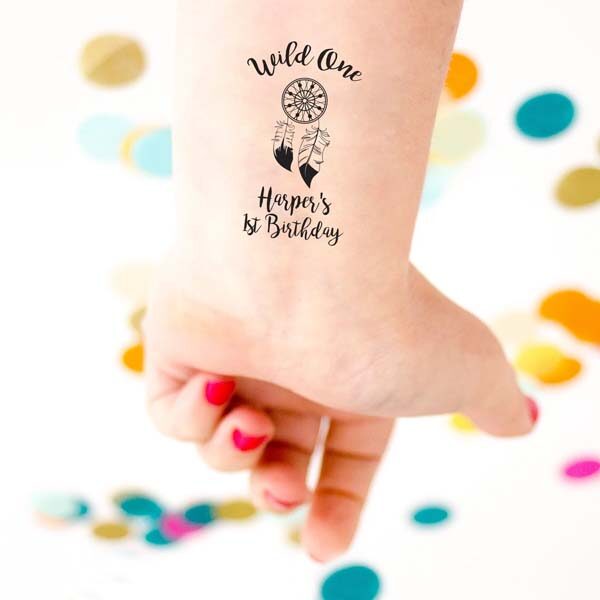 A tattoo to commemorate her baby's first birthday. The first dreamcatchers were created for children to have pleasant dreams.
via Etsy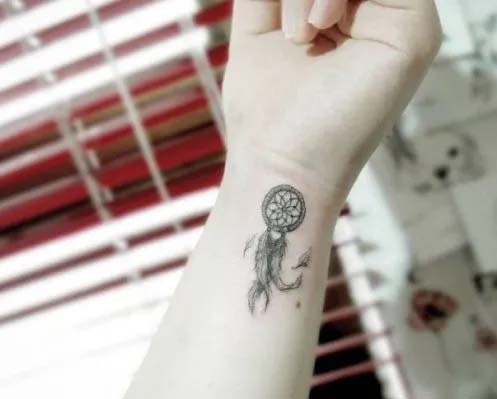 Attaching the feathers directly to the hoop keeps down this tattoo's size.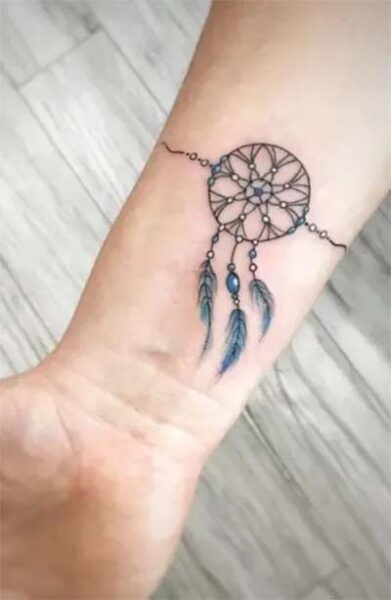 The beadwork added to this dream catcher shows an appreciation for the original art pieces.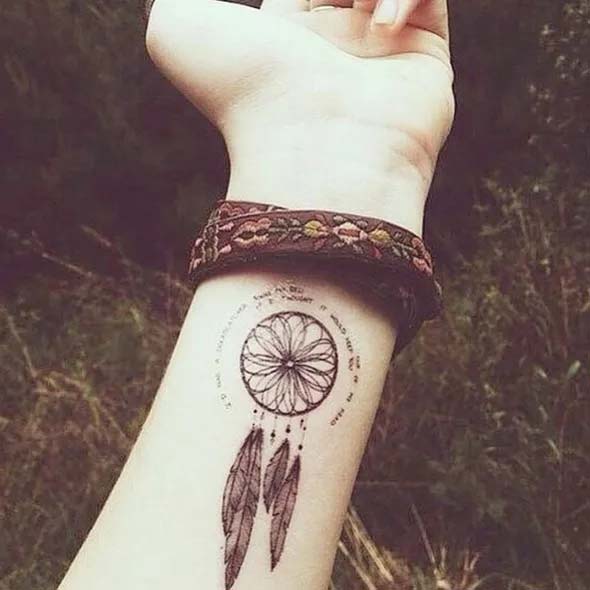 Dreamcatchers can have personal significance to the owner. A quote or personal motto is easy to integrate into the design.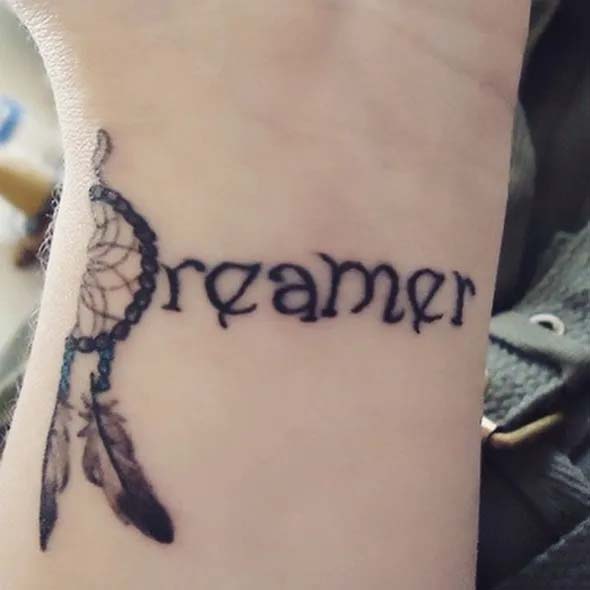 This is more of a symbolic idea rather than a real dreamcatcher.
This personifies the idea of a dreamcatcher. Instead of being a protective talisman, it becomes a character that makes dreams come true.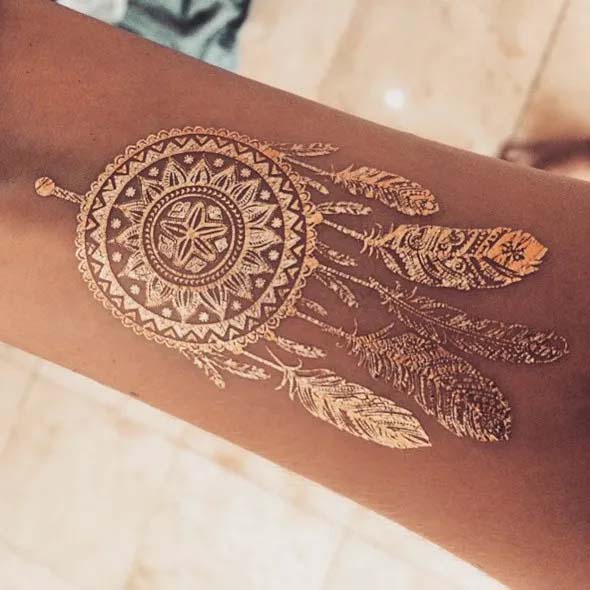 The mandala inside this temporary tattoo shows how intricate these new golden tattoos can be.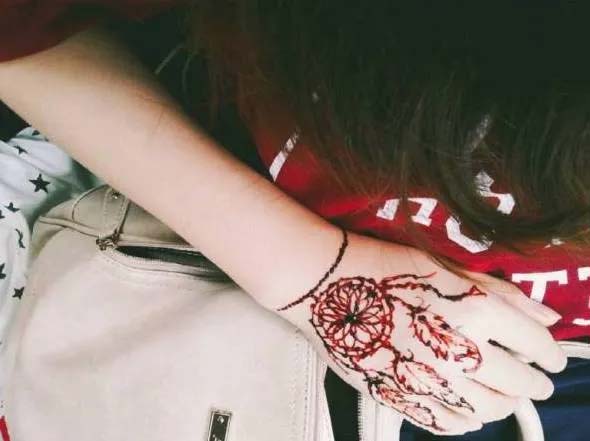 Red in tattoos usually represent passion or love. It makes a strong statement as the outline on this dream catcher.
4. Back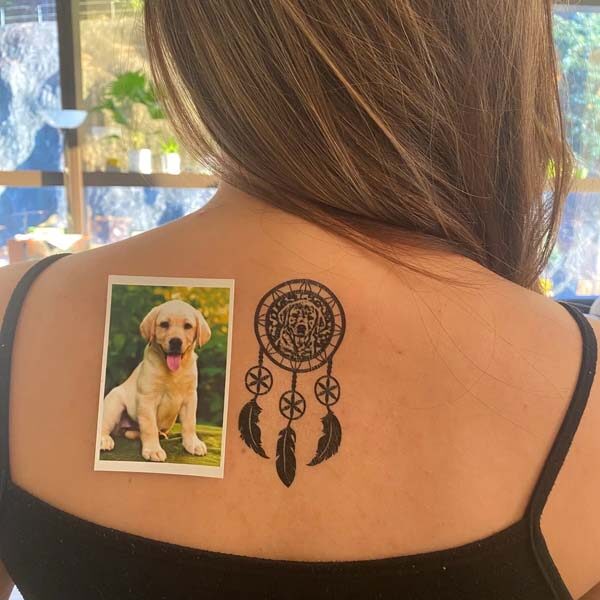 Tributes to loved ones can be made symbolically or literally. This tattoo pays tribute to the dog in the photo by framing it inside the dreamcatcher hoop.
via Etsy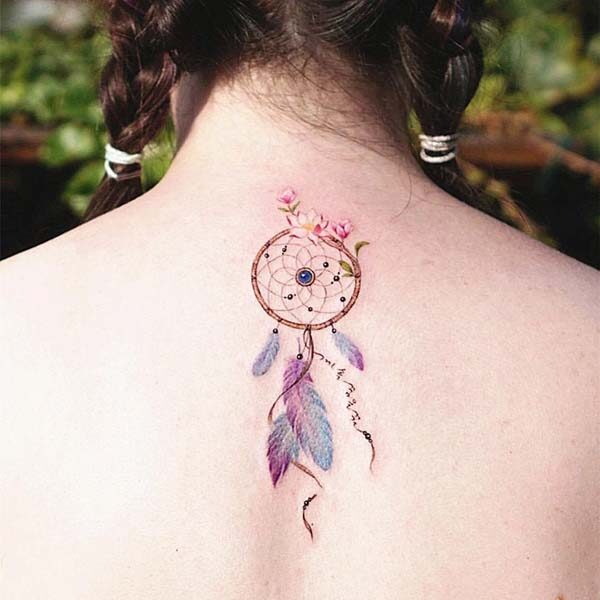 A dreamcatcher with flowers can represent family, children, or rebirth. It can also be a simple feminine touch.
via Etsy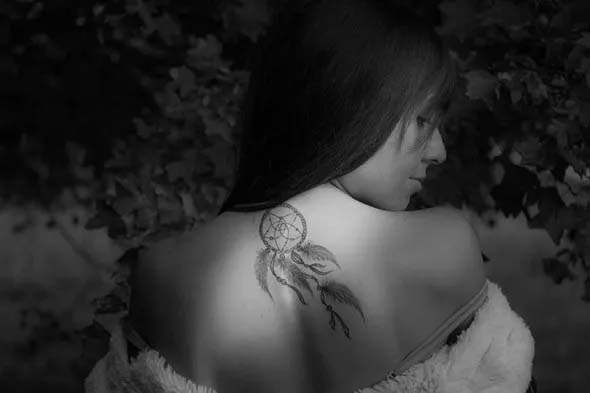 A dreamcatcher that looks like it's waving in a breeze.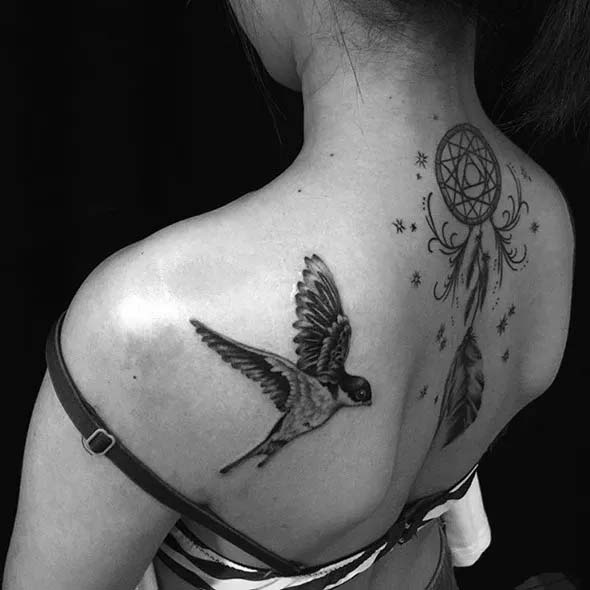 The little stars aren't seen in original dreamcatchers, but they're a pretty addition to this tattoo.
The string at the top of this dreamcatcher is a nod to their original design as a talisman hung at the head of a bed.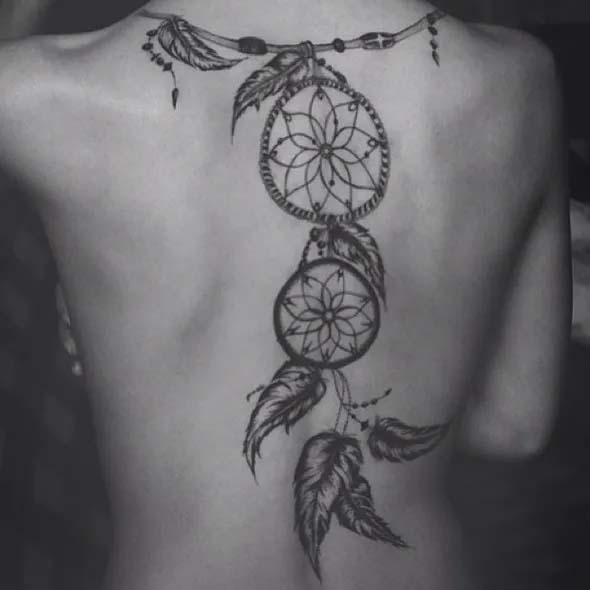 This dreamcatcher appears to hang like a necklace from the owner's neck.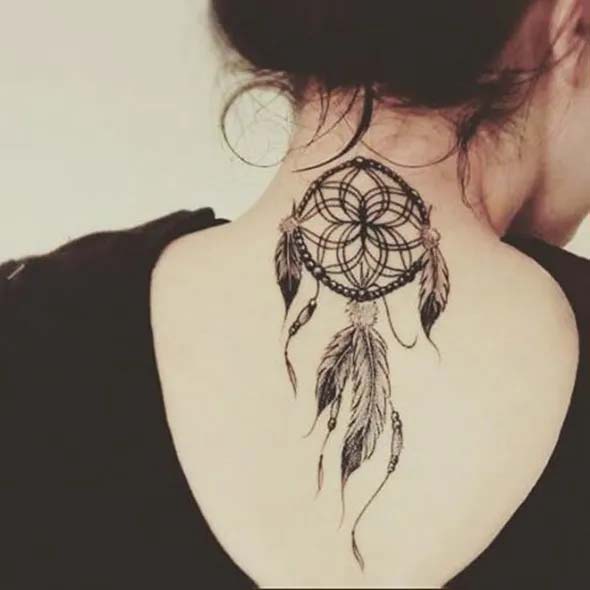 The feathers on this dreamcatcher appear to float on a breeze. It works as the tattoo follows the curve of the back.
A compass in place of the web could mean the owner is following their dreams or being guided by their dreams.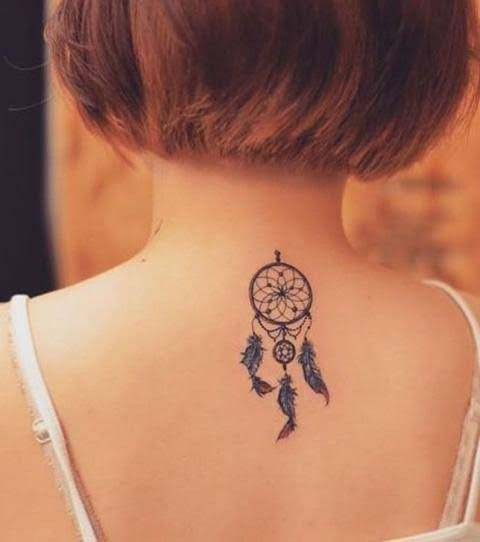 Small tattoos can be simple or intricate. Adding color to the feathers is an unexpected element. Traditionally, dreamcatchers are created with the feathers of a black hen, hawk, or other bird of prey.
5. Ribs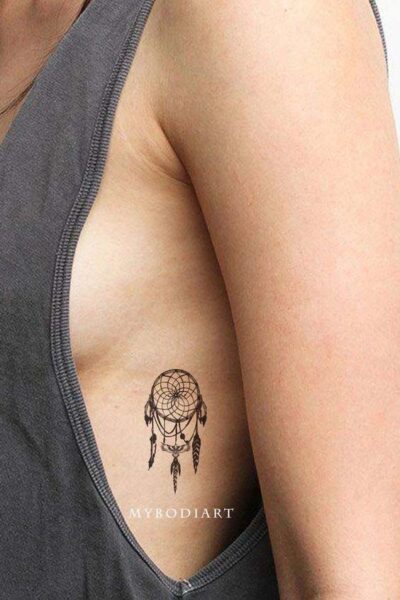 A small tattoo on the ribs can mean you keep your dreams close to your heart.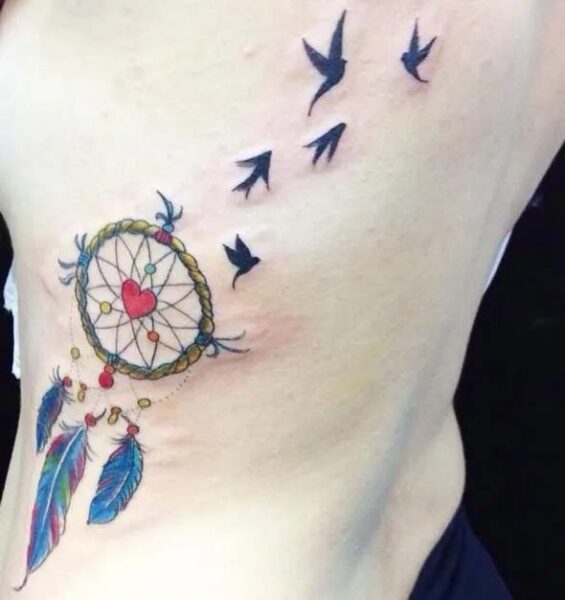 A dreamcatcher with a heart in the center and birds flying away represents the owner's dreams taking flight. The delicate beadwork that holds the feathers is a nice touch.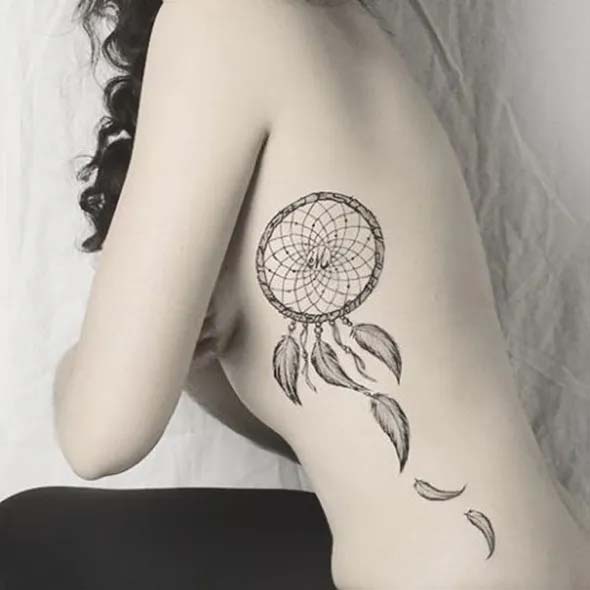 The initial in the center of this hoop holds the key to the owner's dreams.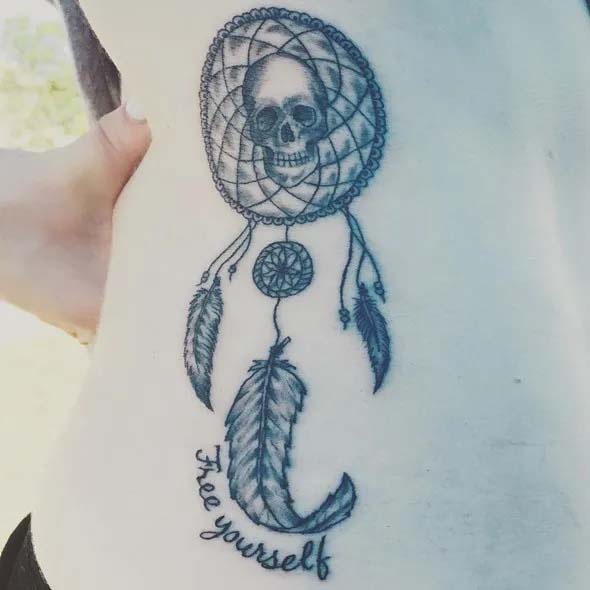 Skulls usually mean no fear of death. This is a good representation of courageously following your dreams.
6. Behind the Ear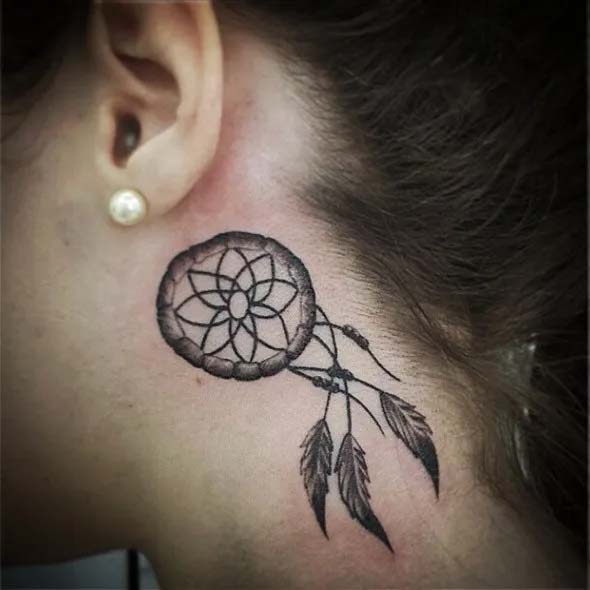 Single line floral patterns work well in small blackwork hoop designs like this.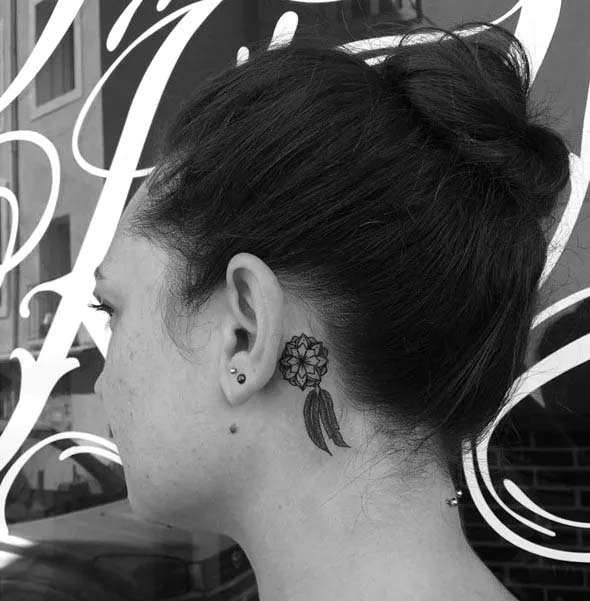 The hoop on this dreamcatcher looks more like a floral mandala design than a spider's web. Small dreamcatcher tattoos may have to be modified. This design attaches the feathers directly to the hoop.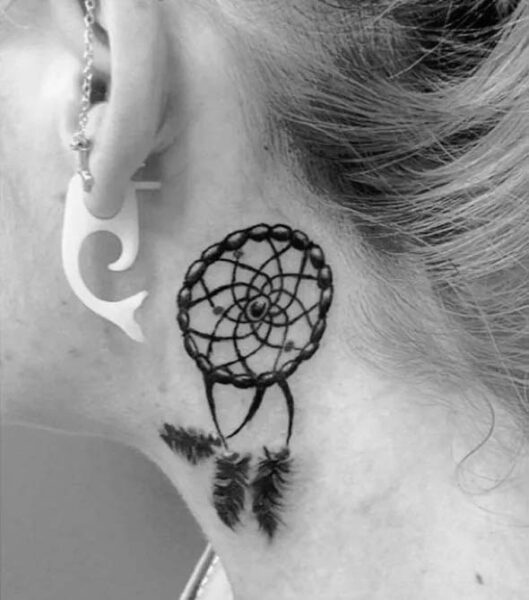 A dreamcatcher with realistic feathers. This is more of a minimalist design, as the artist used a single line for the strands that hold the feathers.
Scale is important in tattoos. The size of this hoop meant the artist had to get creative when inking in the beads and feathers.
Curving them around the neck, they avoided the feathers, looking like they're resting on the shoulder.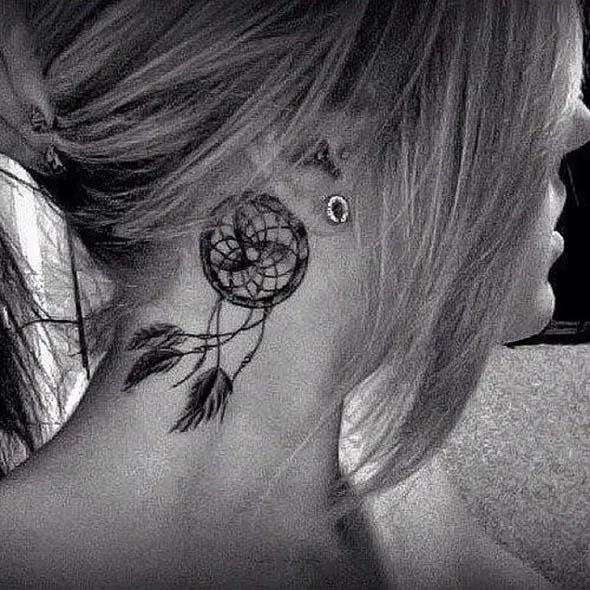 A tattoo behind the ear is a significant statement. While it can be partially hidden by hair, it will always be somewhat visible. This dreamcatcher has nice shading. The feathers blend in with the hairline.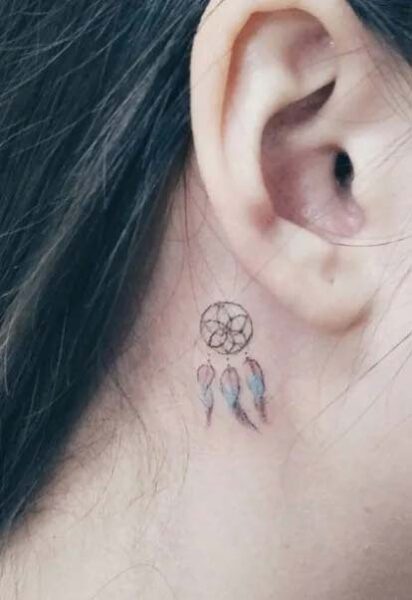 A simple line drawing dreamcatcher is softened with watercolor feathers.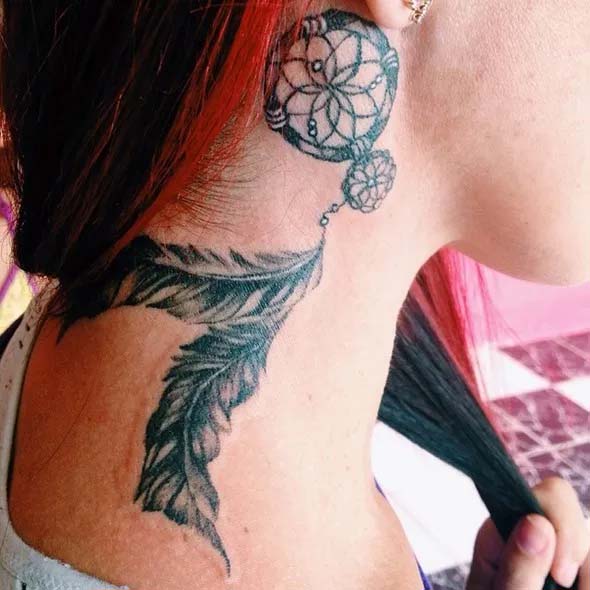 The artist that created this tattoo had to work around the owner's hairline.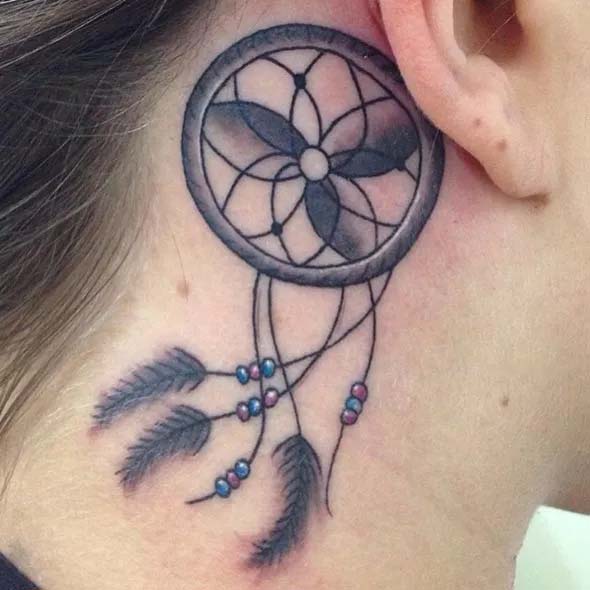 A dreamcatcher with gradient shading and lightly colored beads.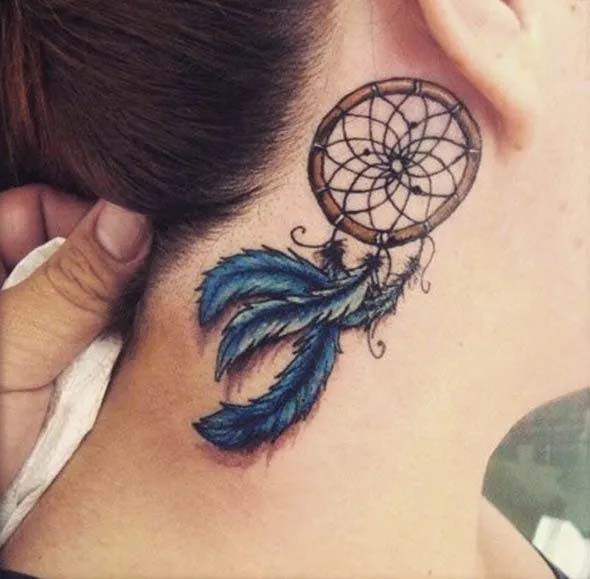 This dreamcatcher design is true to the original talisman. Blue feathers can mean transcendence, loved ones, or peace.
7. Ankle
It's a little tricky to drop a dreamcatcher around the ankle bone. The size of this tattoo forced the artist to get creative with its placement.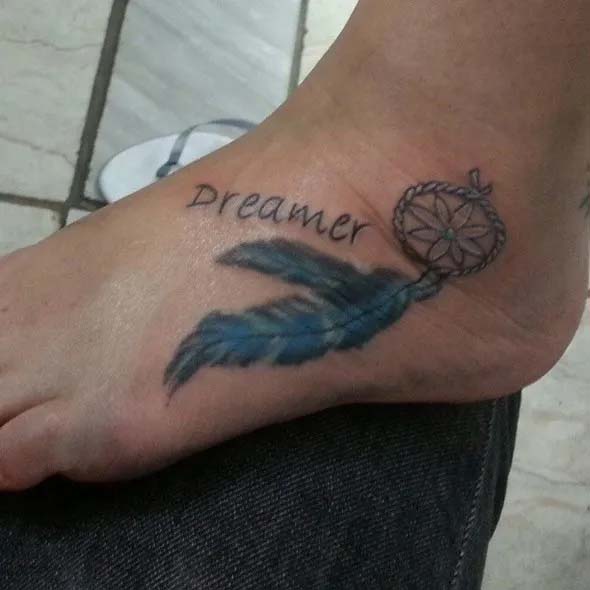 You can choose the colors of your feathers to represent something significant in your life. A flower replaces the spider's web in the hoop in this tattoo.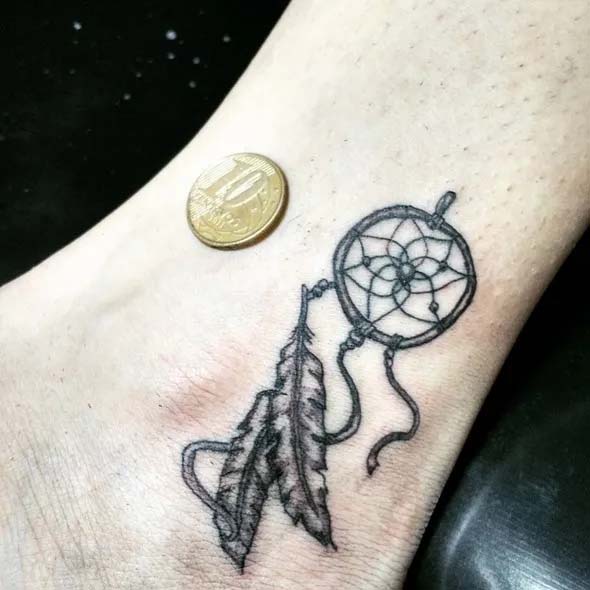 Even dreamcatchers that are very small can have an incredible amount of detail.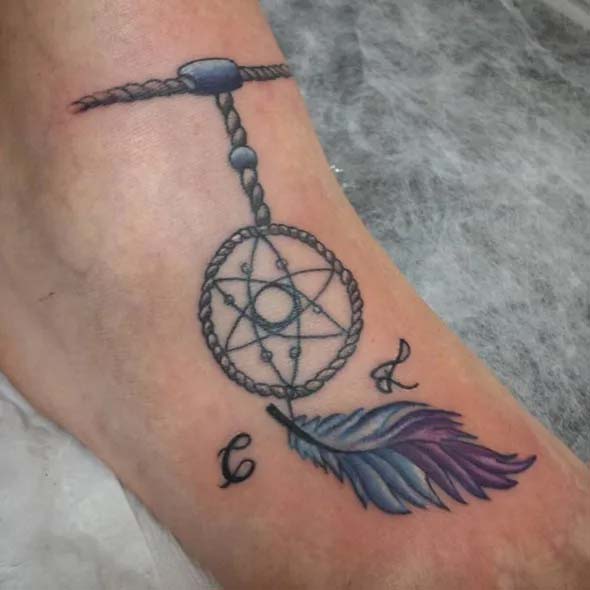 Here's a tribute tattoo with the initials on each side of a single feather. Blue and purple feathers can both represent love.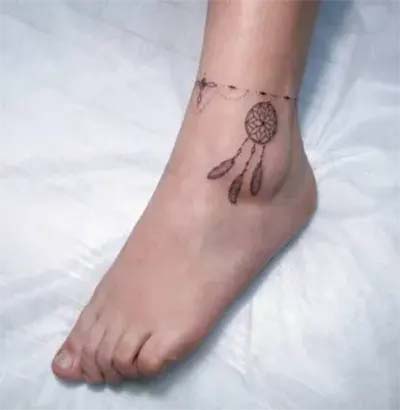 A small dreamcatcher appears to be hanging from an ankle bracelet.
via irenebogachuk
8. Thigh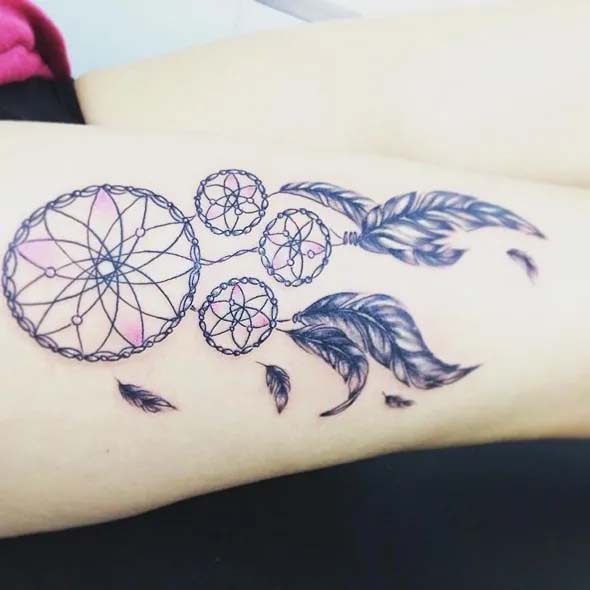 The smaller hoops can mean children. The pink highlights can mean femininity or innocence. Feathers floating free could mean release, or they could just be a decorative element.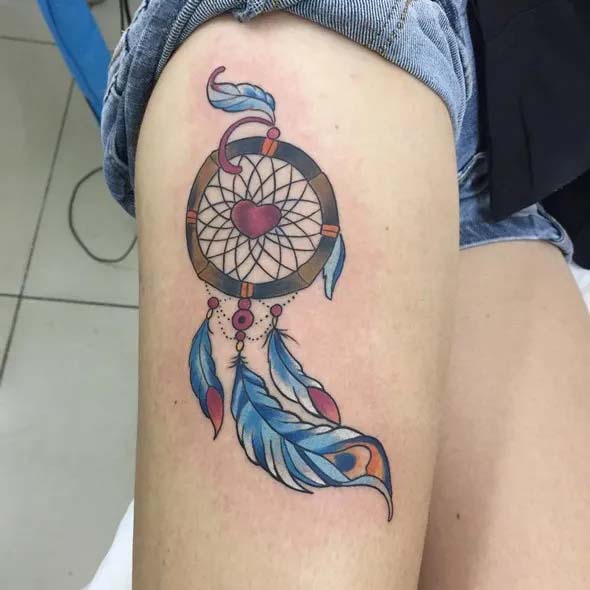 This dreamcatcher, with a heart in the center of the hoop, has large and small feathers. This can represent the unity of the family.