A popular idea for tattoos is combining a traditional dream catcher with a crescent moon. There are as many reasons for doing this as there are people who are wearing moon dream catcher tattoo designs.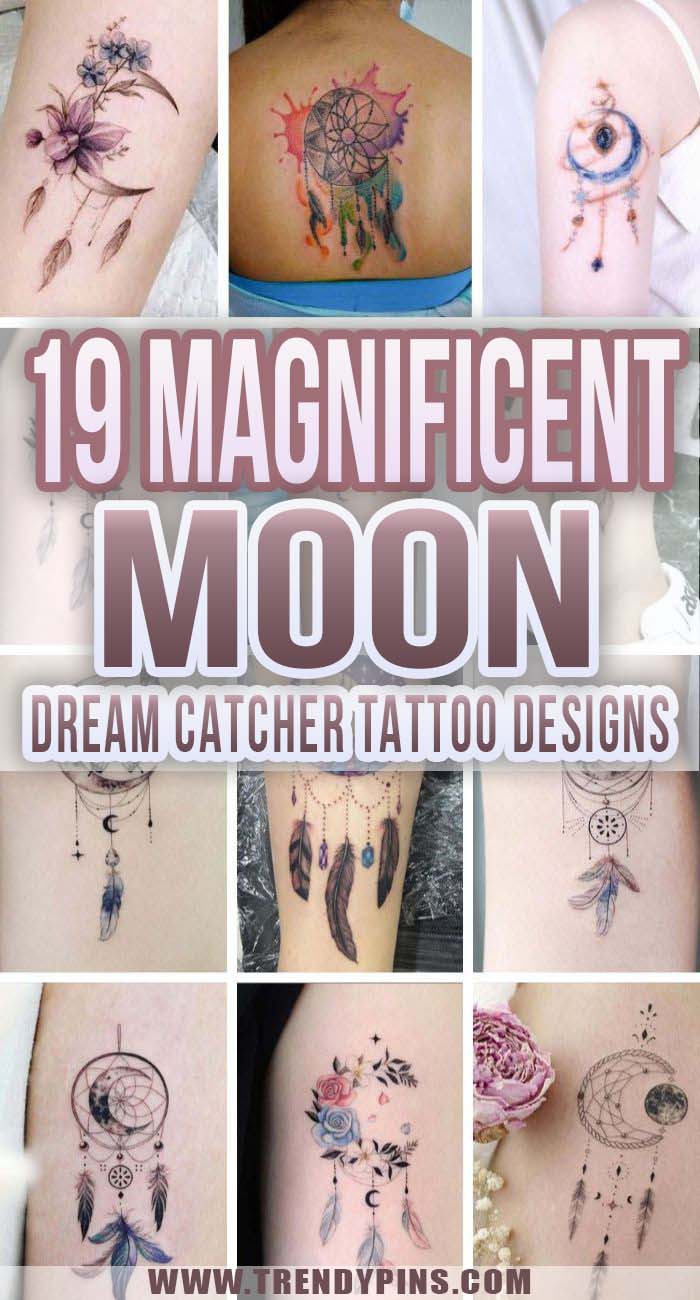 A dreamcatcher is a hoop made from a willow limb. In its center, a web is woven out of string. The symbolism originates with the indigenous Ojibwe people of North America. The idea is that a spider woman weaves a web to filter out negative dreams, preventing them from reaching sleeping children. At the bottom, beads and feathers are attached to leather strands. 
Feathers, flowers, and colors all take on meaning in a tattoo design. Different flowers have different meanings. They can be a birth flower or a symbol of loss or change. A peacock feather can be a symbol of luxury. Large feathers can represent flowers, a bead may represent a birthstone. Crescent moons have many meanings. It's considered a feminine symbol. Depending on how it's designed, it can mean anything from strength to dreaming to fertility. Take some time to learn about the meanings, so your design for spiritual peace isn't misinterpreted for losing loved ones.
You'll find many temporary tattoo designs to try out before you decide on a permanent tattoo.  
Take a look and get ready for sweet dreams.
1. Butterfly and Roses Dreamcatcher Tattoo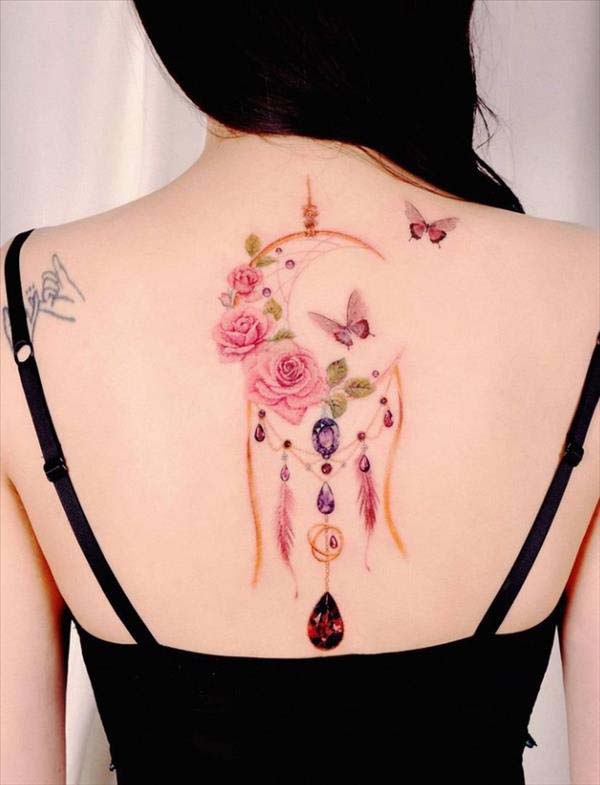 A dreamcatcher made from a crescent moon. Butterflies are spiritual creatures. They can represent travel or loved ones in the afterlife. Roses can mean growth or rebirth.
The ruby red gemstones can represent a birthstone.
2. Full Moon in a Crescent Moon Tattoo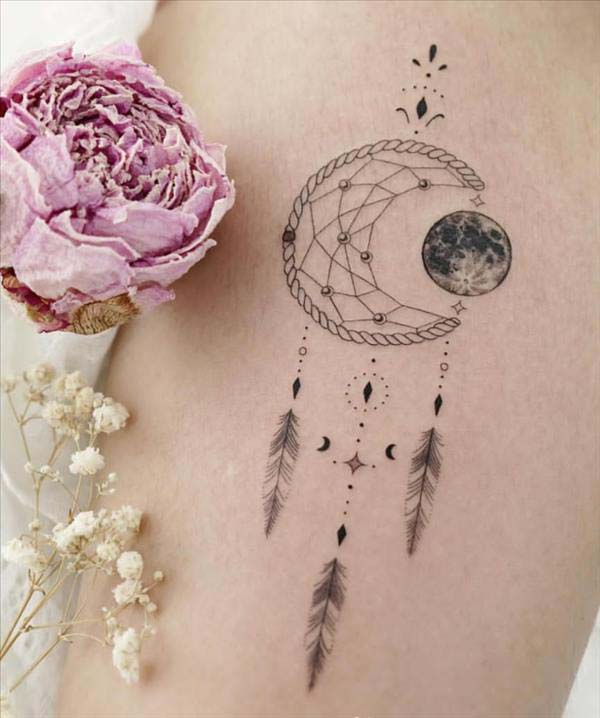 We love the detailed full moon spinning inside a dreamcatcher. This line art tattoo, with its simple bead and woven net design, holds true to the myth of the amulet.
The shading in the moon and feathers adds artistry and imagination to this tattoo.
3. Crescent Moon Inside a Dreamcatcher Tattoo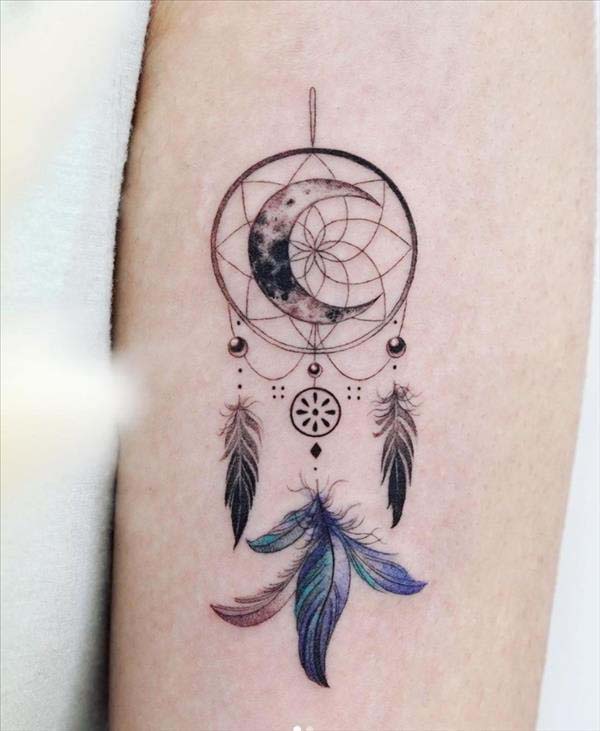 Here's an example of a tattoo that's more derivative of a dreamcatcher than representative of real design. The feathers have a light, illustrative quality. The web looks more like a lotus flower than a spider's web.
4. Vine of Roses on Crescent Moon Tattoo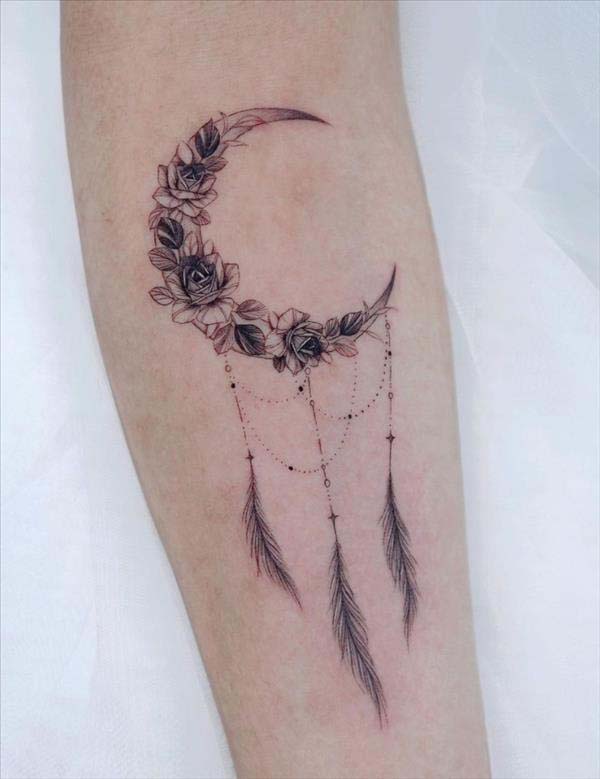 The only thing that tell you this is a dreamcatcher are the feathers hanging from the beads. For such a large tattoo, the artwork is very delicate.
5. Colorful Roses Dream Catcher Tattoo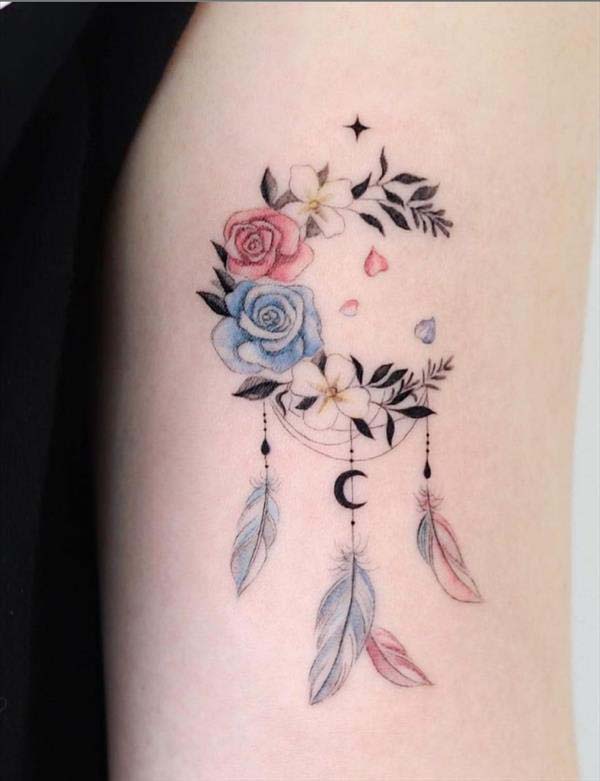 The colors of shavings on this floral dream catcher tattoo is a clue that it's probably a temporary tattoo. It has a nice combination of Blues and reds which could signify which could mean gender male and female smaller flowers as offspring.
6. Crescent Moon Inside a Dream Catcher Tattoo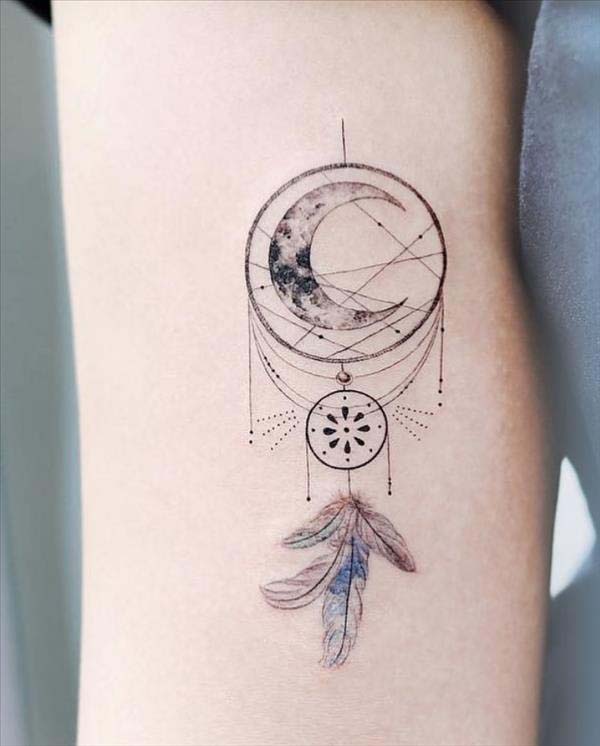 Unlike some tattoos where the crescent noon is used as the base of the dreamcatcher, this moon was drawn inside a dreamcatcher web. We like the rainbow coloring in the feathers.
7. Purple Crescent Moon Dreamcatcher Tattoo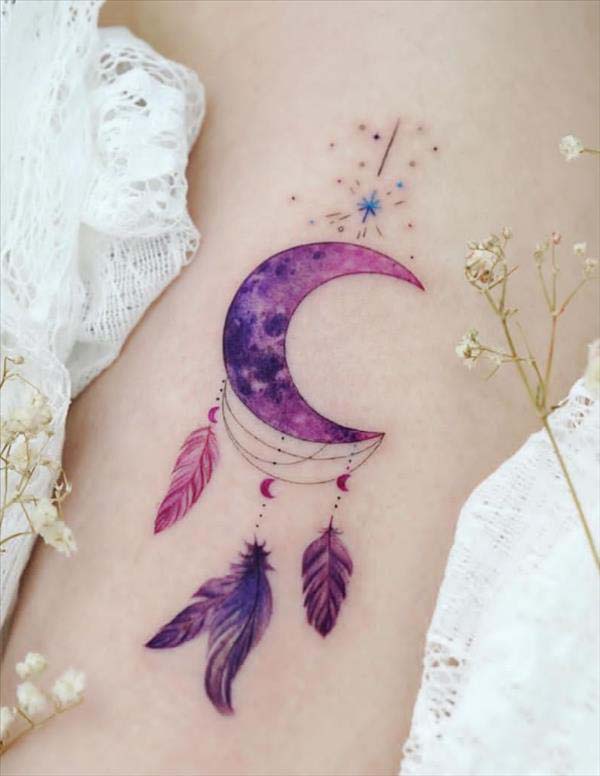 Purple in a tattoo can mean anything from wealth to peace. Both the moon and the feathers showcase the purple color. The top of the dreamcatcher looks like a magic wand.
8. Crescent Moon Dreamcatcher Tattoo With Butterflies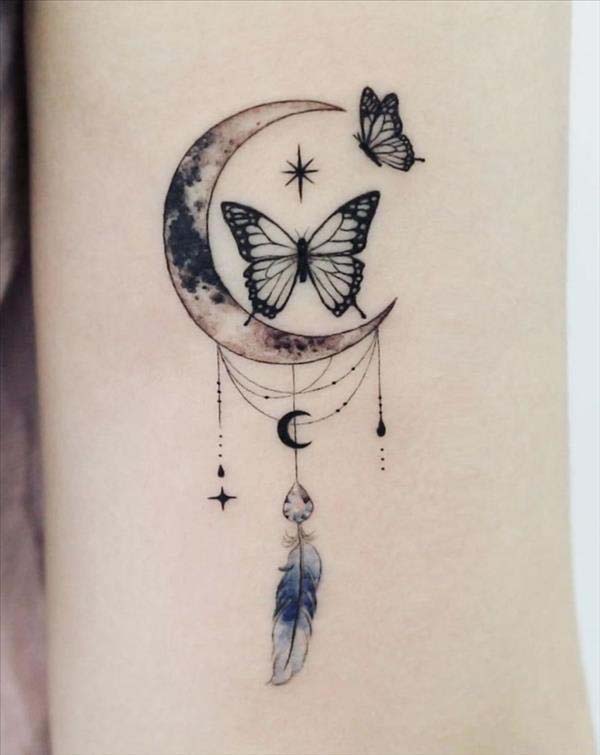 Butterflies often symbolize transformation. The crescent moon that forms the base of this dream catcher tattoo is a little cloudy. It could be that the craters are covering an old tattoo. Notice the second crescent moon hanging from the beads, as well as a single gemstone and a solitary flower.
9. Full Moon Inside a Dream Catcher Tattoo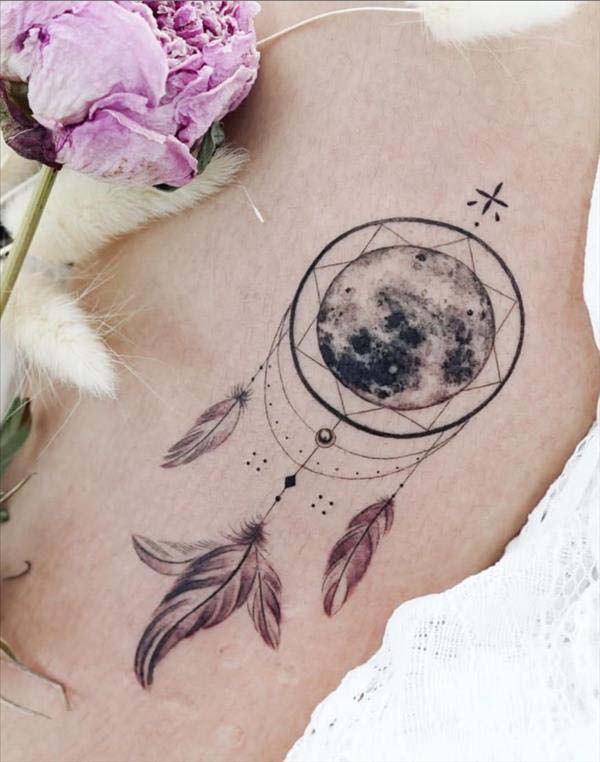 Again, some of these moons look like they might be covering an old tattoo. You can almost see flower decorations inside the full moon. The top hanger design looks like a spiritual symbol.
10. Colorful Gems and Stars Dreamcatcher Tattoo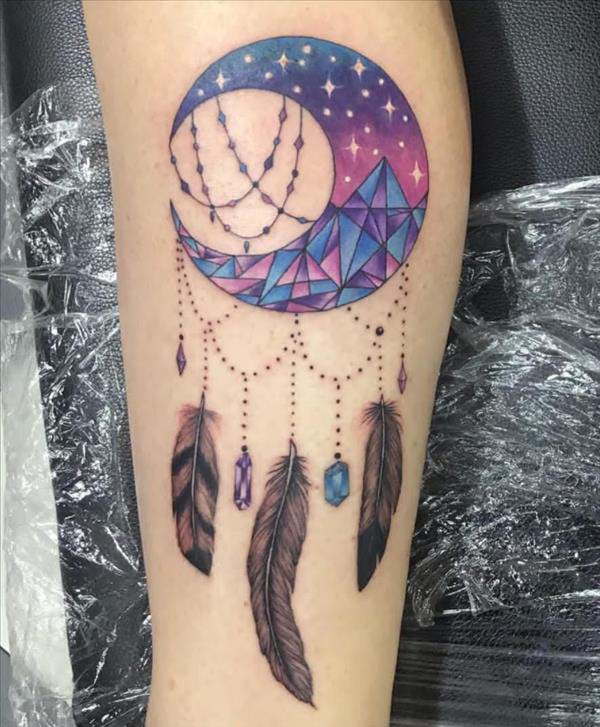 While this tattoo doesn't hold to the original concept of a dreamcatcher, the symbols found in dreaming are certainly present. Think of the stars as being caught as prisms. These are filtered to become sparkling gems of wealth and abundance for the dreamer.
11. Gems and Bells Crescent Moon Dreamcatcher Tattoo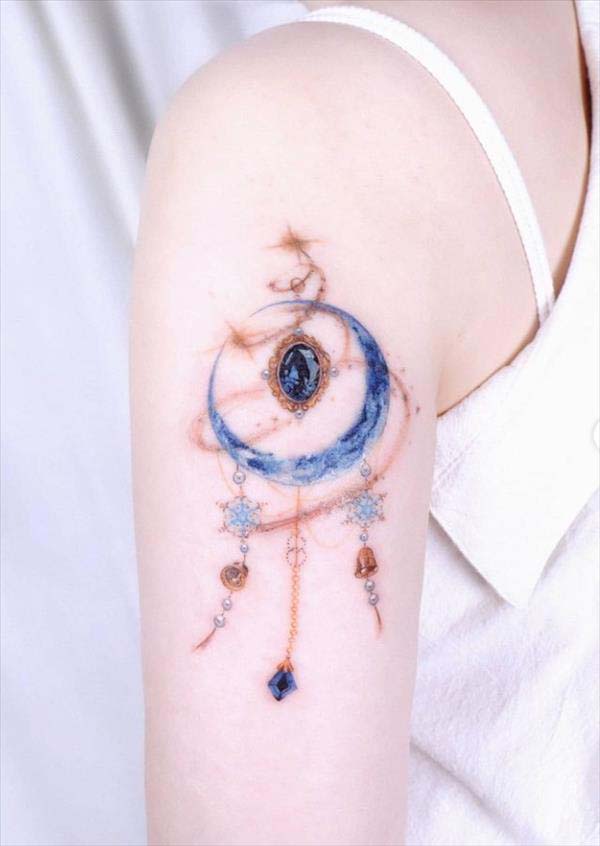 Yellows and golds are very difficult to add to a tattoo. For that reason, we can assume this is a temporary tattoo. The beautiful sapphire gemstone looks magical. Its swirling design is enhanced by bells and other gems.
12. Watercolor Crescent Moon Dreamcatcher Tattoo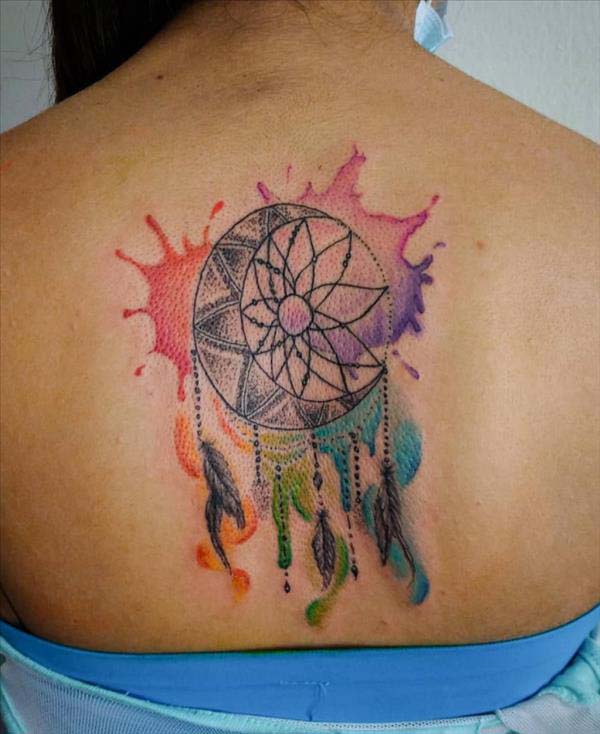 A rainbow of watercolors is a very popular tattoo idea. The dreamcatcher sets on splashes of color. The crescent moon has a lotus flower woven into the middle. Feathers are drawn in a traditional line art style. 
This is an example of what can be done with a ballpoint pen and other markers for a temporary tattoo.
13. Floral Crescent Moon Dreamcatcher Tattoo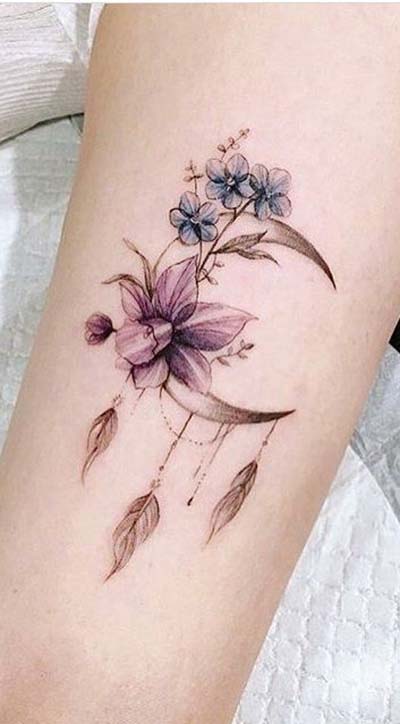 The subtle colors, including the brown on the dreamcatcher itself, are unique. You usually see artwork done in black ink. The smaller blue flowers could even represent children of a parent.
14. Blue Butterflies and Crescent Moon Tattoo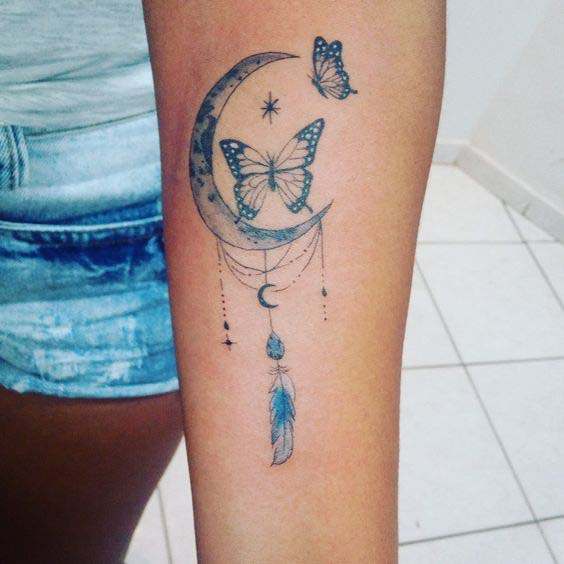 Another transformative type of dream catcher tattoo. The blue butterflies signal change and we like the gemstone between the second moon and the feather.
15. Flowers on a Crescent Moon Tattoo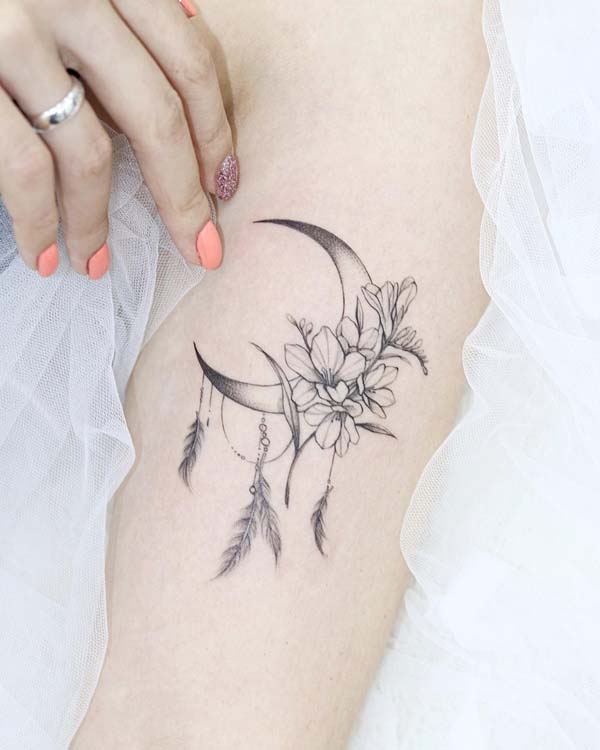 The shading on the crescent moon creates an illusion of it shimmering In the darkness. There's also very nice shading to create the feathers.
16. Floral Crescent Moon Ankle Tattoo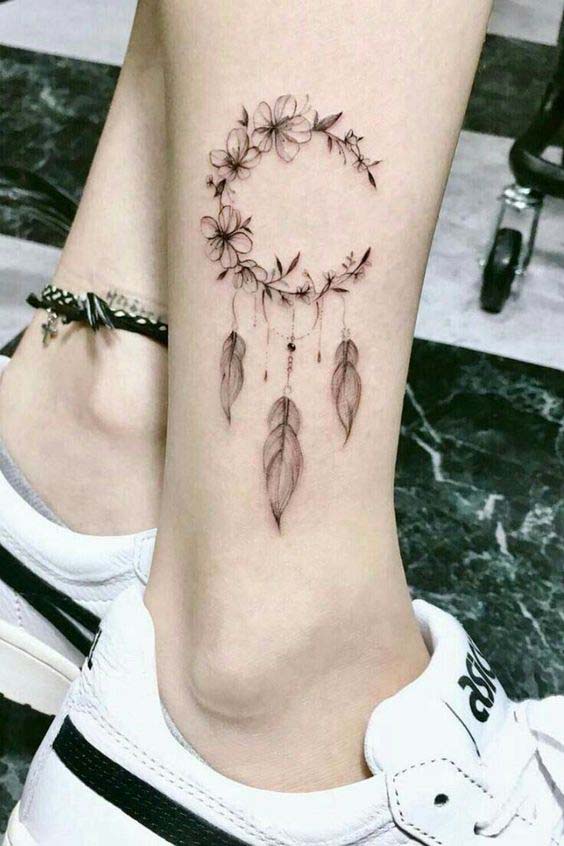 This long ankle tattoo uses flowers like a wreath to create the ring of the dreamcatcher. The artistic style is feminine and delicate.
17. Floral Vine Crescent Moon Tattoo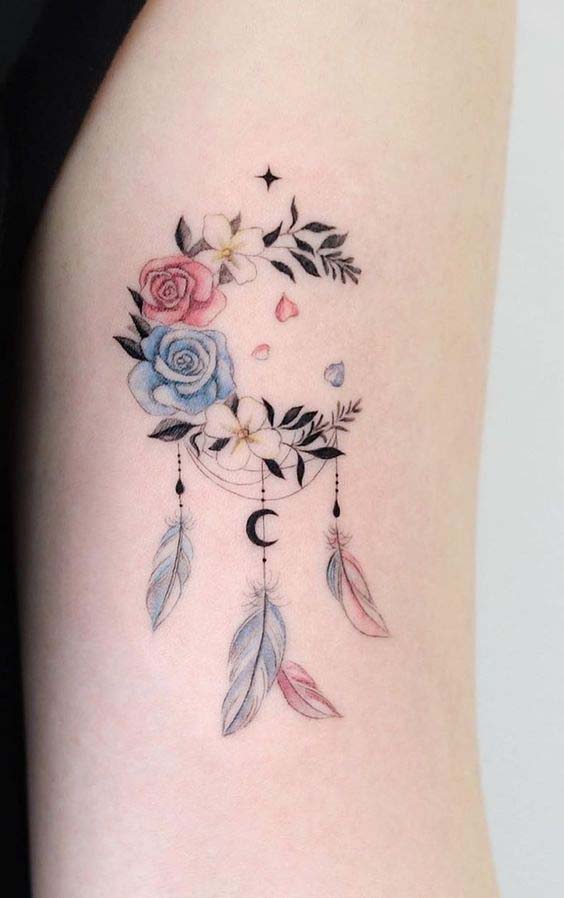 This is another example of how the flowers create the crescent moon by winding along and a half circle. The small ink design at the top could be the guiding North Star.
18. Wraparound Crescent Moon Dreamcatcher Tattoo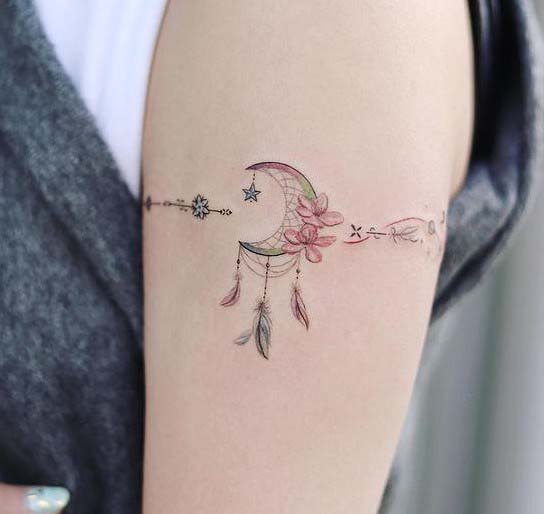 Here's an interesting twist to the dreamcatcher tattoo design. Instead of everything floating from the end of the catcher, the design wraps around underneath the arm.
19. Flowering Crescent Moon Dreamcatcher Tattoo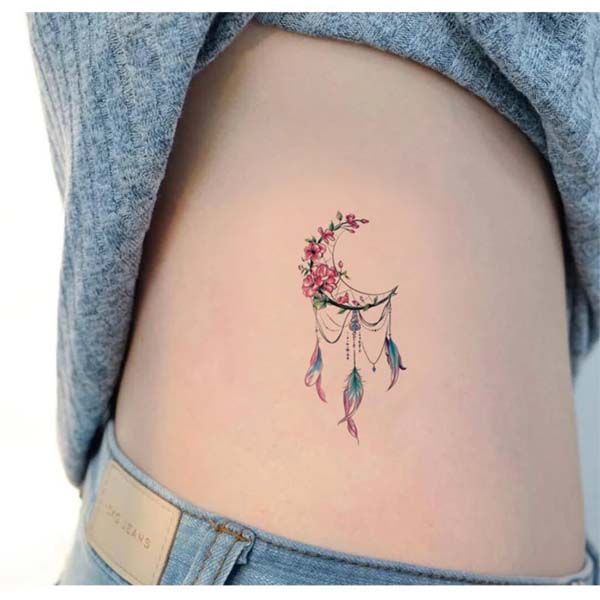 The pink flowers are the true stars of this dream catcher tattoo. They wind their way to the tip of the moon. The feathers and flowers are all in shades of blue and pink.