With Christmas right around the corner, what better way to start celebrating then making some great candy with some old fashioned Christmas candy recipes.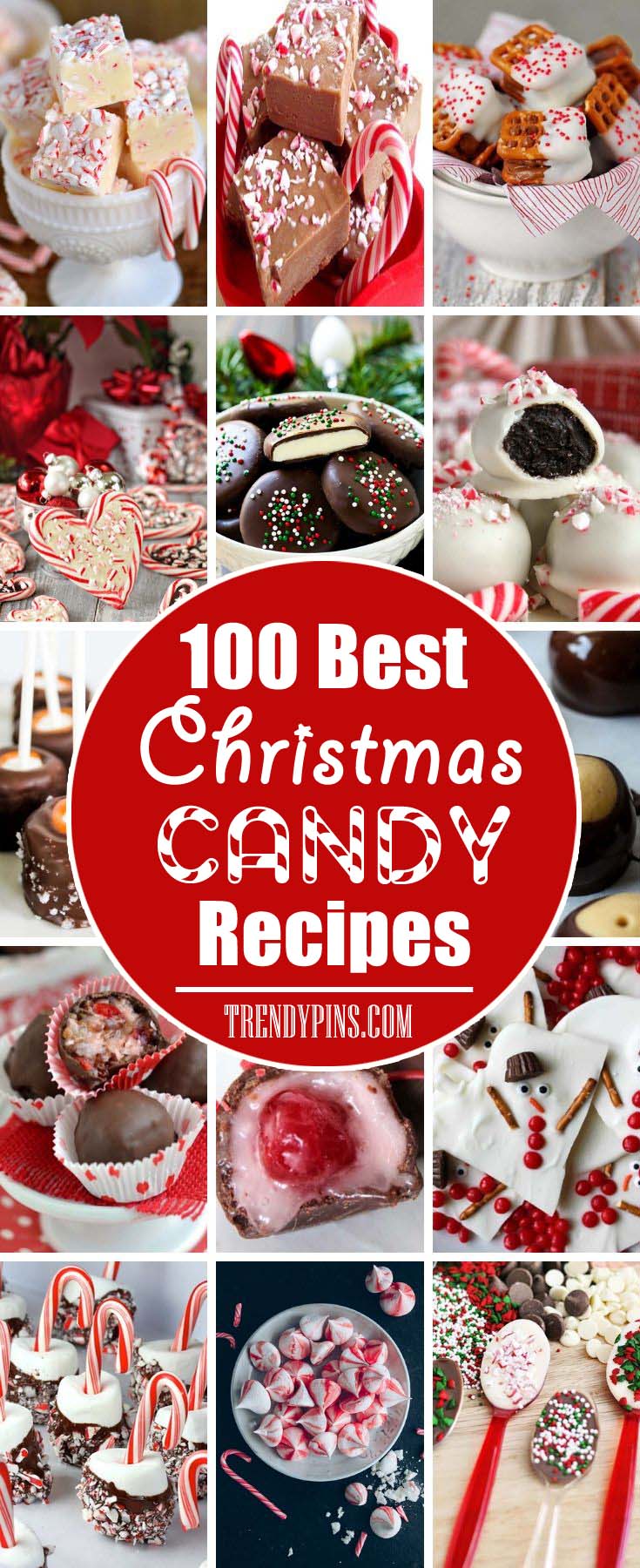 Candy is one of those things that make the holiday season so great, and more and more people are using homemade Christmas candy recipes to save themselves some money. Below are some easy Christmas candy recipes to make your holiday season just perfect, and can get the whole family ready for Christmas.
20 Minute Christmas Crack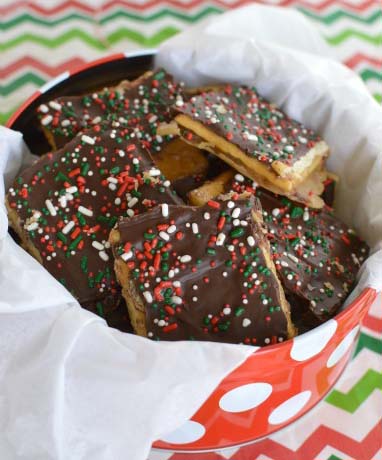 via Little Dairy On The Prairie
This recipe is made from ingredients that can be found in the pantry. It is a sweet yet salty chocolate dessert.
3 Ingredient Old Fashioned Potato Candy (No Bake)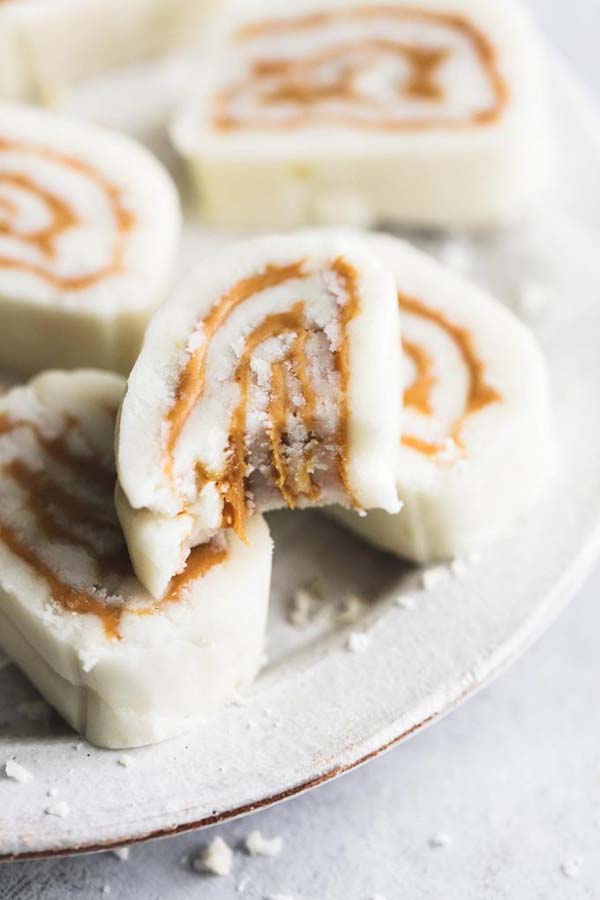 This is an old fashioned candy that does not require any baking. This candy is made from potatoes but does not taste like one at all.
Best Toffee Ever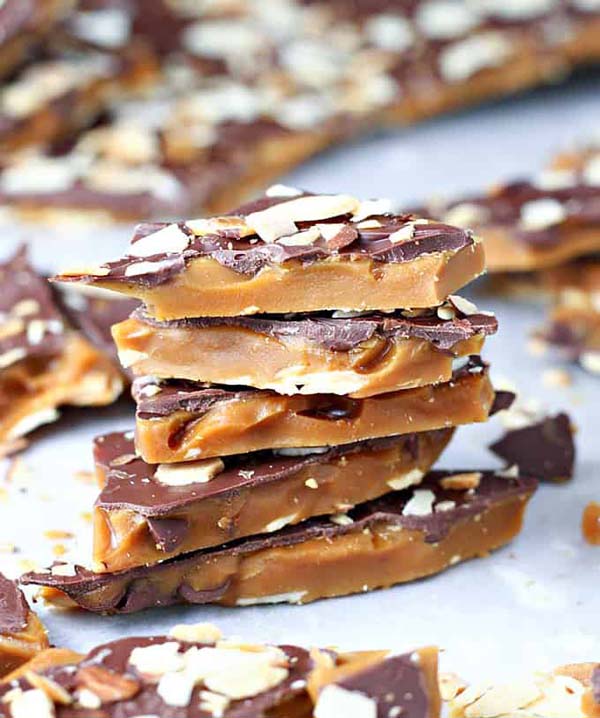 via Let's Dish
This recipe is made from 6 simple ingredients. Even though it is very few ingredients, it still packs a flavorful punch. 
Butterscotch Squares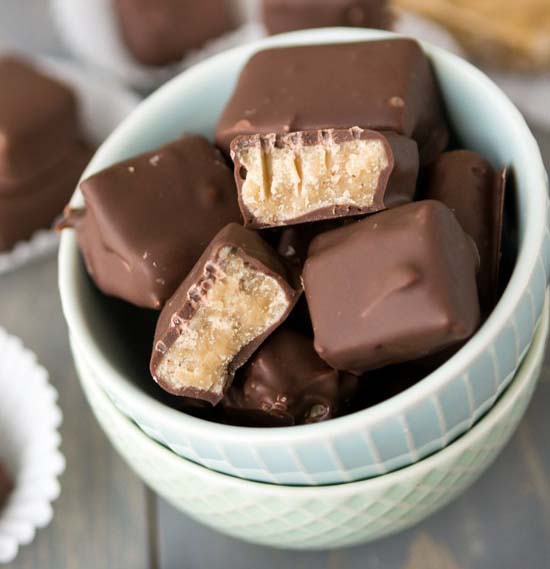 via Crazy for Crust
The butterscotch is a very brittle candy, so cut it carefully. This candy tastes just like how See's Candy makes theirs.
Candy Bar Pretzel Bites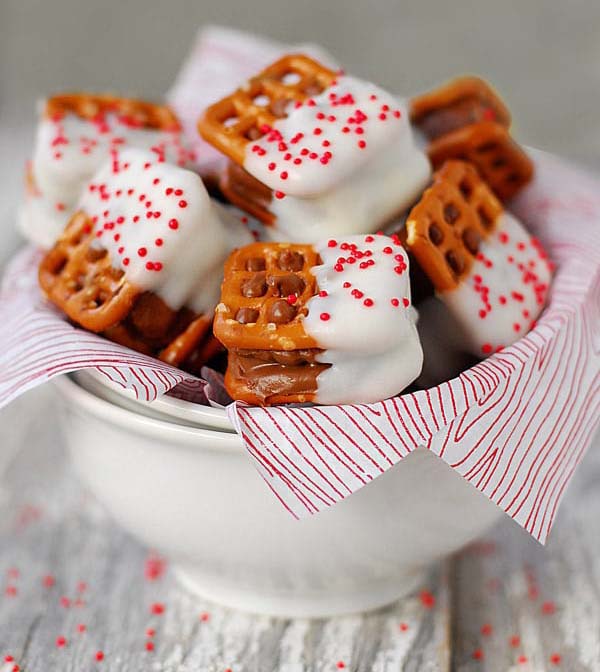 via The Gunny Sack
These are the perfect bite-sized dessert for a gathering or a gift. They are the perfect combination of sweet and salty.
Candy Cane Marshmallow Pops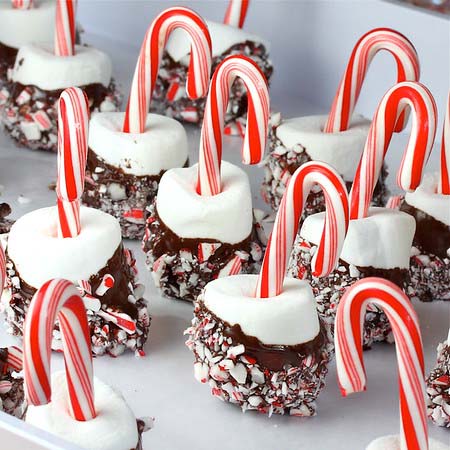 via Liv Life
With peppermint being a holiday favorite for many, this treat makes a perfect gift. It is small enough to put into a stocking and easy to eat on the go.
Candy Cane Meringue Kisses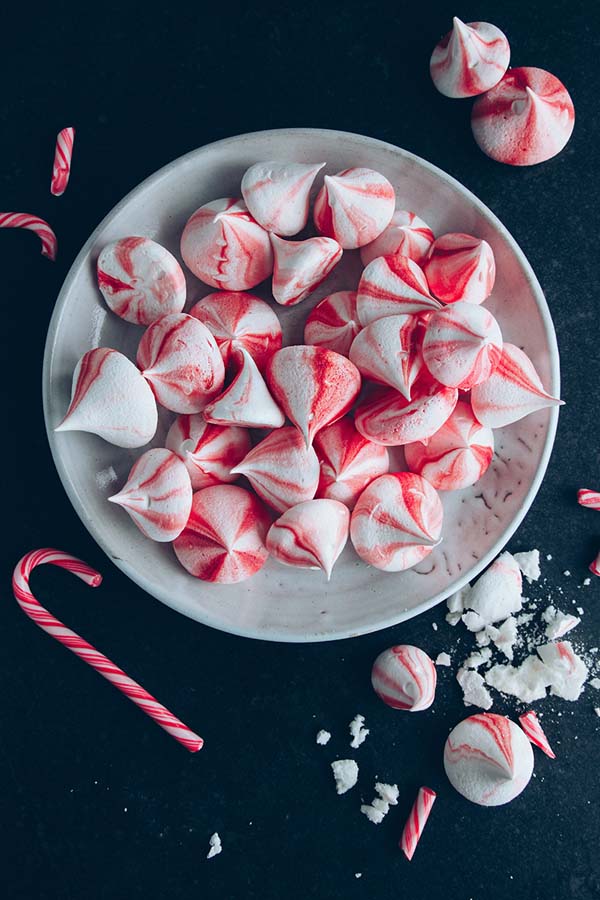 Not only are the appearance of these sweet treats perfect for the holiday season, but so is the flavor, peppermint. They are small, bite-sized treats filled with lots of flavors.
Candy Cane Oreo Truffles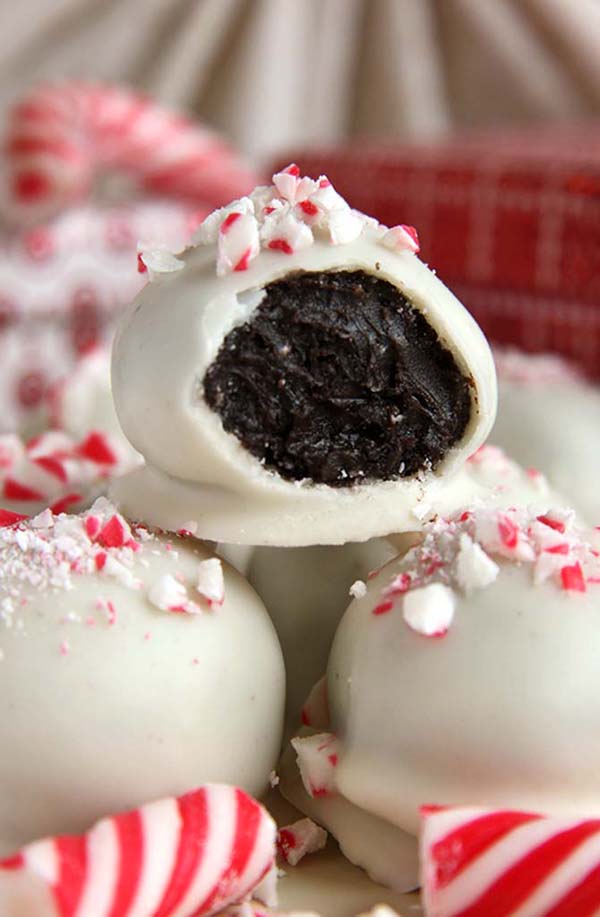 via Cakes Cottage
Truffles are a favorite no matter what time of year/ By adding peppermint, these are perfect for the holiday season.
Caramel Nougat Pecan Rolls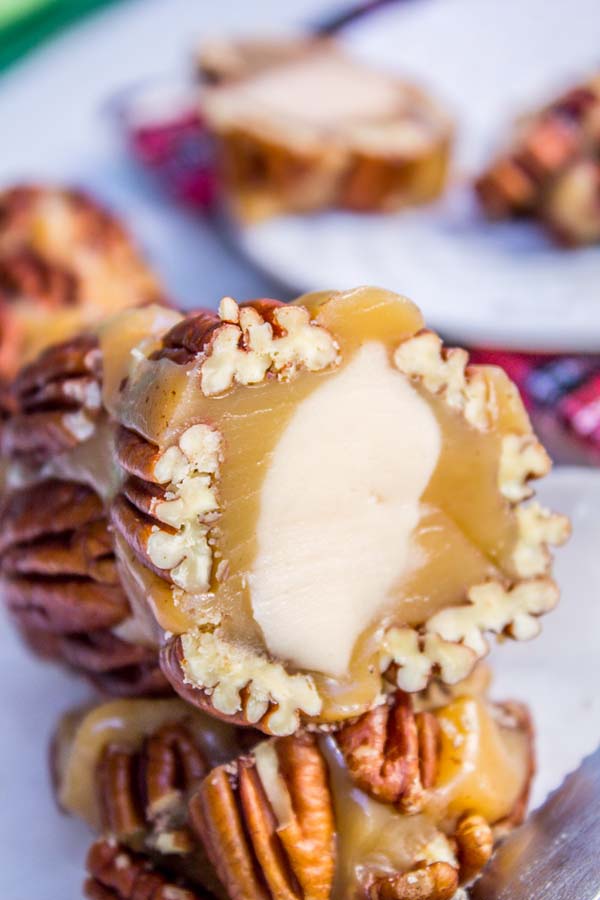 This is a simple dessert though it has many parts. It has great flavor and is very sweet.
Chocolate Caramel Marshmallows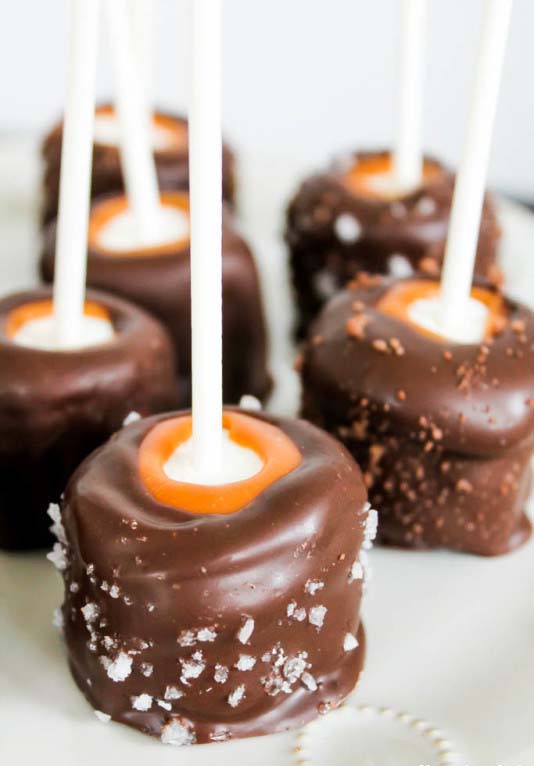 This is the perfect candy on a stick for gatherings. Not only is it a sweet treat, but it is easy to eat on the go.
Chocolate Covered Cherries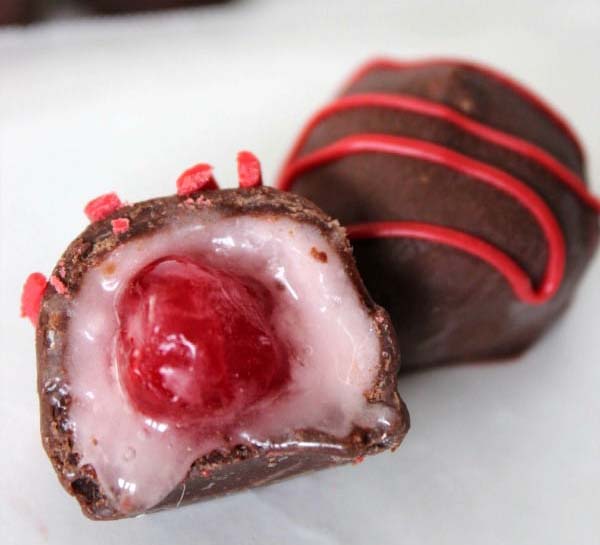 via Cincy Shopper
These sweet treats have been a holiday favorite of many for a long time. There is no better way to surprise someone than to make them yourself.
Chocolate Peanut Butter Stacks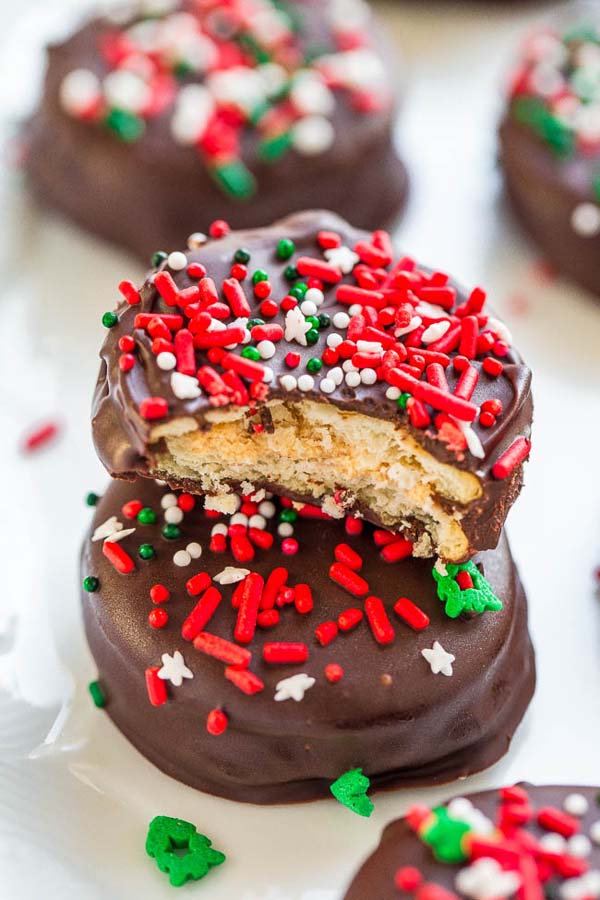 via Averie Cooks
These are a great no-bake dessert that can be made quickly for a party. They may seem very simple, but they pack some great flavor.
Christmas Chocolate Truffles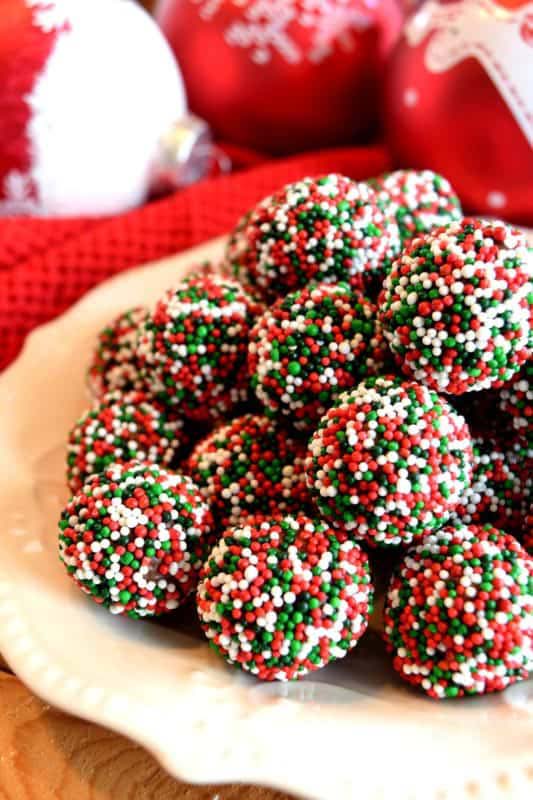 With truffles being a favorite of many, they are a popular one to take to a party. All you need to do to make them perfect for the holidays is to add some festive sprinkles to the outside.
Cinnamon Rock Candy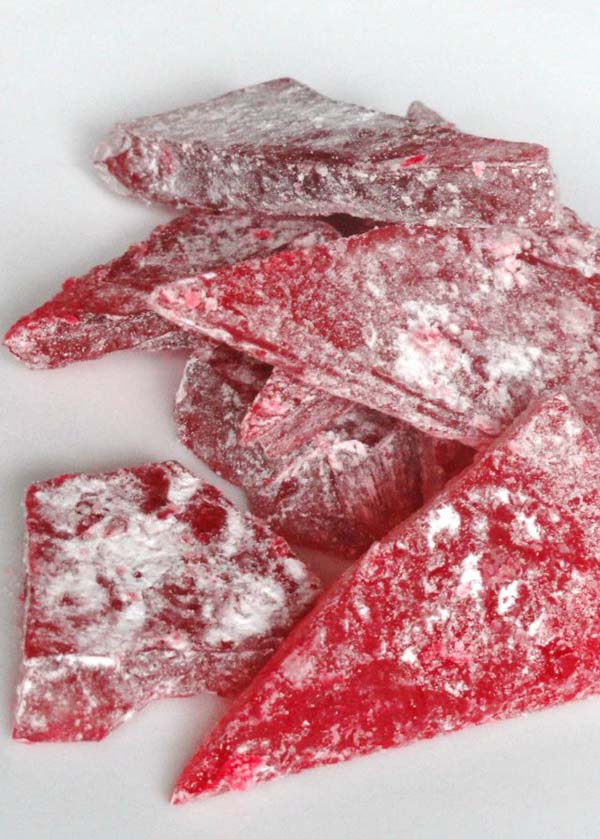 via Serena Bakes Simply from Scratch
These are the perfect spicy yet sweet treats that can be used as a gift. They are the perfect treat for eating on the go since they will not melt on you.
Cinnamon Sugar Pecans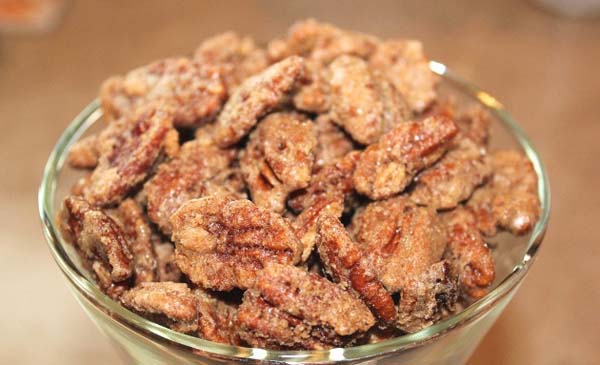 via Firefly Tales
These are a simple treat to fix. Even though they are simple, they are still full of sweet and nutty flavors. 
Cinnamon Sugar Pretzels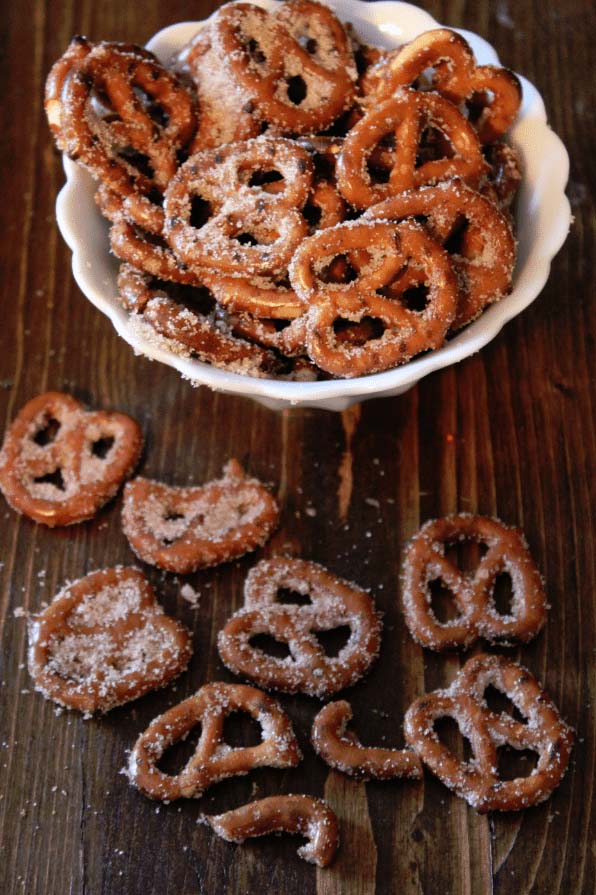 via Tammilee Tips
If sweet and salty is the flavor you want, then these are perfect. They are simple to make and still flavorful. 
Coconut Cream Truffles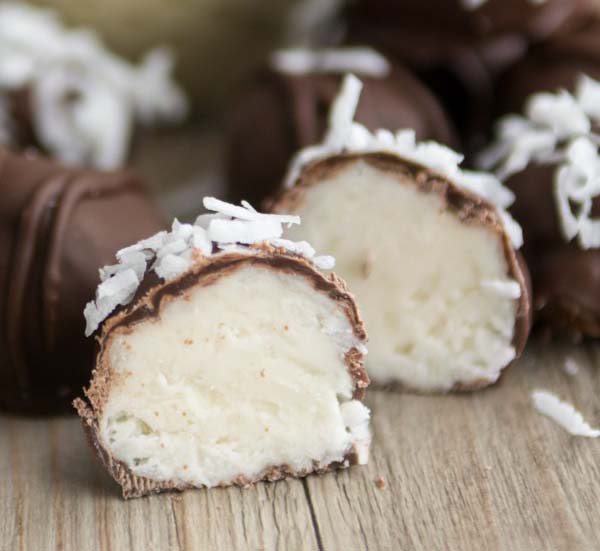 via Crazy for Crust
This truffle packs a punch of coconut flavor with the perfect amount of sweetness. They are bite-sized treats perfect for events.
Cookies and Cream Bark
Chocolate is the way to most people's hearts, so bark is the perfect dessert. This bark is made from Oreo's.
Cranberry Pistachio White Chocolate Bark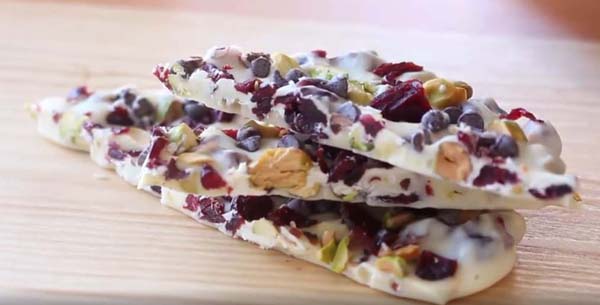 via Tastemade
This bark is simple and quick to make. Even though it is simple to make, it packs a lot of different flavors.
Cream Cheese Mints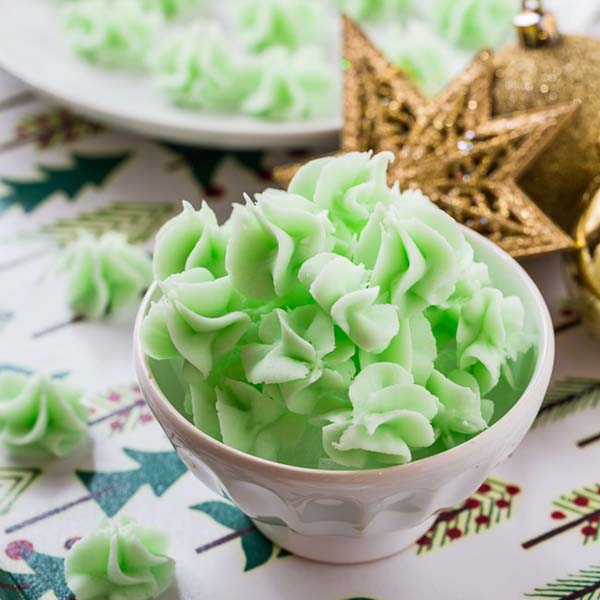 This candy is fresh and minty in taste.
Crock Pot Christmas Crack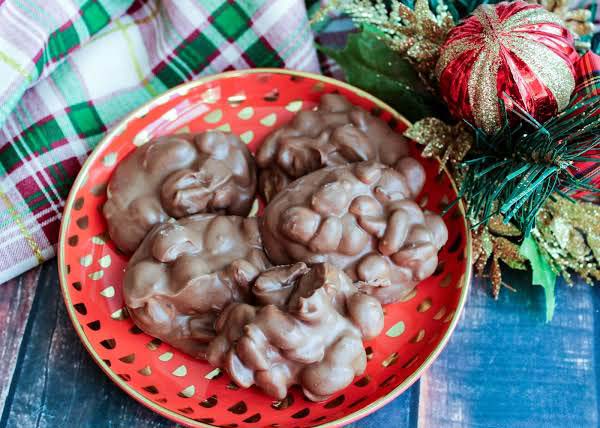 via Just a Pinch
This treat is a mixture of Reese's cup and a snickers bar. 
Crockpot Candy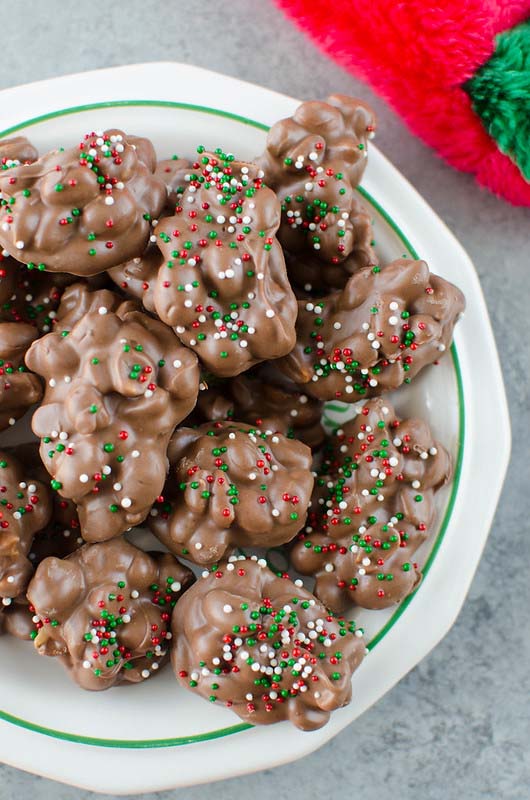 via Fake Ginger
This is a chocolate-covered peanut treat. 
Crockpot Roasted Sugared Pecans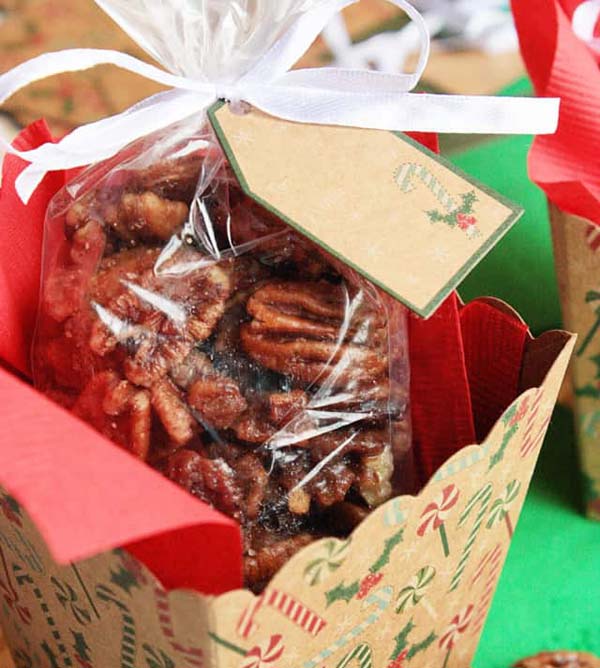 These candies are sweet, nutty, and smoky.
Easy Christmas Peppermint Patties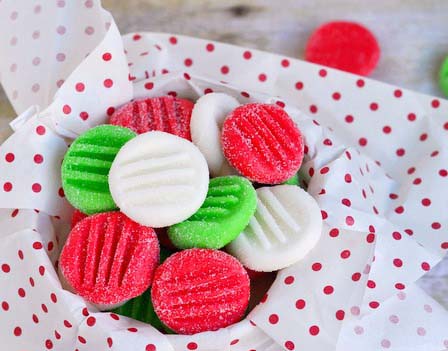 via Mom on Timeout
These treats are minty and sweet.
Easy Homemade Divinity Candy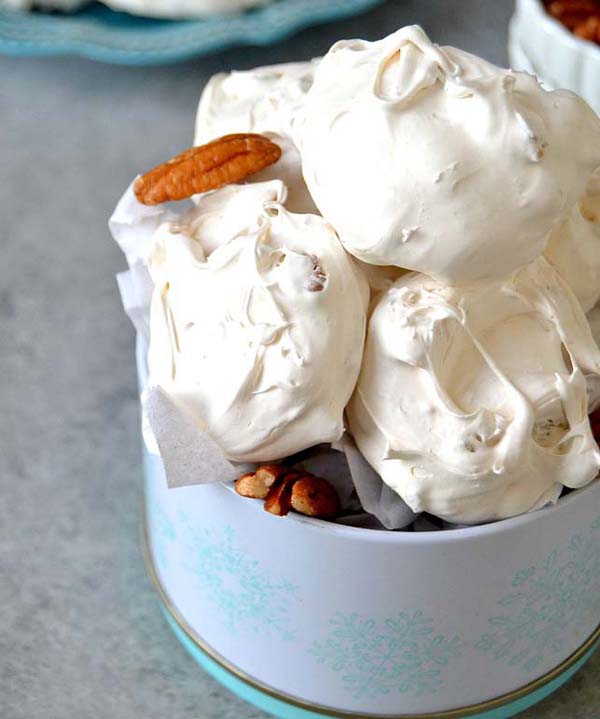 This candy is snow white and similar to fudge.
Easy Peppermint Bark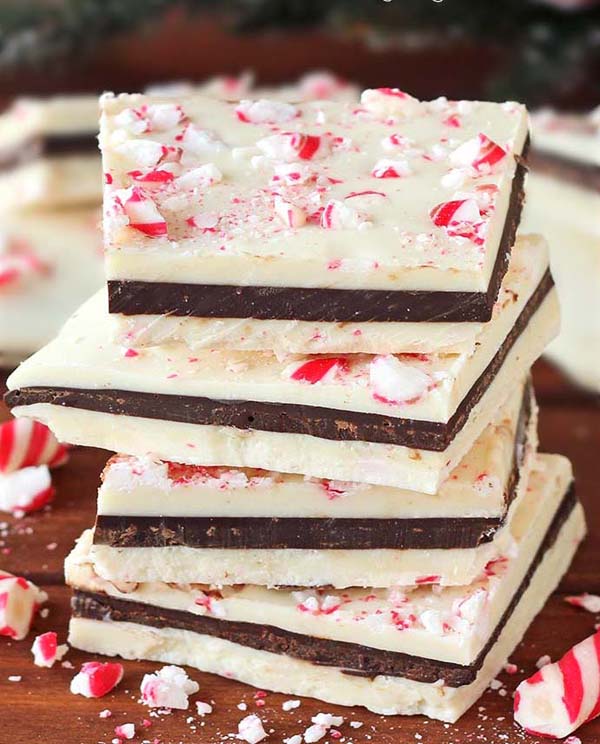 via Sugar Apron
This chocolate bark is minty fresh.
Egg Nog Fudge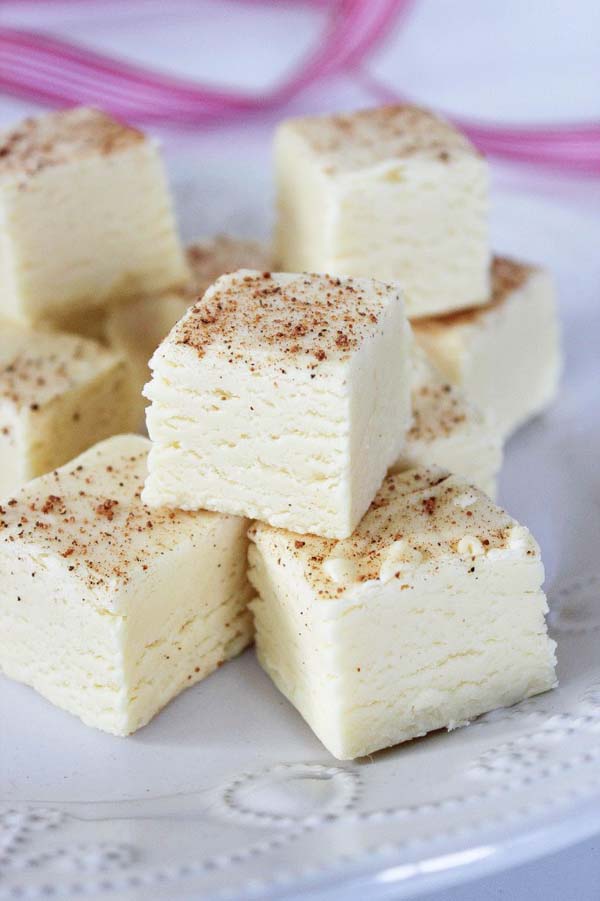 via Baking Beauty
Egg nog is a holiday flavor in fudge.
English Toffee Bites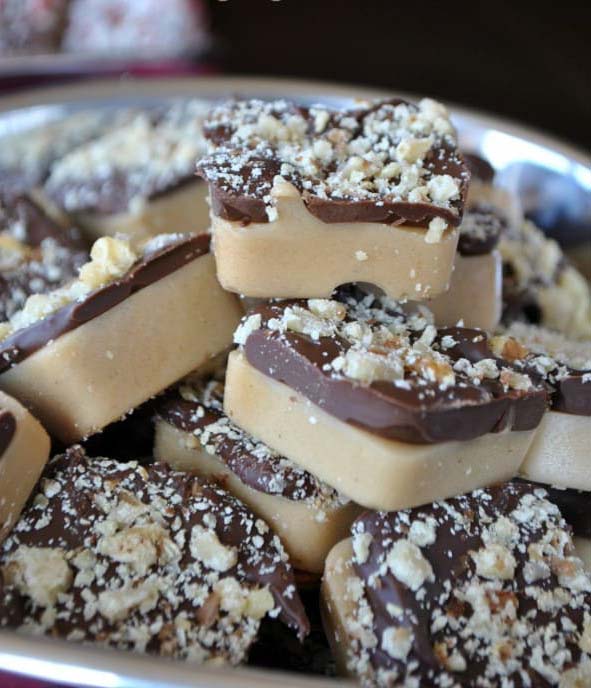 via Sugary Sweets
This toffee is a buttery candy poured over almonds and topped with chocolate and walnuts.
Fleur De Sel Caramels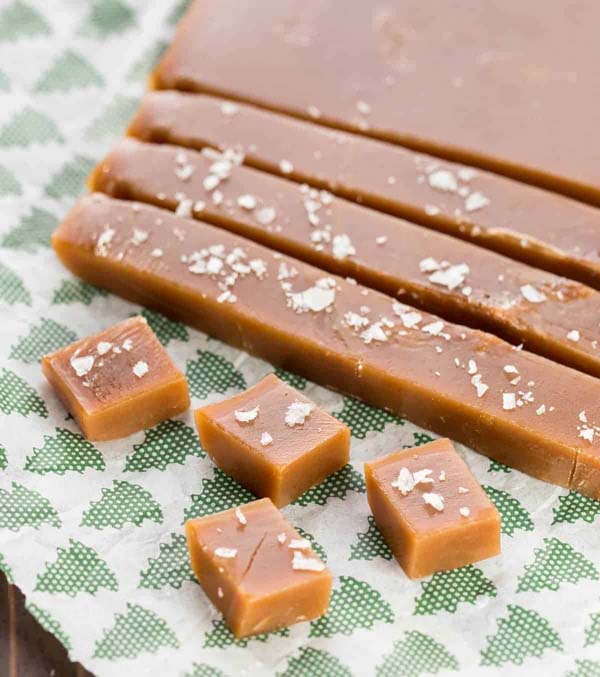 Soft caramels topped with salt make these candies.
German Chocolate Fudge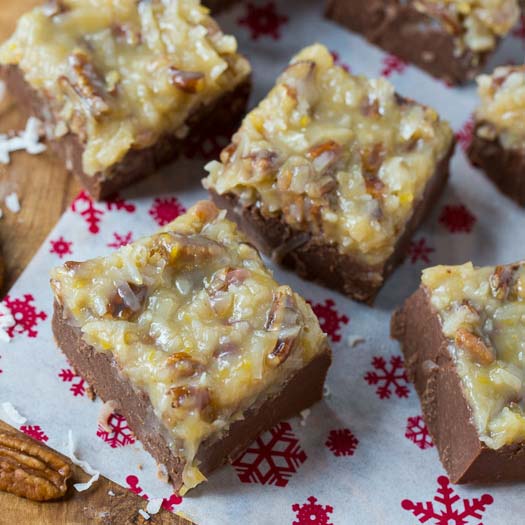 This treat combines fudge with german chocolate cake.
Gingerbread Fudge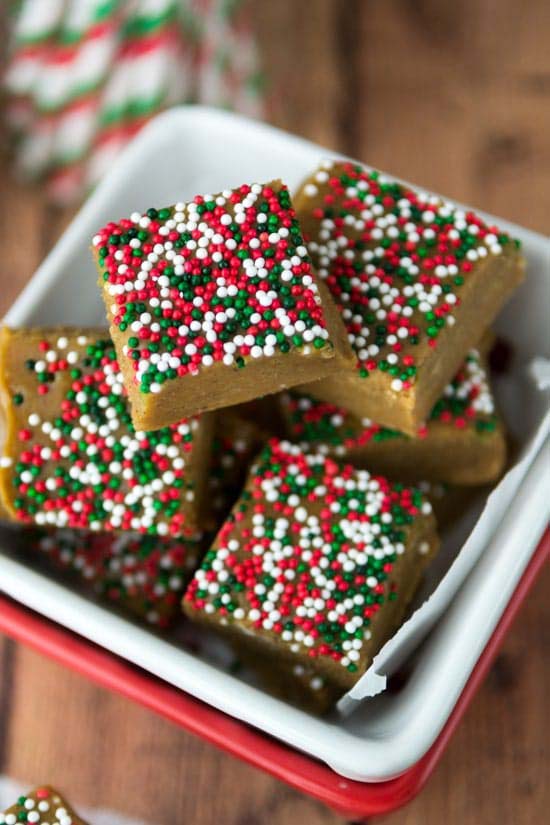 via Crazy for Crust
Gingerbread taste in a fudge.
Gumdrop Fudge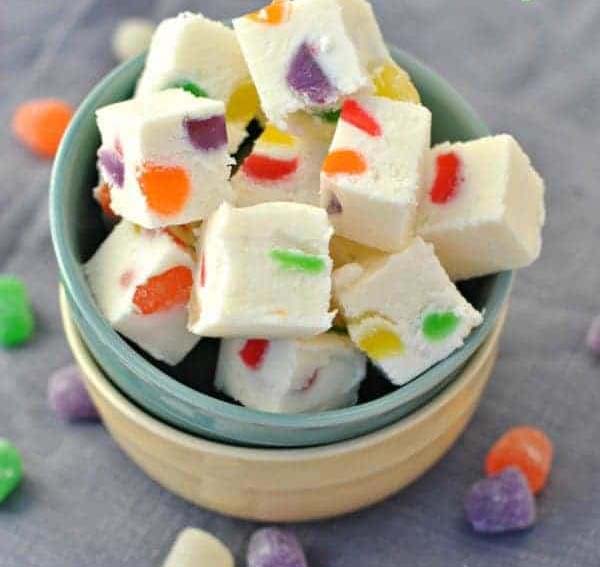 via Shugary Sweets
This treat combines gumdrops with fudge.
Homemade Almond Joy Candy Bars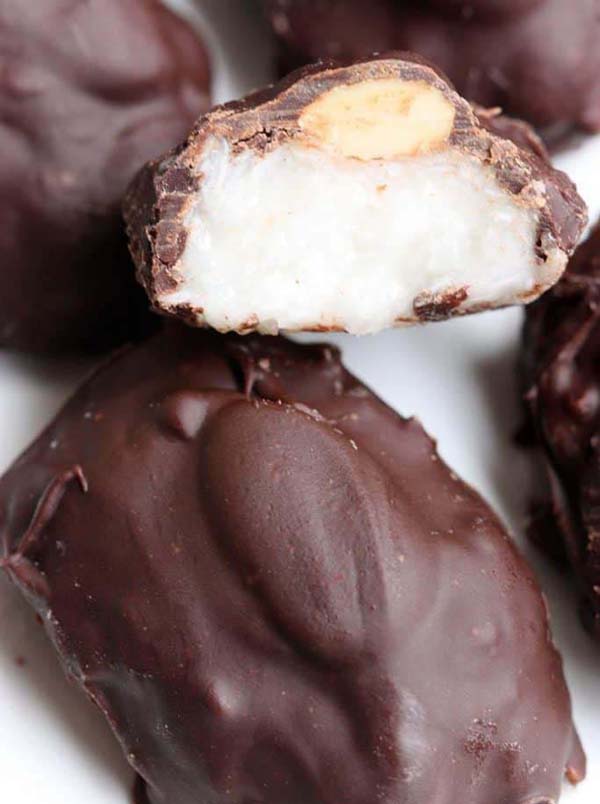 via Tastes Better from Scratch
This is a homemade Almond Joy.
Homemade Candied Citrus Peels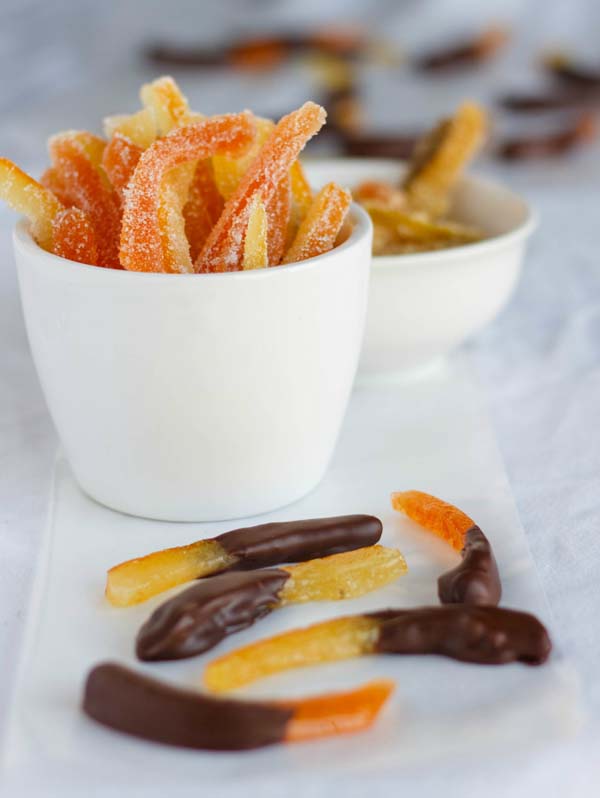 This candy is citrusy and can be dipped in chocolate.
Homemade Christmas Caramels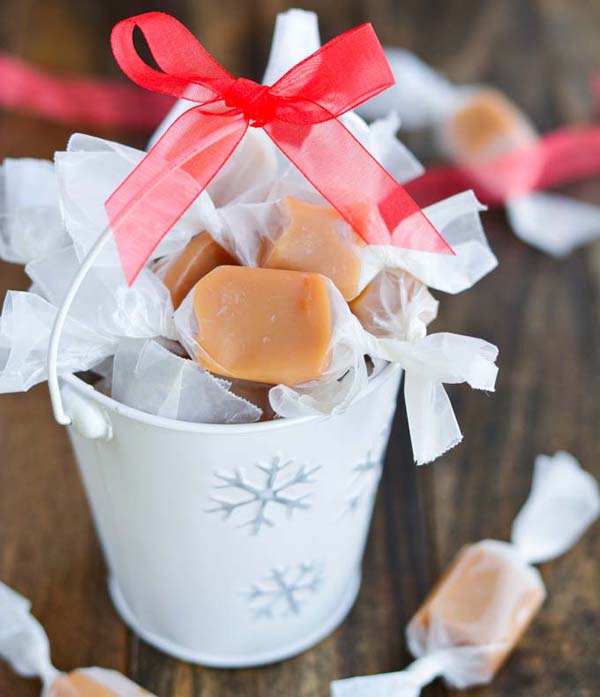 This soft caramel will melt in your mouth.
Homemade Ferrero Rocher Hazelnut Truffles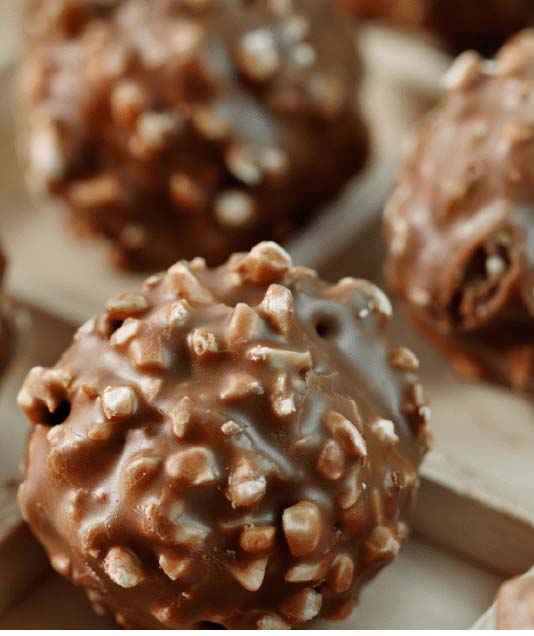 via Thrifty DIY Diva
This candy tastes like a Ferrero Rocher.
Homemade Gumdrops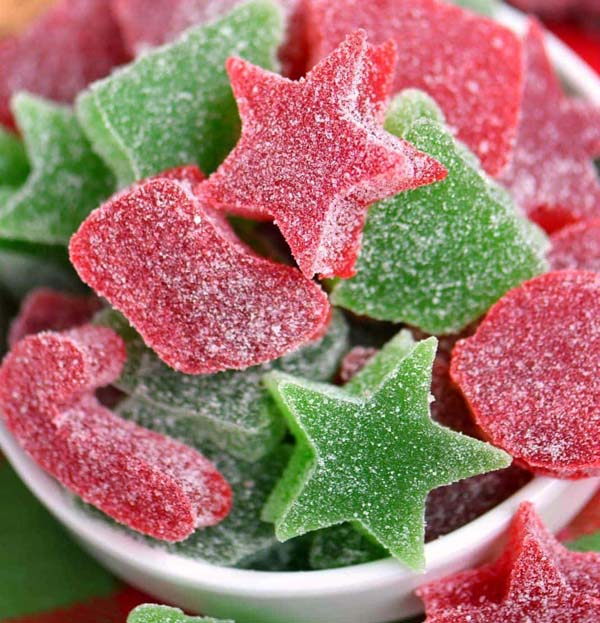 via Mom on Timeout
These taste just like gumdrops but in more festive shapes. 
Homemade Peanut Brittle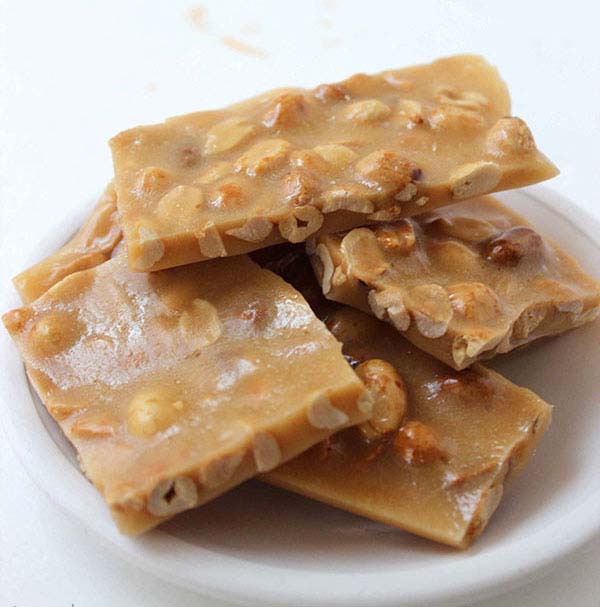 via Cincy Shopper
This old-fashioned candy is nutty in flavor.
Homemade Peppermint Patties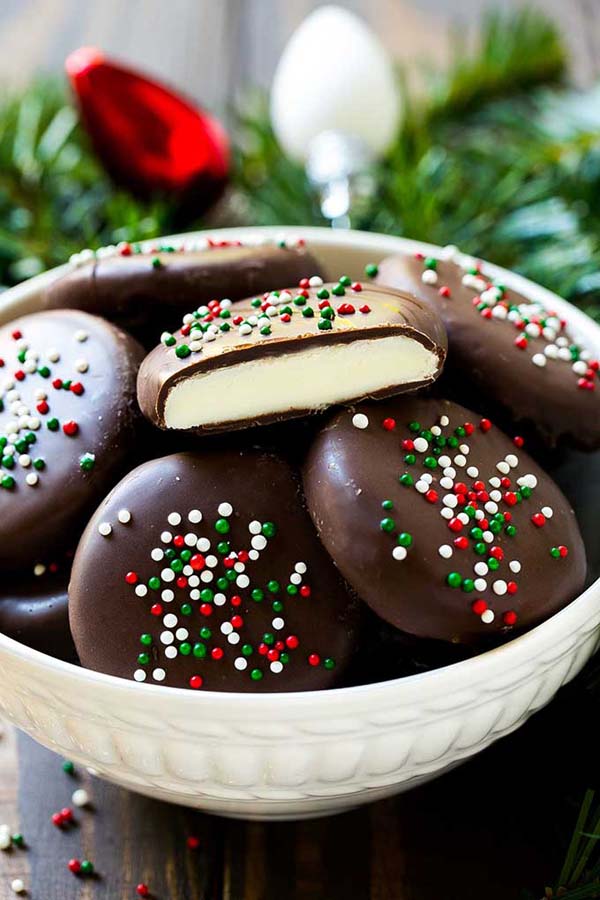 This is a homemade peppermint patty with sprinkles.
Hot Chocolate Fudge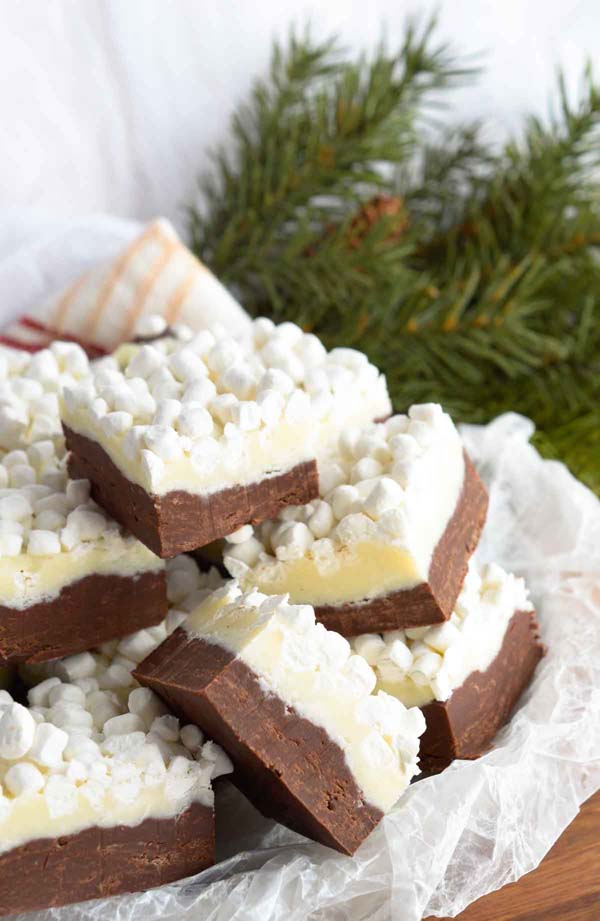 via Wonky Wonderful
This multi-layered fudge tastes like hot chocolate.
Hot Chocolate Spoons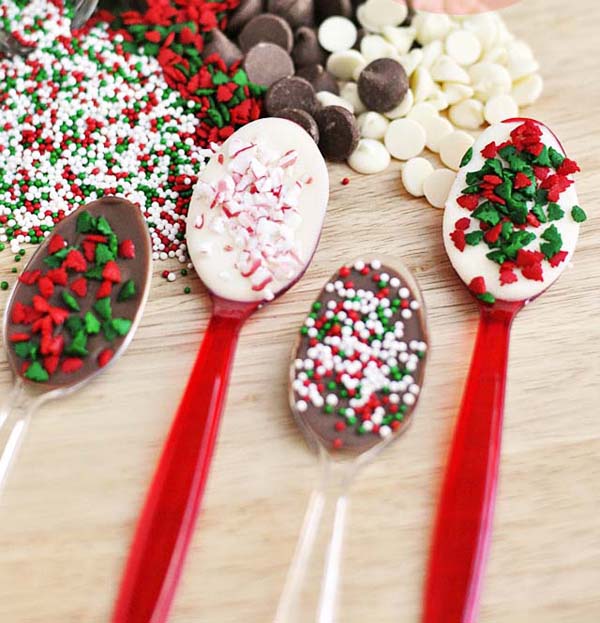 via Cherished Bliss
This candy is great with a cup of hot chocolate.
Ice Cube Tray Chocolates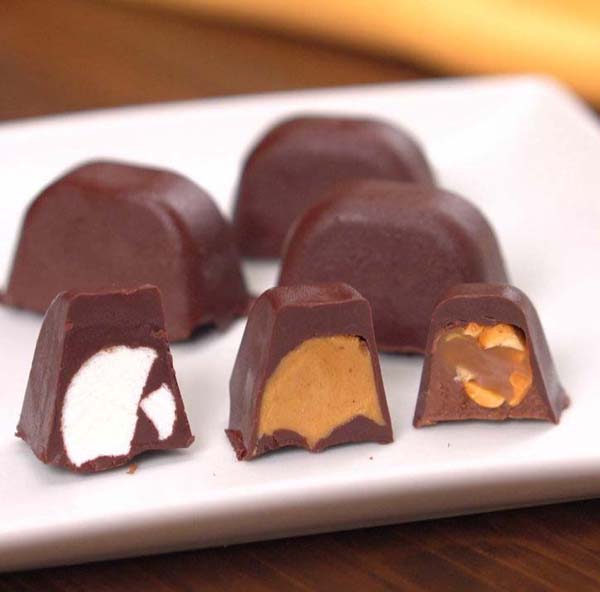 via Tip Hero
These candies are each flavored differently.
M&M Cookie Dough Stuffed Fudge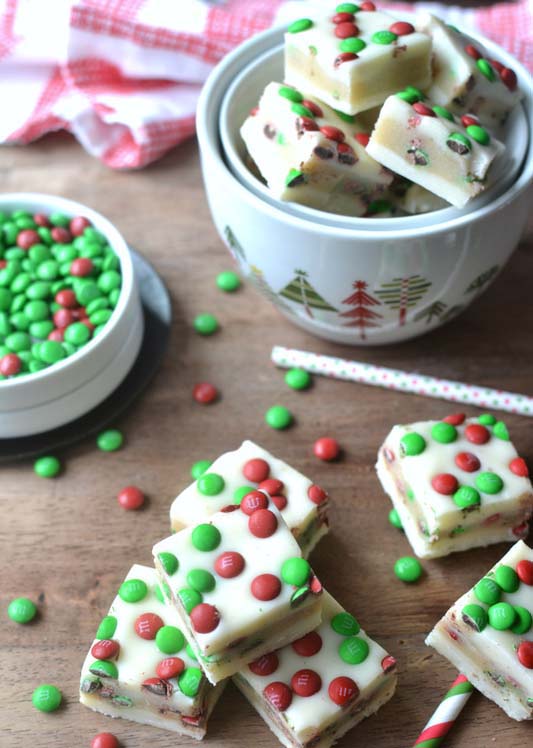 This fudge is layered and topped with M&Ms.
Martha Washington Candies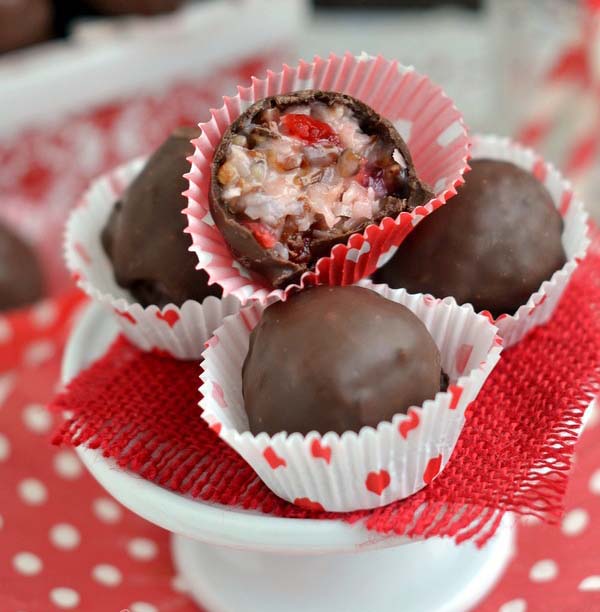 via Mom on Timeout
These candies are coconut, pecans, and maraschino cherries wrapped in chocolate.
Melted Snowman Chocolate Bark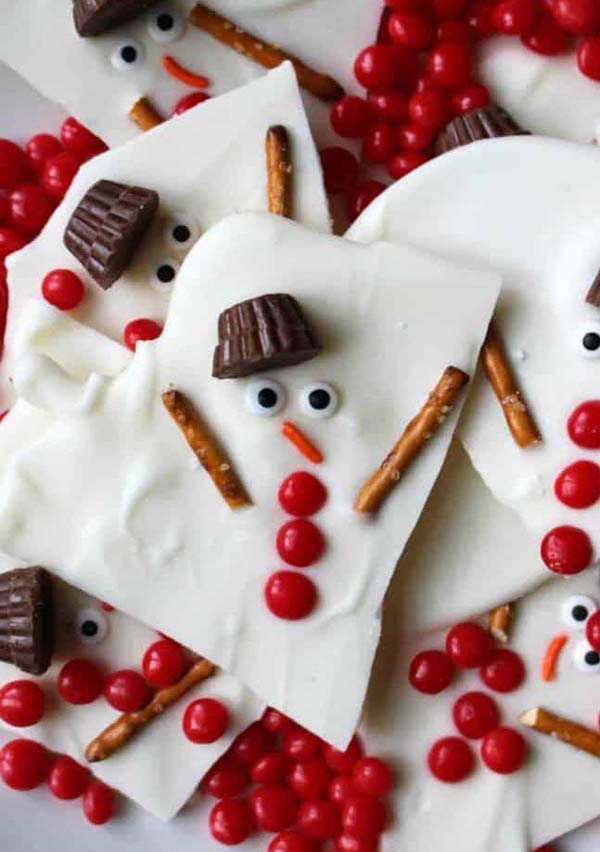 This candy that looks like a melted snowman.
Millionaire's Bars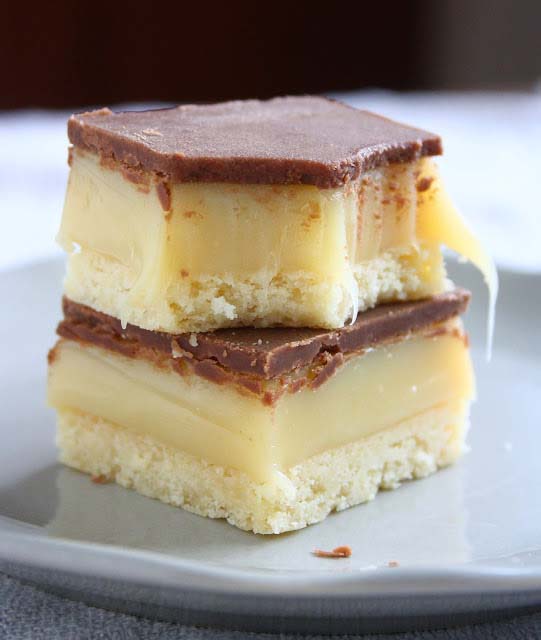 This candy is best with unsweetened coffee.
Old Fashioned Cornflake Candy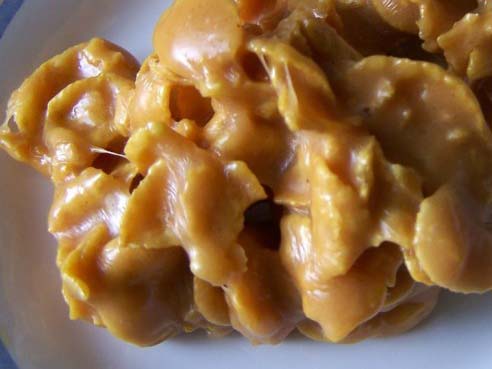 These are made from four ingredients.
Old-Fashioned Butter Mints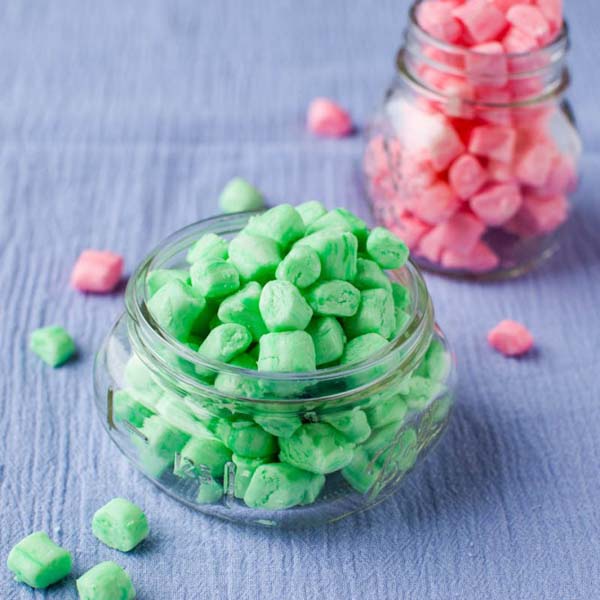 via Averie Cooks
These candies are mint flavored.
Peanut Butter Balls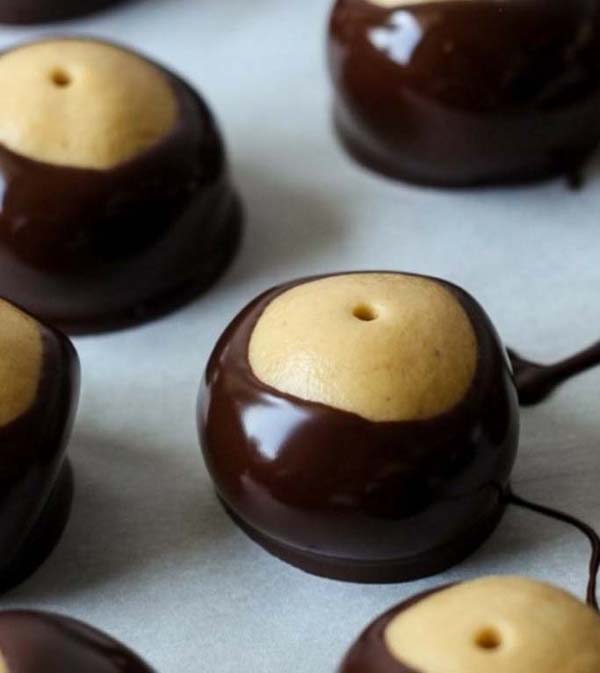 This candy combines chocolate and peanut butter.
Peanut Butter Crunchies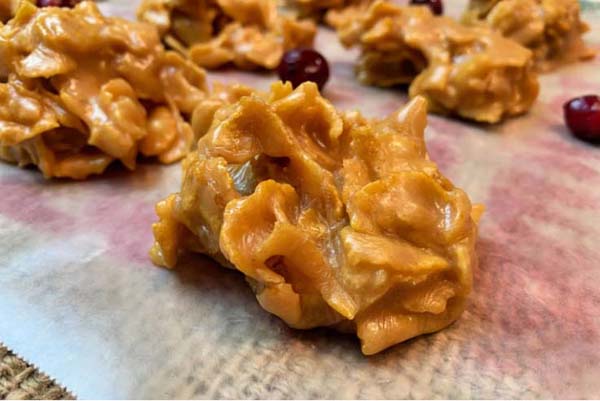 via Merry About Town
These no-bake candies are sweet with a touch of salty.
Peppermint Bark Candy Cane Hearts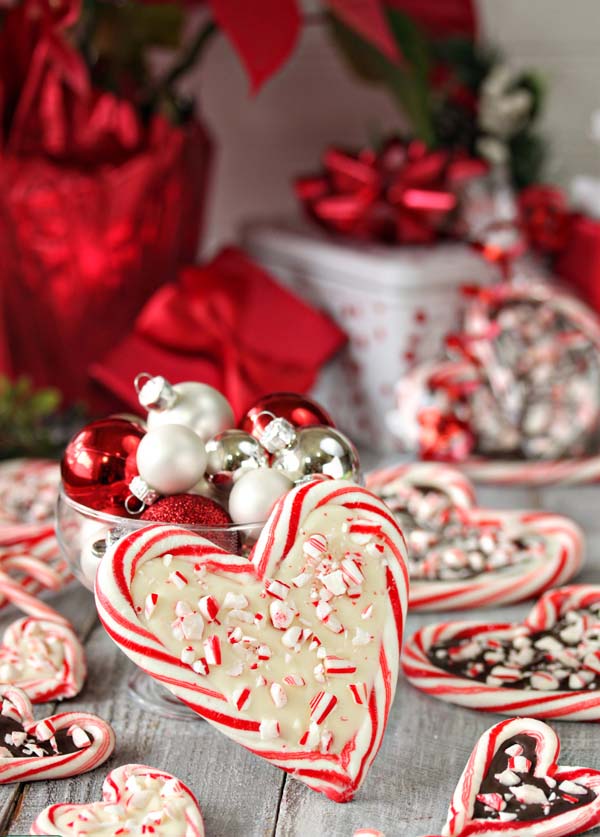 via Oh Nuts
These candies are a mix of chocolate and mint.
Peppermint Bark Fudge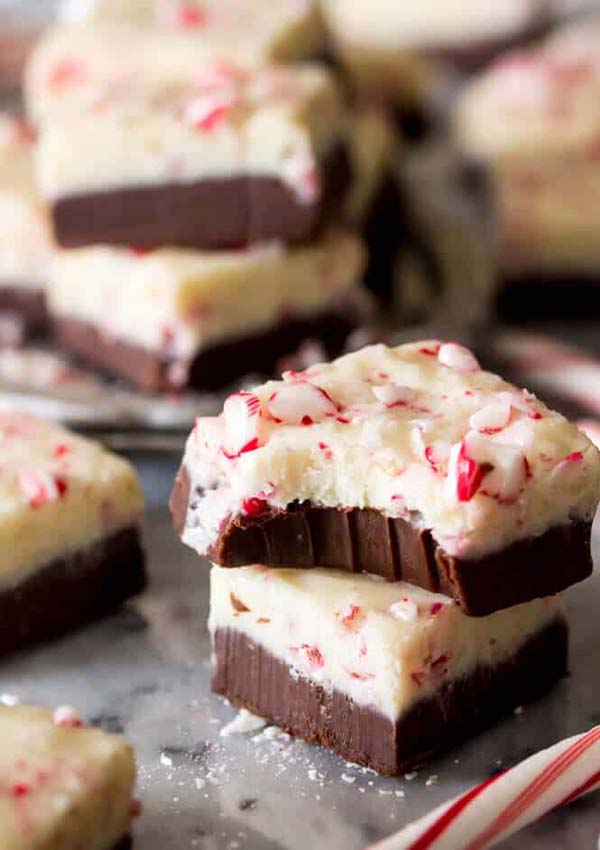 via Sugar Spun Run
This fudge mixes chocolate with peppermint.
Peppermint Candy Spoons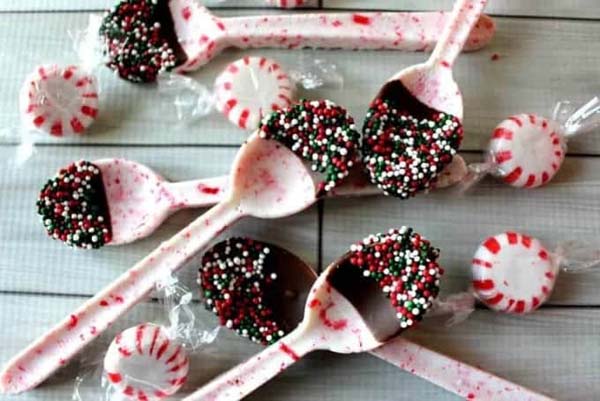 These candies stand out because it is all edible.
Peppermint Christmas Candies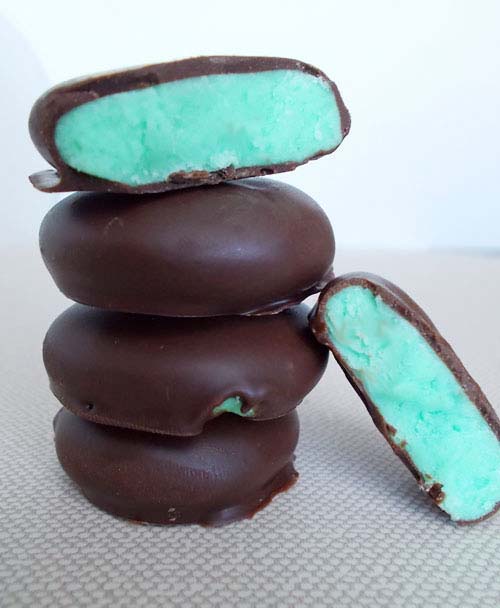 This candy is a mix of peppermint and chocolate. 
Peppermint Mocha Fudge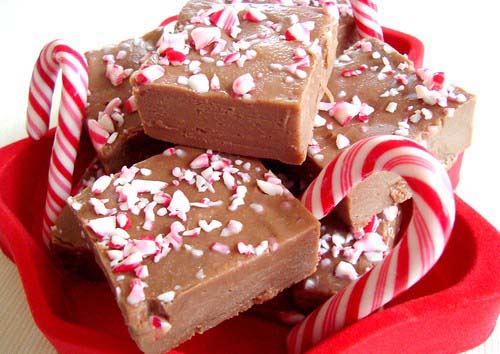 This fudge is filled with mocha and peppermint flavors.
Peppermint Oreo Fudge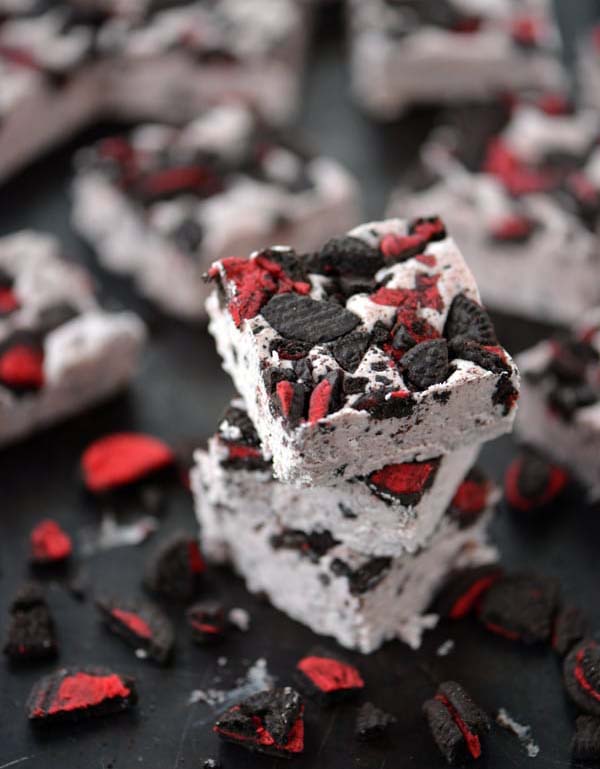 via The Gunny Sack
Peppermint Oreos make the best fudge. 
Peppermint Patties
via The Gunny Sack
These candies are chocolaty and minty.
Peppermint Truffles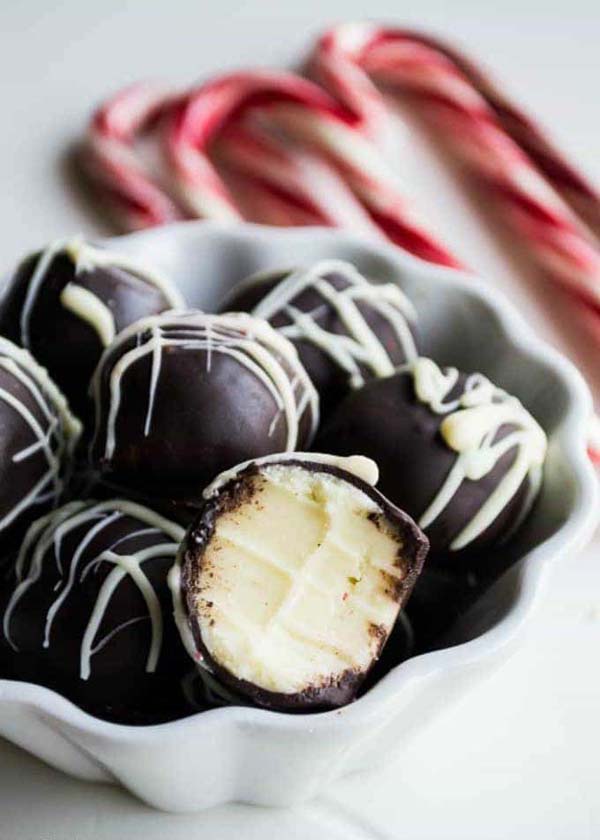 via House of Yum
These candies are chocolate and mint flavored.
Perfect Peppermint Fudge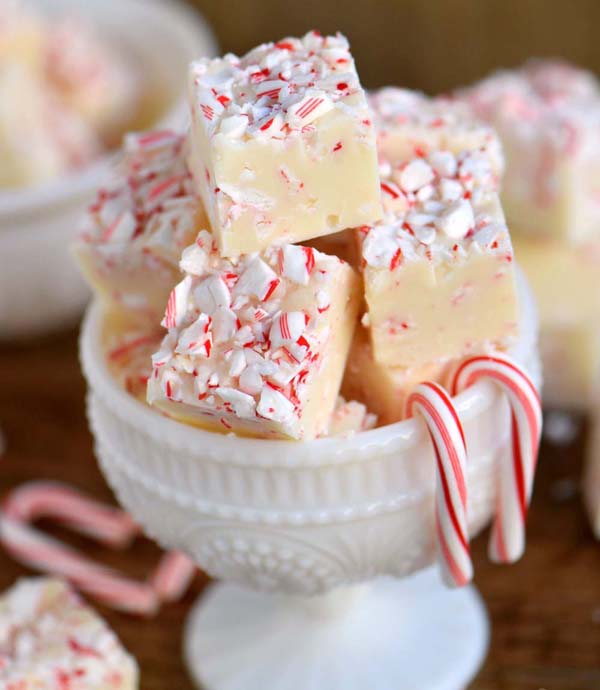 via Mom on Timeout
This fudge is made with candy canes.
Polar Bear Claws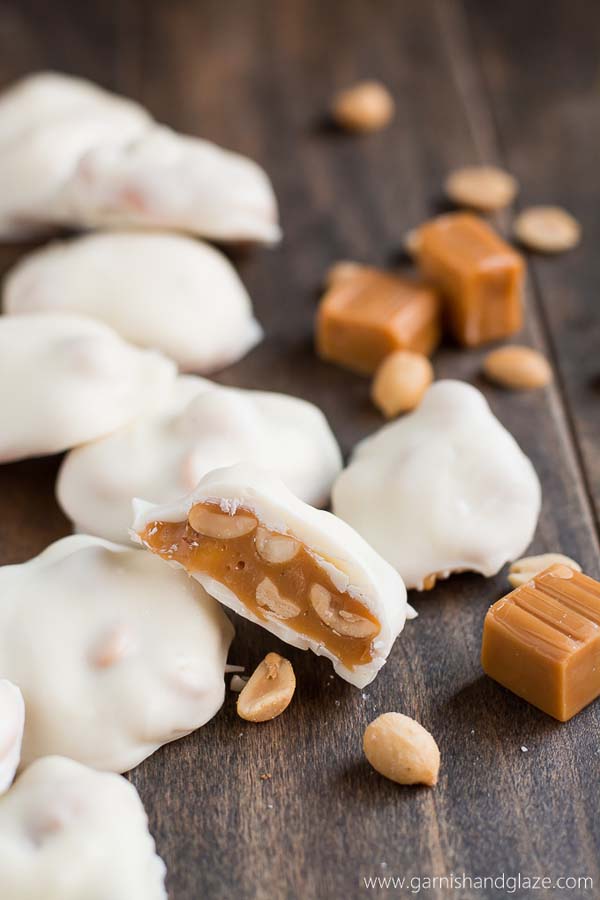 This candy combines caramel, chocolate, and peanuts.
Praline Crack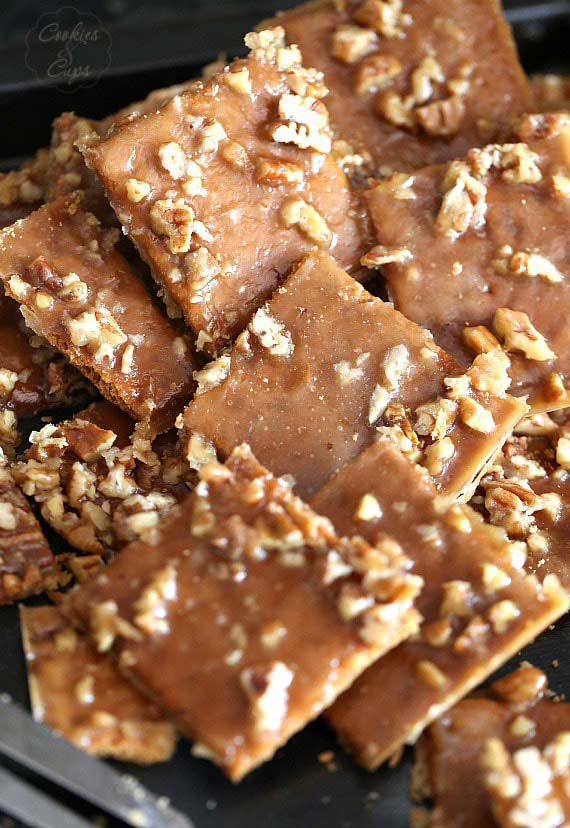 via Cookies and Cups
This candy is buttery, sugary, crunchy, and chewy.
Pretzel Turtles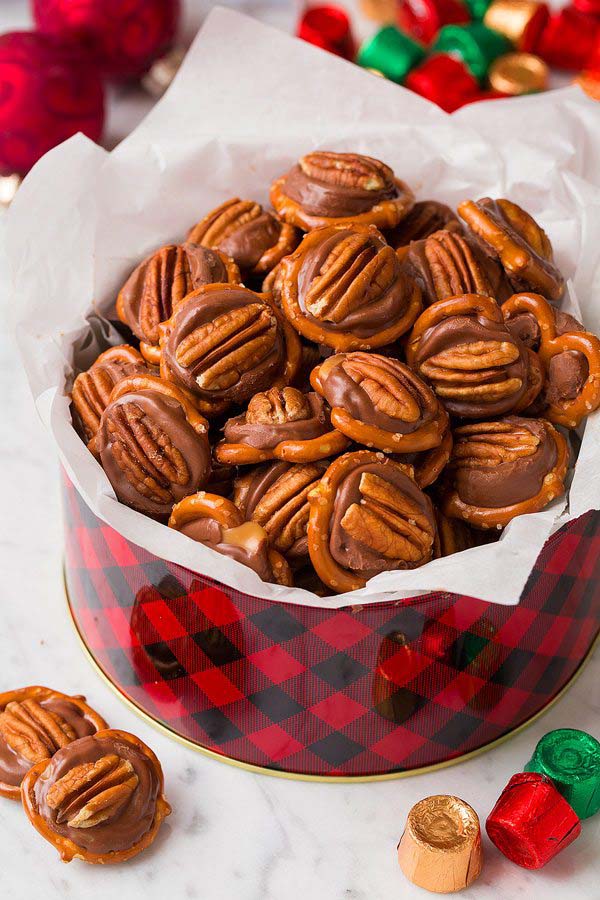 via Cooking Classy
This is made from pretzels with Rolo candies and pecans.
Red Velvet Candy Cane Fudge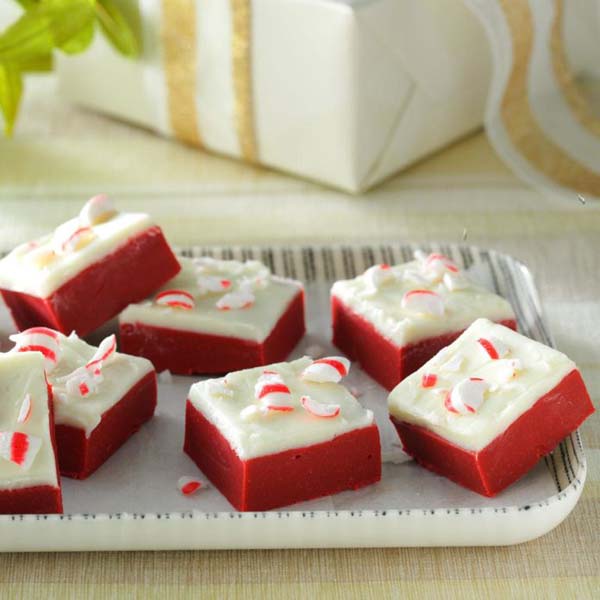 via Taste of Home
This fudge combines the taste of red velvet cakes with a candy cane in fudge.
Reese's Peanut Butter Christmas Trees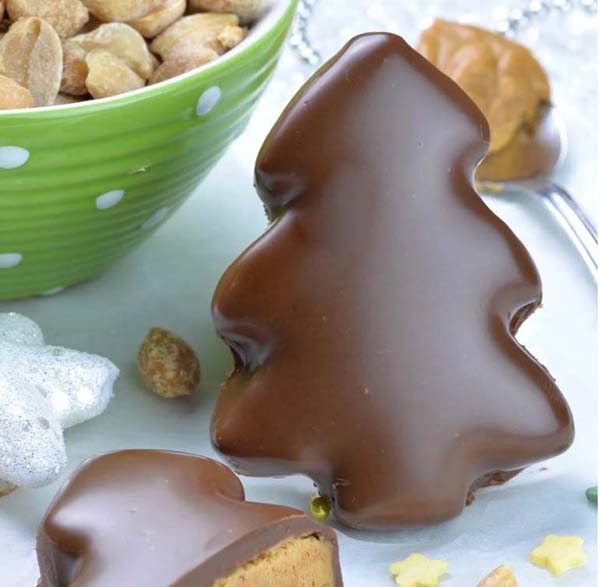 Chocolate and peanut butter combined in a tree shape make this candy.
Reindeer Peppermint Crunch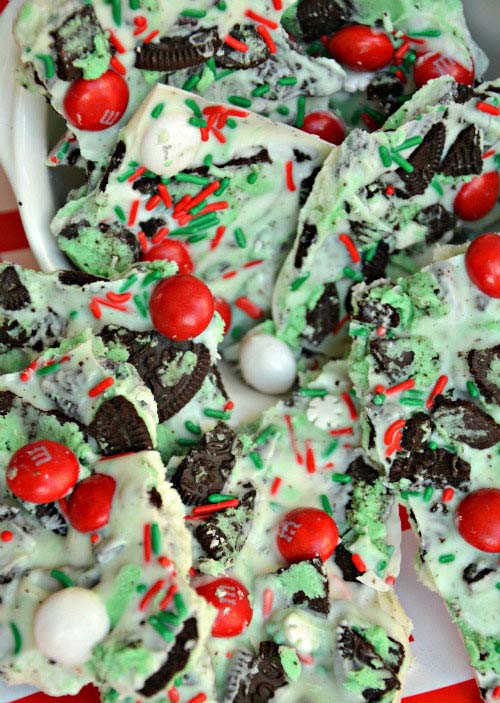 This candy is made with chocolate, Oreo cookies, M&Ms, and sprinkles.
Rocky Road Peanut Clusters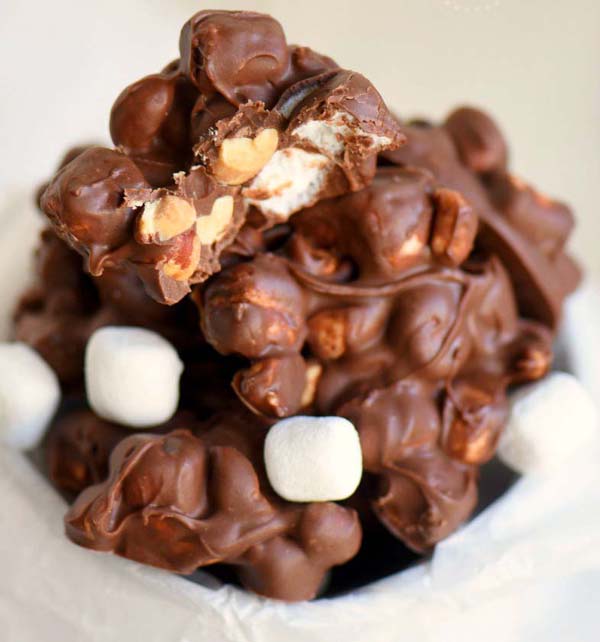 via Mom on Timeout
This candy combines the taste of chocolate, peanuts, and marshmallows.
Rolo Pretzel Sandwiches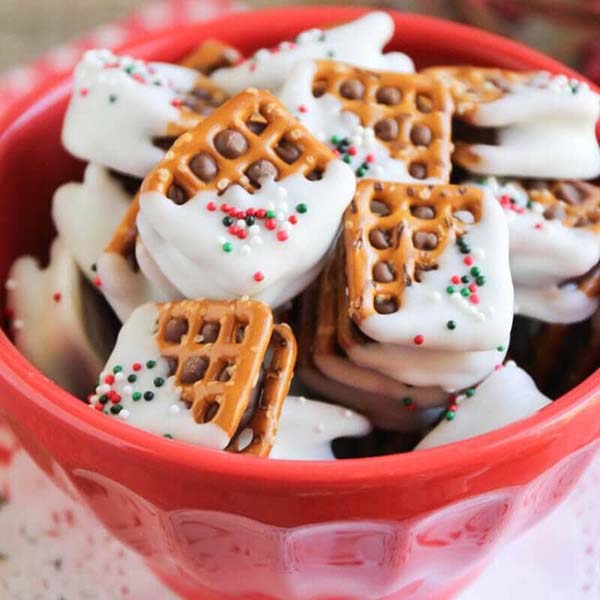 via I Heart Nap Time
This candy combines pretzels, chocolate, sprinkles, and Rolos.
Salted Caramel Pretzel Pecan Bon Bons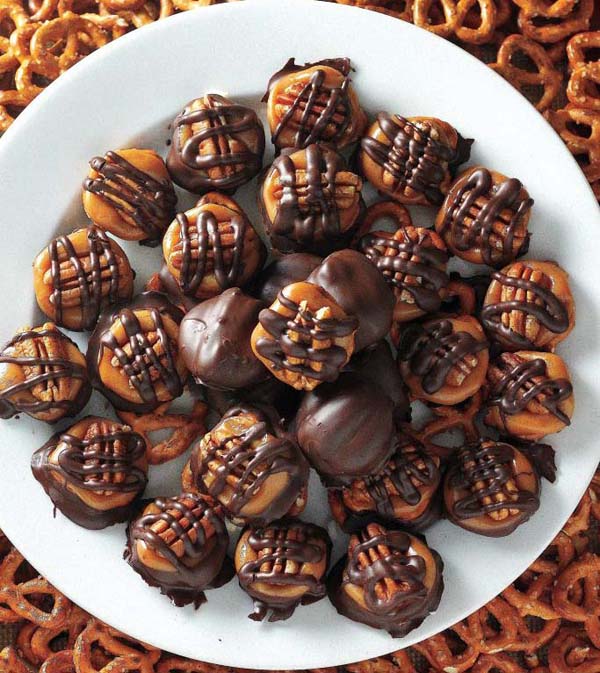 via Baker by Nature
Caramel, pretzels, chocolate, and pecans make this candy.
Salted Chocolate Caramel Pretzel Bars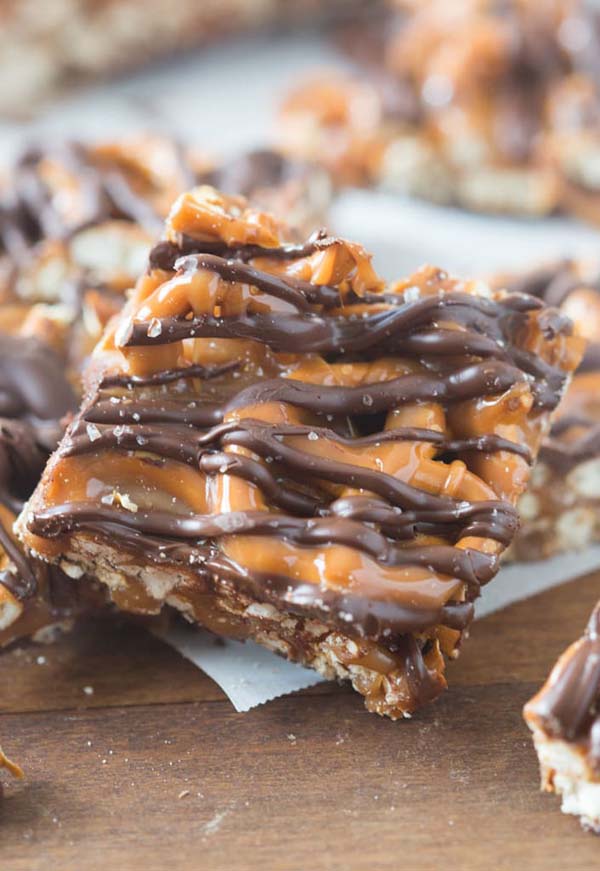 via Tastes Better from Scratch
Pretzels, caramel, and chocolate with salt make this candy.
Salted Chocolate Covered Caramels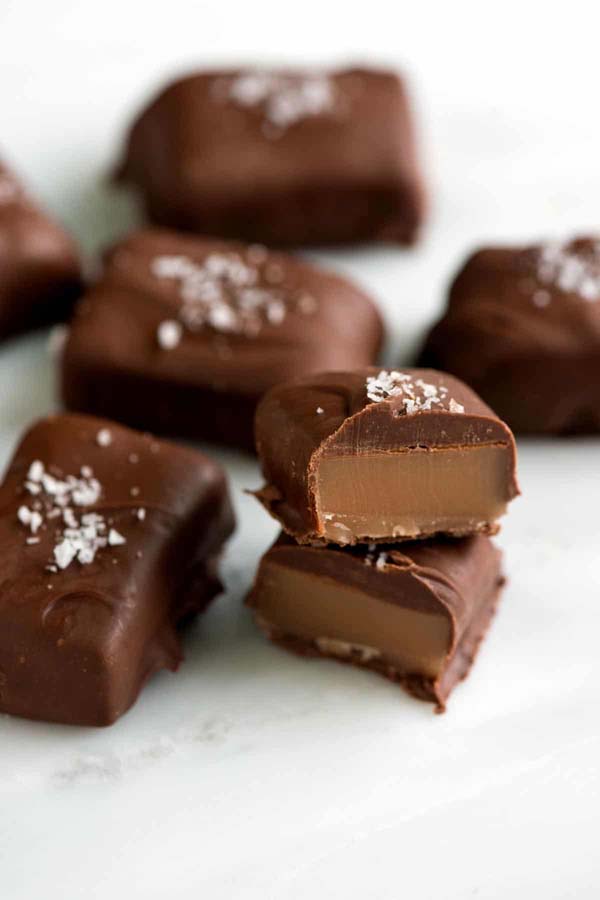 via Inspired Tastes
The taste of chocolate and caramel with salt makes this candy.
Sea Salt Vanilla Caramels
via 12 Tomatoes
These caramels are made with sea salt for more flavor.
Slow Cooker Sea Salt Chocolate Almond Clusters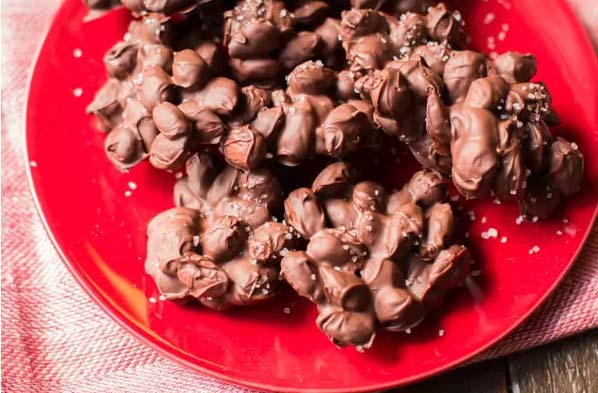 Combining almonds and chocolates with salt creates these candies.
Sticky Paws Williams Sonoma Copycat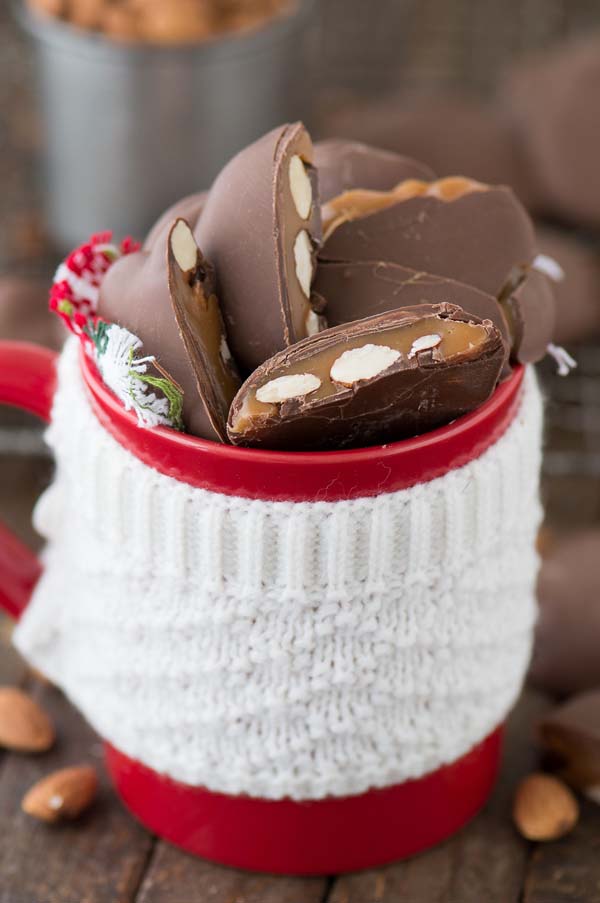 via The First Year
This candy is almond caramel clusters dipped in chocolate.
Tiger Butter Fudge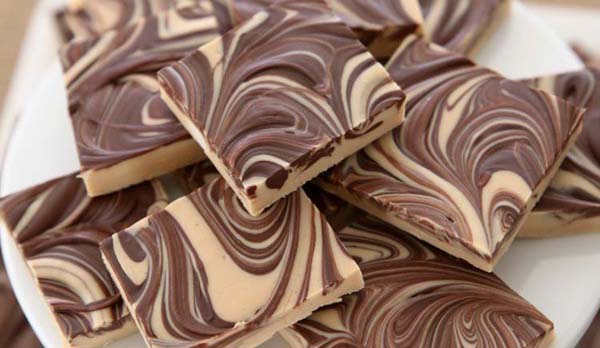 via Butter with a Side of Bread
This fudge combines chocolate and peanut butter.
Vanilla Cinnamon Candied Almonds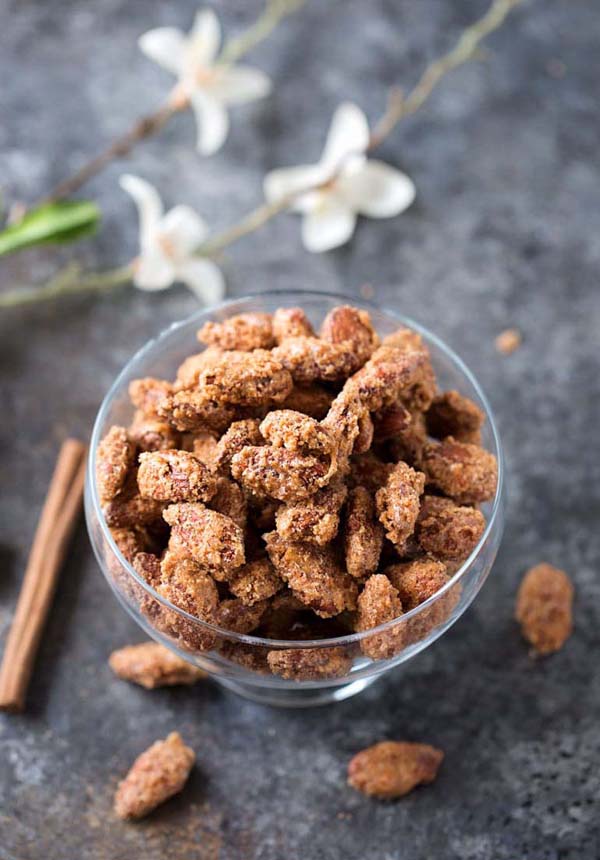 via The Chunky Chef
These candied almonds are sweet and spicy.
White Chocolate Peanut Butter Krispies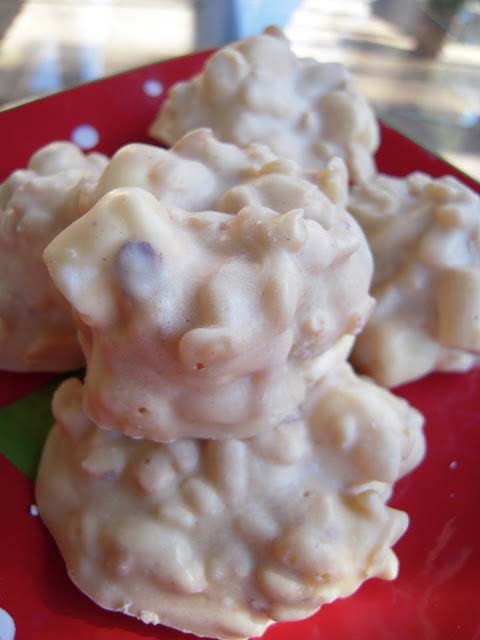 via Plain Chicken
These Krispies combine marshmallows with chocolate and peanut butter.
White Chocolate Peppermint Fudge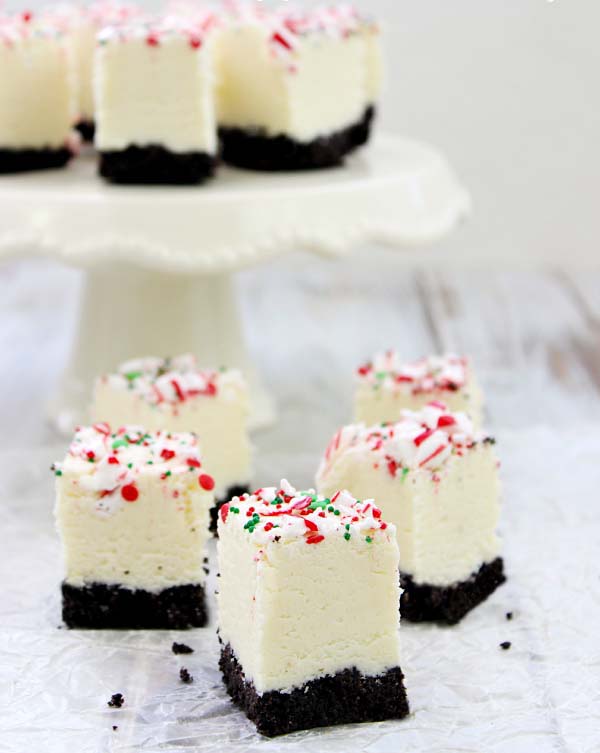 via A Night Owl Blog
With many layers of flavor, this fudge combines chocolate and peppermint.
White Chocolate Ting-a-Lings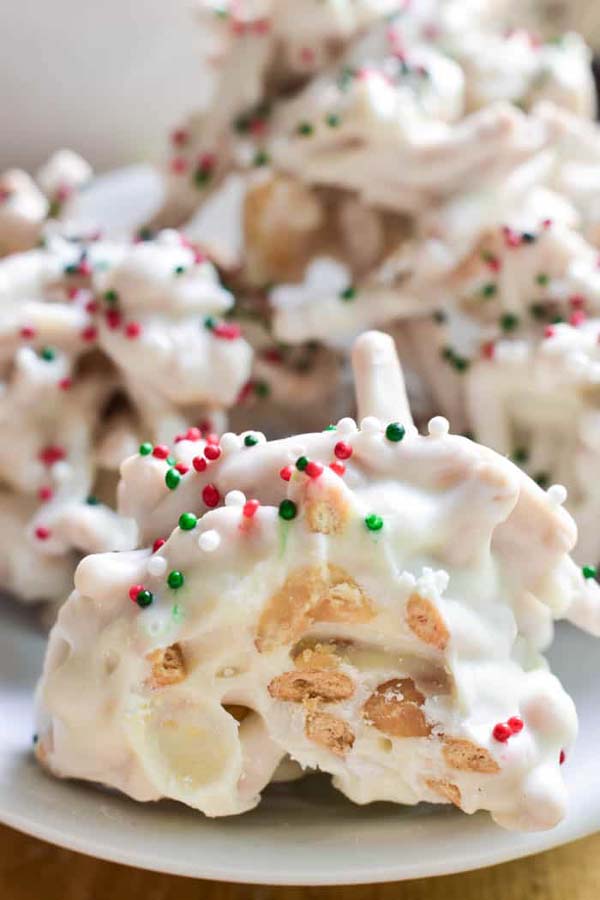 This candy combines chow mein noodles, peanuts, and chocolate.