Valentine's day puts love in the air.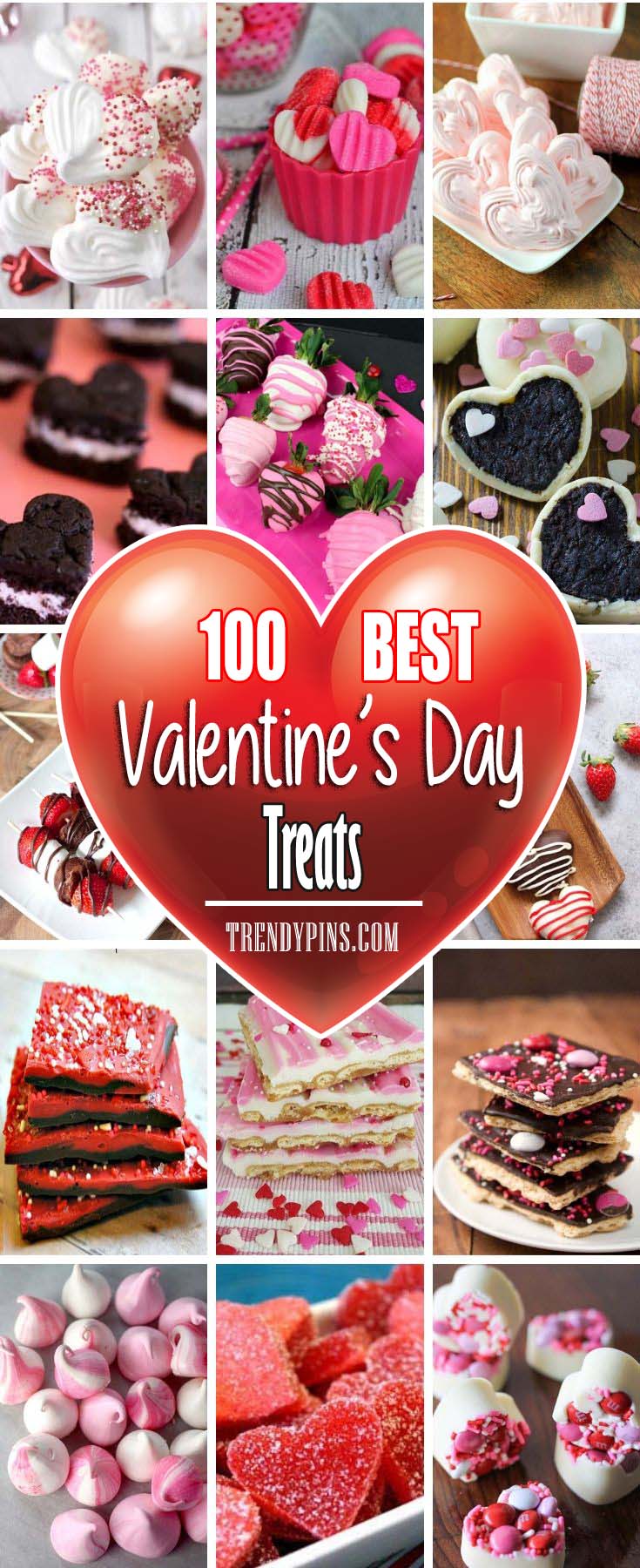 With many Valentine's Day celebrations around the corner it is imperative to find a simple but delicious treat to take. Try any of these chocolate, strawberry or marshmallow filled treats.
Bark & Fudge Valentine's Day Treats
2 Ingredient Valentine's Day Fudge
via The Rebel Chick
This fudge is a simple and quick option for a delicious Valentine Snack.
It is made from two ingredients and is adorable.
Another Valentine's Day Chocolate Bark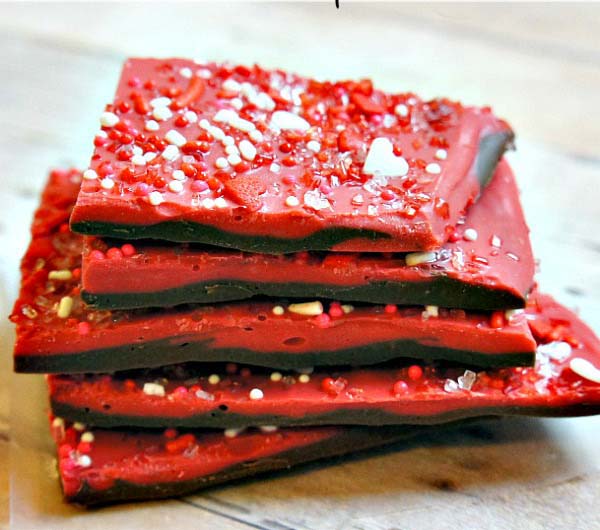 via The Rebel Chick
Valentine's day isn't the same without chocolate. Enjoy this chocolate bark.
Conversation Heart Krispie Bark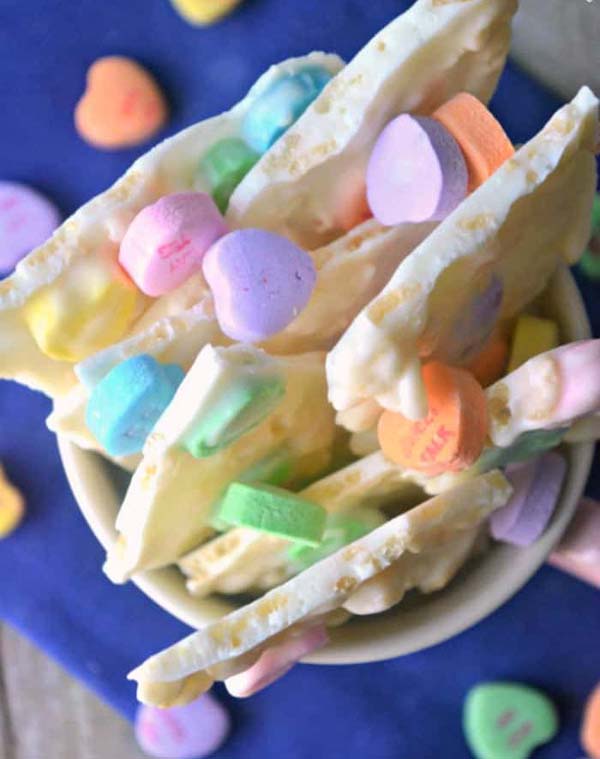 To make a classic like chocolate bark more Valentine's theme, fill the
bark with Valentine's hearts.
Valentine's Crack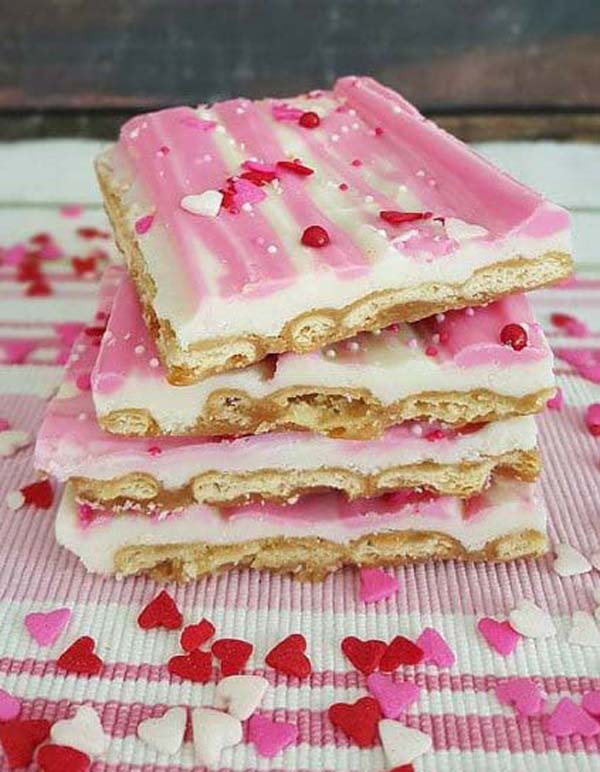 For a caramel-filled Valentine's treat try this easy to make Valentine
crack topped with red sprinkles.
Valentine's Day Chocolate Bark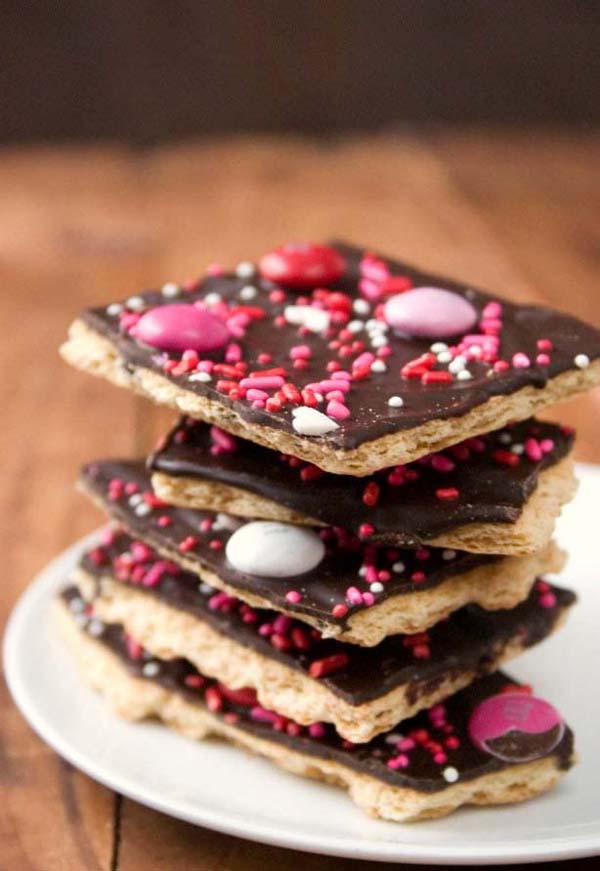 For a chocolate and crispy snack try this Valentine graham cracker snack.
Candy Valentine's Day Treats
Homemade Heart Gumdrops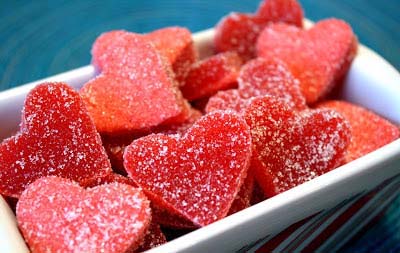 Gum drops are a delicious Valentine treat. Melt them down into a heart-shaped treat.
Oreo Truffles Valentine's Hearts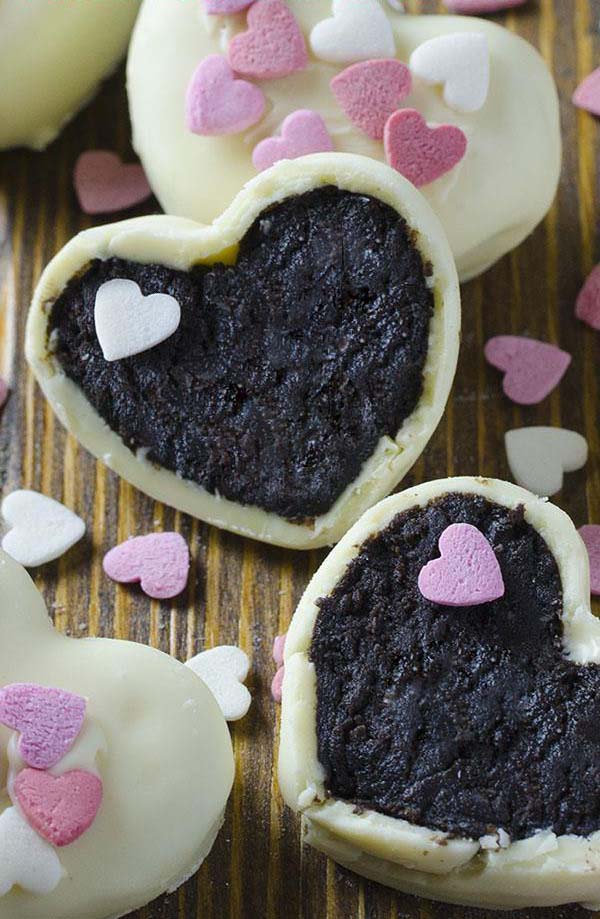 Oreo truffles are mouthwatering, and they are even better in the shape
of a heart.
Peppermint Hearts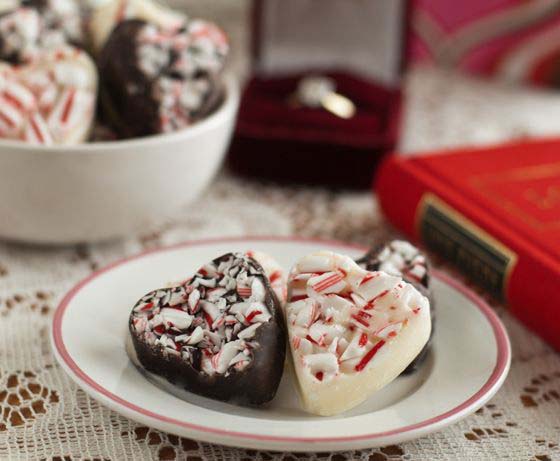 via A Family Fest
Melted heart-shaped chocolate turns into a valentine treat with a little
crushed peppermint on top.
Raspberry Cheesecake Truffles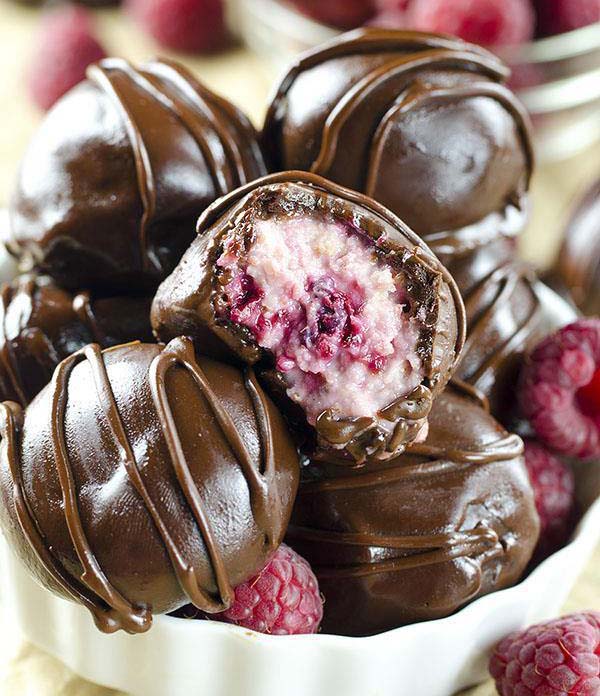 How about a cheesecake truffle turned Valentine with a touch of raspberry.
Raspberry Surprise Chocolate Truffles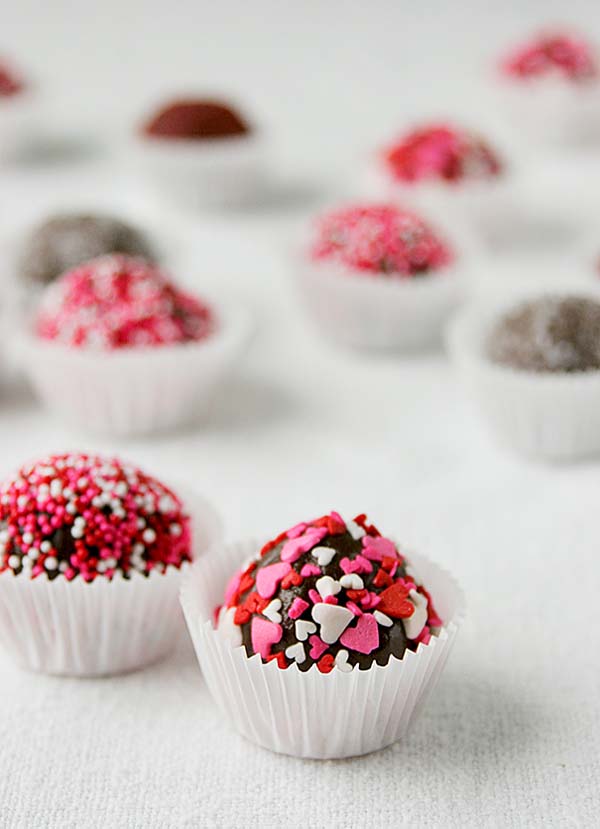 via Taste and Tell
Roll delectable raspberry chocolate truffles and heart-shaped sprinkles
for Valentine's day treat.
Red Velvet Truffles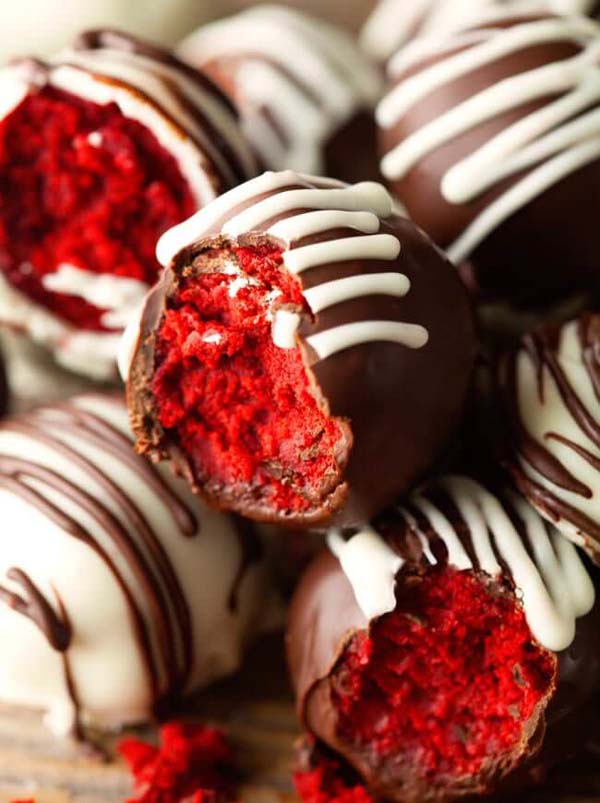 Red velvet cake is a natural way to create a red treat. Cover it in
chocolate and it is a delicious addition to your Valentine's Day
celebration.
Reese's Peanut Butter Valentine's Heart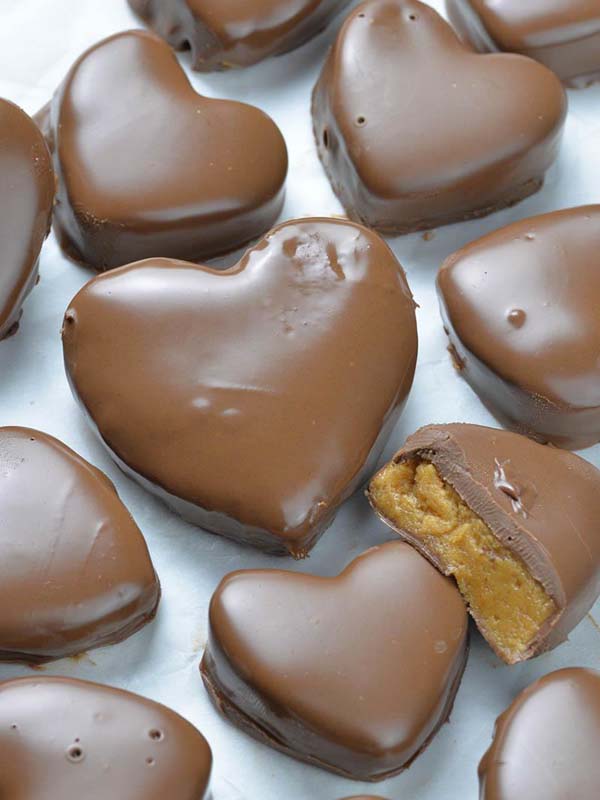 Who doesn't love Reese's? Cut them into hearts and coat with chocolate to
make this delicious Valentine treat.
Valentine's Day Patties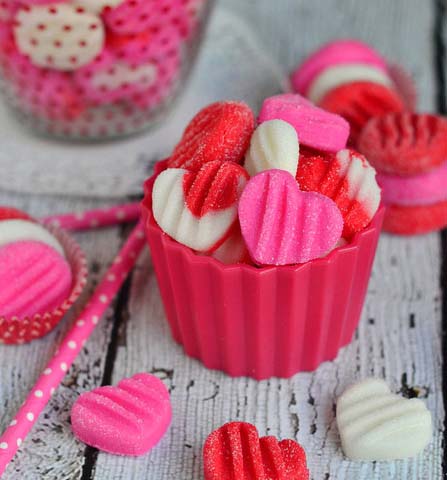 via Mom on Time Out
Make these mini patties by using sugar cookies shaped like mini hearts.
White Chocolate Bark Bites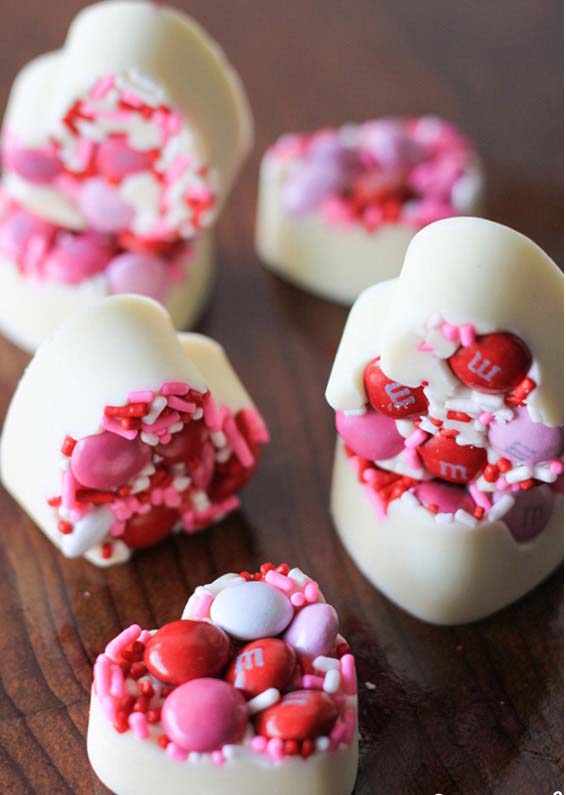 via No. 2 Pencil
Heart-shaped white chocolate is delicious and savory. Especially when
covered in Valentine's sprinkle.
Cookie and Pop Valentine's Day Treats
Chocolate Dipped Meringues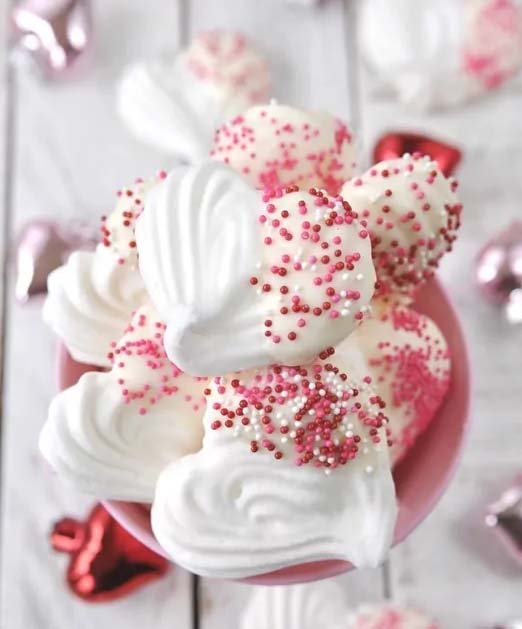 Make heart-shaped meringues with red sprinkles for a savory Valentines
treat.
Chocolate Dipped Wafer Cookies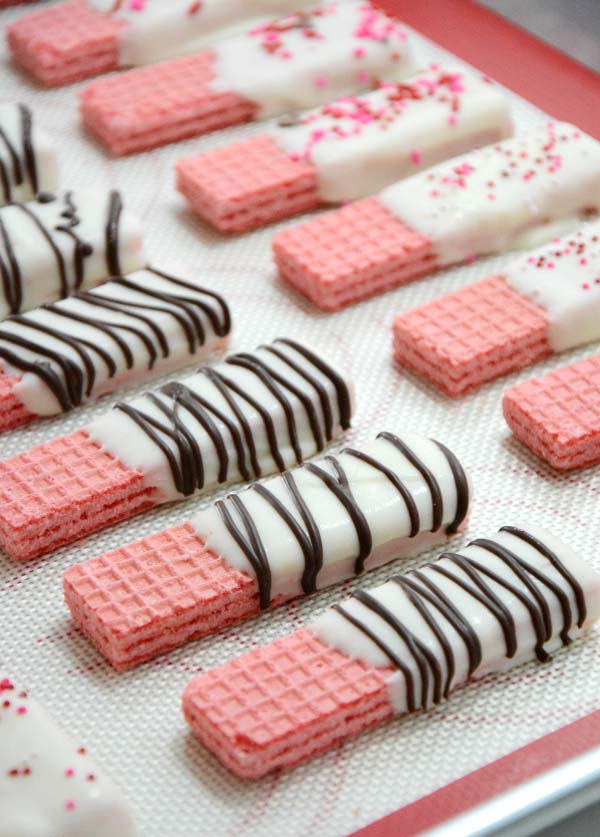 via The Idea Room
A classic red wafer cookie and coat in white chocolate and sprinkles for
a Valentine treat.
Easy Oreo Heart Bites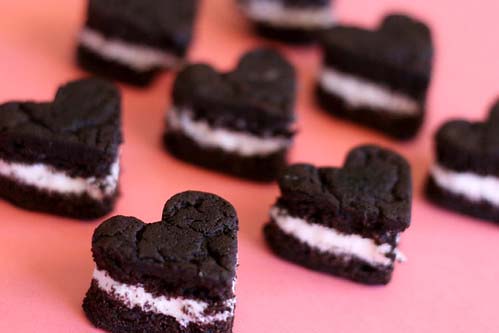 via Bakerella
For a mini chocolate treat try these mini oreo heart shaped cookies.
Easy Strawberry Wafer Cookies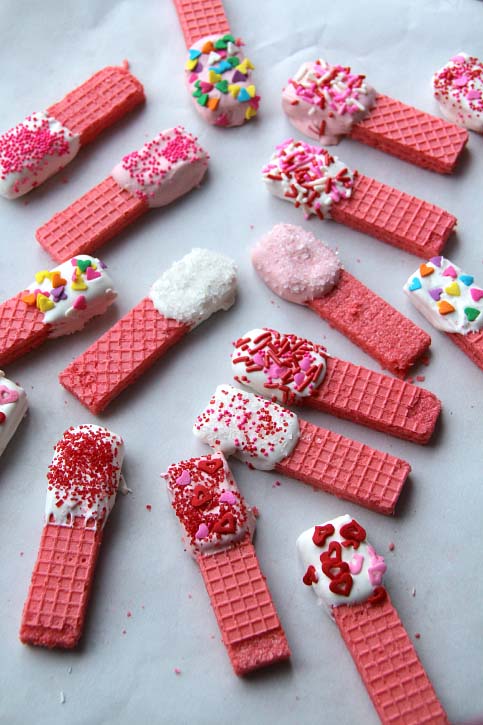 Mini strawberry wafers coated in chocolate are an inviting Valentine's
treat.
Frosted Sugar Cookie Bars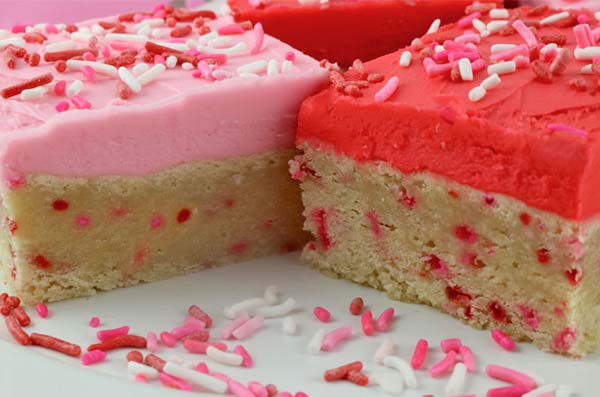 Sugar cookie bars are great with red and pink frosting and sprinkles.
Heart Meringues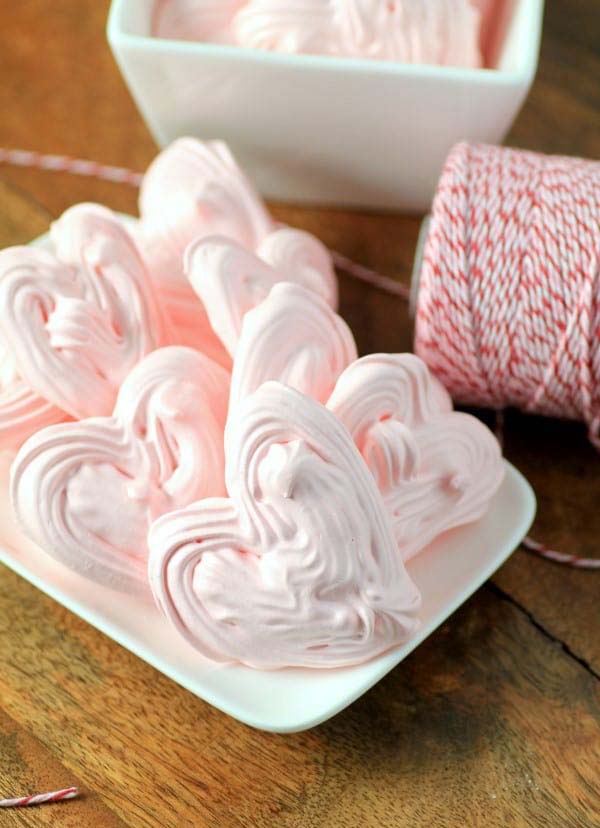 Meringue cookies are the perfect base for a delectable heart shaped
Valentines treat.
Pink Meringue Kisses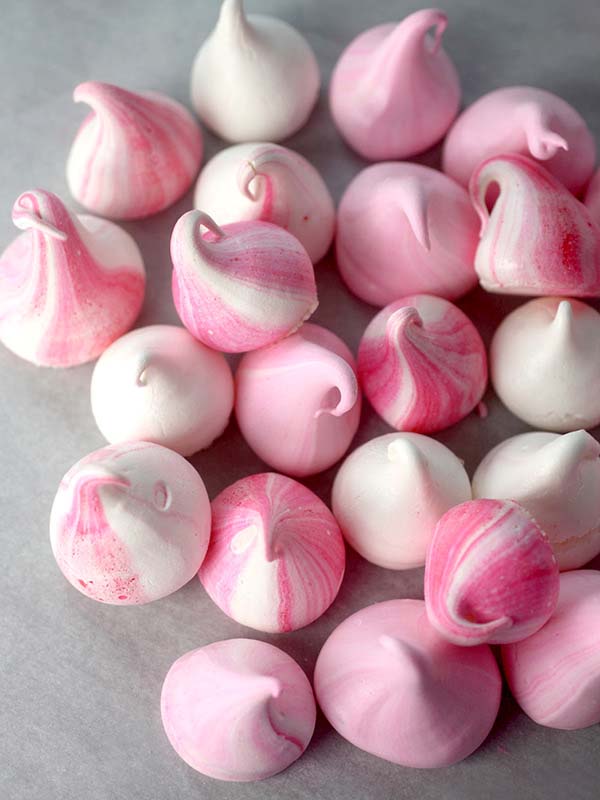 via Bakerella
These pink meringue cookies are made by shaping meringue dough into mini kisses.
Pink Velvet Cake Pops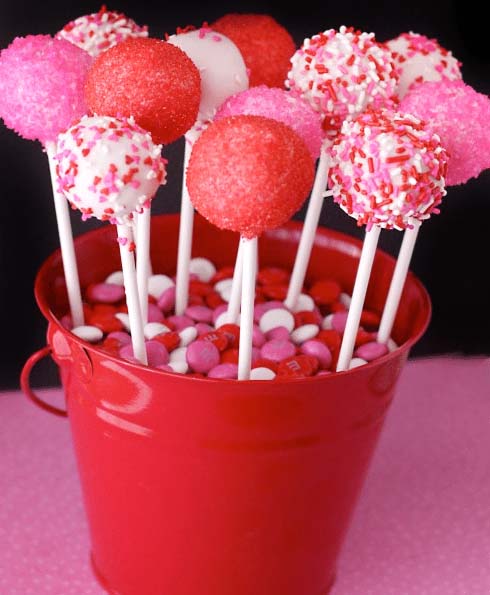 Cake pops are especially Valentines themed when frosted with red
chocolate and covered in sprinkles.
Strawberry and Cream Bites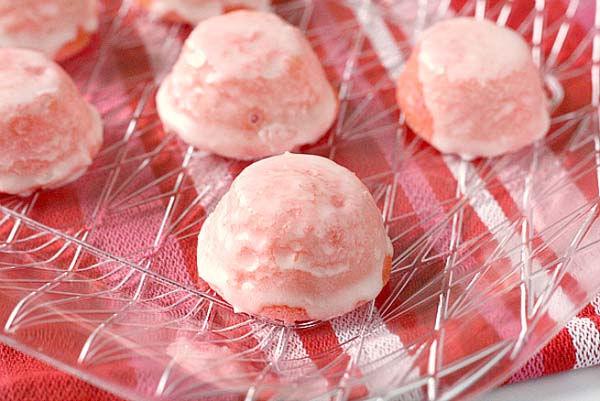 via Butter with a Side of Bread
For a mini Valentine bite try these cookies filled with strawberries and
cream.
Valentine's Day Oreo Pops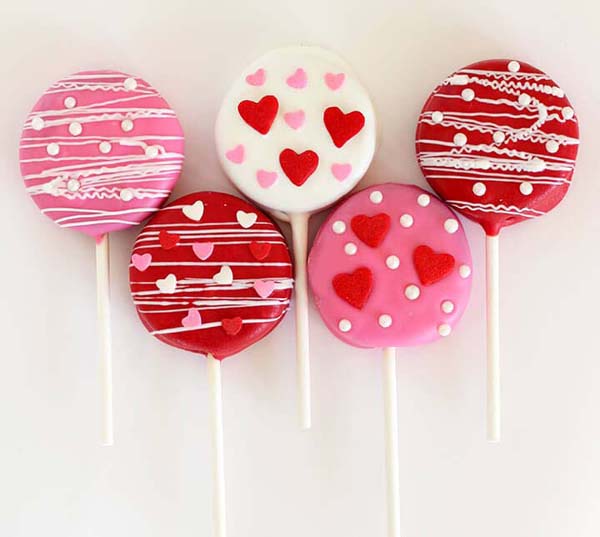 Make a Valentines oreo pop by coating them with chocolate and sprinkles.
Turn it into a pop by skewering it!
Valentine's Marshmallow Pops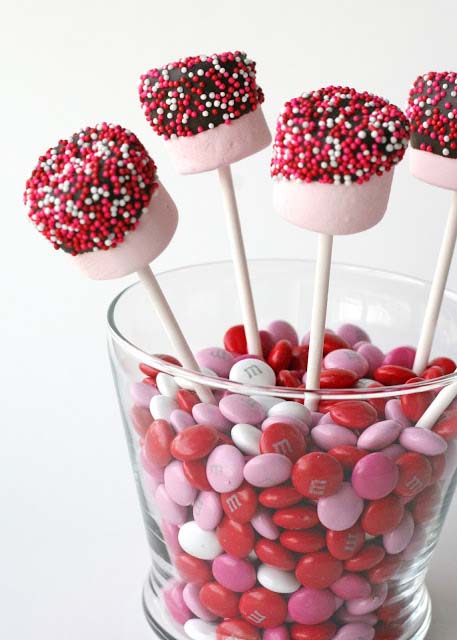 via Glorious Treats
Marshmallow pops are skewered marshmallows coated in chocolate and
sprinkles. A super flavorful and sugary Valentines day treat.
Valentines Day Chocolate Covered Oreo Pops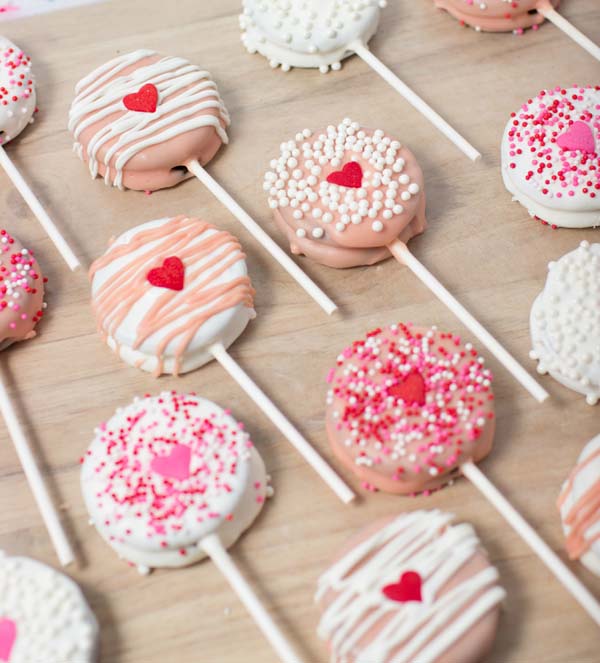 Try these oreos that are skewered and covered in white chocolate.
Decorate with sprinkles for a flavorsome Valentines treat.
Valentines Marshmallow Pops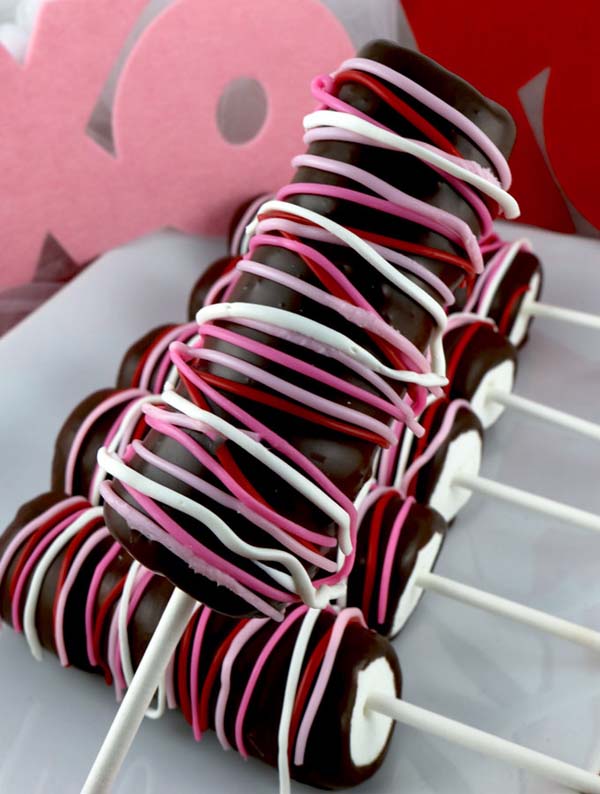 For another twist on the marshmallow pop, try multiple marshmallows on a skewer and coat them in chocolate and sprinkles.
Fruit Valentine's Day Treats
Chocolate Covered Raspberries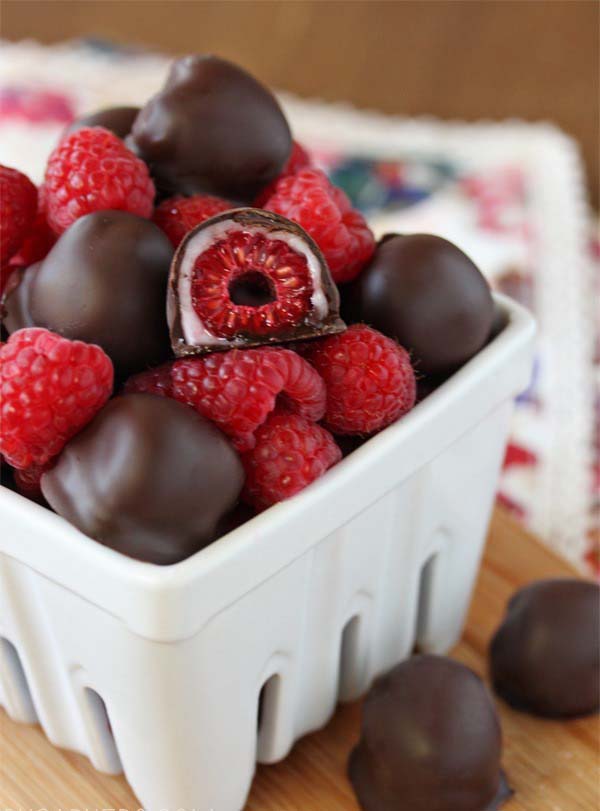 via Sugar Hero
Chocolate covered raspberries are a classy and yummy Valentine's day treat.
Chocolate Dipped Strawberries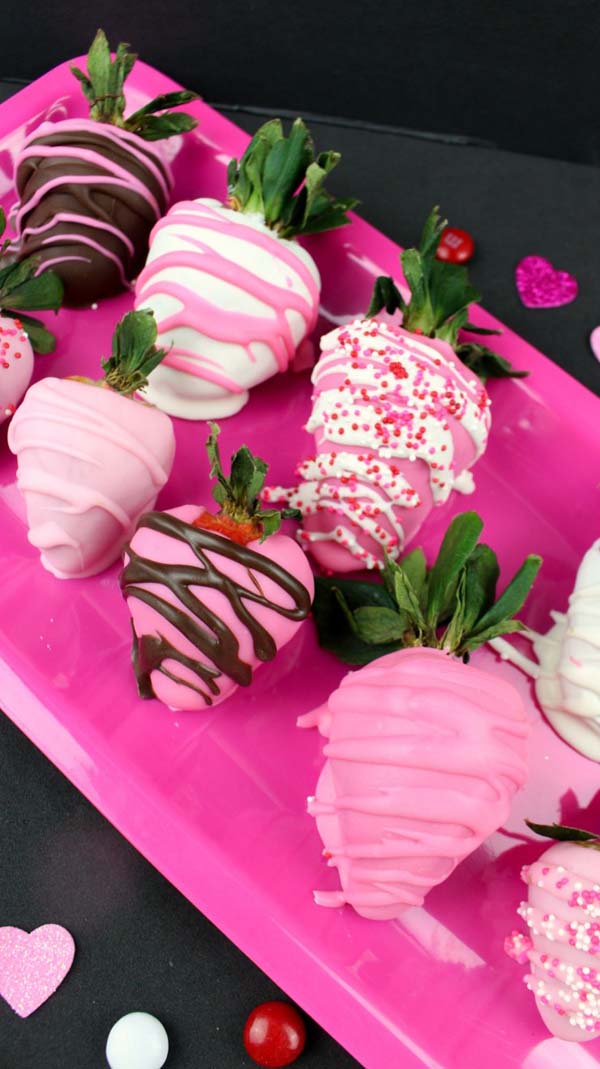 via Life Love Liz
Chocolate covered strawberries and champagne are a romantic piece of
Valentines celebration.
Chocolate Dipped Strawberry Pops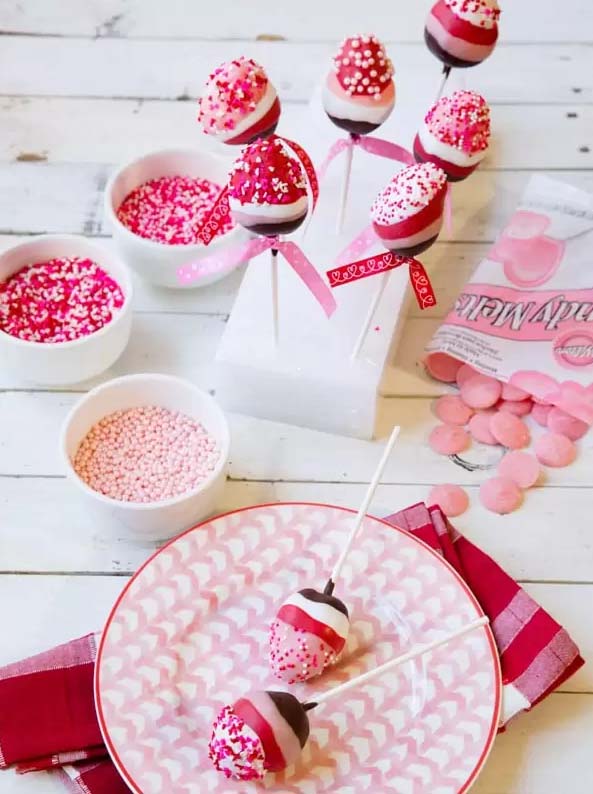 Skewer chocolate covered strawberries for a chocolate covered strawberry
pop.
Heart-Shaped Chocolate Covered Strawberries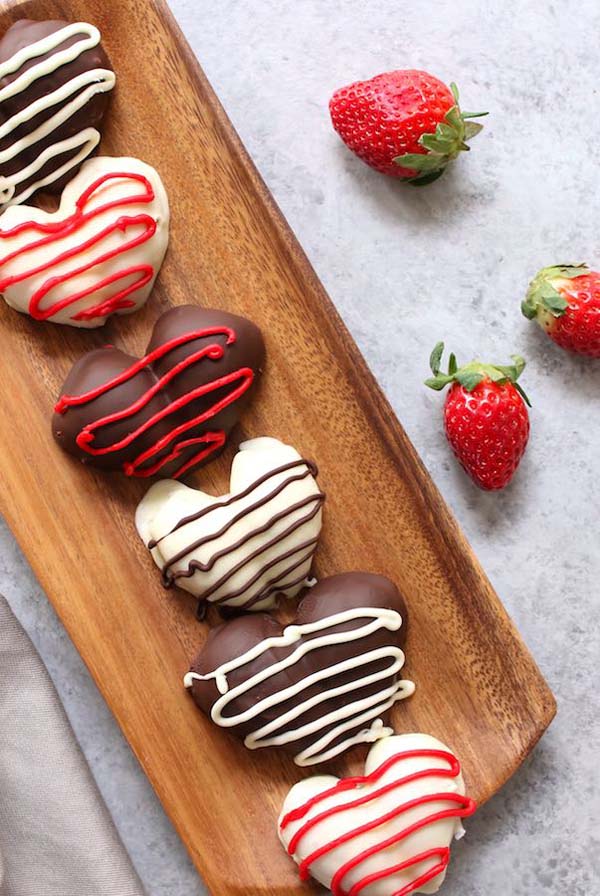 via TipBuzz
Two strawberries laid side by side and covered in chocolate look like
hearts. Coat with chocolate and sprinkles to add to the Valentine theme.
Strawberry Brownie Kabobs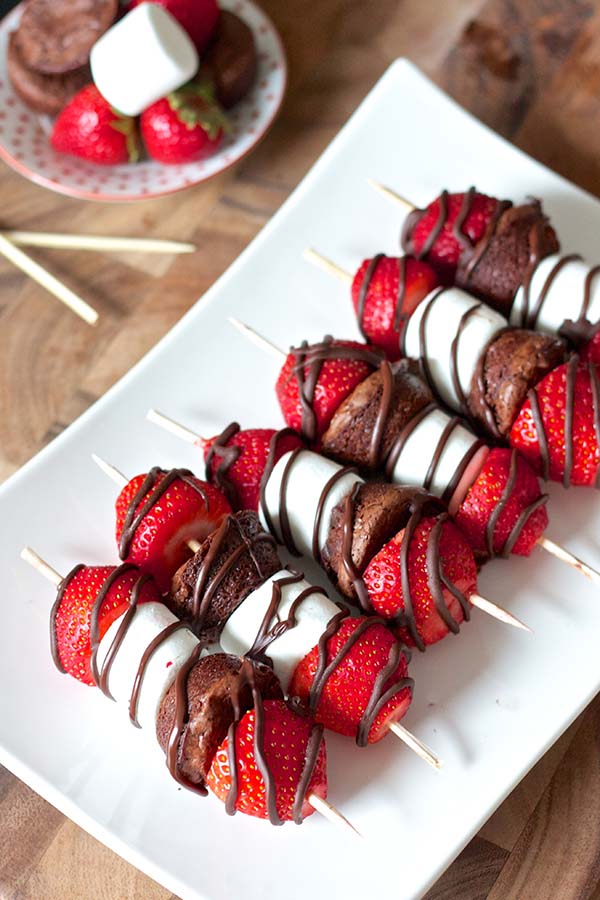 via Sweet Tooth
Make a Valentine's day kabob by layering mini brownies, marshmallows and strawberries on a stick.
White Chocolate Dipped Strawberries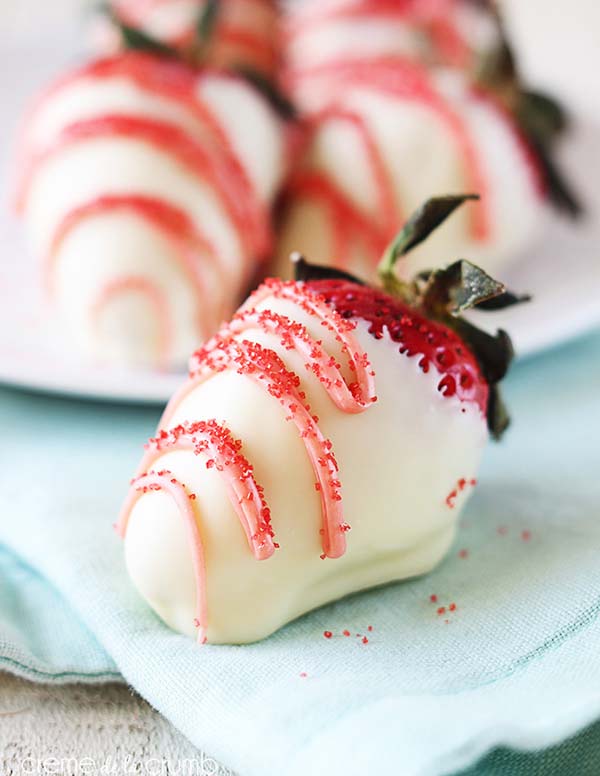 Add a new twist to the chocolate covered strawberry by using white
chocolate.
Jello & Parfait Valentine's Day Treats
Cupid's Cloud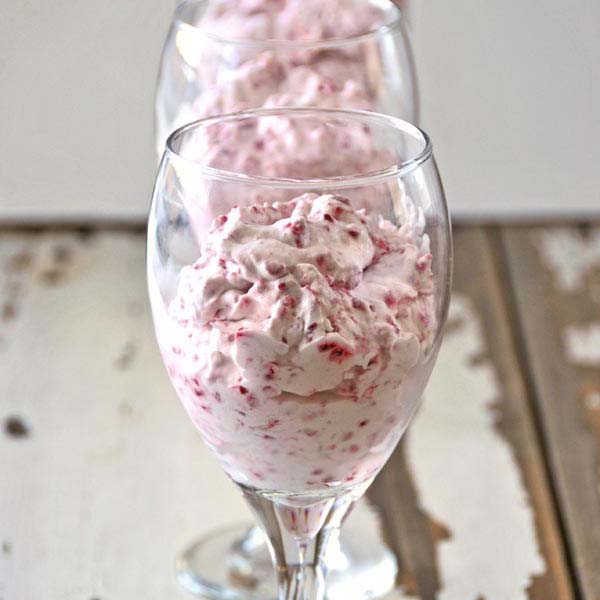 via A Pretty Life
Try this delicious Valentines treat. It is fluffy jello and marshmallows
mixed with strawberries.
Heart Jello Shots with Cherries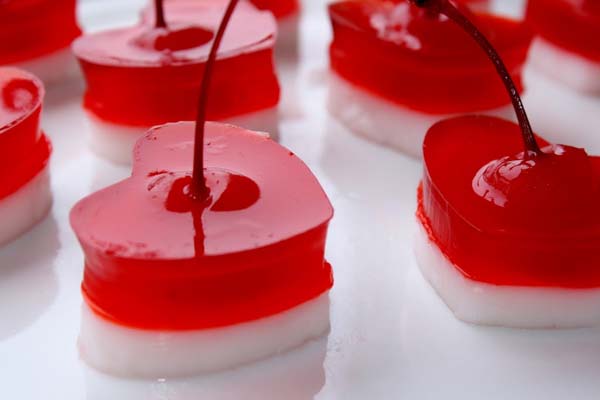 Add a little alcohol to your love day by making red jello shots with
cherries in the middle.
Layered Strawberry Jello Cups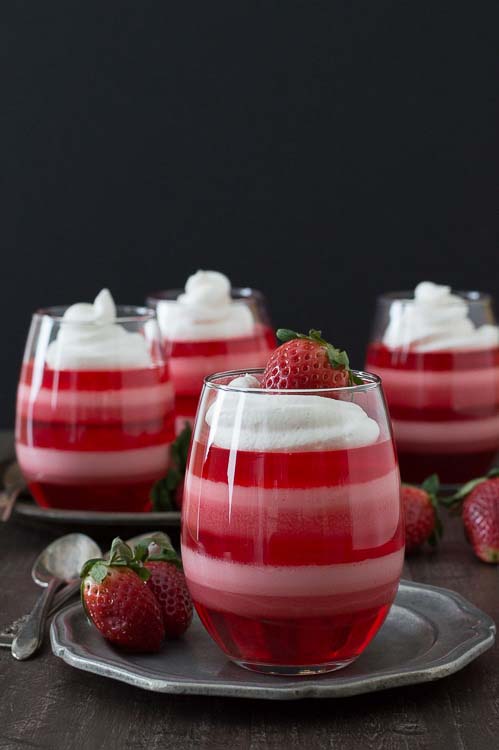 via The First Year
Layer different colored red and pink jellos in a glass cup and top with
whipped cream to make this Valentines treat.
Mini Cheesecake Parfaits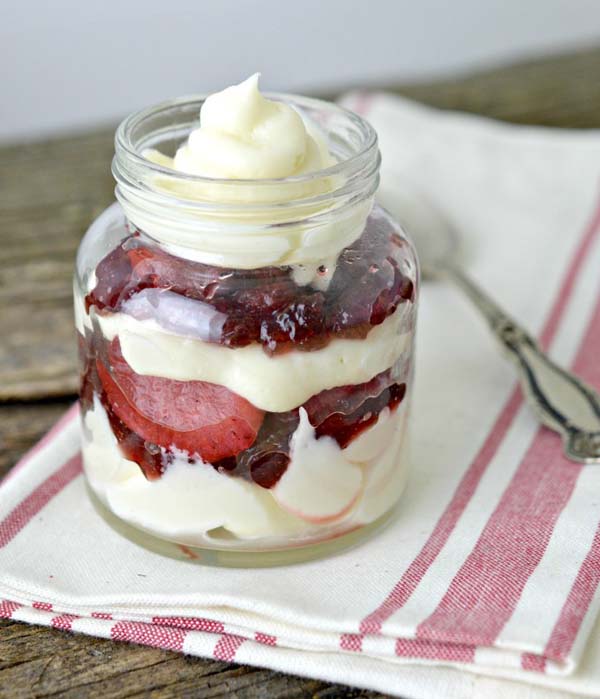 via The Rebel Chick
Cheesecake is delicious but is made especially Valentines themed by
layering cheesecake and strawberries.
Valentine's Jello Hearts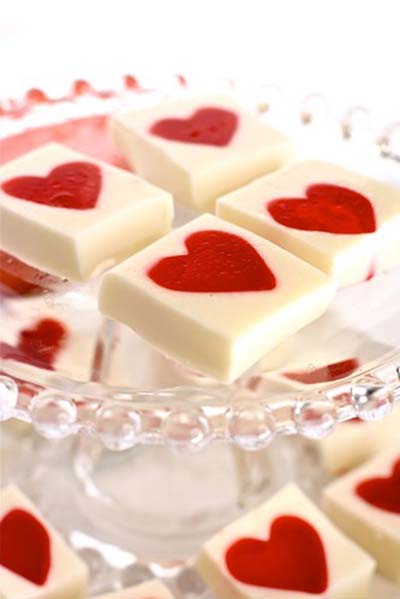 Cut hearts in white chocolate squares and fill the heart shape with red
jello. These adorable cookies are simple and delicious for Valentines
day treats.
Pastry Valentine's Day Treats
Chocolate Chip Scones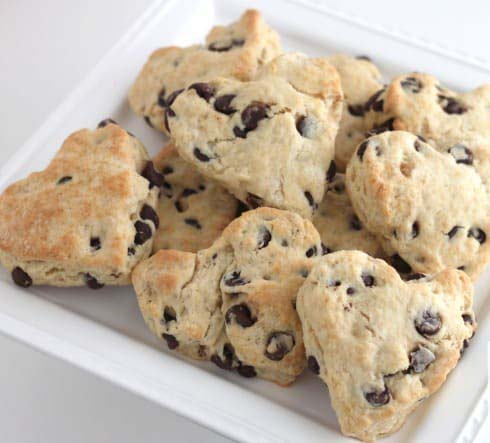 via Created by Diana
For a Valentine's day breakfast goodie, try these chocolate chip scones.
Double Chocolate Donuts
Another great Valentine's day breakfast addition is heart shaped double
chocolate donuts.
Nutella Strawberry Pop Tarts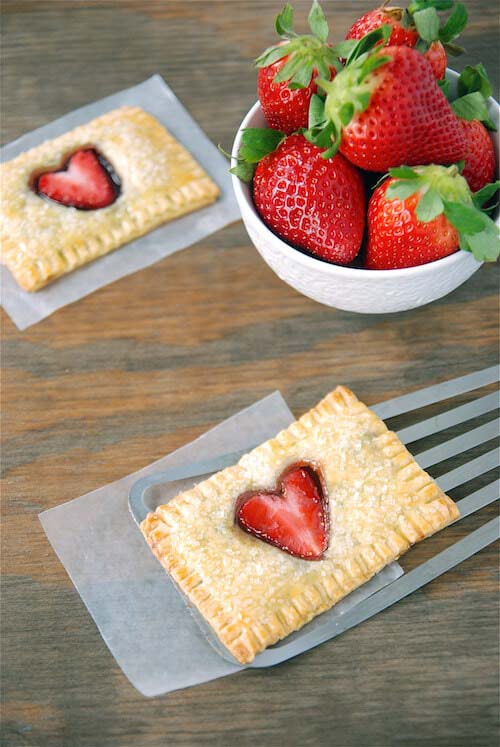 via The Novice Chef
Cut the center out of a pop tart and fill the pop tart with nutella and
sliced strawberries. It is an easy on the go treat for Valentines day.
Raspberry Rolls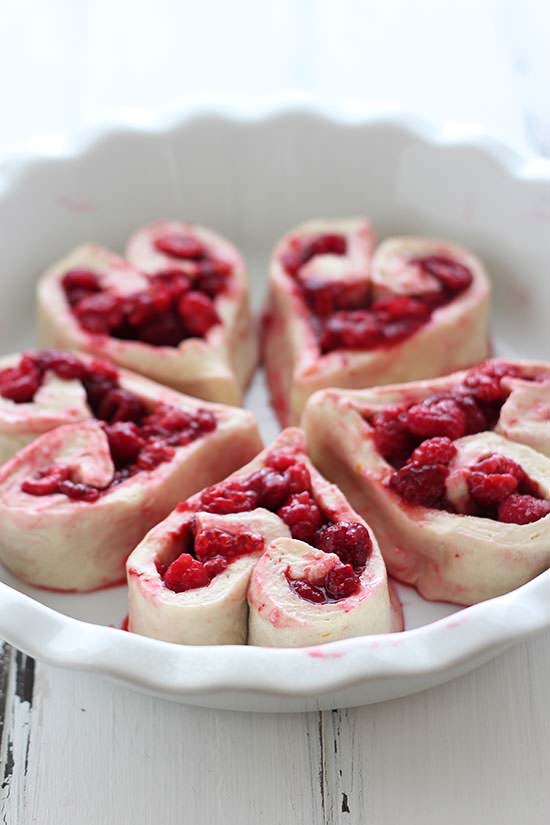 via Handle the Heat
Make breakfast rolls into heart shapes and fill with strawberry compote
to make this delicious treat.
Strawberries & Cream Heart Shaped Donuts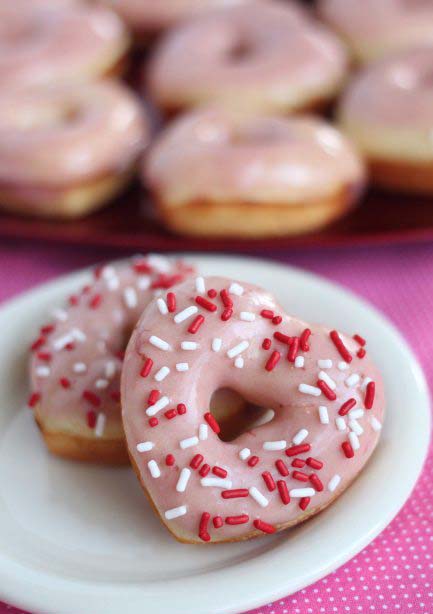 Heart shaped donuts are made especially Valentine themed by coating them with red and white frosting.
Valentine's Day Donuts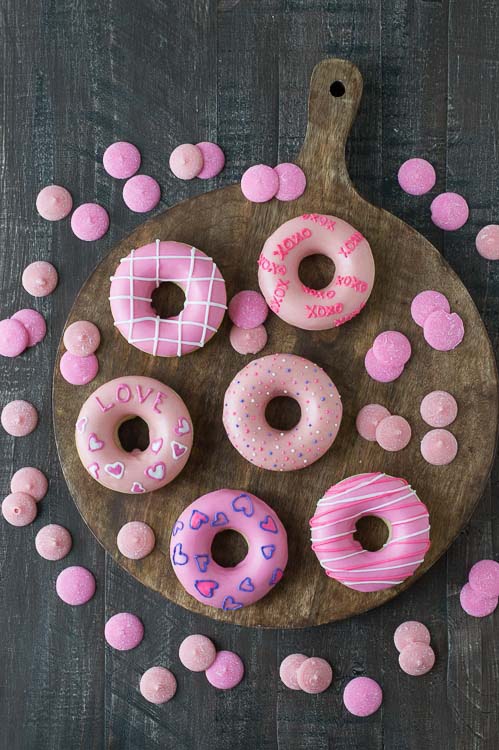 A donut can be made valentine by coating with pink frosting and drawing
mini frosting hearts on top.
Rice Krispie Valentine's Day Treats
Chocolate Dipped Heart Shaped Rice Krispies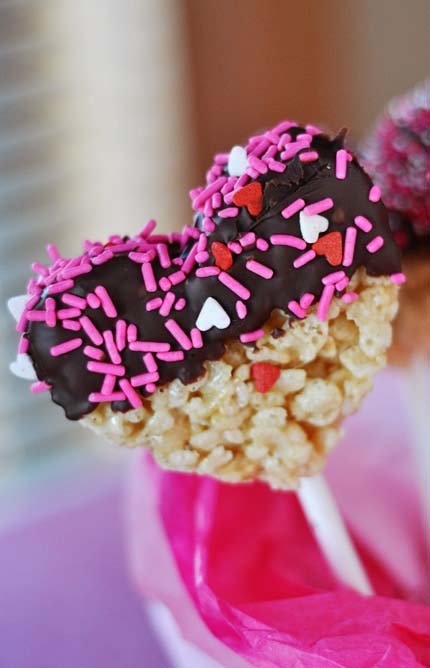 Make a rice krispy into a heart shape and coated with chocolate. Add a
skewer to make it a pop.
Heart Rice Krispie Pops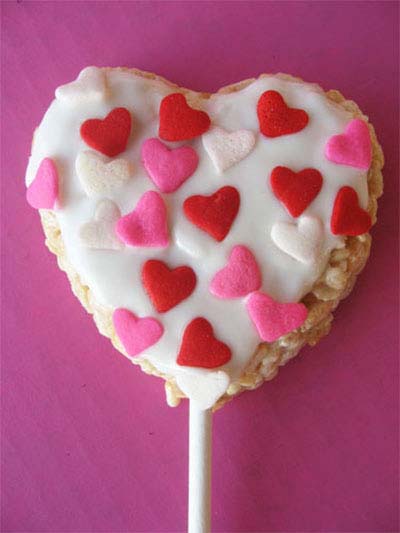 via Skip to My Lou
Skewer a heart shaped rice crispy then coat it with white chocolate. Add
red heart shaped sprinkles.
Heart-Shaped Rice Krispie Treats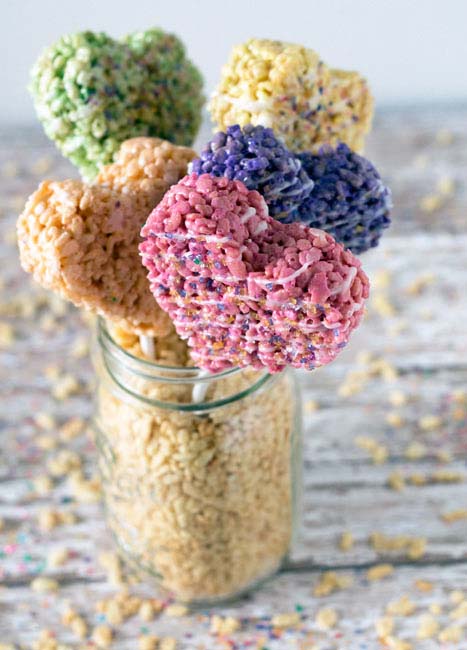 Color heart shaped rice krispies and skewer them. Add a thin layer of
white chocolate for a delectable treat.
Red Velvet Rice Krispie Hearts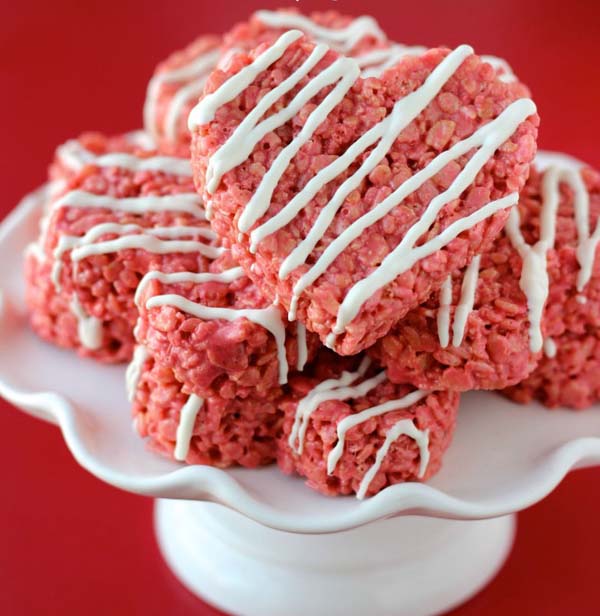 via Your Cup of Cake
Red colored and heart shaped rice krispies treats are a Valentines theme
addition to any party.
Rice Krispie Valentine Lollipops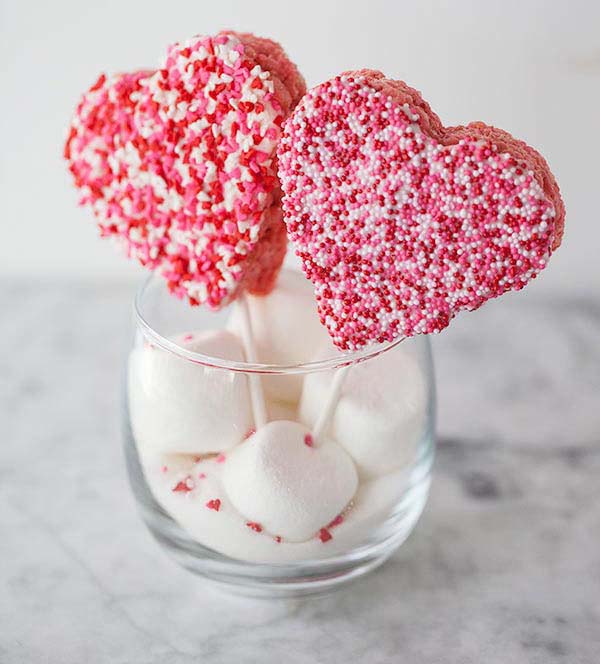 via Foodie Crush
This treat is a rice krispy treat that is shaped like a heart and
colored red. The top is coated with white chocolate and dense dipped
sprinkles.
XO Rice Krispie Treats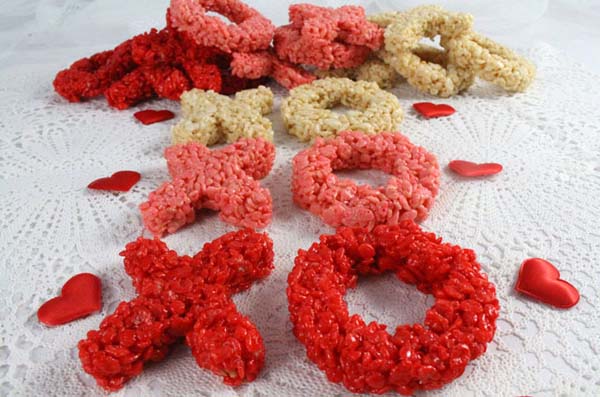 Rice krispy treats shaped in XO's are a romantic touch to a Valentine's
day.
Snack Valentine's Day Treats
Another Valentine's Day Chex Mix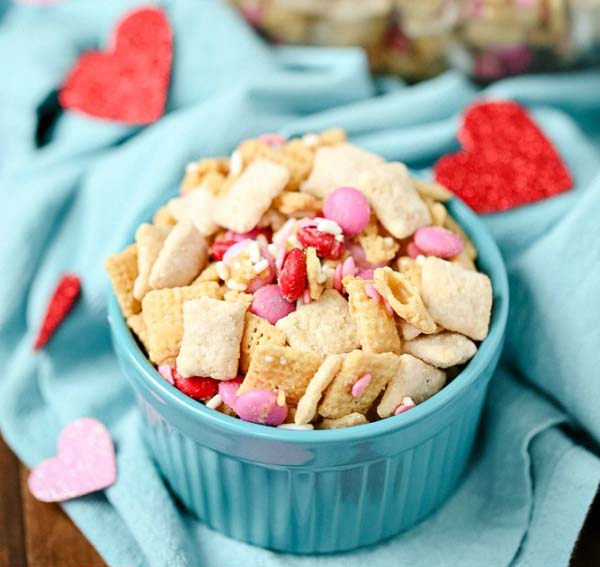 via Living Well Mom
Add red and pink m&ms and sprinkles into a chex mix to make it
Valentines theme.
Candy Heart Pretzel Bites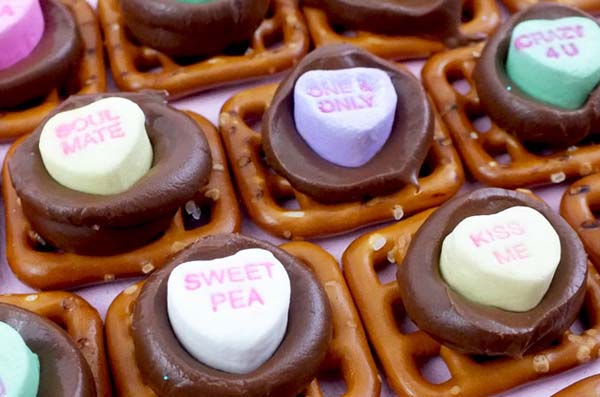 Take pretzels and melt chocolate on top. Then press a heart candy into
the top.
Chocolate Covered Pretzel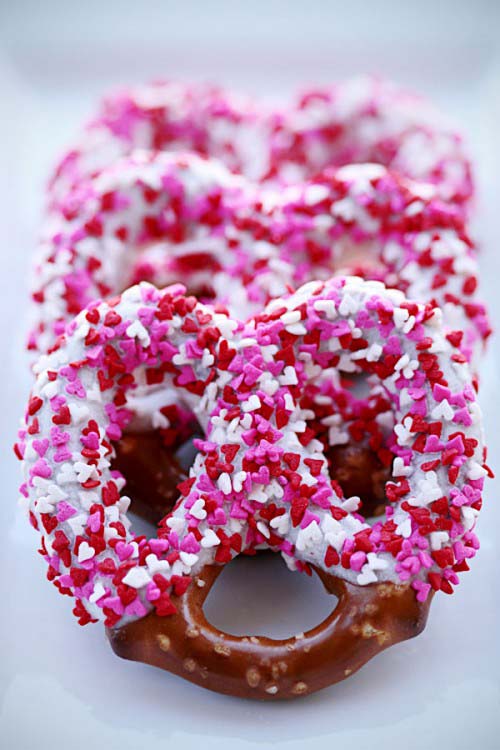 Coat pretzels in white chocolate and dip in pink sprinkles for a fun
Valentines treat.
Chocolate Pretzel Bites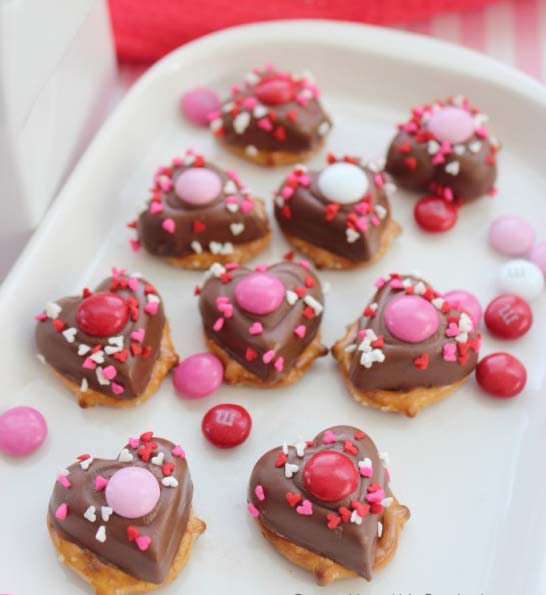 Melt chocolate hearts on top of pretzels and push heart shaped candies
in the top for a treat that can tell your love how you truly feel.
Cinnamon Heart Popcorn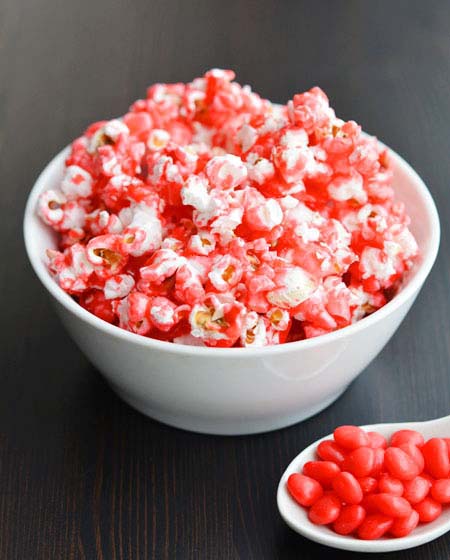 Red colored popcorn turns a classic treat into a delectable Valentine
addition.
Cupid's Arrows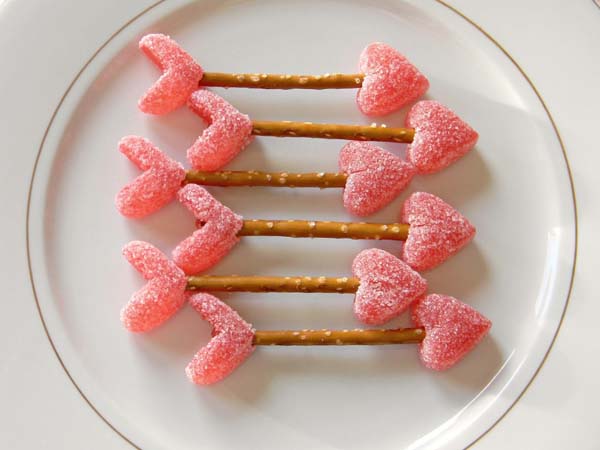 Everyone loves red hot heart shaped candies. They can be made into
little cupid arrows by pushing them on pretzel sticks.
Lover Muddy Buddies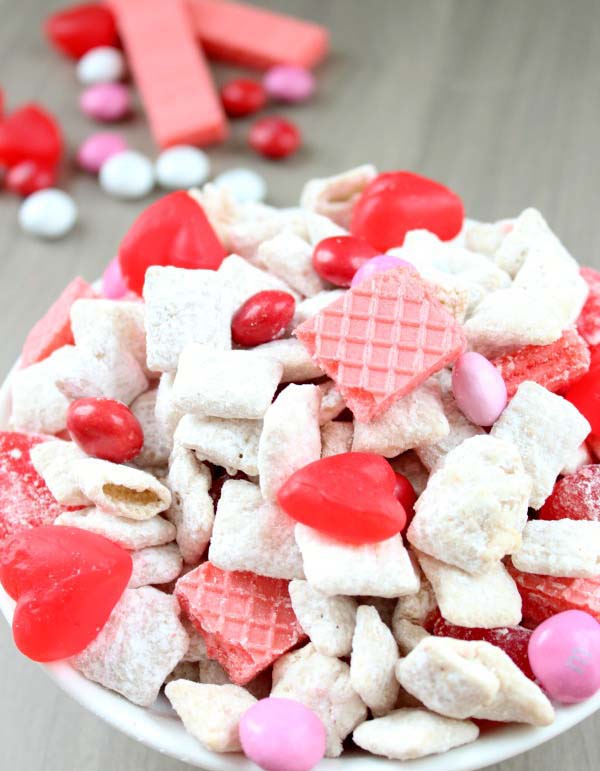 Muddy buddies chex mix is an absolute delicious snack. It is even better
with the addition of red hot hearts and crushed raspberry wafer cookies.
Pink Chocolate Covered Popcorn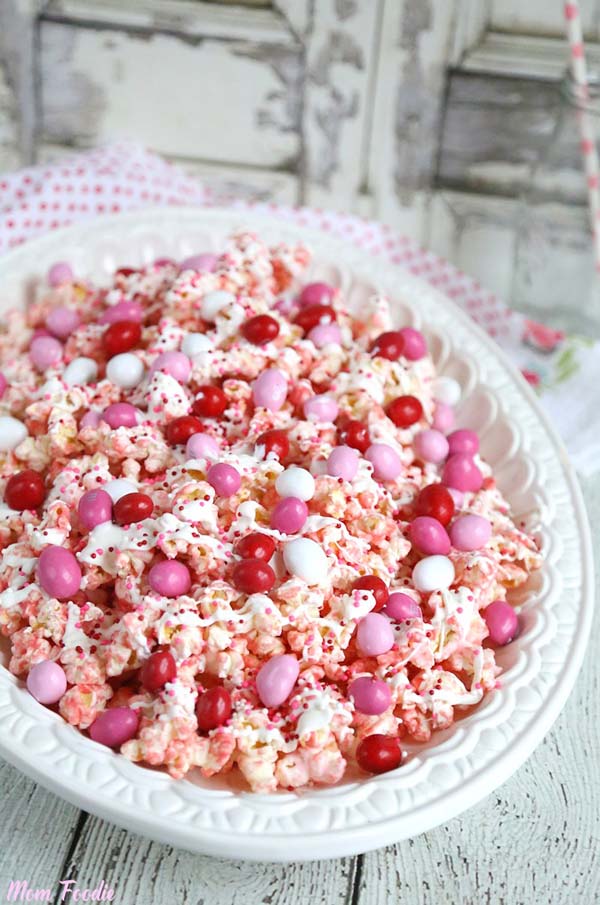 via Mom Foodie
Popcorn covered in red chocolate is delicious and is especially
Valentine themed. Add pink chocolate m&ms for another Valentine touch.
Sweetheart Buddies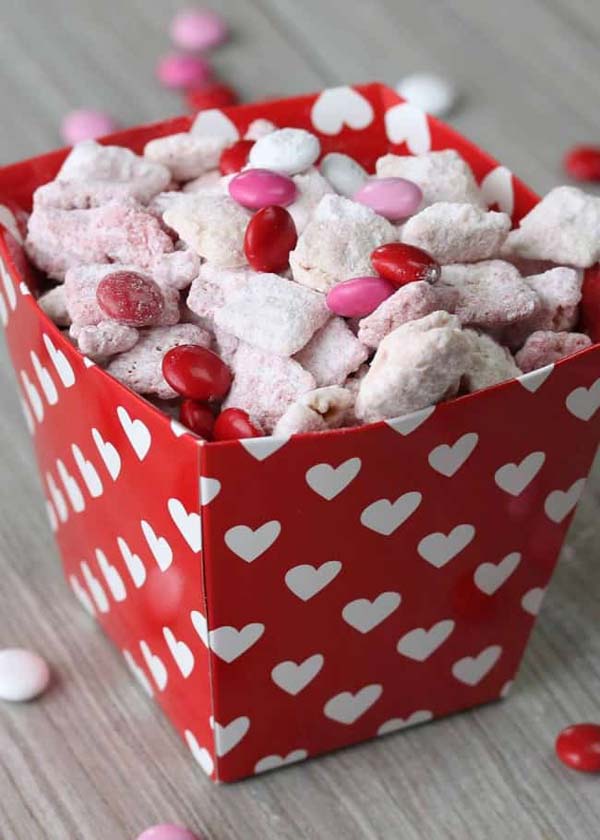 Muddy buddies chex mix is made Valentines theme by adding red and pink m&ms.
Valentine Pretzel Buttons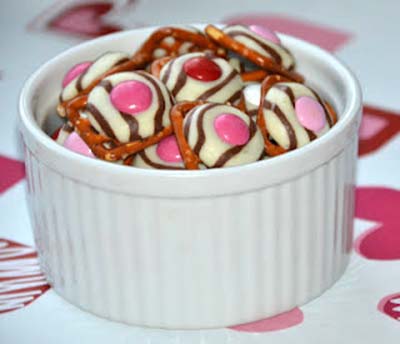 via G Rated
Melt chocolate on top of pretzels and push a red or pink m&m on top to
make this white chocolate Valentine treat.
Valentine S'mores Party Mix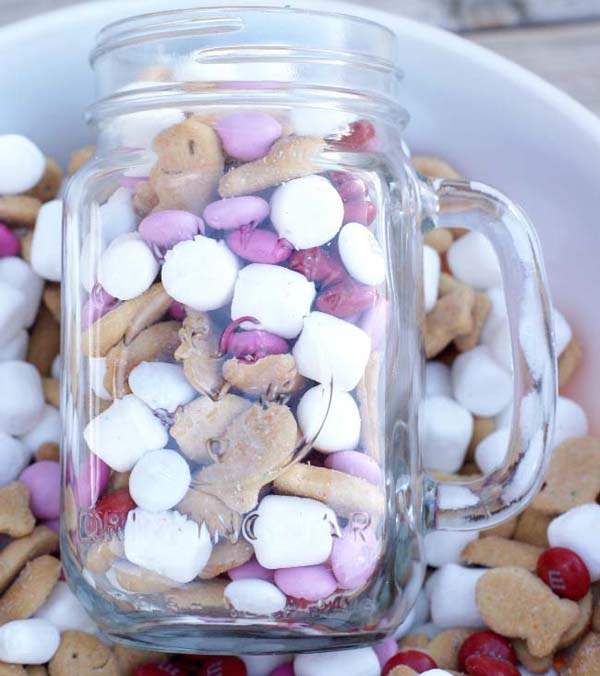 via A Night Owl Blog
Make a party mix by mixing pretzels, gold fish, mini marshmallows and
pink and red m&ms.
Valentine's Day Chex Mix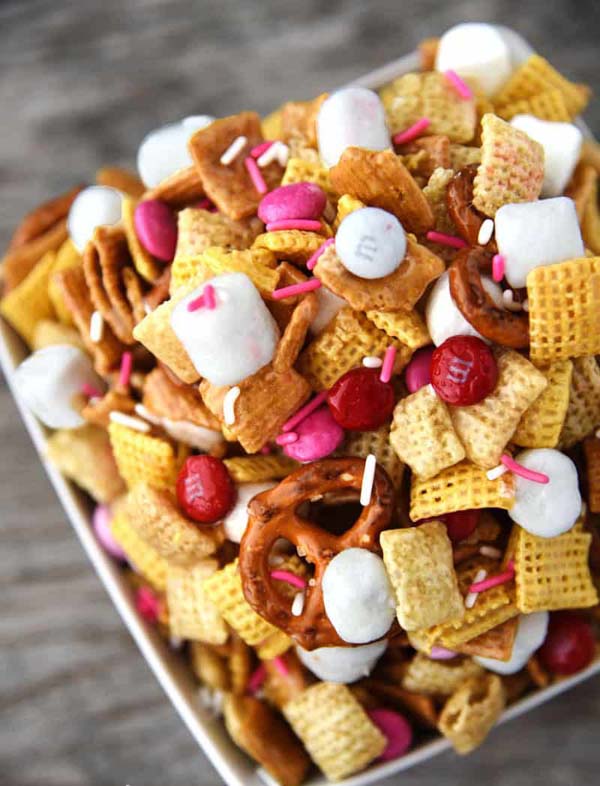 via Cupcake Diaries
Use chex cereal to make Valentine's day treat. Add pink, red and white
m&ms and sprinkles.
Valentine's Day Popcorn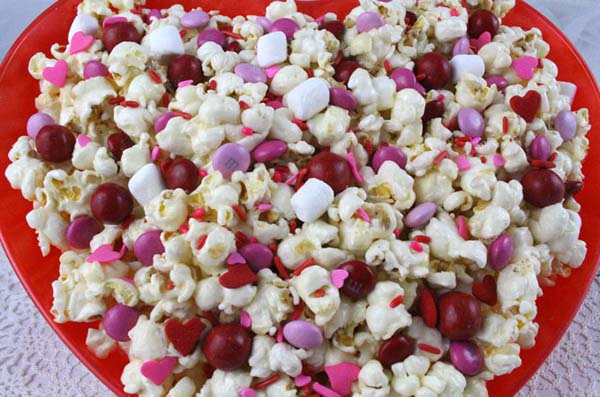 Popcorn can get a Valentine theme by adding pink and white sprinkles,
melted white chocolate and mini marshmallows.
Valentine's Day Puppy Chow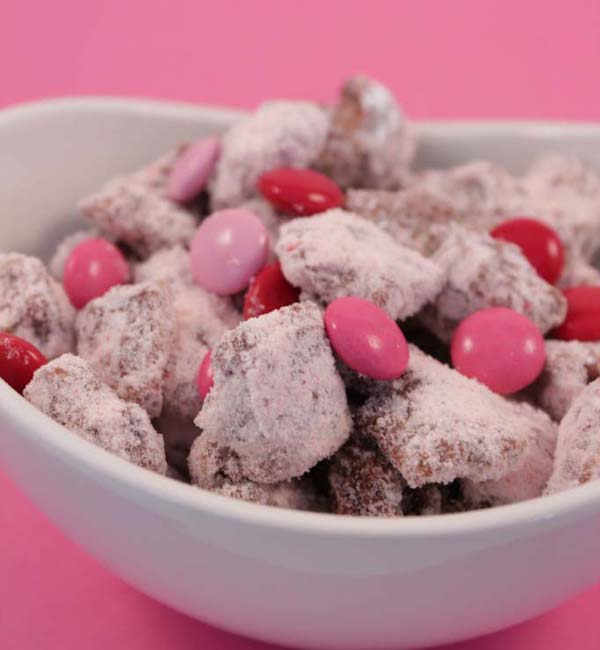 via Frugal Fanatic
Chex mix covered in chocolate and white powdered sugar and make a
delicious Valentines puppy chow. Add pink m&ms for an extra Valentine
touch.
Valentine's Day White Chocolate Popcorn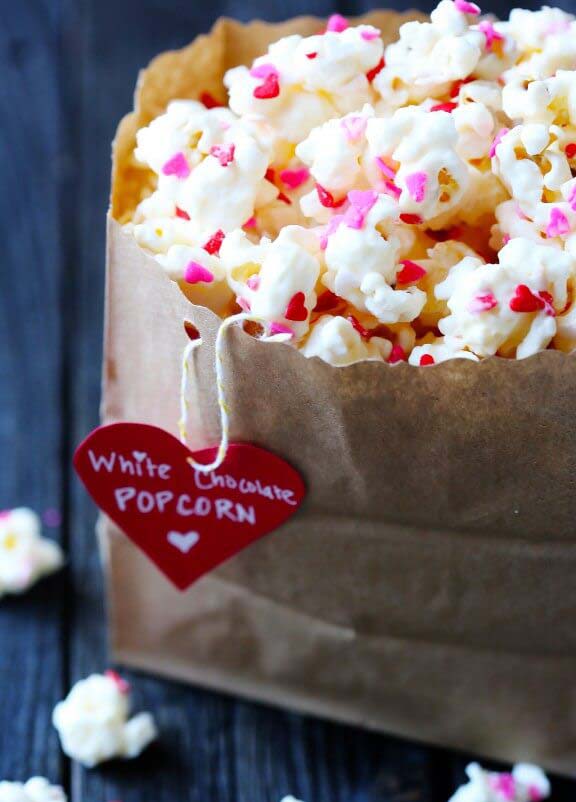 via Gimme Some Oven
Cover popcorn with melted white chocolate and pink sprinkles to make a
classic popcorn with a Valentines touch.
Other Valentine's Day Treats
Heart Milk Cubes
via A Subtle Revelry
Make chocolate cube cookies to put in your milk to add a Valentines Day
party to your cup of milk.
Heart S'mores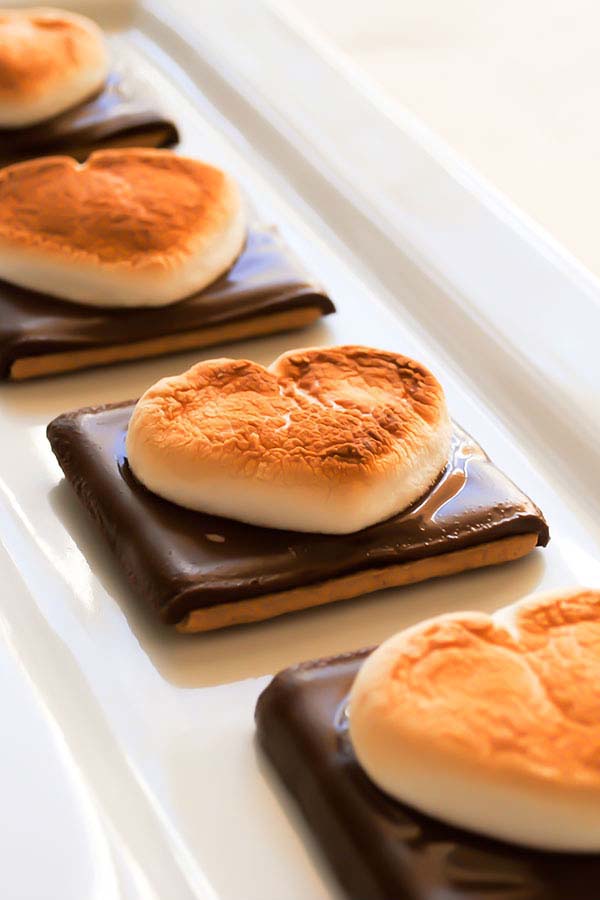 via The Cake Blog
Toast chocolate and a marshmallow on a graham cracker. Toast two
marshmallows on top to make it a heart shape.
Homemade Heart Marshmallows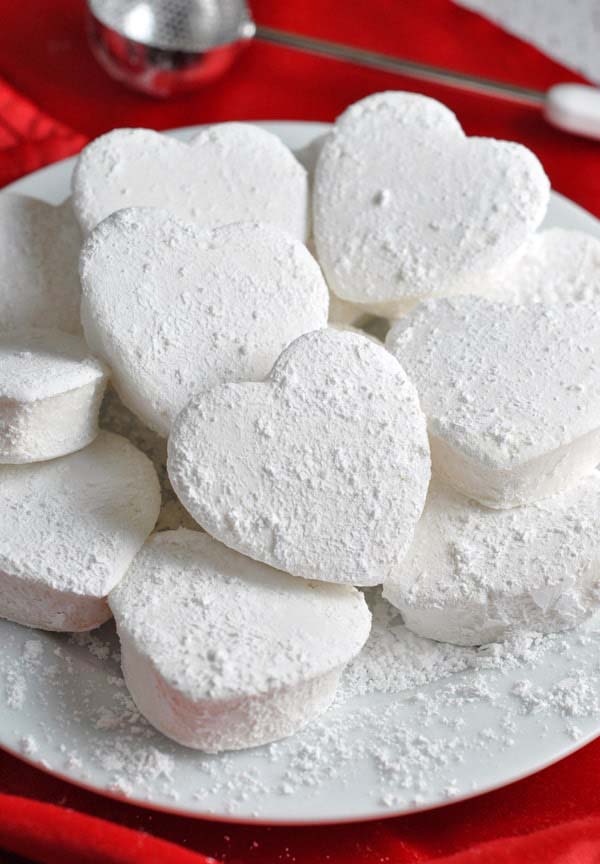 via Belly Full
Make mini heart shaped churros into a Valentines theme snack by dipping
them in chocolate and coating with powdered sugar.
Raspberry Mini Heart Churros with White Chocolate Dipping Sauce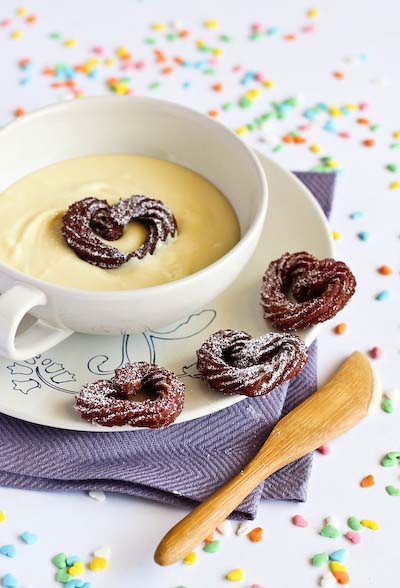 Strawberry Heart Marshmallows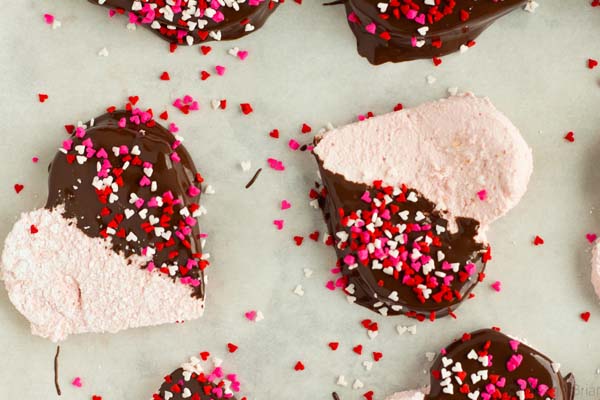 via Fox and Briar
Marshmallow cookies half coated in chocolate and sprinkles is a great
addition to a Valentine themed party.
Valentine's Day Fortune Cookies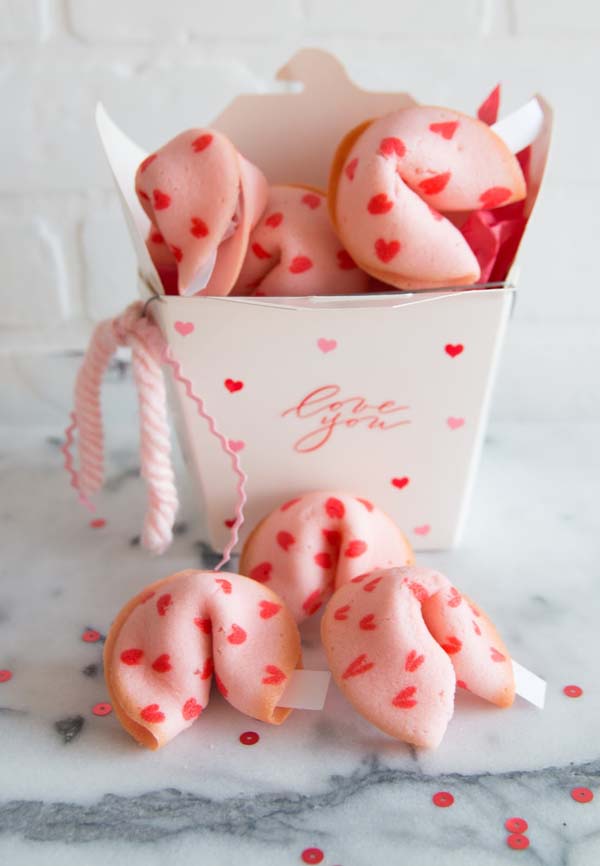 via Camilleeiam
Chinese cookies are not typically a Valentine treat but dust in pink and
they can be a great chinese twist on a classic Valentine celebration.
Valentine's Day Yogurt Bites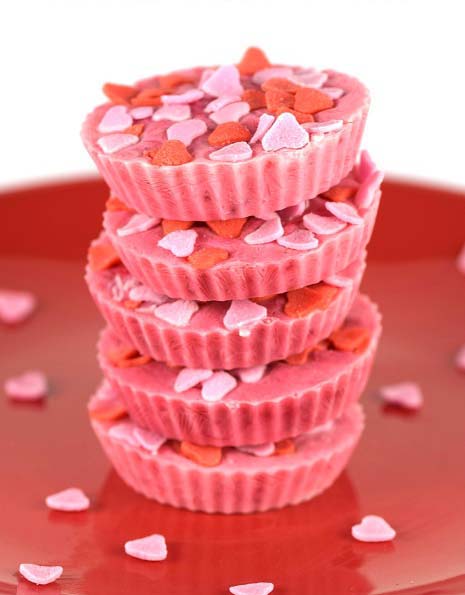 via Crafty Morning
Make pink yogurt bites and top with pink Valentines hearts for a
healthier snack.