Are you someone who loves to show your mood or creativity through your makeup?
Do the makeup tutorials on YouTube excite you and have you rushing to see what colors match the video?
Are you hoping to check out some unique and fun Christmas eye makeup?
We have got 50 plus Christmas makeup ideas for you to check out.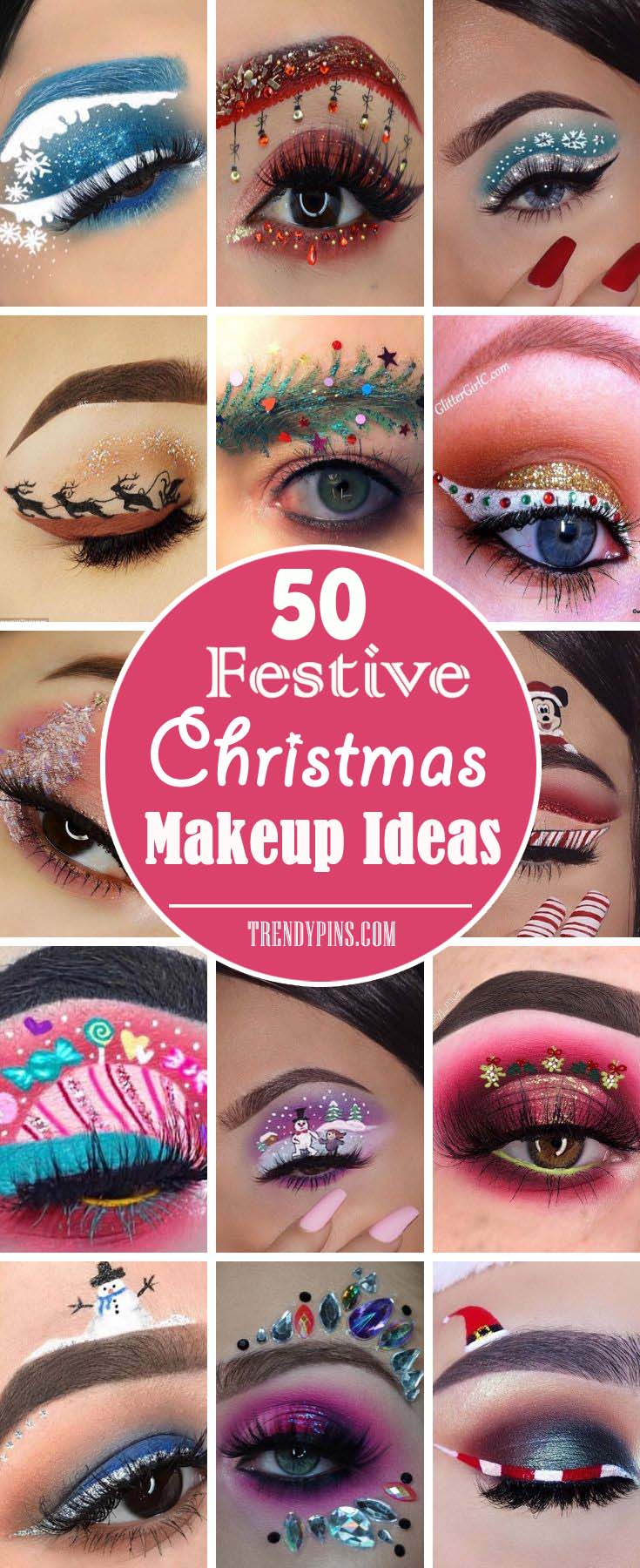 The great thing is if you are a lady that likes to plan ahead you have some time but there is nothing wrong with thinking ahead to how everything will work out in a look.
So get ready to start planning your makeup looks, nail ideas, hair and outfits for all of the Christmas/Holiday parties and of course Christmas day.
And have a beautiful and creative holiday season!
Red and Gold Sparkly Christmas Baubles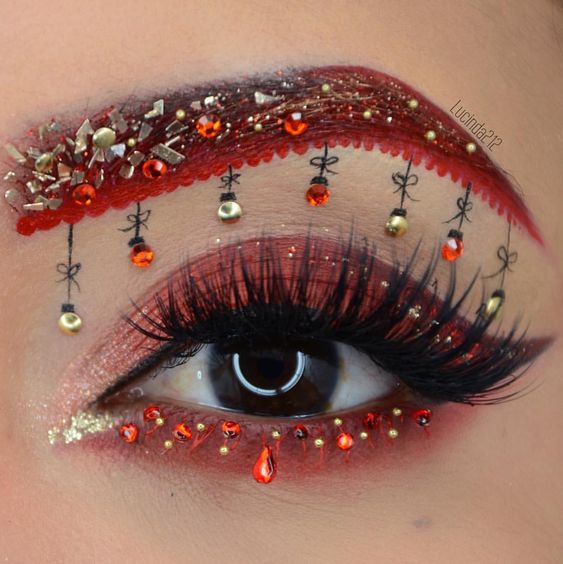 Via: Seshell
This is a dramatic, elegant and festive look.
This red and gold look is definitely for a woman who wants to be the center of attention especially with the glitter and effects in the brow and the lower lashes "dripping" red and gold.
Christmas Tree and a Reindeer under Winter Stars in a Blue Sky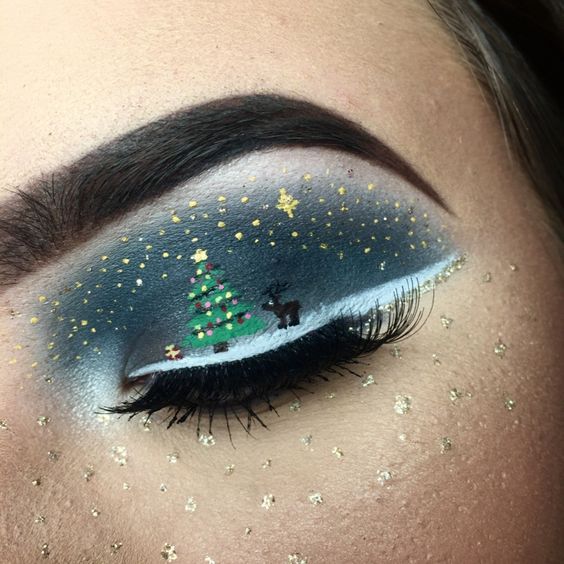 Via: Seshell
Oh starry night! This is the cutest artistic display on your eyelid and the gold stars from the night sky fan out onto your cheek area.
Glittery Christmas Tree on Pink Base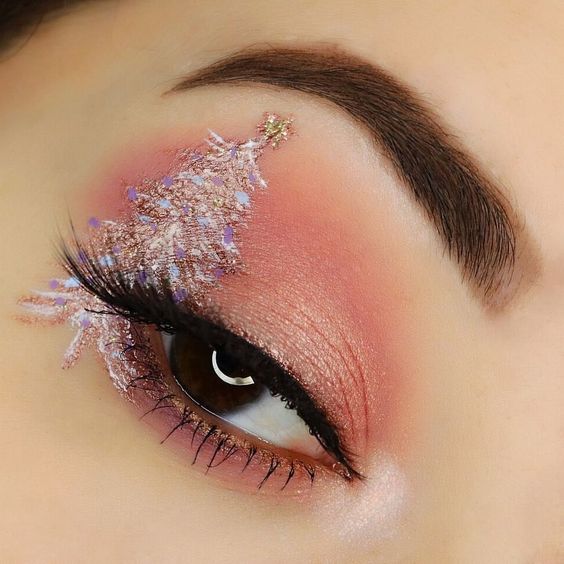 Via: Seshell
This is a very soft and feminine Christmas look. Light pink isn't known as a Christmasy color but with the soft lit Christmas tree in the corner of your eye no one will mistake the pink look as anything but Christmas makeup.
Christmas Tree and Stars on Eyebrows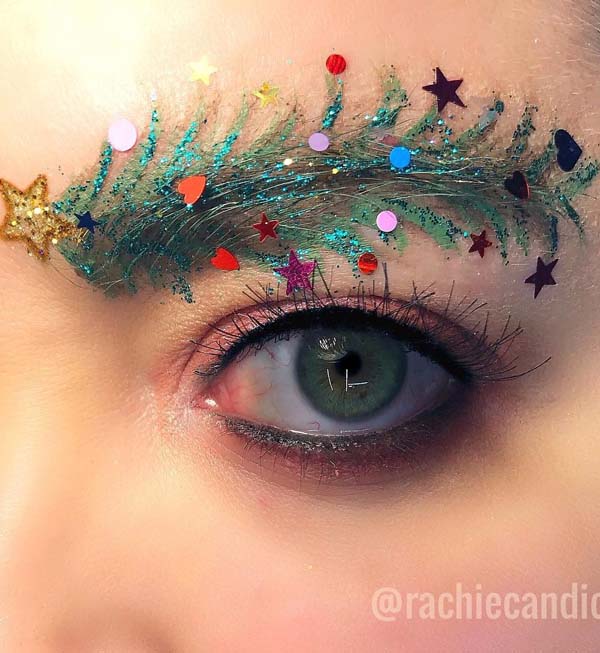 Via: Ladies Ways
This is a wild look and definitely would take a bold woman to pull it off.
Turning your eyebrow into a Christmas tree is look and will make your brows the conversation of the night.
White Snowflakes with Rhinestones and Gold Glitter Makeup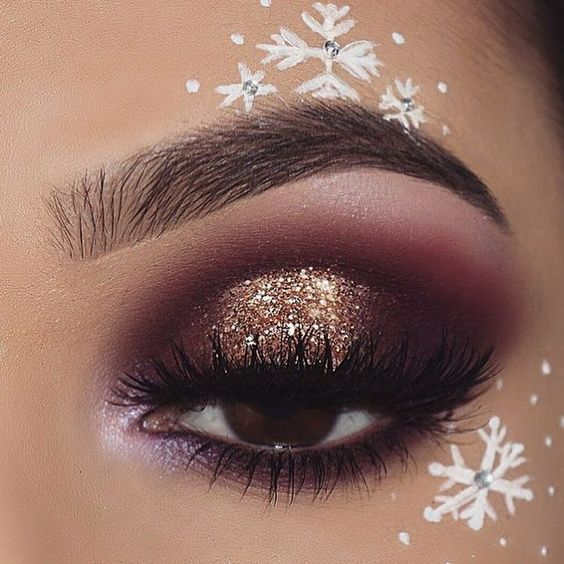 Via: Seshell
It's dramatic, it's artistic, it's feminine and strangely it's kind of perfect for the Holidays.
The snowflake accents are fun and elegant and the mauve, purple and gold coloring could be displayed for any regular party.
Gold Bells and Christmas Ribbon with Glowing Golden Eyeshadows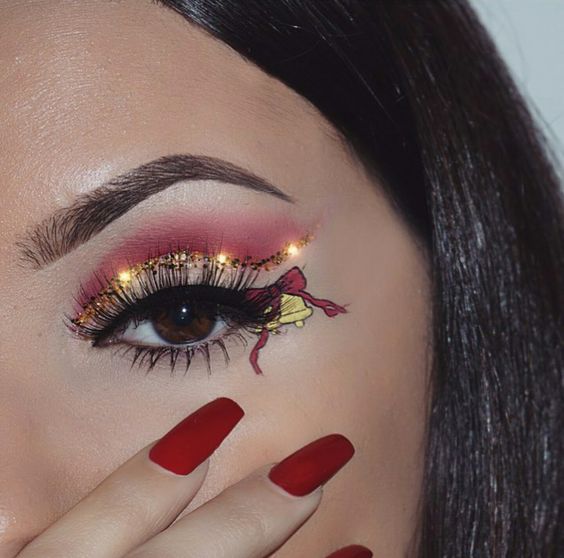 Via: Seshell
This is fun! And the lit accents in the stream of glitter is so unexpected. the golden bells are so cute at the end of the black eyeliner.
Snowing White and Blue Eyeshadows and Snowflakes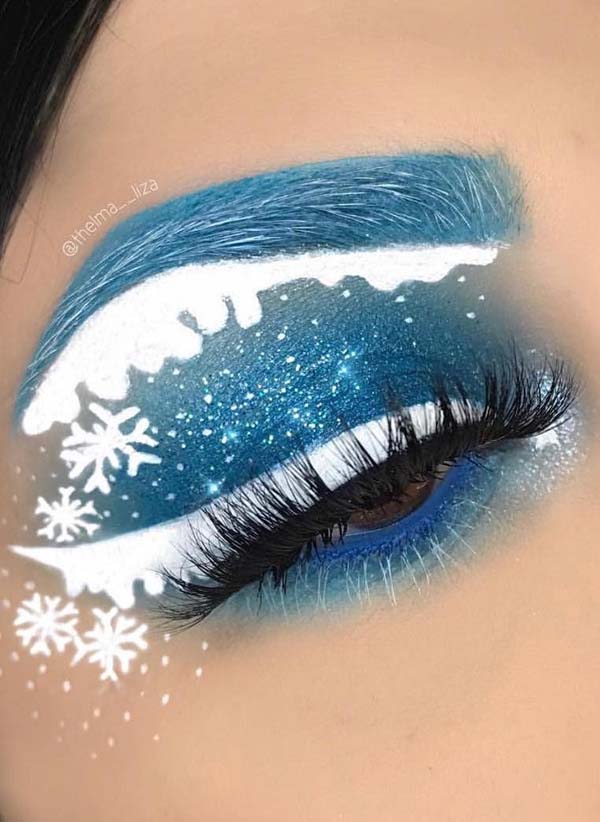 Via: Ladies Ways
Hello Ice Queen!
This is a full on Mrs. Frost with a cold wintry nightscape and a sweep in of snow and ice.
This is a bold blue and white look.
Cute Snowman and Kid on Winter Landscape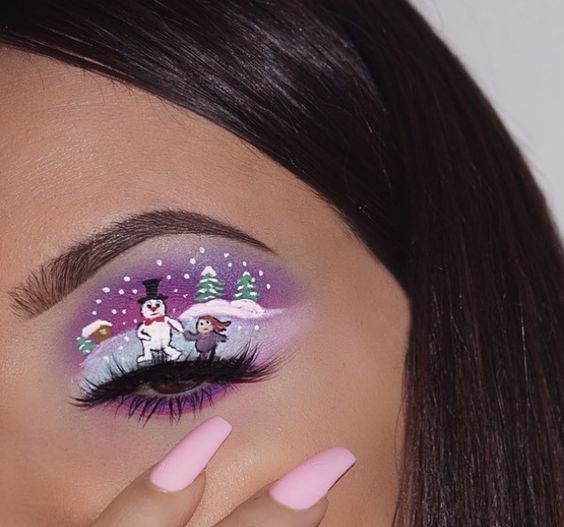 Via: Seshell
This is a scene straight out of Frosty the Snowman.
It's such a cute Christmas makeup idea to take a classic Christmas cartoon and display it on your eyelid.
The purple and pink accents make sure this child friendly scene is a bit more grown up.
Candy Christmas Makeup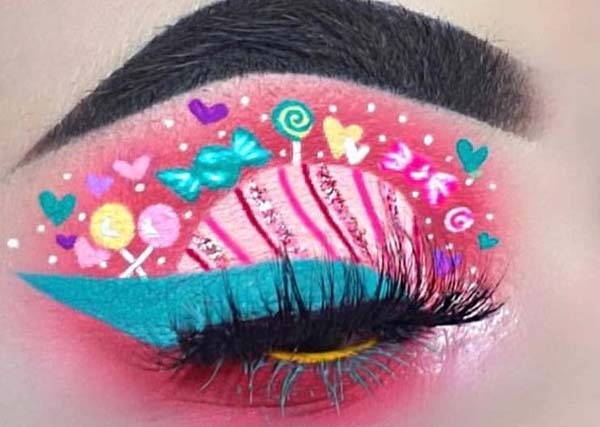 Via: Ladies Ways
Oh wow Candyland!
This is a shocking look that not a lot of women could pull off because it is truly a makeup statement.
The teal, pink and yellow in this look may not scream Christmas but it is such a festive, fun look it doesn't even matter.
Winter Color Based Shadows and White Snowflakes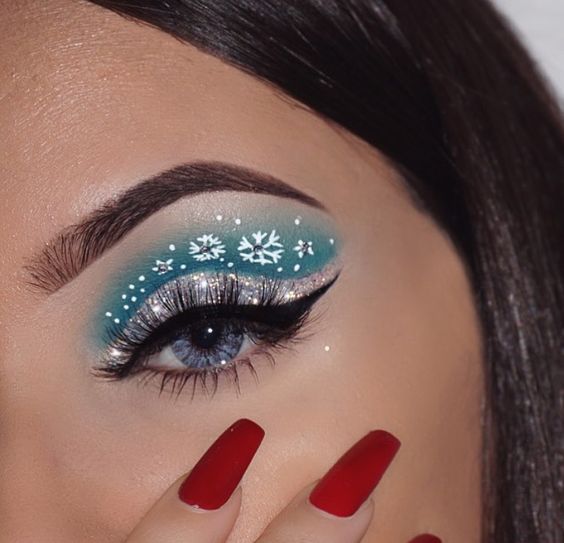 Via: Seshell
The glittery silver and teal will perfectly set off most eye colors allowing the flecks in your eyes to pop.
While the silver with the teal and the snowflakes gives a snapshot of a winter breeze.
Mini Mouse and Candy Cane Christmas Makeup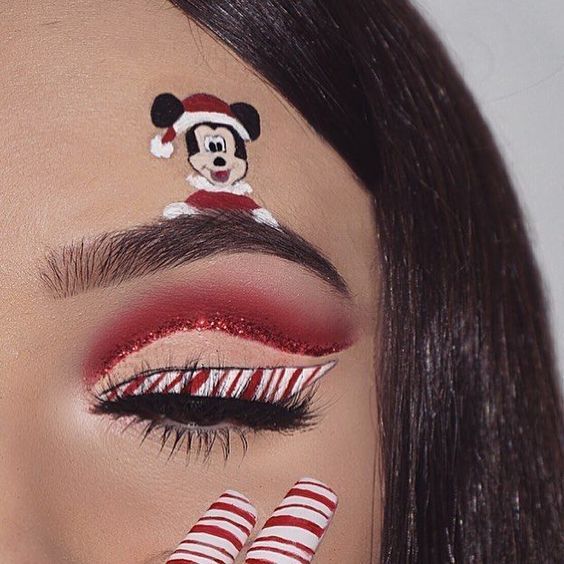 Via: Eazy glam
So cute, festive and such a throwback with Micky Mouse popping up from your eyebrow.
The candy cane strip might be a bit thick for some but the red glitter and eyeshadow are lovely.
Christmas Colored Rhinestones on White Snow Base and Gold Glitter Shadows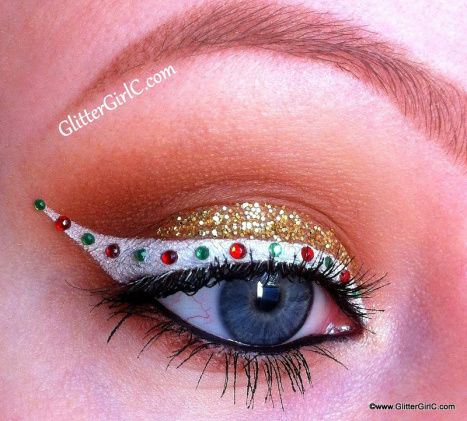 Via: Seshell
Gold and pink look almost has a summer feel to it but the striking white Santa hat like stripe and rhinestones change up the tone like a warm/southern Christmas.
Candy Cane Eyeliner and Rhinestones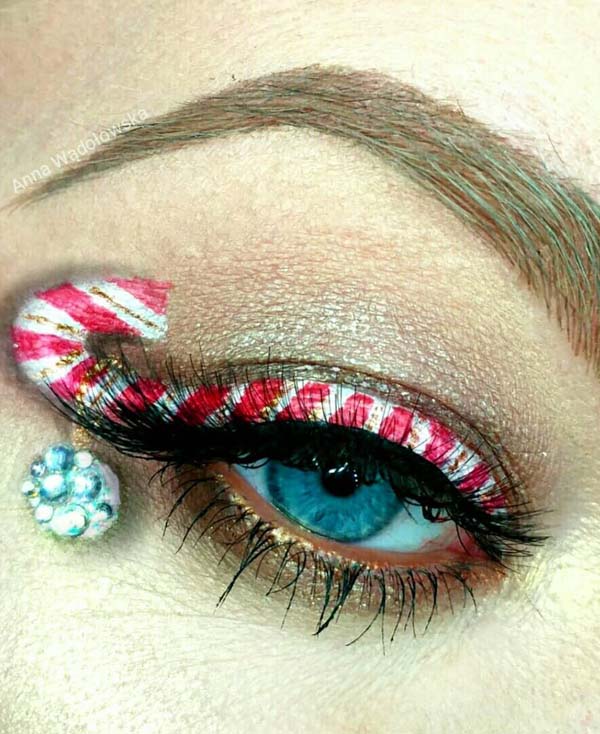 Via: Ladies Ways
Such precision with the candy cane.
This look could be done as just a candy cane without the loop at the end and the snowball/pom pom hanging off the edge of the candy cane is a really cute placement in this look.
Santa Claus in the Lower Corner of the Eyelid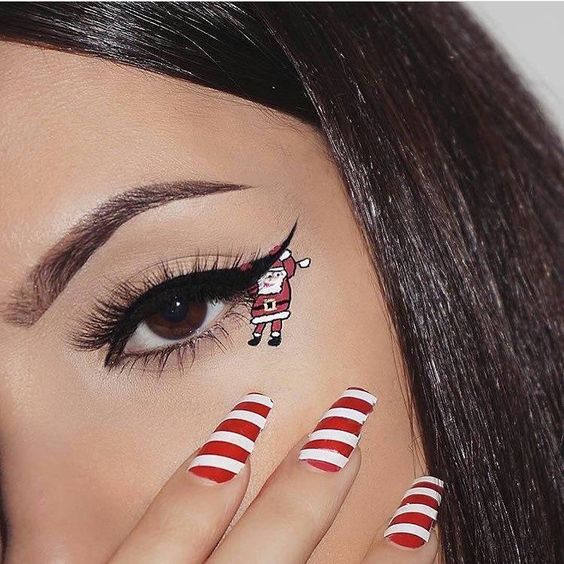 Via: Seshell
The Santa just hanging off of the edge of the wing tip is truly classic and fun.
He could almost be stenciled on or as a temporary tattoo.
Reindeer on Brown Glitter Eyeshadows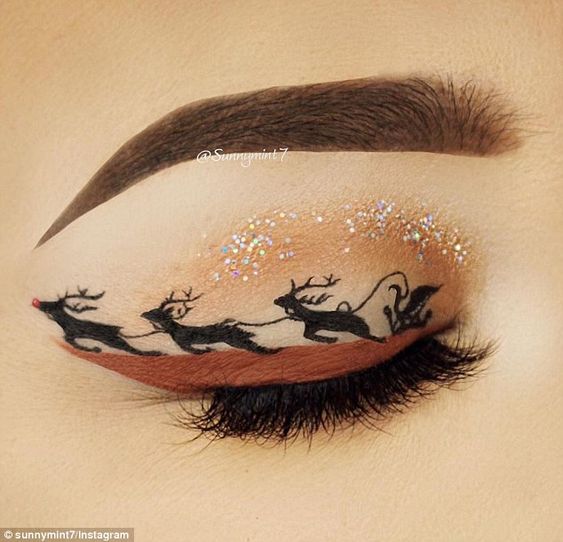 Via: Seshell
Santa's reindeer is such an unexpected and cute eye display.
Brown usually isn't thought of during the Christmas season but the brown representing the ground and in the sky is such a soft look.
Silver Blue Eyeshadows and White Snowflakes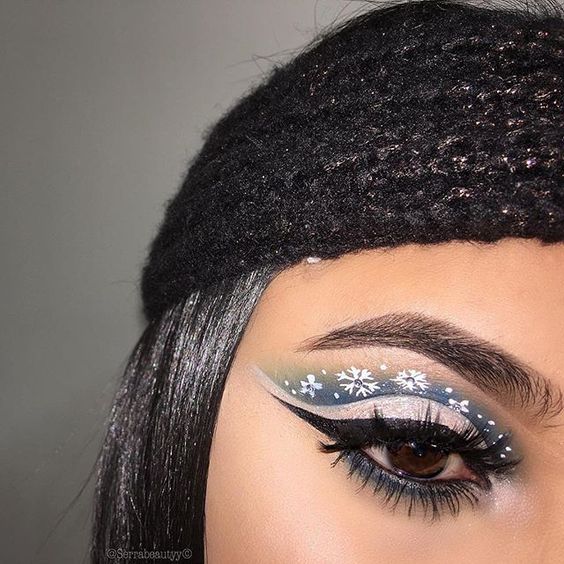 Via: Seshell
This look could almost be worn anytime to anywhere if you didn't have the snowflakes as part of the look. It's dramatic and elegant but not over the top Christmas in your face because the snowflakes smaller.
Reindeer Eyelashes and Shiny Green Eyeshadow with Candy Eyeliner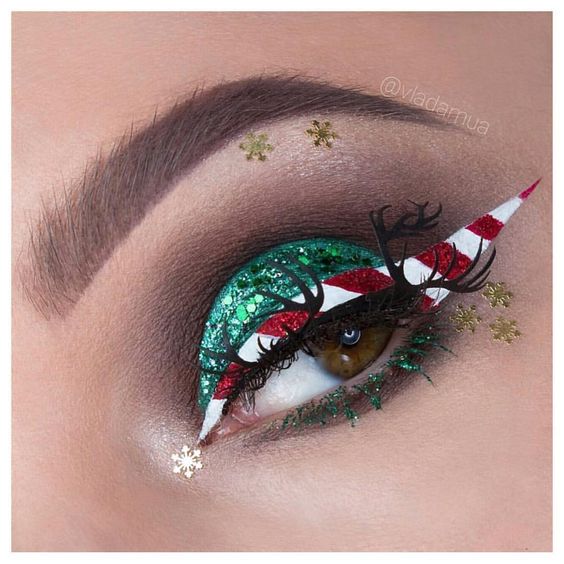 Via: Seshell
This is such an interesting look. You will have people staring in to your eyes all night because they aren't sure what the addition to your eyelashes is.
This look gives off a female Grinch on your eyelids vibe.
White Snowflakes on Red Base Eyeshadows with Glitter Outline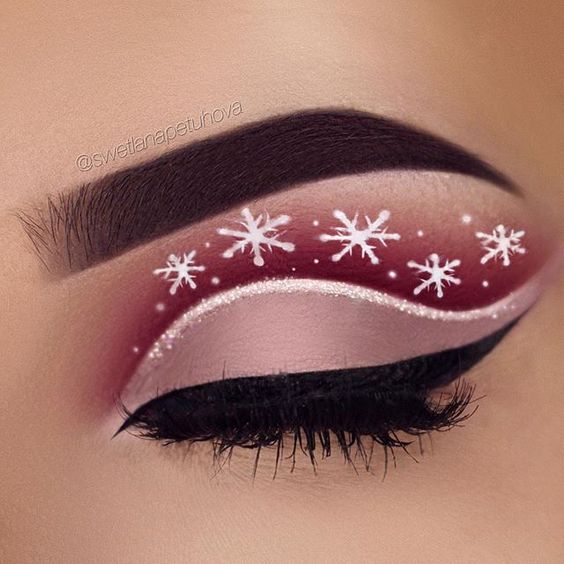 Via: Seshell
This is a stunning look that isn't over the top and it is a perfectly wintry party look.
The snowflakes perfectly accent the red dusting over the glitter.
Funny Santa Claus in the Lower Corner of the Eyelid on Christmas Green Tree-Based Eyeshadows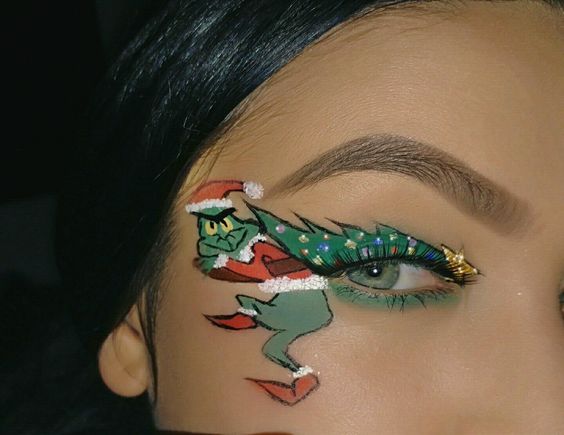 Via: Seshell
This Grinch look is fun. It's definitely for the woman who doesn't take herself too seriously.
All of the green will be great for those ladies with hazel, gray or green eyes.
Christmas Bell and Gold Glitter Eyeliner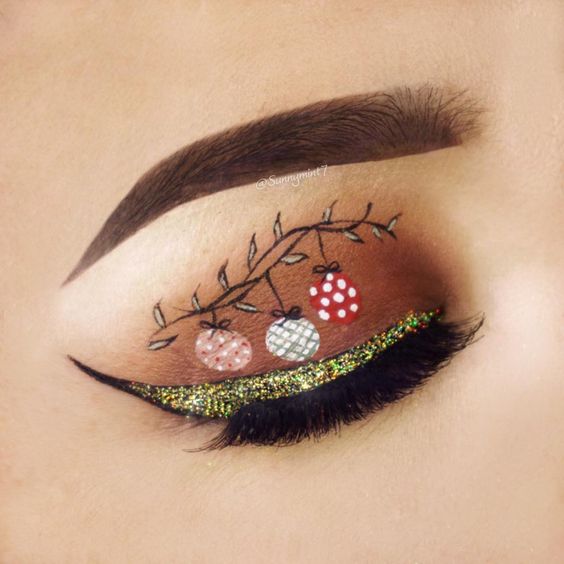 Via: Seshell
This glitter look is perfect with the way the glitter skims the eyelid on top of the eyeliner.
These ornaments are dainty and sweet.
Christmas Green Gems Around Eyebrows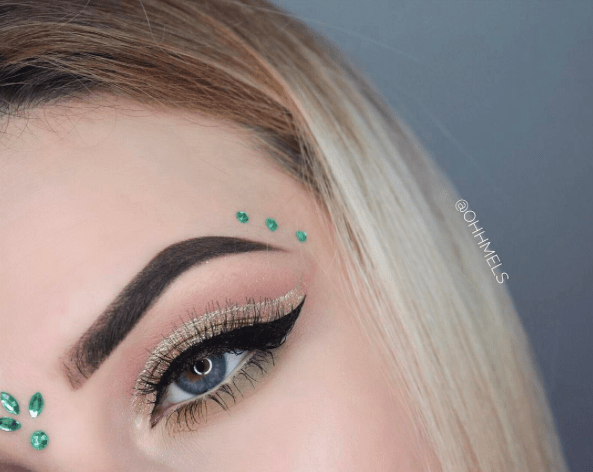 Via: Cherry Cherry Beauty
This pink and gold look is so understated because the eyeshadow is lightly applied.
The green gems are those perfect little pieces that take the look from something you could do any day to an elevated look that is Holiday perfect.
Christmas Tree on Red Base Makeup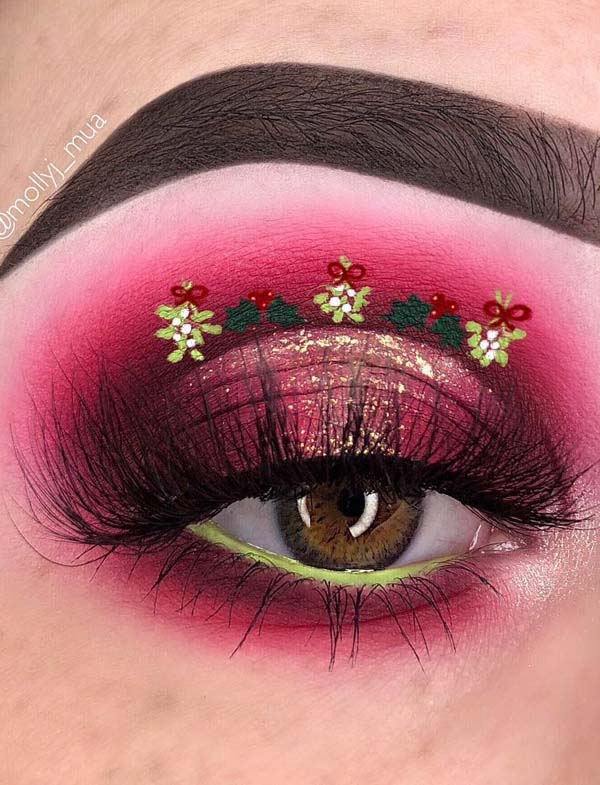 Via: Ladies Ways
This is such a WOW look green and red/cranberry eyeshadow. It is truly a pow Christmas statement but doesn't come off as costumey.
Snowman on an Eyebrow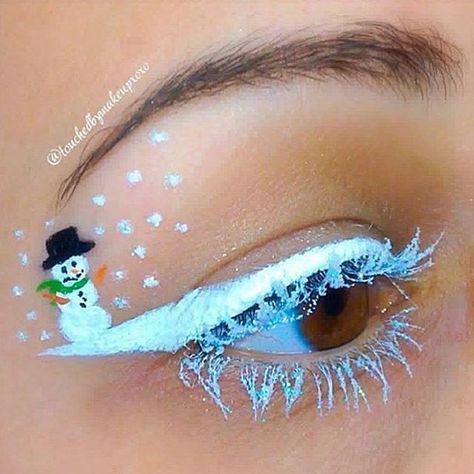 Via: Fashiotopia
This is so cool with the icicle look on the eyelashes and the snowman with his snow flurries off of the end of the white wing tip.
You may have to watch out for the glitter flecks getting in your eye.
Pink and Silver Eyeliner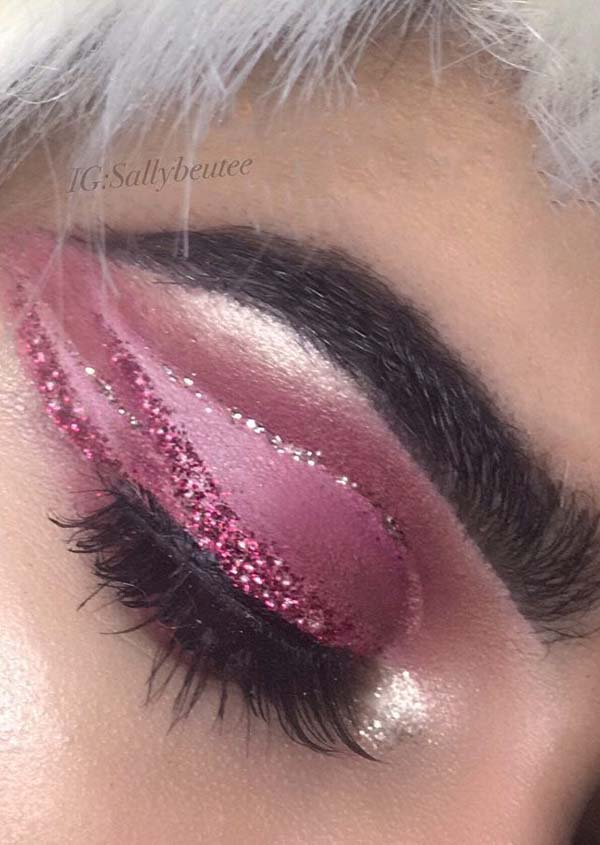 Via: Ladies Ways
This ultra feminine look could work for a Christmas/Holiday party or you could even save this look for New Years Eve because it is that perfect as far as a look.
Santa's Hat Eyelid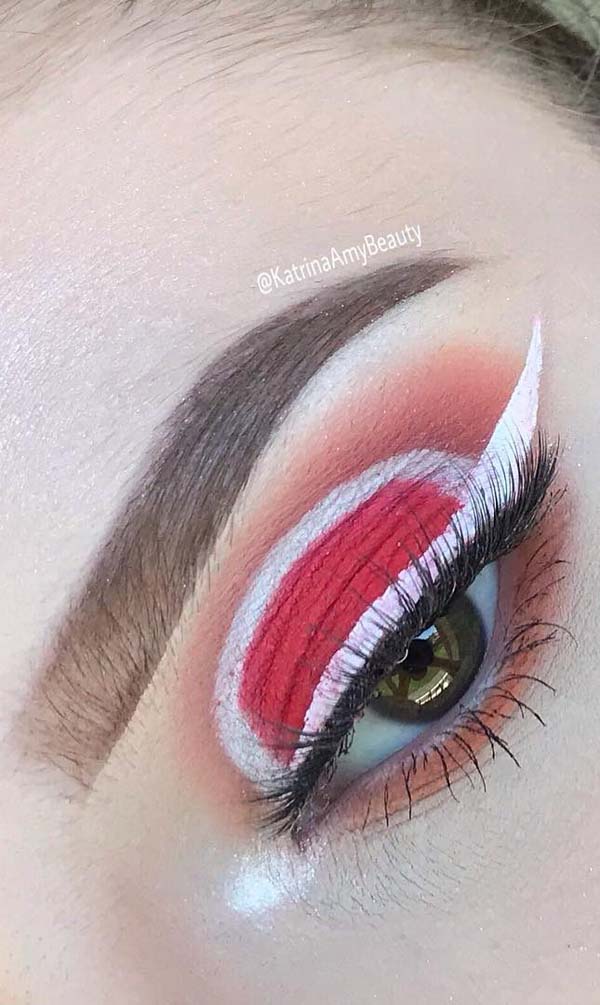 Via: Ladies Ways
This is an interesting look.
The Santa hat is made directly on the eyelid with a winged tip, it looks more like a Santa cap but it definitely draws attention to the eye.
Gold Green Eyelid with Red Points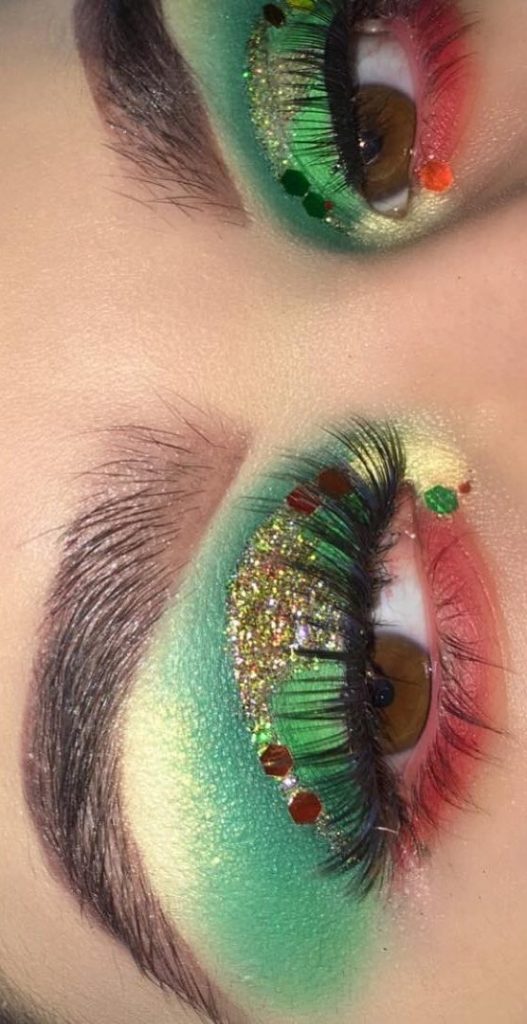 Via: Ladies Ways
This is a bold look with glitter, glued on pieces and green, gold and red eyeshadow.
It's more Christmas pageant than Christmas party.
Christmas Reindeer, Silver Eyeliner, and Red and Gold Beads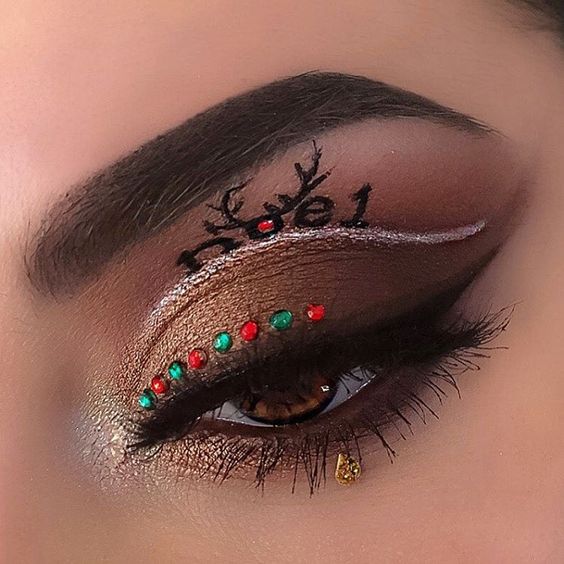 Via: Seshellys
For some reason this brings up feelings of a big mug of hot chocolate with a little drop of whipped cream.
It's a pretty look with the beads, it may not need the Noel and reindeer design.
Christmas String Lights and Santa's Hat Makeup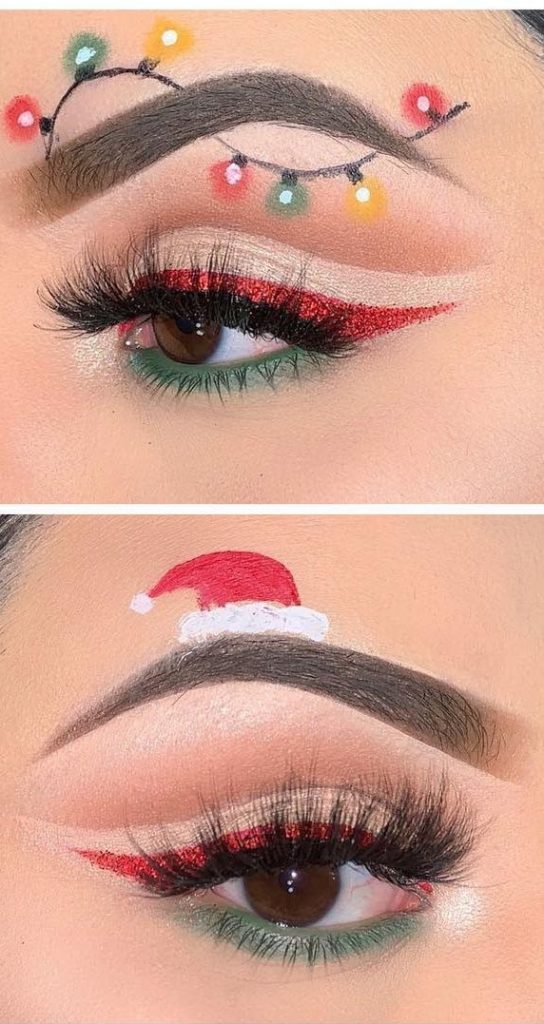 Via: Ladies WaysSanta's Hat
Red and green and lights all over. The eyeshadow work itself is truly art and the string of lights is a pop of merriment.
The Santa hat look completely switches out the lights for a Santa hat is kind of random but if kept small it could be very cute.
Santa's Hat on Eyeliner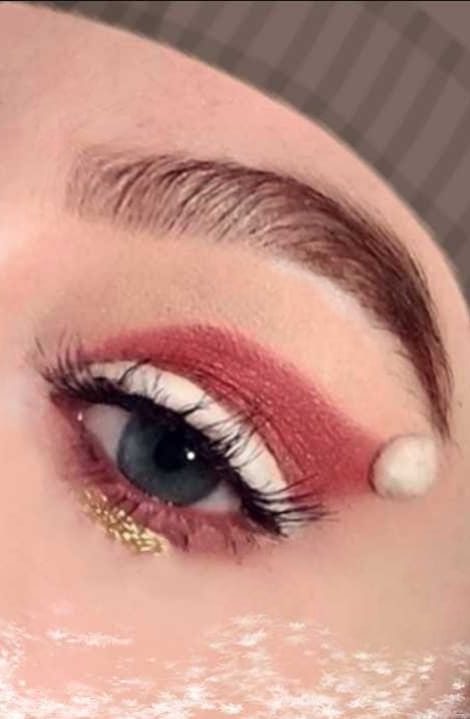 Via: Ladies Ways
This is a red and white Santa hat with a cute little fuzzy ball at the top.
This is a cute Christmas makeup look but the fuzzy ball looks weird under the eyebrow.
Christmas Colored Makeup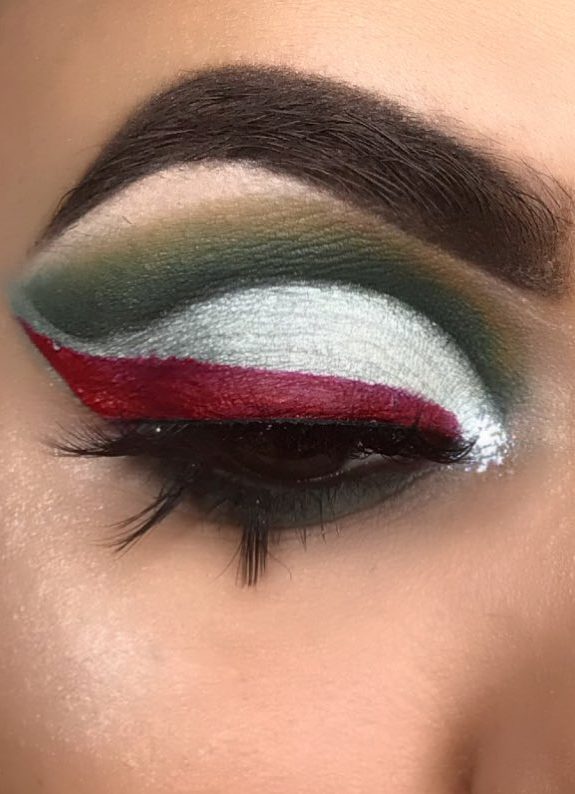 Via: Ladies Ways
Very dramatic! It is boldly drawn red, white and green.
It's like she could be the Christmas queen or something along those lines.
Glitter Red and Green Eyeliner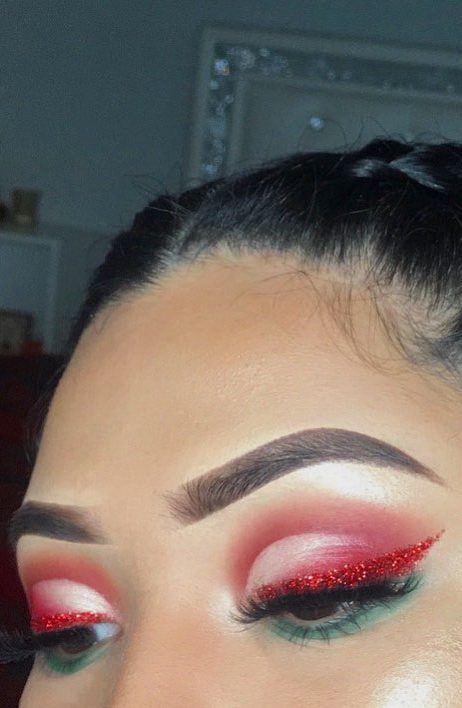 Via: Ladies Ways
So festive, red glitter wing tip and it gives almost a subtle amount Christmas makeup elegance
Christmas Tree Eyeliner and Santa on Eye Corner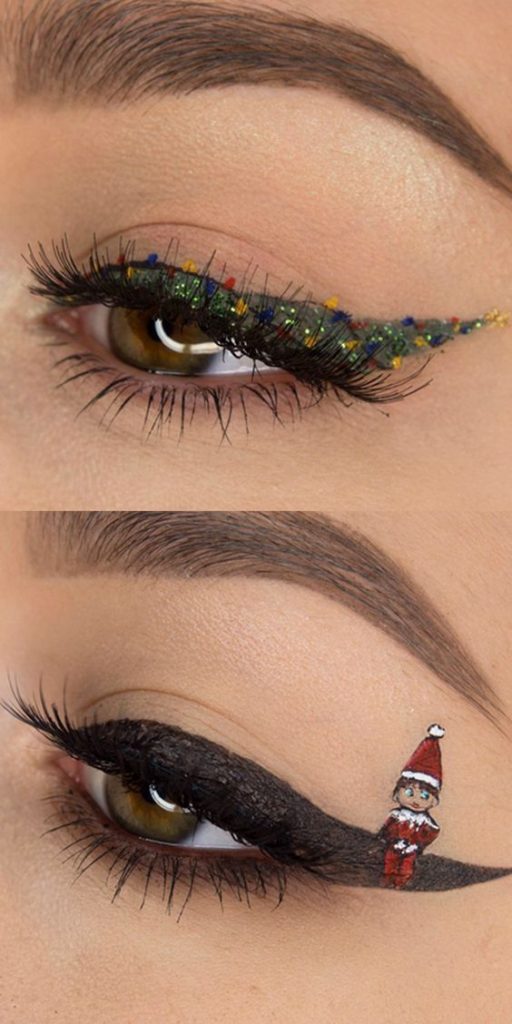 Via: Seshell
The Christmas tree is like this twisted tree that you could almost see any woman happily showcasing as time gets closer to Christmas.
Especially a woman who LOVES Christmas and is creative.
The "Santa" on the eye or elf could be perfect for someone who has a young loved one who plays the elf finding game because they'll think the elf showed up in your makeup just for them.
And it's super cute.
Santa Hat and Christmas Green Makeup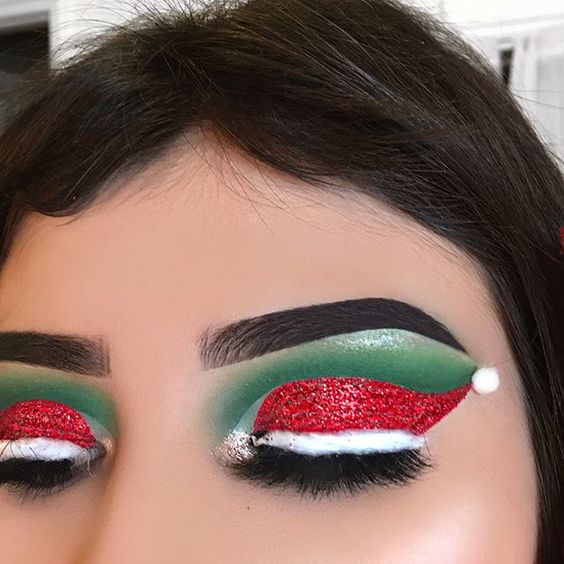 Via: Seshell
This is definitely for those ladies who want to stand out.
It seems like the red coloring might feel heavy on the eye and the white almost looks like a glue like consistency, this look seems heavy.
Freeze Christmas Makeup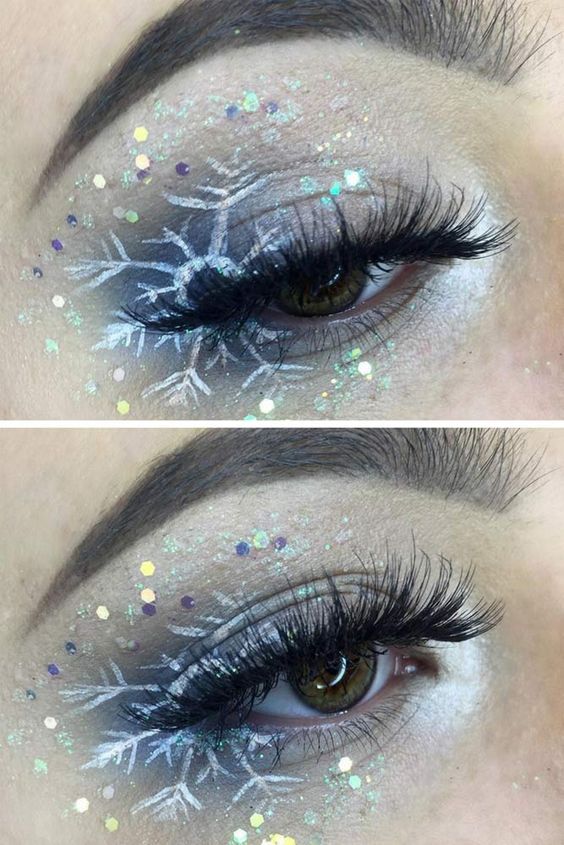 Via: Seshell
Snowy elegance.
The glitter effects and the snowflake are so understated.
Sparkle Rhinestones Christmas Makeup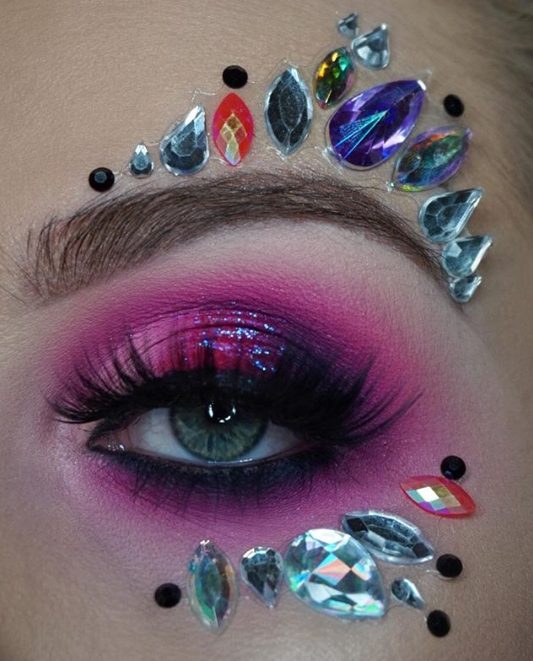 Via: Metro
Dramatic winter queen!
This screams fairy tale queen who stepped right out of the pages of someones story book.
The purple, pink and black are beautiful, where as the rhinestones are quite surprising and different.
Snowman on an Eyebrow and Silver Eyeliner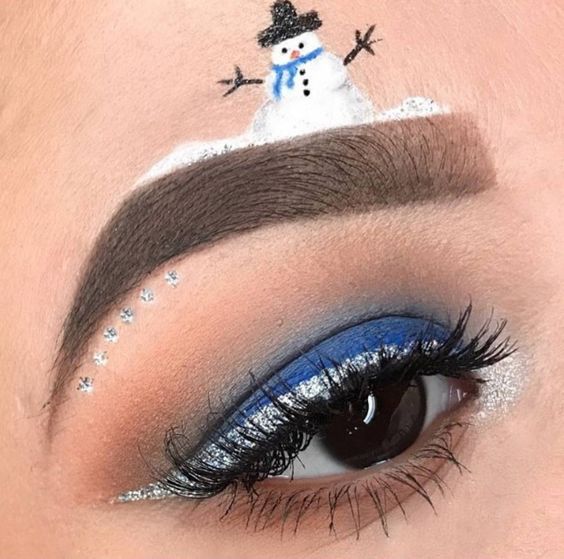 Via: Seshell
The snowman makes it so whimsical.
The blue and silver are great winter colors are the their own making them perfect for a Christmas party.
Christmas Ornaments on Eyeliner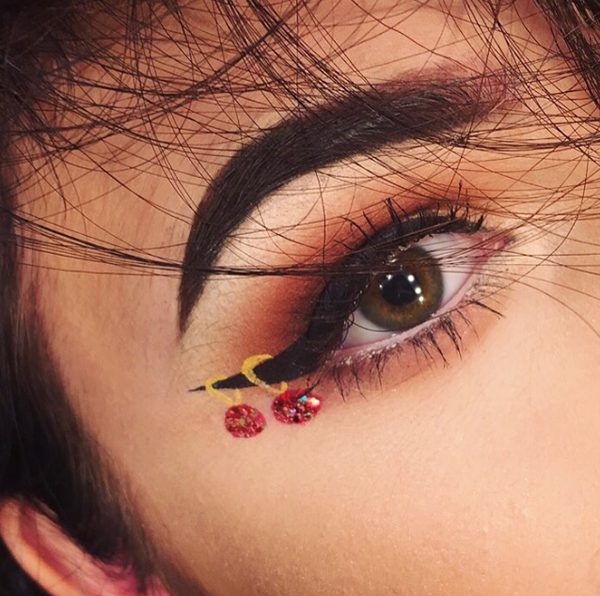 Via: Brit
This is so unexpected. Without the Christmas ornaments this would be a normal cat eye look but the ornaments give it a nod right in to the Christmas season.
Sparkly Christmas Green and Red Colored Rhinestones Makeup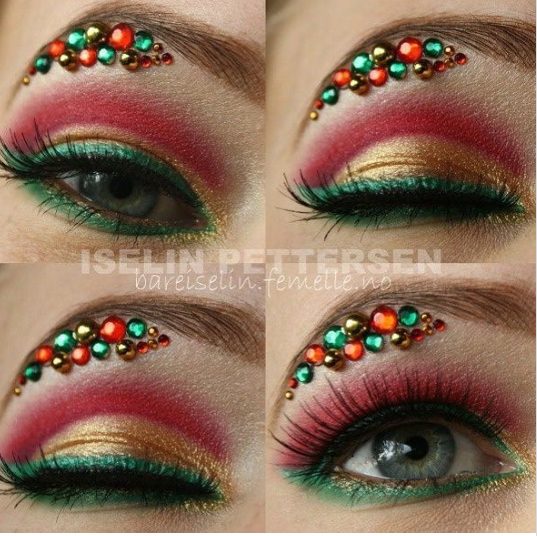 Via: Metro
The way the green, gold and red is done on the eye is just beautiful.
The clustering of rhinestones give it a bit of fun like they are ornaments.
Candy Cane Eyeliner and Green Red Eyeshadows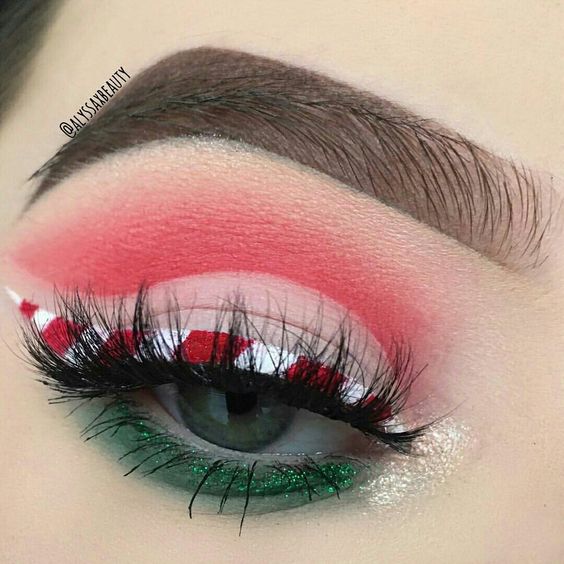 Via: Seshell
This is fun and not so over top.
The candy cane is thinner making it almost subtle in this look, it's pretty.
Frosty Eyes with White Eyeshadow and Crystals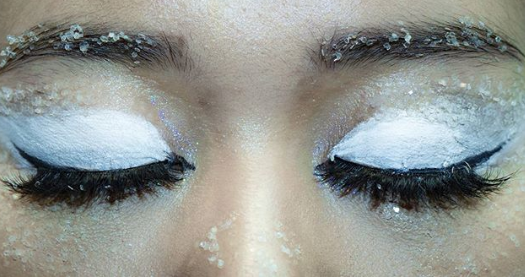 Via: Metro
This is like Jack Frost breathed his snowiness all over your face.
Like you are waking up from being frozen.
It is dramatic and amazing.
Silver Lashes and Mistletoe Accent Christmas Makeup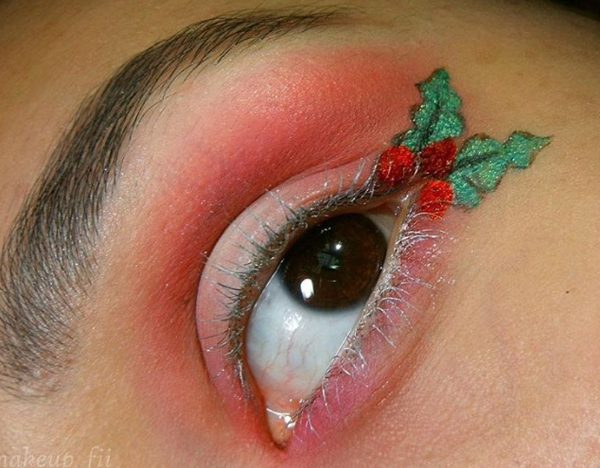 Via: Brit
That mistletoe accent right at the end of the pinkish/red eyeshadow is so dainty.
The eye makeup could almost be done any time of the year but switching out the accented piece.
Ho Ho Ho Christmas Makeup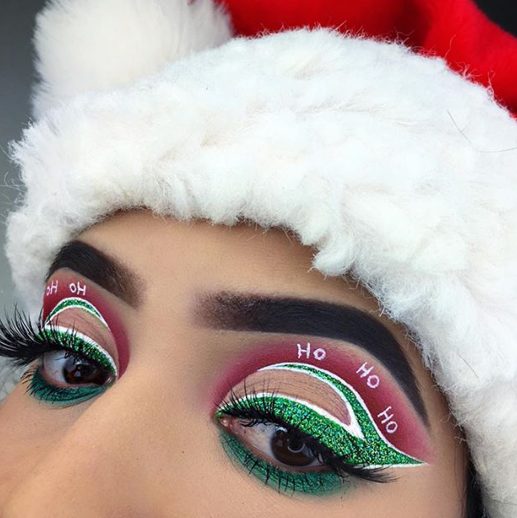 Via: Metro
This is in your face, ITS CHRISTMAS TIME!
This is a lot of a look and would probably be worn by someone wearing a Santa or Elf costume.
Red Green Stones on Gold Glitter Eyeshadows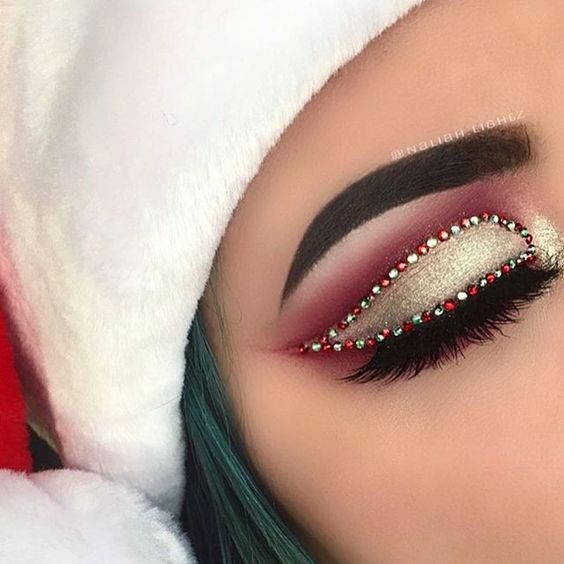 Via: Seshell
This takes a steady hand to place all of those stones perfectly around the lower eyelid to give this design the special effect that it is giving off.
This could define someone's eyelid who doesn't have a crease.
Gold Eyeliner and Christmas Leaves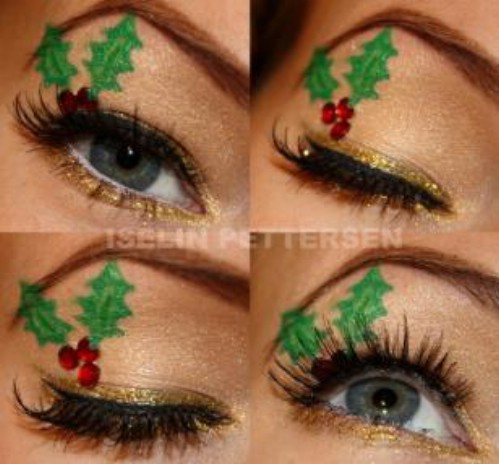 Via: DIY & Crafts
The gold is just the right amount that it can be worn throughout the day, including in a laid back office atmosphere.
Also, the holly or mistletoe isn't too big
Glitter Eyeshadows, Santa's Hat on Eyebrow and Black Eyeliner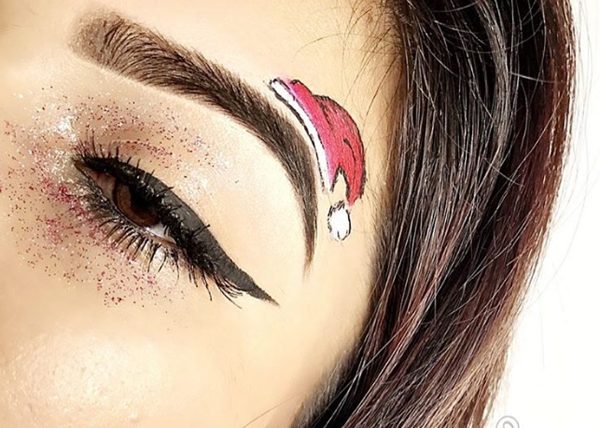 Via: Brit
This look gives a great clean eye look with the glitter dusted in a semi-circle on your eyelid and under your eye.
The Santa hat gives this look a little kiss on the brow of cuteness/fun.
Santa's Hat on Eyebrow and Red Glitter Eyeshadows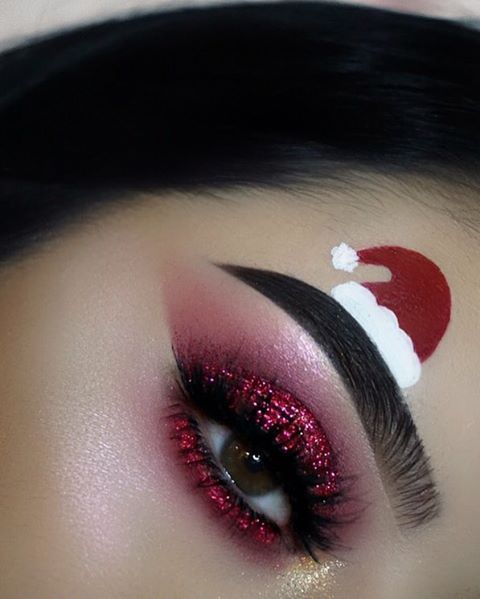 Via: Eazy glam
The eye makeup is so pretty with all of that red glitter and that Santa hat on the eyebrow is just fun and takes the look from pretty eye makeup to Christmas time.
Gold Glitter Christmas Tree and Green Line over Red Eyeshadow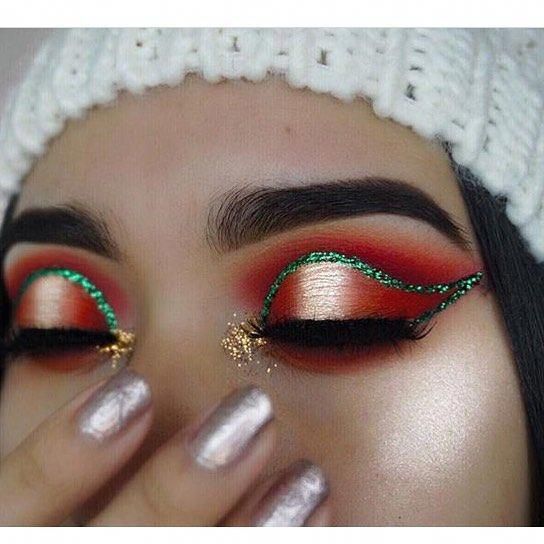 Via: Eazy glam
That orangy/sunburst eyeshadow is beautiful and that green and gold glitter give such a vibrant look that usually isn't seen in Christmas makeup.
Be careful when placing the golden glitter at the corner of your eye.
Red, Green, Peppermint and Holly Christmas Makeup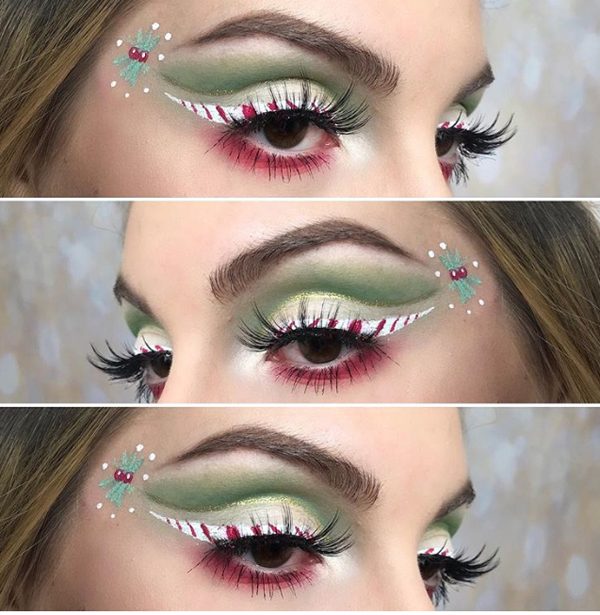 Via: Brit
This is funky but in a really great way.
The candy cane, the red, green and the gold eyeshadow along with the Holly/mistletoe at the eye corner give this such a special look.
Dark Blue Eyeshadows and Silver Snowflakes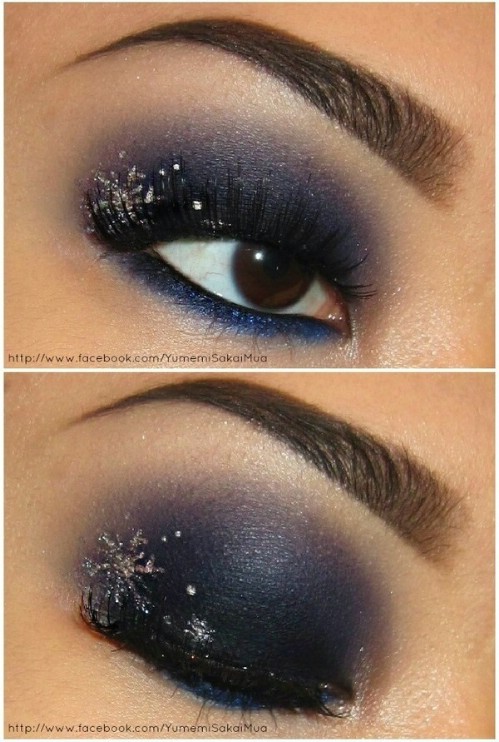 Via: DIY & Crafts
This truly is winter eye makeup elegance.
All that blue shades and navy with a mix in of a purple color is a stunning look.
Brown Neutral Christmas Eye Makeup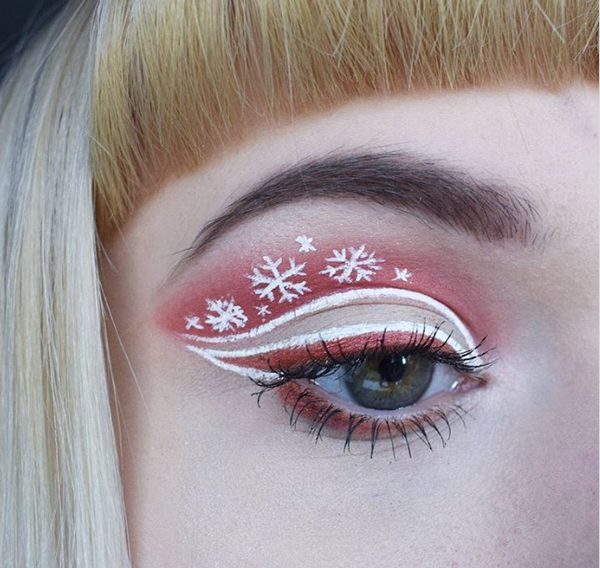 Via: Brit
This is a look, especially because the stark white liquid eyeliner breaks the look in two.
On the bottom of the eyelid you have a wing tip with the white liquid liner and the pinky-brown color inside with the rest of the eyeshadow is right below the brow bone.