It was a hair cut that shocked the whole society when it was first created by Polish-born hairdresser Antoine de Paris in France in 1909, and it's been still in fashion ever since.
Over a century later and it's still one of the hottest hairstyles to have; whether you choose for a long bob aka the Lob, a shoulder-grazing choppy style or a blunt jaw-skimmer – the bob is the A-list hairstyle anyway.

That classic cut where the length of the hair falls between the chin and collarbone is now on fashion.
This season we're taking the lob haircut to a totaly new idea. It is not extraordinary but fashionable and practical at the same time.
Curls, asymmetric cuts, deep parts, waves – the options are endless! What is the best part?
Being so practical they are so easy to style and wear anywhere and at any occasion.
Just try the most popular long bob hairstyles we have found for your next inspiration to try, wear it, rock it, and be ready to say "thank you" for all the compliments it will gain!
The extra length allows for a variation of styling options, like this perky and voluminous half-up ponytail.
1. Side Pinned Long Bob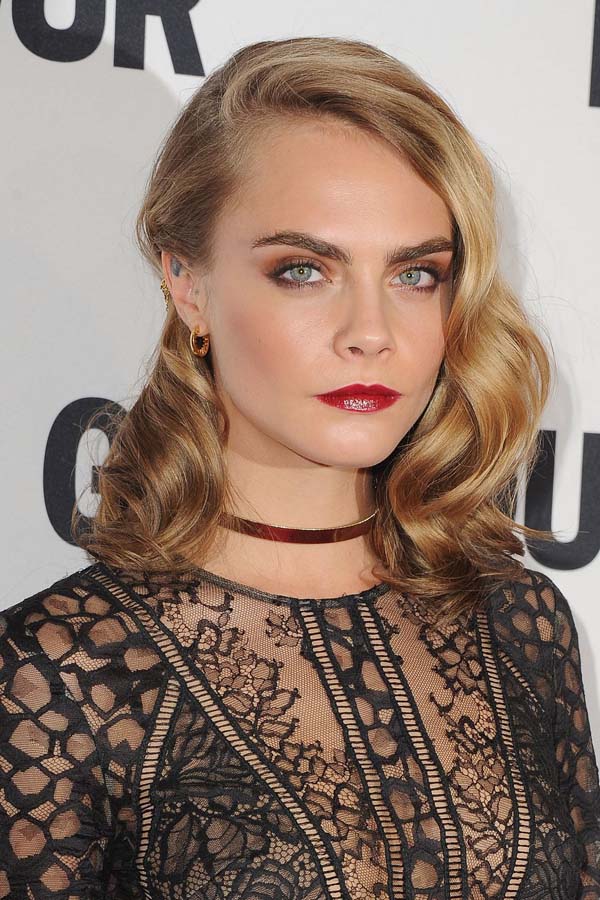 Photo: Credit
This hairstyle is a little bit old fashioned, but it gives that romantic look that every woman should test in her life.
That softness that you gain in that look is unforgettable.
The perfect example is the supermodel Cara Delevingne.
This side pinned wavy long bob style turns her into a total old Hollywood glam diva in the most elegant way possible.
2. Long Bob With Wispy Bangs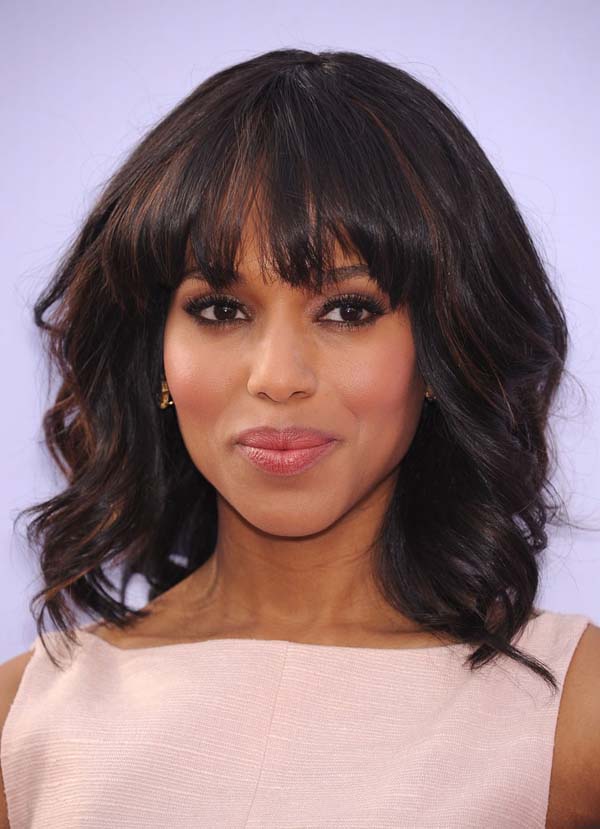 Photo: Credit
Now, here's a pretty hair look that is sure to make you the belle of the ball!
Kerry Washington looks breathtakingly stunning in this long bob styled in curls swept away from her face.
The straight cut wispy bangs in the front make the whole style look even more adorable.
This is one of the most universal option in the hairstyle that requires less maintenance.
3. Long Bob With Side Swept Bangs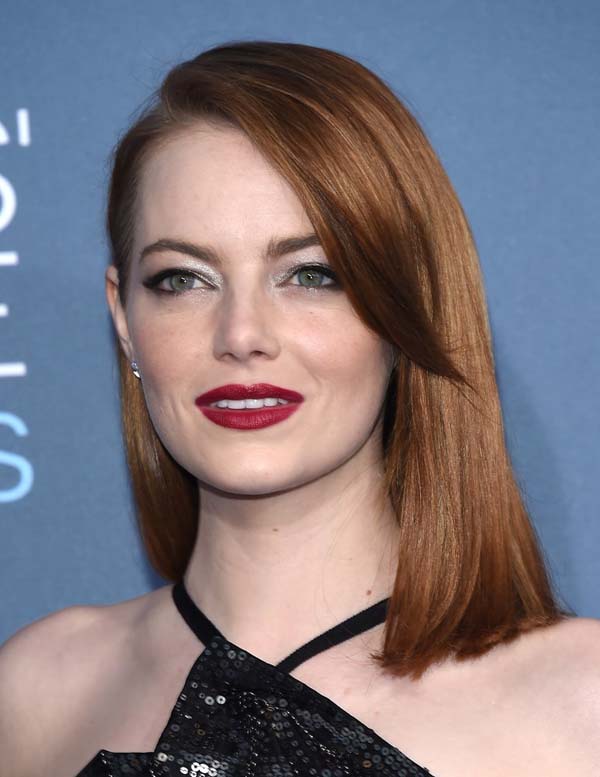 Photo: Credit
Emma Stone is one of those mysteriously blessed people who can rock literally any hair cut and color.
So, it's no surprise that she's absolutely slaying in this long bob style.
She has gone for a straight cut bob with blunt ends and complemented it with some long side swept bangs to create this elegant hair look.
4. Lion's Mane Long Bob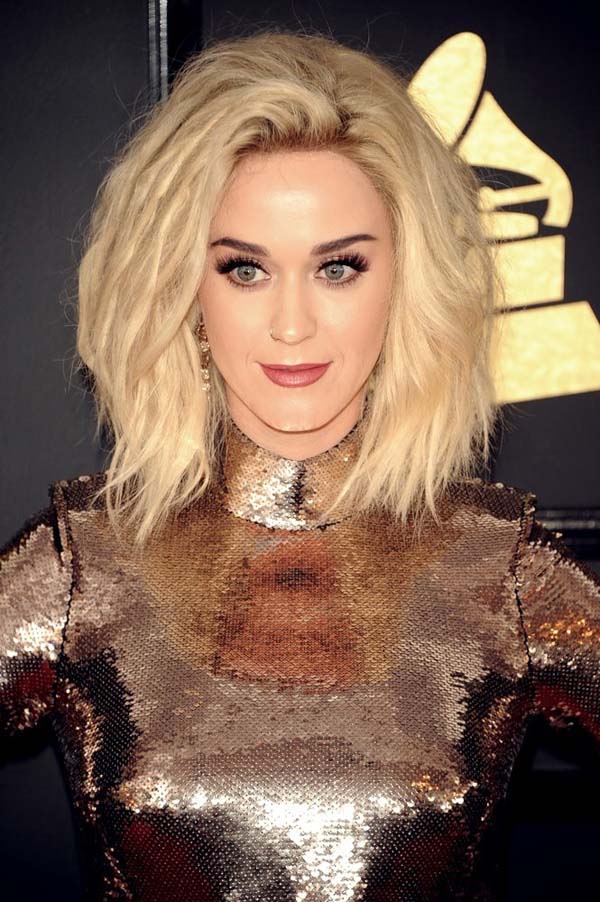 Photo: Credit
I can`t believe if you haven`t noticed Katy Perry`s hair look inspired by a lion's mane.
Hairstyle is an art and it is very common to get inspiration in that art by nature.
This is the most natural thig, in fact, I think.
So, this is the perfect example how the fashion goes on – even in the hairstyling.
So, try out that nature inspiration. Feel the strength deep in you and dare to behave like a predator.
There is no second chance to make first impression.
I don't think there is a better option.
Just go for it.
5. Poker Straight Long Bob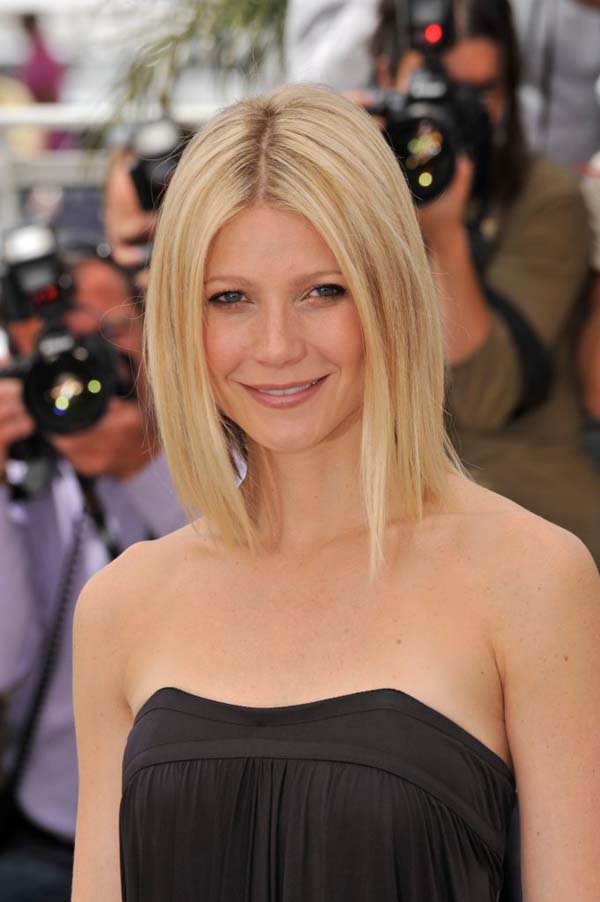 Photo: Credit
If you want to gain that femme fatale look with your haircut this is the perfect option.
One of the most popular actress Gwyneth Paltrow has proven that.
Her platinum blonde mane is gorgeous as it is.
Here is one hint – pair it with a razor cut long bob and you've got yourself a super trendy hair look.
Style this lob in a poker straight manner and part it down the middle to make it look super edgy and cool.
Not only romantic but fashionable and cute at the same time.
Just try it on.
6. Shaggy Brunette Long Bob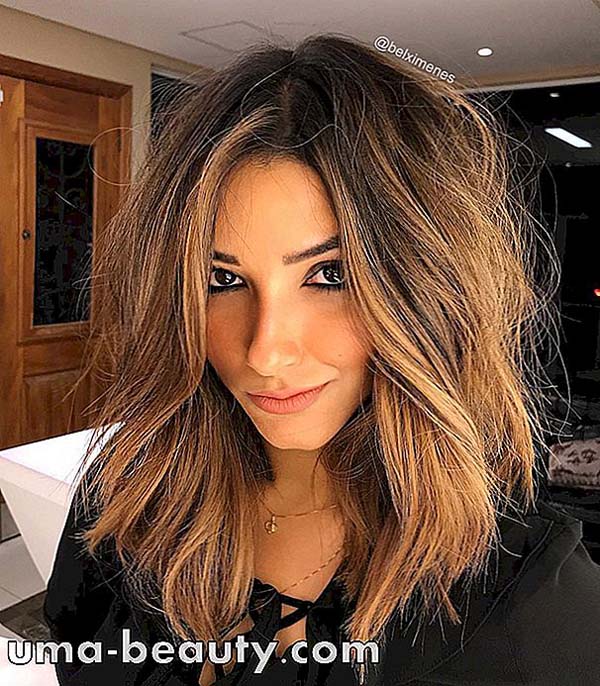 Photo: Credit
If you pretend to be a rock chic girl in a hard rock world then here's a style you definitely should test.
This layered long bob done up in a gorgeous dusty brown shade is what you are dreaming of most of the time.
Part it down the middle and go to town with your bottle of texturizing spray to rock this image.
7. Beachy Waves Long Bob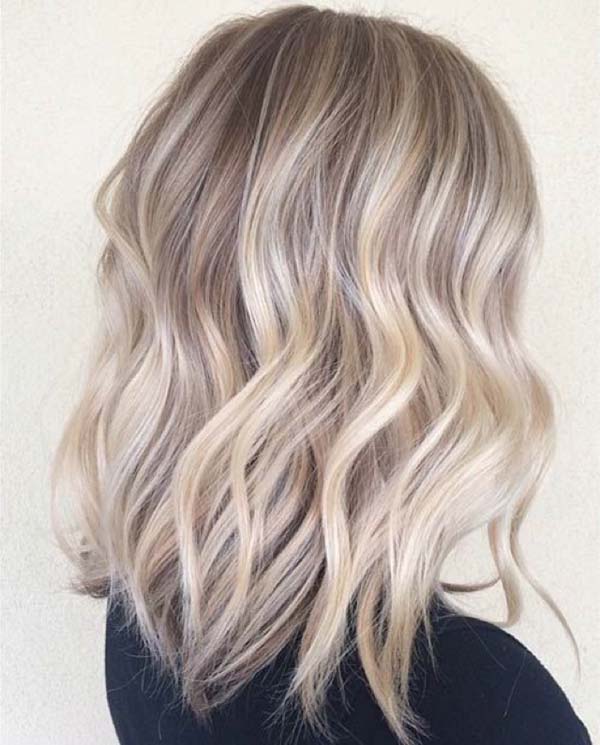 Photo: Credit
It is summer time now. So, this is the right moment to get your style beach ready!
Your hair is an essential part of it.
Not only our skin but also the hair is exposed permanently on the sun.
This is the perfect hairstyle that will give you not only that amazing look but also is the appropriate way to protect your hair.
Just because this cut is easy to be done and worn.
You will look perfect with less work.
You do not need any special care – just a wash.
Go for this chic platinum blonde long bob and style it in some loose beachy waves before you head out into the sun.
8. Side Parted Long Bob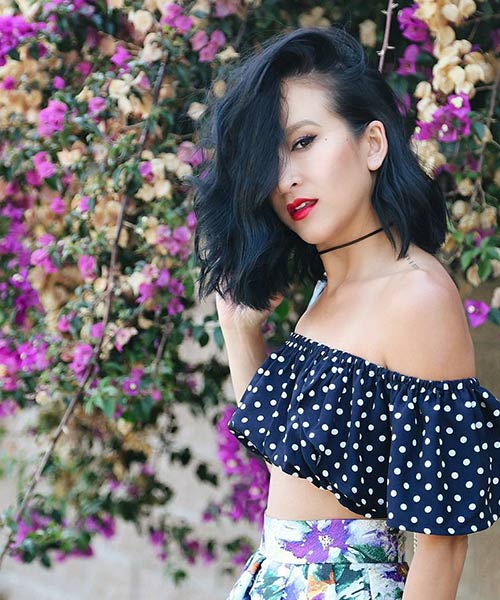 Photo: Credit
There's a certain beauty in keeping things simple – just side parted long bob.
This straight cut long bob gives exactly that aim.
This hair style is so easy to be done – just a wash and a dry and get ready to gain a tone of compliments.
Place your hair on one side to gain more voluminous and finish off that style.
There is no doubt why this style in hair dress is so long lasting. It is appropriate for every woman no matter the age.
If you feel young than express that feeling by the freedom this haircut gives.
9. Curly Long Bob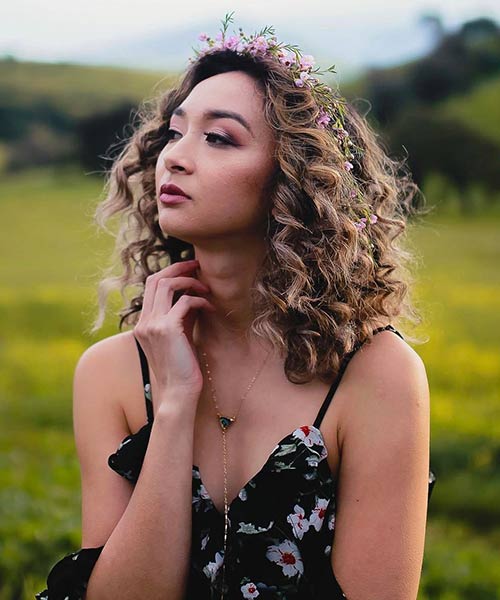 Photo: Credit
This is the most appropriate hair style for those of you who are lucky to have curly hair, we know, it's a lot of struggle to get the perfect haircut that won't give you that boring pyramid look.
A curly bob with properly cut layers is one of the best choices because it gives your hair a flattering shape and gives a stress on your particular curl pattern.
Needless to say, long bobs on curly hair look absolutely amazing.
10. Texturized Angled Long Bob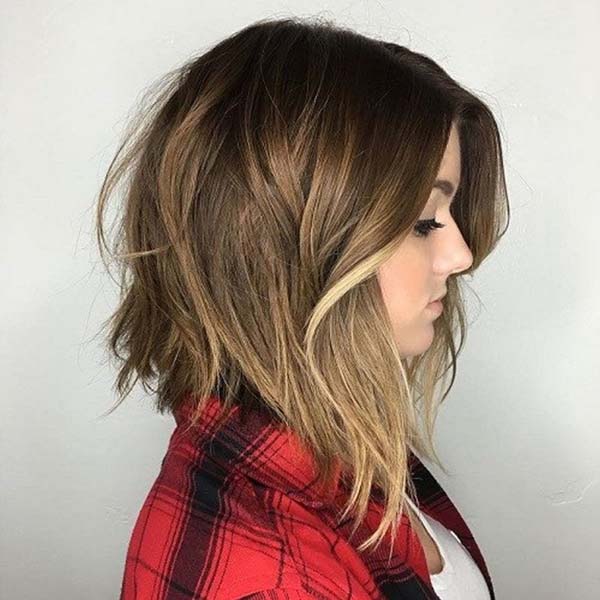 Photo: Credit
Angled bobs have been very popular in recent years (thanks to Rihanna) and it looks like they are going to stick around a little longer.
Remember Cameron Diaz with that cute short blonde bob dancing around in the opening scenes of Charlie's Angels?
If you want to look like that this hairstyle is for you!
Take the glam quotient of your long bob up another notch by going for a gorgeous chocolate brown and blonde color look.
Put on some texturizing spray and step out like the diva that you are.
This style is so romantic and practical at the same time. This is the perfect way to express your sensitive personality and be unique at the same time.
Just do it.
11. Rounded Edges Long Bob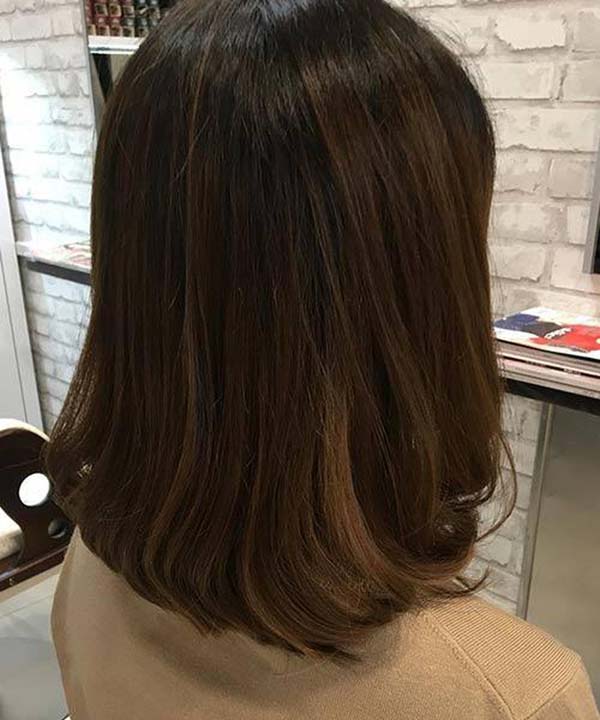 Photo: Credit
No matter how old are you in case you feel young enough than go for that innocent school girl look.
This style that will suit your taste perfectly.
Try out this straight cut long bob and dry it with a round brush to round out the ends.
It is so easy and require less time to make it.
You can use your imagination adding a touch of blonde at the ends to add some oomph to your look.
And that`s it – simple and perfect and you will attract so many compliments.
Get ready to say – thank you and just smile.
12. Super Long Bob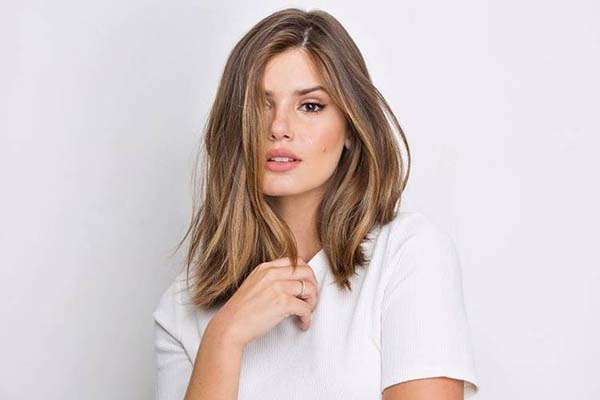 Photo: Credit
Everyone knows well that awkward in-between stage that your hair goes through when you're trying to grow out a bob.
Well, this is the easiest way to skip that moment and being brilliant at the same time by this style of hair dress.
Get your bob cut just a little below your shoulders and deck it up with some highlights to finish this amazing outlook.
13. Edgy Ombre Long Bob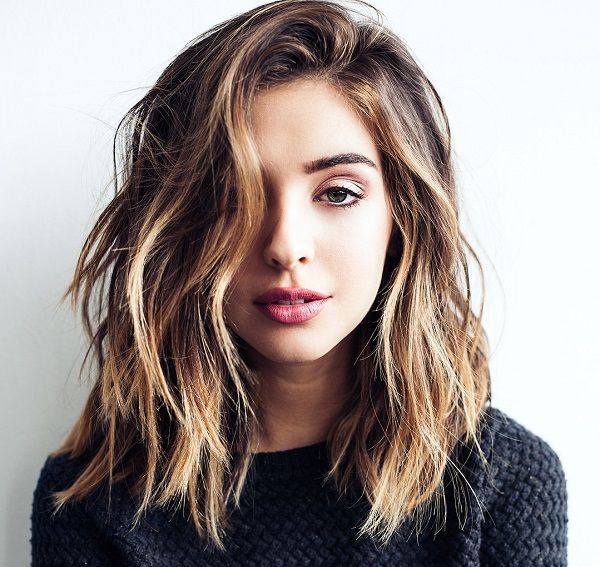 Photo: Credit
All the women who love low-maintenance looks will benefit from having an ombre bob hairstyle.
Ombre celebrates the roots.
You don't have to get them bleached and colored every two months or less because they fade into the rest of the color.
Cutting your hair into a bob combines an edgy cut with an edgy coloring technique.
Obviously, that's a whole lotta edge.
14. Blunt Ended Long Bob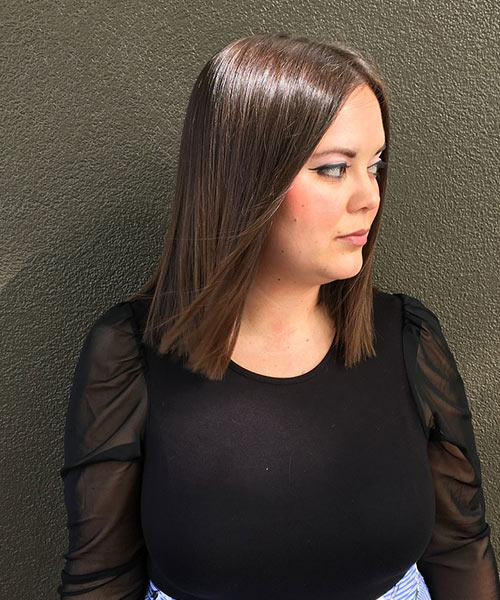 Photo: Credit
The days when women made sure that their ends were cut so that they looked naturally blended are gone now.
A bold look is that in hair style by super blunt cut edges.
This manner gives you that poker straight style.
It is appropriate for that type of a woman that need to inform the world – I am strong and independent.
Just, I can do my best in any situation.
That is for that new emancipation in a woman`s life.
Go for it and do not hesitate to state your personality.
15. Highlighted Long Bob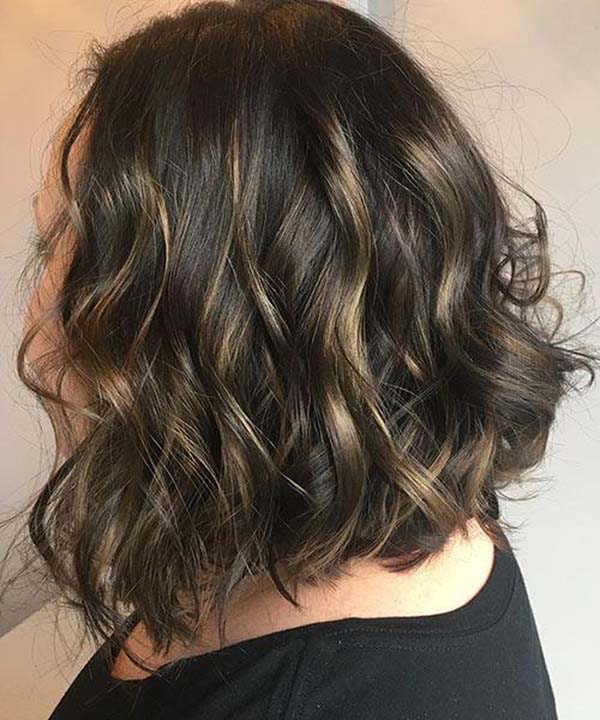 Photo: Credit
Hair style is not just a haircut.
There is a research that proves that the first thing that people notice about you is your hair.
That is why the role of a hairdresser is so essential.
It is not just a cut, but a professional decision what length, shape and color fit you.
Maintenance of your hare sometimes could require a lot of time.
But here it is a hint how to look brilliant with just a simple thing that will totally transform you.
Highlights are one of those things.
Just highlight your dark brown long bob with a golden blonde shade and style it in some loose curls to go for a cute and flirty look.
16. Sombre Long Bob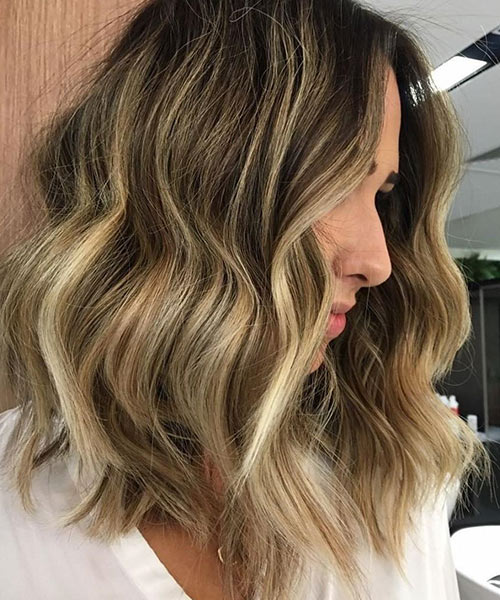 Photo: Credit
Here is a brilliant idea to get a thing of beauty.
Just combine two gorgeous hair trends.
Opt a subtle sombre with a light brown shade at the roots of your long bob and honey blonde at the ends to create a super bright hair look.
Some super voluminous waves parted down the middle will complement this cut and color perfectly.
17. Silver Gray Long Bob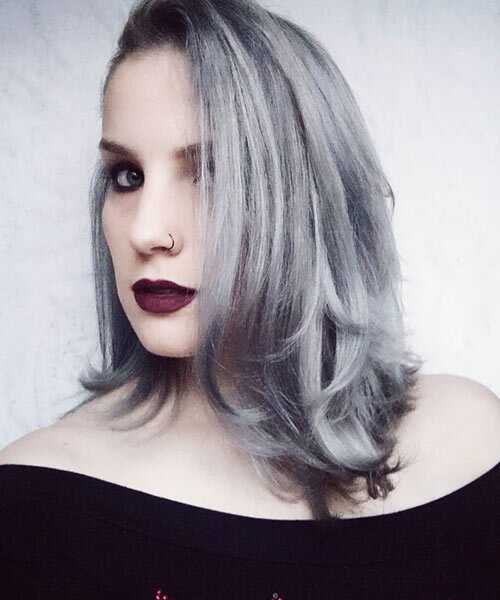 Photo: Credit
Ata first glance it is an unconventional option for a hair color.
But if your style is a little bit extravagant and you are eager to express that unique personality?
If you dare to say the world – I am different go for that little foxy hairstyle.
This unusual silver gray long bob will make you look like a gorgeous and magical pixie that lights up everyone's life.
Test that flicked out ends style to add some movement to this beautiful look.
18. Asymmetrical Long Bob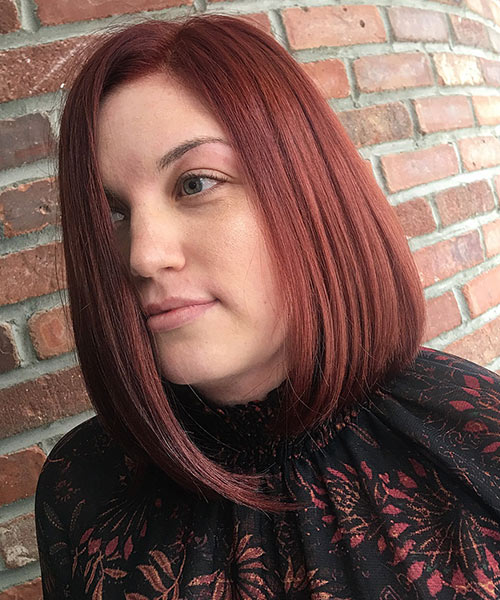 Photo: Credit
If you are an adventure type of a personality.
If you want to explore the world around you and want to try out something new with your hair?
Then this is a style that is basically calling out to you!
Enjoy your fresh and stylish look.
An asymmetrical long bob is exactly the kind of hair look that will make people just notice you.
Color it in a fiery auburn hue to up the ante of this look. A lot of compliments will follow you.
But it is not because of your choice.
It is just because you are such kind of a woman that that impress her inner part by such a brave opt.
19. Subtly Angled Long Bob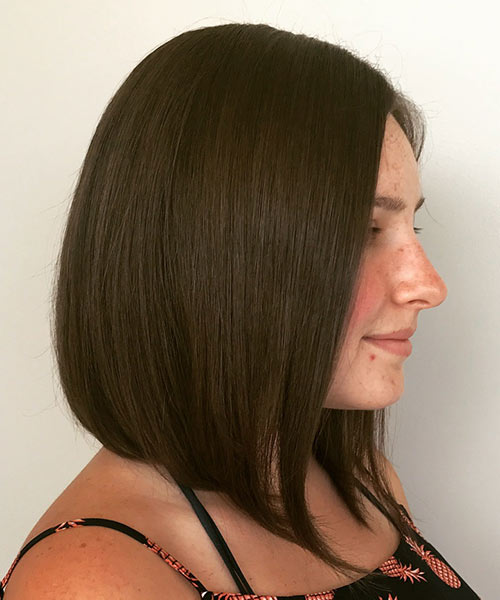 Photo: Credit
In case you are not such a romantic type and do not stand for the idea of angled lobs are not your thing, here's a simpler style that you'll absolutely adore.
Go for just a subtle angle on your long bob and style it straight to perfect that adorable girl in your imagination look.
And the glamour of this particular haircut is that it looks perfect in any hair color.
If you have chosen the best option for you that fits you most don't waste your time, visit your hairdresser and try it on.
The hair is the basic part of your image.
Don't miss that opportunity to feel that glory of a perfect woman.
20. Retro Long Bob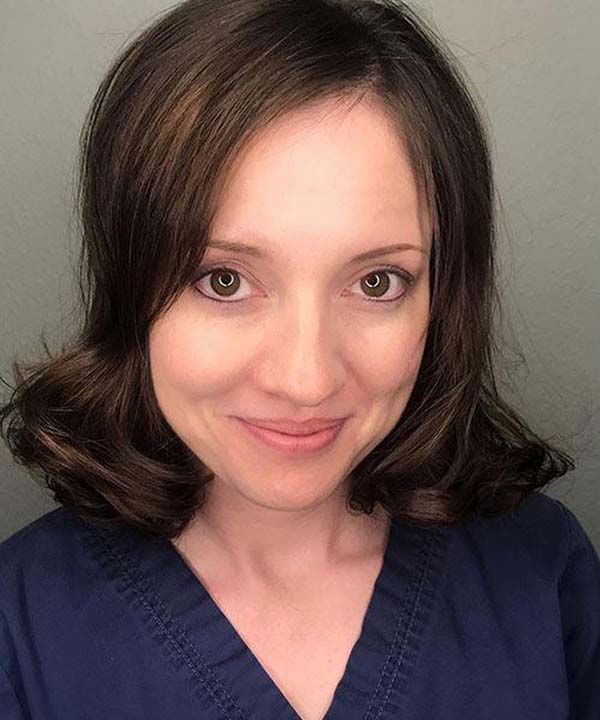 Photo: Credit
Retro hair looks have a charm of their own that cannot be recreated by any modern day hair trends.
Take this look, for instance.
This long bob has been styled in rounded curls at the ends to create this 1950s inspired hair look that is not going to be out of fashion ever!
That mystic of the earliest times will give you that unique emphasize on your look.
21. Choppy Bangs Long Bob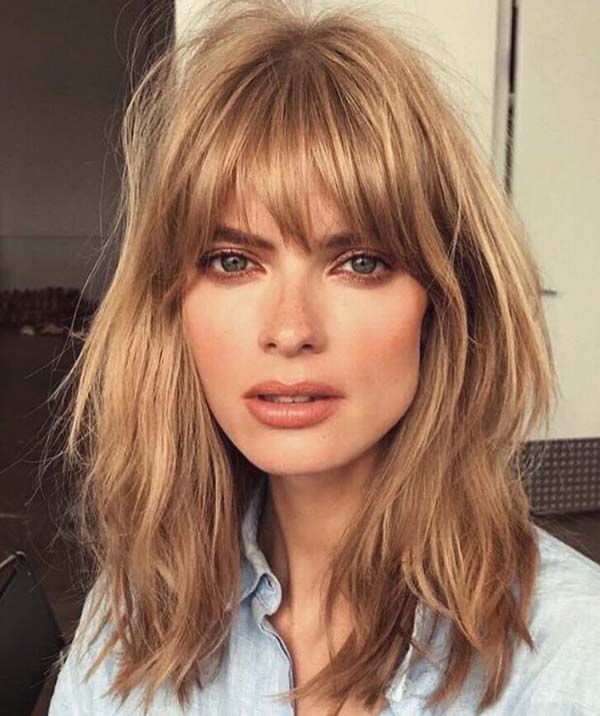 Photo: Credit
You look like just getting up in the morning.
Isn`t it full of charm?
Because of this totally natural look every woman is seeking the "straight out of bed" look has been the rage for quite a while now – and why wouldn't it?
It makes you look sexy as hell!
This shaggy long bob has been made even more seductive by adding choppy bangs and spritzing on oodles of texturizing spray.
How To Maintain Your Long Bob
It is not necessary to change your hair washing schedule drastically. In spite of what length your hair is, ideally you should not wash your hair more than twice or thrice or week as frequent washing strips it of its natural oils and leaves it dry.
Avoid using a hair brush as it can frizz up your hair and make your long bob look like a giant floof. You could use a wide toothed comb or simply run your fingers through your hair to sculpt and style it the way you want. Sometimes simple methods are more efficient especially in case you want to gain that natural look to impress.
Using dry shampoo between washes to add volume to your hair is recommended at night. This will prevent the dry shampoo settling on top of your hair in white patches. It will get absorbed much better through the night and give your hair that blowdried effect throughout the day.
You can also apply some heat. But be careful not to damage your hair by applying it very often.  It is actually a good idea to do so to maintain the look of your long bob. Simply run a flat iron through your hair to smoothen it down and bring out its look right before you head out.
If you intend on keeping your long bob look for a long period of time, it requires meeting your hairdresser every 4 to 6 weeks to maintain its length and shape.
Though a long bob requires a tad bit of maintenance, so the effort is well worth the look you get at the end.