15 Of The Most Stunning Hairstyles Ever Created!
Invest in your hair. It's the crown you never take off…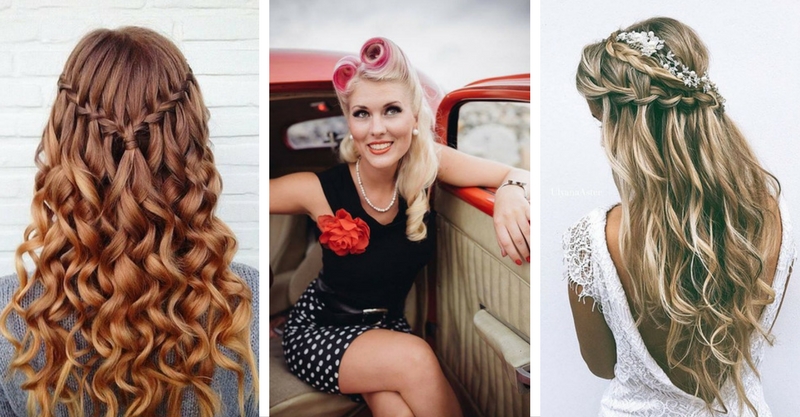 Your hair can say more than a thousand words.
No matter how well you are dressed: if your hair looks messy or not taken care of, people will not take you seriously.
Oh no, women don't have it easy…
Finding that perfect hairstyle is no walk in the park.
And unless we all cut our hair short, we have to deal with taking care of it every single day to look good.
Imagine all the creativity we need?
But we secretly love it, don't we?
From time to time our hair is like a little science experiment and we are here to give you some extra inspiration.
Are you ready for a change?
Or just looking for new ideas?
From rockabilly victory rolls to waterfall braids.
We've selected 15 amazing coiffures for you. So now you don't have to.
Have a look at these stunning hairstyles!
It's okay, you can thank us later 🙂
1. Braided Bun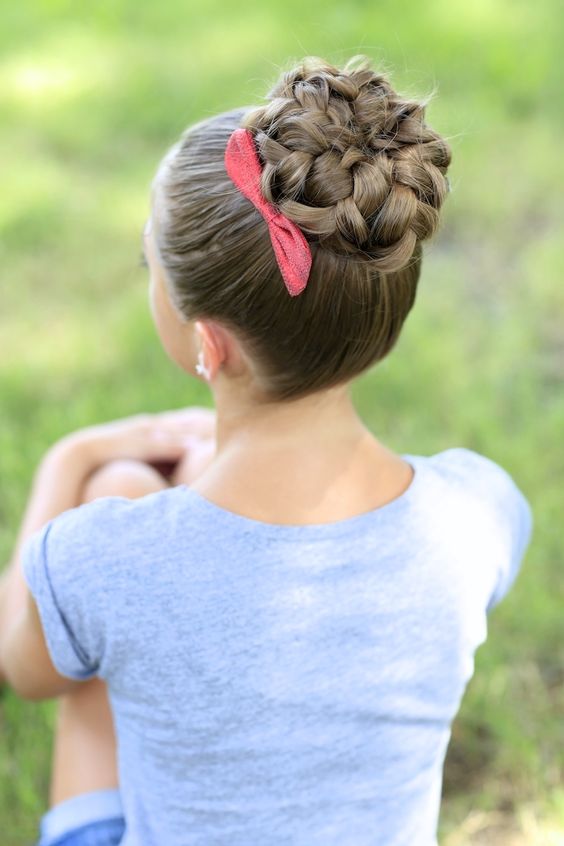 Photo: Credit
Can't choose between buns and braids?
Then this braided bun is perfect for you.
This textured hair bun is perfect with a classy dress or you can keep it casual and wear jeans and a cute top.
All instructions on how to make this cute hairstyle can be found here.
2. Blue & Purple Waves
Photo: Credit
Eccentric hair colors seem so nineties, but ladies beware: they are back!
Even though you may think you cannot pull it off, this blue/ombre look will look better on you than you think.
Oh, and stop straightening your hair, girls! It's not only damaging your beautiful (blue?) locks, but letting that wavy hair flow rocks!
3. Big Side Braid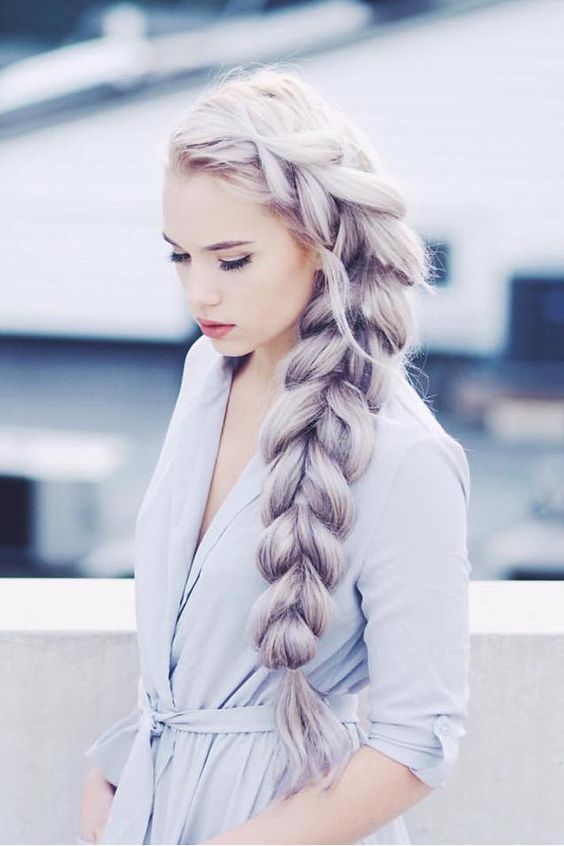 Photo: Credit
Braids: a whole bunch of them?
Or just one really big one?
This bigger-than-average side braid works the best with long hair.
You can choose to make it a French braid or a normal one: all up to you and the look you prefer.
4. Elegant Waterfall Braids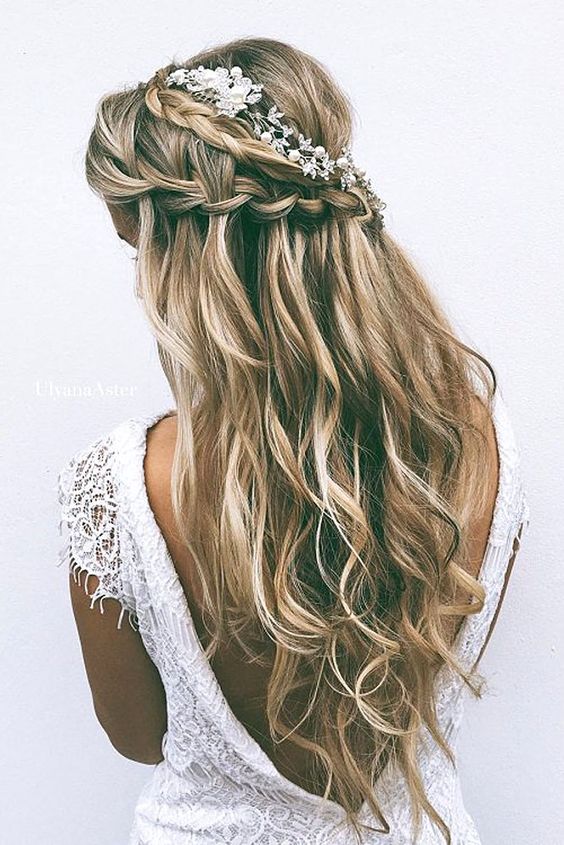 Photo: Credit
This bohemian look is one of our favorites and is quite easily done as well.
Starting with a side braid and then letting your wavy hair down like a waterfall creates that extra je ne sais quoi without all the fuss.
Useful tip: don't wash your hair the day before.
5. Eccentricity With A Bow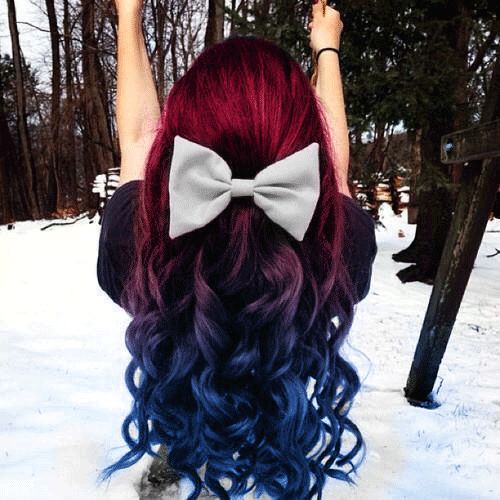 Photo: Credit
This reminds us of the blue/ombre waves from earlier on.
Only instead of letting your hair down naturally, you can add an accessory to it.
Try styling it up with a cute hair bow or a maybe even wear a hairband?
Whatever you choose: with these colors you'll definitely steal the spotlight!
6. Messy Side Braid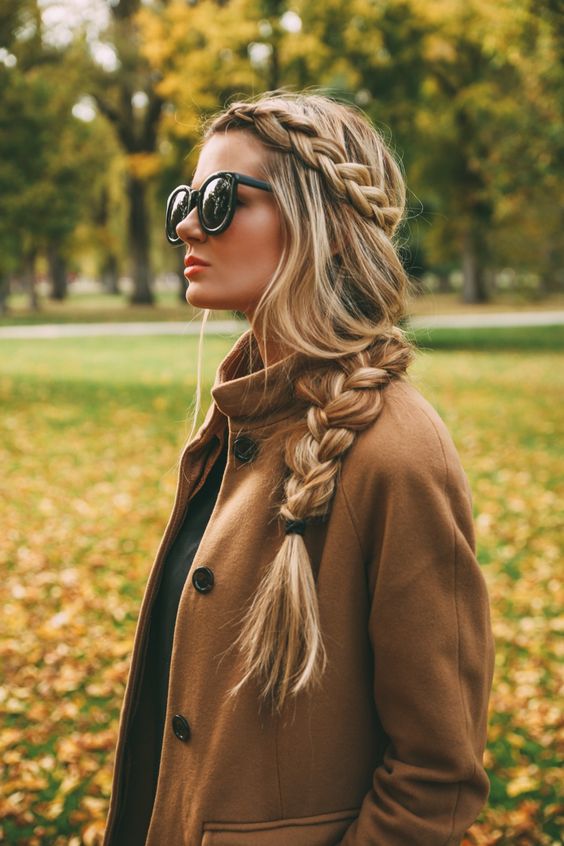 Photo: Credit
This casual, loose side braid is perfect for fall.
It combines straight hair with two even more spontaneous-looking braids on the top and bottom.
This is an easy look to create and it's the perfect hairstyle for a walk through the forest between those beautifully colored leaves…
7. Sexy Micro braids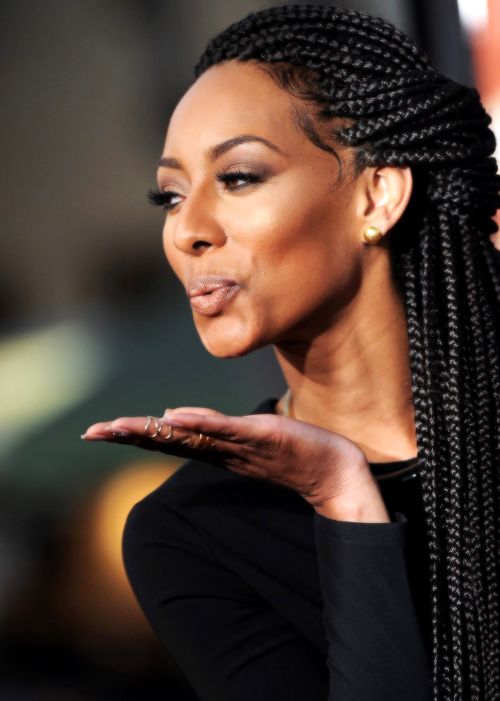 Photo: Credit
Because these braids are so small, and there are so many of them, you can easily style your braids to look different every day!
The upside of micro braids is that they stay for a long time.
The downside? Well, let's just say that who wants to be pretty needs to be patient…
8. Braided Flower Crown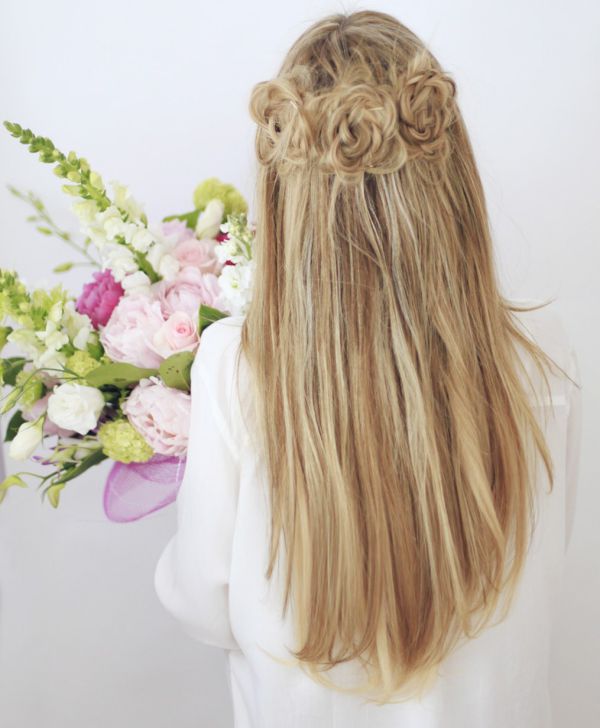 Photo: Credit
Have you ever seen this?
Even though it doesn't really look like a crown, this hairstyle is a fascinating one where chic meets casual.
Whether you have straight or wavy hair, it will look cute either way!
Want to try it at home? Check out the hair tutorial here.
9. Twisted Heart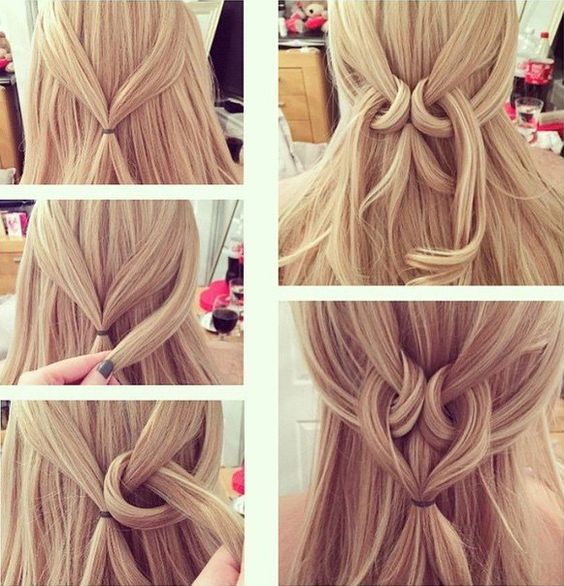 Photo: Credit
Whether you're in love or not, everyone loves hearts.
So why not make one in your hair?
Instead of just wearing it down, try out this super easy heart twist hairstyle!
All you need is a thin elastic band and 5 minutes of free time.
Isn't it adorable?
10. Mermaid Heart Braid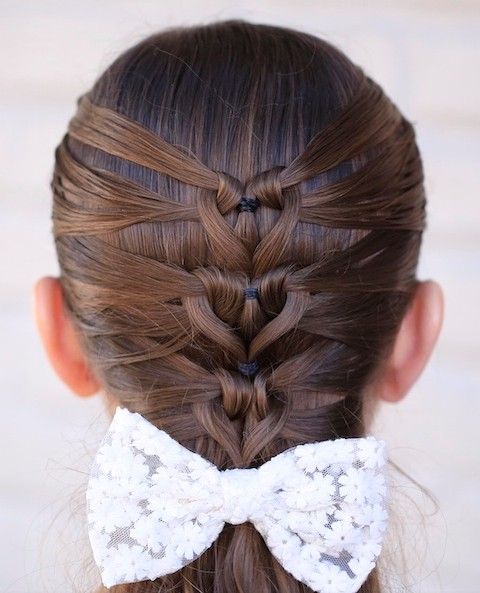 Photo: Credit
Have you always dreamed about being a mermaid?
Sorry to break it to you, but you can't… but your hair can!
Check out this lovely hairstyle and pimp it up with a bow or different color hair bands.
11. Retro Rockabilly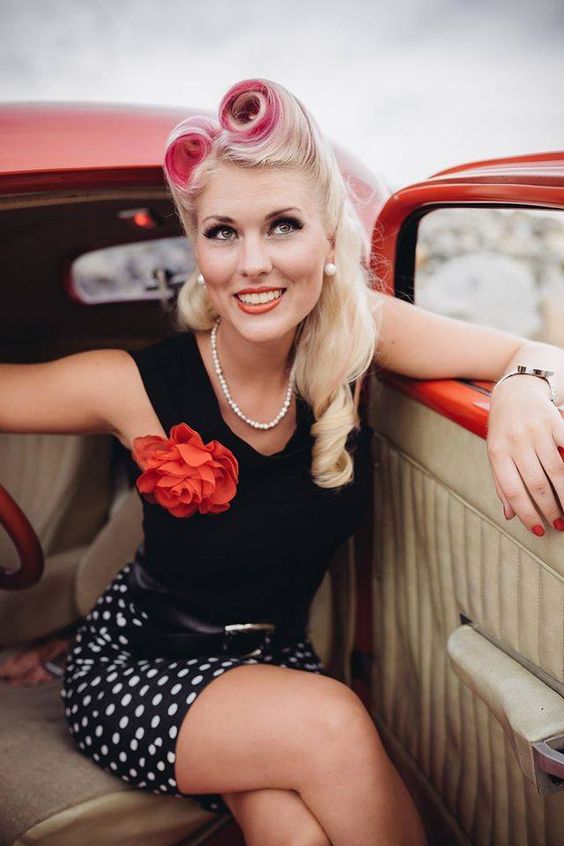 Photo: Credit
Love, love, LOVE this retro rockabilly hairstyle!
Times may have changed, but those who dare to be different should definitely go for this one.
There are so many options and the retro victory rolls complete the look entirely.
We dare you to try this one out…
12. Romantic Messy Up-do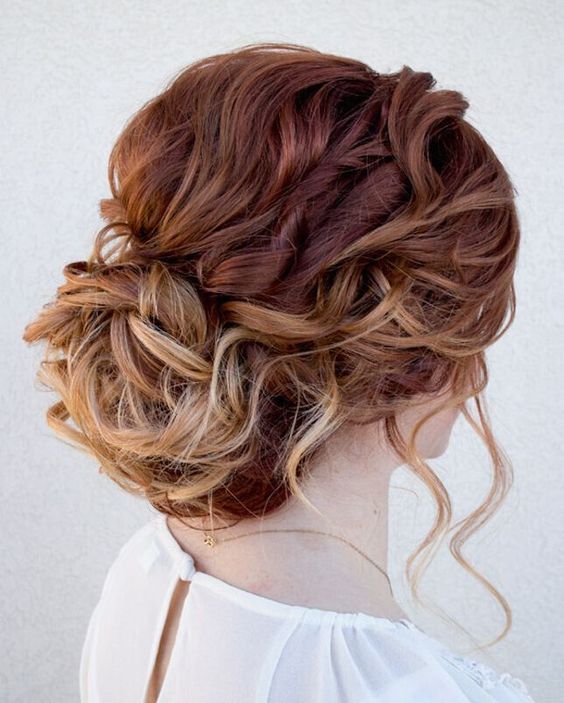 Photo: Credit
Going on a date?
Then this is just the hairstyle for you.
Elegant, but still nonchalant and even a bit innocent, this look will complement your outfit in every way.
Simply create a low and loose messy bun and pull out some hair locks to fall on the side of your face.
Go get him tiger!
13. Bow It Up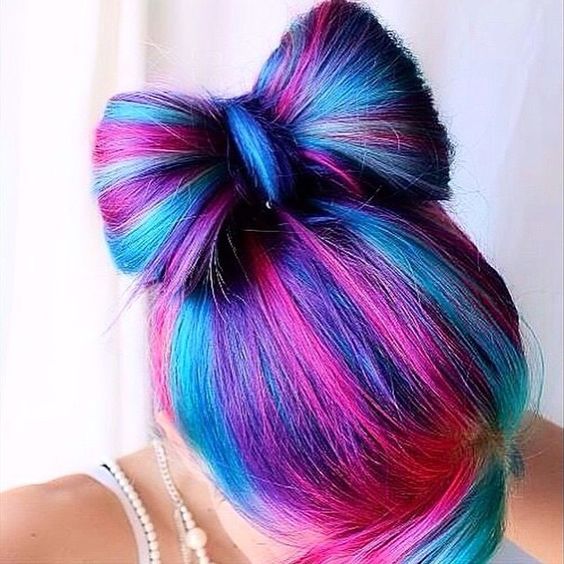 Photo: Credit
Why use accessories when you can just use your own hair?
Your colorful hairstyle just got even better.
The best part?
It is so much easier than it looks!
Very similar to creating a bun. Watch this tutorial and get started.
All your girlfriends will admire you when you all go out for drinks tonight…
14. Curly Waterfall Braid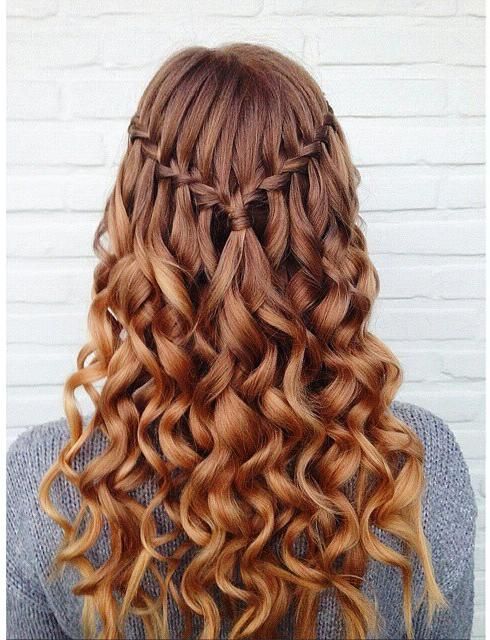 Photo: Credit
If you have curly hair, this waterfall braid is especially for you.
It's similar to an earlier one we already mentioned, only your waterfall hair will be even wavier.
Not just that, but this braid is symmetric and merges in with the waves.
Isn't it stunning?
15. Loose Up-do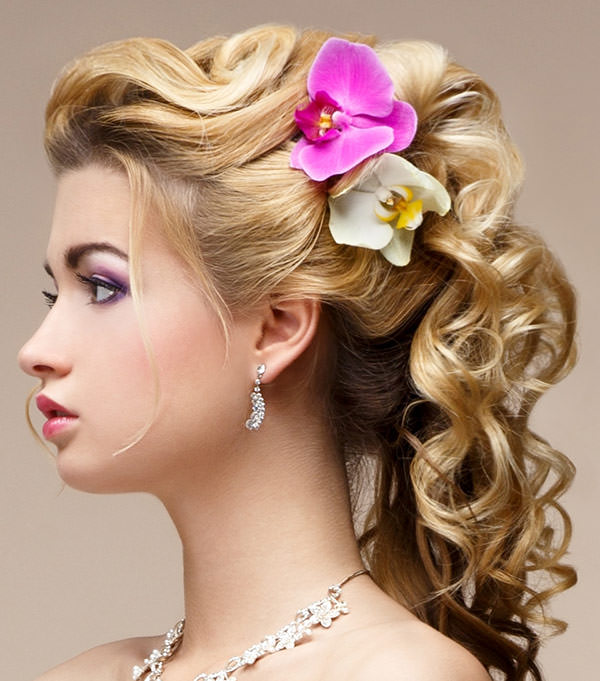 Photo: Credit
Love up-dos and want to look like a princess going to a ball?
This loose up-do hairstyle is perfect for a bride or a romantic date to the theater.
Just like any other hairstyle, you can easily give it a twist by adding some accessories to finish this classy look.