If you look at the average family's spending, food spending is one of the most common budget items. In fact, many people literally eat through their income, knowingly spending more than they can afford on dining out or even groceries. One of the best ways to rein in this easily bloated budget category is to cook at home. Cooking at home is not only a cheaper option but also healthier. So, there are a lot of tasty, easy, and cheap meals you can make at home with very few ingredients and not much time. The only thing you need is just a few basic products, a little bit of imagination and your cozy atmosphere at home. It sounds like this is the best time ever. Being stuck at home in the current situation, cooking at home will not only save money, but also give you that pleasant feeling of satisfaction while taking care of the ones you love.
We offer you here are some of the best recipes people shared, along with a few more ideas of our own to help you and your family eat well for next to nothing. Swapping a lunch or dinner out with one of these cheap meals just once or twice per week is an easy way to lower your food expenses.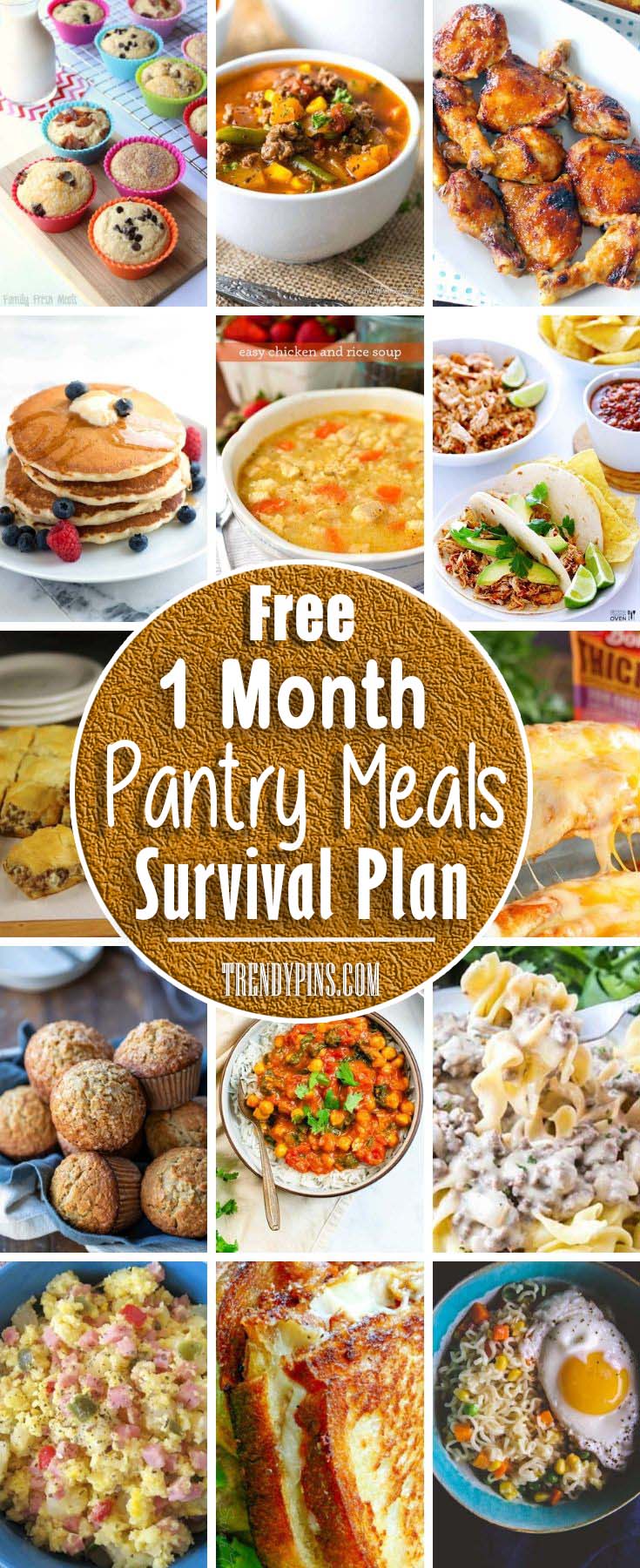 Don't forget to PIN this image for quick access to all these ideas
1st Week Pantry Meal Plan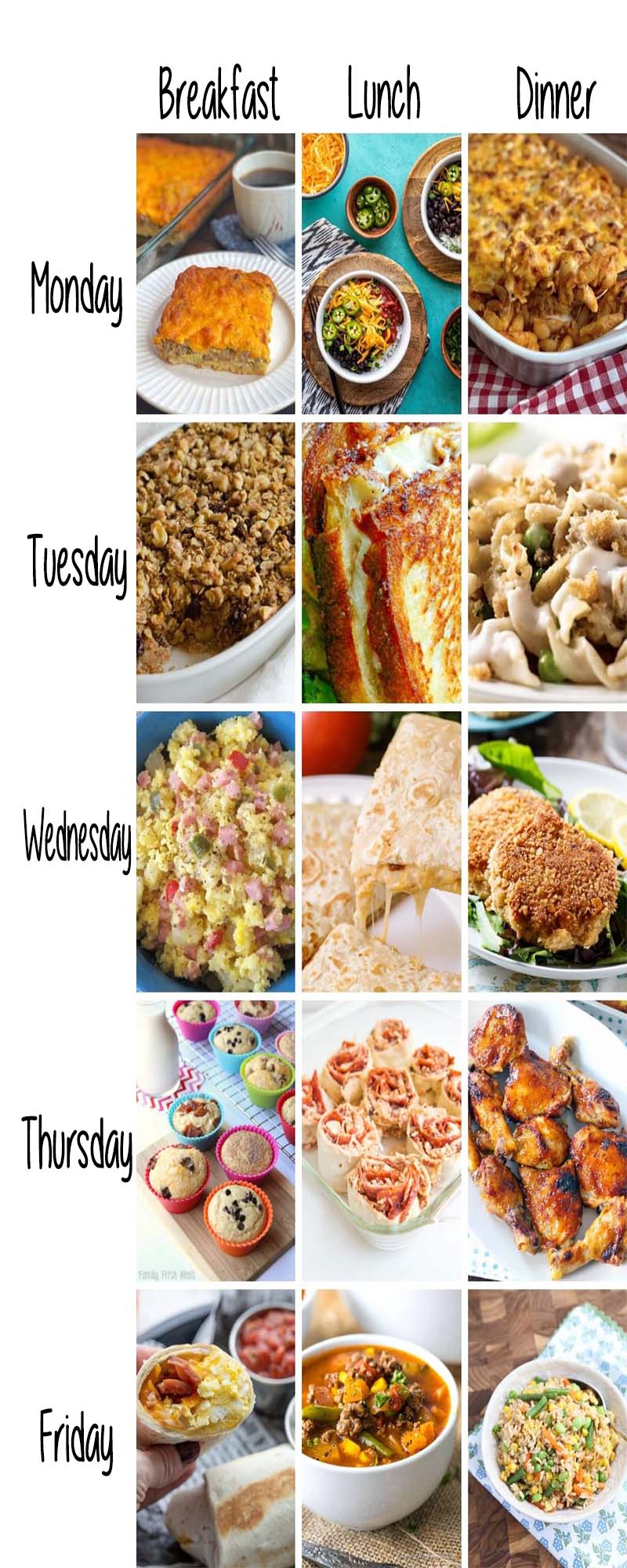 Breakfast
Monday
4 Ingredient Breakfast Casserole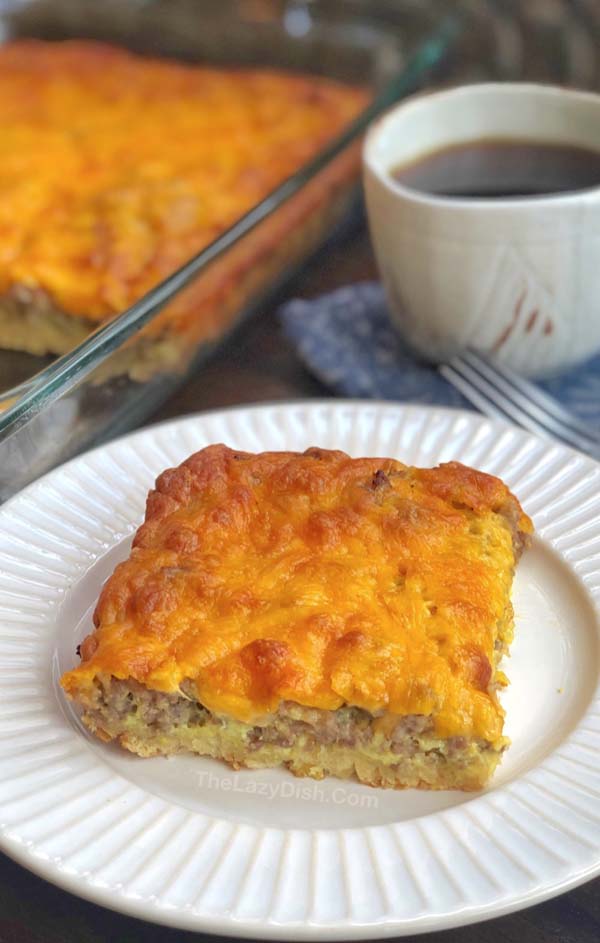 via The Lazy Dish
Tuesday
Amish-Style Baked Oatmeal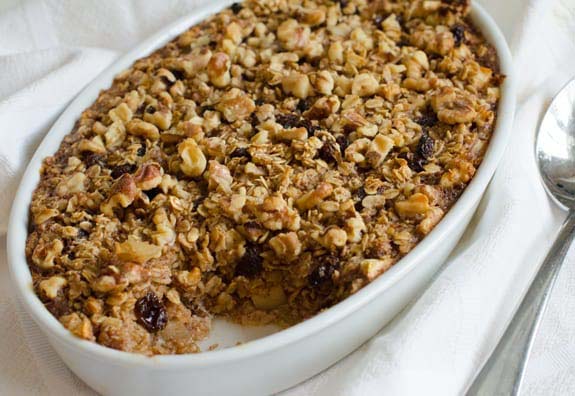 via Once Upon a Chef
It is extremely tasty and healthy. You need only oats and dry fruits. Just bake it in the oven and enjoy.
Wednesday
Country Breakfast Bowls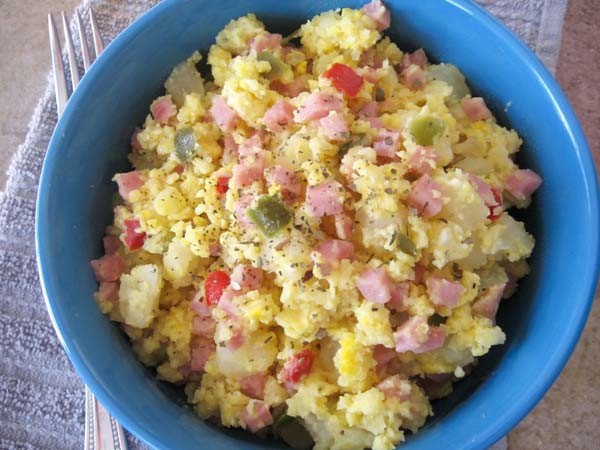 You need only Eggs, Tator Tots, bacon, sausage, and to make it even more fattening they top it off with some gravy. I could eat this every day for breakfast, lunch, and dinner. Not to mention, their buttermilk pancakes there are pretty tasty. They make you pay at the counter, and they tempt you with all these yummy baked pastry goods. Everything is tasty.
Thursday
Freezer Breakfast Burritos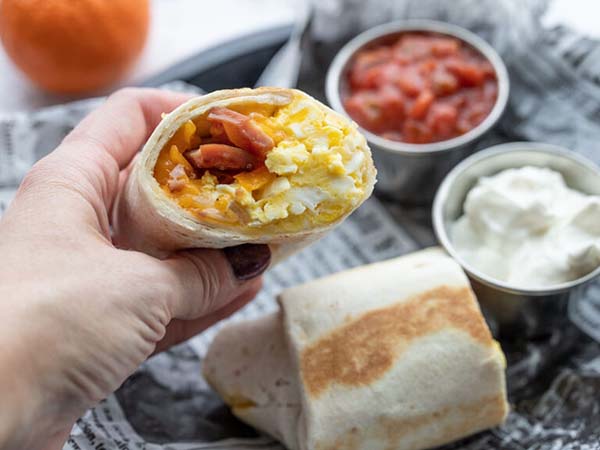 via Budget Bytes
You can find them in every supermarket place. They are fast and easy and even cheap way to treat your hunger. In case you have children at home keep this breakfast in the fridge any time. They will save you a lot of time.
Friday
Easy Baked Pancake Muffins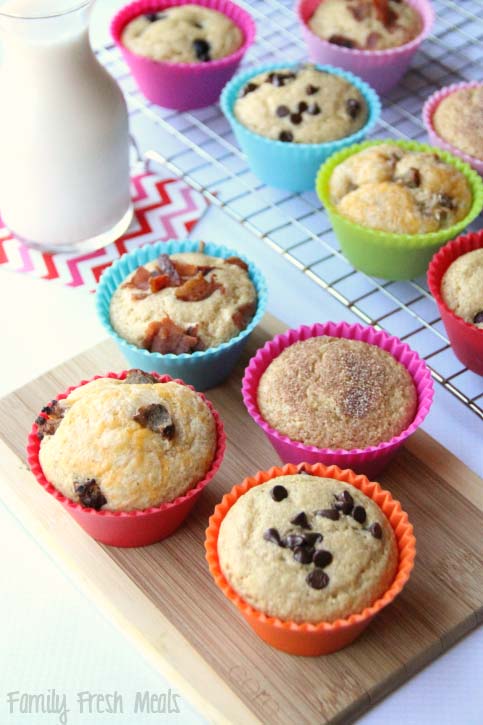 Muffins are always the hit among not only children but adults also. They are perfect for a breakfast or a snack. If you want to make your day sweeter go for it.
Lunch
Monday
Chicken Quesadillas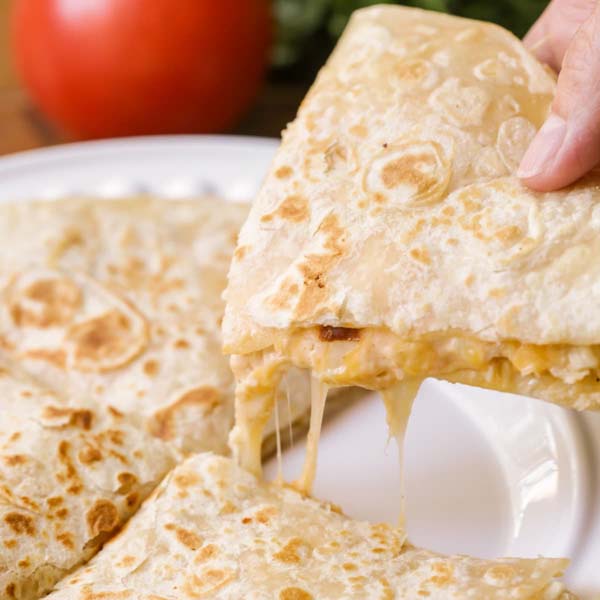 via Lil Luna
The only products that you need are tortillas and some cheese. That kind of cheese you really like. Cheddar or just yellow cheese. The result is awesome. Make your day tasty.
Tuesday
Poor Man's Burrito Bowl
via Budget Bytes
This bowl is full of joy and also rich in vitamins. You can add all kind of vegetables just to taste that delicious portion. Easy to be done and rich in vitamins and calories.
Wednesday
Homemade Pizza Roll Ups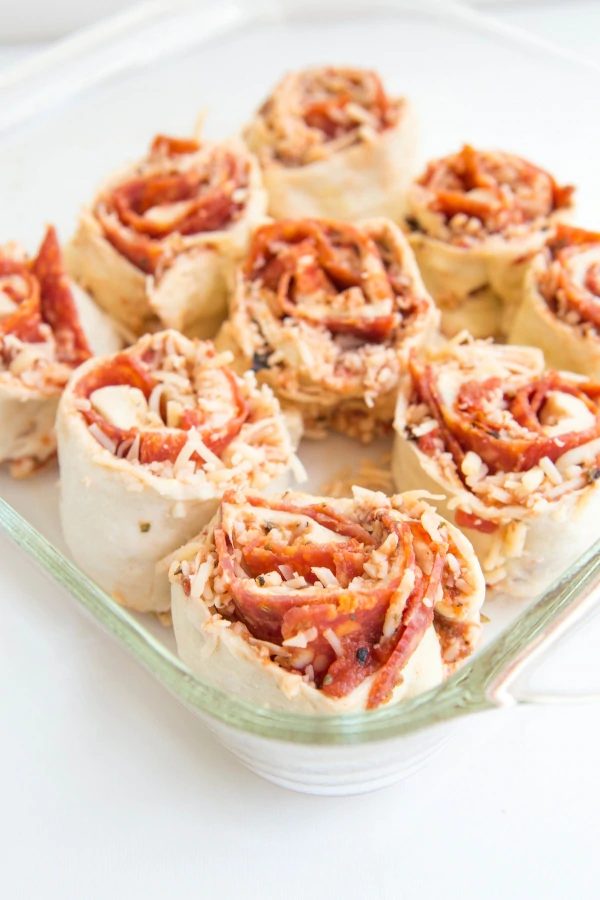 via Coupons
Do you like pizza? Of course you do. Everyone does. This is a roll form pizza for you. You can add whatever you like in it.
Thursday
Tuna Melt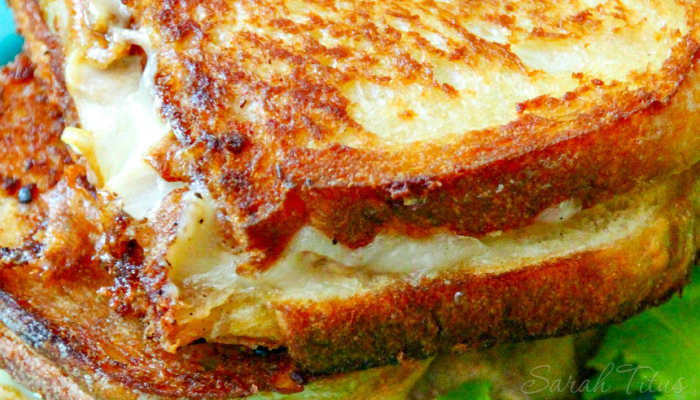 via Sarah Titus
This tune melt looks amazing but also it tastes the same. You need just tune and cheese up to your preferences. The meal is ready for less than 10 minutes.
Friday
Hamburger Soup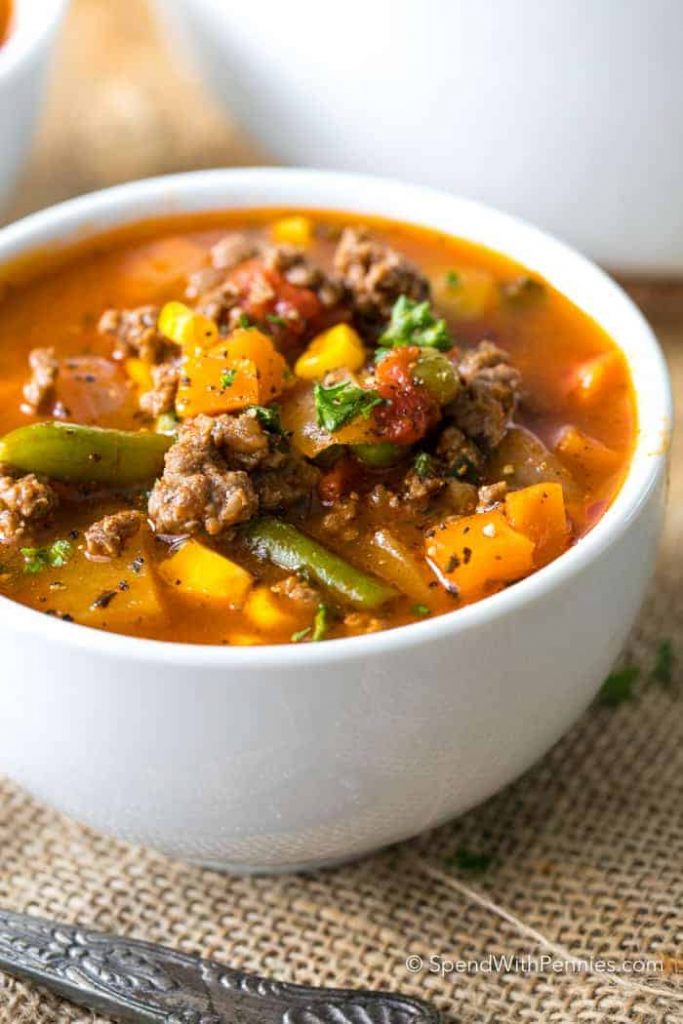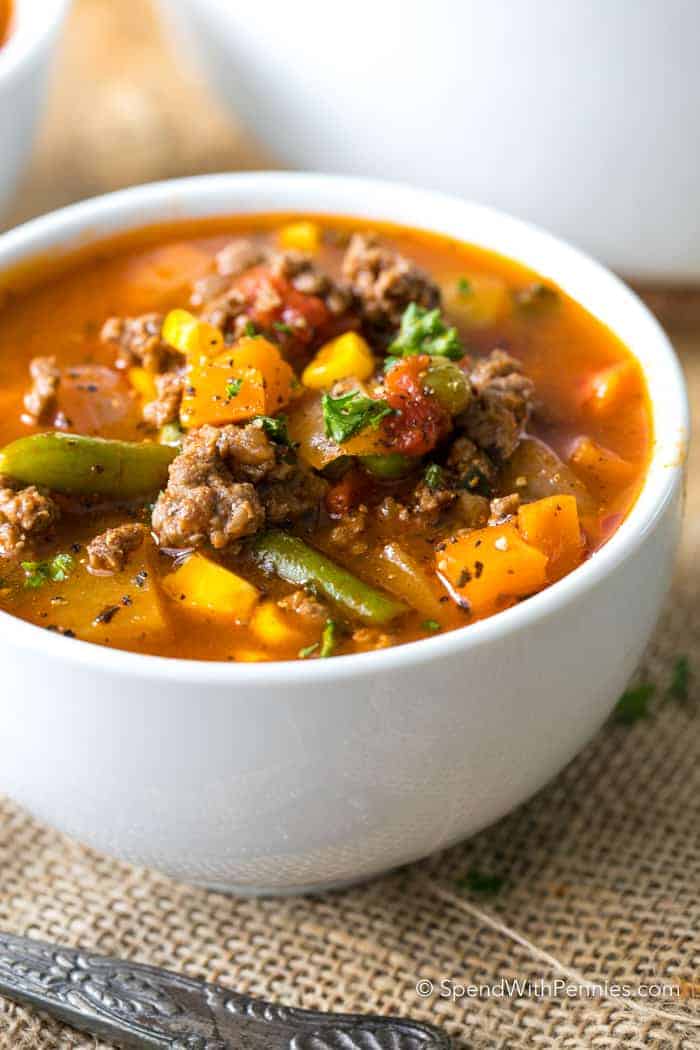 Yes, this is really a hamburger soup. You need some beef and some vegetables to prepare it at home. That bowl is full of taste. It will meet all the requirements of every member in your family.
Dinner
Monday
Salmon Patties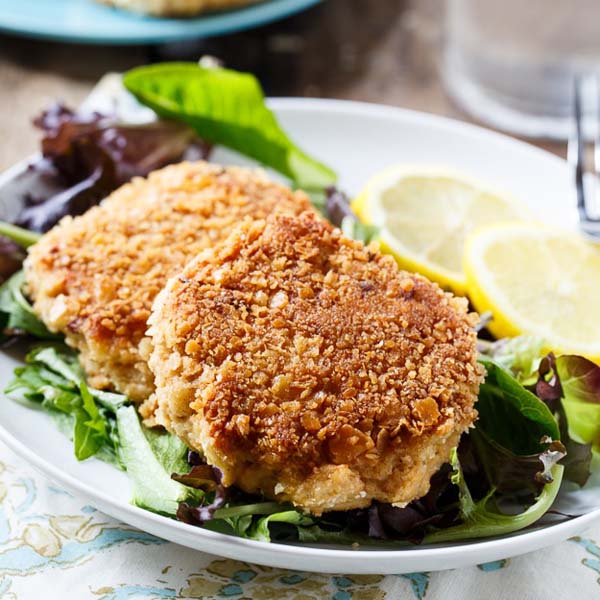 We offer you here salmon in that charm and delicious way. It is not necessary to fry them. Just bake in the oven for better quality in order to make it healthier.
Tuesday
2 Ingredient Crispy Oven BBQ Chicken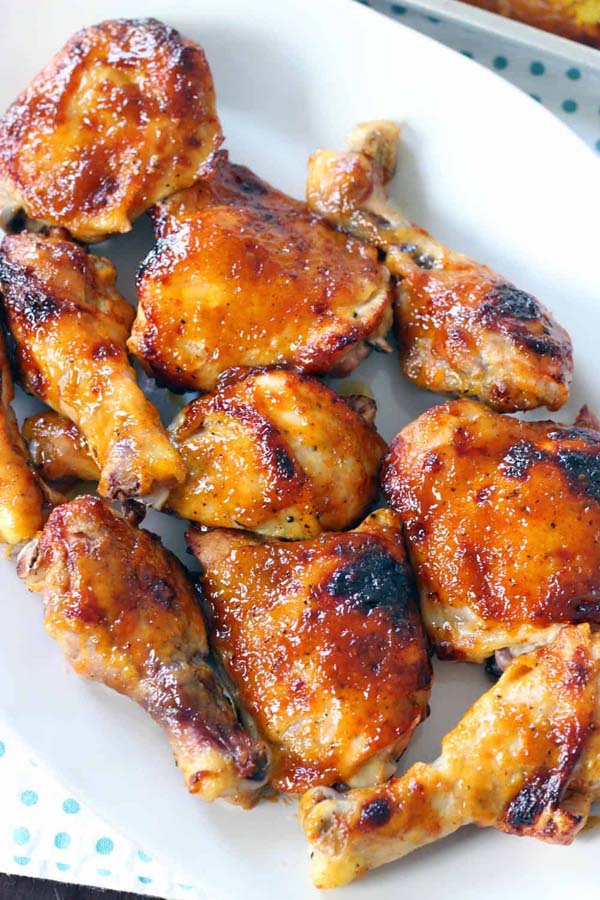 Your children at home will really appreciate that recipe. That homemade BBQ chicken is tasty and crispy. You can add some sauce on the top.
Wednesday
4 Ingredient Hamburger Casserole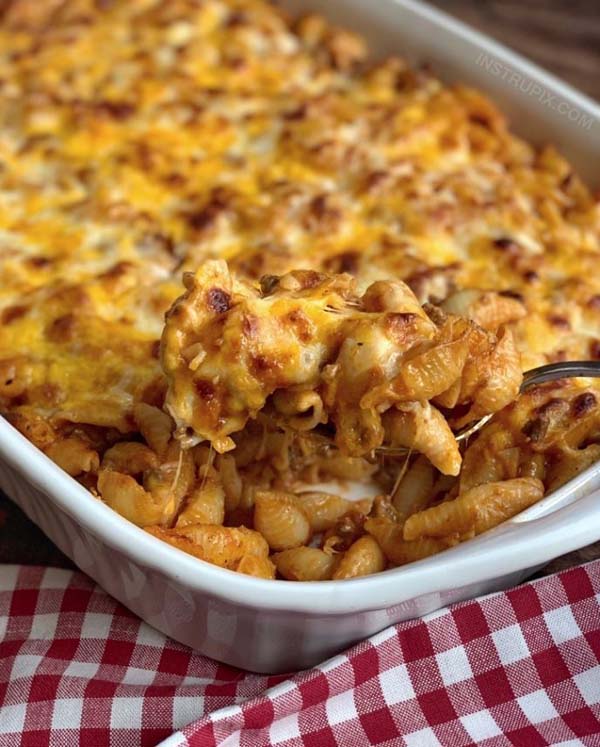 via Instrupix
Another homemade meal full of inspiration an easy to be prepared. Don't hesitate to go for that idea. You will need just a few minutes to mix the ingredients and then put them in a casserole to be baked in the oven. Gather the family and enjow.
Thursday
Vegetable Fried Rice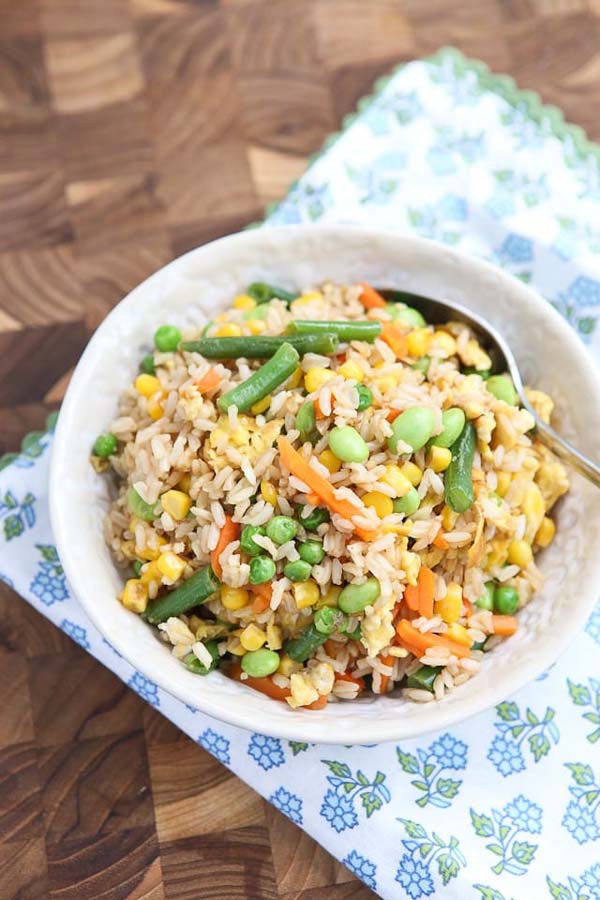 via Aggie's Kitchen
Vegetables and rice. Another simple but tasty idea for all the members of your family. If you are a vegetarian this proposal will be one of your favorite ones.
Friday
Easy Tuna Noodle Casserole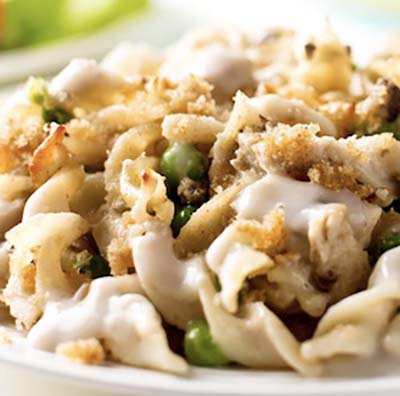 via Campbells
All the dishes in a casserole are easy to be made and extremely tasty. You can combine different forms of pasta with tune, just like in the given recipe and vegetables on your choice. Just and healthy at the same time.
2nd Week Pantry Meal Plan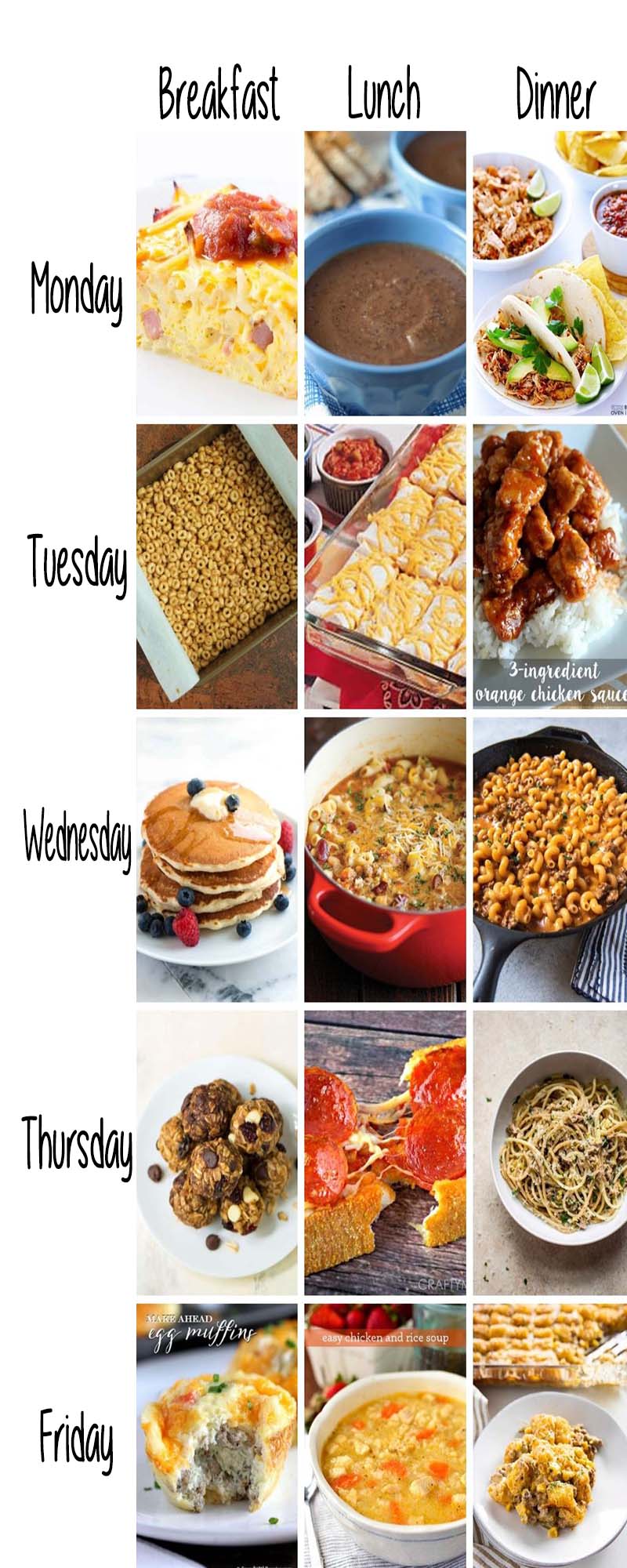 Breakfast
Monday
Fluffy Pancakes from Scratch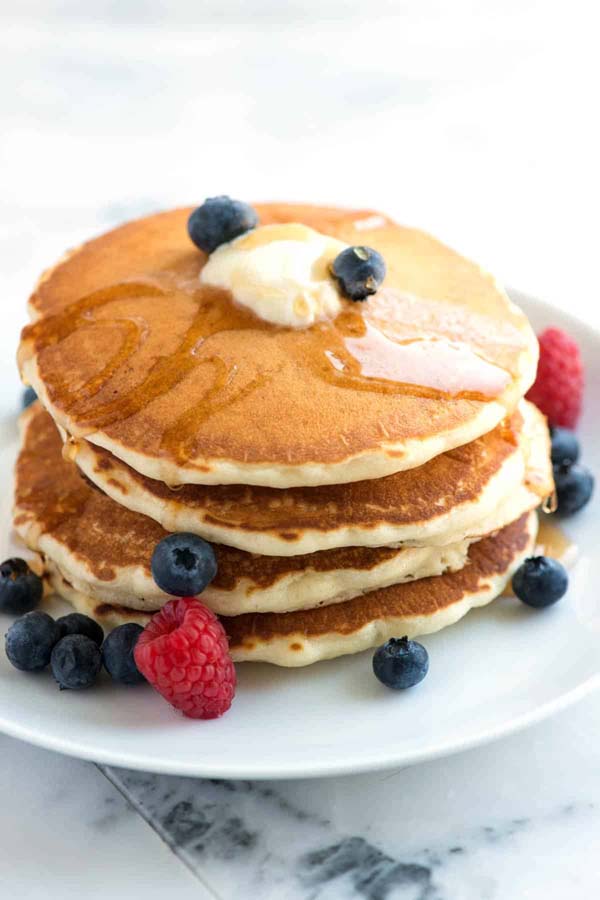 via Inspired Taste
Pancakes!  Yes, of course. Everyone loves pancakes. These fluffy ones are best proposal for a breakfast not only for children but for you also. Combine them with the jam you like best or honey maybe. Enjoy.
Tuesday
Easy Breakfast Casserole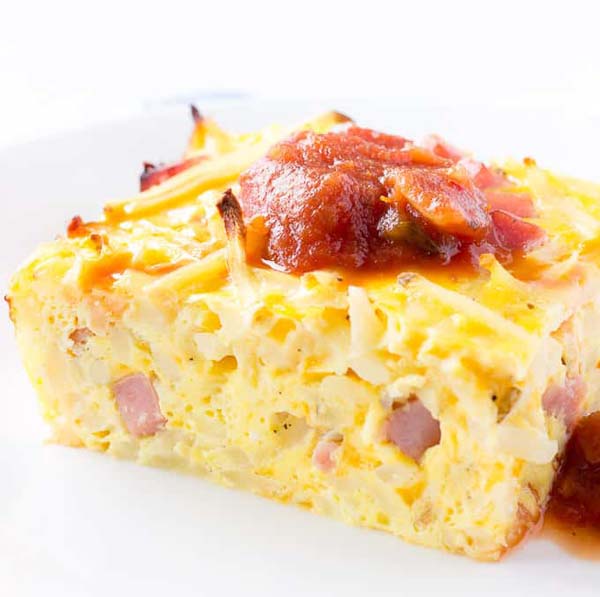 Casserole for breakfast. You may use pastry of potatoes for the basic, but you also need some ham to obtain that unforgettable taste. Another idea that deserves your attention. Do not hesitate to try it. Your efforts will be appreciated at home.
Wednesday
3 Ingredient Peanut Butter and Honey Cereal Bars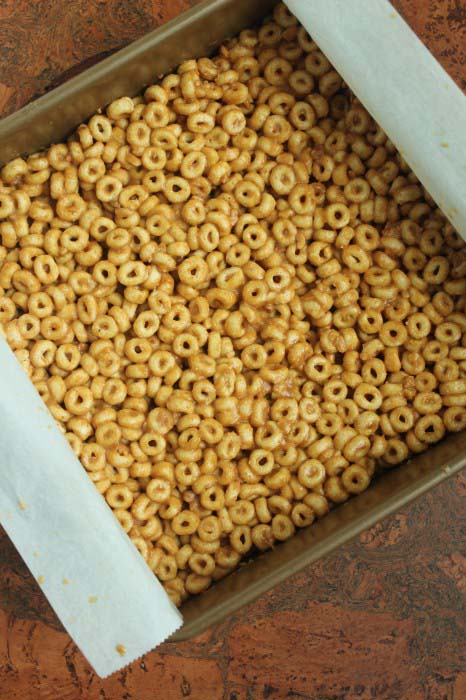 In case you have children you must have all these three ingredients. We share that brilliant idea with you for a fast and tasty breakfast. Children will adore you. But choose the biggest casserole you have at home.
Thursday
Healthy Energy Balls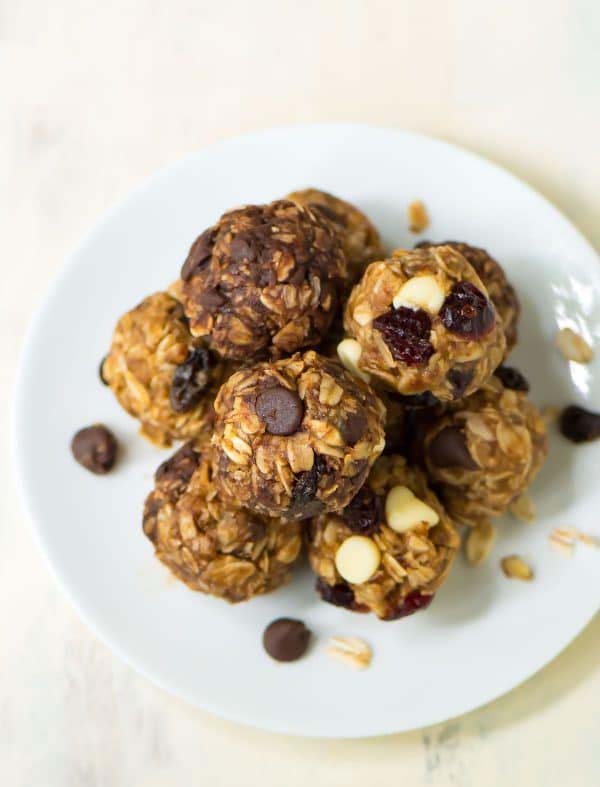 via Well Plated
Wow! That is the reaction of everyone who has ever tasted these energy balls. Appropriate for breakfast. After doing some sport. Just keep them in a box with you and beat the hunger any time. As much as imagination you implement in the preparation as tastier they are.
Friday
Make Ahead Egg Muffins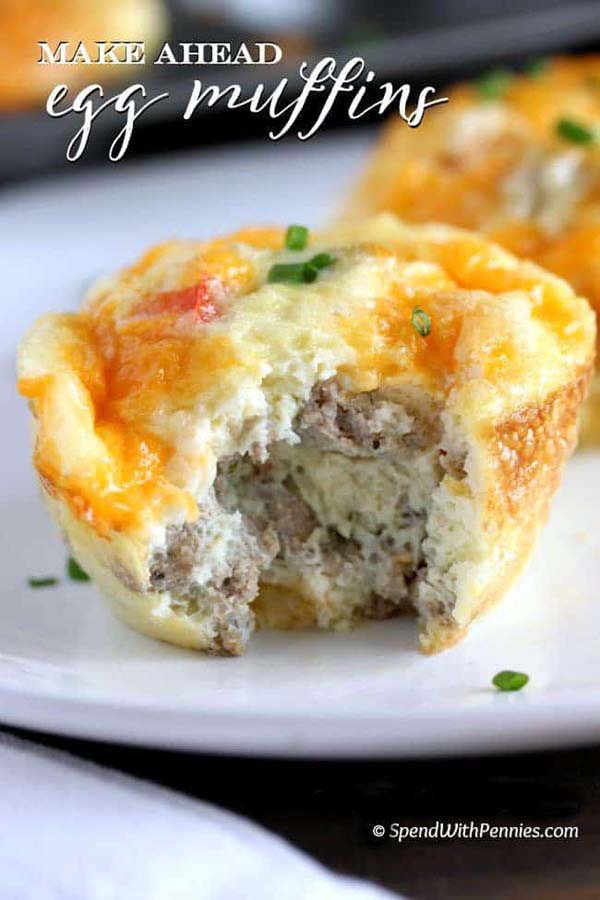 Egg muffins are ones of my favourite. I am sure you share my opinion. Every fridge must have some eggs. Eggs give you so many ideas. This is one of them. Go for it.
Lunch
Monday
3 Ingredient Black Bean Soup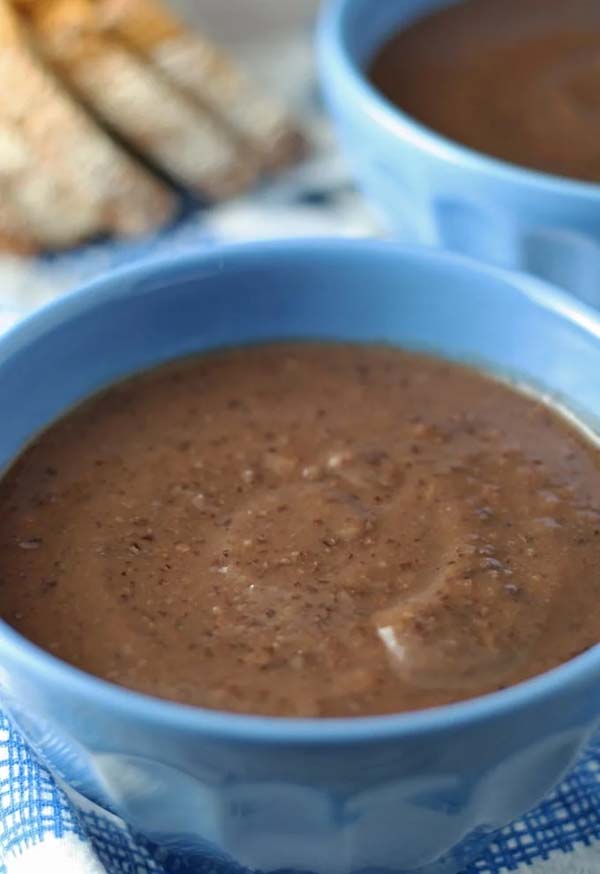 via Honey and Birch
Healthy and full of calories. Even children will taste it if you blend the soup and make it creamy. Bake some crotons and add them on the top. Stir some chees also. It is all up to you taste and imagination.
Tuesday
Texas Toast Garlic Bread Pizzas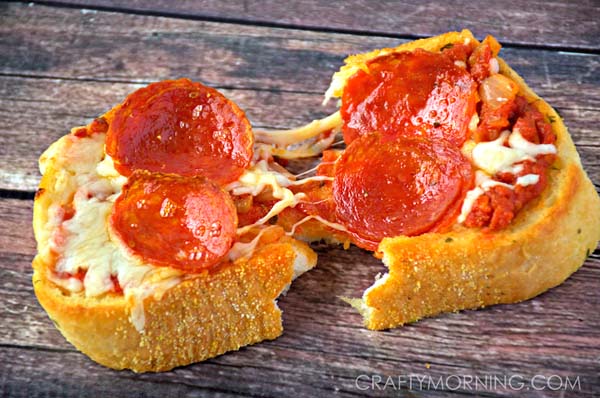 via Crafty Morning
Some bread and a bit of imagination. The result is pizza. Why not. Haven`t you ever tried that brilliant idea. May be now is the moment.
Wednesday
One Pot Chili Mac
via Damn Delicious
You can make pasta even in a pot. Not only in casserole. You can add bean, vegetables you like and maybe some meat. It is not a soup. It is something more. Try it.
Thursday
Easy Chicken and Rice Soup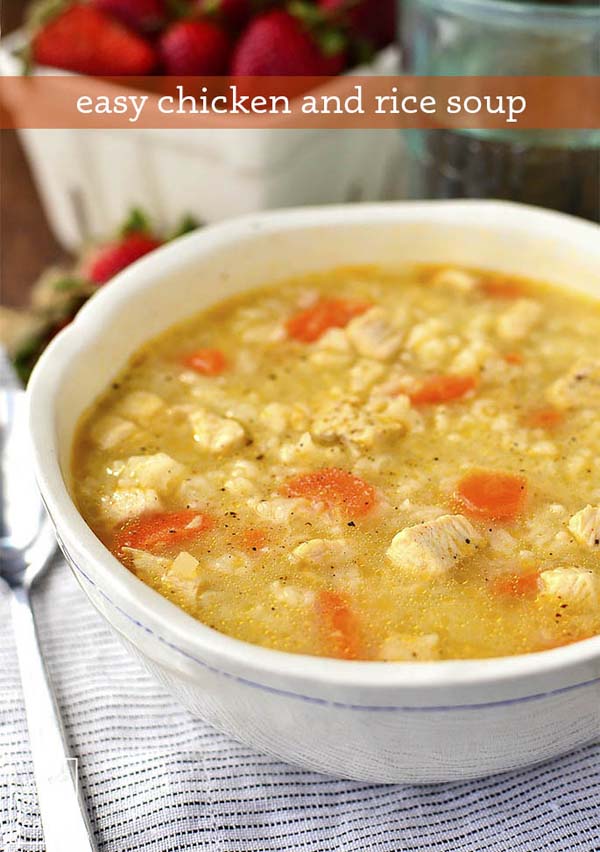 via Iowa Girl Eats
When you hear soup, chicken is the first thing you think of. Am I correct. Chicken soup is the classic for all the family menu. It is easy and tasty.
Friday
Bean and Rice Burritos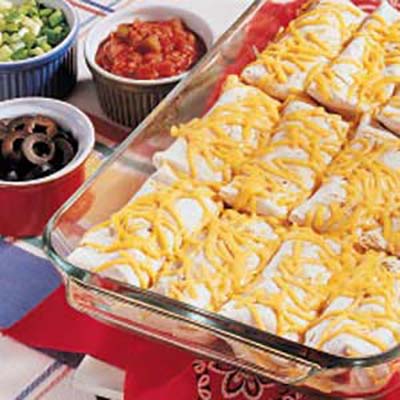 via Taste of Home
Another brilliant idea for the whole family. The taste will definitely gather you around the table.
Dinner
Monday
Cheeseburger Macaroni Skillet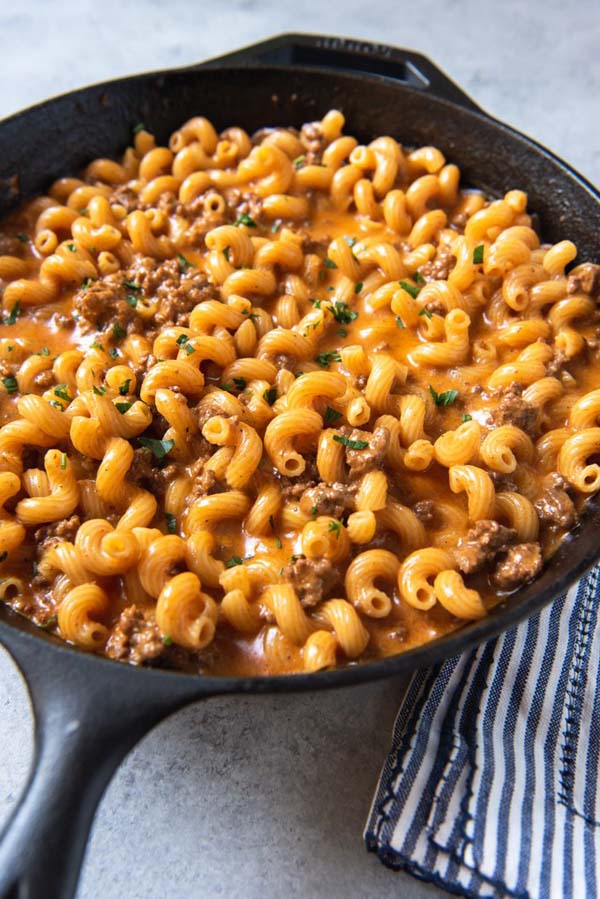 Italian macaroni in a pan with a hamburger taste because of the beef in them. A fresh combination of ideas and a delicious result at the end.
Tuesday
2 Ingredient Salsa Chicken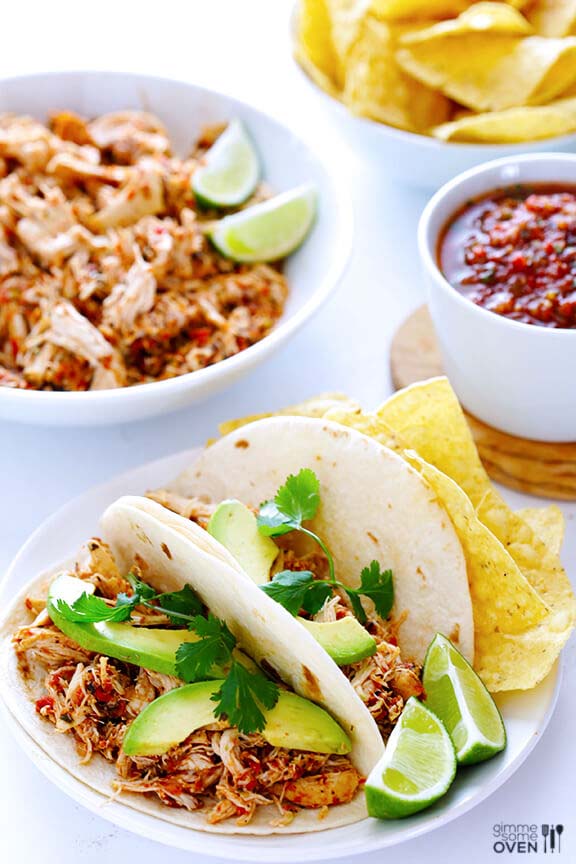 via Gimme Some Oven
If you like chicken but have no time salsa chicken is for you. Combined with lime for additional freshness this meal will meet all the requirements.
Wednesday
3 Ingredient Orange Chicken with Rice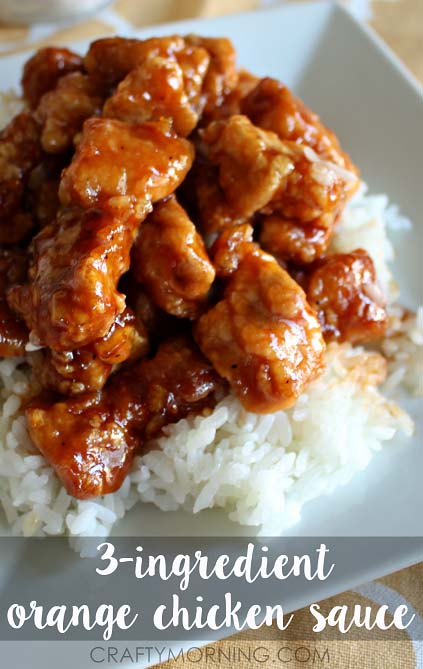 via Crafty Morning
Orange chicken with rice. Yes, it is orange because of the sauce. It is crispy and soft at the same time. Crispy on the top but soft inside. A best idea for you children or a party meeting.
Thursday
Tater Tot Casserole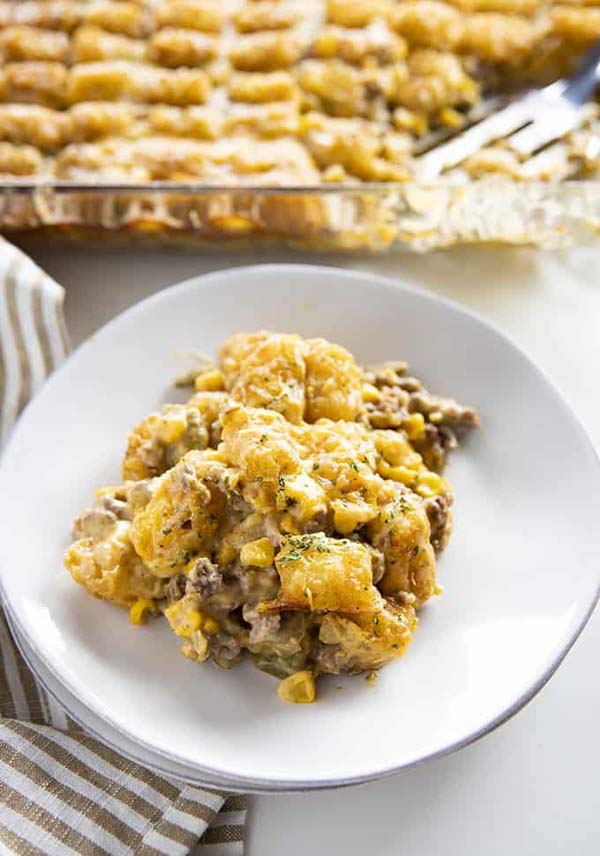 A fresh and easy be made at home idea. Put all the ingredients in the casserole together with you fantasy and put in the oven.
Friday
Easy Tuna Pasta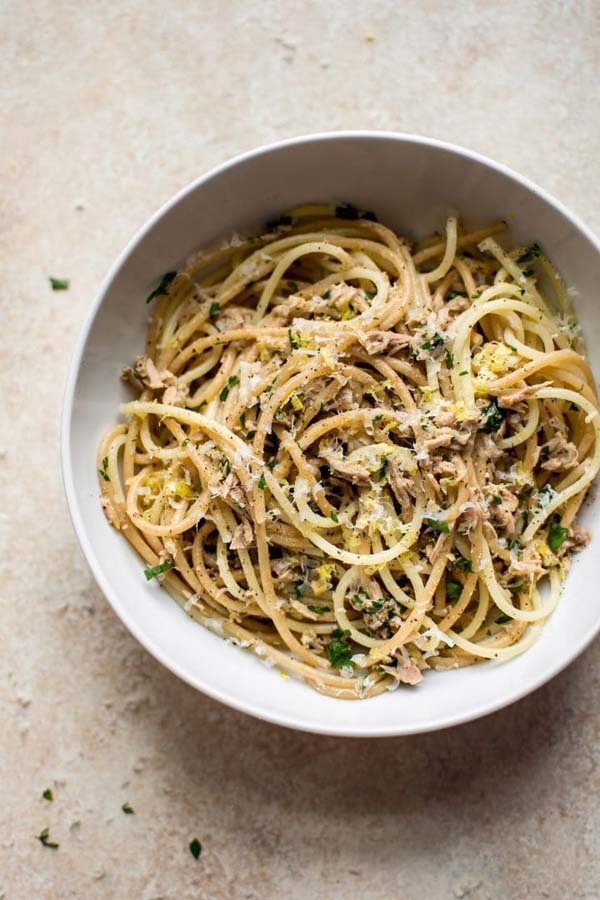 It doesn't only look tasty but it does really. For that delicious taste you need pasta and tune. Stir some cheese on the top. You may add also some garlic. If you use diet pasta the meal will be healthier. Enjoy it!
3rd Week Pantry Meal Plan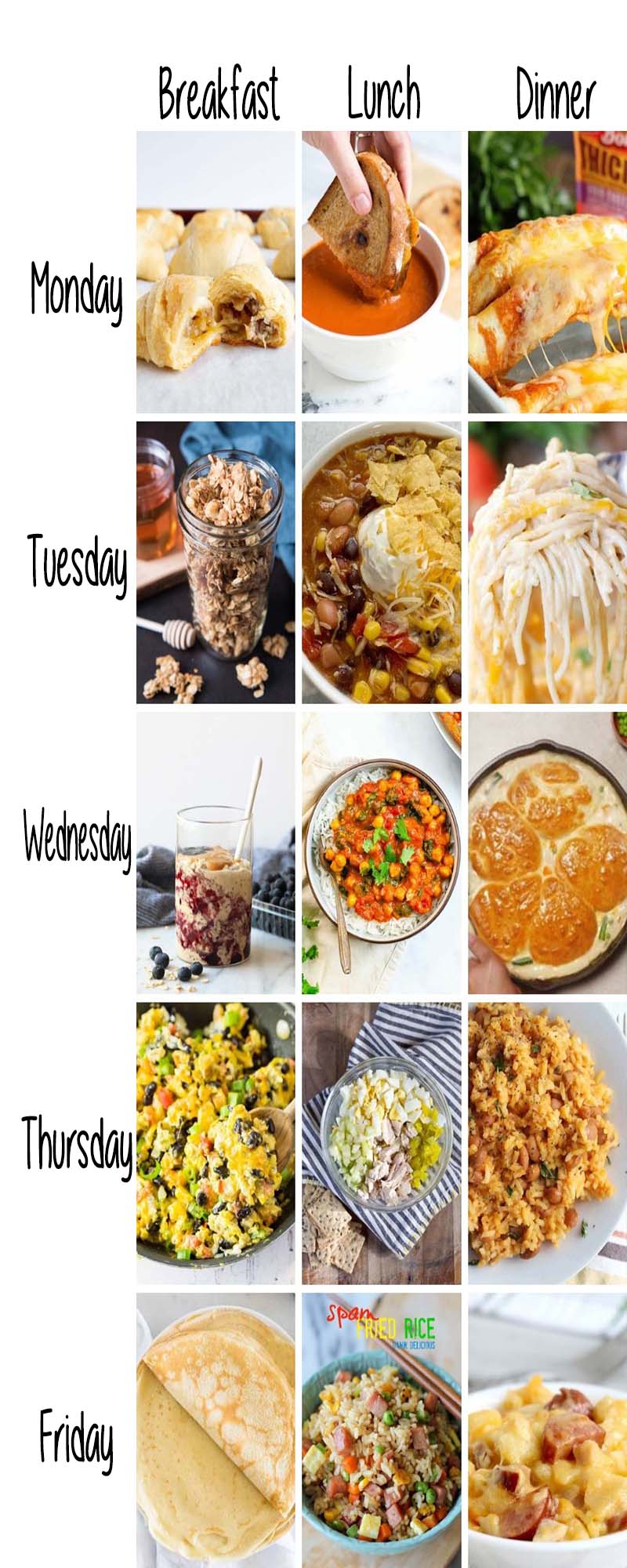 Breakfast
Monday
Perfect Crepes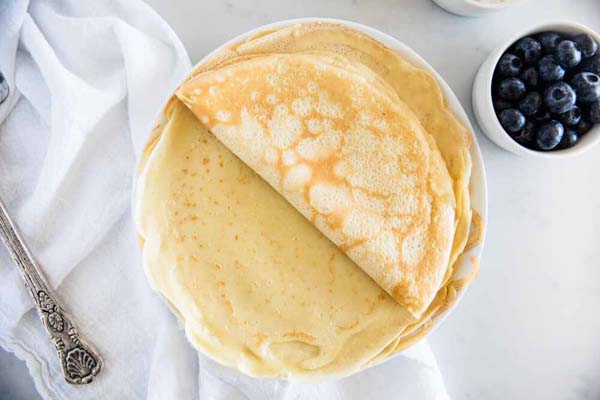 via I Heart Naptime
Perfect crepes or just perfect breakfast. You can combine these crepes with your favorite jam or honey. Chocolate is also an opt to make the taste exclusive. Suitable not only for the children at home but for adult while watching TV in the evening after hard work in the office.
Tuesday
PB & J Overnight Oats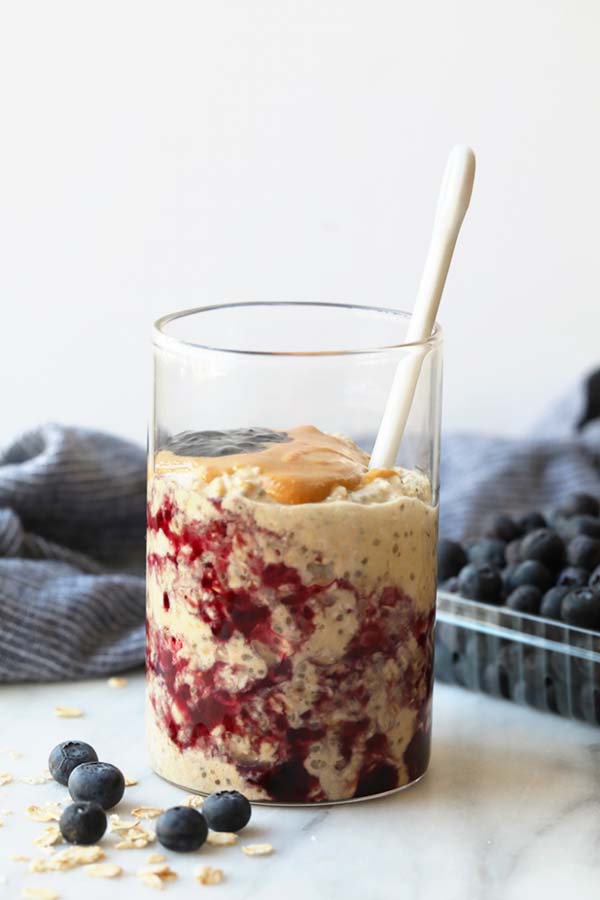 via Fit Foodie Finds
Overnight oats is a healthy and tasty opt. You need just to prepare them in the previous night for that soft effect. Healthy and full of energy for a better start for a new day.
Wednesday
Breakfast Sausage Bomb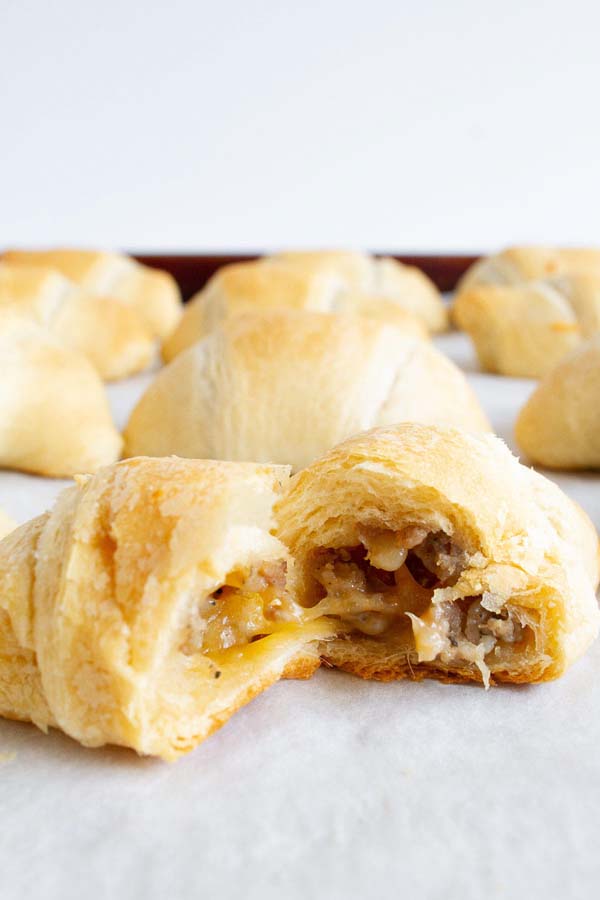 It is not so healthy but full of energy meal. Appropriate for breakfast or a snack.
Thursday
Easy Homemade Granola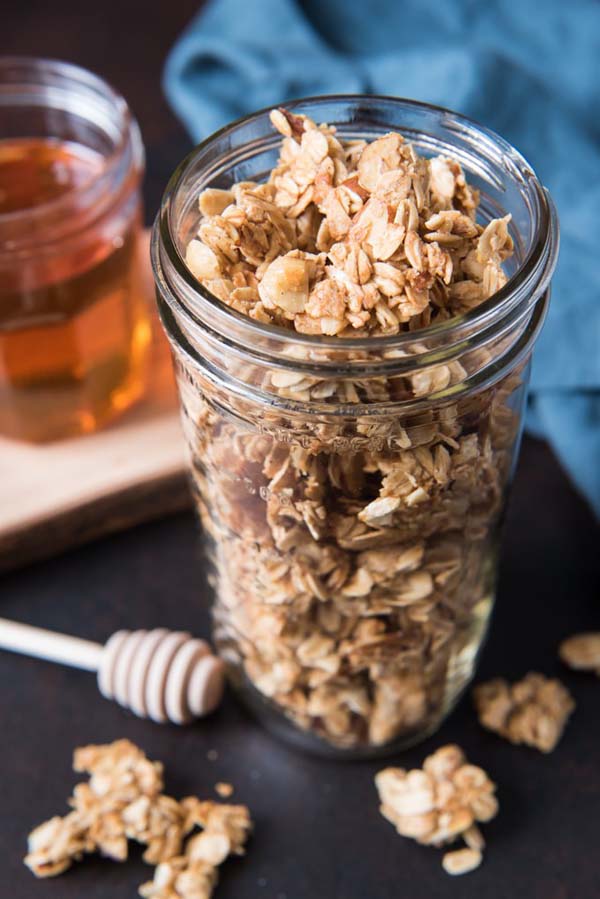 Another easy and fast proposal. You can make easily at home to make your kids happy.
Friday
Mexican Egg Scramble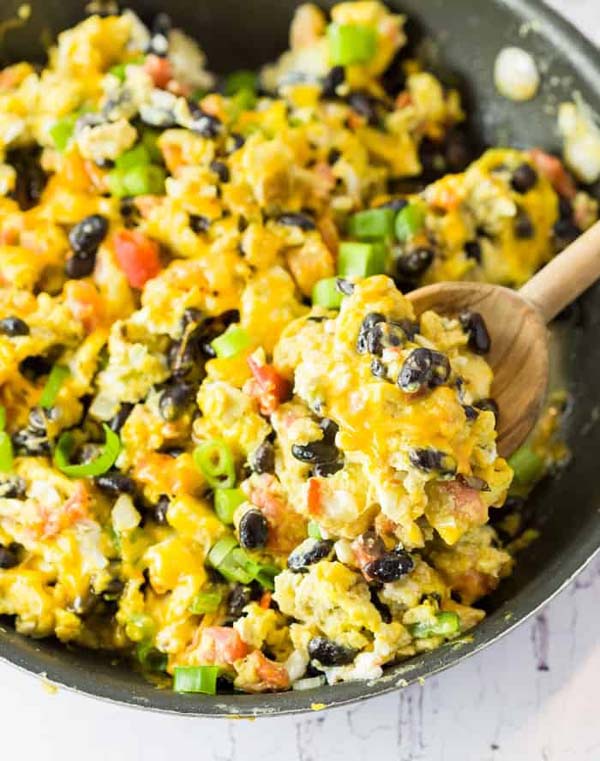 via The Cozy Cook
As you can see from the title for that easy recipe you need some eggs and scramble them in a pan. For additional flavor add some herbs, stir some chees on the top. Eat them hot to feel the real taste.
Lunch
Monday
7 Can Chicken Taco Soup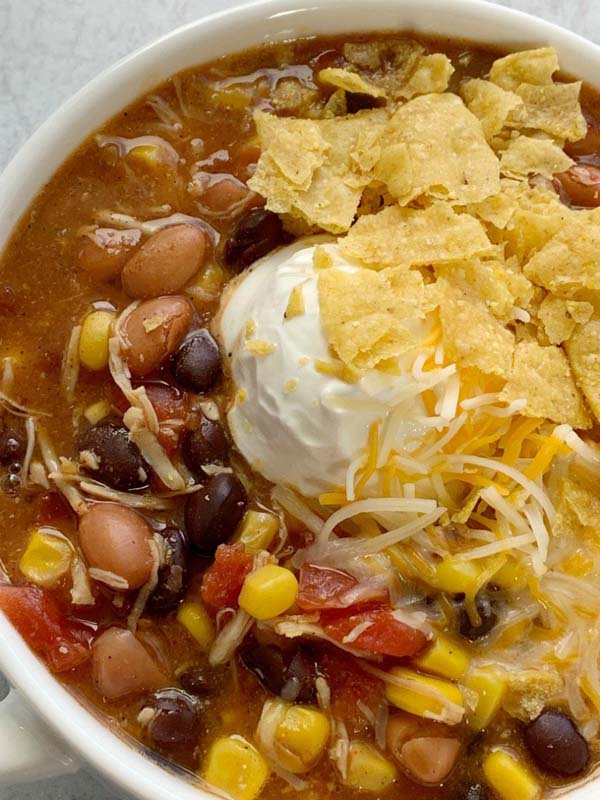 Taco soup is a real magic. It takes less time because all the ingredient you use are from a can. Just mix whatever you want together with the chicken and enjoy the taste.
Tuesday
Southern Chicken Salad on a Crackers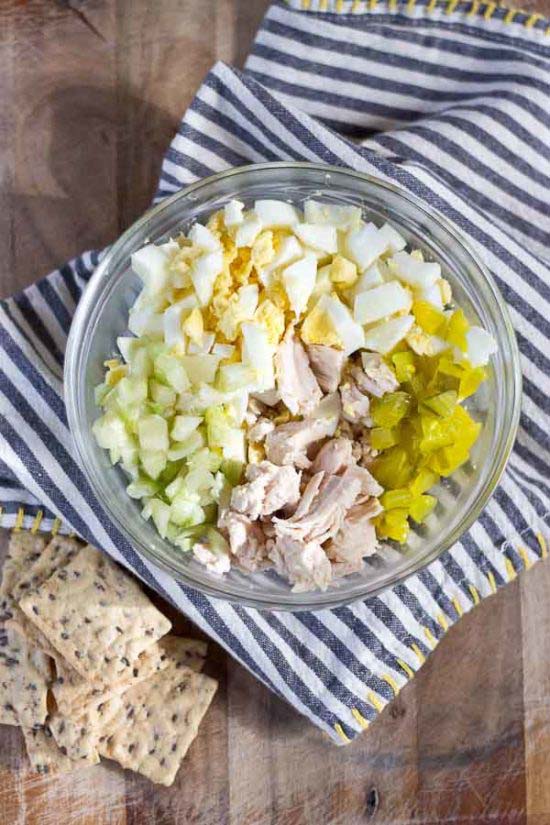 via Love and Zest
Improvisation in cooking is a great idea. You can make even a salad with some chicken. Garnish that chicken with all the vegetables you like.
Wednesday
Spam Fried Rice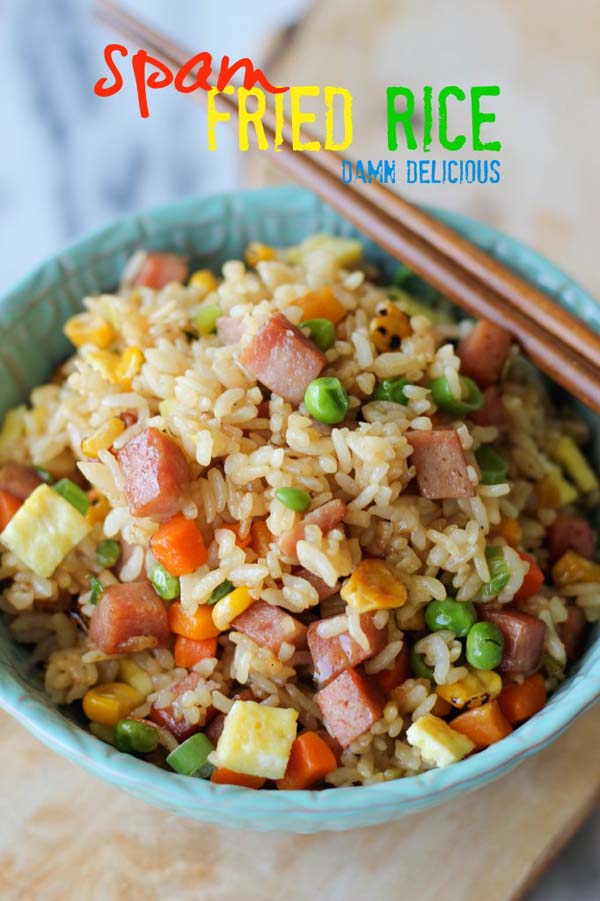 via Damn Delicious
Fried rice often presents in every menu. Rice with mashrooms or vegetables is a good opt for a dinner. Use your imagination.
Thursday
3 Ingredient Tomato Soup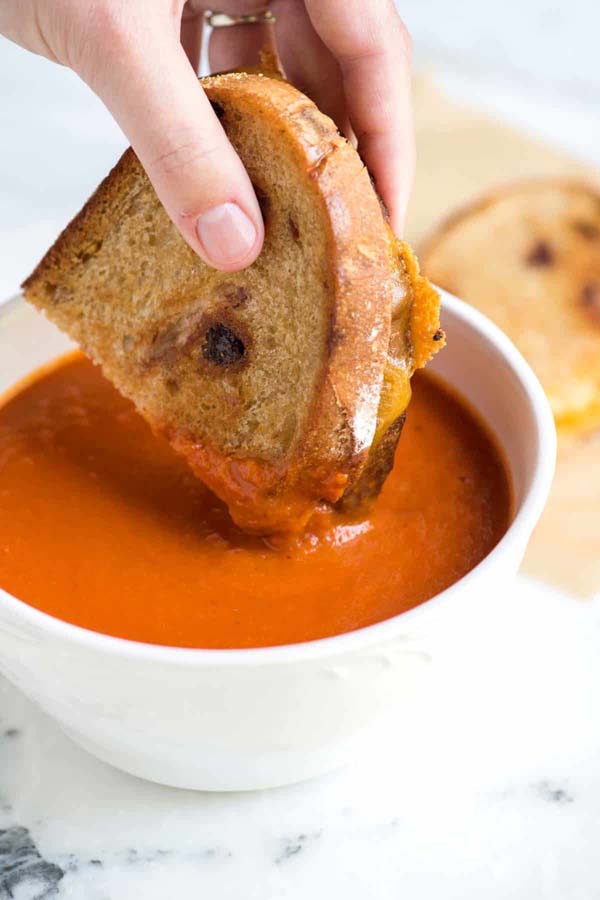 via Inspired Taste
Tomato soup is as simple as possible. It is so easy to be made at home. Tomatoes, some herbs and olive oil. That is all that you need for that brilliant taste. For people that adore soups this is the right proposal. 
Friday
Chickpea Curry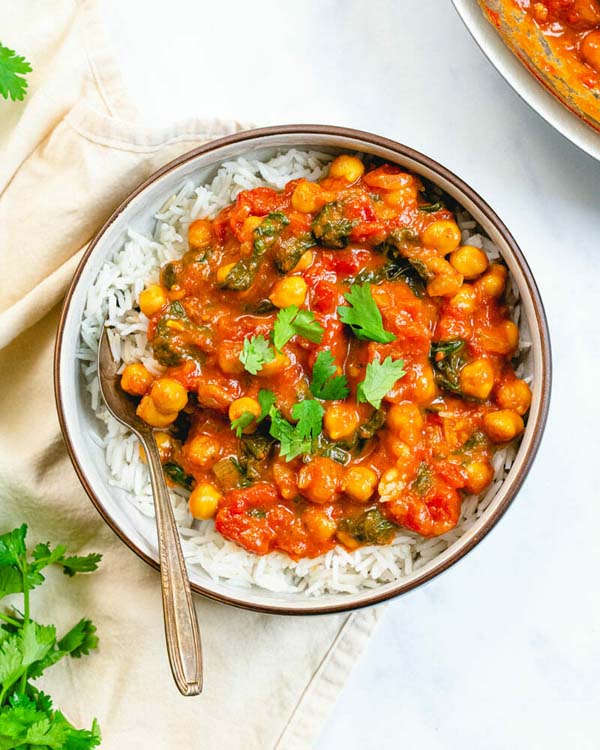 via A Couple Cooks
Another tasty idea with chicken. But this time in the Indian way. Chicken curry of course. The splendor of tastes and flavor.
Dinner
Monday
Chicken Spaghetti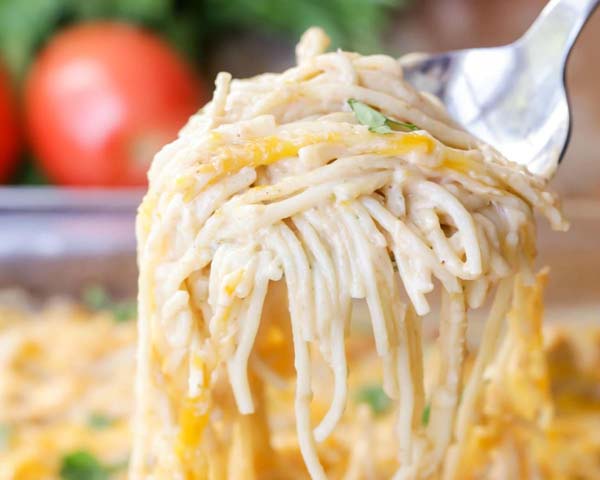 via Lil Luna
Spaghetti again. All kind of pastry is easy and fast to be made at home. We all have pastry at home for every occasion. And with a bit of imagination the meal is not only ready in a minute but it will be awesome.
Tuesday
Mexican Rice and Beans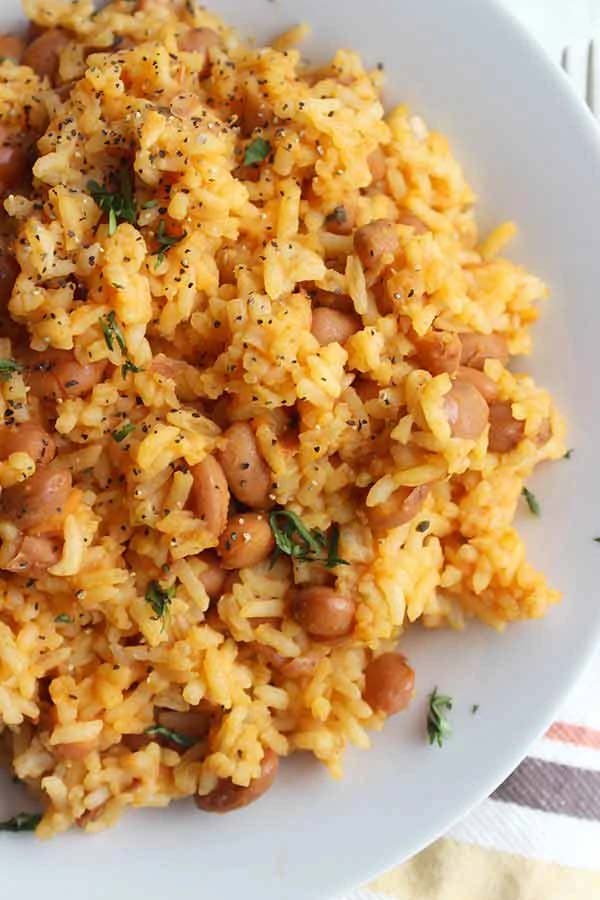 Rice and bean is another common combination for a fast and easy meal. Product that a typical for every household. Even children can prepare that meal alone at home.
Wednesday
Easy Chicken Pot Pie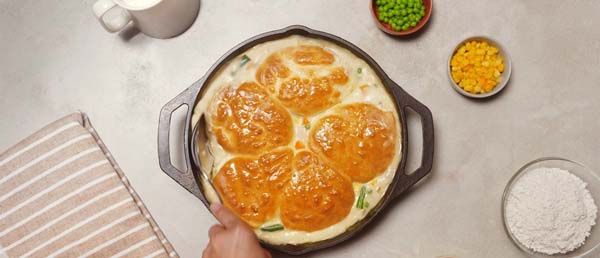 via Campbells
Chicken in a pie form. Why not? You need only to bake it in a pan. Then gather the whole family around the table and enjoy the taste.
Thursday
5 Ingredient Beef Enchiladas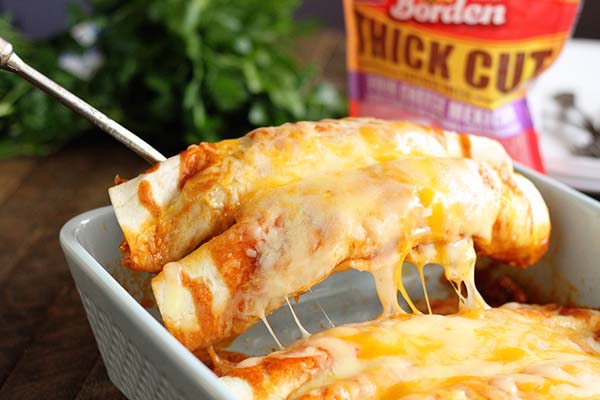 via Southern Bite
For these enchiladas you can choose beef. Don't forget to stir some cheese for the final taste on the top of the meal when you serve it. Enjoy the taste.
Friday
Slow Cooker Sausage and Potatoes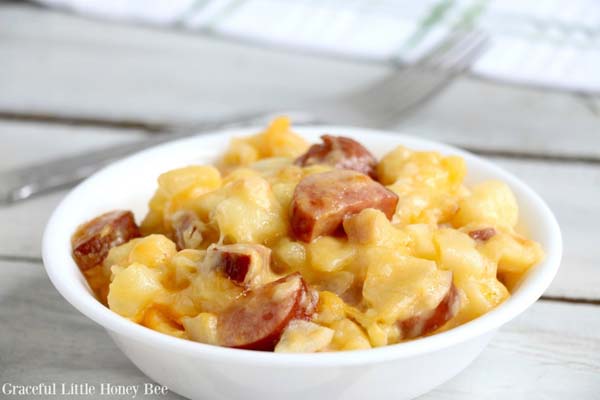 Sausage and potatoes baked in the oven. The taste is in the air. All the basic products are melted in some cheese on the top. Delicious.
4rd Week Pantry Meal Plan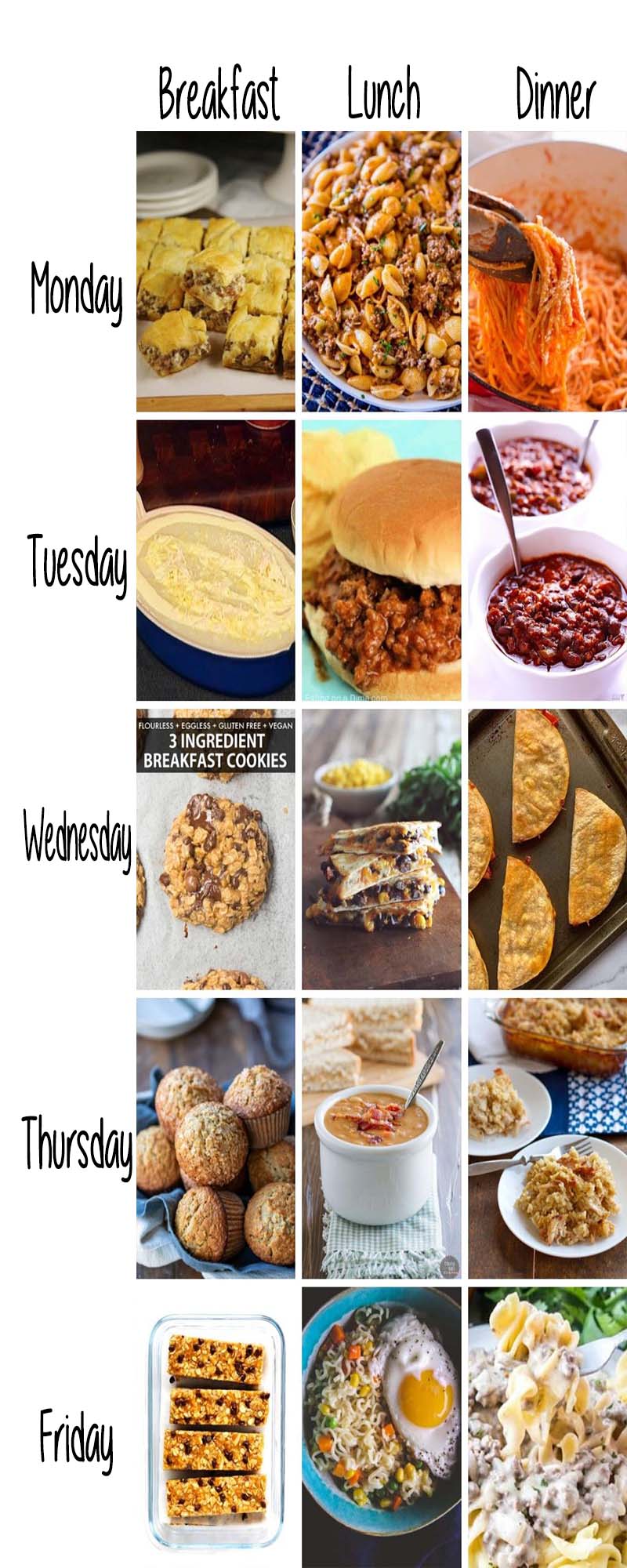 Breakfast
Monday
Healthy 3 Ingredient Oatmeal Breakfast Cookies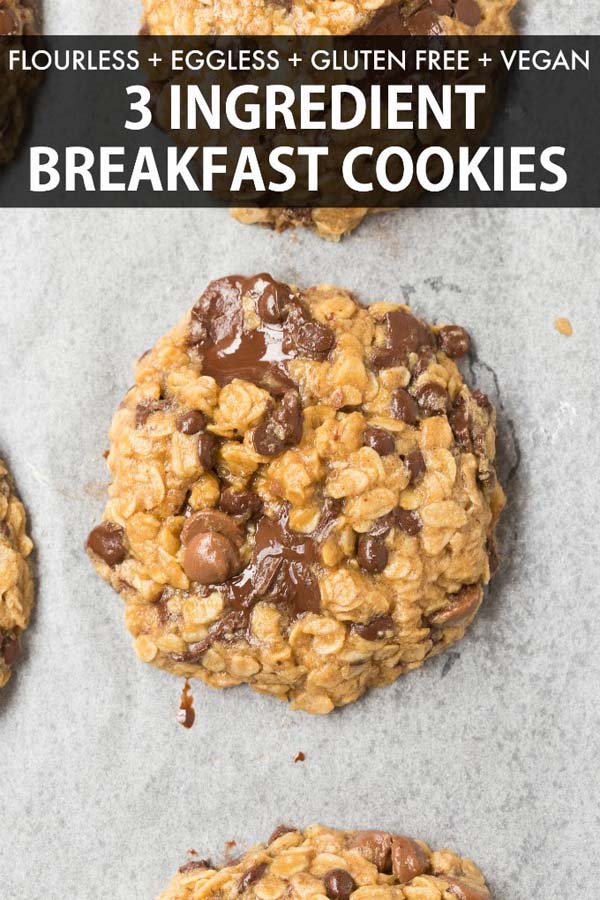 via Big Man's World
Oatmeal cookies. So fresh and healthy. Why don't you try this recipe just right now. Once you have made them you can keep them for a longer time in a jar. Crispy at the very beginning they will become softer the next days. The children adore them.
Tuesday
3 Ingredient Crescent Sausage Bites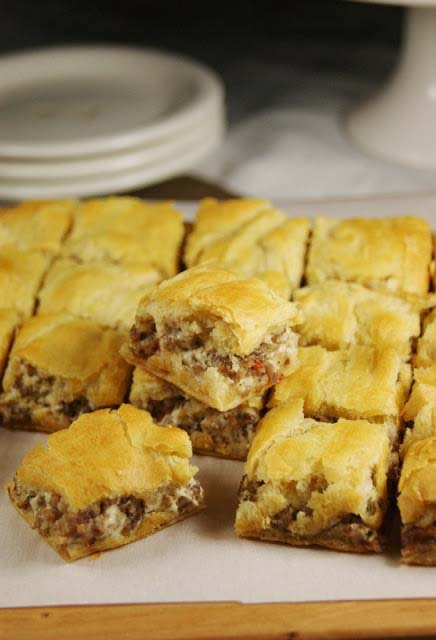 via The Kitchen is My Playground
Sausages in a bite. Especially in winter when it is cold outside with a glass of red wine. It is even cozy. These sausages in a pastry baked in the oven are perfect solution for unexpected guests. They will gather you closer.
Wednesday
Maple Brown Sugar Oatmeal Muffins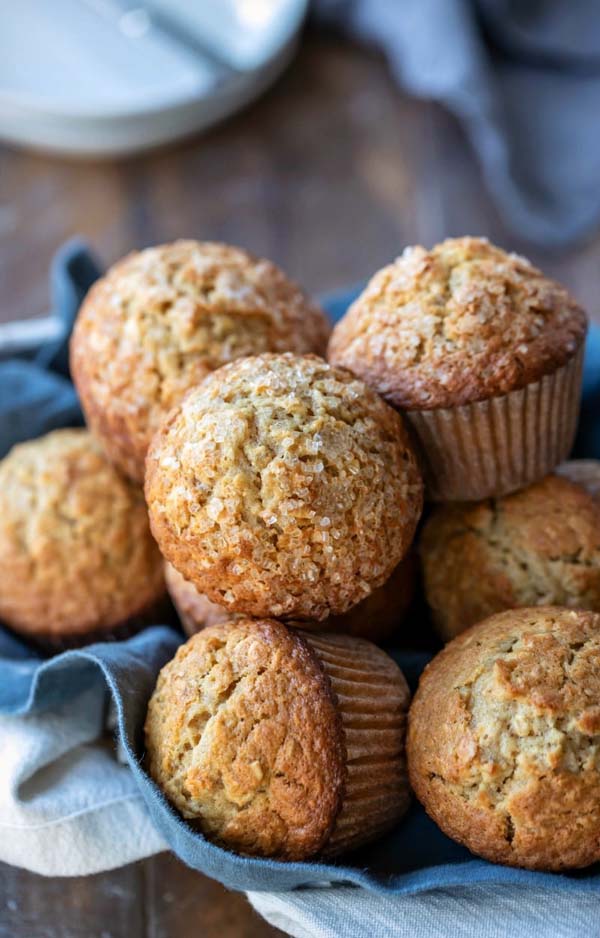 via I Heart Eating
Muffins again. But this time with brown sugar. It is healthier because of the brown sugar and oats. Suitable for breakfast for children. Put some colorful candies on the top. They will become totally irresistible.
Thursday
Peanut Butter Granola Bars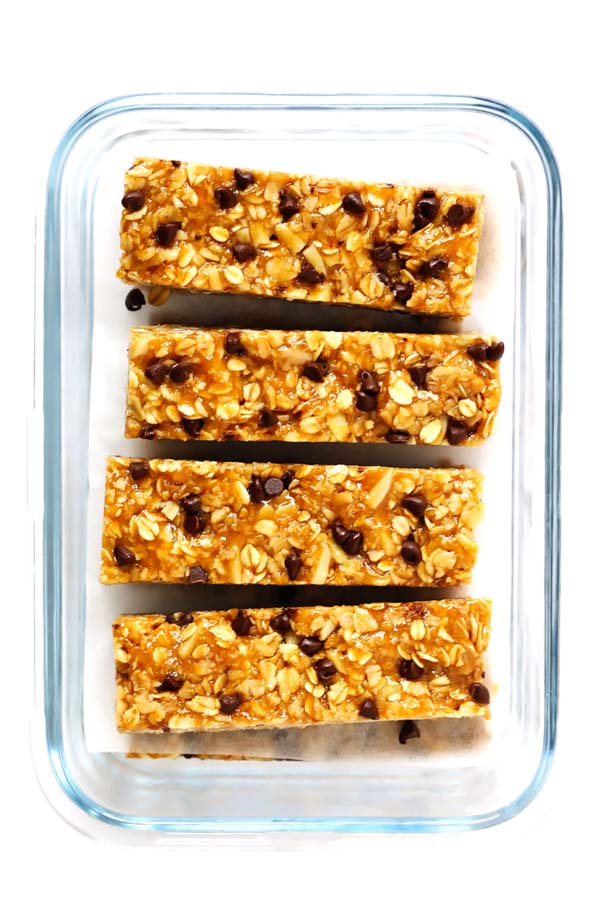 via Gimme Some Oven
Just bake the ingredients and enjoy the taste. They last for a long time, so you can put them in a school bag for a few days. Your child will appreciate that.
Friday
Cheesy Grits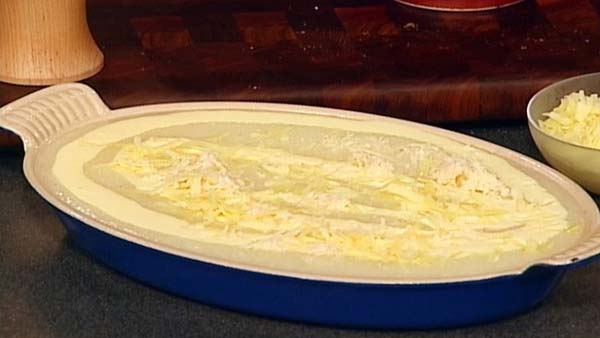 via Food Network
If you like cheese this recipe is for you. It is easy to be made at home. It takes less than 20 min – this is just the time for baking it in the oven.
Lunch
Monday
Bean and Bacon Soup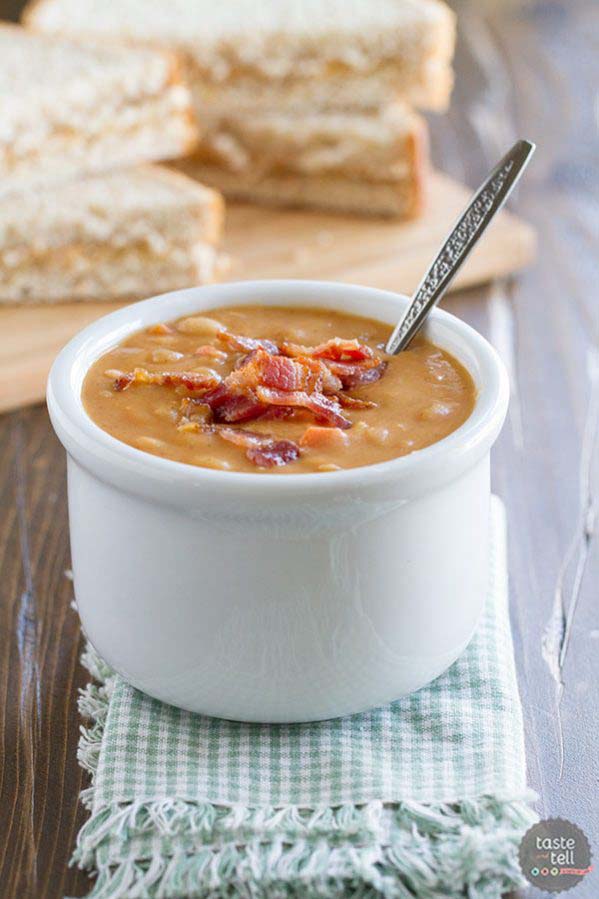 via Taste and Tell
Oh, yes. Bean and bacon in a soup. Absolutely awesome combination. That typical English style you can feel in a bowl. Don't look strange at that idea. Just go for it.
Tuesday
Cheesy Taco Pasta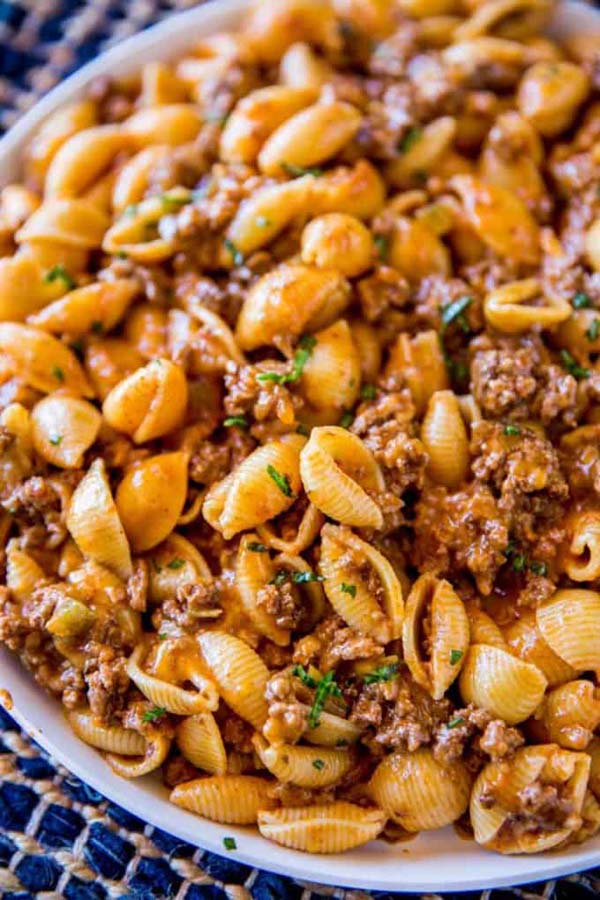 Pasta. Pasta is always a good idea for hungry family. Once being boiled it takes less than 15 minutes to enjoy its taste.
Wednesday
Easy Sloppy Joes
via Eating on a Dime
Meat in tomato sauce. In case you don't restrict yourself from eating white bread this is a good proposal for you.
Thursday
Black Bean & Corn Quesadillas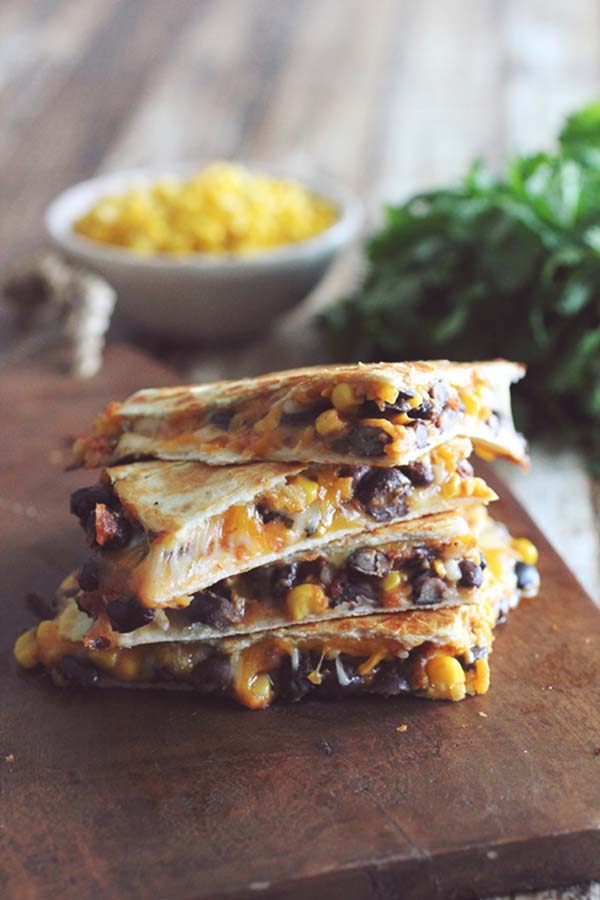 via Dashing Dish
Place one tortilla in the skillet. Add a sprinkle of cheese, followed by a heaping scoop of the black beans and corn mixture and spread into an even layer. Top with another sprinkle of cheese. Add a tortilla on top and cook until the cheese is almost melted and the bottom tortilla is golden.
Friday
5 Ingredient Ramen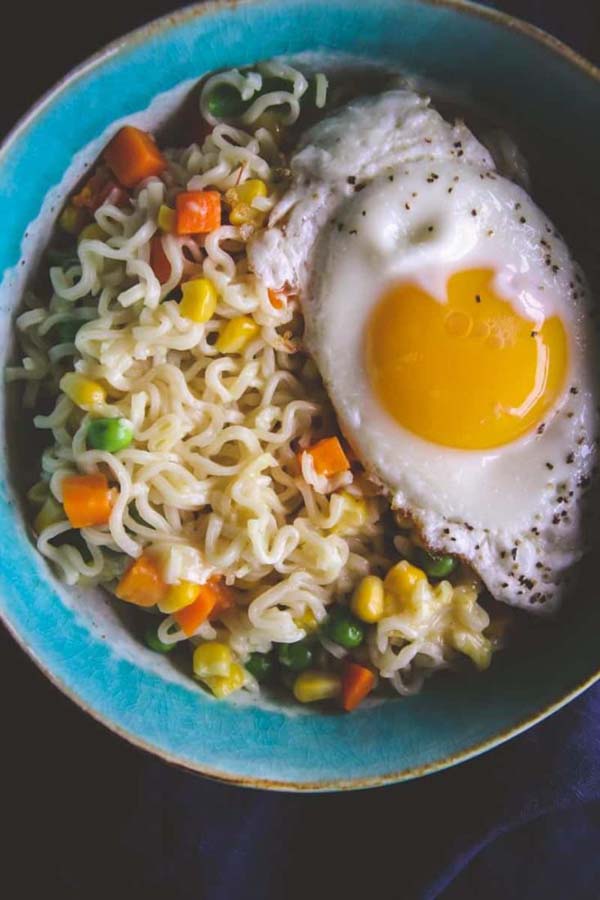 via Sweet Phi
I've got you covered with this 5 ingredient beef and pepper ramen that only takes 20 minutes to make! After your truly amazing response to 5 ingredient ramen with an egg, I'm back with another ramen recipe. This one has beef and peppers which are cooked to perfection
Dinner
Monday
Ground Beef Stroganoff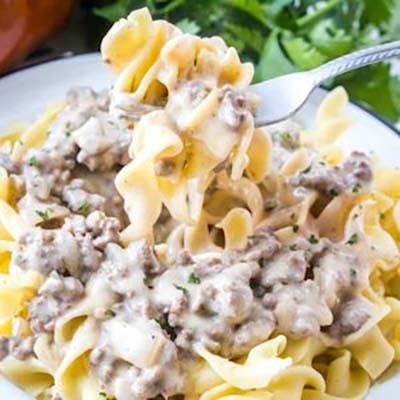 via The Country Cook
How to Make Ground Beef Stroganoff. Brown your ground beef in a dutch oven or deep skillet with olive oil. To the ground beef add chopped onions and minced garlic. Add mushrooms to the skillet and cook for another 5 minutes. Add flour, stir to combine everything together and saute for another minute.
Tuesday
10 Minute Spaghetti with Tomato Sauce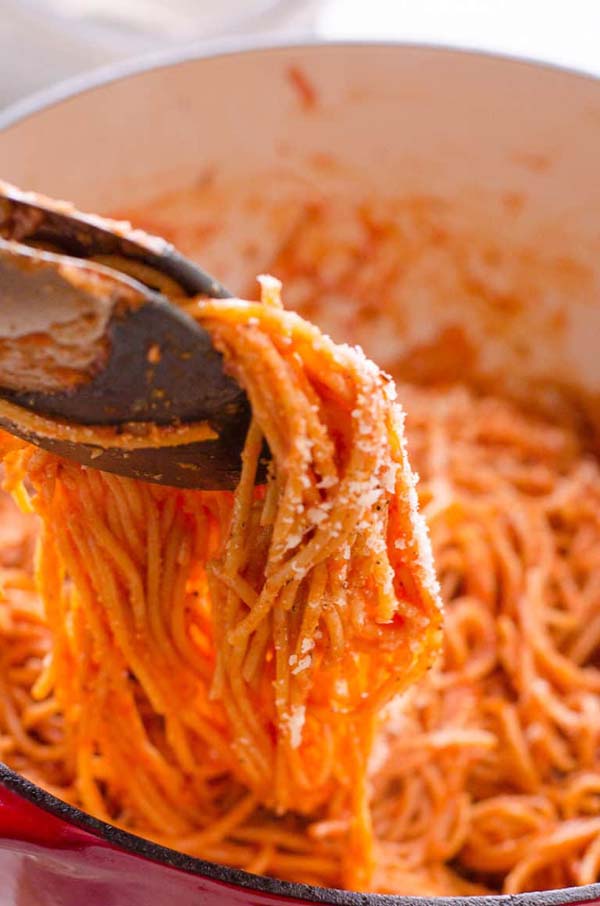 via iFood Real
10 minute spaghetti with tomato sauce. I call it a Million Dollar Spaghetti Recipe because it is easy, quick and tastes like a fancy Italian restaurant meal.
Wednesday
5 Ingredient Chili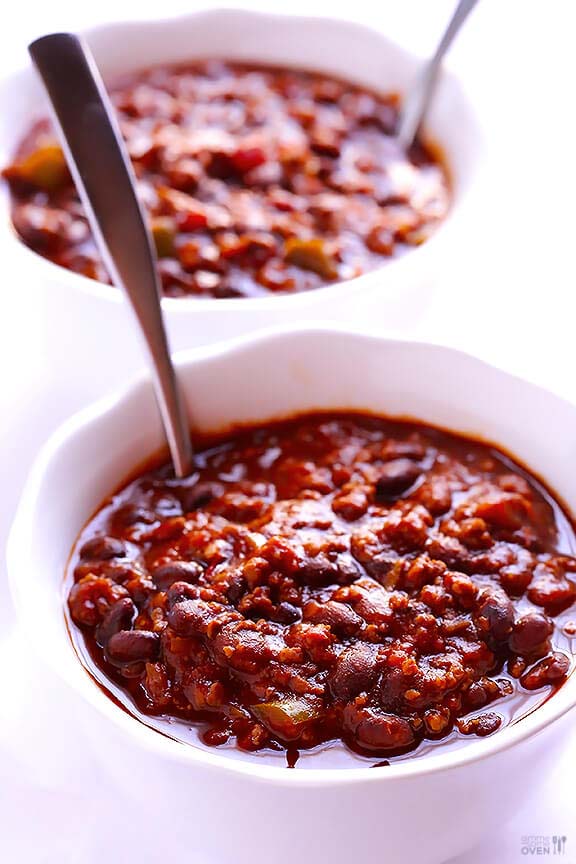 via Gimme Some Oven
Ingredients. 1 lb. ground beef or turkey* 1 small white onion, diced. 3 (15 oz.) cans diced tomatoes with green chiles. 2 (15 oz.) cans beans, drained (black beans, kidney beans, a combo, or whatever you like) 2 Tbsp. chili powder. (optional toppings: shredded cheese, chopped green onions, sour cream, cilantro, etc.)
Thursday
Chicken and Rice Casserol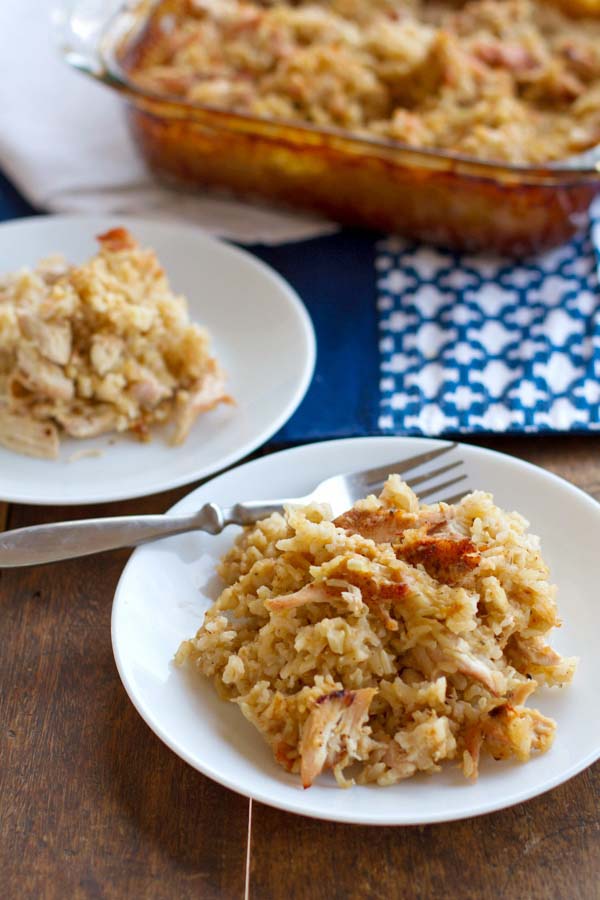 via Pinch of Yum
Instructions. Preheat oven to 325 degrees F. Spray 9×13 pan with cooking spray. Add chicken breasts and season with salt & pepper. Pour uncooked rice over chicken. Sprinkle with onion soup mix. Combine mushrooms soup and 1 1/2 cups of water. Pour over chicken. Cover and bake 1 hour 15 minutes or until rice is tender.
Friday
Crispy Baked Chicken Tacos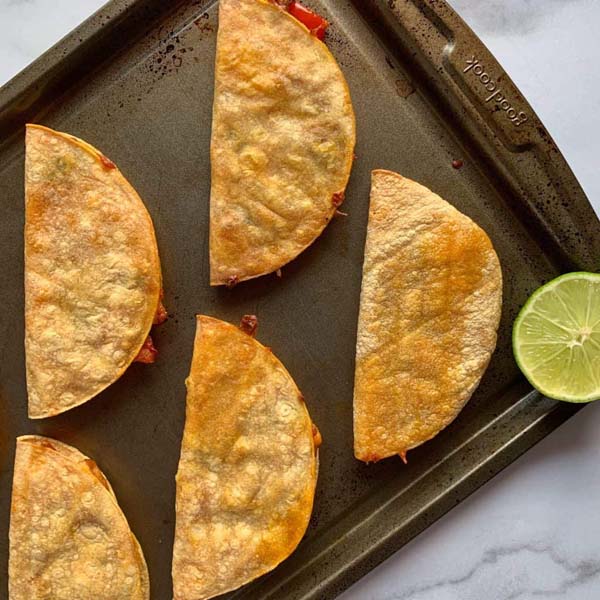 via Mason Fit
Place the taco shells in the prepared pan. Fill each taco shell with the chicken mixture, distributing it evenly between the shells. Top the filled taco shells with the grated cheese. Bake the tacos for 12 to 15 minutes, or until the cheese is melted and the filling is hot.