Face painting is one of the most artistic ways to express your personality and it is the most influential way.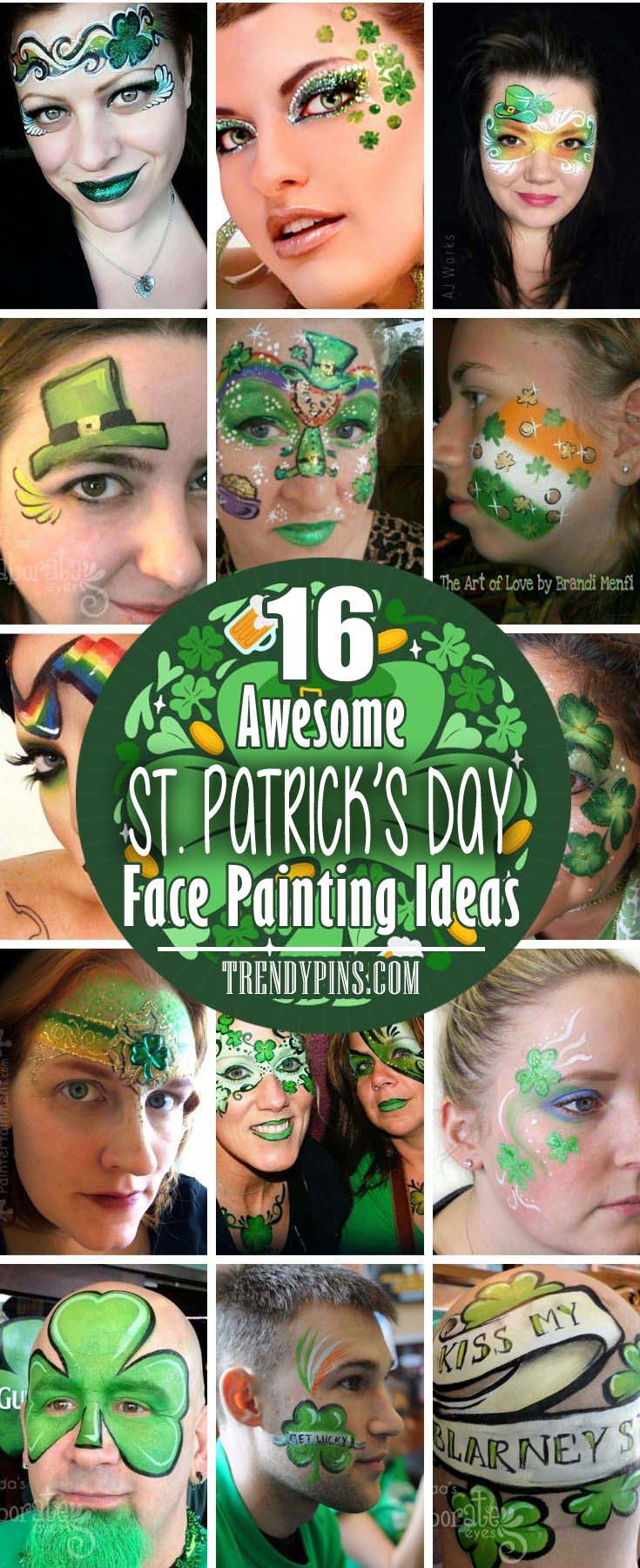 St Patrick's Day is celebrated in many parts of the world, especially by Irish communities and organizations.
Many people wear an item of green clothing on the day.
The most common St Patrick's Day symbol is the shamrock.
The shamrock is the leaf of the clover plant and a symbol of the Holy Trinity.
Many people choose to wear the color green and the flag of the Republic of Ireland is often seen in St Patrick's Day parades around the world.
Irish brands of drinks are popular at St Patrick's Day events.
So, St. Patrick`s day is very important for Irish people.
They adore celebration on that day throughout the years.
One of the unique facts of that day is that the creativity is all over the air.
People are full of desire to express themselves in the most unique way.
Creativity is in all possible forms.
Together with eye makeup and lips makeup, the face painting presents powerfully.
Here are some awesome ideas of unique St. Patrick`s day face painting.
1. Four Leaves Clovers In Green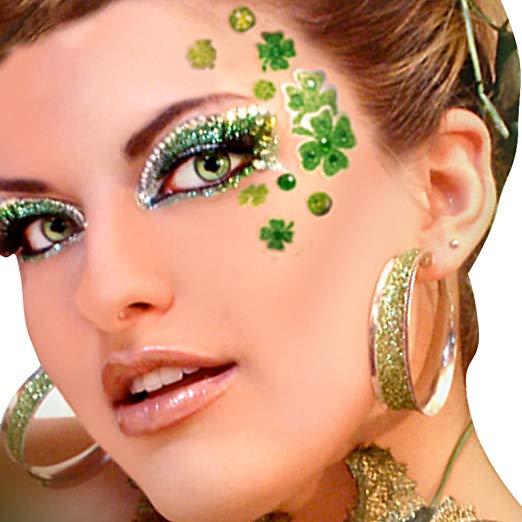 Photo: Credit
It is a good idea for the beginning.
Four leaves clover as a symbol of luck is a promising art face painting that will definitely attract tone of attention.
The design is simple but gives that softness of the look of your face.
Combined with an appropriate eyes makeup the effect is just incredible.
2. River Rainbow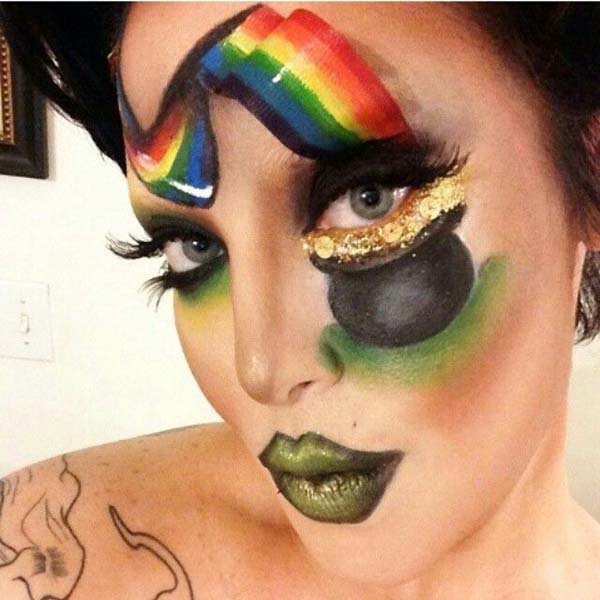 Photo: Credit
Wow, what a picture on your face.
It is not just a painting.
It is a full art compilation.
This hint to use the edge of your eye for the gold in the pod is amazing.
Can you believe that your forehead is the perfect place for painting.
This artistic idea of face painting is not easy to be done at home.
But it deserves spending time and money on it.
3. The Wings Of An Angle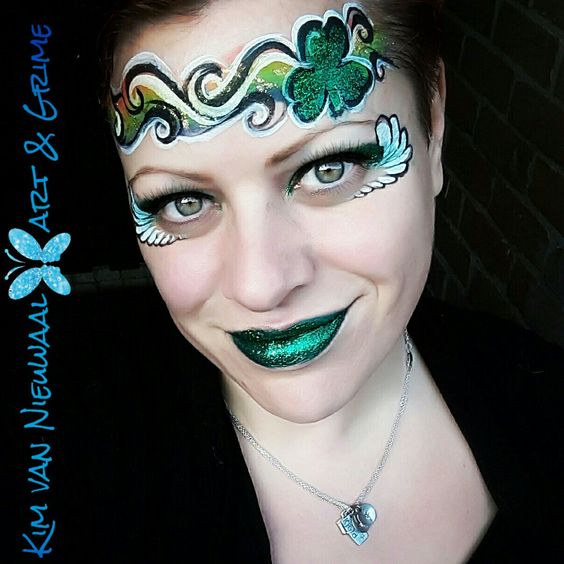 Photo: Credit
Just like St. Patrick, who has saved Ireland from snakes as it is believed, you can become an angle on that day.
It is a cute opt that will guaranty a lot of attention.
It is a brave decision to choose an angle for that holyday.
This is great way to tell the world what are your dreams about.
4. Full Of Colors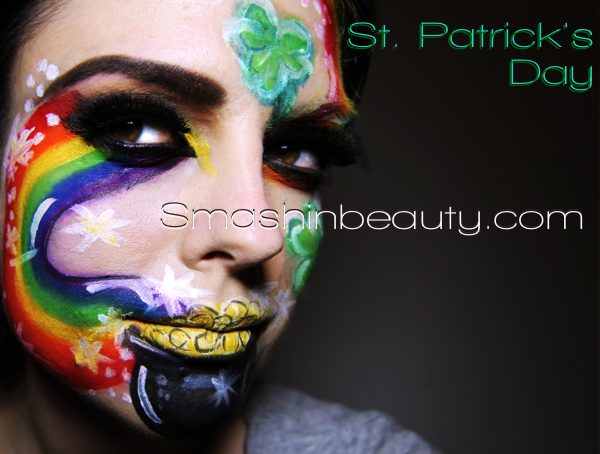 Photo: Credit
If you have always dreamt about playing with all the colors on your face, so dare do this on St. Patrick`s day.
You can use all your creativity to combine as much as possible colors just with one purpose – to be unique.
5. Just a Green Clover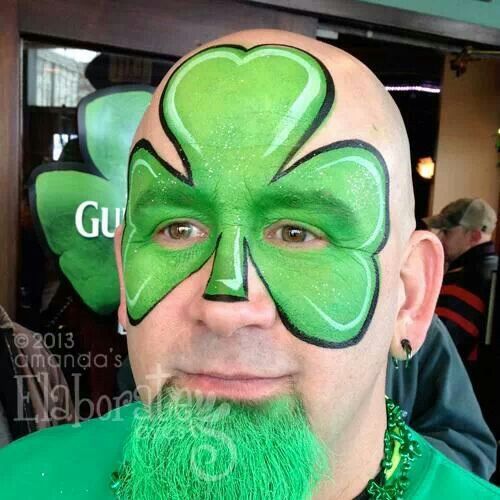 Photo: Credit
Who says that only women can be painted for that holyday?
This idea is appropriate even for men.
Just one clover on the whole face.
And of course in the green color.
That is the best combination – clover as a symbol of luck and the green color – the most typical for that event.
Unique in simplicity.
6. Simplicity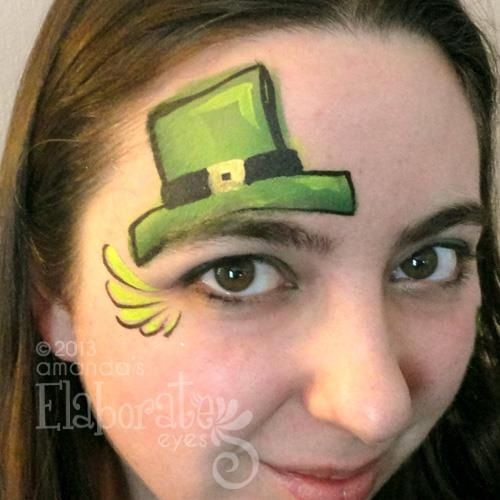 Photo: Credit
If you are not keen on any type of makeup just a simple painting on your left or right part of the forehead is a practical and fun opt.
You can do it even yourself.
Just enjoy celebrating that special day.
7. Lucky Shamrock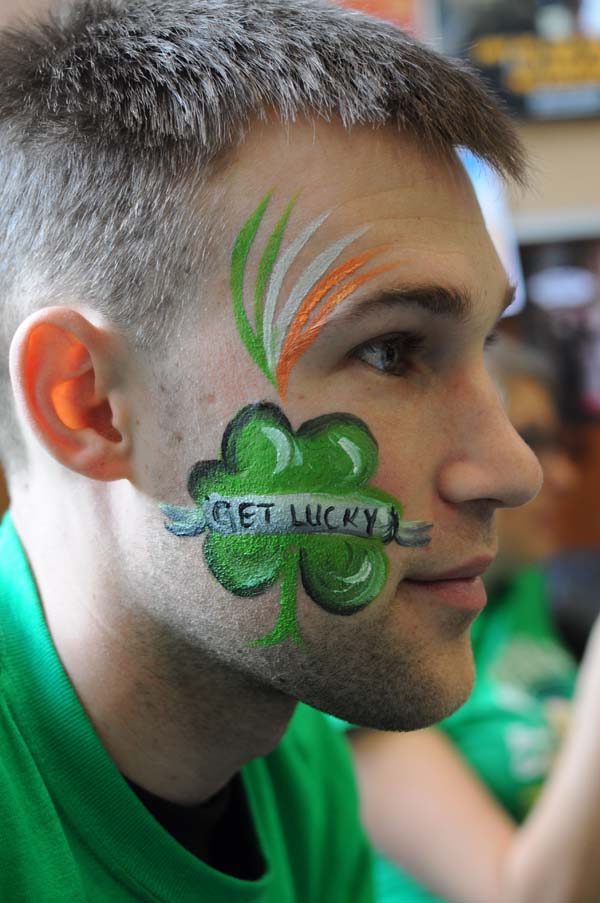 Photo: Credit
This painting is also suitable for men.
If you are a typical Irish man and cherish the symbol of Irish this is the best opt.
This is the easiest and fastest way to get ready for that traditional day of the year.
8. Just Green, Green Shamrocks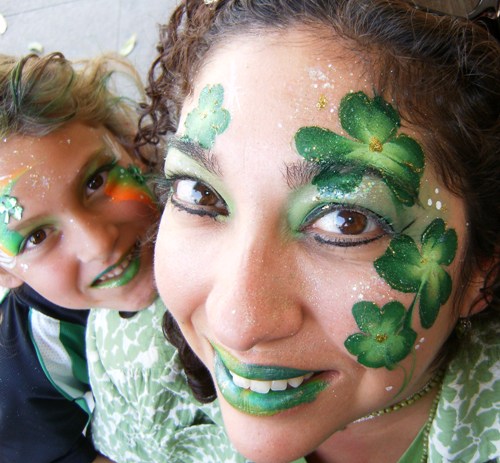 Photo: Credit
Combined with green lipstick and green shades in your eyes makeup you will entirely up to the traditions.
Green and four leaves clovers.
So, do not hesitate to make this option because the result will deserve.
9. Oriental Look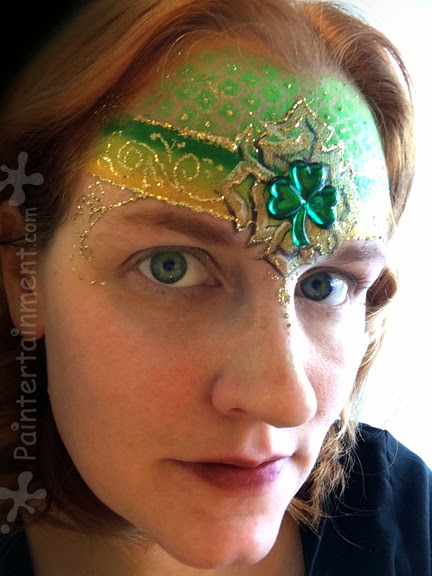 Photo: Credit
So, why not.
A lot of people all over the world celebrate St. Patrick`s day.
It is an Irish tradition but people from different cultures may also celebrate it and enjoy the spirit of that magical day.
This opt is a strange combination between traditional symbols as shamrocks in green and gold base on the one hand, and oriental look on the others.
10. The Irish Flag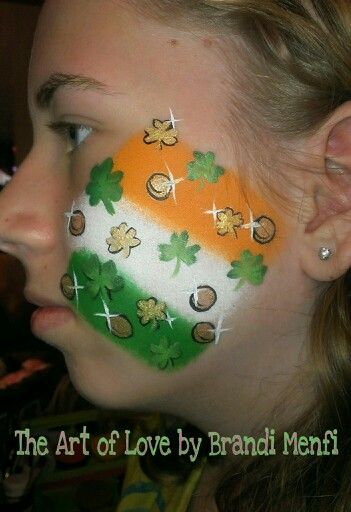 Photo: Credit
Painting the Irish flag on your face express your great love to your nation.
It is great to be a patriot.
That is why we celebrate national holydays.
11. Butterfly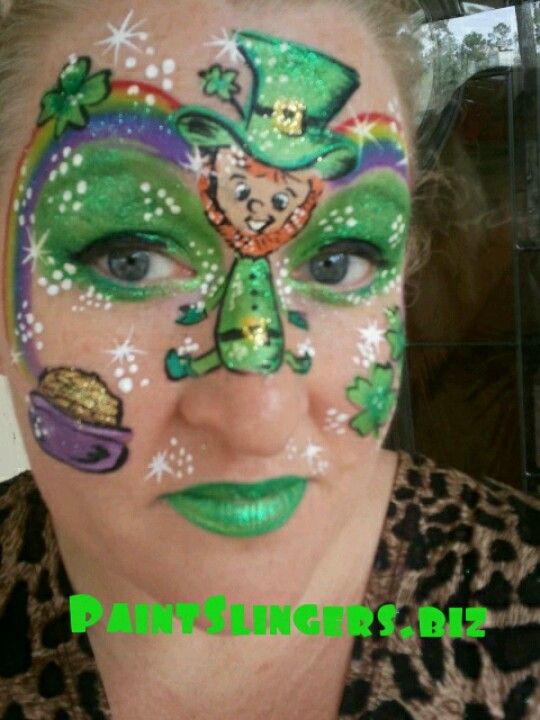 Photo: Credit
It is an extremely expressive look.
It is also fresh and cute.
It express your creative way of thinking.
Using the features of your face to create that incredible butterfly is a perfect look for that special event.
There is no doubt that the final effect will be tones of attention.
Congratulations for your brave choice.
13. Silver and Green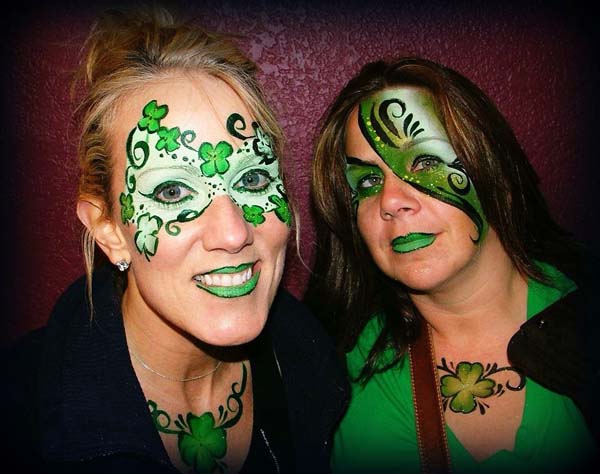 Photo: Credit
This combination of colors is appropriate for both – day and night face painting.
Silver Is a great base for all the drawings in green.
It brings that additional brightness of the image and makes all the details in the painting to become more visible.
13. An Artistic Eye Mask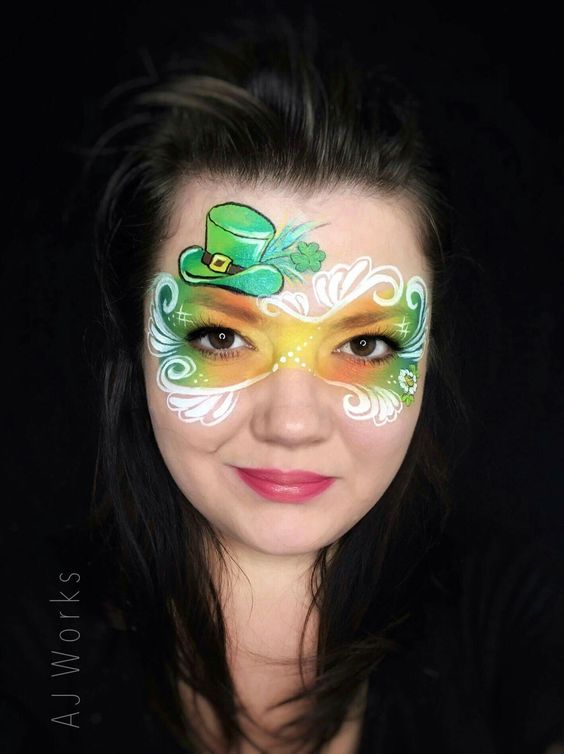 Photo: Credit
This mask is so amazing that it makes no need of any makeup.
The whole accent is on the mask.
If you match the wright colors the final effect will be awesome.
14. A Funny Sign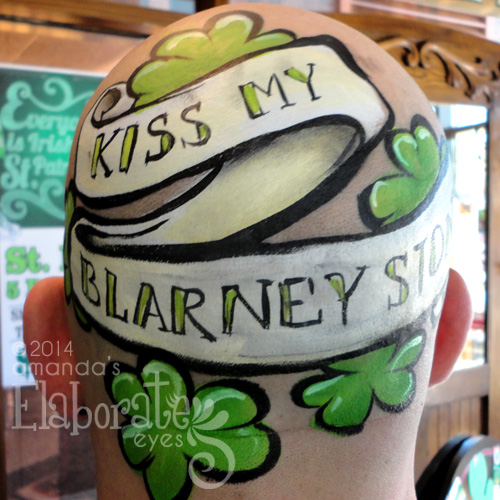 Photo: Credit
Yes, there is one very important condition for this type of painting for St. Patrick`s day.
You need to be bold.
You can write whatever you want, just to emphasize the holy spirit.
15. The Green Euphoria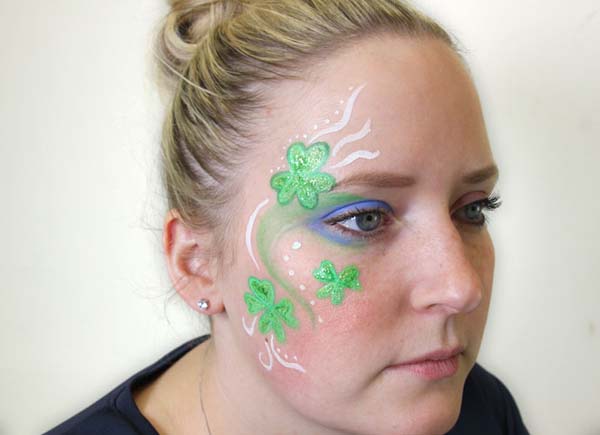 Photo: Credit
The most powerful symbol of St. Patrick`s day is the clover.
If you want to attract tones of luck just paint a few clovers on your face.
16. St. Patrick`s Inspiration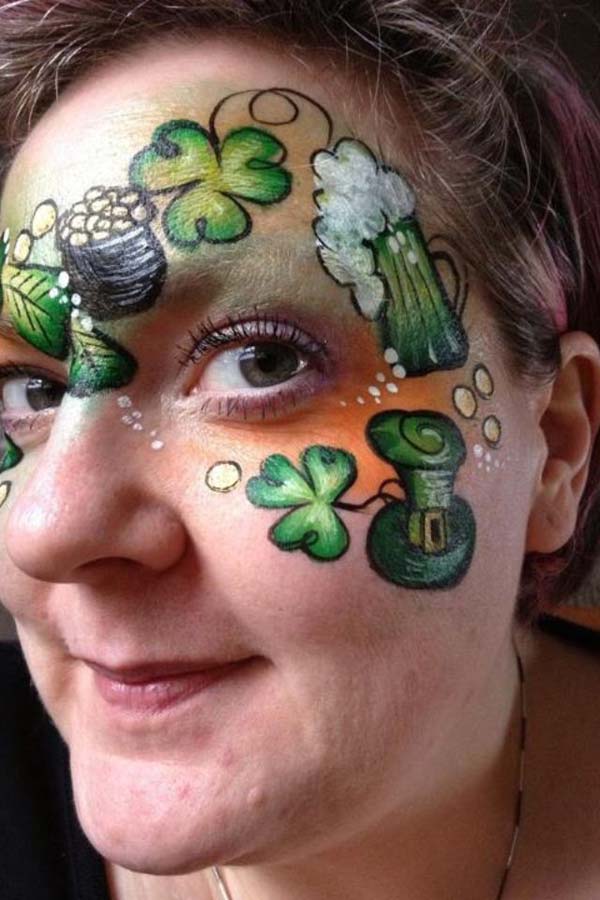 Photo: Credit
If you are good at painting do not hesitate to implement all your skills and imagination on a painting on your face.
Combining different colors in creative ideas is a guarantee of an unique look for that special event.