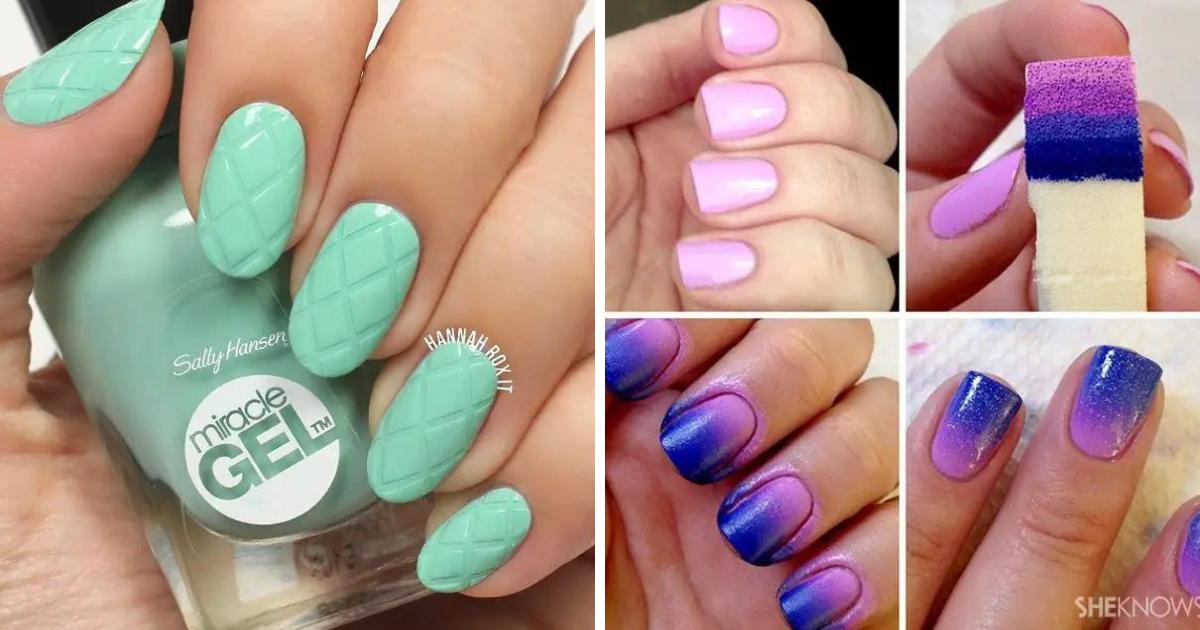 Apart from makeup and clothes, nails are quite possibly one of the easiest and quickest ways you can be able to express yourself daily.
This could be achieved with the artwork you love the most or the patterns and colors you choose. You can use fruity nail art to reveal your playful side or go for a girl power slogan artwork that depicts your strength and confidence.
The classic French tips manicure will be best if you prefer a more minimalistic approach and can be worn everywhere.
Whichever nail art is your preference, changing up your nails is an excellent way to brighten up your day-to-day life.
That's why we've taken it upon ourselves to share 23 unique nail art designs you can try as a beginner. Keep reading to find inspiration for your next look!
1. Nail Designs Leopard Print Tutorial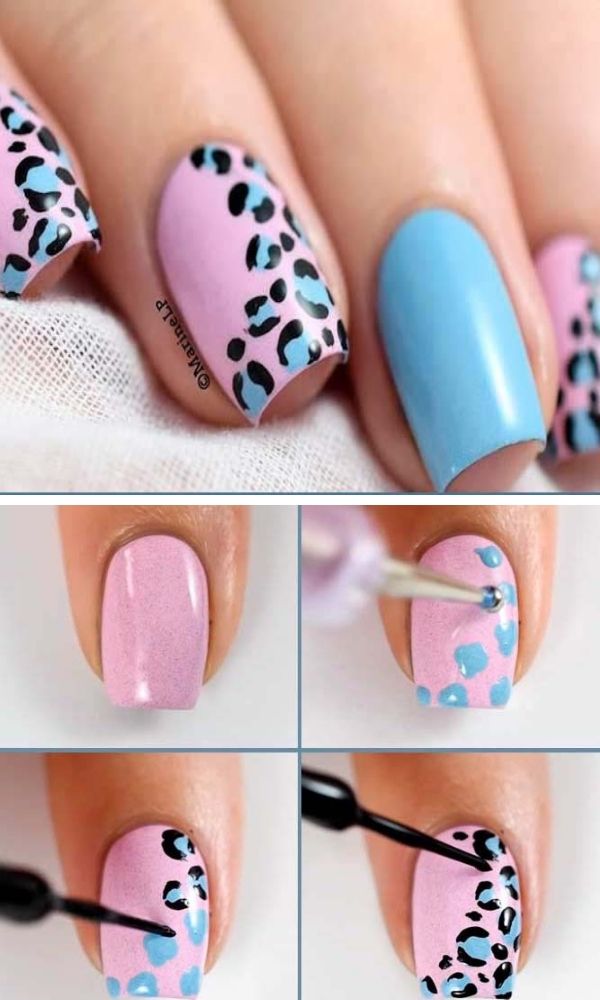 Photo: Credit
Unleash your wild side with a wearable and versatile leopard print nail art! The combination of black, blue, and pink is simple but distinct and will look excellent for your next manicure.
You can paint your entire nail with this print or add it to the tips only for a contemporary version of the French tip manicure.
2. Clouds Nail Art

Photo: Credit
What's not to like about this nail art?! It's bright, easy, colorful, and very endearing.
You can paint your ring fingernail the nail cloud art and use an aqua-green-blue coat of nail polish on the other fingernails for a stunning contrast. This is the perfect design to rock for summer and spring.
3. Geometric Nail Art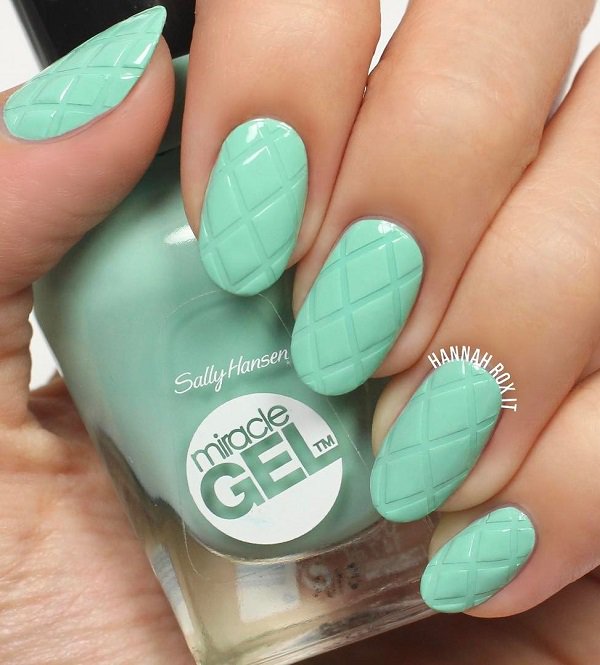 Photo: Credit
If you want a fantastic manicure with minimal effort, you should go for a geometric design. This muted blue-green monochromatic color scheme is timeless and will easily mix and match your outfits.
Consider irregular quadrilaterals when deciding the shape. They are versatile and will look perfect on short and long nails.
4. Pineapple Nail Design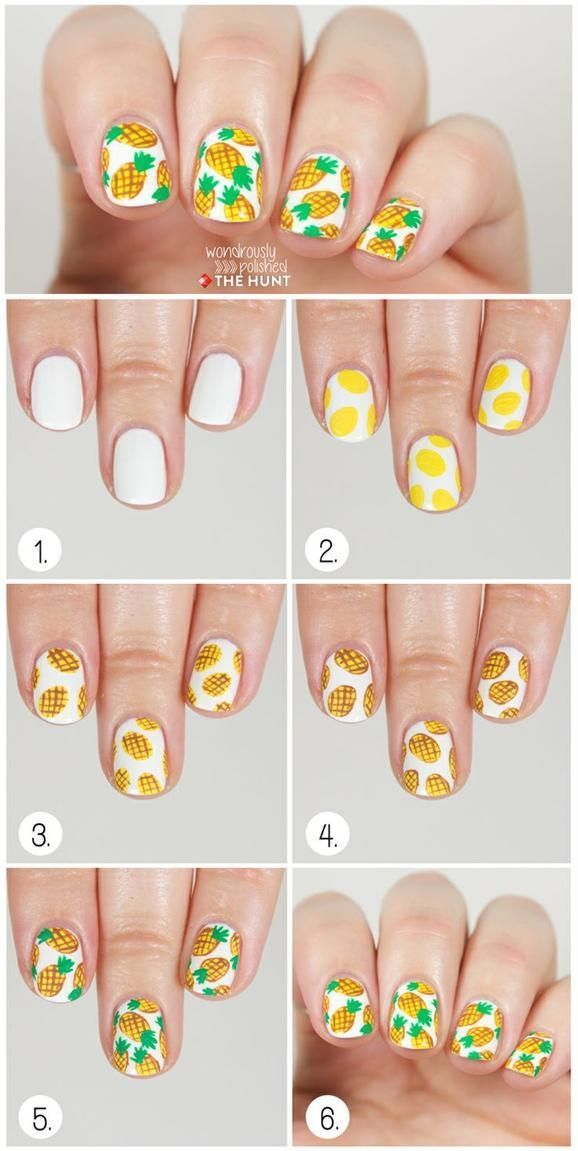 Photo: Credit
Go for this pineapple nail art if you are in the mood for fun and fruity nails! Pineapples are popular in nail art designs since they are bright and work excellently with most nail shapes.
5. Pink and Blue Nail Art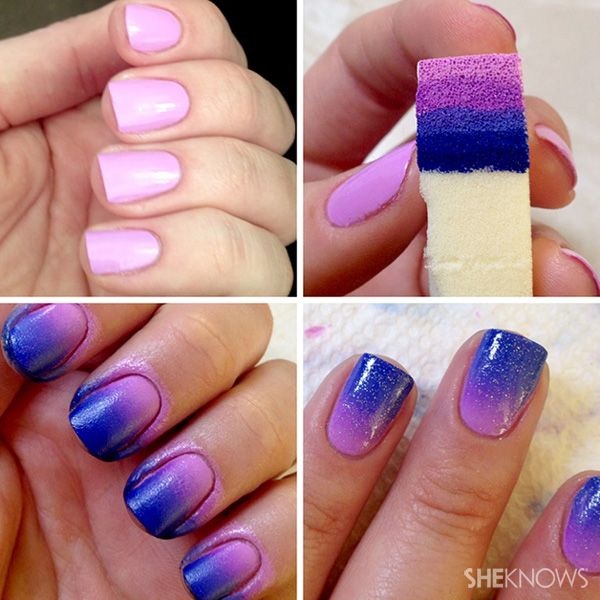 Photo: Credit
A pink and blue nail art design with glitter is an exquisite choice that adds a touch of style to your manicure.
These two contrasting colors make for a feminine and pretty manicure.
6. Nail Art Marble Effect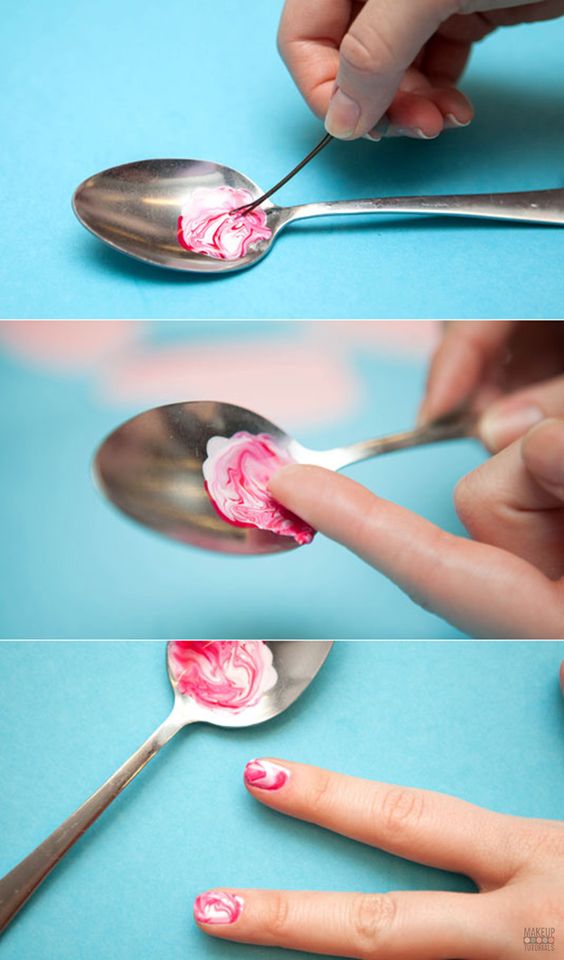 Photo: Credit
What looks dreamier than these white and pink marble nails? These are an excellent choice to add color to your appearance and invite attention to your hands.
Each fingernail has a slightly different pattern, giving your look a distinctive feel.
7. 3-D Nail Art

Photo: Credit
A guaranteed way of drawing attention to your hands is using 3D nail art. The white stripes on these pink nails and the silvery studs give this design a luxurious feel.
The only disadvantage of this nail art is that it can snag easily and is incredibly restrictive; you can't participate in contact sports with these nails! However, they'll be the talk of the day on a special occasion.
8. Geometric Gradient Nail Art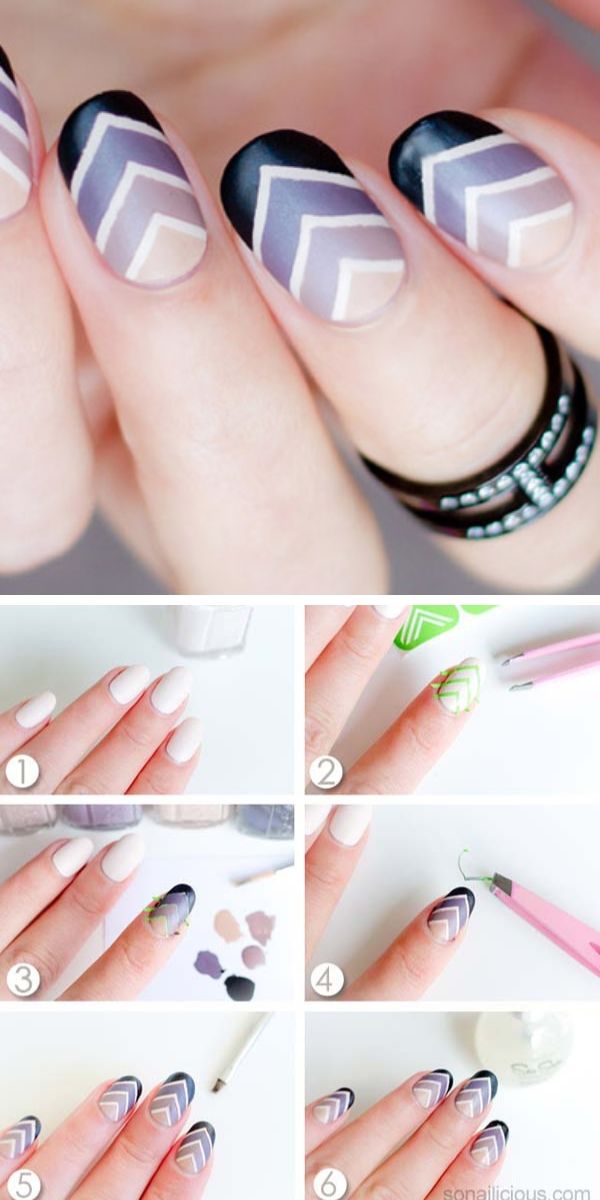 Photo: Credit
Geometric nails are expressive and fun. You can use the same pattern on all fingernails or a different look for each fingernail, depending on the fashion statement you wish to make.
These nails combine black, white, purple, and pink to create a fabulous chevron pattern and make the design pop.
9. Sky Nail Art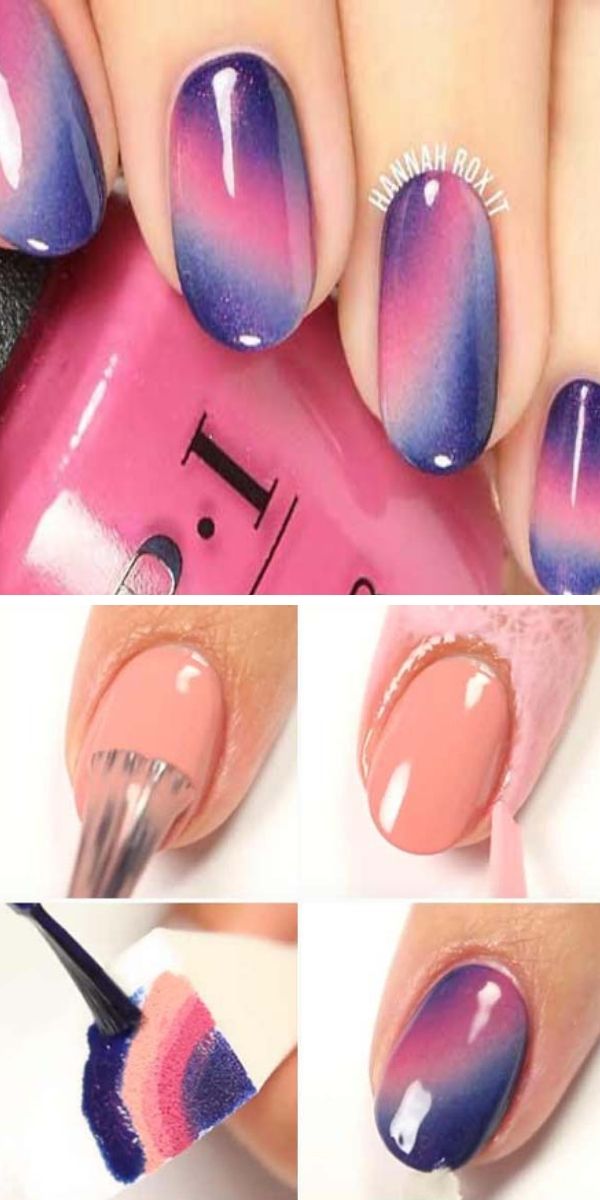 Photo: Credit
This sky nail art design is the best if you want expressive and pretty nails. The design is easy to create and an excellent way to experiment with color.
This design combines blue, pink, and purple to create something bold and striking.
10. Precious Gems Nail Art

Photo: Credit
This geometric design is carefully placed to form an abstract and remarkable artwork. 
The emerald designs have been made in different hues, from contrasting and bold colors to muted tones that complement one another.
11. Baby Pink Nails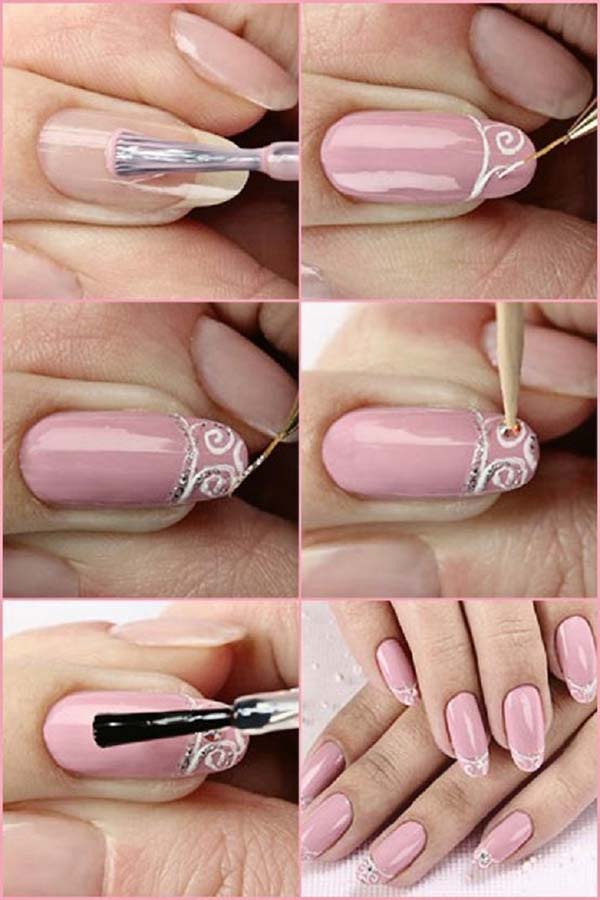 Photo: Credit
A French manicure is an incredibly chic and timeless look that will never go out of style. 
This modern French manicure features a baby pink base coat and thin white lines with silvery accents at the top for a glitzy and glamorous look.
12. Feather Nails

Photo: Credit
You can try this simple but elegant nail art design at home. This design features nails that are pastel green and one accent nail.
The accent nail has a dazzling black and pink feathery art with a glossy effect, giving the design a glam and classy look.
13. French Stones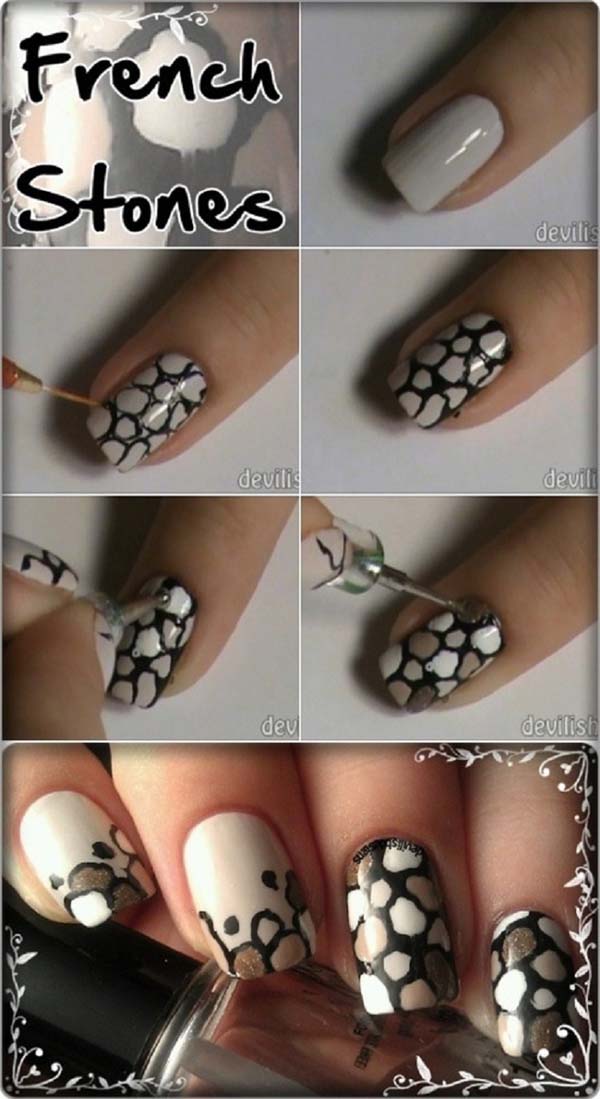 Photo: Credit
This French stones nail art design is easy to recreate; all you need is a bit of patience and will. They look fantastic, right?
The brown, white, and black combo looks trendy and bold and will work for any occasion.
14. New French Manicure Tutorial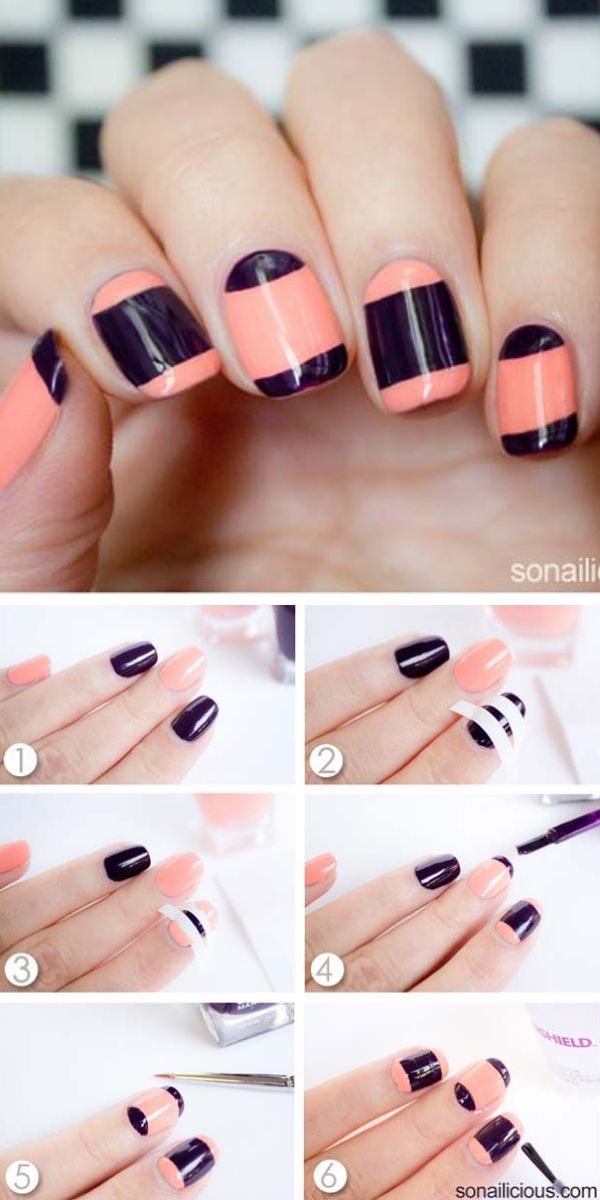 Photo: Credit
The traditional French manicure is a timeless nail art. However, it's not very bold or bright. Adding stripes using different colors is one way to have fun with this classic design and make it feel modern.
This design's pink and purple stripes give it a more blended finish and an exciting look.
15. Beautiful white manicure with pink and purple flowers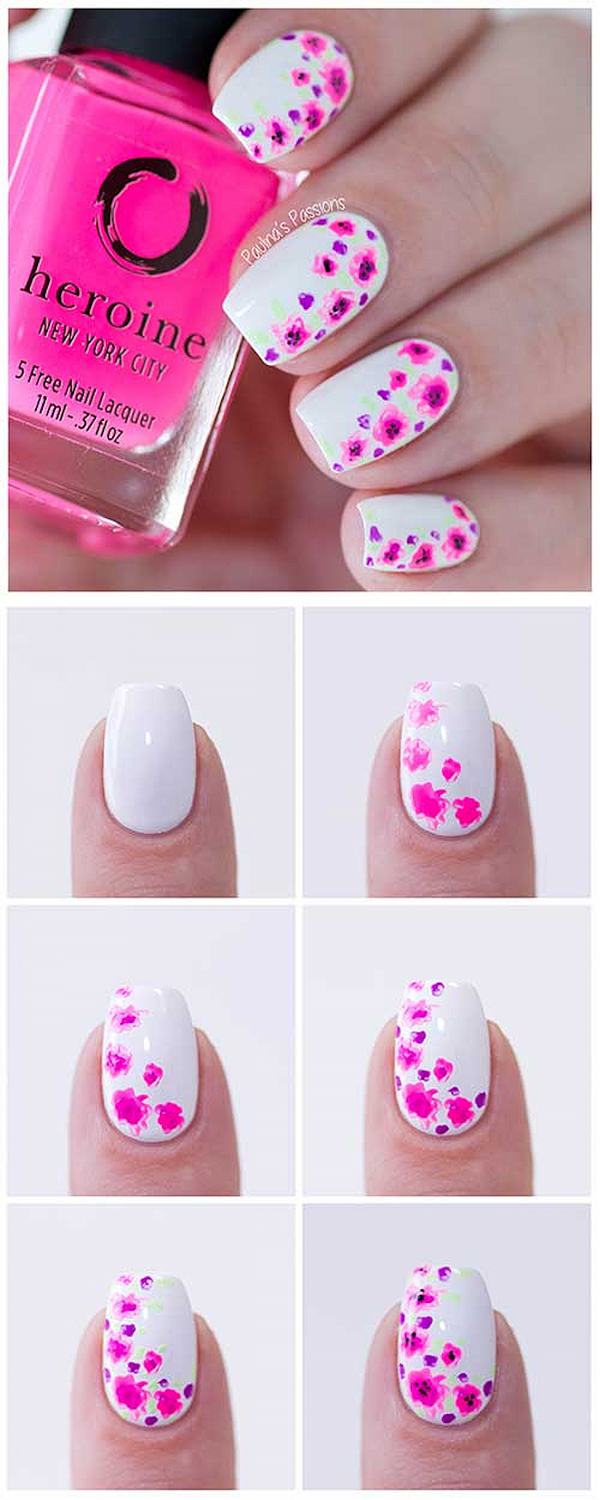 Photo: Credit
Aren't these pretty nails dreamy? The purple and pink flowers on the white base coat are a delightful combination that turns your fingernails into a spring paradise.
You can wear this simple, classy design on a sunny summer or liven up those dull days.
16. Taxi style manicure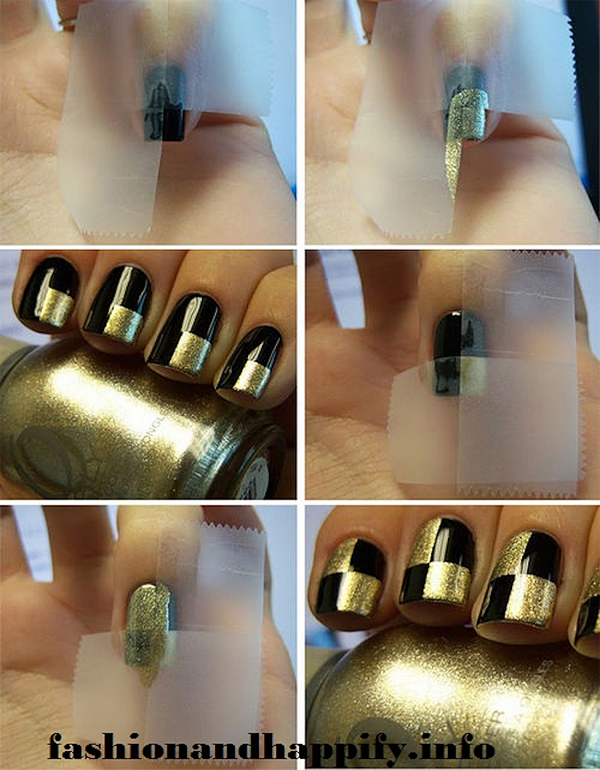 Photo: Credit
Gold nail art is an excellent way to add a touch of glamor and luxury to your manicure. It would be best to pair your gold nail art with neutral colors, such as black or white, to allow the gold to be the focal point.
The gold glitter on these nails complements the black backdrop to create a chic finish.
17. Pink, Orange And Yellow Nail Art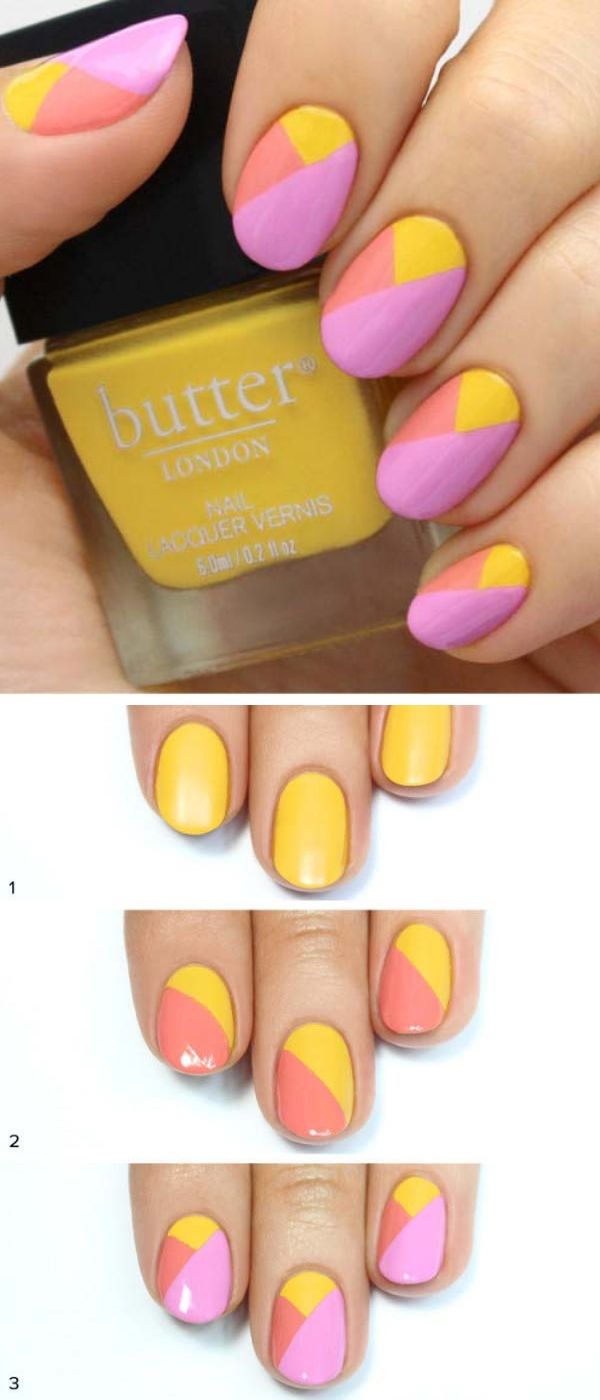 Photo: Credit
This young, vibrant, trendy nail art design is an eye treat! This design is an excellent example of achieving nail patterns without necessarily going to overpriced nail salons.
The pink, orange, and yellow combination gives the design a casual look that'll brighten up your outfit any day!
18. Dry Marble Fall Nail Art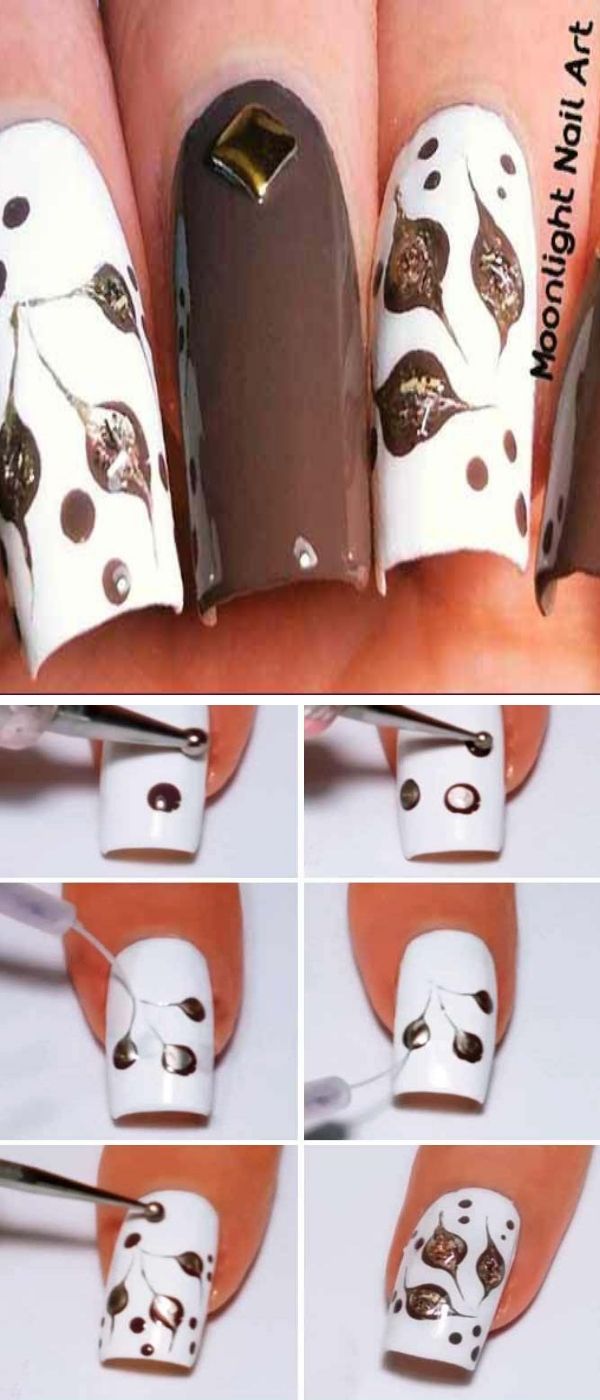 Photo: Credit
Brown nail art can be a modish and sophisticated choice that adds elegance and warmth to your overall look.
The silver and brown leaf art looks terrific against the white base coat, and the accent nail has a chocolate brown and gold jewel that completes the look.
19. Strawberry Fields Art Nails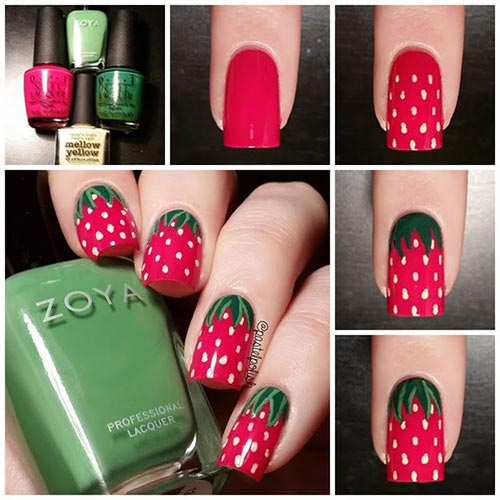 Photo: Credit
This strawberry-inspired nail art design is perfect if you are a fan of red but tired of the classic red manicure. 
This design turns the entire nail into a strawberry, and the rounded shape of the nails helps to accurately resemble the shape.
20. Dark Blue Nail Art Design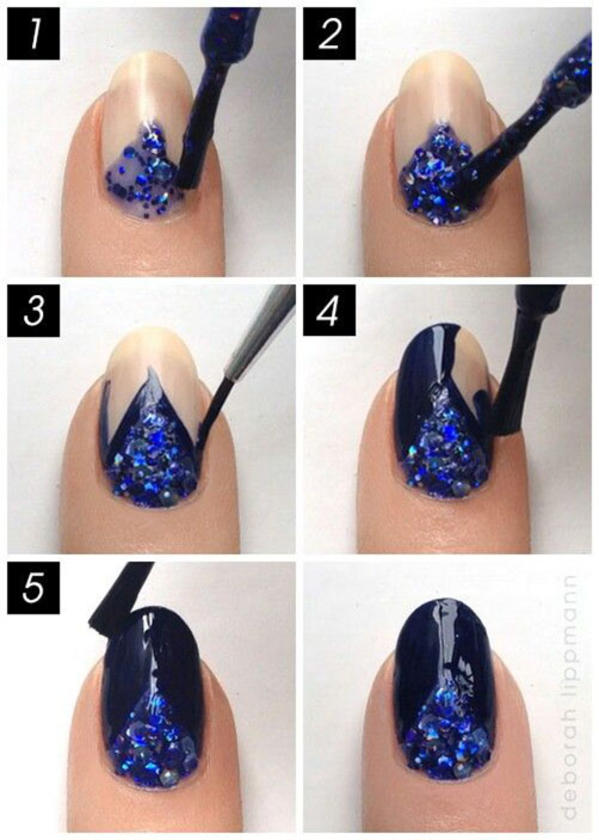 Photo: Credit
When it comes to mysterious, dark, and cool nail art designs, blue manicures never disappoint and look excellent with shiny accents.
This design's dark blue nail polish combines glitter and rhinestones to create an eye-catching look.
21. English Flag Nail Art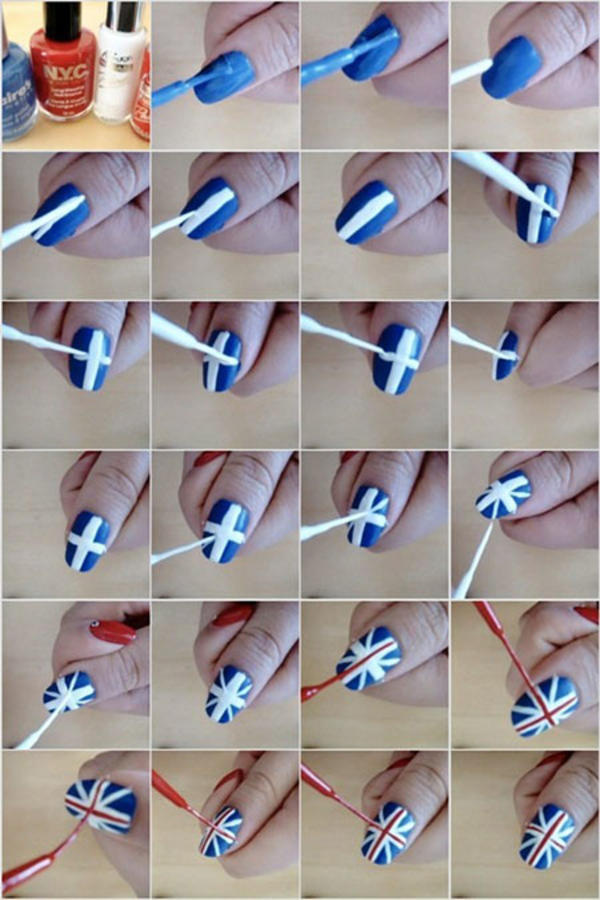 Photo: Credit
Showcase your patriotism with a flag nail art. This nail art design features a cool United Kingdom flag that creates an effortlessly pretty look.
22. Musical Notes Nail Art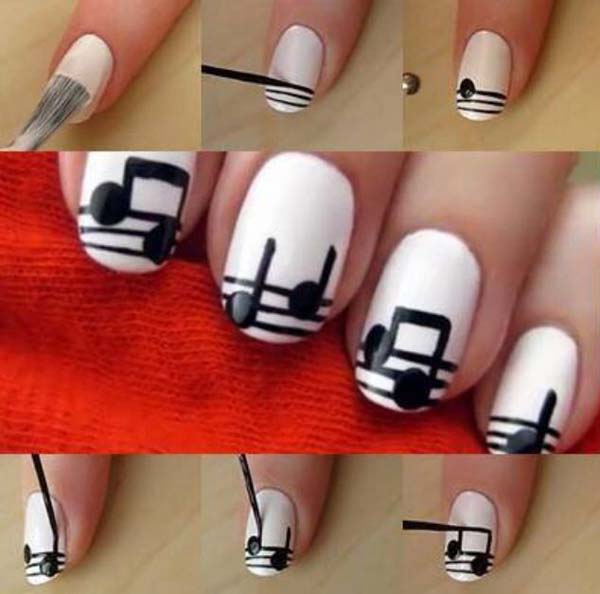 Photo: Credit
This nail art design is an excellent choice if you are a hard-core music lover.
The classic and creative design features musical notes on each fingernail that instantly brighten your hand.
23. Ombre Hearts on Nails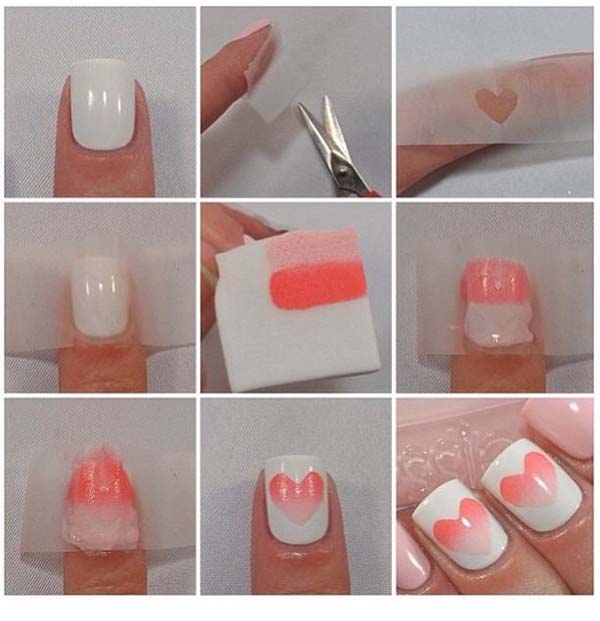 Photo: Credit
Ombre nails are an excellent option if you don't want to wear only one color. This nail art design features two accent nails with pink ombre hearts that are chic and modern.
Ombre nails combine light and dark colors perfectly and work well with any nail shape, length, and style.