At the very moment people began eating healthier foods and going vegan, dates got more popular as a natural sweetener which is full of nutrition.
Dates are such a fruit that comes from the Middle East, so much that the date palm is regarded as the "Tree of Life". Historians believe that dates are one of the ancient fruits that their cultivation traces back to around 8,000 years ago.
Date fruits are the sweet in flavor of the dessert. They are one of the oldest cultivated foods in human civilization.
This delicious fruit comes from one of the most vicious plants in nature. It's famous for being a vital fruit source for people living across the Middle East and North Africa. And the trees bearing it have been growing alongside some of the world's most ancient rivers for thousands of years. Although the date palm, with its lush, sweet fruit, is even more than that.
In this article, we are going to describe this delicious fruit as clear as possible.
How to Use Dates?
Dates have a sweet caramelly flavor that goes well with almost everything, but if you need some starter inspiration, here are some serving tips:
You can eat the dry and soft dates out of hand without any add-ons.
You can stuff the pitted dates with fillings such as Cheese, Nuts, chia seed, chocolate, diced fruits, parmesan, and fresh basil. Yum!
You can also chop and add them to your desserts and salads (like fruit salad) to create a range of sweet and savory flavors.
Add them to your bakery and cookies as a sugar alternative.
Blend them in your smoothies before the gym to hit the scale.
Make a syrup from them and use it as a food dressing and beverage sweetener.In this article we are going to see how many different types of dates are there.
1. Dabbas Dates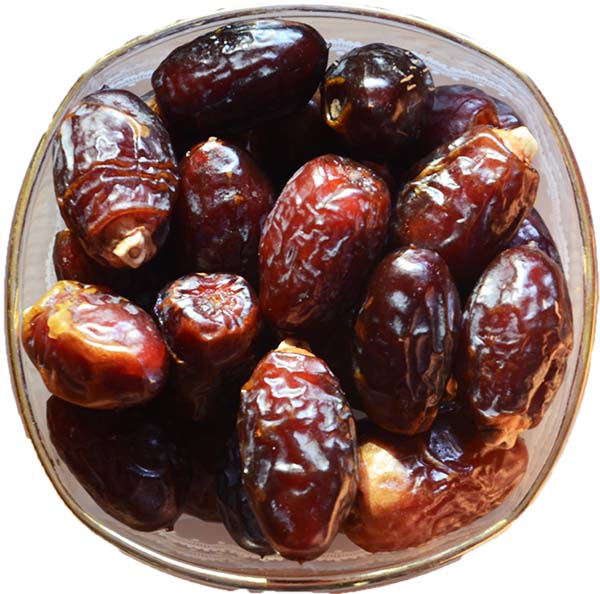 via Bahbosh
Their origin is United Arab Emirates
Dabbas dates are one of the smallest types of dates in the world. Despite the size, it packs great energy boosters with natural occurring sugars such as fructose, glucose and sucrose.
Their color is golden brown. The taste is sweet. They have a lovely soft, smooth texture and delicious taste.
2. Dayri Dates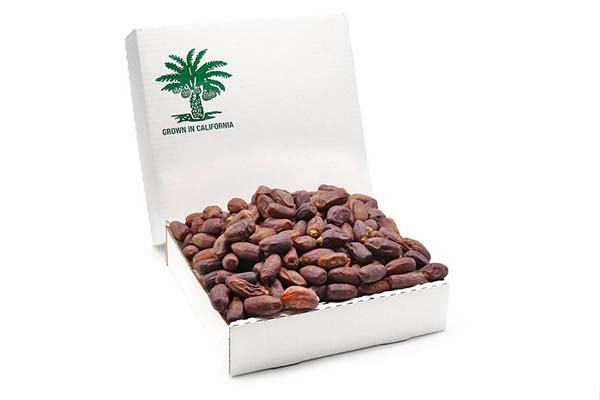 via Oasis Date
These dates are such type of dates that are both heavy and have a sweet flavor. They are medium to large in size. Their shape is oblong. They have red skin and soft flesh and when ripened the skin will be amber in color. It will turn a golden brown when cured. They are very similar to Barhi dates. They also ripen late in the season.
3. Deglet Noor Dates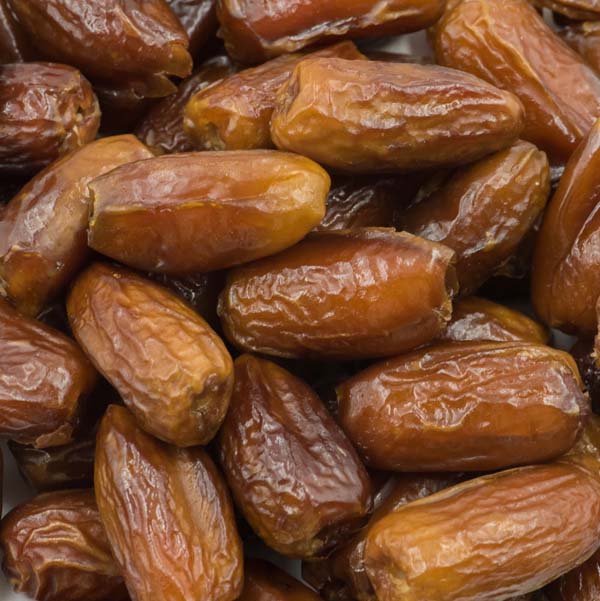 via Phoenix Agrotech
The Deglet Noor date means "date of the night." This type of date is thought to be a semi-dry date. It is very sweet and with delicate flavor. It has a "true" date flavor. It size is medium to large in size. It has skin that ripens form an amber hue to a very deep brown and is perfect for cooking. It ripens late in the season. This particular variety of date makes up about 95 percent of US production. Deglet Noor dates are thought to be the "queen of all dates" and are very soft. They taste like sweet hone and are quite affordable. They are an all-purpose date. They can be used in many different recipes or eaten on their own. You can prepare tasty desserts. They are also easy to cut into uniform pieces for better presentation because they have that dry texture. They are perfect for making cakes, pieces of bread, and all types of cookies.
4. Dried Dates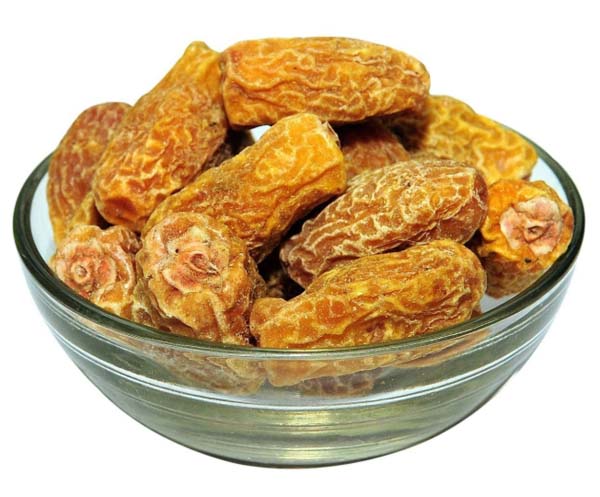 via Mangalore Spice
These types of dates are ripened in the sun right on the tree. They have a long shelf life of 12 months or even more. It is possible to freeze them to save their delicious flavor for up to five years. These types of dates are rich in fiber and protein.  They contain about 5 grams of fiber and about 3 grams of protein per serving, and they have a nice strong flavor.  They are also rich in vitamins. They contain vitamin K and C, as well as iron, calcium, and B vitamins. They are a great source of energy too.
5. Fard Dates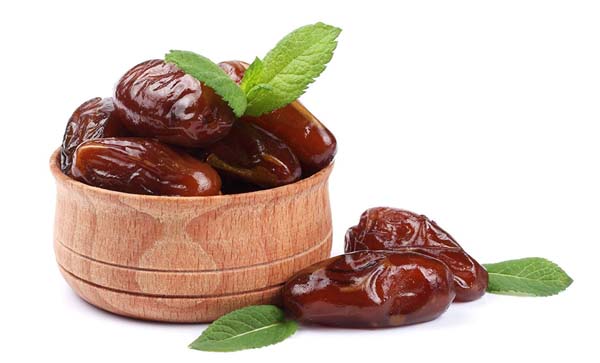 via Amazon
Fard or Fardh is a type of date that Oman is famous for. It has a small seed, a tender skin, a sweet flavor and its skin is dark brown. They contain several nutrients and may help regulate cholesterol levels, improve bone health, boost cognitive performance, and support a healthy pregnancy.
6. Ftimi Dates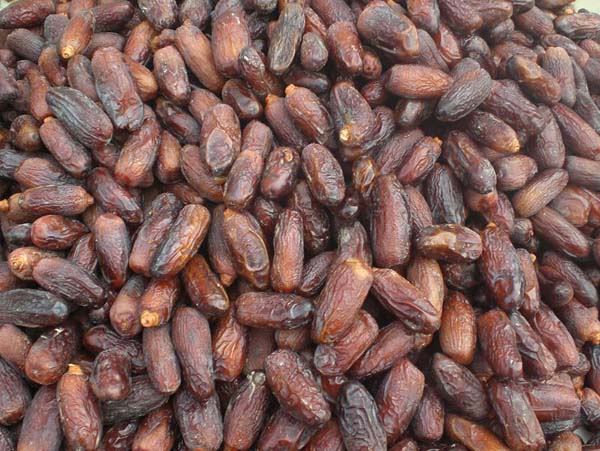 via Wikipedia
Grown in inland oases of Tunisia, these dates are a full-flavoured and mahogany coloured.
7. Halawy Dates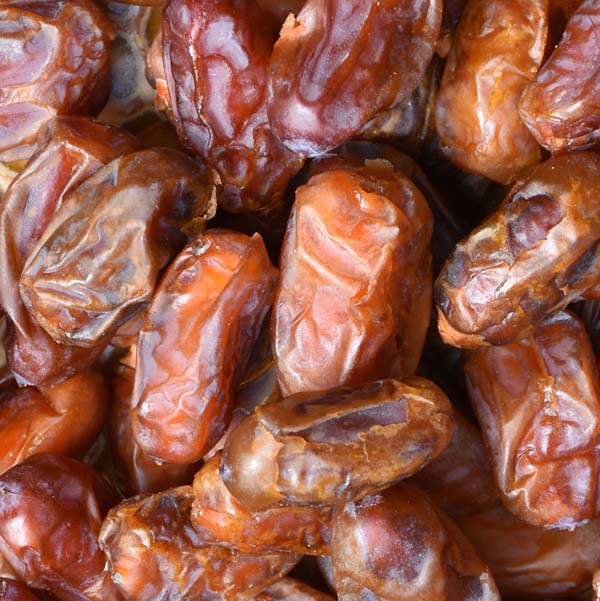 via Living Tree Community Foods
Halawy dates are soft dates. They taste like honey or caramel. The name is also sometimes spelled, Halawi. Their name  means "sweet." Their size is  small to medium. They ripen about midway through the season. Their skin is  golden-brown, and the flesh is tender. They are more wrinkled than other dates and has a very rich caramel flavor. They will melt in your mouth and are perfect for the caramel fan. They are added in many savory dishes and pair really well with cheese so Tahy would be a great addition to any wine and cheese tasting get-together.
8. Hayani Dates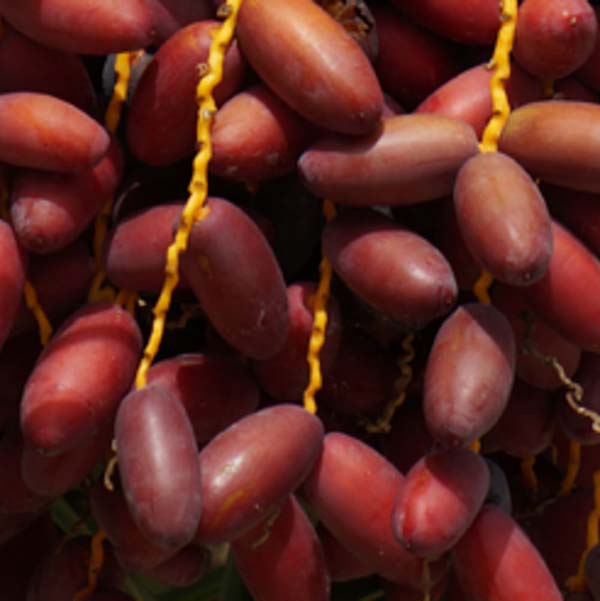 via Phoenix Agrotech
A dark red to black date very popular in Egypt but not exported from there. California produces a modest crop that is sold fresh as they are quite tricky to cure.
9. Honey Dates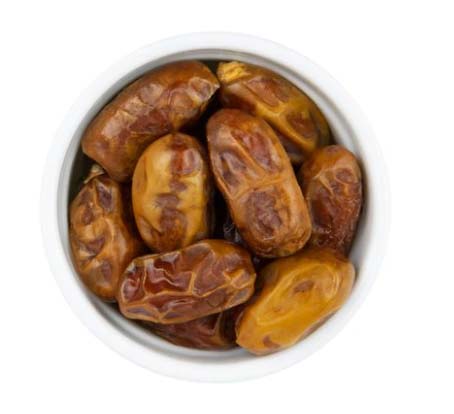 via Nuts
Honey dates live up to their name. With a beautiful ruby hue, honey dates have a soft, creamy and deeply sweet flesh. They have a melt-in-your-mouth quality that is to die for. Honey dates are ideal for sweetening a variety of recipes. Simply remove the pit and chop or dice before adding to a favorite recipe.
10. Iteema Dates
These dates are from Algeria and are very sweet. They have an amber color, and they are oblong in shape. They are also quite large in size.
These types of dates have been found to offer protection against oxidative stress and inflammation in the brain. Regular consumption of dates has been linked to a lowered risk of neurodegenerative diseases and better cognitive performances in older individuals.
11. Kabkab Dates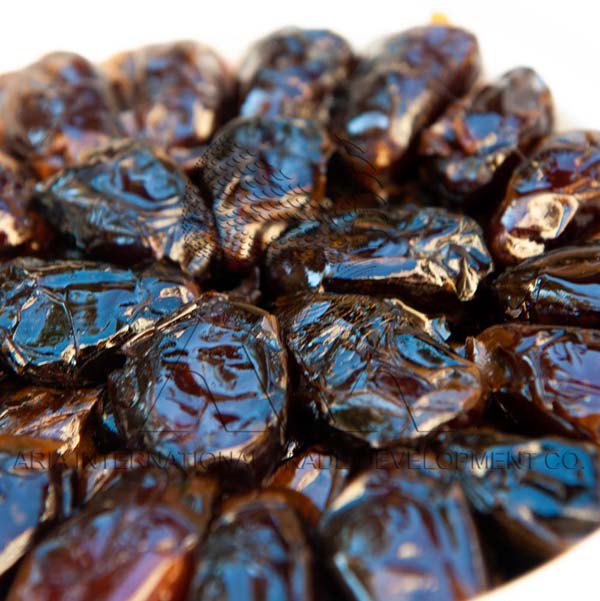 via Aria Foods
These types of dates are one of the varieties of dates in Iran. The color of the fruit in the unripe and fresh-date stage is yellow. When it is ripe turns to full dark brown. Its consumption is mostly in fresh and date stage. The shape of the fruit is oval. It  weighs about 15 grams, with a semi-arid texture in bright yellow, with thick peel or skin. The Kharak (unripe date) stage is in early August, but harvesting of fully-ripe fruit is in mid-September and it is considered as one of the moist varieties.
12. Kalmi Dates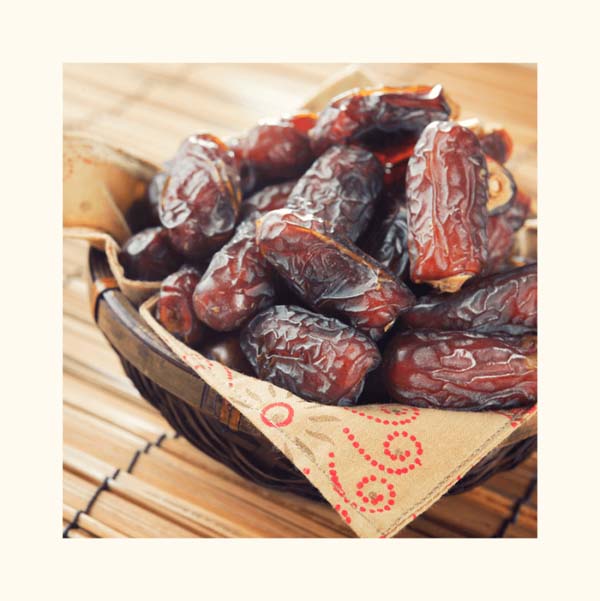 via The Nibble Box
These type of dates are dry yet rich, and they are originally from Oman. Kalmi dates are very popular during the Ramadan festivities. Their color is black. Their shape is typically cylindrical. It is also very small in size. They are rich in potassium and minerals. They are used to help prevent many ailments such as diarrhea. These are possibly the most sought-after of the Safawi dates and have just the right amount of sweetness. They are cultivated in Madinah and are a nice variety of date from Saudi Arabia.
13. Khadrawy Dates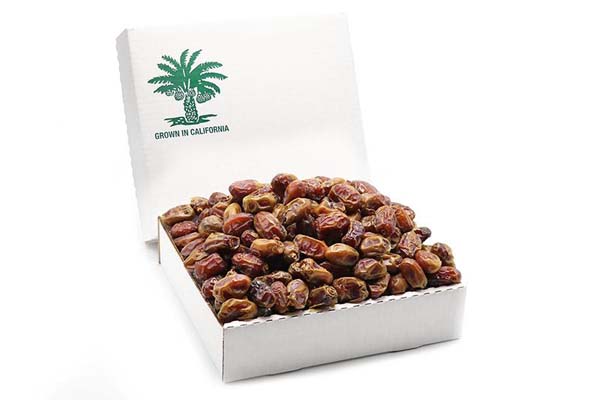 via Oasis Date
These types of dates are soft and sweet but not too sweet. At the very beginning they are orange-brown and then change to light-brown as they ripen. They are large in size and oblong, and the flesh remains firm throughout the ripening process. They are thought to be the best of both worlds since they have a desirable texture as well as flavor. They are best eaten when being fresh. They will ripen in mid-season. The only disadvantage is that they do not keep so they always need to be eaten as soon as they are picked. They are very similar to Halamy dates as they have a sweet flavor much like caramel. They are thought  to be the gooiest dates that you can buy, and they will melt in your mouth leaving a sweet aftertaste on your palette.
14. Khenaizi Dates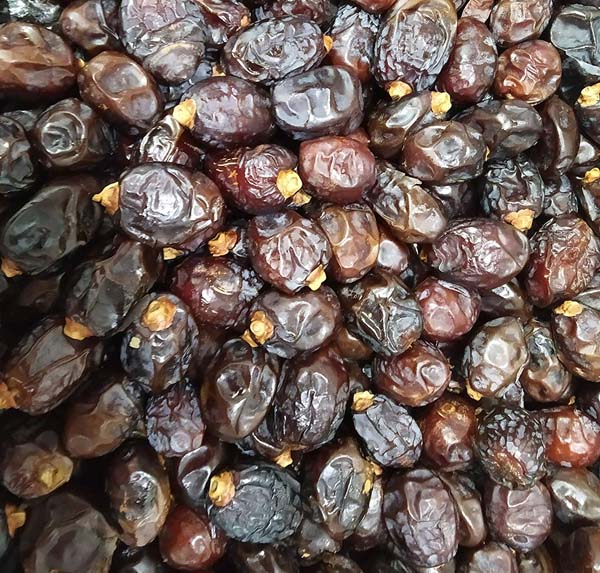 via Markstor
Khenaizi Dates are among the top premium dates of UAE. Sourced fresh, these dates are a favorite traditional snack of Middle East. These dates are medium soft with a unique wrinkly textured skin. Their size is  small to medium in size and have a longer shelf life compared to other variety of dates like Mazafati, Medjoul, etc. To retain their freshness we suggest storing them in a cool and dry place.
The original "Sweets" of nature, dates are one of the top Super Foods which have numerous health benefits. Dates are rich in vitamins and minerals. They are low in cholesterol and contain very low fat. Dates are rich in iron, potassium, sodium, and fluorine. They help improve the digestive system as they contain soluble and insoluble fibers and various kinds of amino acids. They provide instant energy and are a natural and tasty snack for children and adults alike.
15. Khola Dates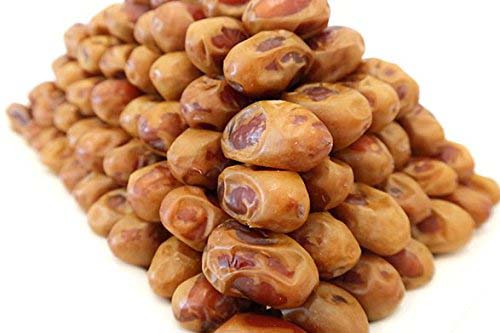 via Oman Desert Cart
Khola dates are very sweet. They have a caramel-like flavor. The are very sticky when they are freshly picked. They could be eaten  alongside Arabic coffee. They are loose-skinned, and they are originally from the Al Kharj and Al Qaseem areas of Saudi Arabia. They are golden brown with somewhat translucent skin. They are a wonderful treat.  They are perfect  antioxidant. These types of dates are rich in minerals and fiber. They are also fat-free, sodium-free, and cholesterol-free. They are a great snack for a quick pick-me-up.
16. Khudri Dates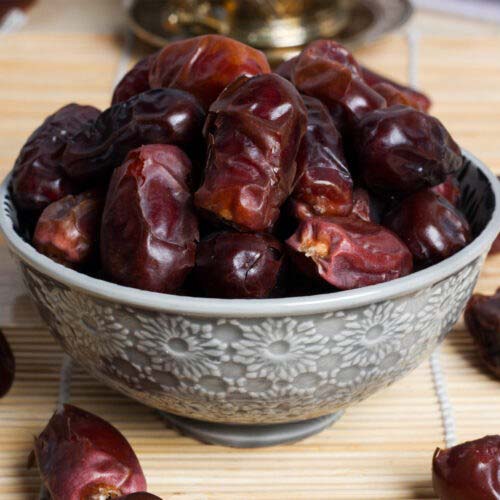 via Urban Platter
Khudri dates are a dark-brown color, and they have wrinkled skin. They are sweet and are available in small as well as large sizes. They are often exported because they keep fresh for a long period of time and they are also inexpensive. Khudri dates contain calcium, iron, potassium, magnesium, folic acid, and vitamins. They also contain fiber, and many studies have proven that they are an effective way to keep the body free from cancer. They are also great for strengthening a weak heart.
17. Lulu Dates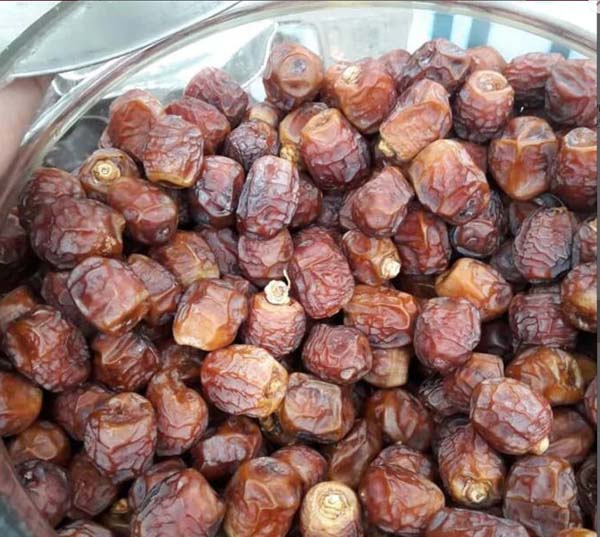 via Bukalapak
Lulu dates one of the most popular types of dates in Iran. They   are harvested in the southern regions of Iran. This dried date is attractive for many customers. It is due to its beautiful look and tasteful customer taste. Lulu dates, like other date varieties, have different medicinal and therapeutic properties that are effective in the treatment of various diseases, including the treatment of anemia. The phosphorus in the opium dates makes lively nerve cells more secure, hence it is used to treat neurological diseases and relax more in traditional medicine.
18. Mabroom Dates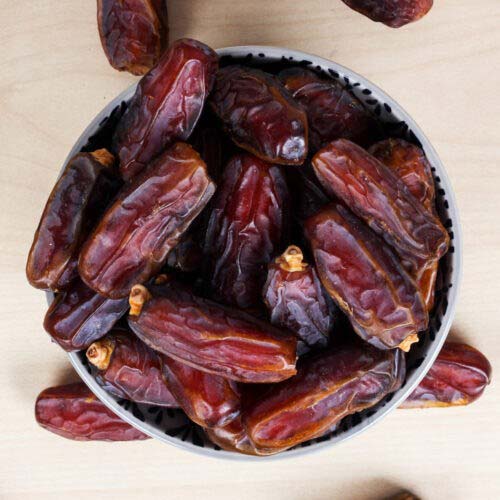 via Urban Platter
Mabroom dates are deliciously sweet and sticky, with light red-bronze skin and a lingering toffee-like taste on the palate. Their flavor is smooth and pleasant  but are much firmer than other date varieties. Some may even find them quite hard to chew, like a candy. We think that's exactly what makes Mabrum special. Plus, they are rich in multiple natural fibres and minerals which contribute to a healthy body and mind.
19. Maktoom Dates
These types of dates are very large in size. They also have a thick skin. The skin is a reddish-brown color, and they are just slightly sweet. They are perfect for people who enjoy dates but do not like them to be overly sweet.
20. Mazafati Dates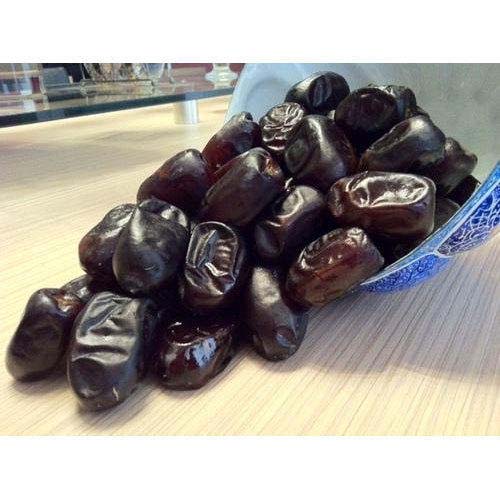 via Indiamart
Mazafati date appointed date Bam is one of the  most famous and different kinds of Iranian date fruit which is usually used as Rutab (fresh). This kind of date because of having high moisture is not used as nuts .The date can be considered as the most delicious kind of date fruits in the world. Mazafati is replete with health benefits. The date is loaded with needed daily energy and is rich in vitamin B, iron and phosphorous and has a high amount of potassium and vitamin A. Mazafati is also replete with fiber which is beneficial for those who are suffered from constipation and excess acid in the stomach and actually the date is used as laxative food. Low in fat and totally free from cholesterol, these types of dates are wonderful energy boosters.
21. Medjool Dates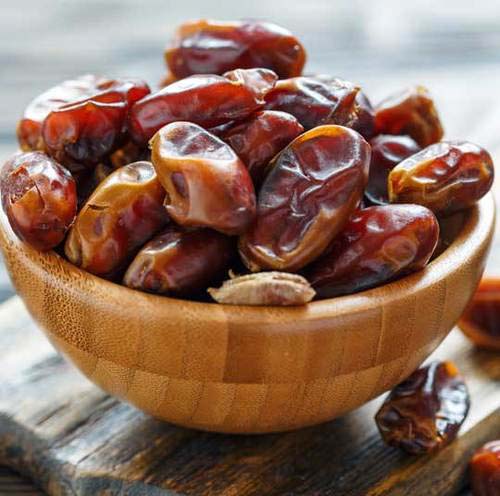 Medjool dates are very rich, sweet, and tasty. They are also known as Medjul dates. They have soft skin and fibrous texture. They are large in shape. At about three inches long, and sometimes even very large in size and they turn from amber to reddish-brown when they are ripening. They are very moist and are perfect for eating when they are freshly picked. They have a very sticky inside and offer a decadent caramel flavor. They are ideal for using in recipes such as shakes, stuffing recipes, or energy bars.
22. Migraf Dates
These dates are also called Mejraf dates. They are well known in Southern Yemen because of their high-quality. They are golden amber in color. They are also   large in size. It's recommended to eat a couple of these per day to get the benefits and nutrients that these dates have to offer.
23. Safawi Dates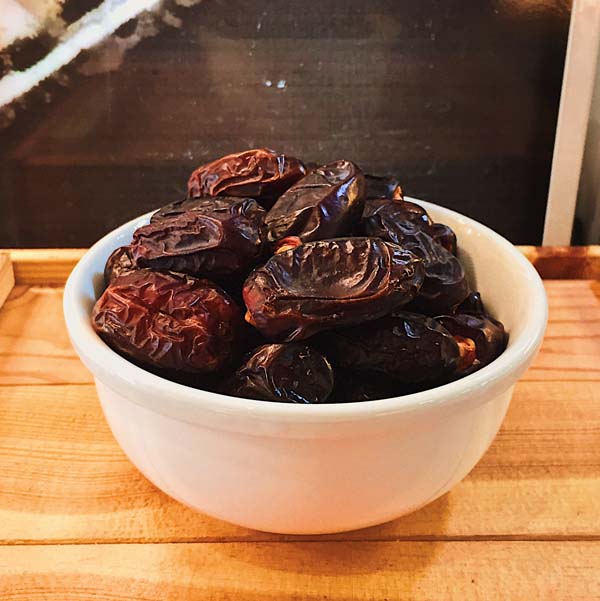 via Gatery
These types of dates are fleshy and black in color. They are sweet and rich in with vitamins. They are grown in Madinah, and they are famous for their many healing benefits. If you eat them on an empty stomach, they are capable of killing worms in the stomach. They are also very rich in minerals.
24. Saghai Dates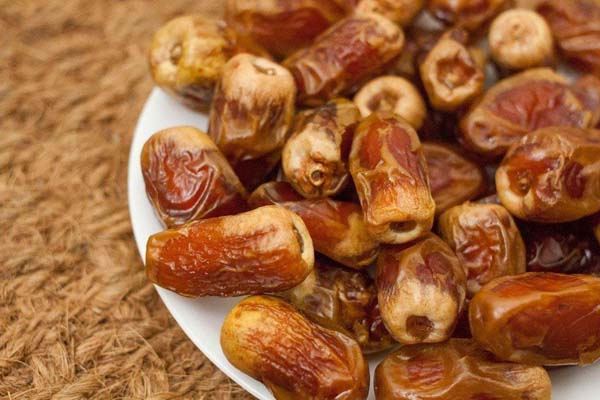 via Amazon
These types of dates are grown and cultivated in Riyadh. They are not soft, but they're quite crisp. Their color is brown. They are yellow at the tips and are also wrinkled. They are very tasty. Many who try them once tend to consume them again.
25. Saidy Dates
Saidy dates are popular in Libya, and they are very tasty and sweet. They usually grow  in very hot climates where they tend to really thrive.
26. Semi Dates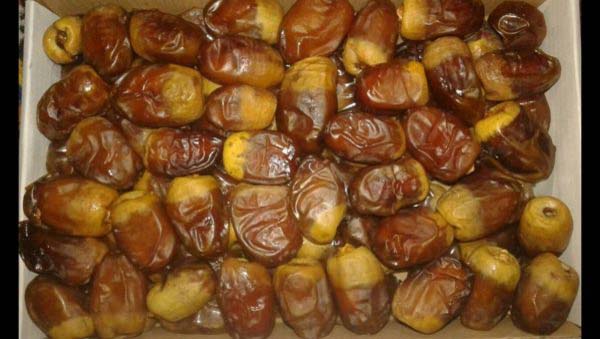 via Fresh Line
These types of dates are not harvested when they are ripe. They are harvested when they are unripe. Semi dates have firm flesh, and some soft dates include the Medjool, Deglet Noor, and the Zahidi date. They are tasty and healthy. They are also rich in vitamins and proteins.
17. Soft Dates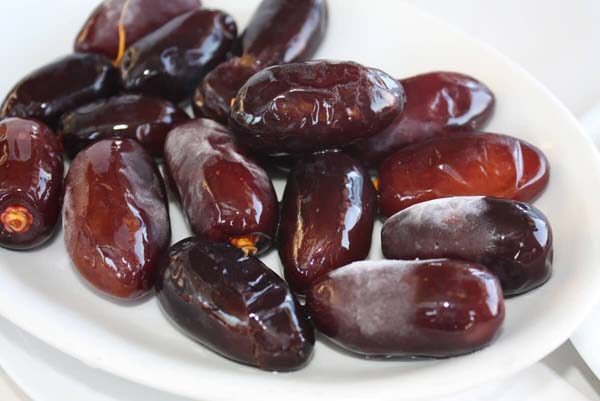 via Hararu
Soft dates are harvested when they are unripe and soft. The Barhi date is just one example of a soft date.
These fruits truly get your mouth watering! Soft and sweet dates deliver a creamy taste with notes of honey. The delicate flesh is meltingly soft, rewarding your taste buds with a sweet, decidedly fruity aroma.  
28. Sukkari Dates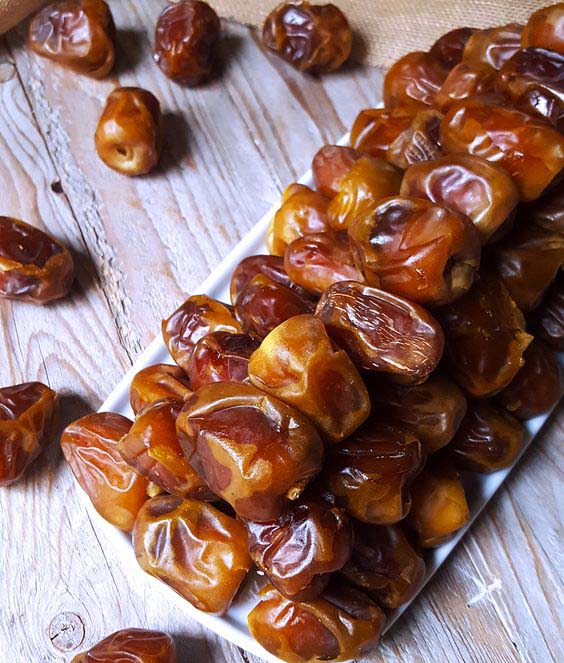 via Pinterest
Sukkari dates are sweet in flavour and crisp. These types of dates are known as a high-quality types of dates. They are nutritious and also good for healing.  The greates advantage is that they can even prevent tooth decay. They can help to energize you and to help lower your cholesterol as well. They are from the Al Qaseem region of Saudi Arabia. Sukkari means sweet. This is exactly what these dates are. They are also considered to be the "King of the Dates," and they will melt in your mouth for a nice treat.
29. Thoory Dates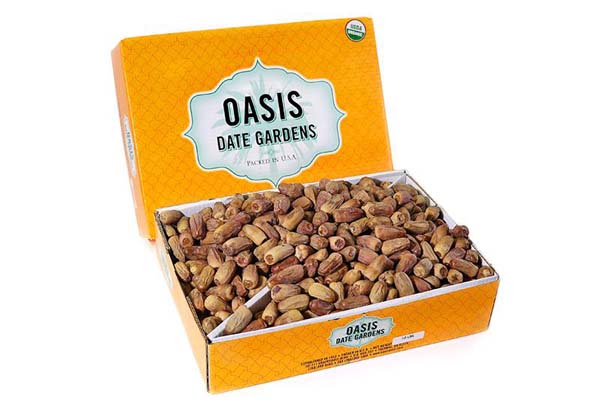 via Oasis Date
These types of  dates are unown to be dry and sweet. They are famous for their  nutty. They are called the bread date because they are ideal for baking. Their size is medium to long. Their shape is oblong.  They are golden-brown in color. They ripen late in the season. Thoory dates are considered to be a dry date and have a firm skin with a chewy texture. They are quite popular in Algeria and also do well in the heat of California. These types of dates are sticky but not quite as sticky as other dates. Thoory dates pair really well with granola, trail mix, or muesli since they are not so moist that they will make the rest of the ingredients soggy being mixed together.
30. Warehouse Dates
Warehouse dates are highly known thanks to their features. They're very large in size. They have a small seed. They are one of the more expensive varieties of dates that are available to buy. They are worth the price though.  They are rich in  protein. Their color is brown.
31. Zahidi Dates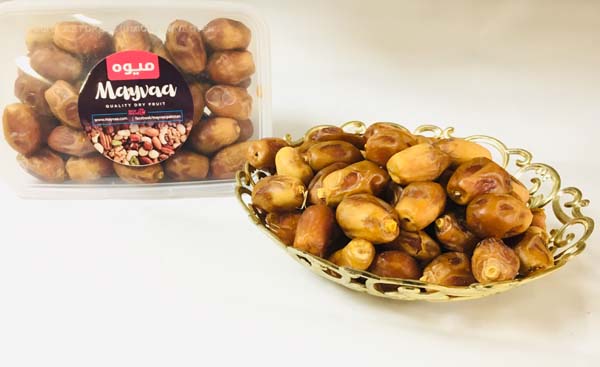 via Mayvaa
Zahidi dates are sweet in flavour and have a sugary taste. They are semi-dry. The size is medium. Theis skin is smooth and glossy. They are  golden-yellow in color. They are also full of syrup, and you can use them for cooking. They also make a great snack. They tend to ripen early and they keep well. These types of dates are also called "Nobility," and they contain a large seed in the center. These dates have a crunchy and fibrous flesh and are typically processed for date sugar products or packaged as sliced dates.
How eating dates benefits you
Eating dates can make your bones stronger
Relieves Constipation
Eating dates is healthy for your heart
Dates are great for various types of allergies
Dates are good for pregnant women
Eating dates is Good for Certain Intestinal Disorders
Dates can greatly Help You Gain Weight
Dates are Good for your Dental Health
Dates can Improve the Look of Your Skin
Eating dates is good for your Hair
Dates are Good for Anemia
They Relieve the Effects of Intoxication
It is Great for the Nervous System
Increase Your Energy Level
Dates are Great for Night Blindness
Eating dates Reduces the Chances of Abdominal Cancer
Dates Make a Great Aphrodisiac!
Dates are Great for Diarrhea
A Healthy Way to Eat
History of Dates
Fruit of paradise! This is really thru. Biting through the thin paper skin of a Date to the juicy sweet meat of it, no one could not appreciate the wonders of these delicious fruits. One of the "fruits of paradise" in Islamic tradition which were mentioned in the Quran, can be used as an ingredient or a whole snack. As God instructs the Virgin Mary to eat dates while giving birth to Jesus.
Fossil studies show that the date palm has existed for at least 50 million years.
For many generations of Egyptians, dates have been viewed as a symbol of fertility, growing up almost miraculously along rivers and oases in the driest deserts. The tree has been described in bas relief, on monuments, and coins. Its shape is believed to be inspired a style of columns in Greek architecture.
Greek mythology relates the date palm to the immortal Phoenix. In Natural History, Pliny the Elder describes the phoenix bird, who would raise again at the top of a date palm. After 500 years, the bird would catch fire from the flames of the sun and would be reborn from its own ashes. Some myth has it that the date palm would die and come back to life again along with the bird.