Got denim game? If you do, you'll find more inspo here. If you don't: start reading!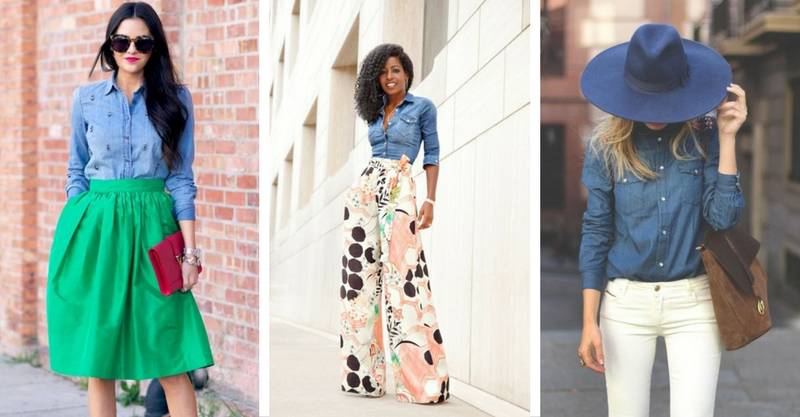 A basic denim shirt or chambray is a required staple for your wardrobe. It's so easy to play around with and once you've figured that out, you'll want to buy them in all shades.
A lot of women find it difficult to know what to wear with one of these must-haves. Luckily, a denim shirt can literally be worn with everything, so you can't really go wrong. You just need to figure out how to style the look and know the do's and don'ts when it comes to matching it with the rest of your wardrobe.
Oh, did we mention they're super-comfortable too? Plus, they come in all different models, shades AND budgets. So next time you pass your favorite clothing store, quickly check in to see if they sell any in your size. Chances are, most of them are sold out. That's how popular they are.
Women wear them with jeans, skirts, or even as a substitute for a little vest on colder days.
To help you out, we went on the hunt for 20 Great Ways A Denim Shirt Can Completely Transform Your Style Game!
Repeat after us: A Denim Shirt Looks Fantastic…
1. … With A Similar Shade Of Kick Jeans And Baggy Vest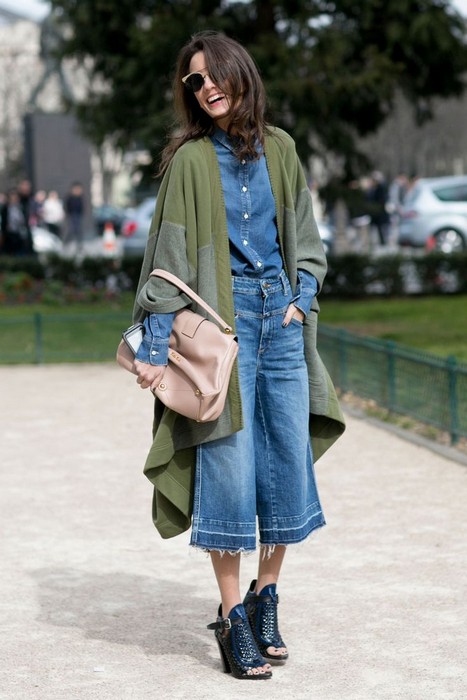 Photo: Credit
You'll either love this look or hate it. Whatever your opinion, single-colored outfits can look very fashionable (even when it comes to denim). Wear this denim shirt with these same-shade short kick jeans and throw over a baggy vest to finish off you look!
2. …With A Green Midi Skirt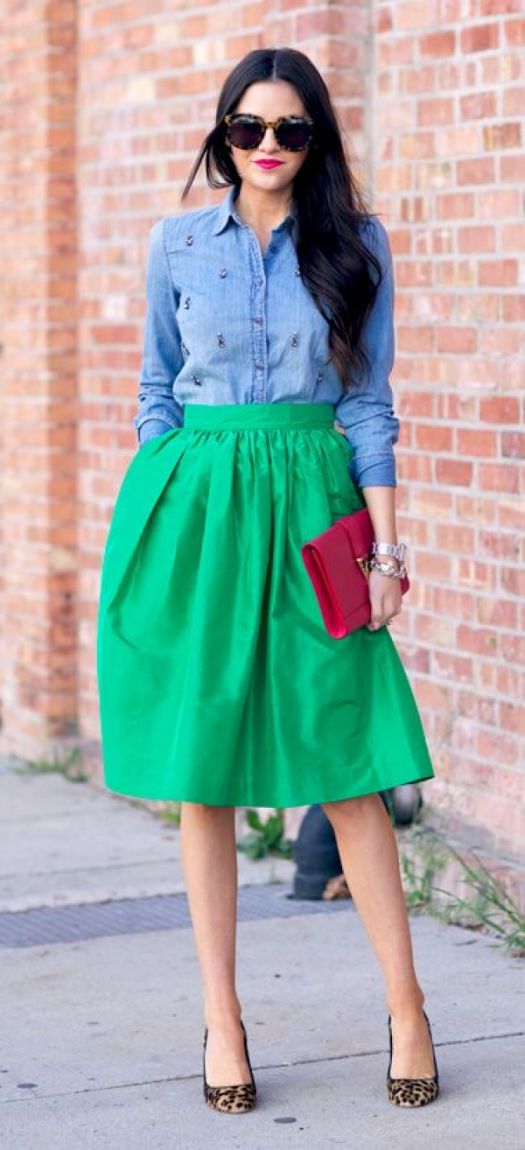 Photo: Credit
This denim shirt has a bit of extra pattern to it and can be successfully combined tucked into a leafy green midi skirt. Wear with leopard heels or even sneakers for those days where you need to be more comfy.
3. … With Leather Pants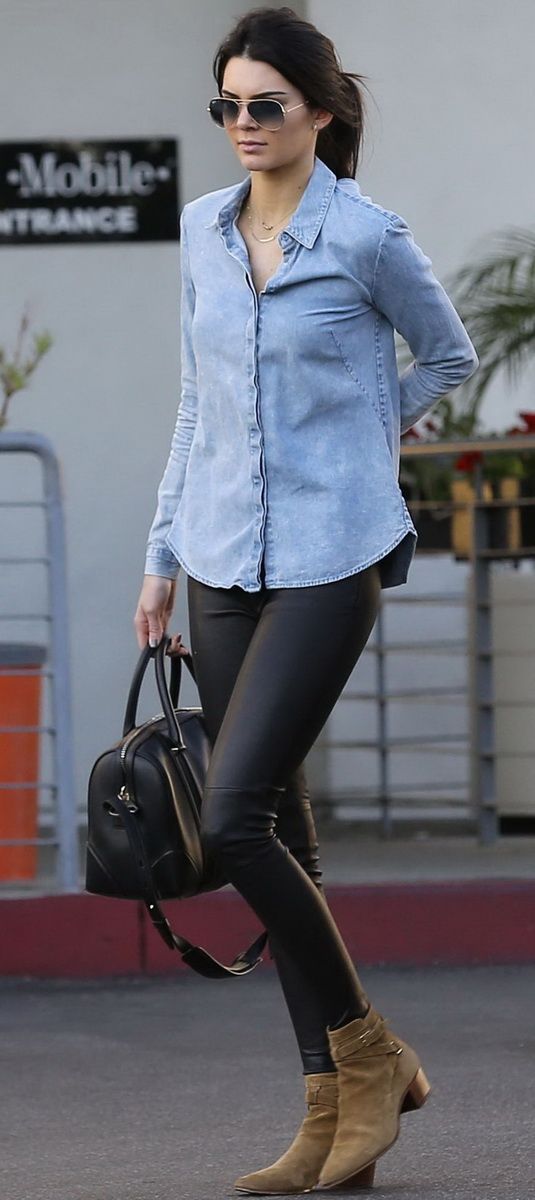 Photo: Credit
Kendall Jenner does it again. She combines her denim shirt with a pair of leather pants, creating a great combination of two completely different materials. As a bonus: this outfit looks great with a leopard scarf and brown ankle boots.
4. … With Over Sized Front Pockets And Dark Jeans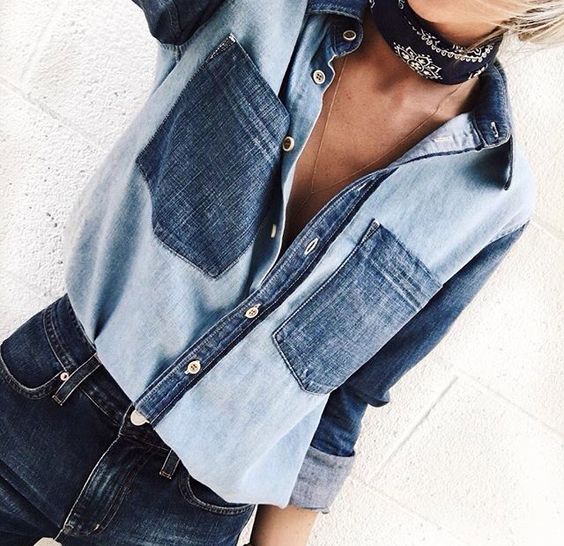 Photo: Credit
This one looks a bit coarser. It's a perfect denim-on-denim look, but not one that you'd expect. This multi-shade denim shirt has over sized front pockets and is combined with a slightly faded pair of darker jeans. Not bad at all!
5. … Tied Up With A Lace Mini Skirt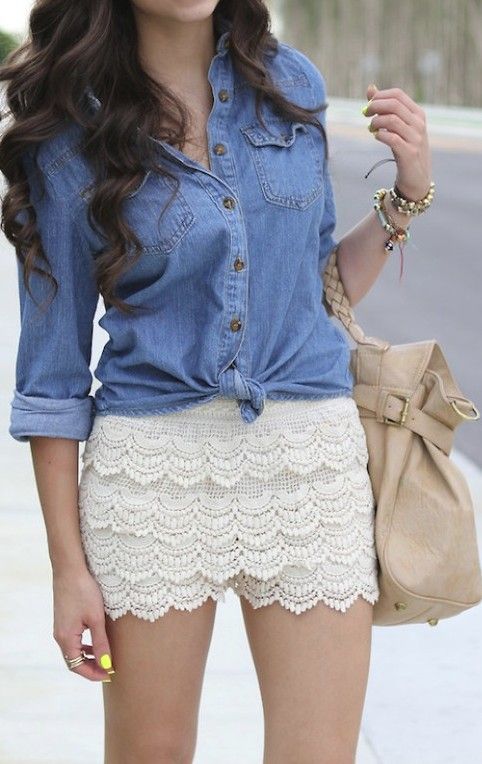 Photo: Credit
A great way to wear a denim shirt in summer. Simply tie up the bottom and roll up the sleeves. Wear with a laced mini skirt and a pair of flat, but classy sandals. Can also wear tied up over a summer dress!
6. … With Ripped Shorts And Loose Tee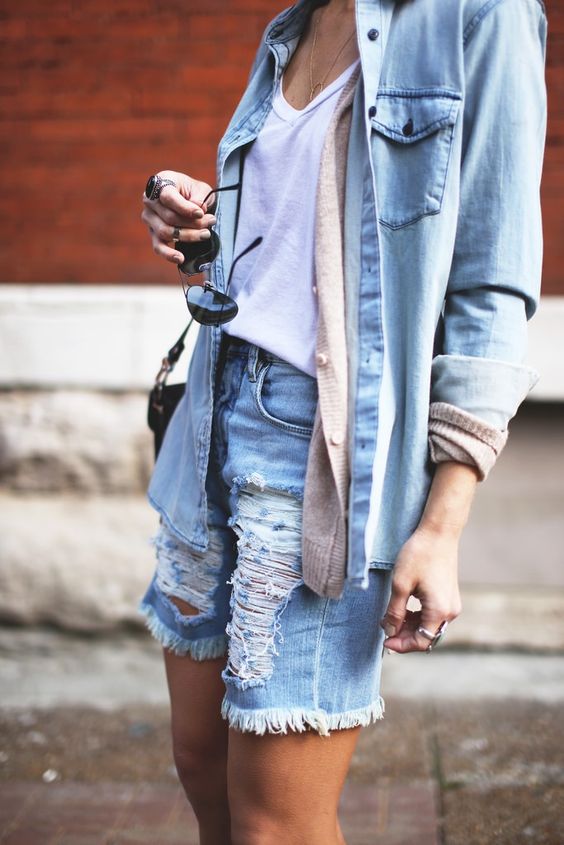 Photo: Credit
Awesome look and perfect for a day in the city! Wear this denim shirt as an extra cardigan over a loose tee and take off if you're too warm. Goes perfectly well with these ruffed longer-than-average shorts!
7. … In White With A Denim Mini Skirt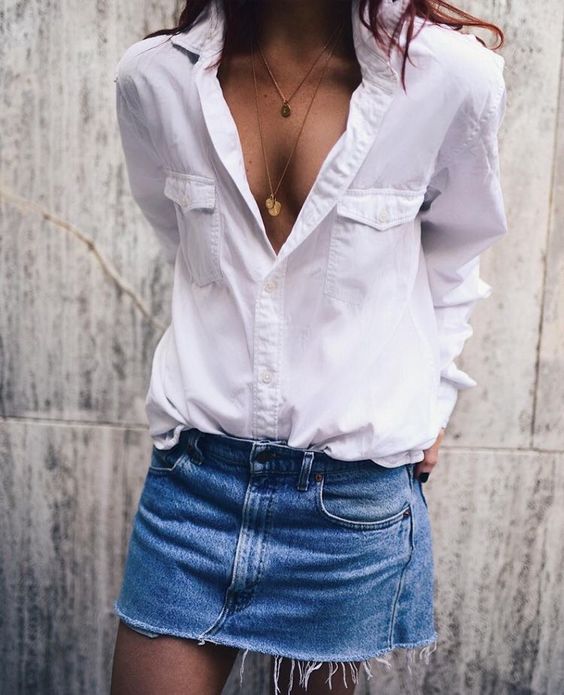 Photo: Credit
Once again it has been proven that denim doesn't always have to be classic blue. This white denim shirt matches great with a classic blue denim mini skirt that's a bit rough around the bottom. A refreshing take on denim-on-denim!
8. … With Darker Shade Jeans And Belt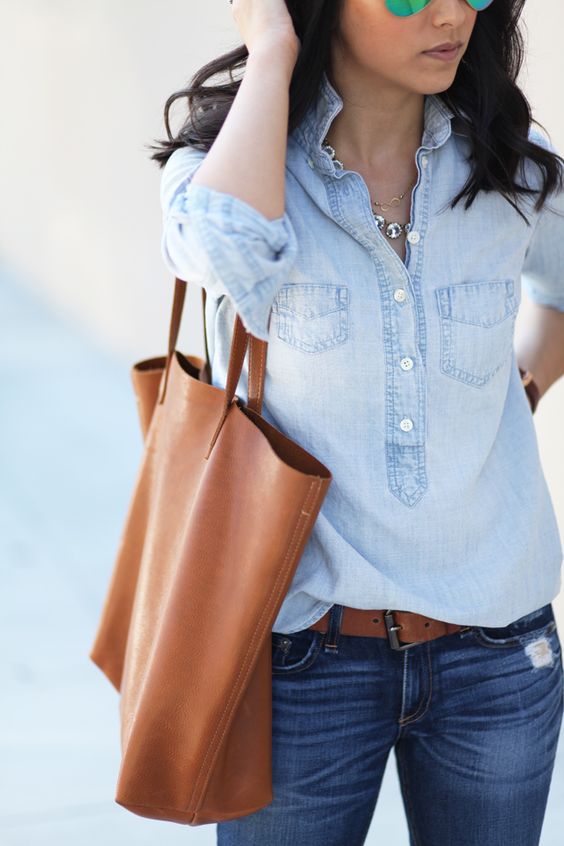 Photo: Credit
When you wear denim-on-denim you better wear it right, ladies. Here a lighter shade denim shirt is matched with darker shade jeans and completed with a brown belt and same-color bag. Ready for some drinks with the gals, are ya?
9. … As A Cardigan Over A Dress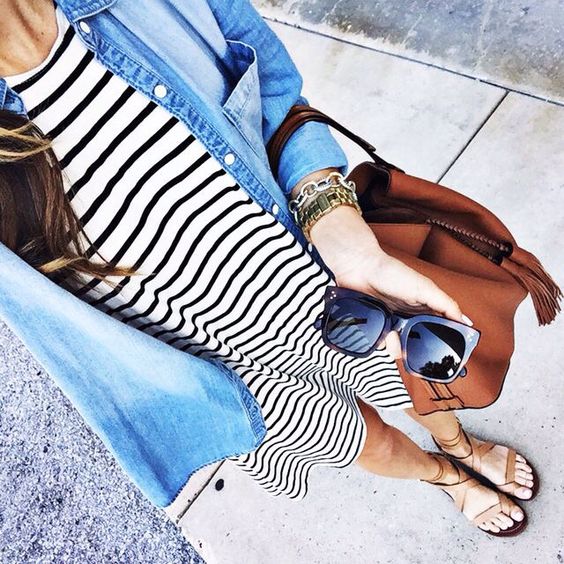 Photo: Credit
This is the ultimate summer look ladies. When you're strolling on the beach boulevard, you want to make sure you're wearing your denim shirt loosely over your striped summer dress. Pair with sandals and you'll be the best looking tourist out there!
10. … Over Your Bikini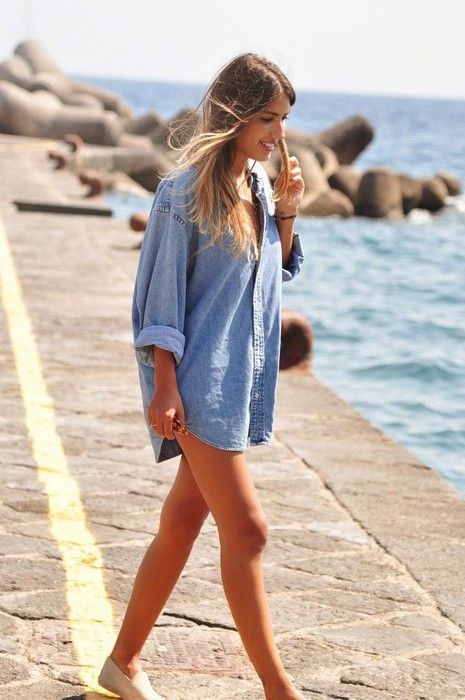 Photo: Credit
A longer denim shirt to wear as a dress for those windy days at the beach. Make sure the shirt covers your butt, ladies! You don't want people staring at your derrière when all you want to do is relax for the day.
11. … With A Fine Pleated Skirt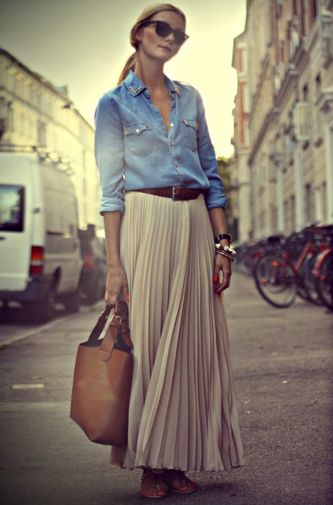 Photo: Credit
Fine pleated for old people? Think again! This skirt is perfect to wear with a tucked-in denim shirt for a perfect outfit with a hint of bohemian. Go for a shade of brown for this one and add some extra accessories.
12. … With A Striped Maxi Skirt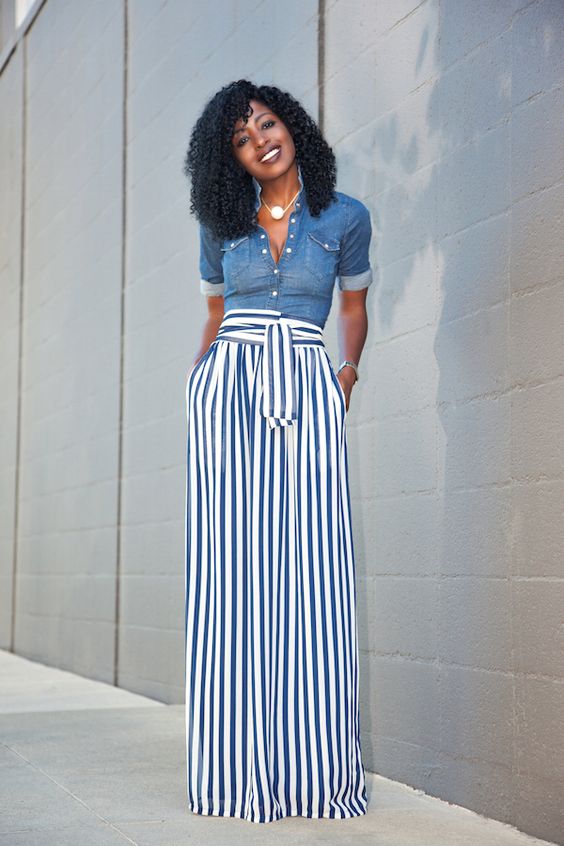 Photo: Credit
We cannot get over this combo. It's one of our favorite denim shirt looks. The shirt is tucked into a long striped skirt with a sown-in belt made from the same material as the skirt. That last tiny detail is what adds the extra flair!
13. … With A Front Slit Midi Tulip Skirt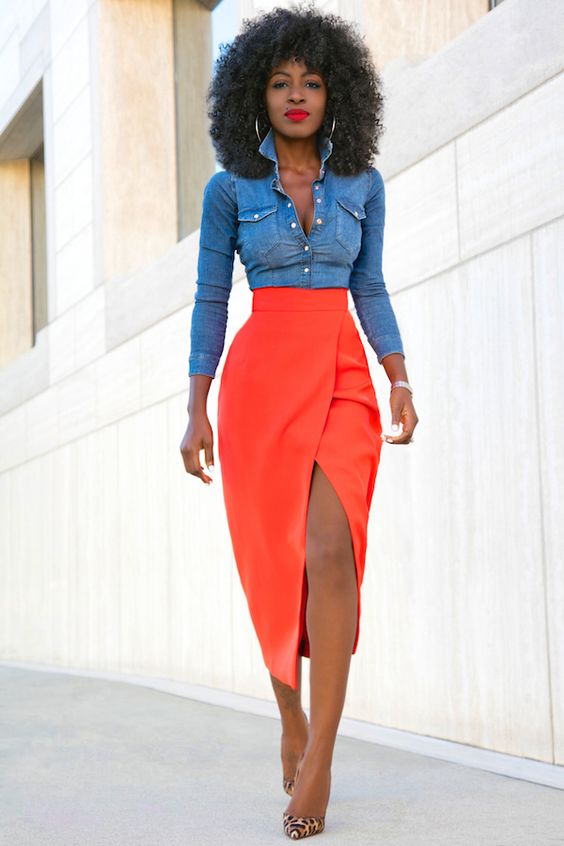 Photo: Credit
This sexy look is a perfect one for a night out to an upscale event. The skirt is high-waist and therefore the denim shirt is easy to tuck in. The leopard heels add the pattern to this classic, but plain outfit.
14. … With A Pair Of White Jeans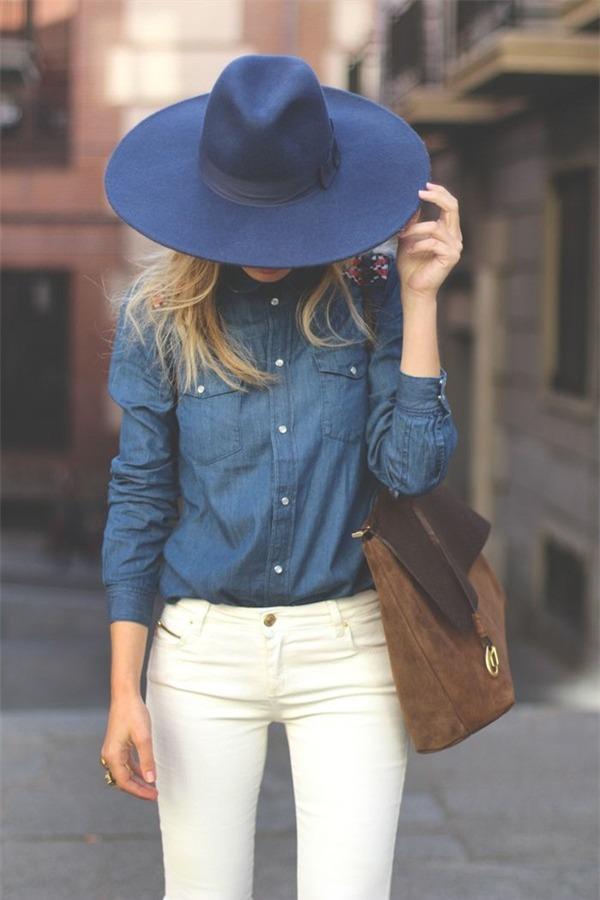 Photo: Credit
This casual outfit can be worn anywhere. You can change up the shades of the denim shirt to mix up the look, but whichever one you pick: you'll look fabulous! Pair with a statement handbag or even a hat!
15. … With A Yellow Pleated Skirt And Belt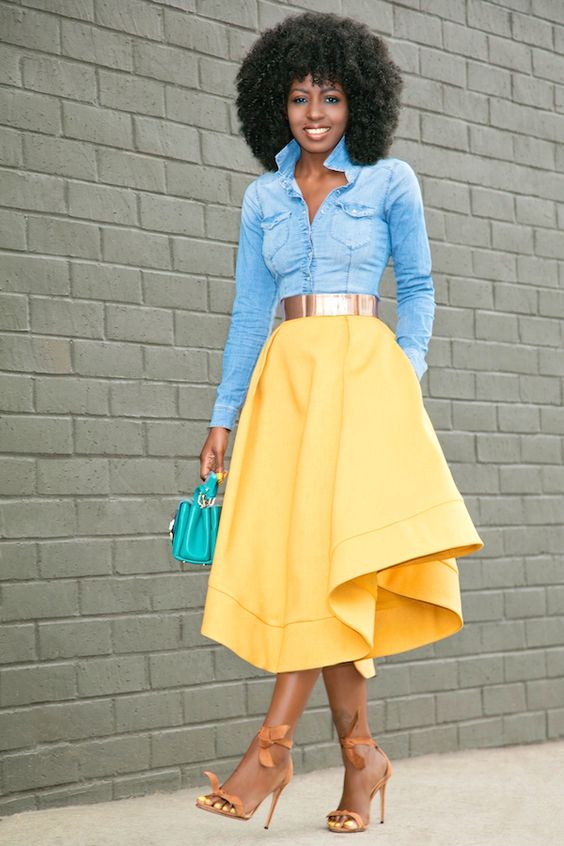 Photo: Credit
This outfit brings out the woman in you by tucking the denim shirt into a mid-long pleated yellow skirt. High heels and a golden belt complete this fascinating look. "Why are all these handsome men staring at me?" Think again…
16. … With A Midi Skirt And Heels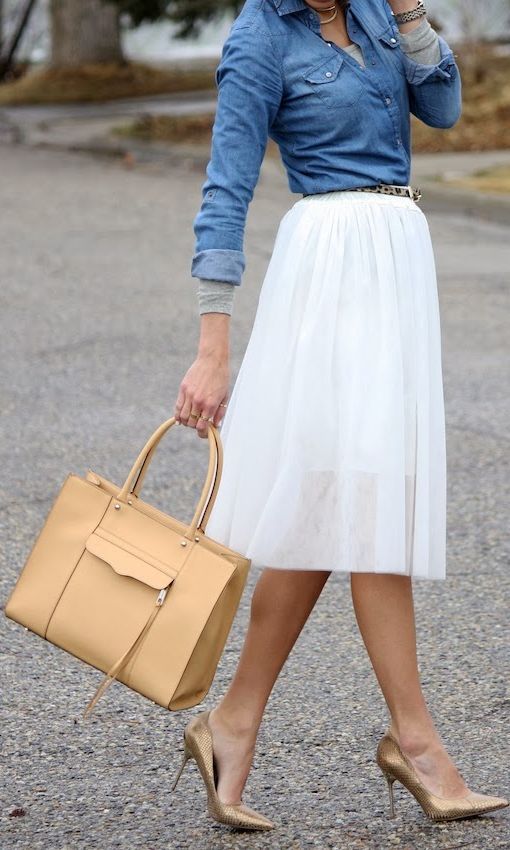 Photo: Credit
Go for this quirky look if you want to look fancy, but don't want to over-do it. Wear the denim shirt over a white midi skirt, or even a tulle one for some extra flair. To keep things light, pair up with a nude colored bag and heels.
17. … With Patterned Palazzo Pants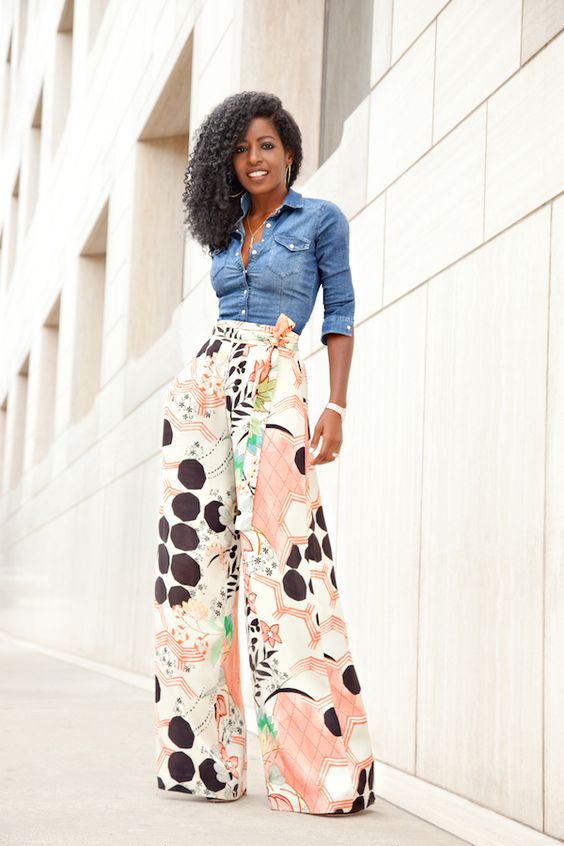 Photo: Credit
Time to stand out ladies! We don't see this look very often, so all the more reason to set the trend among your group of gals! Patterned palazzo pants are loose and relaxed, but with a tucked in chambray they look absolutely FA-BU-LOUS!
18. … With A Tube Plait Skirt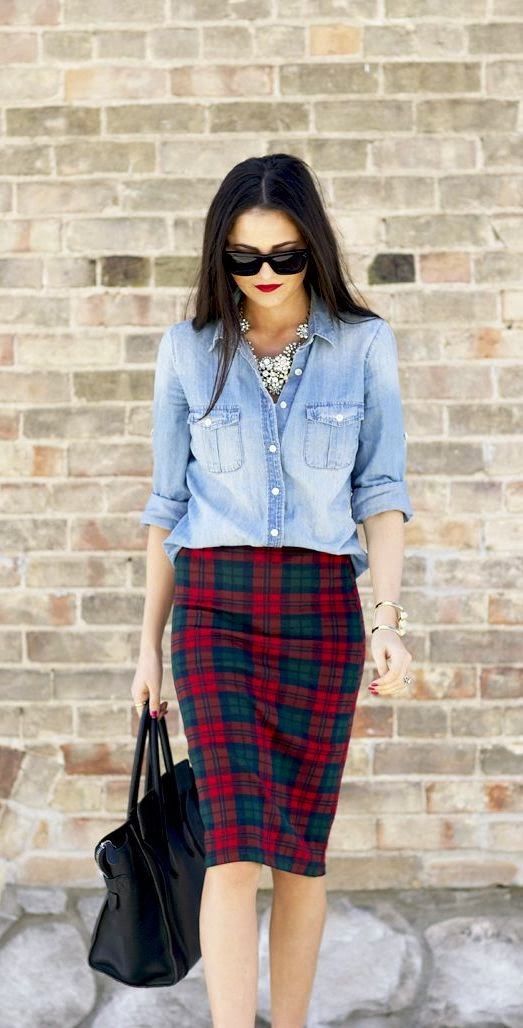 Photo: Credit
Looking for a chic, but casual look for today? We've got just the outfit for you. This tube plaid skirt can look a bit old-fashioned unless you combine it with a cute tucked in denim shirt. Add an extravagant necklace and… DONE!
19. … With Ripped Black Jeans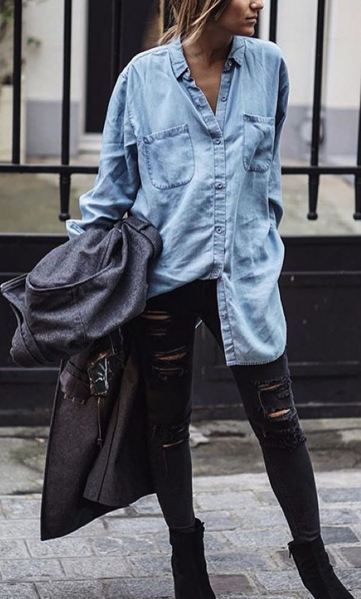 Photo: Credit
Are you one of those rough, edgy people? Then these torn black jeans with a long half tucked in denim shirt will add some extra to your wardrobe. This look reflects your inner tomboy, but still shows you got class.
20. … With A Tulle Skirt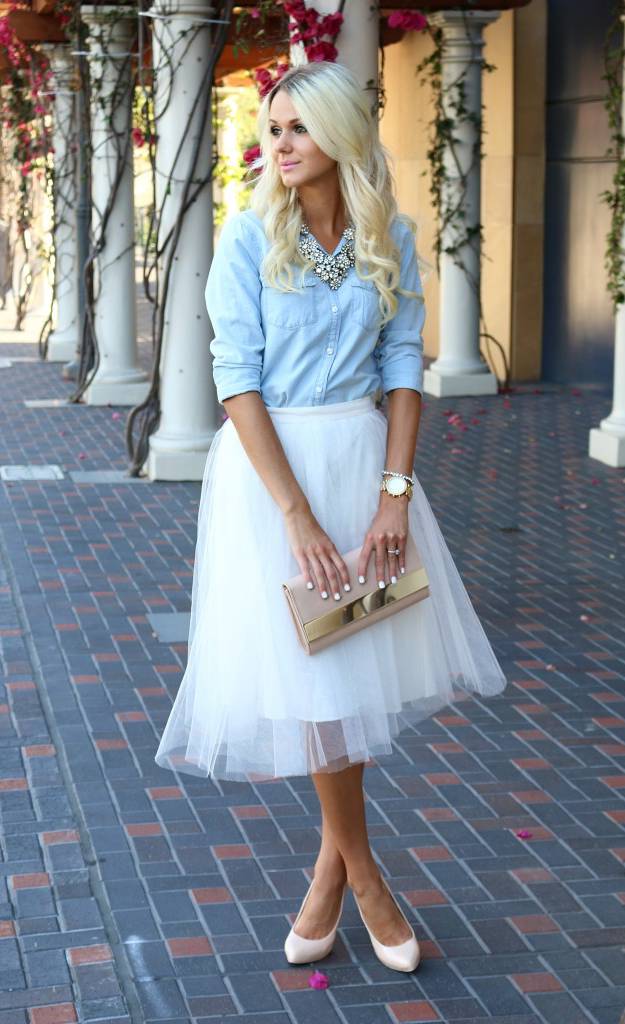 Photo: Credit
We're getting a bit of a wedding-y vibe when we see this outfit, but truth be told: you can wear this outfit just about anywhere you like. Wear this tulle skirt with your fav denim shirt and statement necklace. Happy days!