"I wish I had invented blue jeans. They have expression, modesty, sex appeal, simplicity – all I hope for in my clothes" – Yves Saint Laurent.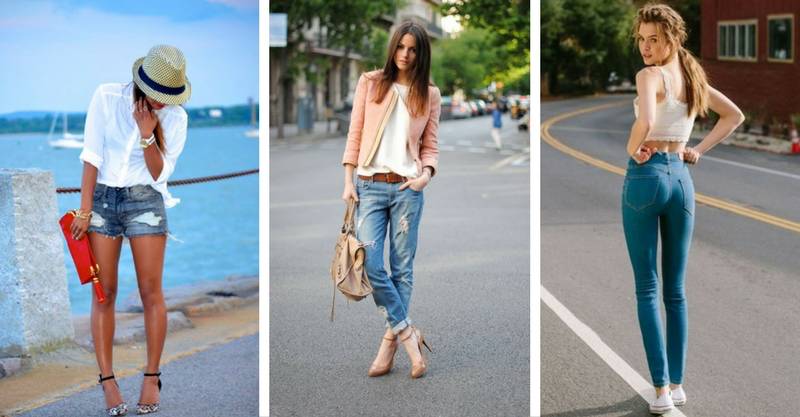 Denim has been in fashion for the longest of time. Can you even imagine a world without denim? Over time, designers have worked on creating that perfect denim in different shapes, shades, and styles. Think about skinnies, kicks, flares. Jeans in blue, white, pink, red. Denim jeans, denim shirts, denim bags, denim… You get the point. 
Denim jeans still remain the most popular. And although we don't need more than two or three pairs in our wardrobe, we do need to know how to wear them the right way.
Do you know what types of jeans looks good with which shirt? Did you think that heels would look super-sexy under a pair of jeans shorts, if you wear the right blouse that goes with it? Let us give you some inspiration on how to wear your jeans in such a way that people around you will stop and stare, thinking: "That's a fantastic way to wear jeans!"
Ready? Go grab your jeans from your wardrobe and check out how to create the perfect outfit with them!
1. Boyfriend Jeans With Floral Blouse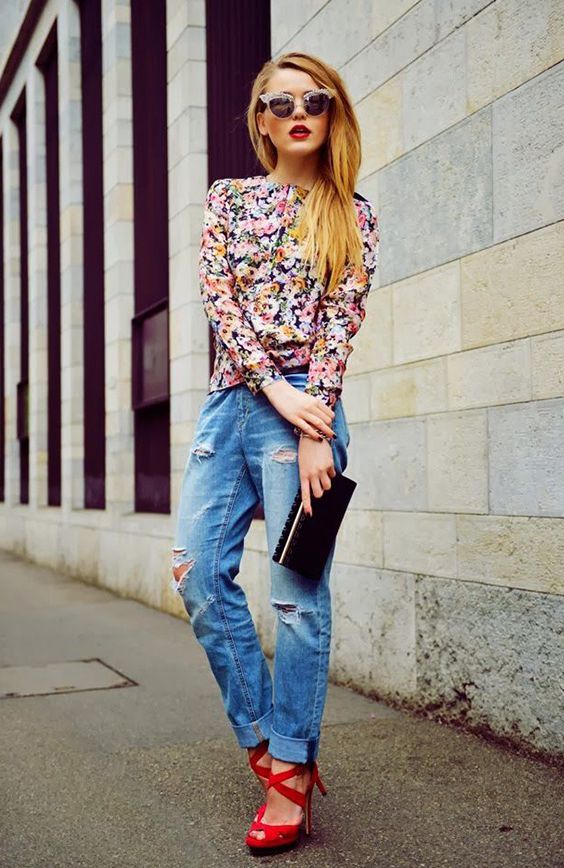 Photo: Credit
Who doesn't love ripped slouchy boyfriend jeans? Although the style may look a bit outdated (read: 1990s), they are definitely back and look better than ever with a pair of pumps and a buttoned floral blouse. Add a pair of retro sunglasses and you're look will be good as new.
2. Skinnies For Plus Size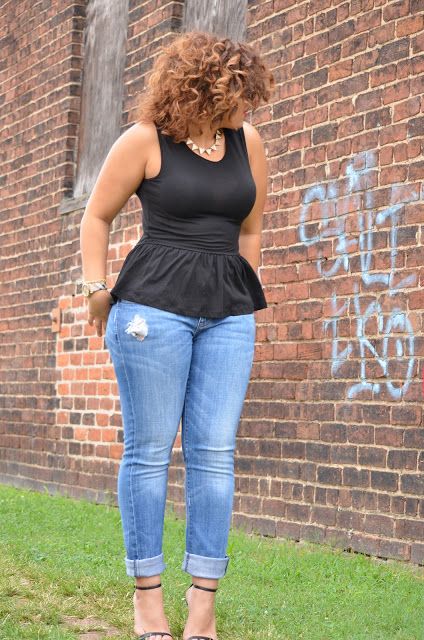 Photo: Credit
The word skinnies is slightly deceiving, since these jeans are not just for skinny, anorexic-looking girls. If you're more of a plus sized gal you'll be happy to know that the right pair can look fantastic on you. Got a bit of a muffin top going on? Then combine with a wavy blouse/shirt.
3. The Flair Jeans And Striped Blouse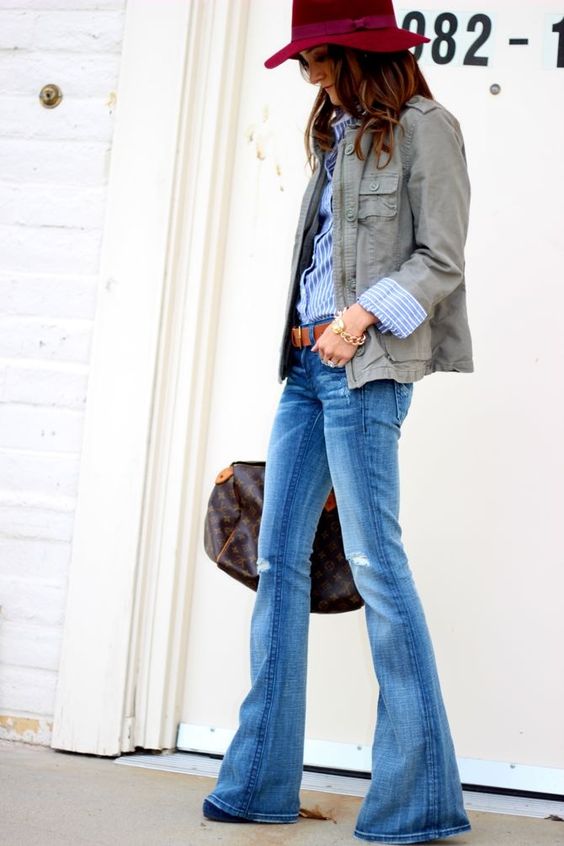 Photo: Credit
These fair jeans remind us a lot of the 1970s and they look hot. It seems like every so many years these jeans pop up everywhere. Combine with a pair of stilettos, a striped blouse and a fitted slightly rough-looking jacket and you'll look great! Aren't these jeans comfortable?
4. The Girlfriend Jeans With A Sweater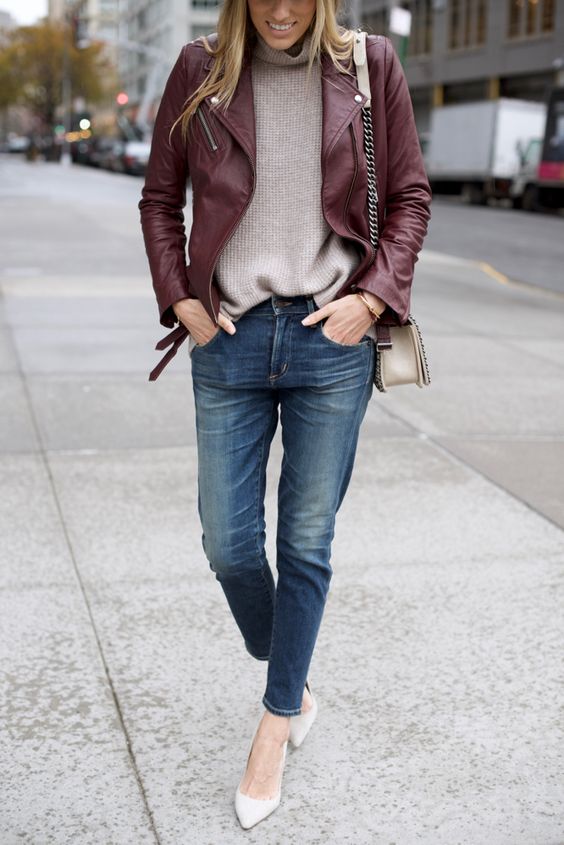 Photo: Credit
Let's not discriminate here. If there are boyfriend jeans, then surely there are girlfriend jeans. Still a bit rough, but with a feminine touch. Wear these with pointy pumps, a baggy sweater and a classy leather jacket. For this look, pick a dark shade of jeans rather than a lighter shade.
5. Distressed Denim Shorts With A Blouse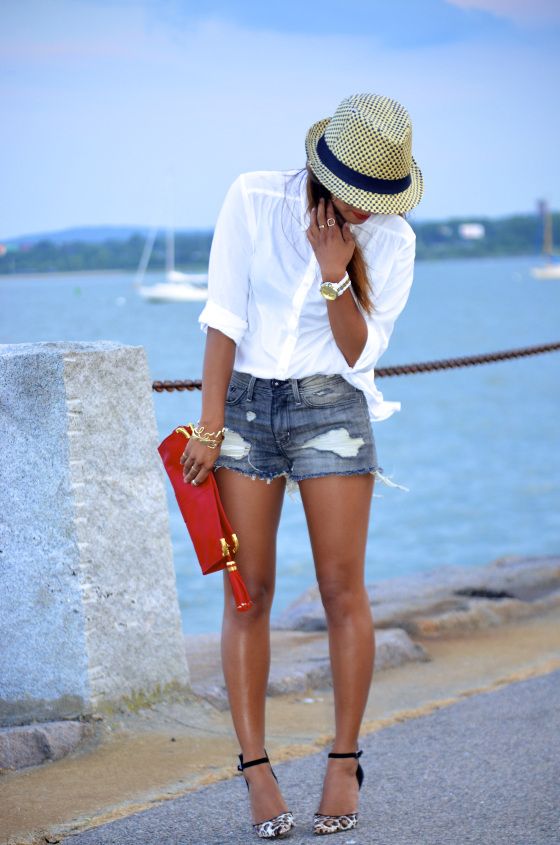 Photo: Credit
Shorts are not just meant to be worn with a tee and sneakers. Dress it up, ladies. These distressed shorts deserve more from your wardrobe. Combine with an oversized blouse and a pair of sandal-heels. Add some accessories and carry a statement purse. Of you stride into the sunset…
6. Mix Patterns & Combine With Jeans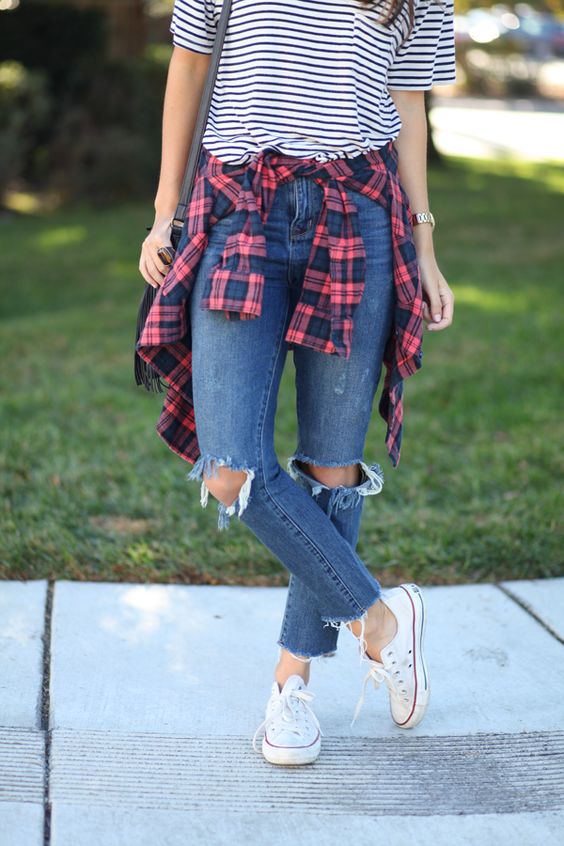 Photo: Credit
Hooray! We're allowed to mix prints again! Mixing striped and a plaid blouse will easily turn a boring outfit into one that screams fashionable. To add a bit to this rough-looking ensemble, wear with ripped jeans, cut at the bottom and a pair of light-colored sneakers. And just like that, you got yourself a great denim outfit.
7. The Classy Ripped Jeans Look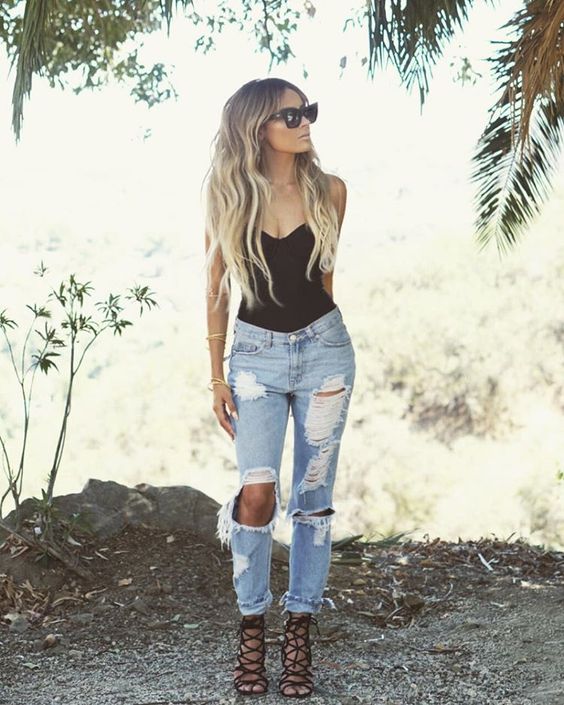 Photo: Credit
While we often aim for a bit of a baggy, slouchy look with boyfriend jeans, they also look absolutely fabulous when dressed up with classic black. This tomboy meets chic outfit is meant for those who dare to be different. Always looking to be the center of attention? Then this is definitely a fashionable convo maker.
8. High Waist Wide Jeans With Crop Top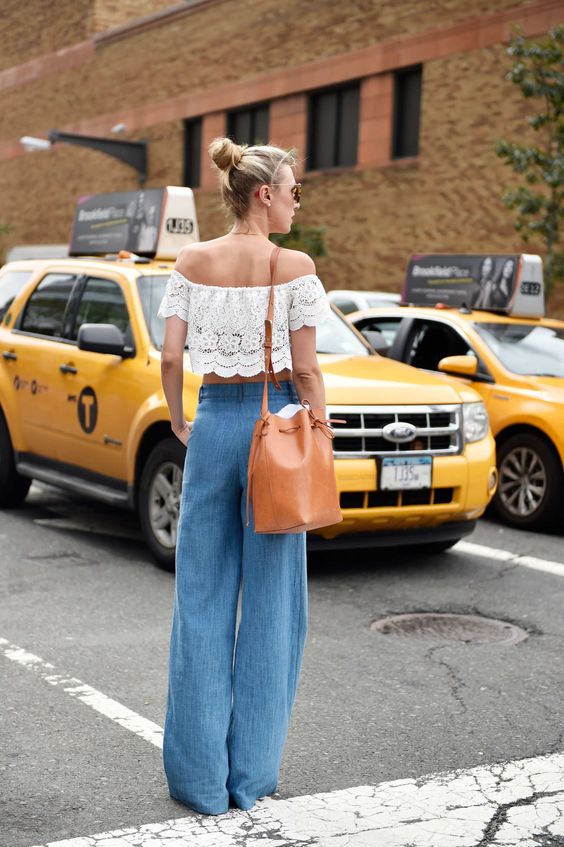 Photo: Credit
These high waist wide jeans are not an easy pair to match. Wear it with the wrong top and you can easily look like the beggar on the corner of the street. Also make sure they're not too short! So how to wear them? Try out a lace crop top and a blazer.
9. The Bootlegging Flare Jean With A Tight Sweater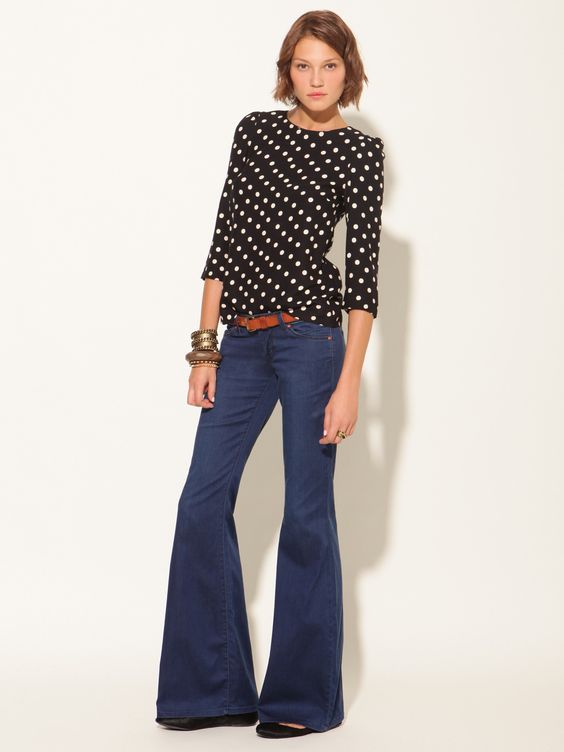 Photo: Credit
Reminding us a bit of the 80s, these jeans' flares are well defined and easy to wear with flat ballerinas for a relaxed day away. Sticking to the style, a polka dot sweater is a very good match, but truthfully, any tight top or sweater will look great. Play around a bit with this one!
10. Dark Bootleg Jeans And Cute Top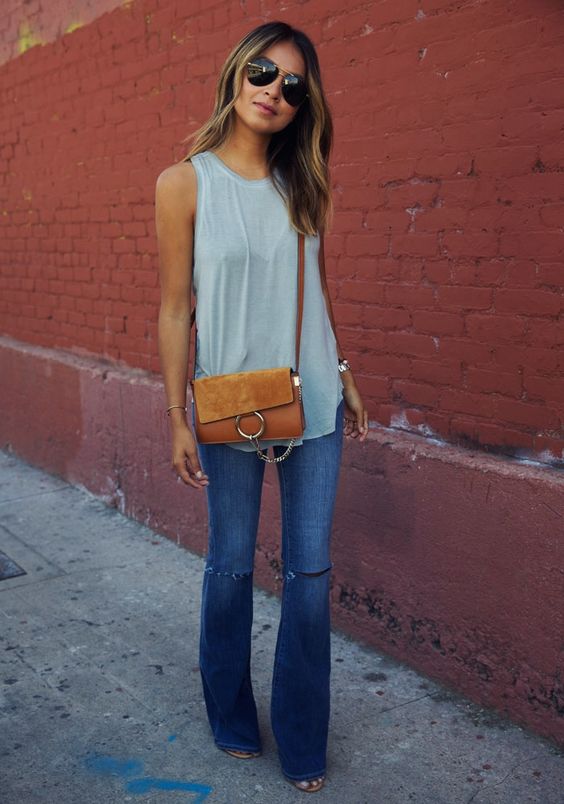 Photo: Credit
Definitely a classic. Also an easy one. Wear a wide top in a color that brings out your very best and combine with a blazer if cold. A statement purse will complete this look. Wear with heels or sneakers. Oh! And let's not forget these dark bootleg jeans with a subtle rip over the knee area.
11. Ripped Jamie Jeans With A Blouse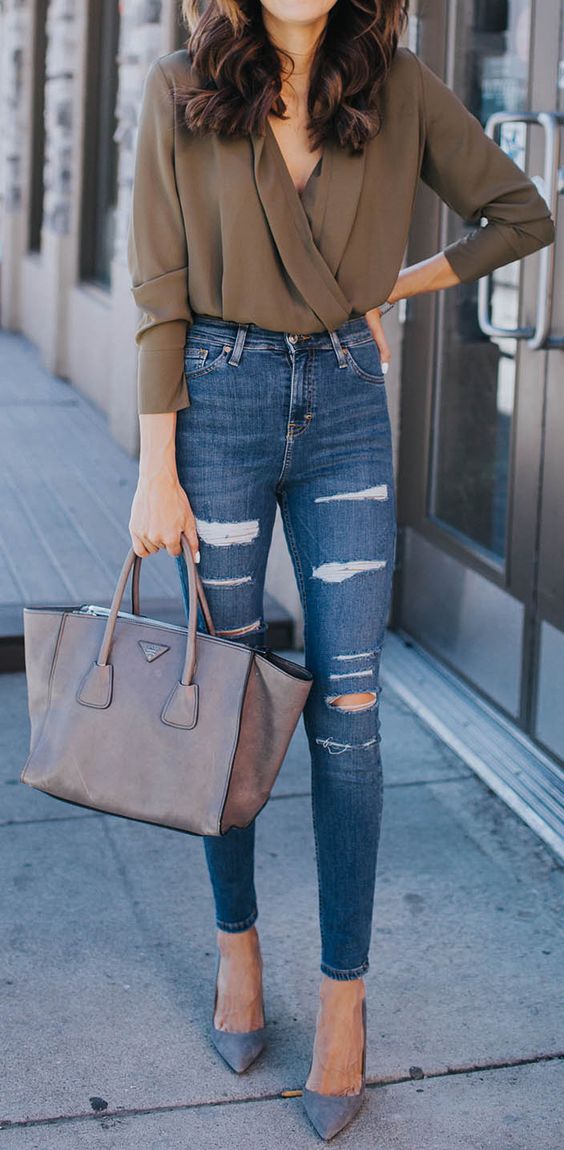 Photo: Credit
These jeans are a definite must-have for spring and fall. These high waist skinnies call for the fashionable tuck-in of a classic blouse and a pair of sexy heels that will make all women jealous. Pair up with heels and a statement handbag and you'll look like a true fashionista!
12. Light Boyfriend Jeans Gone Formal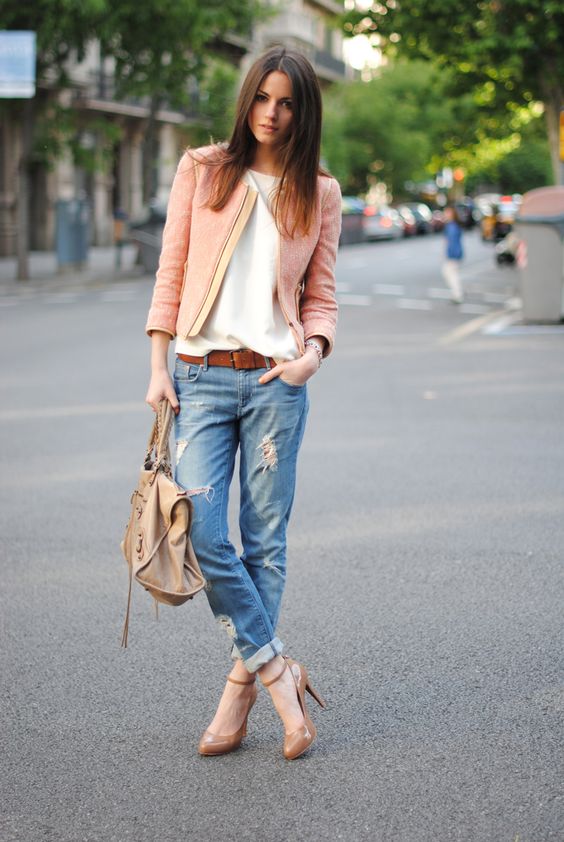 Photo: Credit
If you're looking to be stylish, but you still need to show a bit of formality, then this look works for you. These ripped boyfriend jeans with a white tee and baby pink jacket match very well with some extra classy and shiny heels. Whatever that formal-ish event is, you're ready for it!
13. High Waist Skinnies With Crop Top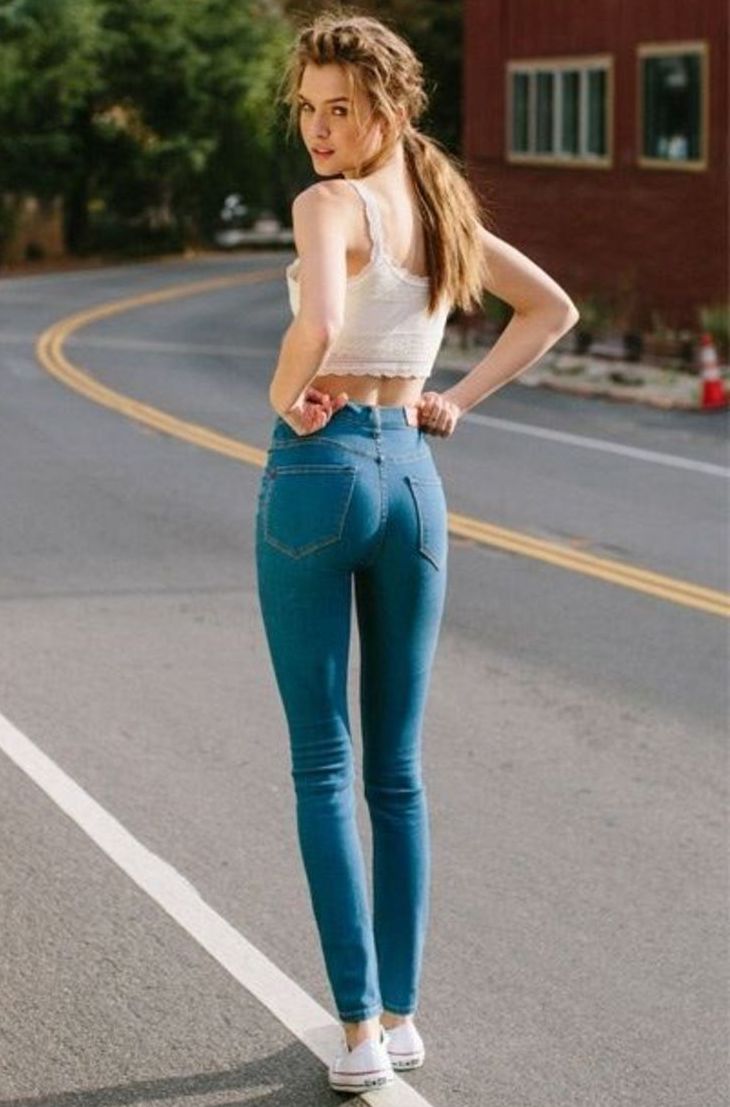 Photo: Credit
Are you in love with skinnies? Then choose a pair with a high waist to switch things up a bit! Pair well with a cute crop top and basic white All-stars. You can even choose for a cropped sweater if it's winter. Add a nice jacket to finish this look.
14. Kick Crop Jeans With Shirt And Blazer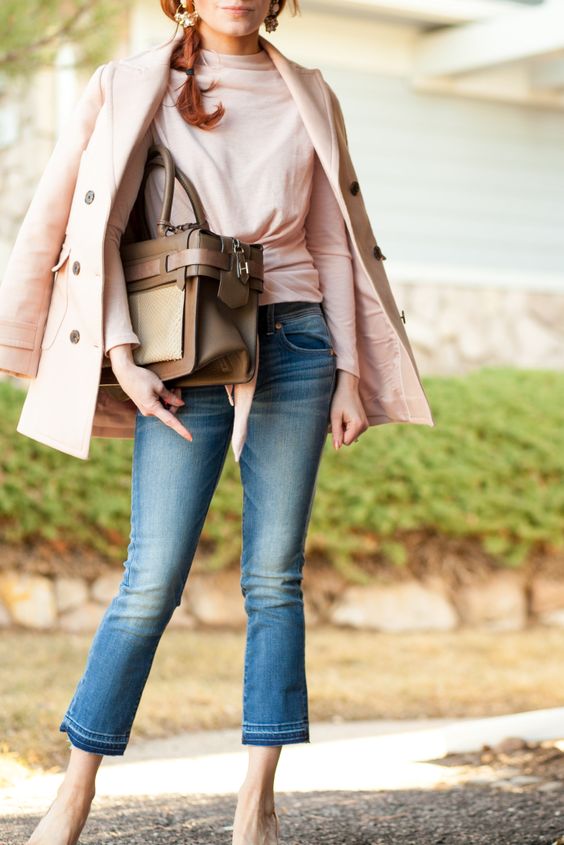 Photo: Credit
Kick crop flares can be totally your thing, but you still need to wear them right. Matched with these shades of soft pink and a handbag in different tones of brown, this outfit is a real winner. The shirt can be worn alone with the jeans or with the pink coat over your shoulders.
15. White Jeans With A Denim Blouse

Photo: Credit
When wearing white jeans, you can wear any shade of denim shirt with it. Make sure to add a brown or beige colored belt. Wear some extra accessories, such as a statement necklace and maybe even a sexy hat! This spring look is all in your hands…