12 Stunning Celebrity Homes To Leave You Breathless
We all have some dreams when it comes to real estate. While some of us modestly keep them to themselves their hopes of a perfect home, there are also those who love to look at magnificent mansions. Celebrities go above and beyond when it comes to the homes they choose. It is quite common that they switch houses every couple of years.

Their lives are a much different dynamic. There is also a wide range of choices when it comes to gorgeous homes. The options are limitless but the classic picks would be mansions in Beverly Hills, New York apartments and lovely homes in Malibu.  Let's look at these brand new, spacious and elegant celebrity homes, feel the vibes they bring.  
1. The Sky Is The Limit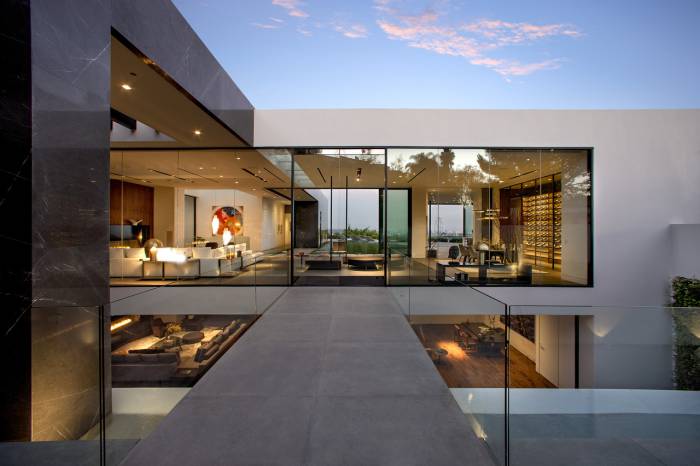 Photo: Credit
This is what we call a superb modern home. Calvin Klein's purchase is worth every penny of the twenty-five million bucks it costs. I don't know about you, but this is where I would like to be watching the sun setting with friends. It is a super stylish and spacious home, the glass windows open up the view and it's the perfect venue for a toast of champagne. Here, here to fashion, Mr. Klein!
2. Welcome To Manhattan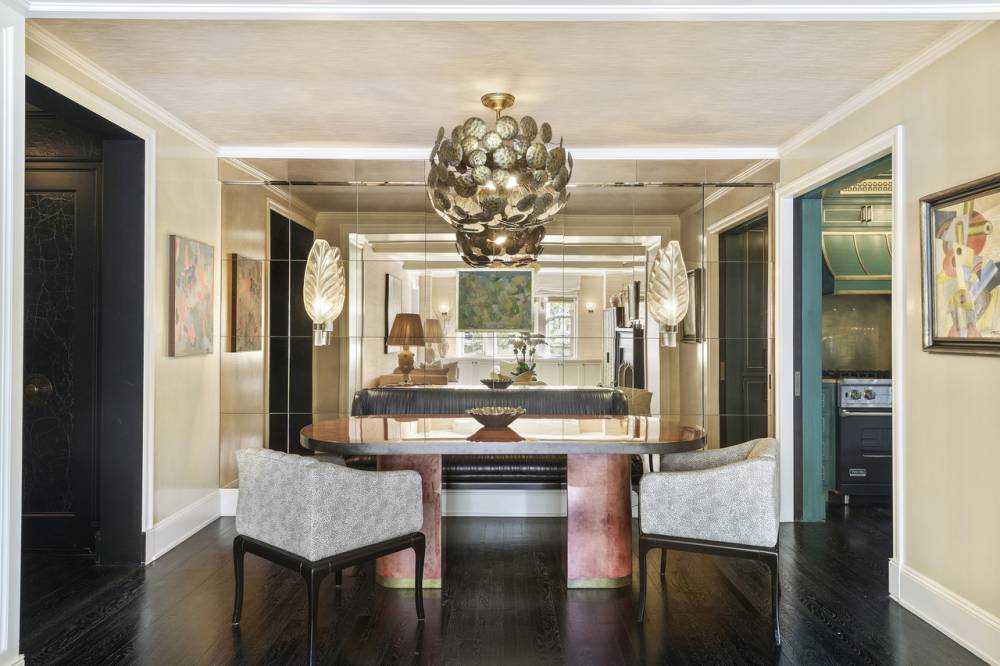 Photo: Credit
Cameron Diaz surely didn't settle for anything less than a lovely Manhattan apartment with a beautiful lighting. The design is based on contrasting shades of light and dark, it speaks of interior design mastery. Celebrity apartments have this quality of being luxurious without being intimidatingly deluxe.  Very cozy, very stunning.
3. Oh, Wow!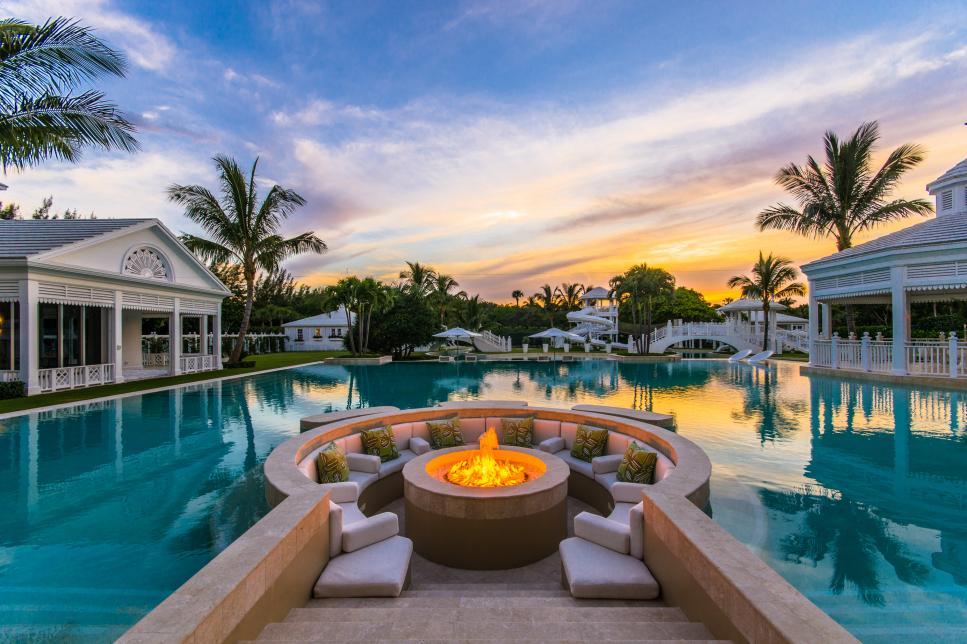 Photo: Credit
The singer Celine Dion was definitely not kidding when she bought this home. How would you feel about having a water park as a part of your own house? This deeply serene view is established by the presence of so much water. It looks as if the home has been built right on top of a water lake. It is dreamy!
4. Something Italian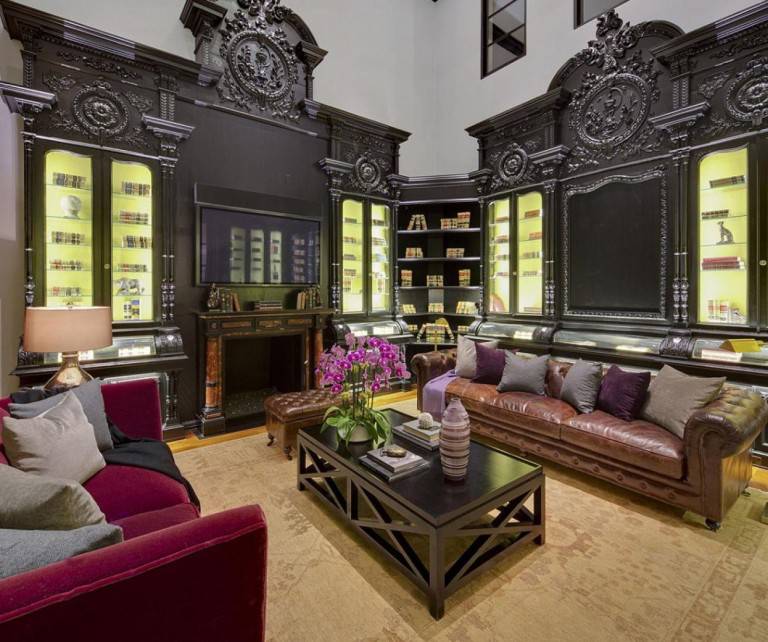 Photo: Credit
Time to warm up the feeling with this lovely estate. Cozy sofas covered in velvet, purple and brown are juicing up the space. Books are adding an additional touch of aristocracy. This is definitely a high brow interior choice for a home that speaks of luxury, intelligence and style. Nonetheless, it is so cozy and nice, we wouldn't mind feeling aristocratic for a while.
5.  Purple Bliss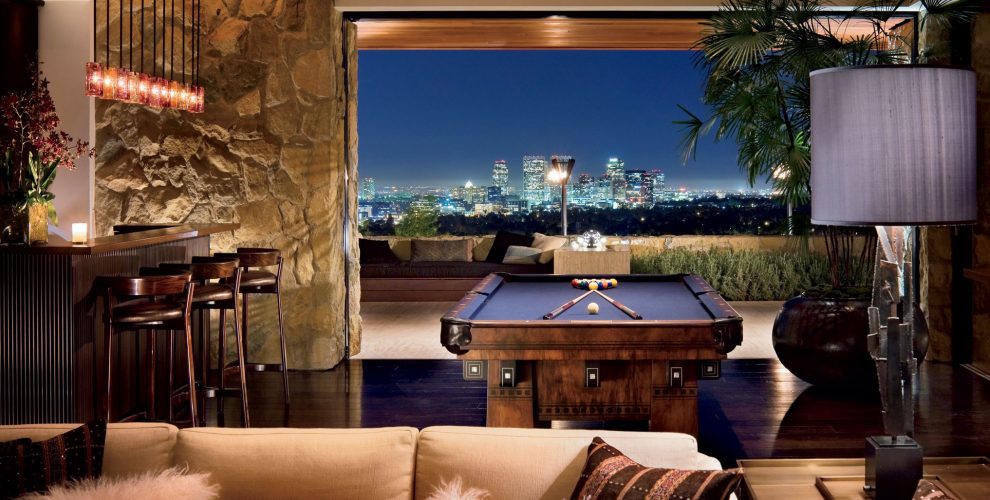 Photo: Credit
Both soulful and playful, Jennifer Anniston's property is a hundred percent stylish, mazing and dreamy. Can't think of anything less when you imagine the view from this home, the special setting with wine bottles in the living room. It also feels like it's made for a great party – the pool table surely won't be left unnoticed.
6. The Glass House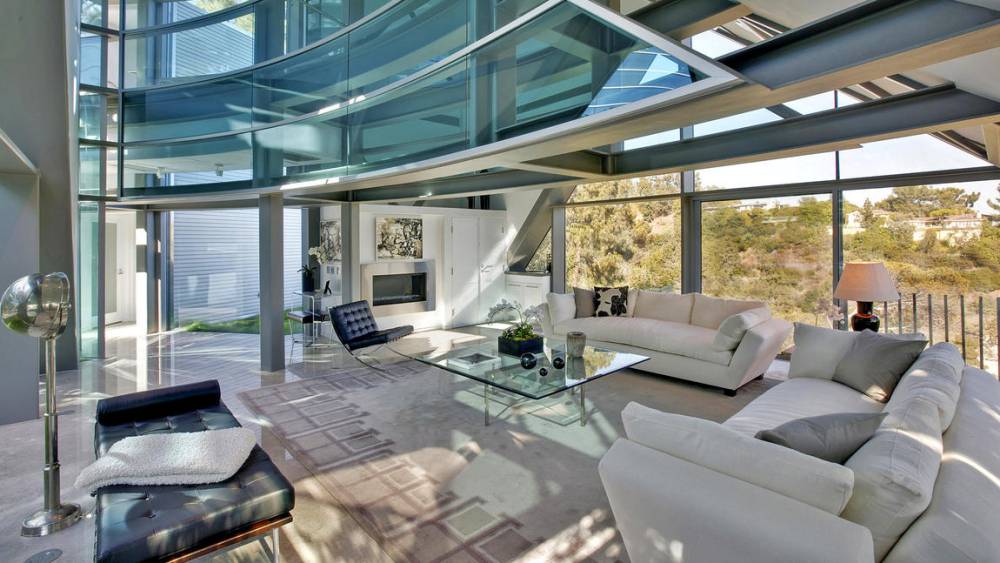 Photo: Credit
Whether you would associate this home with Justin Beiber or not, it is so glamorous and unexpected, that it is worth to take a look inside. Light colors, lots of glass everywhere and beautiful round and eclipse shapes that soften the look. Light is easily coming inside from every direction, the inside of this home becomes limitless. What a bold and beautiful choice!
7. The Wonderous Estate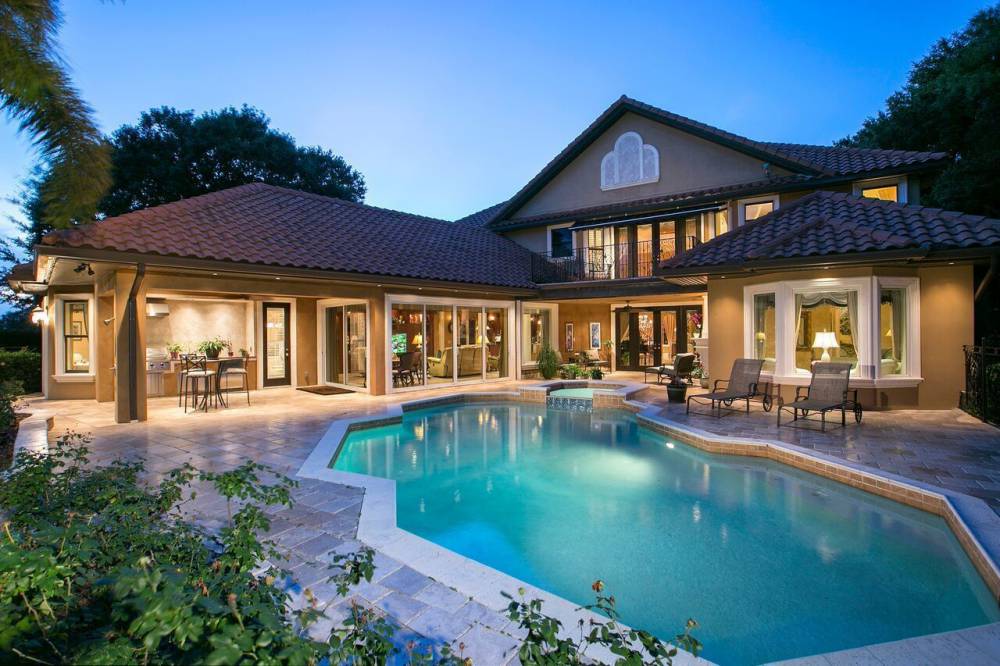 Photo: Credit
Owned by Justin Timberlake and then sold to another owner, this home looks out to Lake Tibet. Who wouldn't want to unpack boxes in this wonderous home? It is a huge house in a gated community and our words can hardly do it any justice. While I am thinking we may need a map to discover this home's features, we wouldn't mind attending a party by the pool.
8. Mrs. & Mr. West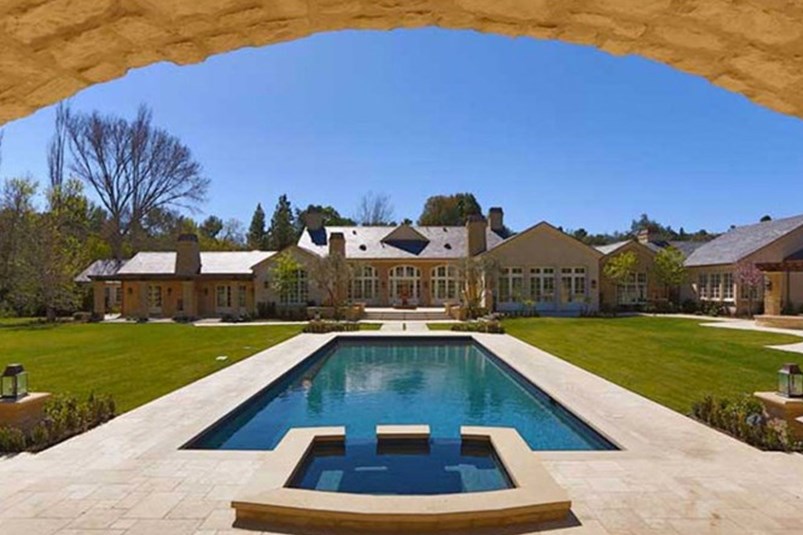 Photo: Credit
When it comes to celebrity mansions, the absolute leaders in the field must be Kim Kardashian West and Kanye West. It took years of work to achieve this result, but let's face it – when you are that famous, you take your living situation pretty seriously. It is a huge property that is perfectly stylish in interior design. Mrs. West loves white and we can see that light-colored themes are her favorite while we look at the countless rooms.
9. Sweet Malibu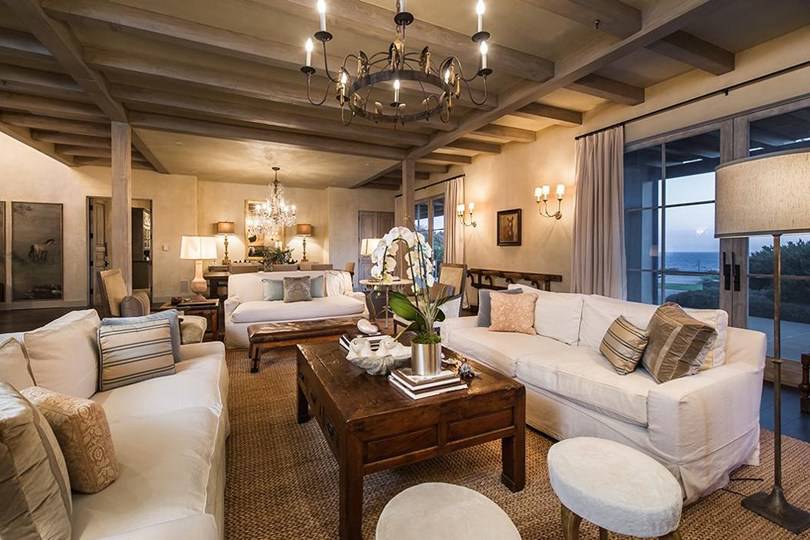 Photo: Credit
Kudos, Lady Gaga! You know how to shop for a home. Here is another crazy stunning mansion. It is lavish, it is sexy, it is bold. Spacious rooms and cozy furniture that makes you want to lounge at home forever. Gaga also has a bowling alley right inside her house for some playful nights. Beyond all goodness, number nine in our collection makes us reconsider what we thought is a home.
10. Leo DeLuxe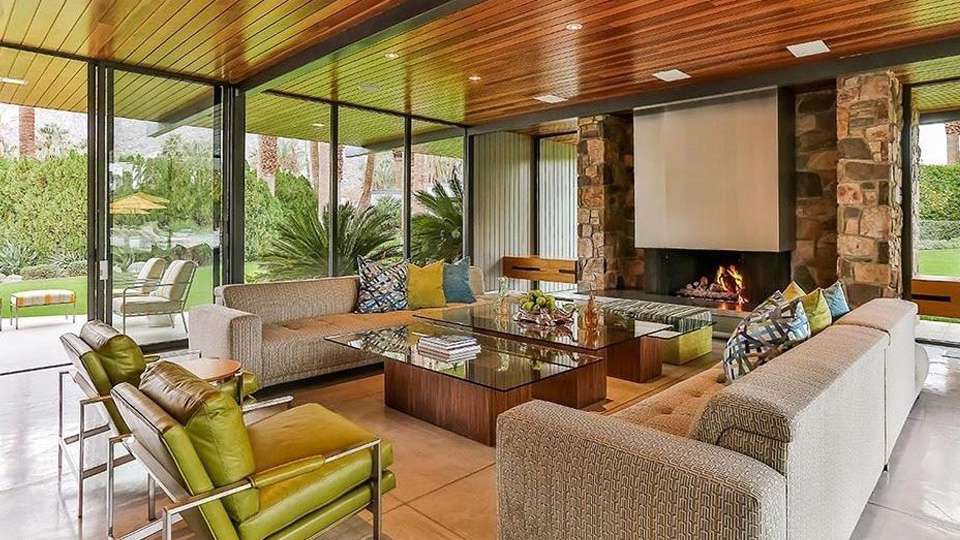 Photo: Credit
It is no wonder that one of the most luxurious homes on this planet is owned by Leo DiCaprio. I will put a large trendy pin here as I do believe you can feel like a king inside this home. Make no mistake, it is as fabulous-  and it's not meant for a simple gathering. What this home represents is that fame has truly transpassed from a Fitzgerald novel into our lovely twenty-first century.
11. Beverly Hills, Baby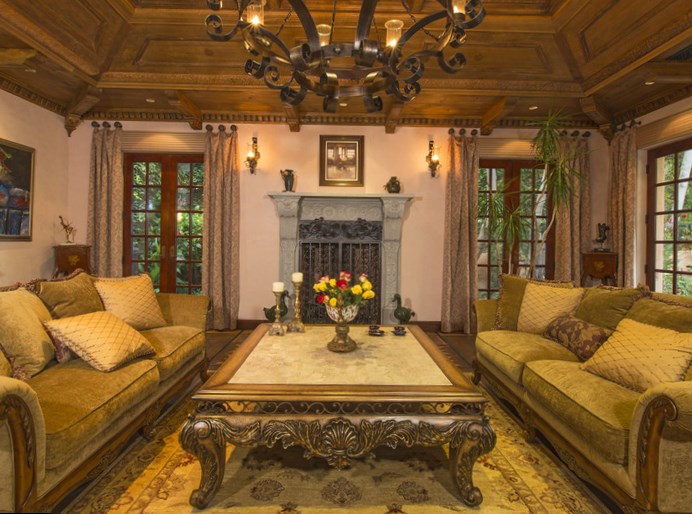 Photo: Credit
In this Beverly Hills mansion, you can recognize the Italian presence without much effort. It belongs to Sofia Vergara and it reminds me of those old Italian mansions owned by wealthy familias. It must be a very enjoyable experience to wake up in this home. Once again, it doesn't miss a single thing. From wide gardens to a swimming pool, from living rooms to bars and beautiful lighting.
12. Taylor In Style
Photo: Credit
Taylor Swift`s Beverly Hills mansion is my last pick. The house looks really mature, clean and stylish. It represents her personality quite well and I can see why she fell in love with this home. It has a very gentle look on the inside, the luxurious style also has a calming effect. The house has as many as seven bedrooms and now we know that slumber parties will be a regular – Taylor is also famous for loving to spend time with her friends.
Adell is the owner of Trendypins.com – she started the site back in 2018, when she was still working in a Fashion and Beauty magazine, but the passion for new trends, healthy living and creative lifestyle inspired her to create the site and following her own dream of building a great online-magazine.