12 Best Kendall Jenner Style Moments To Inspire You!
Wherever we see Kendall Jenner, she's always rocking her outfit like a boss.

Twenty-one-year-old Kendall Jenner is no newbie to the competitive, but fascinating world of fashion and style icons. Lucky for her, and for us, it suits her well and we gladly enjoy her style moments for inspiration.
This young, former reality star turned runway model definitely knows how to stand out in the crowd and have all eyes on her and her outfit. She even has her own line of clothing and jewelry. Yes, she is THAT good.
When this It girl is not showing off her perfect runway walk on the catwalk to demonstrate the newest fashion, she shows off her own personal street style that leaves everyone around her awestruck. From crop tops to feather dresses, this Kardashian's younger half-sister knows how to dress to impress!
Fortunately, many of Kendall's outfits are easy to recreate and perfect for some extra shopping inspiration. Therefore, we've gone on and selected twelve of her best style moments for you, so now you don't have to. Read on!
1. Victoria's Secret Debut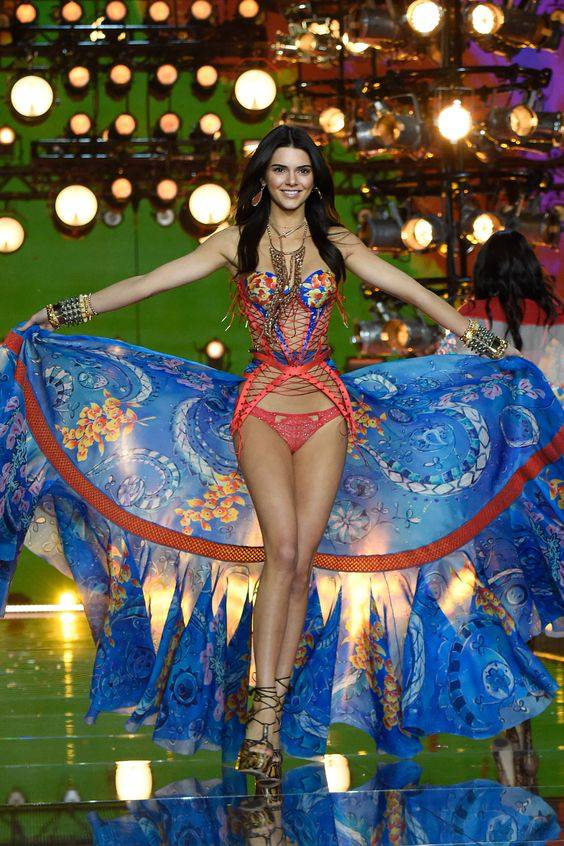 Photo: Credit
Kendall proved to be a true Victoria's Secret Angel as she debuted for the multi billion lingerie brand in 2015, fulfilling her childhood dream. Entering the stage in a flamenco skirt, combined with a more extravagant version of a lace-up corset, she definitely stole the show and showed her worth. Doesn't she look absolutely stunning?
2. Fifty Shades Of Grey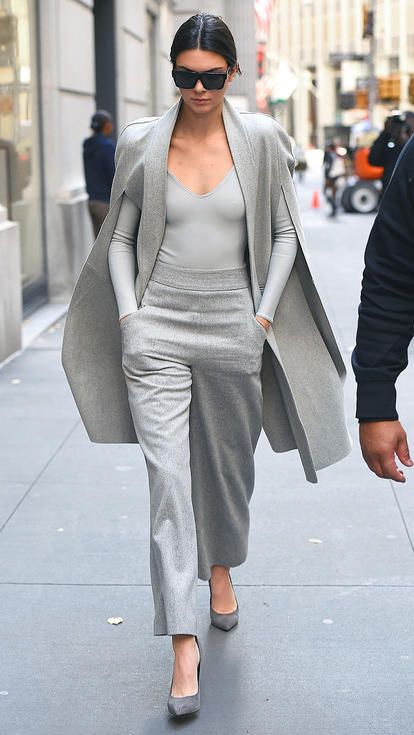 Photo: Credit
This isn't the first time we see Jenner in a one-color outfit. But why not? It's one of her best known style moments and for good reason. She looks absolutely fab in her Sally LaPointe ensemble with a slightly different shade of pumps. If you are thinking Fifty Shades of Grey you aren't alone…
3. Denim Jumpsuit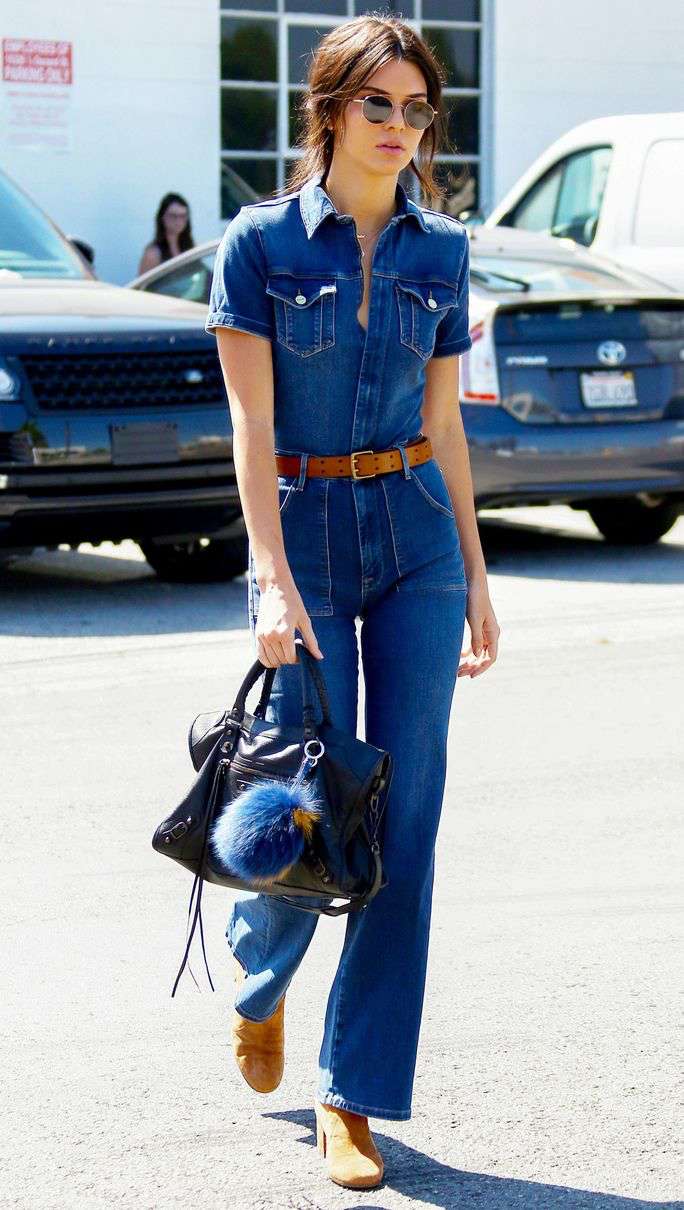 Photo: Credit
Back to the '70s? If anyone can pull it off, it's Kendall Jenner. Styled with a brown belt and camel-colored shoes, this all-denim jumpsuit by FRAME looks casual, but stylish at the same time. Jenner, again, grabs all the attention while walking down the street in L.A. Great choice Jenner!
4. Classy Crop Top Look
Photo: Credit
This cropped sweater by Glamorous is definitely one-of-a-kind. Kendall Jenner wears it with slightly formal-looking, but still comfy, black pants. The cherry to the cake is, of course, her pumps… These Sergio Rossi beauties can make every outfit work and look absolutely gorgeous with Kendall's outfit for the evening. Way to go Jenner!
5. Bad-ass Biker Jacket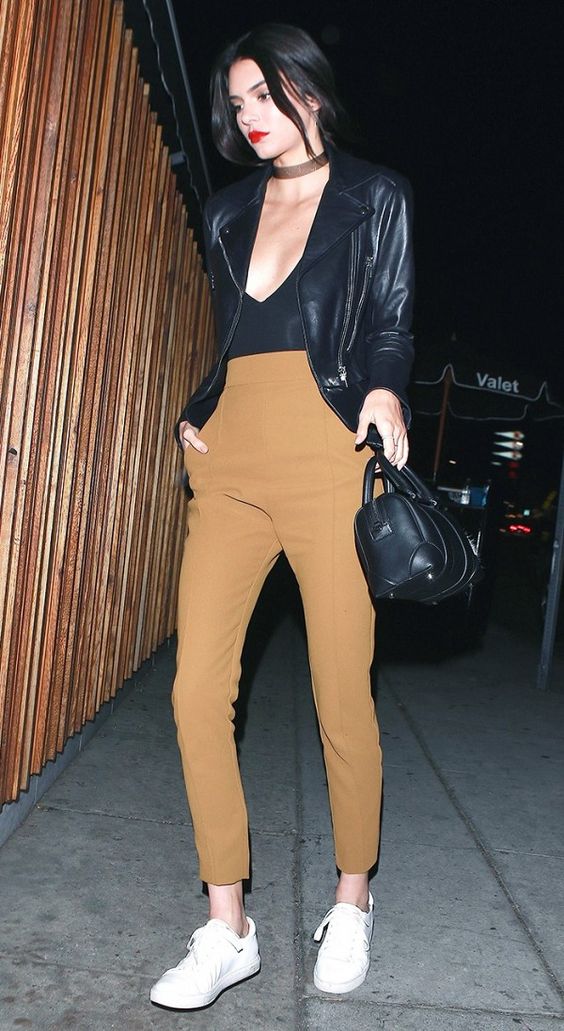 Photo: Credit
Perfect for a casual night out with the girls when you don't know the weather forecast. Kendall combines these high-wasted camel trousers from Self-Portrait with a black Balenciaga bad-ass moto jacket. Although the black top looks fab on Jenner, not just anyone could pull that one off. Jenner finishes the look with leather sneakers by Kenneth Cole. Extra points for the red lipstick!
6. Paris Fashion Week 2015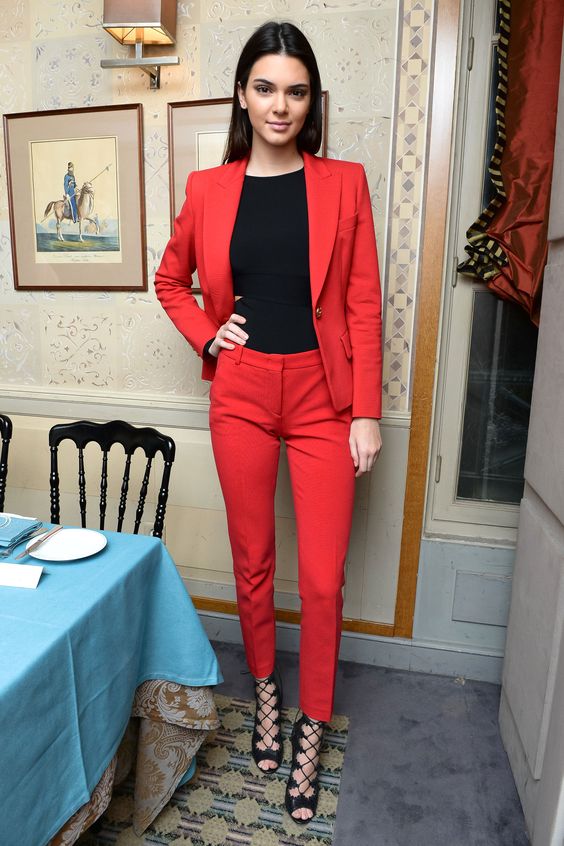 Photo: Credit
Kendall Jenner's style moment at the Paris Fashion Week in 2015. Wearing a remarkably pretty red suit, she was added to the best-dressed list. Of course Jenner had to stop by Tabitha Simmons for dinner, where she was obviously showing off her chic Tabitha Simmons shoes that finished off her look for the day.
7. Coachella 2015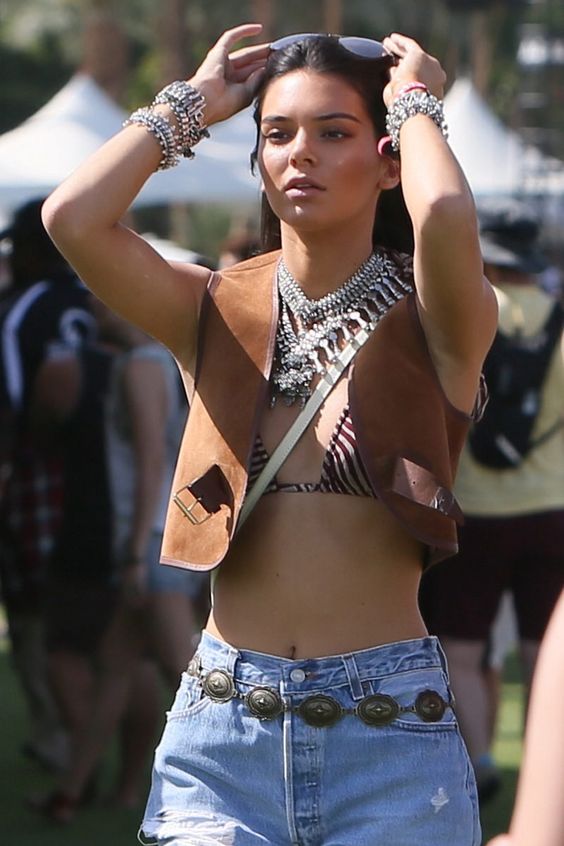 Photo: Credit
Jenner definitely has the bikini body to rock this bohemian look at the Coachella festival in 2015. This sexy-country-bohemian look is still very chilled out and comfortable with boyfriend jeans. Jenner combined her triangle bikini with a brown suede vest by Derek Lam. This style moment wouldn't be one if it wasn't for the heavy Dylanlex collar she is wearing around her neck.
8. Pastel Halter Jumpsuit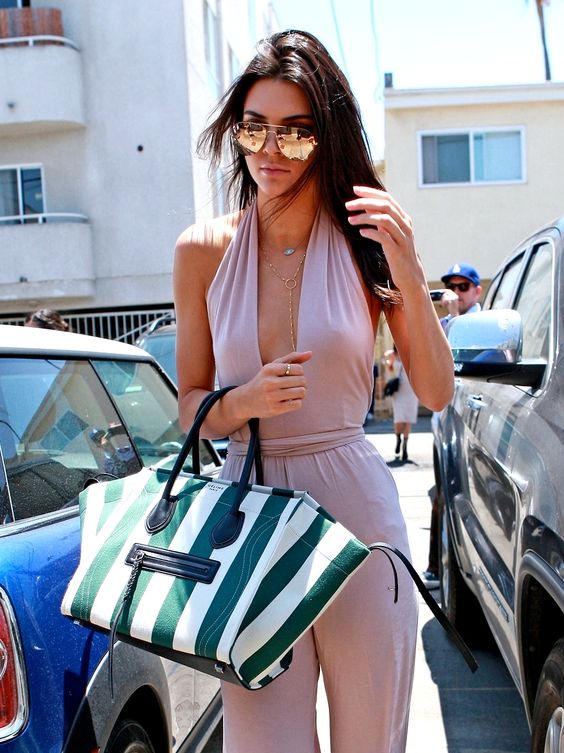 Photo: Credit
Kendall definitely likes her jumpsuits. This halter neck one is made of wide comfortable material and allows to show mucho skin (especially the front décolleté, with a deep V-neckline). She styles it with aviator sunglasses, a striped handbag and loose hair. The upside of a jumpsuit like this: you can wear it casually or stylish by choosing different types of shoes and accessories for the occasion.
9. Monochromatic Calvin Klein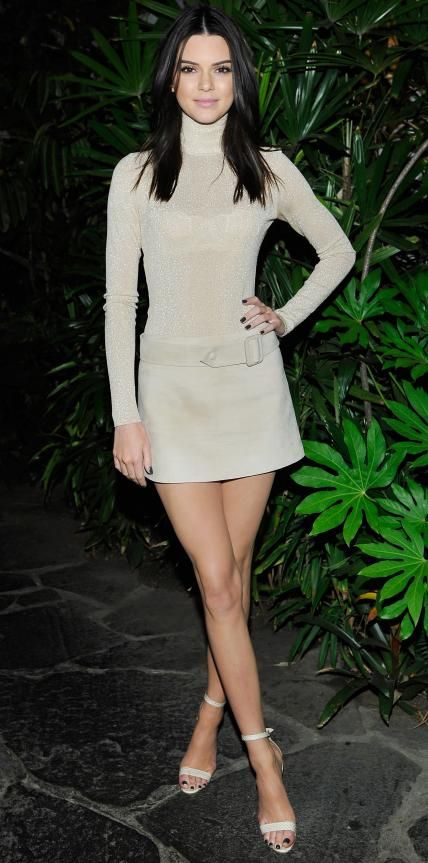 Photo: Credit
Jenner loves to dress monochromatic and being the face for Calvin Klein, she helped celebrate the launch of CK's #mycalvins collection. This outfit is obviously all Calvin Klein and combines a neutral colored beige turtleneck with a cute, classy miniskirt and same-color sandals. Even when dressed rather simply, Kendall Jenner still deserves to be wowed for this style moment.
10. Chopard Party Feathers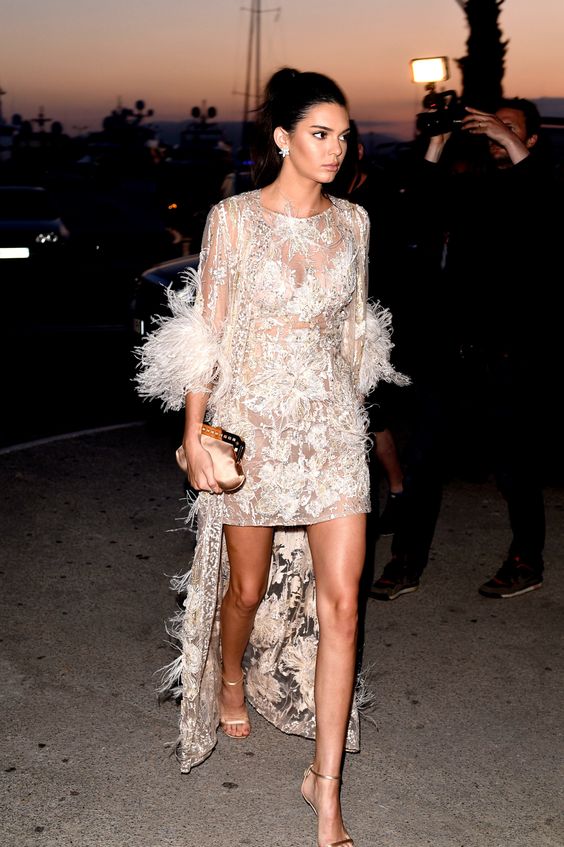 Photo: Credit
One of our favorite Kendall Jenner's style moments! This jaw-dropping feather mini dress from Elie Saab shows off Jenner's long model legs. She wears it with a long identical jacket, so it almost looks like it's all one piece. Ivory looks fantastic on Jenner and we would definitely like to see this style on her again!
11. Sporty Jenner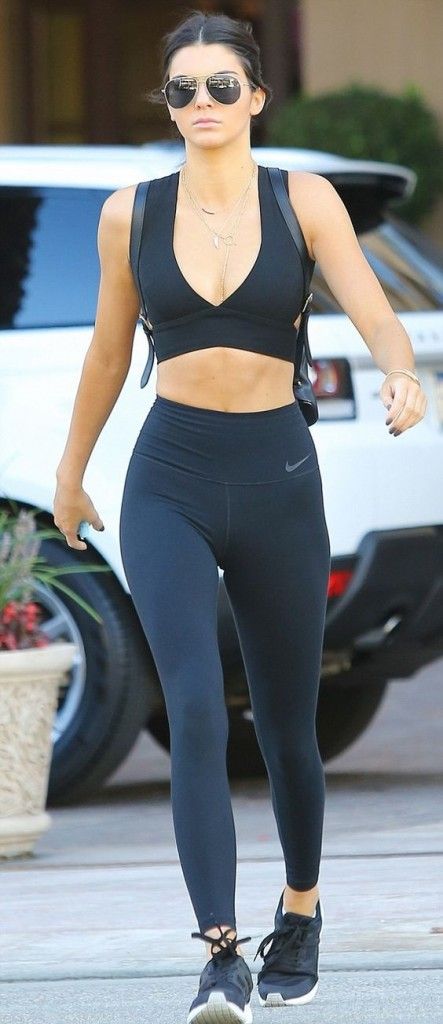 Photo: Credit
If you want to be a Victoria's Secret model, you'll have to watch what you eat and work on your body. Those slim thighs and abs don't just magically appear… And, of course, Kendall even looks great on her way to the gym! Next to a strict diet, she works out with personal trainer Gunnar Peterson in a Nike sports outfit. While most of us avoid doing abs (hate it!), Kendall Jenner loves them. Go figure…
12. Kendall's Skinny Jeans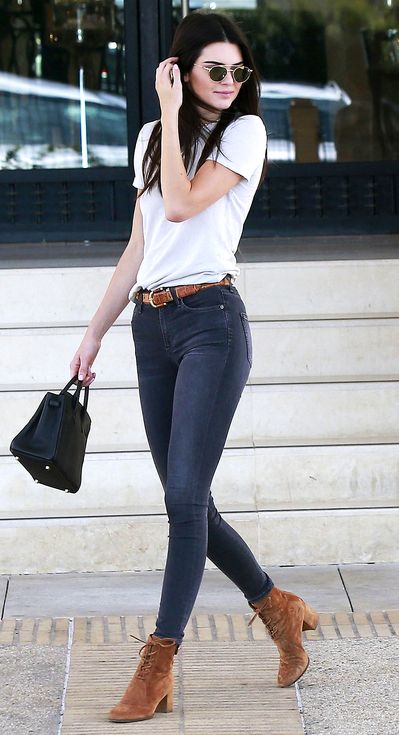 Photo: Credit
These high-waist skinnies with a simple loose shirt and laced suede shoes look super-adorable on Kendall. Again she matches up the right styles and colors. It's no surprise by now that Jenner has a natural sense for personal style, that's how we know and like her. Her skinnies come from Citizens of Humanity. We would love to get a pair as well, but let's be honest here: they would never look as good on us as they do on Kendall Jenner.
Adell is the owner of Trendypins.com – she started the site back in 2018, when she was still working in a Fashion and Beauty magazine, but the passion for new trends, healthy living and creative lifestyle inspired her to create the site and following her own dream of building a great online-magazine.