10 Best Rooftop Restaurants In The World!
Is wining and dining really your thing? Then you'll absolutely love these restaurant suggestions!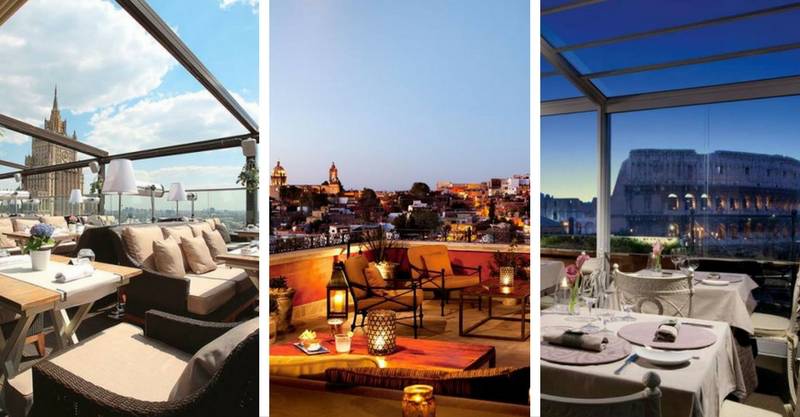 Sitting down with your colleagues or friends, enjoying excellent food and the finest cocktails, with a terrific view of the city. There's only one type of place where you can get that: rooftop restaurants.
These restaurants are situated at, as the name already gives away, rooftops. You can find them anywhere in the world, especially in the bigger cities. From Moscow to New York, these eateries will satisfy your taste buds with a view!
Of course, some of these have just that little extra flair and are worth visiting more than others. That's why we've selected the 10 best rooftop restaurants in the world, especially for you. From restaurants with a panoramic view, to an inside rooftop terrace under a glass dome. Enjoy them in the city that you live, or remember them for your next travel destination.
Do you love good food, in a relaxed setting, with an amazing view of the city? Are you not afraid of heights? Then surely one of these rooftop restaurants will be just what you're looking for!
1. 360 Bar & Dining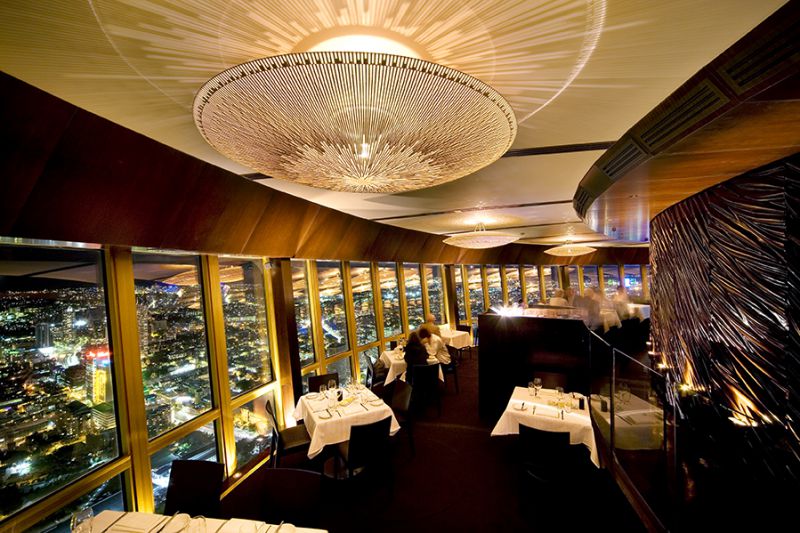 Photo: Credit
Sydney, Australia. If you love dining with a view, then check out this fabulous restaurant on the very top of the Sydney Tower. You'll have a 360° view and can order a wide range of dishes made by the best chefs. We hope you're not afraid of heights! This restaurant serves a large range of dishes, including pasta and, of course, oysters.
2. Aroma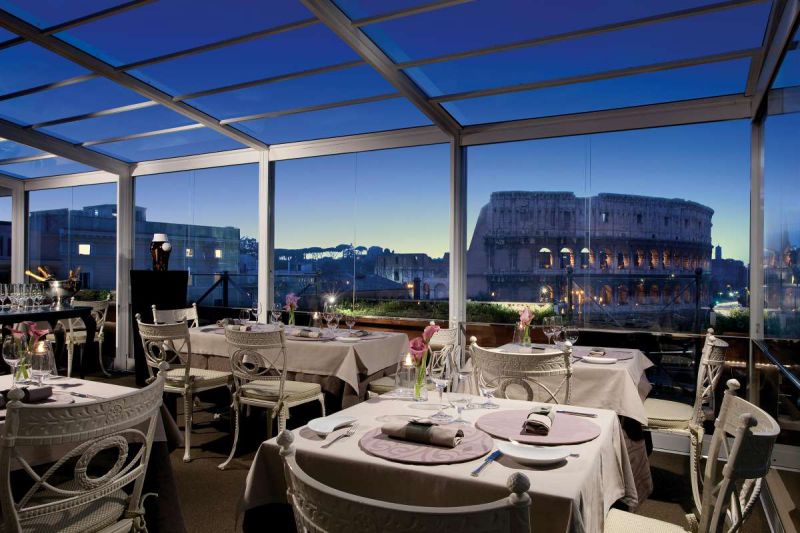 Photo: Credit
Rome, Italy. If you like Rome, then this is a not-to-miss restaurant. Rooftop restaurant Roma is situated next to the Colosseum, at the top of Palazzo Manfredi. While dining in style (yummy Italian dishes!) with a glass of Italian wine, you and your friends will be able to enjoy the incredible view of the Colosseum and everything around it. Absolutely fantastic!
3. Le Georges, Centre Pompidou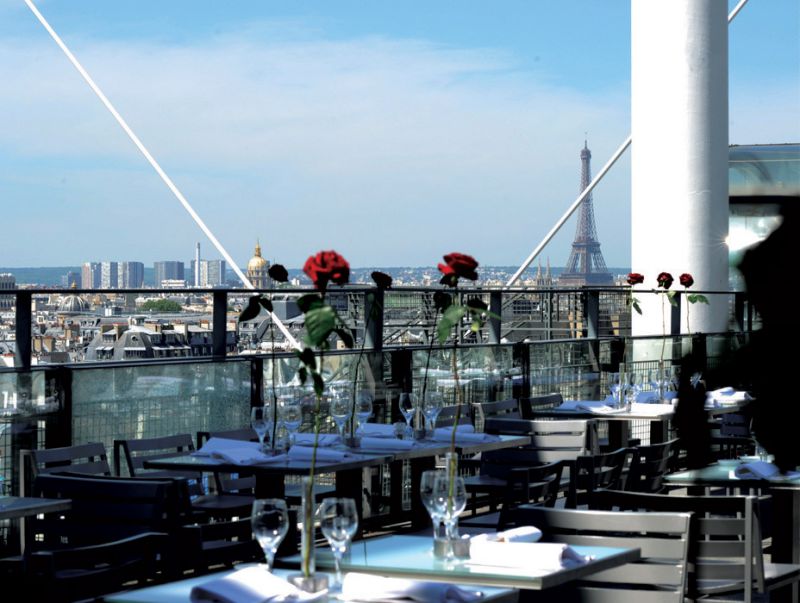 Photo: Credit
Paris, France.  This one is for all the romantics among us. Gentlemen, take your girlfriend or wife by the hand and hop on a plane to Paris (if you're not already there)! Dine with a view of the Eiffel Tower and enjoy some of the restaurant's finest dishes. A little advice: order the raviolis aux champignons. It's supposed to be an amazing dish!
4. Le Jules Verne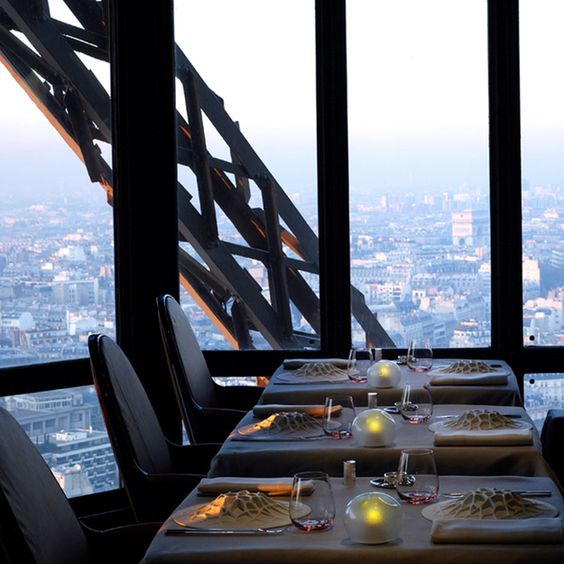 Photo: Credit
Paris, France. For those that don't think dining with just the view of the Eiffel Tower is enough: go to Le Jules Verne, built in the Eiffel Tower. Sip on some expensive champagne or enjoy a glass of French wine. We recommend le diner experience which will give you a six-course meal to enjoy while gazing out the window…
 5. Luna Rooftop Tapas Bar Hotel Rosewood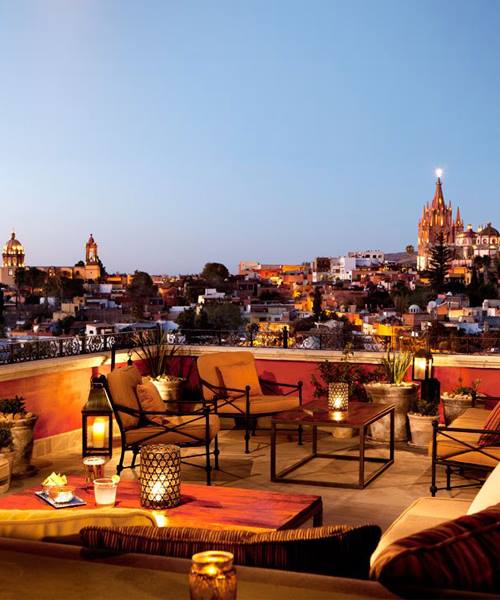 Photo: Credit
San Miguel, Mexico. This rooftop restaurant is simply beautiful. Being outside on this comfortable rooftop with a warm atmosphere, you'll heart start beating faster for some delicious tapas accompanied by a real margarita. Say. No. More. Oh, and check out the skyline looking over San Miguel! Isn't it breathtaking? We know you want to go there…
6. The Mandarin Oriental (NYC)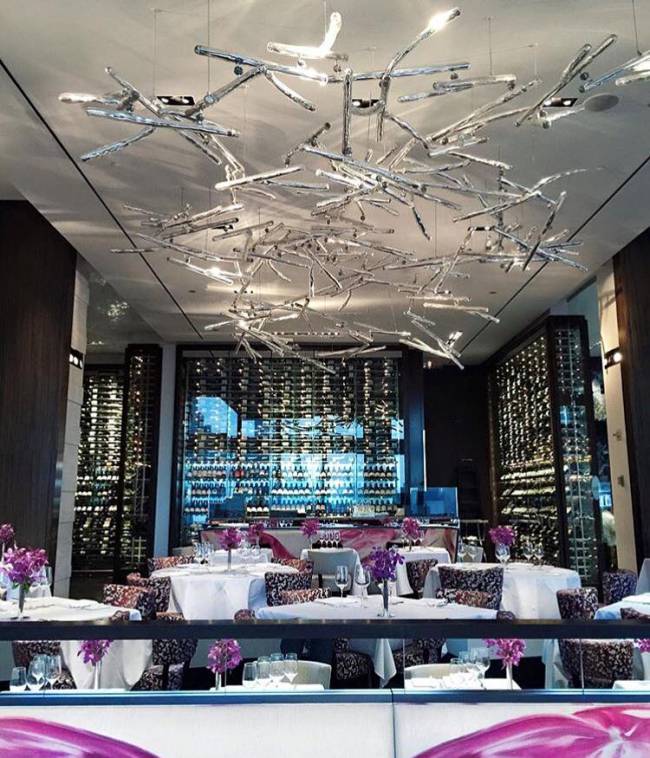 Photo: Credit
NYC, United States. It would be a shame to have been to New York without having been to this rooftop restaurant. Enjoy the view of the Central Park with a refined cocktail, combined with yummy nibbles. Perfect for a chic after work drink with your colleagues, as a big part of the business crowd can be found here!
7. The Mandarin Oriental (Tokyo)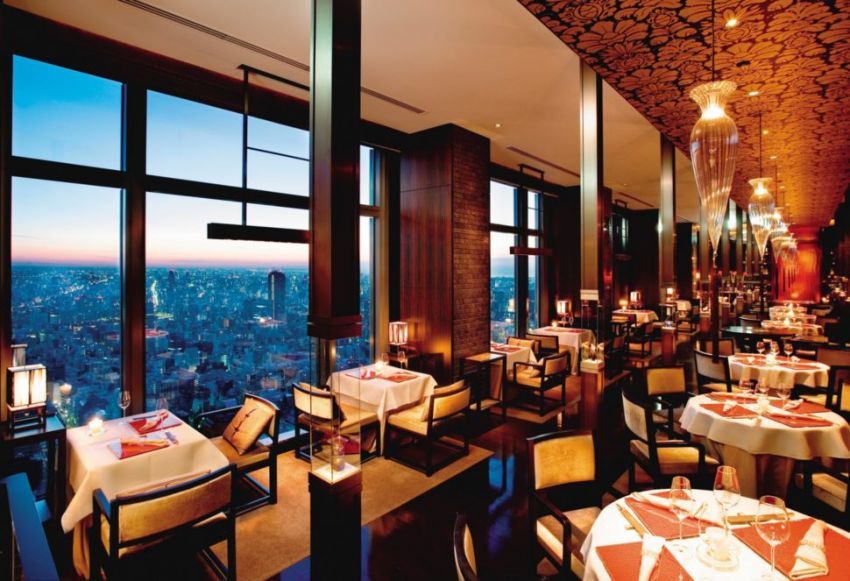 Photo: Credit
Tokyo, Japan. This Mandarin Oriental is the NYC restaurant's Japanese brother. Only the best of the best of French cuisine will be served in this rooftop restaurant. Have you ever had foie gras? This is the place to give it a try. Situated in Tokyo, it offers a fantastic view of the city lights at night. You won't be disappointed!
8. The London West Hollywood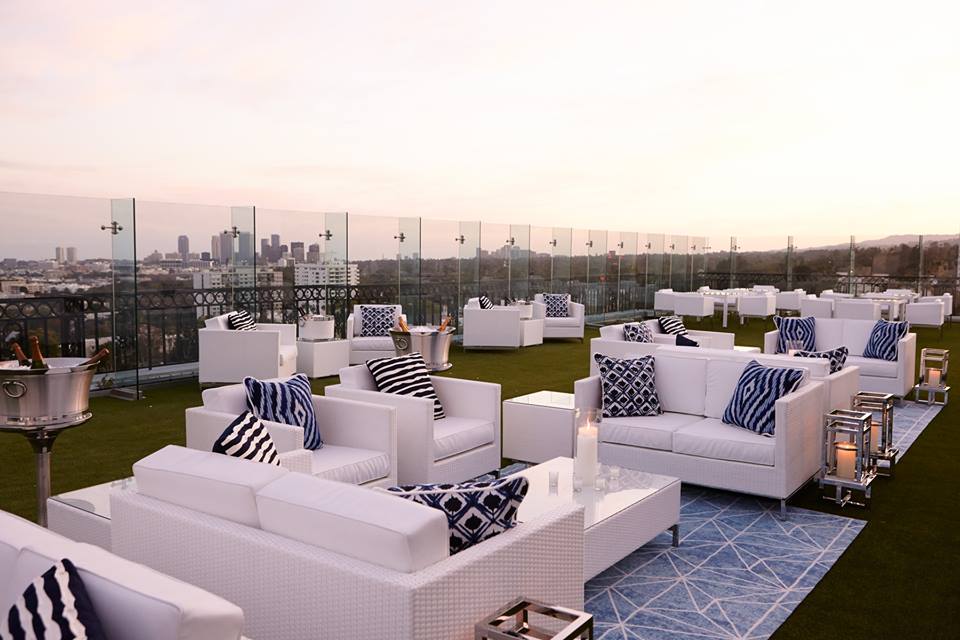 Photo: Credit
Beverly Hills, United States. For this glamorous rooftop terrace you have to travel to Beverly Hills and live life like the Californians do: relaxed and easy. It's the ultimate occasion for those delish cocktails which can be enjoyed on comfortable white couches next to fire pits to keep you warm on a late chilly evening. And all that on top of a roof.
9. Ting At The Shard Hotel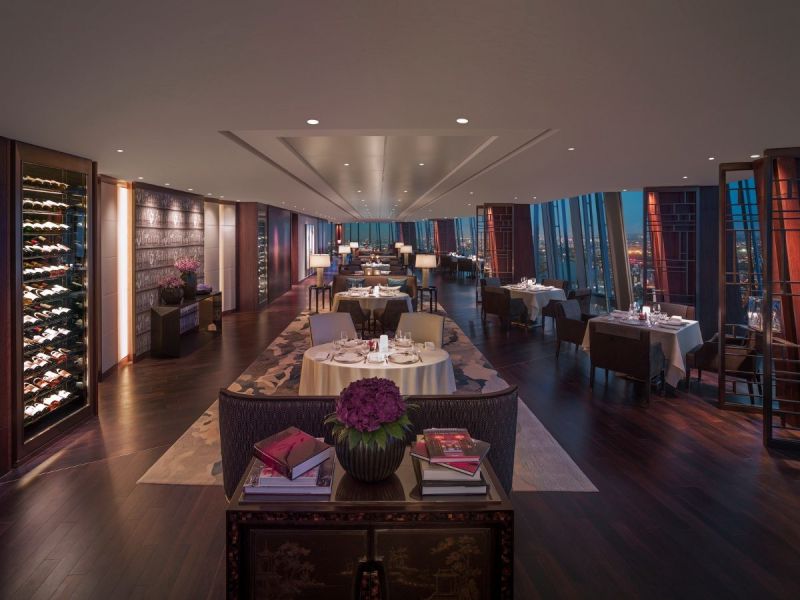 Photo: Credit
London, England. Time to learn some Chinese. Ting means 'living room' in Chinese. And that's exactly the style of this nice upscale place in London.  This Asian-decorated rooftop is the perfect place for dinner with a panoramic view of the London skyline. You'll definitely enjoy spending an evening out in Ting! Looking for a great place to dine? There you go.
10. White Rabbit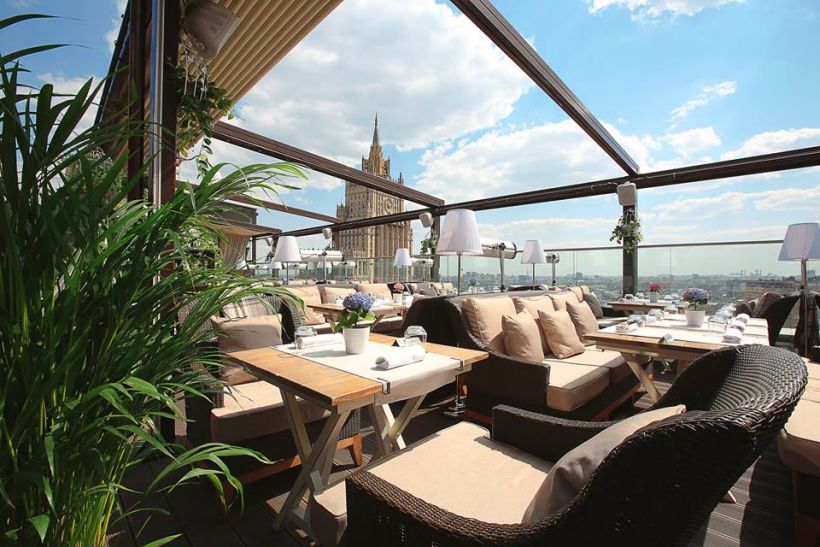 Photo: Credit
Moscow, Russia. White Rabbit is definitely a must-dine place when in the city. This gorgeous glass dome rooftop restaurant on no lower than the sixteenth floor, will satisfy your taste buds with traditional Russian cuisine in a light and relaxed setting. The veal tongue is definitely recommended! Naslazhdat'sya yedoy! (Apparently that's Russian for "Enjoy your meal"!)